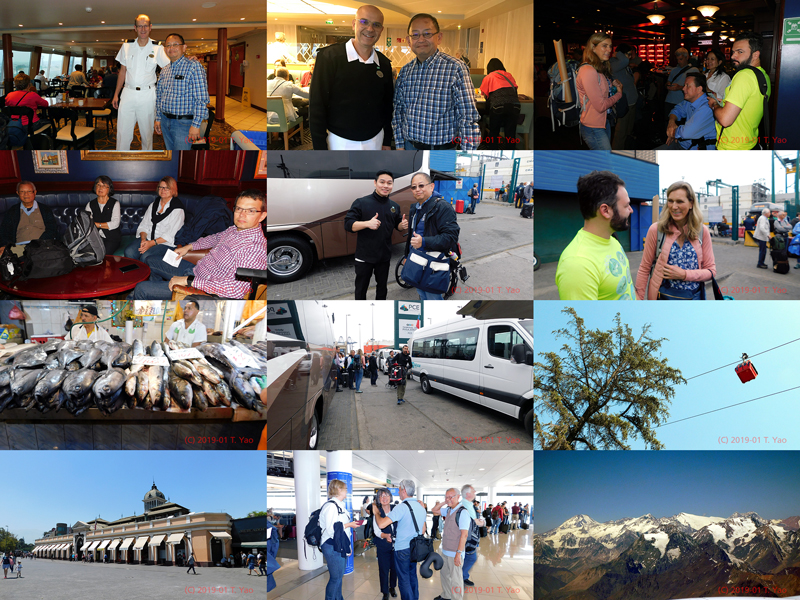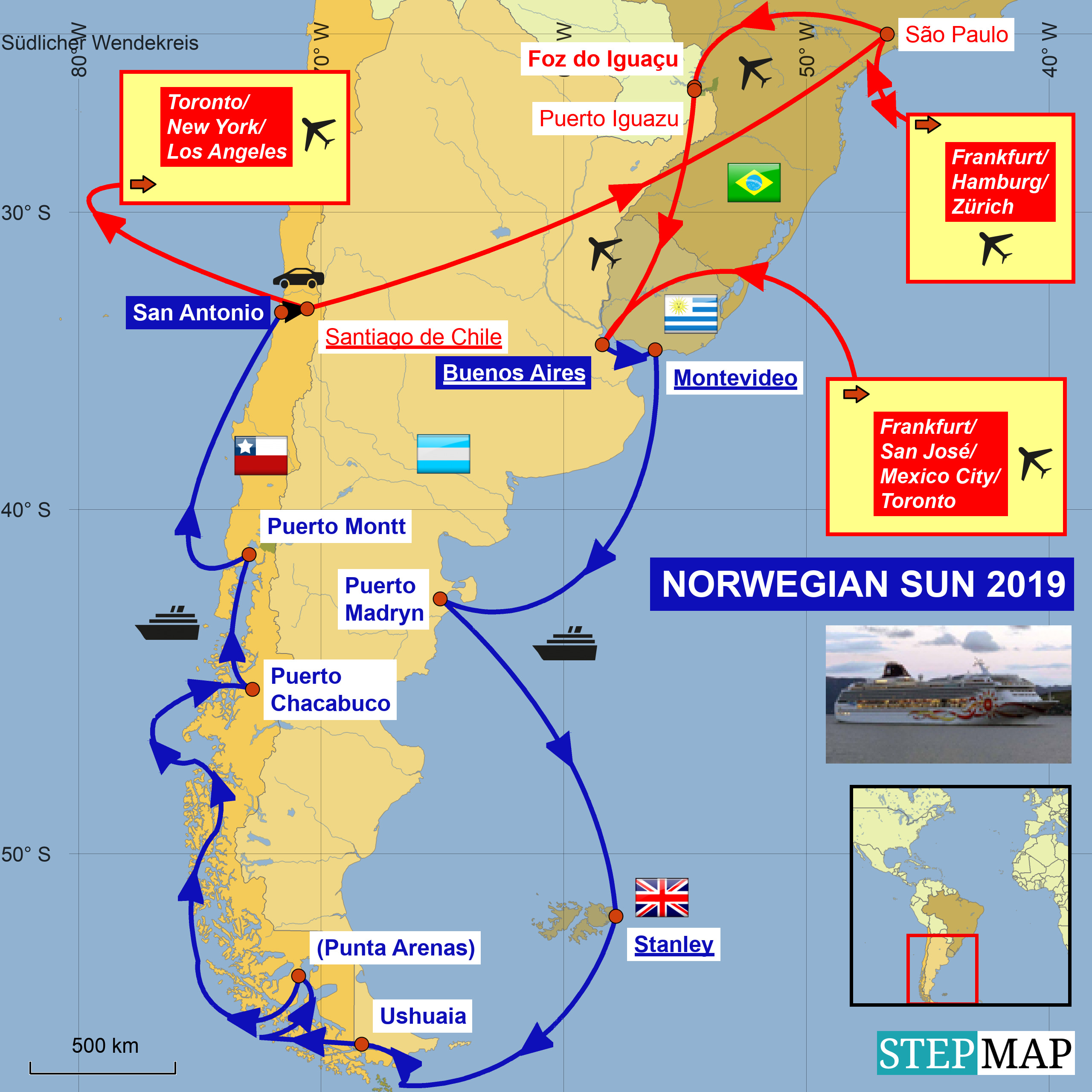 Mein letztes Frühstück, wie bei meiner Mutter. Da großer Crew-Wechsel ist, können wir uns von vielen gar nicht verabschieden. Sie sind nicht mehr in den bisherigen Rollen tätig. Außerdem rotieren sie z. T. an Bord.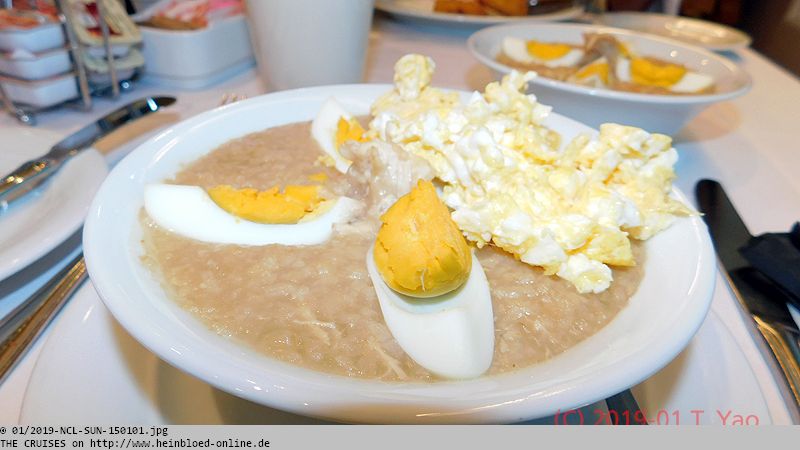 My last breakfast like with my mother. Since there was a major crew-change, there was no chance to bid farewell to many of the crew. They were not active anymore in their functions. Furthermore, some of them started to rotate the positions.

For now, Dejan Elakovic was taking care of us. So fare he was in charge for the other side but obviously he was instructed accordingly, so we were not missing anything.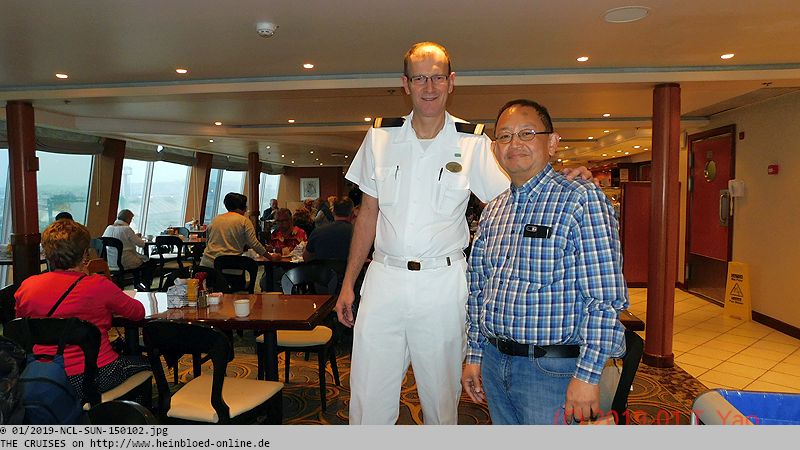 So kümmert sich jetzt Dejan Elakovic um uns. Er war bisher für die andere Seite zuständig und hat aber alles gut übergeben bekommen, so dass es uns an nichts fehlt.
Ich will mich aber noch unbedingt bei F&B-Manager Cristian Oprea für die Leistung seines Teams bedanken. Leider treffe ich Hoteldirektor Igor nicht mehr, um mich von ihm zu verabschieden. Er hat mich doch wieder mit allem sehr begeistert.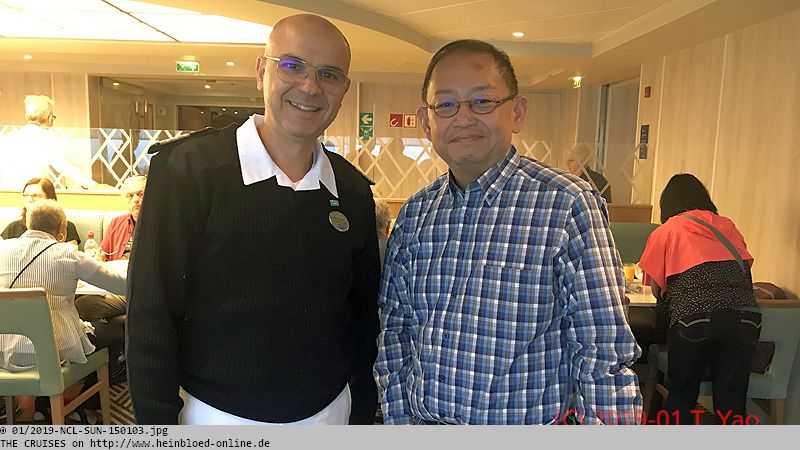 I wanted implicitly to thank F&B-Manager Cristian Oprea for the performance of his team. Unfortunately, I did not have a chance to see the Hotel Director Igor again, to say goodbye. It was fascinating what he did for me.

Our bill arrived.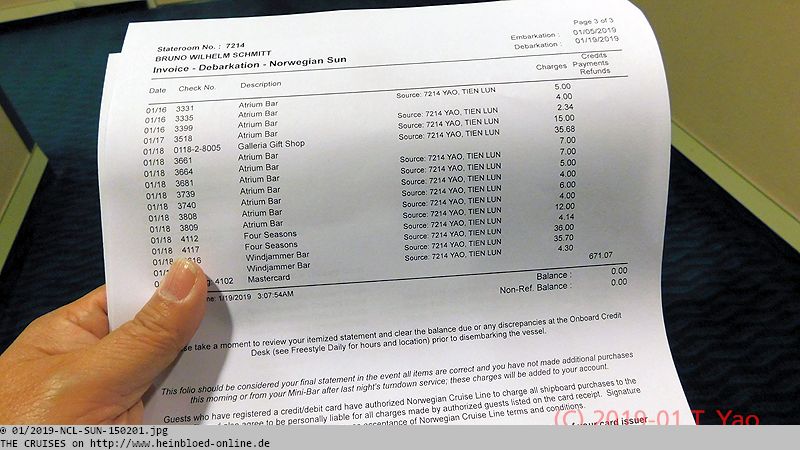 Unsere Rechnung ist da.
Carlos kümmert sich darum, dass wir vom Schiff herunter gebracht werden.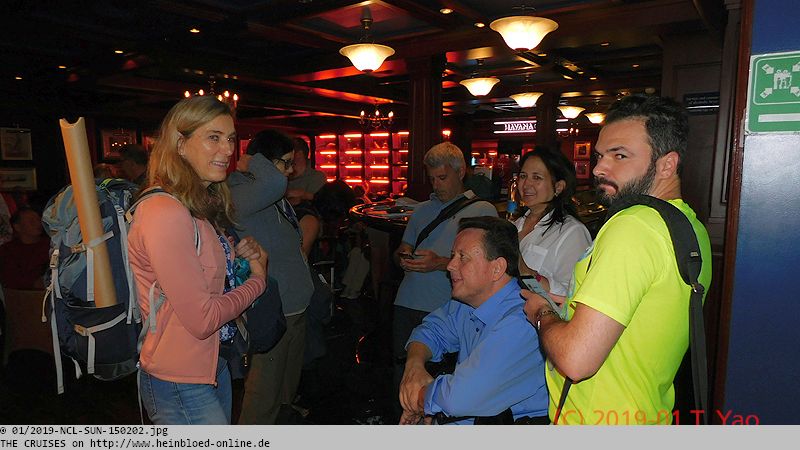 Carlos was taking care, that we would taken off the ship.

He shielded us from other guests, and a German tour group organized by a German food discounter became upset. Their leader's habits against other guests who were entitled to use the concierge service by sailing a lot with NCL was not very friendly. He was angry because we were taken earlier off the ship but him.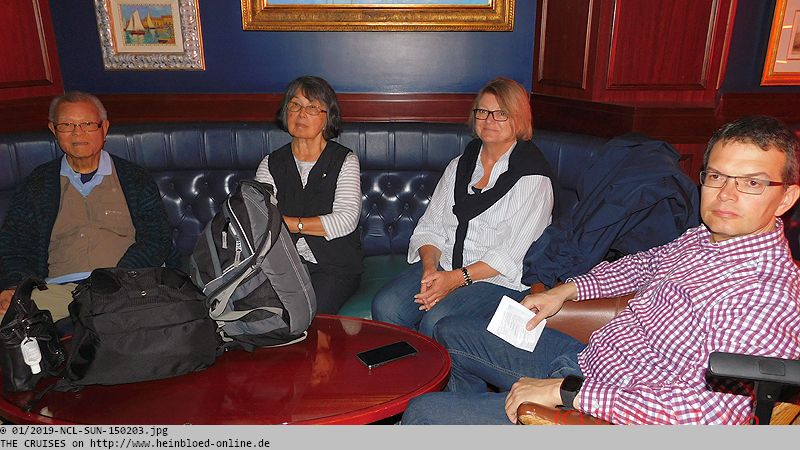 Er schirmt uns von den anderen ab, was wiederum zum Ärger bei einer deutschen Gruppe führt, die von einer Lebensmittelkette kommt. Der Leiter hat sich gegenüber anderen Gästen, die hier den Concierge-Service in Anspruch nehmen dürfen, weil sie sich das Privileg in vielen NCL-Kreuzfahrten verdient haben, ziemlich wie die Axt im Wald benommen. Es hat ihn schon sehr gewurmt, dass wir früher von Bord dürfen.
Ferdinand ist dann auch der letzte von der Crew, den wir an Land sehen, weil er Ekkehard bis zum Fahrzeug bringt.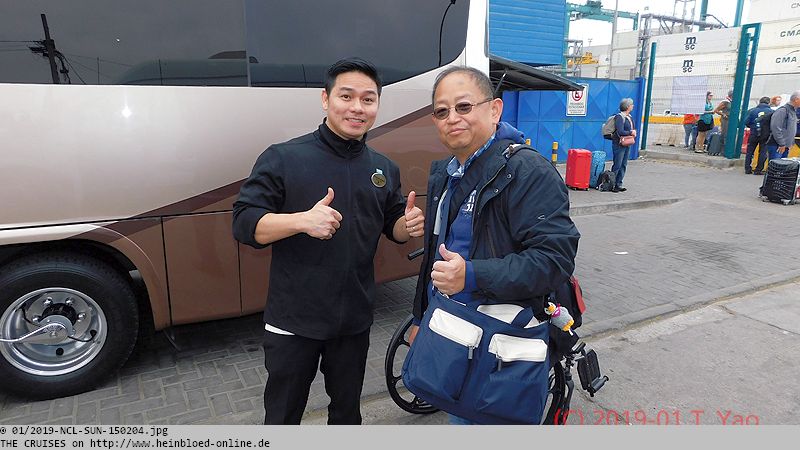 Ferdinand was the last from the crew, whom we saw ashore because he was escorting Ekkehard to the vehicle.

I Komang shielded on the gangway Ekkehard against the other guests, who made pressure to get down. On the way to the baggage release, our group was separated: mobility-reduced guests were not transferred in the regular bus to the terminal. Here, they collected the customs declaration. There was another check if any open food items were carried with us. Initially, we should dock in Valparaiso, Chile. But now we were in San Antonio, Chile. An industrial port without charm. All agents were here very friendly and helpful. Everyone was greeting, and welcoming, or wishing us a pleasant onward journey.

I Komang schirmt auf der Brücke Ekkehard von den anderen Gästen ab, die schnell auf der Brücke runterwollen. Unterwegs zur Gepäckausgabe im Terminal wird unsere Gruppe getrennt: mobilitätseingeschränkte Gäste werden nicht im normalen Bus vom Pier zum Terminal gefahren. Erst jetzt werden die Zollerklärungen eingesammelt. Es kommt nochmals zur Kontrolle, ob offene Lebensmittel mitgeführt werden. Ursprünglich hätten wir in
Valparaiso
ankommen sollen. Nun sind wir aber in
San Antonio
. Ein Industriehafen ohne Charme. Die Mitarbeiter hier sind jedoch alle sehr freundlich und hilfsbereit. Jeder begrüßt uns, heißt uns willkommen oder wünscht uns eine gute Weiterreisen.
Am Ende dieses Weges heißt es dann auch Abschied von Christian und Birgitt zu nehmen, die sehr schnell zum Flughafen müssen.

At the end of my way, it was time to say goodbye to Christian and Birgitt, which need to hurry up for the airport.

Since private transfers were not allowed to stop in front of the terminal, we needed to walk about 200 yards to the road.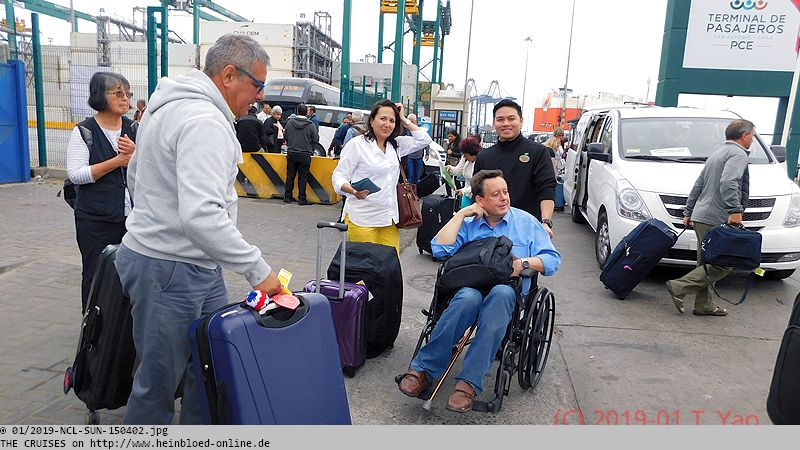 Da private Transfers nicht direkt am Terminal halten dürfen, müssen wir noch ca. 200 m zur Straße gebracht werden.
Aber das alles war sehr gut organisiert.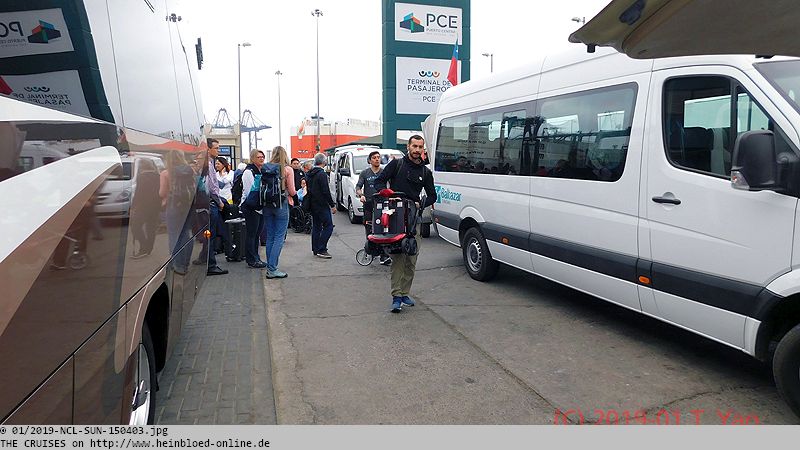 But that all was very well organized.

One vehicle was going right to the airport.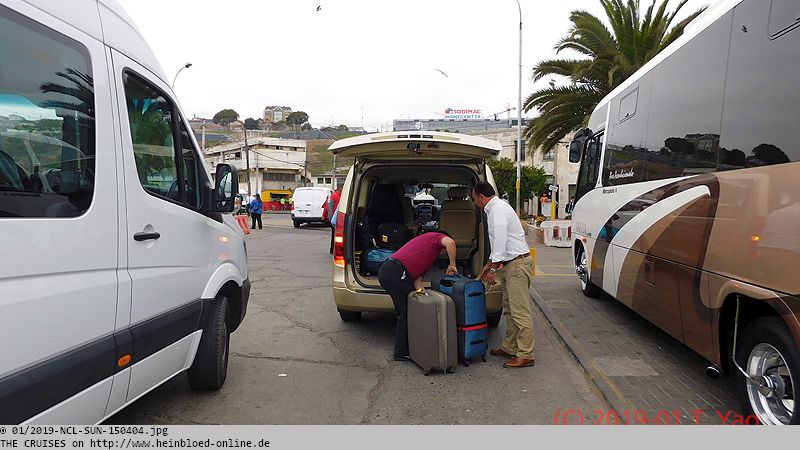 Ein Fahrzeug fährt direkt zum Flughafen.
Ekkehard fährt hier mit, weil er es vorzieht in der Flughafen-Lounge zu warten.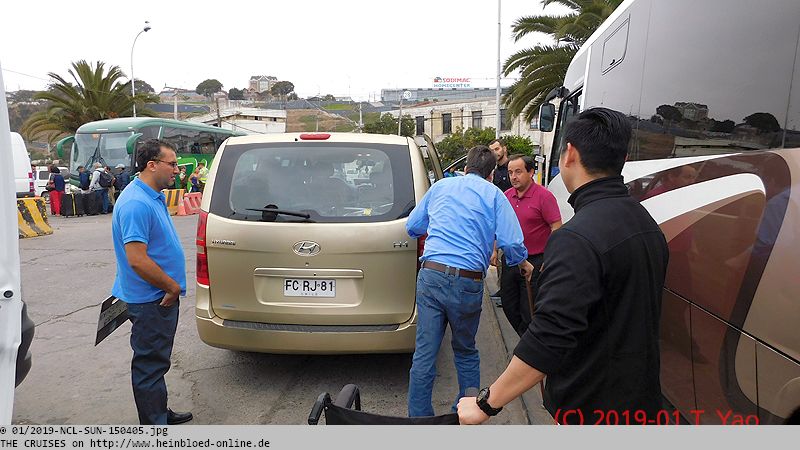 Ekkehard went with them, as he preferred to wait int he airport lounge.

Juan Victor Reyes of Perro Tour arranged everything for us.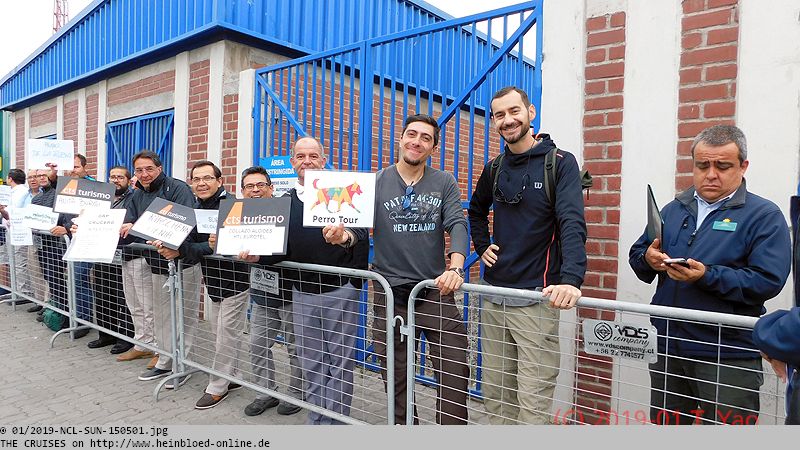 Juan Víctor Reyes von
Perro Tour
hat alles für uns arrangiert.
Für die Gruppe, die über Santiago de Chile zum Flughafen fährt hat Juan uns seinen Fremdenführer Giancarlo und Fahrer Luis zur Verfügung gestellt.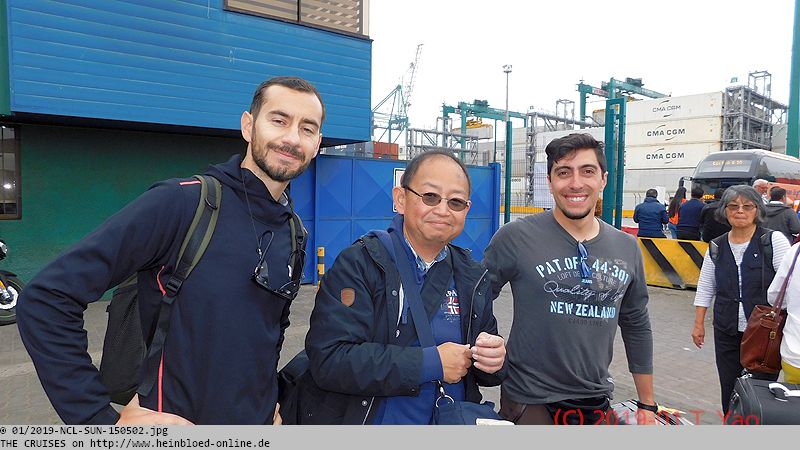 For the group which went to the airport via Santiago de Chile, Juan sent his tour guide Giancarlo and driver Luis.

Direct vehicle to the airport and for us a trailer for the baggage, so we had plenty of space that we must not stow hand luggage on our laps.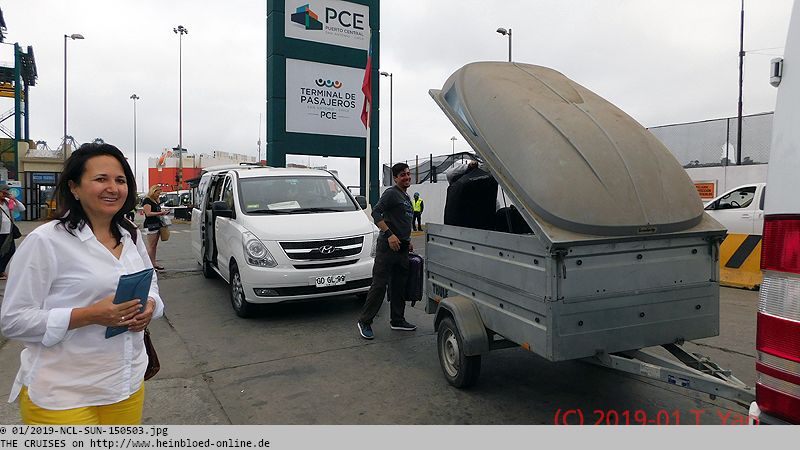 Direkt-Fahrzeug zum Flughafen und für uns ein Gepäckanhänger, damit wir genügend Platz haben, und nicht mit Handgepäck auf dem Schoss fahren müssen.
Und so können wir auch los.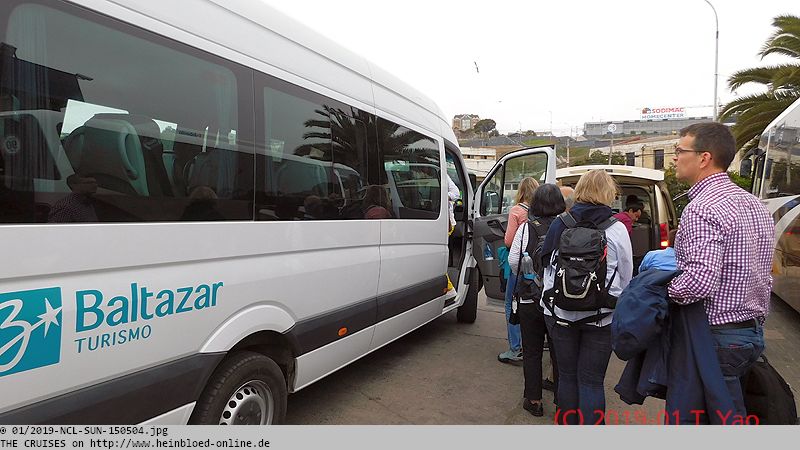 And so we could also start.

I should mention it in advance: I should have listened to Juan: He always recommended us to see Valparaiso. Valparaiso was UNESCO World Heritage, and we should have a fantastic view from the hills. After 15 days in nature, I thought that a big city might be something nice again - but I was not right. In Santiago de Chile, they had a running event. Part of the town was closed. So it took much longer than expected before we arrived Parque Metropolitano de Santiago.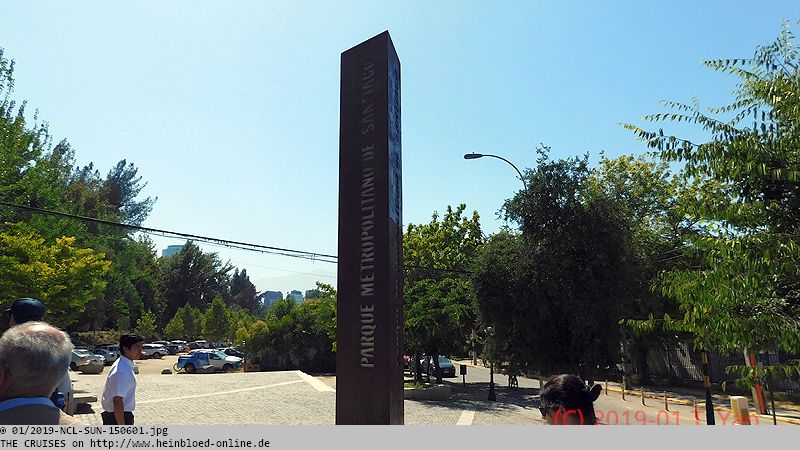 Um es vorweg zu sagen: wir hätten auf Juan hören sollen: Er hat uns immer nahe gelegt, dass wir nach Valparaiso fahren. Valparaiso ist
UNESCO Welterbe
und wir hätten einen fantastischen Blick von den Bergen aus gehabt. Nach 15 Tagen Natur meinte ich jedoch, dass mal eine Großstadt etwas tolles wäre: aber ich habe Unrecht. In Santiago de Chile findet eine Laufveranstaltung statt. Teile der Stadt sind gesperrt. So dauert es sehr viel länger als erwartet, bis dass wir im
Parque Metropolitano de Santiago
sind.
Wir dürfen heute hier nicht mit dem Bus auf den San Cristóbal rauffahren.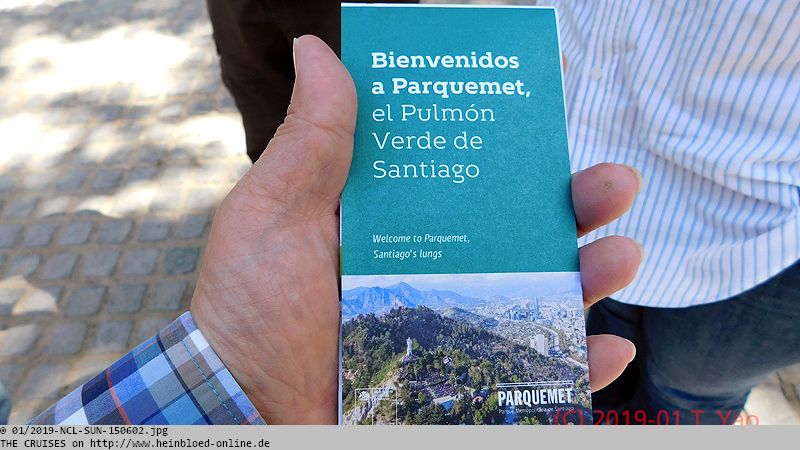 We were not allowed to go up on San Cristóbal with our bus that day.

For the use of the cable car, we needed to queue for approx. one hour to get the tickets and the other question was if we could get easily back. I remembered the cable car in Gilbratar on our trip on KONINGSDAM 2016 and the horse carriage to Neuschwanstein Castle, Bavaria, Germany after NORWEGIAN JADE 2014 (2): it was not only to get quickly up with the wagon or cable car up, but in Neuschwanstein, we could just walk down when the queue for the returning carriage was too long. But how would it be here? I was told later that we should go down by funicular. But how fast would we need to get down? We needed to get to the airport to catch our flight. That was why I did not know what we should do here.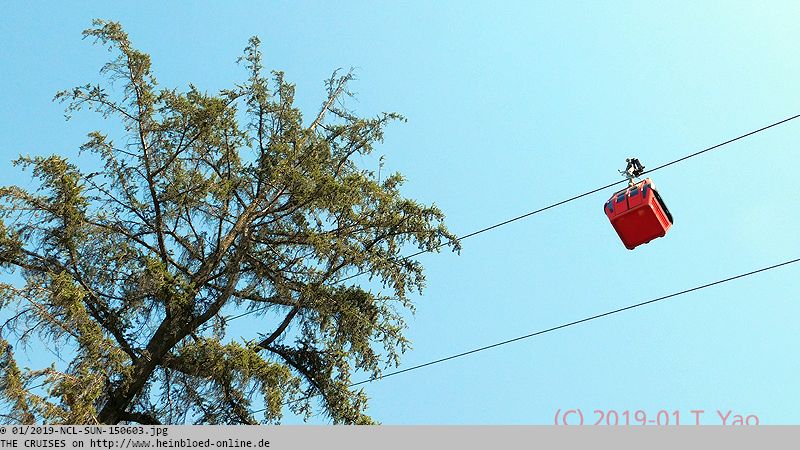 Für die Nutzung der
Seilbahn
hätten wir ca. eine Stunde anstehen müssen, um Karten zu bekommen und dann die Frage, wie gut kommen wir wieder runter. Ich erinnere mich an die Seilbahn in Gilbratar bei der Fahrt mit der
KONINGSDAM 2016
und an die Pferdekutsche nach Neuschwanstein nach der
NORWEGIAN JADE 2014 (2)
: es war nicht damit getan, dass wir irgendwann mit der Kutsche oder Seilbahn hochkommen, aber in Neuschwanstein konnten wir schnell zu Fuß wieder runter, als die Schlange für die Kutsche runter riesig war. Aber wie ist es hier? Mir wurde später gesagt, dass wir mit der
Standseilbahn
wieder runter sollten. Aber wie schnell wären wir damit runtergekommen? Wir müssen ja noch zum Flughafen, um unseren Flug zu bekommen. Deswegen: ich weiß eigentlich nicht, was wir hier wollen.
Heute kommt man nur mit dem Fahrrad und zu Fuß auf der Straße hoch.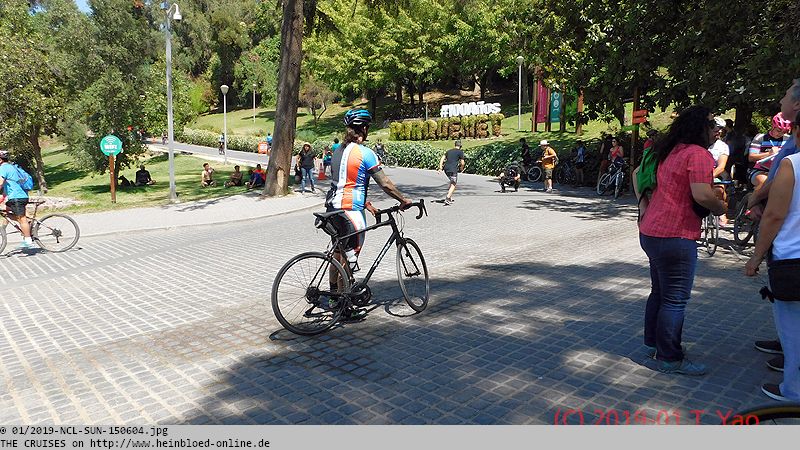 Today you could only get up on the road by bike or walking.

We wanted to walk a few minutes in the city. At the main square of the town, Plaza de Armas, we were dropped off. Here you find attractions like Catedral Metropolitana de Santiago, or the National Historical Museum.

Wir wollen noch ein paar Minuten in der Stadt rumlaufen. Am Hauptplatz der Stadt Plaza de Armas werden wir rausgelassen. Hier befinden sich unter anderem Attraktionen, wie die
Catedral Metropolitana de Santiago
oder das
Nationale Historische Museum
.
Unterwegs probieren wir
Mote con huesillos
. Ein typisches chilenisches süßes Sommergetränk mit Weizen und Pfirsischen.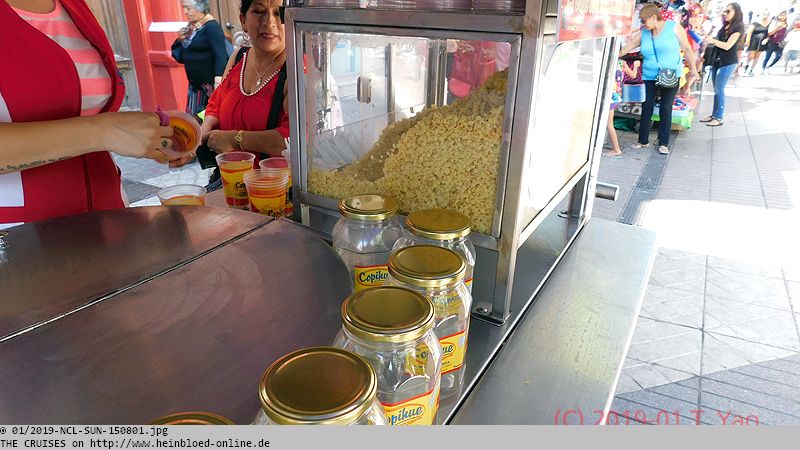 On the way, we tried Mote con husillos. A typical sweet summer beverage with wheat and peaches.

It did meet everybody's flavor.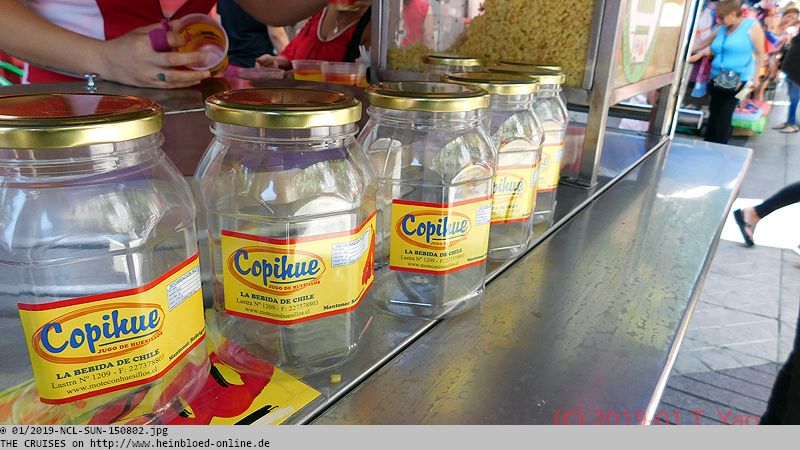 Es trifft leider nicht jedermanns Geschmack.
Ich bitte ja die Fremdenführer uns Gründe zu zeigen, damit wir wiederkommen. Das Getränk wäre keiner.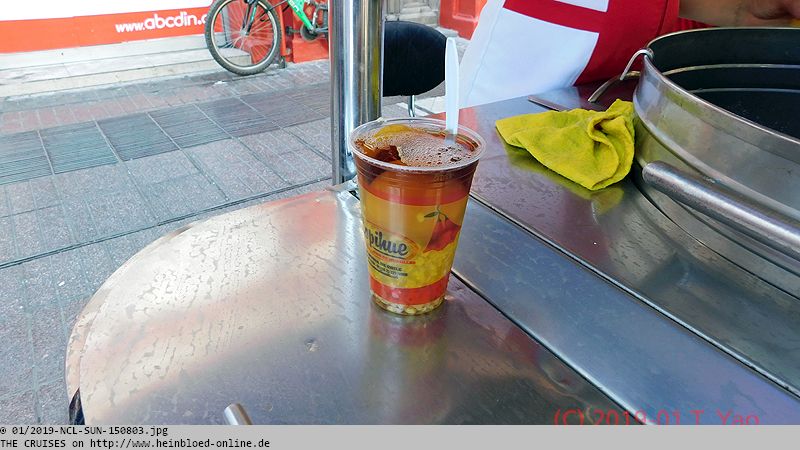 I asked our tour guide to show us reasons to come back. But this drink was none.

For my understanding, a lovely market hall would be one like the market hall La Boqueria in Barcelona, Spain. We went here on multiple voyages on NORWEGIAN JADE 2008, NORWEGIAN SPIRIT 2013, or MSC MERAVIGLIA 2017. Or also the market hall Mercado dos Lavradores in Funchal, Madeira, Portugal, which we visited on MSC FANTASIA 2009, and NORWEGIAN SPIRIT 2013. That was for me like a color-, small- and aromatherapy. There was also such a market hall (Vega Central), but it was not recommendable since it would be too dangerous there. Instead of that, we were taken to the Mercado Central, which was architectural a gem but it was a real tourist trap with plenty of fish-dealers, -restaurants and tour providers. Those waiters, who tried to pull us into their restaurants, were more aggressive than any bazar-dealer in Istanbul, Turkey or Izmir, Turkey, which we experienced on our voyage on NORWEGIAN JADE 2014 (1). But then, we made it clear before that there would be no tips if any dealer would try to pull us into their shops. Here, we should have done the same. Then, our tour guide took us to the most delightful spots and explained the dealers should not bother us and it worked pretty well. So we could be guided to the stores which we were most interested in, and we could make targeted our purchases there. To carry fresh fish as a souvenir to Germany was somehow quite tricky. As said: next time I would follow Juan's expertise to go Valparaiso and I would insist him personally to guide us since all communication before went with him and I had the feeling that he knew what I wanted. But it is always difficult to find a passion for a new place when you are under stress, and it was stressful to have my group and must not miss the flight.

Unter einer schönen Markthalle verstehe ich die
Markthalle La Boqueria in Barcelona
. Wir waren hier anlässlich diversen Reisen:
NORWEGIAN JADE 2008
,
NORWEGIAN SPIRIT 2013
oder
MSC MERAVIGLIA 2017
. Oder auch die Markthalle Mercado dos Lavradores in Funchal auf Madeira, die wir anlässlich der Reisen auf der
MSC FANTASIA 2009
und
NORWEGIAN SPIRIT 2013
kennengelernt haben. Das war für mich eine Farb-, Duft- und Aromatherapie. So eine Markthalle (
Vega Central
) gibt es hier auch, aber uns wird abgeraten dorthin zu gehen, weil es hier zu gefährlich wäre. Stattdessen werden wir zum
Mercado Central
, das architektonisch ein Schmuckstück ist, aber leider eine reine Touristenfalle mit lauter Fischständen, -restaurants und Tourenanbietern ist. Diejenigen, die versuchen uns in ihre Restaurants locken, sind noch aggressiver als die Bazar-Händler in Istanbul und Izmir, die wir auf der Reise
NORWEIGAN JADE 2014 (1)
kennengelernt haben. Und damals hatte aber ich auch klar gemacht: spricht uns ein Händler an, gibt es kein Trinkgeld. Das hätte ich vorher hier auch klären sollen. Unser Fremdenführer hat uns damals zu den schönsten Ständen geführt und den Händlern erklärt, dass wir unsere Ruhe haben wollten und das hat gut geklappt. So konnten wir damals direkt zu den Läden geführt werden, die uns am Meisten interessiert haben und konnten gezielt dort einkaufen. Frischen Fisch als Souvenirs mit nach Deutschland mitzunehmen, gestaltet sich nun als sehr schwierig. Wie gesagt: das nächste Mal würde ich Juan's Expertise folgen und nach Valparaiso fahren und ich würde darauf bestehen, dass er uns selbst führt, da die gesamten Absprachen zuvor über ihn liefen und ich auch das Gefühl hatte, dass er wusste, was ich wollte. Aber es ist irgendwie schon schwierig sich für eine neuen Ort zu begeistern, wenn man unter Stress steht und es ist stressig, da ich meine Gruppe habe und den Flug nicht verpassen will.
Da wir keine Zeit haben, um ausgiebig hier Mittag zu essen und es keine Fischbrötchen auf die Hand gibt, die wir unterwegs essen könnten, gehe ich in die gegenüberliegende
Bäckerei San Camilo
.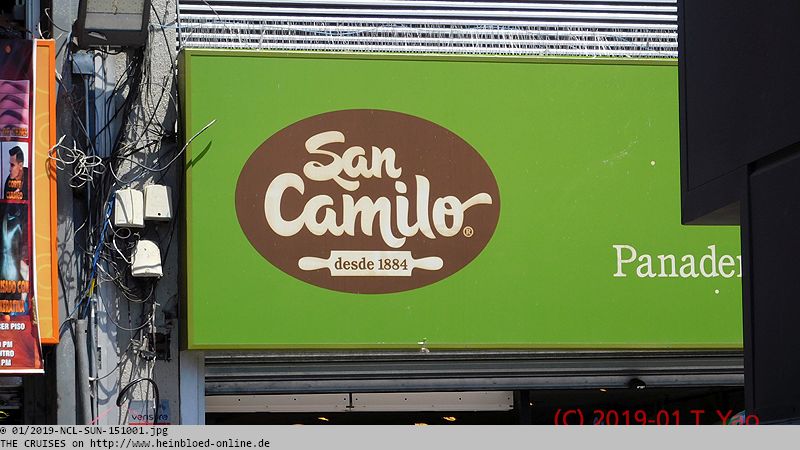 Since we had no time, to have an extensive lunch and they had no fish-sandwiches to go which we could eat on our way, I went to the opposite San Camilo bakery.

Here, I bought some empanadas for all of us, so each of us had something in my stomach.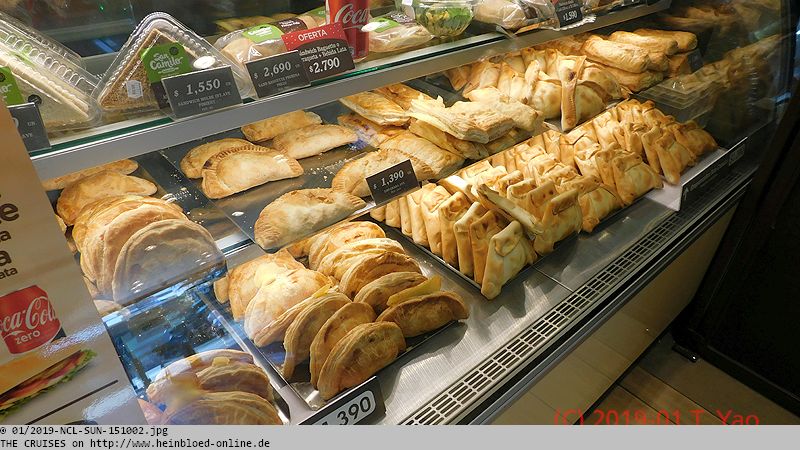 Hier kaufe ich für alle ein paar
Empanadas
, so dass jeder von uns etwas im Bauch hat.
Da nicht alle Fleisch essen, kaufe ich nur solche, die mit Käse gefüllt sind.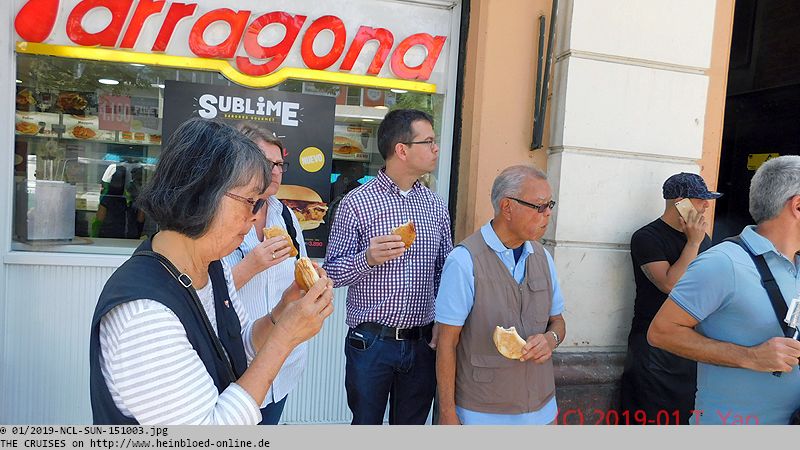 Since not all of us loved to eat meat, I only bought such with a cheese filling.

So none of us needed to go starved to the airport.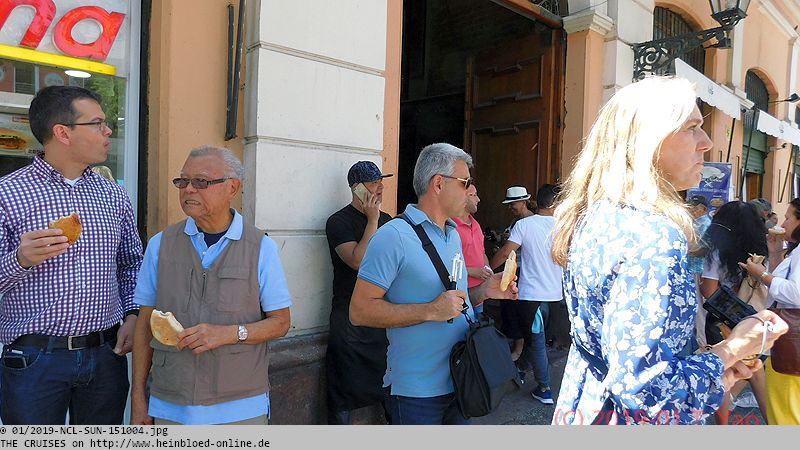 So muss niemand ausgehungert zum Flughafen.
Wir fahren zum
Flughafen
: hier erwartet uns das Chaos. So bin ich sehr froh, dass ich höre, dass es die anderen geschafft haben und auch Juan Ekkehard noch an LATAM übergeben hat. Martina wird von Giancarlo und Luis direkt an ihrem Flughafenhotel abgesetzt und so heißt es auch hier uns von ihr zu verabschieden.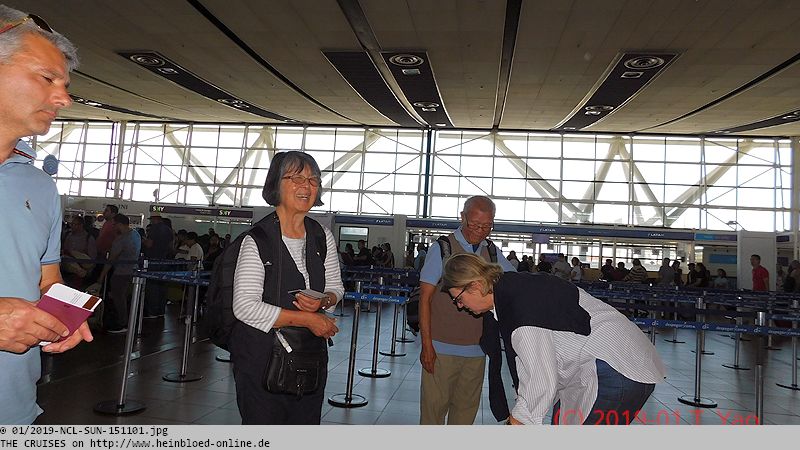 We went to the airport: here, a chaos was waiting for us. So I was pleased to hear, that all others made it and also Juan helped handle over Ekkehard to LATAM. Martina was taken by Giancarlo and Luis to her airport hotel, and it was time to say goodbye to her too.

Somehow, only Frances and Eddie could check-in at the kiosk.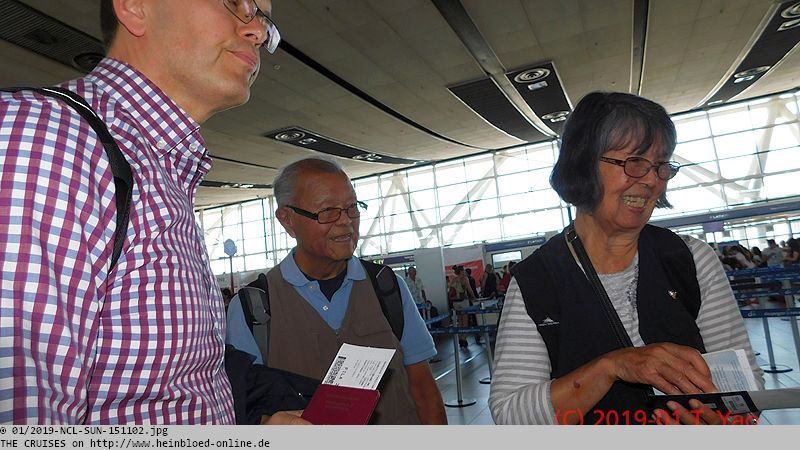 Nur Frances und Eddie können sich am Kiosk irgendwie einchecken.
Sigi und Plamen haben Pech: der Check-In funktioniert weder online noch am Kiosk. Plamen muss ich am Schalter anstellen, damit sein Ticket verifiziert wird. Und wir können nicht für ein Upgrade bieten, weil es bei unserem Tarif ausgeschlossen ist. LATAM ist ein Chaos-Laden! Und es gibt kaum Mitarbeiter, die fließend Englisch sprechen und an den Check-In Schaltern gibt es niemanden, der eine Frage in Englisch beantworten kann.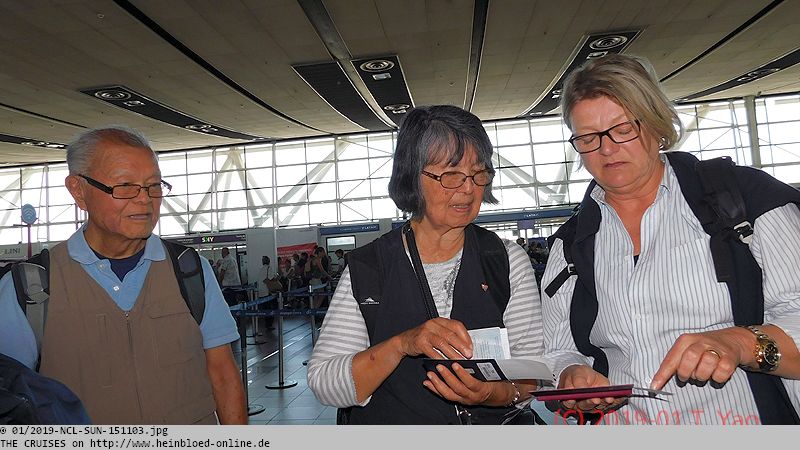 Sigi and Plamen had unluck: the check-in did not work online and at the kiosk either. Plamen needed additional to queue up at the counter to verify his ticket. And we could not bid for an upgrade, because it was excluded with our tariff. LATAM was a chaotic company! And it was hard to find an agent who spoke fluently English, and at the check-in counter, there was nobody who could answer a question in English.

Frances and Eddie were the first of us who went through the passport control and stayed at our gate for the worst case to block the plane to leave. The Chilian immigration officials were not interested to know that a flight would depart soon. They did not help to take them sooner. And there was none of LATAM who gave any support.

Frances und Eddie laufen als erste durch die Passkontrolle und bleiben an unserem Ausgang stehen, um sich ggfls. vor die Tür zu werfen und das Flugzeug aufzuhalten. Die chilenischen Grenzbeamten interessieren sich nicht dafür, dass ein Flugzeug gleich startet. Sie ziehen niemanden vor. Und von LATAM ist auch keiner da, der unterstützt.
Wir verabschieden uns dann auch von Frances und Eddie, die wir evtl. im Januar 2020 auf der SIRENA nach Kuba wiedersehen. Zunächst muss ich eine neue Arbeit finden, um die Reise zu finanzieren.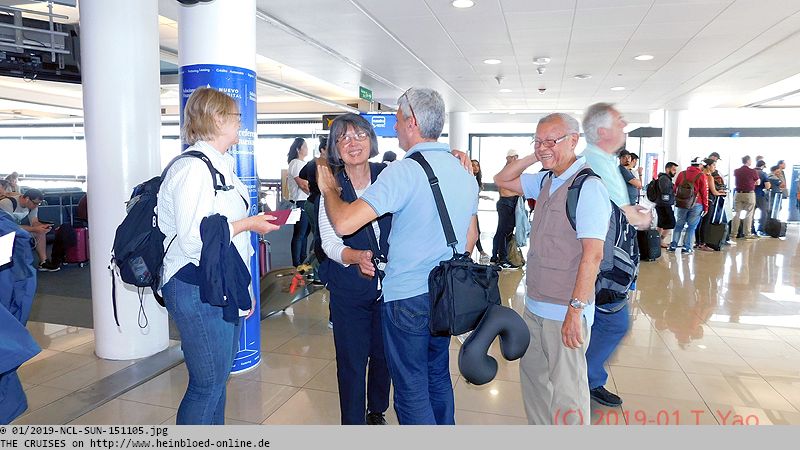 We bid also farewell to Frances and Eddie, whom we might see again in January 2020 on SIRENA for Cuba. First, I need to find a new job, to finance the voyage.

LATAM was created by merging of the Chilian LAN and the Brazilian TAM. Our flight from Frankfurt, Germany to São Paulo, Brazil was operated more or less by TAM. And our plane today across the Andes from Santiago de Chile to São Paulo was operated by LAN in a Dreamliner Boeing 787. LAN was a wonderful product regarding food and service. You had USB-ports at your seat. Rossita was relieved when we entered as last guests the aircraft. We had a bad surprise in the cabin. LATAM separated us from Sigi and Plamen.

LATAM ist aus einer Fusion der chilenischen LAN und der brasilianischen TAM entstanden. Unser Flug von Frankfurt nach São Paulo wurde von der TAM quasi ausgeführt. Und unser Flug über die Anden heute von Santiago de Chile nach São Paulo wird von der LAN in einem Dreamliner Boeing 787 durchgeführt. LAN ist schon ein tolles Produkt, was das Essen und den Service betrifft. USB-Ports am Platz. Rossita ist froh, dass wir als letzte das Flugzeug betreten. Im Flugzeug eine böse Überraschung. LATAM hat uns einfach weggesetzt von Sigi und Plamen.
In São Paulo essen wir eine Kleinigkeit vor dem Start, da die ja bei LATAM sehr geizig während des Flugs sind: Wir gehen ins
Jimmy Buffett's Margaritaville
, das wir noch von der
NORWEGIAN BREAKAWAY 2013
kennen.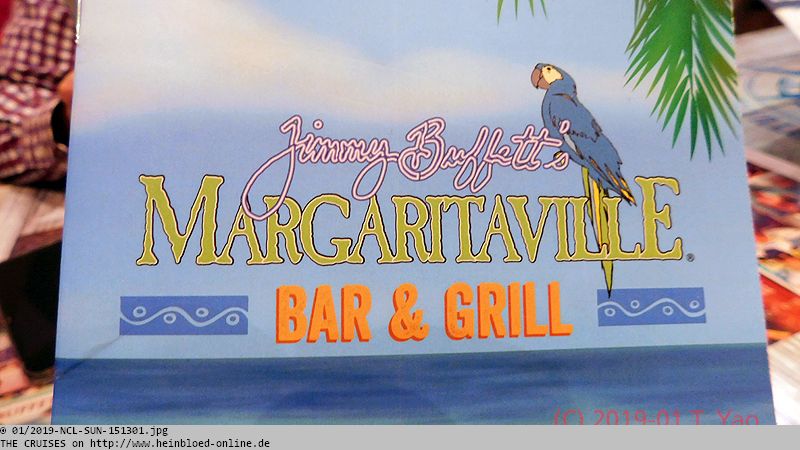 In São Paulo we had a quick bite before take-off since LATAM was very stingy during the flight: We went to Jimmy Buffett's Margaritaville which we knew from NORWEGIAN BREAKAWAY 2013.

Here, we ate some nachos. The service here was amicable. Our waiter set a few chairs together which allowed us to keep our eyes on our bags and must not put it on the floor.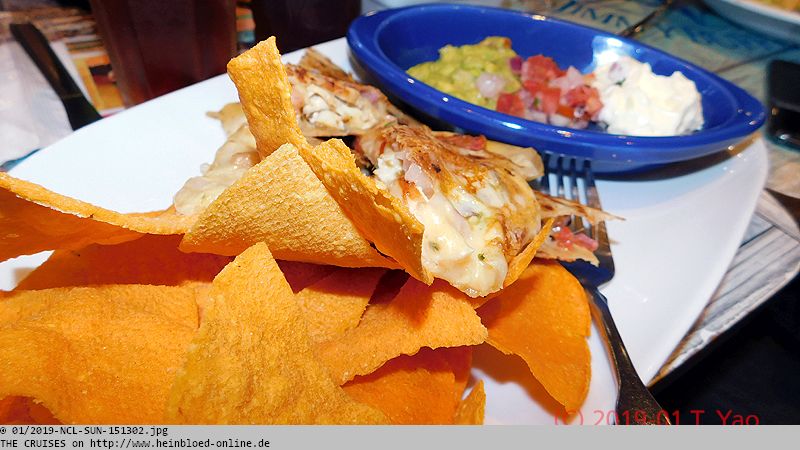 Hier esse ich ein paar Nachos. Der Service ist hier sehr freundlich. Unser Kellner stellt uns ein paar Stühle zusammen, damit wir unser Handgepäck nicht auf den Boden abstellen müssen und auch immer im Blick haben.
Am Gate erwartet uns eine weitere böse Überraschung: sie haben uns umgesetzt: weg von Sigi und Plamen. Direkt vor die Toilette. Vorteil: es tritt niemand einem in den Rücken. Nachteile: es ist immer Verkehr hier, man hört ständig die Toilettenspülung, es stinkt und es zieht, weil der Notausgang direkt nach der Toilette folgt. Unseren bezahlten Mittelsitz soll durch jemanden besetzt werden, dem sein Platz nicht gefällt. Aber dagegen wehre ich mich. Es gibt wieder zu wenig zu essen. Ich hatte sicherheitshalber noch Wasser in Flaschen für unterwegs gekauft und noch Erdnüsse. Service ist gleich null. Ich habe mehrfach den Rufknopf bedient, aber das interessiert keinen von der Crew. Es ist nämlich viel zu kalt.

Another bad surprise was waiting for us at the gate: they moved us away again from Sigi and Plamens. Just in front of the lavatories. Advantage: nobody was kicking us in the back. Disadvantages: there was always traffic here, you could hear all the time the toilet flush, it smelled terrible, and it was breezy because the emergency exit was just behind the lavatories. They tried to occupy our paid middle seat by another passenger who was not satisfied with his chair. But I started to fight against it. Again, we did not have a lot to eat. For safety's sake, I bought some bottled water for our flight and some peanuts. There was no service available. I used multiple times the call button, but none of the crew was willing to react. It was too cold around.

We landed in Frankfurt and had to say farewell to Rossita, Ekkehard, and Plamen. Sigi, we would see soon again on VEENDAM. We found her suitcase at the baggage claim. It should be forwarded to Hamburg, Germany. By coincidence, we met Patricia in the baggage hall, who arranged the forwarding of it immediately to Lufthansa. Our fridge at home was empty. So we went to a supermarket to buy something and ate a small bite at JingJing at the airport. On the way to The Squaire parking garage, we saw the lake was frozen. On our way back home, we saw some fields were covered by snow. So we had no need to go to the other end of the world! But we loved to do it: because of nature, and because of the many people, we acquainted on our voyage and whose names would stay in our good memories. New plannings for South America already started, but first I need to find a new job.

Wir landen in Frankfurt und verabschieden uns von Rossita, Ekkehard und Plamen. Sigi sehen wir bald auf der VEENDAM wieder. Ihren Koffer finden wir auf dem Gepäckband. Er sollte eigentlich nach Hamburg weitergeleitet werden. Patricia, die wir zufällig in der Gepäckhalle treffen, sorgt sofort dafür, dass er an Lufthansa weitergeleitet wird. Unser Kühlschrank zu Hause ist leer. Also kaufen wir schnell noch in einem Supermarkt ein und essen noch eine Kleinigkeit bei
JingJing
am Flughafen. Auf dem Weg zum
The Squaire Parkhaus
fällt uns auf, dass der See gefroren ist. Unterwegs sehen wir überall noch die Reste von Schnee auf den Feldern. Wir hätten also gar nicht bis an das andere Ende der Welt fahren müssen! Aber wir haben es dennoch gerne getan: wegen der Natur und den vielen Menschen, die wir auf der Reise kennengelernt haben und deren Namen uns in guter Erinnerung bleiben werden. Die neuen Planungen für Südamerika haben bereits begonnen, aber zunächst brauche ich einen neuen Job.
Die anderen Reisen in diesem Blog/
The other voyages in this blog: