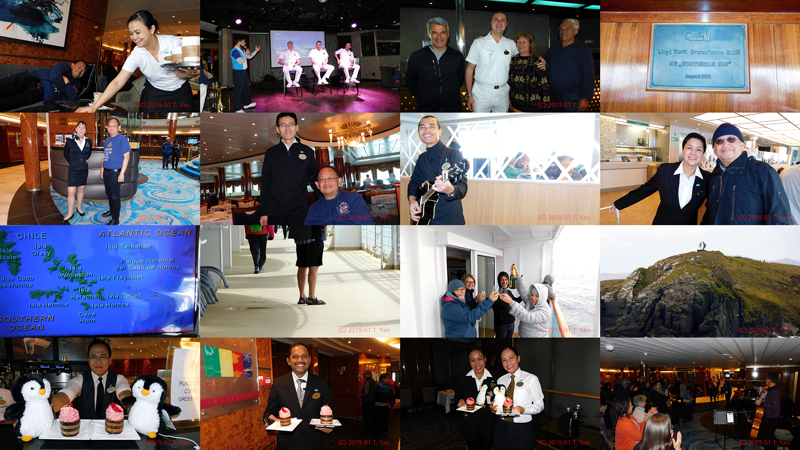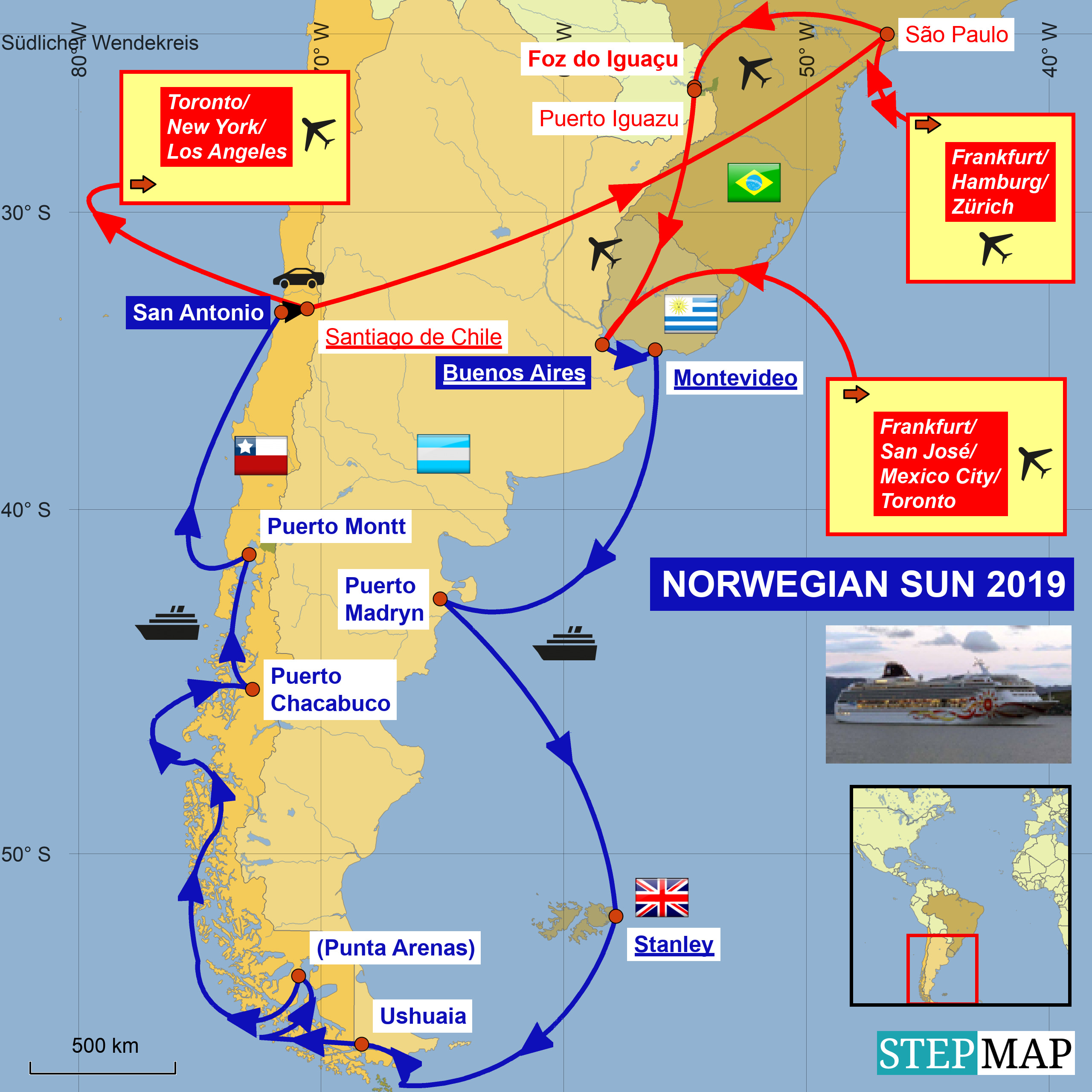 Nach so vielen Tagen Frühstück, wie bei Mutter, habe ich mal Lust auf klassisches deutsches Frühstück. Ich lasse mir eine Aufschnittplatte kommen.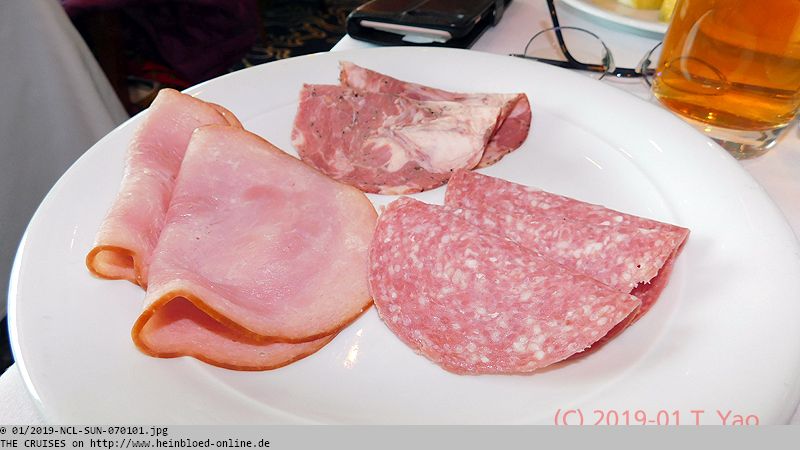 After so many days like with my mother, I was interested in having a classic German breakfast. I requested for a cold cut plate.

And on top of my rye-bread with caraway. My world was beautiful.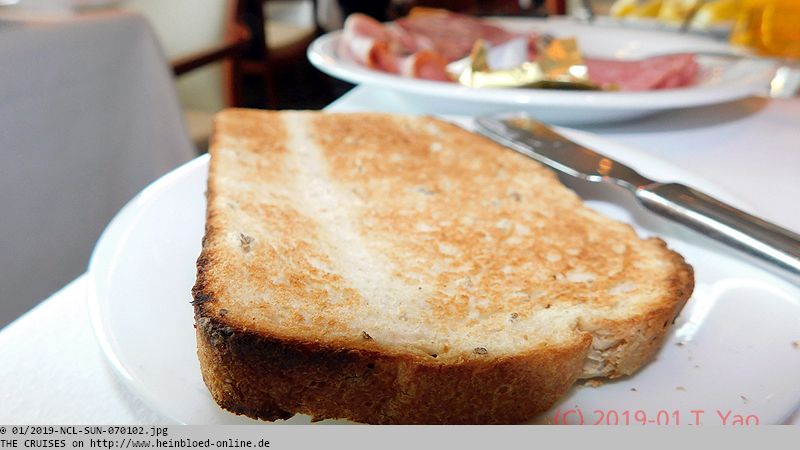 Und dazu mein Roggenmischbrot mit Kümmel. Meine Welt ist in Ordnung.
Mein Congee nehme ich trotzdem.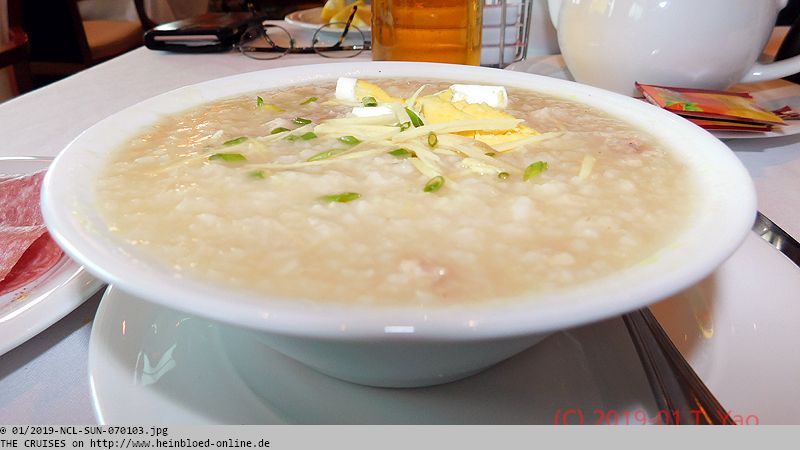 But I still took my congee.

Yesterday, when we had the rough sea, many guests laid on the sofas in the Atrium Café and blocked all the seat possibilities. I decided to stick them, even there was no rough sea that day. I felt completely contented. Gladies served me my favorite coffee specialty, and so I felt perfectly good!!! For the remainder of the cruise, I tried to arrange a permanent reservation of the sofa and that the musicians should set up a different way, that I must not leave the couch. Igor always told me to feel home while I was onboard.

Gestern bei dem starken Seegang haben sich viele Gäste auf die Sofas im Atrium Café gelegt und so die ganzen Sitzmöglichkeiten blockiert. Ich beschließe, dass ich sie blockiere, auch wenn kein starker Seegang ist. Ich fühle mich pudelwohl. Gladies serviert mir meine Lieblingskaffeegetränke und so geht es mir richtig gut!!! Für den Rest der Kreuzfahrt versuche ich durchzusetzen, dass das Sofa immer für mich reserviert bleibt und die Musiker auch anders aufgestellt werden müssen, damit ich mein Sofa nicht verlassen muss. Igor hat doch immer gesagt, dass ich mich wie zu Hause fühlen soll.
In den Kaffeebechern aus Pappe werden auch Muster in den Milchschaum kreiert... aber wenn der Deckel darauf kommt: wer sieht sie dann eigentlich noch?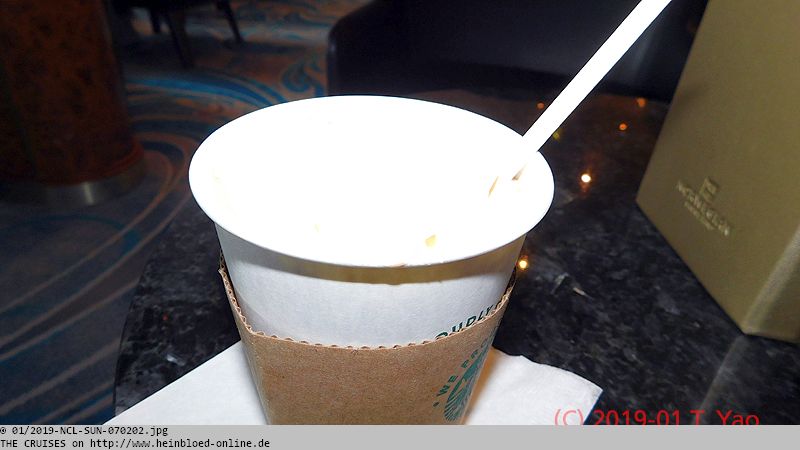 They created artwork in the milk foam in the paper cup... but when you close with a lid: who saw it actually?

At the booth, now Cristina Fonseca was on duty. She also always greeted us friendly and liked to share some words with her too.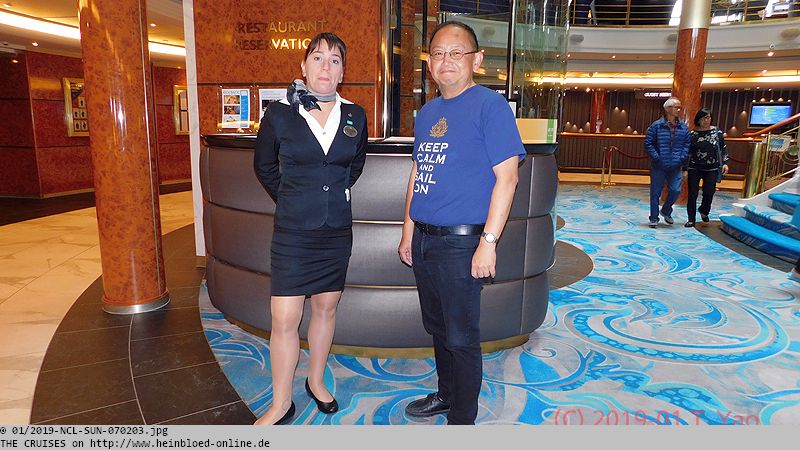 Am Stand hat jetzt Cristina Fonseca Dienst. Auch sie grüßt uns immer freundlich und wir unterhalten uns auch gerne mit ihr.
Leider muss ich meinen Platz auf dem Sofa aufgeben, weil ich zur Fragestunde der Schiffsführung will. Hier sehe ich E-Mail-Hotline für technische Fragen. Die muss ich mir merken, falls mal der Internet-Manager keinen Dienst hat...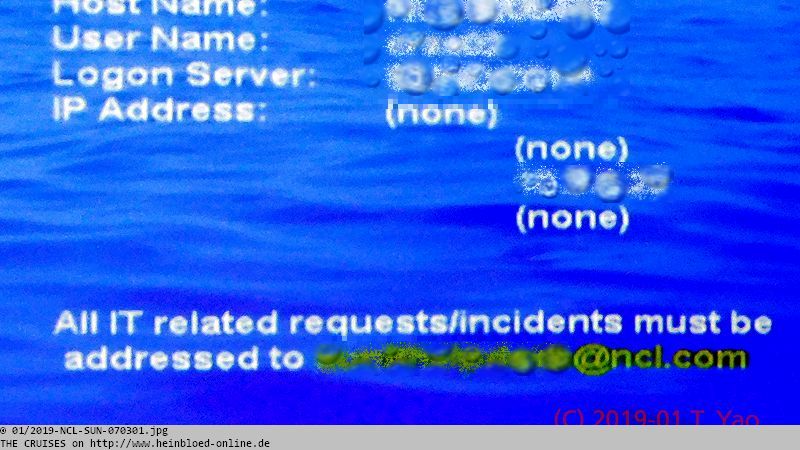 Unfortunately, I had to give my space on the sofa because I wanted to see the question and answer hour of the ship's leadership. Here, I saw the e-mail-hotline for technical requests. I would remember it, in case the internet-manager was not on duty...

Now, they had a PowerPoint-presentation too, to allow a brief insight to unaccessible rooms.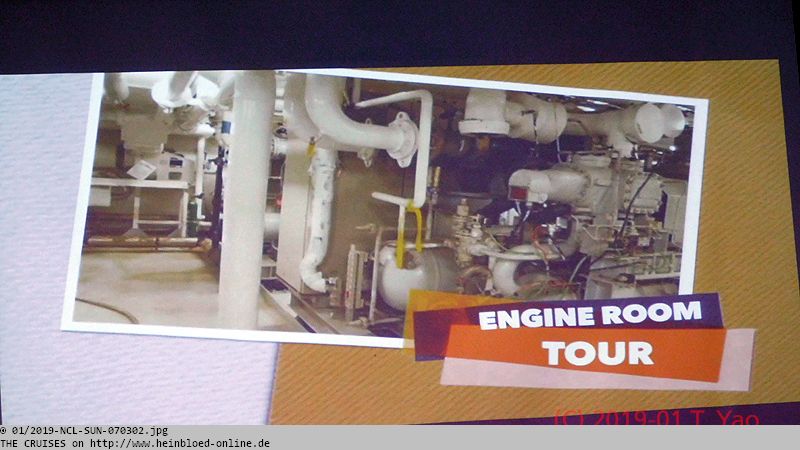 Auch jetzt läuft eine PowerPoint-Präsentation, um einen kurzen Einblick in die unzugänglichen Räume zu ermöglichen.
Es hieß ja mal, dass Jamie, die wir von der
NORWEGIAN SUN 2012
kennen, Cruise Director an Bord sein sollte. Sie musste aber wegen einer medizinischen Behandlung vorzeitig von Bord. Nun ist auch Adriano auf einmal weg. Und daher führt Guido di Benedetto durch die Fragestunde mit der Balkan-Connection Kapitän Teo, Chef Ingenieur Plamen und Hoteldirektor Igor.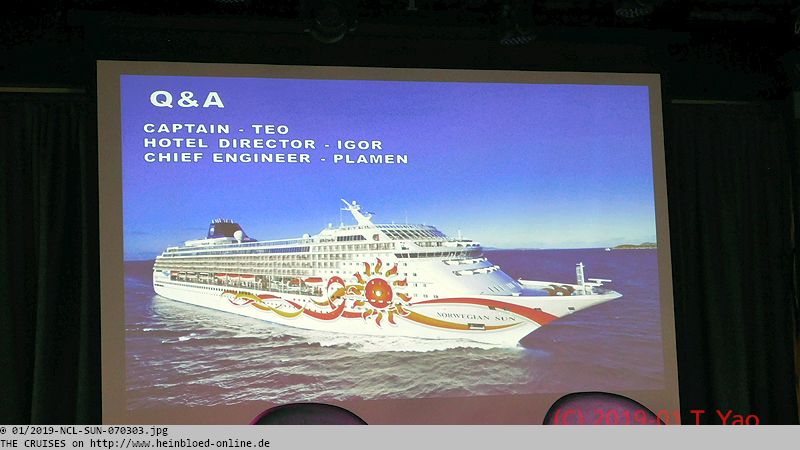 I was told, that Jamie, whom we knew from NORWEGIAN SUN 2012, would be the Cruise Director onboard. Due to a medical emergency, she needed to leave the ship on short notice. Now, Adriano was disappeared too. And so Guido di Benedetto was hosting the question hour with the Balkan-connection Captain Teo, Chief Engineer Plamen and Hotel Director Igor.

Captain Teo was not so mean, like Captain Kim was, and allowed questions from me. But I was afraid, that he would also not permit anymore to hand the microphone to me in the future. I did not ask questions like "Does the crew go home every night after their work?". For example, I was interested to know, if we (passengers and crew on duty) were sharing the internet-network and so they would suffer from the slow internet too. Furthermore, if there would be a danger of miscommunication between shore and ship, or if they would use a different network. But I learned, that there were separate networks and they could ensure safe operation even we had bad network stability. Everyone was open for questions apart from that hour. How many times we experienced on ships of other companies that officers would like to walk with a magic hat over the ship decks and felt bothered by their guests (even you only asked for some directions). That was completely different from NCL: you could ask a simple seaman or also the Captain: you always get an answer. Usually, they greeted you friendly. It were the friendliness, helpfulness, and graciousness of the crew with NCL which made us accepting and overseeing specific weakness.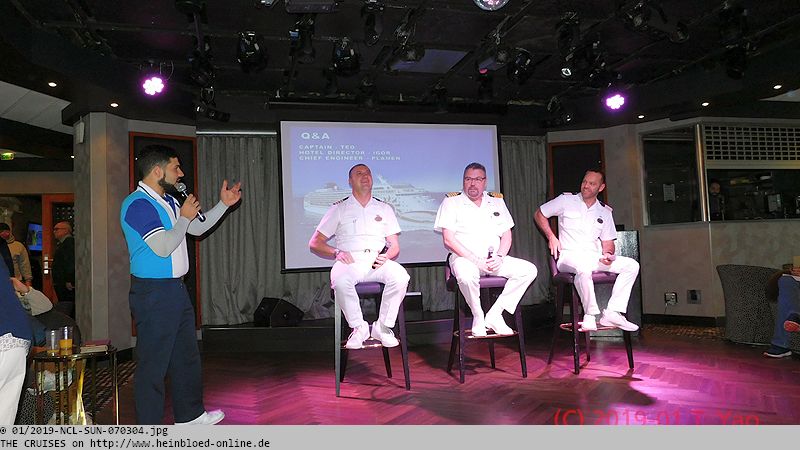 Kapitän Teo ist zumindest nicht so gemein, wie Kapitän Kim, und lässt Fragen von mir zu. Aber ich fürchte, dass er künftig auch das Mikrofon für mich sperren wird. Ich stelle ja nicht so Fragen, wie "Fährt die Crew jeden Tag nach Dienstschluss nach Hause?". Mich hat beispielsweise interessiert, ob wir (die Passagiere und die diensthabende Crew) uns das Internet-Netz teilen und sie auch unter dem langsamen Internet "leiden" und ob dadurch eine Gefahr besteht, wenn nicht vernüftig zwischen Land und Schiff kommuniziert werden kann oder anderes. Aber mir wird erklärt, dass die Netze getrennt sind und auch bei fehlender Netzstabilität ein sicherer Betrieb möglich ist. Alle sind für Fragen der Gäste auch außerhalb der Fragestunden ansprechbar. Wie oft haben wir auf anderen Schiffen anderer Gesellschaften erlebt, dass die Offiziere am liebsten mit einer Tarnkappe durch das Schiff gelaufen wären und sich durch Fragen (selbst nach einem Weg...) ihrer Gäste sich gestört fühlten. Das ist wirklich bei NCL komplett anders: Man kann einen einen einfachen Seemann fragen oder auch den Kapitän: man bekommt immer eine Antwort. Man wird auch i.d.R. gegrüßt. Die Freundlichkeit, Hilfsbereitschaft und die Herzlichkeit der Crew bei NCL sind für mich immer wieder Gründe über gewisse Schwächen drüber in Kauf zu nehmen und auch hinwegzusehen.
Hier die doppelten Plamens mit weiteren bulgarischen Gästen. Wir haben auch weitere Bulgaren in sehr guter Erinnerung: Unser Hoteldirektor Ivo Belev damals auf der
NORWEGIAN SPIRIT 2013
, der mir ein Spanferkel schuldet und leider NCL verlassen hat. Oder auch von der
DIAMOND PRINCESS 2016
Emil Lichev. Die Bulgaren sind so selten, dass sie sofort auffallen und man sie so schnell nicht vergisst.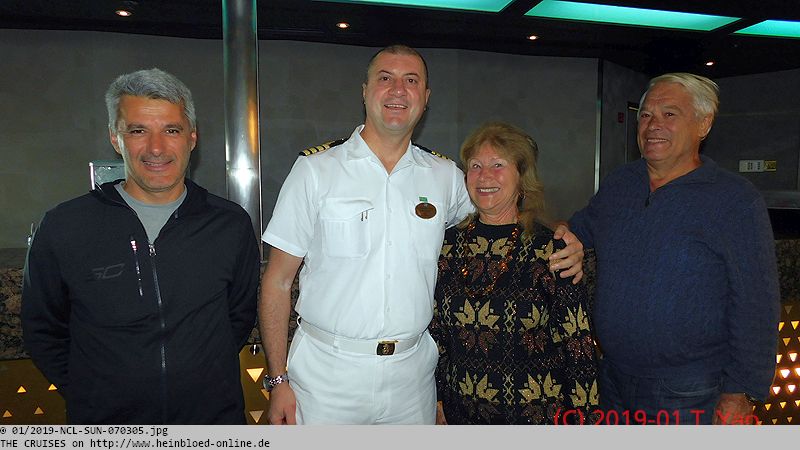 Here we had double Plamens with other Bulgarian guests. We had Bulgarian crew members in fond memories: Our Hotel Director on NORWEGIAN SPIRIT 2013 was Ivo Belev who was still owing me a suckling pic, but he left the company. But also from DIAMOND PRINCESS 2016, we loved to remember Emil Lichev. There were not so many Bulgarians on the ships that you usually remember them very well.

To have a variation, we had a chicken-noodle-soup again. MINI-scallops, Philly-Cheese-Steak. And that day, my namesake YaoYao Li was serving me very nice. At the front, there was a need that the boss had to work herself: Mihaela with Wilson and Bernita. A good supervisor always distinguished by not only putting the pressure down and to step in herself, if there was a need.

Zur Abwechslung gibt es mittags mal wieder Hühner-Nudel-Suppe, MINI-Jakobsmuscheln, Philly-Cheese-Steak. Und ich werde von meinem Namensvetter YaoYao Li sehr nett bedient. Vorne muss heute die Chefin selbst ran: Mihaela mit Wilson und Bernita. Das zeichnet auch eine gute Chefin aus: nicht nur den Druck nach unten weitergeben, sondern auch selbst einspringen, wenn Bedarf ist.
Das Wetter macht auch, was es will: mal schöner Sonnenschein und mal sehr stark bewölkt und windig. Wir nähern uns eben
Kap Horn
.

The weather was doing what it wanted: sometimes lovely sunshine and sometimes overcast and windy. We were approaching for Cape Horn.

What was gorgeous: they prepared the Spinnaker Lounge in a significant way. So nobody needed to leave the Spinnaker Lounge to have a free snack. What was less pleasant: NCL was not famous for their lecture programme. They had single announcements, when somebody asked before in a question hour and requested it. One day later, they forgot it again. For that, you needed to go with Holland America or Princess. Then on WESTERDAM 2010 in Norway or on ISLAND PRINCESS 2013 in Alaska: there we had real lecture programmes. But we would need to pay for the journeys with Holland America and Princess much more.

Was sehr schön ist: sie haben ganz toll die Spinnaker Lounge hergerichtet, so dass niemand die Lounge verlassen muss, um sich mal kostenlos zu stärken. Was weniger schön ist: NCL ist nun einmal nicht für sein Lektorenprogramm bekannt. Es gibt vereinzelte Ansagen, wenn zuvor bei Fragestunden jemand hierzu eine Frage stellt. Einen Tag später ist es leider vergessen. Dafür muss man Holland America oder Princess fahren. Damals auf der
WESTERDAM 2010
in Norwegen oder auf der
ISLAND PRINCESS 2013
in Alaska: das waren echte Lektorenprogramme. Aber wir hätten für die Fahrten mit Holland America und Princess weitaus mehr bezahlt.
Wir wärmen uns mit Hühnersuppe am Great Outdoors auf. I Komang unterhält die Gäste im Garden Café mit Gesang und Gitarrenmusik. Maître D' Cherrylyn Canlas ist für alle Restaurants hier oben verantwortlich. Auch sie kann man immer ansprechen, wenn man einen Sonderwunsch hat. An den Bars gibt es Glühwein. Zufällig entdecken wir an einer Bar auch das Werftschild der
Lloyd-Werft
in Bremerhaven. Aber irgendwie fehlt auf dem Schild die Seriennummer.

We warmed up with some chicken broth at the Great Outdoors. I Komang entertained the guests in the Garden Café with his songs and guitar music. Maître D' Cherrylyn Canlas was in charge for all restaurants here on the top decks. You could always address to her if you have a special request. On the bars, you could get mulled wine. Accidentally we discovered at the bar the plaque from the Lloyd-shipyard in Bremerhaven, Germany. But somehow the serial number was missing on the plaque.

We came closer to Cape Horn, and it became colder... While we walked around in winter clothes, others went in shorts.

Wir kommen immer näher an
Kap Horn
und es wird immer kälter... und wir laufen in Wintersachen herum und andere in kurzen Hosen.
Wir sind da!

We arrived!

We enjoyed on the balcony of Ekkehard and Rossita's cabin the view.

In der Kabine von Ekkehard und Rossita genießen wir den Ausblick von deren Balkon.
Wir kaufen für zwei Geburtstagskinder zwei Cupcakes bei Dave und haben zwei Pinguine auch für sie besorgt.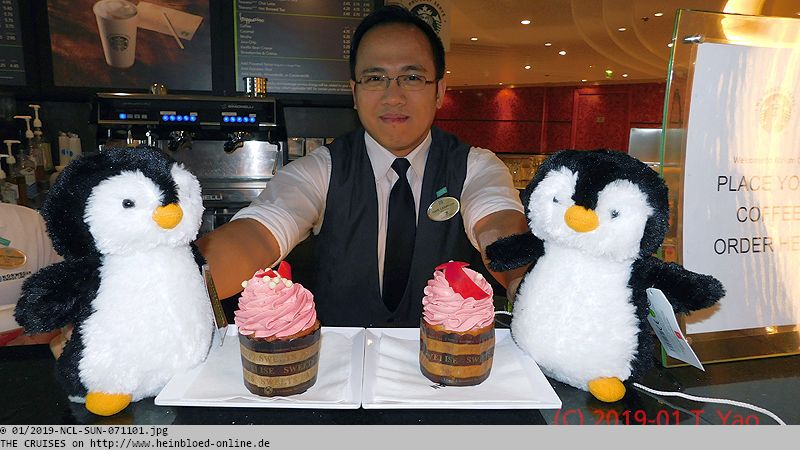 We bought for the two birthday girls two cupcakes with Dave and also got two penguins for them too.

Wilson saw me and took the two cupcakes from me that I must not carry it all by myself.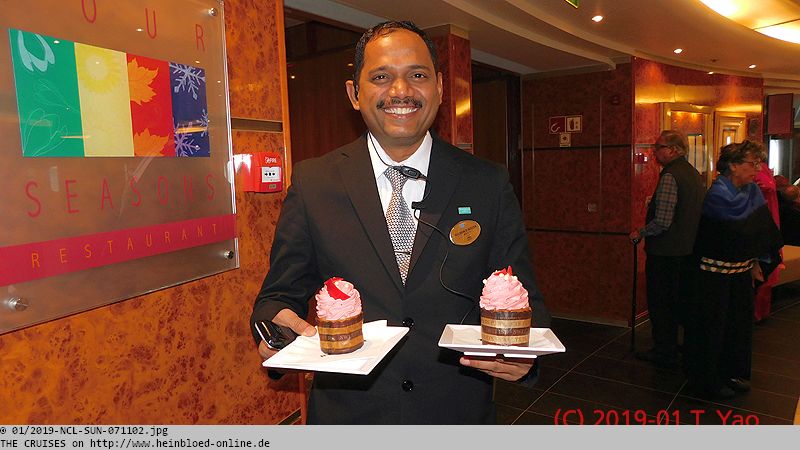 Wilson sieht mich und nimmt mir die zwei Cupcakes ab, damit ich nicht alles tragen muss.
Und hier sind unsere zwei Geburtstagskinder: Rodalyn und Eugenia. Happy Birthday to you...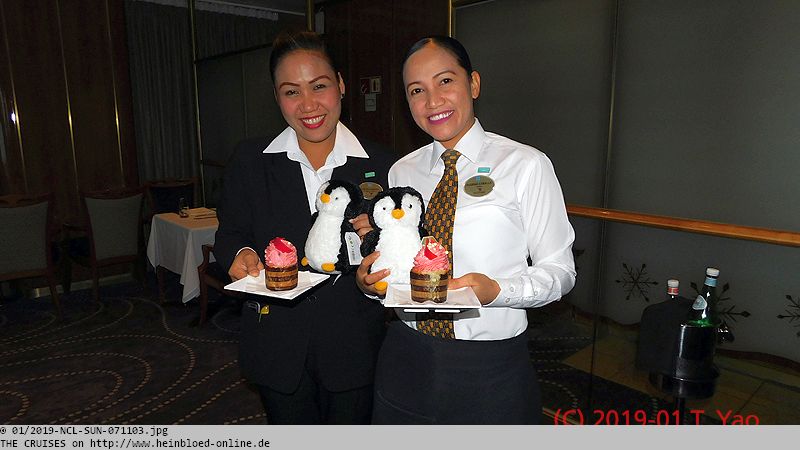 And here were our two birthday girls: Rodalyn and Eugenia. Happy Birthday to you...

We ate "normal". Yummy!

Wir essen "normal". Lecker!
Ich habe mich ausgeschlossen und bekomme ich eine Karte, die nur für die Tür gilt.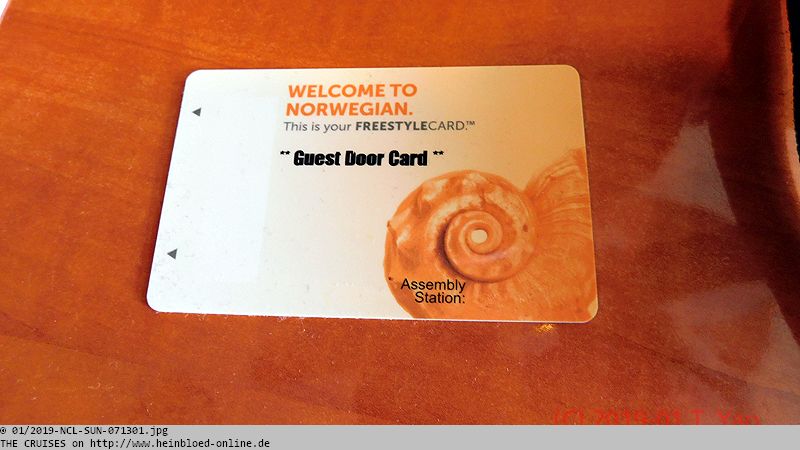 I locked out myself and I got a card which allowed me to open the door.

Even when Rodalyn had her birthday, she was thinking of us.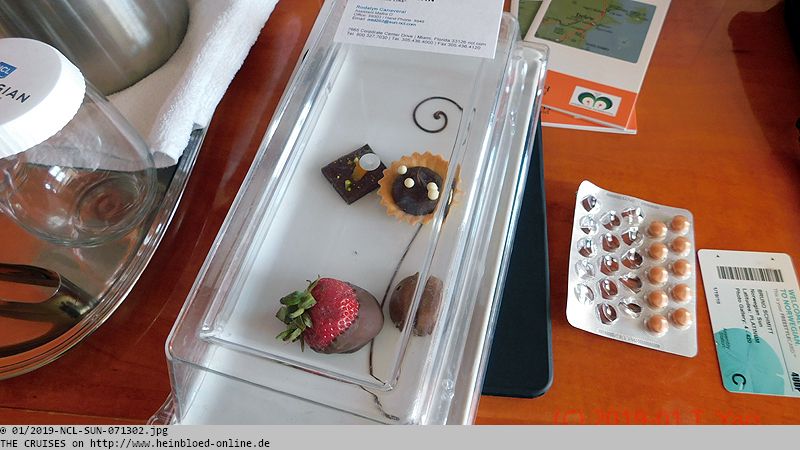 Sogar an ihrem Geburtstag, denkt Rodalyn auf uns.
Und noch ein Handtuchtier.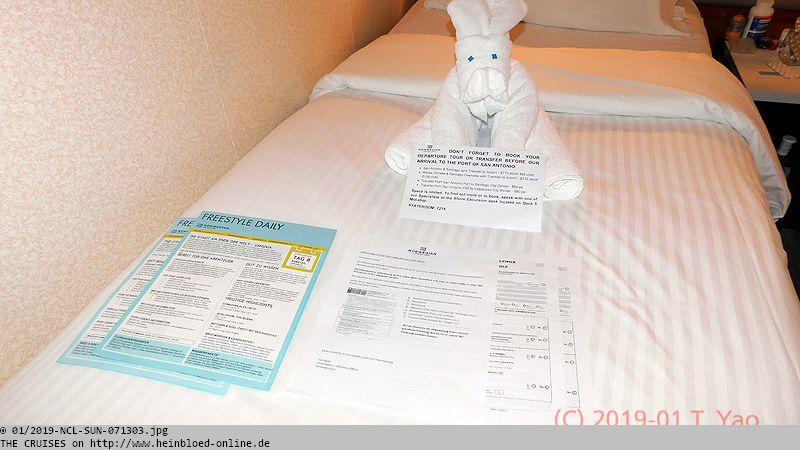 And another towel animal.

Before entering Chile, we got the immigration forms, which we had to fill out before we reach Puerto Chacabuco, Chile and needed to have it with us on our shore tours, but finally needed to hand over in San Antonio, Chile.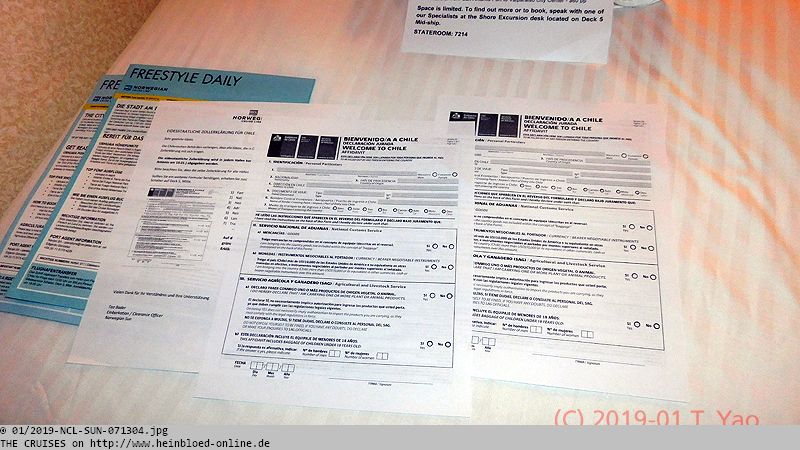 Vor der Einreise nach Chile bekommen wir die Einreiseformulare, die wir vor erreichen von Puerto Chacabuco ausfüllen und auf den Landgängen mitführen müssen, aber erst in San Antonio muss es abgegeben werden.
Sie werben für Transfers in die Innenstädte und Besichtigungstouren, die am Flughafen enden.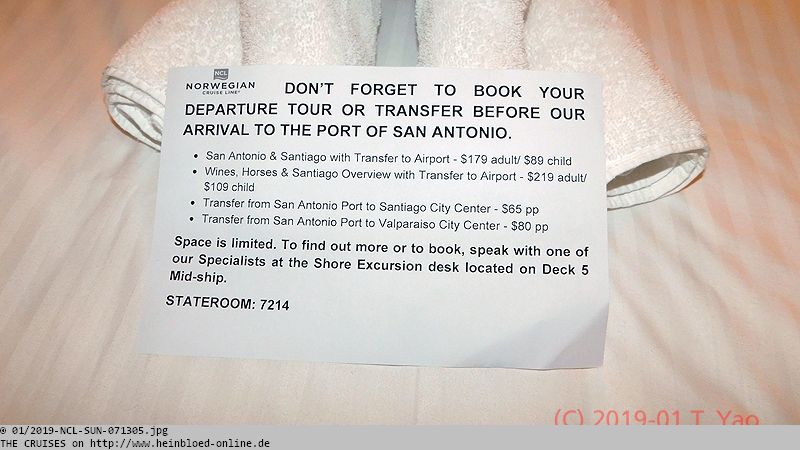 They advertised for their transfers to the city centers and sightseeing tours, which would terminate at the airport.

Tonight, we were listening to Réka, Matyas, and Ábel of Atlantis Strings with pieces of Tango music.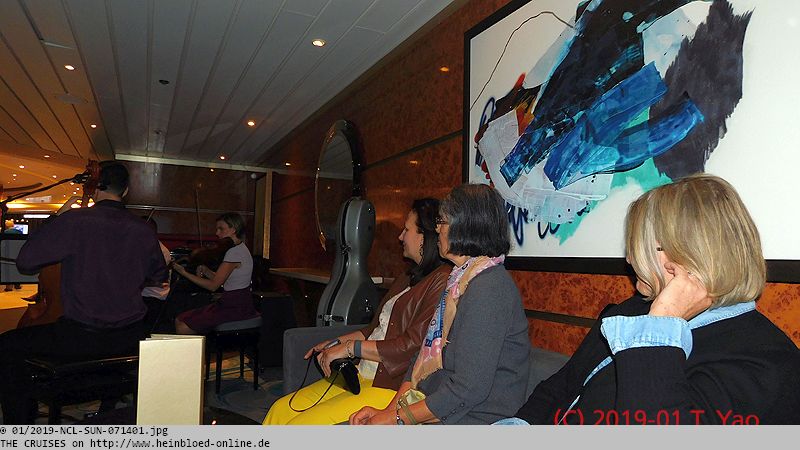 Heute Abend hören wir Réka, Matyas und Ábel von Atlantis Strings mit Tango-Stücke.
Alle genießen den tollen Abend.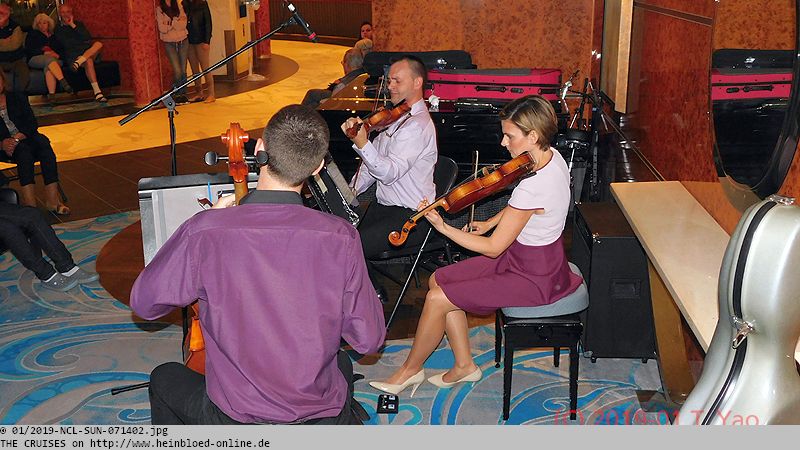 Everyone was enjoying the great night.

They played pieces like "La Cumparsita", "Por Una Cabeza", "Adiós Muchachos" all three by Carlos Gardel, "Libertango" by Astor Piazzolla, and "Hernando's Hideaway" by Richard Adler and Jerry Ross.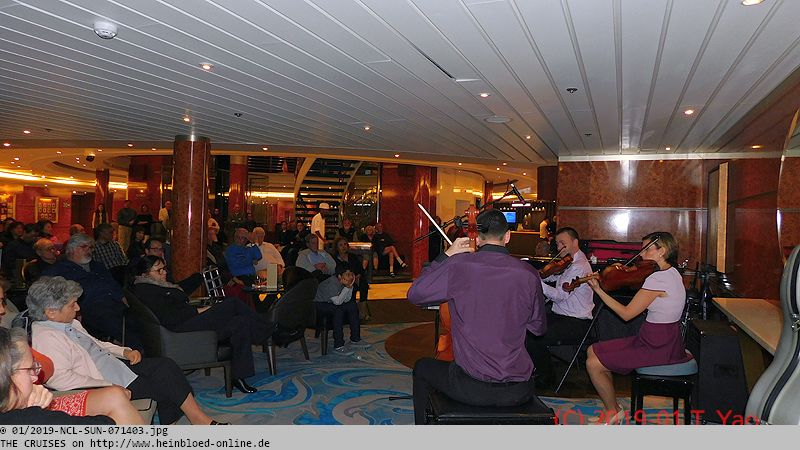 Sie spielen Stücke wie "
La Cumparsita
", "
Por Una Cabeza
", "
Adiós Muchachos
" alle drei von Carlos Gardel, "
Libertango
" von Astor Piazzolla und "
Hernando's Hideaway
" von Richard Adler und Jerry Ross.
Es gibt Standing Ovation. Das habe ich außer in der
Berliner Waldbühne bei Daniel Barenboim
und in der
Berliner Philharmonie bei Claudio Abbado
bei klassischer Musik noch nie erlebt.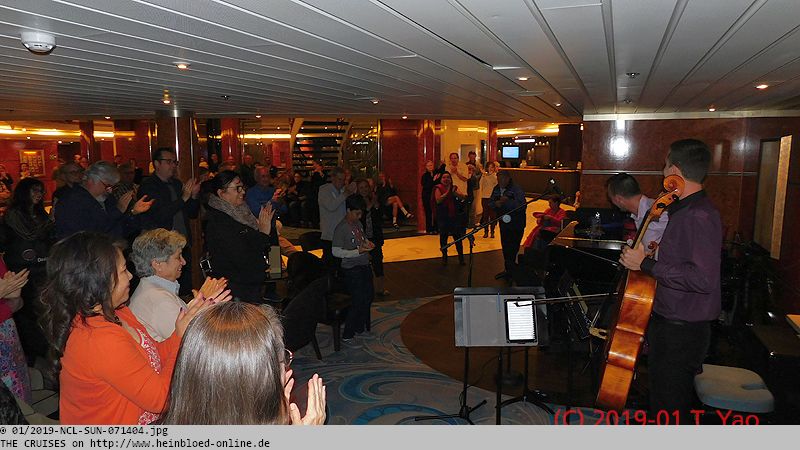 They got standing ovation. I never experienced this only before with classical music but in the Berlin open-air venue Waldbühne with Daniel Barenboim and in the Berlin Philharmonic Orchestra with Claudia Abbado.

We were a hardcore audience, and we listened to further programmes of the evening. We enjoyed everything that Atlantis Strings was playing. Bruno was used from me, that I was experiencing to pieces of music in "repeat" mode. And on the other hand, I enjoyed rejoining the world of classical music. Right after the voyage, 150 pieces of classical music were added on my iPhone. Of them just 13 parts of various interpretations of Pachelbel's Canon in D-Major.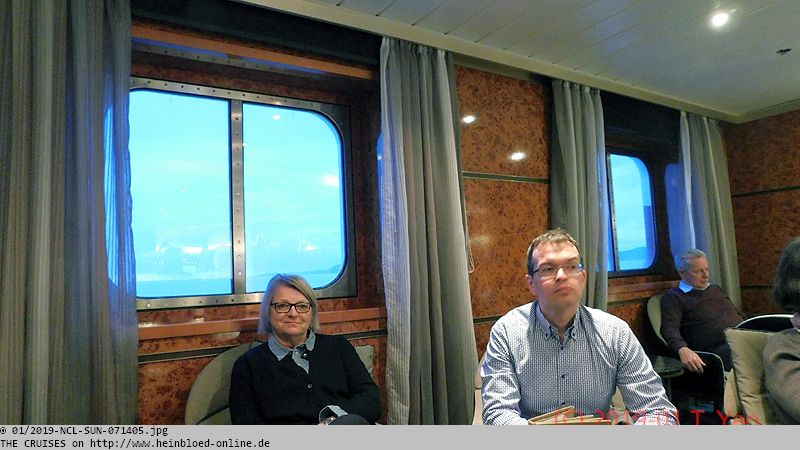 Wir sind der harte Kern und hören noch die weiteren Programme des Abends an. Wir genießen alles, was Atlantis Strings spielt. Bruno ist es von mir eh gewohnt, dass ich oft Stücke auf "Wiederholen" stelle. Und andererseits genieße ich es wieder in die Welt der Klassik einzusteigen. Kurz nach der Reise sind wieder 150 klassische Stücke auf meinem iPhone. Davon alleine 13 verschiedene Interpretationen von
Pachelbels Kanon in D-Dur
.
Die anderen Reisen in diesem Blog/
The other voyages in this blog: