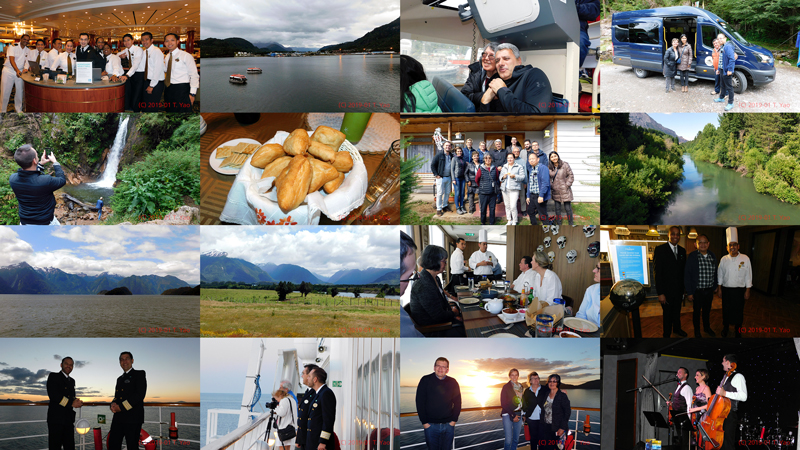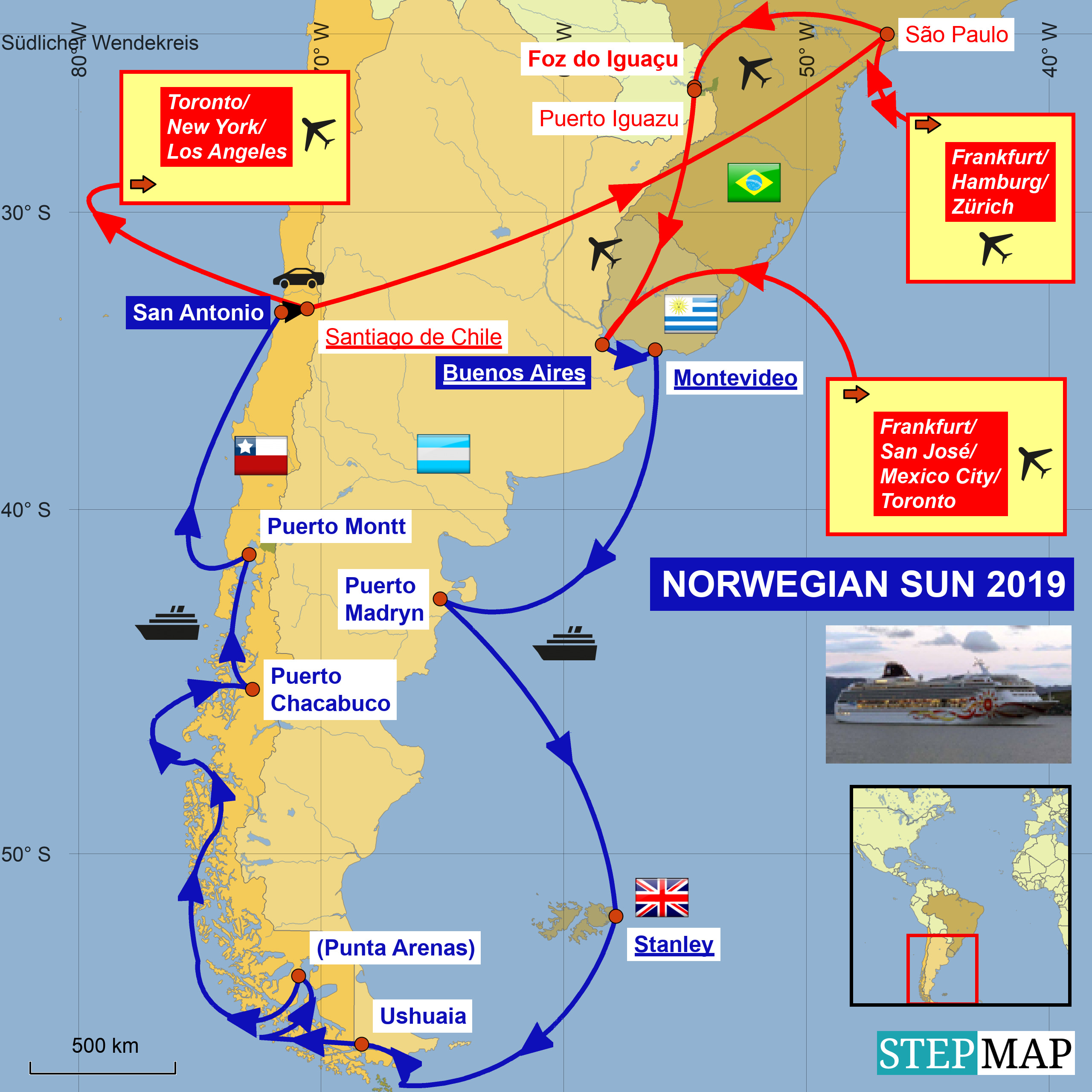 Als wir in Puerto Chacabuco ankommen, muss ich mich zunächst kneifen. Sind wir etwa in den Norwegischen Fjorden oder am Vierwaldstättersee in der Schweiz angekommen? Das ist hier genauso schön! Ich bin ganz sprachlos. Zum Glück sind wir nicht auf der STAR PRINCESS: wir hätten nicht nur Falkland verpasst, sondern auch hier Puerto Chacabuco.

When we arrived in Puerto Chacabuco, I needed to pinch myself. Did we arrive in the Norwegian Fjords or at Lake Lucerne in Switzerland? That was as gorgeous as the other places! I was really speechless. We were lucky that we did not go on STAR PRINCESS: we would not only miss Falkland but also Puerto Chacabuco.

We got our breakfast "Family-Style" all in the center of the table, and everyone could help himself. Rodalyn prepared everything for us. There were only a few guests in the Seven Seas Main Dining Room, so we had the time to take a picture of the waiters, Restaurant Hosts and Maître D'.

Wir bekommen unser Frühstück "Family-Style" alles in die Mitte und jeder kann sich schnell selbst bedienen. Rodalyn hat das für uns alles vorbereitet. Heute morgen sind nur sehr wenige Gäste im Seven Seas Hauptrestaurant, so dass wir Zeit für ein Bild mit den Kellnern, Restaurants Hosts, und dem Maître D' haben.
Heute müssen wir mal sehr früh von Bord. Concierge Carlos bietet uns seine Hilfe an, aber Iulia und Sherna stehen heute Morgen auch wieder für eine individuelle Führung durch die Crew-Treppenhäuser vorbei. So müssen wir bei Carlos nicht noch auf andere Gäste warten. Mit dem Tender geht es rüber und zurück: Plamen und Frances... Was treiben die da? Das ganze erinnert mich an Jane Wyman und Rock Hudson im Film "
Was der Himmel erlaubt
". Sehr ärgerlich: der letzte Tender geht um 13:00 Uhr und die Crew muss um 12:00 Uhr an Bord sein.

That day, we needed to leave the ship very early. Concierge Carlos offered his assistance to us, but Iulia and Sherna assisted us again individually through the crew stairways. So we must not wait for other guests with Carlos. By tender boat, we went ashore and back: Plamen and Frances... what were they carrying on? That reminded me of Jane Wyman and Rock Hudson in the movie "All That Heaven Allows". Very angry: the last tender should leave at 13:00 hrs and the crew needed to back on board at 12:00 hrs.

The good when you were tendering: with some luck, you could have beautiful pictures of the ship.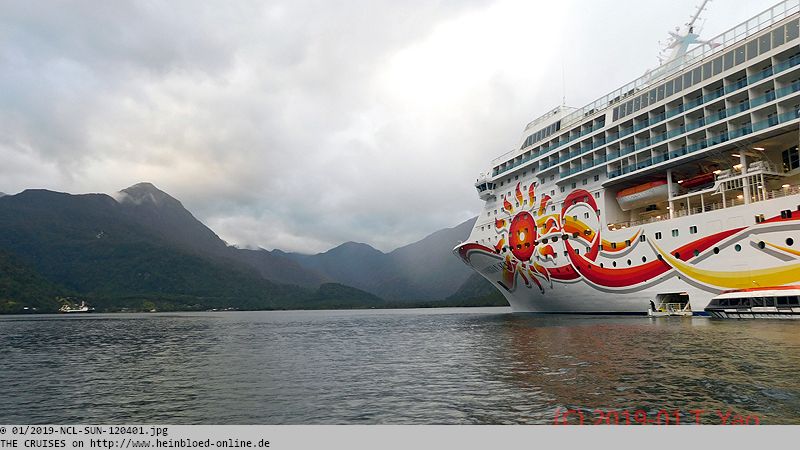 Das Gute beim Tendern: mit viel Glück kann man auch das Schiff schön fotografieren.
Schade, dass wir die letzte Anfahrt sind. In den nachfolgenden Runden wird statt
Puerto Chacabuco
dann Punte del Este, Uruguay angefahren.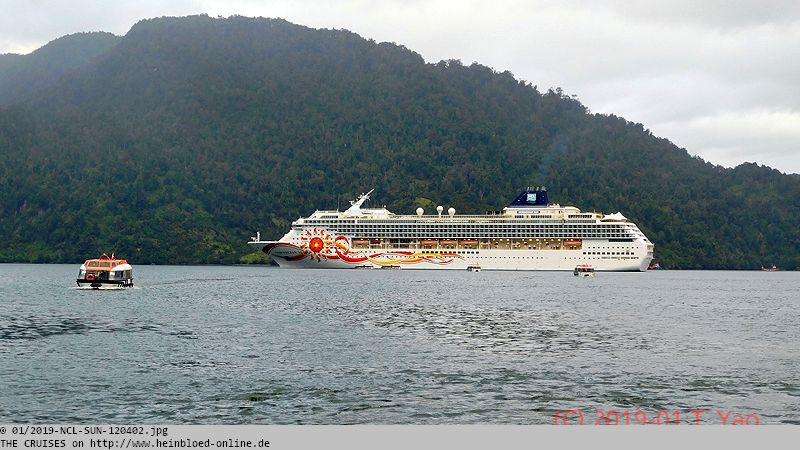 It was a pity that we were the last call. In the following itineraries, they would call Punte del Este, Uruguay but Puerto Chacabuco.

NORWEGIAN SUN had a pleasant size without the need to walk your feet until they were dull.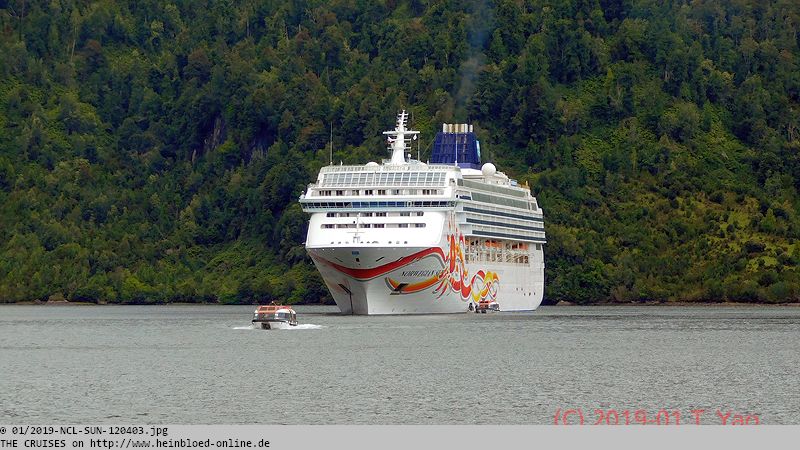 NORWEGIAN SUN hat eine angenehme Größe, bei der man sich nicht die Füß platt läuft.
Durch die geringere Passagierzahl auf der NORWEGIAN SUN (1.936) gegenüber 2.348 auf der NORWEGIAN STAR finde ich das Schiff sehr angenehm. Den Unterschied wird man sicherlich beim Tendern merken. Außerdem hat die NORWEGIAN STAR keine Spinnaker Lounge, die einen Blick nach vorne erlaubt. Deswegen ist es gut, dass wir dieses Jahr auf der NORWEGIAN SUN unterwegs sind.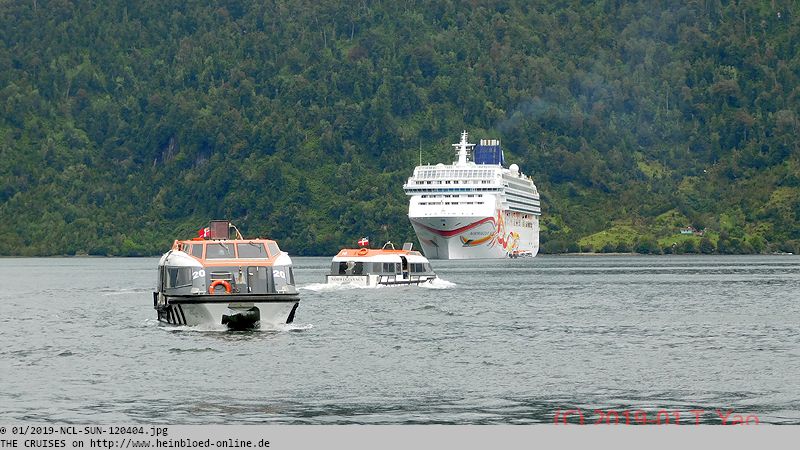 Due to the lower number of passengers on NORWEGIAN SUN (1,936) compared to 2,348 on NORWEGIAN STAR, I found the ship very pleasant. You would feel the difference when you were tendering. Furthermore, NORWEGIAN STAR has no Spinnaker Lounge, which allowed a forward view. So it was good that we were on NORWEGIAN SUN this year on this tour.

And compared to STAR PRINCESS with 2,602 passengers, it was much better.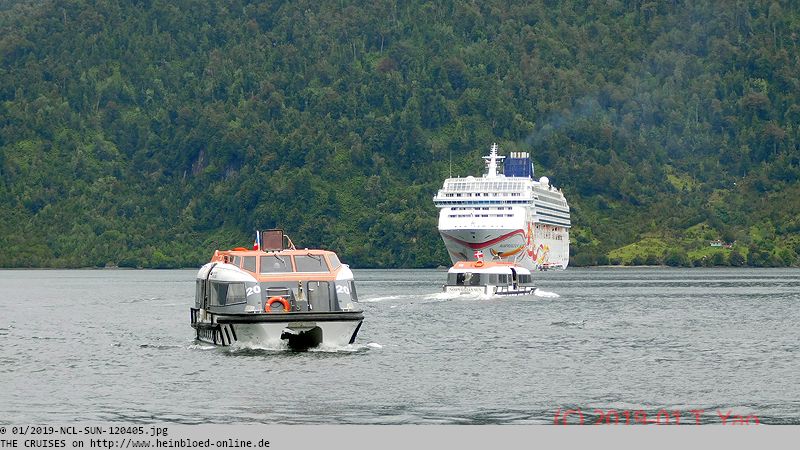 Und gegenüber STAR PRINCESS mit 2.602 Passagieren ist das natürlich noch besser.
Obwohl wir die ganze Zeit schon Sichtkontakt mit Chile haben: hier betreten wir erstmalig chilenischen Boden. Hier kontrollieren sie sehr streng, ob man versucht Lebensmittel vom Schiff an Land zu bringen.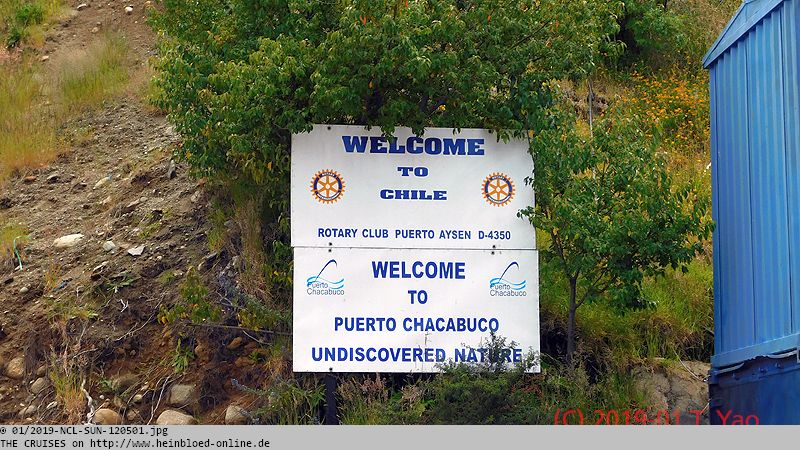 Although we had eye-contact with Chile all the time: Here we entered the first time Chile ground. They checked very strictly if you had any food items from the ship which you tried to carry ashore.

They welcomed us with some folk-dances.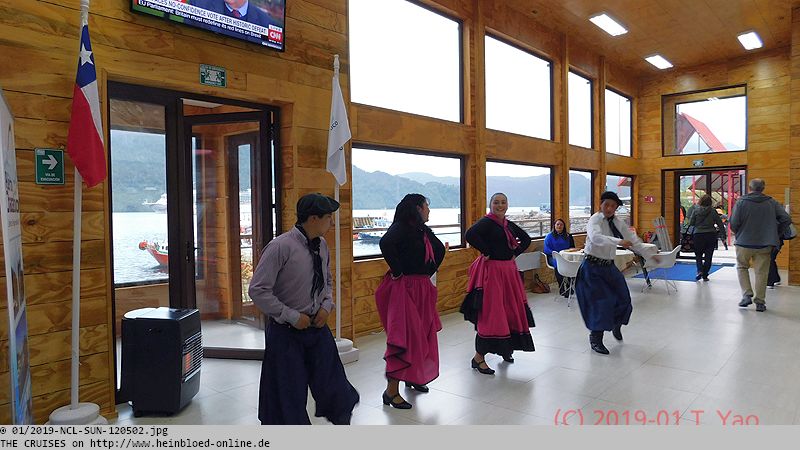 Wir werden mit Folklore-Tänzen begrüsst.
Und alles ist für so ein kleines Tenderboot-Terminal sehr gut vorbereitet.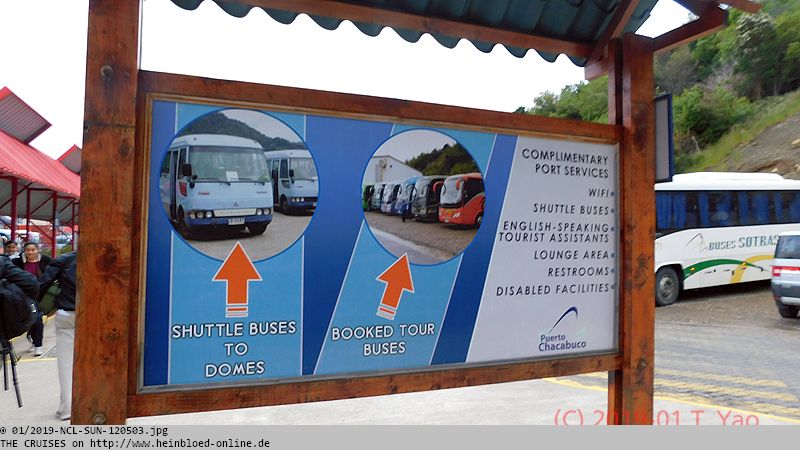 For a small tenderboat terminal, everything was well prepared.

Puerto Chacabuco was actually a little village.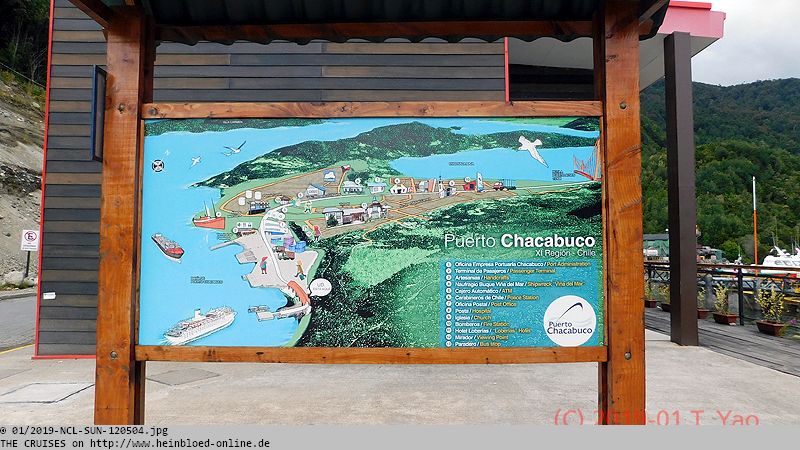 Puerto Chacabuco ist lediglich ein kleines Dorf.
Hier gibt es nur sehr wenige Aktivitäten.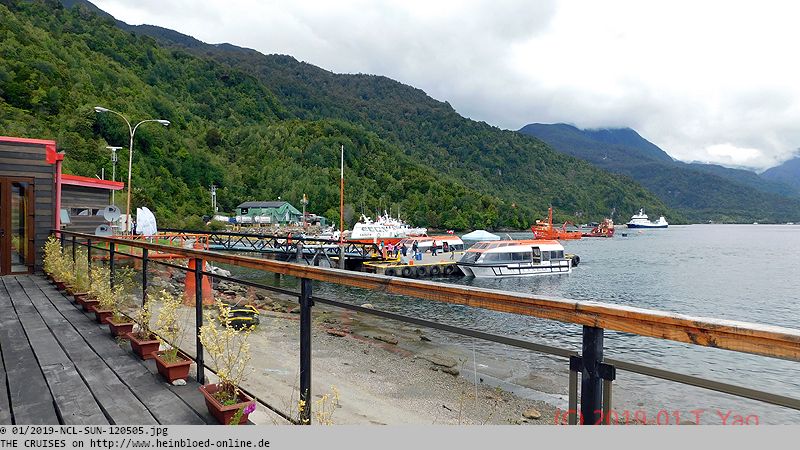 Here, you had only some minor activities.

Our way took us to Coyhaique, Chile, which should be famous for its beauty. It reminded very much to Switzerland. I did not make a lot of pictures, because there were too many reflexions in the car windows. We booked the tour with Excursiones Mate Che. Karla Morales Sandoval arranged everything for us. She got our tour guide Marion extra from Mexico to take us around. It was a brand new vehicle, so there was minor trouble with the loudspeaker-system. Luckily, we had some professionals with us, who knew how to handle a loudspeaker-system: Réka, Matyas, and Ábel, since Mate Che allowed us to fill up the empty seats without extra charges. Next, to our driver Juan Carlos were sitting Martina and Christian: they had their own party with nature.

Unser Weg führt uns nach Coyhaique, der für seine Schönheit bekannt sein soll. Es erinnert alles an die Schweiz. Viele Bilder habe ich nicht gemacht, weil es zuviele Reflexionen in der Fensterscheibe gibt. Gebucht haben wir die Tour bei
Excursiones Mate Che
. Karla Morales Sandoval hat für uns alles arrangiert. Sie hat Fremdenführerin Marion extra aus Mexiko eingeflogen, um uns zu führen. Es ist ein nagelneues Fahrzeug, so dass es etwas Schwierigkeiten mit der Lautsprecheranlage gibt. Wir haben zum Glück Vollprofis mit, die sich mit Lautsprecheranlagen auskennen: Réka, Matyas und Ábel begleiten uns, weil
Mate Che
damit einverstanden ist, dass wir ohne Zusatzkosten die leeren Plätze füllen. Neben unserem Fahrer Juan Carlos nehmen Martina und Christian Platz: Sie feiern vorne ihre eigene Party mit der Natur.
Wir halten am Wasserfall La Virgen. O.K.: wir hätten vielleicht vorher erzählen sollen, dass wir gerade von Iguazu-Wasserfällen kommen.

We stopped at the waterfalls La Virgen. Well: we should better tell them that we just came from Iguazu Falls.

Our destination was a lake close to Coyhaique: but we had two obstructions on our way at short notice. One road construction site with an extremely long waiting time at the one-lane-traffic signal and apart of that one parking with an observation point was closed. We went barely through the construction site, the police closed the road: Mining workers blocked the way ahead for a protest. We should follow a detour. The detour allowed only a very slow speed that we suspended the trip and did not go for the lake. But we remember for our next stay in Puerto Chacabuco: to the lake and to the glacier. That would be possible from here. But you would need about two hours of travel time.

Unser Ziel ist eigentlich ein See bei Coyhaique: aber es gibt zwei Hindernisse auf dem Weg. Eine Baustelle mit extrem langen Wartezeiten bei einer Baustellenampel und ausgerechnet ein Parkplatz an einem Aussichtspunkt ist leider gesperrt. Als wir endlich durch die Baustelle sind, hat die Polizei die Straße gesperrt: Minenarbeiter haben die Straße im Rahmen eines Protestes blockiert. Wir sollen einen Umweg fahren. Der Umweg lässt jedoch nur so eine langsame Geschwindigkeit zu, dass wir abbrechen und nicht zu dem See fahren. Wir merken uns jedoch für den nächsten Aufenthalt in Puerto Chacabuco: zum See oder zum Gletscher. Das wäre wohl von hier aus auch möglich. Allerdings mit zwei Stunden Fahrzeit.
Wir fahren zur Zentrale von
Mate Che
. Hier werden auch Ferienwohnungen vermietet. Sie haben für uns einen Imbiss vorbereitet: es gibt frischen Rhabarbersaft und ein Gebäck (Tortas Fritas), das an das ungarische Fettgebäck Langos erinnert. Nur alles kleiner. Unsere Freunde von Atlantis Strings kommen ja aus Ungarn. Dazu gibt es verschieden hausgemachten Marmeladen aus Rhabarber, roter Johannisbeere und Calafate (Buchsblättrige Berberitze). Marion sagt, dass man wiederkommt, wenn man von der Calafate gegessen hat. Ich nehme viel davon und hoffe, dass wir eines Tages wiederkommen. Da sich alles länger hingezogen hat, als ursprünglich geplant, besorgen wir für Réka, Matyas und Ábel ein Taxi, das sie zum Schiff zurückbringt. Sie sind kurz vor 12:00 Uhr wieder an Bord und so gibt es keinen Ärger.

We went to the office of Mate Che. Here they also let apartments for vacation. They prepared a snack for us: they had fresh rhubarb juice and a pastry (Tortas Fritas), which reminded to Hungarian Langos (a deep fried dough specialty). But just smaller. Our friends from Atlantis Strings came from Hungary. They served it with some homemade jams made of rhubarb, red currant berries, and Calafate (box-leaved barberry). Marion said that you would come back if you ate some of Calafate. I took a lot of, and I truly hope, that we would come back one day. Since it took longer than originally scheduled, I ordered a taxi for Réka, Matyas, Ábel to take them back to the ship. They were just before noon back on board, and so we did not bring them in trouble.

We had a brief stop at a suspension bridge at the river Río Simpson. We really would love to stay longer. Nature was the destination.

Wir fahren kurz zu der Hängebrücke über dem Río Simpson. Das hätten wir uns alles gerne länger angesehen. Die Natur ist das Ziel.
Kurz fahren wir nach Coyhaique rein. Es erinnert alles an Weihnachten.

We made a quick stop in Coyhaique. It reminded to Christmas.

Here I had the chance to see a pharmacy and to buy something. At every kiosk, you could buy SIM-cards for the internet. I tried it.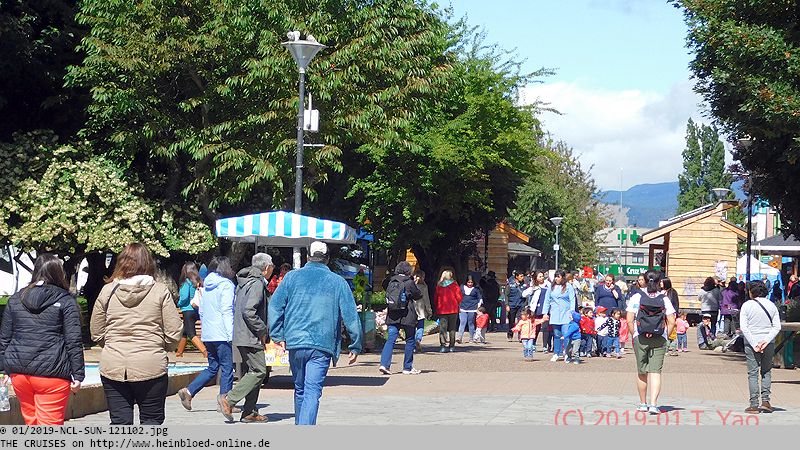 Hier habe ich schnell die Chance in einer Apotheke etwas zu besorgen. An jedem Kiosk kann man SIM-Karten für das Internet kaufen. Das probiere ich aus.
Auf dem Rückweg öffne ich kurz die Autotür, um zu fotografieren.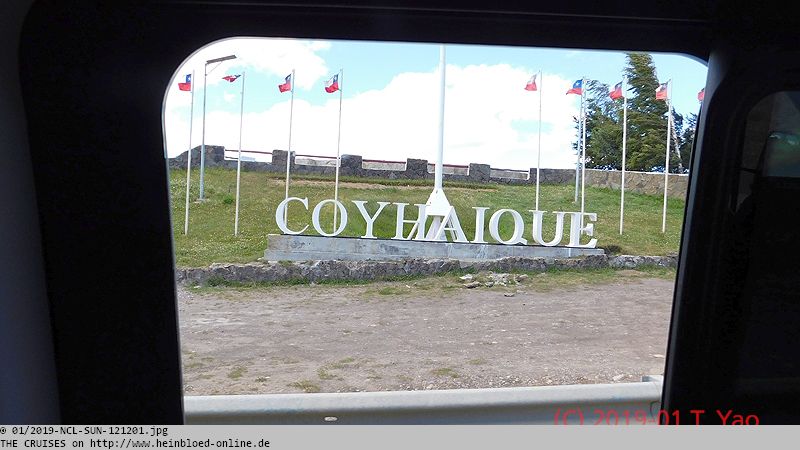 On the way back, I opened the car door, to take some pictures.

It was beautiful here.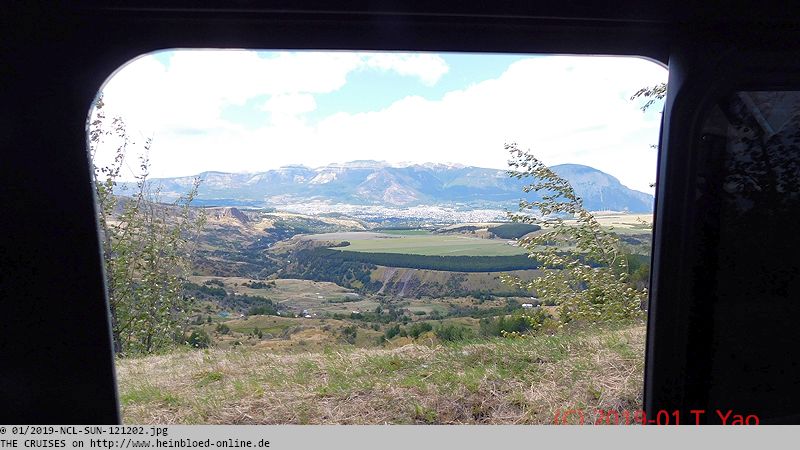 Sehr schön hier.
Wir halten nochmals am Río Aisén, damit wir noch ein paar Fotos machen können. Das ist wirklich eine Schande, dass wir hier um 14:00 Uhr wieder ablegen. Um 12:58 Uhr erreichen wir den Tenderpier.

We stopped again at the river Río Aisén to take some more pictures. It was really a pity that we would leave at 14:00 hrs again. At 12:58 hrs we made it to the tender pier.

We went immediately into the Seven Seas Main Dining Room before it would close. But today they were open a little longer. So no need to rush. I took a lemonade.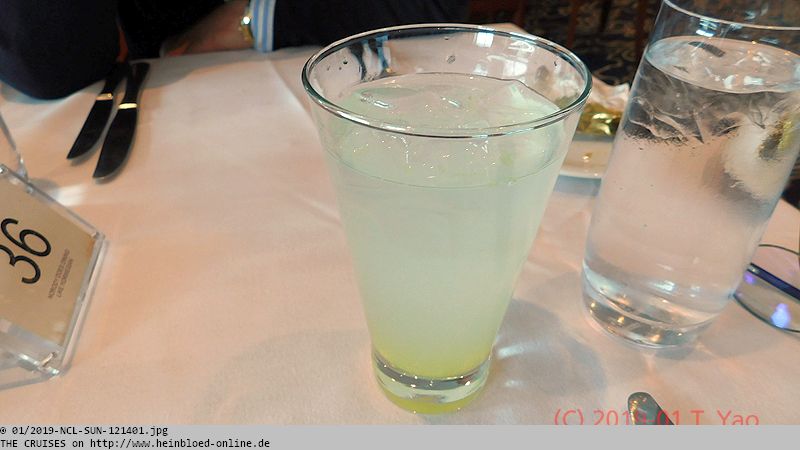 Wir gehen direkt ins Seven Seas Hauptrestaurant zum Mittagessen, bevor es schließt. Aber sie haben heute etwas länger auf. Wir hätten uns nicht beeilen müssen. Ich nehme eine "Lemonade" - schmeckt wie das uralte Lift ohne Kohlensäure.
Das ist etwas, das mich bei NCL stört: Sehr viel Frittiertes. Auch mittlerweile Convenience, wie z. B. die Fischburger.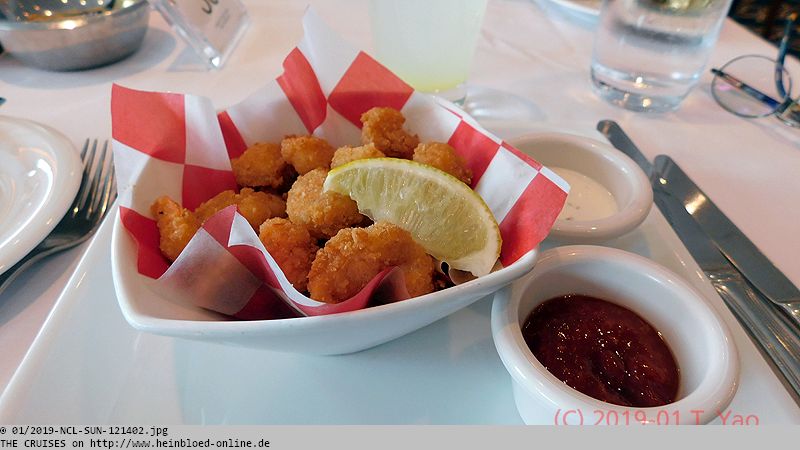 Something, that I disliked with NCL: you had a lot of deep-fried dishes. And meanwhile a lot of convenience like the fish burger.

That day, you had chicken-noodle-soup again.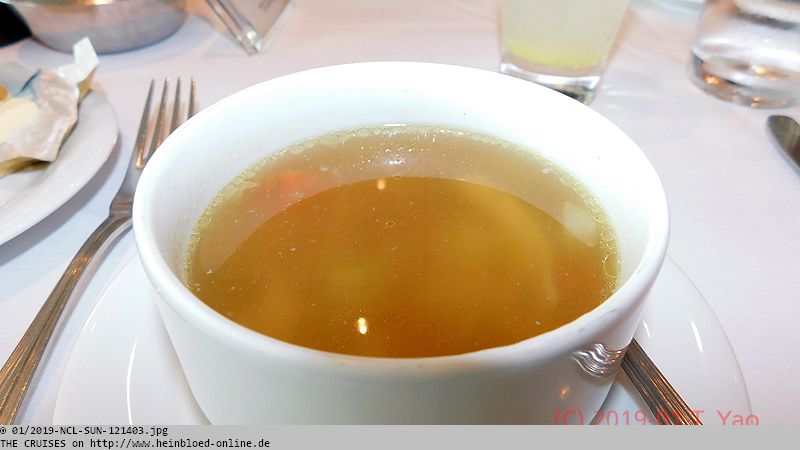 Heute ist wieder der Hühner-Nudelsuppen-Tag.
Ein griechischer Salat.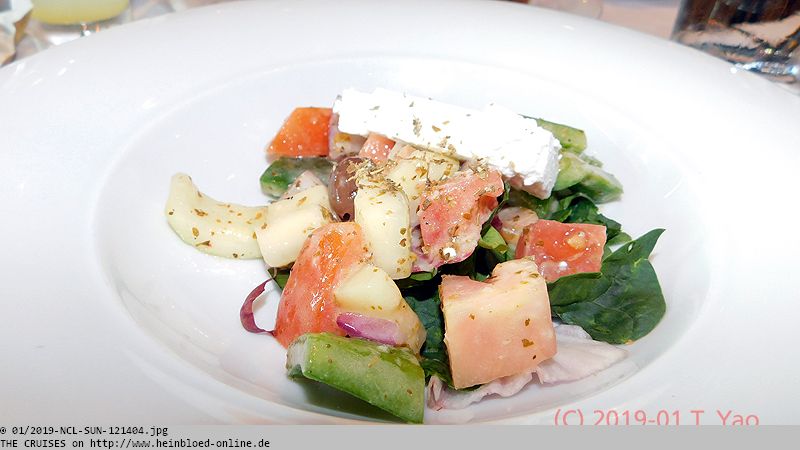 A Greek salad.

A piece of chicken. We should maybe stop somewhere with a KFC.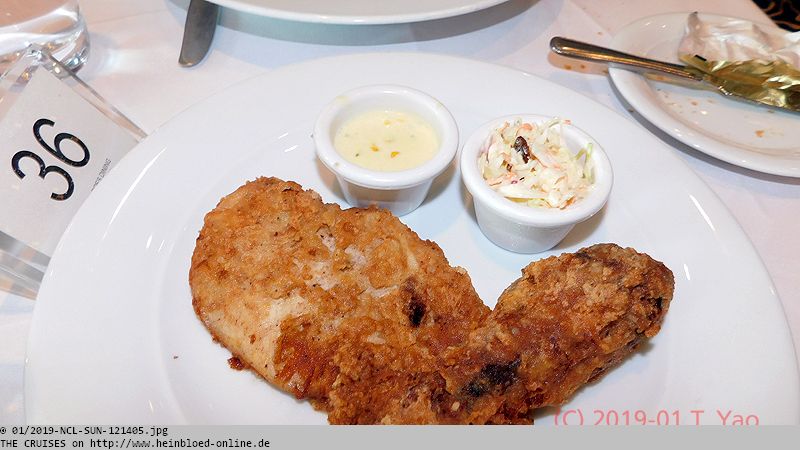 Ein Stück Hühnchen. Wir sollten doch mal am KFC irgendwann halten.
Die Ausfahrt ist traumhaft. Die Gegend hätte es verdient länger erkundet zu werden.

Leaving the port was a dream. The area deserved more time to discover.

We started the cocktail-hour: Clamato and nuts.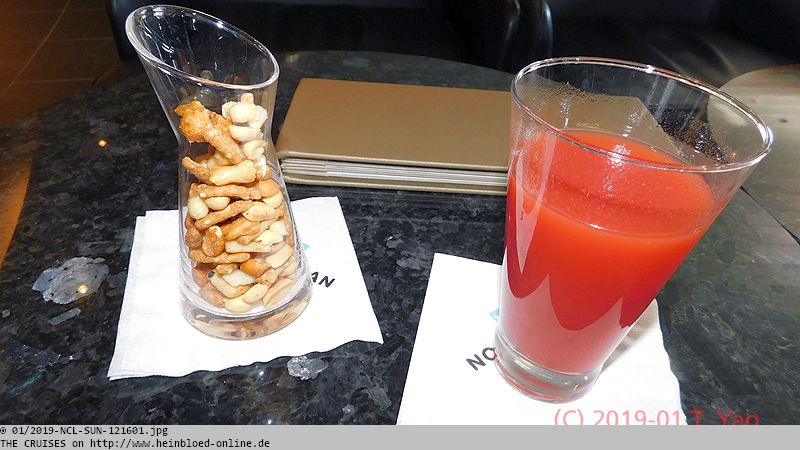 Die Cocktail-Stunde wird eingeleitet: Clamato und Nüsse.
Unsere Welt ist in Ordnung. Atlantis Strings spielt: also sind sie pünktlich an Bord gekommen und wurden nicht sofort vom Staff Captain wieder ausgesetzt.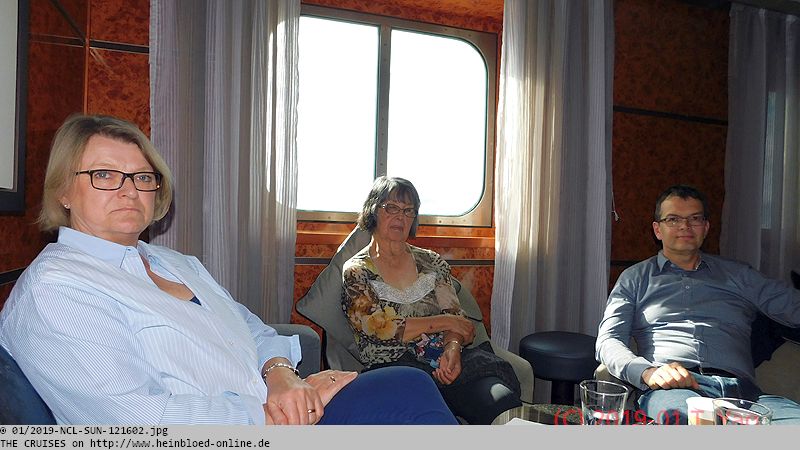 Our world was perfectly well. Atlantis Strings was playing. So they arrived on time on board, and the Staff Captain did not release them off the ship.

In the evening we returned to Los Lobos. Since Victor was preparing very well for our visit, we also had dishes which were not on the menu. It was again an explosion of taste, smell, and colors. Everybody loved the food and the service with I Komang, Binu, and Donovan. I could not describe with words the ice-cream we got: you needed to experience them with your own palate.

Abends sind wir wieder in Los Lobos. Da Victor sich sehr gut auf unseren Besuch vorbereitet hat, gibt es auch Sachen, die nicht auf der Karte stehen. Das ist wieder eine Explosion von Geschmack, Duft und Farben. Alle haben wieder viel Spaß am Essen und am Service mit I Komang, Binu und Donovan. Die Eissorten kann ich nicht mit Worten beschreiben: die muss man mit eigenem Gaumen erleben.
Nach dem Essen geht es kurz raus, um den tollen Sonnenuntergang zu genießen.

After the dinner we walked out to enjoy the gorgeous sunset.

Even we had strong cold wind: it was too beautiful. Igor and Dieter were enjoying the incredible sunset also.

Trotz des kalten Windes: es ist zu schön. Auch Igor und Dieter genießen diesen schönen Sonnenuntergang.
Uns kommt SEABOURN QUEST entgegen.

We were passing SEABOURN QUEST.

Our daily towel animal and the programme for tomorrow.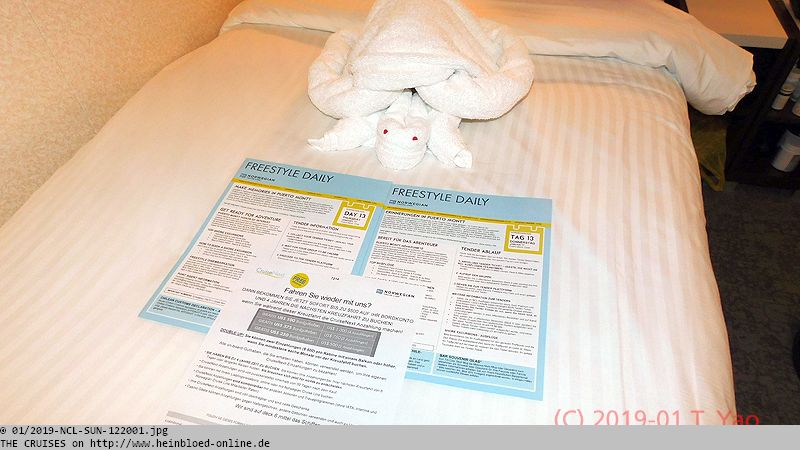 Unser tägliches Handtuchtier und das Programm von morgen.
Der Höhepunkt: Atlantis Strings spielt heute Abend in der Bliss Lounge. Frühzeitiges Erscheinen sichert die besten Plätze. Nach diesem Konzert haben sie bereits die Zusage, dass sie auch mal im Theater auftreten dürfen. Ohne sie hätte ich nie im Leben wieder eine NCL-Kreuzfahrt gebucht, aber wenn ich jetzt weiß, dass NCL auch hier Alternativen zur lauten Partymusik anbietet, können sie ja doch mein zu Hause weit weg von unserem zu Hause bleiben kann.

The highlight: Atlantis Strings were playing tonight in the Bliss Lounge. Early appearance secured the best seats. After this performance, they would have a performance to play in the theater. Without them, I would never book again cruise with NCL. But now I knew that NCL also offers alternatives to loud party music, they could stay my home away from home.
Die anderen Reisen in diesem Blog/
The other voyages in this blog: