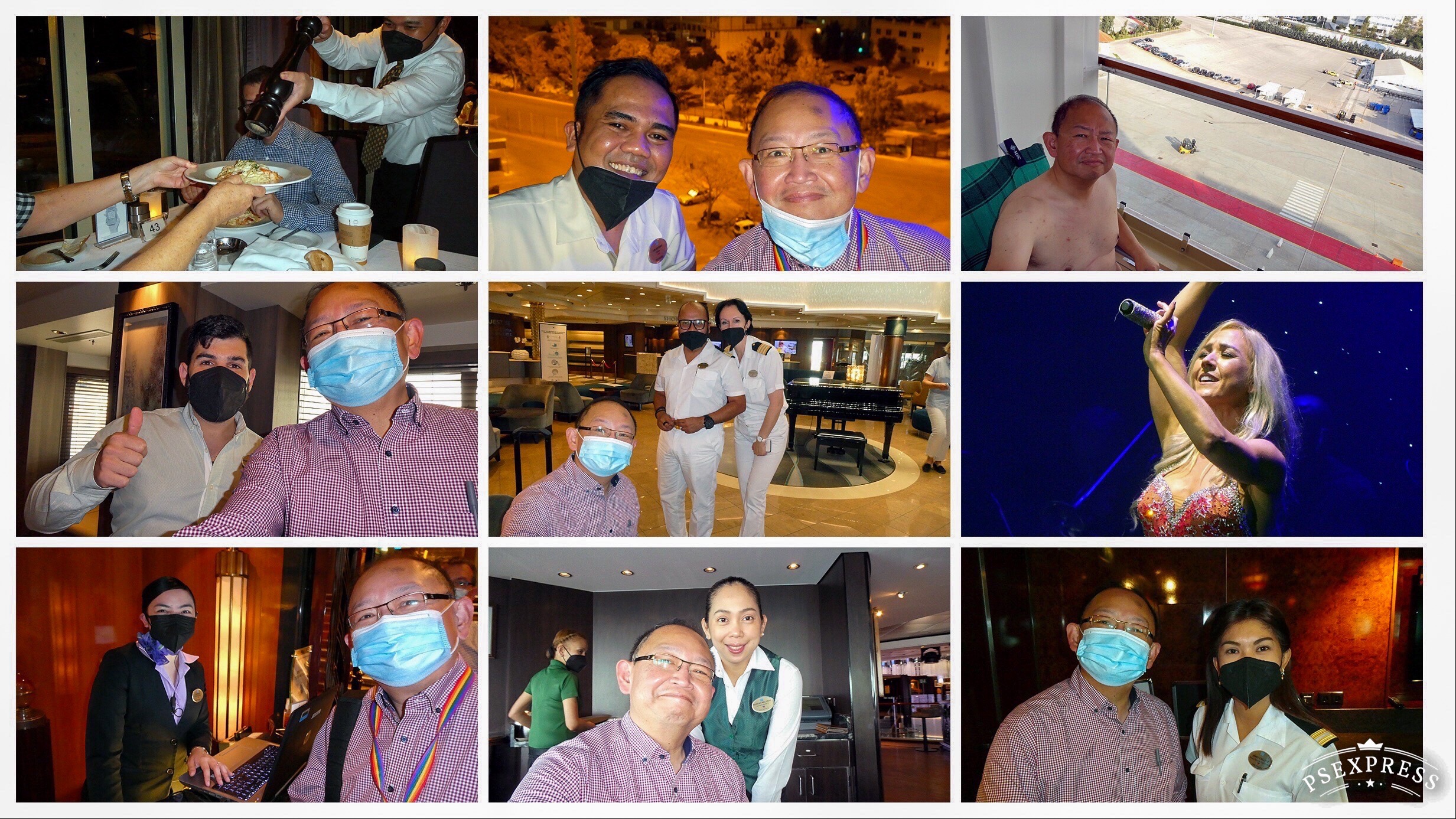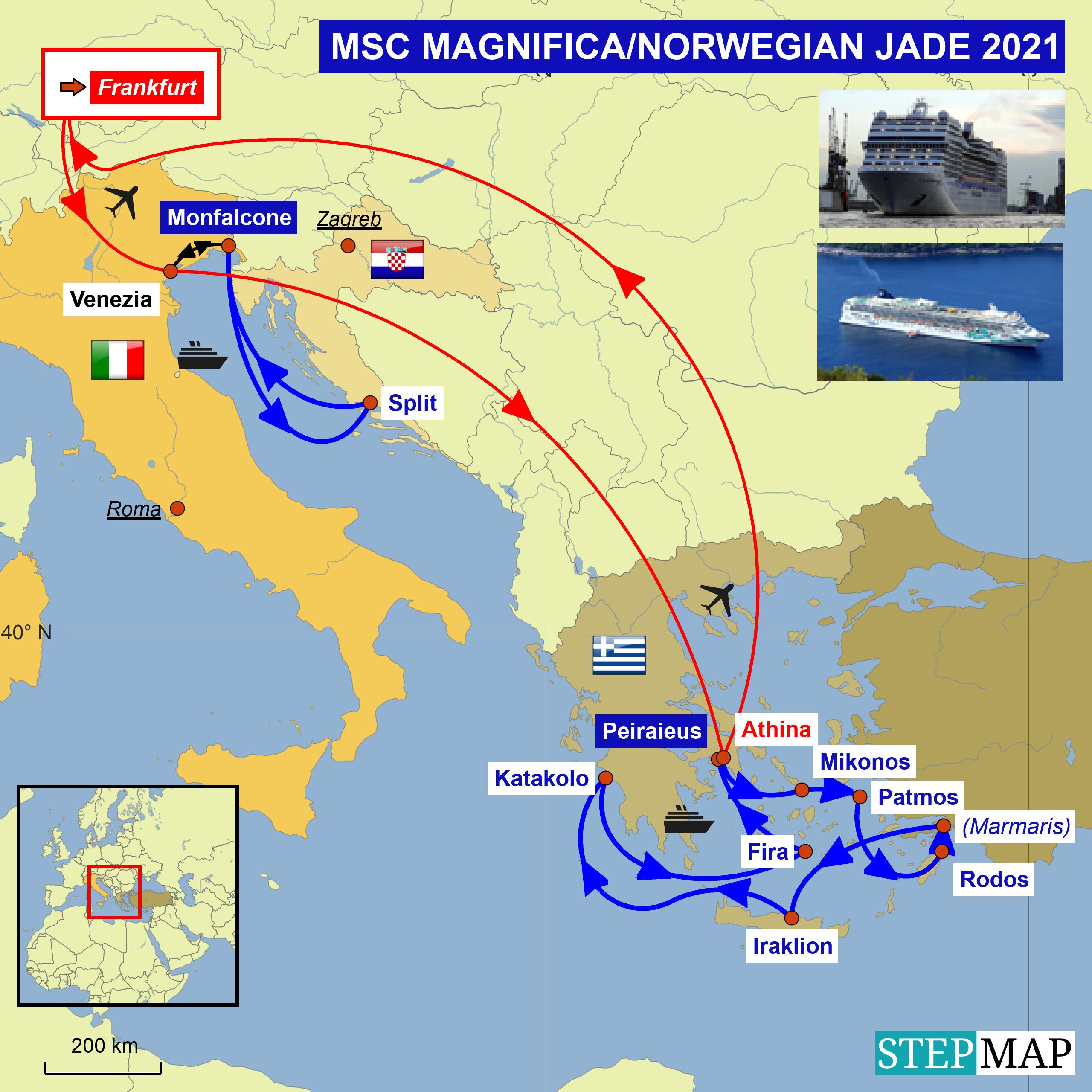 Als ich nachts aufstehe, um nach Piräus zu fahren, ist es ausgesprochen laut im
Hotel
. Im Keller findet eine Tanzveranstaltung statt, die gerade zu Ende geht. Zum Glück hat mich
Johanna
abgeholt, sonst hätte ich hier nie ein Taxi gefunden. Ich nutze die Zeit, um mir das
Hotel
anzusehen. Sehr praktisch: die HoHo-Busse fahren direkt vor dem
Hotel
ab und leider derzeit während der Pandemie nicht verfügbar: der kostenlose Shuttle zum Syntagma-Platz.

When I get up at night to go to Piraeus, Greece, it is extremely noisy in the hotel. There's a dance going on in the basement that's just about to end. Luckily Johanna picked me up. Otherwise, I would never have found a taxi here. I used the time to look at the hotel. Very convenient: the HoHo buses leave right in front of the hotel and, unfortunately currently not available during the pandemic: the free shuttle to Syntagma Square.

I get a freshly made Greek coffee with milk and sugar in a bakery that is also open at night. Delicious!!!

In einer Bäckerei, die auch nachts geöffnet hat, bekomme ich einen frisch zubereiteten griechischen Kaffee mit Milch und Zucker. Sehr lecker!!!
Mit Hilfe von
Johanna
, finde ich einen Platz, bei dem ich perfekt die Einfahrt der NORWEGIAN JADE zugucken kann. Auch als sie wenig später rückwärts an den
Terminal B
zurücksetzt. Also doch nicht
Terminal C
.

With the help of Johanna, I find a place where I can watch the NORWEGIAN JADE enter the harbor ideally, even when she reverses back to Terminal B a little later. So not Terminal C, after all.

I drive back to the harbor because another ship is expected. Unfortunately, the ship's arrival is delayed, so I have to wait for the moment. So I stay at the tower. The café that used to be here is no longer there. Back then, on NORWEGIAN JADE 2014 (1), I had a drink here.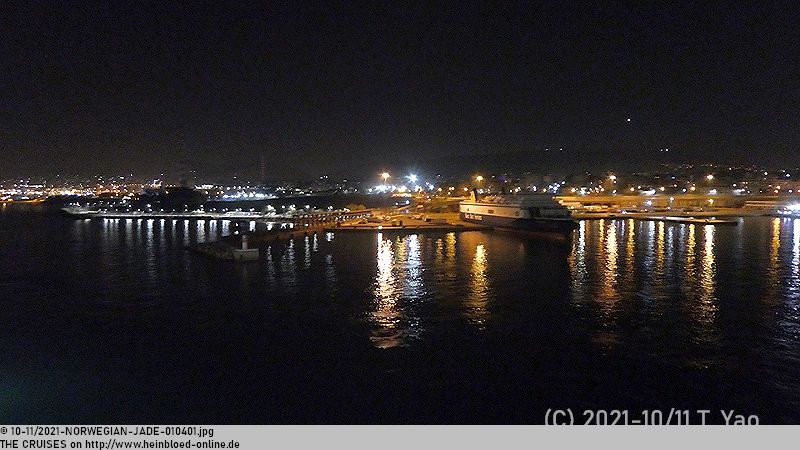 Ich fahre nochmals in den Hafen, weil noch ein weiteres Schiff erwartet wird. Leider verzögert sich die Einfahrt des Schiffes, so dass ich im Moment warten muss. So warte ich an dem Turm. Das Café, das hier früher mal war, gibt es nicht mehr. Damals bei der
NORWEGIAN JADE 2014 (1)
habe ich hier noch etwas getrunken.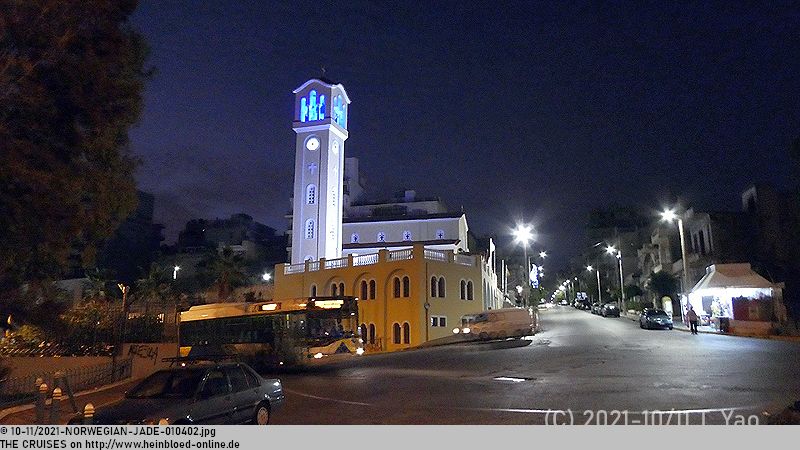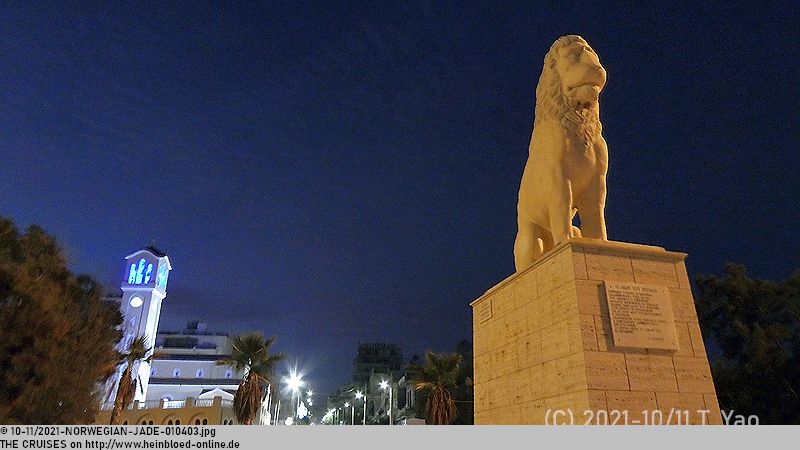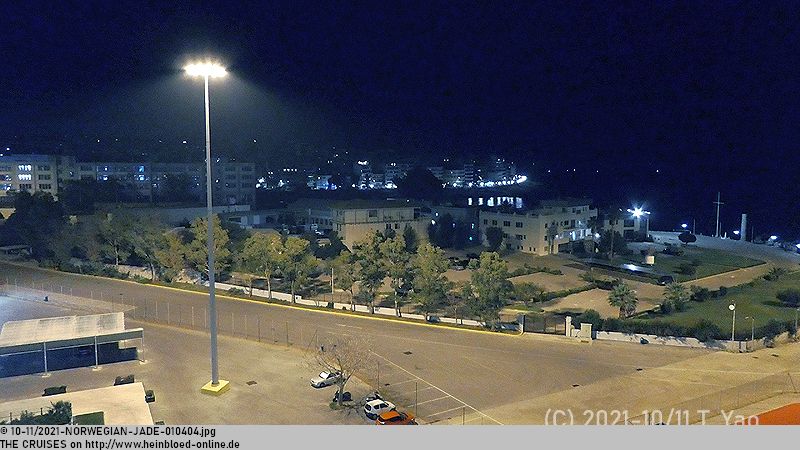 VIKING VENUS finally enters the port.

Die VIKING VENUS läuft endlich in den Hafen ein.
Ich habe Glück: das Schiff kommt so rein, dass ich schnell zur Haltestelle laufen und noch wenige Momente später mit
Bus 40
bis zum
Hotel
fahren kann. An der Haltestelle Gefyra steige ich aus. Sie liegt direkt in Sichtweite zu unserem Zimmer.

I'm lucky: the ship comes in such a way that I can quickly walk to the bus stop and take bus 40 to the hotel a few moments later. I get off at the Gefyra stop, and it is a direct insight from our room.

Bruno drives an electric car: Renault Zoe. And so he's happy that we're having breakfast again at Café Zoe. A waitress is called Zoe. She sees that I didn't use butter but dipped olive oil and bread in it. Immediately she brings me some feta, a few slices of tomato, and some oregano and tells me that she eats the one with the olive oil every morning. When I also order a Greek coffee, she is very enthusiastic. I am happy that she serves me in this way because the restaurant management again does not pay attention to whether their own hygiene rules are attended to. Luckily I don't have to go to the buffet again.

Bruno fährt einen Zoe. Und so freut er sich, dass wir wieder im Café Zoe frühstücken. Eine Kellnerin heißt Zoe. Sie sieht, dass ich mir keine Butter genommen habe, sondern Olivenöl und Brot darin tunke. Sofort bringt sie mir noch etwas Feta, ein paar Scheiben Tomaten und etwas Oregano und sagt mir, dass sie jeden Morgen das mit dem Olivenöl isst. Als ich dazu noch einen griechischen Kaffee bestelle, ist sie ganz begeistert. Ich freue mich darüber, dass sie mich auf diese Weise bedient, weil die Restaurantleitung wieder nicht darauf achtet, ob ihre eigenen Hygieneregeln beachtet werden. Also muss ich zum Glück nicht wieder zum Büffet.
Aufgrund des Gepäcks muss uns
Johanna
wieder einen Kombi schicken. Wir fahren am
Stadion des Friedens und der Freundschaft
vorbei.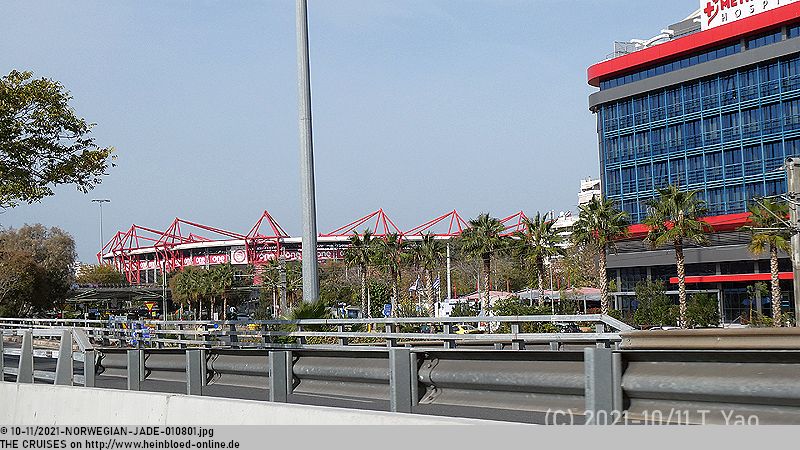 Because of the luggage, Johanna has to send us a station wagon again. We drive past the Stadium of Peace and Friendship.

It is the home stadium of Olympiacos Piraeus basketball department.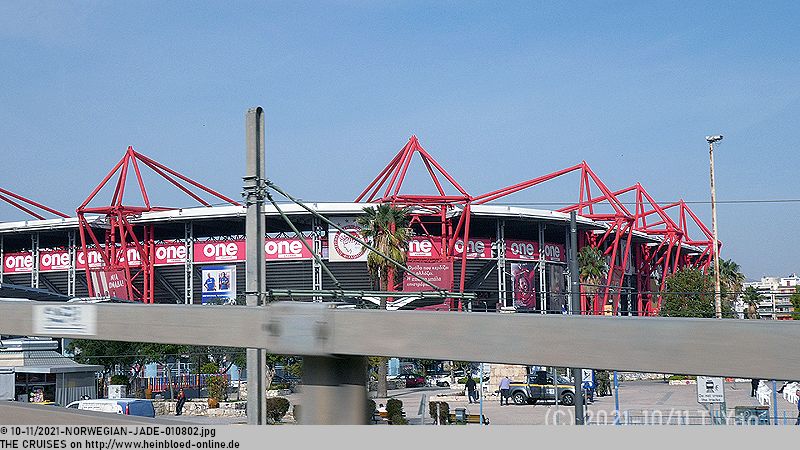 Es ist das Heimstadion der
Basketballabteilung von Olympiakos Piräus
.
Da ich Angst habe, ausgesetzt zu werden, erwähne ich lieber nicht, dass ich in Frankfurt arbeite:
Eintracht Frankfurt
hat
Olympiakos Piräus
am Vorabend aus der
UEFA Europa League
im Fussball rausgeworfen.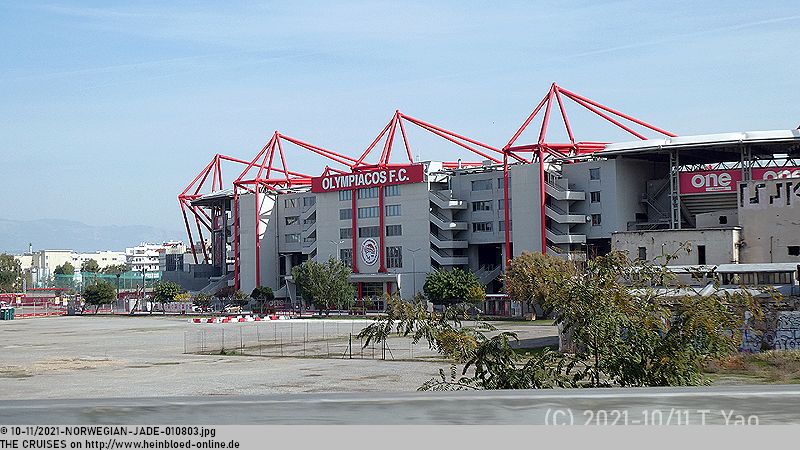 Since I'm afraid of being exposed, I prefer not to mention that I work in Frankfurt, Germany: Eintracht Frankfurt kicked Olympiacos Piraeus out of the UEFA Europa League in football the night before.

We will be tested in the marquee in front of Terminal B. To even get into the marquee, we have to prove that we have booked a test and tested negative. It's very organized. We have to wait until the presentation of our test result. As soon as our waiting number is called, we can continue. We are marked with the ribbon to see our status immediately. Whether we arrived in the booked time slot was not checked and probably didn't play a significant role.

In dem Festzelt vor
Terminal B
werden wir getestet. Um überhaupt in das Festzelt zu gelangen, müssen wir nachweisen, dass wir einen Test gebucht haben und dass wir negativ getestet sind. Es ist sehr gut organisiert. Bis zur Vorlage unseres Testergebnisses müssen wir warten. Sobald unsere Wartenummer aufgerufen wird, dürfen wir weiter. Wir werden mit dem Band gekennzeichnet, damit man sofort unseren Status sieht. Ob wir in dem gebuchten Zeitfenster eingetroffen sind, wurde nicht überprüft und spielte wohl auch keine große Rolle.
Dann dürfen wir ins
Terminal B
, um hier einzuchecken und durchlaufen die Sicherheitskontrolle. Wir könnten hier noch einkaufen. Ich wäre ja theoretisch nochmals an Land gegangen, und hätte mir selbst im Supermarkt eine Packung laktosefreie Milch gekauft, die ich später sehr gut an Bord brauchen können. Aber man hatte leider vorher vergessen an diesem Ort hinzuweisen, dass man nach der Einschiffung nicht mehr von Bord darf und dieses die letzte Möglichkeit darstellt, noch etwas kaufen zu können. Ich verstehe ja, dass man das Risiko ausschließen möchte, dass man sich nach dem negativen Test dann wieder unterwegs infiziert. Aber vorher wissen wäre gut gewesen. Bei einer Abfahrt um 22:00 Uhr erwartet man jedoch, dass man eigentlich noch etwas an Land erkunden kann. Später als alles abgebaut ist und fast die gesamte Ausrüstung an Bord ist, kommt noch ein Gast kurz vor der Abfahrt. Unser Auslauf verzögert sich dadurch.

Then we can go to Terminal B to check in here and go through security. We could still shop here. Theoretically, I would have gone ashore again and bought myself a pack of lactose-free milk in the supermarket, which I could very well use later on board. But unfortunately, one had forgotten to point out at this place that one is not allowed to disembark after embarkation and that this is the last possibility to buy something. I understand that you want to rule out the risk of being infected again on the way after the negative test. But it would have been good to know beforehand. However, with a departure at 22:00 hrs, you still expect to explore something ashore. Later, when everything has been dismantled, and almost all the equipment is on board, another guest arrives shortly before setting sail. This will delay our departure.

It's finally back on board the NORWEGIAN JADE: for the ninth time. But since nobody is standing in front of the ship, I don't feel welcome.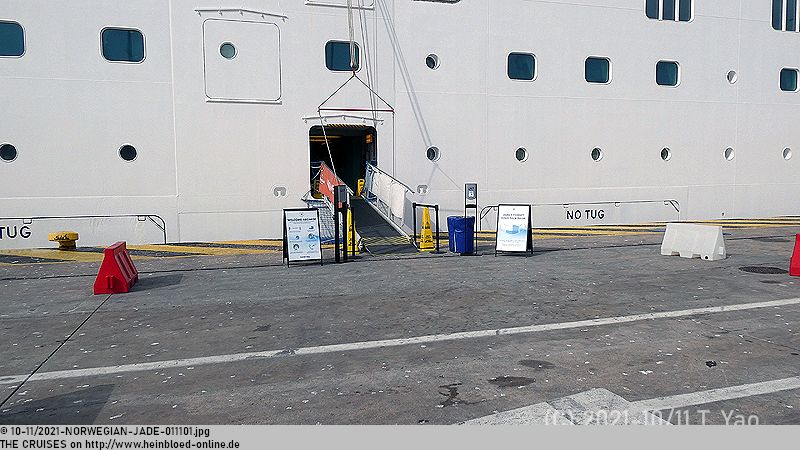 Endlich geht es wieder an Bord der NORWEGIAN JADE: zum neunten Mal. Da aber gar niemand vor dem Schiff steht, fühle ich mich nicht willkommen.
Wir sollen direkt zur Sammelstation und uns dort registrieren, dass wir hier waren. Aufgrund von Covid-19 mussten wir beim Online-Check-In uns ein Video ansehen.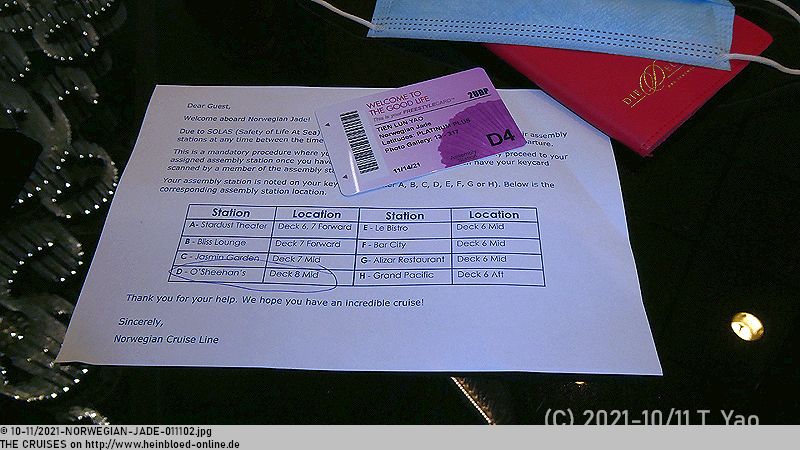 We should go straight to the muster station and register there that we were here. Due to Covid-19, we had to watch a video when checking in online.

This completes the life drill.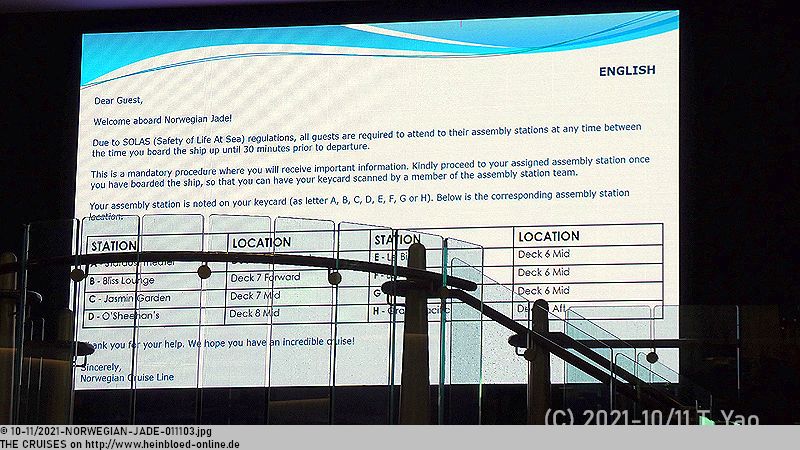 Damit ist dann die Seenotrettungsübung abgeschlossen.
Großartig umsehen müssen wir uns auf dem Schiff nicht: viel hat sich nicht verändert. Im Zuge von Covid-19 dürfen die Fahrstühle nur noch mit vier Personen belegt werden. Im Laufe der Reise verschwinden jedoch nach und nach die Schilder und so bin ich am Schluss auch froh, als wir von Bord sind. Eines fällt sehr auf: alle Veranstaltungen, zu denen wir bislang eingeladen wurden, aber Geld kosten, fallen aus: z. B. Latitudes Parties. Alle Veranstaltungen, die Umsatz generieren sollen, finden weiterhin statt. An Bord fallen schon ein paar Gäste extrem auf. Da ich aber weibliche Oberweiten, die sehr freizügig zur Schau gestellt werden, nicht attraktiv finde, kann ich nur nur den Kopf schütteln. Als es kälter an Oberdeck wird, erscheint sie in ein kostumähnlichen Tierfell-Overall, in das ich normalerweise ein 3-jähriges Kind reinstecken würde, um es vor Kälte zu schützen. Wir begegnen Hoteldirektorin Vesna und Guest Service Manager Humberto.

We don't have to take a great look around on the ship: not much has changed. In the course of Covid-19, the elevators may only be occupied by four people. In the course of the journey, however, the signs gradually disappear, and so in the end, I'm happy when we're off-board. One thing is very noticeable: all events we have been invited to so far but cost money are canceled: e.g., Latitudes Parties. All events intended to generate sales will continue to take place. A few guests onboard are highly noticeable. But since I don't find female bust sizes that are very revealingly displayed attractive, I can only shake my head. As it gets colder on the upper deck, she appears in a costume-like animal skin jumpsuit that I would typically put a 3-year-old in to protect them from the cold. We meet Hotel Director Vesna and Guest Service Manager Humberto.

Back then, NORWEGIAN JADE 2014 (1): I have fond memories of the then Cruise Director Jill, Guest Service Manager Shenny and today's Hotel General Manager Vesna.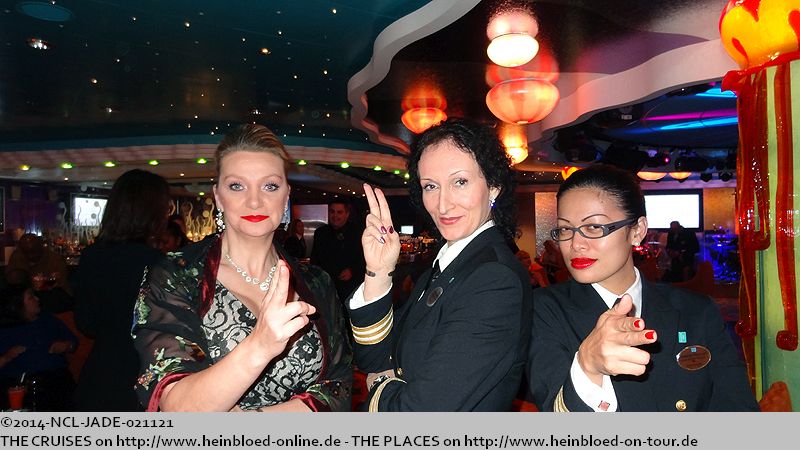 Damals
NORWEGIAN JADE 2014 (1)
: Mit der damaligen Kreuzfahrtdirektorin Jill, Guest Service Managerin Shenny und der heutigen Hoteldirektorin Vesna verbinden mich sehr schöne Erinnerungen.
Der Moment, in dem das Bild "Drei Engel mit Charly bzw. Tien" entstanden gehört immer noch ganz weit oben, die für weitere Reisen mit NCL sprechen. Da jedoch Shenny und Jill nicht mehr bei NCL sind, lassen sich solche schöne Momente nicht mehr wiederholen. Sie sind einfach Geschichte. Die Zeiten mit NCL, an die ich gerne zurückdenke, sind vorbei. Willkommen mit der neuen Realität mit NCL 2021. Für mich steht unmittelbar nach Ende dieser Reise fest: meinen 25. Jahrestag mit Bruno möchte ich nicht mehr an Bord der NORWEGIAN JADE verbringen. Diese Reise habe ich direkt nach Ende dieser Reise storniert!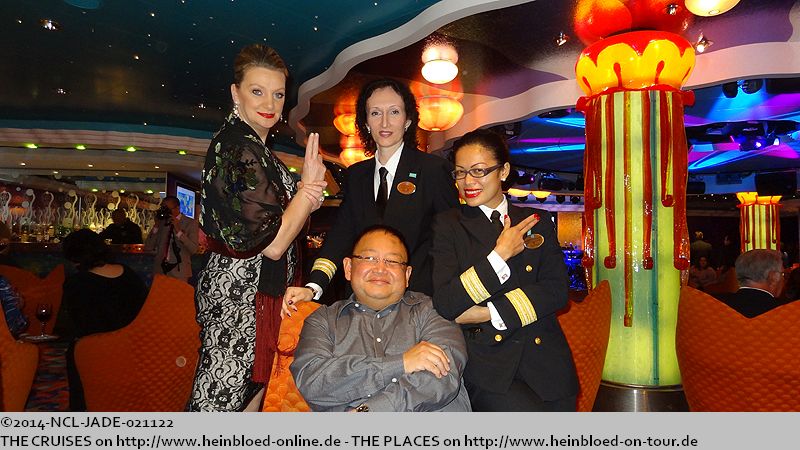 The moment the picture "Charly's... or Tien's Angels" was created is still very high, which speaks for further trips with NCL. However, since Shenny and Jill are no longer with NCL, you can no longer repeat such beautiful moments. They are just history. The days with NCL that I look back on fondly are over. Welcome to the new reality with NCL 2021. Immediately after the end of this trip, one thing is clear to me: I no longer want to spend my 25th anniversary with Bruno on board of NORWEGIAN JADE. I canceled this trip right after the end of this trip!

It's been a few years since NORWEGIAN JADE lost its Hawaiian charm, and I still regret it.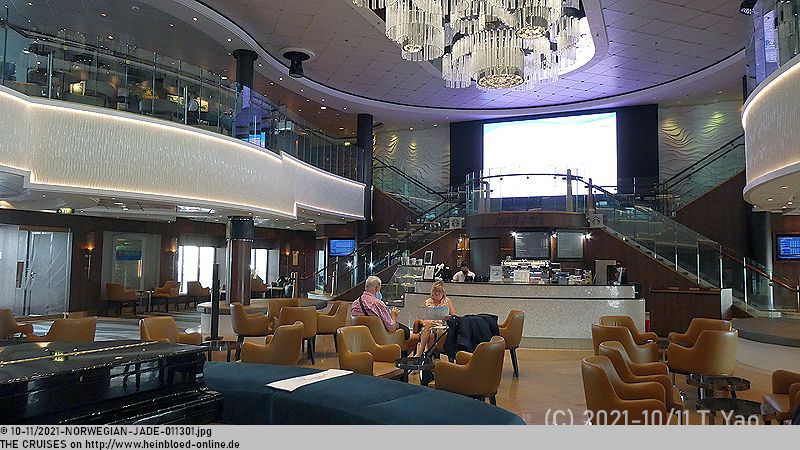 Es ist zwar schon ein paar Jahre her, dass die NORWEGIAN JADE ihren hawaiianischen Charme verloren hat. Ich bedauere es immer noch.
Es tut mir jedoch immer wieder weh, wenn ich die Veränderungen sehe.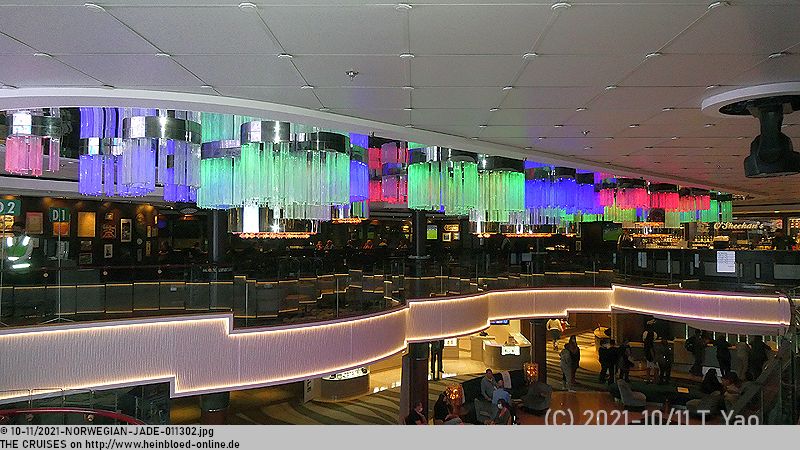 However, it always hurts me when I see the changes.

At least it looks as if they are trying to ensure distances.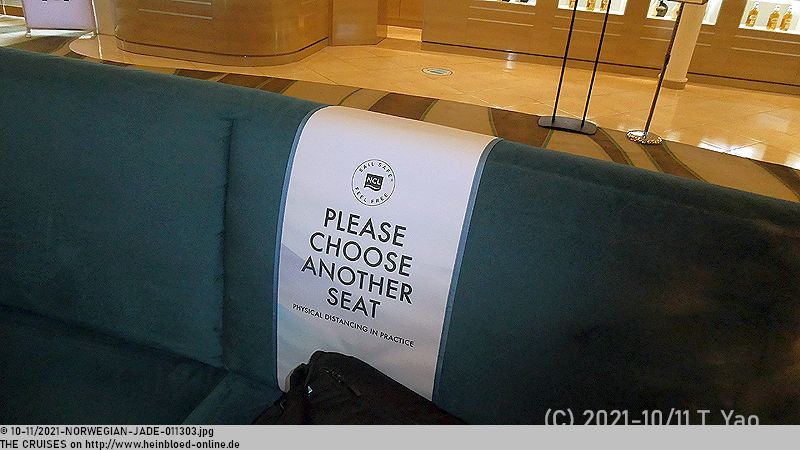 Hier sieht es zumindest so aus, als ob man versucht Abstände sicherzustellen.
Der erste Cappuccino geht aufs Haus. Leider aus dem Pappbecher von
Starbucks
. Auf der
AIDAluna 2021
gab es zumindest wiederbefüllbare Becher, die man zurückbringen konnte. Einwegbecher und Umweltschutz passen nicht zusammen. Das Wort "Nein" hält Einzug in das Vokabular des Personals. Als ich um laktosefreie Milch bitte und nachfrage, ob man für mich im Java Café eine Packung davon bereithalten könnte, gibt es wieder unnötige Diskussionen. Ich erwähne, dass es bislang noch nie ein Problem darstellte. Das kannte ich bislang von NCL kaum. Ich will dann nichts mehr. Allerdings wird diese Szene vom O'Sheehan beobachtet. Wenig später bekomme ich doch meinen Cappuccino mit laktosefreier sogar an den Tisch gebracht.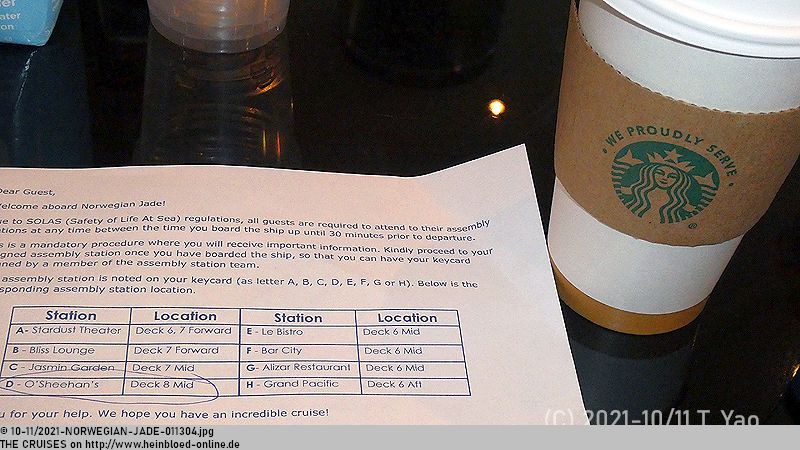 The first cappuccino is on the house, unfortunately from the paper cup from Starbucks. At least there were refillable cups at AIDAluna 2021 that you could return. Disposable cups and environmental protection do not go together. The word "no" is entering the vocabulary of the staff. When I ask for lactose-free milk and ask if they could have a pack ready for me in the Java Café, there are unnecessary discussions again. I mention that it has never been a problem so far, and I hardly knew that from NCL until now. Then I don't want anything more. However, this scene is observed from O'Sheehan. A little later, I even got my cappuccino with lactose-free delivered to the table.

We only get to know the senior officers through the Powerpoint presentation.

Die leitende Offiziere lernen wir nur über die Powerpoint Präsentation kennen.
Die anderen Reisen in diesem Blog/
The other voyages in this blog: