Als es langsam hell wird, können wir erahnen, was für ein tolles Zimmer wir bekommen haben.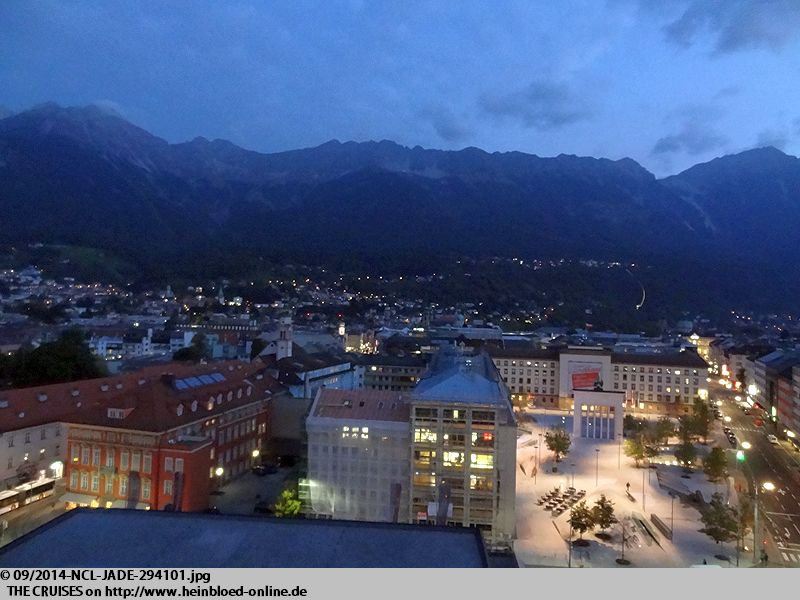 When it became slowly bright we could guess what for a great room we got.

And later when it was really bright we could see what we got.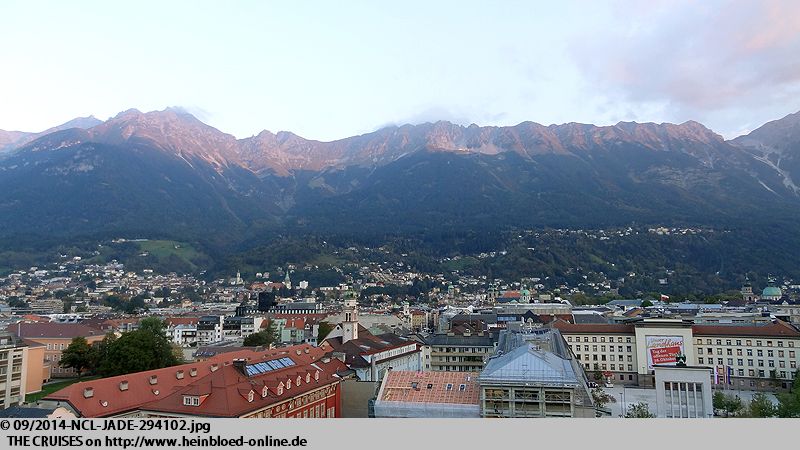 Und erst später, als es so richtig hell ist, sehen wir erst, was wir da wirklich bekommen haben.
Wir gehen zum Früshtücksbüfffet.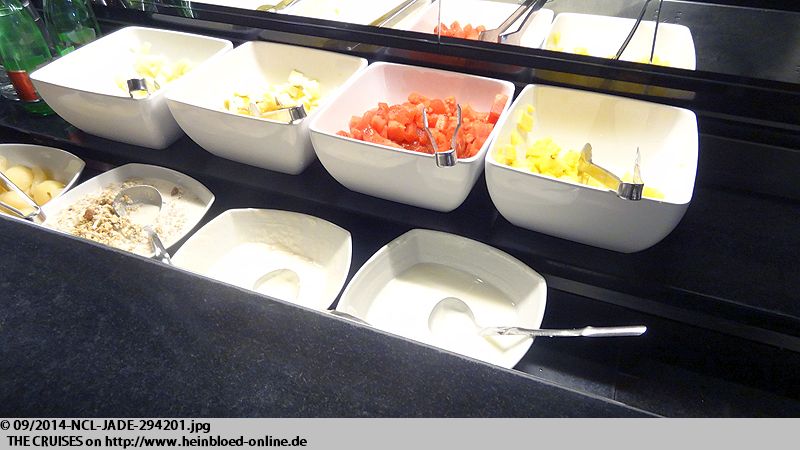 We went for the breakfast buffet.

That you really had to call goo.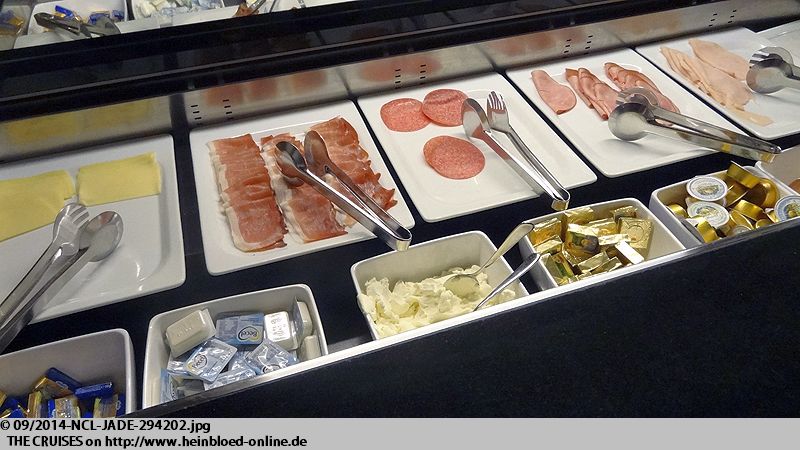 Das muss man wirklich als gut bezeichnen.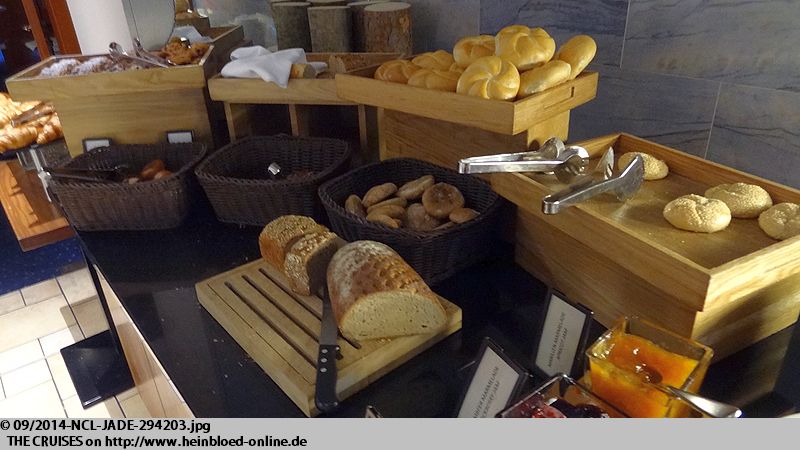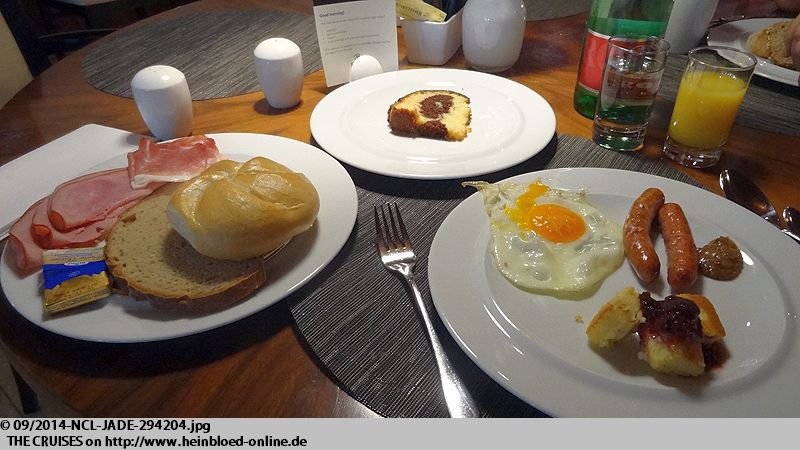 Noch ein letztes Omelette für mich.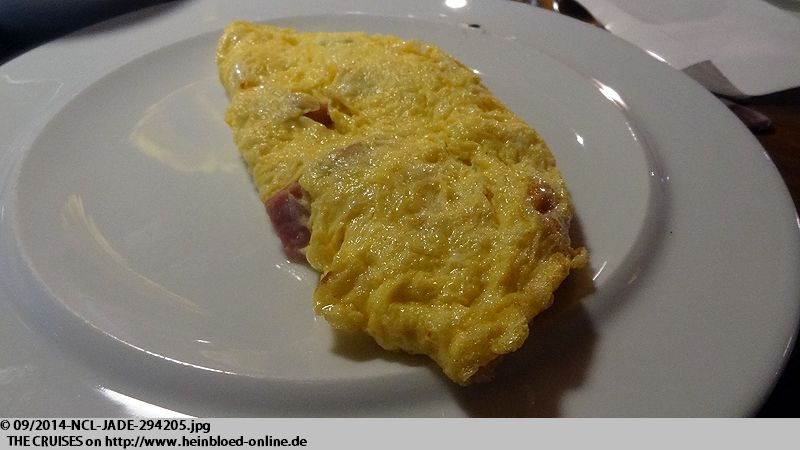 One more last omelette for me.

As we had no time on our outward journey to see anything of Inssbruck we made a short walk for a quick round.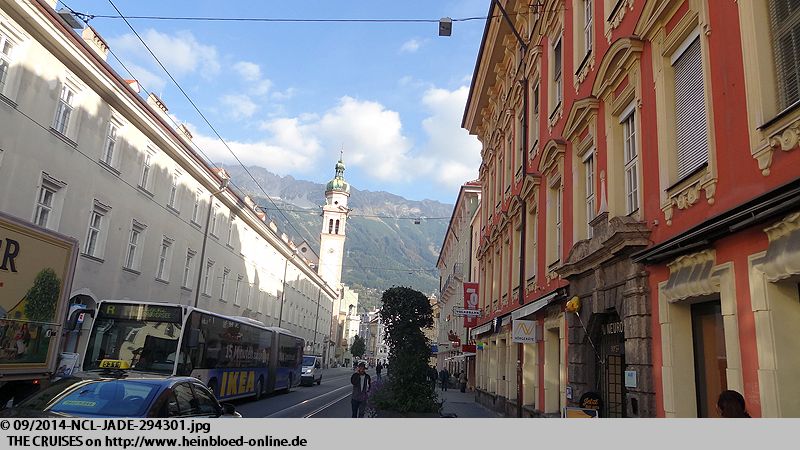 Da wir auf der Hinfahrt keine Gelegenheit hatten, uns in Innsbruck um zu sehen, laufen wir mal in die Stadt für einen kurzen Rundgang.
Und wie üblich: Bruno hat seine Mütze verloren und gute Gelegenheit sich einen Tiroler Hut zu besorgen.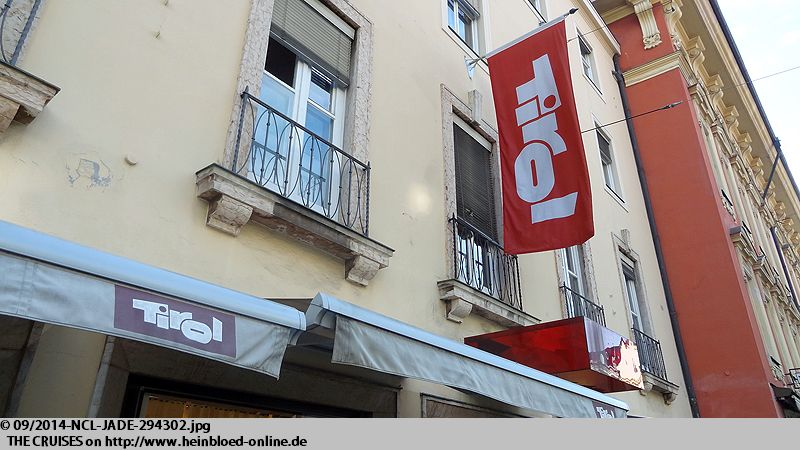 And as usually: Bruno lost again his cap so it was a good occasion to buy a Tyrolian hat.

That would fit perfectly for Bruno...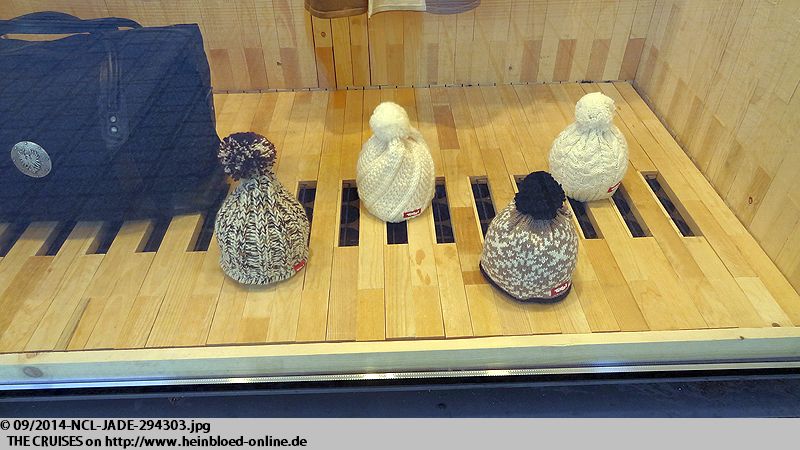 Das wäre doch das passende für Bruno...
Aber das ist doch gar kein Tiroler Hut... der stünd ihm so gut...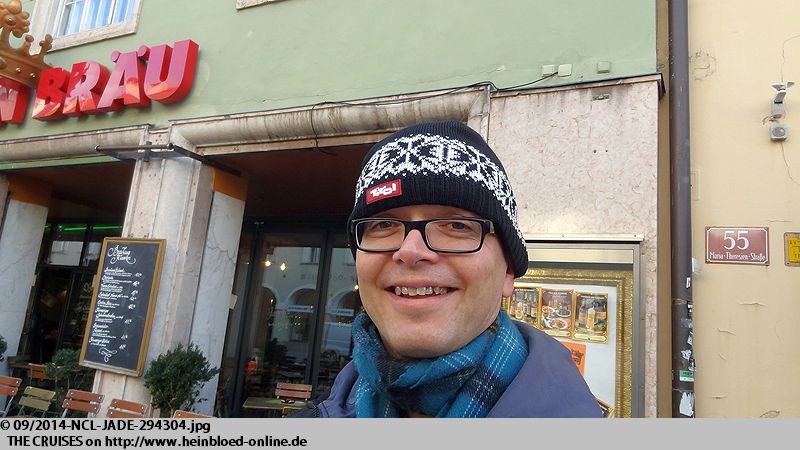 But that was not a Tyrolian hat... which might fit him perfectly...

We made a brief stop at the "Goldenes Dachl" (Golden Roof).

Es geht einmal kurz zum
"Goldenes Dachl"
.
Die Zeit reicht leider nur für ein paar Fotos und natürlich ein paar Selfies.

The time lasted only for few pictures and few selfies.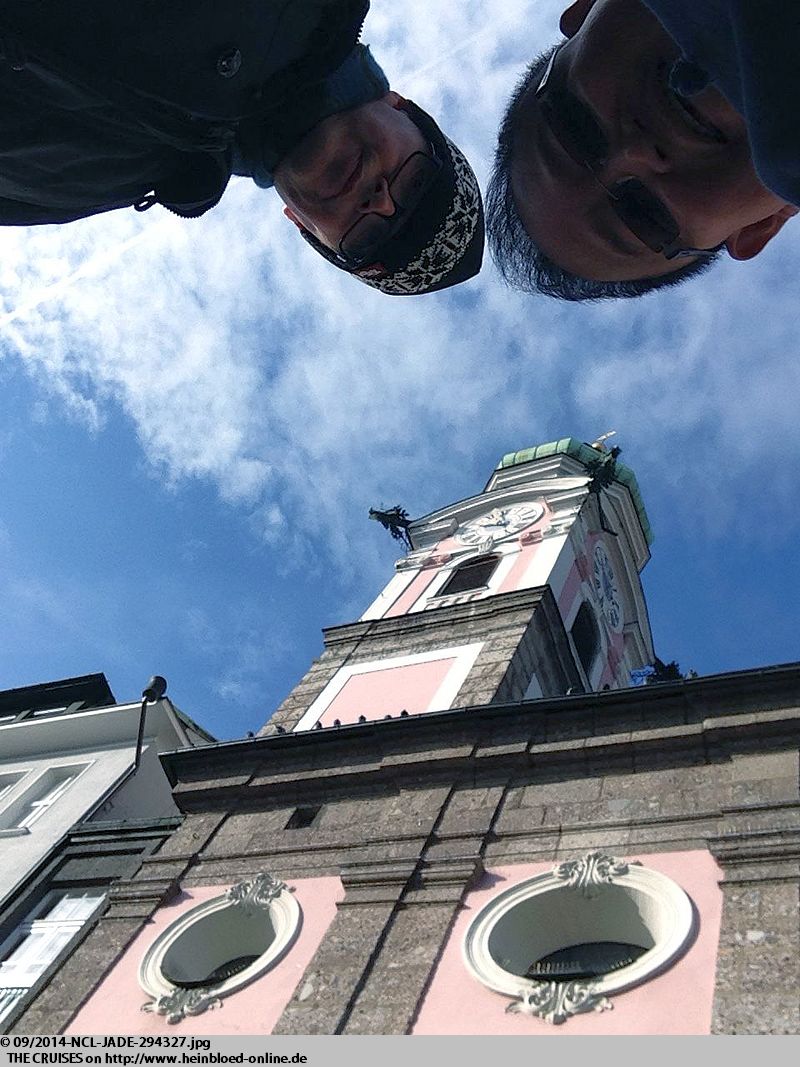 Very soon we had to head on. We used the same way back towards Germany by use of Fernpass passage.

Sehr bald müssen wir aber weiter. Wir fahren den gleichen Weg über den Fernpass wieder zurück nach Deutschland.
Wir kommen in Ehrwald vorbei und wir haben blauen Himmel. Die Chance bekommen wir bestimmt nicht so schnell wieder. Kurzerhand geht es für 39,00 EUR (2014) mit der
Tiroler Zugspitzbahn
hoch auf die Zugspitze. Dort erwarten uns 2° C.

We came by in Ehrwald, Austria and we had clear blue sky. We would not get such a chance so fast again. At short nice we went up to the summit of the Mount Zugspitze by Tiroler Zugspitzbahn. There we had 36 F.

The ride to the top was specatular.

Die Auffahrt ist spektakulär.
So müssen ein paar Selfies wieder sein.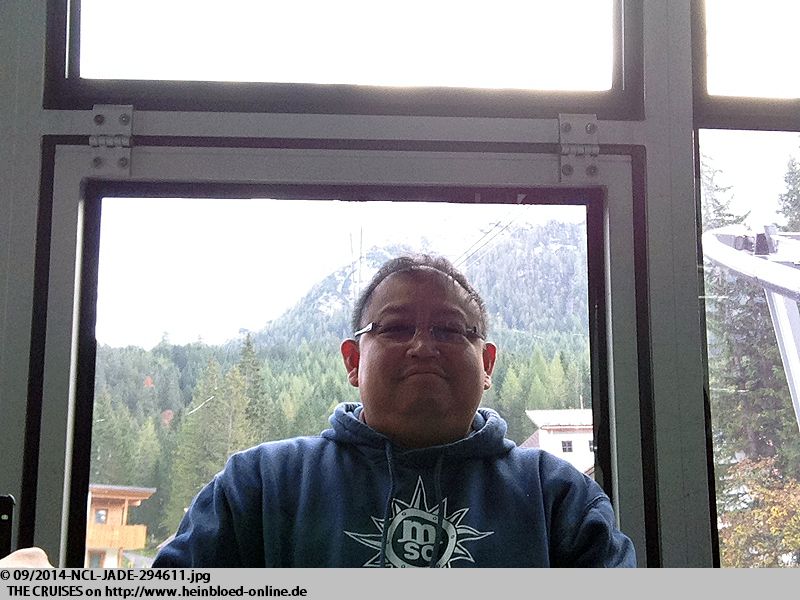 So some selfies were a must.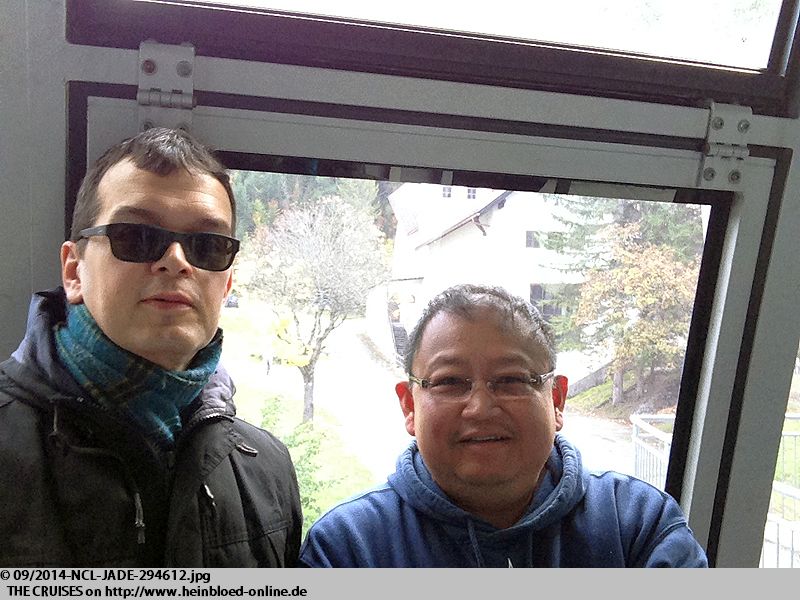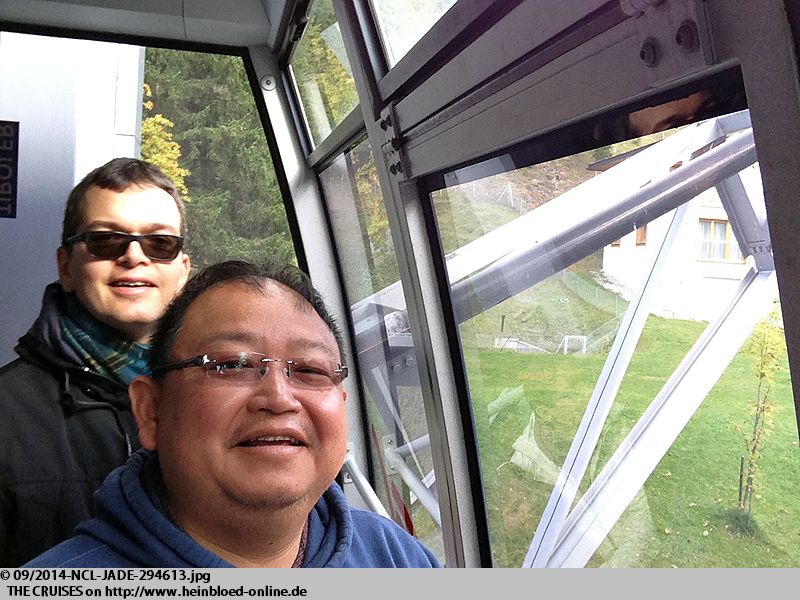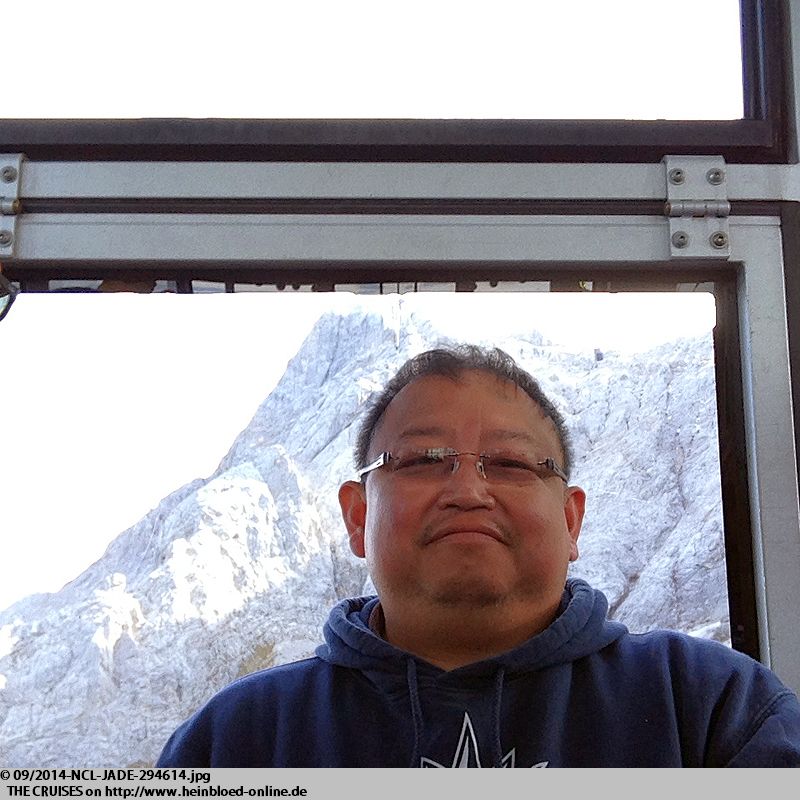 Oben auf 2.962 m angekommen, bewegen wir uns wieder zwischen Österreich und Deutschland hin und her. Da ja unser Auto in Ehrwald steht und wir doch unter Zeitdruck stehen, bietet es sich nicht an, dass wir mit der
Bayerischen Zugspitzbahn
runterfahren und wieder mit der Bahn zum Auto zurückfahren. Oben bei 2°C treffen wir auch Amerikaner in kurzen Hosen. Oben ist der Blick so gut, dass wir sogar die Silhoutte von München und des Starnberger Sees erkennen können.

Arrived on top on an altitude of 9,718 ft we moved between Austria and Germany forth and back. As our car was parked in Ehrwald and we were under time pressure it was impossible for us to use the Bavarian train for Mount Zugspitze and to return to our car by train. On the top with 36 F we met some Americans in shorts. The panorama on the summit was so good that we could see the silhouette of Munich and Lake Starnberg.

Certainly it was mandatory to have some selfies.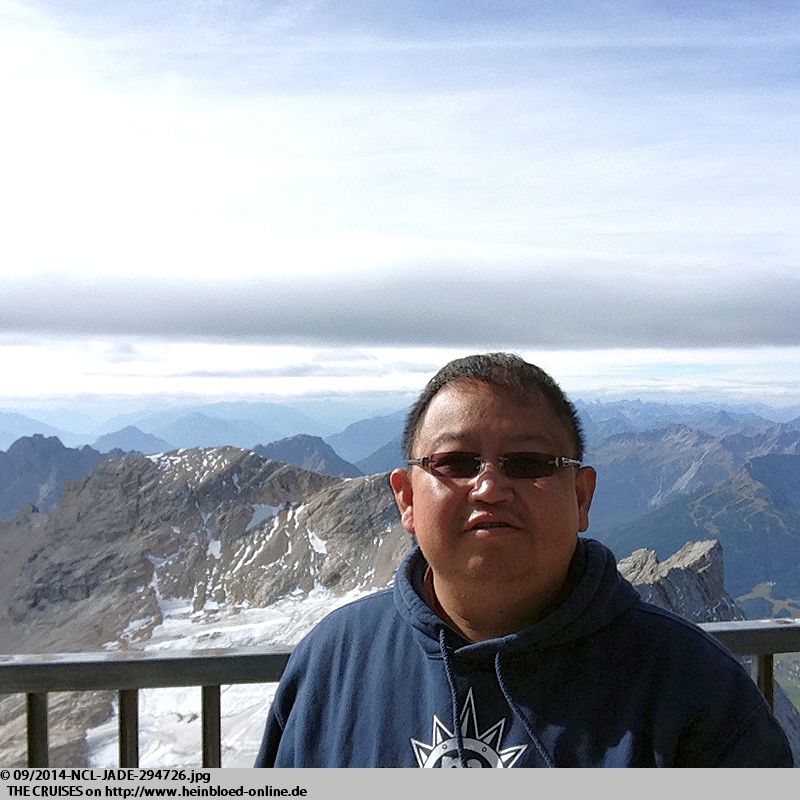 Selbstverständlich müssen hier auch Selfies gemacht werden.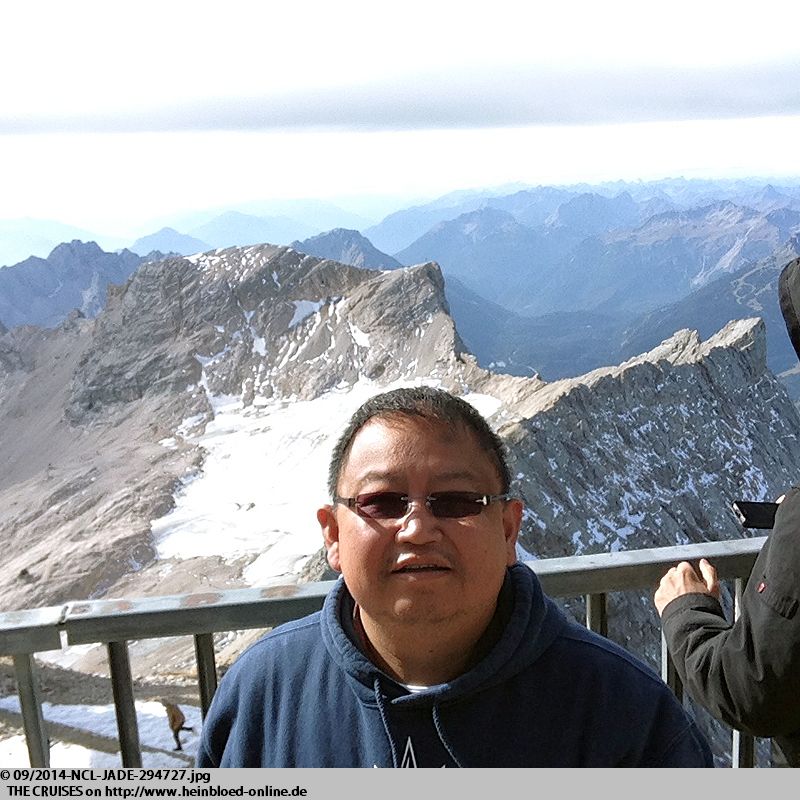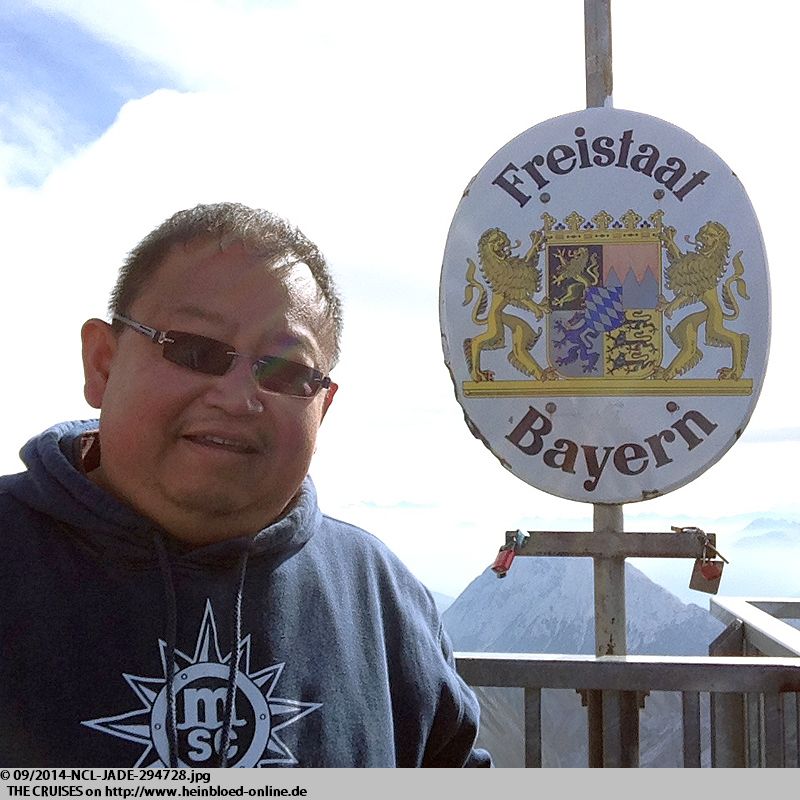 In the Hotel Bergland I got my last meal. The prices on the summit of Mount Zugspitze were so outrageous that we went down to have lunch.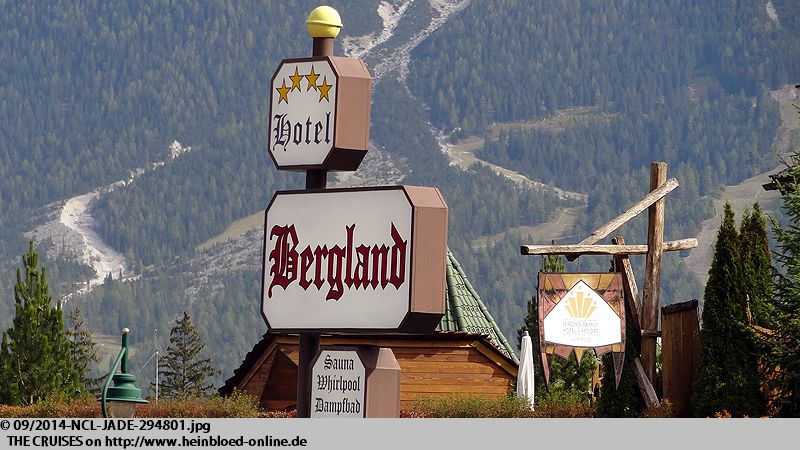 Im
Hotel Bergland
in Lermoos bekomme ich meine Henkersmahlzeit. Die Preise auf der Zugspitze waren schon ziemlich unverschämt, so dass wir zum Essen wieder runterfahren.
Eine letzte Frittatensuppe.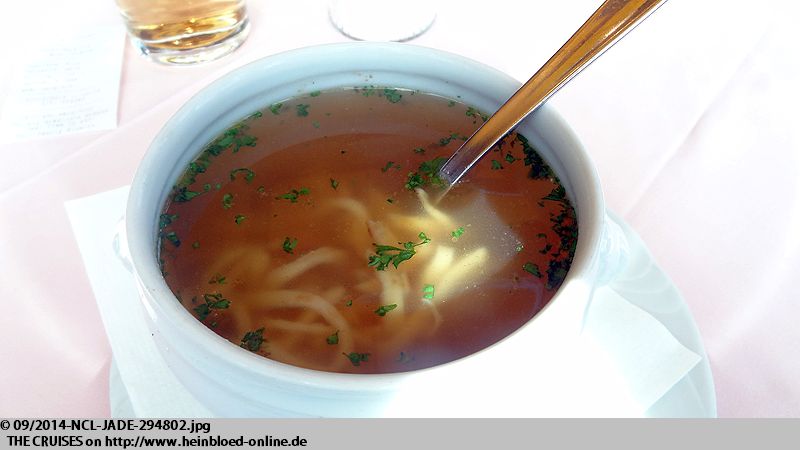 A last pancake stripes soup.

And I assume my very last Schnitzel Viennese Style (pork not veal) for the next six to nine months.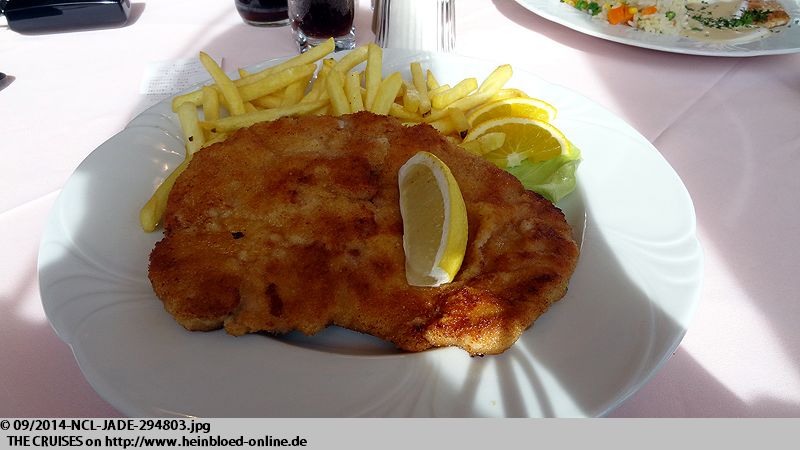 Und vermutlich mein letztes Schnitzel Wiener Art für die nächsten sechs bis neun Monate.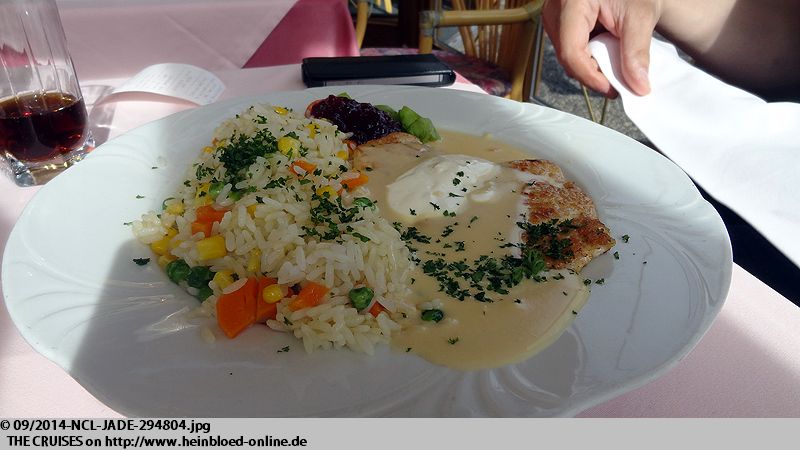 And Bruno took a last Austrian coffee before we were crossing over the borders to Germany.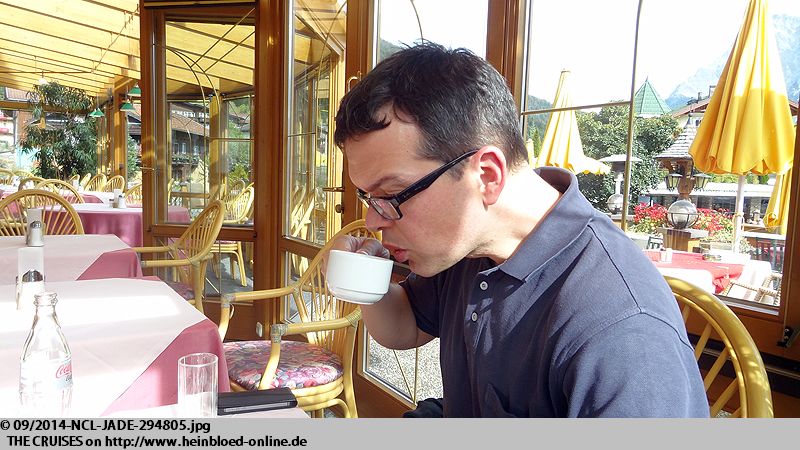 Und Bruno nimmt noch einen letzten österreichischen Kaffee bevor es gleich wieder zurück nach Deutschland geht.
Bevor wir Deutschland auf der A7 den Grenztunnel erreichen, biegen wir rechts ab Richtung Schwangau. Hier ist das
Besucherzentrum der Bayerischen Königsschlösser von Hohenschwangau
und...

Before we reached the German highway and border tunnel we made a right turn to Schwangau, Germany. Here they had the visitor center of the Bavarian Royal Palaces of Hohenschwangau and...

Neuschwanstein. On the outward journey we had to decided: Neuschwanstein or Wattens. As Wattens would be closed until May 2015 and we could pass Füssen, Germany again on our return journey we made both finally.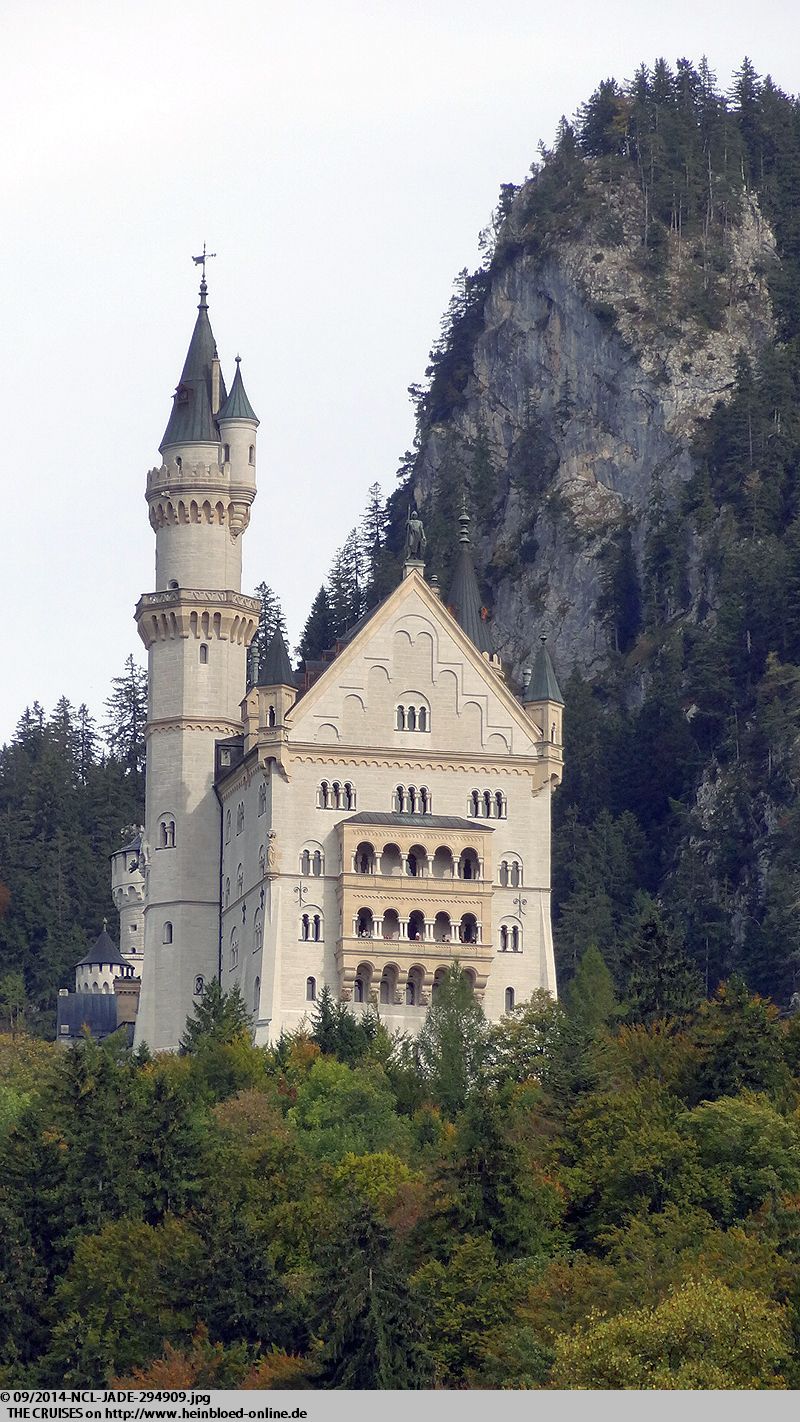 Neuschwanstein
. Auf der Hinfahrt mussten wir uns ja entscheiden: Neuschwanstein oder Wattens. Da aber Wattens bis Mai 2015 geschlossen hat und Füssen u. U. nochmals auf der Rückfahrt besucht werden kann, haben wir es doch noch geschafft beides zu sehen.
Mit der Kutsche fahren wir hoch (6,00 EUR pro Person (2014)). Nach ein paar Fotos entschließen wir uns jedoch zu Fuß runterzulaufen, weil die Schlange vor der Kutsche zu lang war. Das geht natürlich nicht ohne Erfrischung. Bruno braucht seinen Kaffee und ein Eis und ich versuche es mit dem Quarkgebäck. Man hat unterwegs auch einen schönen Blick auf Hohenschwangau.

We get up by the horse carriage (6.00 EUR per person (2014)). After few photo shots we decided to walk down because the queue in front of the carriage stop was endless. That was impossible without any refreshments. Bruno need his coffee and some ice-cream and I tried some cheese pastries. You had on the way back a beautiful view on Hohenschwangau.

So the blog ends now after some selfies. A beautiful voyage came here to the end and soon the blog will start on NORWEGIAN SKY 2015. The next part of my life will start once I am home again.

So endet der Blog dann noch mit ein paar Selfies. Eine schöne Reise geht hier zu Ende und schon sehr bald geht der Blog dann auf der
NORWEGIAN SKY 2015
weiter. Der nächste Abschnitt meines neuen Lebens beginnt dann, wenn ich wieder zu Hause bin.