Ich bin mal wieder sehr früh wach. So gehe ich dieses Mal ins Blue Lagoon Café und bin überrascht, was sich hier verändert hat. Anscheinend gibt es hier eine neue Frühstückskarte und ein kleines Büffet. Nun gut: das Rührei-Croissant war nicht so das wahre für mich, weil es eben aus dem Flüssigei aus der Fabrik gemacht wurde. Während ich hier sitze, bin ich wieder am PC, weil der iPad doch größere Schwierigkeiten hat, sich zu verbinden.

I was waking up again very early. So I went that time to Blue Lagoon Café and was surprised what was changed. Obviously, they had a new breakfast menu and a small buffet. Well: the scrambled egg croissant was not the right for me since it was made of the liquid eggs from the box. While I was sitting there I was connected with my PC since the iPad had more problems to get a connection.

Later I went to Cagney's to have breakfast again. Unfortunately, nobody was around to offer me to cut open my roll like on EUROPA 2014 (for many years the very best cruise ship in the world - we became dirty - our standards are increasing from cruise to cruise). In January 2014 we never saw any Maître here around. Then they had a dream team. Today I asked a Maître to come. They really should rinse the boiled eggs under cold water (so we always had a glass of ice water at the table that we can handle it ourselves...) and especially we already told them that they need to sort the berries before serving them. They were too sensitive. As compensation, we got a freshly squeezed orange juice.

Später geht es nochmals ins Cagney's zum Frühstück. Leider bietet mir niemand an, mir mein Brötchen aufzuschneiden, wie auf der
EUROPA 2014
(Wir sind versaut - unsere Ansprüche steigen von Fahrt zu Fahrt). Im Januar 2014 haben wir hier den Maître eigentlich fast nie gesehen. Die hatten damals ein Dreamteam. Heute bitte ich darum, dass der Maître kommt. Die sollen endlich mal die gekochten Eier abschrecken (dazu ist immer ein Glas Eiswasser gut am Tisch, damit man es notfalls selbst machen kann...) und vor allem, wir hatten sie zuvor schon mal hingewiesen, dass man doch mal die Beeren sortieren muss, bevor man sie serviert. Die sind einfach zum empfindlich. Als kleine Entschädigung bekomme ich einen frisch-gepressten Orangensaft.
An der Aloha Bar sind Frances und Ingrid im Gepräch mit Kapitän Mikael Hilden.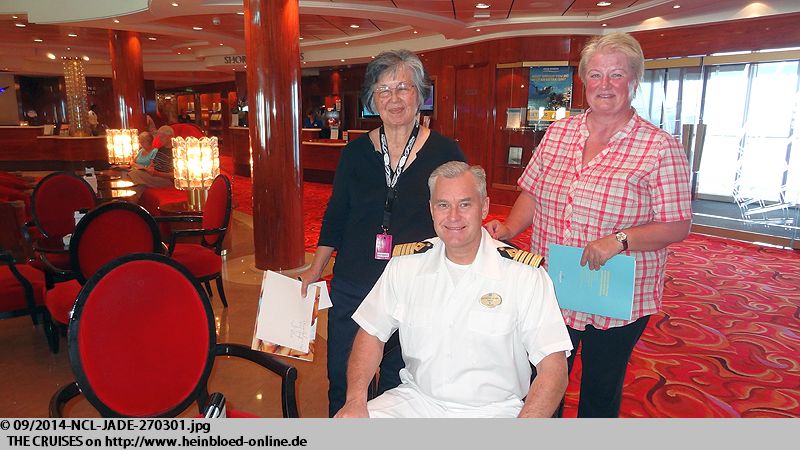 At the Aloha Bar Frances and Ingrid were talking with Captain Mikael Hilden.

Croatia's flag was set. We supposed to arrive soon.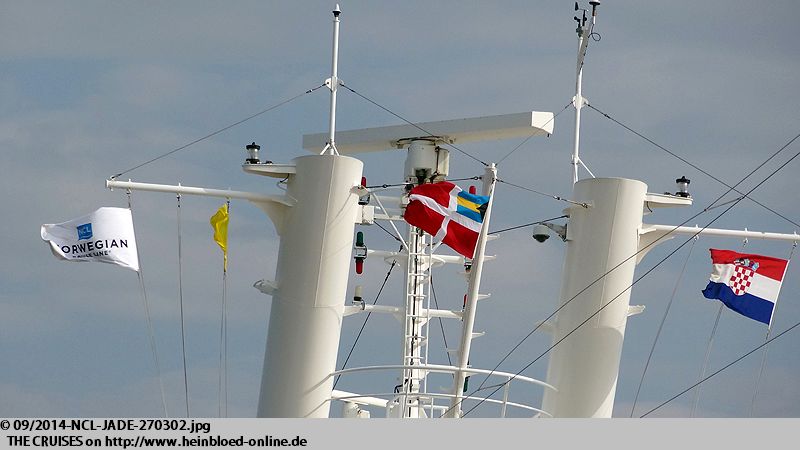 Kroatiens Fahne ist aufgezogen. Wir müssen also gleich ankommen.
Split ist bereits in Sicht und der Lotse steht auch schon bereit. Mehr oder minder.

Split, Croatia was already at sight and the pilot was ready. More or less.

Let us see who will be faster in port: AZAMARA QUEST or MY NORWEGIAN JADE
.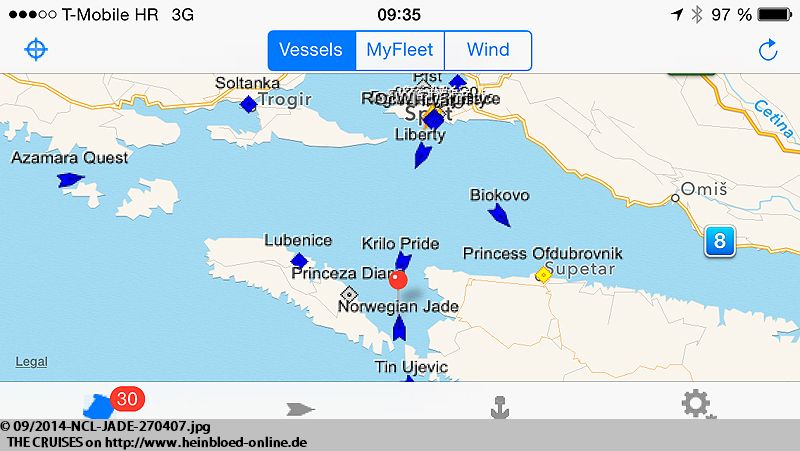 Mal gucken, wer von uns beiden schneller im Hafen ist: AZAMARA QUEST oder
MEINE
NORWEGIAN JADE.
Um mich für das Shipspotting vorzubreiten, gucke ich schon mal mir die Lage im Hafen an. WIND SURF liegt bereits da und OCEAN MAJESTY legt wohl gleich an.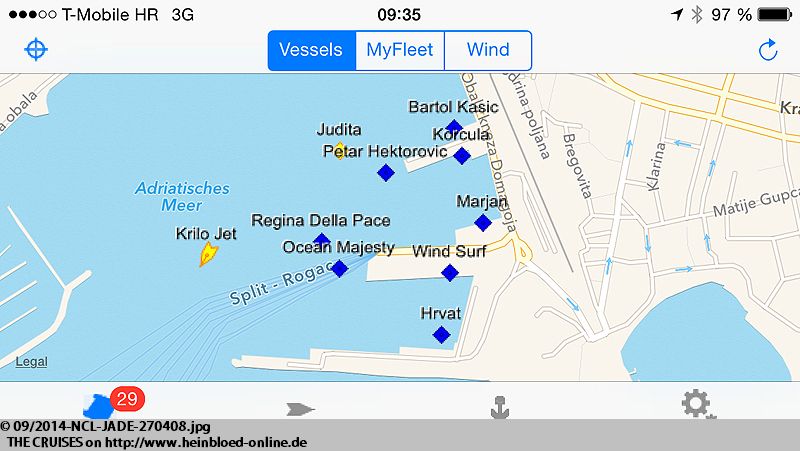 To be prepared for ship spotting I was checking the locations in port. WIND SURF was already there and OCEAN MAJESTY would dock at any moment.

As we arrived ahead of AZAMARA JOURNEY the pictures of the day of OCEAN MAJESTY was taken first. She was sailing for a German Tour Operator.

Da wir vor der AZAMARA QUEST einlaufen, entstehen zunächst die Bilder des Tages von der OCEAN MAJESTY, die für
Hansa Touristik Stuttgart
fährt.
Und danach entstehen die Bilder des Tages von der WIND SURF.

There after the pictures of the day of WIND SURF were taken.

And then finally AZAMARA QUEST arrived.

Und dann läuft auch die AZAMARA QUEST ein.
2011 mussten wir in Split noch terndern. Die Tenderboot-Station war nur wenige Meter vom Hauptwahrzeichen Splits: das UNESCO Welterbe
Diokletianpalast
in der Altstadt. Sie haben zwischenzeitlich die Kapazitäten im Hafen erweitert und so legen wir direkt am Pier an.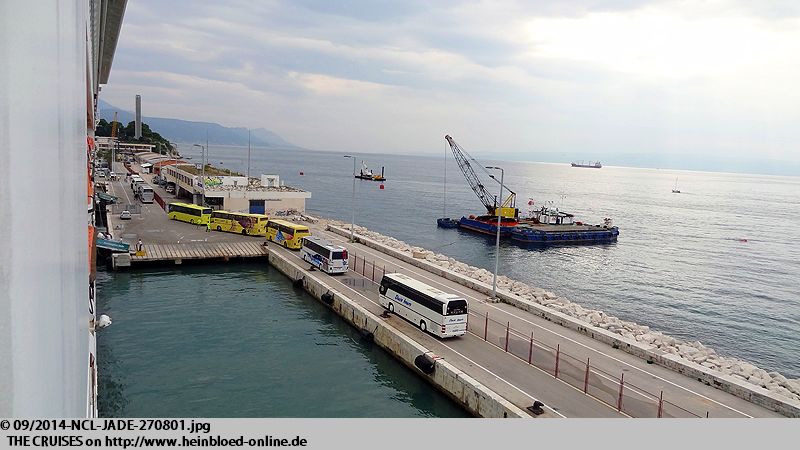 2011 we need to tender in Split, Croatia. The tender boat station was just a few yards from the main attraction of Split: the UNESCO World Heritage: Diocletian Palace in the Old Town. They obviously extended the capacity in the port and could dock at the pier.

That meant now longer walks.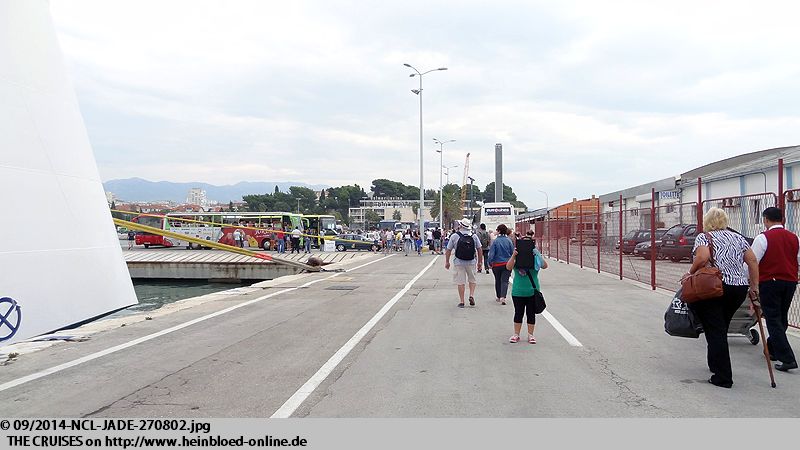 Das bedeutet leider längere Fußwege.
Hier kann man sich auch vor Ort noch für Ausflüge entscheiden.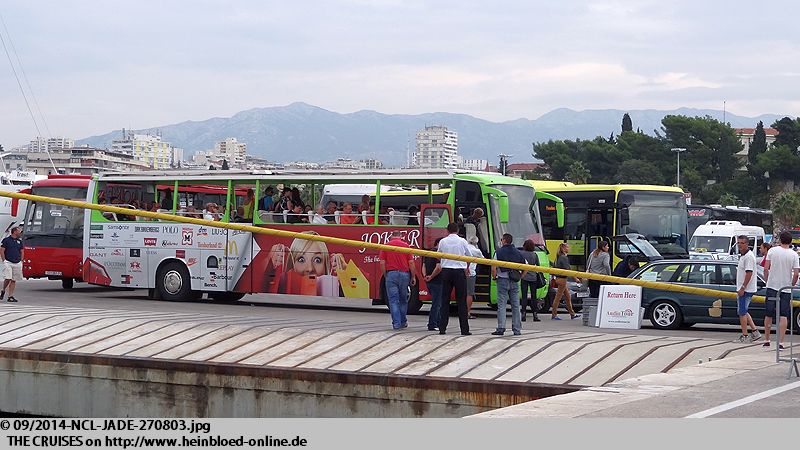 Here you could also decide

The crew got their shuttle of their own... certainly for going shopping... or like here for their tour of their own.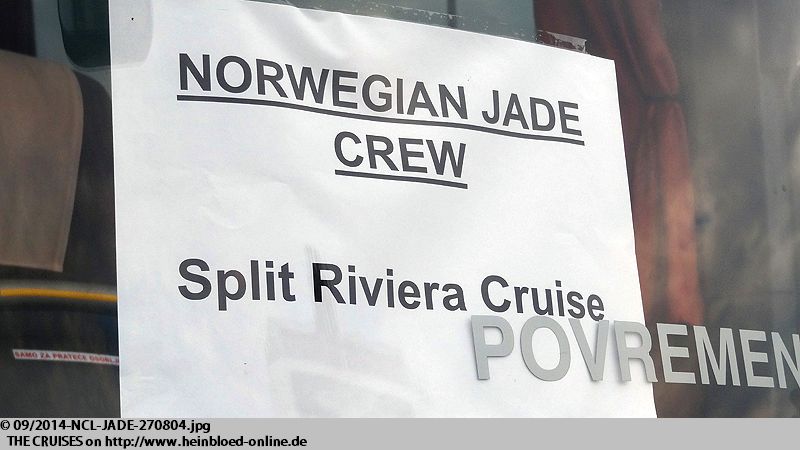 Die Crew bekommt einen Shuttle... bestimmt wieder zum Shopping... oder wie hier für ihren eigenen Ausflug.
Wir sind jetzt ganz unten und müssen an das obere Ende laufen. Das sind doch mal 10 Minuten.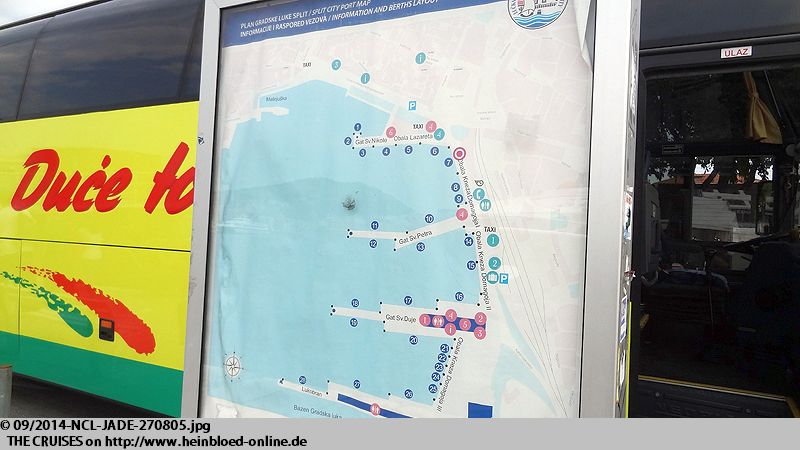 We were at the farthest end at the bottom and need to walk to the other end at the top. Another 10 more minutes.

One advantage the port provided: ISPS (Port safety) obviously was not such a major subject. So you could easily get here for ship spotting.

Einen Vorteil hat der Hafen ja: ISPS (Hafensicherheit) scheint hier nicht ganz so groß geschrieben zu werden. So kann man eigentlich gut zum Shipspotten hierher.
Und noch ein paar Selfies mit
MEINER
NORWEGIAN JADE. Januar 2016 im Mittelmeer entfällt, weil sie nach Galveston, Texas kommt und stattdessen NORWEGIAN EPIC hier über das ganze Jahr bleibt.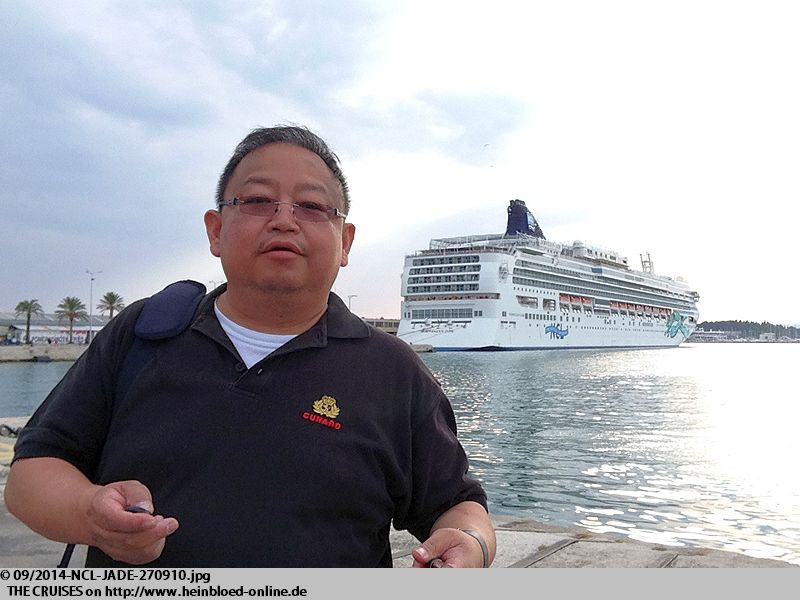 Few more selfies with MY NORWEGIAN JADE. January 2016 in the Mediterranean Sea was withdrawn since she should be moved to Galveston, Texas and instead NORWEGIAN EPIC would stay here all-year-long.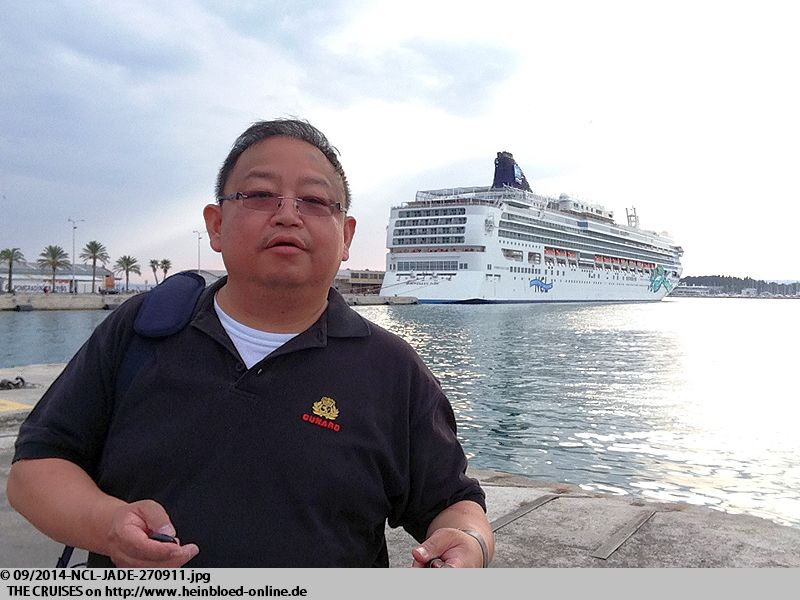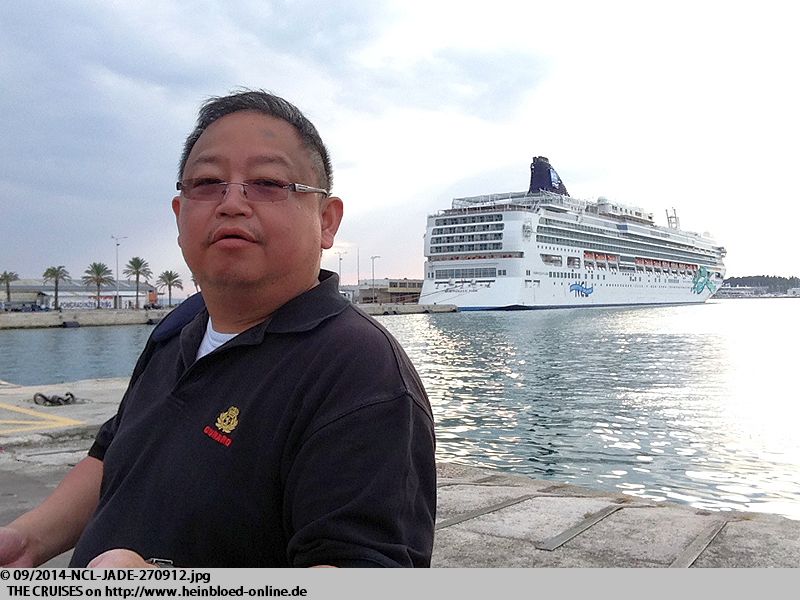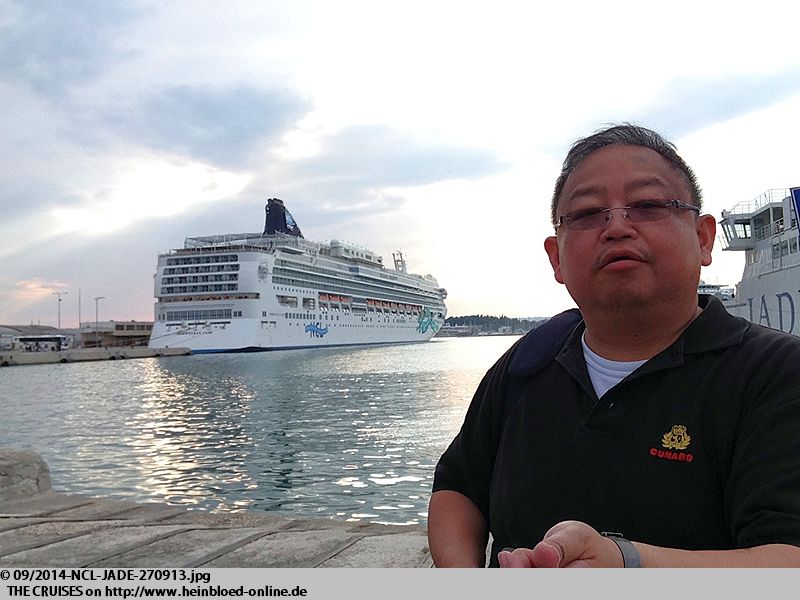 Genau am anderen Ende des Hafens finden wir das Büro von
Nova Autovermietung
. Man muss ein bisschen Zeit mitbringen, weil die Parksituation nicht zulässt, dass der Wagen schon vor der Tür steht, Ich hatte das Büro in Dubrovnik für mich arrangieren, dass wir statt zwei Autos (wie ursprünglich gebucht) ein Mini-Bus bekommen. Damit fahren wir wieder zum
Nationalpark Krka
. Das liegt ca. 55 km nordwestlich von Split. Für die Autobahn fällt Maut an, die wir aber auch in Euro begleichen können. Man bekommt allerdings Kroatische Kronen zurück. Ich muss wieder arbeiten, während die anderen ihr Schläfchen machen. Nach Rückgabe des Wagens gönne ich mir doch noch schnell ein Cevapcici-Brötchen. Muss sein: wäre ja sonst so, als ob ich nie in Kroatien war.

Just at the other end of the port we found the office of Nova Car Rental. You need to calculate some extra time because the park situation did not allow that the car could wait in front of the door. I asked their office in Dubrovnik to arrange one van instead of two cars. So we went again to Krka National Park. That was approx. 35 miles North West of Split. For the highway, we had to pay a toll but the Euro was accepted too. But you get Croatian Crowns in return. I had to work while the others could do their nap. After the return of the car, I pampered myself with a Cevapcici-Sandwich. A must: otherwise it was like you would never have been in Croatia.

Parking was complimentary.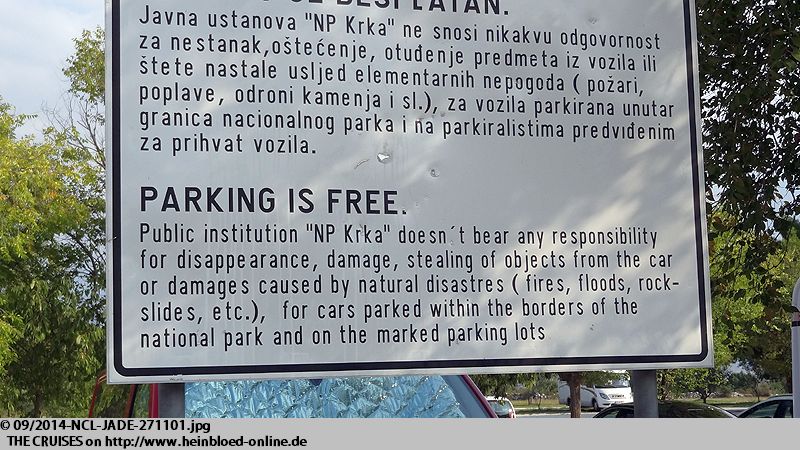 Parken ist kostenlos.
Je nach Saison zahlt man zwischen 30 und 110 HRK Eintritt. Wir haben Glück, dass schon Oktober ist und wir nur 90 HRK (2014) zahlen müssen. Aber wir bekommen dafür auch sehr viel.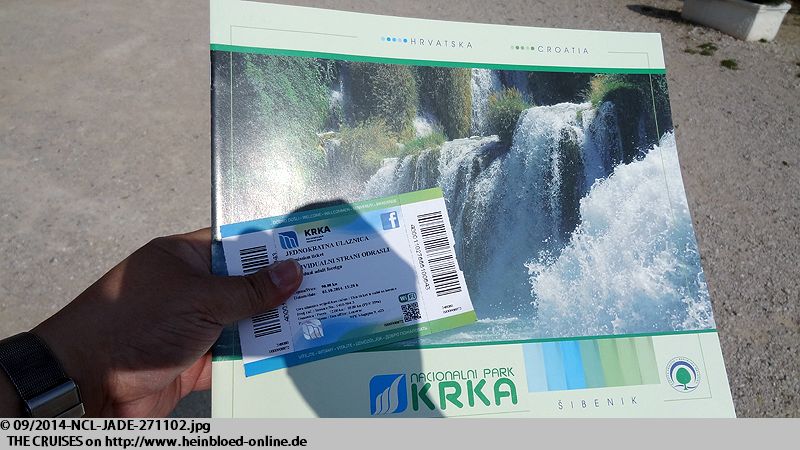 Depending to the season you had to pay between 30 and 110 HRK admission fee. We had luck since it was already October and we had only to pay 90 HRK (2014). For that price, we got a lot to see.

Everywhere you could get complimentary WiFi but I ordered the car including a WiFi-Router so all of us could browse the internet on the way.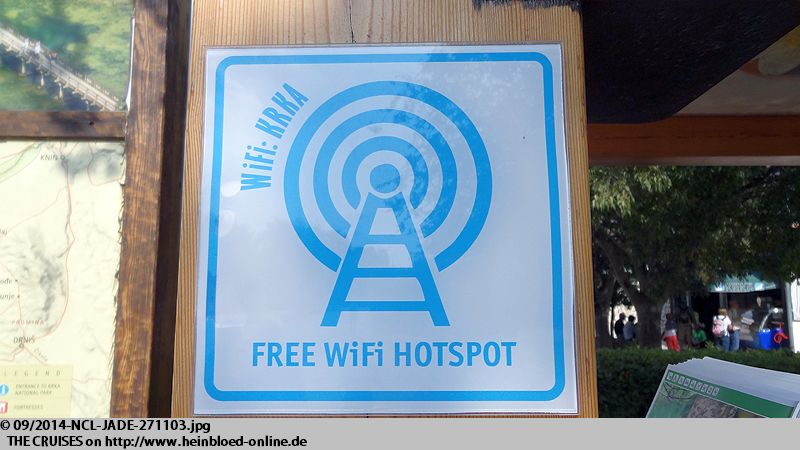 Überall gibt es kostenloses WLAN, aber ich hatte den Mietwagen schon mit WLAN-Router bestellt, so dass wir unterwegs schon surfen konnten.
Und wie ich feststelle: ich habe schon wieder die gleiche Zufahrt erwischt, wie damals mit der
NORWEGIAN JADE 2011
, dabei wollte ich eigentlich dieses Mal so reinfahren, dass wir mit dem Boot die Wasserfälle erreichen. Aber das war gut so: denn man sagte uns, dass es für die Bootsfahrten eh schon zu spät sei.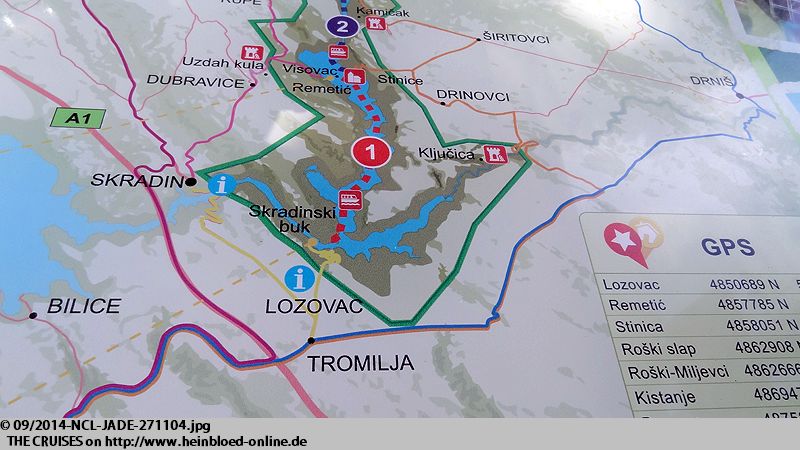 As I found out: I used the same access road like then on NORWEGIAN JADE 2011 but I wanted to use a different one where you need to get to the falls by boat. But it was good since we learned that it was anyway too late for a boat trip.

By a complimentary shuttle, you were taken down to the valley.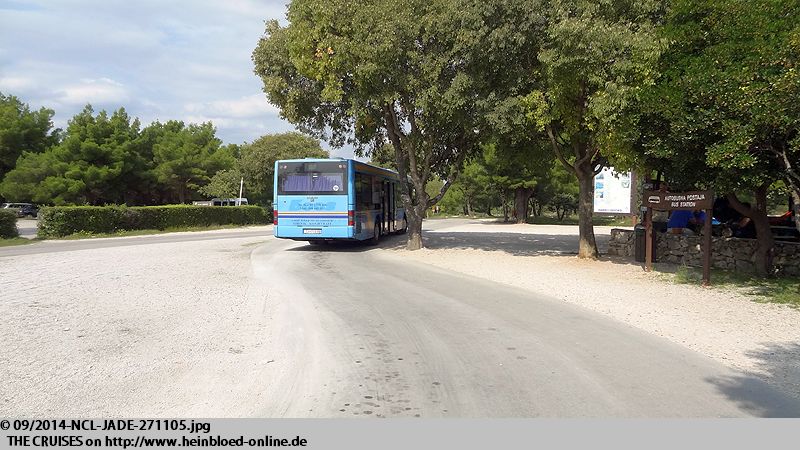 Mit einem kostenlosen Shuttle wird man dann runter ins Tal gefahren.
Nach der Tour sind alle müde, so dass sie hier auf der Bank auf den Bus warten.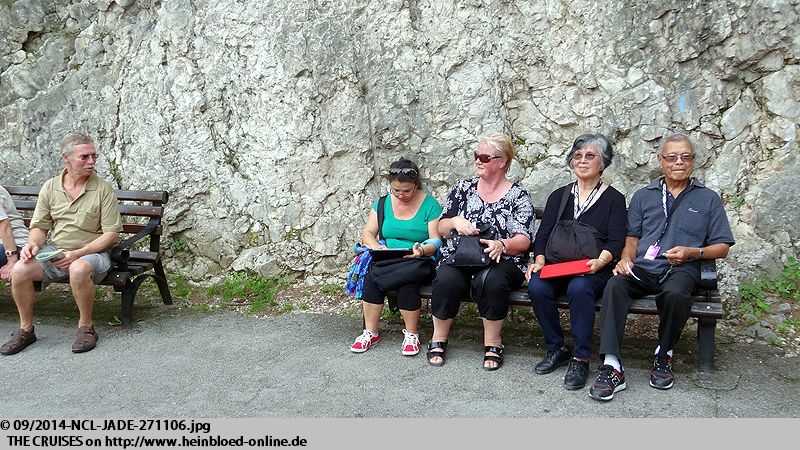 After the tour everybody was so tired that they waited here sitting on the bench for the bus.

I pampered myself with a soft ice until the bus arrived.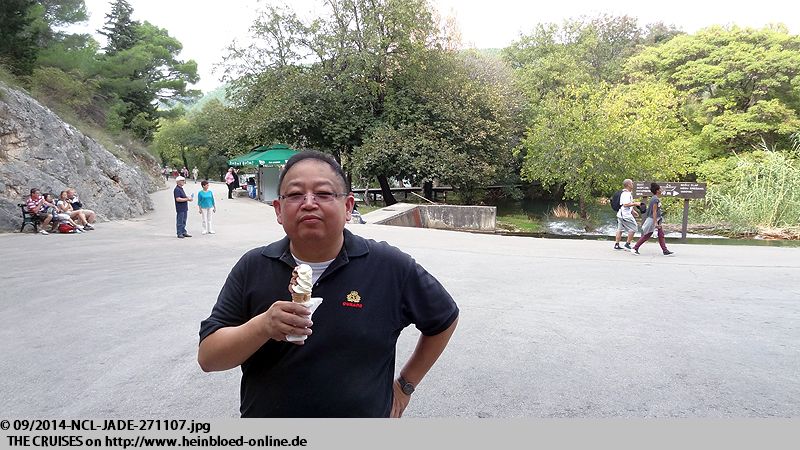 Ich gönne mir ein Softeis, bis dass der Bus später kommt.
Mit Rücksicht auf unsere Eltern sind wir damals aber nicht die gesamte Runde gelaufen. Aber heute laufen wir sie. Wir haben Glück: schönes Wetter, angenehme Temperaturen und es machte richtig Spaß. Eigentlich sollte man es in einer Stunde schaffen.

With regard to our parents we did not walk the complete round. But today we walked. We had luck: nice weather, convenient temperature and it was real fun. Actually, you should handle it within one hour.

But we need nearly two hours because all of us were so fascinated that we took a lot of pictures. Not just me!!! The only who were not so fascinated where the shore excursion guests from AIDAaura which was docking in Zadar, Croatia: they were pushed and they could not go the full loop (and so the missed the very best: to see the falls from the bottom...) because their schedule was too squeezed.

Aber wir brauchen zwei Stunden, weil wir alle so fasziniert sind, dass wir viel und ausgiebig fotografieren. Nicht nur ich!!! Die einzigen, die weniger fasziniert sind, sind die Ausflügler von der AIDAaura, die in Zadar liegt: sie werden durchgescheucht und sie dürfen nicht die volle Runde laufen (und verpassen damit eigentlich das Beste: den Wasserfall von unten...), weil die Zeit dafür zu knapp ist. Übrigens entdecken wir nicht nur die AIDA und NCL-Busse, sondern auch einen Bus mit Gästen, die sich auf den Spuren von Winnetou sich befinden. Bekanntlich haben damals ja die Dreharbeiten in Kroatien stattgefunden.
Als wir zurückkommen wieder Partystimmung am Pier.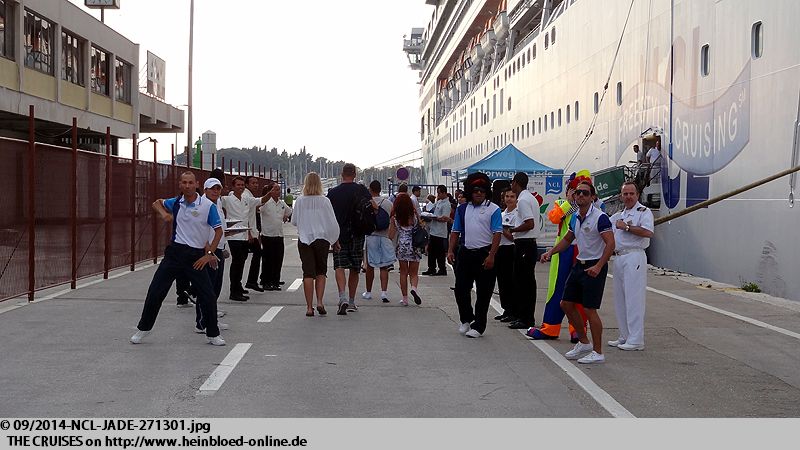 When we returned we had again party atmosphere at the pier.

Pedro in this correct official uniform with a special name tag. They tried to make me laugh but I was really sad because we had to leave the ship the next day.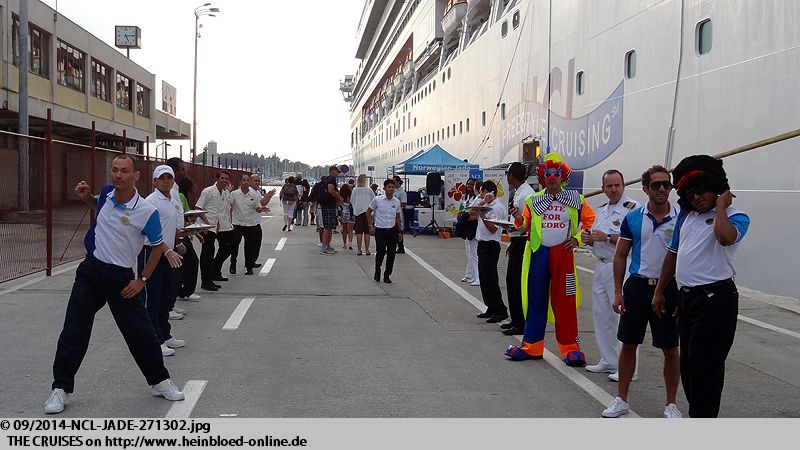 Pedro in seiner korrekten Dienstuniform mit besonderem Namensschild. Die versuchen mich zum Lachen zu bringen, dabei bin ich tieftraurig, weil wir morgen wieder von Bord müssen.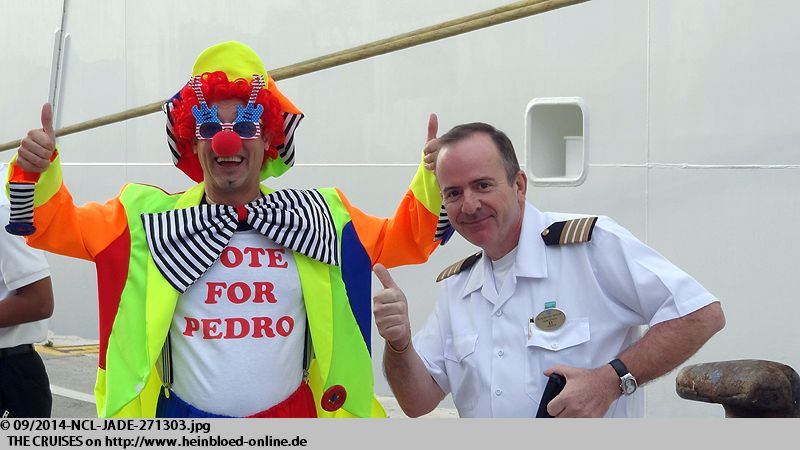 We were happy to have Tien Canapés.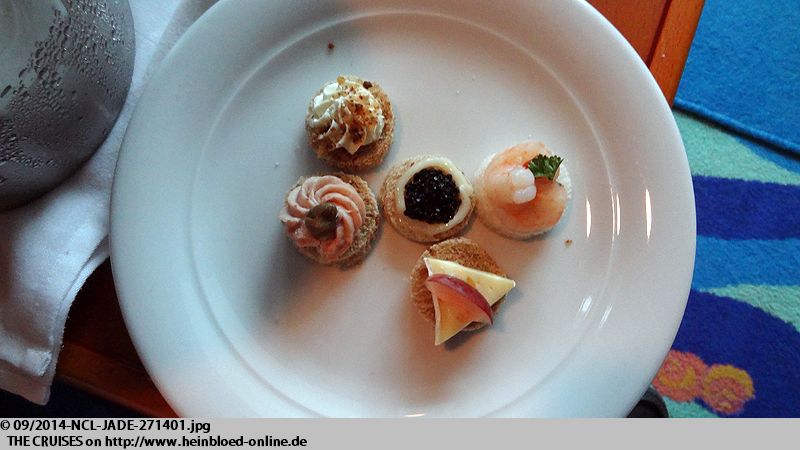 Zum Glück gibt es doch mal endlich Tien-Canapés.
Von Orlando bekomme ich besonderes Geschenk. Ich werde ja oft für ein Crew Mitglied gehalten, so stellt man mir häufig fragen, die man keinem anderen Gast stellen würde. Bruno hat immer behauptet, dass die Leute denken, dass ich der Chef der Wäscherei bin. Nun bin ich Teil des Teams und Ehrenmitglied der Wäscherei an Bord. Auf meiner nächsten Kreuzfahrt werde ich es anziehen und mal gucken, wann sie mich rausziehen und in den Bauch des Schiffes packen... Ich freue mich über das besondere Geschenk.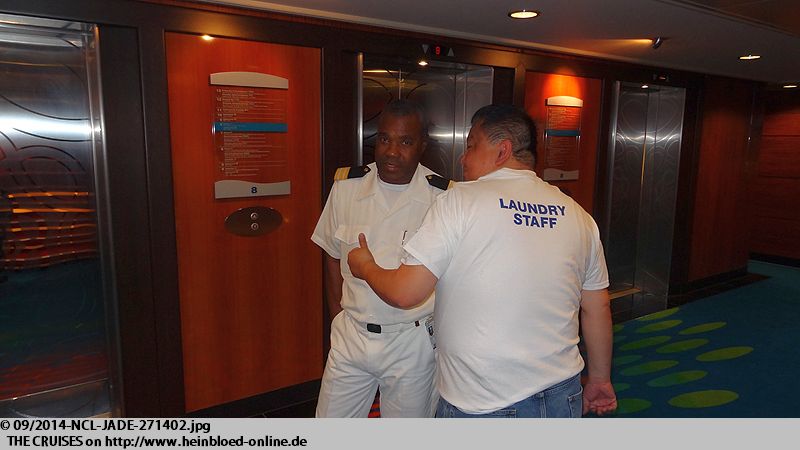 From Orlando I got a special gift. Many others thought that I was a crew member and so frequently I was asked questions you would not ask other guests. Bruno always said that most people thought I might the manager of the laundry department. Now I became part of the team and honorable member of the laundry team onboard. On my next cruise, I would wear it and see if they would pull me out and place me into the inside areas of the ship... I was very happy to get this gift.

And a little mice.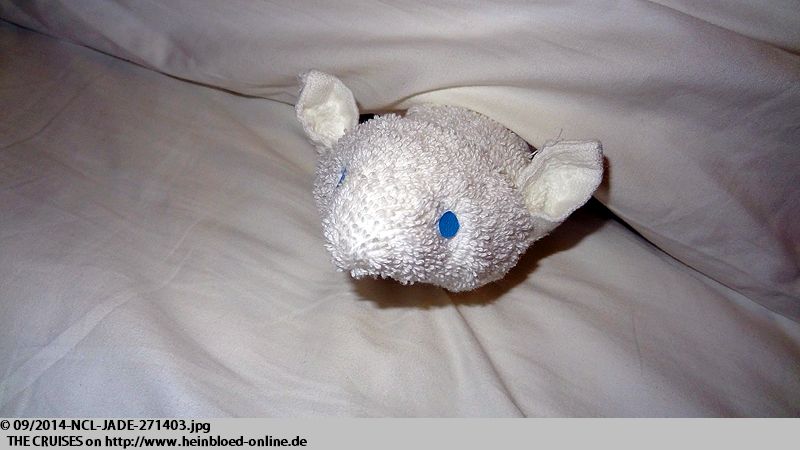 Und noch ein Mäuschen.
Doch das ist ein schöner Tag in Kroatien.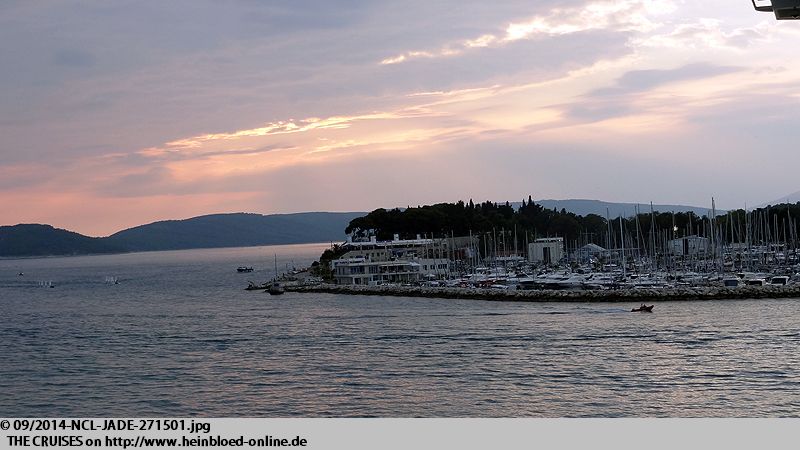 That was a pretty day in Croatia.

The very last time we went for a common dinner. That time in Alizar because we had everywhere good friends and we need to have a chance to see them all. Andreea got me the table. Daniel was happy to see again Frances and Eddie. He was then in the dream team in Le Bistro on NORWEGIAN JADE 2014 (1). In the seven days, new friendships were founded. Angela had a gift for Frances as a souvenir. It was a great bunch. Our two waiters Alan Cortez and Prince Arganosa delivered a very friendly and attentive service which we really enjoyed. Also, Maître Salameo Pinar whom we know by seeing did not let us go without offering something special for Angela and Ingrid. By the way for friends of vegetarian cuisine: with Norwegian you might get the only vegetarian Goulash-Soup worldwide: I had in my cup not a single piece of meat. As said: a new menu and who knew how a Goulash-Soup should be. I explained it and I got a new cup full of pieces of meat.

Zum letzten Mal geht es zum gemeinsamen Abendessen. Dieses Mal ins Alizar, weil wir doch überall gute Freunde haben und wir daher auch mal die Chance nutzen müssen sie zu sehen. Andreea hatte mir einen Tisch besorgt. Daniel freut sich über das Wiedersehen mit Frances und Eddie. Er war damals im Dreamteam von Le Bistro auf der
NORWEGIAN JADE 2014 (1)
. In den sieben Tagen sind neue Freundschaften entstanden. Angela schenkt Frances etwas als Souvenir. Es ist eine tolle Truppe. Unsere beiden Kellner Alan Cortez und Prince Arganosa haben uns einen tollen aufmerksamen freundlichen Service geboten, der Spaß macht. Auch Maitre Salameo Pinar, den wir vom Sehen her kennen, ließ es sich nicht nehmen, noch Angela und Ingrid etwas besonderes zu bieten. Übrigens für Freunde vegatarischer Küche: bei Norwegian bekommt man vermutlich die einzige vegetarische Gulaschsuppe auf der Welt: ich hatte in meiner Tasse nicht ein einziges Stück Fleisch. Wie gesagt: eine neue Speisekarte und wer weiß schon, wie eine Gulaschsuppe sein sollte. Ich habe dann etwas Aufklärung geleistet und bekam eine neue Tasse voll mit Fleischstückchen.
Noch ein paar Crew-Selfies.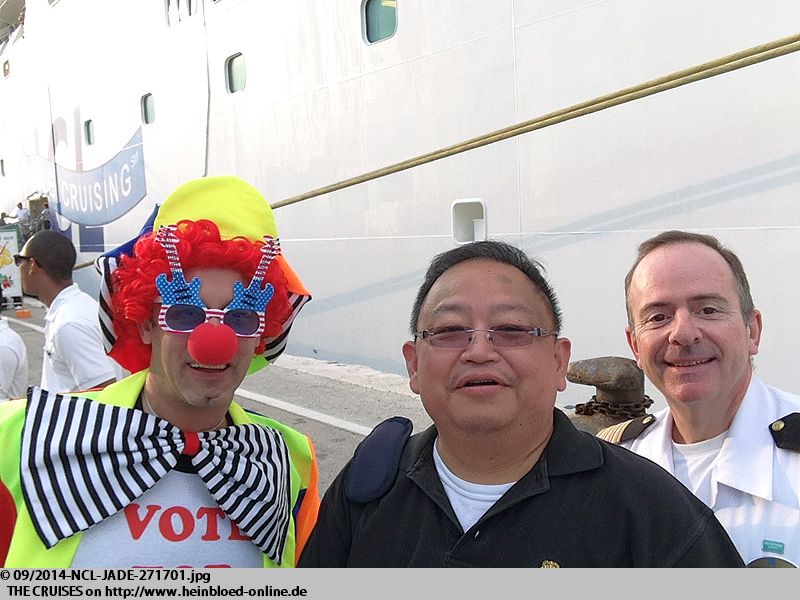 Few more crew-selfies.

I met Thomas already on the day of embarkation. I forgot to take pictures of the names of the other guys.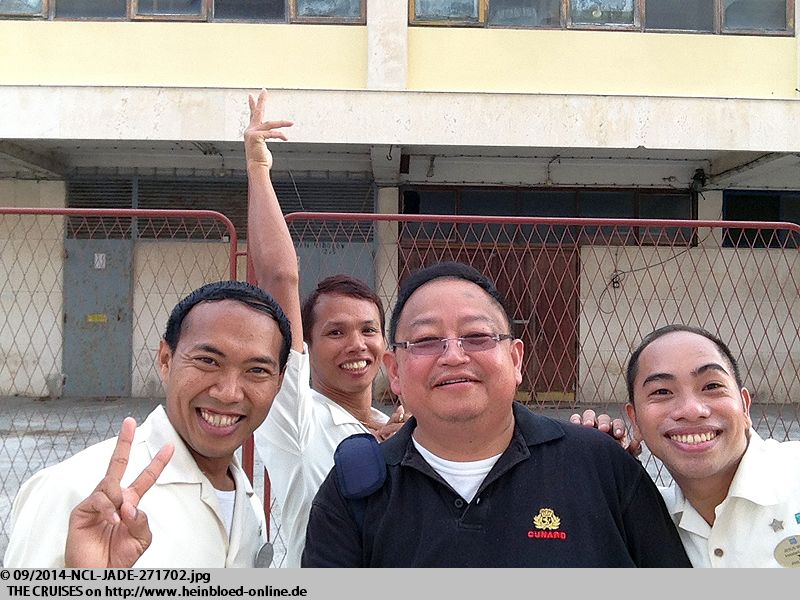 Thomas traf ich ja bereits am Tag der Einschiffung. Die Namen der anderen Jungs hatte ich leider vergessen zu fotografieren.
Leider gilt das auch für die zwei Jungs.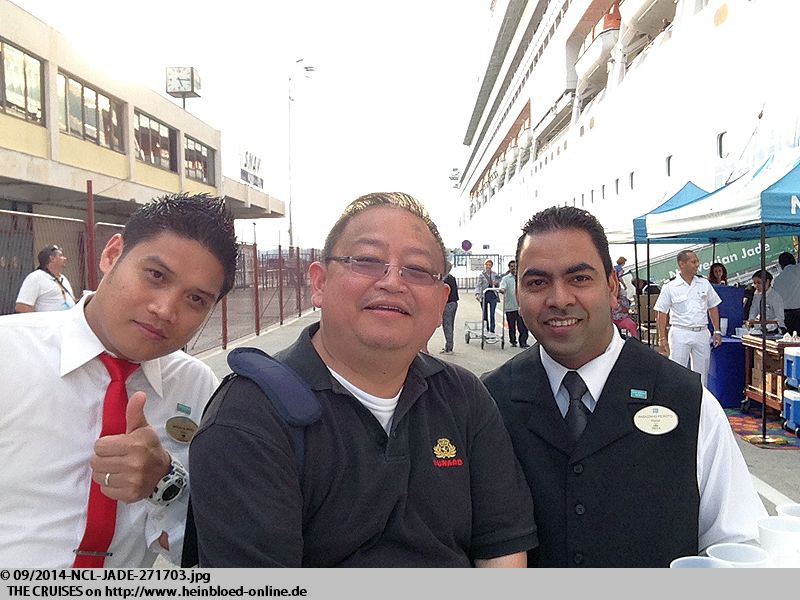 Unfortunately I did forget either for those two guys.

I was thanking David for all the water.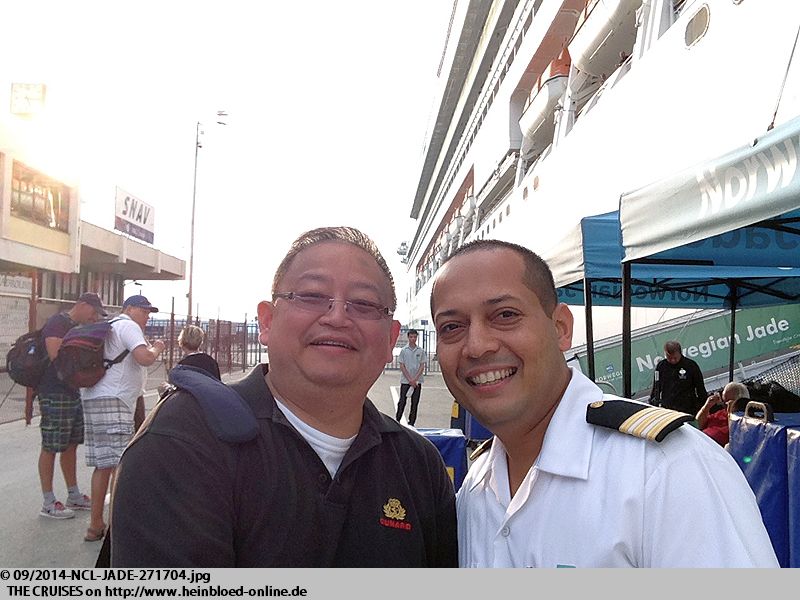 Ich bedanke ich mich bei David nochmals für das Wasser.
Leider hatte ich auch von ihm kein Bild vom Namensschild gemacht. Das ist der Sicherheitsoffizier. Wir wohnten ja im Vorderschiff. Ich war beim Shipspotten und dachte mir, dass ich schnell dann auch vorne wieder rein könnte. Während des Fotografierens wurde jedoch der Eingang gerade wieder hergerichtet, um ihn zu schließen. Als er mich sah, ließ er mich vorne rein, damit ich nicht bis zum Heck wieder laufen musste.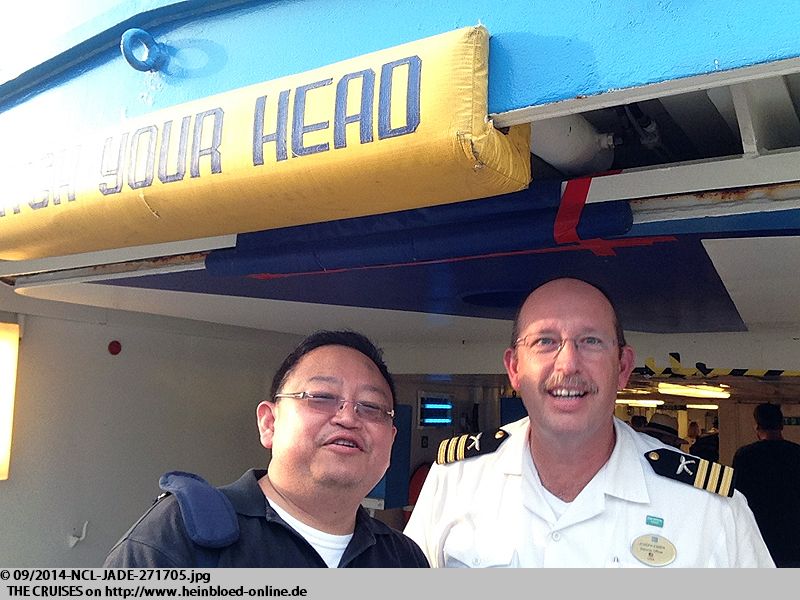 Unfortunately I did not take a picture of the name tag. That was the Security Officer. We were staying in the forward part of the ship. I was ship spotting and thought that I could return easily to the forward entrance. While I was taking pictures they prepared the entrance for closure. But when he saw me he allowed me to enter here to avoid I had to walk all way back to the aft.