Eigentlich wollte ich nicht, aber ich bin schwach geworden: Die Einfahrt nach Venedig genieße ich auf Deck 13. Die anderen sind auf dem Balkon von Frances und Eddie, aber ich wollte dieses Mal noch ein Stück weiter oben stehen. Obwohl ich die Ausfahrt schon zweimal erlebt habe: Ich bekomme wieder eine Gänsehaut.

Actually I did not want but I became weak: I enjoyed the arrival in Venice on Deck 13. The other were on the balcony of Frances and Eddie but I wanted to be a little higher. Although I experienced the set sail already twice: I always got some goose bumps.

But I would be anyway here because of STAR PRIDE (Similiarities with SEABOURN PRIDE were no accident...).

Aber ich wäre ja eh hier gewesen, wegen der STAR PRIDE (Ähnlichkeiten mit der SEABOURN PRIDE sind kein Zufall...).
Und nochmals die ROYAL CLIPPER, die auch mit uns in Venedig eintrifft.

And again ROYAL CLIPPER which arrives with in Venice.

SPLENDOUR OF THE SEAS arrived ahead of us.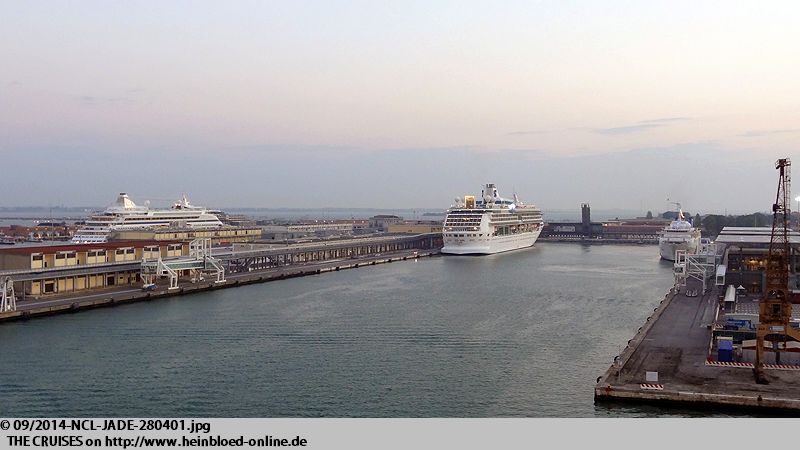 Die SPLENDOUR OF THE SEAS war schon vor uns eingetroffen.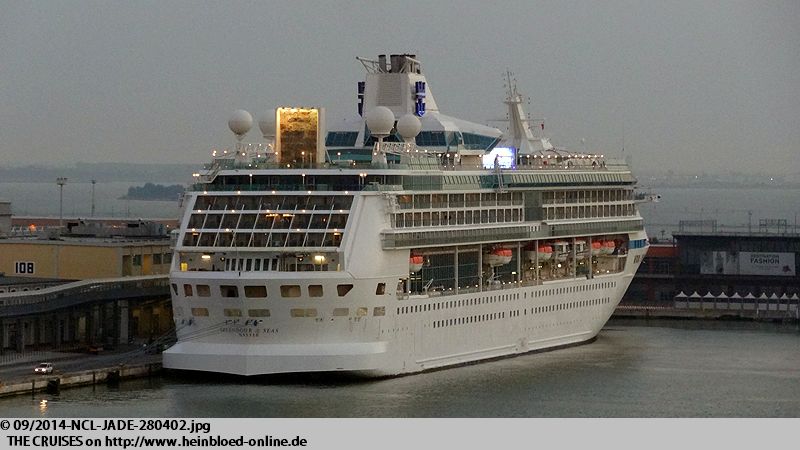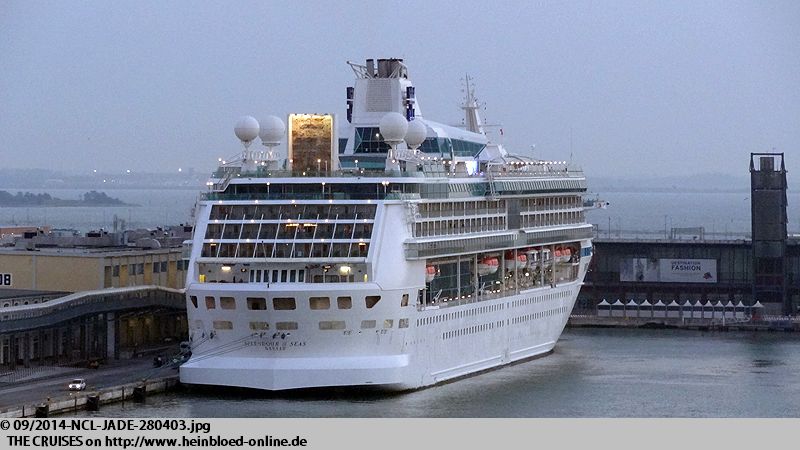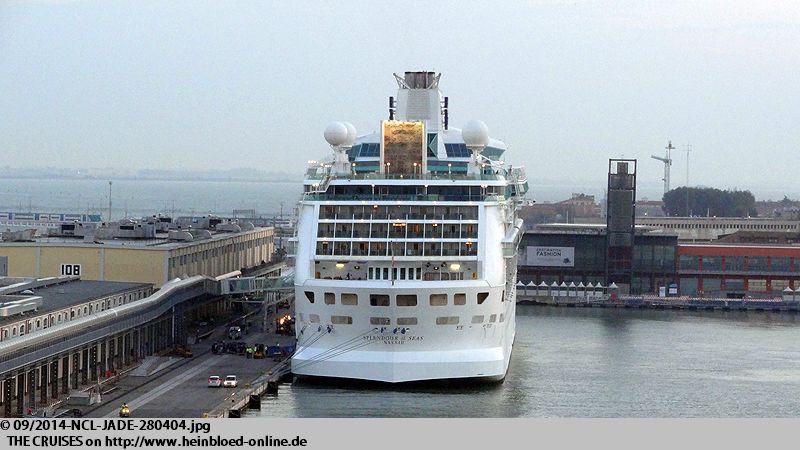 Also already in port was LOUIS AURA.

Ebenfalls schon im Hafen lag die LOUIS AURA.
Wir haben dann auch die Schlussabrechnung bekommen. Hielt sich in Grenzen.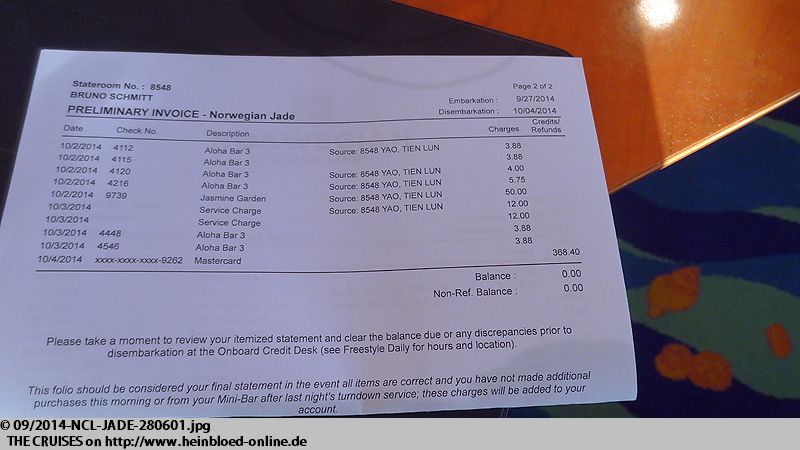 We got our final bill. Was in the expected range.

Because they were cleaning nicely the balconies we could not use ours anymore: It was "raining".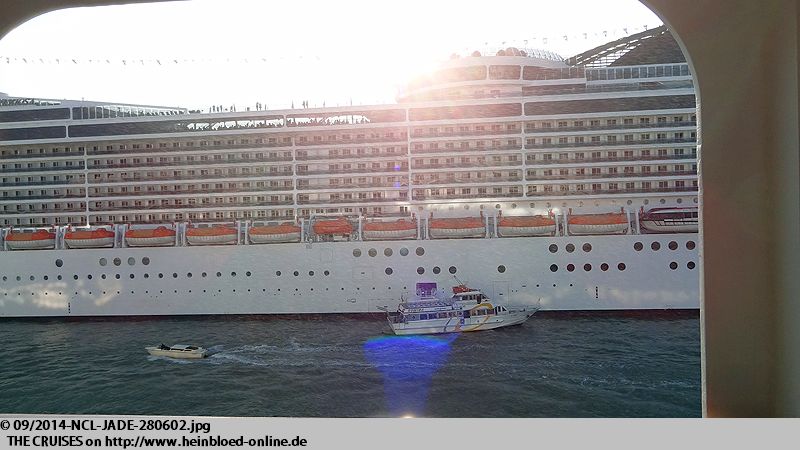 Weil sie draußen schön sauber machen, können wir den Balkon nicht mehr nutzen: Es "regnet".
Später "regnet" es immer noch. Wir verfolgen in unserer Kabine, ohne dass wir auf den Balkon nochmals können, dass eine Tenderbootstation bei dem MSC-Schiff aufgebaut wurde.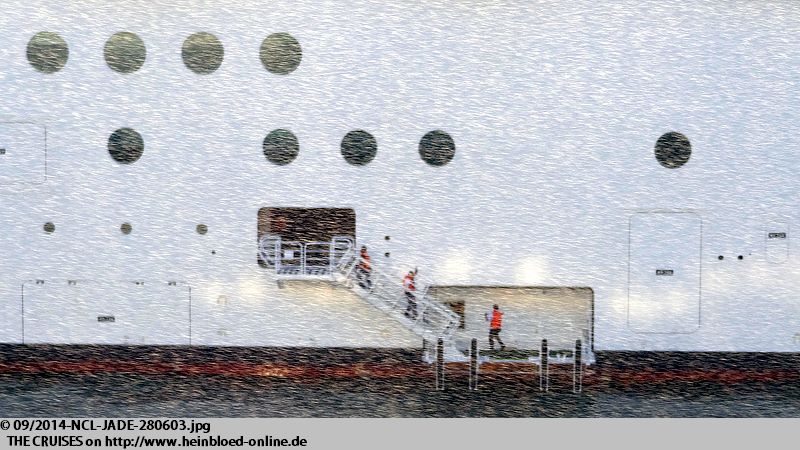 Later it was still "raining". Without having a chance to get out on our balcony again we could follow that they set up a tenderboat station with the MSC ship.

Obviously you could transfer directly to a shuttle- or excursion-ship.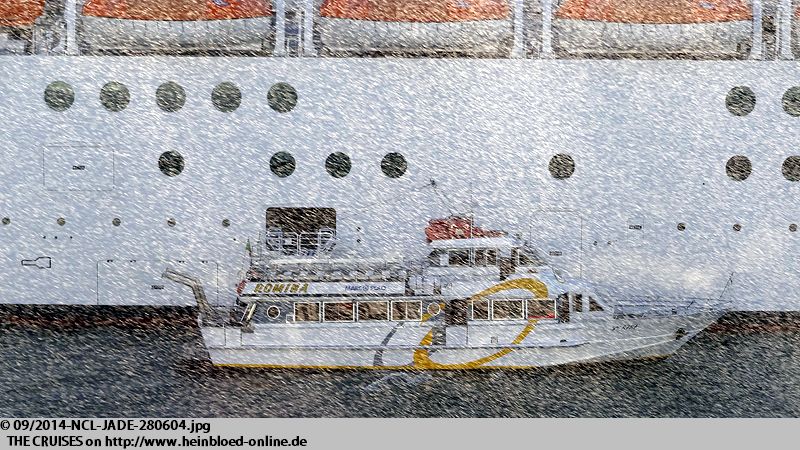 Offensichtlich ist ein direkter Umstieg auf Shuttle- oder Ausflugsboote möglich.
Unser letztes Frühstück: offensichtlich ist wohl meine Kritik, dass man ruhig etwas Butter am Büffet bereithalten sollte und schon bei Ankunft der Gäste, nicht so ganz unberechtigt. Beides hat zu einer Verbesserung der Situation geführt, weil man direkt loslegen kann. Hier können wir uns nochmals von Kapitän Mikael Hilden verabschieden und von unseren Freunden Muthu und Kharen. Übrigens Schade, dass wir einige der tollen Crew-Mitglieder nicht mehr auf den Schiffen mehr sehen werden, weil sie uns mitgeteilt haben, dass sie künftig sich neuen Herausforderungen an Land stellen werden.

Our last breakfast: obviously my complaint to keep some butter ready at the buffet and when the guests arrived, was not unwarrented. Both situation became much better because you could start immediately. Here we could say good bye to Captain Mikael Hilden and to our friends Muthu and Kharen. By the way very sad that we would not some of the great crew members again on ships because they told us that they will follow now new challenges ashore in the future.

Although I had enough pictures of MSC PREZIOSA: with the camera I loved all cruise ships the same way and it was meanwhile genetic that I was jumping up during breakfast to take few pictures of the arrival of MSC PREZIOSA. It was fascinating again and again.

Obwohl ich genügend Fotos von der MSC PREZIOSA habe: vor der Kamera habe ich alle Kreuzfahrtschiffe gleich lieb und so ist es wohl genetisch bedingt, dass ich schon wieder während des Frühstücks aufspringe, um doch ein paar Bilder vom Einlauf der MSC PREZIOSA zu machen. Es fasziniert einfach immer wieder.
Und obwohl unglücklich von uns gelegen: Ein paar Bilder von der AIDAaura müssen sein.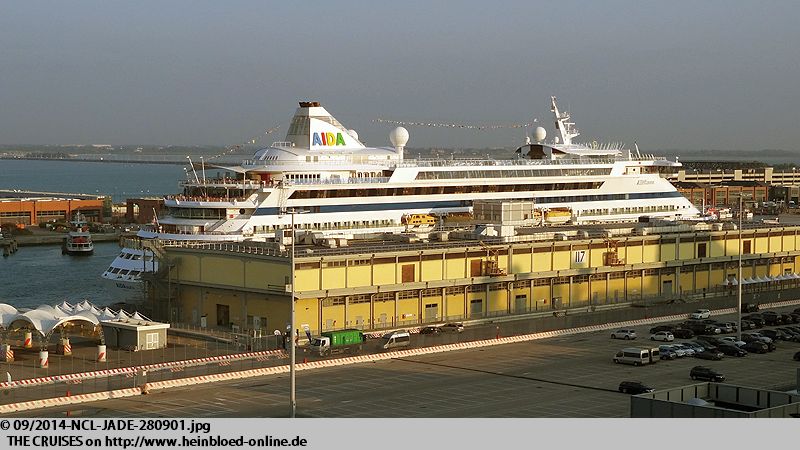 And although not very well located from us: Some pictures of AIDAaura was a must.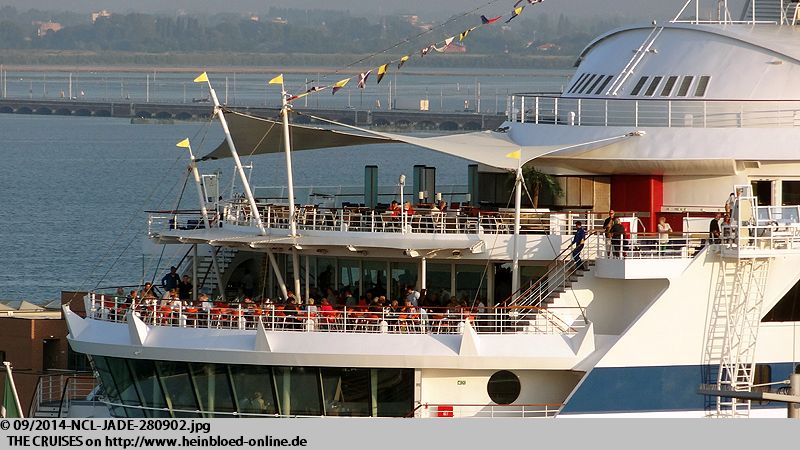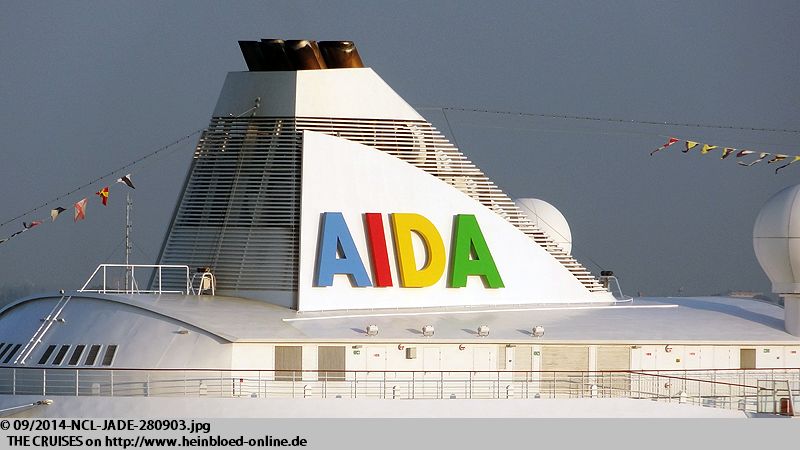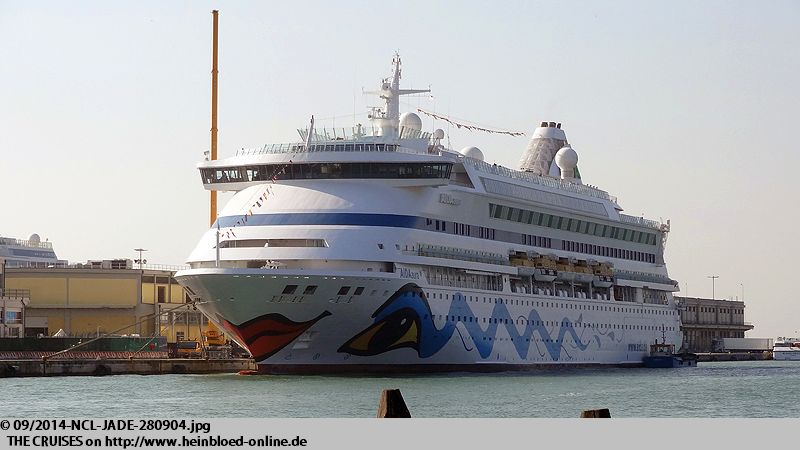 Nochmal ein letzter Rundgang über das offene Deck und in dem Korb steckt der Regenmacher.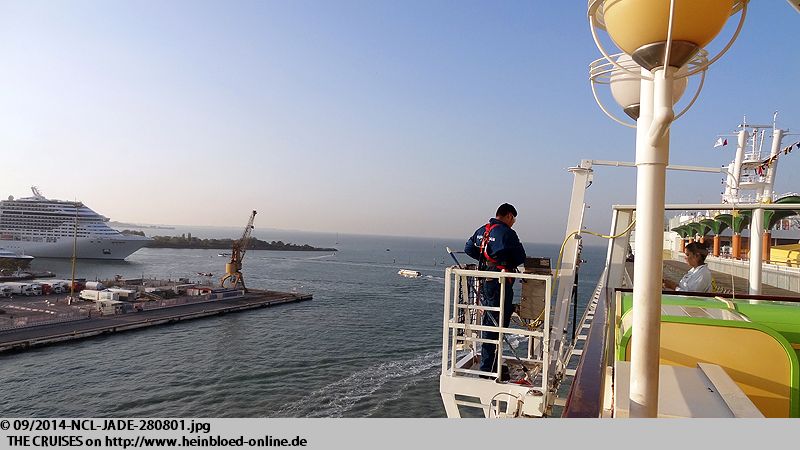 One more time a round over the open deck and in the basket I found the rainmaker.

Although we were so many times here onboard: but those "falls" I saw the very first time in operation.

Obwohl wir so oft schon an Bord waren: aber diesen "Wasserfall" sehe ich zum ersten Mal in Betrieb.
Nun hieß es auch für uns Zeit das Schiff zu verlassen. Wir finden uns im Moderno ein, aber verzichten auf den Escort-Service, weil man immer an der Crew vorbeigeführt wird und das ist schade, wenn man sich nicht mehr verabschieden kann. Dort gönne ich mir noch einen letzten Shirley Temple. Positiv fallen die neuen Schilder auf, damit wirklich alle Gäste sich auf die Ausschiffung gut vorbereiten können. Am Ausgang werden wir freundlich verabschiedet und dann müssen wir leider an Pedro und Jean-Michel vorbei. Mit stehen steht dort der Nachfolger von Deepak: Joao Isodoro - er ist bereits an Bord, um die Aufgaben fließend von Deepak zu übernehmen. Dieses Mal habe ich es akzeptiert, dass er in Kusadasi keine Drachenfrucht für mich bekommen hat, aber sollte ich ihn nochmals auf Madeira erleben, gibt es keine Ausrede: dort auf dem Markt gibt es sie auf jeden Fall... Wieso geht bloß eine Woche auf einer Kreuzfahrt so schnell vorbei und ein grippaler Effekt über den gleichen Zeitraum dauert immer so lange! Und als wir rauskommen, können wir uns auch nochmals von Ingrid verabschieden. Angela und Thomas sind auf dem Parkplatz.

It was time for us to leave the ship. We had to find ourselves in Moderno but we did not wanted to be escorted because they skip the crew and it was always sad not saying good-by. So I pampered myself with a last Shirley Temple. The new signposts for debarkation attracted my attention since they helped all guests to be well prepared for debarkation. At the exit they bid in a nicely way farewell and then we had to pass with Petro and Jean-Michel. There also the successor of Deepak: Joao Isodoro - he was already onboard to take over while Deepak was still running the business. This time I accepted that he did not get me a dragon fruit while we were docking in Kusadasi, Turkey but subject we would be together on Madeira, Portugal there would not be any excuse: there you could find them on the markets anyhow...Why was one week cruising going so fast to the end and a cold was of the same length! When we get out we could say good-bye from Ingrid. Angela and Thomas were on the parking.

That was the distance to the car. We grabbed a porter who took our bags to the parking. That was worth to pay 20.00 EUR. We had the bags of Frances and Eddie with us and we really did not like to carry it all to the car. The alternative: Bruno had to wait all the time at the curbside and I would have need to collect the car etc. etc. and so we could start immediately.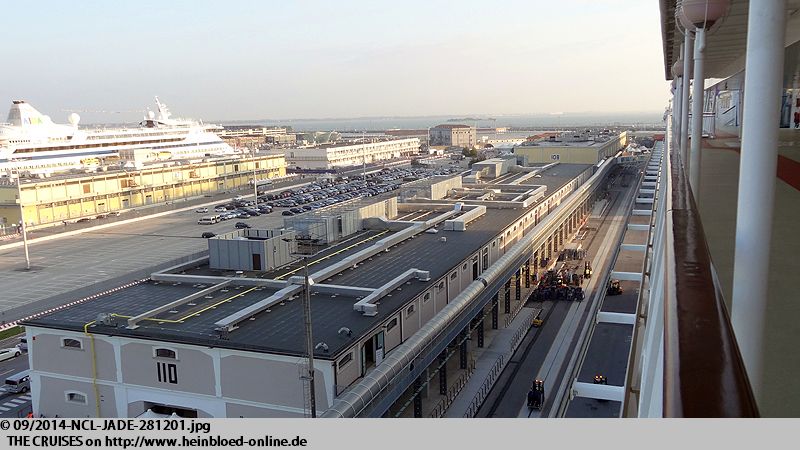 Das ist die Distanz bis zum Auto. Wir schnappen uns einen Gepäckträger, der unser Gepäck zum Parkplatz bringt. Das ist uns doch 20,00 EUR Wert. Schließlich haben wir noch das Gepäck von Frances und Eddie mit und wir hätten das nur ungern bis zum Auto geschleppt. Die Alternative: Bruno hätte am Bordstein gewartet und ich hätte alleine das Auto holen müssen usw. usw. und so können wir direkt los.
95,00 EUR für eine Woche (2014).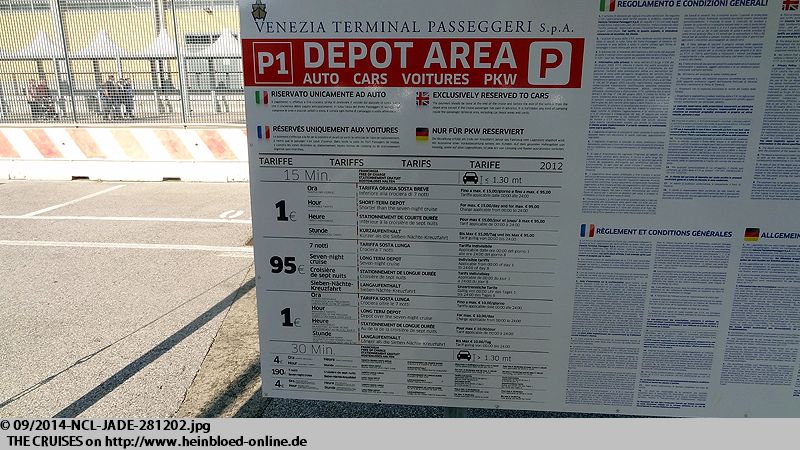 95.00 EUR for one week (2014).

Here I would have use of the 100-EUR-bill which I got in Kusadasi, Turkey.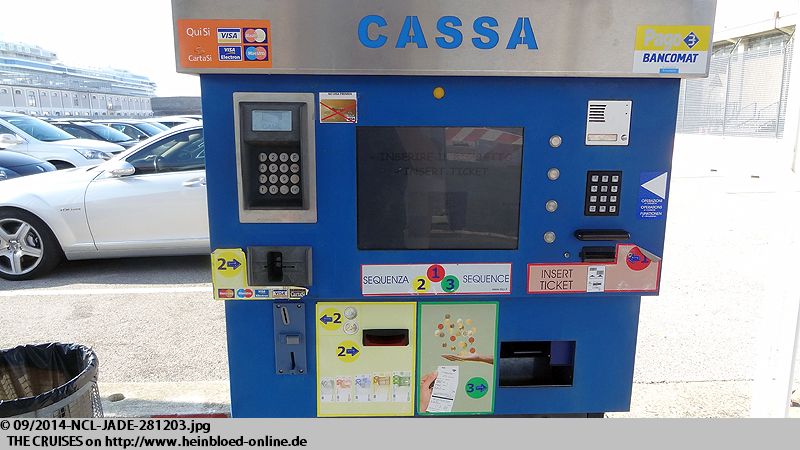 Hier werde ich den 100,00 EUR-Schein los, den ich in Kusadasi bekommen habe.
Es läuft über die Kennzeichenerfassung: Deswegen muss sie bei der Buchung mit angegeben werden.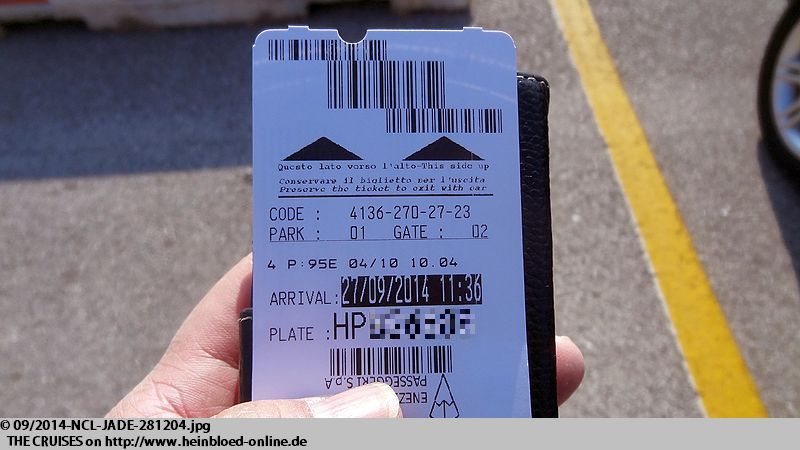 It worked on the scan of my registration plate: That was I why I had to enter the number when I booked.

And later we discovered something very great at Terminal 103.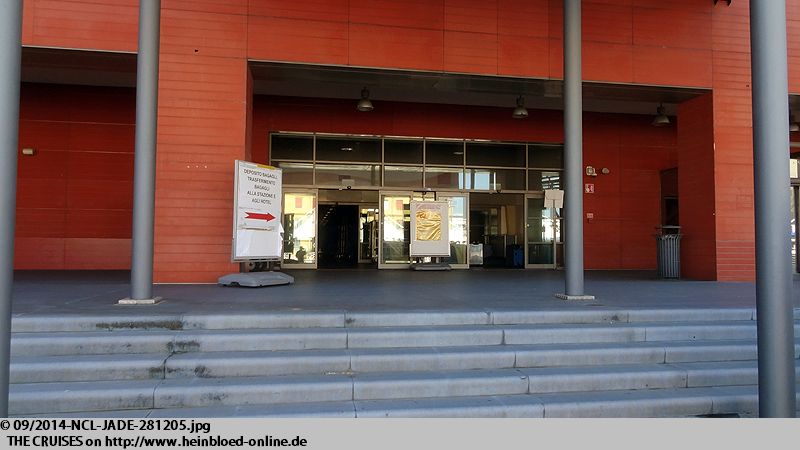 Und später entdecken wir etwas ganz tolles am Terminal 103.
Vom Hafen kann man sich das Gepäck für wenig Geld zum Flughafen, zum Bahnhof oder zum Hotel schaffen lassen. Da man in Venedig nicht beliebig früh einchecken darf, nicht uninteressant, wenn man noch die Stadt erkunden will.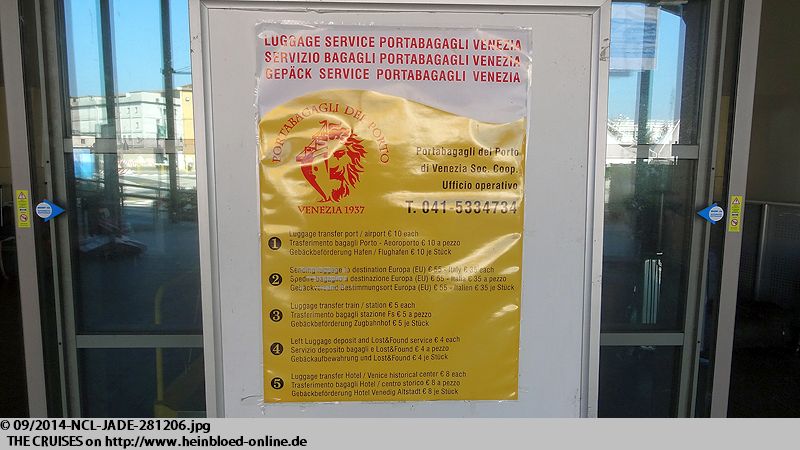 From the port you could have your bags shipped for little money to the airport, to the train station or to your hotel. As you cannot check-in as early as you like it might be interesting for those who liked to discover the town.

We went quickly to see if Frances and Eddie found the bus stop.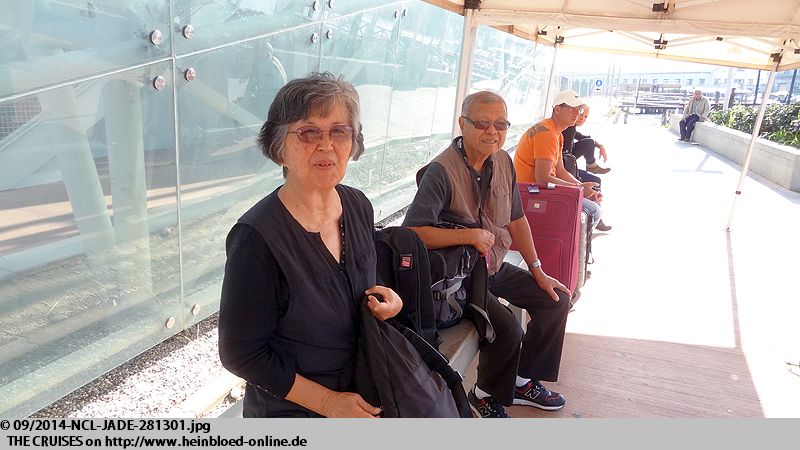 Wir fahren noch schnell bei Frances und Eddie vorbei, um zu gucken, ob sie die Haltestelle gefunden haben.
Der Bus steht auch schon da.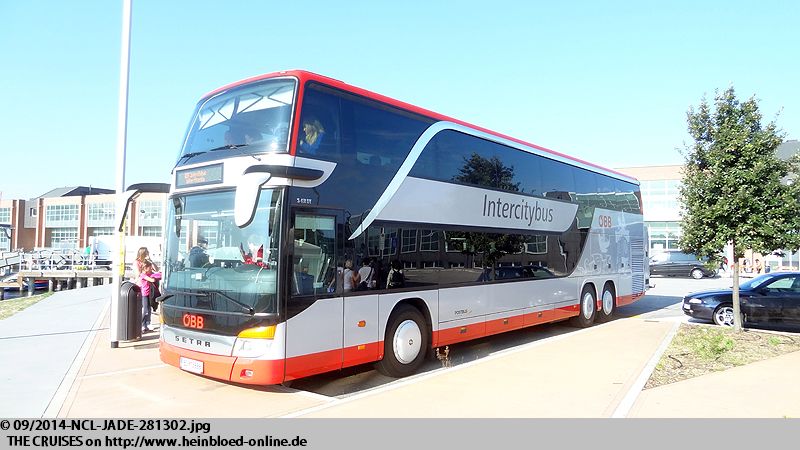 The bus was already ready to board.

He just arrived and would return for Austria very soon.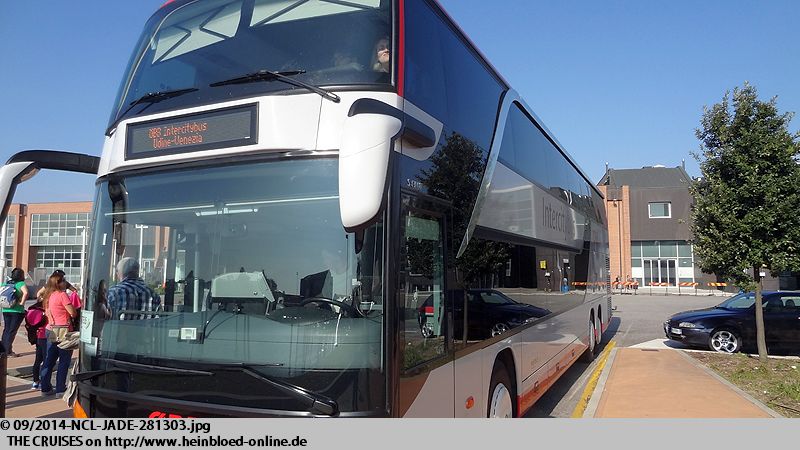 Er kommt gerade an und bald geht es auch schon nach Österreich zurück.
Später überholen wir den Bus nochmals, aber Frances und Eddie haben uns nicht gesehen.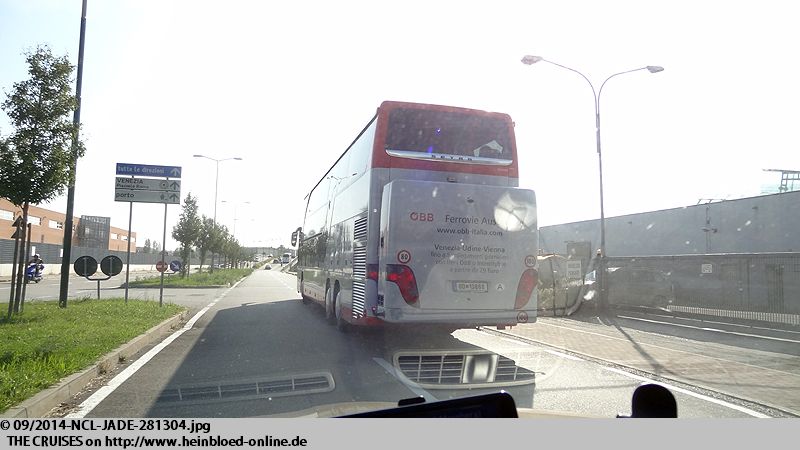 Later we passed the bus again but Frances and Eddie did not see us.

When we crossed the bridge towards the mainland we could see COSTA DIADEMA. Short notice we went into Marghera to take some pictures. Unfortunately without a big success. Later we went again to the Tronchetto Parking to take pictures again.

Wir sehen als wir über die Brücke zurück auf das Festland fahren die COSTA DIADEMA. Kurzerhand fahren wir nach Marghera rein, um sie zu fotografieren. Leider ohne großen Erfolg. Später fahren wir kurzerhand nochmals in
Tronchetto Parkhaus
, um sie nochmals zu fotografieren.
Dafür finden wir aber die VIKING STAR, die wir besser fotografieren können.

But instead we found VIKING STAR which we could take better pictures of.

Then the phone terror started: first Olivia called, then an agent from the check-in and finally my sister whose was number was entered as emergency number: we obviously loaded the wrong bag!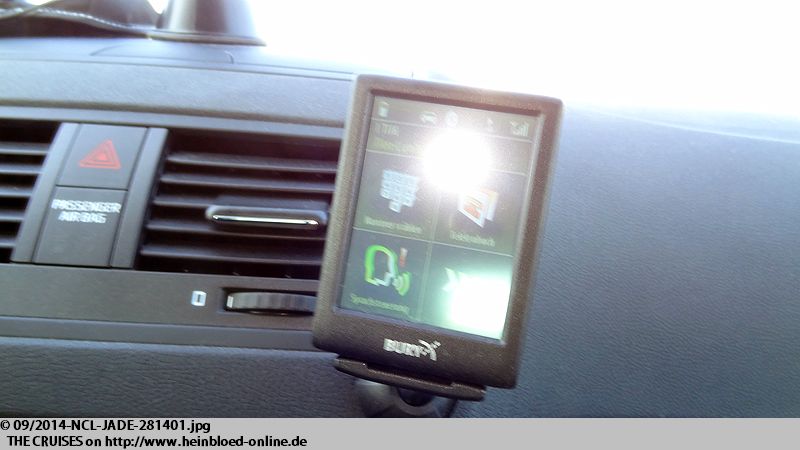 Und dann beginnt der Telefonterror: erst ruft Olivia an, dann eine Agentin von der Abfertigung und dann meine Schwester, die als Notfallnummer hinterlegt war: wir haben wohl ein falsches Gepäckstück eingeladen!
Da wir nicht so weit weg sind, fahren wir wieder zurück. Wir haben auch sicherheitshalber angeboten, dass wir es zum Flughafen fahren, falls die Gäste einen Rückflug haben. Aber alles gut: sie übernachten in Venedig und die Hafenagentin hat gesagt, dass sie für die Weiterleitung des Gepäcks sorgt. Sie bekommt von uns die letzten beiden
Ferrero Rocher
Riegel: eine für sie und eine für anderen Gäste. Ich habe so ein Lederanhänger von Lufthansa als Senator. Daher habe ich wohl mir das Gepäckstück geschnappt. Ansonsten hatte ich mich schon gewundert, dass es so prima ins Auto passte.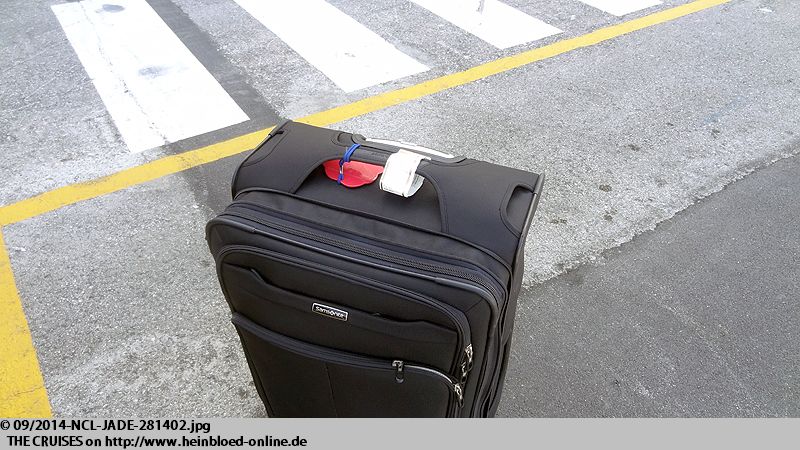 As we were not so far away we returned immediately. To be safe we offered that we could take it to the airport in case the right guests would have a return flight. But everything was well: they stayed overnight in Venice and the port agent said that she will take of forwarding the bags. She got one of our last two bars of Ferrero Rocher: one for her and one for the other guests. I had such a leather tag from Lufthansa as Senator. That was why I just grabbed the bag. Otherwise I was a little surprised how perfectly it fit into my car.

Our bags did not fit perfectly well inside. And the Lufthansa-tag was at the side.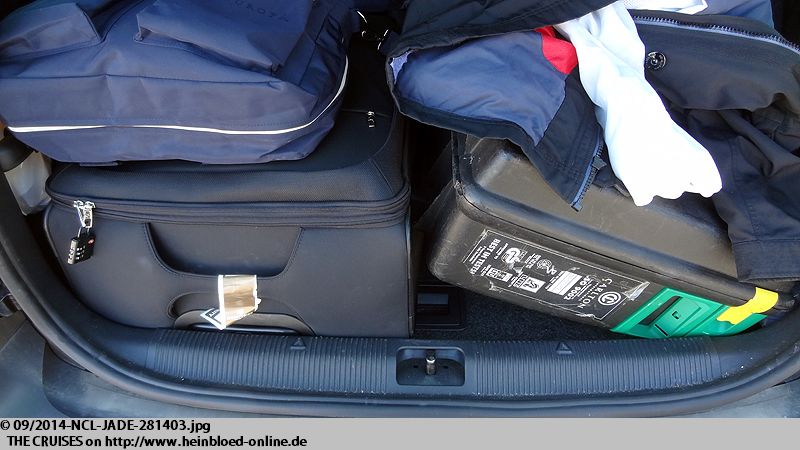 Denn unser Koffer ging nicht ganz so gut rein. Und der Lufthansa-Anhänger hing an der Seite.
Wir hatten uns vom
ADAC
vorher eine
VIAcard
für die Bezahlung der Autobahngebühren besorgt. Nach dem zuletzt in Genua meine Kreditkarte an der Mautstation ausgespäht wurde, wollte ich keinesfalls mehr meine Kreditkarte einsetzen. Leider funktioniert sie nicht. In Treviso hatten wir dann endlich eine personalbesetzte Servicestation gefunden. Meine Karte wurde eingezogen und man versprach mir eine neue Karte per Post, die auch drei Wochen später tatsächlich kam. In Verona hatten wir übrigens Glück: weil dort niemand in der Schlange war, außer uns, konnten wir in Englisch und der Mitarbeiter an der Gegensprechanlage in Italienisch ausdiskutieren, was zu tun ist: uns kostenlos fahren zu lassen.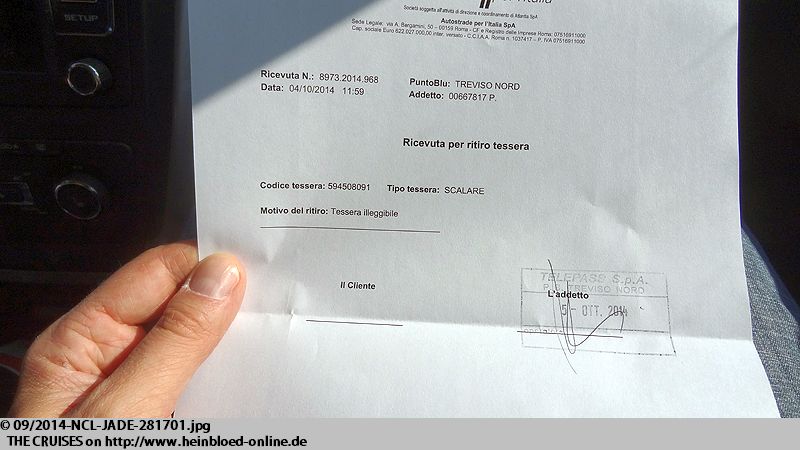 We got us ahead of the voyage a prepaid toll card (VIAcard) to pay for the highways with our automobilist club (ADAC). Recently my credit card was scimmed in Genoa, Italy at the toll plaza and that was why I did not want to use my credit card again. In Treviso, Italy we found a manned service point. They kept my card and they promised to send my a new card by mail. That arrived three weeks later. In Verona, Italy we really had luck: because nobody was in line but us we could tell in English while the agent at the speakers discussed in Italian what we would be best to do: letting us go for free.

We wanted going towards Austria and so we went Northbound through the Dolomites.

Wir wollten in Richtung Österreich und so ging es durch die Dolomiten in Richtung Norden.
In Cortina d'Ampezzo halten wir für einen Mittagsimbiss. Der Ort war 1956 der Nabel der Welt, als die Olympischen Winterspiele hier stattfanden. 1981 war er dann nochmals im Mittelpunkt der Welt, weil er Drehort für James Bond 007 "In tödlicher Mission" war. Und irgendwie wirkte er doch ein wenig angestaubt und lebt offensichtlich von dem Glanz der alten Tage.

In Cortina d'Ampezzo, Italy we stopped for a lunch break. The place was the hub of the world in 1956 when they had the Olympic Games here. 1981 again center of the World as it was fim set of James Bond 007 "For your Eyes only". It appeared to me somehow a little old-fashioned and obviously they still lived the glamour of the past days.

No idea why we got in touch with Alaska in Cortina d'Ampezzo: neither they had polar bears nor they had snow right now.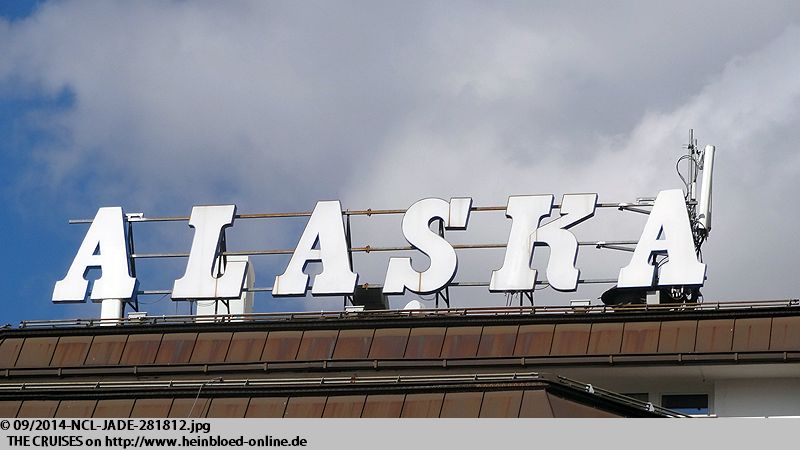 Warum wir auf einmal mit Alaska in Cortina d'Ampezzo konfrontiert wurden: wir wussten es nicht - es gab weder Eisbären noch Schnee im Moment.
Da wir eine Woche an Bord sehr üppig gegessen hatte, kam uns
DOK Dall'Ava
mit seinen Schinkenspezialitäten genau richtig. Da sie über eine eigene Bäckerei verfügen, war das wirklich sehr lecker. Den Laden gibt es auch in Venedig.

As we had on board real lot of food and ate too much we had the right pick by seeing DOK Dall'Ava with all their ham specialites. As they had a bakery of their own it was really yummy. They had a store in Venice as well.

We headed further through the Dolomites to the Upper Drava Valley in Carinthia, Austria.

Weiter geht es durch die Dolomiten ins Oberdrautal in Kärnten, Österreich.
Ich habe ein paar Wurzeln: meine österreichische Gouvernante kommt von da. Und ich wollte die Familie besuchen, aber leider hat es mit der Absprache nicht geklappt, so dass dieses Kapitel erneut geschrieben werden muss. So mache ich zwei Bilder: der Bahnhof in Oberdrauburg.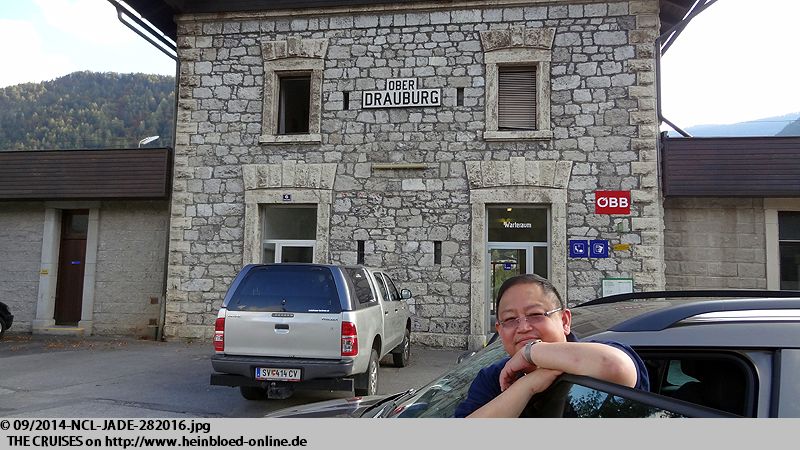 I have some roots there: my Austrian nanny was from here. And I wanted to see her family. But somehow it did not work to fix the meeting so this chapter need to be re-written again. So I took only two pictures: the train station in Oberdrauburg, Austria.

And the train station in Dellach (Drava Valley), Austria. Both stations played a big role in my childhood.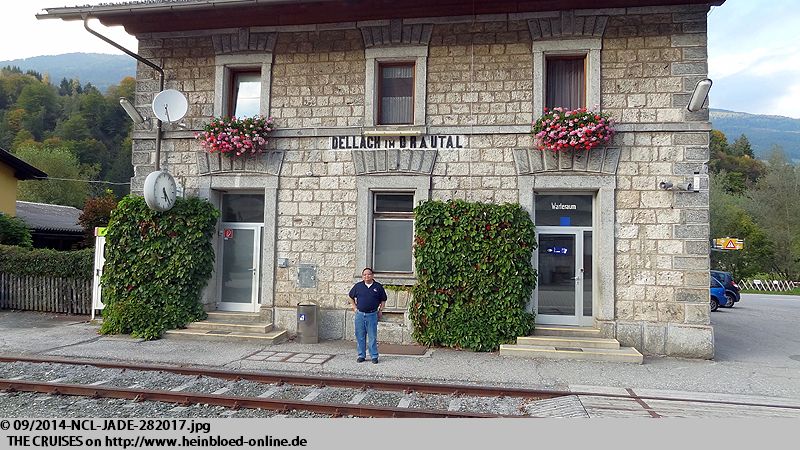 Und der Bahnhof in Dellach im Drautal. Beide Bahnhöfe haben in meiner Kindheit eine große Rolle gespielt.
Ich "liebe" Sissi! Dazu stehe ich. Als Bruno fragt, wo wir übernachten meinte ich bloß Bad Ischl und dass es dort ist, in dem sich Franzl und Sissi sich gefunden hätten. Als dann aber rund um Bad Ischl die ersten Schilder "St. Wolfgang im Salzkammergut" auftauchen, meinte er bloß: "Du hast doch nicht etwa..." - Doch ich habe. Wir werden von einer Musikkapelle erwartet, die dann auch "Im
Weißen Rößl
" spielt. Ich war hin und weg und Bruno bloß genervt.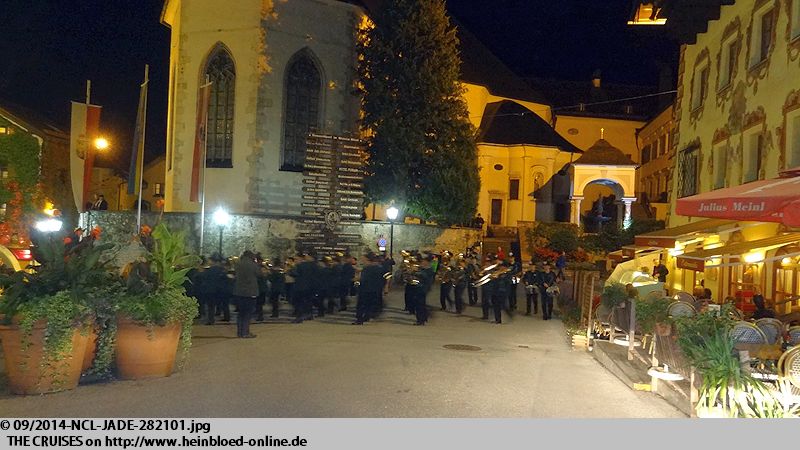 I love "Sissi" (former Austrian Empress Elizabeth - famous due to some movies in the 50s with Romy Schneider). I commit. When Bruno asked where we would stay overnight I only said Bad Ischl, Austria and that there was the place Sissi met Franzl (her future husband Emperor Franz-Joseph). But when the first signposts around Bad Ischl appeared for "St. Wolfgang in the Salzgammergut", Austria he only sad: "Dare you..." - Yes I did. We were expected by a music folk orchestra which was playing "Im Weißen Rößl" (The White Horse Inn). I was so excited while Bruno was only annoyed.

As the access to the hotel was blocked we could not check in as we planned to do.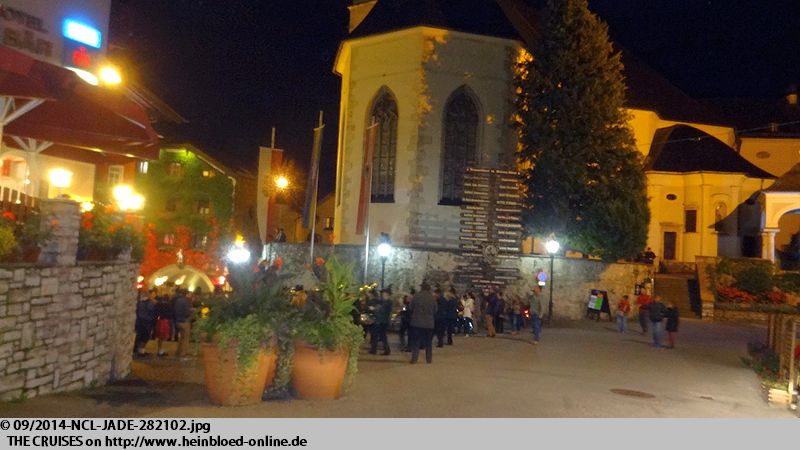 Dadurch dass die Zufahrt zum Hotel blockiert war, konnten wir nicht so einchecken wie wir wollten.
So bringen wir den Wagen zur Hotelgarage (10 Minuten Weg - rauf und runter - den Valet-Service hatte man uns vergessen anzubieten...) und kommen im Ort durch: Das sieht doch schon nett für morgen aus.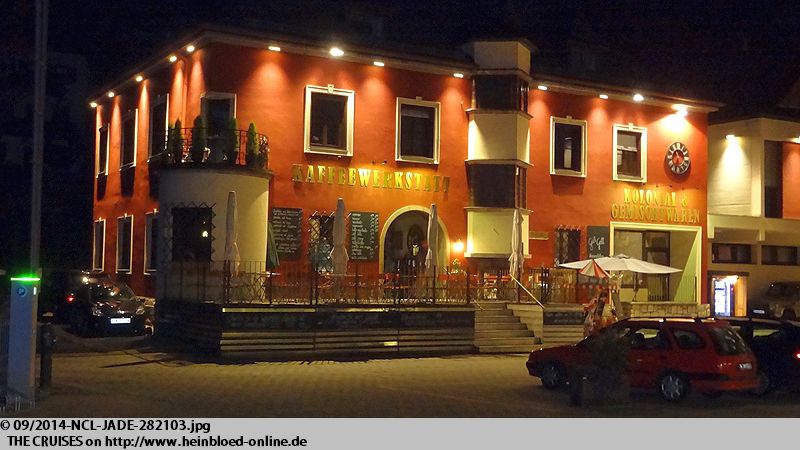 So we took the car to the hotel garage (10 minutes walking distance - up and down - they forgot to offer us the valet service...) and so we had to cross the village. Looked wonderful for the next day.

It was a nice night walk.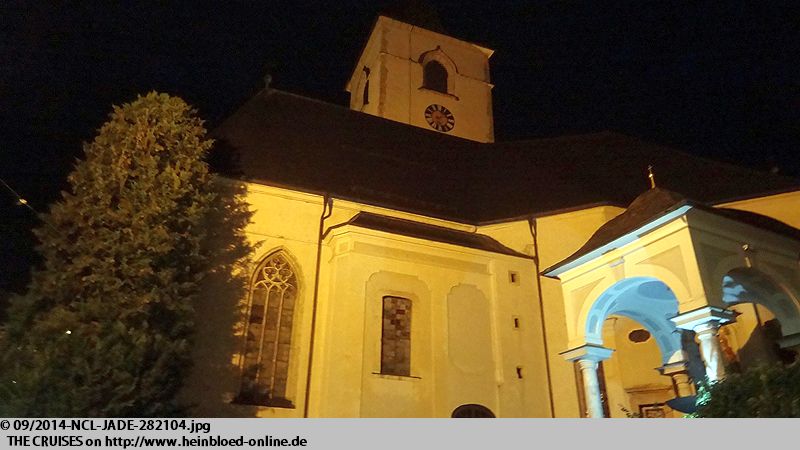 War aber ein netter Abendspaziergang.
Bis auf den Fauxpas mit dem Valet-Service war der Empfang professionell vorbereitet. Und für das Geld bekomme ich ein großzügiges Zimmer.

Aside of the blunder regarding the valet service the welcome was perfectly and professionally prepared. And for the money I really a generous room.

The perfection even to the umbrella in the garage in case you need to walk back when it was raining.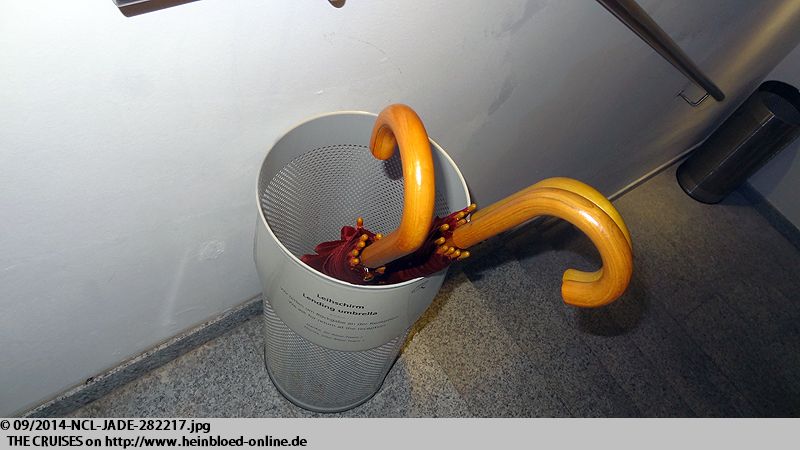 Die Perfektion reicht bis zum Regenschirm in der Garage, wenn man im Regen zurücklaufen muss.
Es geht dann noch zum Abendessen. Ich wäre enttäuscht, wenn es anders gewesen wäre: der Oberkellner leicht arrogant-hochnäsig, wie aus den Filmen bekannt und das Essen eben nicht ganz so gut, wie Peter Alexander es damals auch schon umschrieb. Ich habe schon zartere und saftigere Tafelspitzstücke in Österreich gehabt. Auf ein Dessert verzichten wir. Danach geht es nur noch ins Bett.

Finally we went for dinner. I would be highly disappointed if it would be much more different: The head waiter appeared slightly arrogant and snobbish like in the movies and the food was not good at all, like Peter Alexander (main actor in the Austrian musical-movie "The White Horse Inn") decribed it then. I had more tender and juicy pieces of Tafelspitz (boiled beef with horse raddish sauce) in Austria before. No dessert for us. Then only the bed was following.