Auch dieser Seetag beginnt wunderschön.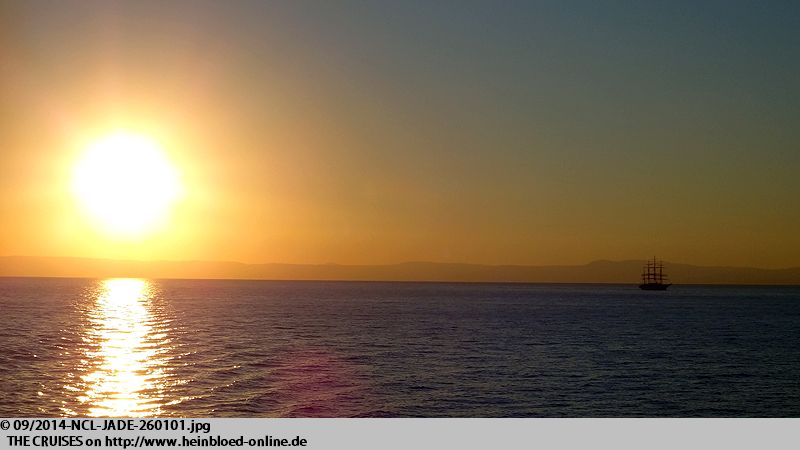 Also that day at sea began beautiful.

We went again for breakfast at Cagney's. Two cultures crashed together. 2 fried eggs with hash browns o.k. - 2 boiled eggs with hash browns for us totally strange. Especially since they did not rinse the boiled eggs in cold water. To have some variation I had poached eggs on brioche toast with seafood but the dimensions did not fit to each other. And somehow a little angry: you had to ask for fresh silverware.

Es geht wieder zum Frühstück ins Cagney's. Zwei Kulturen prallen auf einander. 2 Spiegeleier mit Bratkartoffeln o.k. - 2 gekochte Eier mit Bratkartoffeln für uns ungewöhnlich. Vor allem eines: die Eier werden wohl nicht abgeschreckt und so sind sie so heiß, dass man sie nicht anfassen kann. Zur Abwechslung gab es wieder pochiertes Ei auf Brioche Toast mit Meeresfrüchten, aber irgendwie passen die Dimensionen nicht zueinander. Und leider sehr ärgerlich: man musste explizit nach frischem Besteck fragen.
Auf der Facebook-Chronik von Norwegian Cruise Lines habe ich mein Selfie gepostet und darüber freut sich auch eine ehemalige Mitarbeiterin und kommentiert es entsprechend: Aimee Oltea Ospiru, die viele Kollegen hier wiedererkennt. Sie hat mich gebeten Kapitän Mikael Hilden zu grüßen und wollte nachfragen, ob ich schon die Grüße ausrichten konnte. Ja - natürlich!!! Und es war eigentlich sehr einfach: Kapitän Mikael Hilden ist ein Kapitän zum Anfassen. Er setzt sich bewusst ins Aloha Bar und zeigt Präsenz und das Schöne: er hat eine so einladende Ausstrahlung, dass man sich traut ihn anzusprechen.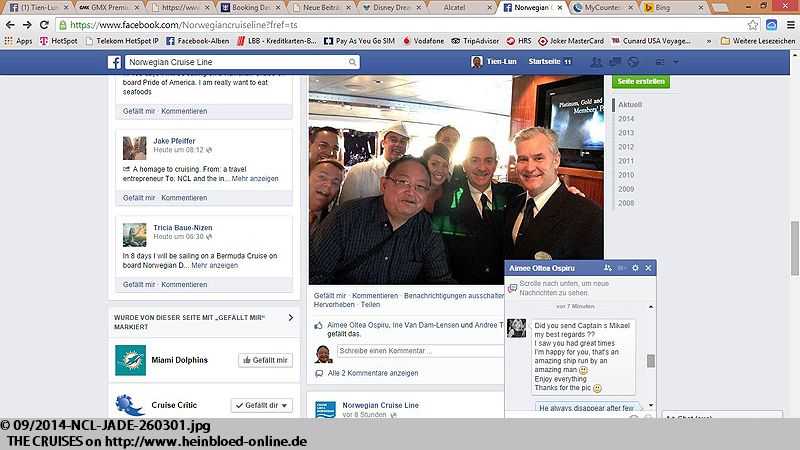 On the Facebook-Chroical of Norwegian Cruise Line I posted my selfie and one former crew member found it very exiting: Amimee Oltea Ospiru who saw many former co-workers again. She asked me to say hello to Captain Mikael Hilder and wanted to know if I already had a chance to forward her greetings. Yes - certainly!!! And it was actually quite easy: Captain Mikael Hilden was a Captain you could easily touch. He was sitting concious in the Alaho Bar and showed his presence and the nice: he had such an inventing appearance that you had no fear to speak with him.

And another Shakerato.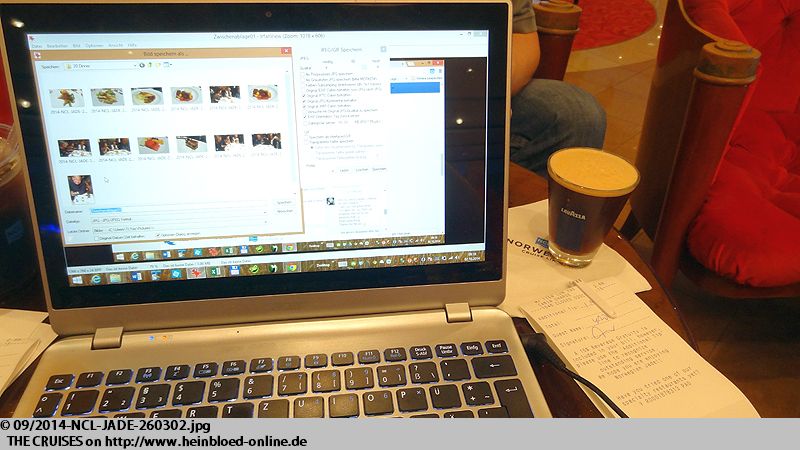 Und ein weiterer Shakerato.
Später nutzen wir unser VIP Priority Plus Programm, um die Bilder mit Kapitän Mikael Hilden abzuholen. Wichtig: man muss die Schreiben mitnehmen, weil darauf vermerkt wird, dass man das Bild bekommen hat. Daher keinesfalls wegwerfen.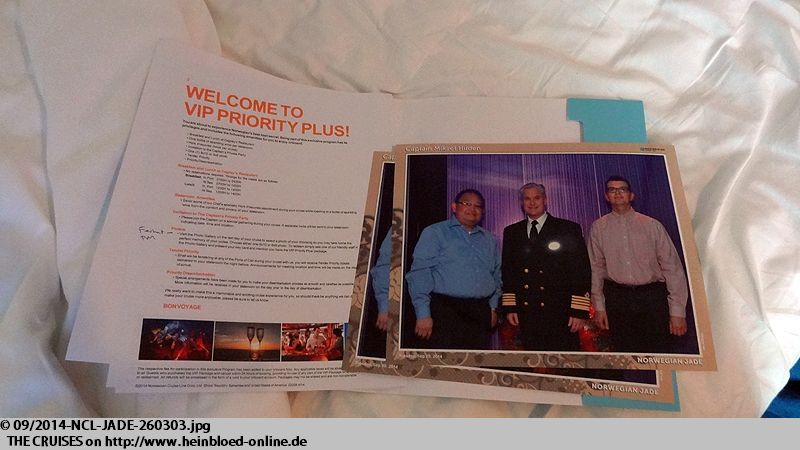 Later we used our VIP Priority Plus Programme to collect the picture with Captain Mikael Hilden. Important: you need to have the letter ready because they will mark the collection of the picture. So do not dispose the letter.

They advertised at the front desk for the inside tour.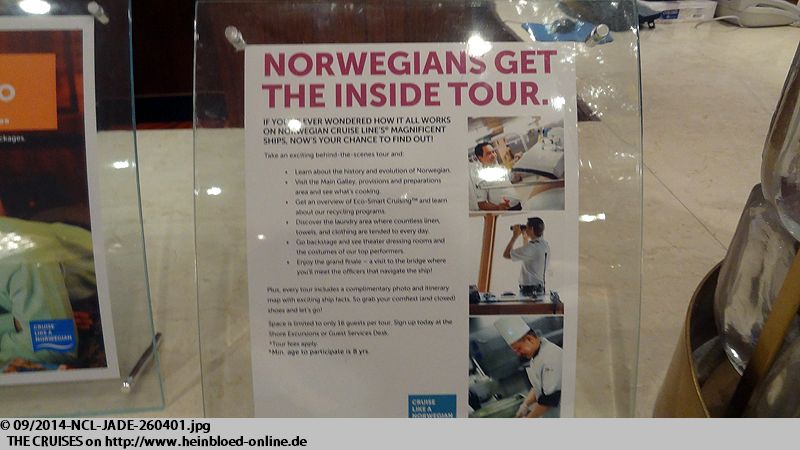 An der Rezeption wird für die Inside Tour geworben.
Hier kann man auch Geld wechseln, aber nicht eben billig.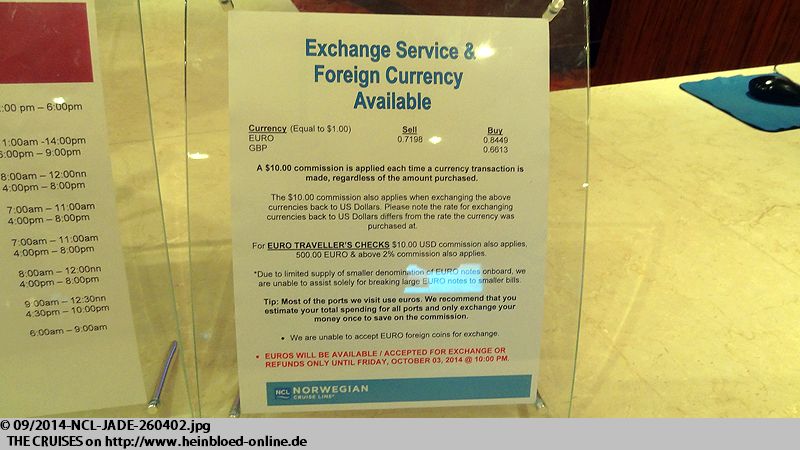 Here you could change money but it was not cheap to do.

In the Atrium they had a demonstration how to fold the towel animals.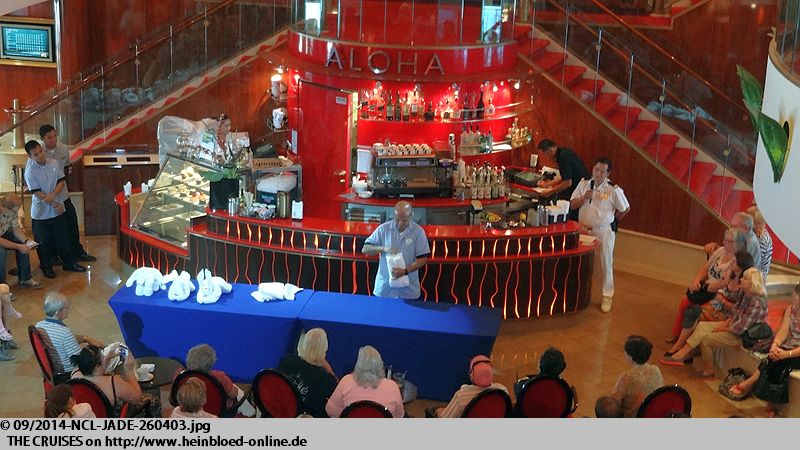 Im Atrium gibt es die Demonstration, wie man die Handtuchtiere faltet.
Und gestern Abend bin ich zum "Kinderbetreuerhasser" geworden. Wenn die Betreuer es lustig finden, mit allen Kindern alle Fahrstühle zu besetzen und von Stock zu Stock zu fahren, um Gäste zu erschrecken und leider auch als Piraten "anzupöbeln": ich tue es nicht! Was alles am Abend zu vor die Kinder mir unter deren Aufsicht zugerufen haben, möchte ich nicht wiedergeben. Wenn jedoch die Begleiter das in Ordnung finden... und nicht eingreifen... Ich mag es nicht!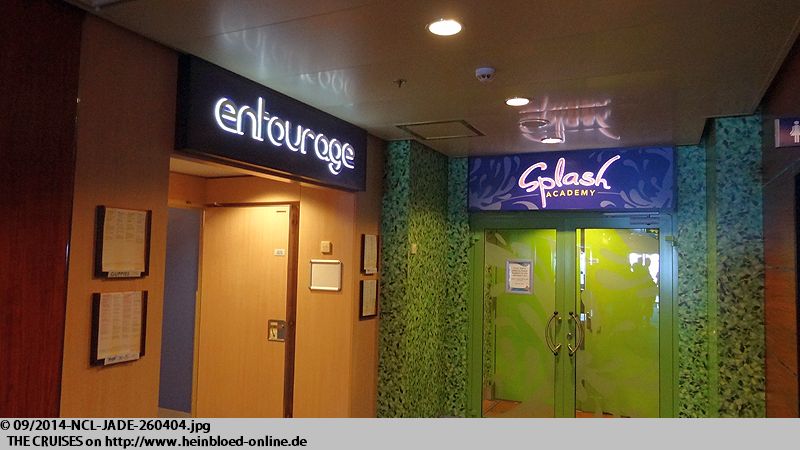 Since last night I started to hate the children keeper. If the keeper found it funny to block all elevators and went from deck to deck to scare the guests and unfortunately also to swear as pirates: I did not do! I do not like to repeat what all the kids shouted last night under their supervision the night before. If the keeper found it o.k.... and did not interfere... I did not like it!

Then they always a regional dish for dinner and that offer they moved to the Garden Café.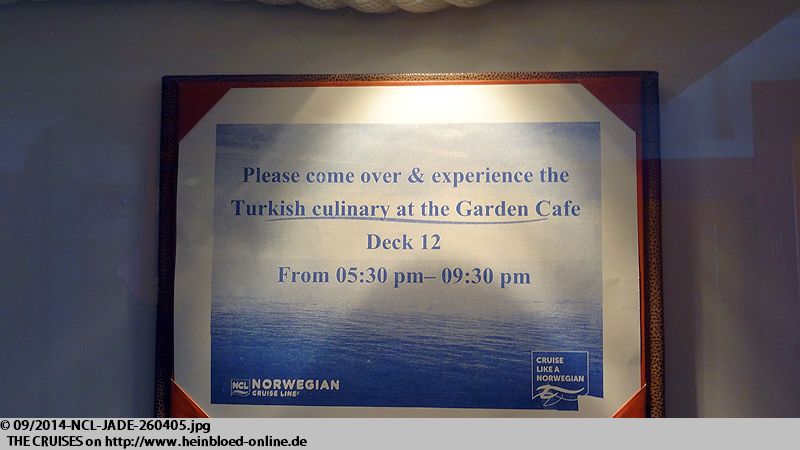 Früher gab es ja immer ein regionales Gericht zum Abendessen und das Angebot ist ins Garden Café verschoben.
Man wird schon für die Ausschiffung vorbereitet.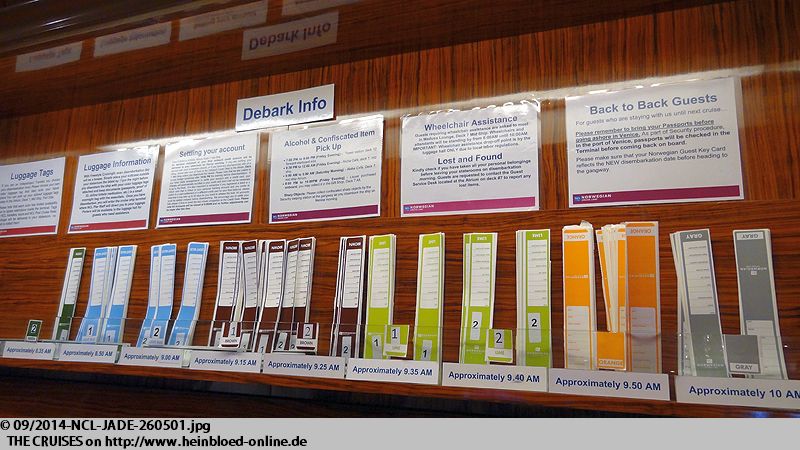 They started to prepare you for debarkation.

We were also prepared for that reason: the general debarkation information arrived already in the cabin.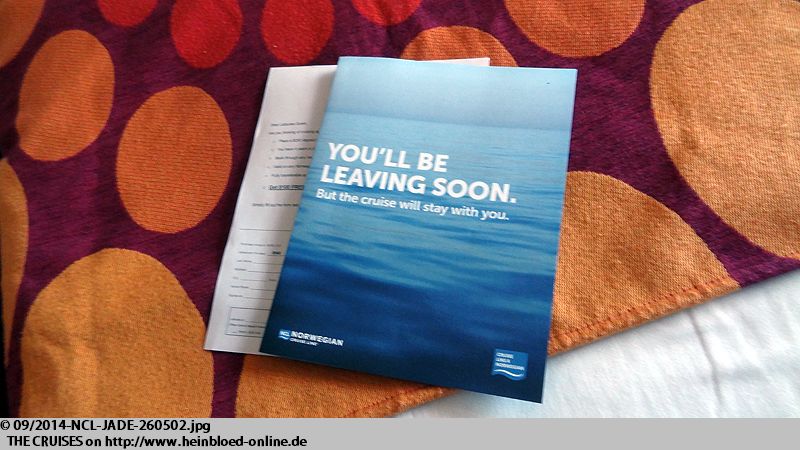 Auch wir werden vorbereitet: Die allgemeinen Ausschiffungsinformationen liegen in der Kabine bereit.
Auch unser Concierge Bruno gibt uns unsere speziellen Ausschiffungsinformationen für uns als Latitudes-Platinum-Mitglieder.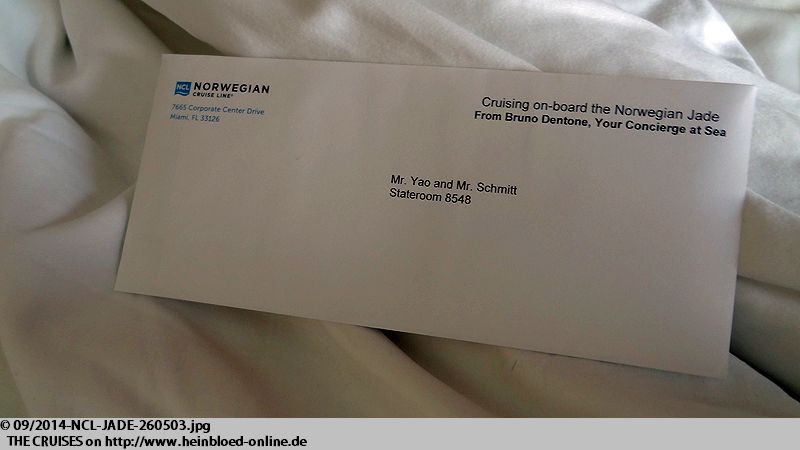 And our Concierge Bruno gave us our special debarkation information for us as Latitudes-Platinum-members.

After changing the linen I got back the Polyester-linen but I got immediately again my cotton linen.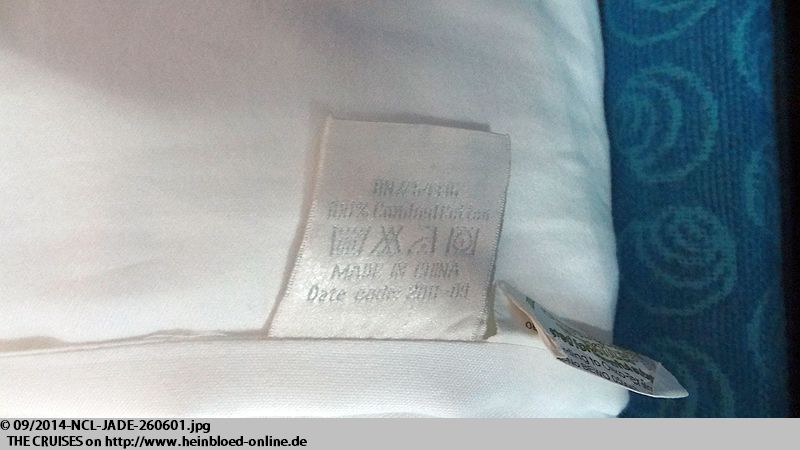 Nach dem Wäschewechsel bekam ich die Polyester-Bettwäsche zurück, aber ich habe dann sofort wieder meine Baumwollbettwäsche bekommen.
Hatten wir bislang sehr selten: ein hängendes Tier.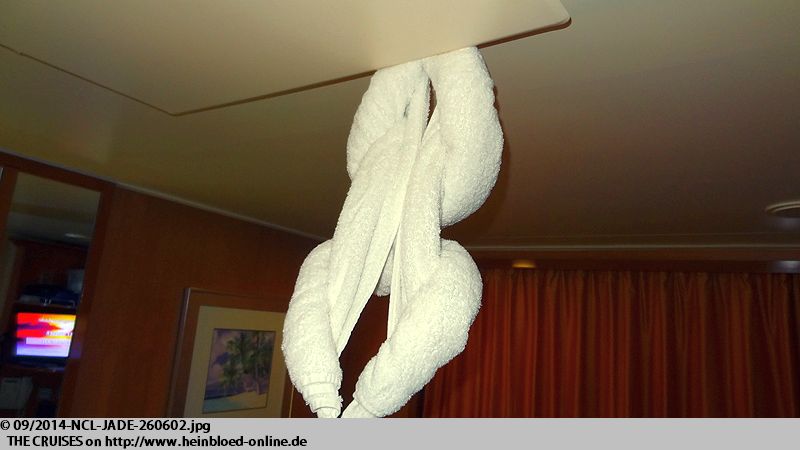 We did not have very often before: a hanging animal.

And we got also a little mice.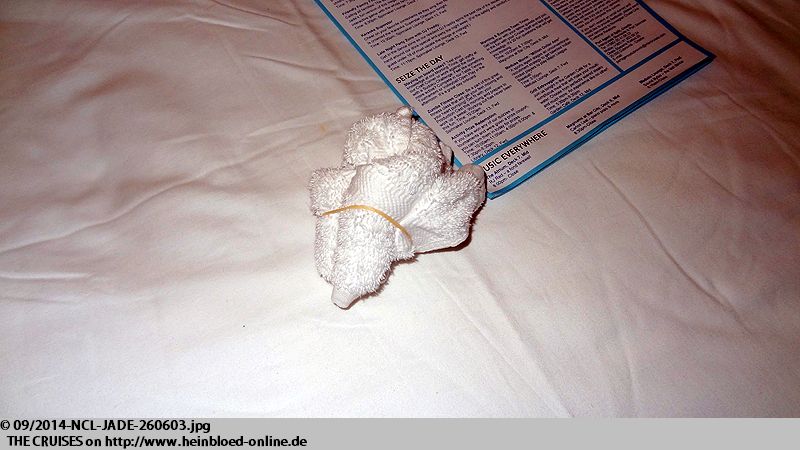 Und wir haben noch zusätzlich ein Mäuschen bekommen.
Mal gucken, was es heute Mittag oben gibt. Und später gibt es wieder Oktoberfest am Great Outdoors. Da ich total auf indisches Essen stehe, nehme ich hier eine Vorspeise ein.

Let us find out what they had for lunch here up. And later they had again Oktoberfest at the Great Outdoors. As I stand into Indian food I took here a starter.

We went to Cagney's for lunch. Here we met again Ingrid, Angela and Thomas who pampered themselves one more time with a great steak for lunch.

Wir gehen zum Cagney's zum Mittagessen. Hier treffen wir auch Ingrid, Angela und Thomas, die sich auch noch mal ein tolles Steak zum Mittagessen gönnen.
Da wir etwas hüsteln und auch wieder mancherorts an Bord gut gekühlt ist, möchten wir noch eine Brühe haben. Die finden wir im Moderno. Nur etwas lustig: jemand hat wohl alle Nudeln bereits aus dem Topf rausgefischt... Wir haben es gemeldet und es war lustig zu sehen, was als nächstes alles passiert.

As we were coughing a little and on many spots onboard it was quite chilly we wanted to have some broth. That we could find in Moderno. A little funny: someone took out all noodles out of the pot... We reported it and it was fun to see what would happen next.

In one part of the Moderno everything was set for a wine tasting. Interesting was to find out: it was a kind of employment therapy for the crew.
Later we saw that everything was cleared again.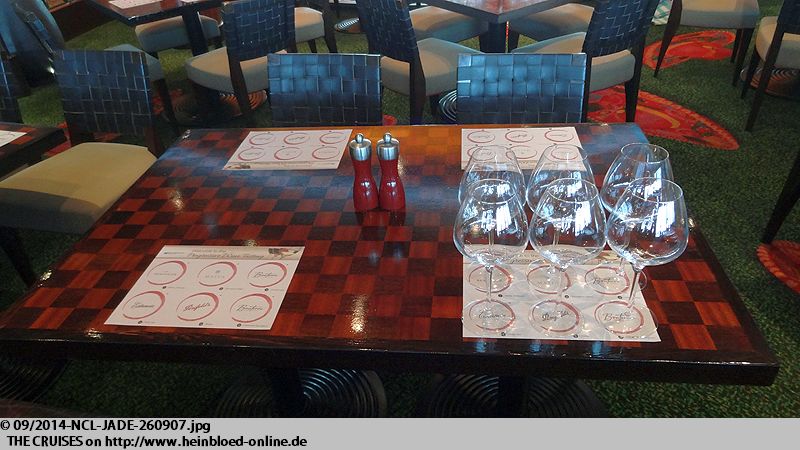 In einem Teil des Moderno wird alles für eine Weinprobe vorbereitet. Interessanterweise war es wohl eine Beschäftigungstherapie für die Crew. Später sehen wir, wie alles wieder abgebaut wird.
Heute ist es soweit: wir lassen ein wenig Platz für einen Kuchen von
Carlo's
.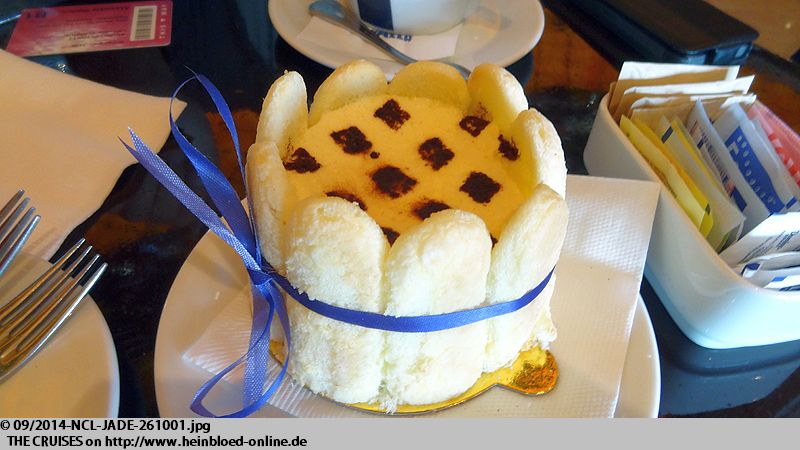 Today it was time again: we save some space for a cake of Carlo's.

For one such a Tirami-Su-cake was too much and to heavy. And it costed 6.95 USD (2014). So Bruno and I shared one little cake. Very American. We stand more into French, Spanish or Italian Patisseurs.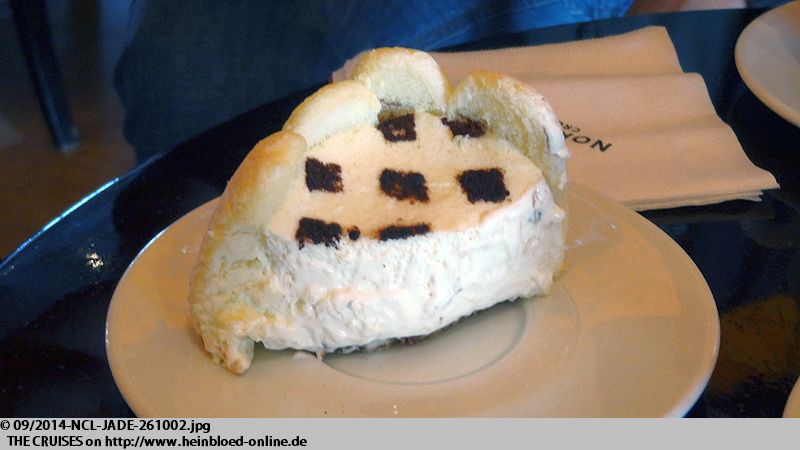 Für einen ist die Tirami-Su-Torte zuviel und zu mächtig. Und es kostet 6,95 USD (2014). So teilen Bruno und ich uns ein Törtchen. Sehr amerikanisch. Wir stehen ja mehr auf die französischen, spanischen oder italienischen Patisseure.
Les Year gibt wieder sein Bestes und ich bleibe gerne.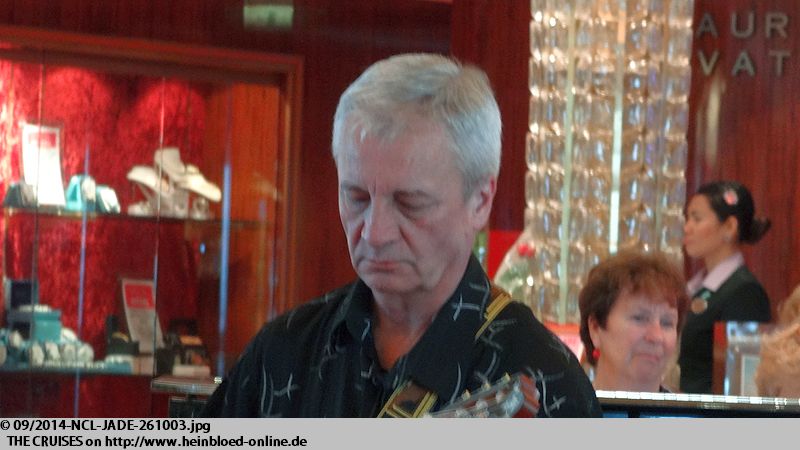 Les Year gave again his best and I loved to stay.

We simply loved to stay in the Aloha Bar.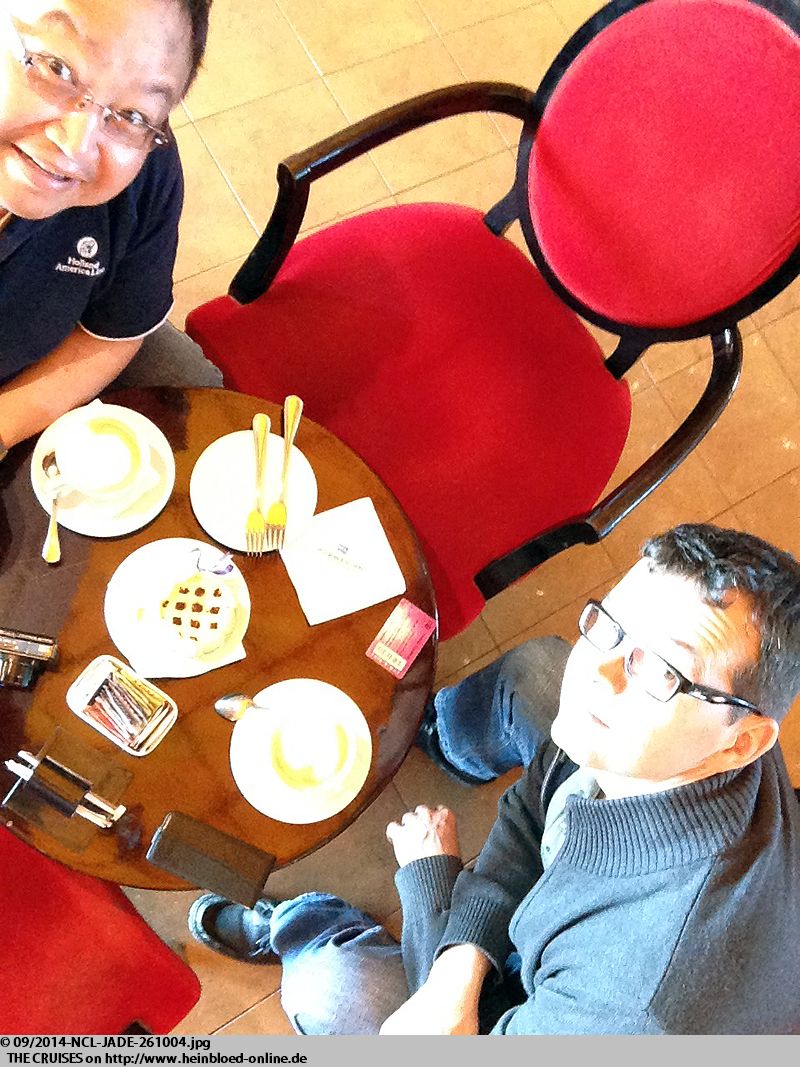 Wir sind einfach gerne in der Aloha Bar.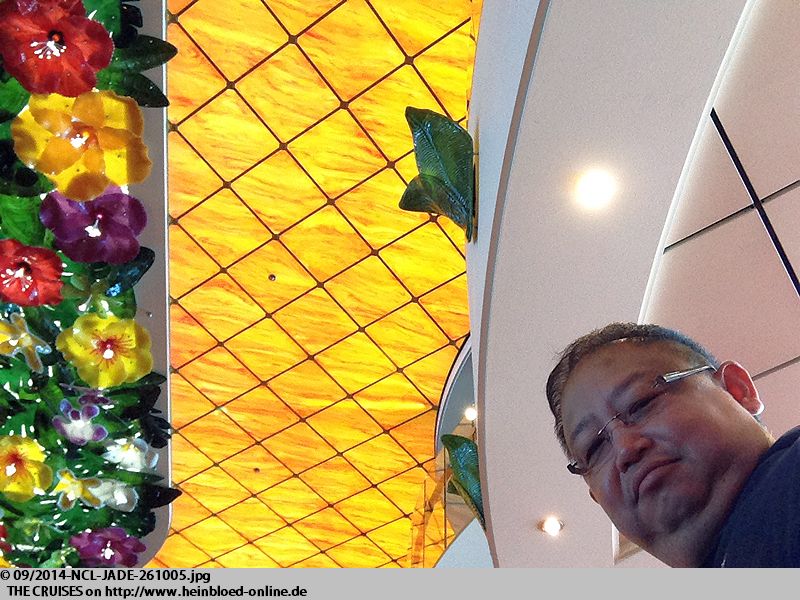 In between we went back to our cabin and there was a surprise for us. That was quite crazy that someone could read our mind: that we had a desire to see Carlo's Bakery.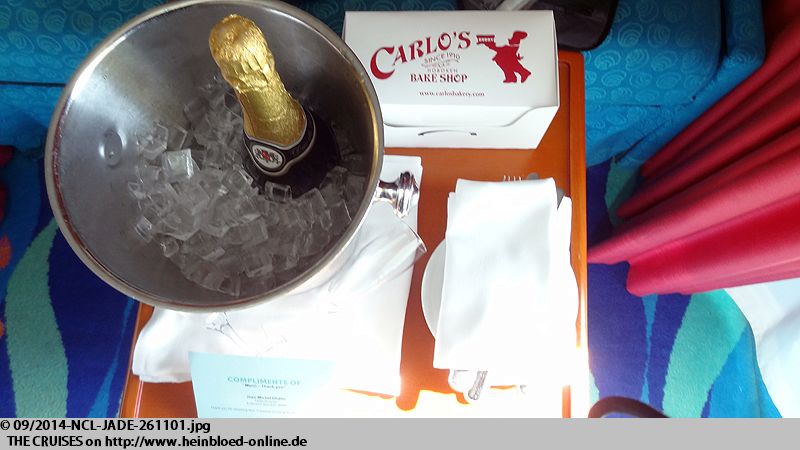 Als wir zwischendurch in die Kabine zurückkehren, erwartet uns eine Überraschung. Das ist ja schon verrückt, dass jemand unsere Gedanken lesen konnte: dass wir Lust auf Carlo's Bakery hatten.
Uns erwartet einige Cupcakes.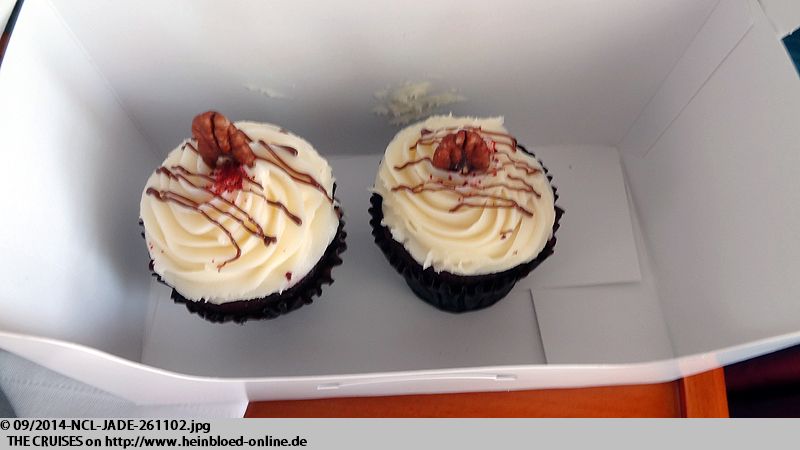 Some cupcakes were waiting for us.

And we asked to exchange our champagne against water and they loved to do it for us.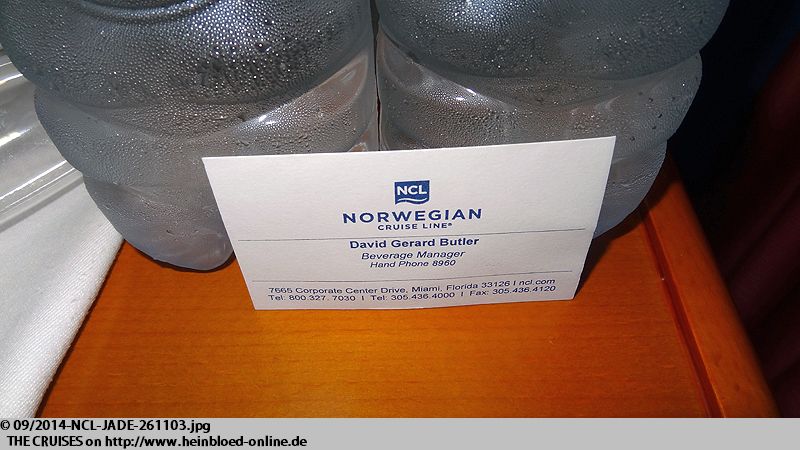 Und wir hatten darum gebeten den Sekt gegen Wasser austauschen und auch das wird gerne für uns arrangiert.
Weil wir so nah an der griechischen Küste vorbeifahren, können wir lange Zeit gut uns ins Cosmote-Netz einbuchen und im Internet surfen.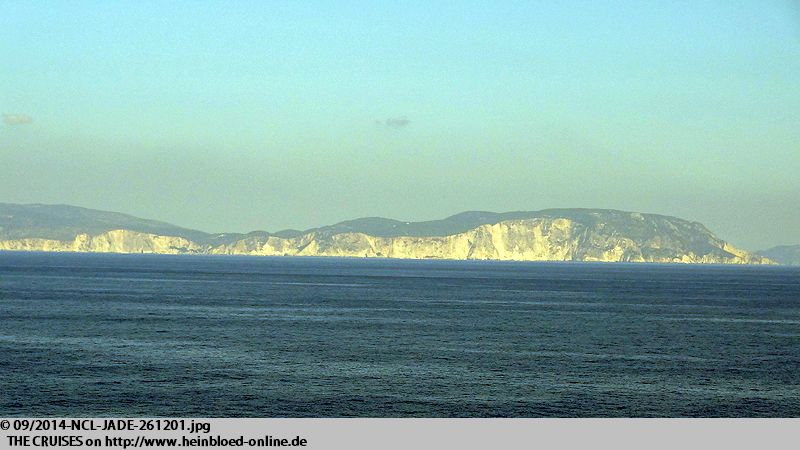 Because we sailed so close to the Greek coast we could easily log into the Cosmote-network and could browse in the internet.

We went a little around on the promenade deck to be a little closer to the coast line. Here they had everything for smokers.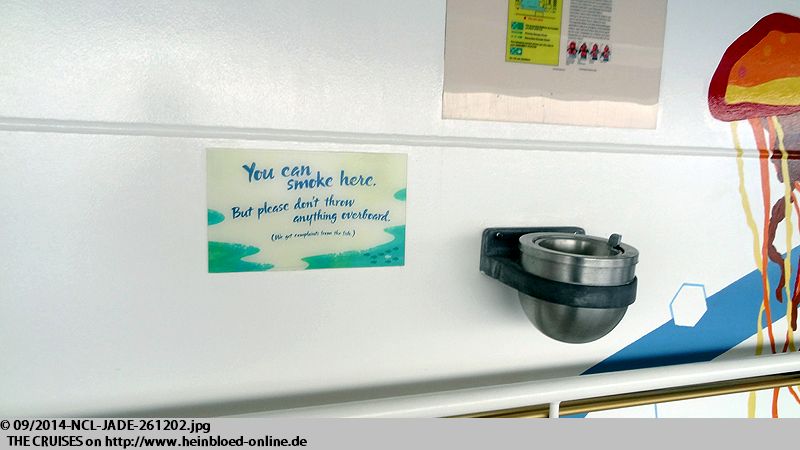 Wir gehen ein wenig auf das Promanden-Deck, damit wir der Küstenlinie näher sind. Hier gibt es alles für den Raucher.
Und wir genießen einfach ein wenig die Ruhe auf dem Promadendeck.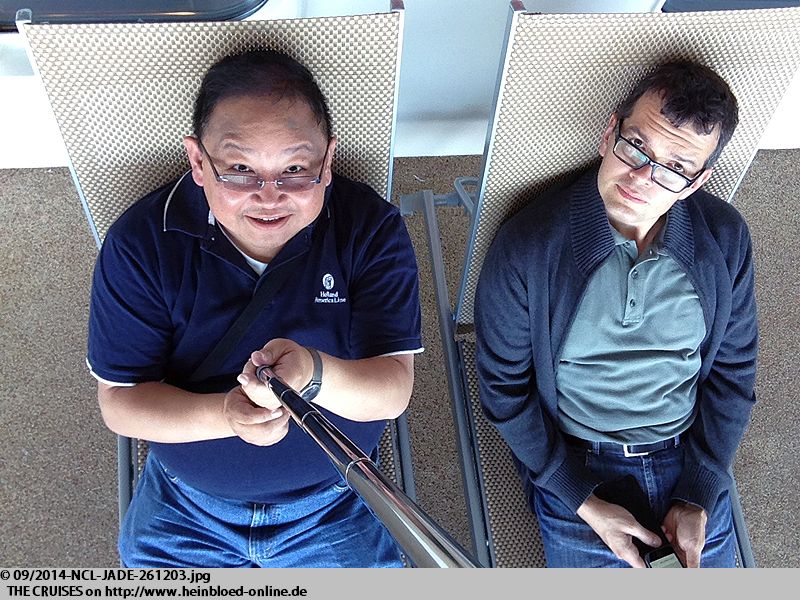 And we simply enjoyed a little the silence on the promenade deck.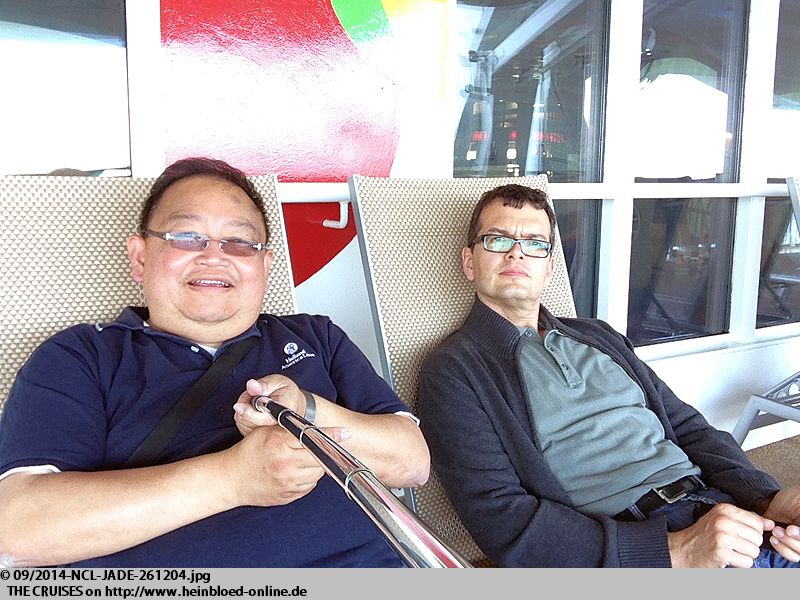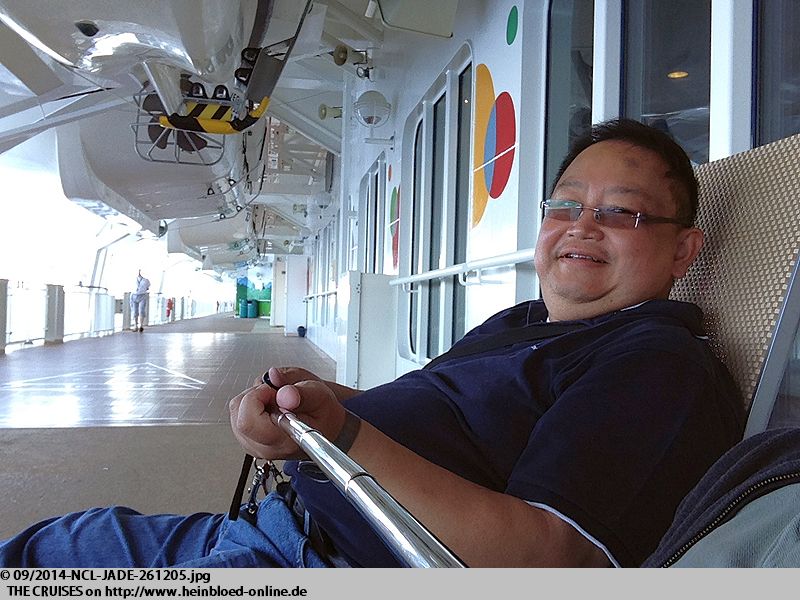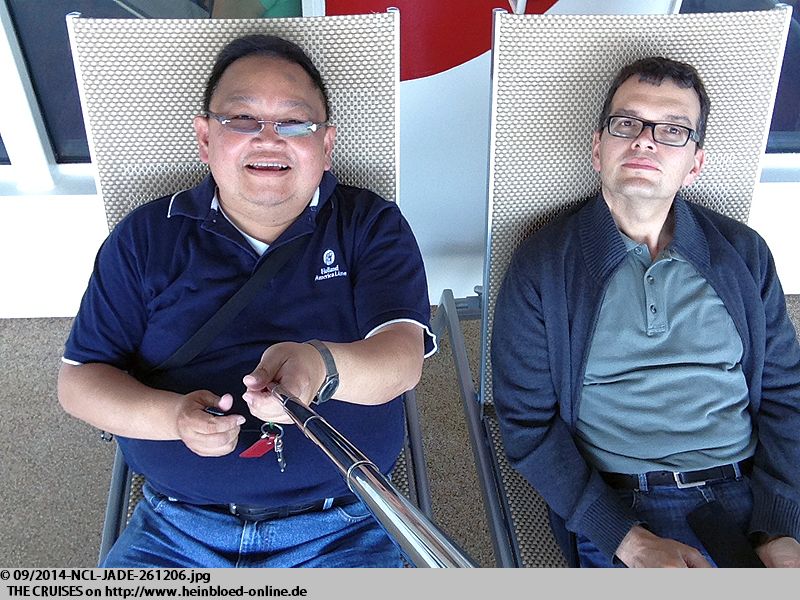 Manchmal muss man einfach Spaß haben: so wie ich mit meinen Selfies.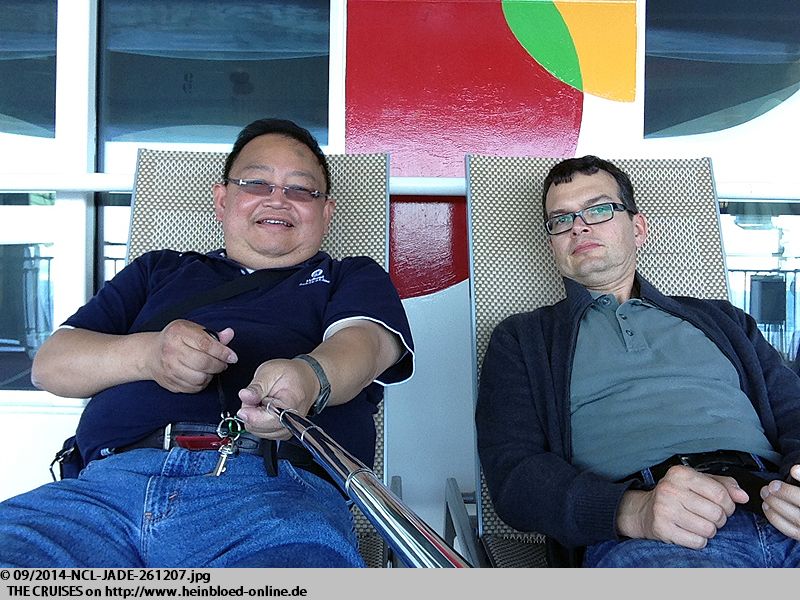 Sometimes you only need some fun: like me with my selfies.

For dinner we went that night to Jasmine Garden. Also that time it was better than on NORWEGIAN SPIRIT then. We enjoyed the service of Norhaya Dimanalao and Mahmut Atar. Even Bruno got his warm milk for espresso. Frances and Eddie went also there for dinner but much more earlier because they wanted to see the Elements-Show again. We saw it already so many times. So went later and met them when they were exiting the show.

Abends geht es für uns ins Jasmine Garden zum Abendessen. Auch dieses Mal ist es wieder besser als damals auf der NORWEGIAN SPIRIT. Wir genießen den Service von Norhaya Dimanalao und Mahmut Atar. Sogar Bruno bekommt seine warme Milch zum Espresso. Frances und Eddie waren auch dort essen, aber sehr viel früher als wir, weil sie zur Elements-Show wollten. Wir haben sie nun schon so oft gesehen. Deswegen gehen wir später und treffen sie wieder, als sie wieder aus der Show herauskommen.
Und da nur ein Crew-Selfie heute entsteht machen wir es alle zusammen: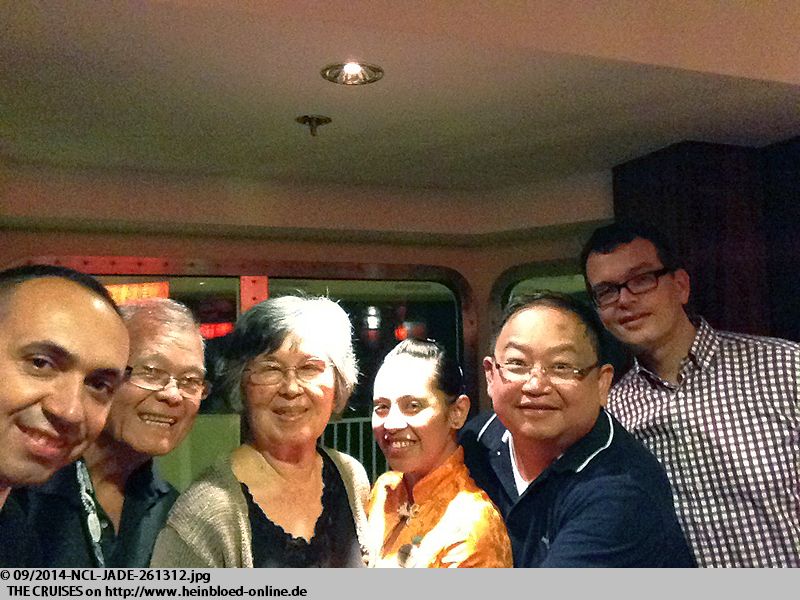 As we took only one selfie with the crew that day we did all together.

And at the Aloha Bar Ingrid, Angelea and Thomas came by.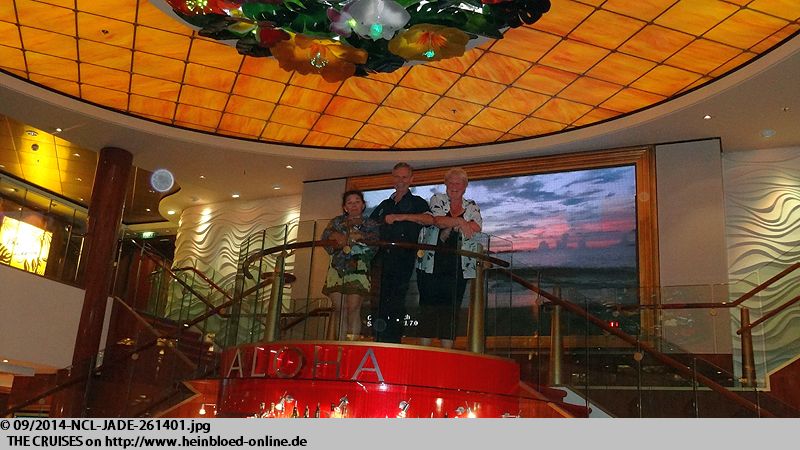 An der Aloha Bar kommen Ingrid, Angela und Thomas vorbei.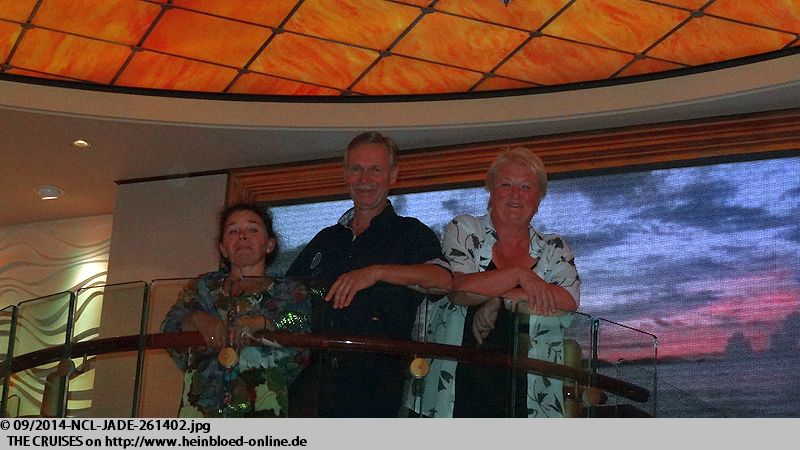 We booked that night for them Moderno. So they shared the same exitement we had since we visited Moderno on NORWEGIAN JADE 2014 (1).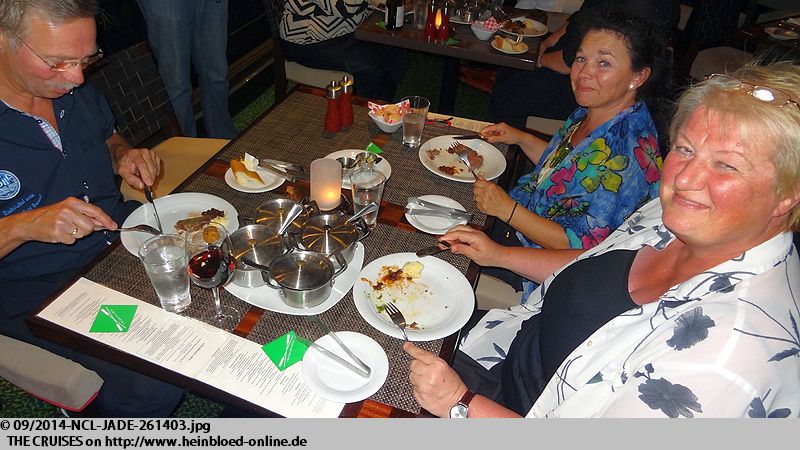 Wir haben sie abends für das Moderno gebucht. Sie teilen mit uns die gleiche Begeisterung, die wir seit der Fahrt auf der
NORWEGIAN JADE 2014 (1)
für das Moderno haben.