Es geht zum letzten gemeinsamen Frühstück mit Frances und Eddie. Nicht so aufwändig wie im Weißen Rößl, aber in Ordnung. Auch viele tschechische Schmankerl.

We went for the last common breakfast with Frances and Eddi. Not as ornate at in the White Hore Inn but it was o.k.. Many Czech goodies.

And it was now time to say good-bye from Frances and Eddie.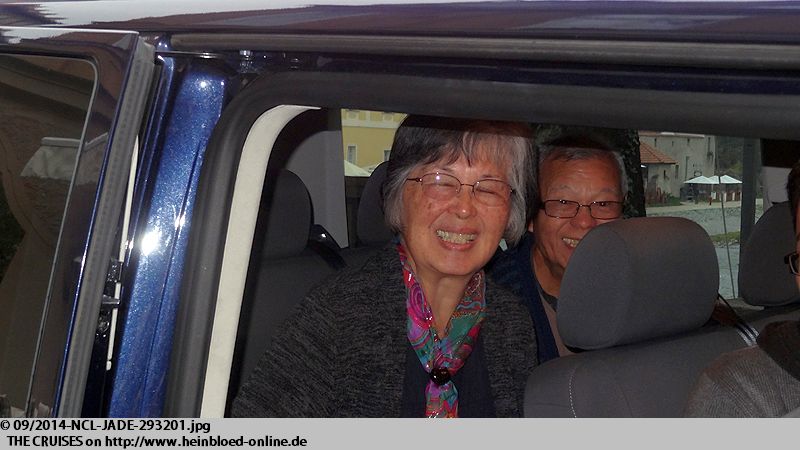 Und dann war es Zeit, sich von Frances und Eddie zu verabschieden.
Ich hatte Frances und Eddie in Salzburg im
Ramada (mittlerweile H+-Hotel)
untergebracht. Von dort ging es direkt ins Hotel nach Krumau. Und jetzt holt sie der
CZ Shuttle
wieder ab und bringt sie an den Westbahnhof in Wien. Dort wohnen sie noch eine Nacht im
Motel One
und direkt von da aus fährt der
Postbus
sie einen Tag später an
Flughafen Schwechat
. Das nennt man perfekte Logistik.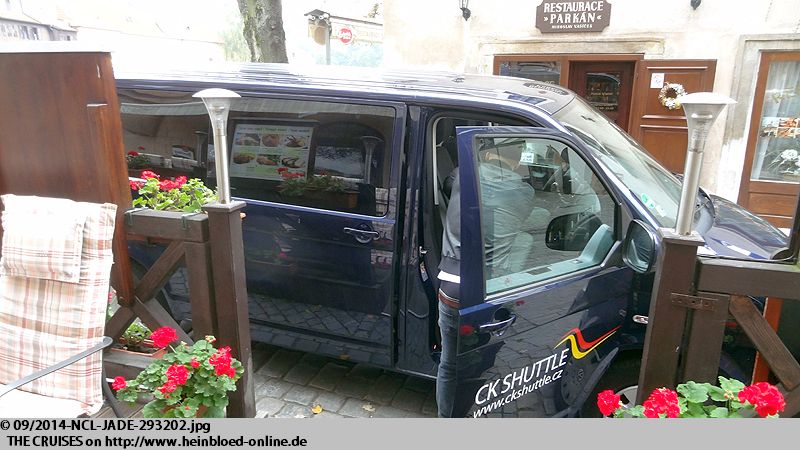 I booked Frances and Eddie in Salzburg, Austria the Ramada (meanwhile H+-Hotels). From here they could get transfered directly to our hotel in Czechy Krumlov. And now CZ Shuttle came to transfer them to the West Railways Station in Vienna, Austria. There they would stay one more night in Motel One and the Postbus could get them right to Vienna Schwechat Airport. That was called perfect logistics.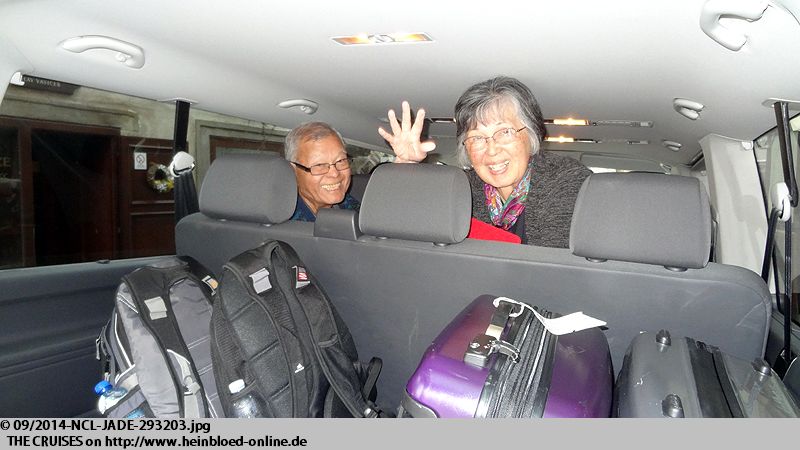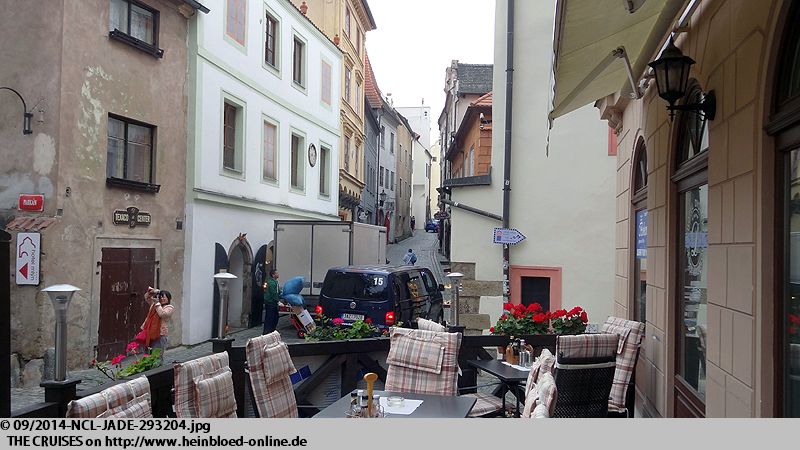 Subject my new job would permit we hopefully would see us in Summer again on OCEAN PRINCESS 2015 in Dover, England.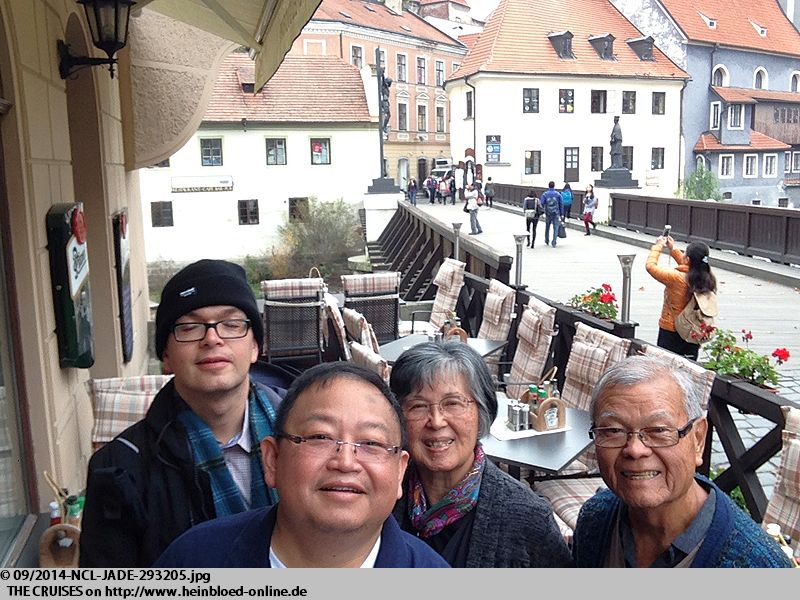 Sofern es meine neue Arbeit erlaubt, sehen wir uns ja hoffentlich im Sommer auf der
OCEAN PRINCESS 2015
in Dover wieder.
Durch die Landschaft entlang des Oberlauf der Moldau und im wahrsten Sinne des Wortes durch böhmische Dörfer geht es zurück Richtung Österreich. Da wir uns irgendwann mit dem Navi eher verfahren als richtig fahren, nutzen wir irgendwann wieder klassischerweise einen alten Reiseatlas. Und man merkt dann schnell, wenn wir an der Grenze sind: dann kommen die ganzen Läden mit den Gartenzwergen usw.

Through the landscape along side of the upper part of the River Moldau/Vltava (River passing Prague, Czech Republic / Bedrich Smetana's famous musical work) passing the Bohemian villages we went back towards Austria. Since the GPS gave us strange directions we used a classical map to find our way. And quickly we learned that we were back at the border: you had all the shops with the garden gnomes.

In Linz, Austria we went quickly to the shopping center to speak one more time with 3 and asked why all my personal data disappeared and learned that they were only allowed to be registered when you have a residence in Austria. But as long as I pay I would be accepted as customer. And just next door: the restaurant of my own but we did not go in and tried.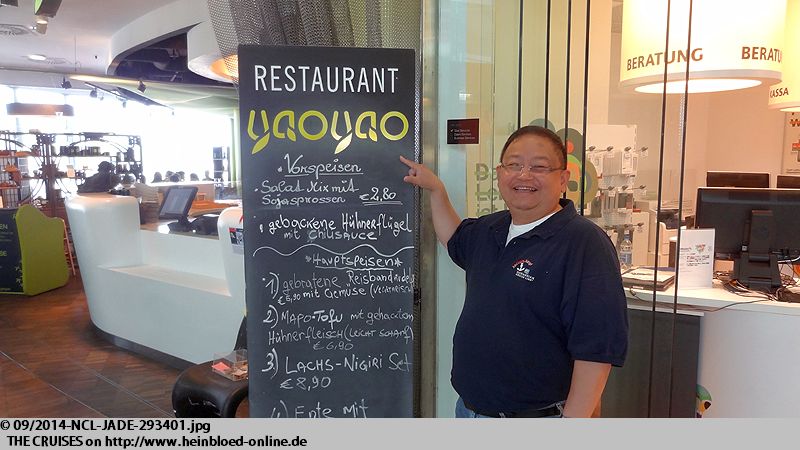 In Linz gehen wir schnell in ein Einkaufszentrum, um nochmals bei
3
vorzusprechen, warum eigentlich meine Daten alle verschwunden sind und dabei erfahre ich, dass ich nur mit einem österreichischen Wohnsitz die Registrierung durchführen darf. Aber so lange ich zahle, werde ich als Kunde stillschweigend geduldet. Und direkt daneben: mein erstes eigenes Restaurant, in dem wir allerdings nicht essen waren.
Ich will nämlich noch einmal österreichische Schmankerl essen: wie z. B. ein Süppchen. Deswegen kehren wir im
Gasthof Röhrenwirt
an der deutsch-österreichischen Grenze bei Salzburg ein.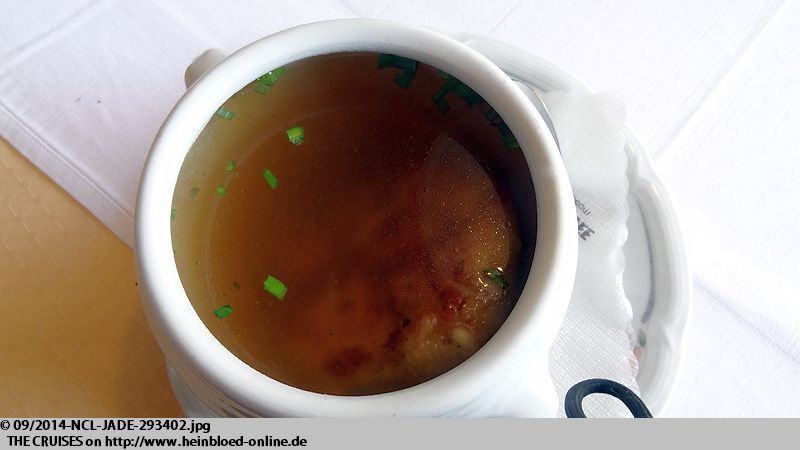 I want to have one more time Austrian goodies: like a soup. So went to the inn Röhrenwirt at the German-Austrian border close to Salzburg, Austria.

Well in the broth it was a yummy cheese dumpling.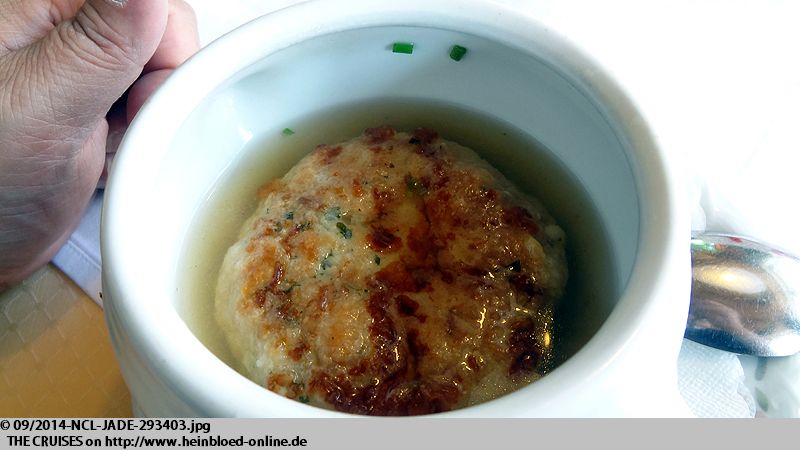 Nur das in dem Süppchen ist nochmals so ein leckerer Käseknödel.
Und nochmals ein schöner österreichischer Braten.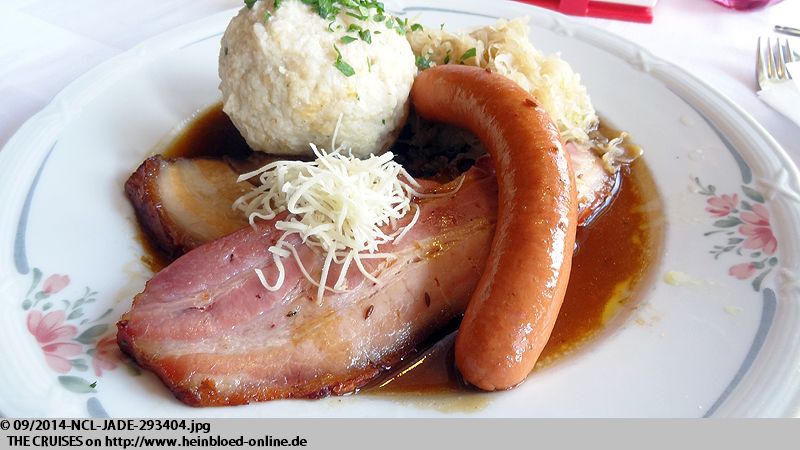 And one more time an Austrian roast.

Right after the border we reached Berchtesgaden, Germany where we had clear blue sky.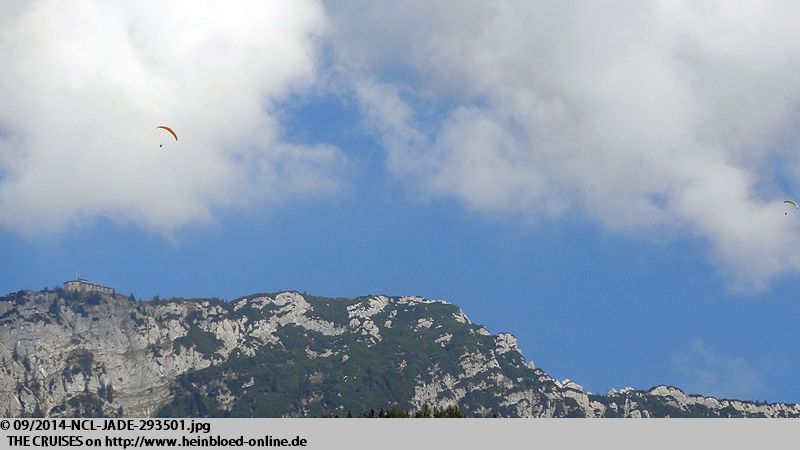 Kurz hinter der Grenze erreichen wir Berchtesgaden bei strahlend blauem Himmel.
So fahren wir direkt zum Großparkplatz in Schönau am Königssee.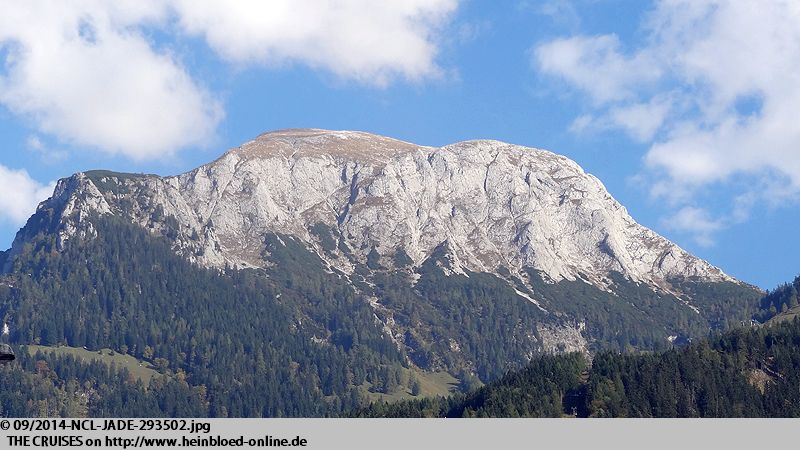 So we went directly to the large parking in Schönau at Lake Königssee, Germany.

But here it was very crowded. And they had tourists from all over the world. But I was never here before during the peak-season. In the Tourist Information they helped us to find the perfect way to finish the day.

Allerdings geht es hier zu wie auf einem Rummel. Und Touristen aus allen Ecken der Welt. Bloß ich war noch nie während der Saison hier. In der
Touristeninformation
hilft man uns gerne weiter, wie wir den Tag hier schön ausklingen lassen können.
Und wenn wir schon mal hier sind, müssen wir auf eine Fahrt mit der Flotte der
Bayerischen Seen-Schiffahrt
auf dem Königssee machen. Alles mit Elektrobooten.

As we were already here we need to make a boat trip by Bayerischen Seen-Schiffahrt (Bavarian Lake Navigation) on Lake Königssee. All with boats powered by electric energy.

One of us changed by mistake the setting of the camera so that we had some pictures now in 4:3 but 16:9. For a complete round on the lake the time did not last. So our tour took us only to St. Barholomä, Germany.

Einer von uns beiden ist allerdings versehentlich an die Kameraeinstellung gekommen, so dass eine Serie von 4:3-Bildern statt 16:9 entsteht. Für eine komplette Tour auf dem See reicht es nicht mehr. So führt unsere Fahrt nur bis St. Bartholomä.
Ein Ort, den die halbe Welt bestimmt persönlich kennt und die andere Hälfte aus Deutschland-Prospekten. Bloß ich nicht. War ganz nett. Nur absolute Touristenhochburg mit entsprechenden Monopol-Preisen und grantigem Personal ("Kollege kommt gleich") im
Bartholomä-Wirt
. Wir gucken noch der
Bergwacht Bayern
bei der Arbeit zu. Es läuft hier aber ab, als ob ein Fußball-Spiel in einer Fußball-Arena beendet ist und die Verkehrsbetriebe jede Menge Zusatzbahnen einsetzt. Weil es ja ein Hop-on-Hop-off-Dienst ist, sind natürlich jede Menge Gäste mehr zurückzutransportieren, so dass jede Menge Boote leer nach St. Bartholomä gefahren werden, um ja sicherzustellen, dass alle auch wieder wegkommen.

A place half of the world might know personally and the other half from brochures of the German Tourist Board. But not me. It was really nice. It was the total tourist trap with monopoly prices and unruly staff members with the Bartholomä-Wirt. We watched how the Mountain Rescue Bavaria was working. Here they ran the boat service like a soccer-game in a soccer arena would terminate and if the local transport company would add many extra trains. Because it was an Hop-on-Hop-off-Service they had to make sure that everyone would get back and so they had many extra empty boats repositioned to St. Bartholomä.

We stopped at an Austrian service station at the highway Landzeit and ate something. It was very nice there. I was really good and only a soup and a salad.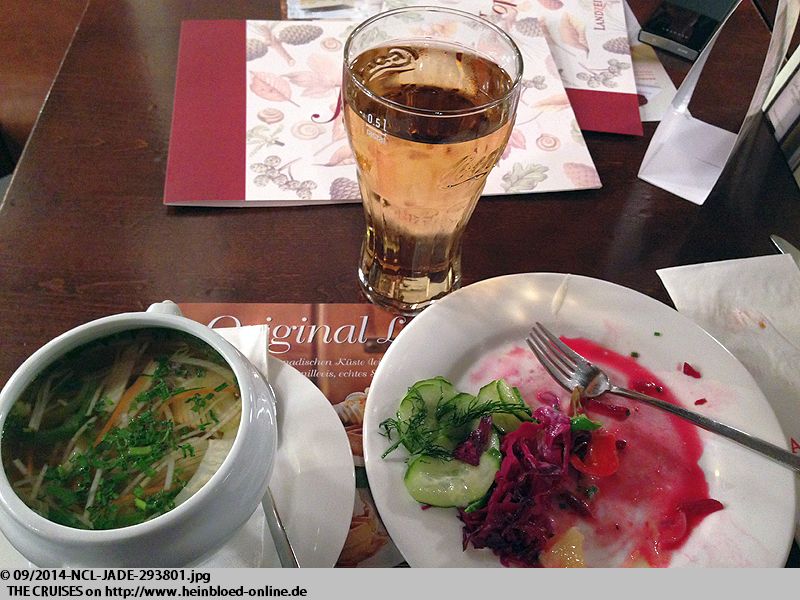 In einer
Landzeit
-Autobahn-Raststätte in Österreich kehren wir nochmals ein. Ist eigentlich sehr schön dort. Schöner als in Deutschland. Ich bin brav! Süppchen und Salat.
Was macht bloß das ganze Gemüse hier drin? Es war allerdings frisch und knackig.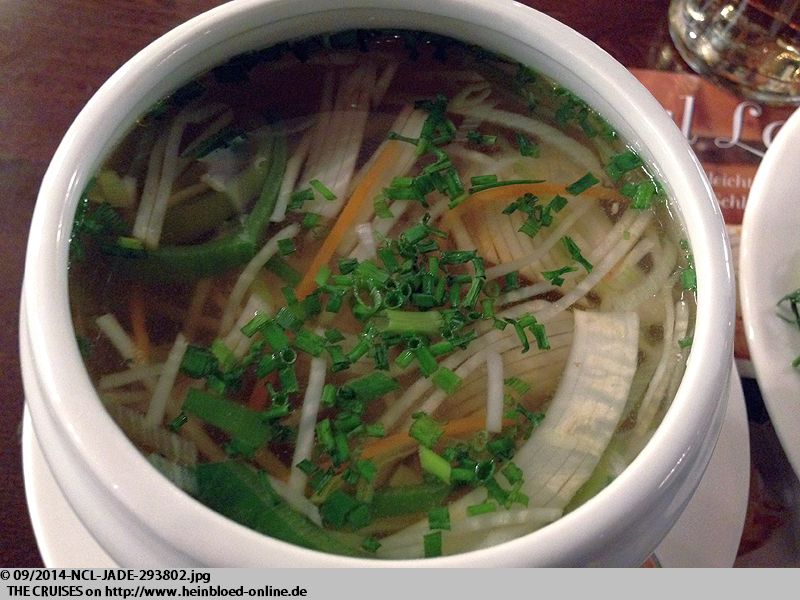 What was all the vegetable doing inside? It was actually fresh and crispy.

I really would love to try a steak from the ripening chamber. But 30 EUR was too much for a snack and I promised restraint of meat.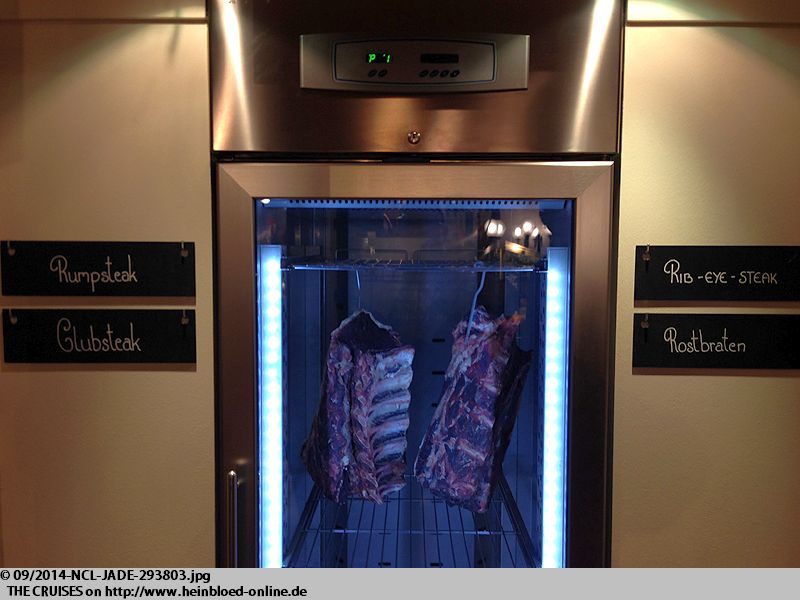 Wie gerne hätte ich hier noch ein Steak aus dem Reifeschrank genommen. Aber 30 EUR waren mir zuviel für einen Snack und ich habe Zurückhaltung versprochen, was meinen Fleischkonsum angeht.
Die Nacht verbringen wir dann im Hilton Innsbruck (gibt es nicht mehr). Nochmals hoch nach Igls mochte ich nicht. Im ersten Zimmer hatten wir Pech, weil wohl jemand einfach in einem Nichtraucherzimmer geraucht hatte und man es roch. Für unsere Mühe, dass wir umziehen, brauchen wir das Mineralwasser nicht zu bezahlen. Wir bekommen ein tolles Zimmer mit einem schönen Blick über das nächtliche Innsbruck.

The night we stayed in the Hilton Innsbruck, Austria (does not exist anymore). I did not want to stay one more time in Igls, Austria. In the first room we got we had unluck since someone smoke in a non-smoker room and you could smell it. For the effort that we had to move we were allowed to keep the minderal water for free. We got a great room with a great view on the nightly illuminated city of Innsbruck.