Weil die
Mobitel-Debitel
-Vodafone-Karte in der Türkei nicht funktioniert, können wir das besondere Angebot von
Vodafone
nicht nutzen, dass außerhalb der EU auch in der Türkei gilt: 2,95 EUR für 100 MB für Prepaid-Kunden. Meine Schwester arbeitet leider nicht mehr für Debitel. Sonst hätten wir bestimmt etwas machen können. Meine
Türk Telekom
- und
Turkcell Europe
-Karten habe ich leider nicht mit. So setze ich mich sehr früh schon in die Aloha Bar, weil hier die Übertragung sehr gut ist und man sogar sehr gut Bilder auf Facebook hochladen kann. Ich habe Durst und die Bar ist noch nicht auf. Einer bereitet die Eröffnung schon vor und kommt an den Tisch und sagt mir, dass leider die Barista-Maschine noch nicht bereit ist, sonst würde er mir schon gerne einen Kaffee anbieten. Ist das immer so, oder weil wir doch auch bei den Soda-Packages und bei jedem Cappucino in der Regel einen Dollar drauflegen und in guter Erinnerung bleiben?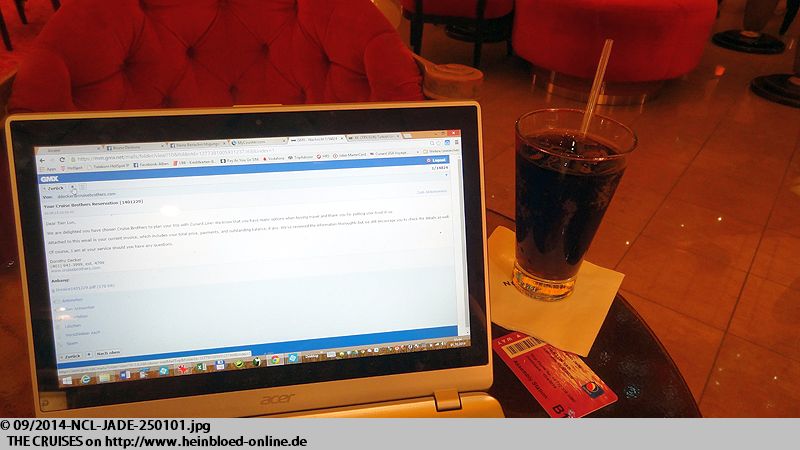 Because the Mobitel-Debitel-Vodafone-Card did not work in Turkey we could not use the special offer of Voadafone that was also valid outside the EU in Turkey: 2.95 EUR for 100 MB for prepaid-customers. My sister did not work anymore for Debitel. Otherwise she could have arranged something. I did not had my Türk Telekom and Turkcell Europe-cards with me. So I sat very early in the Aloha Bar because the transmission was very good and you could simply upload pictures on Facebook. I was thirsty but the bar was not open yet. One was preparing the opening and came to our table and told me that the Barista-machine was not ready yet otherwise he would already offer me some coffee. Was it always that way, or just because we tipped one dollar even we had a soda-package and with each capppucino and stayed in their good memories?

Ahead of us already in port the new sister ship of NORWEGIAN JADE: RIVIERA. Norwegian just informed that they took two companies over.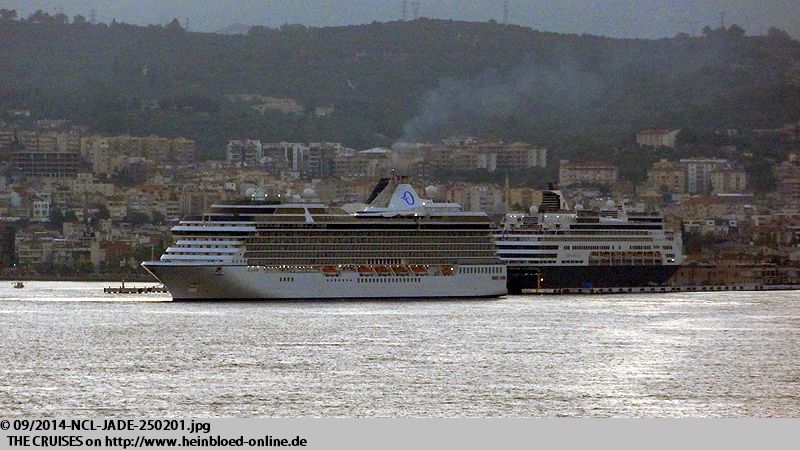 Vor uns im Hafen bereits das neue Schwesternschiff der NORWEGIAN JADE: RIVIERA. Norwegian hat die Übernahme von zwei Gesellschaften bekanntgegeben.
Sie ist kurz vor uns eingetroffen und so sehen wir, wie sie rückwärts einparkt und dass auch schon NORWEGIAN SPIRIT da ist.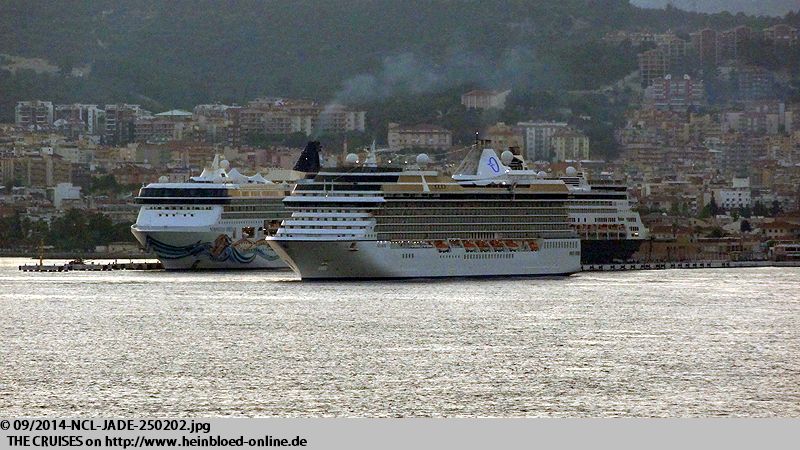 She just arrived slightly ahead of us and so we could see how she docked backwards and also that NORWEGIAN SPIRIT already arrived too.

And a very good friend of us which will leave the fleet to P&O Australia and we had fond memories in the Aegean Sea with her in this port: RYNDAM 2013.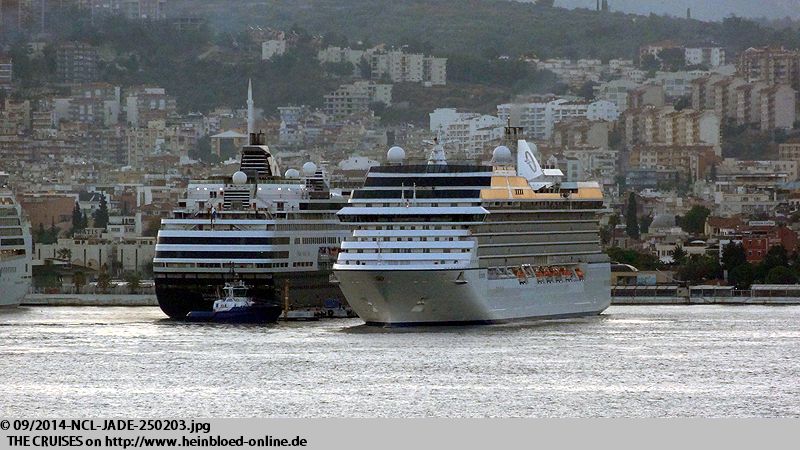 Und eine sehr gute Freundin, die bald leider die Flotte Richtung
P&O Australia
verlassen wird und mit der wir gerade in der Ägais sehr gute Erinnerung verbinden ist im Hafen:
RYNDAM 2013
.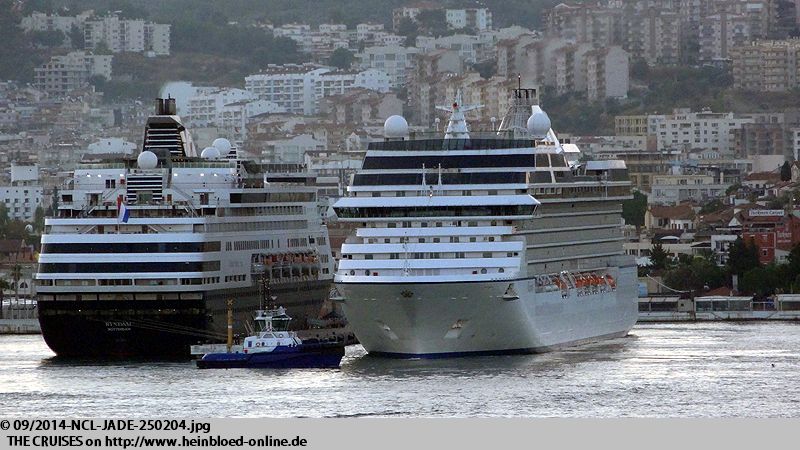 As we also headed backwards I could take the pictures of NORWEGIAN SPIRIT. Finally I could have made some pictures of Captain Kim Karlsson while he was working but he had special vacation as he moved. And on Corfu it did not work because MY RYNDAM was anchoring at short notice and so NORWEGIAN JADE did not pass us. So we was checking how Captain Lars Bengtsson was working.

Als wir dann auch rückwärts einfahren, kann ich diese Aufnahmen von der NORWEGIAN SPIRIT machen. Endlich hätte ich mal es geschafft Bilder von Kapitän Kim Karlsson bei der Arbeit zu machen, aber der hat momentan Sonderurlaub wegen Umzug. Und auf Korfu hatte es nicht geklappt, weil
MEINE
RYNDAM damals kurzfristig vor Reede lag und daher er nicht mit der NORWEGIAN JADE an uns vorbeifuhr. Dafür gucken wir aber Kapitän Lars Bengtsson zu.
Und wir werden noch von einem weiteren vertrauten Gesicht erkannt und begrüßt: Furtoso Gonsalves. Ihn kennen wir seit unserer allerersten Fahrt auf der
NORWEGIAN PEARL 2006
und wir sind ihm immer wieder über den Weg gelaufen und jedes Mal ist uns eine Freude, ihn immer wieder zu treffen. Er hatte damals die Akzente gesetzt, an dem wir auf nachfolgenden Kreuzfahrten andere Maîtres gemessen haben. Zuletzt hatten wir ihn
NORWEGIAN JADE 2014 (1)
gesehen.

An we were welcomed by another familiar face: Furtoso Gonsalves. We knew him since the very first sailing on NORWEGIAN PEARL 2006 and our paths always crossed and everytime it was a pleasure to meet him again. He set the standard we used to have from all Maîtres on all following cruises. Last time we met him on NORWEGIAN JADE 2014 (1).

A very last selfie with me and MY NORWEGIAN SPIRIT.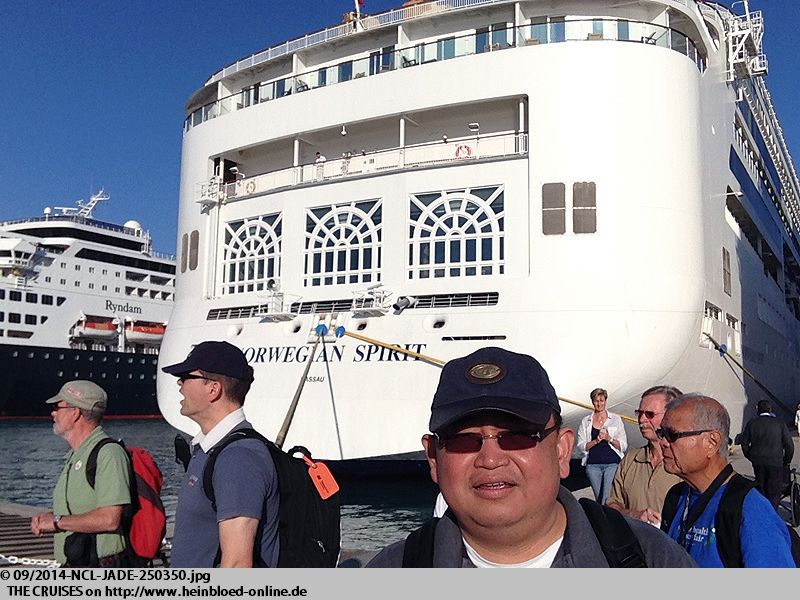 Noch ein letztes Selfie mit mir und
MEINER
NORWEGIAN SPIRIT.
Noch ein paar Bilder noch von
MEINER
RYNDAM.

Few more pictures of MY RYNDAM.

Certainly it worked later without selfie when I was off the ship.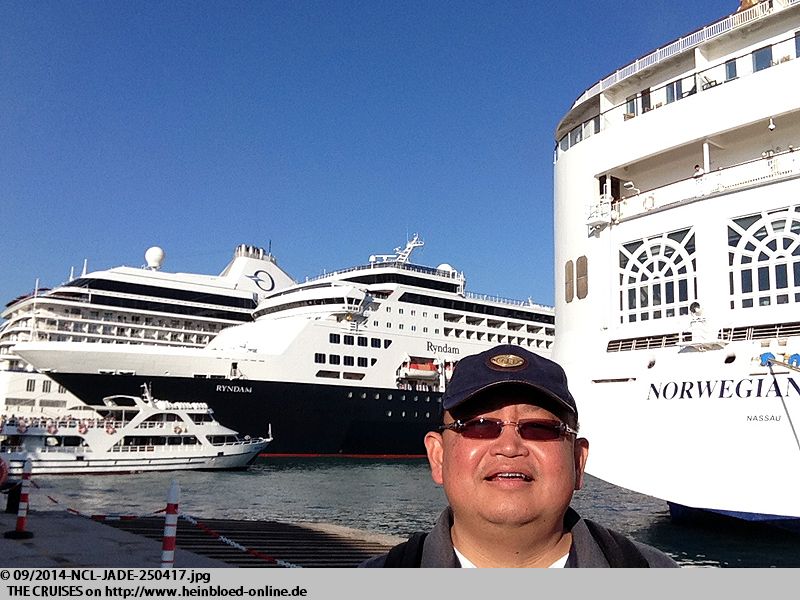 Selbstverständlich geht es auch hier noch ohne Selfies später als ich vom Schiff bin.
Noch bin ich aber an Bord und gehe zum Frühstück.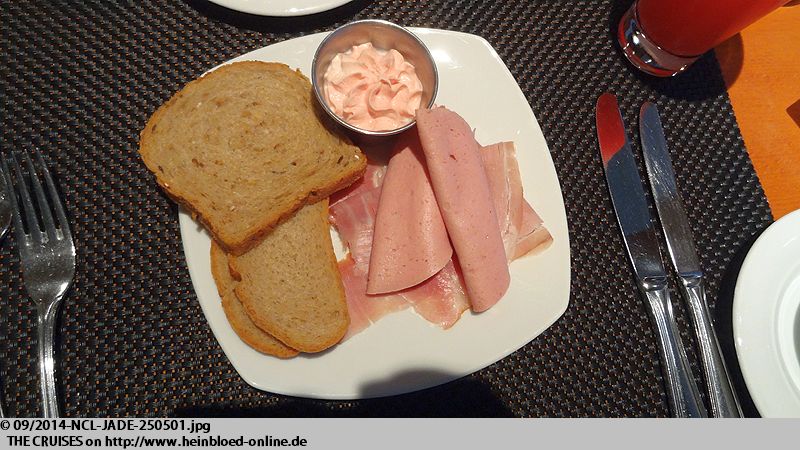 But I was still onboard and went for breakfast.

Still they had berries but with the refill... very slow and unfortunately with some bad surprises.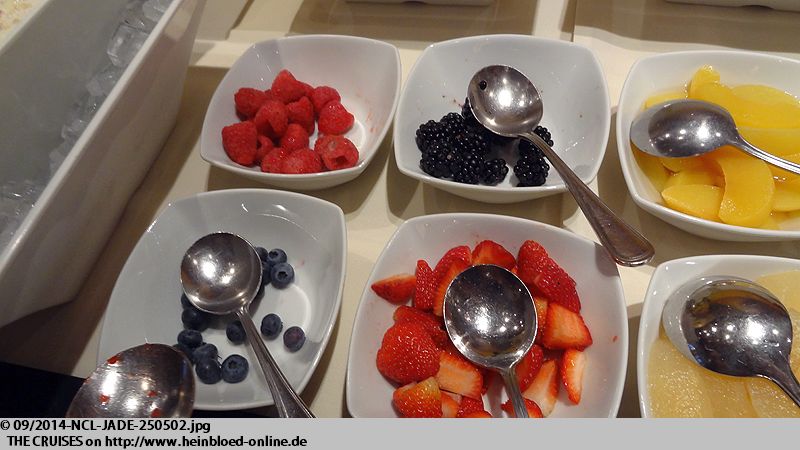 Noch gibt es Beeren, aber so mit dem Auffüllen... sehr schleppend und leider manchmal auch mit unerfreulichen Überraschungen.
Weil ich eben mal etwas gesagt habe, bekomme ich jetzt immer so viel Butter.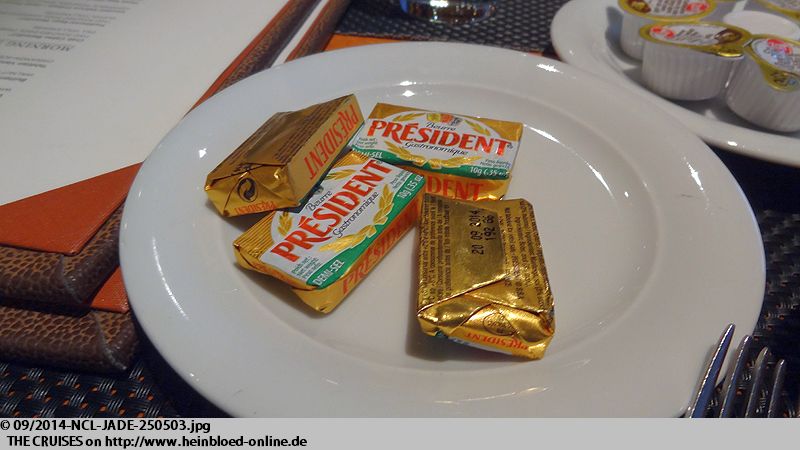 Because I said something before I got now so much butter.

But so ice cold that you could not spread it.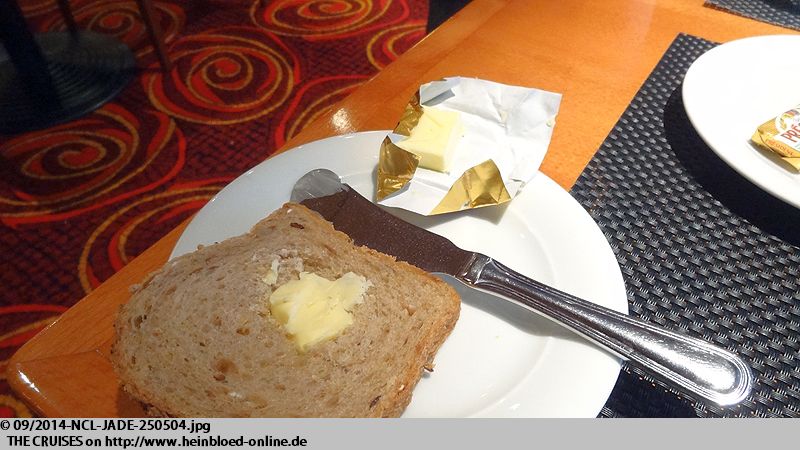 Nur so eiskalt, dass man nichts streichen kann.
Und wieder hört man nicht zu, dass man bitte den Kaffee noch ziehen lassen sollte und nicht sofort immer runterdrücken soll.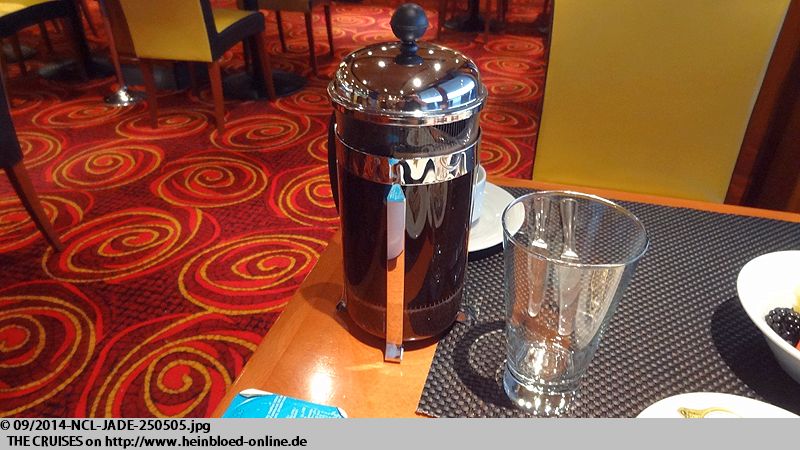 And again none was listening that they should give the coffee some time to develope flavour instead of pulling it down immediately.

Also Kusadasi, Turkey we reaached at a beautiful morning. The Weather God must listened to our prayers. Finally we could get off the ship. But if you are calling Kusadasi: get up early to experiences such a beautiful sunrise over the city.

Auch Kusadasi erreichen wir an einem wunderschönen Morgen. Der Wettergott muss unsere Gebete erhört haben. Es geht endlich von Bord. Aber wenn man Kusadasi anläuft: unbedingt früh aufstehen: man erlebt immer einen schönen Sonnenaufgang über der Stadt.
Und am Pier treffen die Crew und Gäste der NORWEGIAN JADE und NORWEGIAN SPIRIT aufeinander. Jeder kümmert sich um jeden Gast, egal von welchem Schiff. Jeder wird auf den richtigen Weg gebracht. Leider habe ich Pech, dass ich weder Armando noch Christine treffe. Sehr schade. Olivia und Guest Relation Manager Irma Reyes befragen Angela und Thomas, wie es ihnen so weit gefällt. Aber offensichtlich verstehen sie sich sehr gut.

At the pier the crews and guests of NORWEGIAN JADE and NORWEGIAN SPIRIT came together. Everyone took care of every guest no matter from which ship. Everybody was sent to the right way. Unfortunately I had unluck that I could not meet Armando nor Chritine. Very sad. Olivia and Guest Relation Manager Irma Reyes asked Angela and Thomas how they liked it so far. But obviously they understood each other very well.

So few more selfies from our entire group before we separated.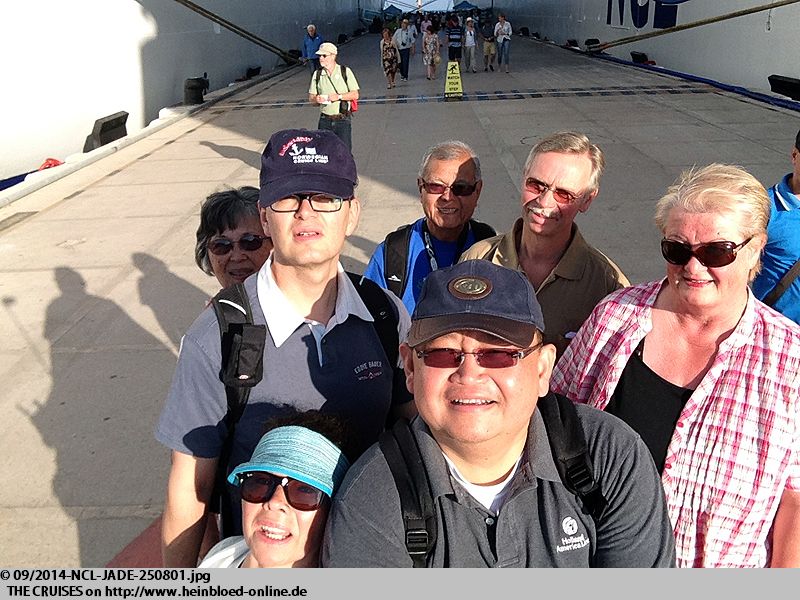 So noch ein paar Selfies von unserer ganzen Gruppe bevor wir uns trennen.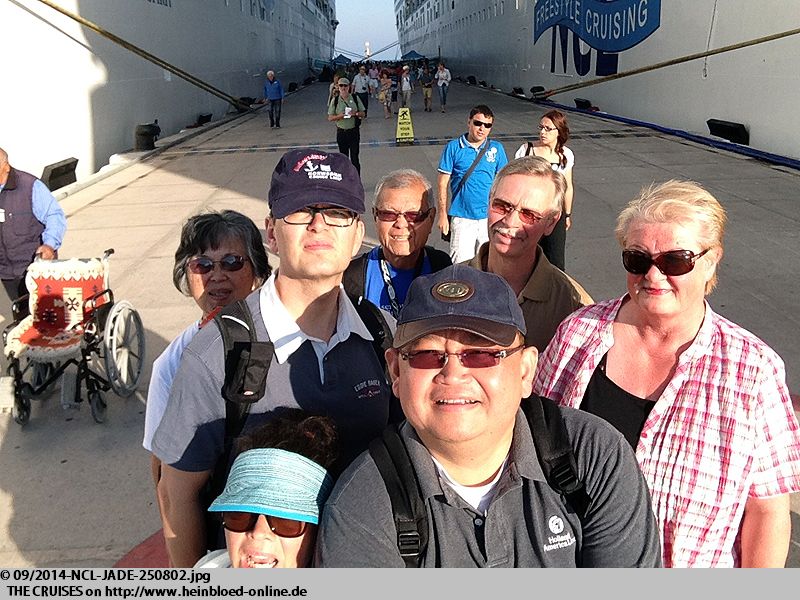 Bruno and I were already before in Kusadasi and Ephesus, Frances and Eddie went to Ephesus before and Ingrid, Angela and Thomas went here the first time. We had very good experience with Ephesus Deluxe. I booked with Deniz actually with our well known tour-guides Erkan and Volkan whom we knew from previous cruises but both of them were not available. But Deniz got for the German speaking group Serhat Top and for English speaking group Ufuk Erdem. But we could have easily exchanged the tour guides for our groups since both spoke both languages. For Ingrid, Angela and Thomas we booked the big Ephesus-Tour with all extras and all inclusive in the price. They liked their tour very much. We booked for our English-speaking group only driver and guide since we had no idea what we should do. So our first way took us to the Church of St John in Selcuk. Just opposite of Ephesus. We need to pay for parking and admission on top ourselves. Ufuk explained us very detailed. By the way Ingrid, Angela and Thomas came here later too. That we did not have then.

Bruno und ich waren schon in Kusadasi und Ephesus, Frances und Eddie waren schon in Ephesus und Ingrid, Angela und Thomas sind zum ersten Mal hier. Wir haben ja nun sehr gute Erfahrungen mit
Ephesus Deluxe
. Ich hatte bei Deniz eigentlich unsere bekannten Tour-Guides Erkan und Volkan gebucht, die wir von früheren Fahrten her kannten, aber leider standen beide nicht zur Verfügung. Aber Deniz stellt für die deutschsprachige Gruppe Serhat Top und für die englischsprachige Gruppe Ufuk Erdem bereit. Aber wir hätten beide austauschen können, weil beide beide Sprachen sprechen. Für Ingrid, Angela und Thomas haben wir die große Epehesus-Tour gebucht mit allem Drum und Dran und wo alles im Preis schon inbegriffen ist. Sie waren von ihrer Tour sehr begeistert. Wir haben für unsere englischsprachige Gruppe nur Fahrer und Führer gebucht, weil wir noch keine Ahnung hatten, was wir machen sollten. So führt uns der erste Weg zur Kirche des Hl. Johannes in Selcuk. Gegenüber von Ephesus quasi. Wir müssen für Parken und Eintritt jeweils selbst zahlen. Ufuk erklärt uns alles sehr detailliert. Übrigens waren wohl Ingrid, Angela und Thomas später auch hier. Das hatten wir damals nicht.
Und wenn ich Selfies von dem Ort und mir mache, dann bin ich offensichtlich gerne dort.

And if I did selfies of the place and me I obviously liked to be there.

Our next wish was Gözleme. That was no place but something to eat. I made the aquaintance when we visited with Volkan on a farmers' market during our sailing on NORWEGIAN JADE 2014 (1). There they prepared only the variation with the Turkish herbs for Turks. Today we went to Yavuz'un Yeri which was located between the cities of Selcuk and Ephesus. A little hidden. But with the target group: Ephesus-visitors but not just international but also domestic. It was very nice here and we invited our tour guide and our driver for a snack. They also had Manti (Turkish Mini-Meat-Dumplings) which I need to order immediately to test whether Mannheim, Germany or Brunswick, Germany might be a better place to have Manti - but they were as good as at the German places. The others liked the Gözleme and they were good and yummy. But somehow it was a little disappointing because it was the same selection you could also get with the Turkish restaurants and bakeries in Mannheim and Brunswick and I so I could not make any new acquaintance with new variations. The variation with the Turkish herbs on the farmers' market I could get in Mannheim or Brunswick.

Gözleme ist unser nächster Wunsch. Das ist jedoch kein Ort, sondern etwas zu essen. Ich hatte es zuletzt mit Volkan auf einem Markt kennengelernt, als wir mit der
NORWEGIAN JADE 2014 (1)
unterwegs waren. Dort gab es nur eine Sorte mit türkischen Kräutern für Türken gemacht. Nun sind wir bei
Yavuz'un Yeri
, das zwischen der Stadt Selcuk und Ephesus liegt. Etwas versteckt. Aber doch mit der Zielgruppe: Ephesus-Besucher, aber nicht nur internationale, sondern auch die einheimischen. Es ist hier sehr nett und wir haben unsern Führer und unseren Fahrer zu einem Imbiss eingeladen. Es gibt hier sogar Manti (türkische Mini-Fleisch-Ravioli), die ich sofort bestellen muss, um festzustellen, ob man in Mannheim oder Braunschweig besser Manti essen kann, aber sie sind gleich gut. Die anderen mögen die Gözleme und sie waren auch gut und lecker. Aber trotzdem für mich enttäuschend, weil es Sorten sind, die ich auch in Mannheim und Braunschweig in türkischen Restaurants und Bäckereien für Türken bekomme und ich so keine neuen Sorten kennenlernen kann. Die Sorte damals auf dem Wochenmarkt mit den türkischen Kräutern bekomme ich leider nicht in Braunschweig und Mannheim.
Und trotzdem würde ich dieses Lokal wieder besuchen, weil es hier besser schmeckt als in Mannheim und Braunschweig.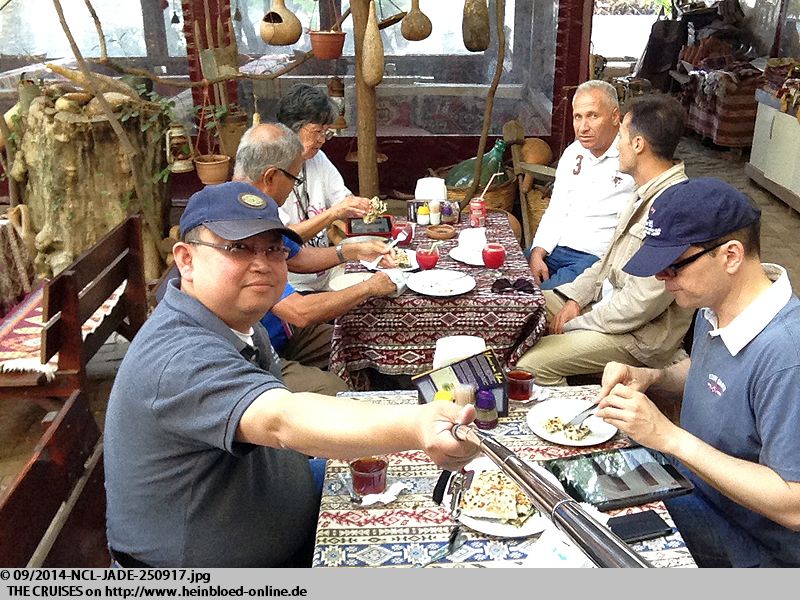 But anyhow I would this place again since it was more delicious than in Mannheim or Brunswick.

Anyhow we all loved it.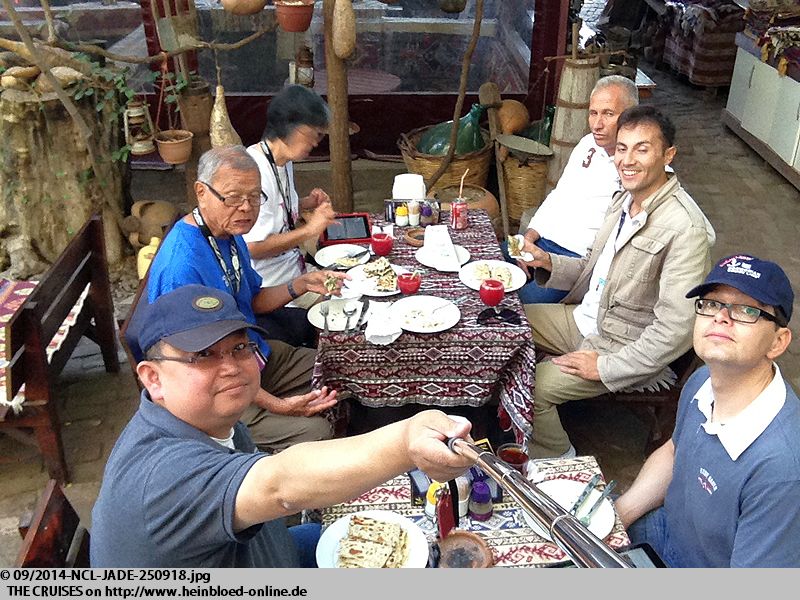 Uns allen schmeckt es auf jeden Fall.
Speziell für Selma: Guck mal welches Souvenir ich dir gekauft hätte, wenn ich noch dein Chef wäre. Dann hätten wir deine Mutter, Rosa und Rosas Mutter zum Backen des Teigs in das Backhaus stecken können. Andrea könnte sich um den Service kümmern. Hanna und du werdet verschleiert, um den Bauchtanz anzubieten und ich wäre euer Pascha und damit wieder euer Chef!!! Juliane bekommt eine Untertasse... (präventiver Kommentar, weil sie es verdient hat...).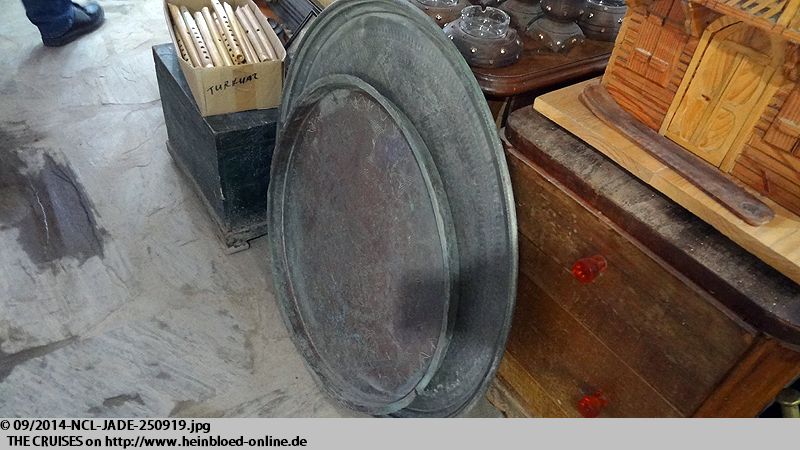 Especially for Selma: Look what kind of souvenir I would bought for you subject I would be still your boss. So we could place your mother, Rosa and Rosa's mother into the baking house to prepare the dough and to bake the pancake. Andrea could take care of the service. Hanna and you got some veil and you offer belly dance and I would be your Pasha and again your boss!!! Juliane would get a saucer (something attendants for toilets get to collect some change after the use of toilets)... (just a comment in advance as she would deserve it...).

We told that w would be interested in olive oil. So they suggested to see the place Sirince. The olive oli and the olive oil dealer Sirince Kaplankaya Saraplari was good. He also offered wine but as we did not drink any we limited our interests to the olive oil. The place was too touristic and so we suspended our walk through this place.

Wir äußern, dass wir uns für Olivenöl interessieren. Darauf wird vorgeschlagen, dass wir nach Sirince fahren. Das Olivenöl und der Olivenölhändler
Sirince Kaplankaya Saraplari
sind gut. Er hat wohl auch Weine, aber da wir nicht trinken, haben wir unser Interesse auf das Olivenöl beschränkt. Der Ort war uns zu touristisch und so brechen wir den Spaziergang durch den Ort ab.
Auf dem Weg nach Sirince hatten wir einen Wochenmarkt gesehen, der mich mehr angesprochen hat. Wir sind kurzerhand hierhin gefahren. Das war richtig schön. Wir waren die einzigen Touristen. Kinder versuchten uns ihre Englisch-Kenntnisse zu demonstrieren. Ein Türke, der früher in Belgien lebte und uns Deutsch hat sprechen können, unterhielt sich mit uns und fragte nach, was wir hier machen. Hier bekomme ich auch neue Batterien für die Fernbedienung meines Selfie-Stick. Frances darf Sachen probieren. Und ich kaufe leckere Mandarinen. Hier bekommen wir eine schöne Farb- und Dufttherapie.

On the way to Sirince we saw a farmers' market which attracted my attention. We went there on short notice. We were the only tourists. Kids tried to show us their English language skills. One Turk who lived before in Belgium and heard us speaking German spoke with us and asked us what we were doing here. Here I got a new battery for my remote of my selfie-stick. Frances were allowed to try some food. And I bought some yummy tangerines. Here we got a nice color and aromatherapy.

We went up to the Atatürk-Memorial.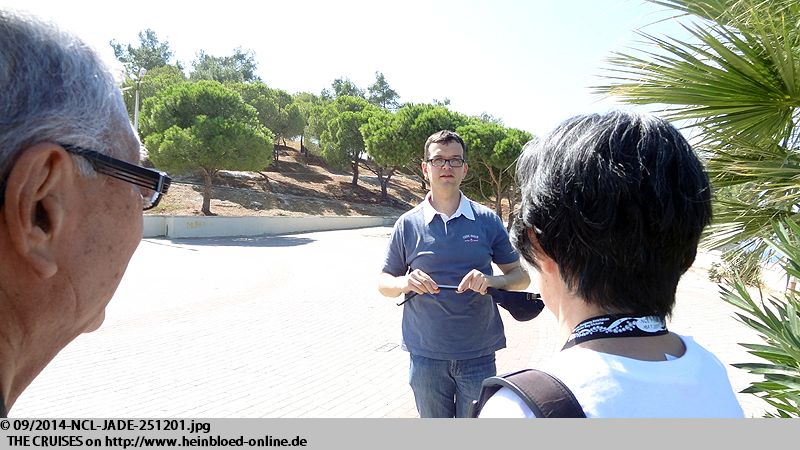 Wir fahren rauf zum Atatürk-Denkmal.
Hier erleben wir einen tollen Ausblick über die Stadt.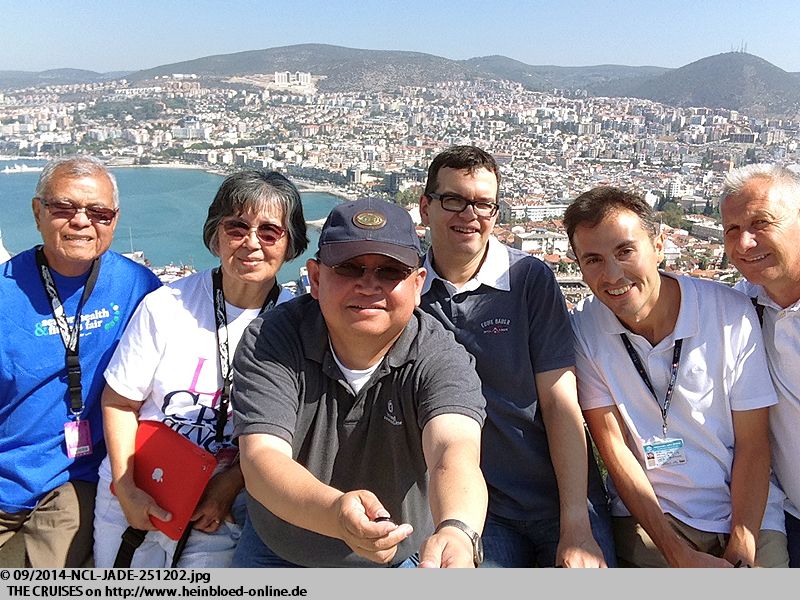 Here we had a beautiful view all over the town.

This was the last place of our tour before we were dropped off. We liked it very much so far and again we would book the next time driver and tour guide with Deniz to discover the area spontaneously.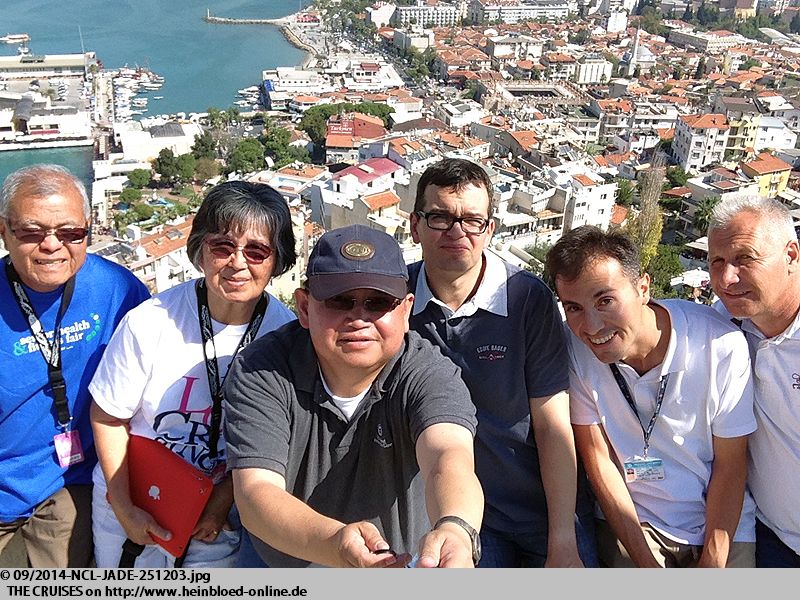 Hier ist auch der letzte Punkt unserer Tour, bevor wir abgesetzt werden. Uns hat es gut gefallen und wieder würden wir das nächste Mal wieder Fahrer und Führer bei Deniz buchen und wieder die Gegend spontan erkunden.
Dafür, dass ich früher gar keinen Bezug zur Türkei als Reiseland hatte, bin ich schon ganz schön weit gekommen...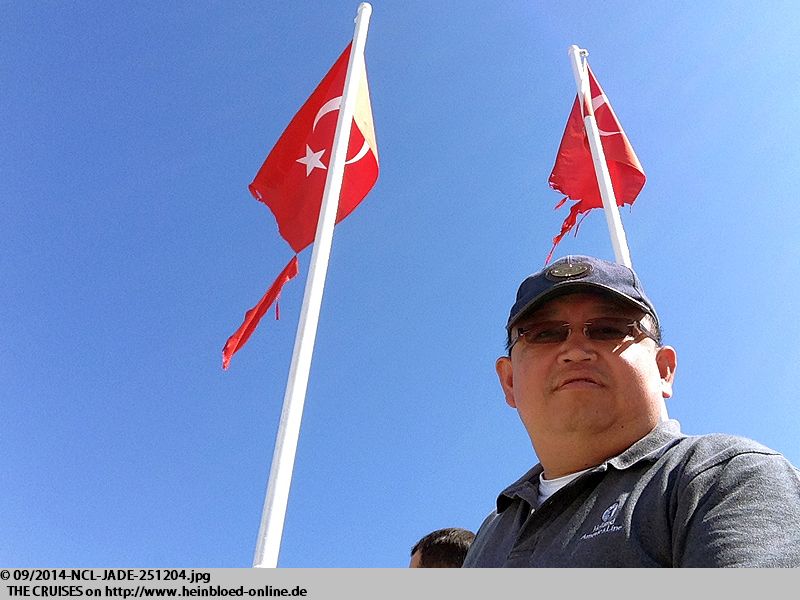 For the fact I did not have any relation to Turkey as vacation place I thought I came quite far...

And I could fully understand why Atatürk liked this place so much.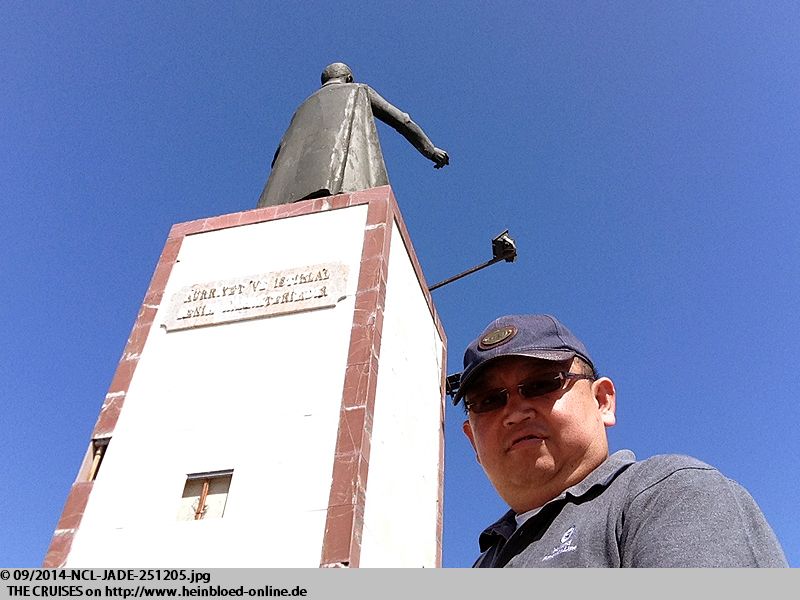 Und ich kann verstehen, warum Atatürk es hier besonders gut gefallen hat.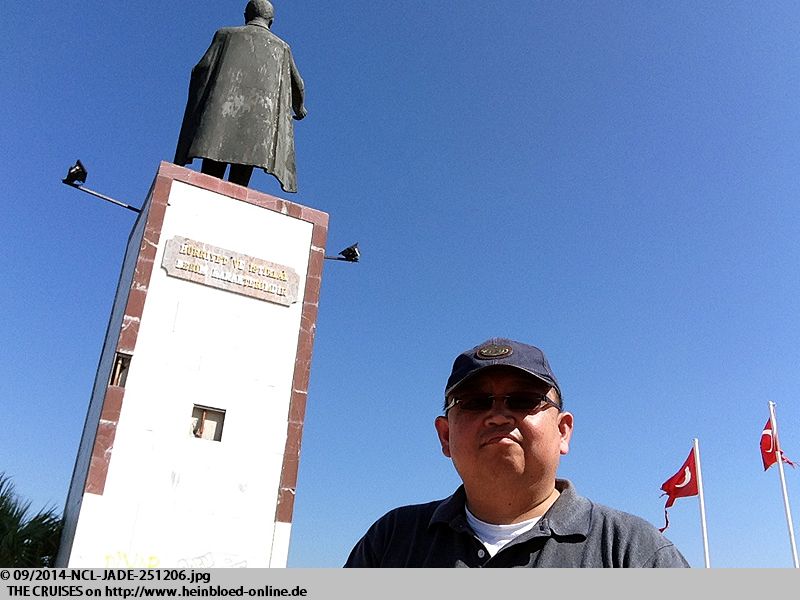 From the summit you could see so nicely the port. From the summit RIVIERA was in the center of our attention which we also took some pictures of from the bottom and later when she set sail with us.

Von hier oben kann man auch schön den Hafen sehen. Von hier oben steht im Mittelpunkt die RIVIERA, die wir später noch von unten fotografieren und auch als sie mit uns gemeinsam den Hafen verlässt.
Und weil die RIVIERA ja nun zu Norwegian gehört: präventiv mache ich schon mal ein paar Selfies von der RIVIERA und mir.

And as RIVIERA was part of Norwegian I made just to be safe few selfies of RIVIERE and me.