Meine Fahrt mit der Schafbergbahn und auf dem Wolfgangsee fiel mal wieder der fehlenden klaren Sicht morgens zum Opfer. Dafür freue ich mich über die Trachtenkapelle in einem Umzug die runden Geburtstagskinder des Ortes ehrt.

My journey on Mount Schafberg by the historic train and the boat tour on Lake Wolfgang were withdrawn due to you missing clear visibility. So I was happy to see the folk orchestra with a parade to honour local inhabitants with special round birthdays.

We went for breakfast. That was wonderful Austrian with many many Austrian goodies.

Wir gehen zum Frühstück. Das war wirklich toll österreichisch mit vielen österreichischen Schmankerl.
Besonders freue ich mich, weil man persönlich von der Rößl-Wirtin begrüßt wird. Nur den Sekt mochte ich nicht, den sie bei der Gelegenheit ausschenkt.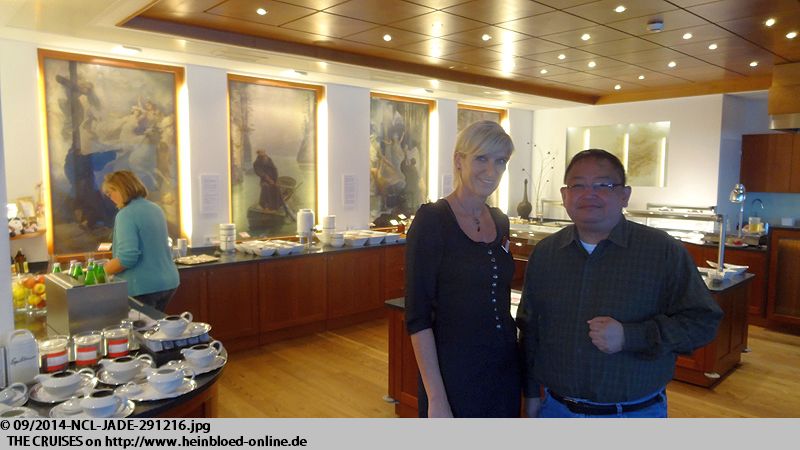 I was very happy to be welcomed by the hostess of the White Horse Inn. Only I did not like the champagne she offered to me with this occassion.

We browsed a little more in the White Horse Inn. It wa really nice there.

Wir sehen uns noch ein wenig im Weißen Rößl um. Ist schön hier.
Bruno geht runter, weil er sich wunder, warum er ständig von Japanern und Chinesen fotografiert wird, als er auf dem Balkon steht.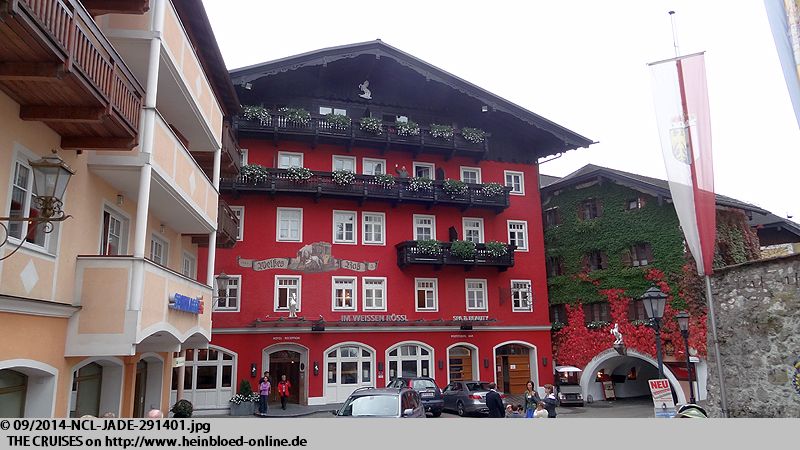 Bruno went down because he was wondering why all the time Chineses and Japaneses took pictures of him while he was on the balcony.

Could it be that we were standing on the emperor's balcony?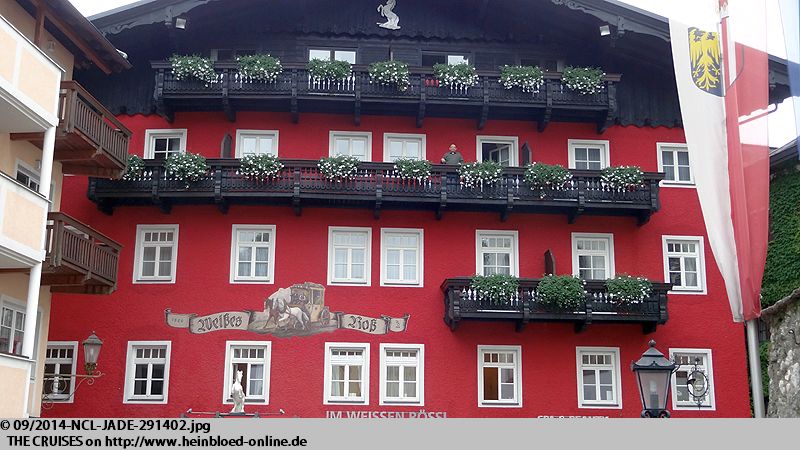 Könnte es sein, dass wir auf dem Kaiserbalkon stehen?
So grüße ich auch mal runter und lasse mich fotografieren.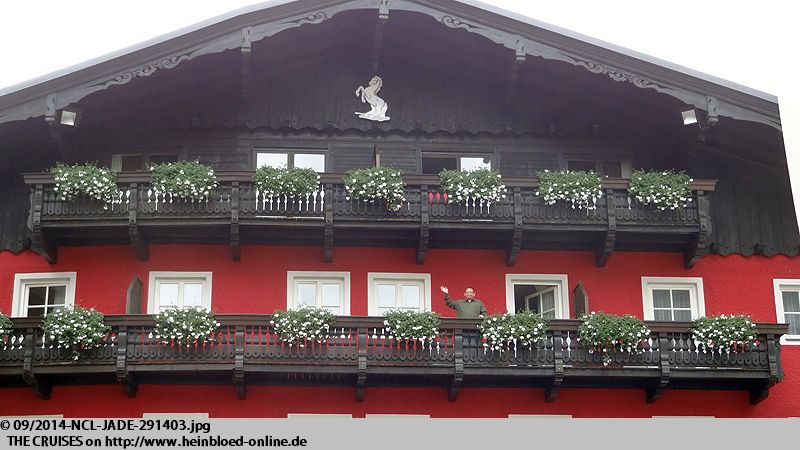 So I was greeting too and let them taking pictures of me.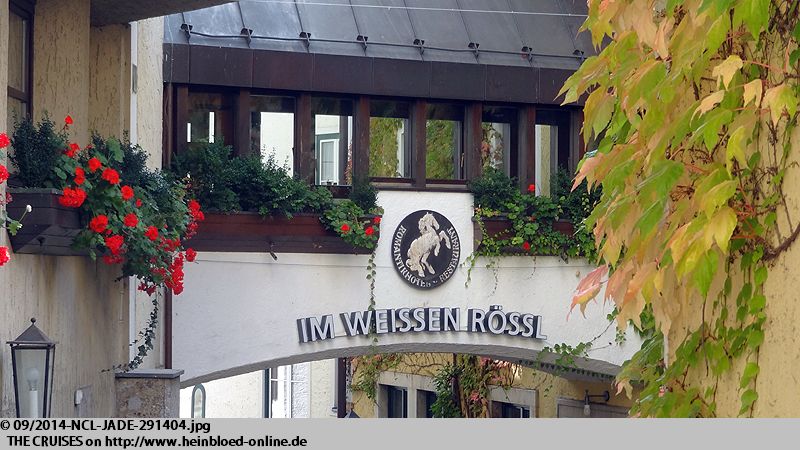 Und danach müssen wir uns auch mal selbst davor fotografieren.

And then we need to take pictures ourselves of us in front.

And we did not go up we walked a little through the village to take some pictures.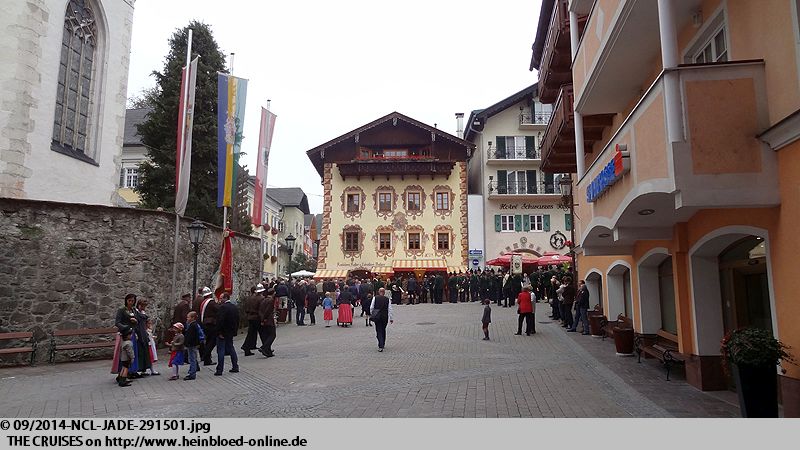 Da wir ja nicht hochfahren, laufen wir durch den Ort, um ein wenig zu fotografieren.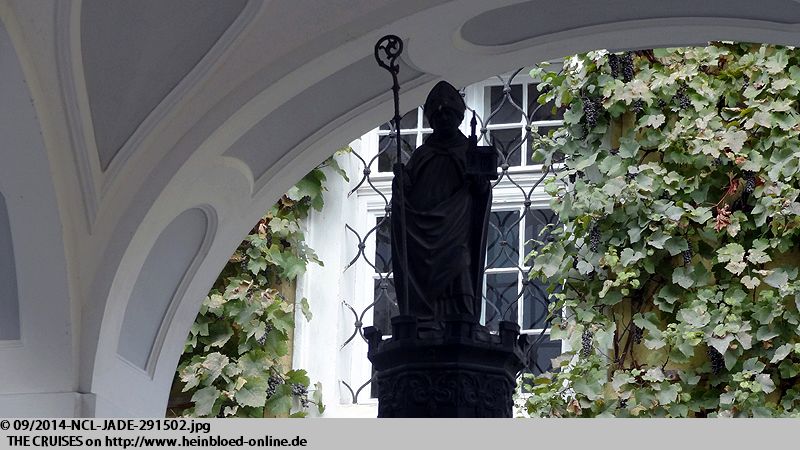 It was really a nice litte village.

Ist ein netter kleiner Ort.
Und als der Herr zufällig vorbeikam, konnte ich nicht anders, als ihn zu fragen, ob ich mit ihm ein Selfie machen dürfte.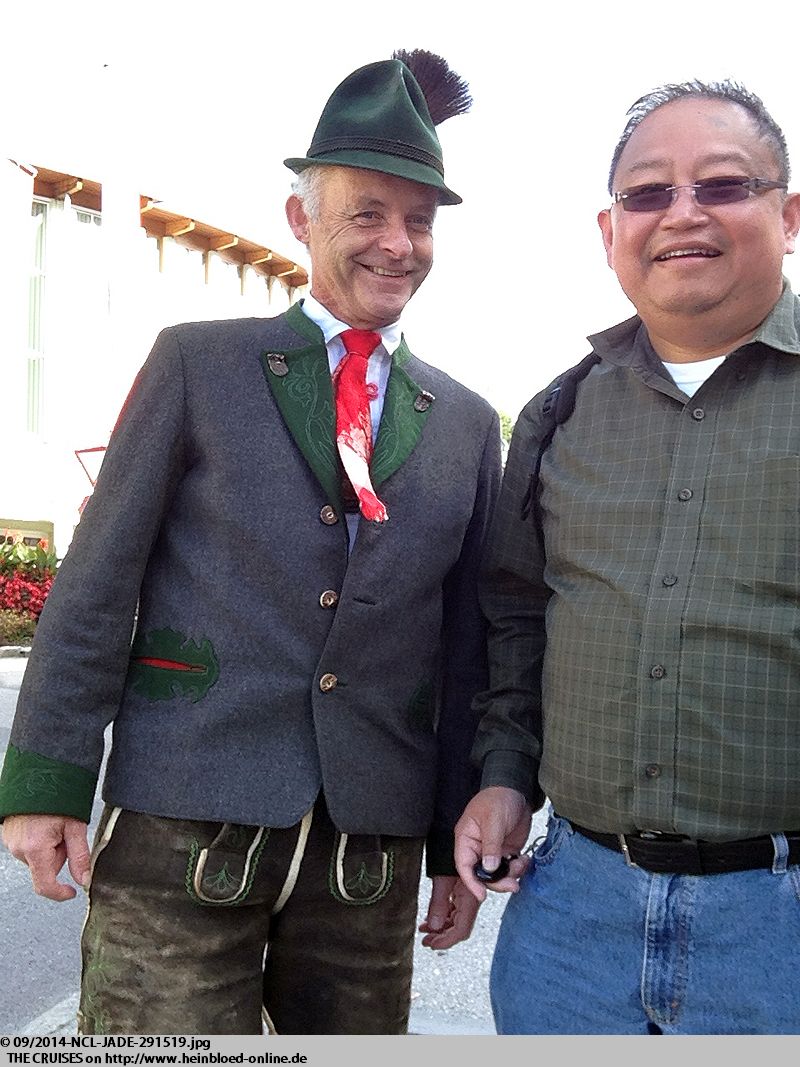 When this gentleman came by I could not stop myself to ask him to allow me a selfie with him.

We headed to Bad Ischl, Austria. To the Cake Shop appointed by the former Royal and Imperial Court Zauner.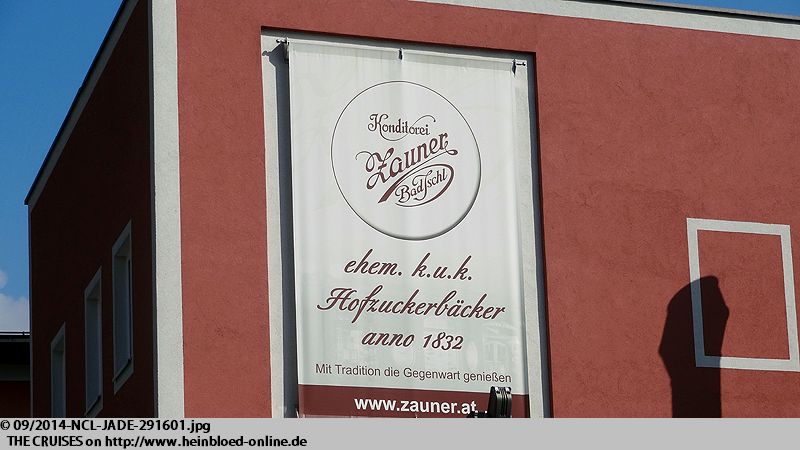 Es geht weiter nach Bad Ischl. Zur ehemaligen k. und k.-Hofkonditorei
Zauner
.
An dem Morgen war ausgerechnet die halbe Stadt wegen eines Laufes gesperrt, aber irgendwie haben wir es doch geschafft.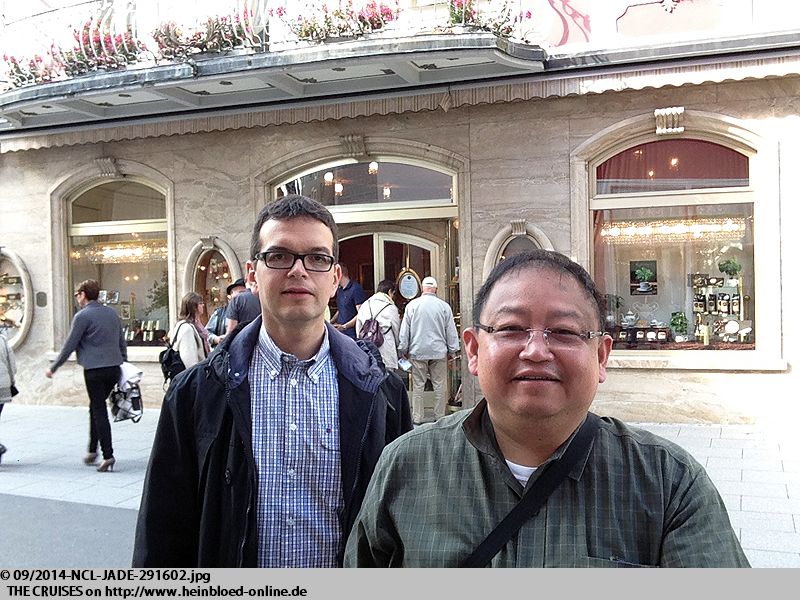 In the monrning half of the city was closed due to a run but somehow we made it.

A little piece of paradise on earth.

Ein kleines Stück Paradies auf Erden.
Und eben ein Stückchen von damals.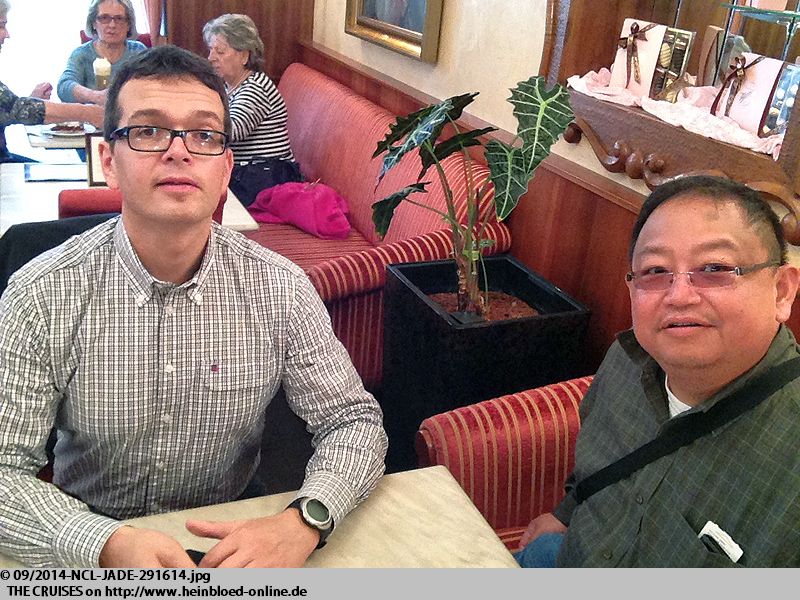 And a little piece of the past.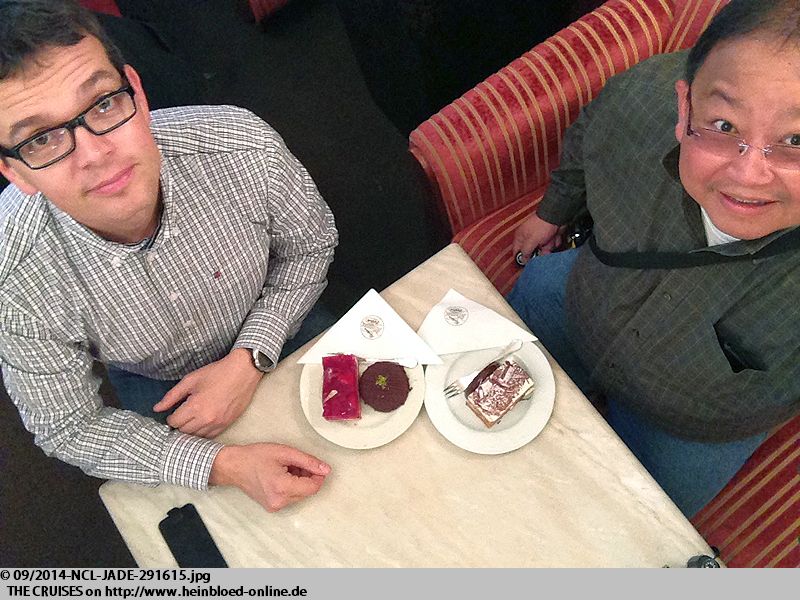 Wir genießen die Zeit bei Zauner und sehen uns noch ein wenig um. Es war schon, als ob Sissi und Franzrl jeden Augenblick als Gäste reinkommen könnten. Selbst auf den Toiletten war irgendwie die Zeit stehengeblieben - auf eine sehr schöne Art.

We enjoyed our time stayting at Zauner and looked a little bit around. It looked like the former Emperor and Empress of Austria could join any moment as guests. Somehow even on the toilets the time stood still - in a very nice way.

We walked a little through the town of Bad Ischl.

Wir laufen noch ein wenig durch Bad Ischl.
Und ohne Bilder von Sissi bzw. Romy Schneider und mir werde ich keinesfalls Bad Ischl verlassen.

Without pictures of Sissi or Romy Schneider I would not leave Bad Ischl.

We headed through the landscape of Salzkammergut towards Linz, Austria.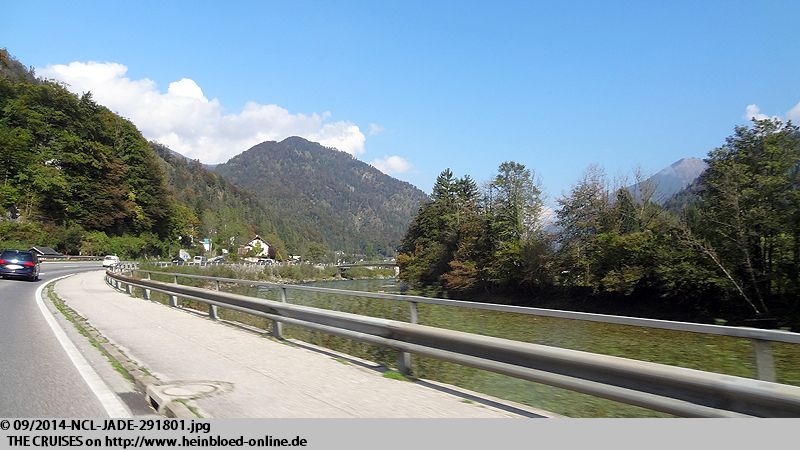 Es geht dann weiter durch das Salzkammergut in Richtung Linz.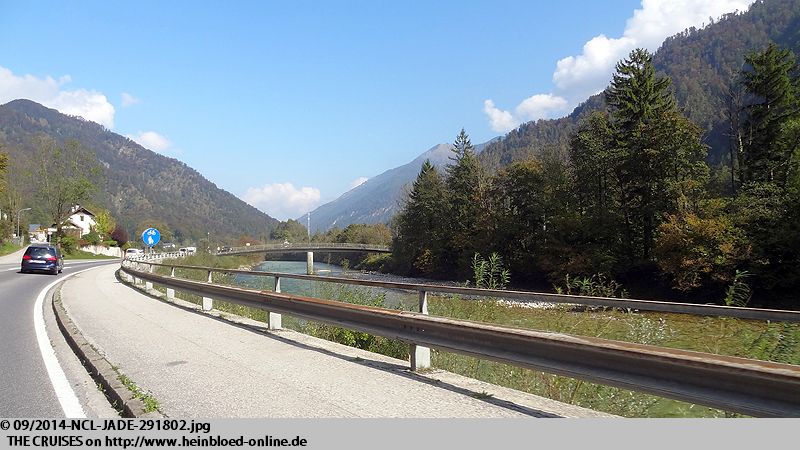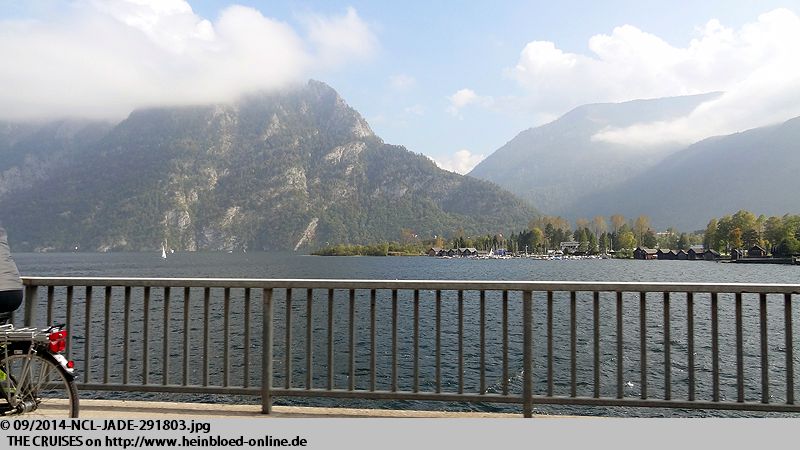 In Bad Leonfelden machen wir einen kurzen Halt.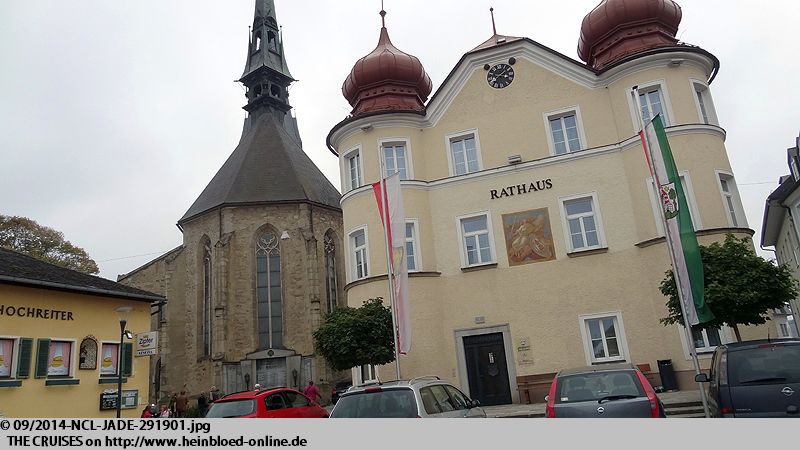 We made a brief stop in Bad Leonfelden, Austria.

Here in this inn Leonfeldner Hof I wanted to have an Austrian hearty snack board originally.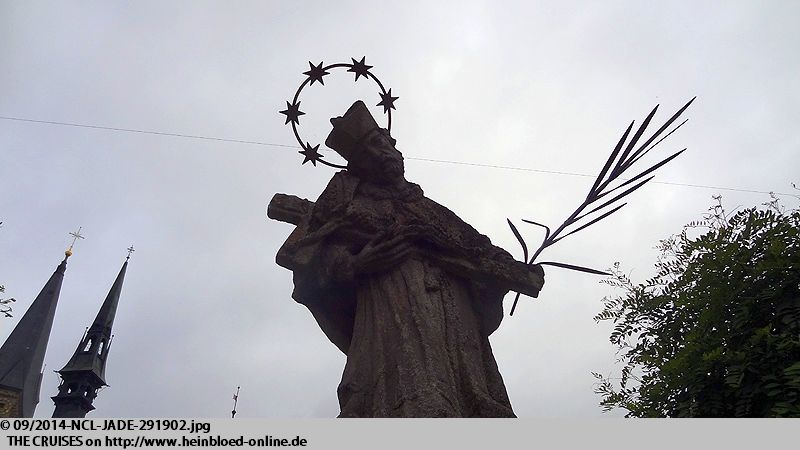 Im
Leonfeldner Hof
möchte ich eigentlich schnell eine echte Brettljause.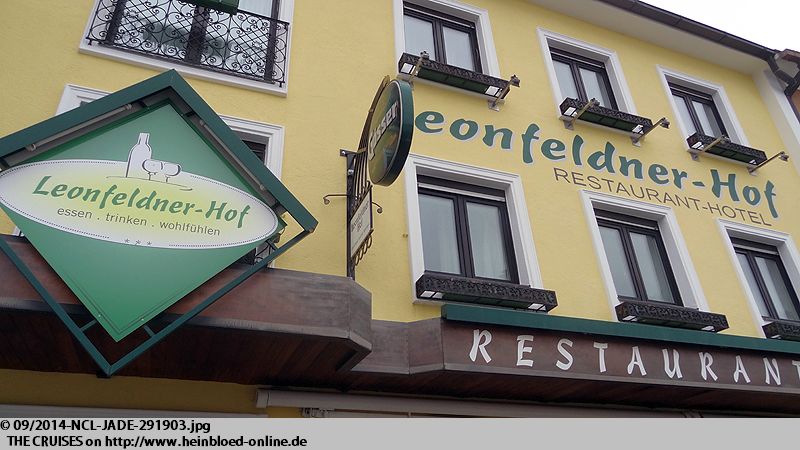 But they did not offer any Austrian snack board.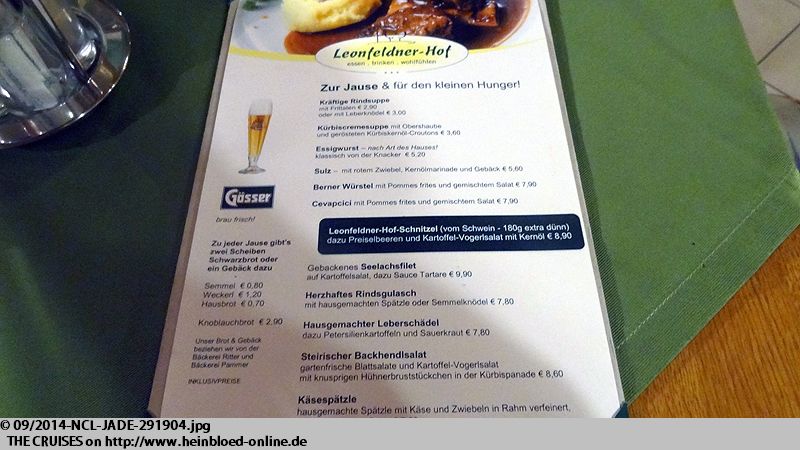 Aber die haben leider keine Jausenplatte da.
Die Würstl waren aber genauso gut.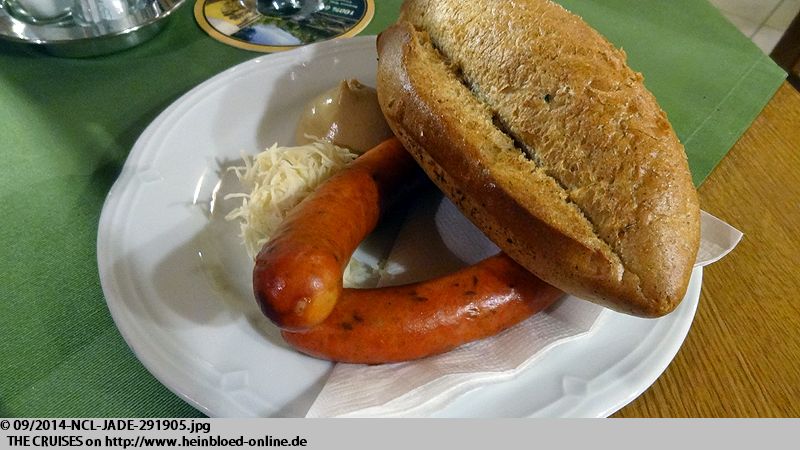 The sausages were good too.

We reached Cesky Krumlov, Czech Republic.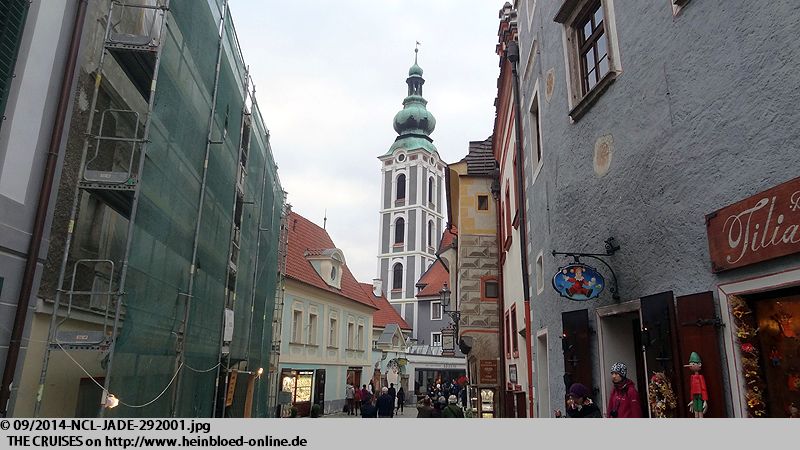 Wir erreichen Cesky Krumlov.
In Deutsch Krumau.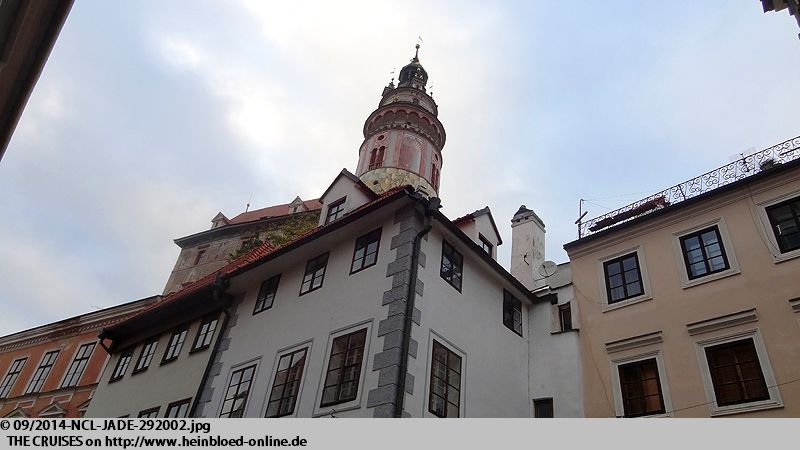 The old German name of the town was Krumau.

I saw an report in the TV and since then I wanted to see it. And somehow it was on the way from Venice, Italy home in Germany - somehow.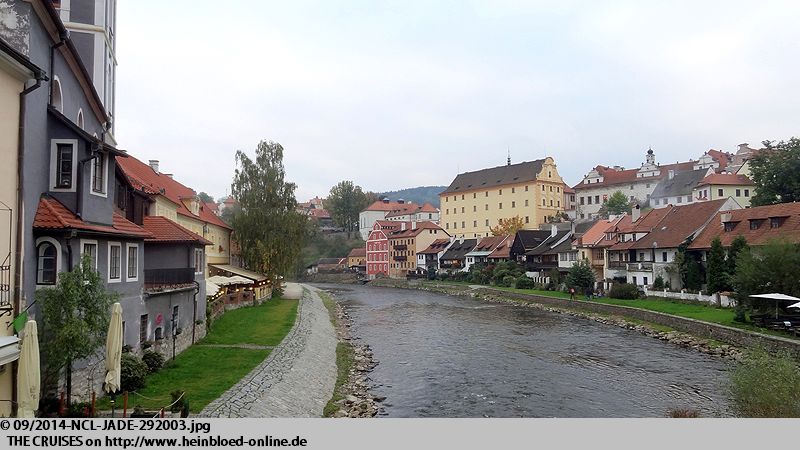 Ich hatte mal einen Bericht im Fernsehen gesehen und seit dem reizte mich das. Und das liegt irgendwie auf dem Weg von Venedig nach Hause - irgendwie.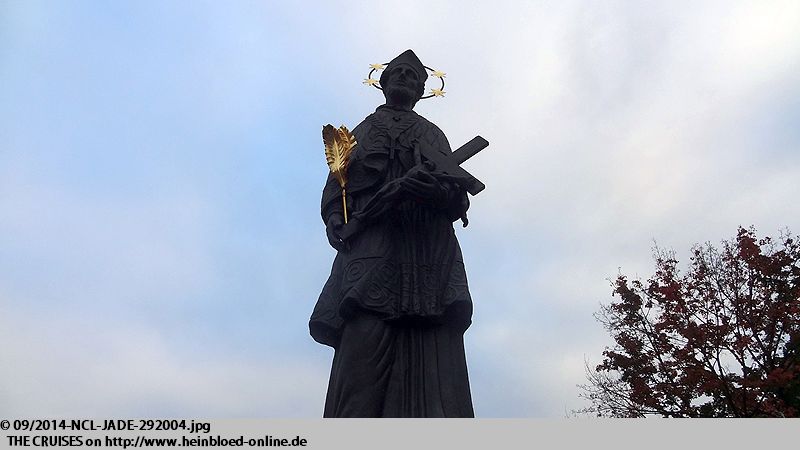 We stayed at Hotel Dvorak. Would we followed our GPS the police might arrested us since we need drive on the city wall. A helpful tour guide explained. That was not so easy and you need some courage it was possible to have some victims with the pedestrians who did not want to dodge. Somehow we made it and it was quite nice. Especially the location. Later we learned that the hotel represented a special architecture style. It was very nice and we had a great room with a view to the castle.

Wir wohnen im
Hotel Dvorak
. Wären wir unserem Navi gefolgt, wären wir vermutlich von der Polizei verhaftet worden, weil wir entlang der Stadtmauer gefahren wären. Eine hilfsbereite Fremdenführerin hat uns den Weg erklärt. Das ist aber gar nicht so einfach und man braucht schon ein wenig Mut, weil ein paar Opfern unter den Fußgängern, die nicht weichen wollen, durchaus möglich sind. Irgendwie haben wir es geschafft und es war ganz nett. Vor allem die Lage. Hinterher erfahren wir auch, dass das Hotel einen bestimmten Baustil repräsentiert. War ganz nett und wir hatten ein tolles Zimmer mit Blick auf die Burg.
Nach der Tortur in St. Wolfgang hatte ich mich auf eine große Tiefgarage im Keller mit Fahrstuhl gefreut, weil sie mit einem eigenen Parkplatz geworben haben. Aber der Hotelparkplatz ist "nur" 15 Fußminuten vom Hotel in einem Brauereiinnenhof entfernt. Aber immerhin bewacht.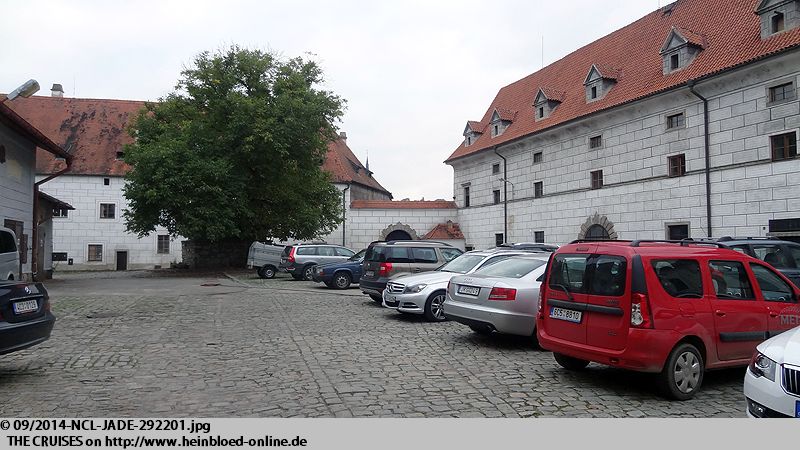 After the torture in St. Wolfgang, Austria I was looking forward to have a spacious underground garage with an elevator since they advertised with the parking of their own. But the hotel parking was "only" 15 minutes walking distance from the hotel in the interior court of a brewery. But it was guarded.

With the tourist office we booked a private tour guide who had two hours time to make us familiar with Cesky Krumlov: Michael. He was one who could really getting you closer to the architecture of the city.

Über das Fremdenverkehrsamt haben wir einen privaten Tourguide gebucht, der uns in zwei Stunden Cesky Krumlov näher bringen soll: Michael. Einer, der sehr gut auf die Architektur der Stadt eingehen kann.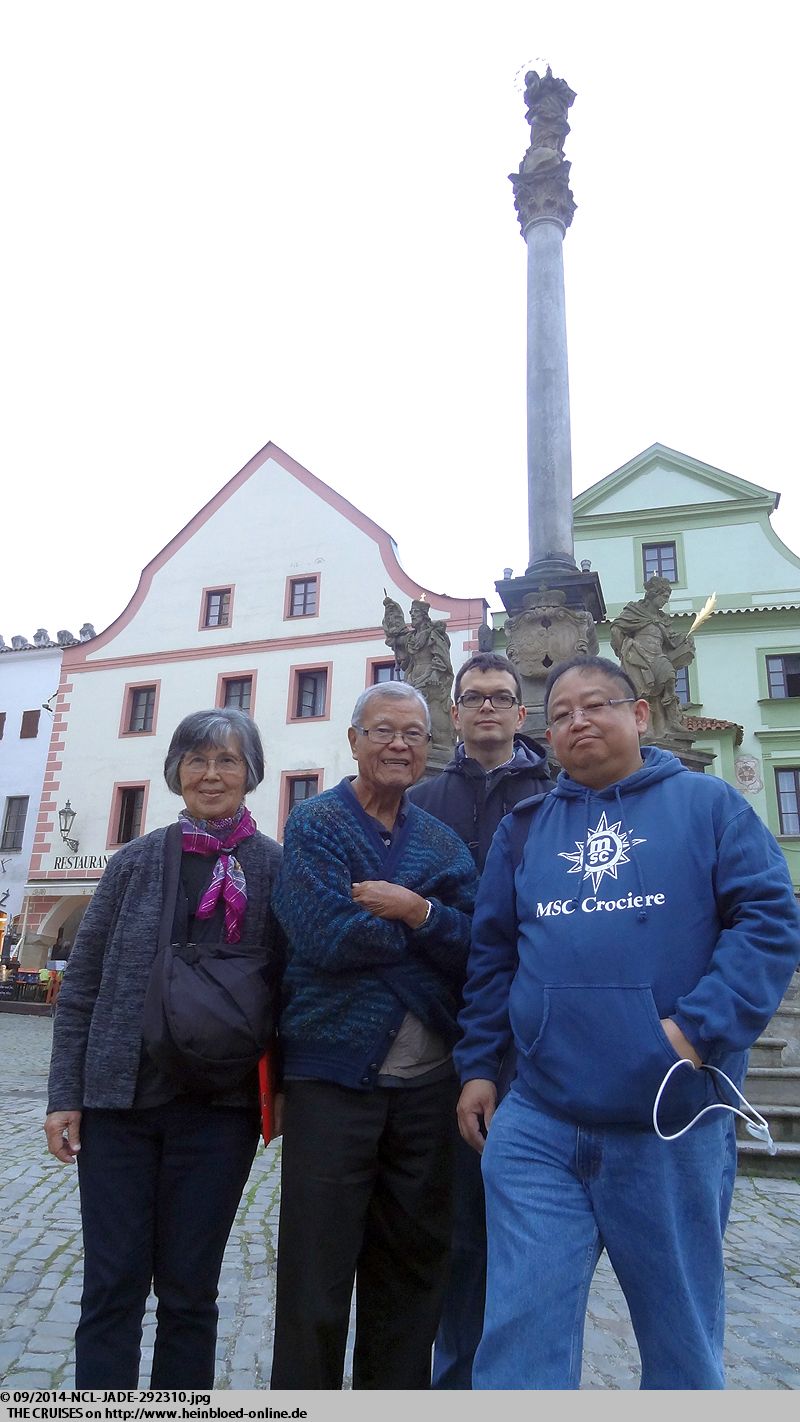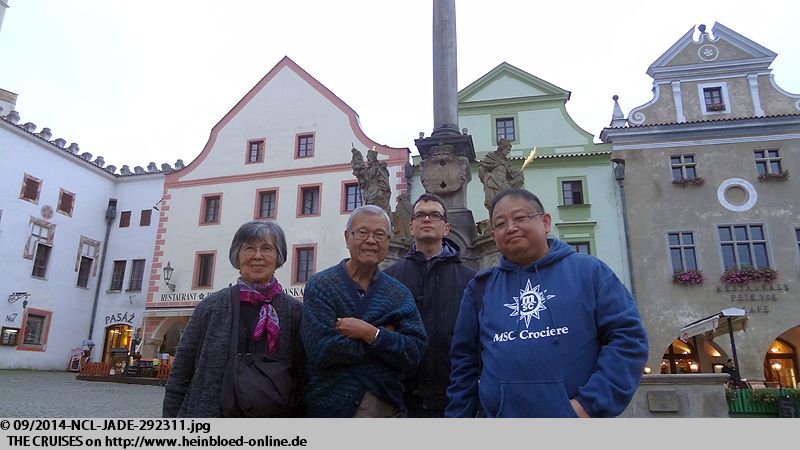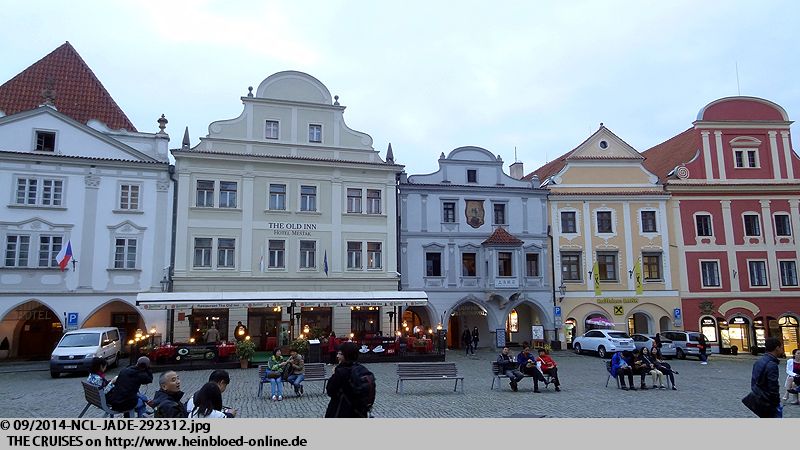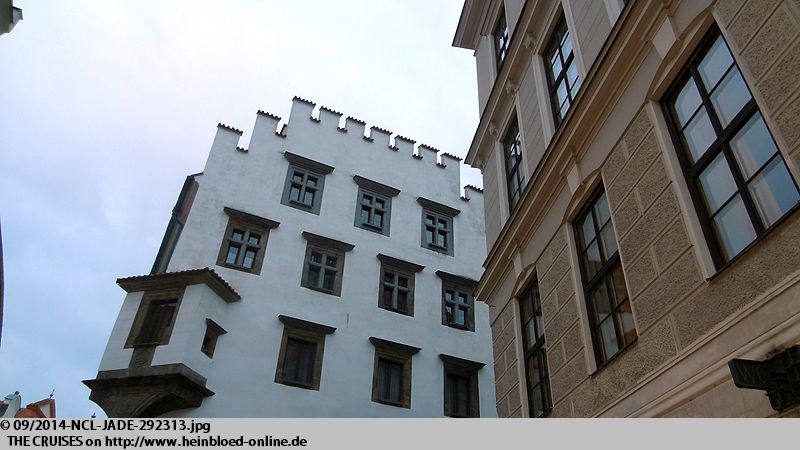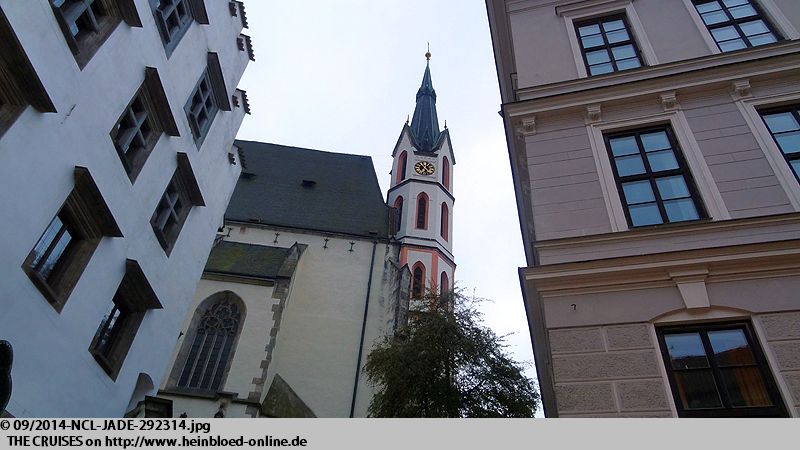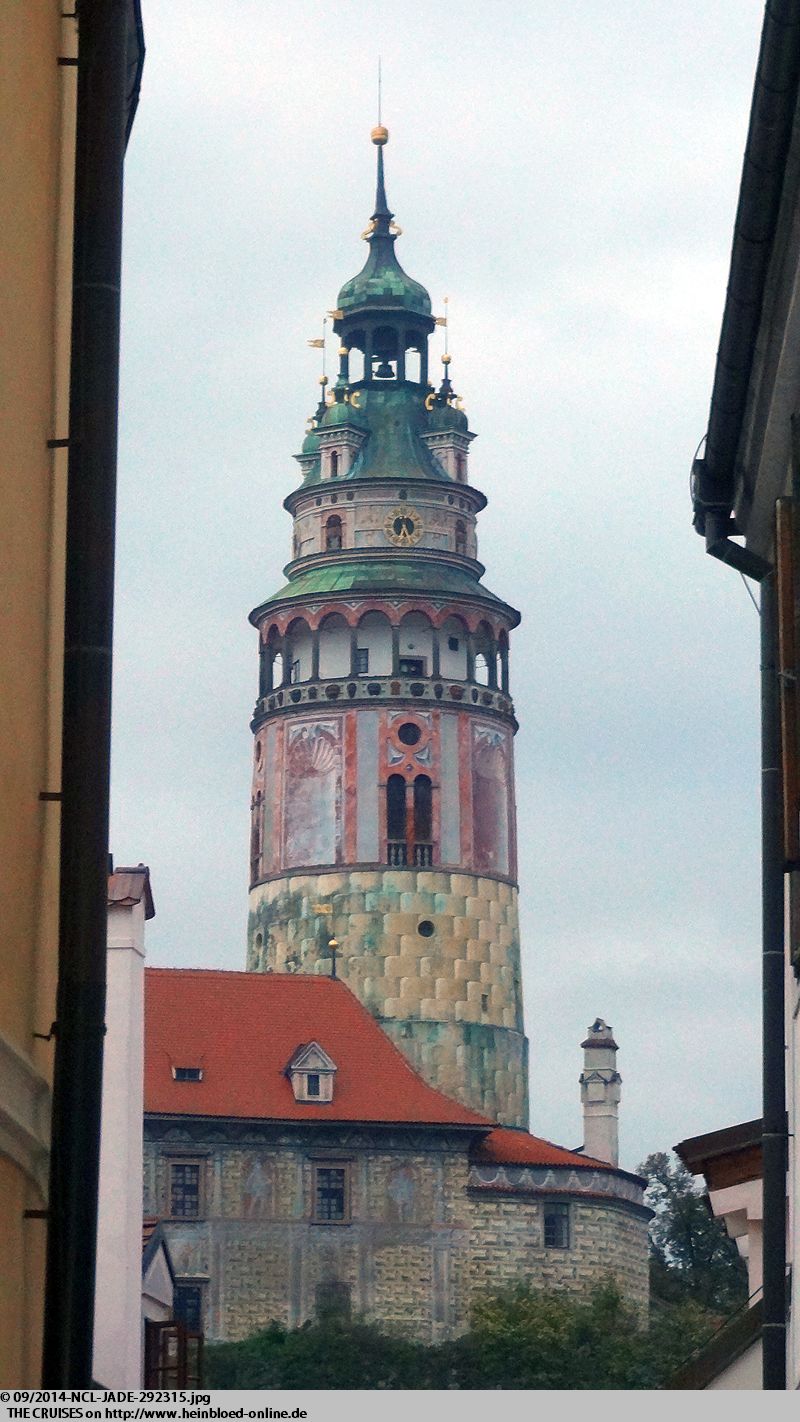 Ist alles schön und nett, aber ganz ehrlich: mein Bedarf an Kopftsteinpflaster ist für die nächsten Jahre gedeckt. Unterwegs müssen noch eine lokale Spezialität ausprobieren.

Everything was cute and nice but honestly spoken: no more need for cobblestones for the next years. On our way we need to try local specialities.

Uns wurde für den Abend noch das
Restaurant Svejk
empfohlen.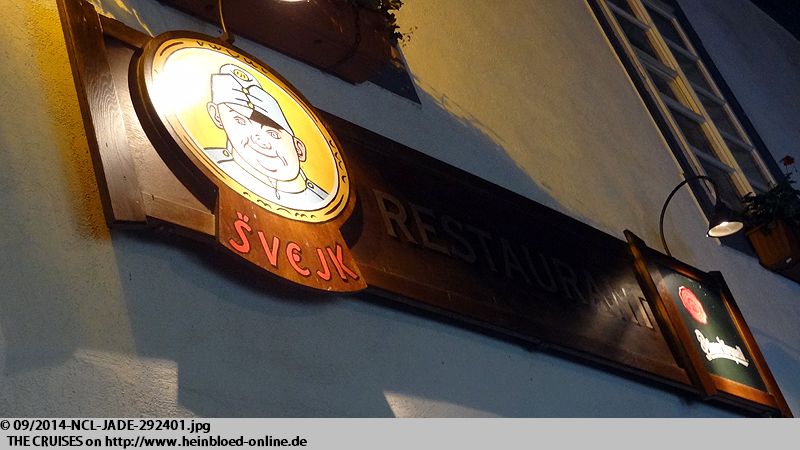 For the night they recommended the Czech restaurant Restaurant Svejk.

We obviously had our fun since we were that night the only tourists and anybody else were locas. So the boards in Czech I liked very much.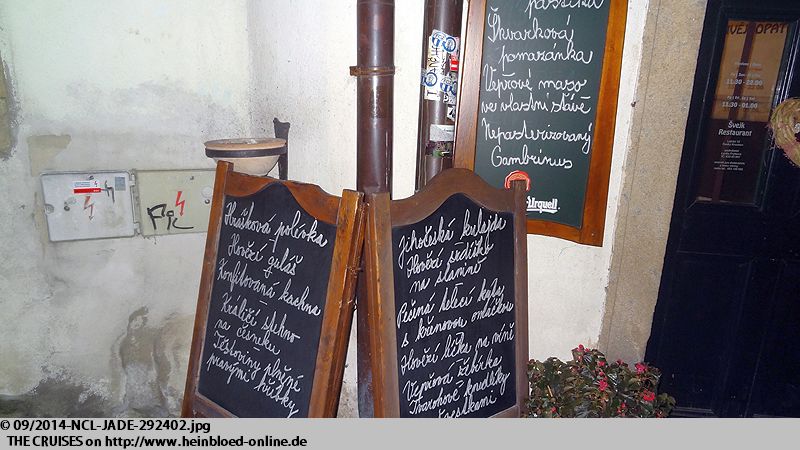 Wir hatten sichtlich unseren Spaß, weil wir an dem Abend die einzigen Touristen waren und ansonsten bloß Einheimische da waren. Deswegen waren die Tafeln in tschechisch mir sehr sympathisch.
Es war allerdings draußen ziemlich kalt geworden. So gibt es Tee mit Honig.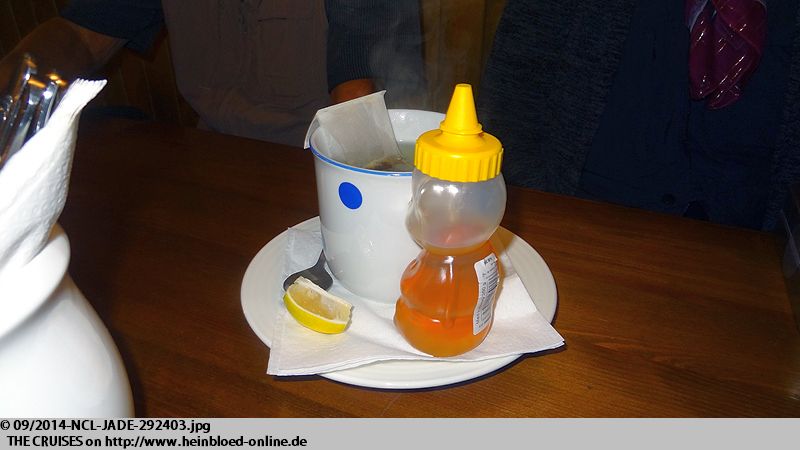 It became quite cold outside. So we had tea with honey.

And a very last bread crumbed steak for me.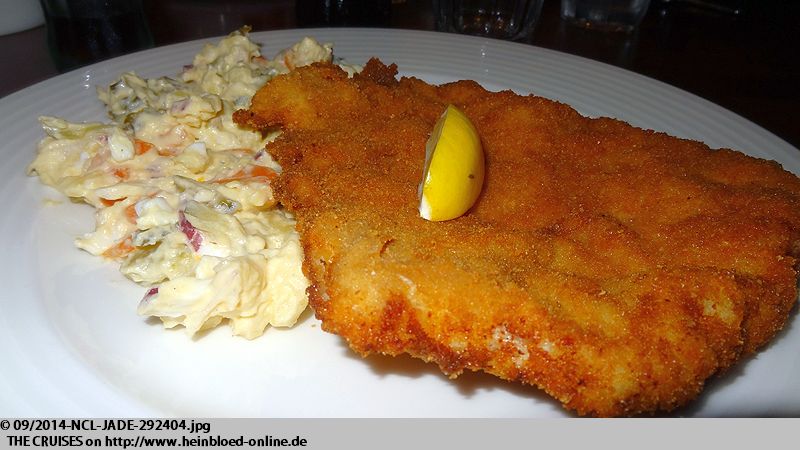 Noch ein letztes Schnitzel für mich.
Und die anderen mit ihren vegetarischen Ravioli.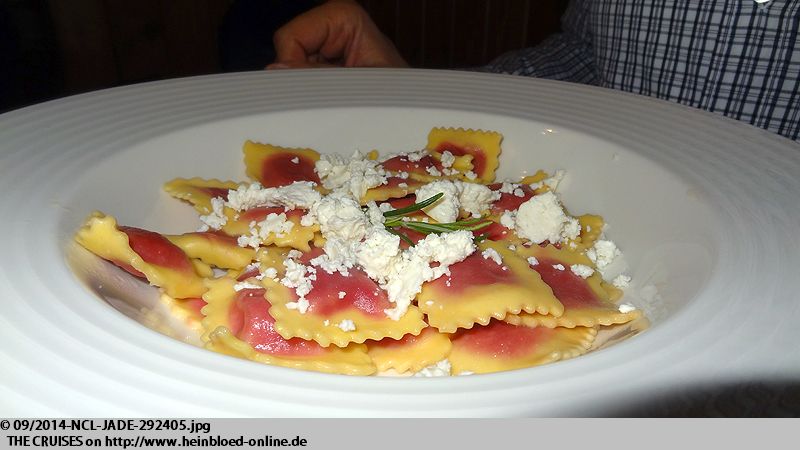 The other had vegetarian stuffed dumplings.

Anyhow we all had fun and a good meal.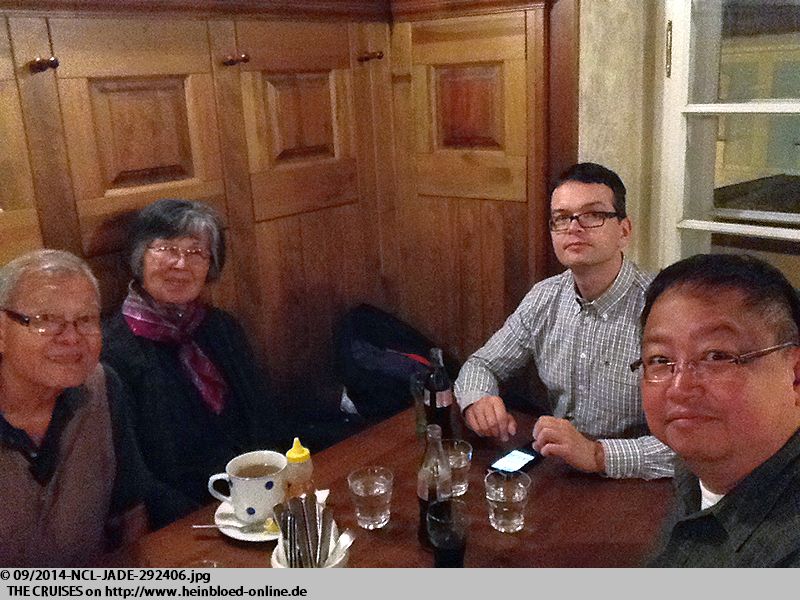 Auf jeden Fall hatten wir unseren Spaß und haben gut gegessen.
Ein schöner letzter gemeinsamer Abend geht zu Ende.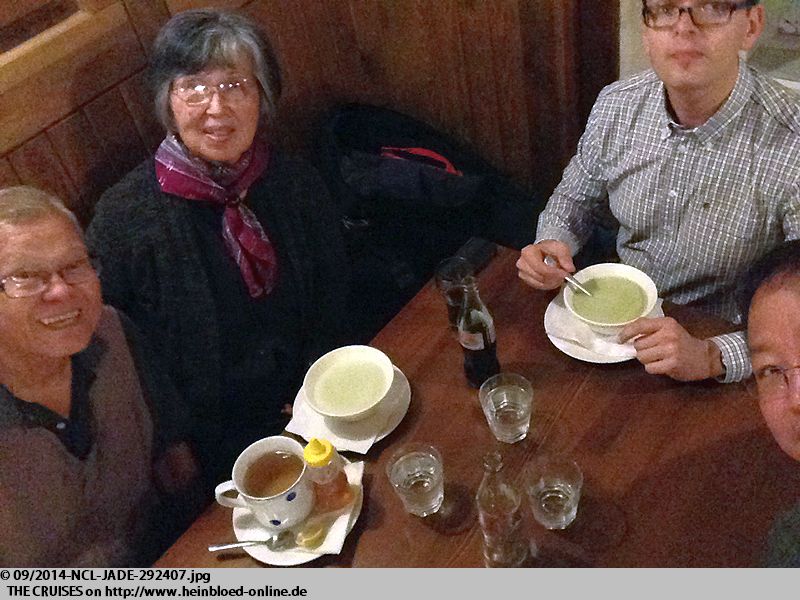 A very nice last common evening came to the end.

The hotel was just few steps away. And so we went directly to bed.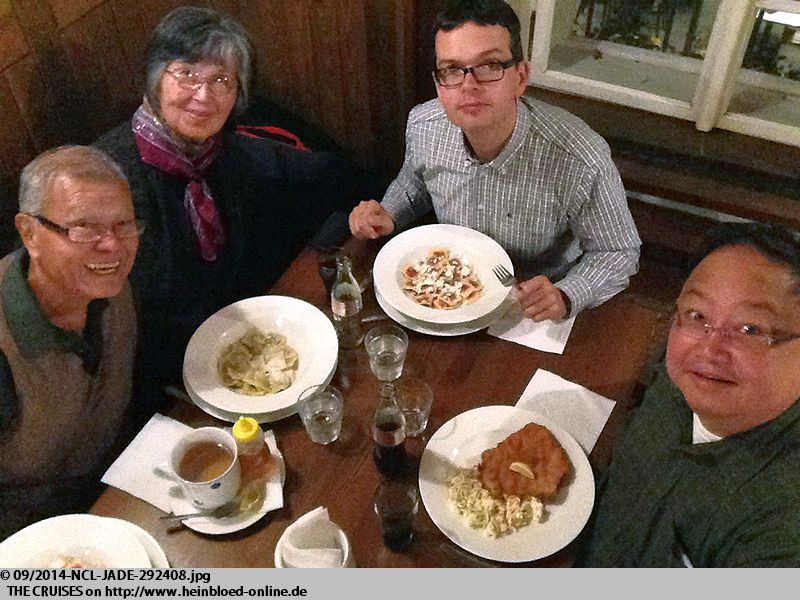 Das Hotel ist nur wenig Meter weiter. Und es geht direkt ins Bett.