So habe ich mir immer Pauschal-Urlaub in Österreich vorgestellt: du bekommst einen festen Tisch zugewiesen. Das Frühstücksbüffet war eigentlich o.k. - eben nicht international-amerikanisch ausgerichtet, aber um das Überleben zu sichern, wenn da nicht das Personal gewesen wäre... Im Sozialismus mag das ja nicht ungewöhnlich sein, dass das Personal mit den Gästen frühstückt. Ich kannte es bisher nicht. Ich kannte es bislang auch nicht, dass für den Gast Vorlegebesteck für das Büffet bereitgelegt wurde und das Personal sich einfach mit den Fingern an der Wurst und Käse bedient. Und es kann ja auch mal passieren, dass man ungeschickter Weise mal Müsli verschüttet. Aber ein lautes "Scheiße" in Anwesenheit der Gäste, alles mit den Händen zusammenschieben und einfach in den Müsli-Behälter: Kein Wunder, dass dem amerikanischen Gast nach uns der Appetit vergangen ist und wir Glück hatten, vor dem Personal uns schon bedient zu haben... Es ist schon ziemlich schwierig mit gutem Personal...

That was the way I picture always an all-in-vacation in Austria: you get a fixed table. The breakfast buffet was almost o.k. - but not for international-American guests but it would secure your survival subject there would not be the staff... In the socialism it not be very strange that staff had their breakfast with the guests. I did not know it so far. I did not know it either that the guests should use the serving cutlery but the staff used their fingers to grab some cold cut and cheese. It could happen that an accident might happen and some cereals were spilled. But a loud "Shit" when guests were present and pushing all with the bare hands and just throw it into the cereal-container: No wonder that the American guest who came after us was not hungry anmore and we had luck that we helped ourselves before the staff came... It was quite difficult to work with good staff...

Another reason to book that hotel was the location next to the rope car line Patscherkofelbahn.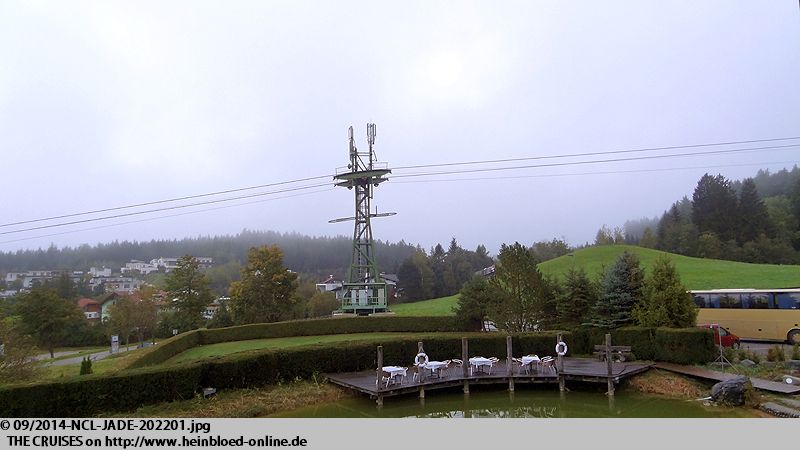 Ein weiterer Grund für die Buchung des Hotels: es ist direkt an der
Patscherkofelbahn
.
Aber wie man sieht: es macht wohl keinen Sinn.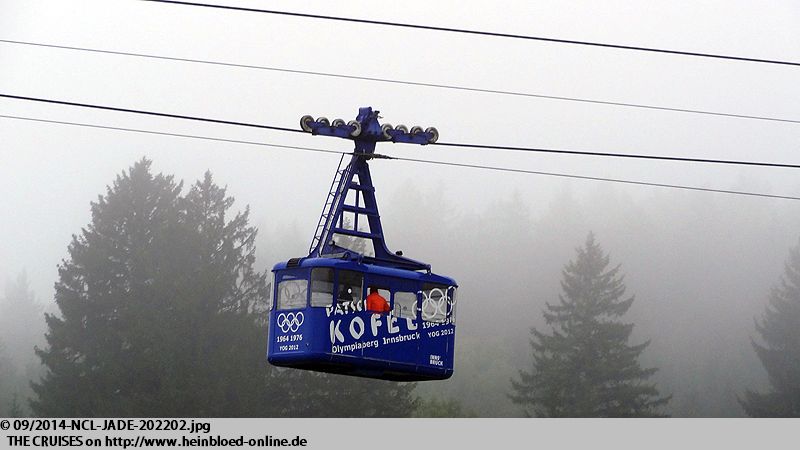 But as you could see: obviously it would not make any sense.

So we pleased to have the nature.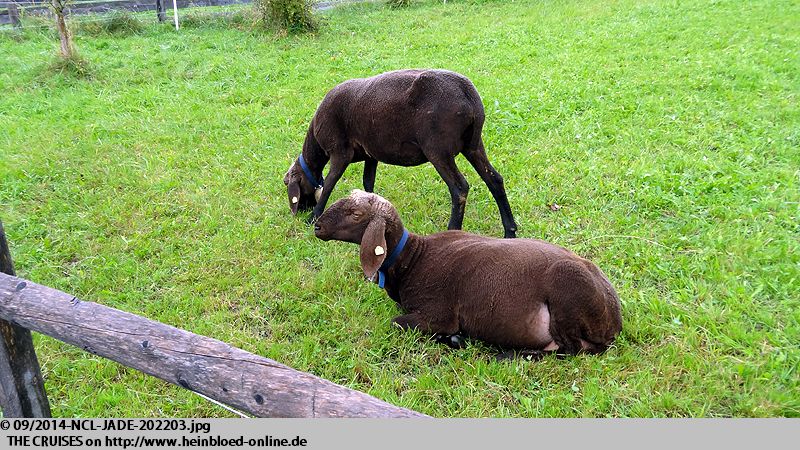 So erfreuen wir uns an der Natur.
Und an dem Anblick der Berge. Natürlich wurden die Verhältnisse später besser, als wir weiter nach Italien müssen...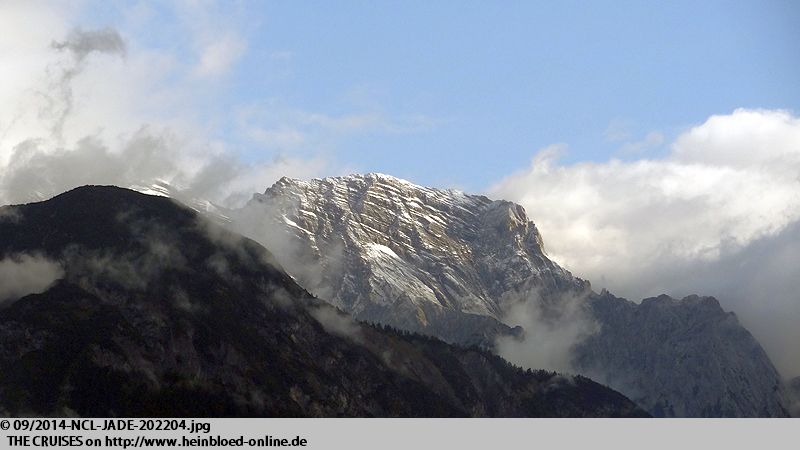 And the view to the mountains. Certainly the condition became better when we had to head to Italy...

My life which was destroyed the day before because I did not have my selfie-stick with me was revitalized with Lamprechter.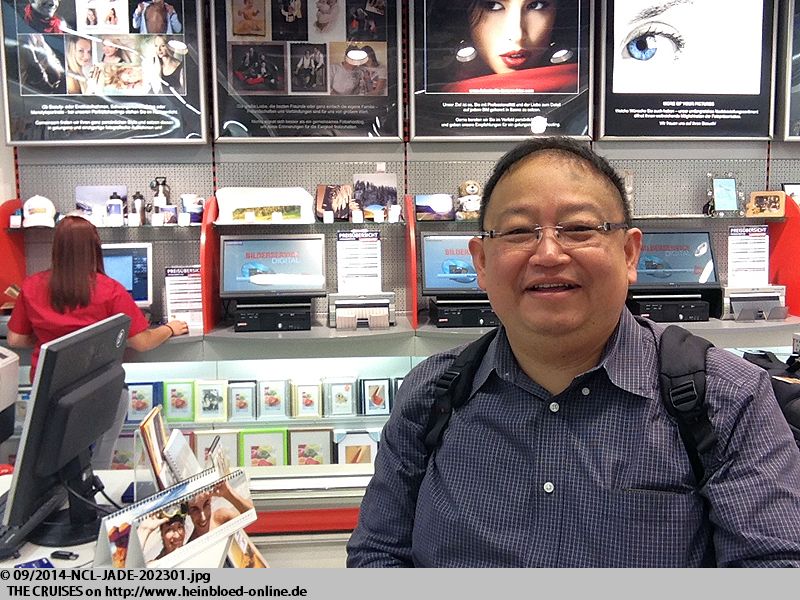 Mein Leben, das gestern zerstört wurde, weil ich meinen Selfie-Stick nicht mithatte, wurde bei
Lamprechter
wiederbelebt.
Weil ja der Besuch auf dem Patscherkofel entfallen ist, sind wir einkaufen gegangen. Hier gab es die letzten zwei Selfie-Sticks und dazu noch bessere Halter für die Smartphones. Meine Reise war nun teilweise gerettet.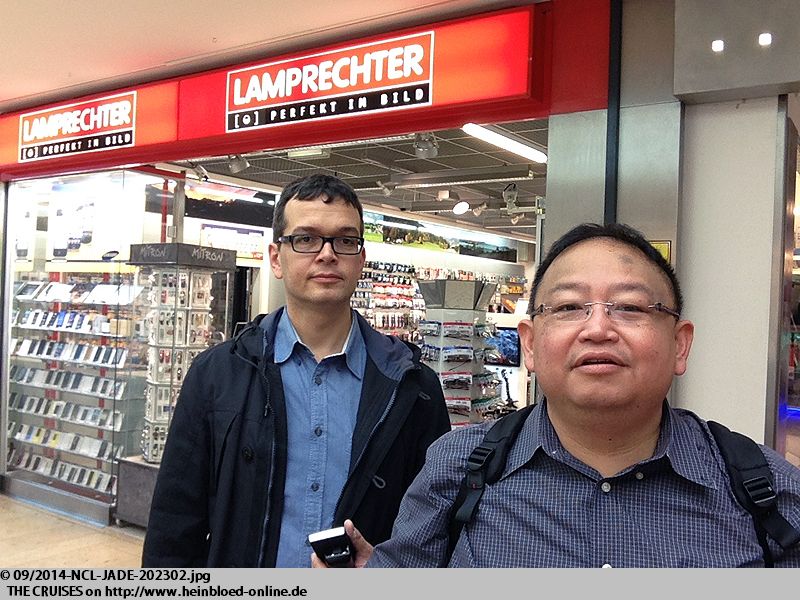 Because the visit of the Patscherkofel was canceled we went shopping. Here we had the last tow selfie-sticks and a better holder for smartphones. My life was partly saved.

In the shopping center there was also a store of 3. Here I got a complimentary replacement card.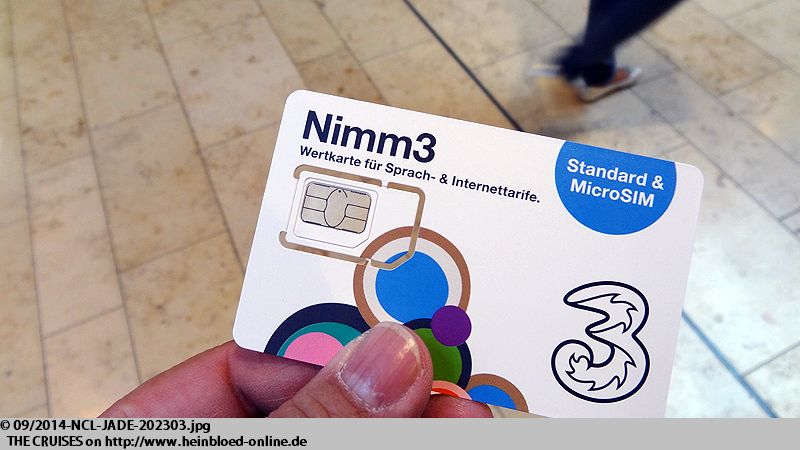 In diesem Shopping Center gab es dann auch ein Geschäft von
3
. Hier gab es kostenlos eine Ersatzkarte.
Und gegenüber gab es einen
MediaMarkt
, so dass wir uns einen neuen mobilen WLAN-Router gekauft haben. Mein Leben war nun zu 2/3 wieder hergestellt.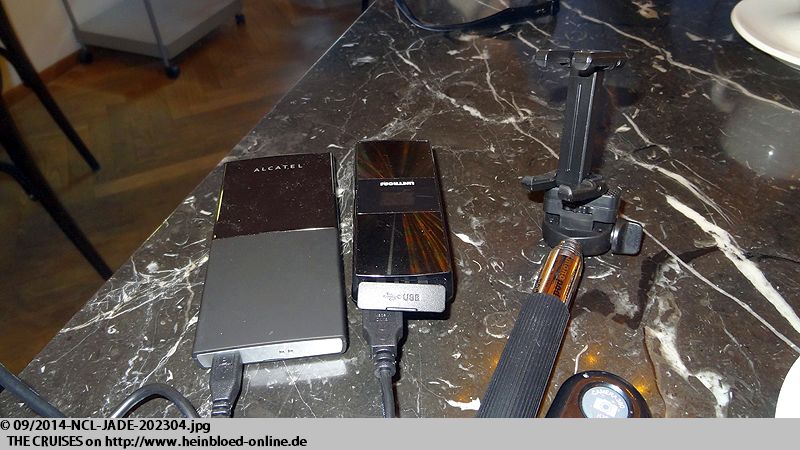 Just adjustent we could find a MediaMarkt (like BestBuy) so we could buy a new WiFi-Router. My life was reinstalled on 2/3 level.

Bruno got his Austrian coffee drink.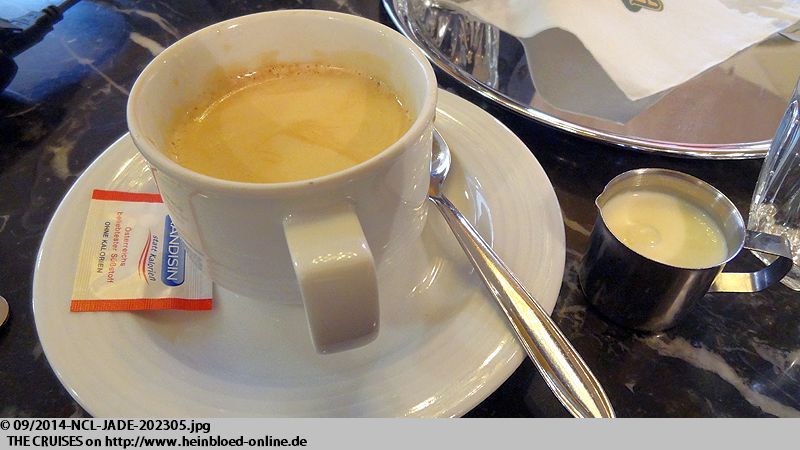 Bruno bekam nun einen guten Großen Braunen.
Und wir saßen erst mal in Ruhe in einem Kaffeehaus, um es uns gut gehen zu lassen. Nun kann der Reset-Knopf gedrückt werden und wir können endlich vernünftig in den Urlaub starten.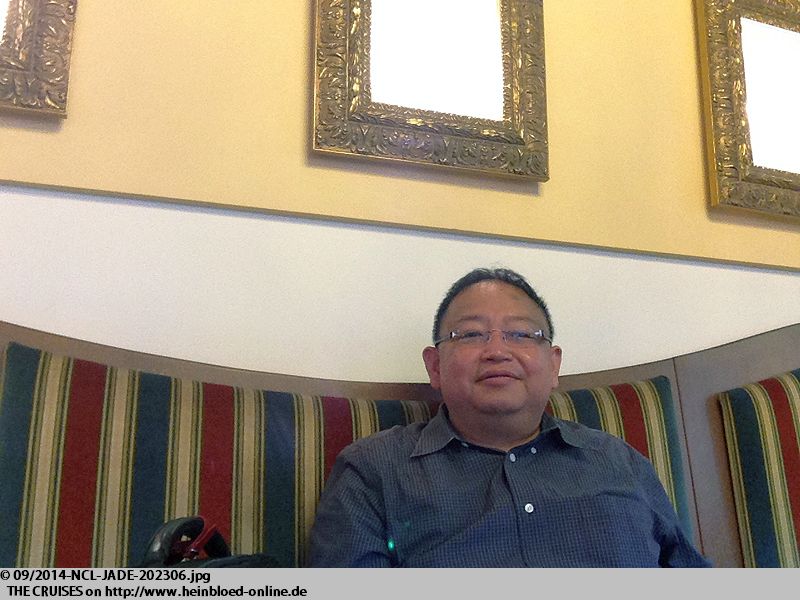 And we sit in peace in an Austrian coffee house and just enjoyed our life. Now we could put our reset-button and we could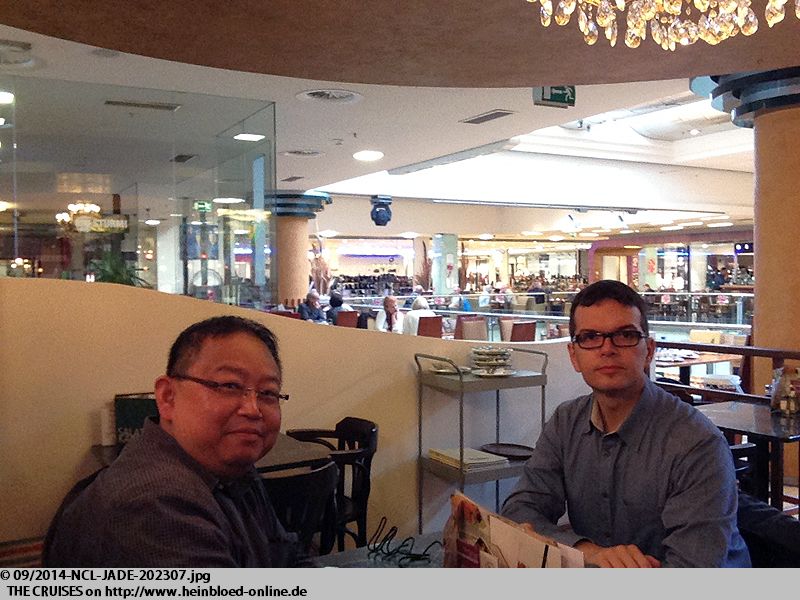 Selbstverständlich darf Bruno erst seinen Kaffee zu Ende trinken, wenn mein mobiler WLAN-Router vernünftig läuft. Über den flucht er gerade aber noch...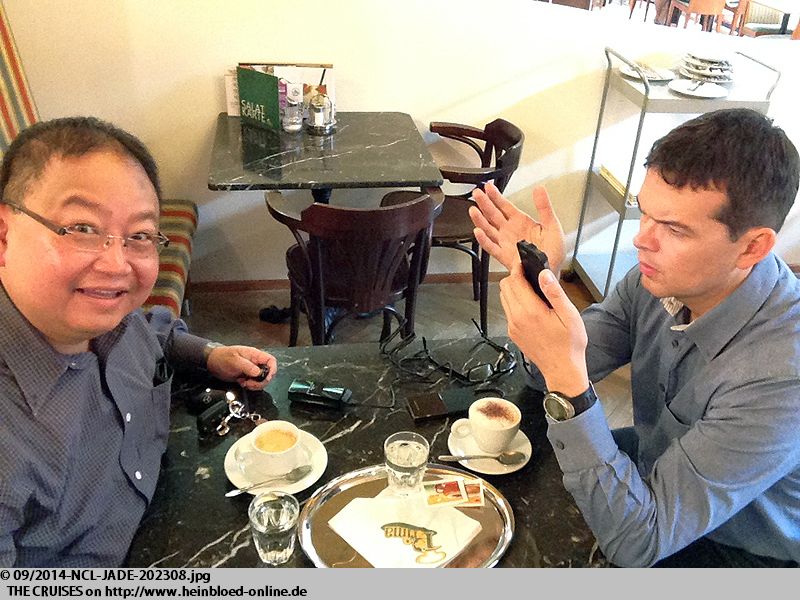 Certainly Bruno was allowed to finish his coffee after my WiFi-Router would run satisfactory. But he was cursing on it actually.

And here I was friendly reminded to my farewell party in the Hildesheim van der Valk Hotel: Finally I got a 2-EUR-coin of the Hildesheim Cathedrale in my hand. And for that I had to go to Austria.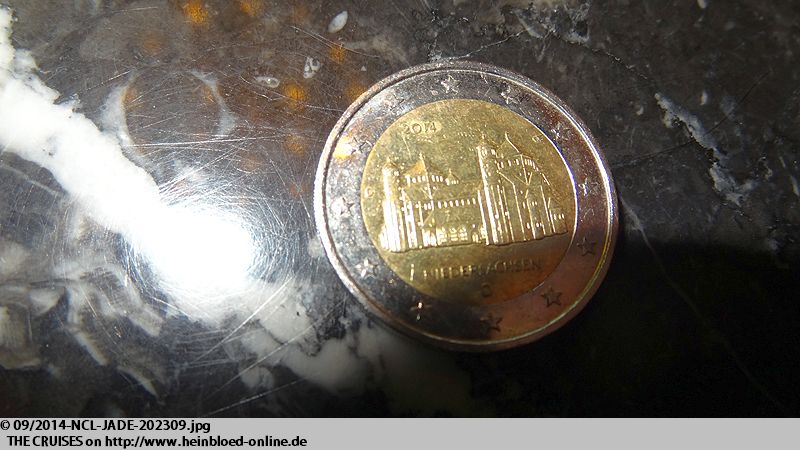 Und hier werde ich freundlich an meine Abschiedsfeier im
Hildesheimer van der Valk Hotel
erinnert: Endlich habe ich mal eine 2-EUR-Münze vom
Hildesheimer Dom
in der Hand. Und dazu muss ich erst nach Österreich fahren.
Weiter geht es nach Tenno im Trentin. Irgendwie habe das ich das Gefühl, dass mich unser Garmin etwas "verarscht". Eingezeichnet war die Straße als autobahnähnliche Zufahrtsstraße...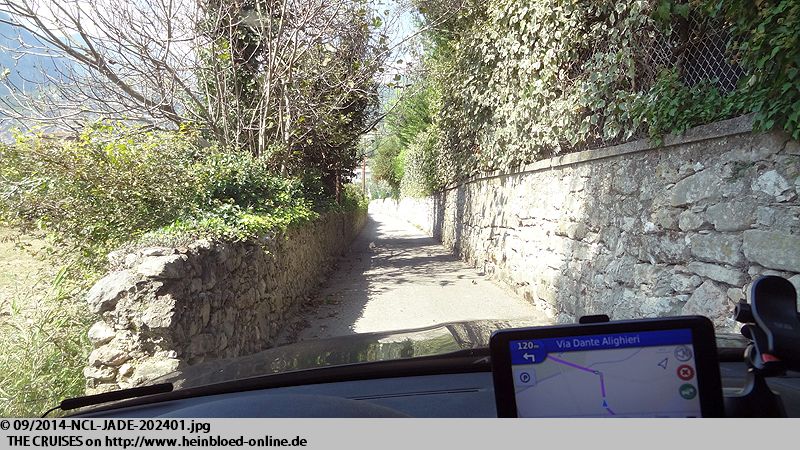 We headed to Tenno, Trentino, Italy. Somehow I had the feeling that our Garmin was "mucking around". It was displayed like a high-way-style access road...

Soon we reached Varone Waterfall Cave Park. Even the guiding App was not so good as you need to be all the time online: the recommendation was good. For 5.50 EUR (2014) it was very nice and very refreshing. While Bruno was taking pictures from the top, I did it from the buttom.

Schon bald haben wir den
Parco Grotta Cascata del Varone
erreicht. Auch wenn der Merian an App nichts taugt, weil man die ganze Zeit online sein muss: der Tipp war sehr gut. Für 5,50 EUR (2014) war das ganze doch sehr nett und besonders erfrischend. Während Bruno von oben fotografiert hat, war ich unten.
Und hier war ich mit meinem Selfie-Stick unterwegs und wurde doch ziemlich nass. Man sollte schon das Schild auf dem Parkplatz befolgen, dass man einen Pullover und eine Regenjacke mitführen sollte. Tut mir leid für diejenigen, die der Meinung sind, dass ich mich mit meinen Selfies zu sehr in den Vordergrund stelle, aber in den letzten Jahren, war ich meistens im Hintergrund und nun habe ich Spaß an meinem Selfie-Sticks und meinen Selfies gefunden und lebe es aus! Die Qualität der Front-Kamera lässt jedoch noch zu wünschen und ich muss noch üben, wie man am Besten wie etwas macht. Was mich am Meisten freut: es gibt mehr gemeinsame Bilder mit Bruno und mir und unseren Freunden und mir. Und wem es nicht passt: rechts oben gibt es so ein "X" in der Ecke. Einfach draufdrücken.

And here I was on the way by myself with my selfie-stick and I became quite wet. You should follow the sign on the parking that you should have a sweater and a rain jacket with you. Sorry for those of you who have the impression that I am pushing myself to much to the foreground but in the last years I was mostly in the back ground and I found now my fun with my selfie-stick and with my selfies and I love it! The quality of the front-camera was not really satisfying and I need to exercise how to make better pictures. What I most like: we had now more common pictures with Bruno and me and our friends and me. And who does not like this: there is a "X" right to the top. Just click it.

We headed to the Holiday Inn Hotel in San martino Buon Albergo (Update 2017: SHG Hotel Cartullo). That was about 20 minutes East of Verona and directly at the highway to Venice.(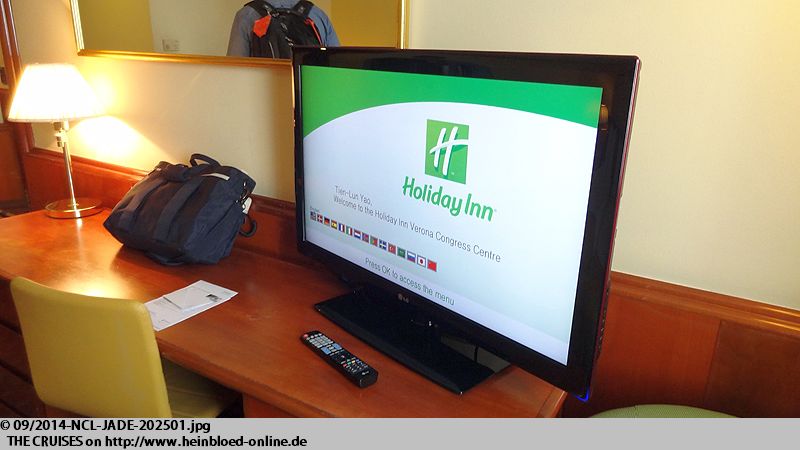 Weiter geht es zum Hotel Holiday Inn in San Martino Buon Albergo (Update 2017:
SHG Hotel Cartullo
). Das ist ca. 20 Minuten östlich von Verona und direkt an der Autobahn nach Venedig gelegen.
Die Zimmer im Stadtzentrum waren nicht besonders billig und ich hasse es durch italienische Städte zu fahren.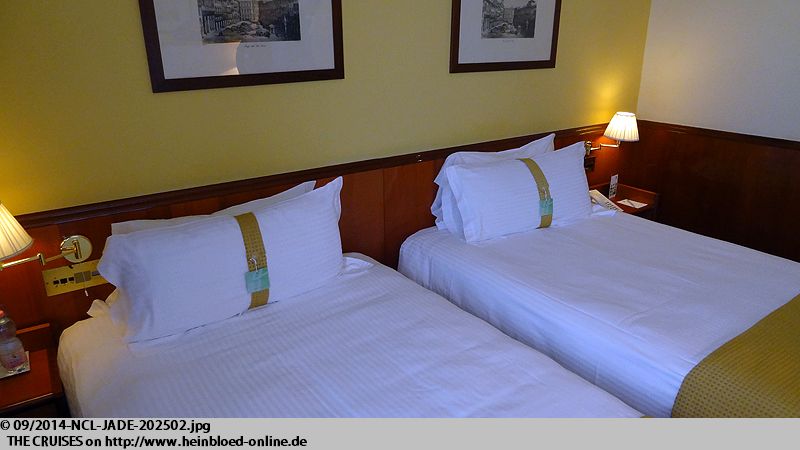 The rooms in the city center were not really cheap and I hate to drive by myself through Italian cities.

Furthermore I could redeem my points which I use for hotels which are a little more expensive.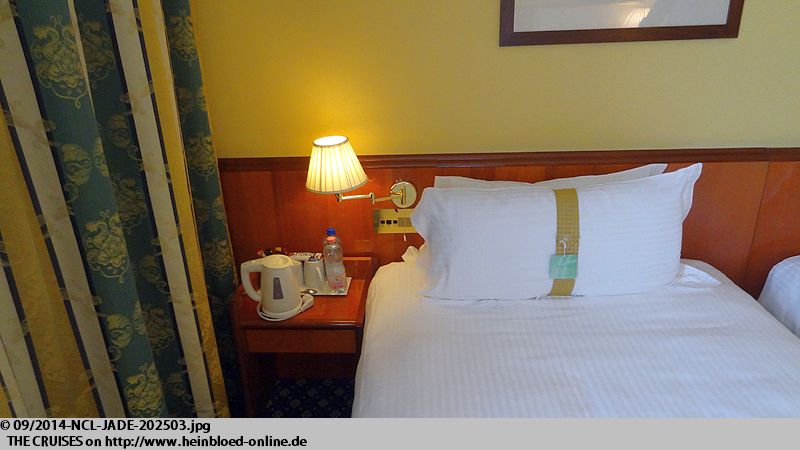 Außerdem konnte ich hier meine Punkte einlösen, die ich immer für Hotels einsetze, die etwas teurer sind.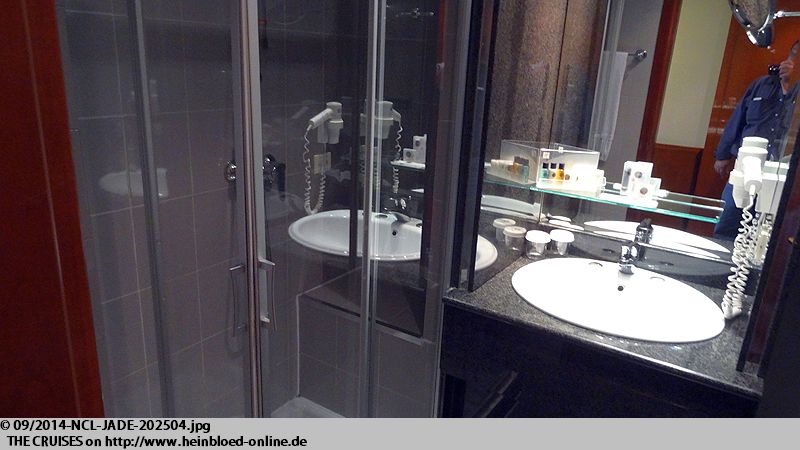 They even had a bidet in the bathroom.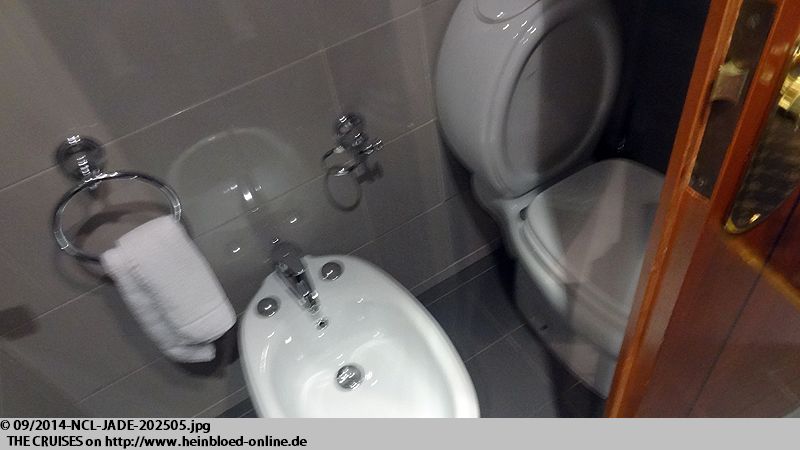 Es gab sogar ein Bidet im Bad.
Für 20,00 EUR (2014) hat uns das Hotel einen Fahrdienst besorgt, der uns direkt ins Zentrum bringt. So muss ich nicht noch einen Parkplatz suchen usw. usw. - So erreichen wir stressfrei Piazza Bra.

For 20.00 EUR (2014) the hotel got us a limousine to the city center. So I must not find a parking etc. etc. - So we reached without stress Piazza Bra.

So had a little time to take few pictures until our tour guide arrived: Cristina Pozza von Guide Verona.

So haben wir noch ein wenig Zeit, um ein paar Bilder zu machen, bis dass unsere Fremdenführerin eintrifft: Cristina Pozza von
Guide Verona
.
Die Tour haben wir in Deutsch gebucht, aber sie spricht auch Englisch und Verona liegt nicht weit von Venedig entfernt und daher bieten sich auch Ausflüge von Venedig aus an, wenn man beispielsweise in Transit dort auf einer Kreuzfahrt ist.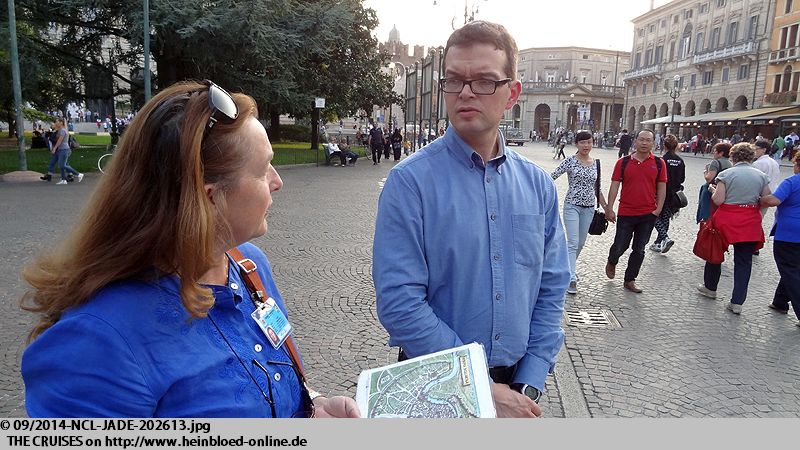 We booked the tour in German but she also speaks English and Verona was not so far away from Venice and so a great location to make tours out of Venice if you have a transit call in Venice.

Our tour started directly at the famous Arena of Verona. That night we still have tickets for a Opera-Gala. But we had to go sleeping and head on tomorrow. Before I started with cruising everything what was South of Bolzano (German speaking part of Italy - former Southern Tyrolia) not interesting. So I had my fun to discover Verona for myself.

Unsere Tour starten wir direkt an der berühmten
Arena von Verona
. Heute Abend hätten wir sogar noch Karten für eine Opern-Gala bekommen. Aber wir müssen leider schlafen und morgen weiter. Bevor ich zu den Kreuzfahrten kam, war für mich alles, was südlich von Bozen war, uninteressant. So habe ich meinen Spaß daran, Verona für mich zu entdecken.
Auf die einzelnen Attraktionen gehe ich weniger ein: am Besten Cristina buchen und selbst entdecken. Es lohnt sich.

I do not describe any details of the single sights: best would be to book Cristina and discover yourself. It was worth.

La Dolce Vita - the sweet life - part of Italian lifestyle like an espresso. So we hat to stop by with Cordioli to have an espresso while standing and to "eat up" Romeo and Juliet which were offered as biscuits.

La Dolce Vita - Das süße Leben - Teil der italienischen Kultur, so wie ein Espresso. Also müssen wir bei
Cordioli
halten, um einen Espresso im Stehen zu trinken und Romeo und Julia zu "vernaschen", die dort als Gebäck angeboten werden.
Ich genieße sichtlich den Ort.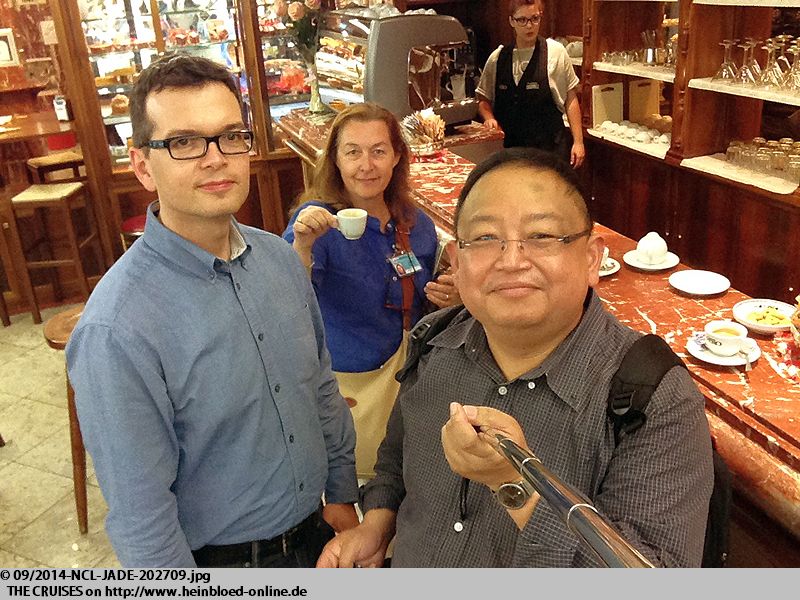 I was obviously enjoying the place.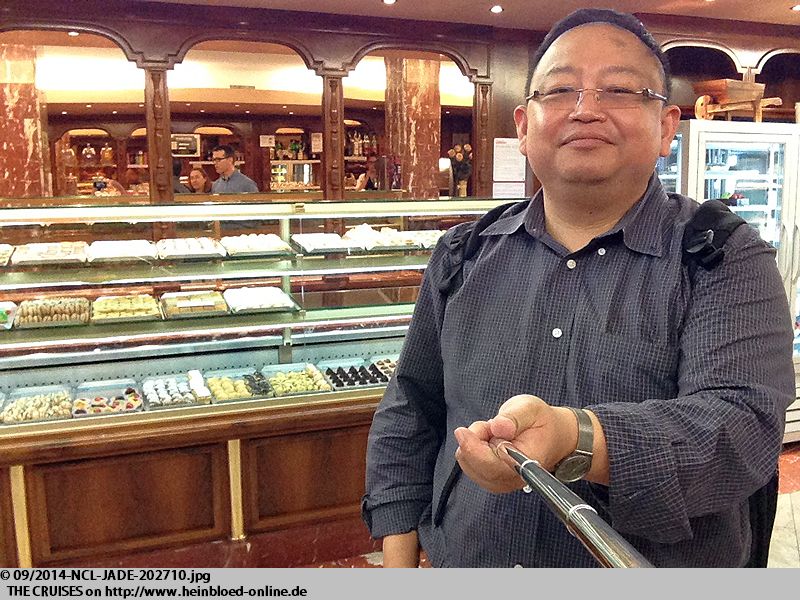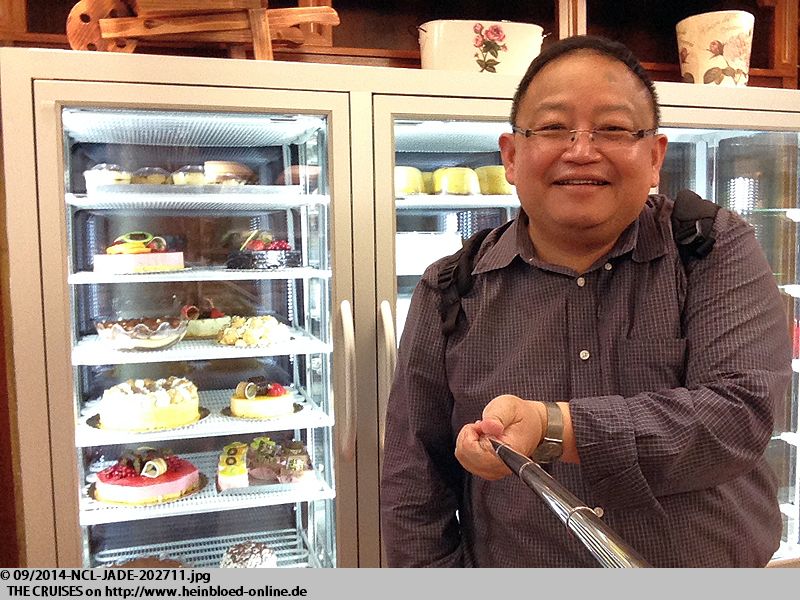 O.K. - I confess: I love romance comedies. Bruno had to go to all film set places of "You've got M@il" and certainly a movie took me to the next location: "Letters to Juliet" with Amanda Seyfried and Vanessa Redgrave: The House of Juliet. But honestly: it was totally different than in the movie. And I was annoyed because it was so crowded. Although Cristina said that it was "empty" and we should come around noon again: The pure paradise for pickpockets. So it was too risky for me to take a lot of selfies. But Cristina was right: you see it once in your lifetime and later you knew that Verona had many many more beautiful places to see but the House of Juliet.

O.K. - Ich stehe dazu: ich bin ein Fan von romantischen Liebeskomödien. Bruno musste schon in New York City sämtliche Drehort von "
E-M@il für dich
" ablaufen und selbstverständlich führt mich zum nächsten Ort natürlich ein Film: "
Briefe an Julia
" mit Amanda Seyfried und Vanessa Redgrave: das
Haus von Julia
. Aber ganz ehrlich: es war dann doch ganz anders als im Film. Vor allem hat mich der Rummel genervt. Wobei noch Cristina meinte, dass das "leer" sei und wir mal mittags kommen sollten: Das reinste Paradies für Taschendiebe. Daher war es mir auch zu riskant, viele Selfies zu machen. Aber Cristina hatte vollkommen Recht: man sieht es einmal im Leben und anschließend weiß man, dass es in Verona noch viel schönere Plätze gibt als das Haus von Julia.