Mit Sonnenaufgang verlasse ist bestens vorbereitet das Hotel. Ich habe mich mit Mückenschutz eingerieben und auch mein Anti-Mücken-Band angehabt. Bloß heute ist keine einzige Mücke zu sehen. Warnemünde wacht auf. Ich fahre wieder rüber auf die Yachtresidenz-Seite. Hier sehe ich: das Boot, das in den Ort reinfährt gibt es nicht mehr. Aber hier legen auch die Boote nach Rostock an, wenn man sich entsprechend vorher anmeldet.

With the sunrise I left the hotel well prepared. I rubbed in myself with mosquitos repellent and had also my mosquitos repellent wrist band with me. But that day no single mosquito was visible. Warnemünde woke up. I get over again to the side of the Yachtresidenz. Here I could see: the boat which went into the village was not anymore. But the boats to Rostock docked here too when you were registered ahead.

Life started also on the train station.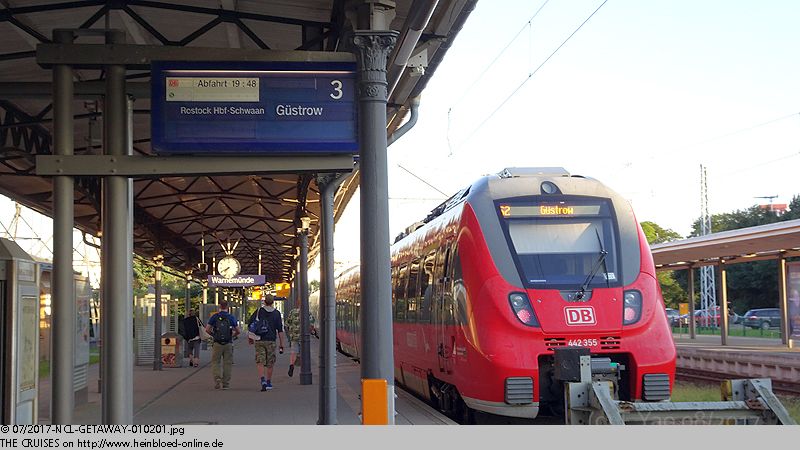 Das Leben beginnt auch am Bahnhof.
So sehe ich endlich auch Züge der S2 und S3 nach Güstrow. Es gibt sie tatsächlich.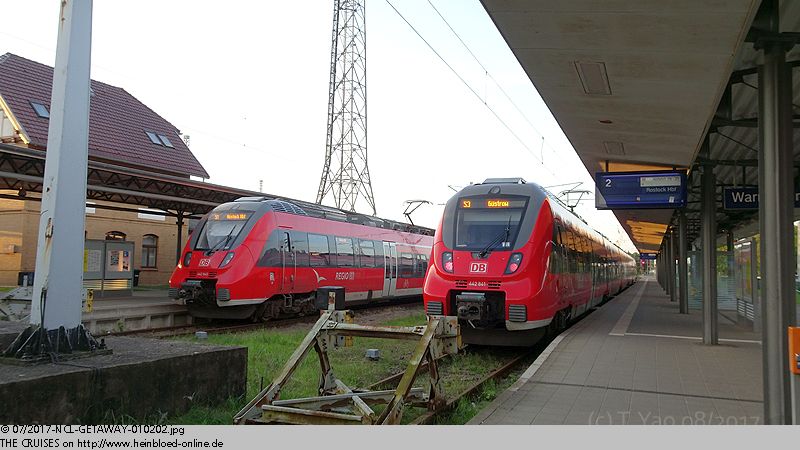 So I saw finally also trains of S2 and S3 to Güstrow. Indeed they were exisiting.

I wanted to use the ferry and later I want to go to Rostock with Bruno. An app-solution with eTickets Verkerhsverbund Warnow did not offer (2017)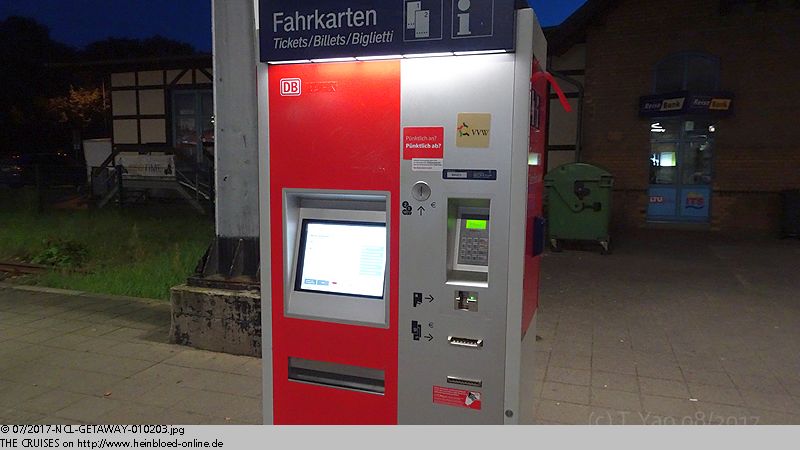 Ich will auf die Fähre und später will ich mit Bruno noch nach Rostock. Eine App-Lösung mit eTickets bietet der
Verkehrsverbund Warnow
nicht an (2017).
So kaufe ich hier kurzerhand eine Gruppentageskarte (15,70 EUR - 2017). Ich habe keine Lust, jedes Mal auszurechnen, ob es billiger mit Einzelfahrkarten gewesen wäre. Und Entwerten nicht vergessen.

So I bought curtly a group day pass (15.30 EUR - 2017). I did not like the idea to calculate all time if it might be cheaper with single tickets. And do not forget to cancel your ticket in the orange box.

Few weeks ago my personal consultant for electrical household appliance on the round with NORWEGIAN GETAWAY which was shorten by one day due to weather condition as NORWEGIAN GETAWAY could dock a day later. The track of the voyage in front of Warnemünde looked like this. And that day it was strange again since I was there and she did not enter. Why did I wake up so early? Again she was moving on the same spot in front of Warnemünde. I remembered the discussion of then and started to discuss for myself what I should do. She finally made it in. But nobody on the deck who was greeting me. No banner: "Welcome Back Mr. Tien", no Shenny Arquillano (NORWEGIAN JADE 2014 (1)) who was waving. Nothing. She promised me in Hamburg at the end of our voyage on NORWEGIAN JADE 2017 that I would get SUPER-VIP-service. I looked over how she turned around and finally docked at P8. Those guests who wanted to go to Berlin independently should miss their train. Later I learned that the pilot had a problem with his boat and they need to wait for a tug who moved over the pilot. And they could not go directly to P8 because a crane was ready to make some repairs on the portside.

Vor einigen Wochen fuhr mein persönlicher Berater für elektrische Haushaltsgeräte auf der Runde der NORWEGIAN GETAWAY, die witterungsbedingt um einen Tag gekürzt wurde, weil die NORWEGIAN GETAWAY erst am Folgetag anlegen durfte. So sah es damals die Fahrt vor Warnemünde aus. Und heute etwas merkwürdig bin ich da und sie kommt nicht rein. Wozu bin ich eigentlich so früh aufgestanden? Schon wieder bewegt sie sich auf der Stelle vor Warnemünde. Ich denke an die Diskussion von damals und fange schon an innerlich mit mir zu diskutieren, was ich nun mache. Sie kommt aber doch rein. Aber niemand an Deck, der mich begrüßt. Kein Banner: "Welcome Back Mr. Tien", keine Shenny Arquillano (
NORWEGIAN JADE 2014 (1)
), die winkt. Gar nichts. Sie hatte mir ja in Hamburg am Ende unserer
NORWEGIAN JADE 2017
-Reise versprochen, dass ich SUPER-VIP-Service bekomme... Ich gucke zu, wie sie wendet und dann am P8 anlegt. Diejenigen, die privat nach Berlin wollen, können den Zug auf jeden Fall vergessen. Später erfahre ich, dass der Lotse ein Problem mit seinem Boot hatte und sie auf einen Schlepper warten mussten, der den Lotsen übersetzt. Und sie können nicht direkt an P8 heranfahren, weil ein Kran bereit stand, der auf der Backbord-Seite Reparaturen durchführen muss.
Ich muss natürlich die Chance nutzen, Selfies zu machen.

I have to use the chance to make some selfies.

I was looking around for Shenny to welcome her in Warnemünde but she did not come out. That was the VIP service for me she was promising. The first guests were running out to catch their trains and coaches. Only the German Customs took it very seriously and stopped immediately those who tried to by-pass the German Customs on a run. Even Ho-Ho-buses came up to Warnemünde to offer visits of Rostock. The shuttles for the parkings were ready. And by coincidence I met Mr Belling again at the taxi rank who helped us five days ago to get a driver for Dorothy and Dennis. On the way to the commuter train and to the hotel I met the first who knew me from cruisecritic.com.

Ich gucke mich nach Shenny um, um sie in Warnemünde zu begrüßen, aber sie kommt nicht raus. So sieht also der VIP-Service für mich, den sie mir versprochen hat. Die ersten Gäste stürmen raus und ihre Züge bzw. Fernbusse zu bekommen. Nur der deutsche Zoll nimmt seine Aufgaben sehr ernst und zieht diejenigen, die versuchen, im Sprint beim Zoll vorbeizukommen sofort raus. Sogar Ho-Ho-Busse fahren von Warnemünde ab, um Rostock zu besichtigen. Die ganzen Shuttles zu den Parkplätzen stehen bereit. Und zufällig treffe ich Herrn Belling am Taxistand wieder, den mir vor fünf Tagen geholfen hat und mir eine Fahrerin für Dorothy und Dennis besorgt hat. Auf dem Weg zur S-Bahn und ins Hotel treffe ich bereits die ersten, die mich von
cruisecritic.com
her kennen.
Im Hotel gibt es zunächst einmal Frühstück. Ich finde es für so ein kleines Hotel ein tolles Angebot. Sogar meine letzte Drachenfrucht der gesamten Reise: an Bord gibt es (natürlich) keine.

In the hotel I had to have breakfast. For such a small hotel it was a great variation. Even my last dragon fruit of the whole voyage: on board they (certainly) had none.

Few months ago I had to transfer at the train station in Switzerland and posted something on Facebook (friendship requests of cruise enthusiasts and crew members are welcome): "'Ich bin ein Berliner' (John F. Kennedy 1963 when he was in West-Berlin) - so am I like all of them ('Berlin Doughnuts' = Berliner in German). That made Shenny to answer to my post on Facebook that she loved Berliners. Incl. me.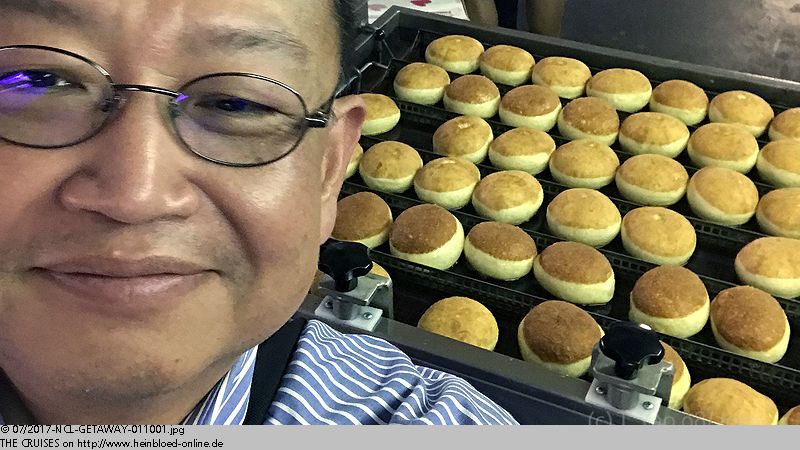 Vor einigen Monaten musste ich in einem Bahnhof in der Schweiz umsteigen und hatte dazu auf
Facebook
(Freundschaftsanfragen von Kreuzfahrtenthusiasten und Crew-Mitgliedern sind willkommen) gepostet: "Ich bin ein Berliner - so wie die alle". Das hatte Shenny veranlasst mir auf meinen Beitrag zu antworten, dass sie Berliner mag. Inkl. mich.
Da ich aber sehr nett von ihr und ihrem Team auf der
NORWEGIAN JADE 2014 (1)
betreut wurde, habe ich kurzerhand nachgefragt, wieviele sie für ihr Team will. Sie meinte 34 und dass ich das keinesfalls machen soll, da sie so ein großes Team hat. Nun da sie mich offensichtlich schlecht kennt: Für heute haben wir bei
Bäckerei Junge
in Warnemünde 50 Stück für sie und ihr Team bestellt. Bruno holt sie für mich ab - nachdem Shenny mich versetzt hatte! Sie wollte eigentlich mit einem Rollstuhl bei der Bäckerei vorfahren, und mich zum Cruise Terminal bringen...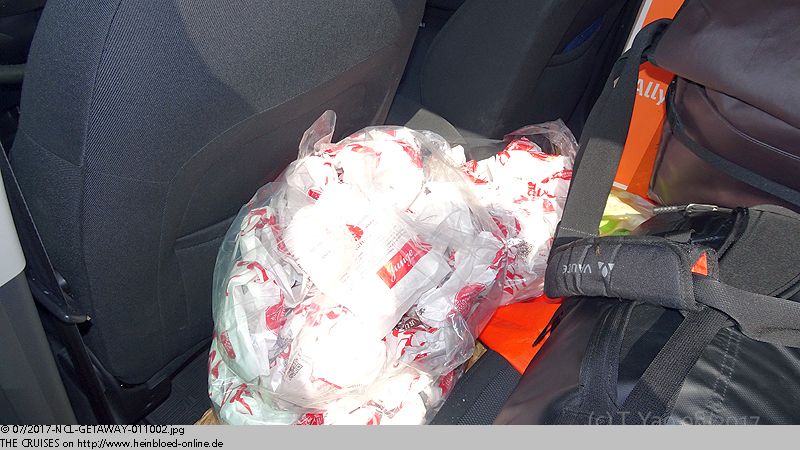 As I was treated very nicely by her and her team when we were on NORWEGIAN JADE 2014 (1) I asked spontaneously how many she would like to have for her team. She said 34 and that I should not do it as she had such a big team here. Obviously she did not know me well enough: For that day we ordered 50 pieces for her and her team with Junge Bakery in Warnemünde. Bruno collected them - after Shenny stood me up! She wanted to come over with a wheel chair right in front of the bakery and took me all the way down to the cruise terminal...

So we had to carry all ourselves to the Cruise Terminal. But we had the car with us. To avoid that each of them and their uniform become dirty (you had sugar (crystal or powdered) or a sugar glace on the Berlin Doughnuts - so quite sticky - filled with marmelade) we asked them to have them packed in single little bags. Well... I was thinking of Shenny but where was she??? Maybe she meant that I should treat her as VIP and not her me.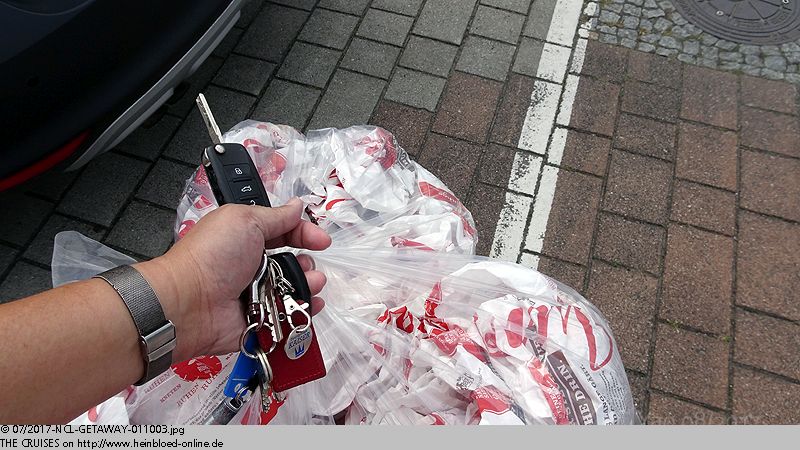 So müssen wir selbst alles zum Cruise Terminal bringen. Aber wir haben ja das Auto dabei. Damit aber keiner sich und die Uniform einsaut haben wir sie alle einzeln verpacken lassen. So kann Shenny einfacher die Berliner ihren Team-Mitgliedern sie weitergeben. Ja, ja... ich denke an Shenny und wo ist sie??? Vermutlich hat sie gemeint, dass ich sie als VIP behandeln muss und nicht sie mich.
Sie wollte ja bloß Berliner... für die Crew-Mitglieder, die nicht in Shennys Team sind, haben wir wieder Schweizer Schokolade mit... Sie hätte ja auch Schweizer Schokolade für ihr Team haben können...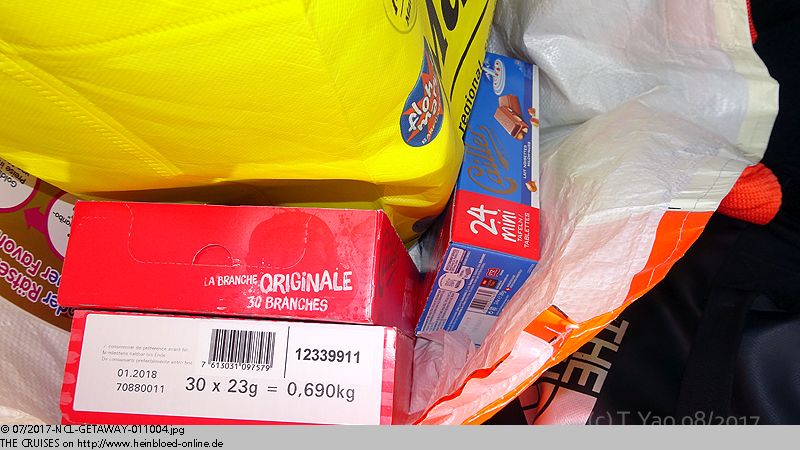 She only wanted to have Berliner... for the crew-members who were not part of Shenny#s Team we had Swiss chocolote with us... She could have also Swiss chocolate for her team...

As food in Germany is much more cheaper than food in Denmark most was loaded here. That had also the background: you save high logistics expenses because you need to carry all over by ferry or bridge to Denmark. Was reasonable. And we were safe to know that the ship must call in Warnemünde.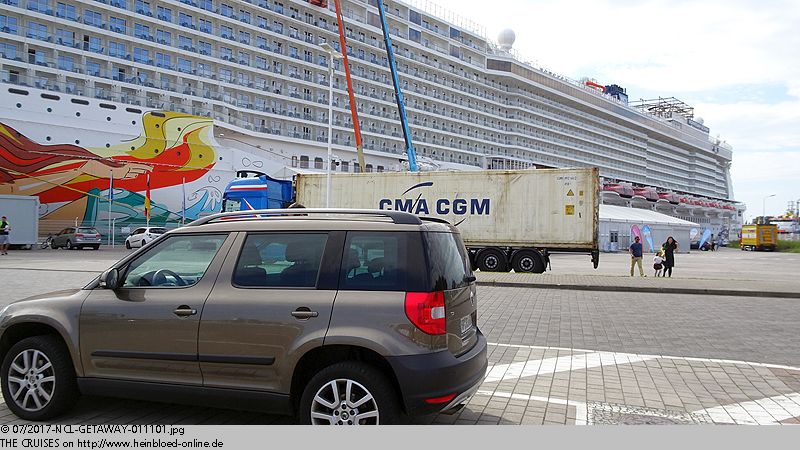 Da ja Lebensmittel in Deutschland billiger sind als Lebensmittel in Dänemark, wird hier überwiegend zugeladen. Hat aber auch den Hintergrund: man erspart sich so hohe Logistikkosten, weil sonst ja noch alles über die Brücken und Fähren nach Dänemark rüberbringen müsste. Ist vernünftig. Und wir haben die Sicherheit, dass das Schiff auf jeden Fall in Warnemünde anlegen muss.
Für den Check-In hat man uns für wenige Minuten erlaubt, dass wir auf dem Parkplatz für die Zulieferer parken dürfen.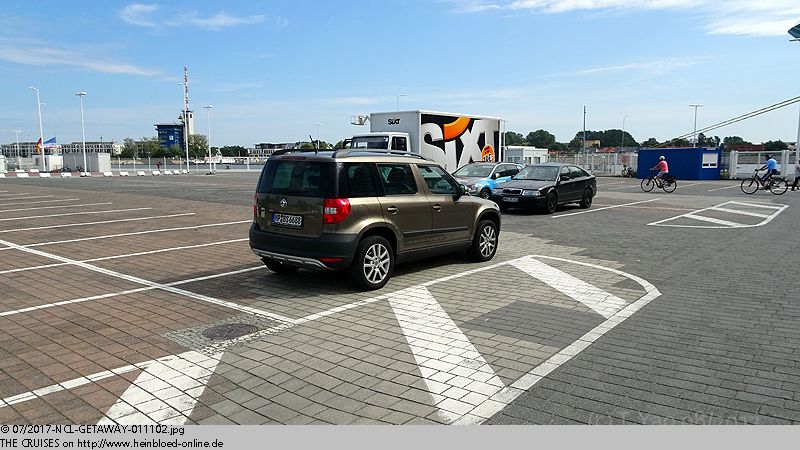 For the check-in they allowed us to stay for few minutes on the parking which was only for the suppliers.

At P8 it was a little unpleasant since you had no porter service to the curbside or parking and you had to carry yourselves all to the far end.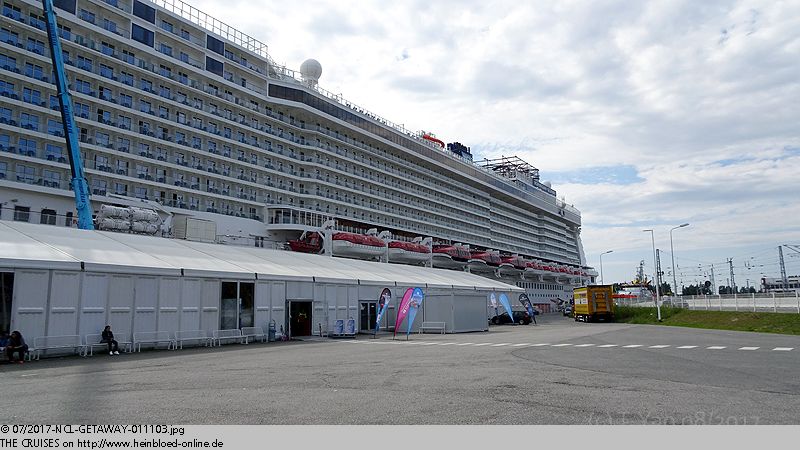 Am P8 ist das ein wenig unglücklich, weil es keine Gepäckträger zu einem Bürgersteig oder Parkplatz gibt, sondern man selbst alles bis ganz nach hinten schleppen muss.
Ist das hier "niedlich" und richtig "einfach"... Und wieder keine Shenny da. Was machen wir mit den Berlinern? Wie bekommen wir sie ohne Diskussionen an Bord? Wenn sie mit Alkohol gefüllt wären: Müssen wir für sie dann Korkgeld zahlen? (Für die Geschäftleitung in Miami: wir kennen die Regeln für die Crew: keine Sorge: kein Alkohol drinnen!)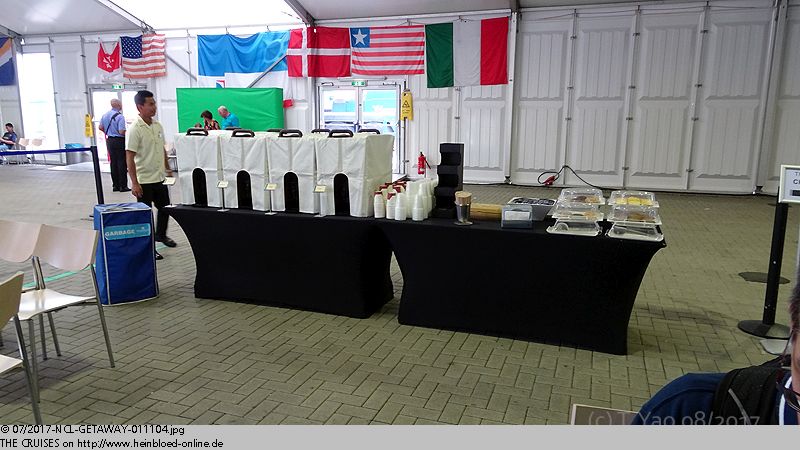 Was it here "cute" and truly "simple"... And again no Shenny. What should we do with all the Berliners? How would we get them onboard? If they would be filled with alcohol: would we need to pay corkage fee? (For the Management in Miami: we know the rules for your crew: do not worry: no alcohol inside!)

After all: they had chairs and tables to fill out in peace your health forms. Not like in brand-new modern cruise terminals where you had to use the marble floor to fill out forms... marble floor!!! But chairs and tables only for crew members!!!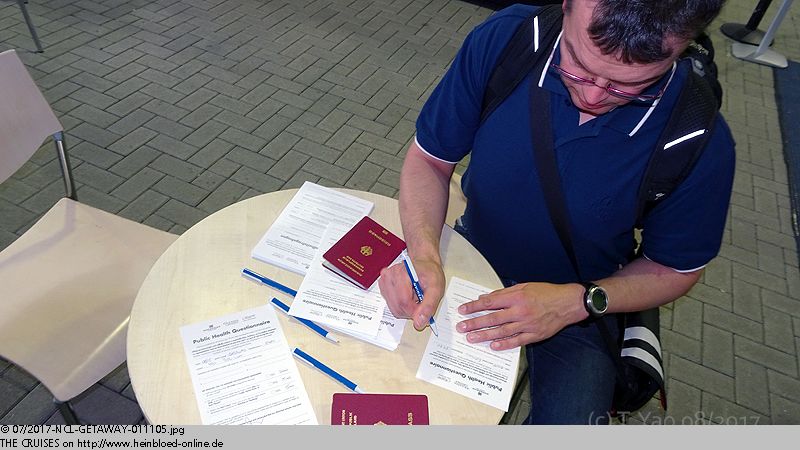 Aber immerhin: es gibt Stühle und Tische, um in Ruhe die Gesundheitsformulare auszufüllen. Nicht wie in brandneuen modernen Cruise Terminals in denen man den Marmorboden benutzen muss, um die Formulare auszufüllen... Marmoboden!!! Aber Stühle und Tische nur für die Crew Mitglieder!!!
Für diese Reise mussten wir uns mit Russischen Rubel, Schwedischen Kronen und Dänischen Kronen versorgen. US Dollars brauchen wir eh für die Trinkgelder. 12 Flaschen Wasser haben wir uns vergünstigt im Internet bestellt. Es gibt bei NCL keine kostenlosen Upgrades mehr. Die restlichen Kabinen werden versteigert. Für mein Gebot (Minimum auf eine Mini-Suite) bekomme ich keinen Zuschlag. 500 USD pro Person für The Haven ist mir die Sache nicht Wert seit unseren schlechten Erfahrungen auf der
NORWEGIAN BREAKAWAY 2013
(AUSSER das Team im The Haven Restaurant: Maître D' Raluca Udrea, Ricardo Dagalea, Jan Serrano, Valentina Nistor, Martin Hristovski, Michelle Wenceslao, Donie Zapanta, Restaurant Hostess Sandra Rey. Die waren FANTASTISCH). Zwischenzeitlich erfahre ich die Hiobsbotschaft aus Deutschland: meine Bahnstrecke Mannheim - Basel ist gesperrt. Zu diesem Zeitpunkt heißt es: sie wird am 27.08.2017 wieder eröffnet. Passt gut. Da fange ich an zu arbeiten. Allerdings bedeutet es auch, dass die Firma, in der ich arbeite von der Rohstoffversorgung und Kundenbelieferung über die Nordseehäfen abgeschnitten sind.

For this voyage we need to be well equipped with Russian Rubel, Swedish Crowns and Danish Crowns. US Dollars we always need to tip. 12 bottles of water we pre ordered cheaper in the internet. No more complimentary upgrades with NCL. The cabins left over you can bid for. For my bid (minimum to get on a mini-suite) I did not get the call. 500 USD per person for The Haven was not worth since our bad experience on NORWEGIAN BREAKAWAY 2013 (EXCEPT the team of The Haven Restaurant: Maître D' Raluca Udrea, Ricardo Dagalea, Jan Serrano, Valentina Nistor, Martin Hristovski, Michelle Wenceslao, Donie Zapanta, Restaurant Hostess Sandra Rey - they were FANTASTIC). Meanwhile I got bad news from Germany: my railways line Mannheim, Germany - Basle, Switzerland was closed. At this time they said: re-opening at August 27, 2017. Fitted perfectly. That was when I should start to work again. But it meant also that the company I was working was disconnected from rawmaterial supply and customers deliveries via the North Sea ports.

On board we started to look for Shenny. Balloons yes. But still no sign "Welcome back Mr. Tien". But I did not try anymore to find out if she was available for me. It was just too loud in the atrium to understand a single word at the front desk. Maybe we became too old for NCL since we liked it more calm. The "wrong" Erroll. I was told that Erroll was Hotel Director and I thought of Erroll Nelson whom we knew from NORWEGIAN ESCAPE 2015. Our Hotel Director here on NORWEGIAN GETAWAY was Erroll Bailey.

An Bord fangen wir an Shenny zu suchen. Ballons ja. Immer koch kein Schild "Welcome Back Mr. Tien". Aber ich versuche nicht weiter herauszufinden, ob sie für mich zu sprechen ist. Es ist einfach zu laut im Atrium, um an der Rezeption etwas zu verstehen. Vielleicht sind wir einfach zu alt für NCL da wir es zwischenzeitlich etwas ruhiger mögen. Der "falsche" Erroll. Als man mir sagte, dass Erroll Hoteldirektor ist, denke ich an Erroll Nelson, den wir von der
NORWEGIAN ESCAPE 2015
her kennen. Unser Hoteldirektor hier auf der NORWEGIAN GETAWAY ist Erroll Bailey.
Wir gehen mittags im Garden Café eine Kleinigkeit essen. Wir sind beide positiv überrascht. Nur auf den deutschen Abend heute können wir bequem verzichten. Sonst kennen wir es so, dass auch mittags ein Hauptrestaurant geöffnet hat. Hier jedoch nicht. Wir haben einen schönen Tisch zum Heck raus. Aber Außensitzplätze im Freien wie auf der Jewel-Klasse gibt es hier auf der Breakaway-Klasse nicht mehr.

We went to the Garden Café to have a quick bite. We were positively surprised. Only the German night we can easily skip. Elsewhere we knew that one main dining room was open for lunch. But not here. We got a nice table to the aft. But outdoor seats like you had on Jewel-Class you did not have anymore on Breakaway Class.

At this time of the day when we embarked it was 21.30 hrs for all onboard.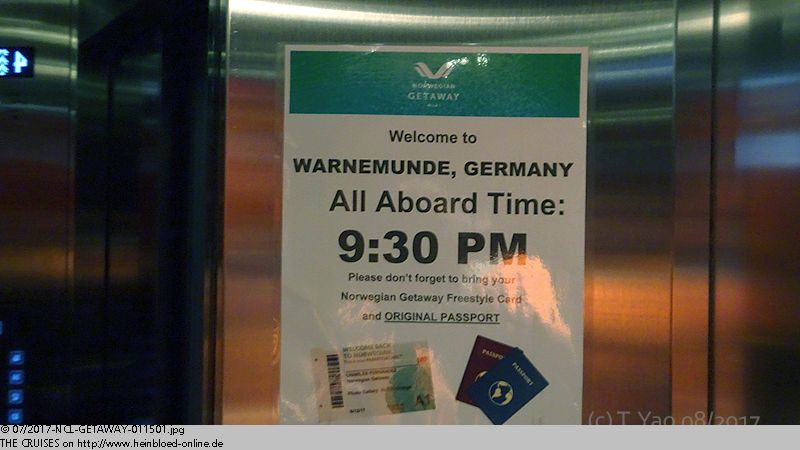 Zum Zeitpunkt als wir einsteigen, heißt es alle Mann an Bord um 21.30 Uhr.
Gut ist die Gangway-Taste. Damit muss man nie herausfinden, auf welchem Deck die Gangway heute ist. Sie wird erst freigeschaltet, wenn auch der Ausgang frei ist. In einem Hafen brüllt mich ein Mitreisender an, weil sie noch nicht geht und er partout als erster von Bord will und denkt, dass ich von der Crew bin. Aber um es kurz zu machen: es geht an jedem Hafen auf Deck 4 raus. Ansonsten habe ich den Fahrstuhl in keiner guten Erinnerung: auch auf die Gefahr hin, dass ich als anti-semitisch dargestellt werde: ich finde die israelischen Großfamilien sehr unsympatisch! Leider waren mehrere davon an Bord. Sie haben nie gegrüßt, selbst wenn man am Sabbat "Shalom" gesagt hat. Sie sind keinen Millimeter zur Seite gerückt, damit andere noch rein können. Und wenn selbst schon drin war, wurde man einfach zur Seite geschubst, als ob du Luft bist - kein Bitte, ob man bitte noch ein bisschen rücken könnte - kein Danke, wenn man Platz gemacht hat. Speziell später in St. Petersburg tut einer so, als ob er einen Schwächeanfall hätte und sofort an Bord medizinisch versorgt werden muss. Er wird vom Tourguide direkt zur Passkontrolle begleitet. Jeder lässt ihn vor. Kaum ist er durch: Wunderheilung! Sofort geht es ihm besser. Dagegen waren die ganzen Chinesen, über die ich mich sonst aufrege, dieses Mal sehr viel erträglicher. Keine Spuckerei. Kein Rülpsen. Kein Schmatzen. Kein Rotzen. Ich bin sehr positiv überrascht.

Great was the Gangway-Key. So you never need to find out on which deck you had the gangway that day. It was released when the exit was open. In one port a fellow-cruiser shouted on me because it did work yet and he wanted to be off the ship as first and thought I was from the crew. To make a long story short: it was in each port Deck 4. Otherwise I did not have the elevator in good memories: even with the risk that I might be counted anti-semitic: I did not like very much the Israel big families! Few of them were onboard. They never greeted even you said "Shalom" on Shabbat. They never moved one single Thou/mil (1/1000 inch) to allow others to join the elevator. Even you were already inside your were just pushed away as you was air - no please if you can move a little - no thanks if you moved for them. Especially in St. Petersburg, Russia one was simulating that he was seriously sick and an in emergency to get as fast as possible onboard to get immediate medical care. So one tour guide escorted him to the passport inspection line. Everybody let him go. After passport inspection he a miracle healing and he was recovered immediately. However all the Chinese who made me normally upset were very bearable. No spitting. No burbs. No slurping. No nose/throat noises. I was nicely surprised.

Well... a port agent not based in Rostock.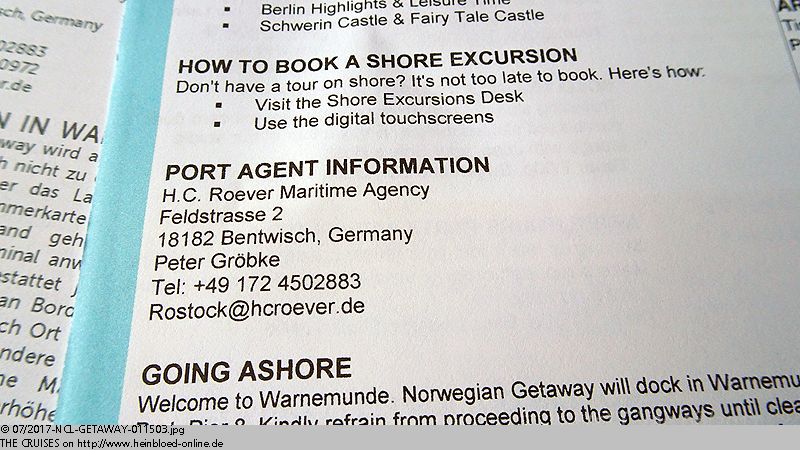 Oh... Ein Hafenagent, der gar nicht in Rostock sitzt.
Als wir wieder von Bord gehen, heißt es, dass alle um 22.00 Uhr zurück sein müssen. Ärgerlich nur, dass diejenigen, die unabhängig vom Schiff unterwegs sind, so etwas nicht erfahren, aber besser als damals auf der
CELEBRITY MILLENIUM 2014
: da wurde die Zeit vorverlegt und keiner hat davon erfahren. Wir waren an dem Tag zufällig früher zurück, als geplant...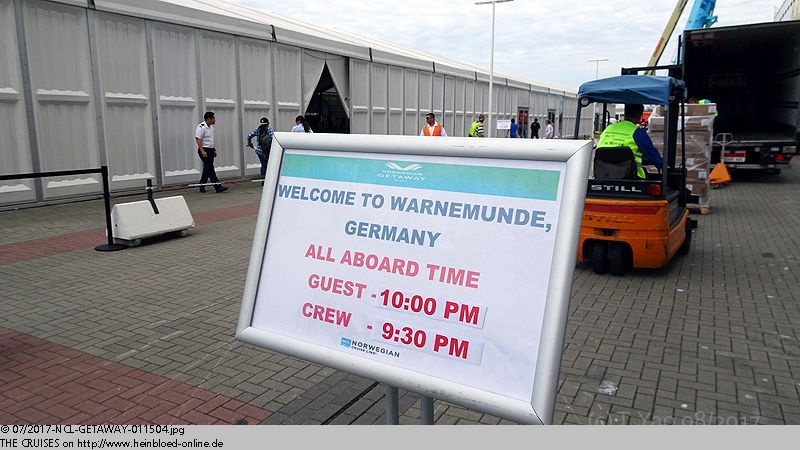 When we leaft again the ship it shows to be back at 22.00 hrs. Angry for those who were touring independently and would not get any notification but anyhow better than on CELEBRITY MILLENIUM 2014: they moved the onboard time forward and did not tell anyone. We were by accident earlier back onboard than orginally scheduled...

We need to go to Rostock. On the way I stopped briefly at the train station Warnemünde Werft (Warnemünde Shipyard). There they made everything very nice. Here you had buses to the beach and to Bad Doberan to the Molli-train. Here you had also the long distance coaches of Flixbus. Much more shorter to P8 than train station Warnemünde esspecially if you arrive by commuter train from Rostock. I need to remember this. More information on this blog in Chapter 0A.

Wir müssen nach Rostock. Auf dem Weg halte ich kurz mal am Bahnhof
Warnemünde Werft
an. Dort ist alles richtig schick geworden. Keine Betonwüste. Hier fahren die Busse zum Strand und nach Bad Doberan zur Mecklenburgischen Bäderbahn "Molli" ab. Hier fahren auch die Fernbusse von Flixbus ab. Eigentlich sehr viel näher zu P8 als der Bahnhof
Warnemünde
, speziell, wenn man mit der S-Bahn aus Rostock kommt. Muss ich mir merken. Mehr Informationen gab es schon im
Kapitel 0A
in diesem Blog.
Es gibt zwei (2017) Straßentunnel in ganz Deutschland, die mautpflichtig sind: der Travetunnel in Travemünde... und der
Warnowtunnel
in Warnemünde. Mittlerweile kostet die Durchfahrt 4,00 EUR (Sommer 2017) für einen PKW. Alternativ hätte ich sonst einen 2/3 Kreis durch die Stadt Rostock drehen müssen, um zu meinem Ziel zu kommen.

There were two (2017) street tunnels in whole Germany which were on pay: the Travetunnel in Travemünde... the Warnowtunnel in Warnemünde. Meanwhile a passge was 4.00 EUR (Summer 2017) for a car. Alternatively I had to go 2/3 of a circle around and through the city of Rostock to reach my destination.

Rock fall/Glass breakage. Of all on the driver's side. Cannot be repaired. I ordered already the day before a new windscreen. 150 EUR less in your spending budget. And I had to see how to get my Swiss Highway Tag replaced. My Enviromental Tag need also to be replaced: another 5 EUR.

Steinschlag. Ausgerechnet auf der Fahrerseite. Nicht reparierbar. Ich hatte gestern schon eine Scheibe vorbestellt. 150 EUR Selbstbehalt weniger Urlaubskasse. Und ich muss gucken, wie ich ich meine Schweizer Autobahnvignette ersetzt bekomme. Meine Umweltplakette muss auch ersetzt werden: weitere 5 EUR.
Drei Stunden müssen wir warten. Die Zeit nutzen wir, um die furchtbare orange Kiste loszuwerden. Die Kiste soll wiederverwendet werden. Ein Retourenschein ist vorbereitet. Die Postmitarbeiterin weigert sich jedoch die Kiste anzunehmen und besteht darauf, dass ich eine Roll Packband kaufe und es ordnungsgemäß verschließe. Vom Alter her könnte sie noch bei der Deutschen Post der DDR gelernt haben. Früher haben wir bei der Deutschen Bundespost schnell am Schalter ein Stück Klebeband oder Klebestift bekommen. Alles kostenlos. Mir wird das ganze zu blöd. Vor dem Gebäude steht eine Paketbox und ich lasse den Logistik-Leiter raus: kurzerhand "verschließe" ich die Kiste indem ich die vier Seiten ineinander stecke. Retourenschein darauf und fertig. Es ist eine leere Kiste ohne Wert. Geht auch ohne Quittung. Und weg damit.

We need to wait three hours. We used the time to get rid of the ugly orange box. The box should be recycled. A return voucher was prepared. The agent of the German Postal Service refused to accept the box and insisted me to buy a roll of tap and to close it properly. From her age she might already worked for the East German Postal Services. Then we could ask with the West German Postal Services for a little tape or glu at the counter. All free of charge. Now it became to weird for me. In front of the building there was a ParcelBox (self-service drop-off) and I was acting like a Head of Logistics: On the spot I "closed" the box by folding four sides inside out. Return voucher on the top and ready to go. It was an empty without commercial value. Worked without receipt. And just go.

Few nice impressions from Rostock.

Ein paar schöne Eindrücke aus Rostock.
Wir gehen kurz ins
Vapiano
. Die haben i.d.R. gute Barista und Barista-Maschinen.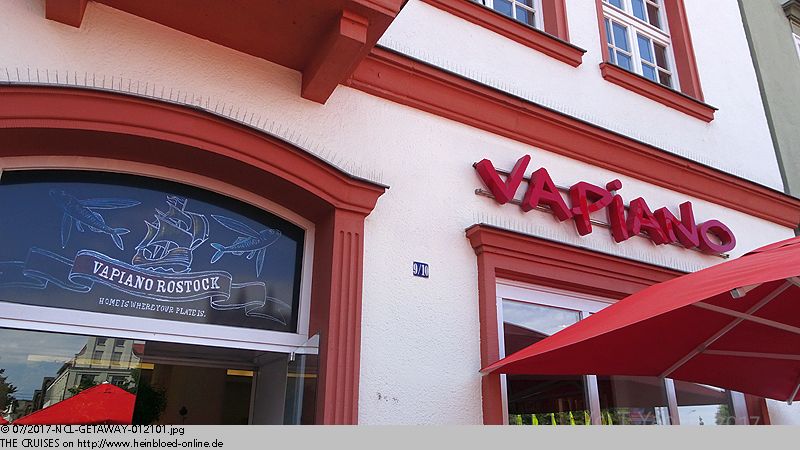 We went quickly to Vapiano. Usually they had good baristas and good barista coffee machines.

And they had interesting goodies...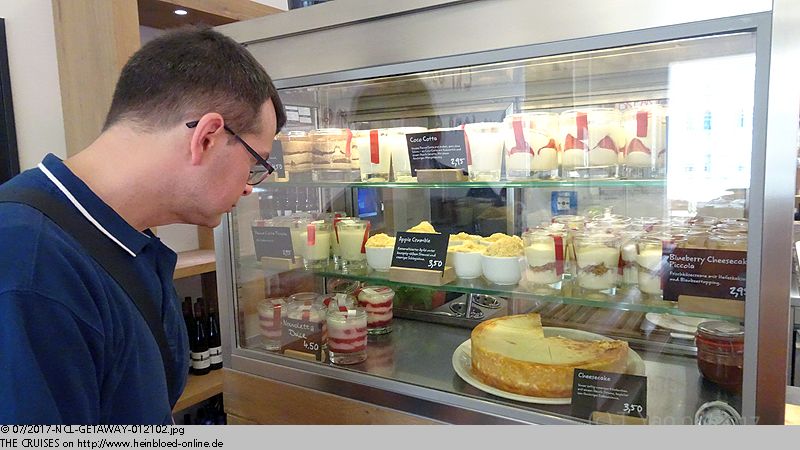 Und sie haben interessante Leckereien...
Es gibt ja keine Tea-Time bei NCL... deswegen können wir ohne schlechtes Gewissen etwas hier zu uns nehmen.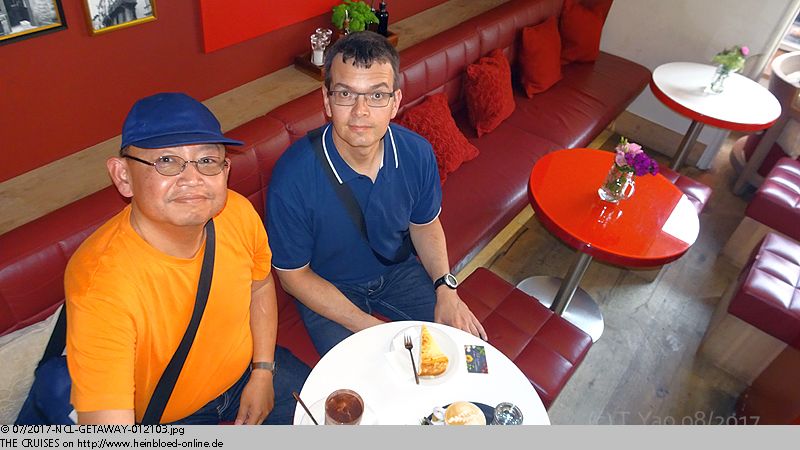 No tea-time with NCL... so we could have here some without having a bad concious.

With Vapiano in Basle, Switzerland 8 CHF (2017 = 8 USD)...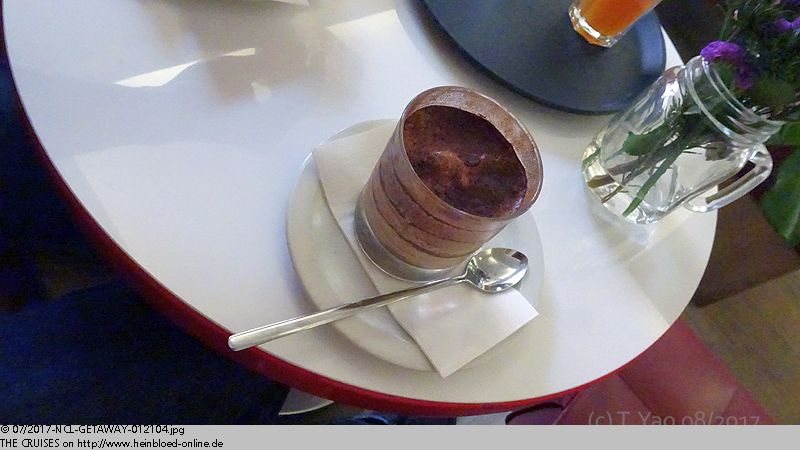 Bei Vapiano in Basel 8 CHF (2017 = 7 EUR)...
Wir nutzen die Zeit, um eine klassische
Stadtrundfahrt mit einem KLEINEN Panoramabus
zu machen mit Live-Erläuterungen. Wir kommen in manche Ecken, in denen kein großer Ho-Ho-Bus reinpasst.

We used the time to have a classical sightseeing tour in a MINI panorama bus with live explaination (you get a sheet with explanations in English). We got in some corners the large Ho-Ho-buses would not fit into.

Actually I was looking for a gift bag to replace the returned box but when I saw the school immatrikulation cone which normally you get on the first day of your school carreer filled with sweets and other small treats and remembered the contents which should fit into the gift bag I withdraw the idea with the gift bag and decided to have the school immatriculation cone.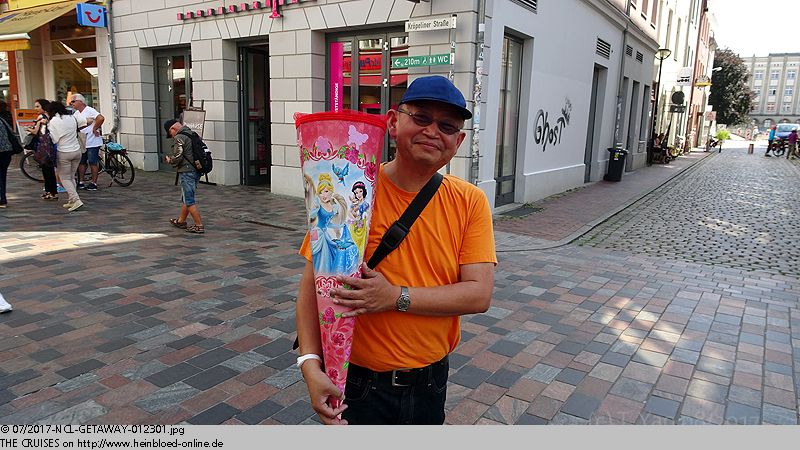 Eigentlich wollte ich ja eine Geschenktüte für die entsorgte Kiste besorgen, aber als ich die Schultüte sehe und an den Inhalt denke, der in die Geschenktüte soll, lasse ich die Idee mit der Geschenktüte fallen und entscheide mich für die Schultüte.
Die Schultüte erregt soviel Aufsehen, dass ich am Pier angesprochen werde. Da es Erstfahrer sind, werde ich gefragt, ob das "normal" sei. Sie machen ein Bild von mir. Da ich in diesem Moment nicht damit rechne, dass ich sie an Bord wiedertreffe, stellen wir uns nicht einander vor. Aber das größte Schiff ist doch klein genug, dass man sich über den Weg läuft und sich doch noch vorstellt. Daher werden sie später im Blog vorgestellt.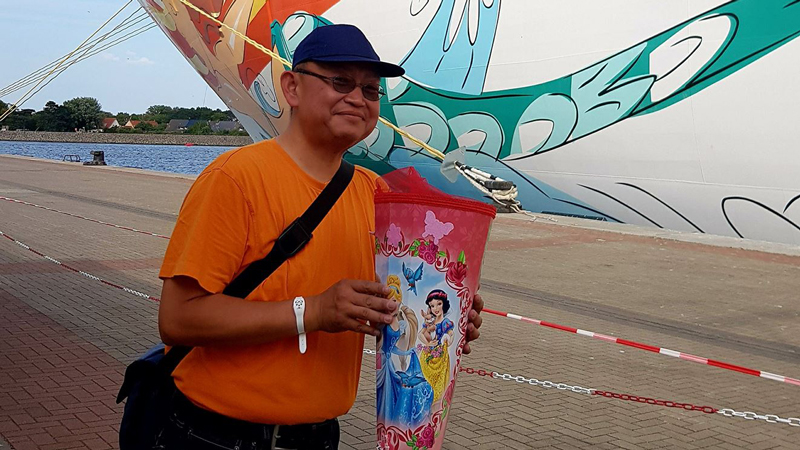 The school immatriculation cone attracted so much attention that I was asked at the pier. As it were cruise novice I was asked if that was "normal". They took a picture of me. As I did not expected at that time that we would meet again onboard we did not introduced ourselves. But the largest ship was small enough to make our ways crossed again. So later I will introduce them too.

So packing completed...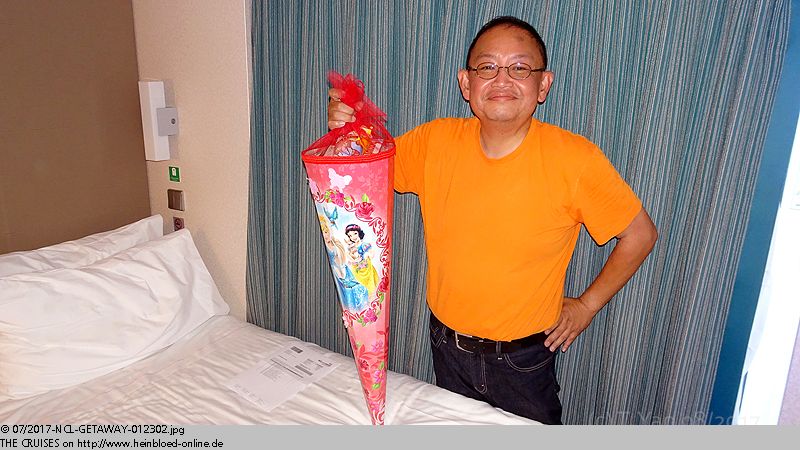 So fertig gepackt...
Nur Geschenkband haben wir keines dabei. So muss Brunos FRISCHE Zahnseide herhalten, um die Tüte zuzubinden.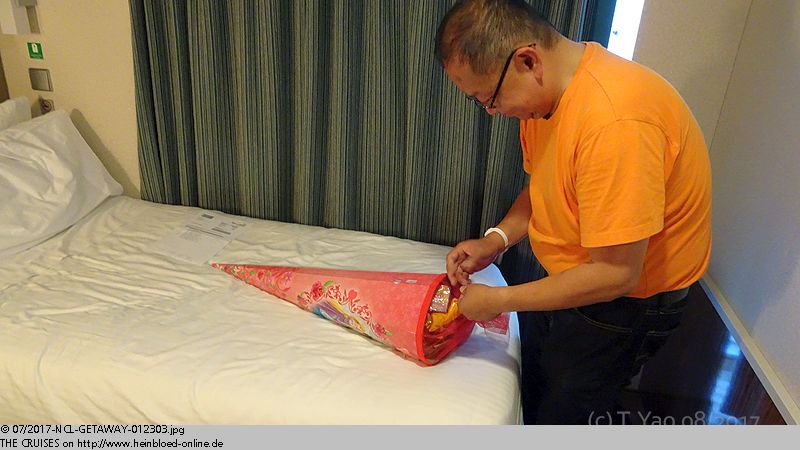 But we had no gift tape with us. So Bruno need to release his FRESH dental floss to have the cone closed safely.

We made a small video when we packed.

Über das Einpacken haben wir ein kleines Video gedreht.
Auf dem Weg zurück müssen wir noch den Wagen parken. Ich habe alle miteinander vergleichen. Und irgendwie erscheint mir
easy Parken
am sympatischsten. Nicht einfach zu finden. Aber wenn man einen gefunden hat, findet man alle. Vorab habe ich mitgeteilt, dass es bei uns sehr viel später wird, weil meine Scheibe repariert werden muss. Kein Problem. Ich bekomme die Telefonnummer und soll mich melden. Man wird dafür sorgen, dass ich parken kann und zum Cruise Terminal gebracht werde, auch wenn es länger dauert. "Plaste"... "Plaste und Elaste aus Schkopau..." Unvergesslich der Spruch an der Transitautobahn Berlin - Frankfurt und Berlin - Nürnberg.

On the way back we need to park the car. I compared all offers. Somehow easy Parken appeared most sympatic to me. Not easy to find. But when you find one you find all others too. I told them in advance that we will be much much later because I need my windscreen to get fixed. No problem. I got the phone number and should call. They would take care that I can park and get to the cruise terminal even it would take longer. "Plaste"... (Former East German expression for plastic)... Before we had the in-transit-highways out of Berlin there was an advertising sign on a bridge I remembered.

Our balcony cabin 8780. Concerns that we were located next to the public toilet at the stairways and could listen all flushings was unfounded.
But we could hear many guests who were extremely ruthless in the night time or did NCL saved money in the contruction that you can hear now everything. The cabins of our parents originally would be just next to ours. Our neighbours were watching adult movies very loud... I felt like I was in my Swiss appartment... But my neighbour watched her adult movies between 03.00 hrs and 05.00 hrs - during weekdays! And so loud that I called the police as beating the wall or ringing the doorbell did not help to improve the situation. But I could not remember that we could really hear what happened in other cabins on the older ships.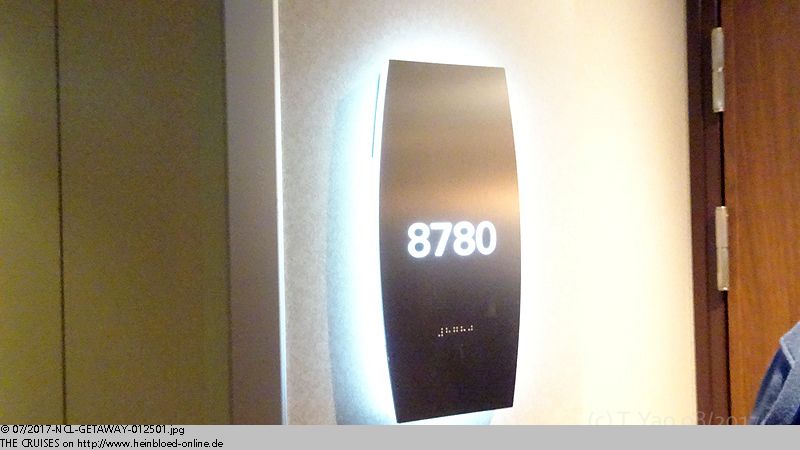 Unsere Balkonkabine 8780. Befürchtungen, dass wir neben der öffentlichen Toilette am Treppenhaus alle Spülgänge hören sind unbegründet. Allerdings hören wir viele Gäste, die einfach auch nachts rücksichtslos sind, oder hat NCL an den Baukosten gespart, dass man jetzt alles hört. Die Kabinen unserer Eltern wären nebenan gewesen. Unsere Nachbarn gucken wohl laut Erwachsenen-Filme... Ich fühle mich wie bei mir in meinem Baseler Domizil... Nur meine Nachbarin guckte ihre Erwachsenen-Filme immer so zwischen 03.00 Uhr und 05.00 Uhr morgens - unter der Woche! Und zwar so laut, dass ich schon mal die Polizei gerufen habe, als Klopfen gegen die Wand und persönliches Klingeln nicht half. Ich kann mich wirklich nicht erinnern, dass wir früher auf den älteren Schiffen etwas mitbekommen haben, was nebenan passierte.
Wir hatten Shenny vorab gebeten das Housekeeping zu informieren, dass wir die Betten gerne auseinander hätten, damit der Kabinensteward nicht doppelte Arbeit hat. Da ich die Polyester-Bettwäche von NCL nicht mag, bekomme ich Baumwollwäsche.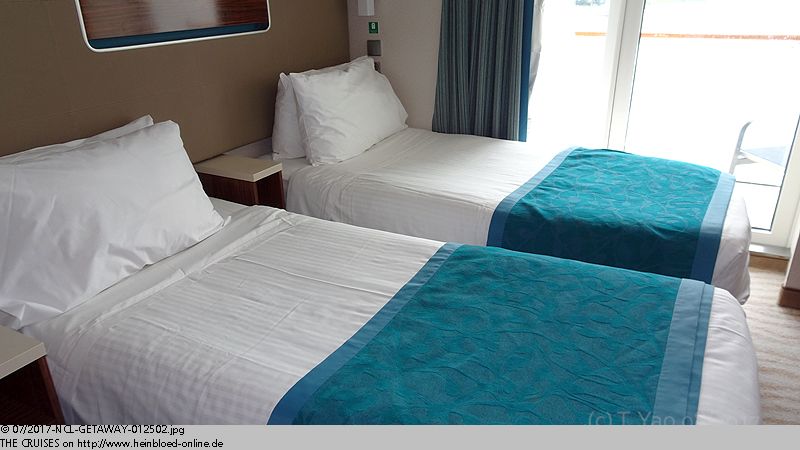 We asked Shenny in advance to inform the housekeeping that we would like to have the beds seperated to avoid double work for our cabin steward. As I hate the Polyester-linen of NCL I got cotton linen.

Different to NORWEGIAN EPIC the bathrooms were again together on Breakaway-Class and not seperated by a aisle.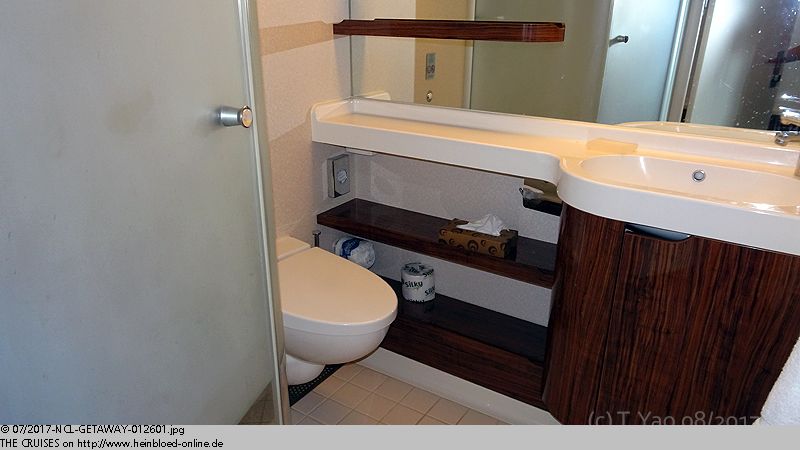 Gegenüber der NORWEGIAN EPIC sind ja die Badezimmer auf der Breakaway-Klasse wieder zusammen und nicht durch den Gang getrennt.
An der Wand hängen Spender.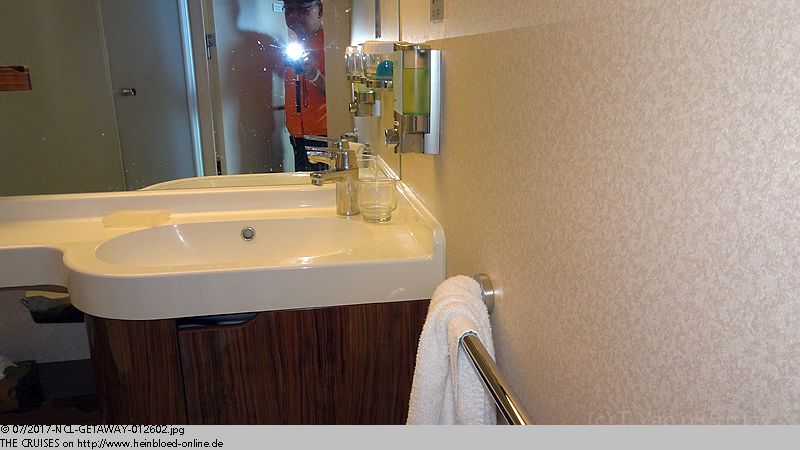 On the wall you had dispensers.

As good customers of the NCL we got the cosmetics of the Suite-guests.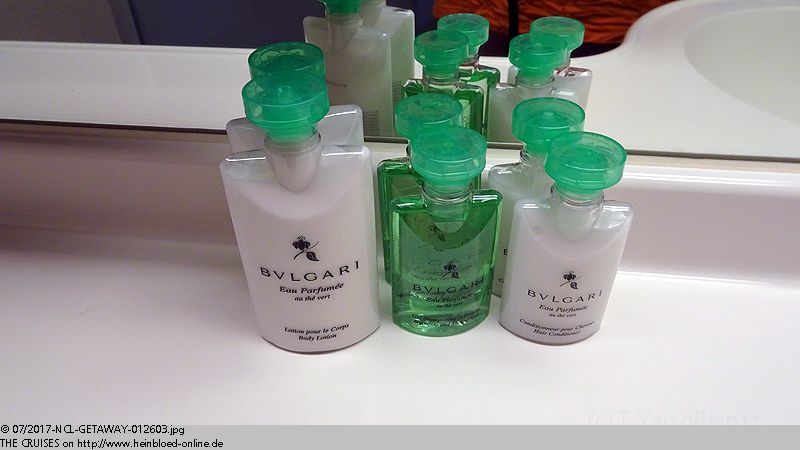 Als gute Gäste der NCL bekommen wir die Kosmetik der Suiten-Gäste.
Unser Balkon.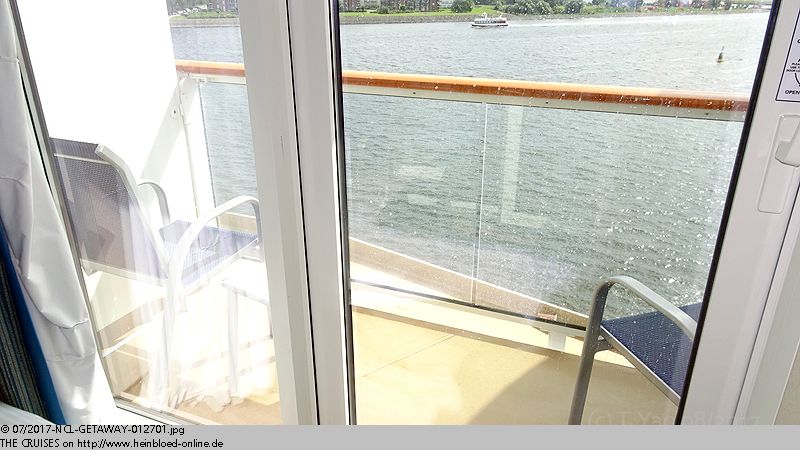 Our balcony.

We checked how they cleaned our balcony as we lived directly at the end of the waterfront.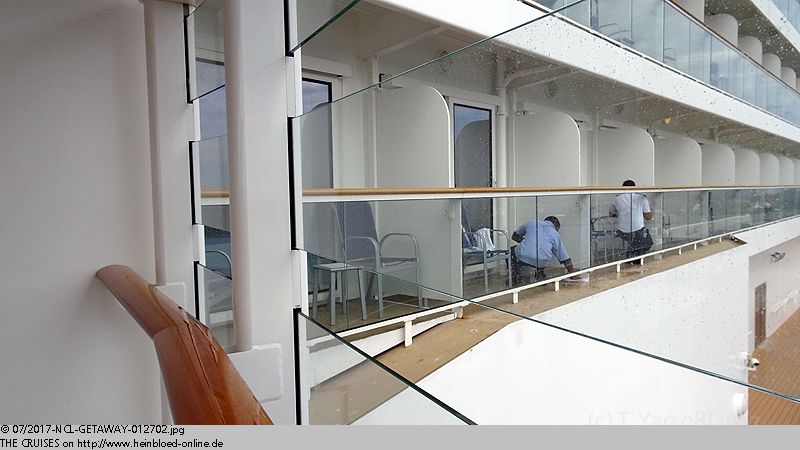 Wir gucken zu, wie die Balkons saubergemacht werden, da wir direkt am Ende der Waterfront wohnen.
Nachts gibt es noch Licht auf dem Balkon. Die nächste Generation Breakaway Plus wie NORWEGIAN ESCAPE hat keine Lichter mehr auf dem Balkon. Auch wieder am Baubudget gespart.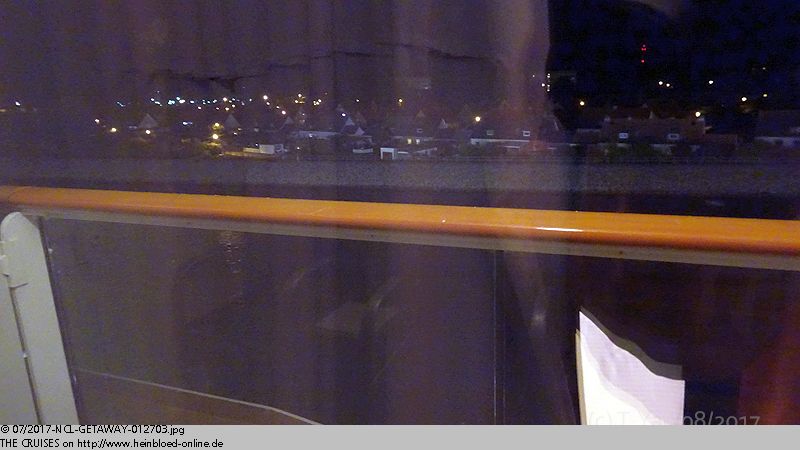 In the night time you still had light on the balcony. The next generation Breakaway Plus like NORWEGIAN ESCAPE had no more lights on the balcony. Saved again the construction budget.

Our bags were there. No USB-ports available. USB was introduced 1996. And the ship was not so old. The switeches for "Please make the room" was for the crew: so there was the little green light fine but the little red light for "Please do not disturb" should be for other guests too. But did any other guest knew the meaning of the little red light? Drawers you had only two giant undeer the sofa - but only if you occupied your cabin with two and no third was staying there on the sofa since they would need to stow the blankets and pillows there. Small drawers were not available. Especially not with the night racks which were extremely deep and were extremely impracticable. Good was that the hair dryer did not occupy a power outlet and a drawer (which did not exist). The water bottle fit perfectly into the stool. We need to tape part of the air outlet of the air condition because they did not order the better one which spread the air over the ceiling. The life vests were now under the beds and did not block anymore valueable stowage room in the closet.

Unser Gepäck ist da. USB-Ports gibt es nicht. USB wurde 1996 eingeführt. So alt ist das Schiff ja nicht. Der Schalter für "Bitte Zimmer aufräumen" ist ja für die Crew: da ist das grüne Lämpchen in Ordnung, aber das rote Lämpchen für "Bitte nicht stören" soll ja auch für andere Gäste sein. Nur weiss das überhaupt ein anderer Gast, was das rote Lämpchen zu bedeuten hat? Schubladen gibt es nur zwei riesige unter dem Sofa - und auch nur, weil wir die Kabine zu zweit belegt haben und kein Dritter auf dem Sofa schläft, und in den Schubladen noch das Bettzeug rein muss. Kleine Schubladen gibt es nicht. Insbesondere nicht an den Nachtgestellen, die extrem in die Tiefe gehen und die äußerst unpraktisch sind. Gut wiederum, dass der Fön keine Steckdose und Schublade (die es eh nicht gibt) blockiert. Die Wasserflaschen passen zum Glück in den Hocker. Die Luftdüsen der Klimaanlage müssen wir abkleben, weil man auf die bessere Bauart mit der Luftverteilung über die Decke verzichtet hat. Die Rettungswesten sind jetzt unter den Betten und blockieren keinen kostbaren Stauraum im Schrank.
Da alle Ablagen für aufrechte Lagerung von Papieren ungeeignet sind, müssen wir wieder unsere Magnete nutzen. Wieder viele Papiere zum Durchlesen. Termine. Worüber ich mich freue: da der Concierge ja auf der NORWEGIAN EPIC sowie der Breakaway/Plus-Klasse in The Haven eingeschlossen wird und Plantin-Gäste keinen Zugriff mehr zu ihm haben, darf ich mich an Errolls Assistentin wenden.

As all racks were not constructed for the upright stowage of paper we need to use our magnets. Again a lot of paperwork to read. Appointments. I was most happy on: as the Concierge on NORWEGIAN EPIC and the Breakaway/Pluss class was locked in the The Haven and Platinum guests had no more access to him I was allowed to address to Erroll's assistant.

They meant it very good with us... strawberries...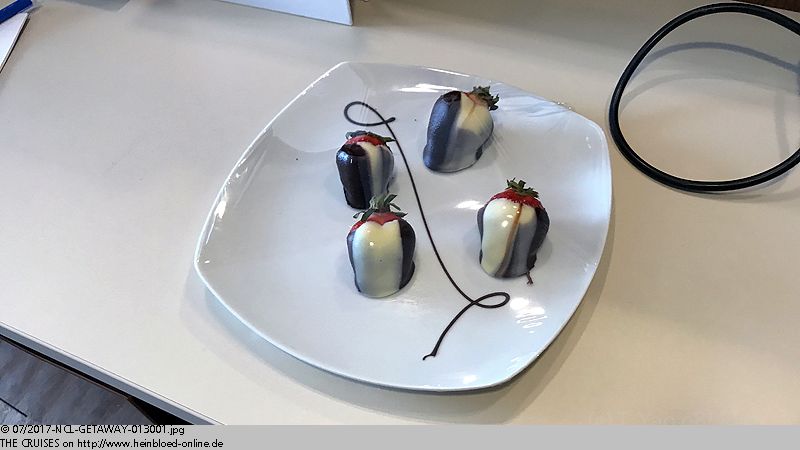 Sie meinen es gut mit mir... Erdbeeren...
Wir hatten um Wasser statt Sekt gebeten...

We asked for some water instead of the champagne...

Again strawberries...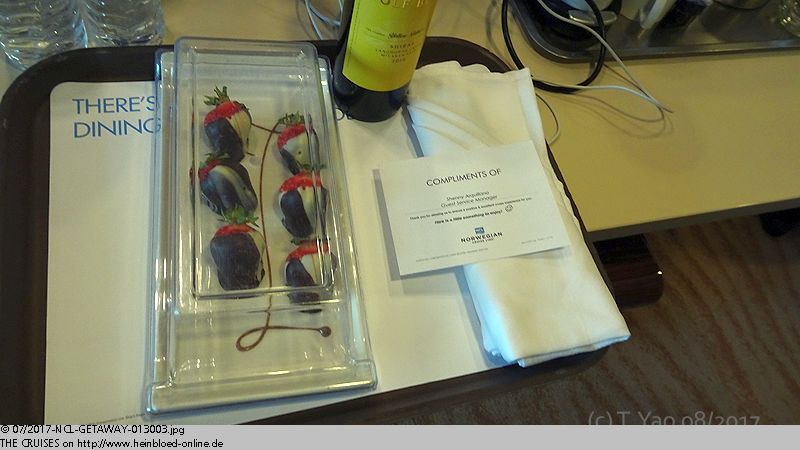 Nochmals Erdbeeren...
Ach Shenny gibt es doch noch... Sie lebt... Ich bekam allerdings auch zum Geburtstag einen Gruß von einer befreundeten Spedition... Die Karte kam allerdings von jemandem, der dort schon lange nicht mehr arbeitete... Liegt hier auch so ein Fall vor???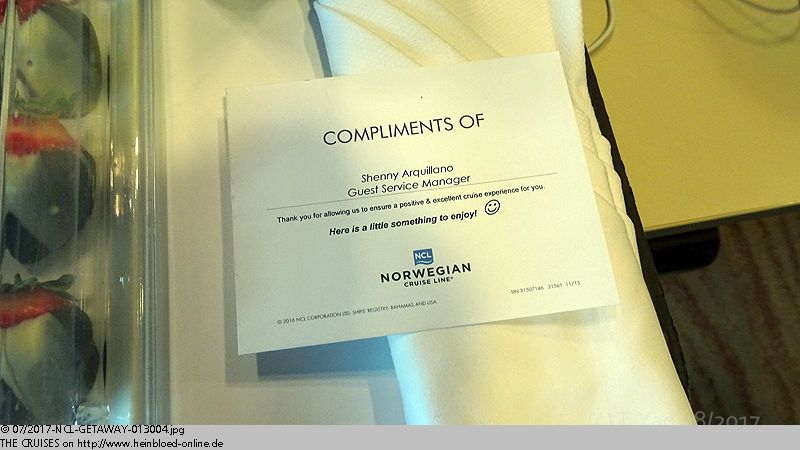 Well Shenny was still existing... she was alive... I got for my birthday a greeting from a partner forwarding agent... The card came from someone who left the company... Was that also such a case???

A bottle of Shiraz.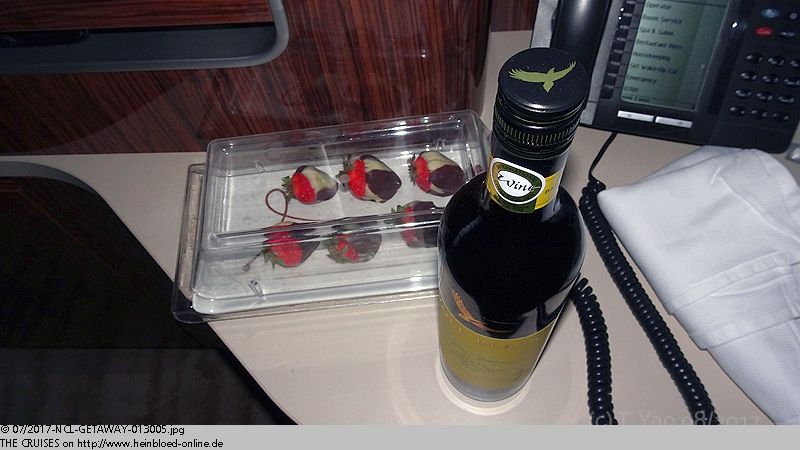 Und eine Flasche Shiraz.
Es geht zur Seenotrettungsübung. Nur einer je Kabine muss sich melden. Die Seenotrettungsübung findet nicht an den vorgesehenen Sammelplätzen sondern zentral im Theater statt. Man darf zwar bis 20.00 Uhr einchecken (nach 16.00 Uhr nicht mehr im Cruise Terminal, sondern an Bord begleitet), aber um 18.00 Uhr findet die Seenotrettungsübung statt. Nur diese Seenotretttungsübung finde ich hier noch schlechter als bei MSC. Bisher waren sie immer auf sehr hohem Niveau. Man kommt sich vor, als ob im nordkoreanischen Staatsfernsehen Nachrichten vorgelesen werden.

We went for the life drill. Only one cabin should need to be registered. The life drill was not hold at the assembly stations but centrally in the theater. You were allowed to check-in until 20.00 hrs (after 16.00 hrs not anymore in the Cruise Terminal but escorted on board but you had the life drill at 18.00 hrs. But this life drill here was worse than the ones we experienced with MSC. So far it was always on a very high level. Now it felt like watching the news on the North Korean State TV channel.

After the life drill our personal board photographer came...

Nach der Seenotrettungsübung kommt unser persönlicher Bordfotograf...
Er fotografiert uns an Bord!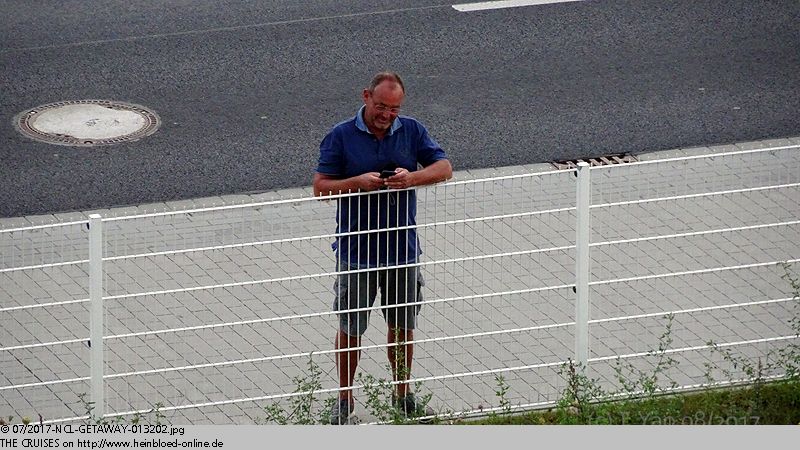 He took pictures of us on board...

That was why he was our board photographer. Those on board were extremely aggressive.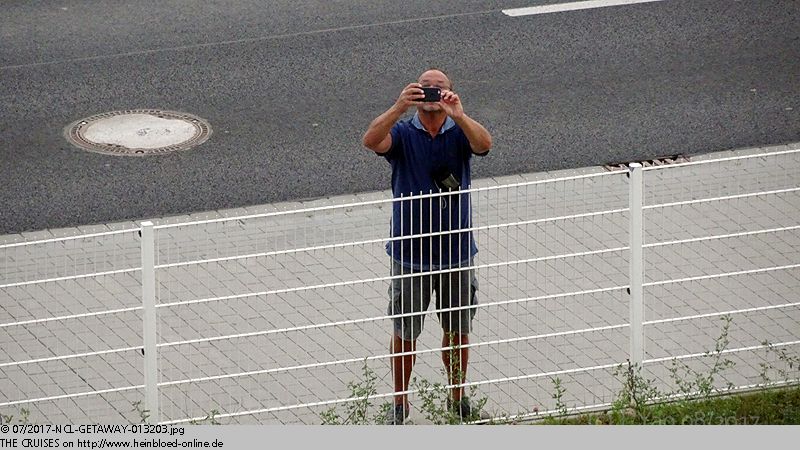 Deswegen ist er unser Bordfotograf. Die an Bord sind extrem aggressiv.
Gunnar ist extra vom Strand gekommen.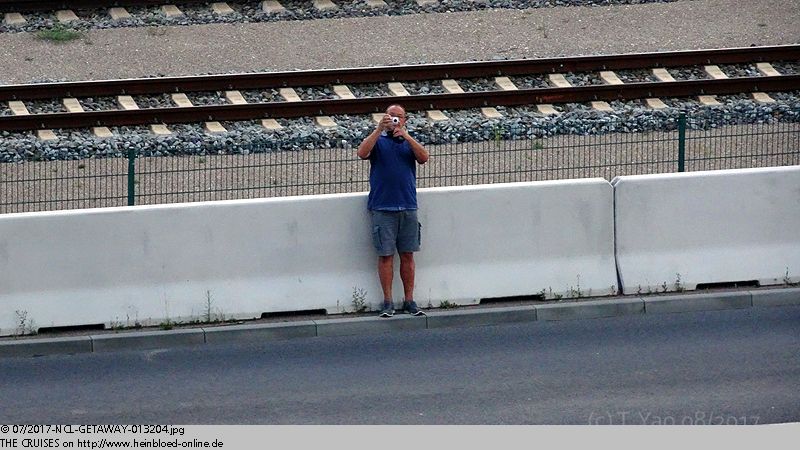 Gunnar came just for us from the beach.

Gunnar headed back to have the whole ship from the front to the end... we were curious if he would cross the tracks.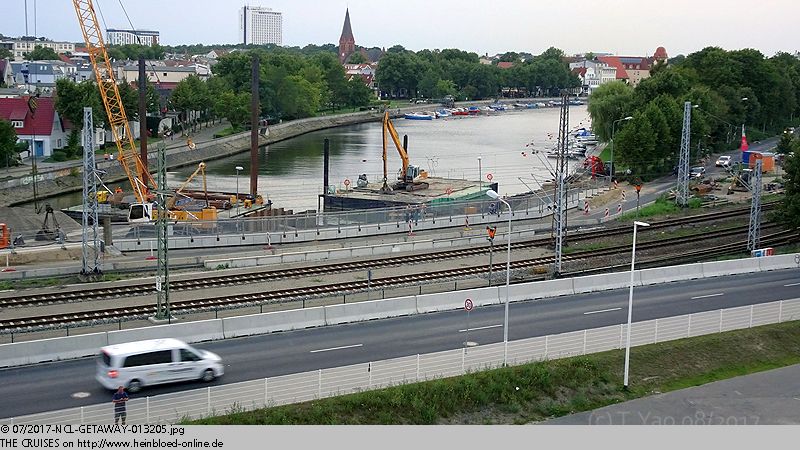 Gunnar tritt weiter zurück, um uns auf dem Schiff von vorne nach hinten zu bekommen... mal gucken, wann er über Gleise klettert.
Danke an Gunnar für diese Bilder: wir sind direkt über dem Rettungsboot...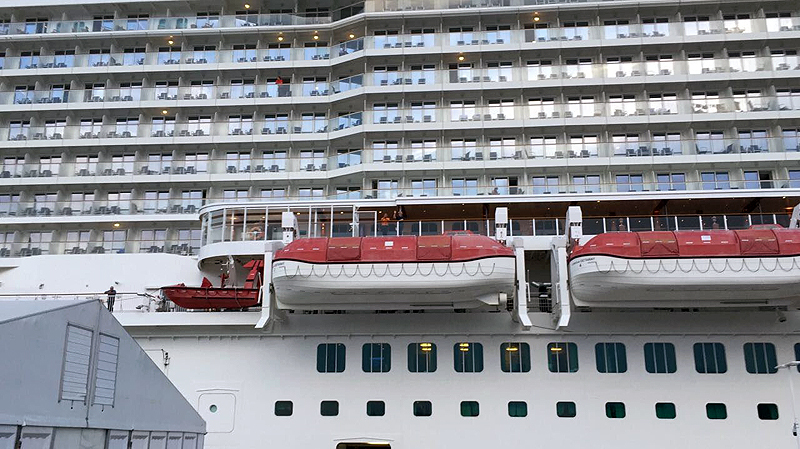 Thanks to Gunnar for such pictures: we were directly over the life boat...

A little larger...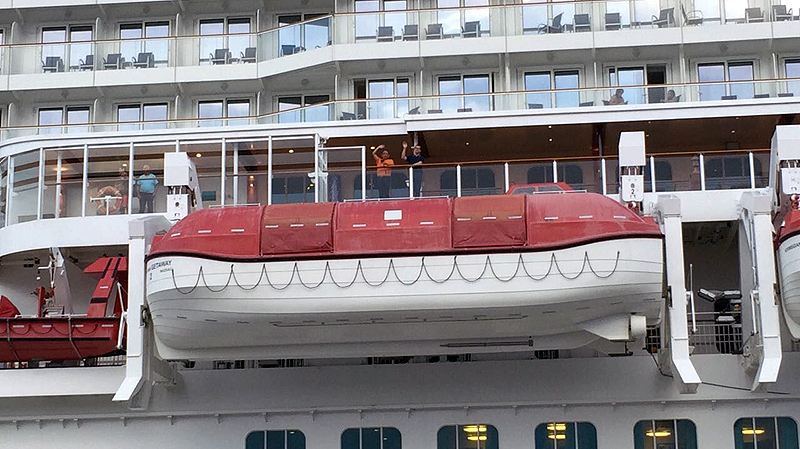 Etwas größer...
Und ein Video, das Gunnar gedreht hat.

And a little video, Gunnar taped.

We wanted to see one of the main dining rooms for dinner. We should wait an hour. We were not interested and we did not want to call Erroll's assistant or Shenny. We had the Ultimate Dining Package: 3 times were allowed to see an alternative dining and two times additionally due to our Platinum-membership. So we asked in La Cucina. We did not see it for a long time. Then we liked it very much but with the last time we did not like it so much anymore. It was empty. It was very close to our cabin and we were hungry and we were too lazy to check for the other restaurants. And we had really big luck to ran into Lloyd Cunanan whom we knew from NORWEGIAN JADE 2014 (1). We experienced his service very much then and we did it again on that day. So we knew: everything would turn to good. The food was also a big surprise: we found it really good! We had even freshly grinded Parmesan cheese. Something we did not have on COSTA FAVOLOSA 2017 - an Italian ship!!! The Cesar's Salad reminded me that someone promised me since NORWEGIAN SPIRIT 2007 (10 years) to prepare my personal Cesar's Salad: Luiza-Oana Andrei. Everything was perfect: nice service with Abnishek Ojha, I Gusti Widiana. The crowning finale... the giant bottle of Aqua Panna... I should order in future always bottled water and hope to get this bottle... no... the crowning finale of the day... Shenny... Laura... Tamara... but there was no "Charlie's Angels"-picture like we had on NORWEGIAN JADE 2014 (1)... with Shenny, Vesna and Jill...

Wir wollen in einer der Hauptrestaurants zum Essen. Wir sollen eine Stunde warten. Dazu haben wir keine Lust und wir wollen aber nicht sofort bei Errolls Assistentin oder Shenny anrufen. Wir haben das Ultimate Dining Package: drei Mal dürfen wir Zuzahlrestaurants aufsuchen und zwei Mal zusätzlich aufgrund unserer Platin-Mitgliedschaft. So fragen wir im La Cucina nach. Wir waren hier schon lange nicht mehr. Früher fanden wir es ganz toll, aber bei den letzten Malen fand ich es weniger gut. Es ist leer. Es ist sehr nah an unserer Kabine und wir haben Hunger und wir sind zu faul, um ein Restaurant nach dem anderen abzuklappern. Und wir haben einen Riesenglück: wir rennen direkt in Lloyd Cunanan rein, den wir von der
NORWEGIAN JADE 2014 (1)
kennen. Seinen Service haben wir damals sehr genossen und wir tun es auch heute wieder. Nun wissen wir: alles wird gut. Das Essen ist auch eine große Überraschung: wir finden es gut! Es gab sogar frisch geriebenen Parmesan aus der Mühle. Etwas, das es nicht mal auf der
COSTA FAVOLOSA 2017
gab. Und das ist ein italienisches Schiff. Der Cesars Salad erinnert mich an die Zusage von jemandem seit
NORWEGIAN SPIRIT 2007
(10 Jahre) meinen persönlichen Cesars Salad zuzubereiten: Luiza-Oana Andrei. Alles stimmt: netter Service mit Abnishek Ojha, I Gusti Widiana. Der krönende Abschluss... die Großflasche von
Aqua Panna
... ich bestelle in Zukunft immer Flaschenwasser, in der Hoffnung, dass ich diese Flasche bekomme... nein... der krönende Abschluss des Tages... Shenny... Laura... Tamara... aber es gibt kein "Drei Engel für Charlie"-Bild wie damals auf der
NORWEGIAN JADE 2014 (1)
... mit Shenny, Vesna und Jill...
Es gibt neu eine Paket für 8 Tage... aber unsere Reise dauert 9 Tage. Hinterher lernen wir: Gäste aus Warnemünde sind leider immer Gäste 2. Klasse... die 8 Tage beziehen sich auf die Abfahrt ab Kopenhagen. Man muss am Tag von Kopenhagen, zwischen 13.00 Uhr und 15.00 Uhr beim Internet-Manager vorsprechen, um verlängern zu können. Wir fahren eh entlang der Küste und ich sehe keine Notwendigkeit, dass wir deswegen unseren Landgang unterbrechen. 280.00 USD bei "höherer" Geschwindigkeit (2017). Tolle Preise und Pakete für die gleichzeitige Nutzung durch mehrere User mit Ku-Band (HighSpeed über Satelit) wie auf der
ALLURE OF THE SEAS 2015
kopiert man leider nicht seitens NCL, um sie auch ihren Kunden anzubieten.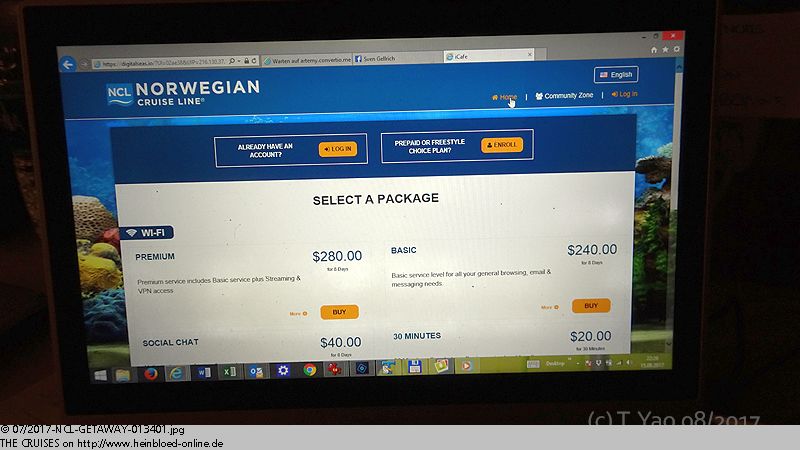 New was a package for 8 days... but our voyage was 9 days. Later we learned: guests from Warnemünde were always guests 2nd class... the 8 days refer to the sailing out of Copenhagen, Denmark. You need to see the Internet-Manager at the day of Copenhagen between 13.00 hrs and 15.00 hrs to have the option to extend. We should go anyway alongside the coast and I did not see a need to interrupt my stay ashore. 280,00 USD with "higher" speed (2017). Great prices and packages for the same-time use of multiple user on Ku-band (HighSpeed by sattelite) like we had on ALLURE OF THE SEAS 2015 were not anything NCL would copy and offer their guests.

No problem with the spelling of my name. I could get immediately registered.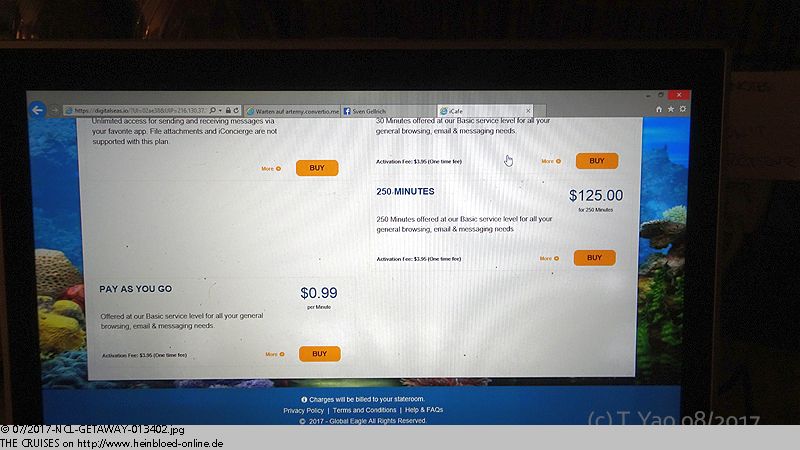 Kein Problem mit der Schreibweise meines Namens. Ich kann mich sofort registrieren.
Sofort ist man drin. Aber man hat als Platin-Mitglied nichts davon: Das kostenlose Internet-Guthaben nützt einem nichts, weil man dafür keine Gutschrift bekommt. Und wirklich schnell wie auf der
ALLURE OF THE SEAS 2015
ist es auch nicht. Um die 30 Minuten am letzten Tag, hätten wir auch zwischen 13.00 Uhr und 15.00 Uhr in Kopenhagen beim Internet-Manager vorsprechen müssen. Aber so verzichten wir darauf. Ich freue mich auf den Seetag.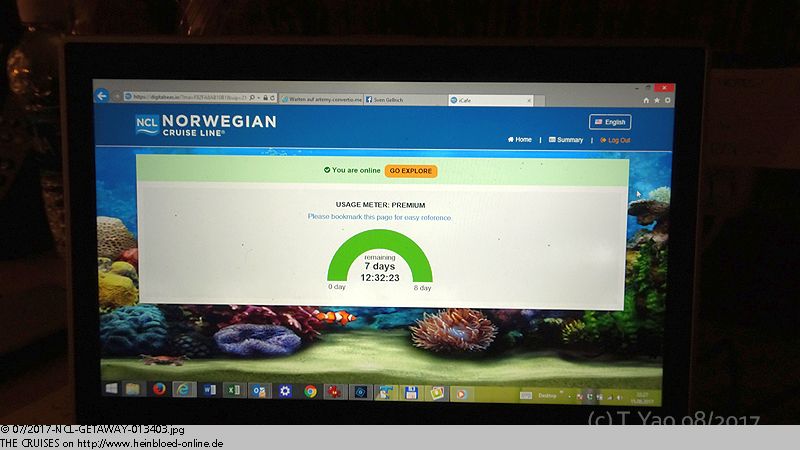 Immediately you were in. But as Platinum-member you did not have any benefit: the complimentary internet credit was not to be credited. And it was not as fast as we. experienced on ALLURE OF THE SEAS 2015. To get the 30 minutes for the last day we need to see the Internet-Manager on the day in Copenhagen between 13.00 hrs and 15.00 hrs. So we did it without. Looking forward for my day at sea.