Ich werde gefragt, wie ich es hier finde. Ich will heute abreisen. Die Frage kommt zu spät. Irgendwie komme ich technisch nicht so klar, speziell mit den Armaturen. Das Wasser geht nicht immer ins Becken. Die Badewanne lädt ein. Irgendwie ist das alles komisch angeordnet. Ich bekomme die Jalousien nicht hoch. Ist dieses weiße Teil überhaupt die Steuerung dafür? Die Badewanne ist so rutschig: ich kann mich mit meinen Füßen nicht abstützen und rutsche immer weg. Auch das WLAN: ich bekomme immer nur das langsame Internet. Und wozu braucht man heutzutage noch eine Zeitung aus Papier in Zeiten von ePaper.

I was asked how I liked it. I should leave that day. The question came somehow too late. Somehow I had technical problems to use the water taps. The water did not go into the sink. The bath tub was inviting. Somehow it was set up a little strange to me. I could not get the blinds up. Was this white device to control it? The bath tub was very slipper: I cannot get hold with my feet and slipped away. Also the WiFi: I only got the slow internet. For what do you need a newspaper made of paper when you could have ePaper.

As we stayed in the East Wing we need to go for breakfast to the West Wing. Cruise atmosphere: Viking River Cruises was represented here.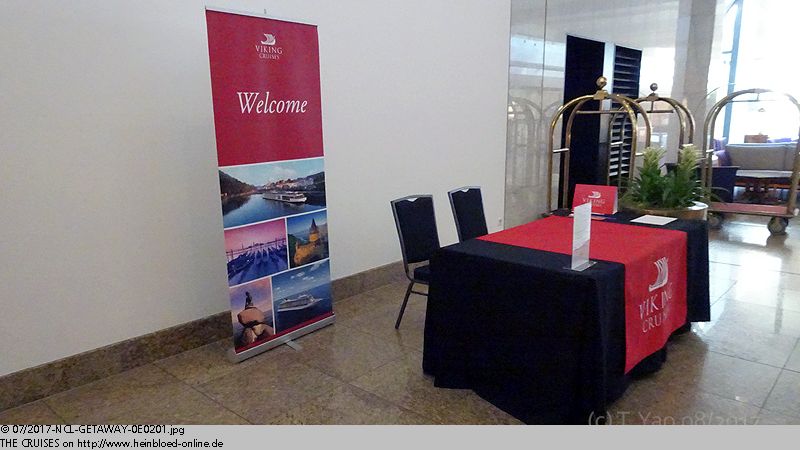 Da wir im Ostflügel wohnen müssen wir zum Frühstück in den Westflügel. Kreuzfahrtstimmung: Viking Flusskreuzfahrten ist hier vertreten.
Die Glaspyramide im Eingangsbereich.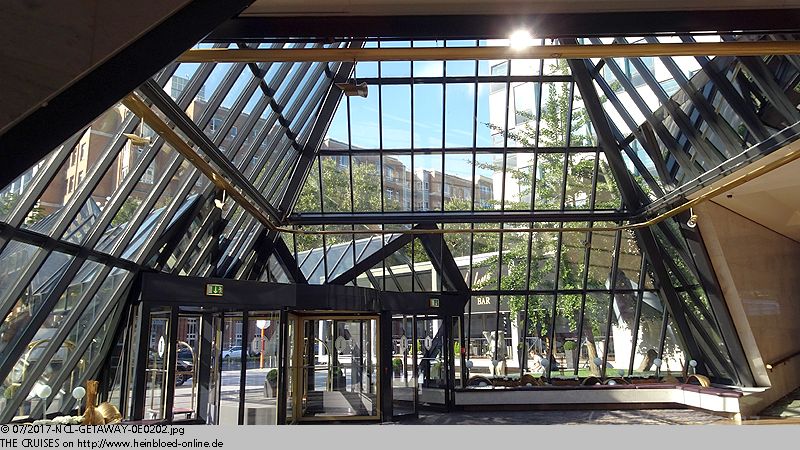 The glass pyramide in the entrance area.

Marlene Bar from the inside view.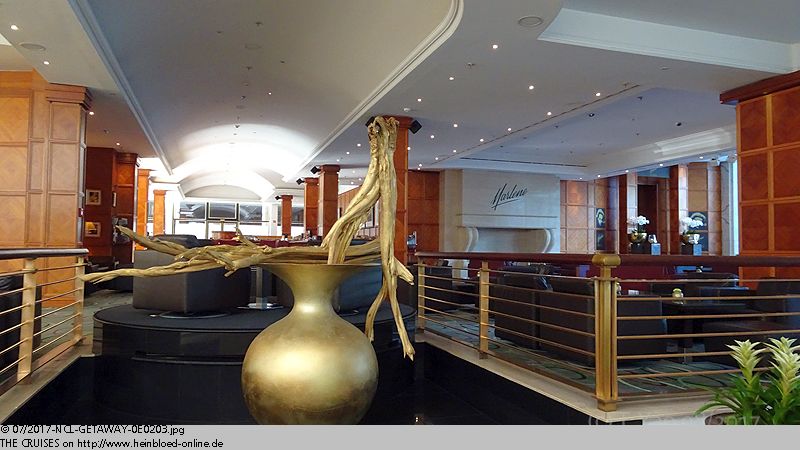 Marlene Bar von der Innenseite.
Immer wieder gerne.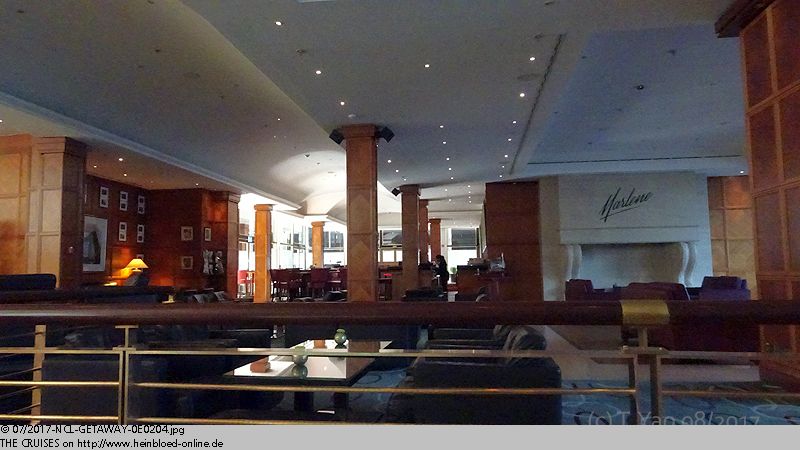 Always again and again.

The VIP entrance for those who liked to enter discretely the hotel. Only there was no key slot to run the key cards. So they need to walk in through the front entrance.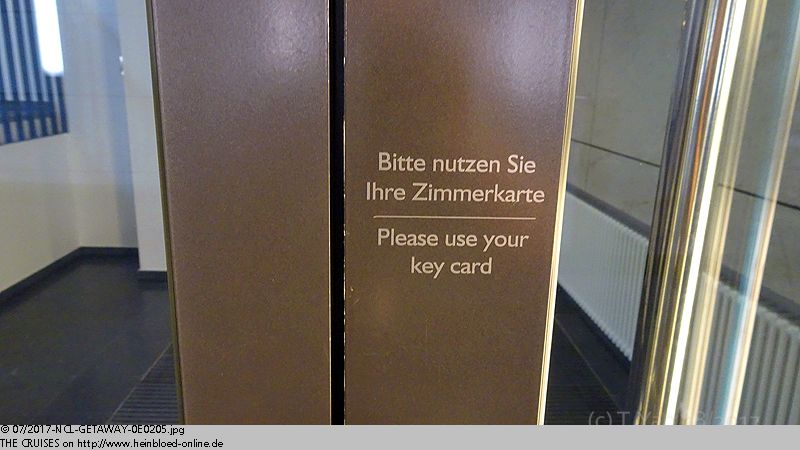 Der VIP Eingang, für die, die diskret ins Hotel wollen. Nur es gibt gar keinen Leser für die Schlüsselkarte. Also müssen sie doch alle durch den Vordereingang.
Eine gute Entscheidung ins L.A. Café zu gehen statt im Club Intercontinental zu frühstücken. Dagegen wirkt das Frühstück im Club Intercontinental schon wie ein Continental Breakfast, wenn man das Frühstück hier sieht. Der Empfang ist wirklich toll: Frau Bose erklärt einem Nicht-Gerne-Frühstücker das Frühstücksangebot, so dass man doch Lust auf Frühstück bekommt: Kinderbüffet, asiatisches Büffet (früher gab es ja noch Misosuppe, gegrillten Lachs, Tamago und Kresse für die Japaner!!! - nun ist alles mehr chinesisch), gesunde Ecke. Nur leider passt der Service nicht so zu dem Angebot: wir müssen folgendes "lernen": 1. Die Kellnerin, die bei uns herumläuft soll nur den großen Nachbartisch betreuen. 2. Mir wird beigebracht, wie ich selbst an frisches Besteck komme, ohne das Personal zu belästigen. 3. Mir wird beigebracht, wie ich an Kaffee komme, ohne dass ich das Personal belästigen muss. Eindeutig unterbesetzt und unterqualifiziert. Echt schade! Ob das Hotel Management vom Intercontinental Düsseldorf übernommen wurde? Dort mochte ich es auch nicht so. Aber
Intercontinental in Marseille
war klasse. Das haben wir ja auf der Fahrt mit der
COSTA FAVOLOSA 2017
kennengelernt. Nur gegessen hatten wir dort auch nicht.

A good decision to see the L.A. Café for breakfast instead of Club Intercontinental. The breakfast of Club Intercontinental appeared more like Continental Breakfast if you see the breakfast here. The reception was really great: Mrs Bose explained a Breakfast-Hater what they offered for breakfast so you really would love to have breakfast: kids buffet, Asian buffet (before you had also Miso-Soup, grilled salmon, Tamago (Japanese egg omelettes) and cress for the Japaneses!!! now it became more Chinese), healthy corner. But somehow the service did not fit to the offer: we had to "learn": 1. The waitress walking around us is only in charge to take care of the next table with a larger party. 2. I was taught how to get myself new silverware without bothering the staff members. 3. I was educated how to get coffee withouth bothering the staff members. Definately undermanned and non-qualified. Really sad! Was this the same management like Intercontinental Düsseldorf? There I did not like it either. But Intercontinental in Marseille was great. That we made acquaintance on our voyage to COSTA FAVOLOSA 2017. But we did not eat there.

On our way Northbound we stopped again at Samowar. They offered us to buy a homemade bread. We accepted the offer: freshly baked and freshly bought.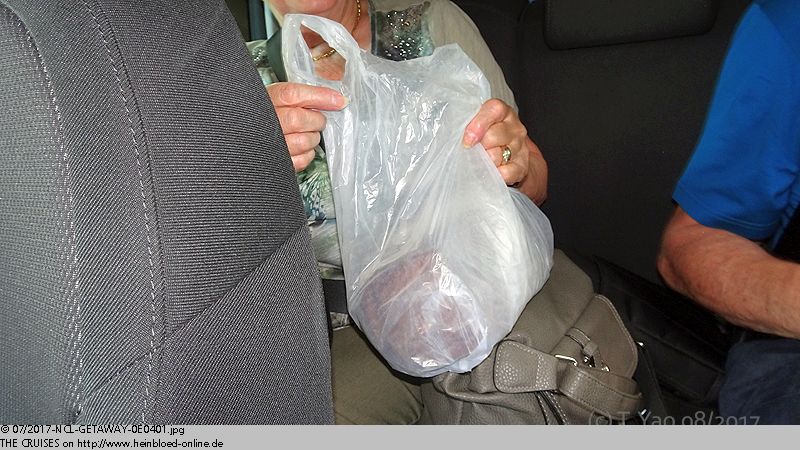 Auf dem Weg nach Norden gehen wir schnell nochmals bei Samowar vorbei. Sie hatten uns angeboten, dass wir ein selbstgemachtes Brot kaufen können. Hiervor machen wir Gebrauch: frisch gebacken und frisch gekauft.
Im Umland von Berlin befinden wir uns bereits im wilden Osten: nicht mal Mobilfunk.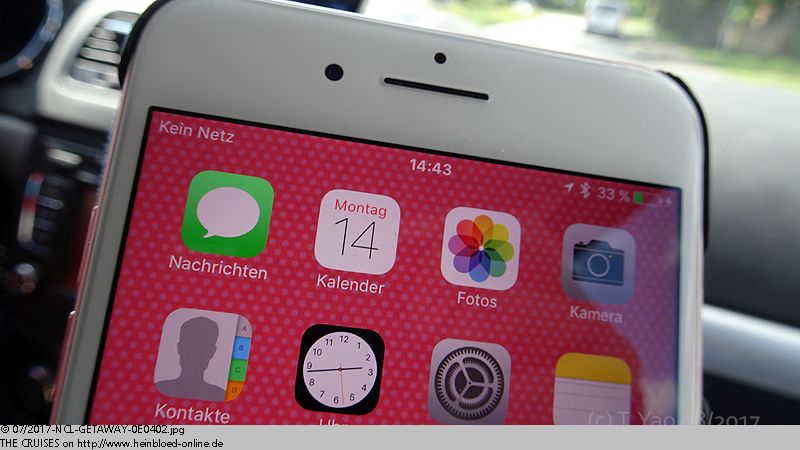 In the agglomeration of Berlin we were already in the Wild Wild East: no mobile phone signal.

We went to Rheinsberg which is in Germany popular for literature and old movie fans. Kurt Tucholsky wrote Rheinsberg and there was also a popular movie showing love romance during the early 20th century. I bought a special edition of the book you can only buy in Rheinsberg.

Claire und Wölfchen. Conny Froboess und Christian Wolff. "
Rheinsberg
" von Kurt Tucholsky. Guter Grund hier zu halten. Hier kaufe ich eine bebilderte Sonderausgabe des Buches, das es nur in Rheinsberg gibt.
Wir gehen im Park des
Schlosses Rheinsberg
spazieren. Einfach nur schön.

We walked around in the park of the Rheinsberg Palace. Just beautiful.

We had lunch at Ratskeller Rheinsberg. Here I had the favorite food of Theodor Fontane (another popular German author and novellist). The potato dumplings were most delicious. Tasted like Thuringia. All others had their fun too.

Wir essen im
Ratskeller Rheinsberg
zum Mittagessen. Hier esse ich das Leibgericht von
Theodor Fontane
("Herr von Ribbeck auf Ribbeck im Havelland..."). Die Klöße sind echt lecker. Schmecken sehr nach Thüringen. Auch allen anderen schmeckt es.
Weiter nach Warnemünde (nach dem wir zuvor Brunos Eltern in Kühlungsborn abgesetzt haben. Sie fahren nicht mit uns mit. Leider meine Eltern auch nicht. So schön, wie die Fahrten bisher waren, aber denen ist das zu anstrengend). Wir übernachten im
Hotel Belvedere
. 150 EUR hätte die Yachtresidenz MEHR genommen. Für einen Blick direkt auf das Wasser. Und das Belvedere liegt wirklich fußläufig vom Passagierkai entfernt. Alles sauber. Es wird aber bald mal Zeit auch mal wieder etwas in den Zimmern zu machen. So fehlt beispielsweise WLAN.

Heading to Warnemünde (after we dropped of Bruno's parents in Kühlungsborn. They did not join us. Unfortunately my parents either. As nice as all the past voyages were but they felt it would be too strenuous for them.). We stayed overnight in Hotel Belvedere. 150 EUR would be taken MORE by Yachtresidenz. For a view directly on the water. And the Belvedere was easy walking distance from Passenger quay apart. Everything was clean so far. But soon they need to upgrade the rooms again. Like WiFi was missing.

What was very sad: NCL does not offer any home-to-ship-baggage service by terfa.
Even not for sailings out of Warnemünde but all others do offer. So we need to check the offers of DHL or Hermes
. After checking all offers we decided to use Hermes but to place the order with
Deutsche Bahn (German Railways)
as you can book additional time windows. But so far it worked to get it to here. Our bags made it.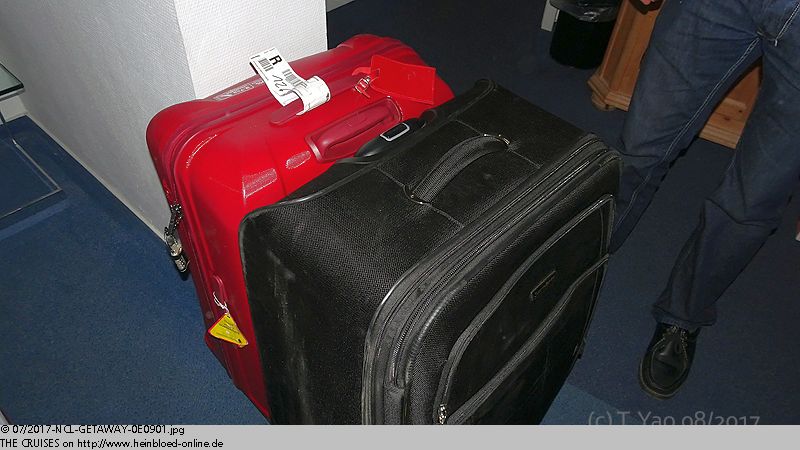 Was sehr schade ist: NCL bietet leider keinen Gepäckservice über
terfa
an, auch nicht bei Abfahrten ab Warnemünde, was alle anderen tun. Daher müssen wir auf
DHL
oder
Hermes
zurückgreifen. Nach Prüfung der ganzen Angebote haben wir uns für Hermes entschieden, jedoch den Auftrag über die
Deutsche Bahn
eingegeben, weil man dort Zeitfenster hinzubuchen kann. Aber hierher hat es schon mal gut geklappt. Unser Gepäck ist da.
Eine weitere Kiste ist für uns gekommen. Wir sollen das mit an Bord nehmen und abgeben. Da es ja heißt, dass man nichts unbekanntes von Fremden mit an Bord nehmen soll, machen wir die Kiste kurzerhand auf.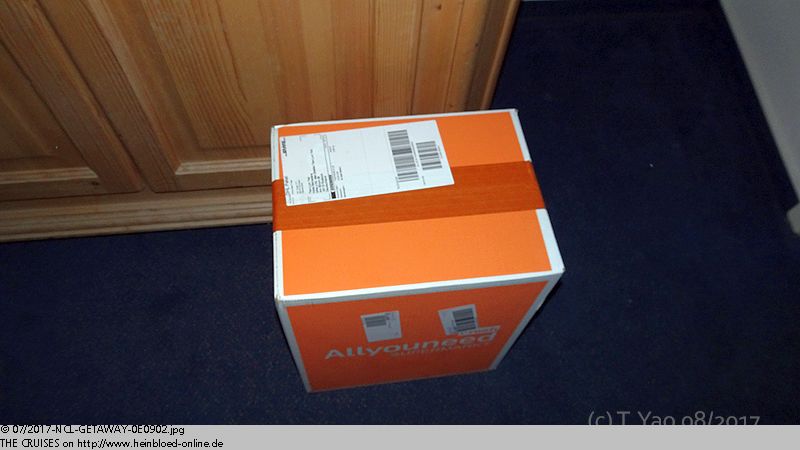 Another box arrived for us. We should take it on board and deliver. They always tell, that you should not taking anything from strangers on the ship - so we opened the box.

A winebox normally assumed that we you should have wine. But no wine inside. That was good. Otherwise we need to pay corkage fee. In theory I need to open everything to check if everything was originally packed or disguise for goods for smuggling. But as my doctor forbid me to eat such staff an I only like Belgian and Swiss chocolate, I kept it with a visual check.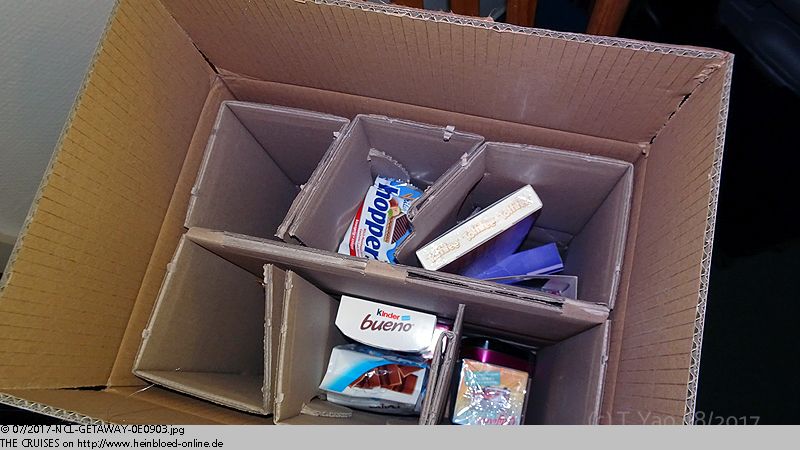 Die Weinkiste lässt ja auf Wein schließen. Aber kein Wein drin. Das ist schon mal gut. Sonst hätten wir ja noch Korkgeld zahlen müssen. Theoretisch müsste ich ja alles aufreißen, um zu prüfen, ob das alles originalverpackt ist, oder Tarnung für Schmugglerware. Aber da mein Arzt mir so etwas verboten hat und ich eigentlich nur belgische und schweizerische Schokolade esse, belassen wir es bei einer Sichtprüfung.
Als Logistik-Leiter muss ich sagen: ich brauche einen Lieferschein, um die Beschädigung einer Tafel Schokolade zu notieren, weil die Hohlräume nicht ausgefüllt wurden: Unzureichende Ladungssicherung. Aber der Bote ist ja schon weg...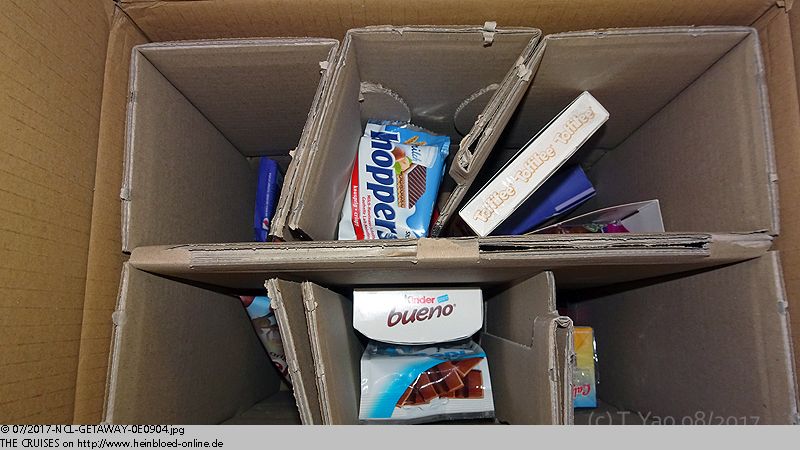 As Head of Logistics I need to say: I need a delivery note to add a remark that a package of chocolate was damaged because they did not secure it properly: missing lashing. But the courier was already gone...

We went a little around in Warnemünde. The Glass-Street-Musician. Checking with Pier 7 of Karls for the sand worlds. And later we met Sylvia and Gunnar whom we will go in fall on MSC MERAVIGLIA. Until today we did not know them.
That was quite "normal" for us to ask tourists in Wanrmünde if they like to come with us... or did not we? They are Christian's parents whom we knew from NORWEGIAN ESCAPE 2015 and who will also be with us on MSC MERAVIGLIA. As he noticed on Facebook that we were on the way to Warnemüde he said that it would be a good occassion to make acquaintance ahead of our voyage.

Wir sehen uns noch in Warnemünde um. Der Glas-Straßenmusiker. Kurz bei
Pier 7 von Karls
vorbei zum Gucken der Sandwelt. Und später treffen wir auf Sylvia und Gunnar, mit denen wir im Herbst gemeinsam auf der MSC MERAVIGLIA unterwegs sind. Bis heute kennen wir sie nicht. Das ist "normal", dass wir einfach Touristen in Warnemünde fragen, ob sie mitfahren... oder doch nicht? Es sind die Eltern von Christian, den wir von der
NORWEGIAN ESCAPE 2015
her kennen und der ebenfalls auf der MSC MERAVIGLIA dabei sind. Da er auf Facebook gesehen hat, dass wir nach Warnemünde unterwegs sind, meint er, dass es eine gute Gelegenheit ist, uns vorab kennen zu lernen.
Wir gehen zu
Herbert's
etwas essen.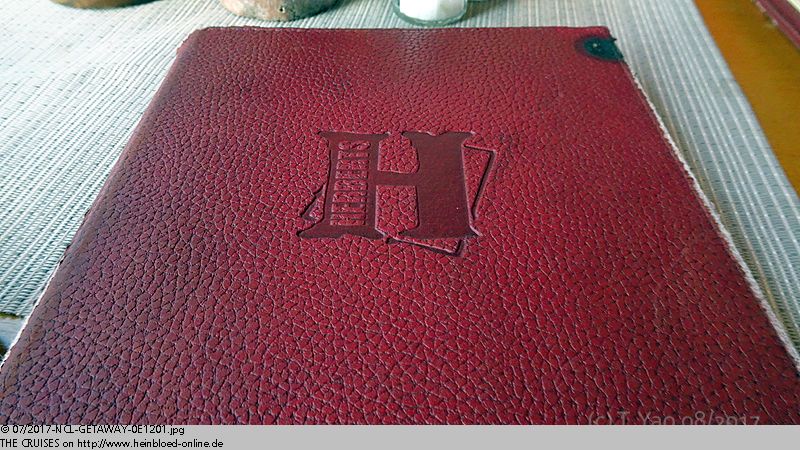 We went to Herbert's to get a bite.

For me again Soljanka (Not available in Basle, Switzerland...) and...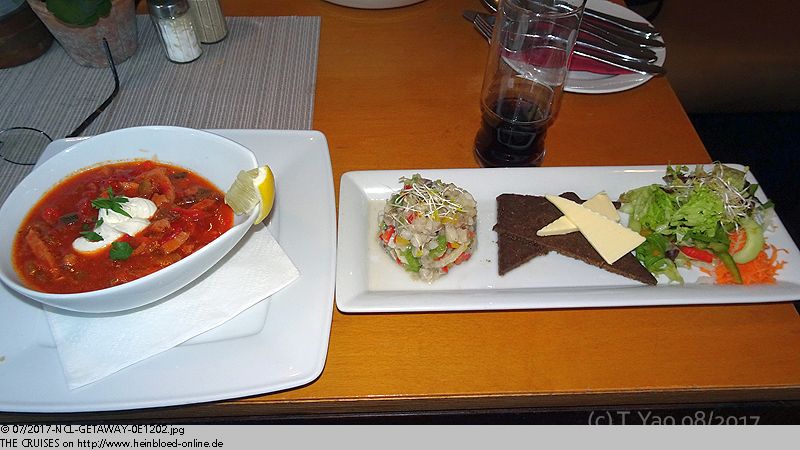 Für mich nochmals Soljanka (In Basel kennt man das nicht...) und...
Matjestartar (ist o.k. - ich hatte nicht so einen großen Hunger)...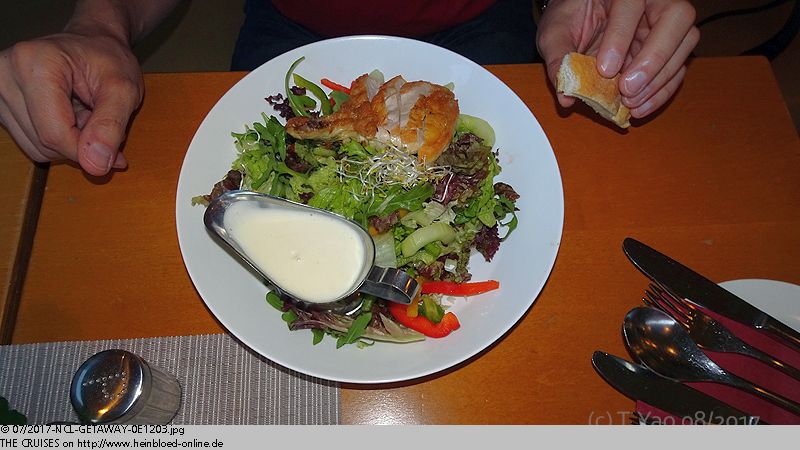 Matjestartar (Tartare made of young haring - was o.i. - I was not too hungry at all)...

Then I heared a typhoon. I guess VIKING SEAS which was setting sail a little earlier. Although I left Bruno in the restaurant as deposit and he had to drink my espresso: I did not make it right on time to the Passenger Quay.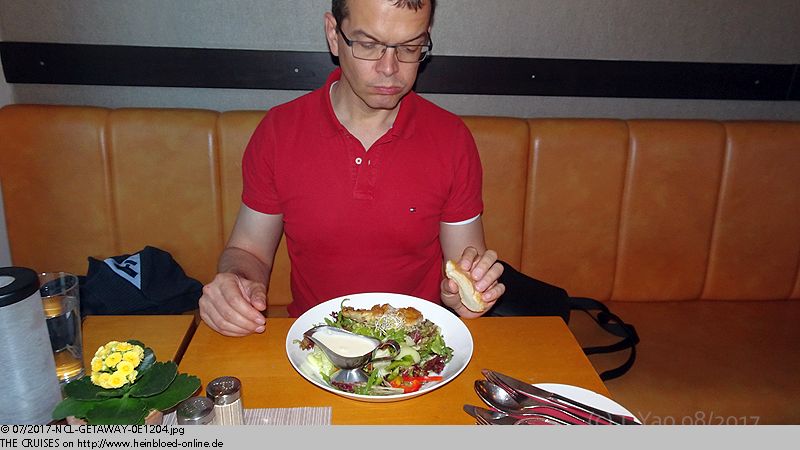 Dann höre ich ein Schiffshorn. Vermutlich VIKING SEAS, die leider etwas zu früh ausläuft. Obwohl ich Bruno im Restaurant als Pfand da lasse und er meinen Espresso noch trinken muss: ich schaffe es nicht pünktlich bis zum Passagierkai.
Später sehe ich, dass ich hätte bei Herbert's oben einfach auf die
Stromdampfer Lounge
hätte gehen können.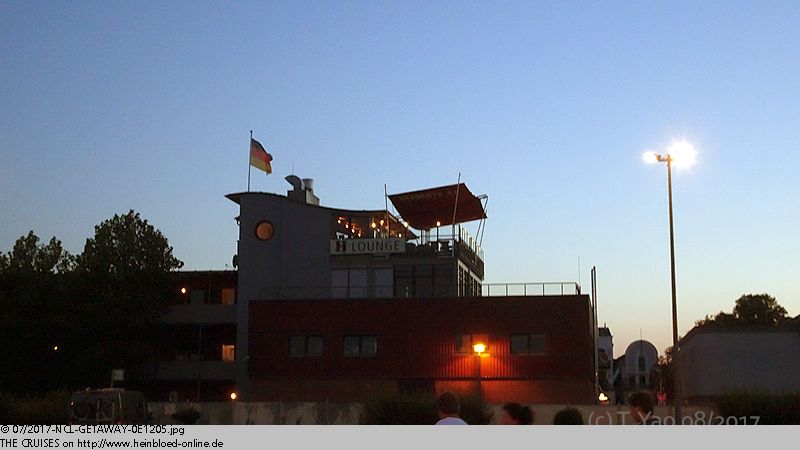 Later I saw I could just simply walk on the roof of Stromdampfer Lounge on top of our restaurant.

But I hoped to wave to Cherryl on VIKING SEA whom we knew from NORWEGIAN SPIRIT 2013 and I thought that she was on board. So I made acquaintance with a very charming crew member at the Crusie Terminal: Athina. I asked her to forward my regards. But the poor girl had to waste time to find her. She was taking care of the shore excursions. The tours are included with Viking. Let us when our ways will cross.

Aber ich habe ja gehofft, dass ich Cherryl auf der VIKING SEA zuwinken könnte, die wir von der
NORWEGIAN SPIRIT 2013
kennen und weil ich dachte, dass sie an Bord wäre. So habe ich aber am Cruise Terminal zuvor ein sehr charmantes Crew-Mitglied kennengelernt: Athina. Ich hatte sie gebeten, ihr einen Gruß auszurichten. Aber die arme wird Cherryl vergeblich suchen. Sie betreut die Ausflügler. Die Ausflüge sind ja bei Viking inkludiert. Mal gucken, wann uns unsere Wege dann mal kreuzen.
Später sind wir nochmals beim Auslauf der MAGELLAN. Aber sie ist nicht schön beleuchtet. In vier Tagen sehen wir sie ja in St. Petersburg wieder. Jetzt muss ich schnell ins Bett. Lt. AIS Signal soll ja die NORWEGIAN GETAWAY gegen 05.15 Uhr in Warnemünde eintreffen.

Later we were again outside to see the set sail of MAGELLAN. But she was not so nicely illuminated. In four days we would see her again in St. Petersburg, Russia. Now I need to get quickly in my bed. According to AIS signal NORWEGIAN GETAWAY should arrive around 05.15 hrs in Warnemünde.