Der neue Morgen, und der gleiche Blick wie gestern. Wir sind ja über Nacht hier im Hafen geblieben. Das kennen wir bislang nur aus Hamilton auf der
NORWEGIAN DREAM 2008
, Hongkong auf der
ZAANDAM 2012
und
DIAMOND PRINCESS 2016
, Istanbul auf der
NORWEGIAN JADE 2014 (1)
, Rosyth auf der
OCEAN PRINCESS 2015
und Kahalui/Honolulu auf der
CARNIVAL SPIRIT 2011
. Ich mag das.

The new morning and the same view like the day before. We stayed overnight here in port. We only knew so far from Hamilton, Bermuda on NORWEGIAN DREAM 2008; Hong Kong, China on ZAANDAM 2012 and DIAMOND PRINCESS 2016, Istanbul, Turkey on NORWEGIAN JADE 2014 (1), Rosyth, Scotland on OCEAN PRINCESS 2015 and Kahalui/Honolulu, HI on CARNIVAL SPIRIT 2011. I like this.

MEIN SCHIFF 3 (= My Ship) arrived. But it was NOT MY ship. We tried it on MEIN SCHIFF 2 2012. It was simply not our world. With unforgettable memories to the reception and the steakhouse...

MEIN SCHIFF 3 kommt an. Es ist allerdings
NICHT MEIN
Schiff. Wir hatten es mal auf der
MEIN SCHIFF 2 2012
versucht. Es war einfach nicht unsere Welt. Mit unvergesslichen Erinnerungen an die Rezeption und das Steakhouse...
Und dann noch die englische Schwester THOMSON CELEBRATION vormals eine alte NOORDAM von Holland America.

And furthermore the English sister THOMSON CELEBRATION before she was a previous NOORDAM of Holland America.

And last not least there was WIND SURF. Was she overnight in Tallinn, Estonia or did she have a day at sea or where was she?

Und da wäre noch die WIND SURF. War sie Übernacht in Tallinn oder hatte sie einen Seetag oder war sie sonst wo?
Immer wieder etwas Neues an Bord: Hiedi und Madonna laufen durch das Schiff, um kleine Leckerlis zu servieren. Und nicht neu: der Lärm im Atrium. Neu: Hohe Rabatte beim Cruise Next Reward und ein nacktes Mädel auf einem US-Schiff.

Something new onboard: Hiedi and Madonna walked through the ship to serve some goodies. And not new: the noise in the atrium. New: High discounts on Cruise Next Reward and a naked girl on a US-ship.

A small first breakfast.

Ein kleines erstes Frühstück.
Bei O'Sheehan's gibt es auch Frühstück.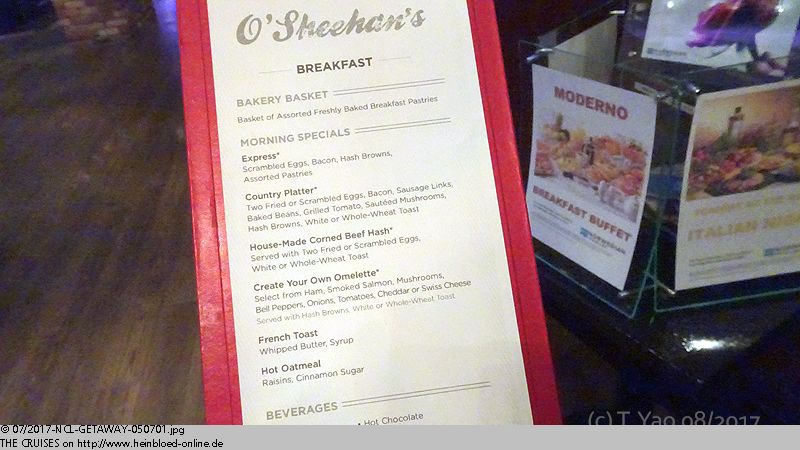 You could also have breakfast with O'Sheehan's.

Tonight it was Italian night in the Garden Café.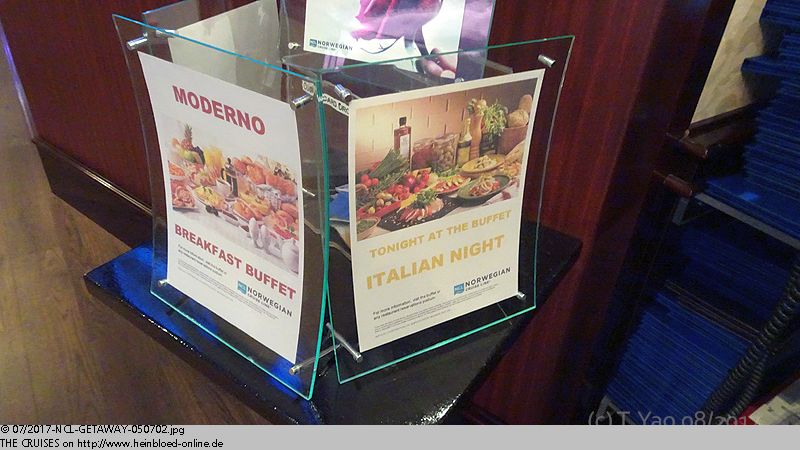 Heute ist italienische Nacht im Garden Café.
Das Extraessen im O'Sheehan's für den amerikanischen Geschmack: Chicken Parmigiana: amerikanisches Essen. Klingt nur italienisch.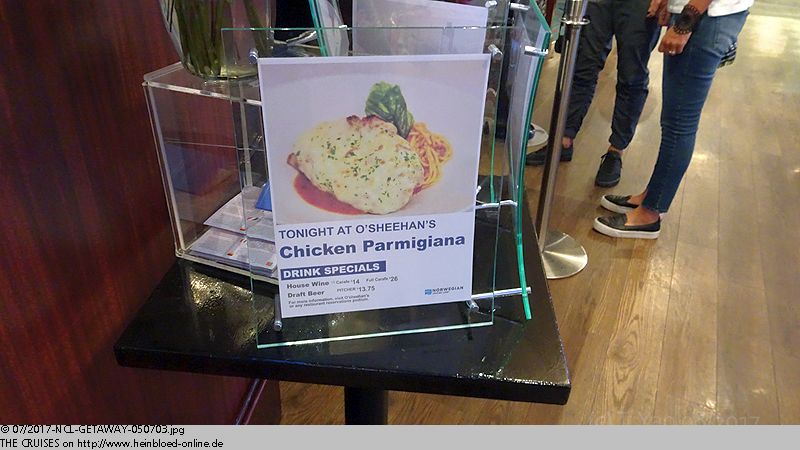 The extra-dish in O'Sheehan's was for the American taste: Chicken Parmigiana: American food. Sounds only Italian.

Somehow the today's menu looked familiar to me. Also that morning a nice service again by Eric Sioco and Franz Romano. But anyhow it started to repeat.

Irgendwie kommt mir die Tageskarte schon bekannt vor. Auch heute morgen wieder ein netter Service dank Eric Sioco und Franz Romano. Ansonsten wiederholt sich das.
Unsere Tour geht weiter. Heute sind wir so schnell durch die Passkontrolle, so dass wir vor Anna im Cruise Terminal sind. Wir nutzen die Zeit uns Pläne für den
öffentlichen Verkehr
zu besorgen. Unsere Haltestelle heißt Morskoj Woksal Nr. 4 (Haltestellenschild)/Morskoj Port Nr. 4 (im Linienband) im Hafen "Marine Facade" (auf der Beschilderung im Bus auf kyrillisch: Морской фасад). Unser Bus Linie 158. Wir müssen zum U-Bahnhof Primorskaja. Auf der Hafenseite wird jedes Terminal nur einmal bedient. D. h. wir fahren nochmals rüber zu Terminal 1 bevor wir zur U-Bahn fahren. Die Fahrt kostet 40 RUB (2017) und müssen in bar bei der Dame in blau.

Our tour continued. That day we were quickly through the passport inspecition so we were in the cruise terminal before Anna arrived. We used the time to get us some maps for the public transport. Our stop was Morsky Voksal No. 4 (Bus stop sign)/Morsky Port No. 4 (in the route-line-diagram) in the "Marine Facade" port (on the display sign of the bus in kyrillic: Морской фасад). Our bus route 158. We need to get to the Metro-stop Primarskaya. On the portside each terminal was served once only. I.e. we went over to Terminal 1 before we headed for the metro. The ride was 40 RUB (2017) and we need to pay in cash with the lady in blue.

If you arrived from the port you just walked into the way between the houses and you get to Metro-stop Primarskaja. A terminal station so it was more relaxed. Here you took the green line 3.

Wenn man vom Hafen kommend aussteigt, läuft man direkt in den Gang zwischen den Häusern durch und man kommt zum U-Bahnhof Primorskaja. Ein Endbahnhof, deswegen läuft es etwas entspannter. Von hier geht die grüne Linie 3.
Mir gefällt es so mich fortzubewegen. Wir haben ja unsere Eltern nicht mit dabei.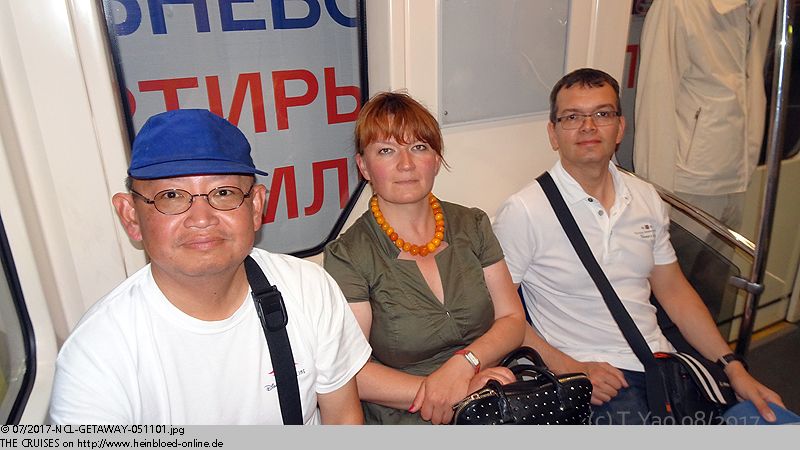 I liked to move around this way. We did not have our parents with us.

If you check in the network: only two stops to the city center.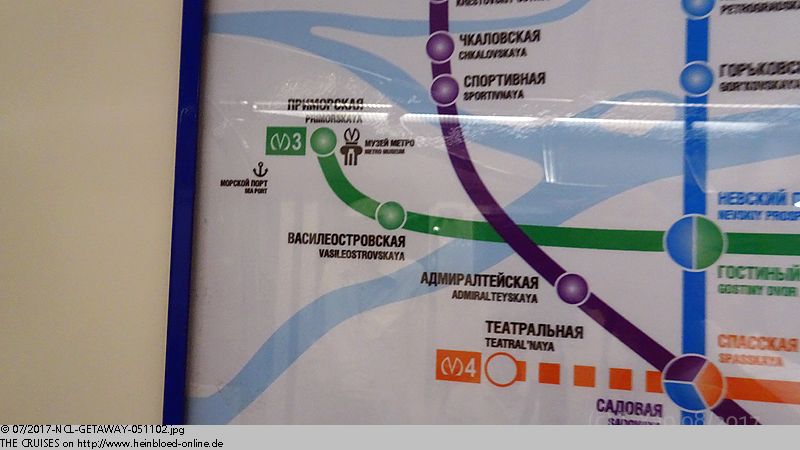 Wenn man im
Netz
sieht: es sind nur zwei Haltestellen bis zur Innenstadt.
Ankündigung, dass wir bald ankommen - auch in Englisch.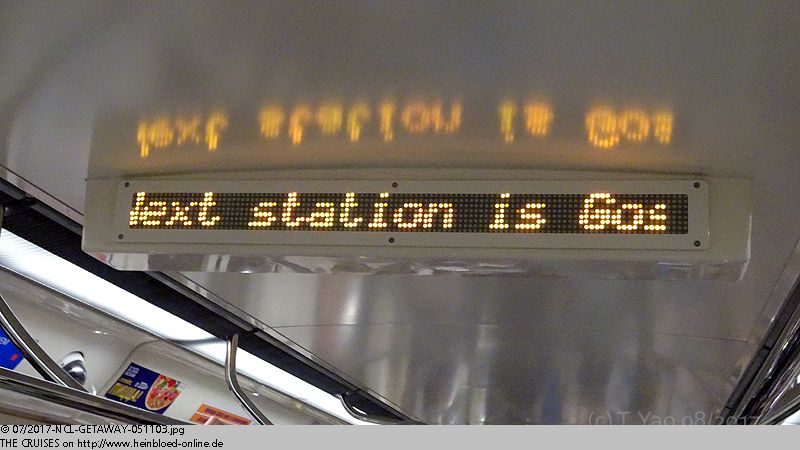 Announcement that we soon should arrive - in English too.

Gostiny Dvor.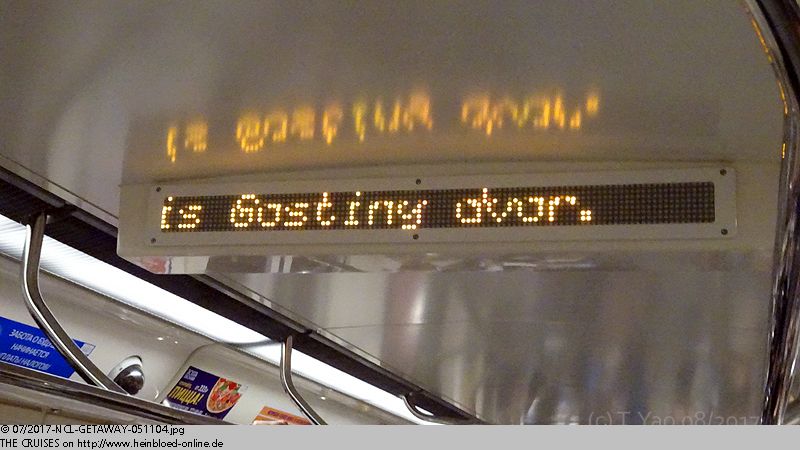 Gostinij Dwor.
Hier steigen wir bereits wieder aus und verlassen den Bahnsteig zur Newskij Prospekt bzw. Gribojedowa Kanal Ufer. Leckeres Essen lacht uns an.

Here we already left and exited the platform towards Nevskiy Prospekt or Griboyedova Channel Quay. Yummy food were facing us.

The shopping boulevard Nevskij Prospekt.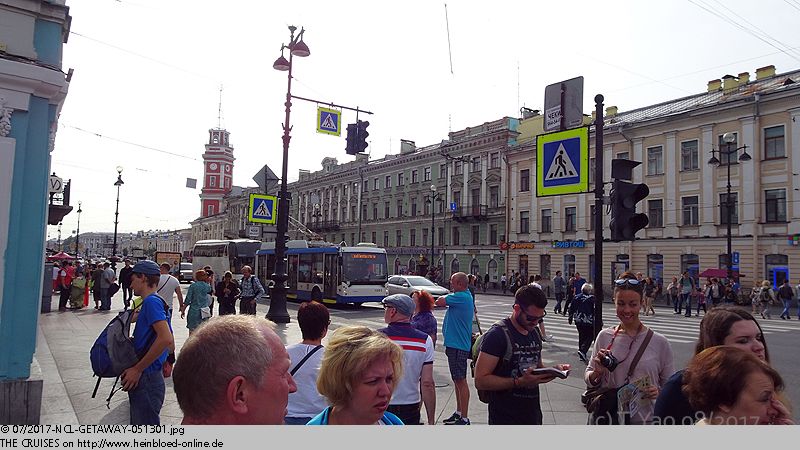 Die Pracht- und Shopping-Meile Newskij Prospekt.
Gribojedowa Kanal Ufer.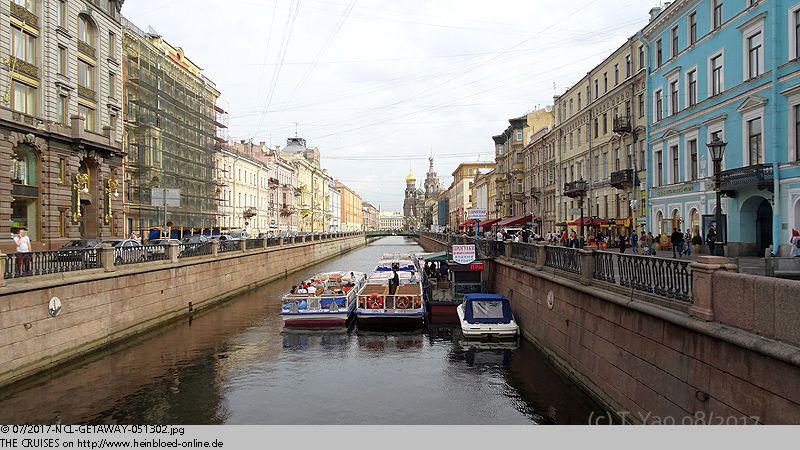 Griboyedova Channel Quay.

Here also the boat tour started.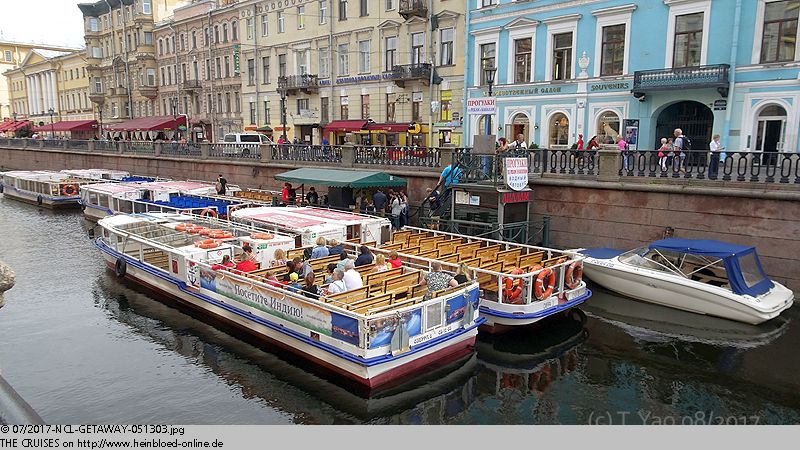 Hier fangen auch die Bootsfahrten an.
Wir haben jedoch gesagt: weniger ist mehr. Und die Bootsfahrt heben wir für das nächste Mal auf.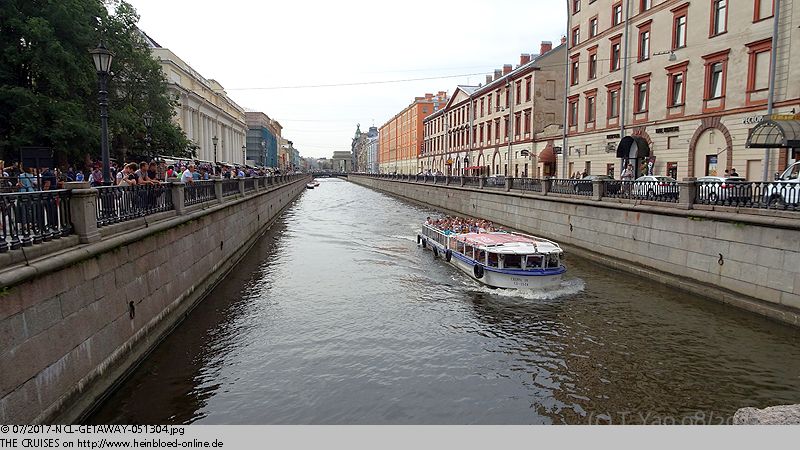 We said before: less is more. So we saved the boat trip for the next time.

We went for a short stop into the "Bisnes Zentr" (Business Center).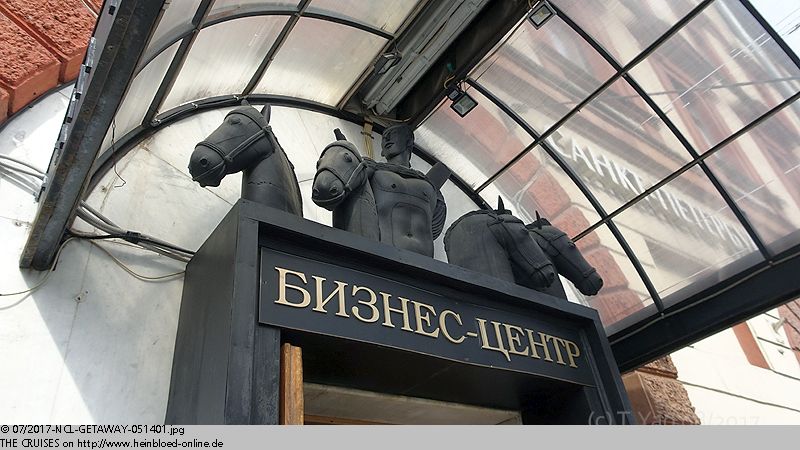 Wir gehen kurz in das "Bisnes Zentr" (Business Center).
Hier gehen wir in das Büro von
Best Guides St. Petersburg
, um unsere Schulden zu bezahlen. Sie haben es ja toll organisiert. Aber ein bisschen habe ich mich doch geärgert: weil ich nun keine Lust hatte, eine große Gruppe zu bilden, bekomme ich keinen Rabatt für
cruisecritic.com
-Mitglieder. Die bekommt man erst, wenn man mindestens zehn ist. Und dann wundern sie sich, dass dann die meisten anderen Mitfahrer bei den anderen sind. Uns ging es nicht um das Geld. Die zwei Tage waren verhältnismäßig teuer gegenüber anderen Touren, aber es ist eben ein Einmal-im-Leben-Projekten, aus denen man lernt, wie man das nächste Mal etwas anderes machen wird.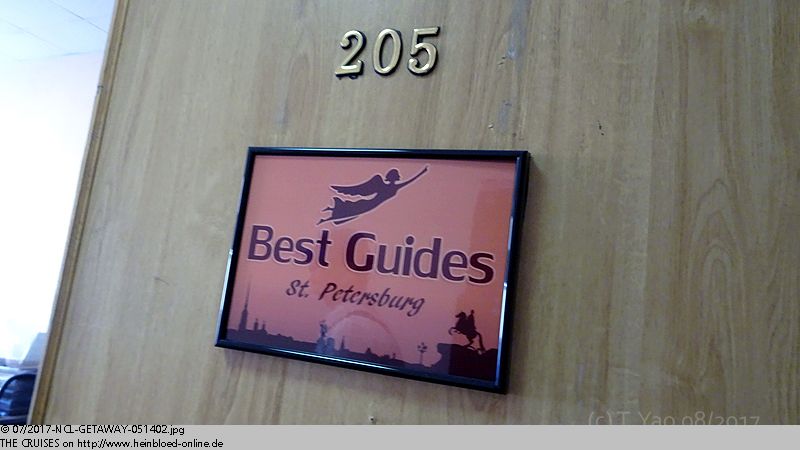 We went to the office of Best Guides St. Petersburg to pay off our debts. They organised everything very well. But I was a little angry of them: because I did not like to form a larger group I did not get any discount for cruisecritic.com-members. You get it at least when you formed a group of 10. And then they were wondered why most of them booked with others. It was not because of the money. The two days were compared to other tours we had relatively expensive but it was an once-in-a-lifetime-project you need to learn how to make it better next time.

As all credit card devices were in port we should make ourselves comfortable.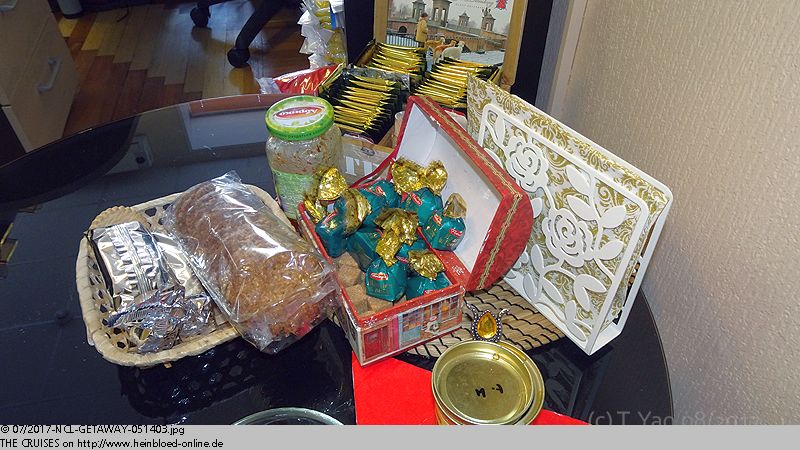 Da alle Kreditkartengeräte im Hafen sind, sollen wir uns kurz gemütlich machen.
Es gibt russische Schokolade, Gebäck und Tee...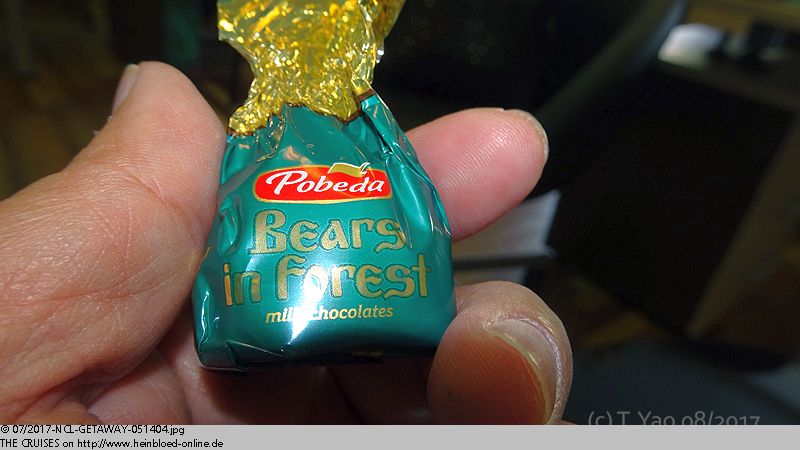 So we had Russian chocolate, biscuits and tea...

... and the questionnaire before the tour was over.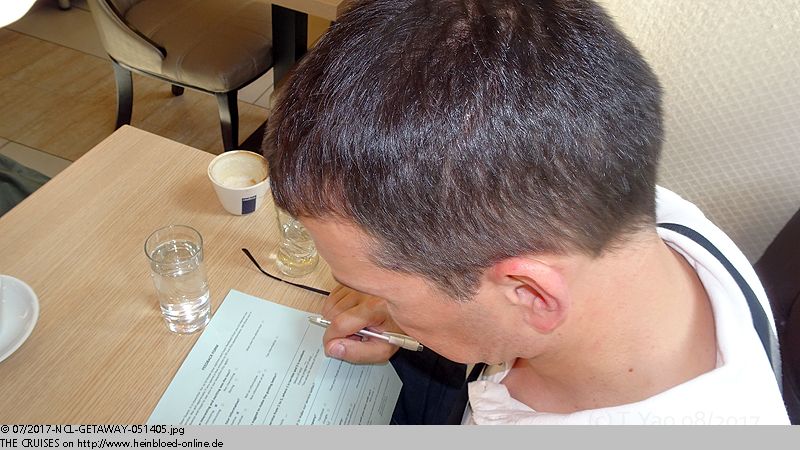 ... und den Fragebogen, bevor die Tour vorüber ist.
Weiter geht es in die
Bluts-, Erlöser- oder Auferstehungskirche
- Sie ist eine Art Niederlassung der Isaak-Kathedrale. Offiziell ein Museum, da sie entweiht wurde. Heute habe ich eine lange Hose an, aber ich werde gerügt, dass ich meine Mütze nach wie vor anhabe. Der Vorteil, wenn man mit Anna unterwegs ist: Sie darf die Kartenschalter für Fremdenführer nutzen und muss daher nicht in die endlos lange Schlange.

We headed to the Church of the Savior on the Spilled Blood or Church on the Blood - It was a kind of branch of the St. Isaac's Cathedrale. Officially a museum as it was desecrated. That day I weared long pants but it was complained that I still weared my hat. The big advantage if you have a tour with Anna: she was allowed to use the ticket counter for tour guides and so need to wait in the endless queue.

We continued our walk through the city. On our way we saw a Jamie's Italian. Here we went last time on our trip to London, England after our sailing on QUEEN MARY 2 2017. No need to eat here while in St. Petersburg. We headed to the Palace Square.

Es geht weiter durch die Stadt. Unterwegs fällt uns
Jamie's Italian
auf. Da waren wir zuletzt nach der Reise auf der
QUEEN MARY 2 2017
in London. Aber hier in St. Petersburg müssen wir nicht hin. Wir laufen bis zum Schlossplatz.
Es geht in die
Eremitage
. Wir dürfen durch einen Sondereingang für Gruppen.

We went to the Eremitage. We could enter through a special entrance for groups.

What we saw in two hours I cannot repeat. The best would be to book Anna and let her explain everything herself. But you would need more than two hours. For the first time I would not be able to collect more impressions. It was so much art and culture that I would not need anymore until the end of the cruise.

Was wir in zwei Stunden sehen, kann ich hier nicht wiedergeben. Am Besten Anna buchen und sich alles selbst erklären lassen. Aber mit zwei Stunden kommt man keinesfalls aus. Aber für das erste hätten wir auch nicht mehr Eindrücke mitnehmen können. Allerdings ist es soviel Kunst und Kultur, dass wir bis zum Ende der Kreuzfahrt keine mehr brauchen.
Wieder geht es auf den Schlossplatz hinaus.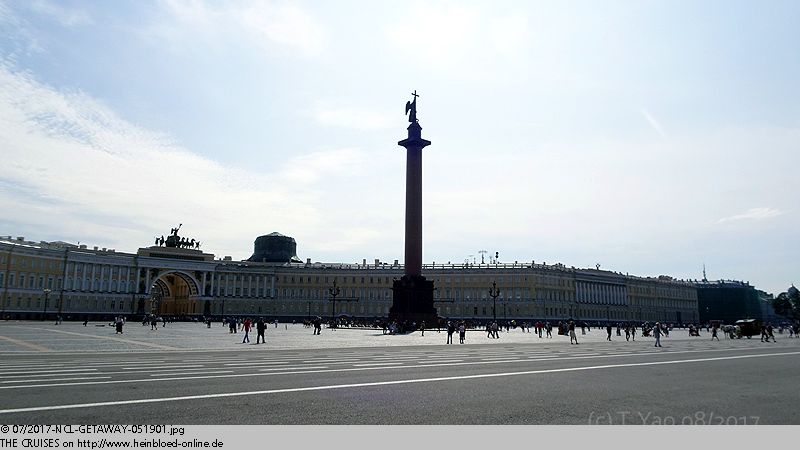 Again we went out for the Palace Square.

A Minion...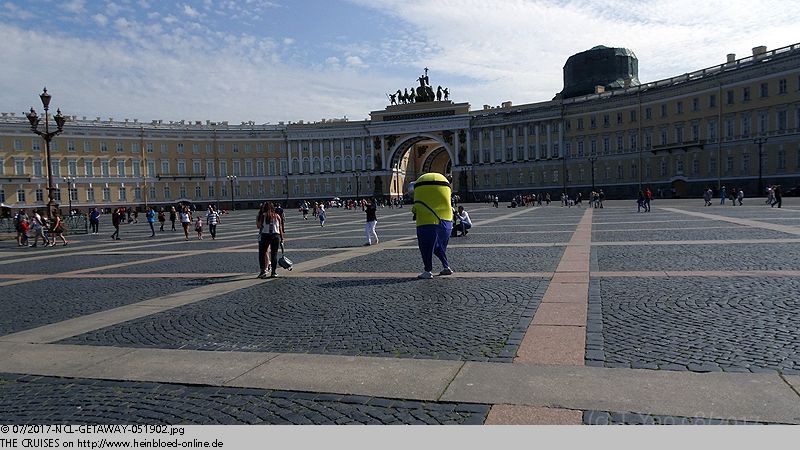 Ein Minion...
Langsam tun die Füße weh. Das ganze Kopfsteinpflaster.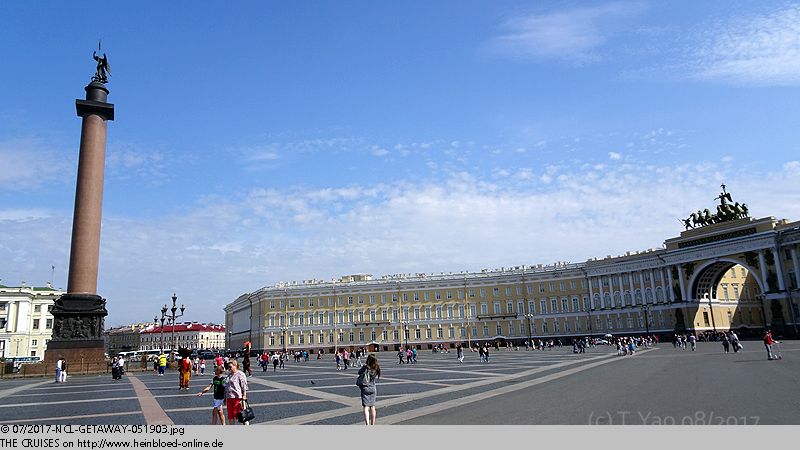 Slowly the feet hurted. All the cobblestone.

For lunch we went into a traditional café since 1903: Café Sever. Everything was very yummy. And here I learned: Pirogi you can also prepare on a baking sheet. We should remember this brand to buy good ice-cream. But the cakes looked so delicious and we had yesterday already ice-cream: So we all took another piece of cake for dessert: wonderful. Russia is no country for people on diet...

Mittags essen wir dieses Mal in einem Traditionscafé seit 1903:
Café Sewer
. Alles sehr lecker. Und hier lerne ich: Piroggen werden auch auf dem Blech hergestellt. Wir sollen uns auf jeden Fall diese Marke merken, wenn wir gutes Eis wollen. Aber der Kuchen sieht so appetitlich aus und wir hatten gestern erst Eis: So haben wir alle noch ein Stück Kuchen als Nachtisch genommen: herrlich. Russland ist kein Land für Menschen, die gerade Diät machen...
Weiter geht es auf Newskij Prospekt. Leider werden wir die Straße nicht in guter Erinnerung behalten, weil hier eine unserer Kreditkarten und Bargeld gestohlen wurde. Zum Glück nicht mehr, weil alles andere im Safe war: Es geschieht an einer Ampel, während wir auf Grün warten (Ich bin mal vorhin bei Rot drüber gegangen, aber da hat Anna mit mir geschimpft... und dann ist sie selbst bei Rot über die Ampel gegangen... weil es angeblich eine Sackgasse ohne Verkehr ist...) und Anna erklärt uns etwas. Der Diebstahl wird sehr schnell bemerkt. Sicherheitshalber laufen wir schnell zurück zum Café, aber da ist nichts. Sofort rufen wir die Bank an. Diese sperrt zwar sofort die Karten. Aber bis dass die Sperrung weltweit greift, schafft es der Dieb nach dem Anruf noch zwei Umsätze (nicht riesig) zu tätigen. Wir gehen davon aus, dass sie vermutlich mit Geschäften zusammenarbeiten oder selbst als Kreditkartenhändler zugelassen sind. Eine Anna dabei zu haben ist sicherlich sinnvoll: damit man ggfls. eine Anzeige erstatten kann. Sie hat auch die Polizei für uns bereits gerufen, aber der Notrufdienst der Kreditkartengesellschaft verzichtet auf eine Anzeige im Ausland, wenn nicht mehr weggekommen ist. Die Anzeige darf man später im Heimatland nachholen (sofern man eine Polizeiwache findet, die eine Anzeige aufnimmt. Wir haben später weder in Warnemünde noch in Bad Doberan eine Polizeiwache gefunden, bei wir es mit hätten machen können.) Die Bank hat jedoch auf eine Anzeige angesichts des vergleichbar geringen Schadens verzichtet und um eine eidesstattliche Erklärung gebeten und den Schaden erstattet. WIR SIND ZU EHRLICH... wir hätten eigentlich behaupten sollen, dass die Karte uns vor Bezahlung der Tour gestohlen wurde... Der Dieb wäre noch zu
Best Guides St. Petersburg
gegangen und hätte noch unsere Rechnung für die Tour bezahlt und anschließend ist er noch uns in Café gefolgt und hätte auch noch unser Essen bezahlt, bevor er sich von uns getrennt hätte, um seine eigenen Umsätze gemacht. Ob uns das die Bank geglaubt hätte??? Auf jeden Fall finden wir das Portemonnaie zumindest tatsächlich in einem der umliegenden Abfallbehälter. Und da haben wir noch Glück: offensichtlich benutzt der Dieb keine öffentlichen Verkehrsmittel - die Wertmünze für die Rückfahrt mit der U-Bahn zum Hafen ist noch drin. Allerdings ist er wohl Payback-Kunde - Hoffentlich denkt er daran die Karte beim Einkaufen vorzuzeigen, damit wir zumindest Punkte auf den Umsatz bekommen, den er macht. Ich hätte sonst singen müssen und man hätte mir bestimmt Geld gegeben, damit ich aufhöre zu singen. Ich bin nun mal kein Solist sondern Chorsänger. Zu diesem Zeitpunkt haben wir nur noch 80 RUB in bar für die Rückfahrt mit dem Bus zum Hafen. Aber unsere Anna lacht, als ich vorschlage, dass ich für 45 RUB als Straßenmusiker tätig sein möchte und meint, dass sie uns zur U-Bahn-Fahrt eingeladen würde.... DAHER: Große Städte sind nicht nur attraktiv für Touristen sondern leider auch für Taschendiebe. In Zukunft werden wir wieder unsere Holland America-Gürteltaschen mit Karabinerhaken für Gürtelschnallen und Gurt zum Umhängen sowie Klettverschluss, Reißverschluss und Schnalle, so dass man auch hört, wenn jemand daran ist. Leider ist sie so klein und die von Princess leider auch nicht größer. Und AN BORD später melden wir es direkt der Rezeption: denen ist es egal - da wir die Trinkgelder aufgrund einer Promo inkludiert hatten, waren nur 300 USD vorauthorisiert. Die dürfen wir aufbrauchen. Wenn wir keine weitere Kreditkarte mitführen würden oder Bargeld einzahlen, dürfen wir keine weiteren Umsätze an Bord machen.

We headed to Nevskiy Prospekt. Unfortunately we will not have good memories on this road because one of our credit cards and some cash were stolen. Luckily no more since all others were in the safe: It happened at a traffic signal while we were waiting for green signal (I walked over red signal and Anna reprimended on me... and later she walked herself on a red signal... because there was no traffic as it was a dead end...) and Anna explained something. We noticed the theft very quickly. To be sure we quickly went back to the café to check but tit was not there. Immediately we called the bank. They cut off the card immediately. But until the cut-off was effected worldwide the thief made two more revenues (not much) after the call. We assumed that they were cooperating with few shops or authorized as credit card dealers. To have an Anna with you made most sense that you can make a report with the police. She called already the police for us but the emergency service of the credit card company told us that we could leave it if nothing more was stolen but the card. You could do it later in your home country (as long as you found a police station which accepted to release a report. Later we did not find any around Warnemünde, Germany which would do it.) The bank later did not insist to have a report since the fraudulant amount was extremely low and asked for a personal sworn statement and refunded the amount. WE WERE TO HONEST... we should tell that the card was stolen before we paid the tour... The thief followed us to Best Guides St. Petersburg to pay off our bill for the tour and later he followed us to the Café to pay for lunch before he seperated from us to make his own purchases. We did not think that the bank would believe this explanation - or??? Anyhow we found the wallet indeed in a waste bin close by. And we had luck: obviously the thief was not a friend of public transport - the token for the return journey back to the port was still inside. But he took our German shopping loyalt card. We hoped he would present it when he was shopping so we we could get the points for his revenue. Otherwise I would need to sing and I was sure that would give me money to stop singing. I was not solist but singer in a choir. At this point we had only 80 RUB left in cash for the return journey by bus to the port. But our Anna was laughing when I suggested to perform as street musician to get 45 RUB and said that she would invite us for the metro-ride... THEREFORE: Big cities are not only attractive for tourists but also for pickpockets. In future we will wear again our Holland America-belt bags with carabiner for the belt loops and belt to drape around and velcro fastener and zip fastener and buckle so that you could easily hear if somebody was working on it. Unfortunately it was so small and the one from Princess was not larger either. And later ONBOARD we reported directly to the reception: they did not take care - as our service charge was included due to a promo they only pre-autherised 300 USD. We can use them off. If you cannot present another credit card or place some deposit in cash we were not allowed to make further revenue onboard.

As we could not change the situation we headed to the Kazan Cathedrale.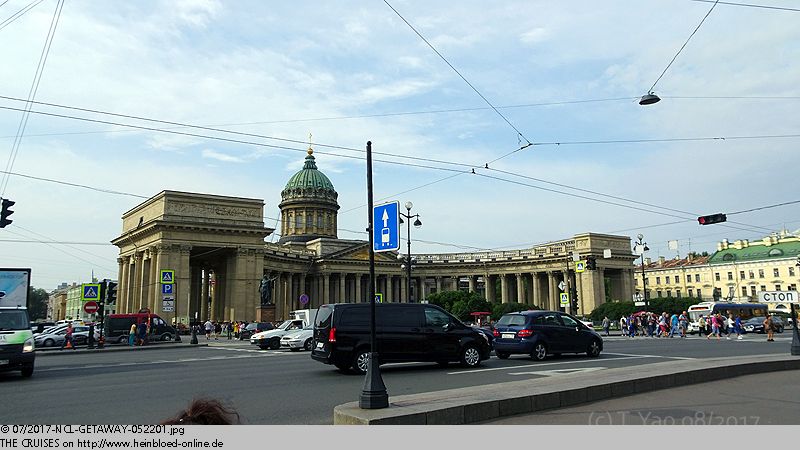 Da wir an der Situation eh nichts ändern können, gehen wir weiter in die
Kasaner Kathedrale
.
Es erinnert mich an unsere
MSC MUSICA 2007
-Reise. Das sieht doch aus, wie auf dem
Petersplatz
im Vatikan.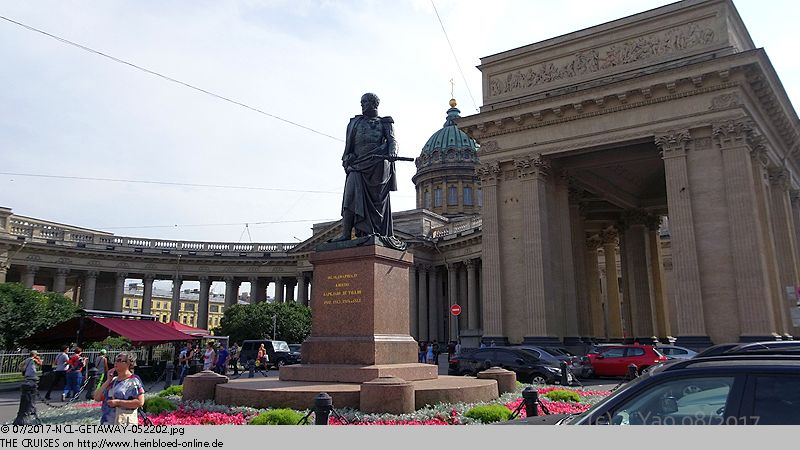 It reminded me to our voyage on MSC MUSICA 2007. It looked like on St. Peter's Square in Vatican City.

Somehow it looked quite familiar to me.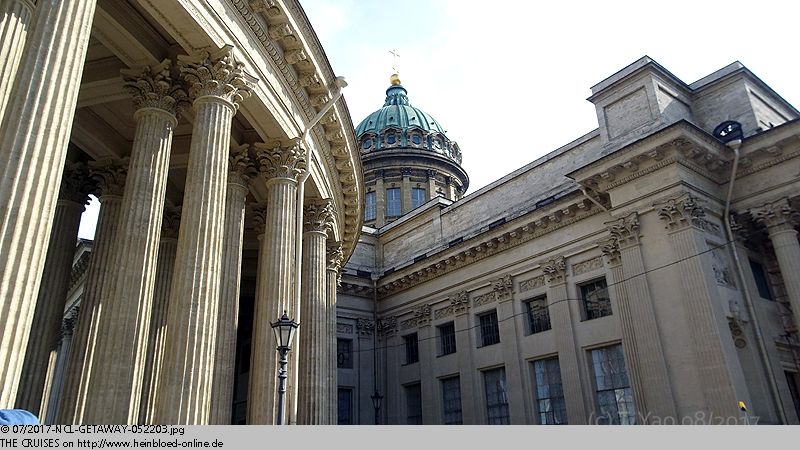 Irgendwie kommt mir das schon bekannt vor.
Innen wird fleißig fotografiert, obwohl offiziell verboten. Aber alles sehr prächtig und nicht so überlaufen.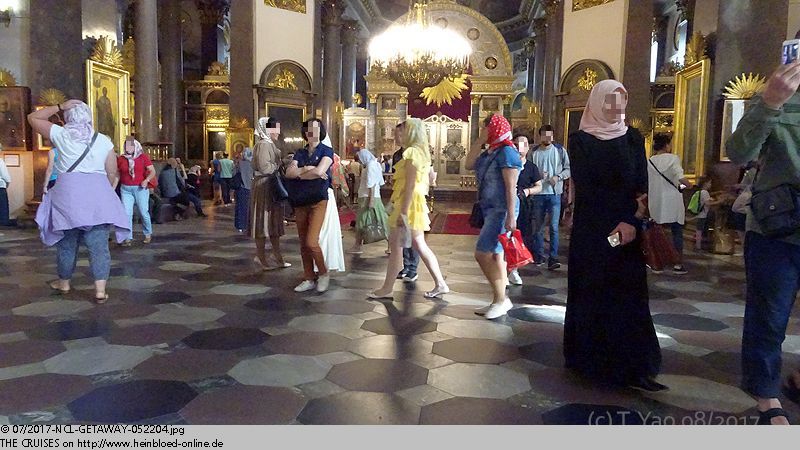 Inside everyone was taking pictures although it was officially forbidden. Everything was very glorious and it was not so crowded.

Also the dome was very nice.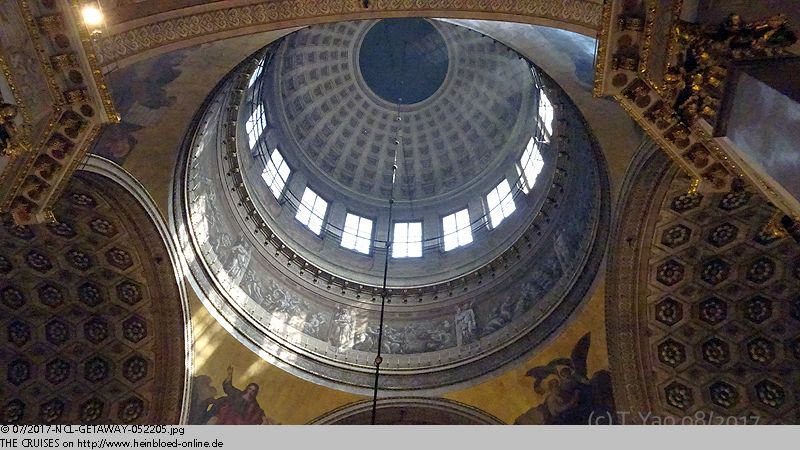 Auch die Kuppel ist sehr schön.
KaDeWe
in Berlin,
Harrod's
in London,
Galeries Lafayette
in Paris,
Macy's
in New York,
Mitsukoshi
in Tokio,
Gum
in Moskau und in St. Petersburg:
Bolschoj Gostinij Dwor
. Hier waren wir auch während der
LILI MARLEEN 2006
-Reise. Damals mussten wir einen neuen Rasierapperat für Bruno besorgen. Und Cissandra hatte uns damals hierher geführt. Und er funktioniert immer noch und ist auch in St. Petersburg wieder mit dabei.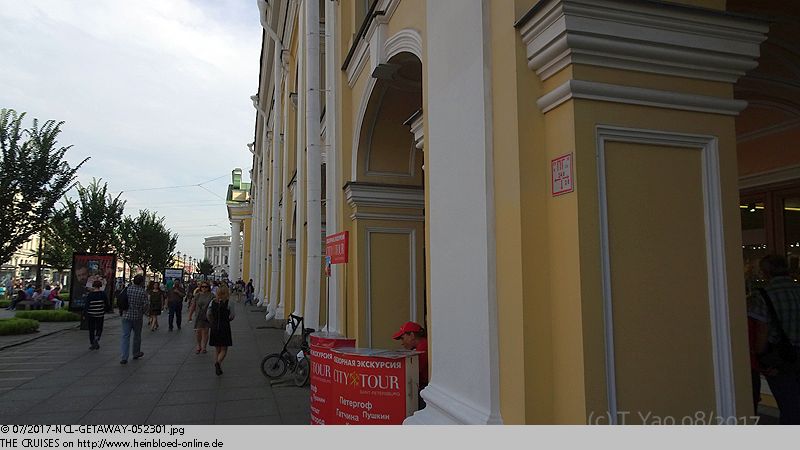 KaDeWe in Berlin, Germany; Harrod's in London, England; Galeries Lafayette in Paris, France; Macy's in New York, NY; Mitsukoshi in Tokyo, Japan; Gum in Moscow, Russia and in St. Petersburg: Bolschoj Gostinij Dwor. Here we came on our trip on LILI MARLEEN 2006. Then we need to buy a new shaver for Bruno. And Cissandra took us to this place. And it still worked and was also here with us in St. Petersburg.

Caviar.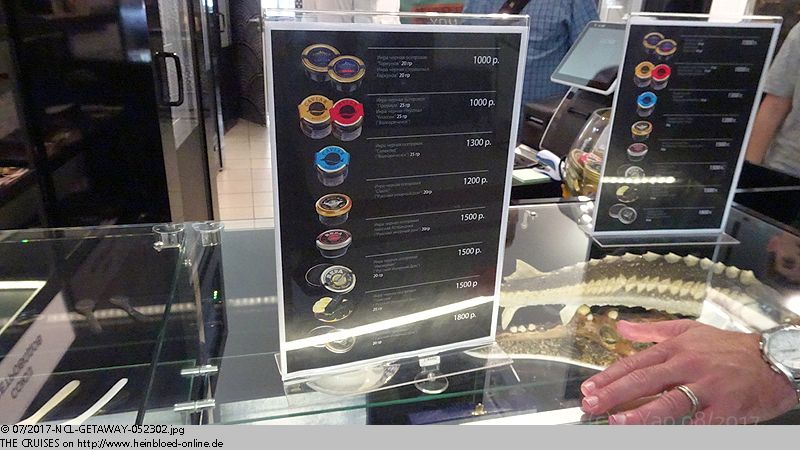 Kaviar.
Wir haben ja die Kühlbox im Auto mit... Zu Fuß zurück zum Schiff laufen oder für 80 RUB (1,15 EUR / 1.40 USD) Kaviar kaufen... SELBSTVERSTÄNDLICH haben wir unsere Kreditkarten getrennt aufbewahrt... und hätten welchen kaufen können... aber wir lassen es...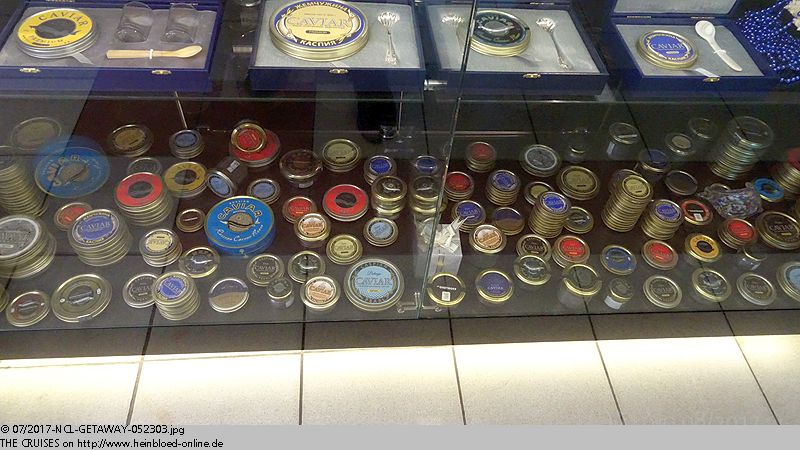 We had our mini-fridge in the car... Walking back to the ship or buying caviar for 80 RUB (1.15 EUR / 1.40 USD)... CERTAINLY we had seperated our credit cards... and could buy some... and we left it...

Accidentially there was also an access to the subway right in the department store.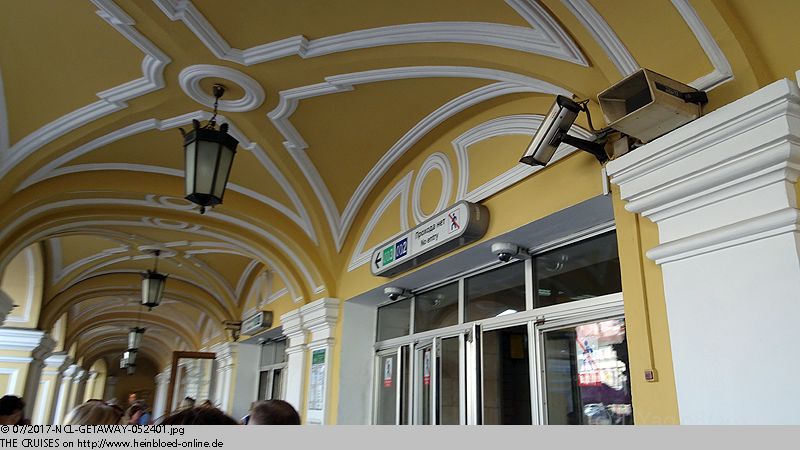 Zufällig befindet sich auch ein Zugang zur U-Bahn im Kaufhaus.
Und sogar unsere grüne Linie 3 zurück zum Schiff.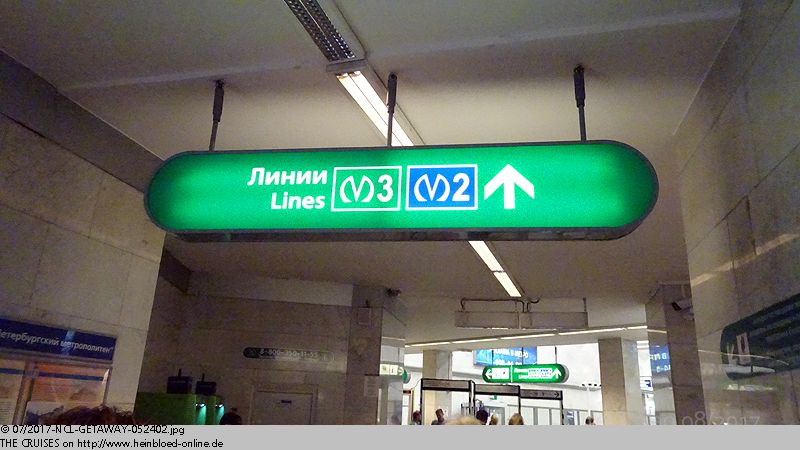 Even to our green line 3 back to the ship.

We need to head back towards Primorskaya.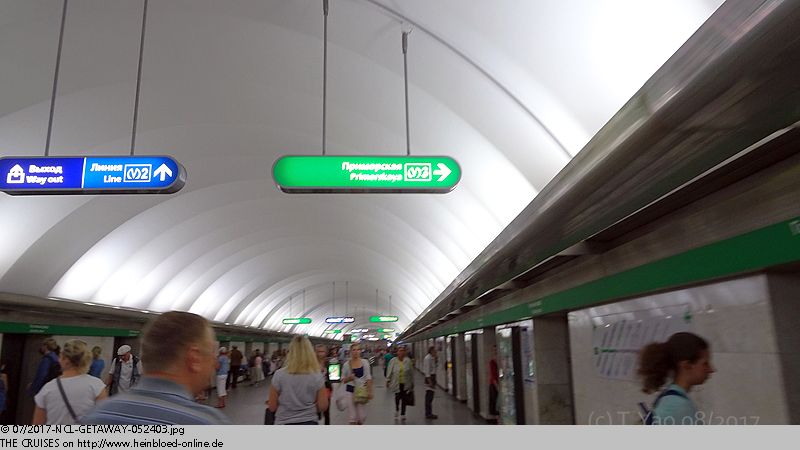 Wir müssen zurück Richtung Primorskaja.
Zwei Stationen. In vielen Plänen ist der Bahnhof auch als Newskij Prospekt statt Gostinij Dwor eingezeichnet: so heißt sie auf der Metro-Linie 2. Wir fahren aber mit der Metro-Linie 3 und da heißt sie Gostinij Dwor.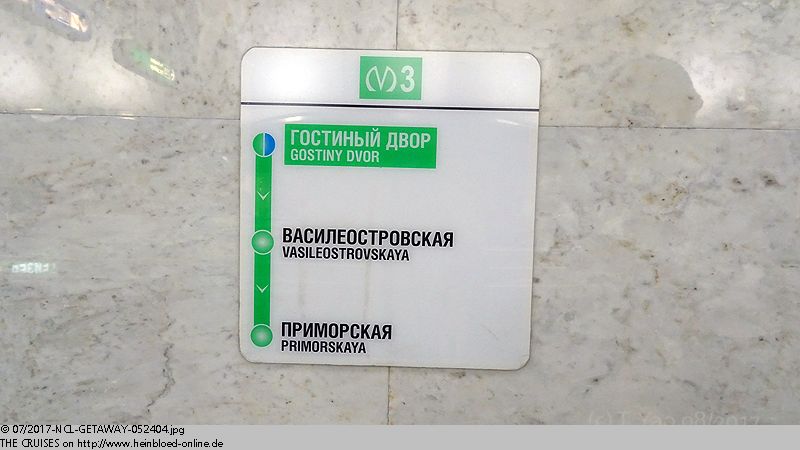 Two stops. In many maps the station is named Nevskiy Prospekt but Gostiny Dvor: that was the name on metro-line 2. We were taking metro-line 3 and so it was Gostiny Dvor.

Arrived at the terminal station you had to head to the surface. Nothing for mobility reduced people. I have not seen any elevators in the metro-network. We need to find the exit towards Odoyevskogo Street to the left. It did not look so far on the map getting back to the cruise terminal.
Maybe we should walk the next time to see more of the city.

Am Endbahnhof angekommen geht es wieder auf die Oberfläche. Nichts für Mobilitätseingeschränkte. Ich habe im ganzen U-Bahn-Netz keinen Fahrstuhl gesehen. Wir müssen zum Ausgang Richtung Odojewskogo Straße nach links. So weit sieht das eigentlich auf der Karte zum Kreuzfahrtterminal gar nicht aus. Vielleicht laufen wir das nächste Mal um mehr von der Stadt zu sehen.
Auf der gegenüberliegenden Straßenseite ab Haltestelle 5 fährt der Bus 158 wieder zurück zum Hafen. Wir haben Anna angeboten, dass sie uns an der Stelle verlässt und vorzeitig nach Hause fahren kann. Aber das lässt Anna nicht zu. Sie sagt uns, dass ihre Aufgabe erst zu Ende ist, wenn wir sicher im Cruise Terminal angekommen sind. Unser Terminal wird als erstes angefahren. Ohne Bordkarte und Reisepass kommt man mit Bus 158 weder aus dem Terminal raus noch rein. Zwei schöne Tage in St. Petersburg gehen zu Ende. Sehr viele Gründe haben wir wiederzukommen. Ich habe schon gesehen, dass Princess auch den Zustieg in St. Petersburg ermöglicht. Und da könnte ich mir gut vorstellen, dass wir dann Anna wiedersehen, so wie wir ja auch immer wieder Sigrid in Tallinn (damals
LILI MARLEEN 2006
und vor zwei Tagen - dazwischen liegen zwar elf Jahre...). I.d.R. werden uns unsere Fremdenführer und Taxifahrer nicht wieder los... Und so ein Arrangement mit Moskau (4 Stunden mit Hochgeschwindigkeitzug) und/oder Goldenen Ring vorher und später einer frühen Ausschiffung in Tallinn (damit ich mir ein Visum mit mehrmaligen Einreise erspare)...

On the opposite side of the street from bus stop 5 the bus 158 returned to the port. We offered Anna that she could leave us here and could get earlier home. But she did not allow it. She told us that it was her job would be finished when we supposed to arrive safely in the cruise terminal. Our terminal was the first call. Without ship's card and passport you cannot get on bus 158 neither in nor out. Two very nice days in St. Petersburg came to the end. Many good reasons to reunt. I already checked that Princess also allow embarkation in St. Petersburg. I could imagine to meet Aanna again so like we did with Sigrid (then on LILI MARLEEN 2006 and two days ago - and we had 11 years between). Normally our tour guides and taxi drivers could not get rid of us... And such an arrangement with Moscow, Russia (4 hours by high-speed-train) and/or Golden Ring before and later an early debarkation in Tallinn, Estonia (so that we could save a visa with multiple entry)...

Back to the ship we retreated to our oasis: Vibe.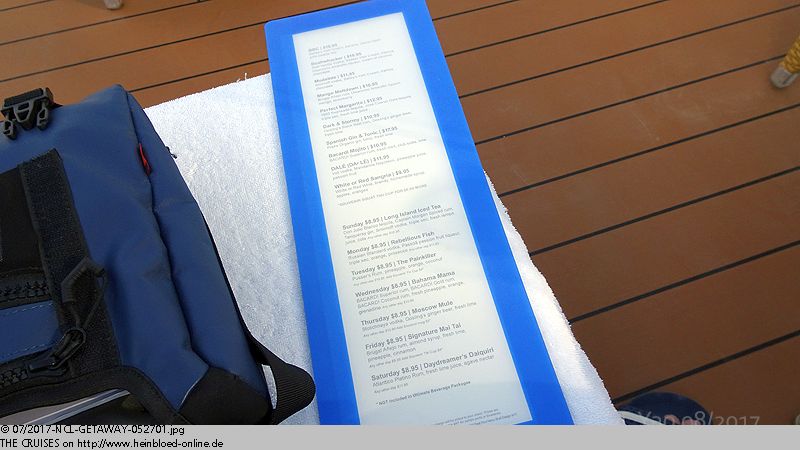 Zurück an Bord ziehen wir uns in unsere Oase zurück: Vibe.
Ein Cocktail.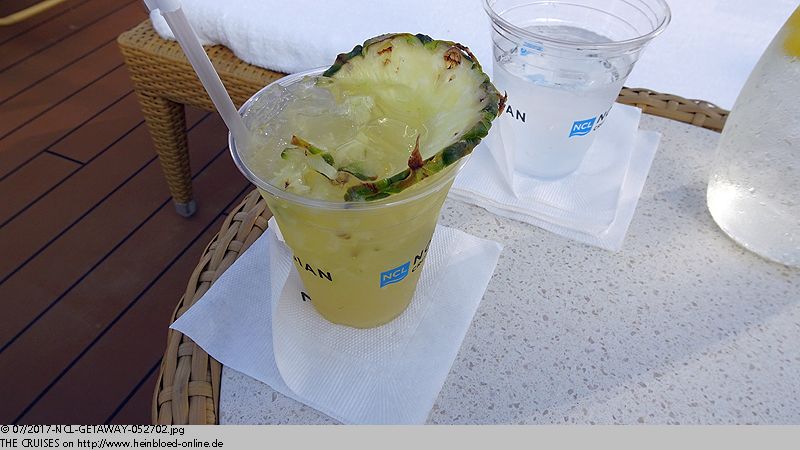 One cocktail.

And UP WITH THE FEET! After Tallinn, Estonia and St. Petersburg my feet started to hurt.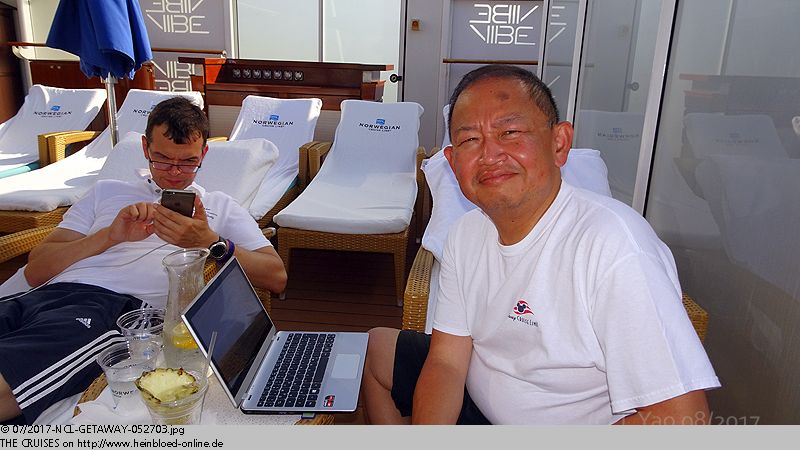 Und FÜSSE HOCH! Nach Tallinn und St. Petersburg tun mir schon die Füße ziemlich weh.
Man kann übrigens innerhalb des Vibes noch ein wenig steigern. Nochmals extra kosten dann diese Cabanas.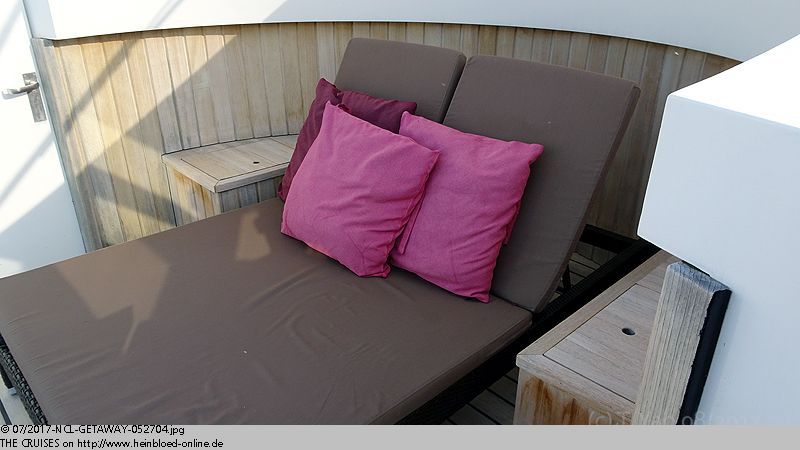 You could enhance a little your stay in Vibe. Against extra costs you could use the cabanas.

On the cruise itself we had only once bad weather: right now when we left St. Petersburg and were passing Kronstadt. No chance for good pictures. It was too dark, too wet and too stormy.

Auf der Kreuzfahrt selbst erleben wir nur einmal schlechtes Wetter: jetzt während der Ausfahrt aus St. Petersburg vorbei an Kronstadt. Keine Chance für gute Bilder. Es ist zu dunkel, zu nass und zu stürmisch.
Ein Nachteil hat ja die Balkonlampe doch: wenn der Nachbar das nicht bemerkt, dass sie die ganze Nacht an ist, dann ist es eben bei uns nachts auch hell... Unsere Wäsche ist zurück. Das Internet geht immer noch nicht. Ich bekomme dafür einen Tag wieder gutgeschrieben. Mein Vorschlag einfach den Tag zwischen Kopenhagen und Warnemünde zu verlängern ist nicht möglich. Wir bekommen Post. Die Werbung für Cruise Next Rewards nehme ich zunehmend als aggressiv wahr.

The balcony light had one disadvantag: if your neighbour did not notice that it was on all the night it could be bright with us too all the night... Our laundry was back. The internet still did not work. I got a credit for a day. My suggestion to credit for the day from Copenhagen, Denmark to Warnemünde, Germany was impossible. We got mail. The advertising for Cruise Next Rewards appeared to me more and more aggressive.

For dinner we went to Le Bistro. We still had the second coupon as Latitudes Plantinum-Members. Also Le Bistro it was in many years an up and down. Again few changes. They started a partnership with Veuve Clicquot. It did not mean because I did not drink any alcohol that I did not have any skills. I could not stand any alcohol. I could hear the pop of a champagne cork at the next table. The bottle was handled like you would handle a bottle of Coke. And it was like in Hungary or with Sherry: if you tried to hit the glass from a larger distance when you pour. A lot of foam in the glass. I felt so sorry for the cellar master who spent so much effort to make millions of litte carbon bulbs creating. They show here very nice on YouTube how to do it properly. The guests were anyhow nouveau riche and had no idea what they were drinking and eating and how to dress up. So they did not care. Anyhow they drank the champagne the way you would normally drink a glass of water after a Marathon-run. Sad that they had no lobster tail anymore. It was really good here. I remember very well like it was yesterday on NORWEGIAN JADE 2014 (1) when Mahmut and Daniel got us some of wonderful lobster tail. One of the best from the best of the bests. For that I really was willing to pay extra. But they simply had none onboard. My salad was so yummy that I really cleaned my plate that they did not need to put it into the dishwasher anymore. No desserts. After walking so much we were just happy to get into our bed. We knew Helsinki already and we had no big plans for the next day.

Abends geht es in Le Bistro. Wir haben ja noch den zweiten Coupon als Latitudes Platin-Mitglied. Auch Le Bistro war in vielen Jahren immer ein Auf und Ab. Es hat sich wieder etwas verändert. Man ist eine Partnerschaft mit
Veuve Clicquot
eingegangen. Dass ich keinen Alkohol trinke heißt nicht, dass ich keine Ahnung habe. Ich vertrage keinen Alkohol. Ich höre einen Korken am Nachbartisch knallen. Die Flasche wird wie eine Flasche Cola geführt. Und ich komme mir vor wie in Ungarn oder beim Sherry: wenn man versucht das Glas aus größerer Distanz beim Einschenken zu treffen. Es schäumt schön aus dem Glas. Mir tut nur der Kellermeister leid, der sich soviel Mühe gemacht hat, um die Millionen von Kohlensäure-Bläschen zu erzeugen. Richtig schön wird es hier auf
YouTube
gezeigt, wie es geht. Die Gäste sind eh neureich und haben keine Ahnung, was sie essen und trinken und auch wie sie sich anziehen. Deswegen stört es sie nicht. Sie trinken auf jeden Fall den Champagner so, wie man ein Glas Wasser nach einem Marathon-Lauf trinken würde. Schade, dass es keinen Hummerschwanz mehr hier gibt. Der war richtig gut hier. Ich erinnere mich als ob es gestern auf der
NORWEGIAN JADE 2014 (1)
war, als Mahmut und Daniel uns den herrlichen Hummerschwanz gebracht haben. Einer der Besten von den Besten der Besten... Hierfür hätte ich auch gerne extra bezahlt. Aber es gibt schlicht keinen an Bord. Mein Salat ist auf jeden Fall so lecker, dass ich den Teller so sauber leer gegessen habe, dass sie auf das Spülen hätten verzichten können. Auf ein Dessert verzichten. Vom vielen Laufen sind wir müde und wollen nur noch ins Bett. Helsinki kennen wir zum Glück und wir haben keine großen Pläne für den nächsten Tag.