Im Dunkeln laufen wir in Piräus ein. Hier könnte ich ja später mal eine Tasse Kaffee trinken.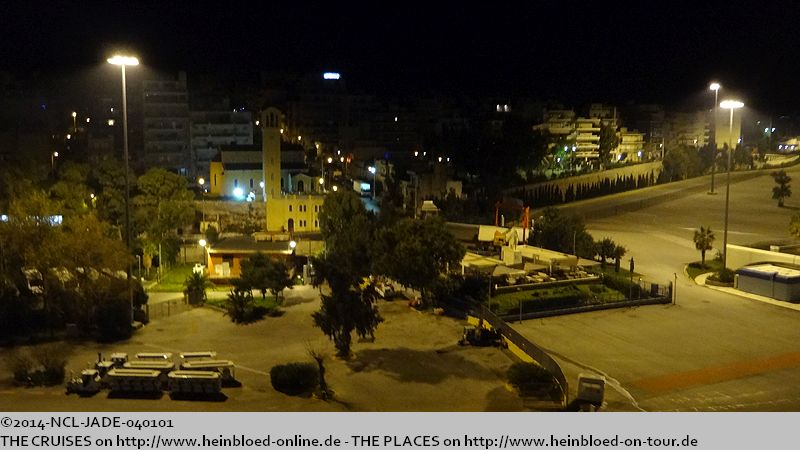 While it was dark we entered the port of Piraeus. Here I could later have a cup of coffee.

There is already St. Nikolaos.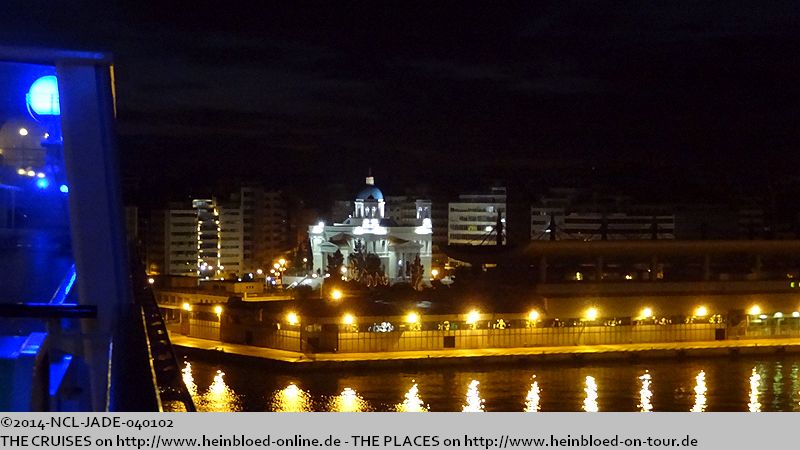 Da ist schon St. Nikolaos.
Noch in guter Erinnerung, weil unser Hotel direkt daneben war, was es auf die RYNDAM ging.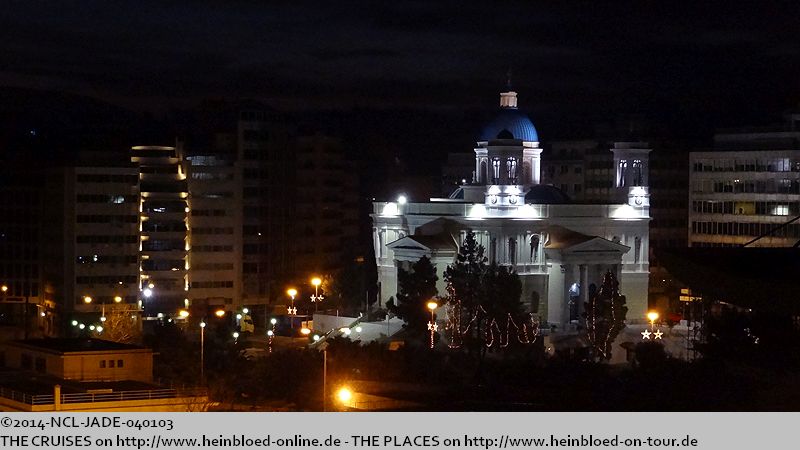 Still in great memories as our hotel was just next when we went on RYNDAM.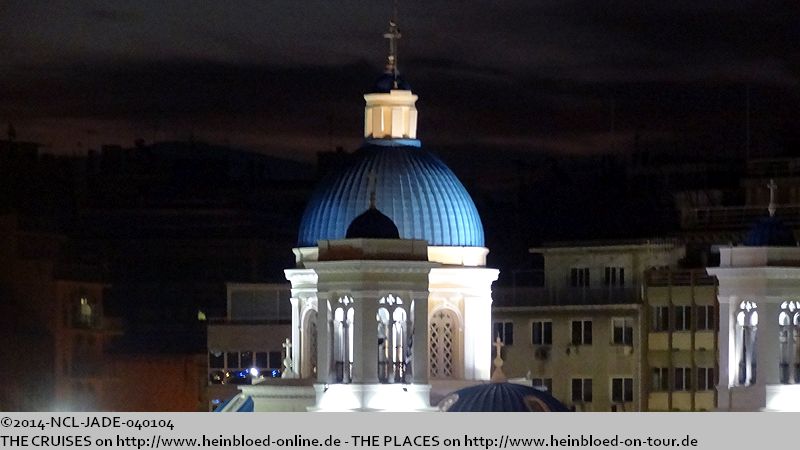 Slowly Piraeus was waking up.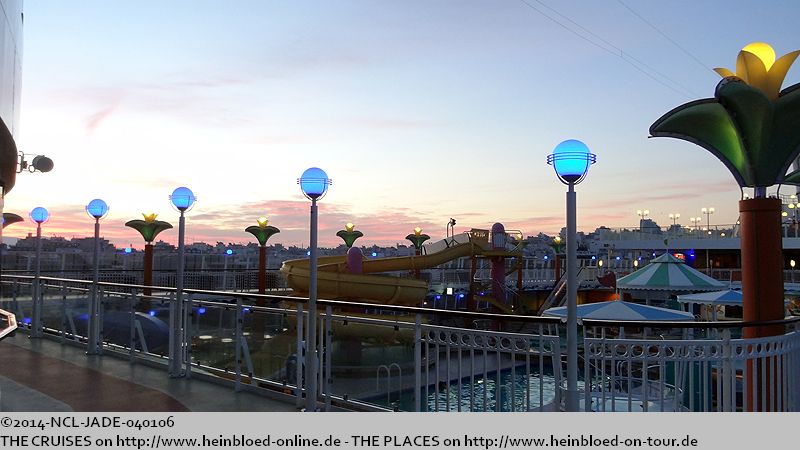 So langsam erwacht Piräus.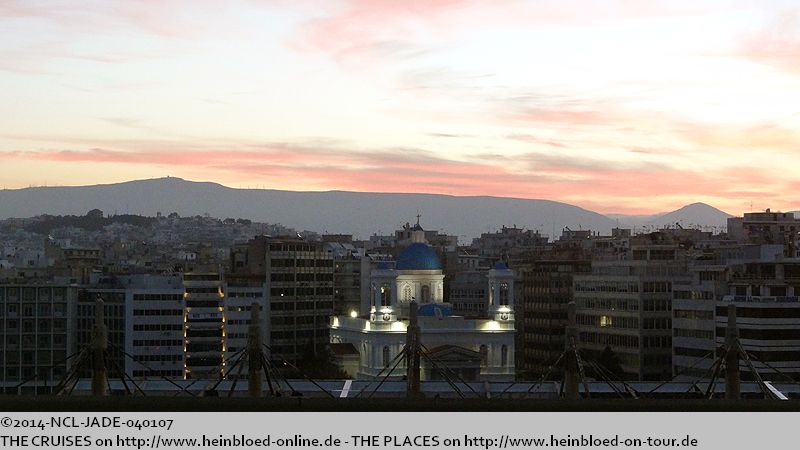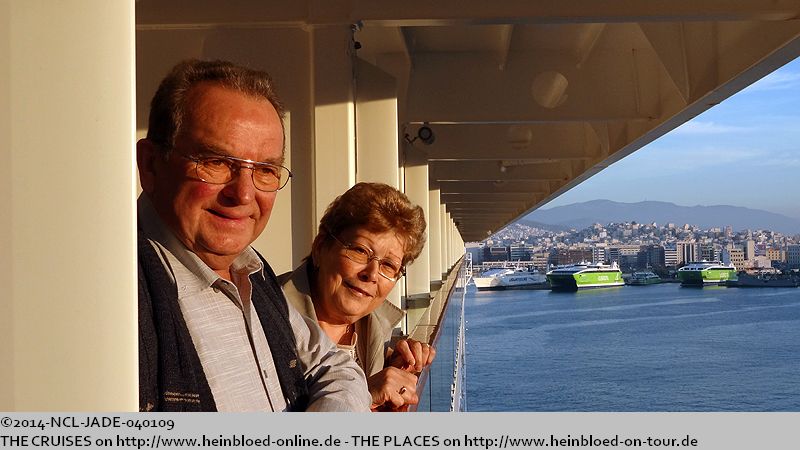 In the port there was DISCOVERY. Wondering why she was laid off here and not used for Australia.

Im Hafen liegen DISCOVERY. Warum ist sie hier abgelegt und wird nicht in Australien eingesetzt.
Ferner noch die AEGEAN ODYSSEY.

Furthermore there was AEGEAN ODYSSEY.

And LOUIS AURA too.

Da wäre noch die LOUIS AURA.
Die kennt man vermutlich noch besser unter diesem Namen: ORIENT QUEEN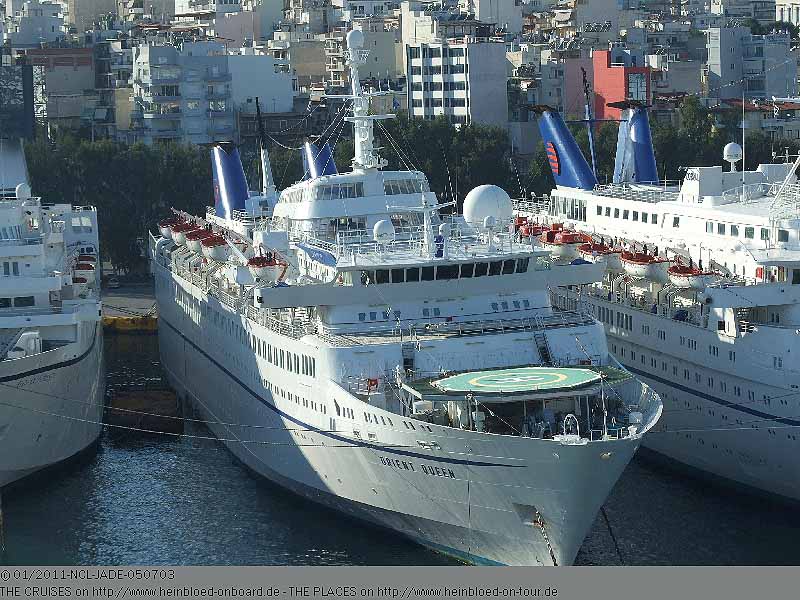 But maybe you know her better under the different name: ORIENT QUEEN

In Piraeus you also find THOMSON SPIRIT.

Und in Piräus selbst liegt noch die THOMSON SPIRIT.
Ich gehe aber erst mal zum Frühstück und genieße die schön geschnittenen Früchten. Und wie üblich baue ich mir mal wieder Brote...

I went for breakfast and enjoyed the nicely cut fruits. And as usual I was constructing my sandwiches...

The most important shots of the day: the port agent.

Die wichtigste Aufnahmen des Tages: der Hafenagent.
Und die Rückkehrzeit an Bord.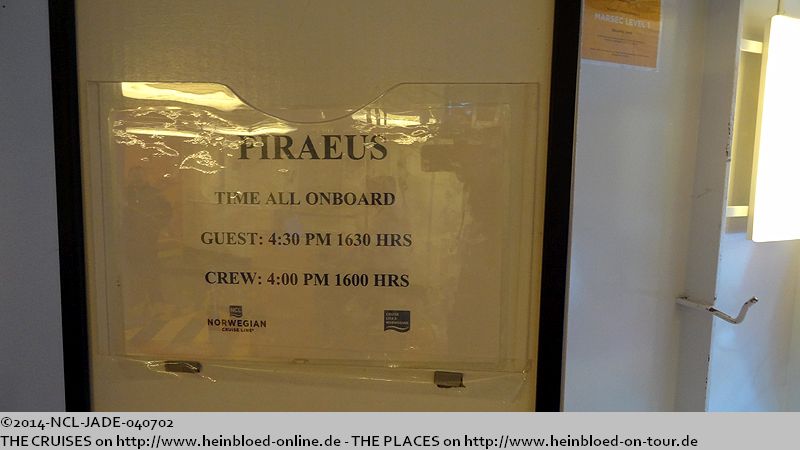 And the onboard-time.

The seat options in front of the ship reminded me more to Saga Cruises (55+ cruises)... for older guests...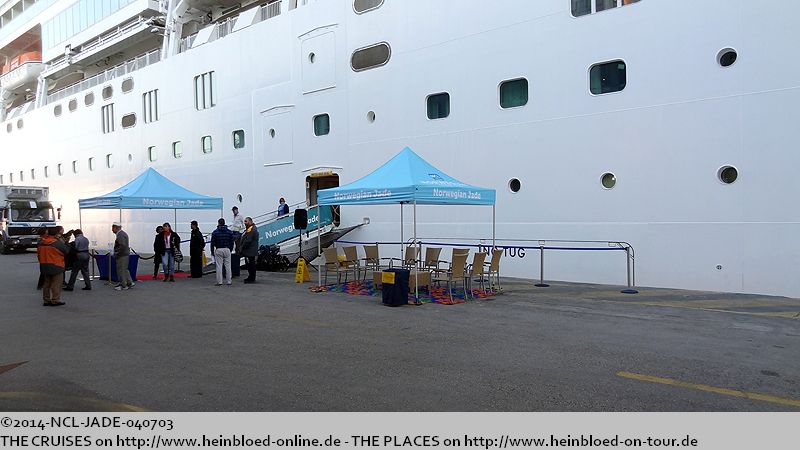 Die Sitzmöglichkeiten vor dem Schiff erinnern eher eigentlich an Saga Cruises (Senioren-Kreuzfahrten)... für die alten Leute...
wie damals bei der SAGA RUBY: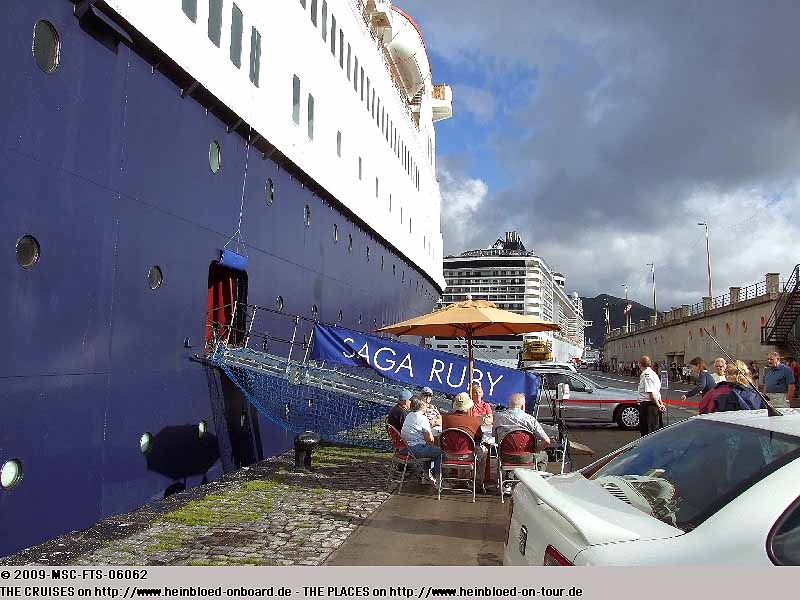 like here with SAGA RUBY:

One exit for arrivals from a Schengen-country... Is there a mix zone if there are guests who arrived from a Non-Schengen-country? Then it would be easy to use an "optional" exit. Hmm...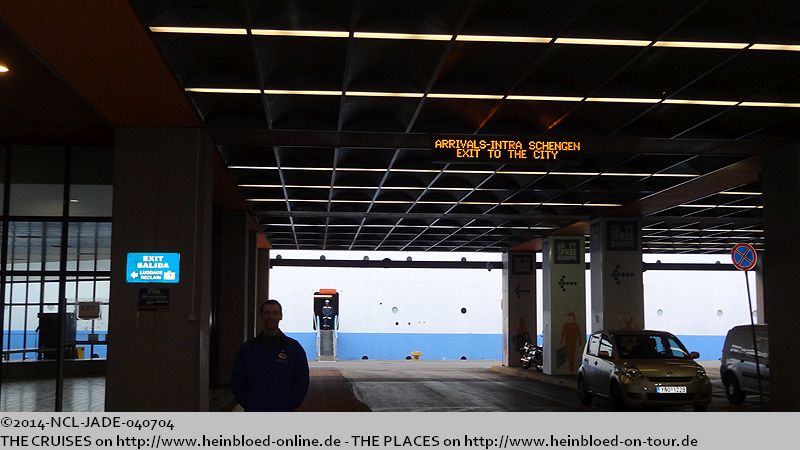 Ein Ausgang für Ankünfte innerhalb des Schengen-Raums... Gibt es denn eine Mischzone mit Gästen, die von Nicht-Schengen-Ländern kommen? Dann könnte ich ja auch "beliebig" raus. Hmmm...
Man kann hier direkt Hertz anrufen, obwohl die fast gegenüber sind.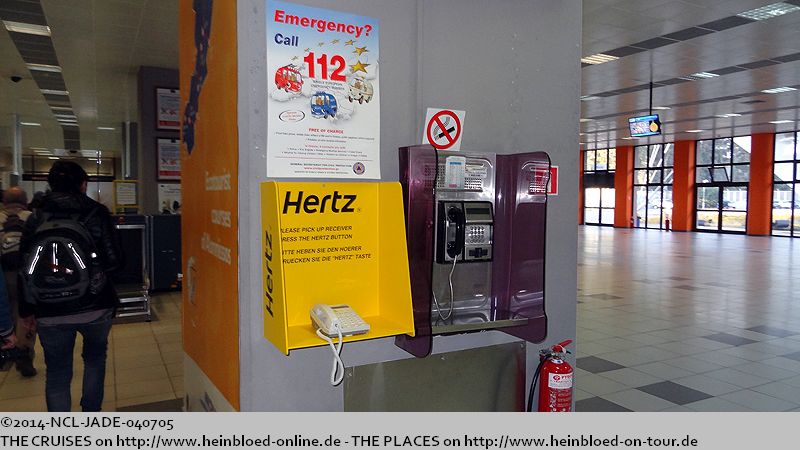 You could call directly Hertz altough the are more or less just adjustant.

The mini-train for Piraeus was waiting outside. And around the corner the Ho-Ho-Busses were waiting.

Die Mini-Bahn für Piräus wartet draußen. Und dort an der Ecke warten die Ho-Ho-Busse.
Im Cruise-Terminal wartet
Johanna
. Die anderen machen Athen für Anfänger-Programm. Solange keine Rolltreppe an der Akropolis gebaut wird, muss ich nicht innerhalb so kurzer Zeit wieder hoch.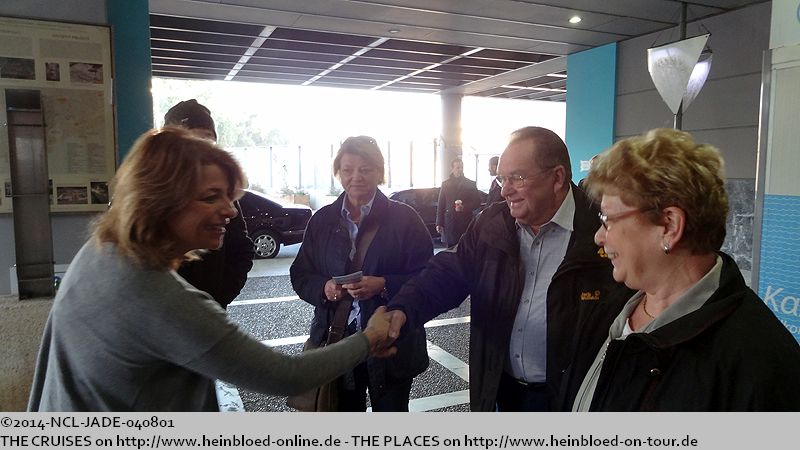 In the cruise terminal Johanna was waiting. The other started the Athens-for-beginners programme. As long as they do not offer any escelators at the Akropolis I must not go again within short period.

I had my personal programme... und went again to the ferry port. Here at the kiosk adjustant to the St. Nikolaos-Church I bought few tickets and cards.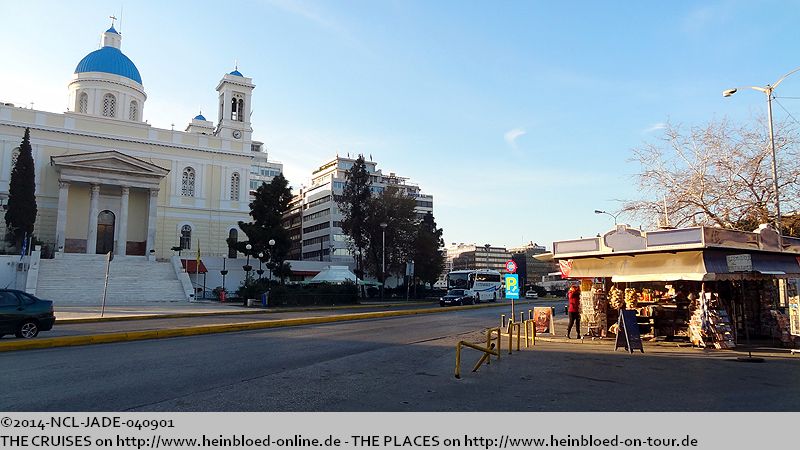 Ich habe mein Privatprogramm... und laufe wieder in den Fährhafen. Hier am Kiosk gegenüber der St. Nikolaos-Kirche kaufe ich ein paar Karten.
Karten für unseren mobilen WLAN-Router von COSMOTE und Fahrkarten für die öffentlichen Verkehrsmittel in Athen
OASA
: 1,40 EUR für 90 Minuten inkl. Umsteigen (2014). Hier am Kiosk nahmen sie 1,50 EUR... vielleicht weil ich kein Grieche bin...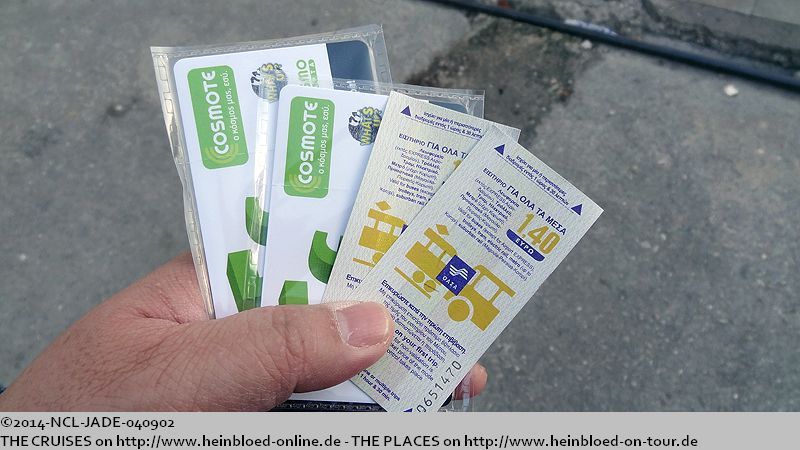 Cards from COSMOTE for mobile WiFi-Router and tickets for public transportation in Athens OASA: 1.40 EUR for 90 minutes incl. transfer (2014). Here at the kiosk they took 1.50 EUR... maybe I was no Greek...

I was looking for a harbour cruise... there is not any... but there is a local ferry...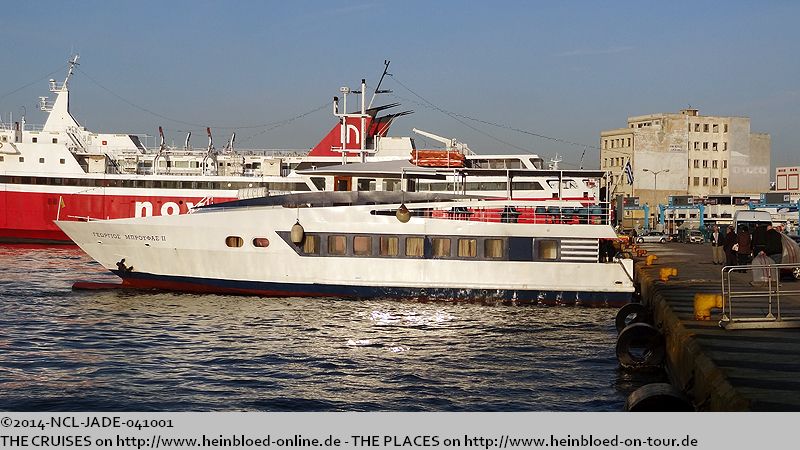 Ich suche eine Hafenrundfahrt... gibt es nicht... allerdings gibt es eine lokale Fähre...
GEORGIOS BROUFAS II...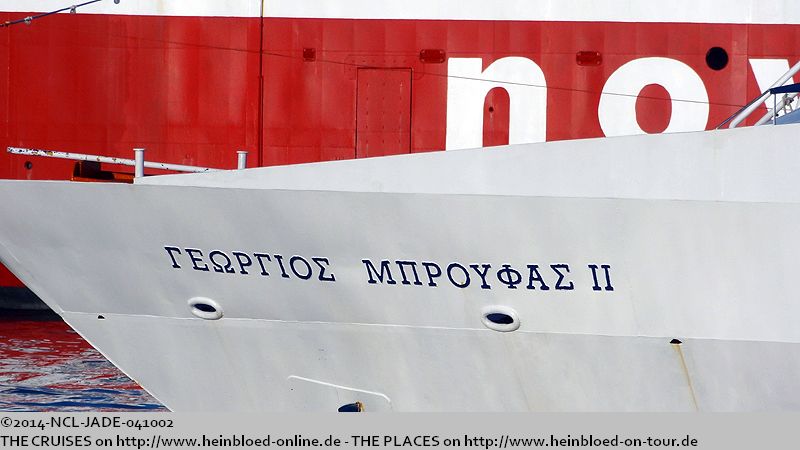 GEORGIOS BROUFAS II...

You board here - in viewing distance to the cruise terminal.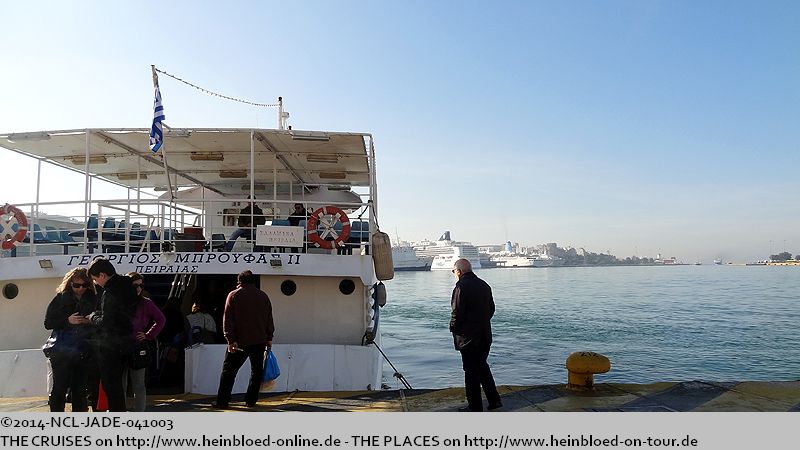 Man steigt hier ein - in Sichtweite zum Kreuzfahrtterminal.
Tatsächlich gibt es ein Schild...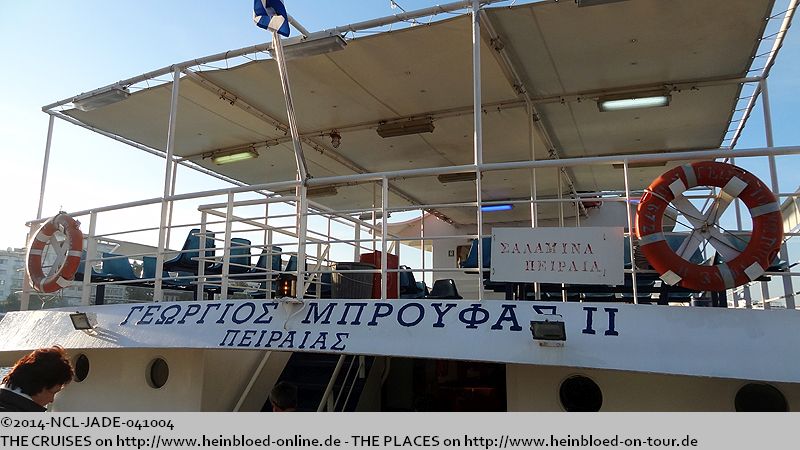 Indeed there was a sign...

Salamina - Peiraia... Here I was right.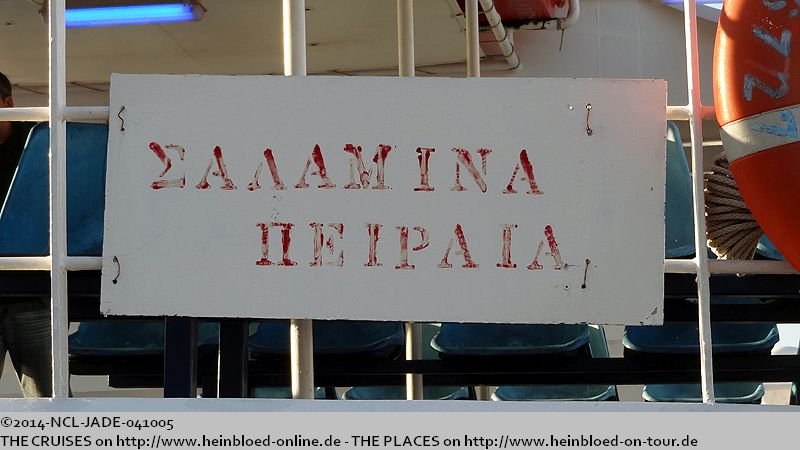 Salamina - Peiraia... Hier bin ich richtig.
Der Fahrplan findet sich nicht im Internet. Das Bürgermeisterbüro in Salamina hat mir freundlicherweise bestätigt, dass es die Personenfähre gibt. Ansonsten gibt es nur eine Autofährverbindung, die jedoch nicht von Piräus fährt. Die einfache Fahrt kostet 2,60 EUR (2014) und dauert 40 Minuten bis zum 1. Halt in Salamina. Es gibt dann ca. zehn Minuten später noch ein 2. Halt. Ausgestiegen bin ich nicht, sondern direkt zurückgefahren. Es sind mehrere Boote im Einsatz, um den Fahrplan bedienen zu können.

You cannot find the schedule in internet. The office of the Mayor of Salamina was so kind to confirm the availability that a foot passenger ferry. Furthermore you have a car ferry which is not leaving from Piraeus. The single voyage is 2.60 EUR (2014) and it takes 40 minutes until the 1st call in Salamin. Another ten minutes are need to the 2nd call. I did not leave the ship and returned immediately. There are multiple boats in service to run the schedule.

And so I could easily take some pictures of the NORWEGIAN JADE from outside. Only the sun was not very advantage for us.

Und so kann ich in Ruhe endlich Bilder von der NORWEGIAN JADE von außen machen. Nur die Sonne spielte nicht so richtig mit.