Faruk wusste, wie man mich glücklich macht: Das
Cihannuma Panorama Restaurant
.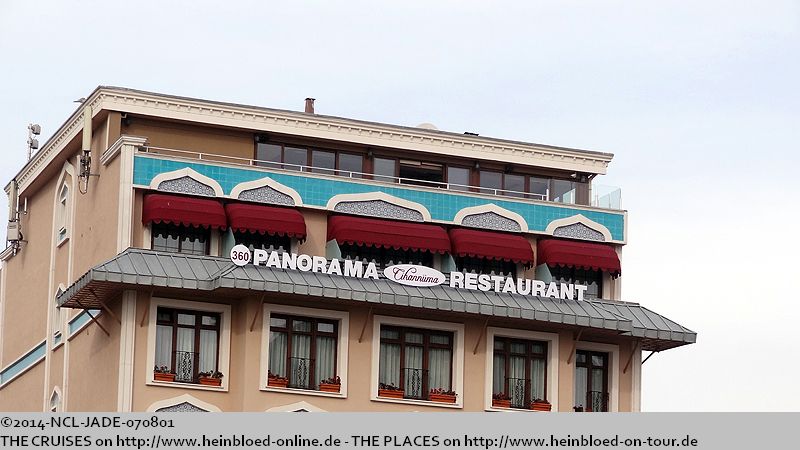 Faruk knew how to make me happy: The Cihannuma Panorama Restaurant.

At the edge of teh Sultanahmet-District.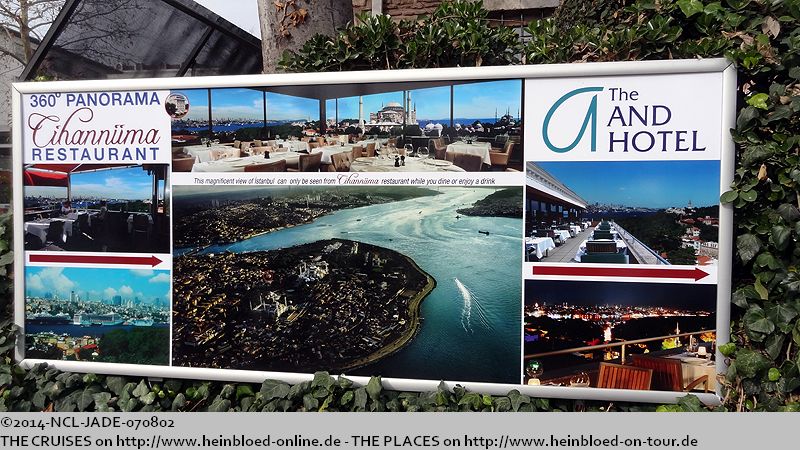 Am Rande des Sultanahmet-Bezirks.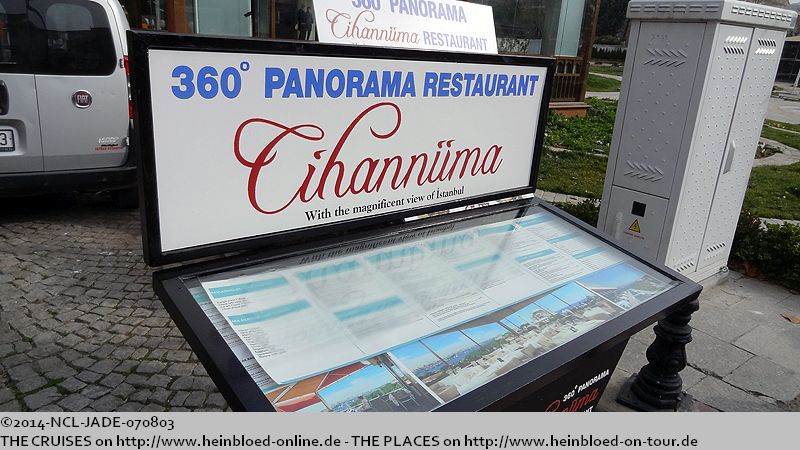 Part of The And Hotel.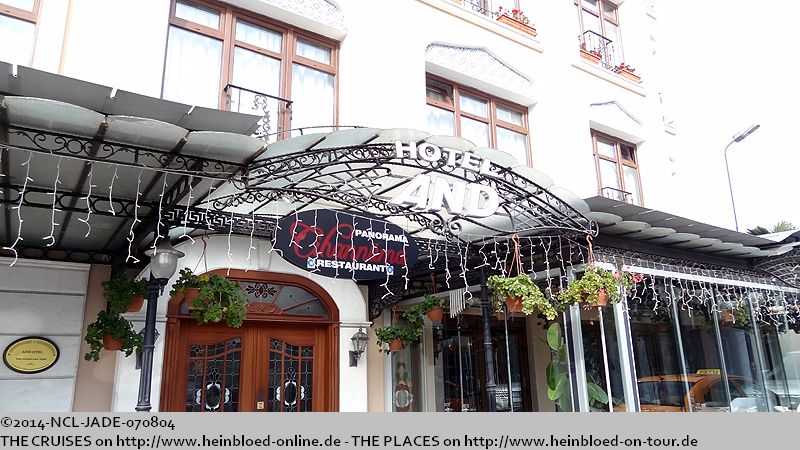 Teil des
The And Hotel
.
Und auch innen macht es einen sympathischen Eindruck.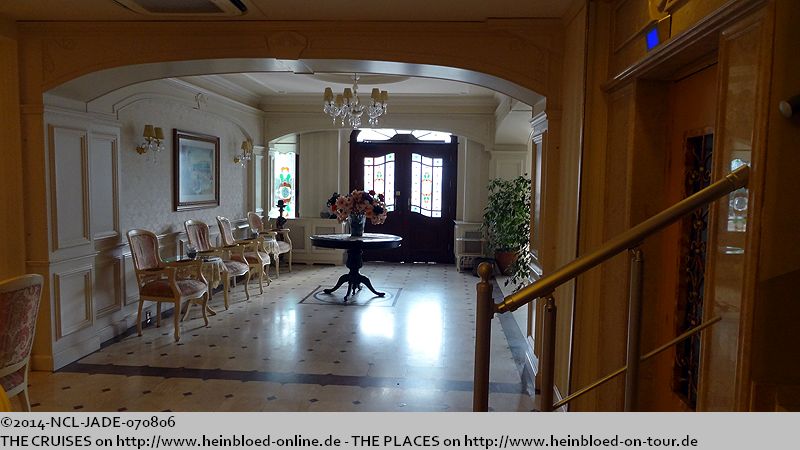 And also inside it made an inviting appearance.

From the top in the restaurant we enjoyed the wonderful with a cup of coffee and tea for ME.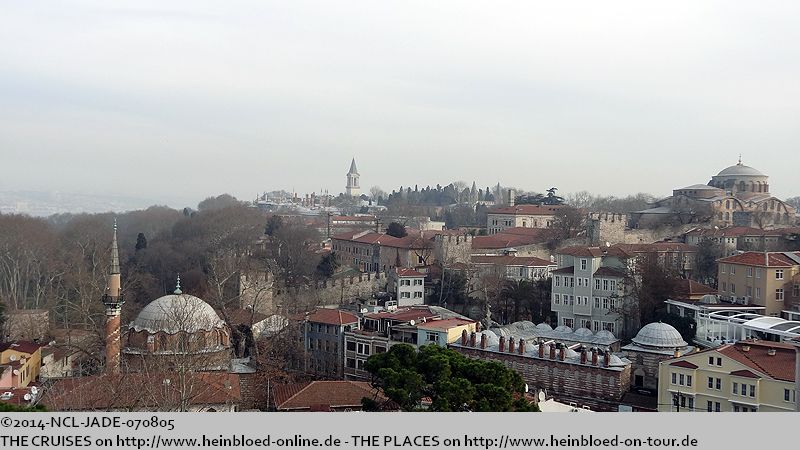 Und oben vom Restaurant genießen wir bei einer Tasse Kaffee und ICH Tee die wunderbare Aussicht.
Nicht nur in den Sultanahmet-Bezirk.


But not just the Suntanahmet-District.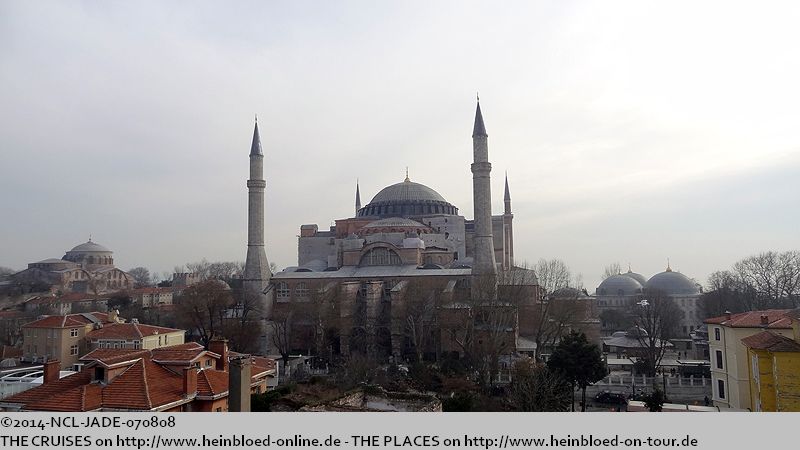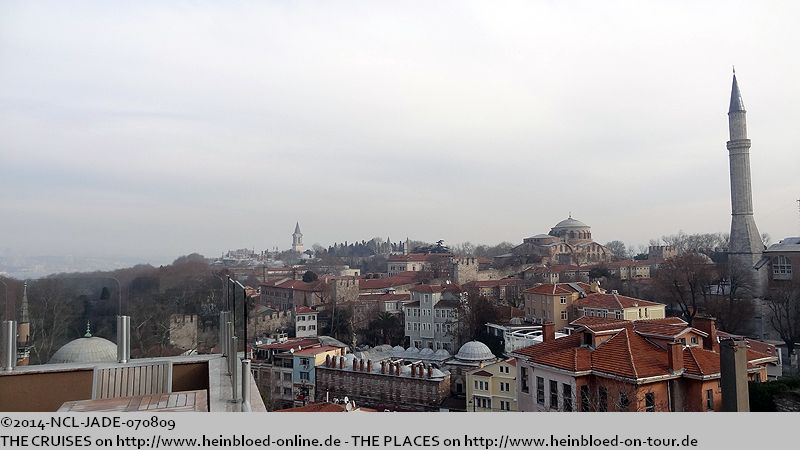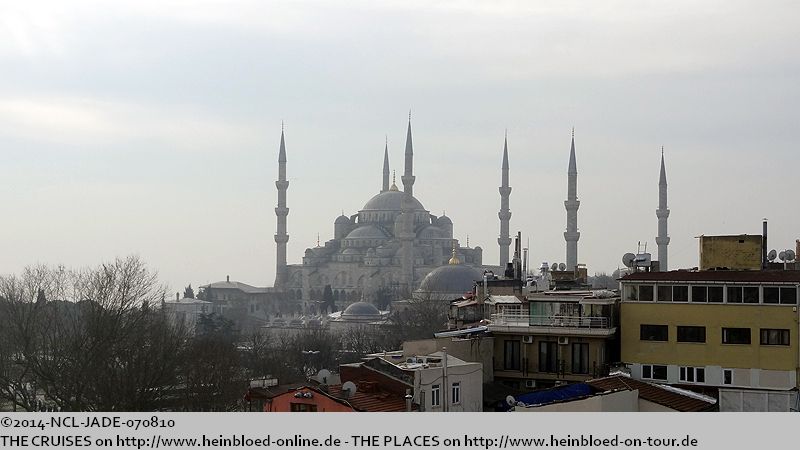 Vor dem Hotel wird an einem kleinen Park gearbeitet.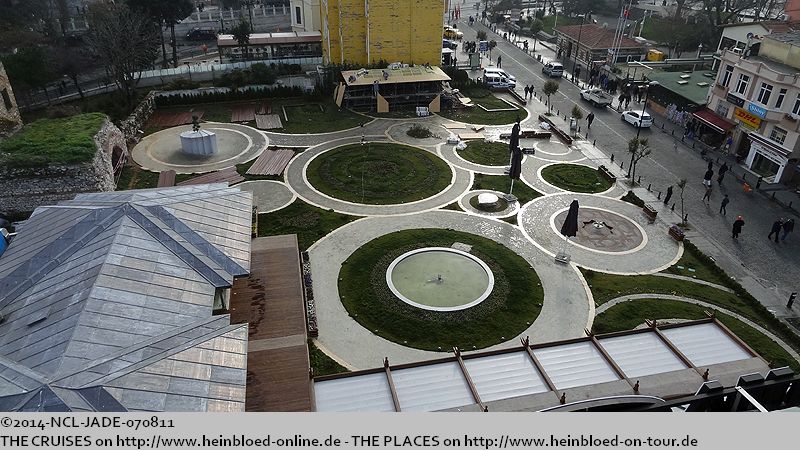 In front of the hotel they were working on a little park.

The author of James Bond 007 is Ian Fleming. His favorite city was Istanbul. So it was no wonder that Istanbul was three times set of a James-Bond-movie. When they filmed "From Russia with Love" they were also in the Basilica Cistern (Yerebatan Sarnici).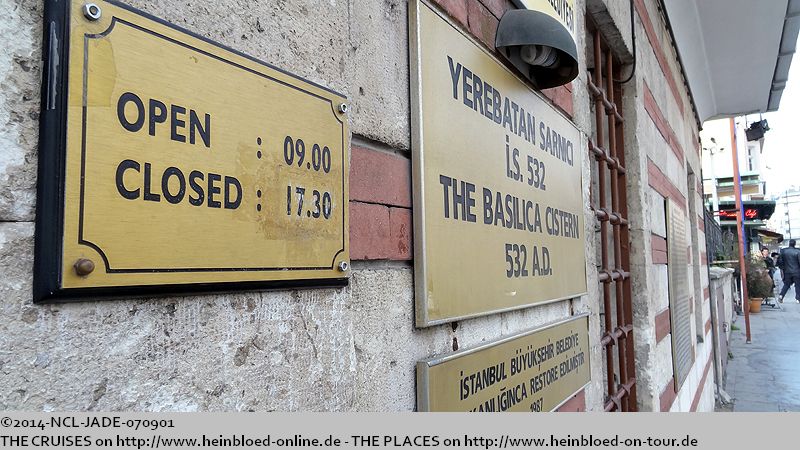 Der Autor von James Bond 007 ist Ian Fleming. Seine Lieblingsstadt war Istanbul. So ist es kein Wunder, dass Istanbul drei Mal der Handlungsort eines James Bond-Films ist. Bei "Liebesgrüße aus Moskau" wurde unter anderem in der
Basilika Zisterne
(Yerebatan Sarnici) gedreht.
Eine Eintrittskarte kostete 10,00 TRY (2014). Da es sich um städtisches Museum handelt, gilt hier nicht der Museumspass.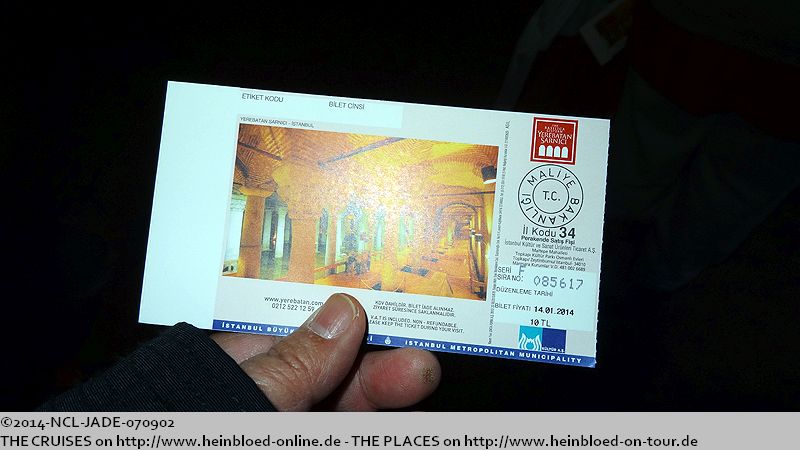 One ticket was 10.00 TRY (2014). As it was a City-owned museum the Museums Pass was not valid there.

You had to walk downhills on few steps. And you see immediately that this was the fiml set of "From Russia with Love". I was only very surprised to see fishes were swimming in the water.

Über einige Stufen geht es runter. Und man erkennt sofort alles aus dem Film "Liebesgrüße aus Moskau" wieder. Zu meiner Überraschung schwimmen Fische im Wasser.
Überrascht bin ich jedoch über die Medusenköpfen.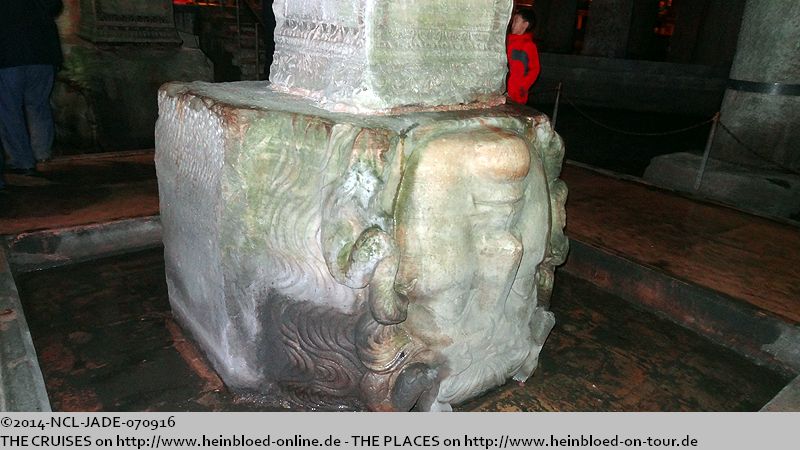 I was also surprised to the see heads of the Medusas (female head with snakes as hair).

Looked like some recycling when they eracted that building.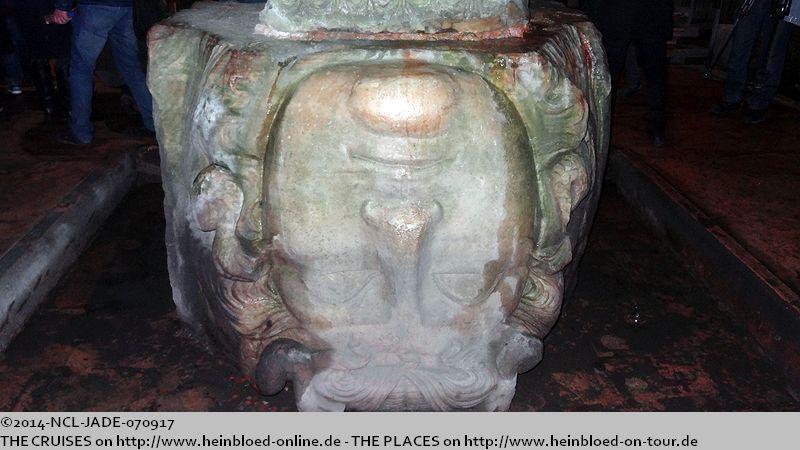 Offensichtlich ist das eine Art Recycling am Bau.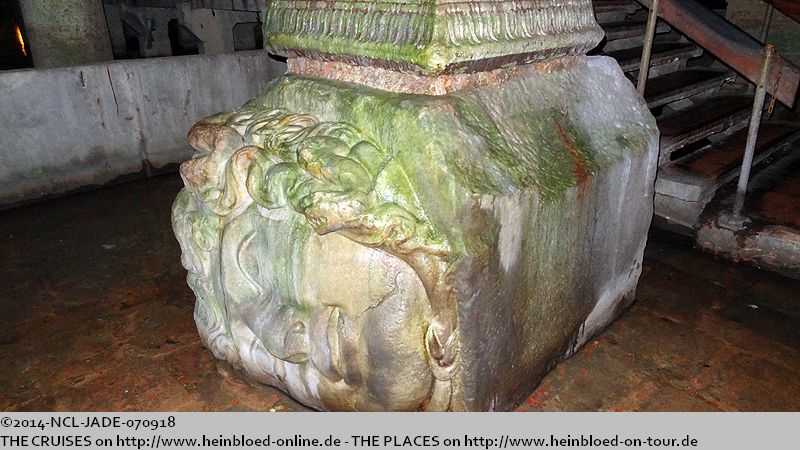 We continued to walk through the streets of Istanbul.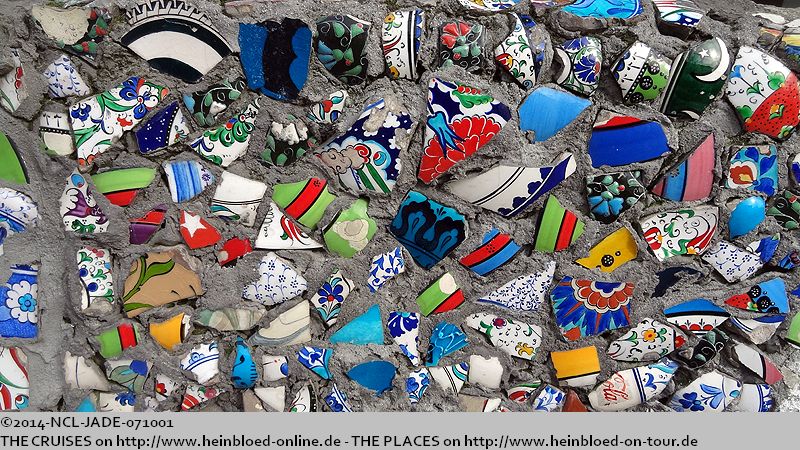 Wir laufen weiter durch die Straßen Istanbuls.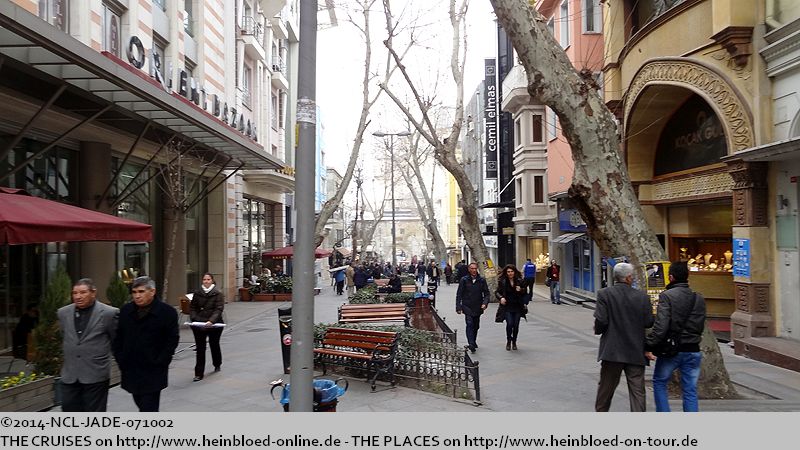 We passed the Nuruosmaniye-Mosque.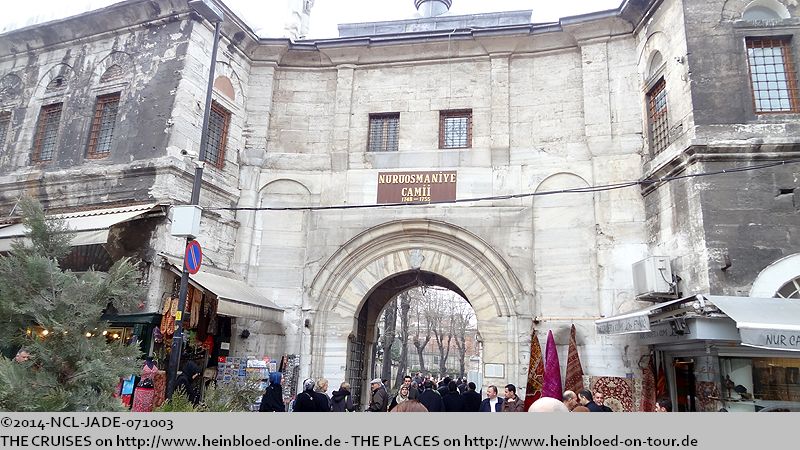 Es geht an der Nuruosmaniye-Moschee vorbei.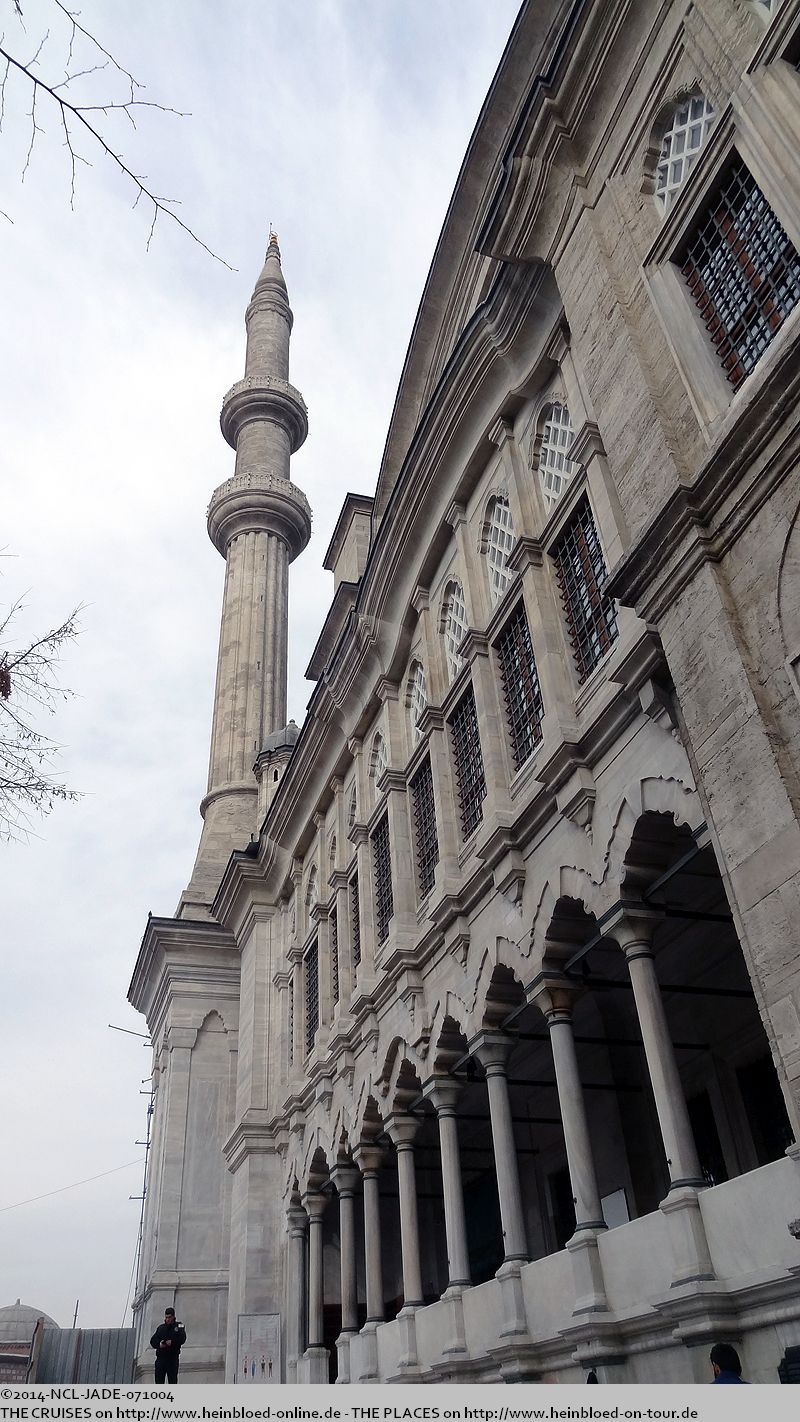 And just before we arrived at our original destination we were taken off the way by Faruk to get a true Döner Kebab for lunch.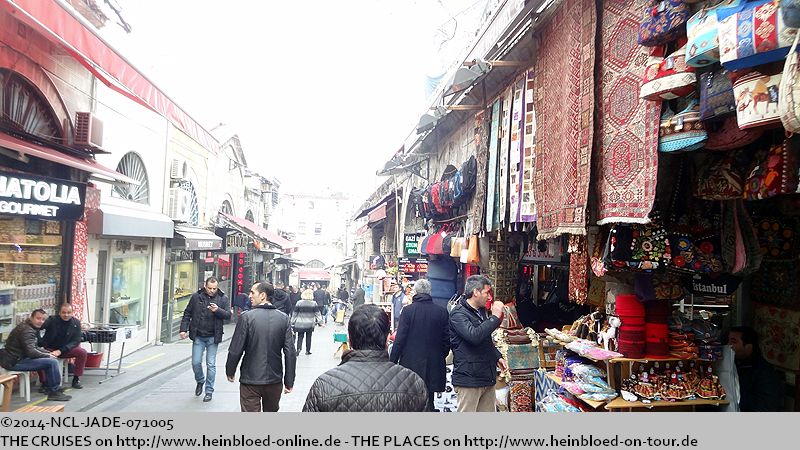 Und kurz vor dem eigentlichen Ziel, werden wir von Faruk vom direkten Weg abgeleitet, damit wir einen echten Döner Kebab essen können.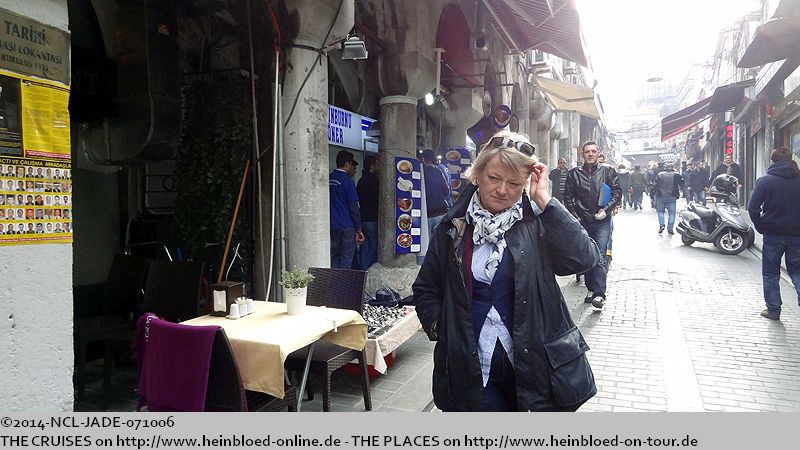 In a business district where tourists are not welcome.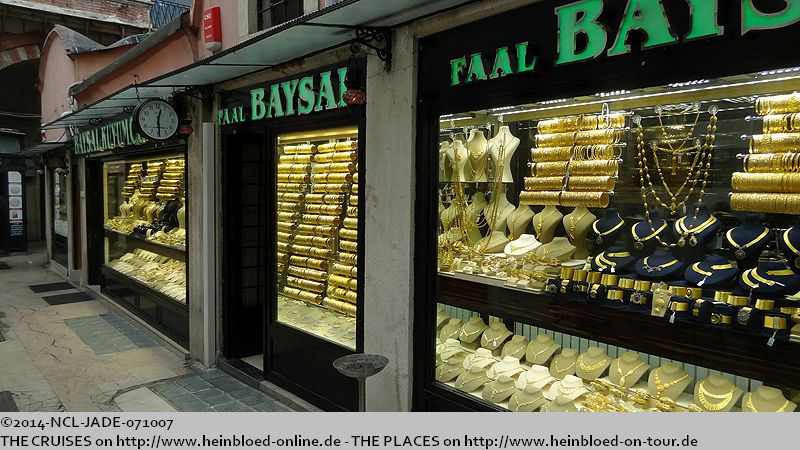 In ein Geschäftsviertel, in dem Touristen nicht erwünscht sind.
Toptan bedeutet Großhandel. Hier kann man nichts als Tourist kaufen, außer in Großmengen.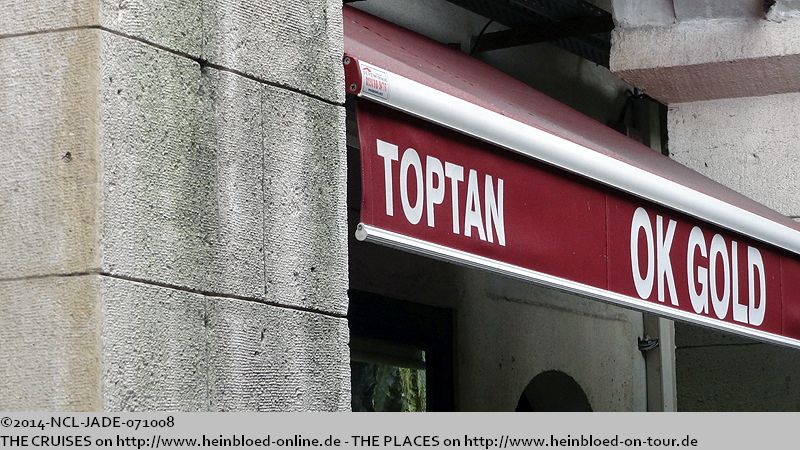 Toptan means wholesaler. Here you cannot buy as tourists in single quantities but only in large quantities.

So we met around the the Döner-Kebab-Store Dönerci Sahin Usta no other tourists but only local dealers who wanted to buy some food for lunch. This place is existing since 1969. No. 172 of 10,685 restaurants on Tripadvisor (2014). I was allowed to get in for some moments to take some pictures. It was about the same price like in Berlin but it was much more better. Especially they can do it without sauce. No wonder because the tomatoes had a flavour. Here they did not stuff but coating with passion the flat bread. And it tasted great. But my Turkish secretary refuses to put this on the list of Turkish specialities which she could prepare if she is in charge for the breakfast rotation. Why is there always a need to release warning letters? For the suggestion that we all should fly to Istanbul and to have our Döner Kebab (= rotating skewer) here in Istabul another warning letter follows. What is unromantic to have such a Döner-Kebab-grill as gift for a woman? Kissing don't last: cookery do!... At the time we arrived it became more and more crowd and we were the only tourists. I love such places.

Daher treffen wir rund um den Döner-Kebab-Laden Dönerci Sahin Usta auch keine weiteren Touristen sondern nur einheimische Händler, die schnell sich etwas zum Mittagessen kaufen wollen. Den Laden gibt es seit 1969. Nr. 172 von 10.685 Restaurants in Istabul bei Tripadvisor (2014). Ich darf kurz rein um drinnen zu fotografieren. Er kostet genausoviel wie in Berlin, aber schmeckt um einiges besser. Vor allem kommt er ohne Sauce aus. Kein Wunder, da die Tomaten dort ja auch nach etwas schmecken. Hier wird er nicht so in das Fladenbrot gestopft, sondern mit Liebe belegt. Und er schmeckt. Nur meine türkische Sekretärin weigert sich das auf die Liste der türkischen Spezialitäten zu setzten, die sie machen soll, wenn sie turnusmäßig mit dem Frühstück dran ist. Warum muss ich sie eigentlich ständig abmahnen? Für den Vorschlag, dass wir gemeinsam nach Istanbul fliegen sollten, um den Döner Kebab (= Drehender Spieß) hier in Istabul zu essen, folgt die direkt eine weitere Abmahnung. Was ist an einem Döner-Kebab-Drehspieß-Grill als Geschenk für eine Frau eigentlich unromantisch? Liebe geht doch durch den Magen... Zu dem Zeitpunkt als wir kamen wurde es immer voller und wir waren die einzigen Touristen. Solche Orte liebe ich.
Nun endlich:
Kapalicarsi
oder der Große Basar. Gibt es seit 1461. Es gibt einen sehr touristischen Teil und einen Teil für die einheimischen mit einem Angebot für den türkischen Alltag. Furak stellt sicher, dass wir beide Teile kennenlernen. Er führt uns in Bereiche, in die wohl kein anderer Tourist hinkommt. Wer möchte schon seine Öllampe noch repariert haben. Es gibt auch Bereiche, die muss man einfach Sigi-Bereiche nennen: Handtaschen-Bereiche. Das muss bei Frauen genetisch sein. Faruk hat die notwendige Geduld eine Frau dahingehend zu beraten und zu begleiten und kennt wohl die Läden, die für uns absolut uninteressant sind, aber wohl Frauen glücklich machen. Wir verziehen uns in eine Ecke und trinken solange Tee. Und die Zeit bis Frauen fertig sind, reicht für ein paar Tassen Tee plus die Zeit, um die Toilette aufzusuchen, um den Tee auch noch wieder loszuwerden.

Now finally: Kapalicarsi or The Grand Bazaar. Exists since 1461. You had a touristic part and a part for locals with a supply for the Turkish everday's life. Furak made sure that we made acquaintance of both parts. He took us to parts I am sure that no other tourist would ever show up there. Who wanted to have his oil lamp repaired? You have to say that some areas you can easily call Sigi-area: Purses-areas. it must be genetic with woman. Faruk had the necessary patience with woman to accompany, to consult and to take them to stores which are not interesting to us but makes woman happy. We warped in a corner and had some tea so lang. And the time women need last for multiple couples of tea and also to get rid of the tea.

If men have to shop in the Grand Bazaar it is totally different. Sigi would even have the time to drink a thimbleful of Raki in this time.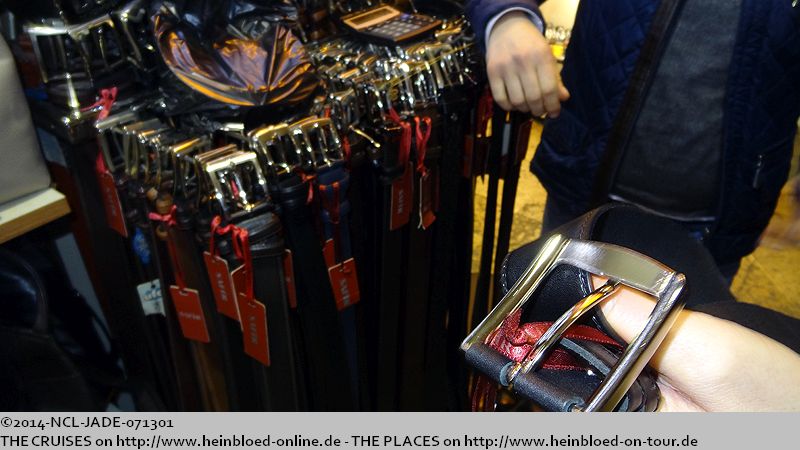 Wenn Männer im Großen Bazar einkaufen, ist das komplett anders. Sigi würde in der Zeit nicht einmal schaffen, einen Fingerhut voll Raki zu trinken.
Ledergürtel: Länge, Breite, Schnalle gefällt, Preis aushandeln, fertig. Und Rafael aus Hamburg hat nicht zuviel versprochen: Seine Gürtel tragen sich echt gut.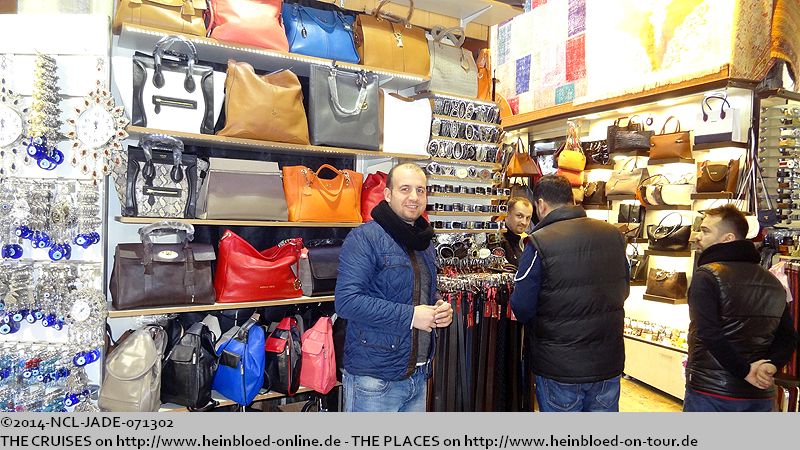 Leatherbelts: length, width, like buckle or not, negotiate the price, ready. And Rafael from Hamburg did not promise too much. It's a great feeling to wear his belts.

Basaran Bags close to entrance 7. The entrances of the Grand Bazaars are numbered.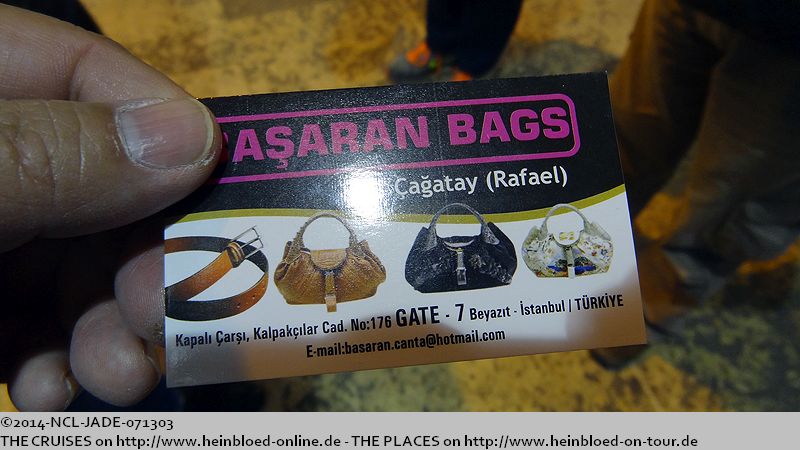 Basaran Bags in der Nähe des Eingangs 7. Die Eingänge zum Großen Basar sind durchnummeriert.
Diese Wegkreuzung muss man erwischen.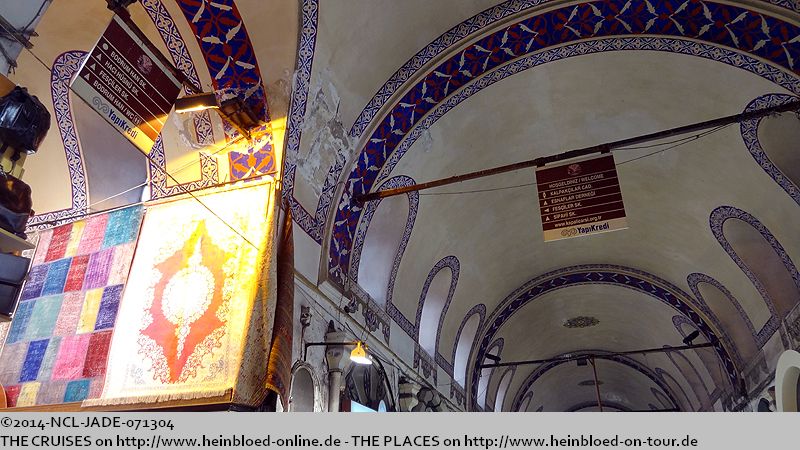 You need to find this intersection.

Sigi was furthermore interested for Hamam-sheets. From Faruk we learned that many loss leader were very thin and the quality was not very high. Just at the end of the bazaar, at a place most tourists would already turned back and where you find many Turks going shopping he got us to Egin Tekstil. Also here they spoke perfectly German. He developped a very special fibre. For only a very little more you got such a better fibric.

Sigi interessiert sich auch noch für Hamam-Tücher. Von Faruk erfahren wir, dass die Lockangebote sehr dünn und qualitativ nicht hochwertig sind. Fast am Ende des Basars, wo vermutlich mal die meisten Touristen schon längst umgedreht wären und eigentlich fast nur noch Türken einkaufen, führt er uns zu
Egin Tekstil
. Auch hier spricht man perfekt deutsch. Er hat einen besonderen Stoff entwickelt. Für wirklich nur ein bisschen mehr, bekommt man einen sehr guten Stoff.
Beim Anblick der Granatäpfel und der Orangen bekomme ich Durst. Dieser Telefonverteilerkasten wird auch als Lagerort für Becher und Strohalme genutzt.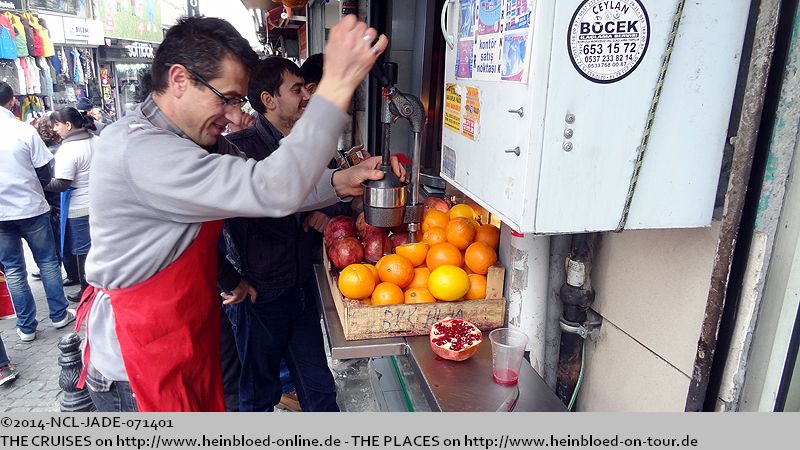 When I saw the pomegranate and the orange I became thirsty. The box for the distribution of the telephone lines was also storage for cups and straws.

A freshly squeezed pomegranate-orange juice.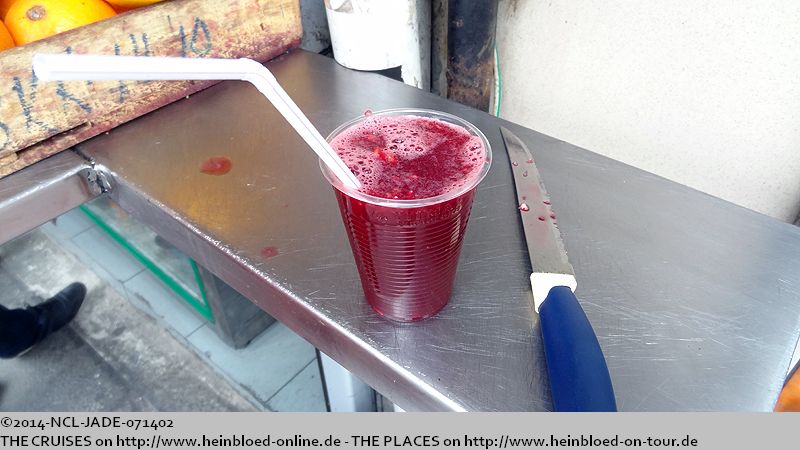 Ein frisch-gepresster Granatapfel-Orangensaft.
Auf das Wohl von Frances und Eddie, die ja schon diesbezüglich mit Aydin unterwegs waren.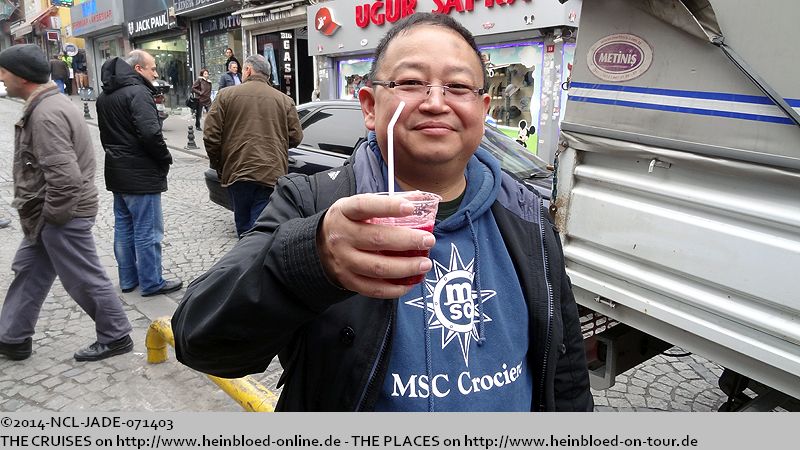 Cheers to Frances and Eddie as I know they were already in mission together with Aydin to get this.

Looks very hot.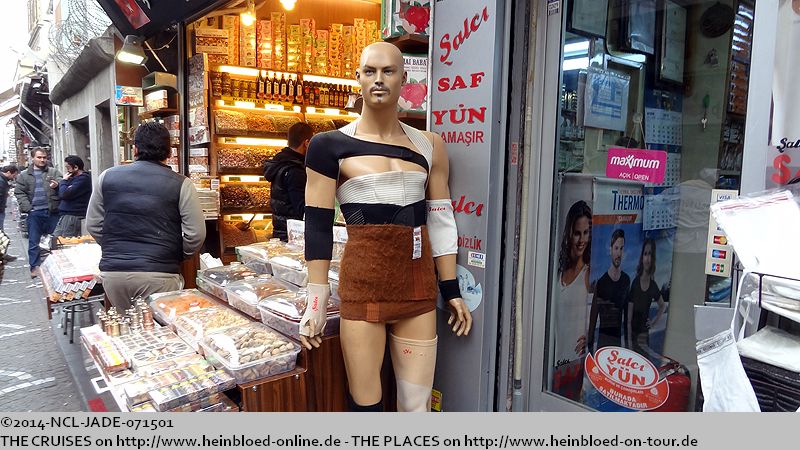 Sehr sexy.
Ich bedauere, dass ich bislang noch nicht einmal geschafft habe, dieses Mal so ein Lammhackspieß oder Köfte (Lammhackfrikadellen) zu genießen. Hier müssen sie doch richtig gut sein.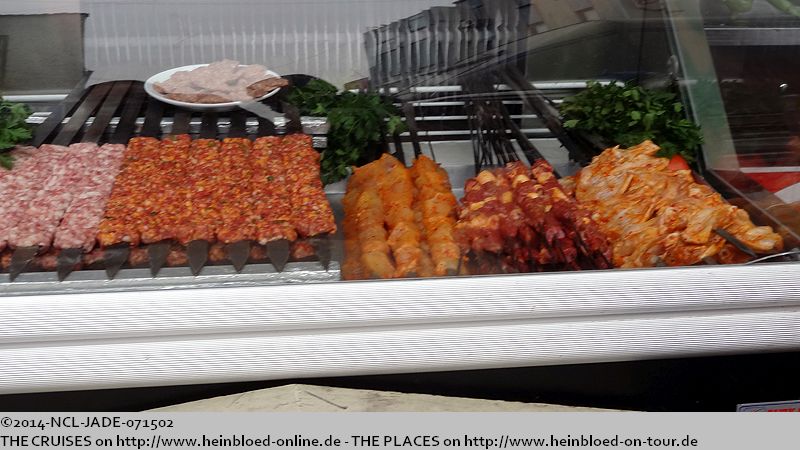 I sincerely regret that I did not make it to have a chance to enjoy a minced lamb skewer of Köfte (minced lamb balls). I was sure that they must be good here.

We headed on trough the streets of Istanbul.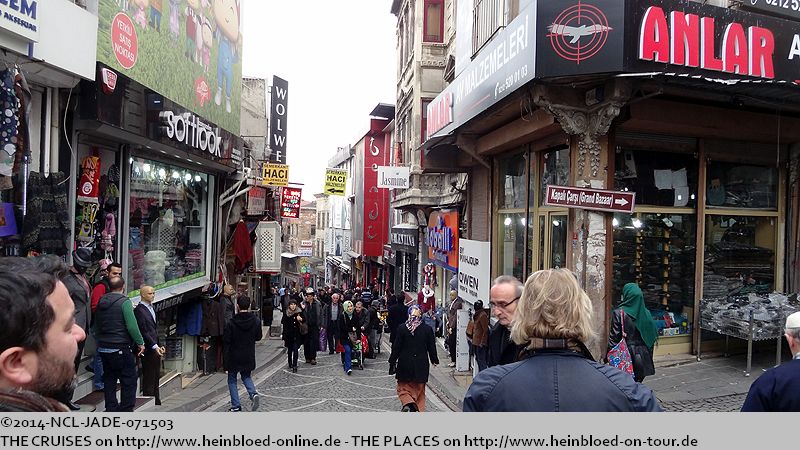 Wir laufen weiter durch die Straßen Istanbuls.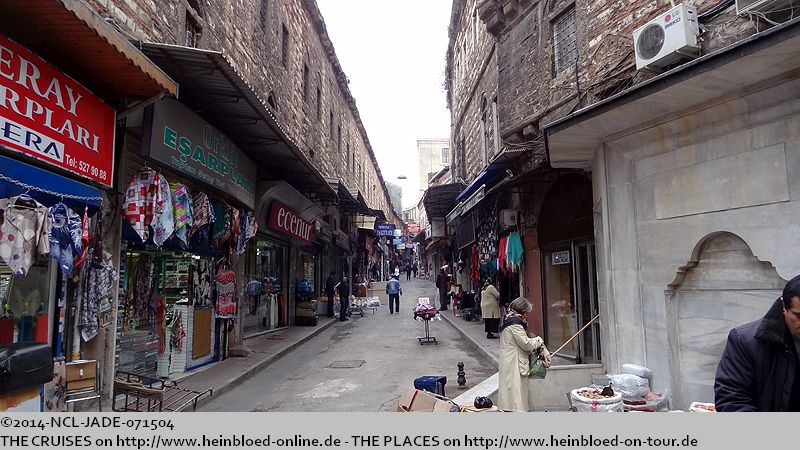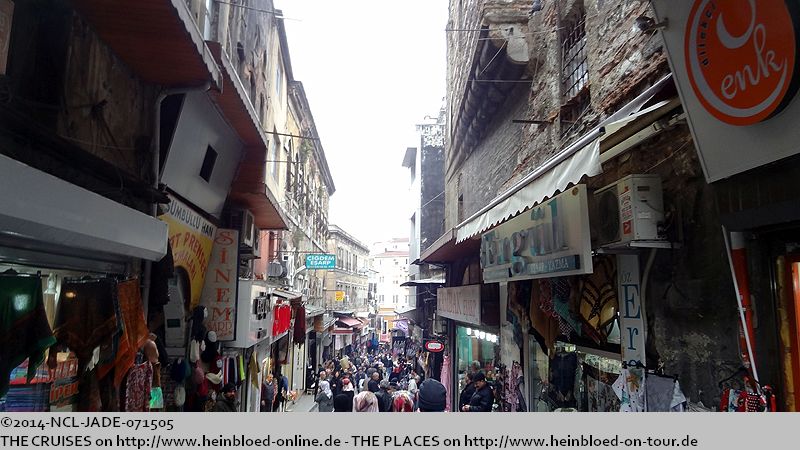 Bei einem Straßenhändler kaufen wir einen Rückenkratzer. Die sind echt gut.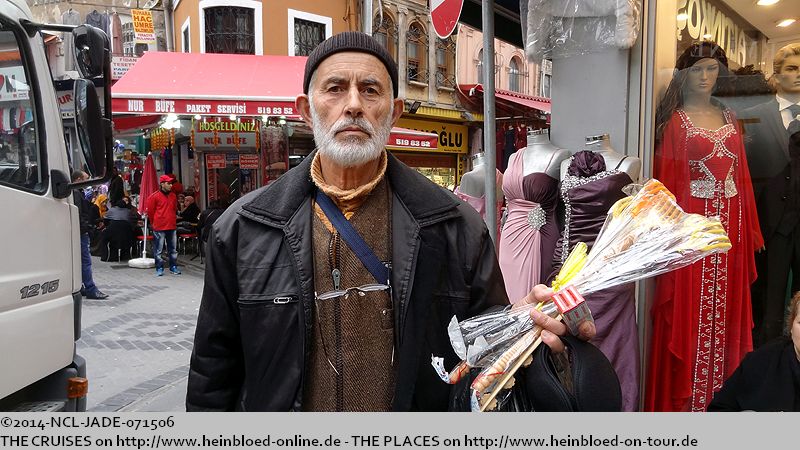 With a street dealer we bought a backscratcher. They are really good.

Faruk had a great idea. He took once a journalist on the roofs to experience the call of the Muezzines when all Mosques are calling the same time to come and pray. And Istanbul has more than 3,000 Mosques. That we did not want. But we wanted to be as close as possible to the film set of James Bond 007 "Skyfall". Some sequences of the movie were filmed on the roofs around the Grand Bazaar. For a little tip for the janitor our wish was made possible.

Faruk hatte dann eine tolle Idee. Er hat mal einen Journalisten auf die Dächer geführt, um den Ruf der Muezzine zu erleben, wenn alle Moscheen gleichzeitig zum Gebet rufen. Und Istanbul hat mehr als 3.000 Moscheen. Das wollten wir jetzt nicht. Aber wir wollten so nah wie möglich an den Drehort von James Bond 007 "Skyfall". Einige Szenen wurden ja hier in der Nähe auf den Dächern rund um den Großen Basar gedreht. Für ein kleines Trinkgeld für den Hausmeister wird dieses möglich gemacht.
Egal, welche Meinung ich noch gestern von Faruk hatte: Ich bin heute absolut begeistert. Schade, dass nur Hans und Erika nicht dabei sind. Aber das wäre sicherlich nicht realisierbar gewesen, wenn sie dabei gewesen wären. Deswegen: uns haben sie keinesfalls die Reise verdorben, sondern uns solche Erlebnisse erst ermöglicht, weil sie leider heute nicht dabei sein konnten. Dafür, dass ich bis vor zehn Jahren nicht mal südlich von Bozen wollte, bin ich selbst überrascht, wie mich eine Stadt wie Istanbul begeistern kann, wenn man einen richtig guten Führer dabei hat.


No matter what I might thought on Faruk the day before: I was today totally exited. It was only sad that Hans and Erika could not join but I am sure that this would not possible to show them if they would join us. So I have to say: they did not ruined our vacation experience but enabled us to experience such spots since they did not join us that day. For someone who would not go South of the German speaking part of Italy (close to Austrian border) I am quite impressed by myself how much a city like Istanbul could exite me if you have the right tour guide with you.