Nach dem wir uns gestärkt haben, geht es endlich mitten auf dem Piazza del Campo.


After restoring we walked the center of Piazza del Campo.

Somehow the weather changed quickly. But only the clouds - no rain. And again many many explanations... and again the question how do all the items get into one lady's purse and what else might be stowed into to use for her presentations. But again many many information.

Irgendwie änderte sich schnell das Wetter. Aber zum Glück nur Wolken - kein Regen. Und wieder viele Erklärungen... und wieder die Frage, was eigentlich alles so in eine Damenhandtasche reingeht und was sie noch alles als Demonstrationsobjekte rausholt. Auf jeden wieder viele Informationen.
Auch die Tiere genießen den Aufenthalt am Piazza del Campo. Die Tauben nehmen sogar ein Bad in dem Brunnen.

Also the animals enjoyed the stay on the Piazza del Campo. The pigeons also took a bath in the fountain.

So geht es weiter durch die Stadt - zu einem Hutgeschäft...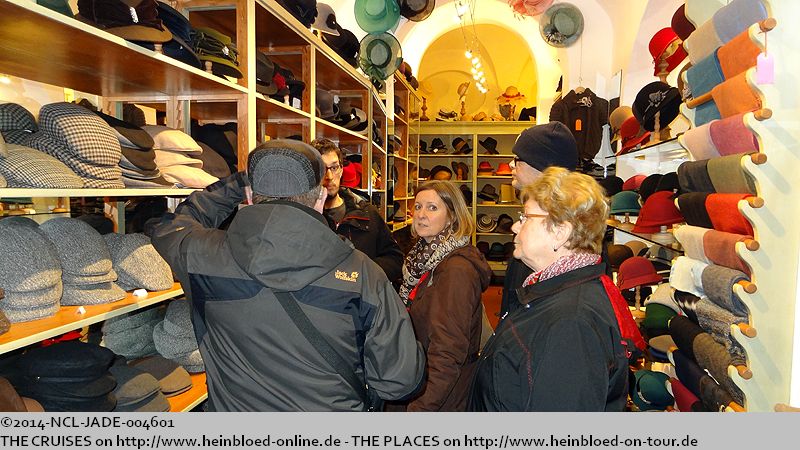 So we continued our walk trough the city - to a millinery...

It was much cooler at certain places - if there was no sunshine. Italian chic for Hans.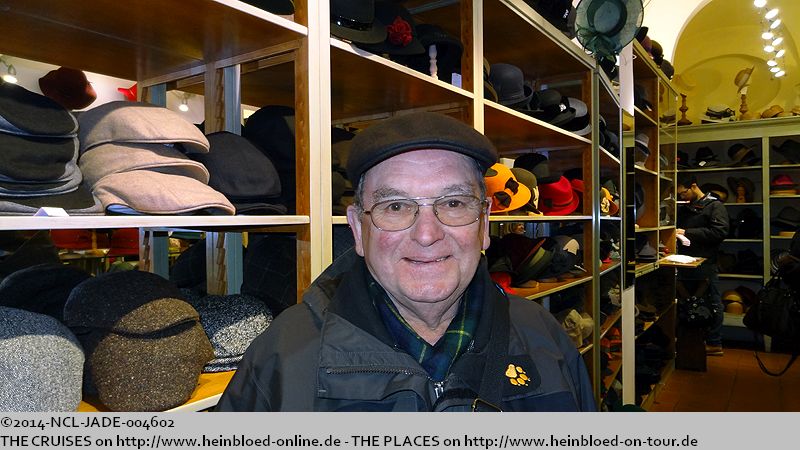 Es ist doch kühler an manchen Stellen, wenn die Sonne nicht scheint. Italienischer Chic für Hans.
Und auch Bruno holt sich eine neue Mütze... Dieses Mal mit vielen Thermo-Microfasern, damit er nicht friert.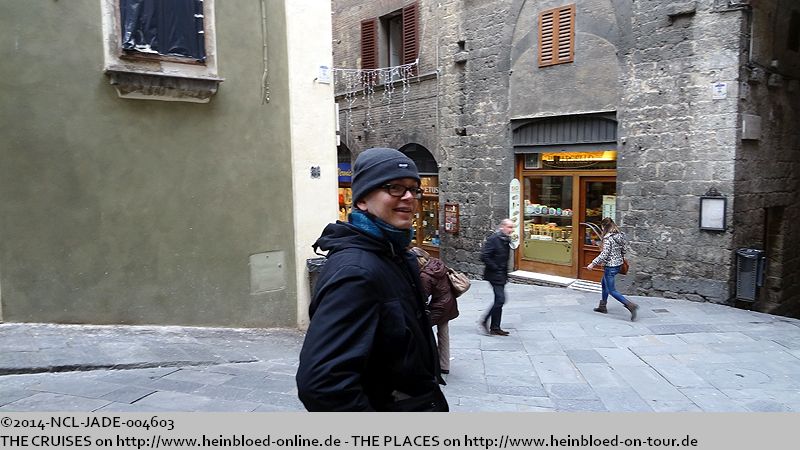 And Bruno also bought himself a new cap... This time thermal-microfibres that he will have not it cold.

I was wondering why I never took the caps I selected for him... like then in Yukon...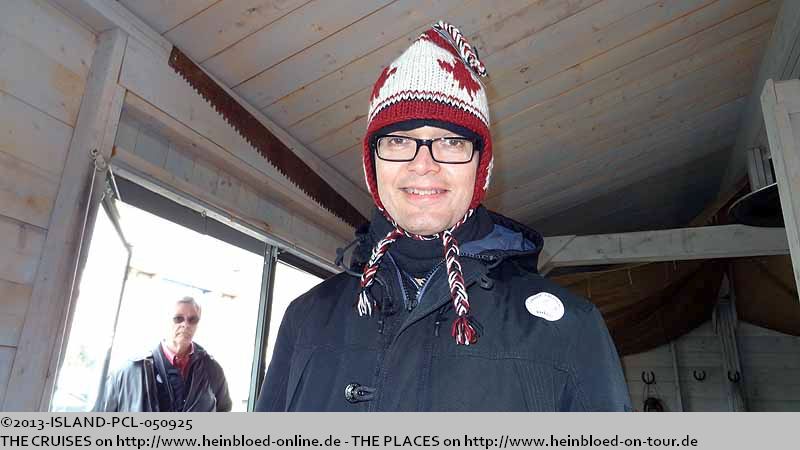 Nie nimmt er die Mützen mit, die ich ihm ausgesucht habe... wie zum Beispiel damals in Yukon...
So dass wir ständig immer neue Mützen kaufen müssen... wie damals auf Island...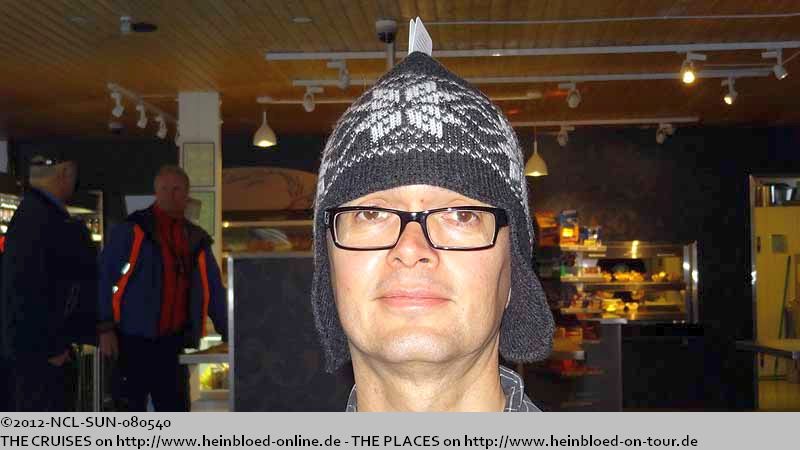 So we always had to buy new caps... like then on Iceland...

Through this gate you get to the Palazzo Chigi Saracini. Today a part of a Music Foundation.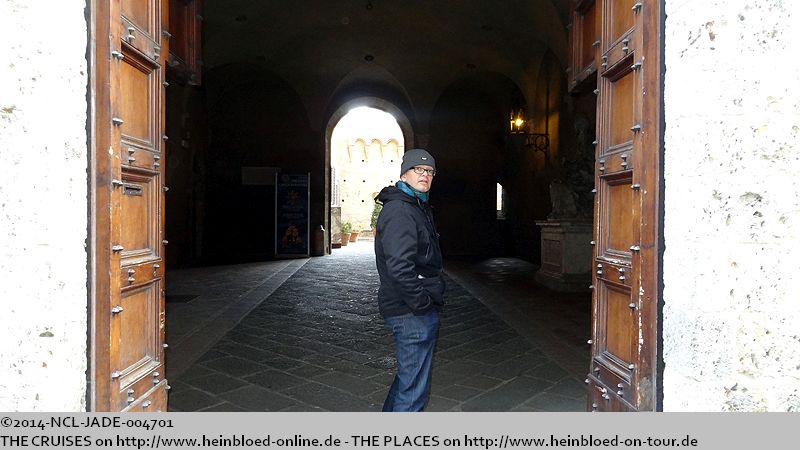 Durch dieses Tor geht es in den
Palazzo Chigi Saracini
. Heute ist es Teil einer Musikstiftung.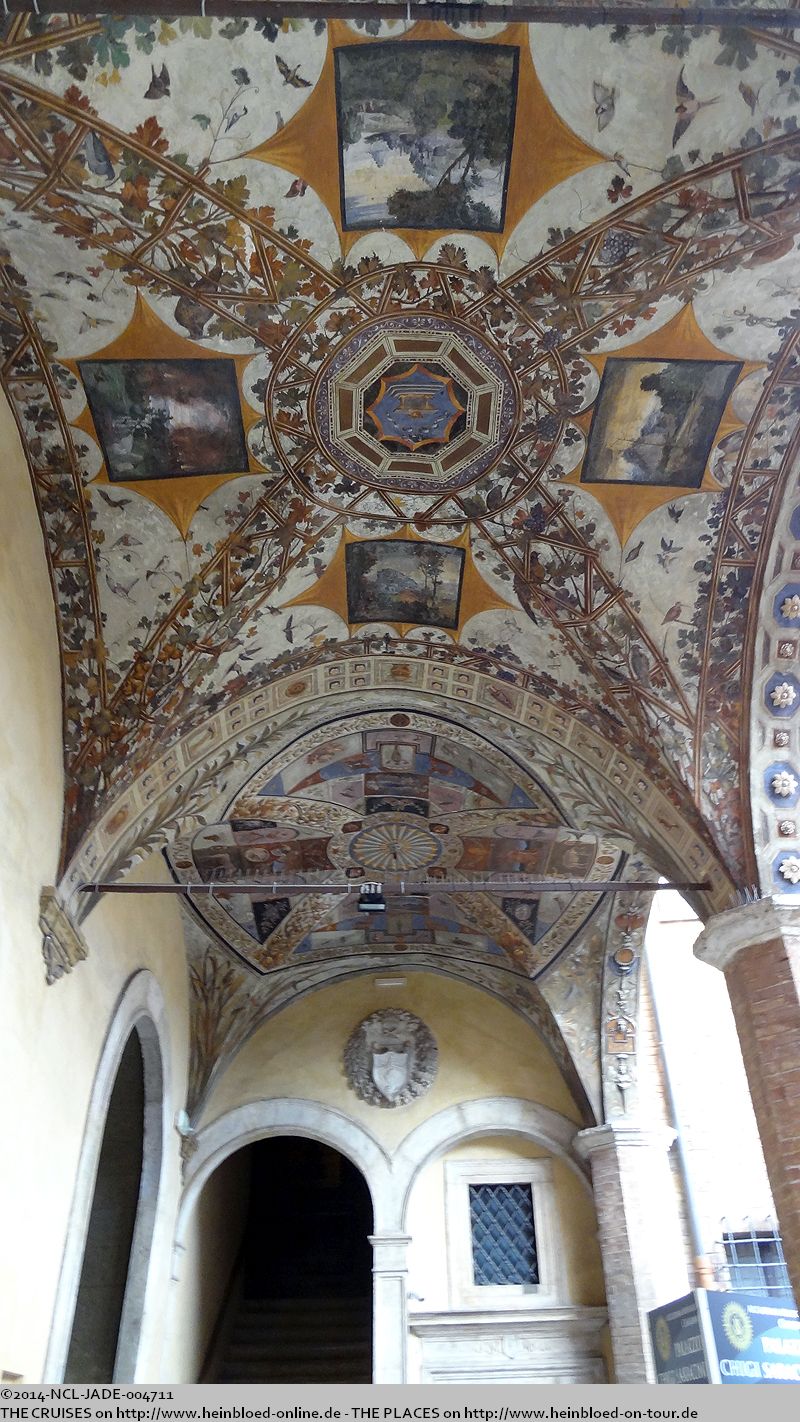 Susanna took us to one of the nicest shops for Non-Vegetarians.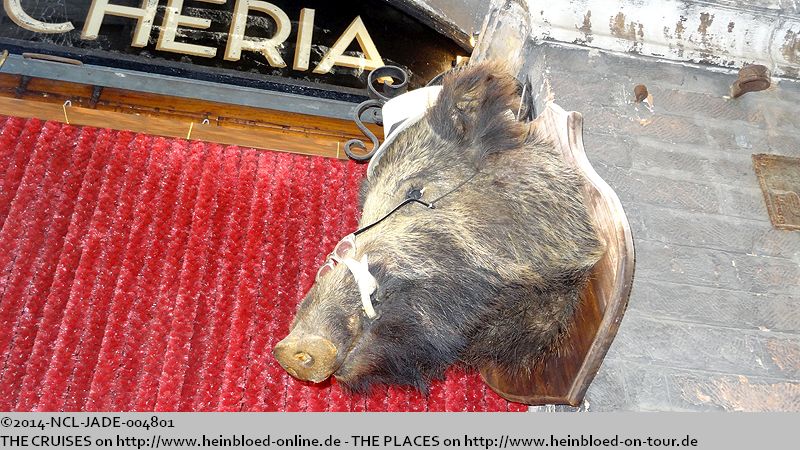 Susanna führt uns zu einem der schönsten Läden für Nicht-Vegetarier.
Leider verbietet der Eigentümer auch seinen Kunden Bilder von diesem tollen Laden zu machen: Pizzicheria de Miccoli.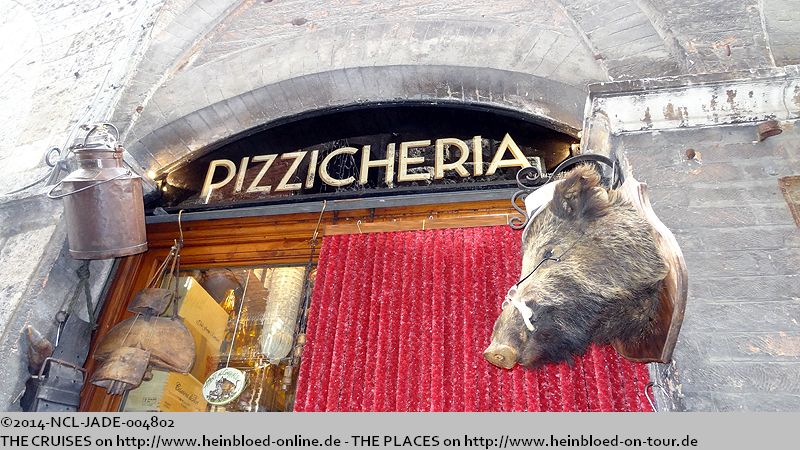 Unfortunately the owner forbid even his customers to take pictures of this wonderful shop: Pizzicheria de Miccoli.

A severe must for all lovers of sausages and ham. You are allowed to try everything. But not to take any pictures. To make sure that the ham and bacon (just yummy...) survive the cruise everything was vaccum-packed.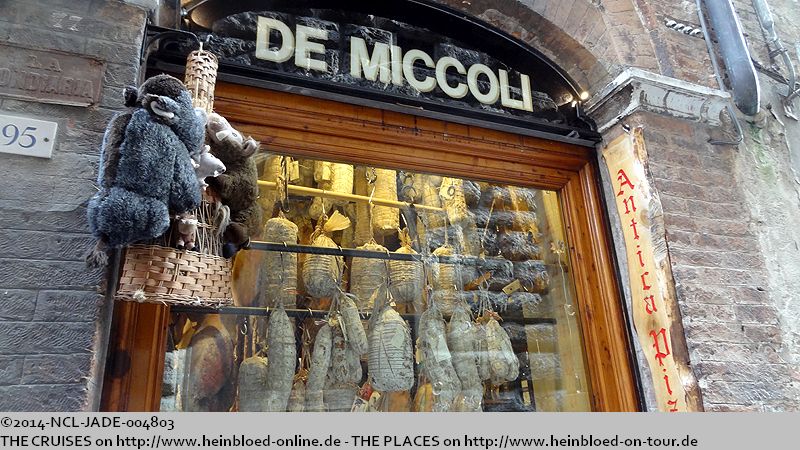 Ein absolutes Muss für Liebhaber von Wurstwaren und Schinken. Gerne darf man alles probieren. Nur leider nicht fotografieren. Damit der Schinken und der Speck (einfach nur lecker...) die Kreuzfahrt überlebt, wurde er für mich eingeschweißt.
Weiter ging es dann zur
Kathedrale
.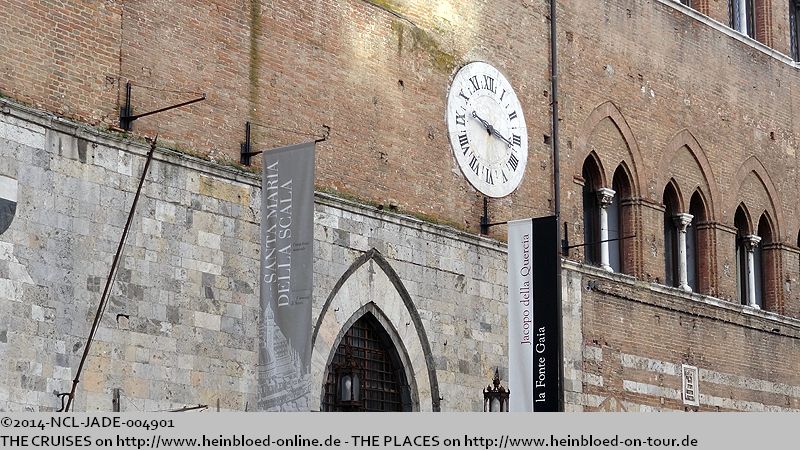 We headed to the Cathedrale.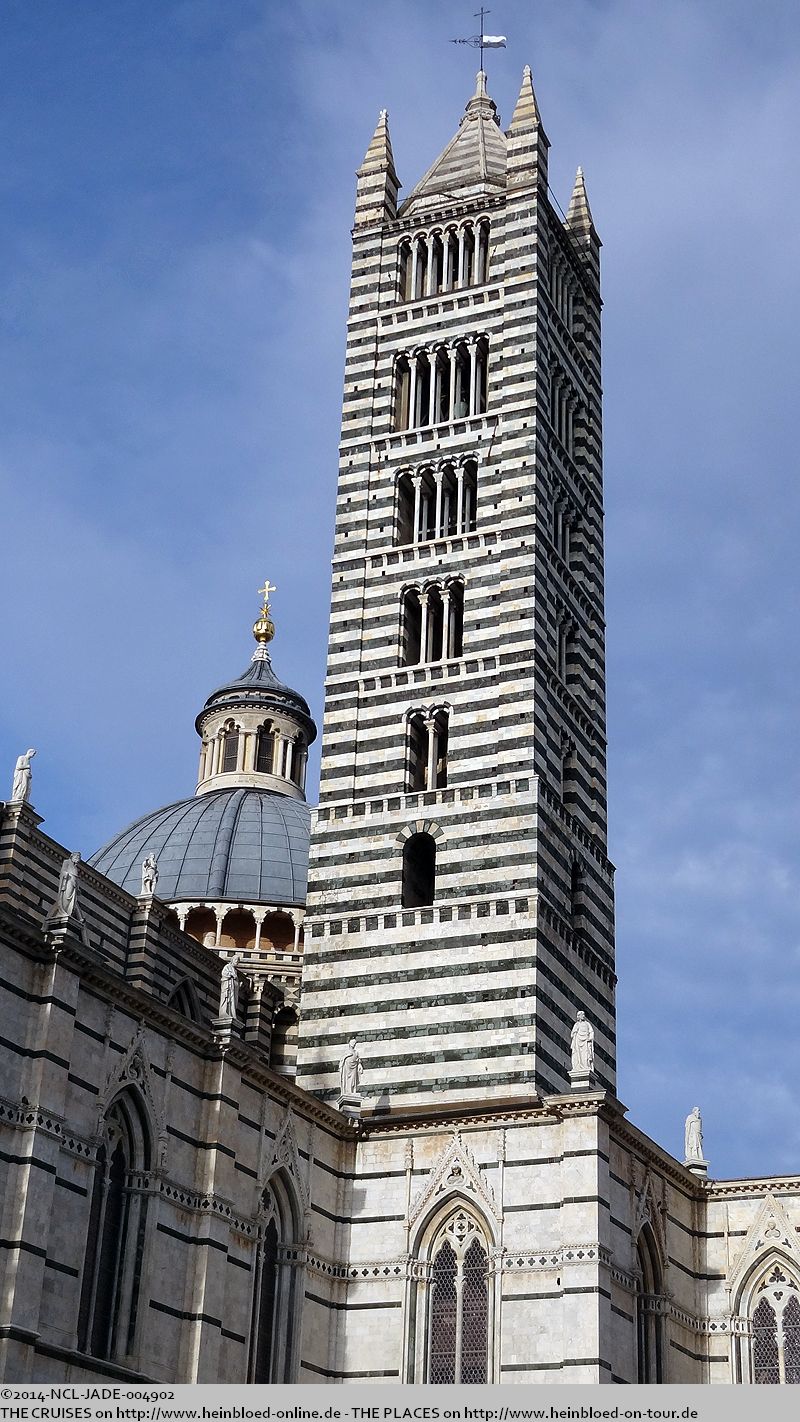 Die Baugeschichte war höchst interessant, aber das sollte man sich von Susanna erzählen lassen, wenn man nicht selbst alles nachlesen will. Für 48 Stunden war das doch sehr viel Kunst- und Kulturgeschichte. Was freue ich mich schon auf den Seetag.

The history of the construction was very interesting but it would be better to let Susanna tell you beside you want to read everything yourself. For 48 hours we had a lot of art and cultural history. How I was looking forward for my day at sea.

Finally we went to Nannini... The Nanninis... Gianna Nannini... the singer... or Alessandro Nannini... the Grand-Prix-pilot... or better their family...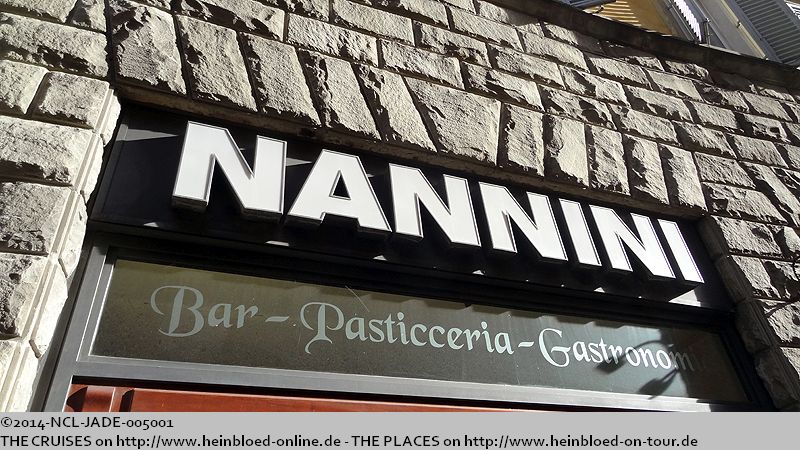 Am Schluss ging es noch zu
Nannini
... ja die Nanninis... Gianna Nannini... die Sängerin... bzw. Alessandro Nannini... der Grand Prix-Fahrer... bzw. die Familie...
Im Fenster werden die Spezialitäten wie
Ricciarelli
beworben... leider alles nicht meines... aber später im Laden sehen wir, dass es das Paradies auf Erden ist... Ich wähle ja immer die Bratwurst, wenn ich die Wahl zwischen Schwarzwälder Kirschtorte und Bratwurst habe und so musste natürlich ein salziges Blätterteiggebäck probieren. Und da wir eigentlich viel zu satt waren, um alles aufzuessen, blieben ein paar Teststücke übrig... und so lernen wir die schwäbische Seite von Susanna kennen: "Lieber den Magen verrenkt, als dem Wirt etwas geschenkt". Zwei sehr schöne private Touren haben wir innerhalb von zwei Tagen erlebt in zwei gegensätzlichen Städten, gehen jetzt zu Ende und es wird Zeit Ade zu sagen. Und ganz ehrlich: für Kreuzfahrer, speziell solche, die von weit angereist sind, ist es die beste Form Florenz oder Siena zu erleben, wenn man nur wenige Stunden hat und möglichst viel in einer kurzen Zeit erleben möchte.

In the windows they had specialities like Ricciarelli to advertise... but all were not mine... but later in the shop it was like paradise on earth... I always choose a sausage if I can pick between a sausage or a Black Forrest Cake and so I had to try the hearty puff pastry. And as we were too full to try everything some of the test pieces were left over... and so we made acquaintance of Susanna's heritage from Swabenia (area in South-West Germany around Stuttgart - you can compare their characters with the Scotsmen): "It's better to have a sick stomach but to return something to your innkeeper." Two very nice private tours within two days in two total different cities came to the end and it was time to say Ade (Swabenian way to say Good-Bye). And honestly: for cruisers, especially those who had a long way to join the cruise it was the best way to discover Florence and Siena in few limited hours and to experience the most for the little time.