Scroll down for English explanations - alternates with German explanations.

Einer der Höhepunkte der Kreuzfahrt für 89,00 USD beginnt mit einer schriftlichen Einladung: Der Chef's Table, den wir von der OCEAN PRINCESS, CARNIVAL SPIRIT und NORWEGIAN SUN her kennen.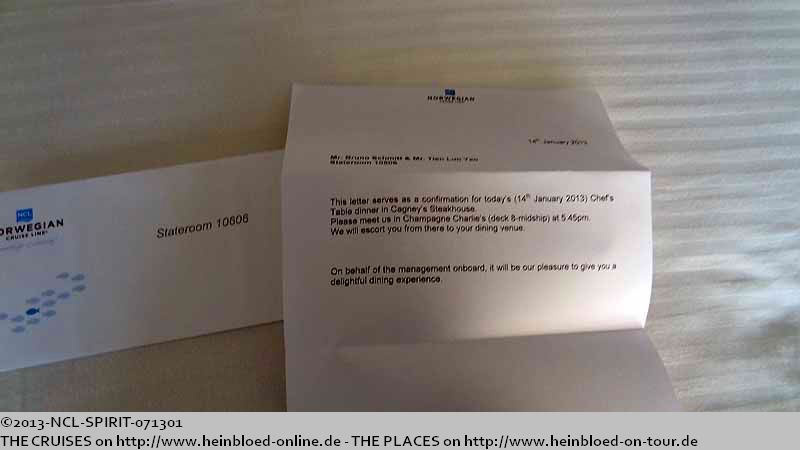 For 89.00 USD you get the invitation to one of the highlights of the entire cruise: the Chef's Table which we knew from OCEAN PRINCESS, CARNIVAL SPIRIT and NORWEGIAN SUN.

A special area was reserved for us at Champagne Charlie's. Here we met at 17.45 hrs.

Ein besonderer Bereich ist im Champagne Charlie's ist für uns reserviert. Hier treffen wir uns um 17.45 Uhr.
Es gibt Sekt zum Anstoßen und Warmwerden.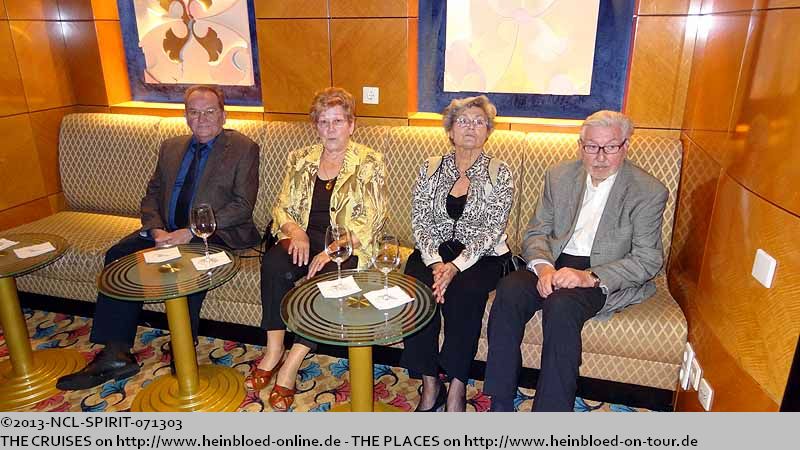 For warm-up and toast you got some champagne.

With us: Axel and Christina. We were already a party of ten.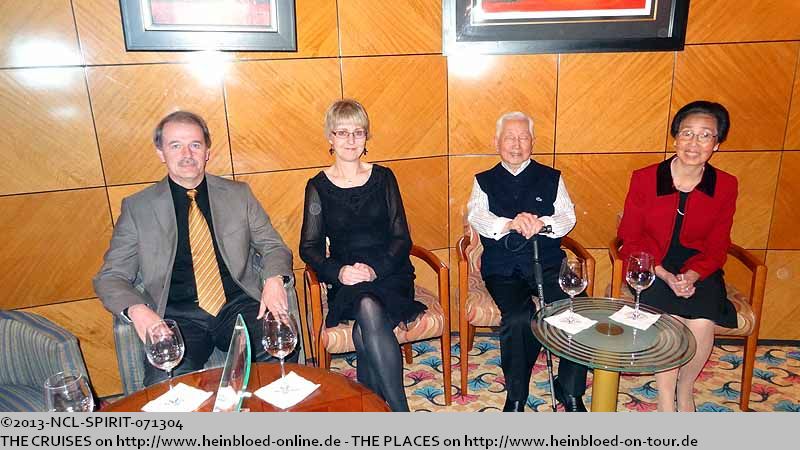 Mit uns dabei: Axel und Christina. Wir waren ja schon alleine zehn.
Eigentlich zwölf, weil jemand vor einigen Wochen unbedingt mitwollte und Druck machte und dann auf einmal mitteilte, dass sie doch nicht mitwollten. Ich bin eigentlich kein HoHo-Busunternehmen, bei dem man einfach auf- und abspringt wie man Lust hat. Das nächste Mal wird man einfach nicht mehr in die Planung einbezogen. Dafür sprangen dann Frances und Eddie ein, als feststand, dass man ihnen bezüglich des Essens entgegen kommen konnte, da es diätische Anforderungen gab. Asst. Maître D' Vaibhav Karnik informiert gerade Frances, dass einige Gänge entsprechend angepasst wurden. Aber das war immer schön, dass NCL sich immer auf die Gäste einstellen konnte.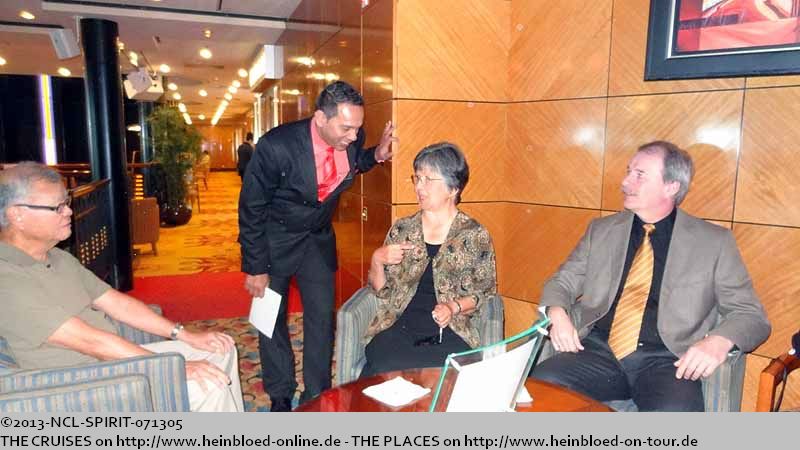 Originally we were supposed to be twelve. Few weeks ago someone made a lot of pressure to part of the event and from one second to the next you leare that they did not want to join anymore. I am not a HoHo-Busoperator where you can jump on and off as you like it. Next time it's quite simple for me: I will not ask them again and include them in my plannings! So Frances and Eddie took over their seats as they found out that they could accomadate some special diet requests. Asst. Maître D' Vaibhav Karnik just informed Frances that few courses were adjusted accordingly. But that was always nice with NCL that they can accomodate their guests.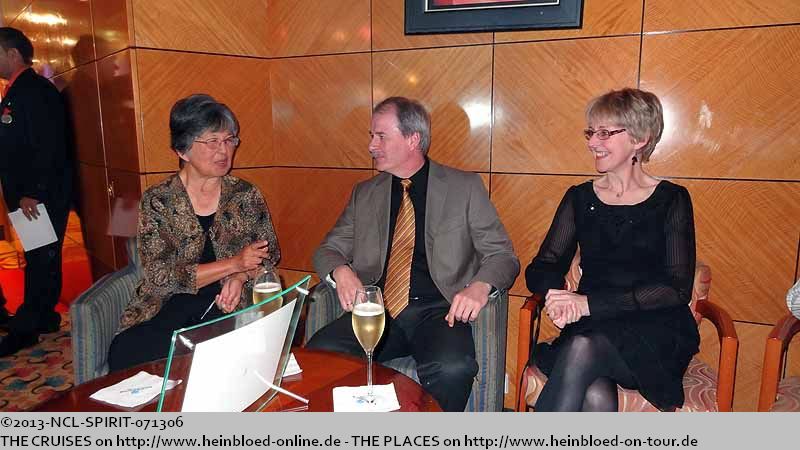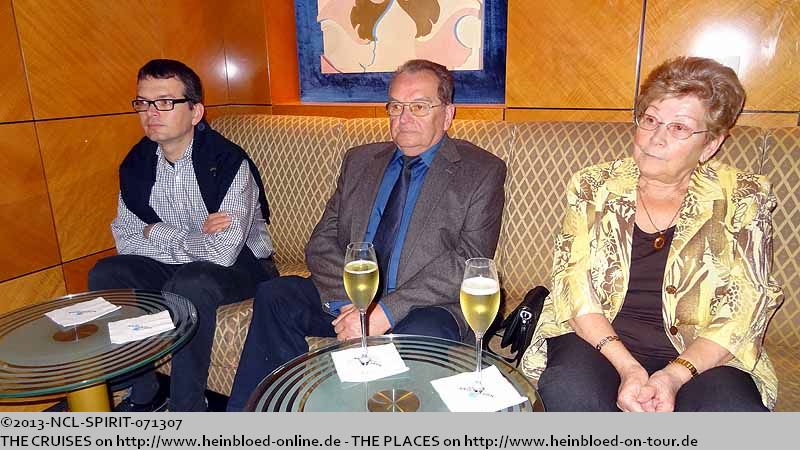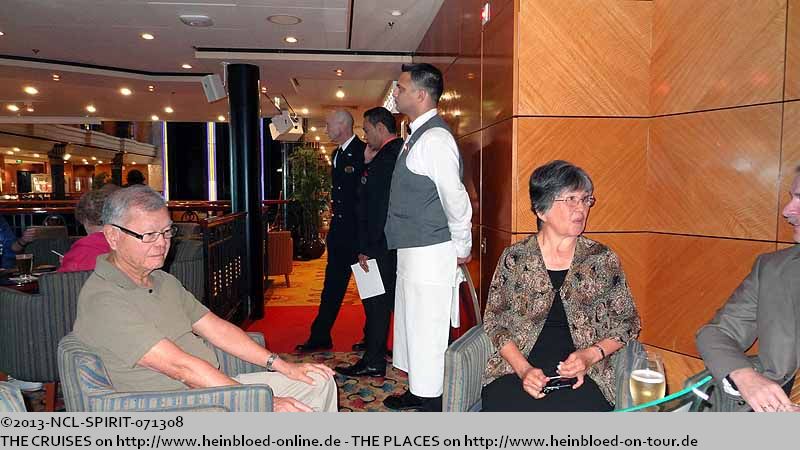 Nachdem wir an Bord dann erfahren hatten, dass Karin alleine reist und wir dann mitgeteilt bekamen, wieviele max. teilnehmen können, hatten wir sie gefragt, ob sie vielleicht auch Lust hätte und sie hatte. Deswegen waren wir 13. Auf einem Schiff mit chinesischen Wurzeln kein Problem. Da wären 14 problematisch geworden.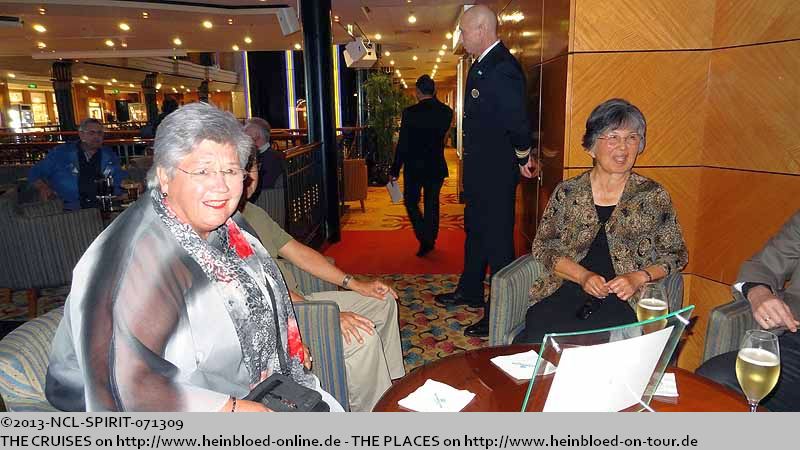 After we learned that Karin was travelling by herself and we got the maximum number of the party we asked her if she might be interested to join us too and she was. So we were 13. On a ship with Chinese roots no problem. 14 would occur a major problem.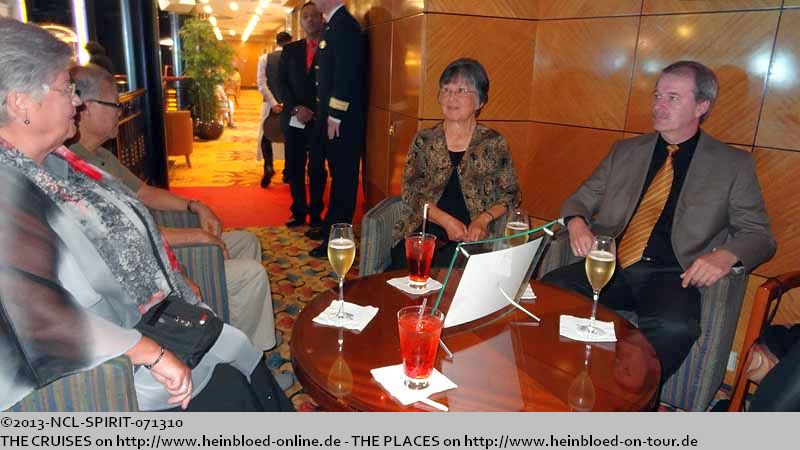 Schon hier werden wir von Stephan Mascarenhas, Nelson Rodrigues, Elsa Quiambao Manansala, Head Wine Steward Haide Balon (wird Heidi ausgesprochen), Jeffrey und Vaibhav ganz toll umsorgt und verwöhnt.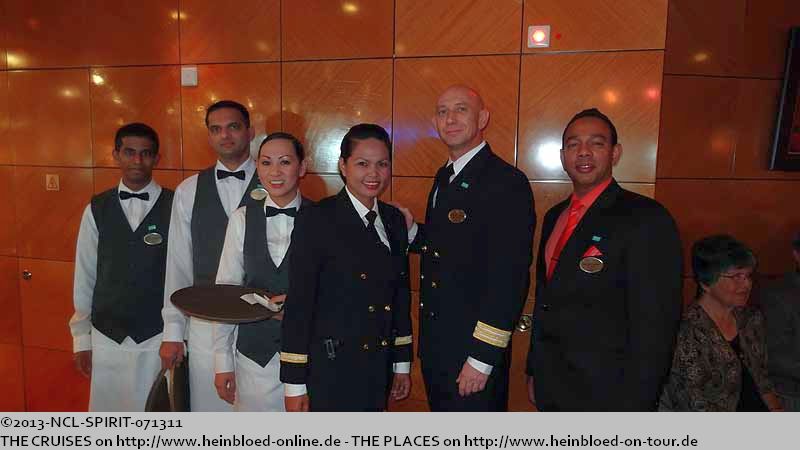 Already here we were catered and pampered very nicely by Stephan Mascarenhas, Nelson Rodrigues, Elsa Quiambao Manansala, Head Wine Steward Haide Balon (for us Germans it sounded like Heidi), Jeffrey and Vaibhav.

Further Ivo and Barrington came to welcome us.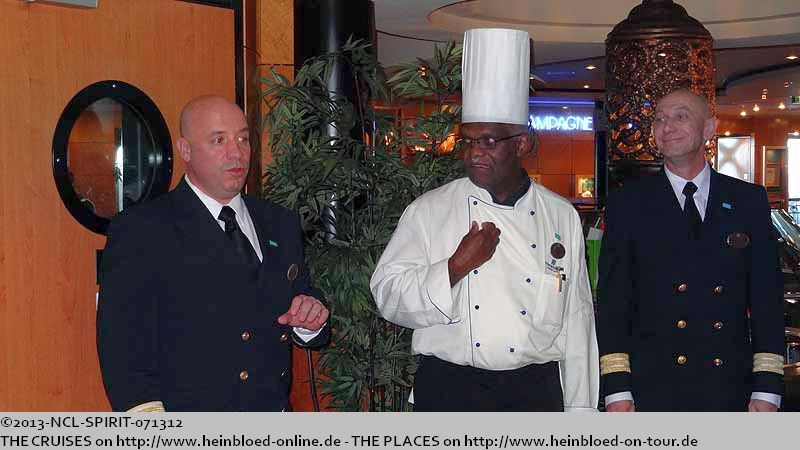 Dann kommen noch Ivo und Barrington, die uns willkommen heißen.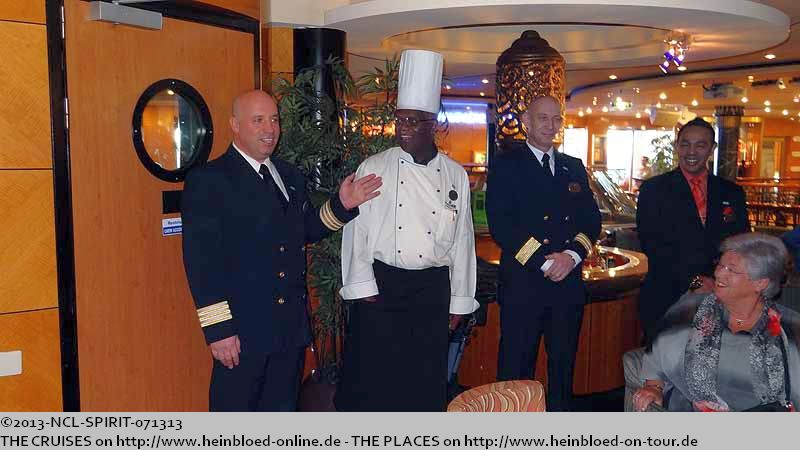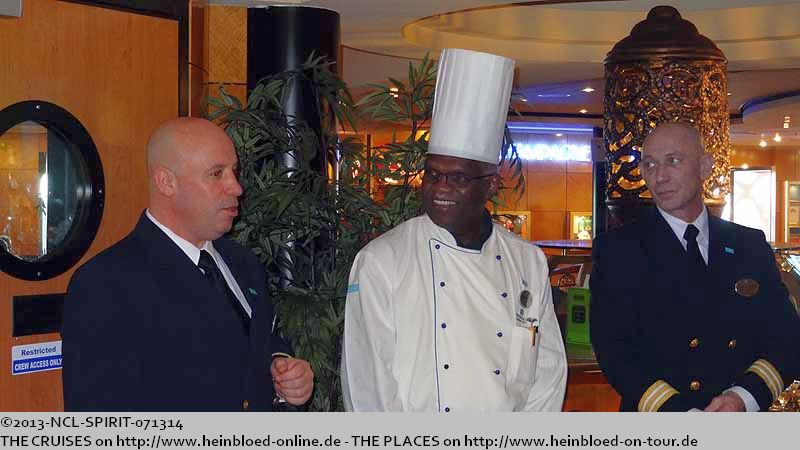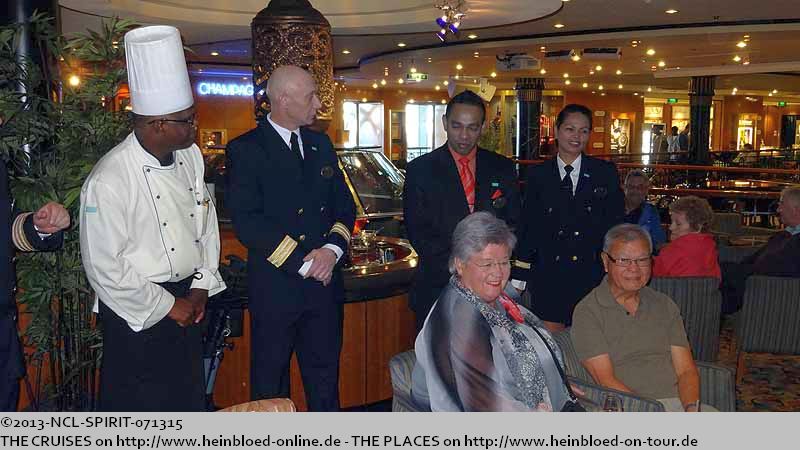 We headed to the stair. Here they took some group pictures with Barrington.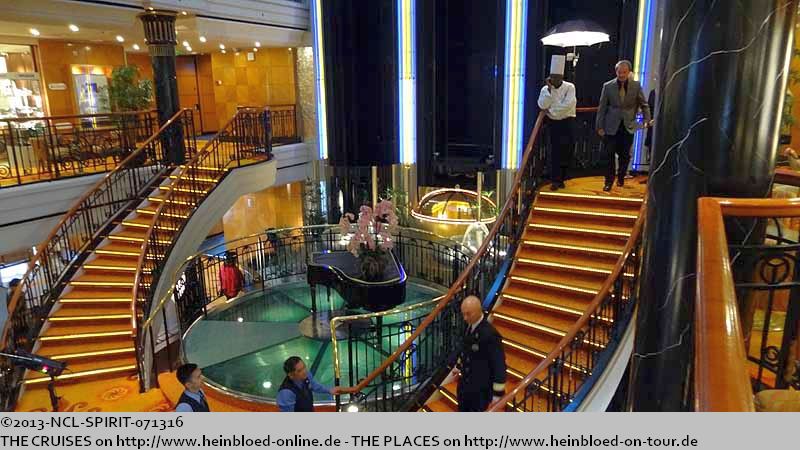 Weiter geht es dann zur Treppe. Hier wurden dann Gruppenbilder mit Barrington geschossen.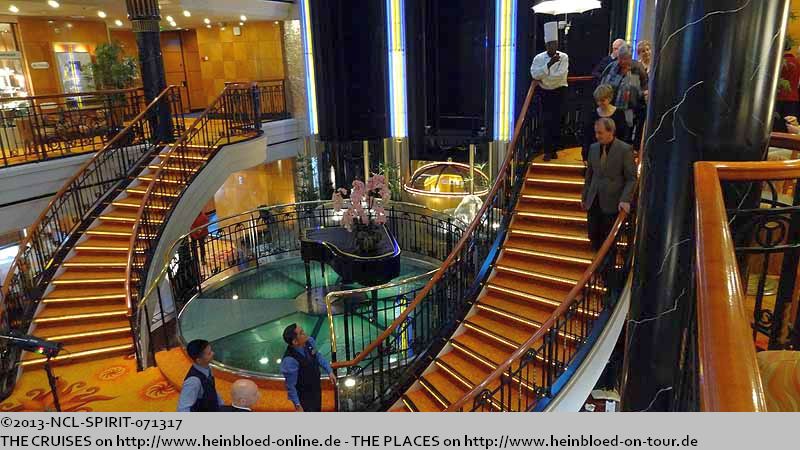 Vaibhav helped Charlie with his wheeled walker. It was just brilliant. He was so afraid that he might be a burden for all of us. But everyone on the ship gave us his hand and he felt very well on the ship.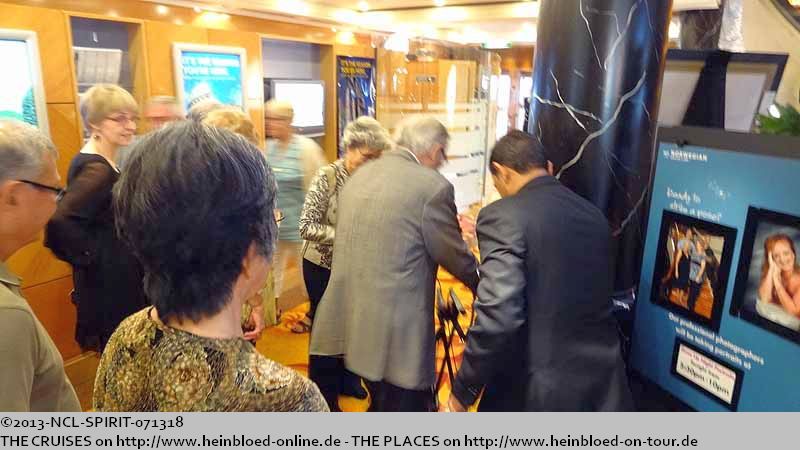 Vaibhav hat Karl-Heinz mit seinem Rollator unterstützt. Es war einfach klasse. Und er hatte so Bedenken, dass er uns allen zur Last fallen würde, aber jeder auf dem Schiff hat geholfen und so fühlte er sich sehr wohl.
Es ging in den Shanghai Room des Cagney's.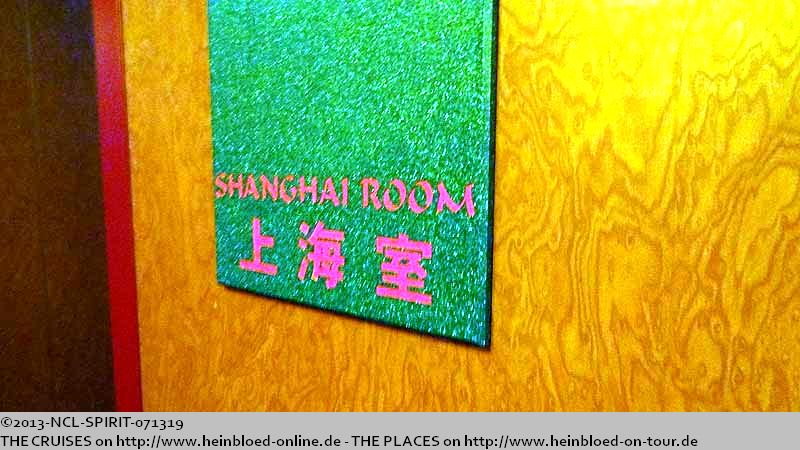 We went to the Shanghai Room of the Cagney's.

As nice as the room was: It was too cold. Some of us told immediately and they promised to call the bridge immediately. So it would be more enjoyable for you to have a sweater or jacket with you.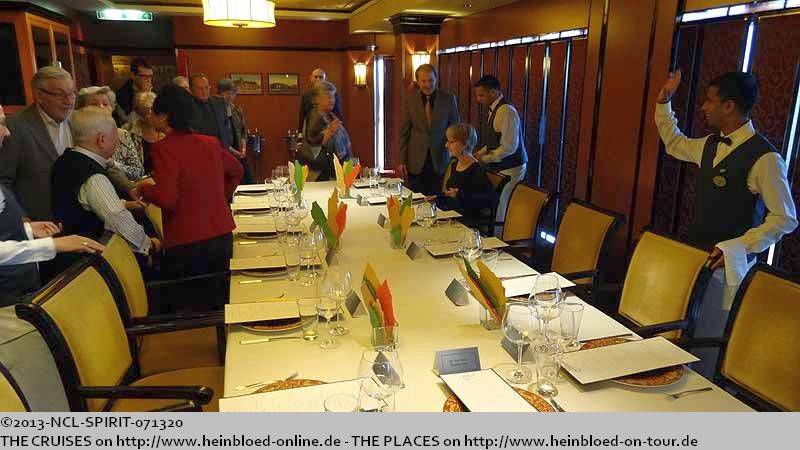 So schön wie der Raum war: er war viel zu kalt. Das haben einige von uns direkt angemerkt, und man versprach sofort auf der Brücke anzurufen. Man genießt es mehr, wenn man einen Pullover oder eine Jacke mit dabei hat.
Die Tischordnung hatte ich festgelegt. Ich musste berücksichtigen, dass Bruno und ich eben so verteilt waren, dass wir beim Übersetzen helfen konnten.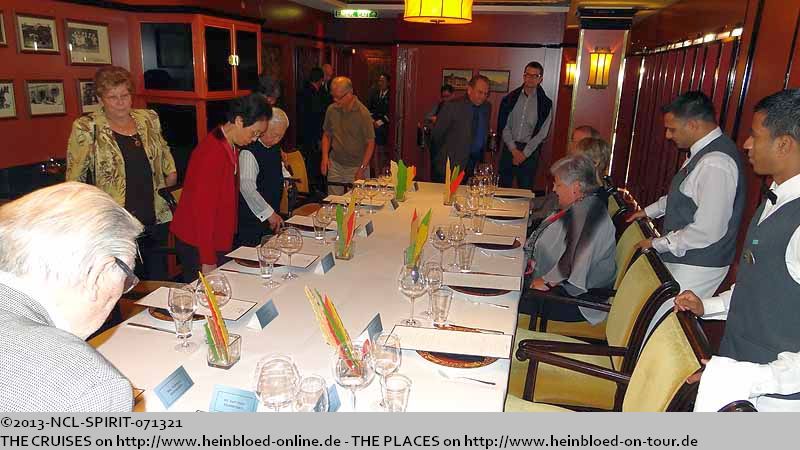 The order of seats were set by me. Ich need to consider that Bruno and I need to sit separated that we could help with translations.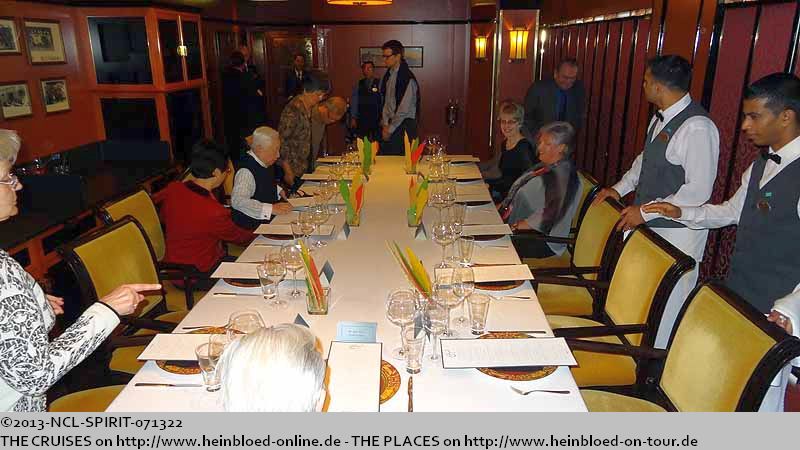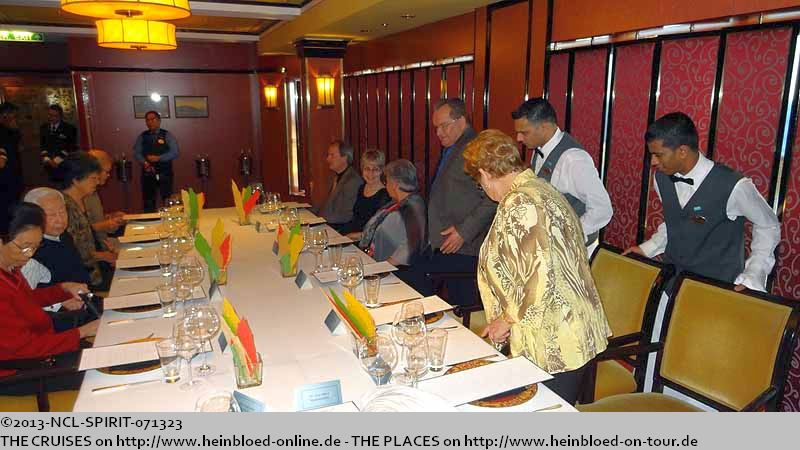 Charlie sit at the end of the table and he was really happy to be part of this event.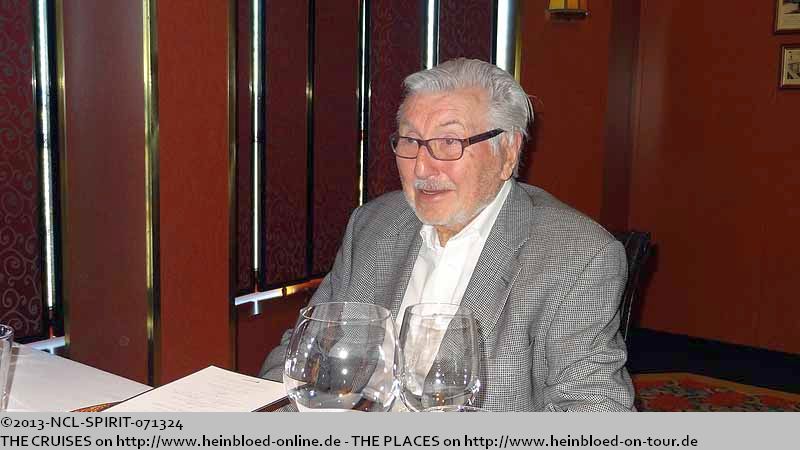 Karl-Heinz durfte an das Tischende... Er hat sich richtig gefreut, dass er dabei sein durfte.
Barrington kam immer zwischendurch rein und erklärte, wie der nächste Gang zubereitet wird. Zwischendurch habe ich dann seine Ansagen übersetzt.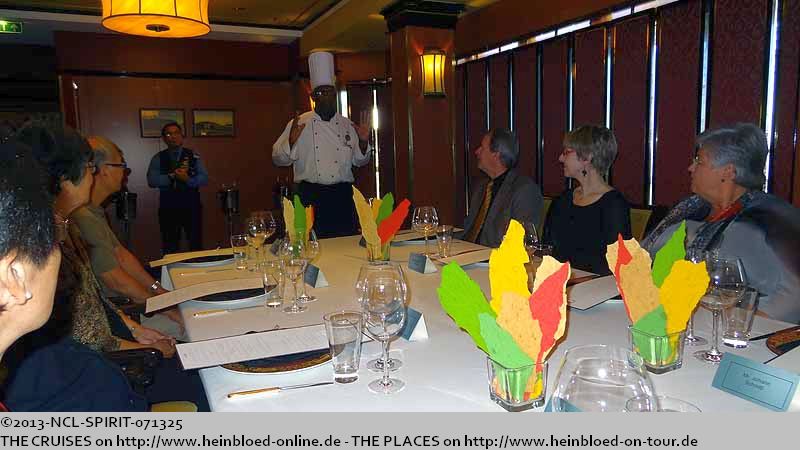 Barrington appeared from time to time and explained how the next course will be prepared. And during the breaks I gave same translation aid.

They did not allow us to take the Versace-Plates from Rosenthal as souvenirs with us. In Germany one plate is 165.00 EUR... a good deal for 89.00 USD... food, wine, picture, plate... but just in case they cleared them very quickly when they saw that I was very interested to see them more detailed... I worked to finance my business school in the China department of Continental Europe's largest department store KaDeWe in Berlin. Of course I knew immediately what I got and how much it was.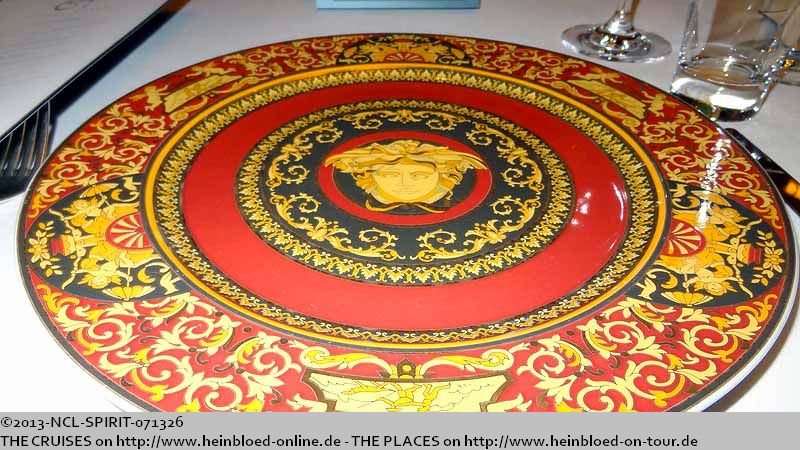 Leider durften wir die Versace-Teller von Rosenthal nicht als Souvenir-Mitnehmen. Der kostet in Deutschland 165,00 EUR... ein gutes Geschäft für 89,00 USD... Essen, Wein, Foto, Platzteller... aber leider räumen sie sicherheitshalber sehr schnell das alles weg, als ich mein Interesse bekunde... Ich habe nun mal in der Porzellanabteilung vom KaDeWe mein Studium finanziert... Daher weiss ich sofort was hier ausliegt und was es Wert ist.
Haide steht immer im Hintergrund bereit und stellt dann nach Barrington die Weine vor, die zu den einzelnen Gängen serviert werden.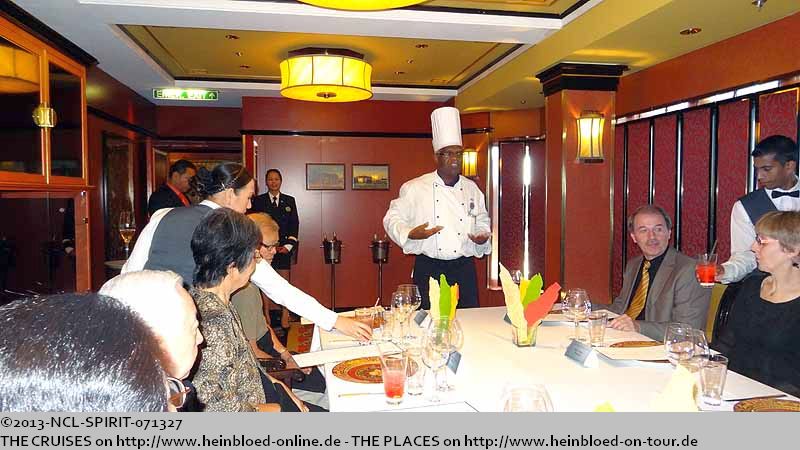 Haide was staying in the background and after Barrington she introduced the wines which you had with the single courses.

By the way: this was bread... but decoration too... spinach, tomato and basil... we should have it between the wines.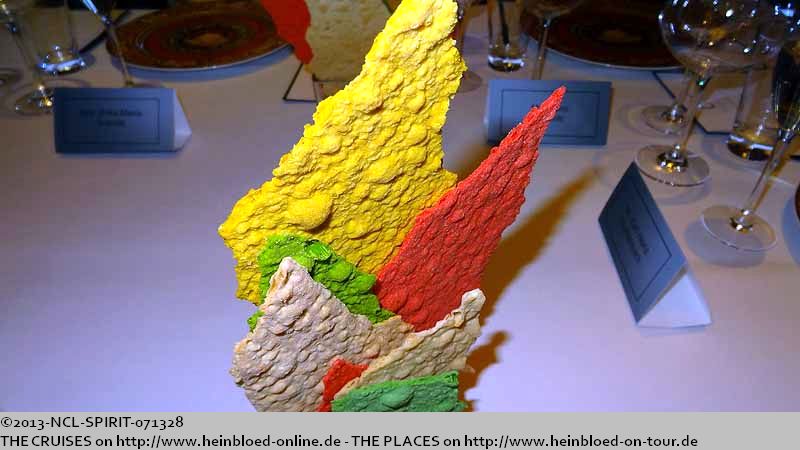 Das ist übrigens das Brot... aber auch gleichtzeitig Dekoration... Spinat, Tomate und Basilikum... Wir sollen es auf jeden Fall auch zwischen den Weinen essen.
Da sie vorab schon wussten, wer von uns Alkohol trinkt und wer nicht, wurden entsprechend die Gläser abgeräumt. Außerdem war es schon interessant zu sehen, wie sie es geschafft haben, dass jeder sein Glas aus Champange Charlie's wieder bekam.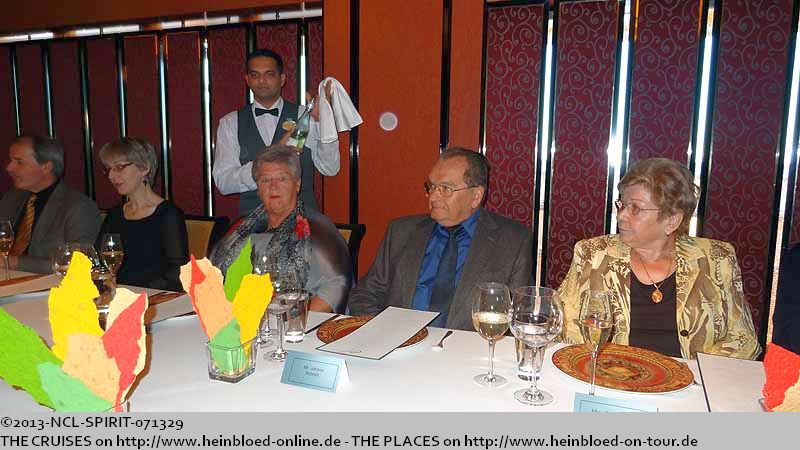 As they knew ahead of the dinner who was drinking alcohol and who was not they could clear the glasses without asking. And it was interesting to see how they managed it that you get back your glasses from Champagne Charlie's.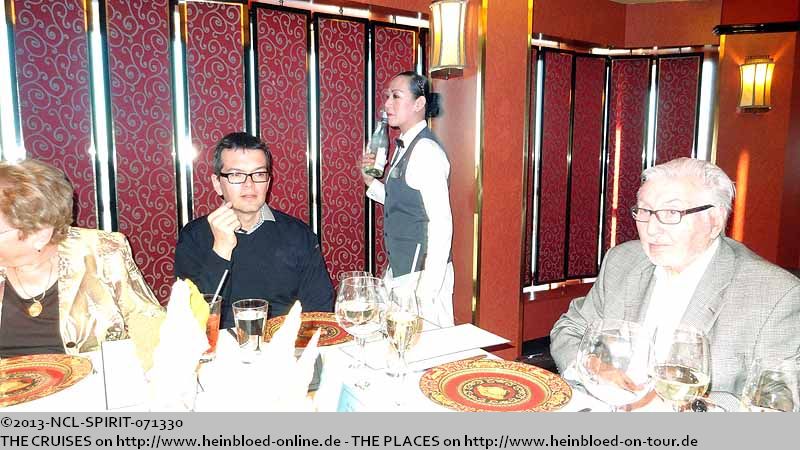 Das Amuse Bouche kommt...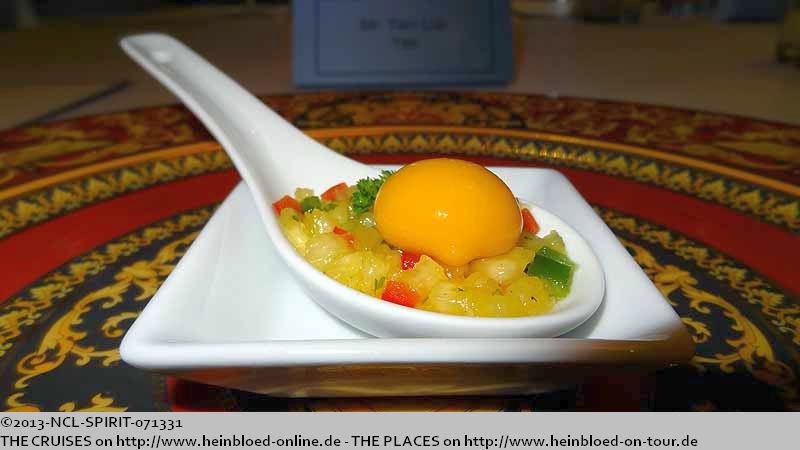 The Amuse Bouche came...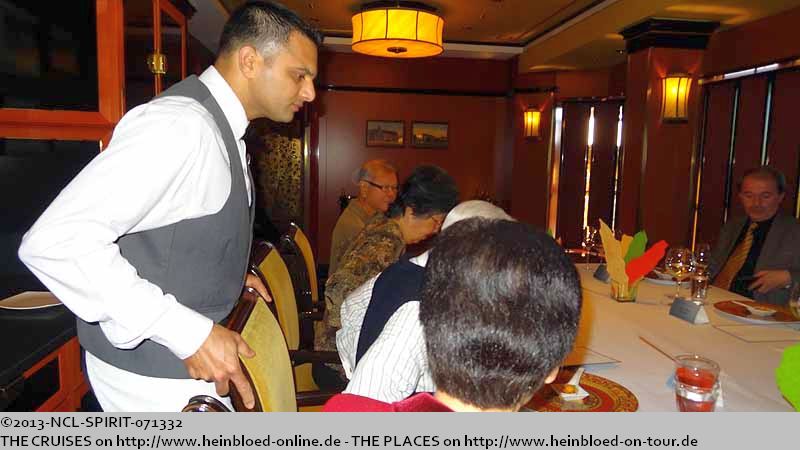 Doris Villaruel war noch die 4. Kellnerin, die uns auch hier bediente.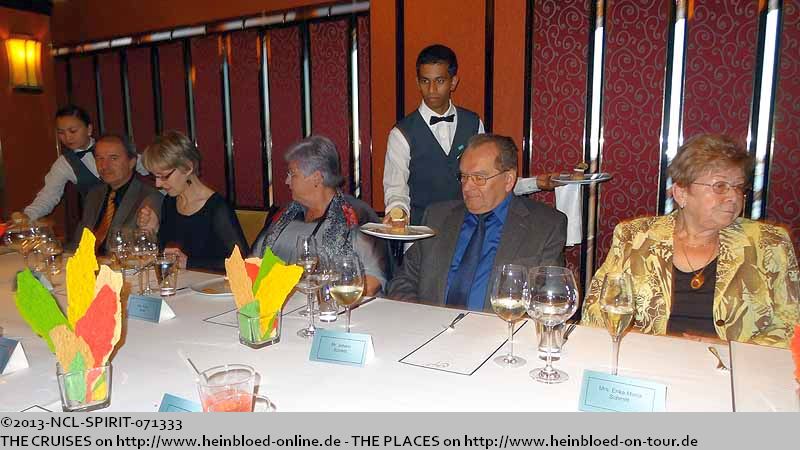 Doris Villaruel was the 4th waitress who served here for us.

My absolute favorite... Tuna Tartare. Slightly iced... need to be to make sure that no germs would be on the dish and you need to let it slowly melt on your tongue.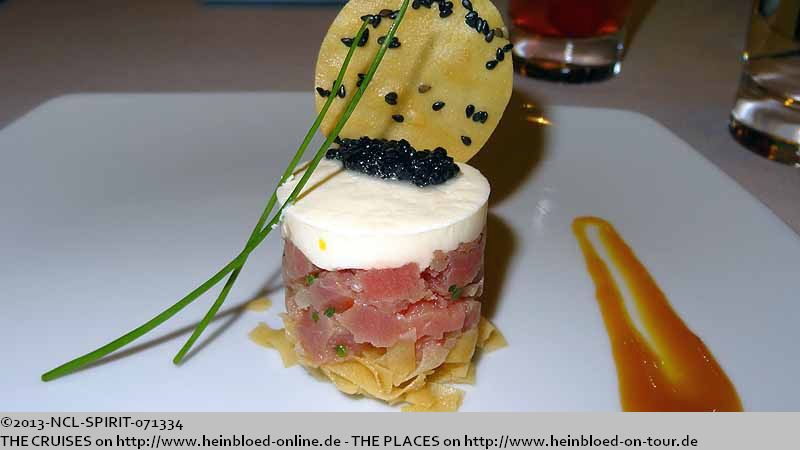 Mein absoluter Liebling... Thunfischtartar. Leicht geeist... musste aber sein, damit keine Keime sich darauf ansetzen und damit man es langsam auf der Zunge zergehen lassen kann.
Ein Blumenkohlflan...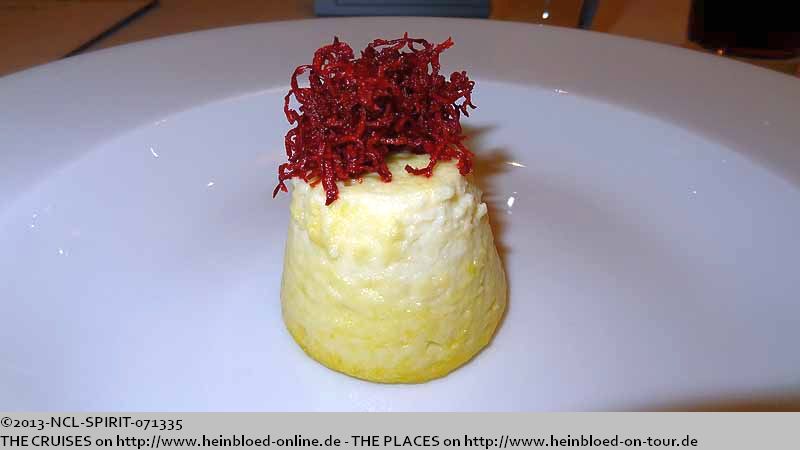 A cauliflowerflan...

And you had the green aspargus soup on the side. For my taste just half of the soup would be fine. We had also small soup plates at home!!!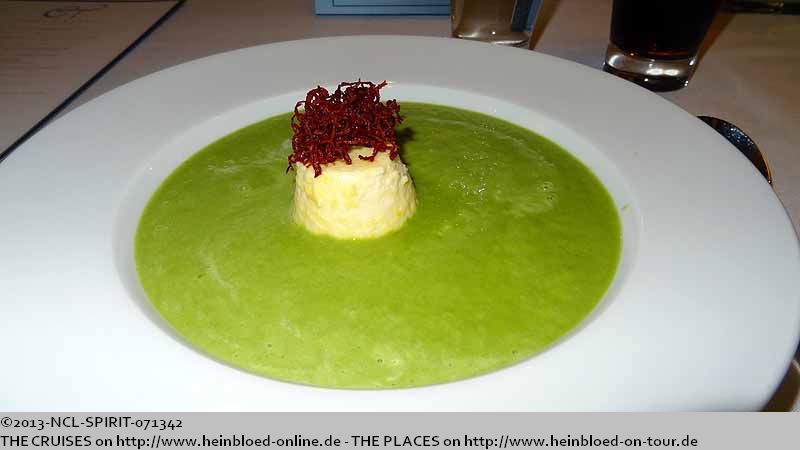 Und dazu dann die grüne Spargelcremesuppe. Für meinen Geschmack hätte die Hälfte gereicht. Wir haben auch kleine tiefe Teller zu Hause!!!
Vaibhav gibt den Takt vor: one-two-three... Nur noch die Speisehauben fehlen...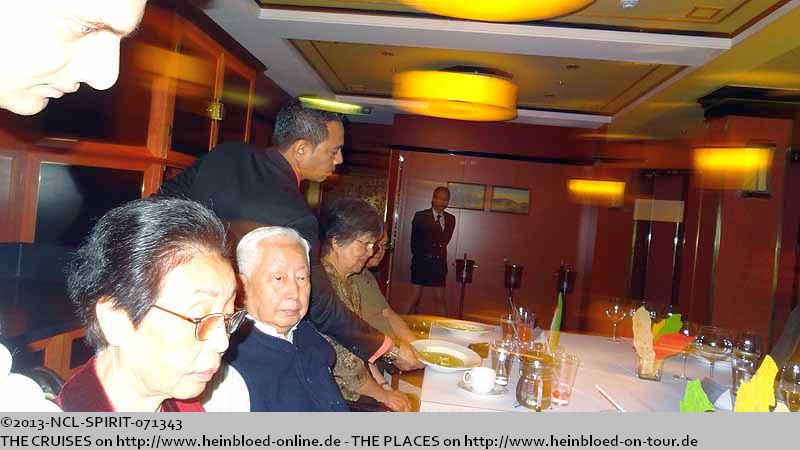 Vaibhav was conducting and controlled the beat: one-two-three... Only the silvercovers were missing...

A goat cheese quiche...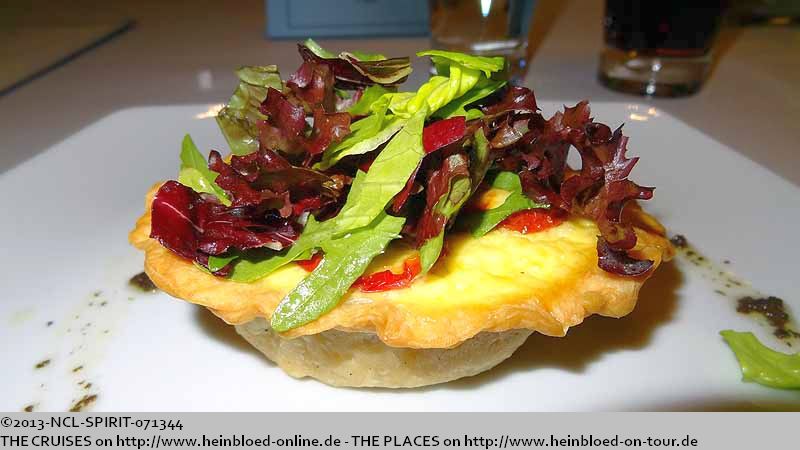 Eine Ziegenkäsequiche...
Und dann statt Sorbet...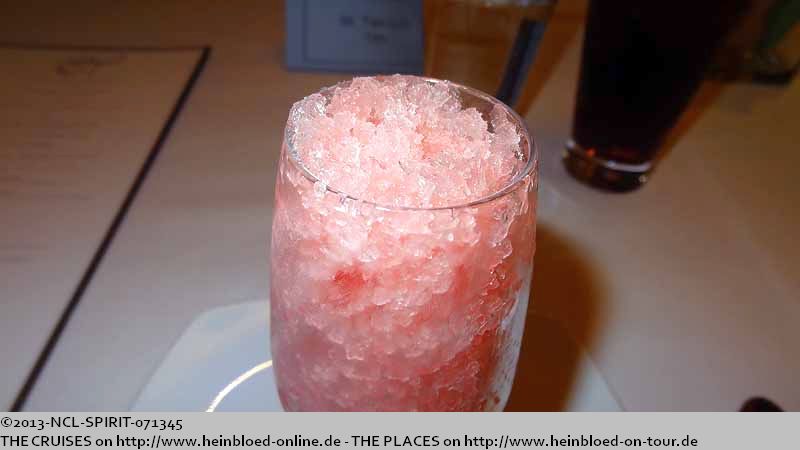 And instead of sherbet...

My father walked around between the courses and was so happy to see so many pictures from his childhood from the ancient China. So they took him also to the other rooms to show him around everything.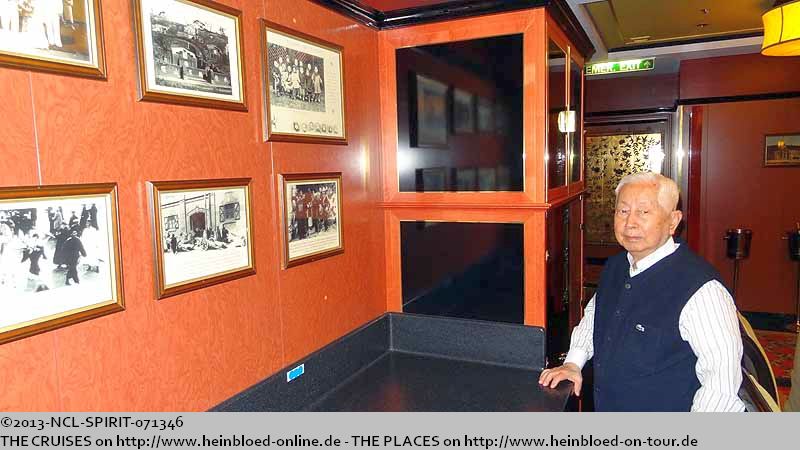 Mein Vater spaziert zwischen den Gängen und freut sich über die Bilder aus seiner Kinderzeit aus China. Sie führen ihn auch in die anderen Nachbarzimmer, damit er alles sehen kann.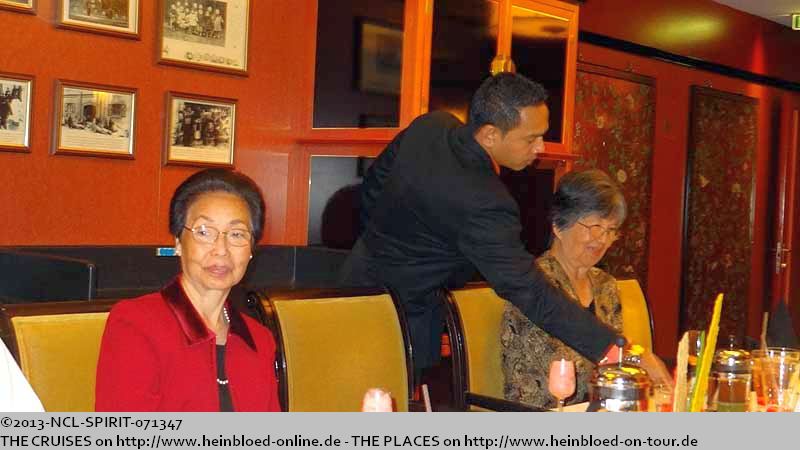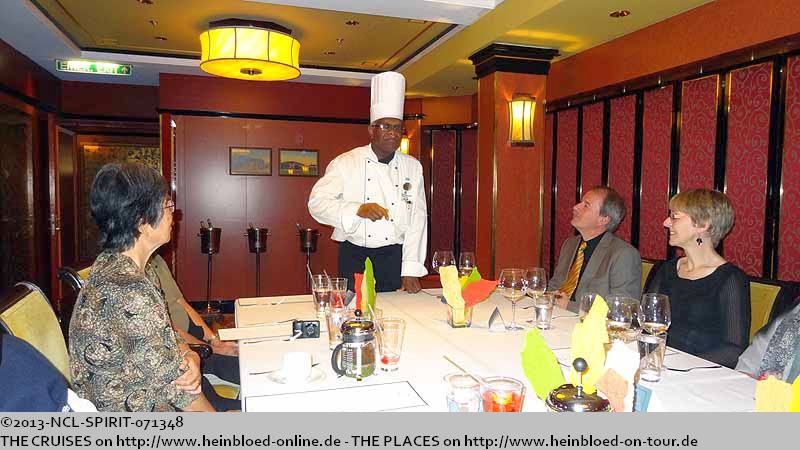 Der Seewolf war einfach ein Gedicht... Lecker... die Kartoffelschicht oben drauf...

The catfish was just like a poem... yummy... die potato shift on top...

With the veal chop a part of us had really luck: I got a piece a popular TV-cooking show presentator would say "hmmmmmmmm". It was tender and tasty. But some had unluck that their pieces were scraggy... Two different lots I assume...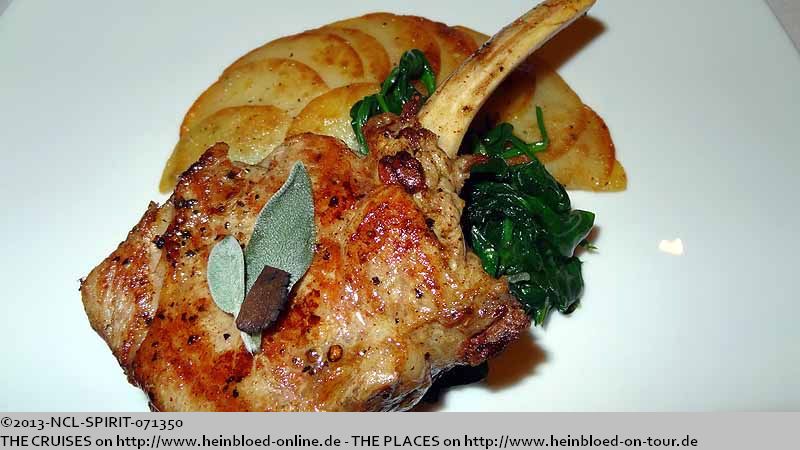 Beim Kalbskotelette hatte ein Teil von uns richtig Glück: ich hatte ein Stück erwischt, bei dem Bio nur "hmmmmmmmm" gesagt hätte. Das war wirklich zart und lecker. Aber manche hatten auch Pech, dass es sehr sehnig war... war wohl aus zwei Chargen...
Eines hatte ich auch nicht so richtig verstanden: wir sollten darauf achten, wenn die Sauce auf den Spinat gegossen wird.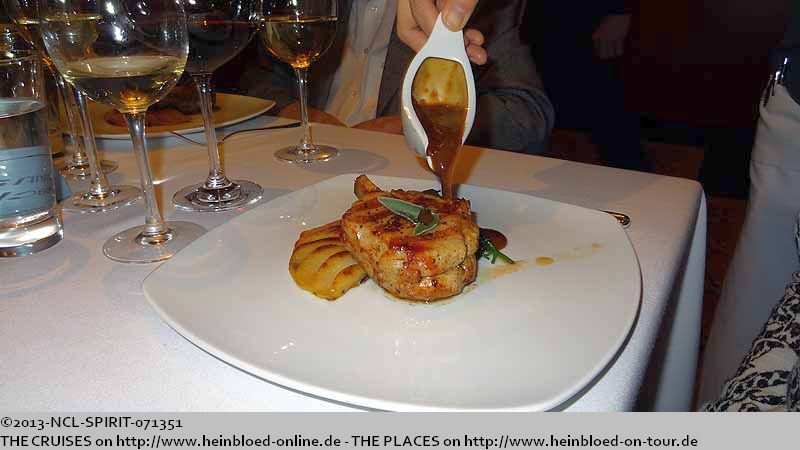 There was one little thing I did not understand: I should see when they pour the sauce on the spinach.

A formation should be formed... I knew that sometimes my glasses were not very clean but I could not see anything...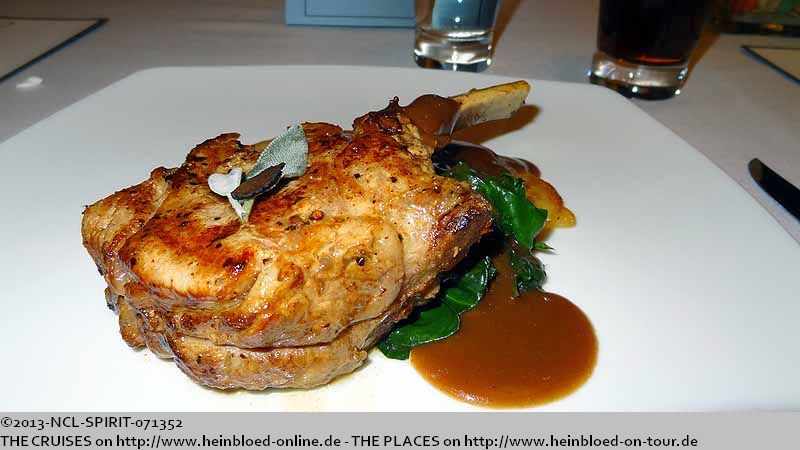 Dann sollte eine Formation entstehen... Ich gebe ja zu, dass ich manchmal meine Brille nicht richtig reinige, aber ich konnte nichts erkennen...
Karl-Heinz hatte Mühe sein Fleisch durchzuschneiden. Sein Messer war etwas stumpf und er hatte wohl ein Stück, das nicht so zart war, wie meines, erwischt... Elsa hatte das gesehen und kam ihm zu Hilfe. So konnte Käthe in Ruhe weiteressen.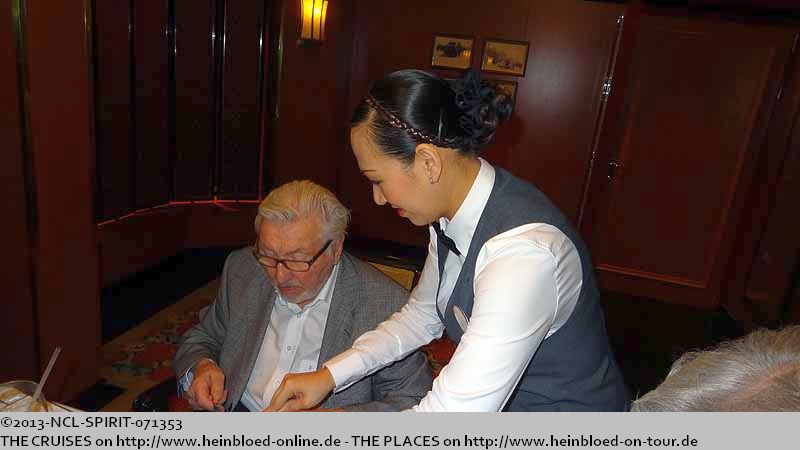 Charlie had some problems to cut his meat. His knife was a little blunt and he did not get the same tender part like I got... Elsa saw that he need help and so she came to assist him. So Katie could continue to eat.

Now again some "hmmm": marinated water melons... Hicks... Hicks... Totally drunk... and sliced mini-bagles...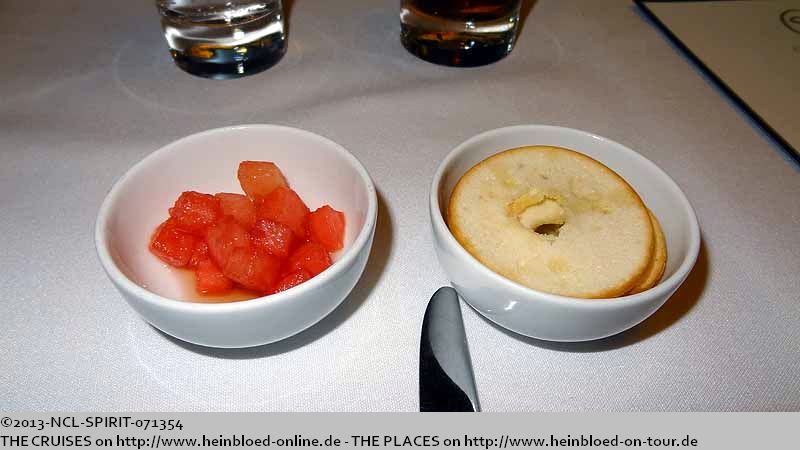 Nun kam etwas "hmmmm": die eingelegten Melonen... Hicks... Hicks... Sturz besoffen... und die Mini-Bagels als Scheiben...
Und wieder als ich auf der Toilette war, wurde wieder meine Serviette gefaltet... Mein Vater und Karl-Heinz wurden über eine Abkürzung zur Toilette begleitet. Der Service war einfach spitzenmäßig.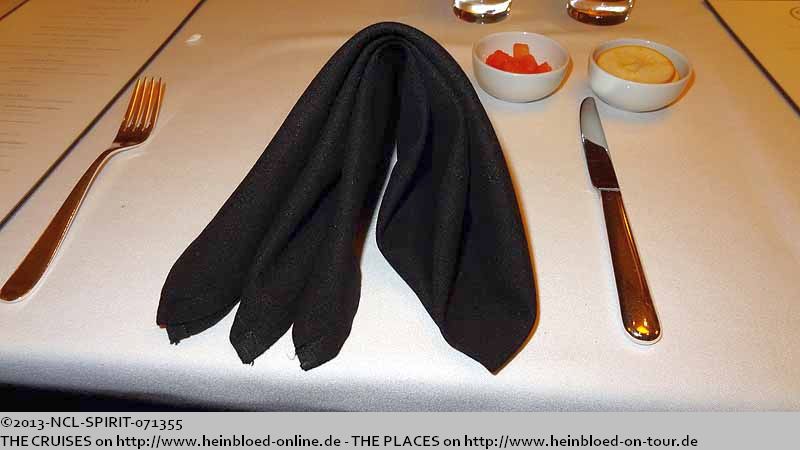 And while I saw the bathroom they folded my napkin again... My father and Charly were escorted through a short-cut to the bathroom. The service was outstanding.

I am not a big fan of honey. But here everything fit... I need to try it...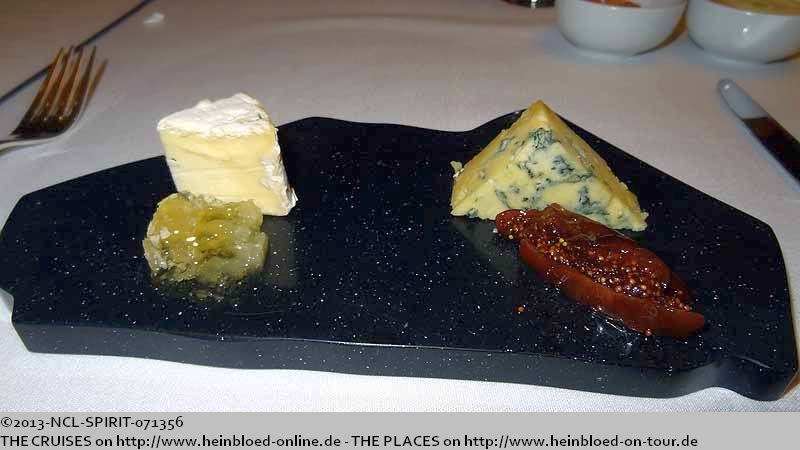 Ich bin kein Honigfan, aber hier passte einfach alles... ich musste es probieren...
Die Tische wurden von Krümeln befreit, bevor das Dessert kam.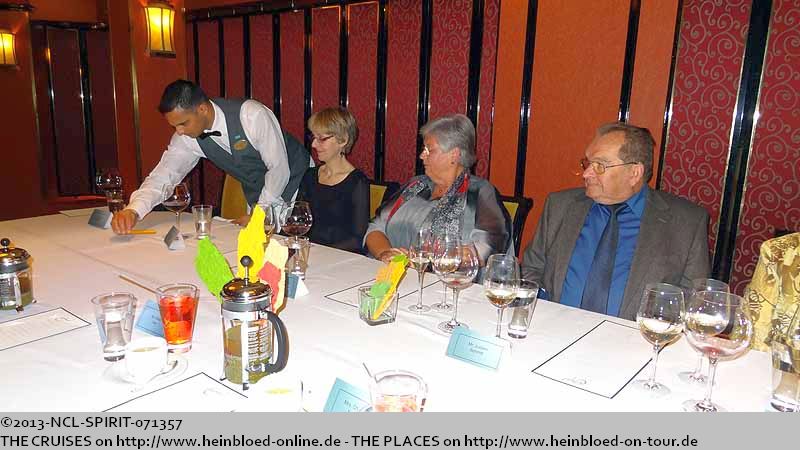 They cleared and cleaned the table before the dessert came.

I could only say again: such a wonderful service which we will not forget so soon.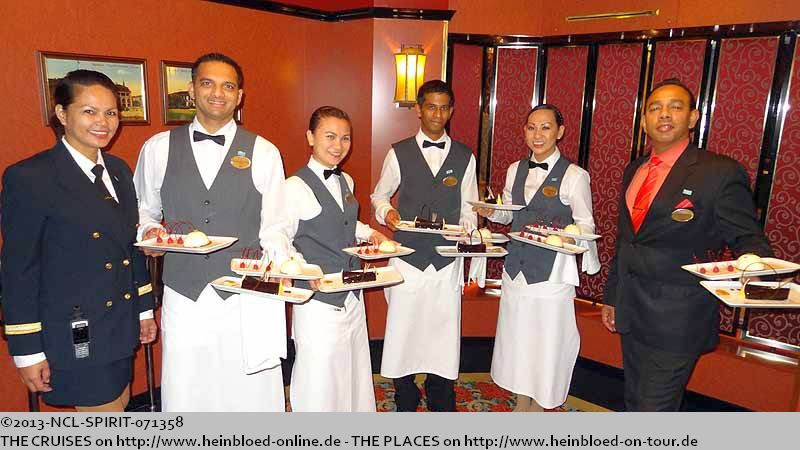 Ich kann nur nochmals sagen: so ein toller Service, den wir alle so schnell nicht vergessen werden.
Das hat Spaß gemacht - bis hierher...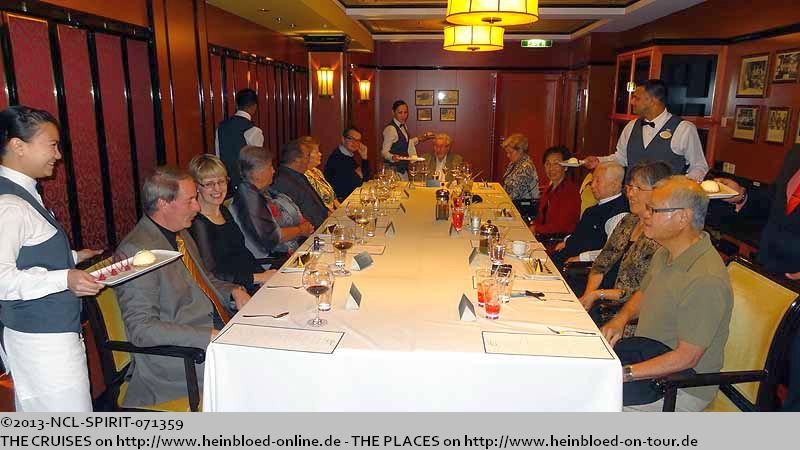 It was fun - until now...

Chocolate with gold leaf...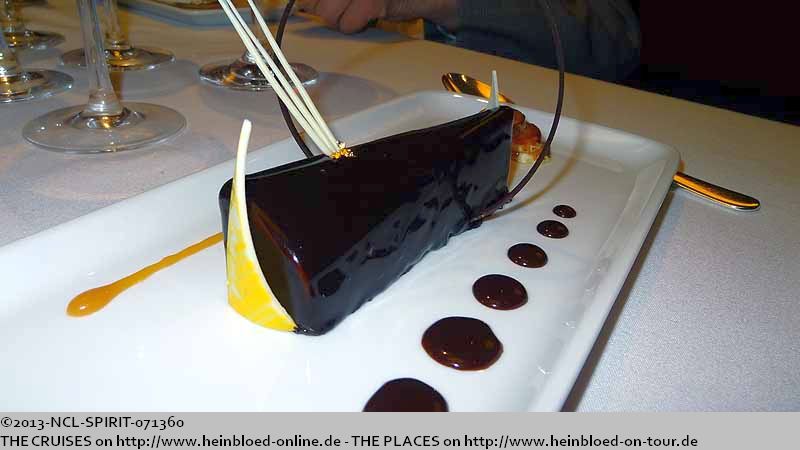 Schokolade mit Blattgold...
Sorry - das war ja alles lecker - aber das war dann einfach zu schwer und zu viel gewesen. Die Hälfte der Hälfte hätte gereicht. Es war schon so, dass man immer zu zweit teilen sollte, aber selbst das war zu schwer und zu süß. Da würde ich mir persönlich etwas leichteres wünschen und nur max. 1-2 Happen wie beim Amuse Bouche. Nur um den Geschmack zu erleben und nicht um hinterher zu platzen.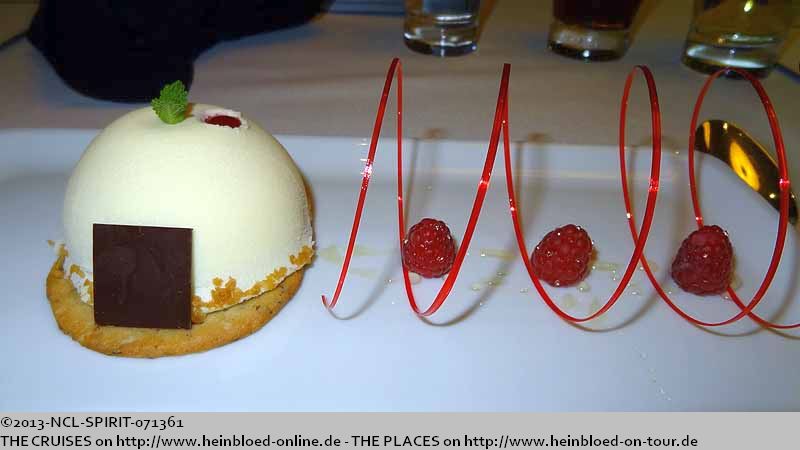 Sorry - it was so tasty - but it was too heavy and too much. Half of the half would be enough. It was arranged that we need to share with two but it was too heavy and too much. Personally I would appreciate something lighter and only 1-2 bites like with the Amuse Bouche. Just to experience the flavour without bursting thereafter.

And even with the few words of critism it was an outstanding performance of our cooks. They deserved our applaude.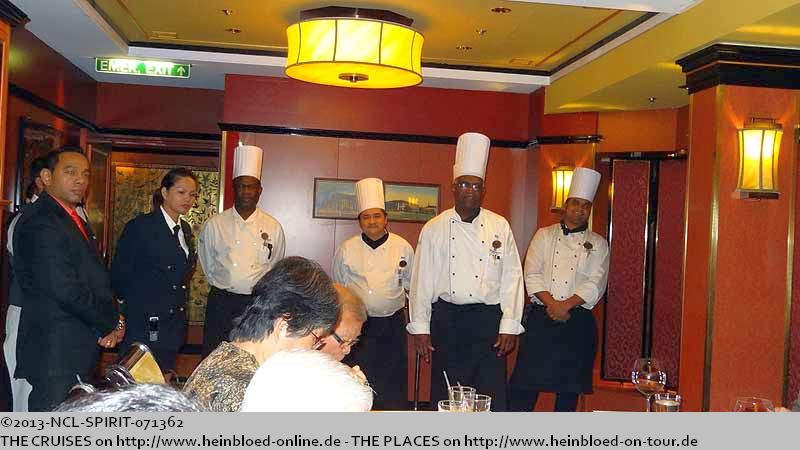 Und trotz meiner kritischen Anmerkungen war es eine spitzenmäßige Leistung der Köche. Unseren Applaus haben sie verdient.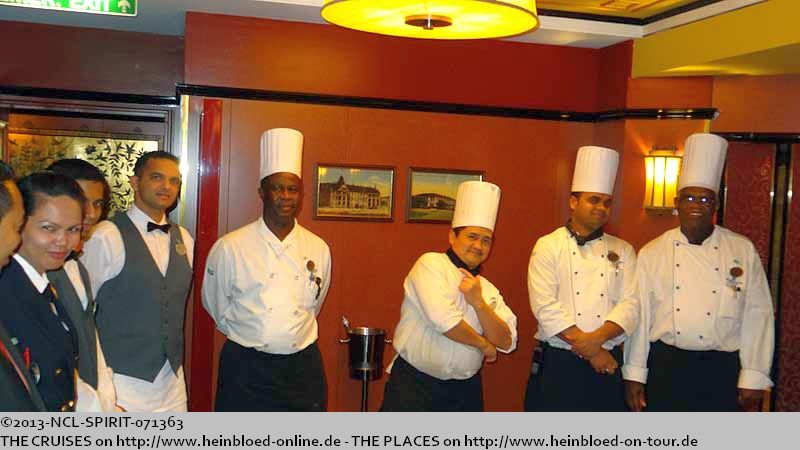 Chief Pastry Barrington Eave, Chief Tournant (I did not exactly understood what he was doing: Supporting cook? Refer to: https://whatscookingamerica.net/Q-A/ChefTitles.htm) Ramon Gunda, Nelson, Barrington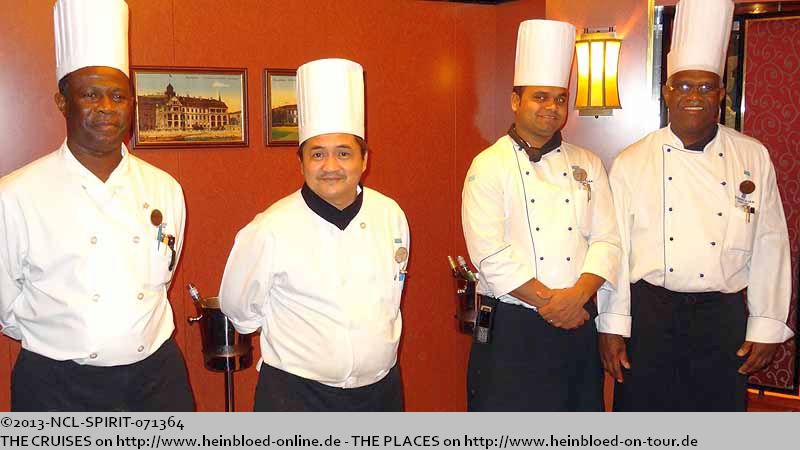 Chief Pastry Barrington Eave, Chief Tournant (habe ich leider nicht richtig verstanden, was er macht: Hilfskoch? Siehe hier:
https://whatscookingamerica.net/Q-A/ChefTitles.htm
) Ramon Gunda, Nelson, Barrington
Und dann kamen die Bilder.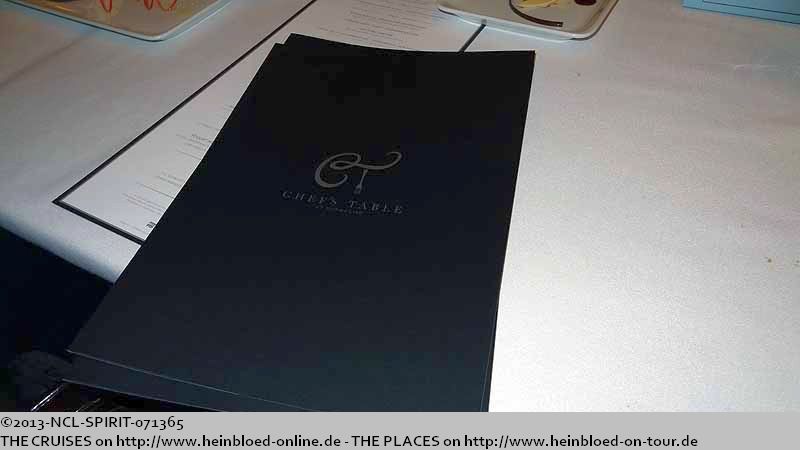 And then the pictures came.

Included: a signed menu card and two wonderful pictures. And then the bill came. When we signed they saw that there was an error. So they just printed out new invoices for our favour.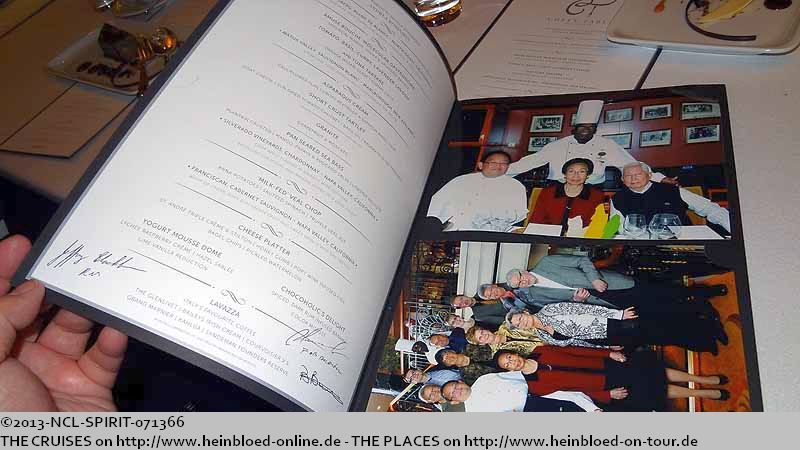 Alles enthalten: eine unterschriebene Menükarte und zwei wunderbare Bilder. Und dann kam die Rechnung. Beim Unterschreiben fällt einer der Kellnerinnen ein Fehler auf. Darauf wird die Rechnung wieder neu ausgedruckt - zu unserem Vorteil.
Das war übrigens meine Tischordnung, die ich abgegeben habe...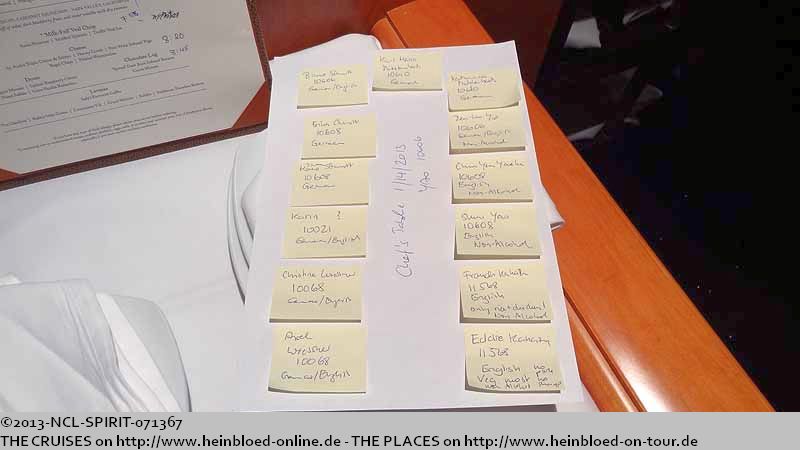 That was my order of seats which I gave them before...

For Eddie they prepared everything that he could be happy to get a vegetarian course instead of a meat course. Only my information regarding Frances (= only rice and chicken) was totally ignored...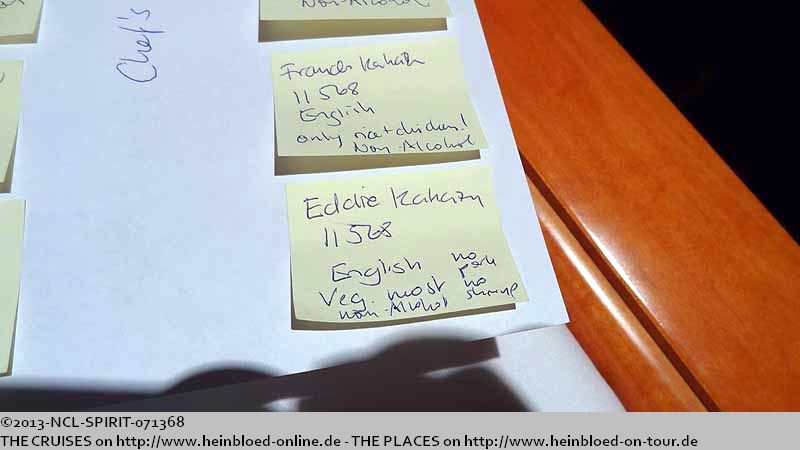 Für Eddie haben sie alles so zubereitet, dass er sich fast über einen Gemüse- statt Fleischgang freuen konnte. Nur den Hinweis für Frances (= only rice and chicken) wurde nicht beachtet...
Dann ging es zum Schluss nochmals zu Champagne Charlie's für einen letzten Kaffee und ein Cocktail oder Degustif...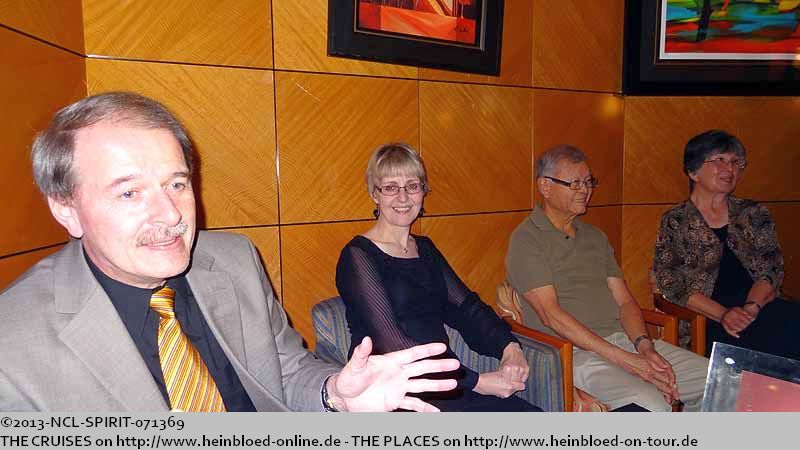 Finally we returned to Champagne Charlie's for a last cup of coffee and a cocktail or degustif...

It was a nice closing of a great evening. The 89.00 USD were invested very well and worth each single penny. As we got water and non-alcohol beverages it was fine for us non-alcohol drinkers too.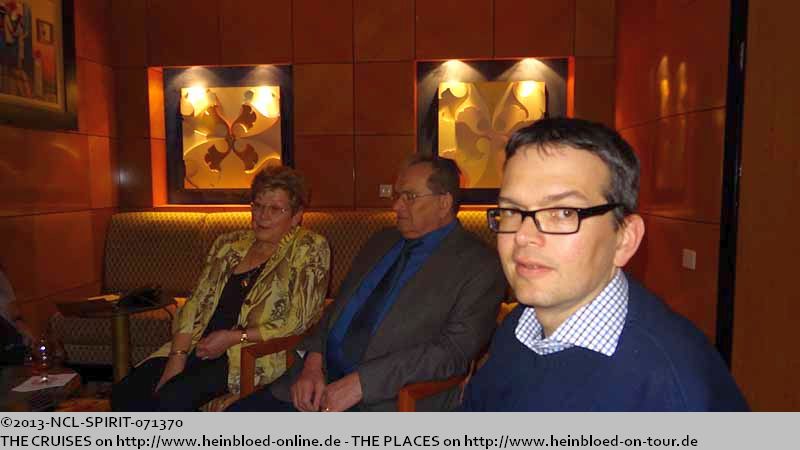 Es war ein schöner Abschluss eines tollen Abends. Die 89,00 USD waren sehr gut angelegt und jeden Cent Wert. Da wir Wasser und alkoholfreie Getränke haben konnten, war es auch für uns Nicht-Alkoholiker in Ordnung.