Scroll down for English explanations - alternates with German explanations.

Kurz vor Mitternacht. Barcelona ist bereits in Sicht.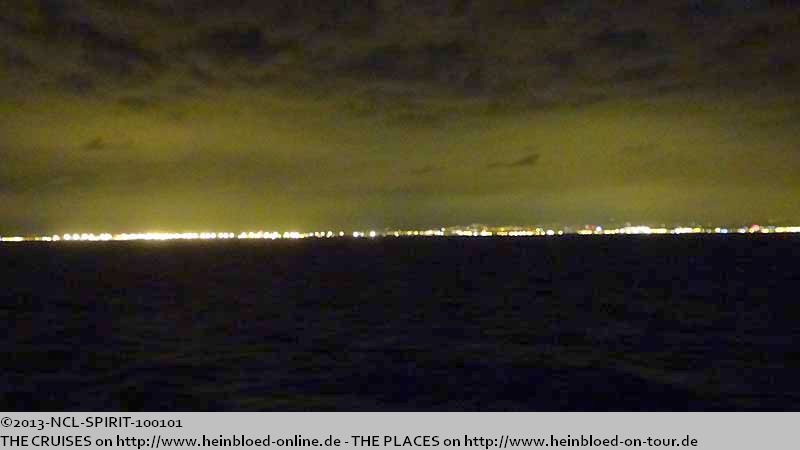 Around midnight. You could already see Barcelona.

When I started to walk around in the morning few colors were annouced already for debarkation.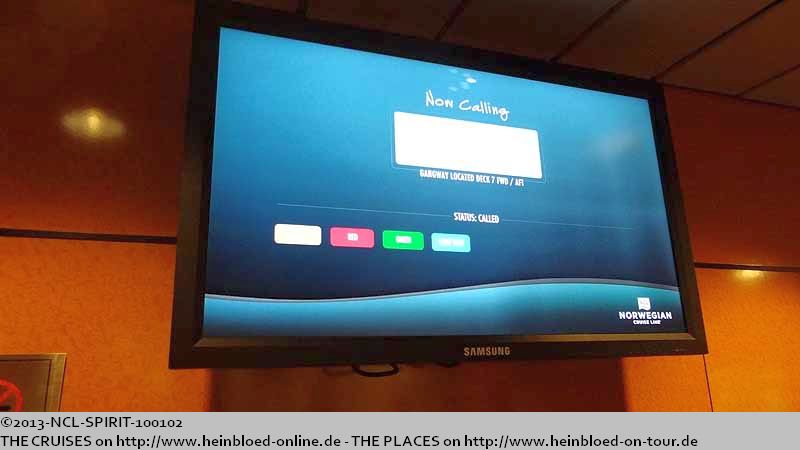 Als ich morgens unterwegs bin, sind die ersten Farben für die Ausschiffung bereits aufgerufen.
Isagani informiert mich, dass Schneider John mich sucht. Er kannte ja nicht mal meinen Namen oder Kabinennummer und dass er bei 1.976 Passagieren (Unterbetten gem. Douglas Ward 2013) mich gefunden habe, finde ich eine fantastische Leistung. Er hat für Frederikes Kamel ein "Rezept" und einen "Arztbrief" mit, den ich unbedingt weiterleiten soll und was ich zu Hause auch selbstverständlich getan hat. Aber über den Inhalt darf ich nicht sprechen... unterliegt der ärztlichen Schweigepflicht.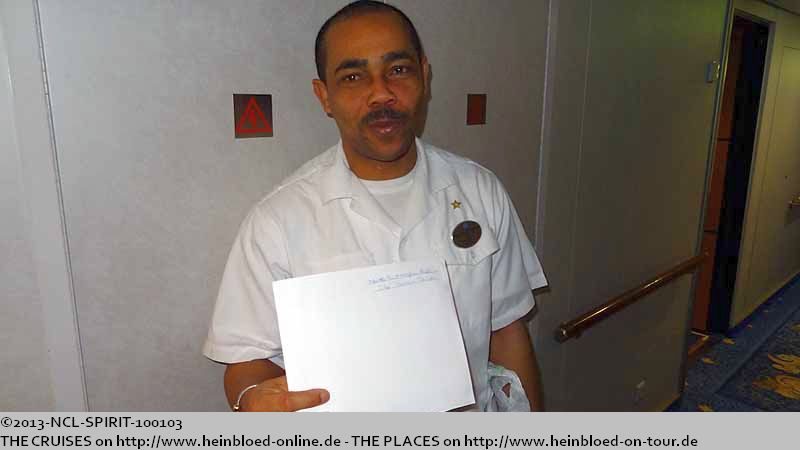 Isagani informed me that tailor John was looking for me. He did not know my name nor my cabin number. I was quite impressed that he found me as we had 1,976 guests (lower beds according to Douglas Ward 2013) on board. He had a "prescription" and "medical report" for Frederike's camel and I should forward it to them. Of course I kept my promise but I cannot tell what he wrote as this is part of the doctor-patient-confidentiality.

He also showed me that he was honored as Vacation Hero. As he normally has no contact with passengers I was quite impressed that NCL also honors those crew members which were working in the lower decks have a chance to be honored.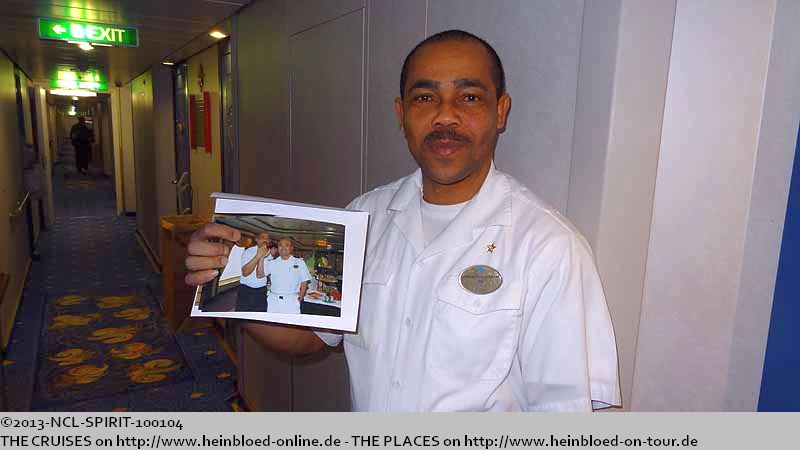 Gleichzeitig zeigt er mir, dass er schon mal als Vacation Hero ausgezeichnet wurde. Dafür, dass er kaum mit den Passagieren in Berührung kommt, finde ich es von NCL ausgesprochen bemerkenswert, dass auch diejenigen, die in den unteren Decks arbeiten auch eine Chance haben ausgezeichnet zu werden.
Wir gehen zum letzten Mal ins Windows. Auf der NORWEGIAN EPIC gab es am Ausschiffungstag wieder das volle Frühstücksmenü. Hier gab es wieder das reduzierte.

We went again the very last time to Windows. On NORWEGIAN EPIC you get again the full breakfast menu on debarkation day. Here we had again the limited.

But when you ask nicely you could also get some special food so it was not too hard to us to say farewell.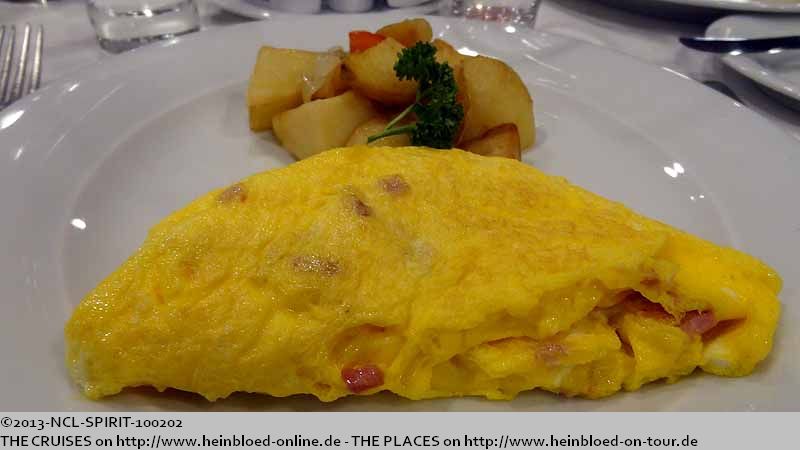 Aber wenn man gefragt hatte, wurde einem auch ein Sonderwunsch erfüllt, damit der Abschied nicht ganz so schwer fällt.
Mae Vanessa Potestas war fast die erste, die uns vor 9 Tage zuvor willkommen geheißen hat. Wenn ihr auf Tag 1 zurückgeht, findet ihr sie...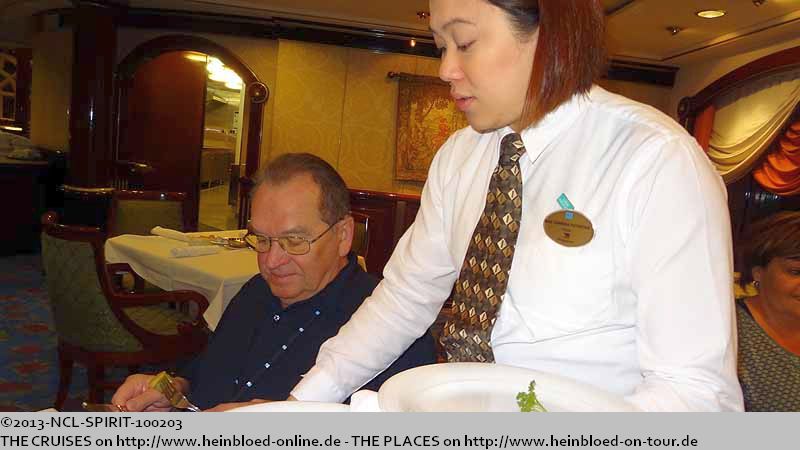 Mae Vanessa Potestas was almost the first who welcomed us 9 days ago. If you change to day 1 you will find her...

Together with Santan Rodrigues they made sure that it was hard to say good-bye.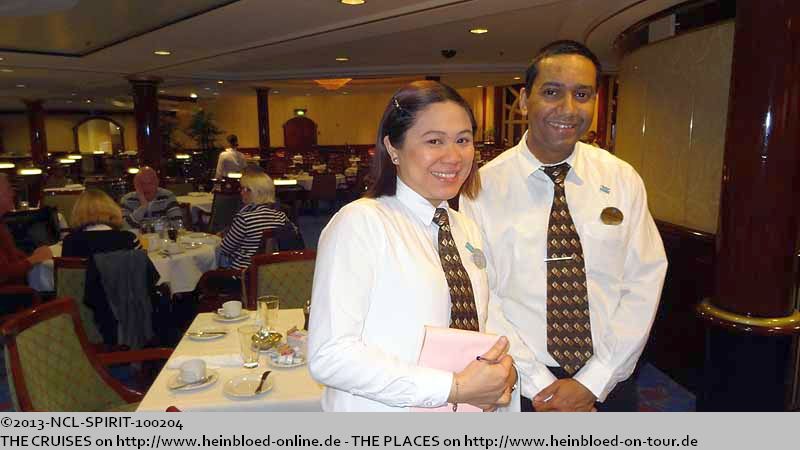 Zusammen mit Santan Rodrigues sorgen sie dafür, dass uns der Abschied wieder richtig schwer fällt.
Zum letzten Mal sehen wir auch nochmals Cherryl, die hier mit Louie Balisi zusammensteht, der uns auch schon morgens bedient hat und uns die frisch-gepressten Orangensäfte von Deck 12 geholt hat.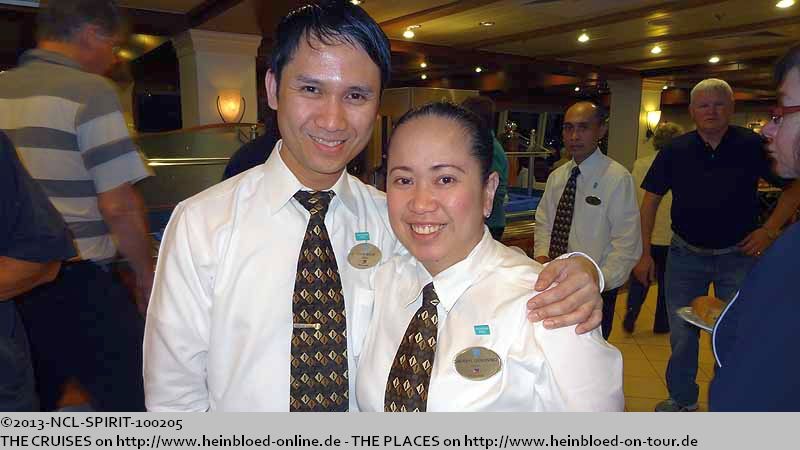 A very last time again we see Cherryl who was standing here together with Louise Balisi. We had him one morning for breakfast and he got us the freshly-squeezed orange juice from deck 12.

Ian was "bad".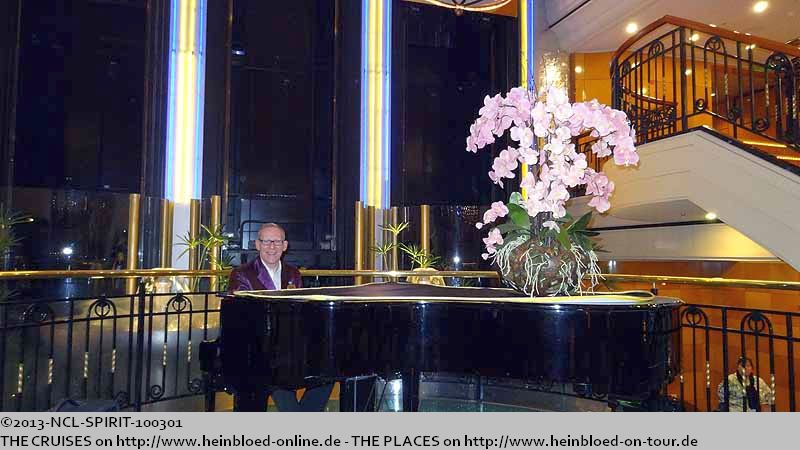 Ian war "grauenhaft".
Er spielte bloß so traurige Lieder wie "La Tristeste" usw., so dass uns wirklich die Tränen in die Augen kamen und wir gar nicht das Schiff wieder verlassen wollten.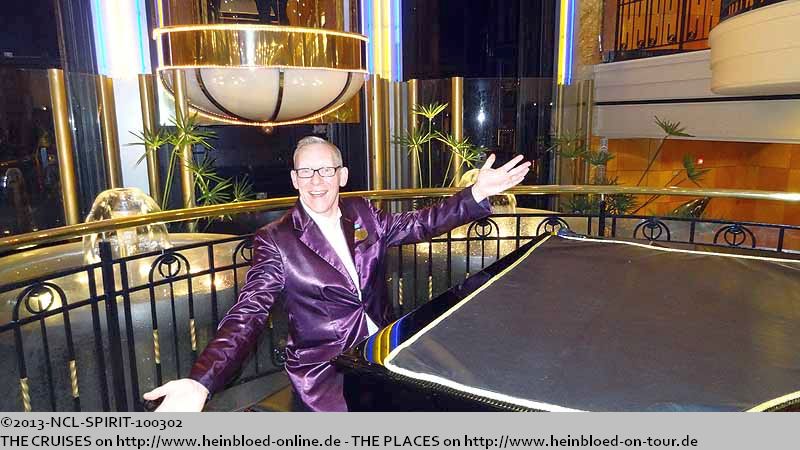 He only played sad songs like "La Tristeste" etc. so we really had tears in our eyes and we did not want to leave the ship.

We waited for our concierge.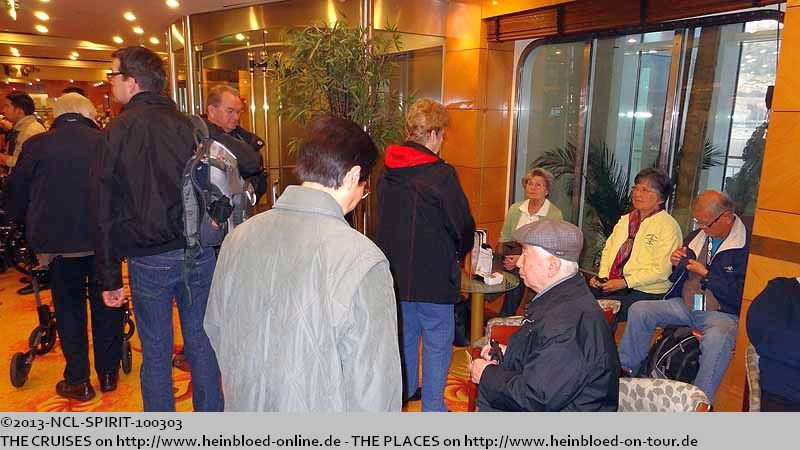 Wir warteten auf unseren Concierge.
Da wir wieder den Short-Cut gehen, können wir uns wieder mal nicht vernünftig verabschieden. Einen Tod muss man sterben. Aber mit der Gruppe ist es besser. Belky begleitet uns zum Gepäck.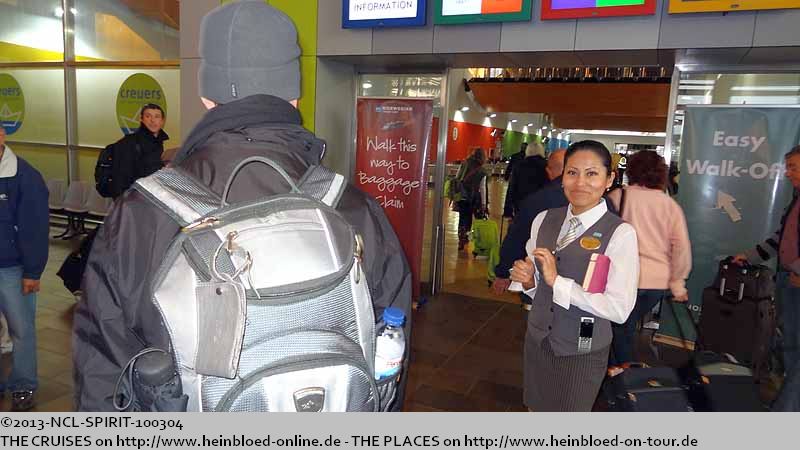 As we used again the short-cut we cannot say good-bye to everyone. But you cannot have everything. But with the group it's the better way. Belky took us to our bags.

Here just under the escalator you could find our bags.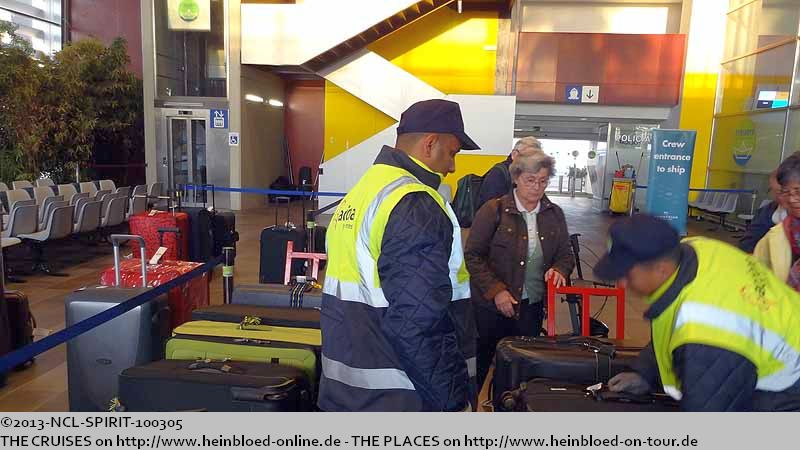 Hier direkt unter der Rolltreppe steht unser Gepäck.
Wir nehmen direkt zwei Gepäckträger.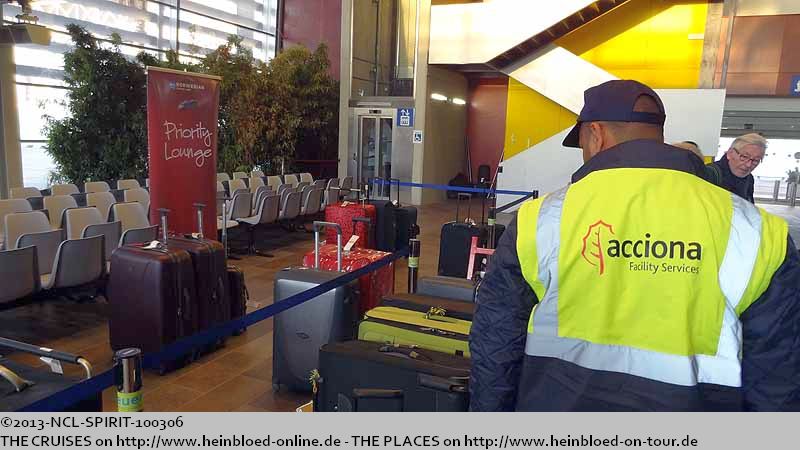 We took two porters.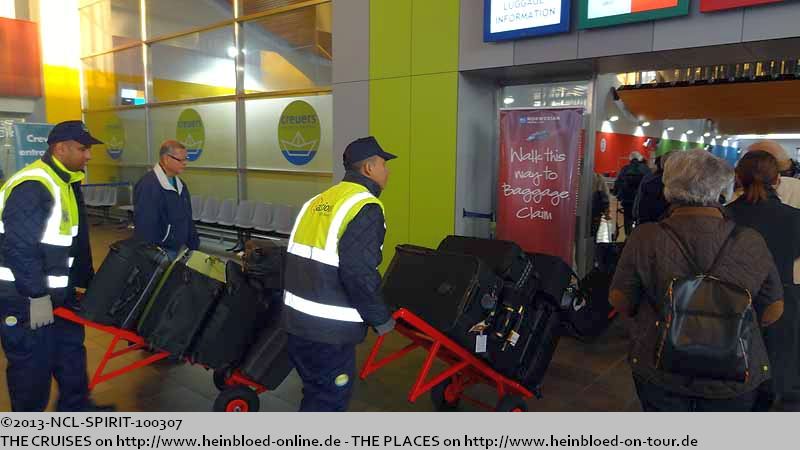 Dieses Mal hätte sich das nicht gelohnt, da einige von uns schon um 12.30 Uhr am Gate sein müssen. Zu diesem Zeitpunkt steht das Gepäck erst am Flughafen bereit.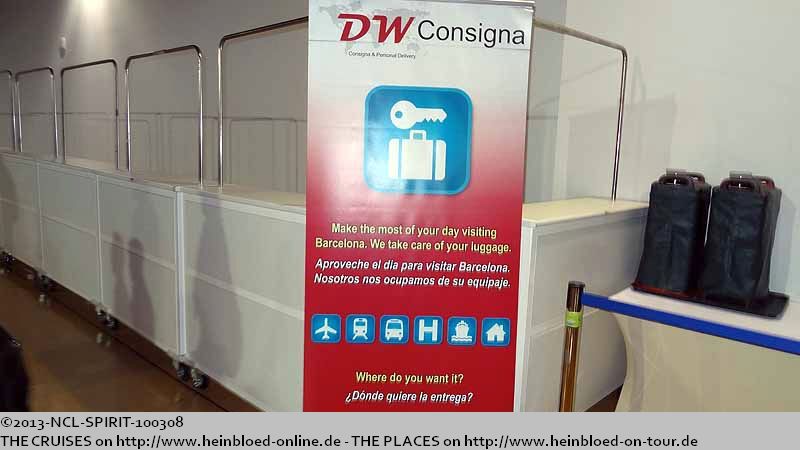 This time it did not make too much sense to use them as some of us need to be already at the gate at 12.30 hrs - the earliest collection time at the airport.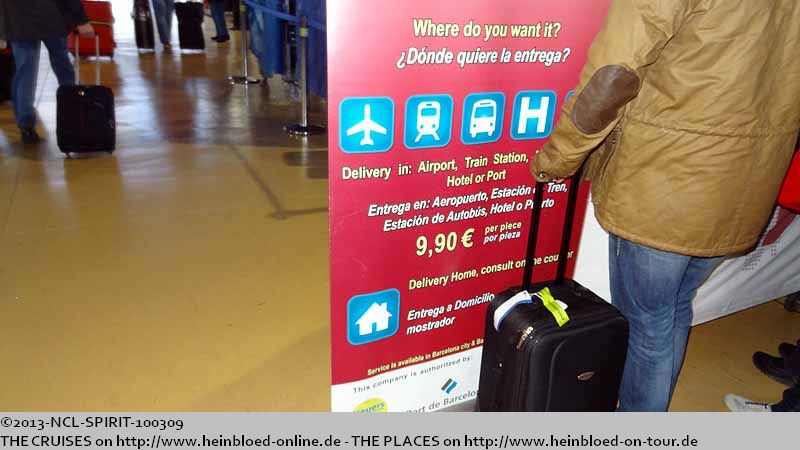 Die Firma muss man sich einfach mal für die Zukunft merken, obwohl wir ja schon gute Arrangements haben. Aber gelegentlich kommen ja mal solche Fragen in den Foren.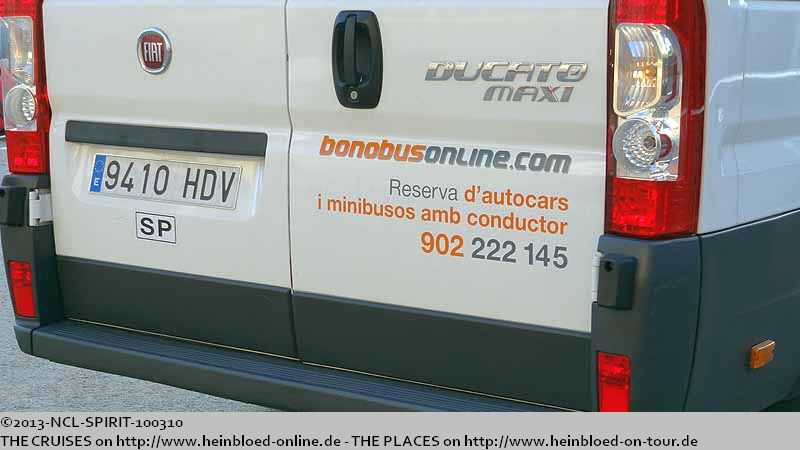 Just to remember for the future although we had great arrangements. But you find sometimes some questions in the internet.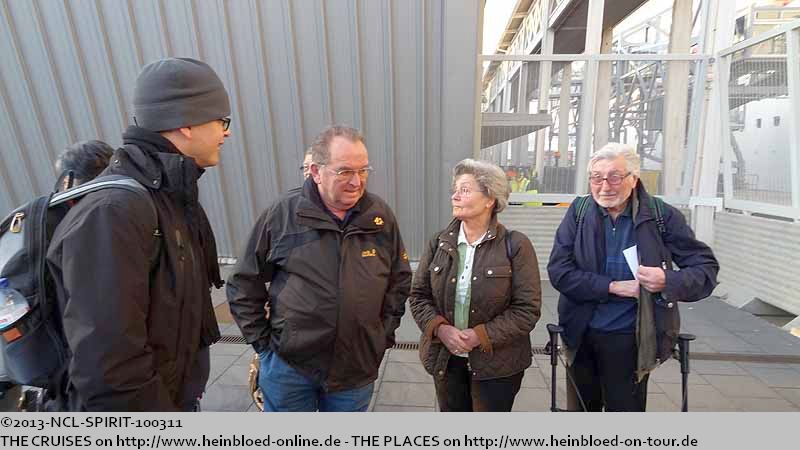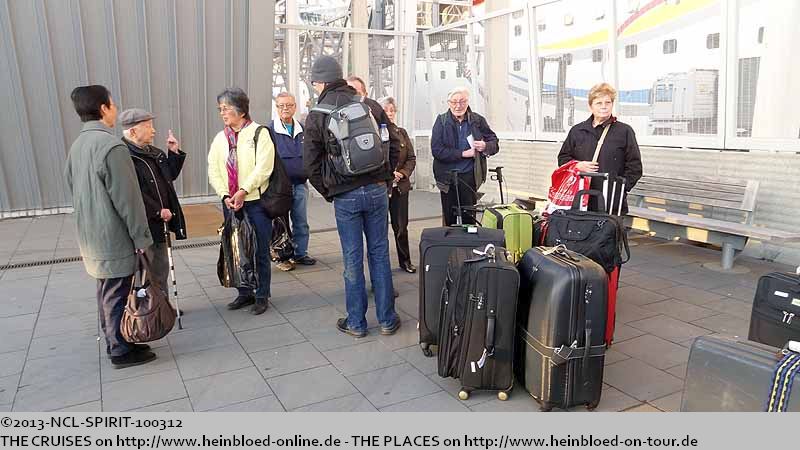 Not everyone could get on the bus at once. You need to accept waiting times and should not calculate too tight.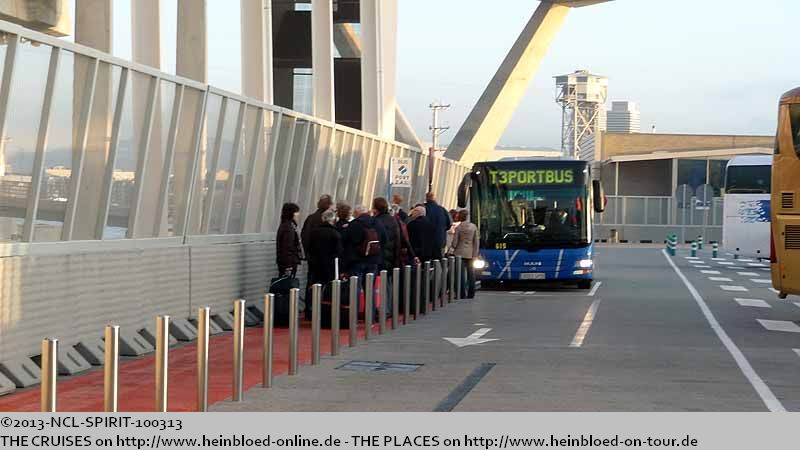 Nicht alle kommen auf einmal mit. Man muss also auch hier mit Wartezeiten rechnen und nicht zu knapp kalkulieren.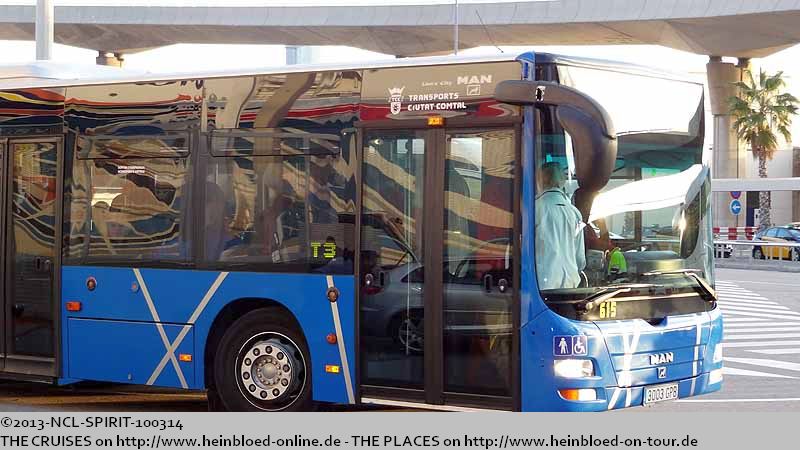 08.45 hrs I got a call if we were ready and they should come to collect us.

08.45 Uhr werde ich angerufen, ob wir fertig sind und vorfahren dürften.
Eva, Sara und Lourdes. Auf
Eva
ist eben Verlass. Wie üblich haben wir sie vorbestellt, damit wir nicht warten mussten.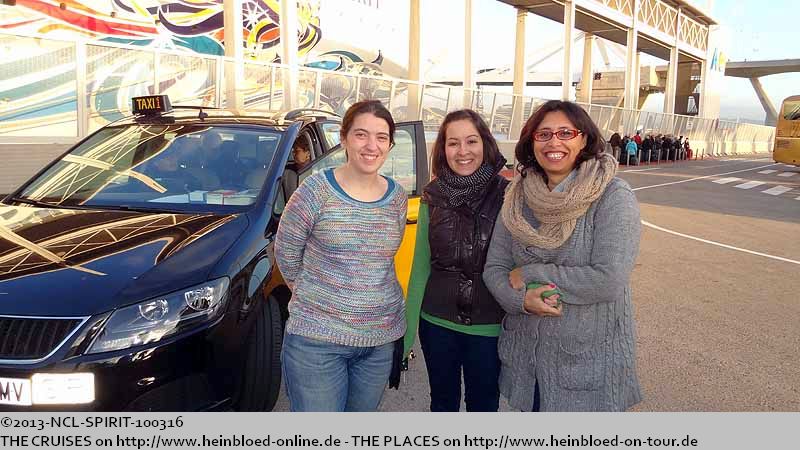 Eva, Sara and Lourdes. You can count on Eva. As usually we made a pre-booking so there was no need to wait.