Scroll down for English explanations - alternates with German explanations.

Es war richtig, für diese Reise eine Backbord-Kabine zu nehmen. Dadurch haben wir quasi bis Madeira die Sonnenseite und können morgens das so sehen...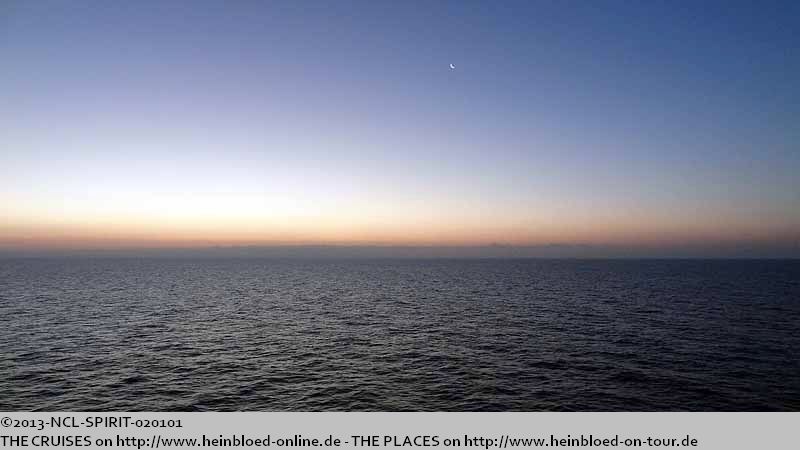 It was good that we took for this voyage a cabin on the portside. So we had upto Madeira all the time the sunny side and could experience this in the morning...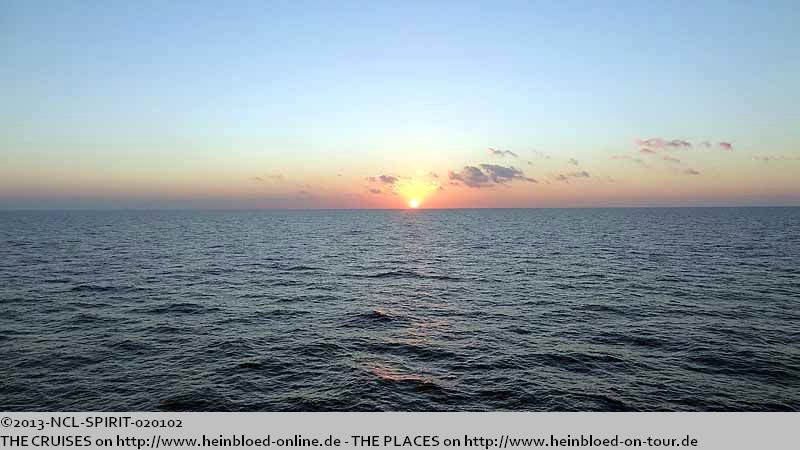 Ich wollte Bruno etwas gutes tun... und hole ihm einen Kaffee... aber nicht hier von der kostenlosen Ausgabe.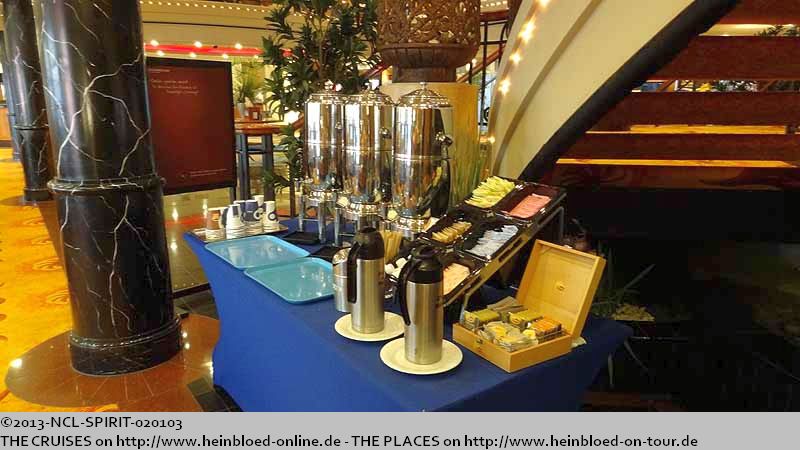 I did want to do something good for Bruno... and got him a coffee... but not from the outlet for free coffee...

Directly from the Barista at the coffee bar... but he does not drink any Cappucino before breakfast. Why is not doing what I tell him to do???

Sondern direkt vom Barista an der Kaffeebar... nur trinkt er Cappucino erst nach dem Frühstück... Wieso macht er nie mal das, was ich ihm sage???
Die Box, mit der man Hotel Director Les erreichen kann. Ich kann nur sagen: wer ihm nicht schreibt, wenn etwas nicht in Ordnung ist und nach Hause fährt und jedem erzählt, wie schlimm es war, ist selbst Schuld.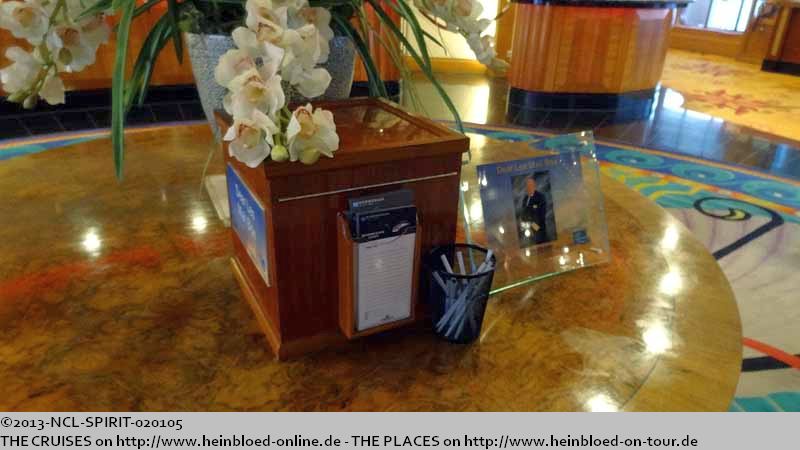 The box you can always reach Hotel Director Les with. I could only say: who does not write him if something is wrong and return home to tell everyone how bad it was, should blame himself.

You could get a small bite for breakfast as well at the coffee bar.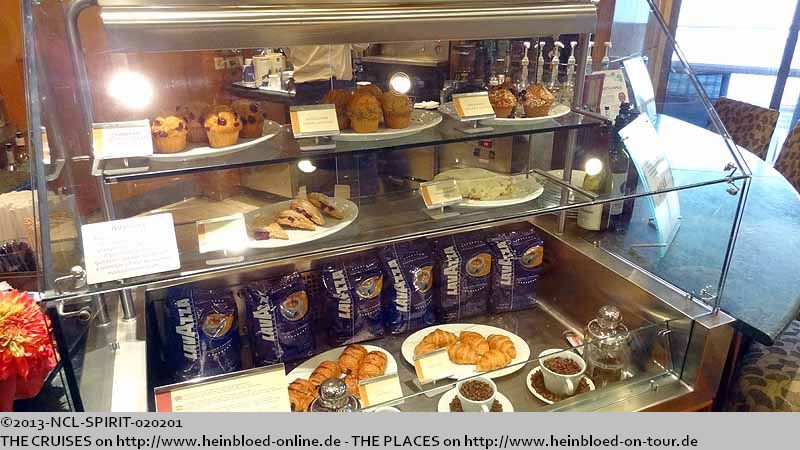 Man kann übrigens auch eine Kleinigkeit an der Kaffeebar zum Frühstück bekommen.
Bruno hat jedoch wieder seine Bodum-Kanne mit.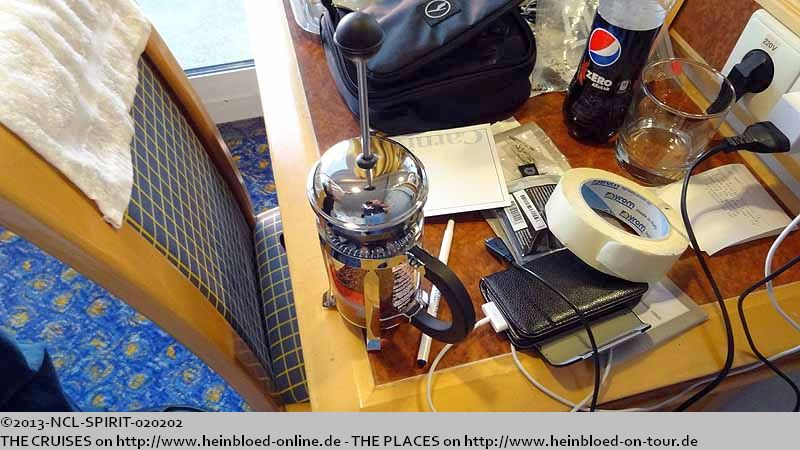 Bruno had again his French Press with him.

We had to see the Windows. As the galley for both main dining rooms seperates the deck 6 you need to you use the aft elevator.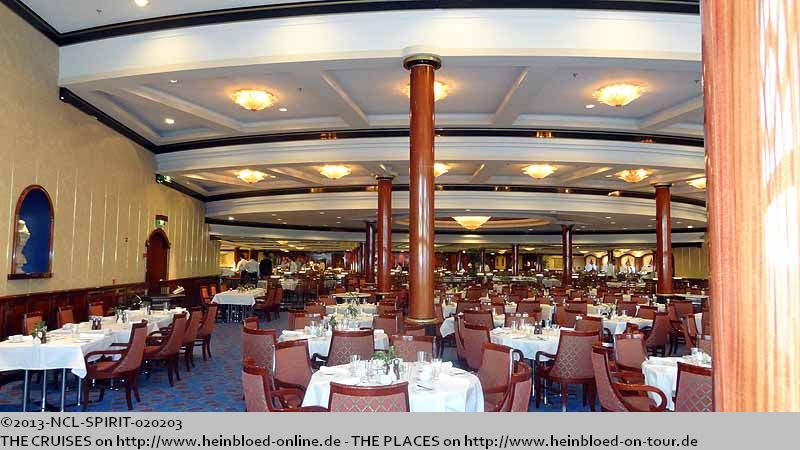 Wir müssen ins Windows. Da die Galley für beide Hauptrestaurants das Deck 6 teilt, muss unbedingt den Heckfahrstuhl benutzen.
Wir bekommen den besten Tisch am Heck und Bruno seine geliebte Bodum-Kanne zurück.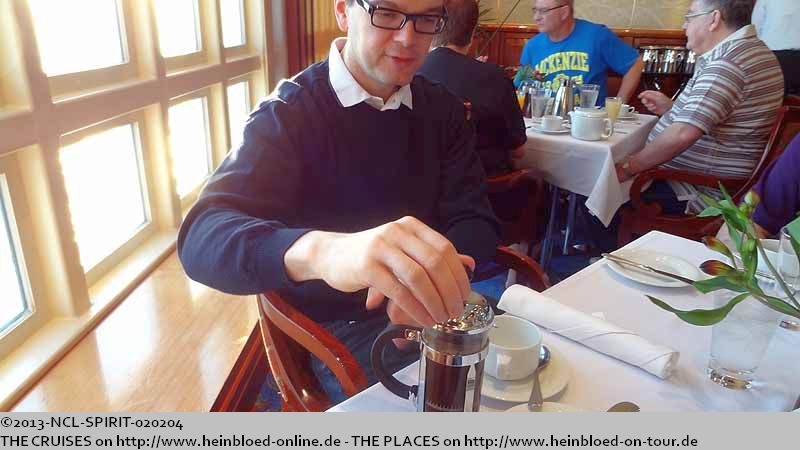 We got the best table at the aft and Bruno got back his beloved French Press.

Hmmm... some garnish and some kiwi were missing...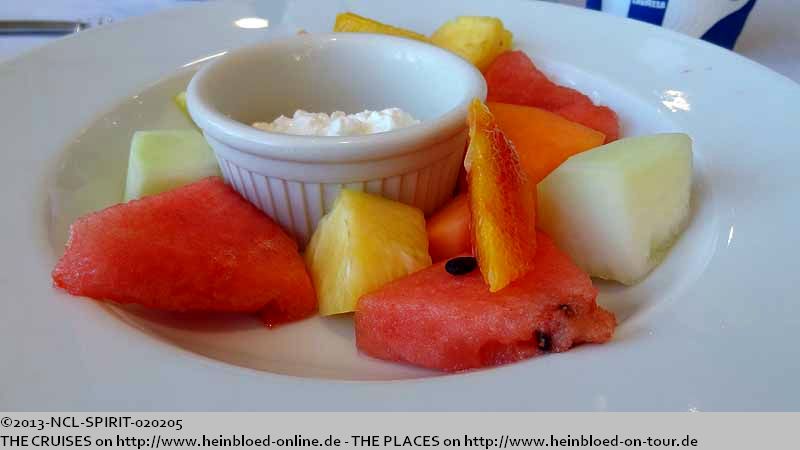 Hmmm... irgendwie fehlt die Garnierung und der Kiwi...
Bruno fragt natürlich nach Beeren. Es gibt aber bloß Erdbeeren. Wir erfahren später, dass die anderen Beeren wegen Qualitätsprobleme zurückgeschickt werden mussten. So wird an Bord für die Herstellung von Kompotts, Muffins und Cocktails Trockenware verwendet, die man aber nicht als frisches Obst anbieten kann.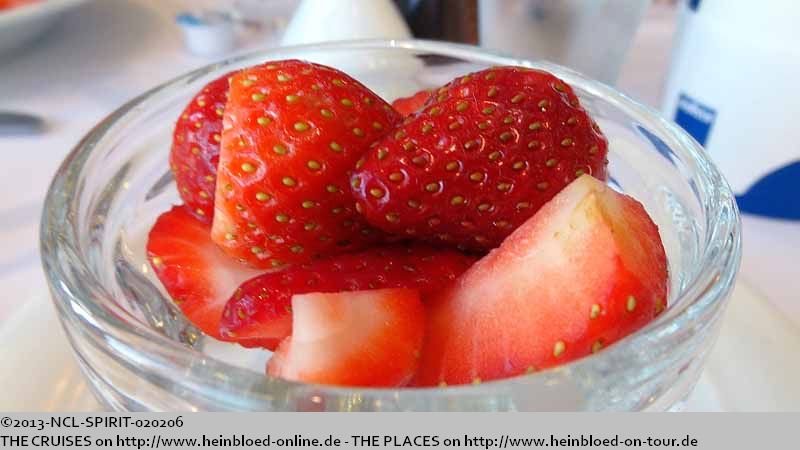 Bruno asked of course for his berries. But they had only strawberries. We learned later that the other berries need to be returned due to quality problems. For use in compotes, muffins and cocktails they use dried berries which you cannot offer as fresh fruits.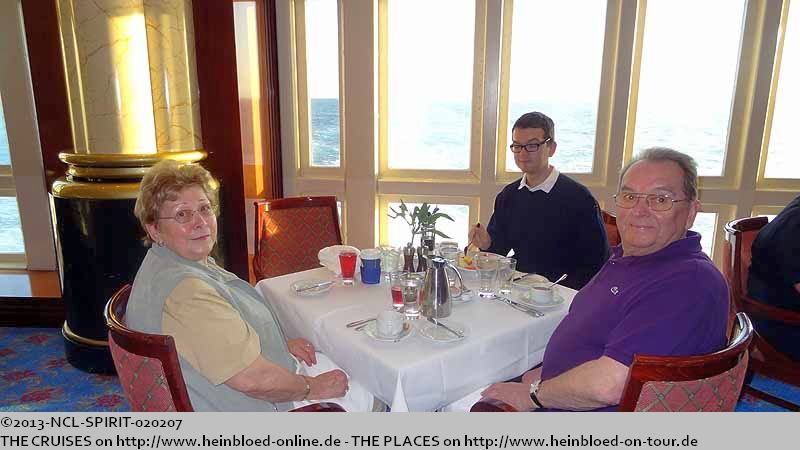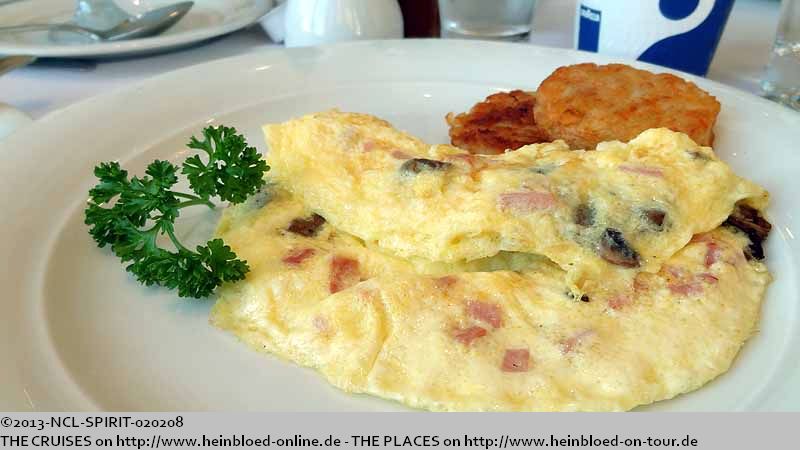 It was smart by Bruno's mother just to order one Egg Benedict on salmon.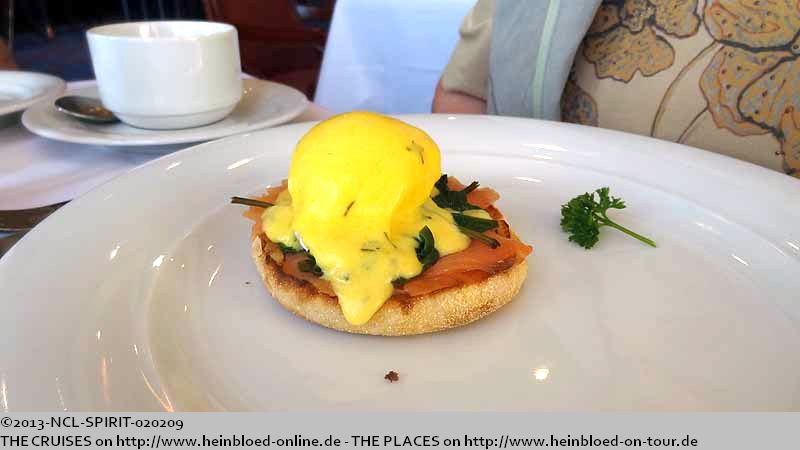 Brunos Mutter hatte dieses Mal nur ein Egg Benedict auf Lachs schlauerweise bestellt.
Die Milch kommt aus Deutschland.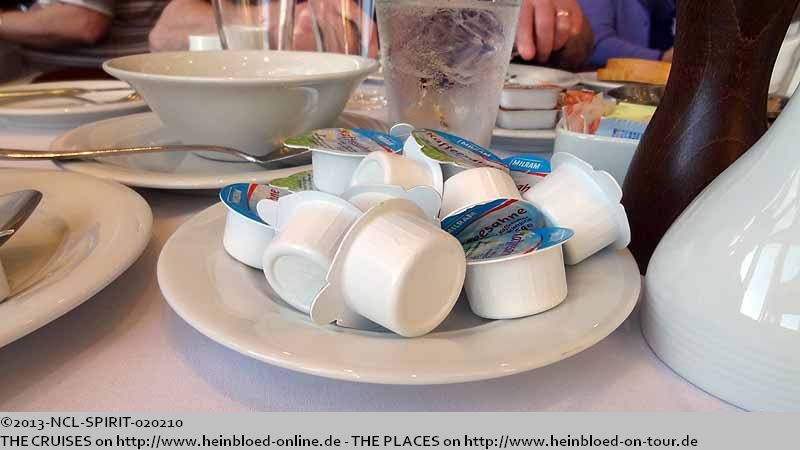 The cream was from Germany.

We headed to the cruisecritic.com-Meet & Greet. When I booked that event in Miami we were only 5. Miami booked for 20 and offered the complete programme.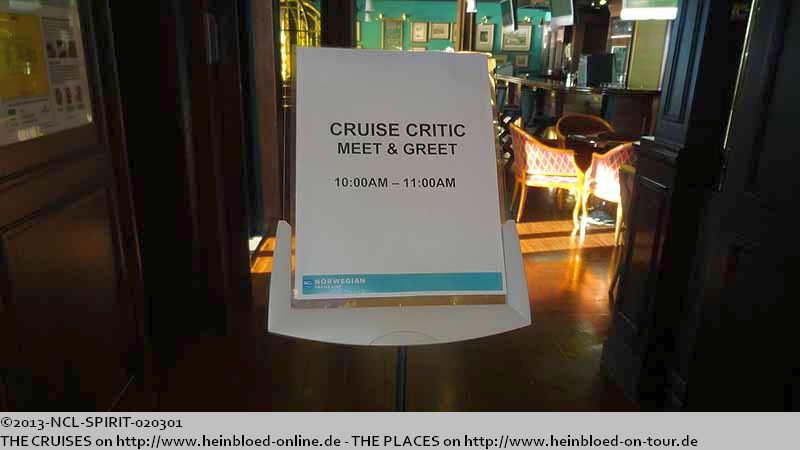 Weiter geht es zum
cruisecritic.com-Meet & Greet
. Als ich das in Miami gebucht habe, waren wir bloß 5. Miami hat für 20 gebucht und das ganze Programm angeboten.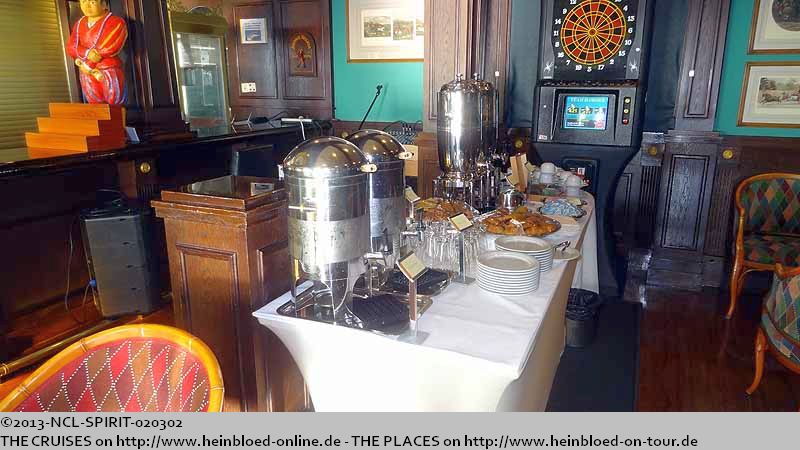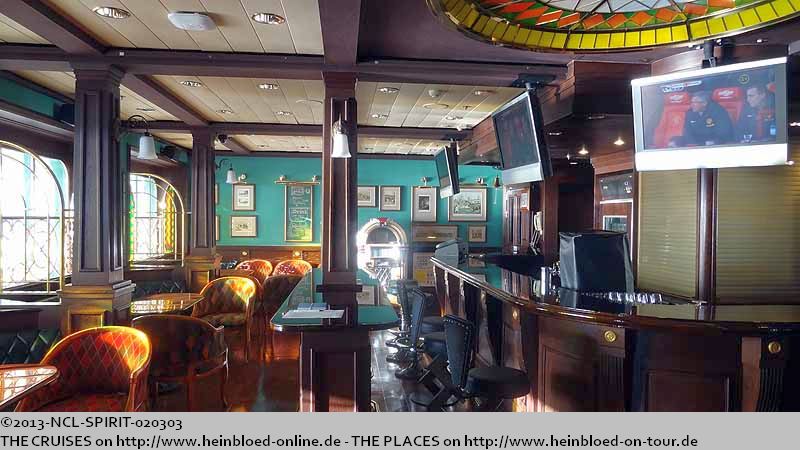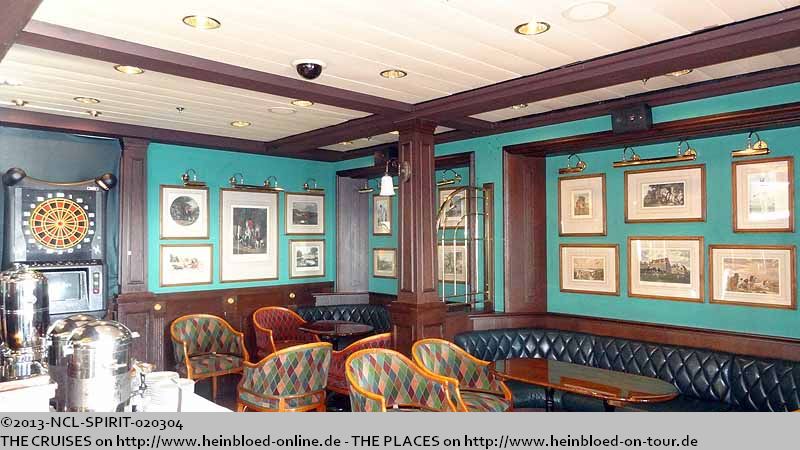 Ana organised it everything very well.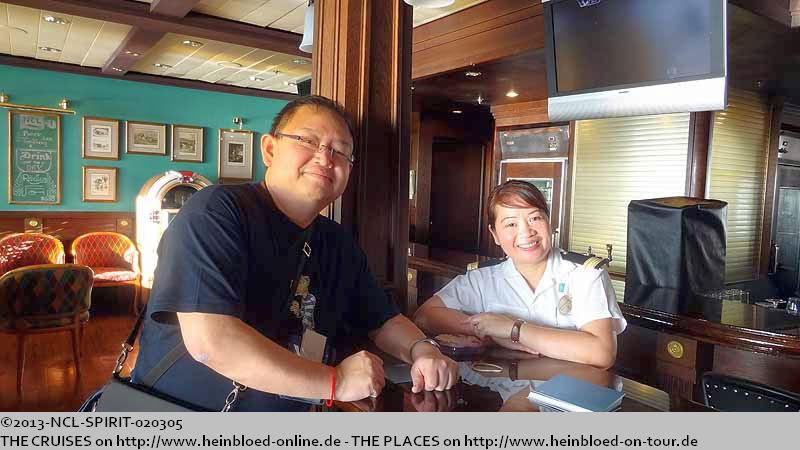 Ana hat es wirklich toll organisiert.
Wir lernen endlich mamabear (Kelley und Mike) aus Vancouver kennen. Sie haben gelesen, dass Bruno und ich am 13.05.2013 in Vancouver sind und haben uns angeboten, dass sie uns am Bahnhof CP abholen, uns die Stadt zeigen und uns dann hinterher am Schiff absetzen. Auch im Bild clipperfan (Karin) aus Kufstein.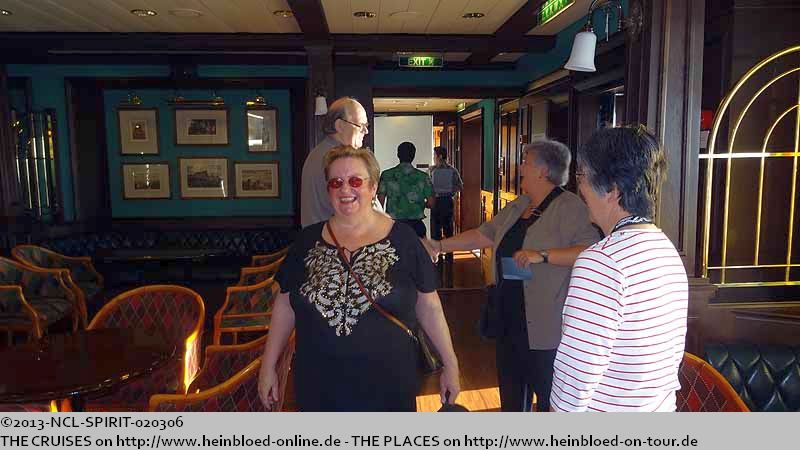 We made finally acquaintance with mamabear (Kelley and Mike) from Vancouver, BC. They read that Bruno and I will be on May 13, 2013 in Vancouver and offered us to collect us at the CP train station, to show us the town and deliver us to the ship. Also in the picture: clipperfan (Karin) from Kufstein, Austria.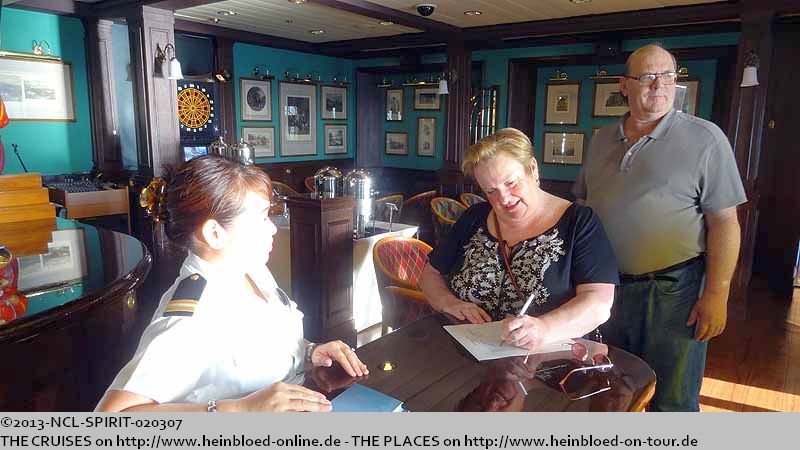 Es kommen dann auch viele Leitungsoffiziere, die sich vorstellen.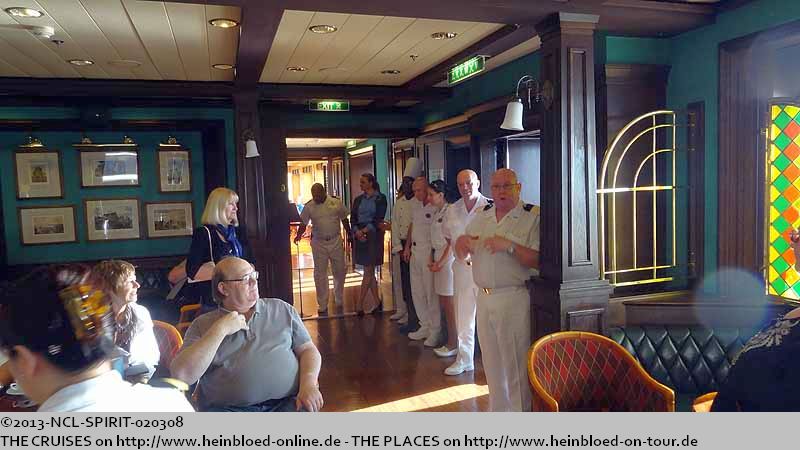 Many senior officers came to introduce themselves.

From the front to the end: Hotel Director Les Riley, F&B-Manager Ivo Belev, Bar Manager Geanina Butiseaca, Restaurant Manager Jeffrey Blackburn, Executive Chef Barrington Burke, Guest Services Manager Shennilyn Arquillano, Cruise Director Jill Tasker and Executive Housekeeper Clyde Harbin.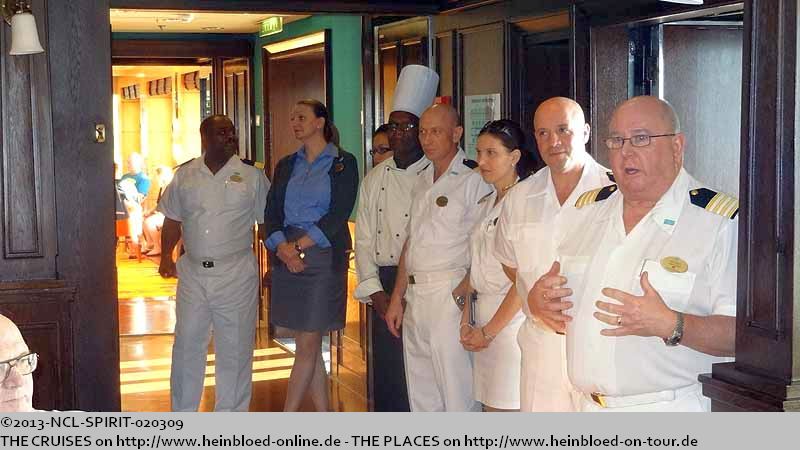 Von vorne nach hinten: Hotel Director Les Riley, F&B-Manager Ivo Belev, Bar Manager Geanina Butiseaca, Restaurant Manager Jeffrey Blackburn, Executive Chef Barrington Burke, Guest Services Manager Shennilyn Arquillano, Cruise Director Jill Tasker und Executive Housekeeper Clyde Harbin.
Hier sind die wichtigsten Personen für meinen privaten Chef's Table: Ivo, Jeff und Barrington. Wir sind 13 und ich hätte ja auch sofort öffentlich buchen können, mit dem Erfolg, dass 6 in der einen Sitzung wären und 7 in der anderen. Nachdem Richard mir auf der NORWEGIAN SUN sagte, dass Armando Hotel Director auf der NORWEGIAN SPIRIT sei, hatte ich ihn angeschrieben, dass ich an einem privaten Chef's Table interessiert sei. Man hat einfach den 2. Termin noch nicht zum Verkauf freigegeben und mir komplett angeboten. Das war wirklich super.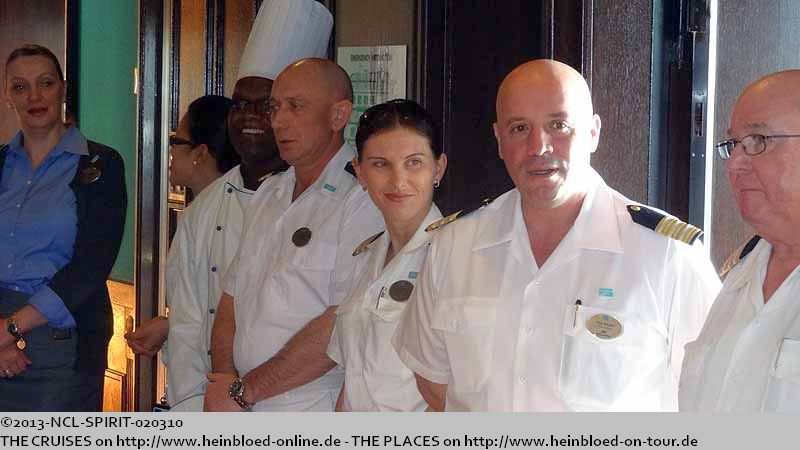 Here were the most important persons for my private Chef's Table: Ivo, Jeff and Barrington. We were 13 and I could book the public events - maybe only with the result, that 6 had to be in one sitting and 7 in the other. After Richard told me on NORWEGIAN SUN that Armano would be Hotel Director on NORWEGIAN SPIRIT, I wrote him that I was interested to have a private Chef#s Table. They just did not start to sell the 2nd slot and offered it completely to me. That was very gracious.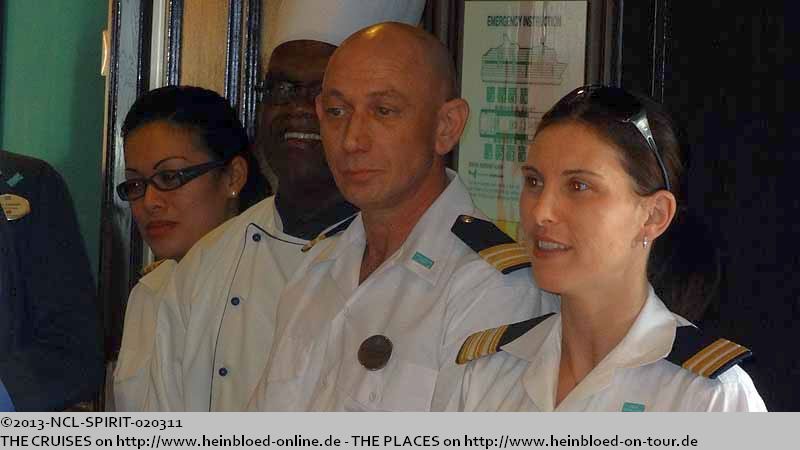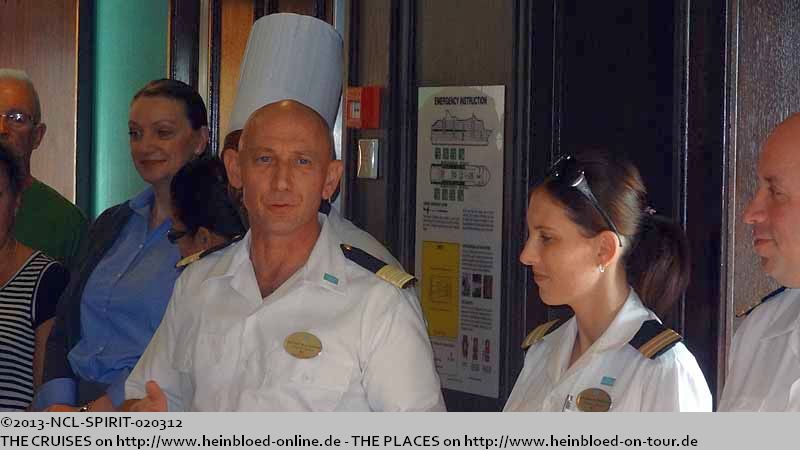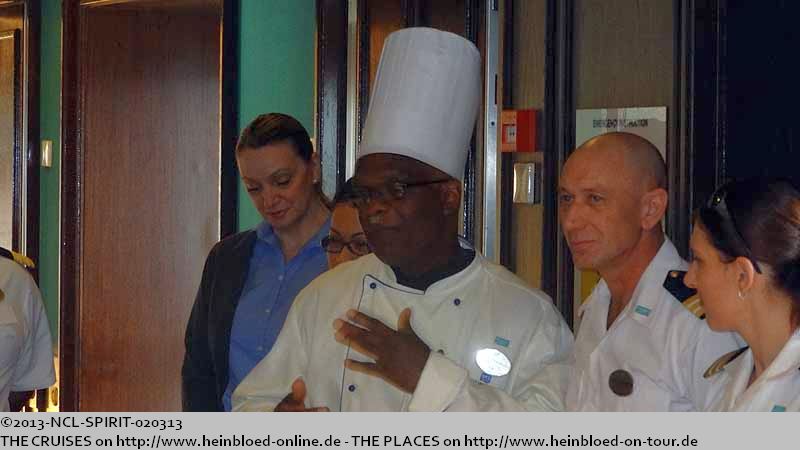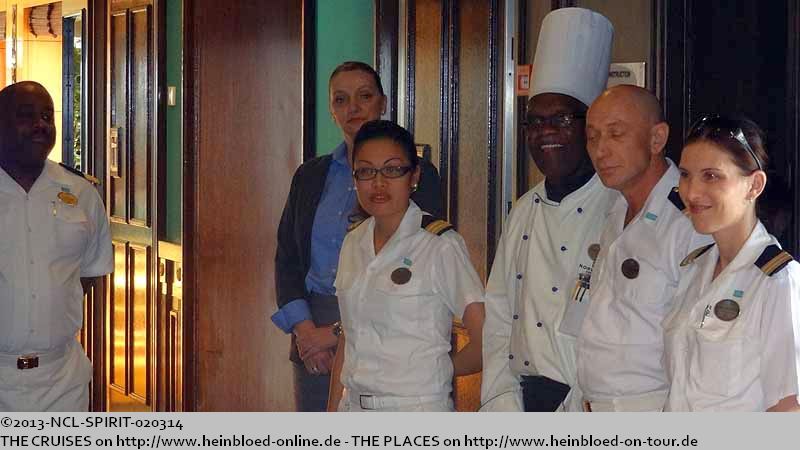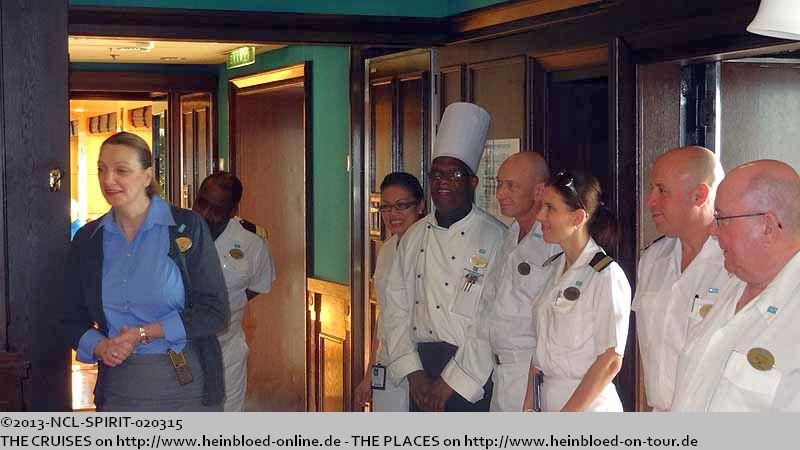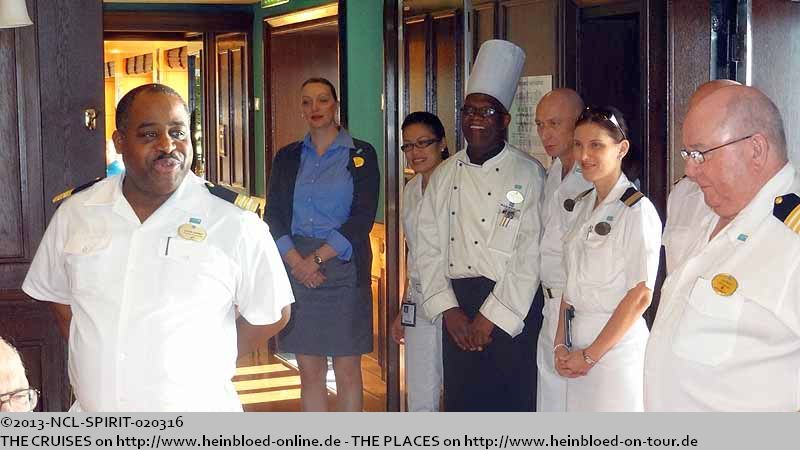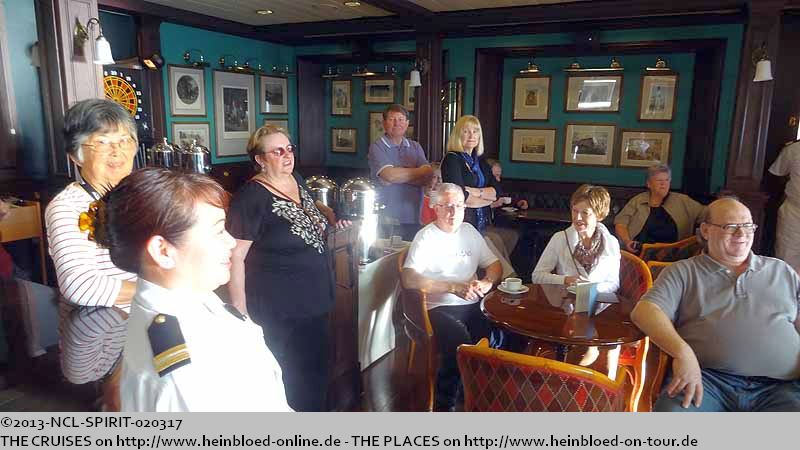 Schon 2011 hat mir Les erzählt, dass er eigentlich in Ruhestand ist und man ihn schon wieder zurückgeholt hat. Nun soll aber endlich Schluss sein.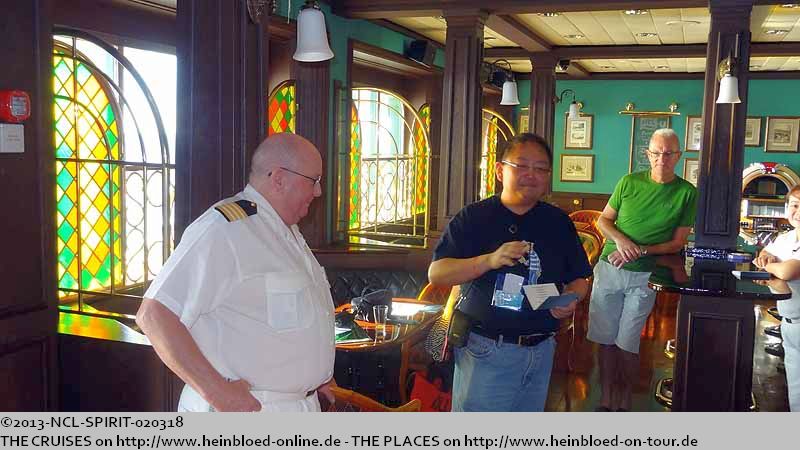 Already in 2011 Les told that he was already retired and they asked him to return again. But now it should the end.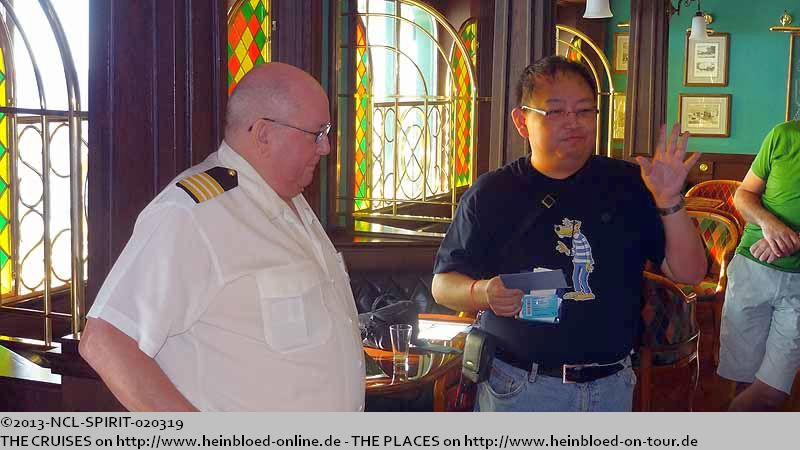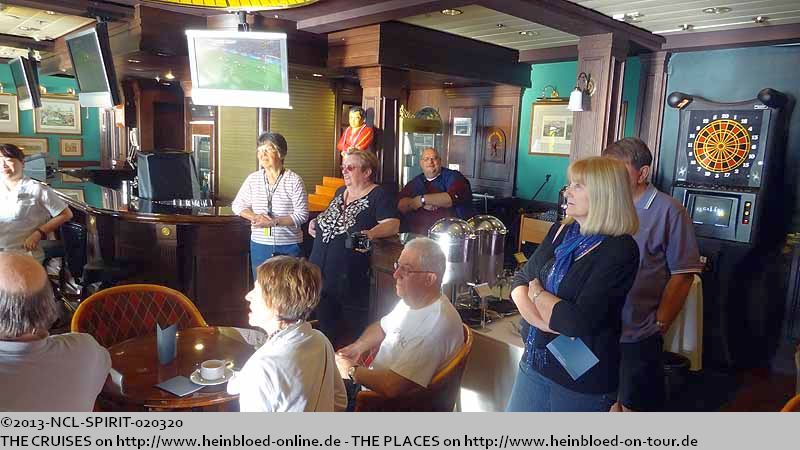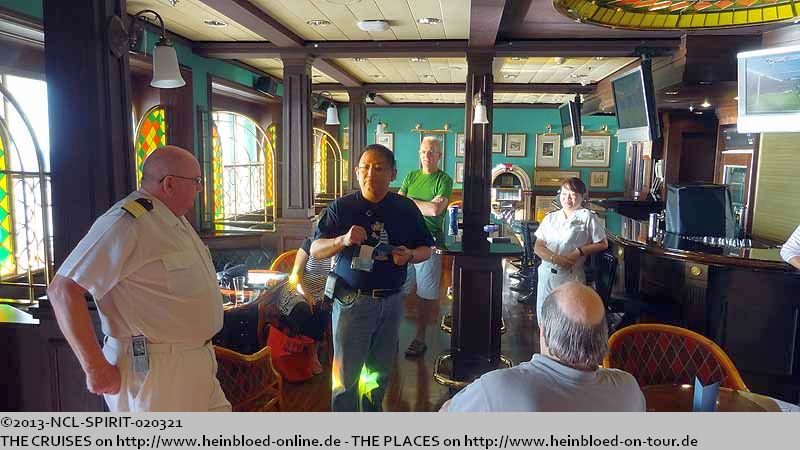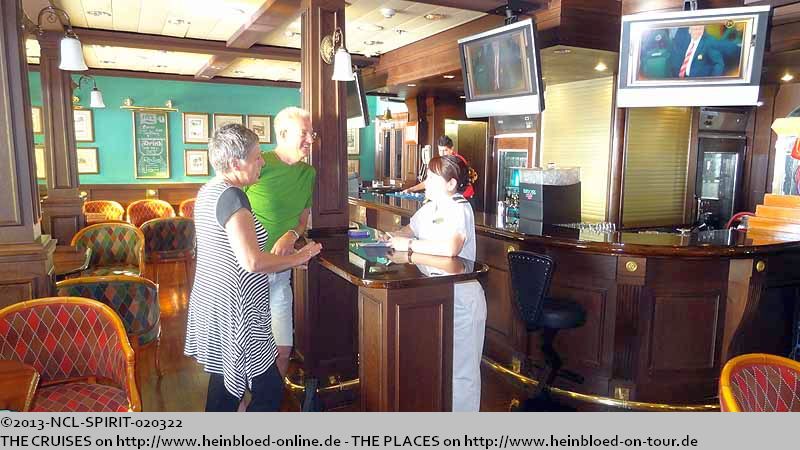 In the center you find Tinamama (Christina and Axel from Germany) whom we knew from a previous voyage on QUEEN ELIZABETH.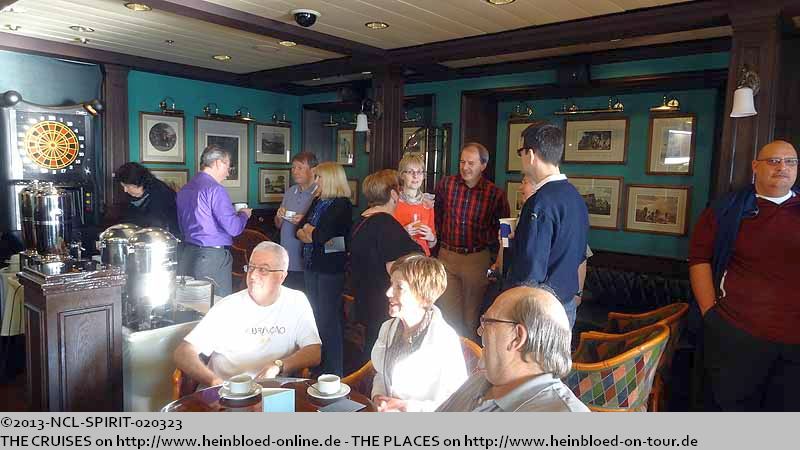 In der Mitte ist übrigens Tinamama (Christina und Axel), die wir von einer Fahrt bereits auf der QUEEN ELIZABETH kennen.
Frances unterhält sich gerade mit c_Christian25 (Christian), dem ich ein paar Außenaufnahmen von der NORWEGIAN EPIC zu verdanken habe, während ich auf unserem Balkon stand.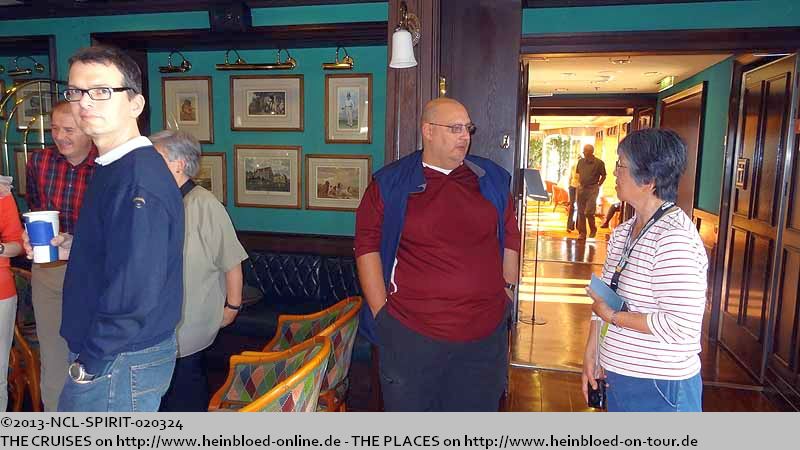 Frances had a talk with c_Christian25 (Christian from Germany) who gave me some exterior shots of the NORWEGIAN EPIC while I was on the balcony.

Eddie was not with us...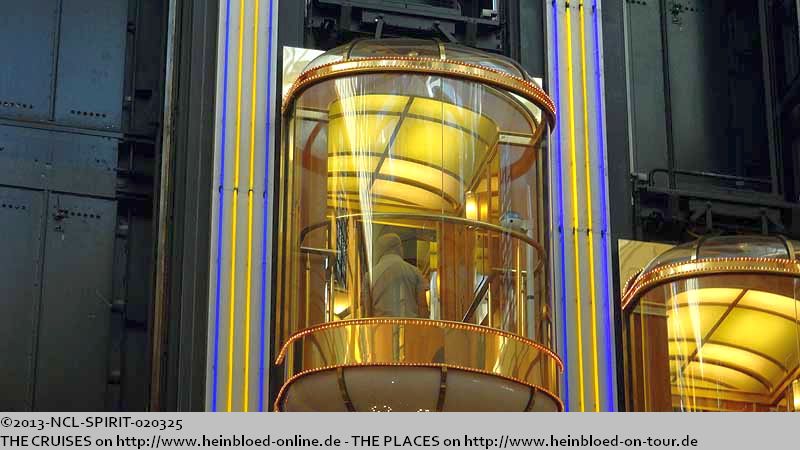 Eddie war leider nicht dabei...