Scroll down for English explanations - alternates with German explanations.

Land in Sicht - zu früh gefreut. Um 08.00 Uhr erfahren wir, dass wir in Arrecife nicht anlegen. Als Gründe wird der starke Wind genannt. Insbesondere soll er nachmittags stärker werden, dass wir werden u. U. Schwierigkeiten haben, den Hafen wieder zu verlassen, insbesondere weil wir ja ein technisches Problem haben. An weiteren Diskussionen beteilige ich mich nicht. Es ist die Entscheidung des Kapitäns und damit basta. Ich finde mich damit ab und werde nicht hysterisch, wie andere, die dann die Mitarbeiter der Rezeption anschreien. Ich zettele keine Sitzblockade an, weil ich denke, dass man so etwas hinterher in Ruhe mit Miami regeln kann. Allerdings ärgert es mich schon, dass die Ansage nicht 60 Minuten früher kommt: 1. wir hätten dann noch ein wenig länger schlafen können und 2. hätte ich Landnetz gehabt und hätte nicht zu horrenden Satellitentelefon-Preisen meinen Ausflug absagen müssen.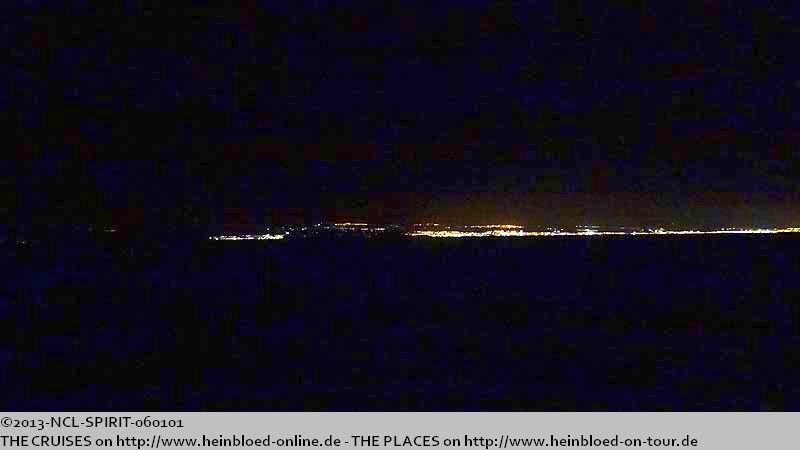 Land ahoy - looking forward too early. At 08.00 hrs we learned that we should not dock in Arrecife. That was due to strong winds. Especially the wind should become stronger in the afternoon that we might not have a chance to leave the port especially as we had some technical problems. I did not participate to further discussions. It was the decision of the Captain and so it was like it was. I accepted it and did not become hysterical like others who started to shout on the receptionists. I did not start a sit-in because I think the best would be to find a solution with Miami. But I was somehow angry that the announcement did not came 60 minutes earlier: 1. we could stay longer in our beds and 2. I could use the landlines and not the expensive sattelite phonelines to cancel my private tour.

So we were much too early for breakfast at Windows while others had a fight up in the Raffles Court because they expect any minute our arrival and to leave the ship.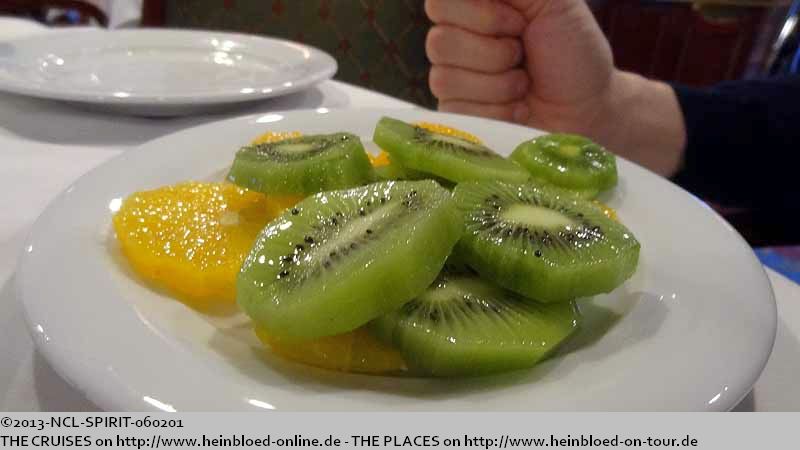 So sind wir viel zu zeitig zum Frühstück im Windows erschienen und andere prügeln sich gerade oben im Raffles Court, weil sie denken, dass wir jeden Augenblick anlegen und sofort von Bord müssen.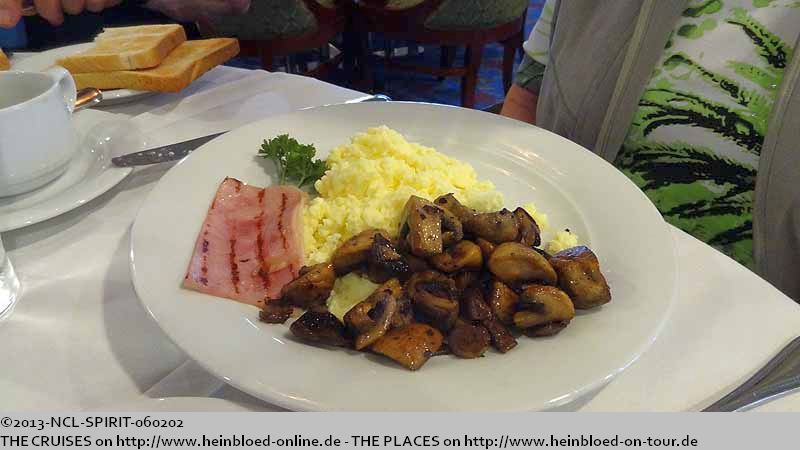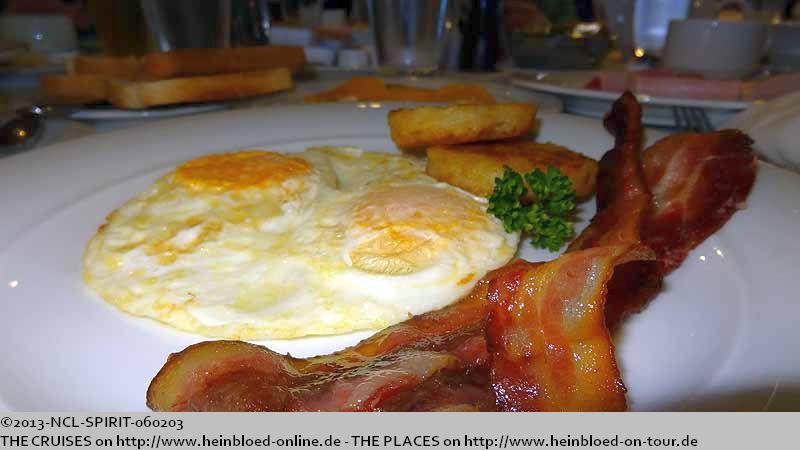 For 3.50 USD plus 15% service-charge we got a giant cup of fresh-squeezed orange juice.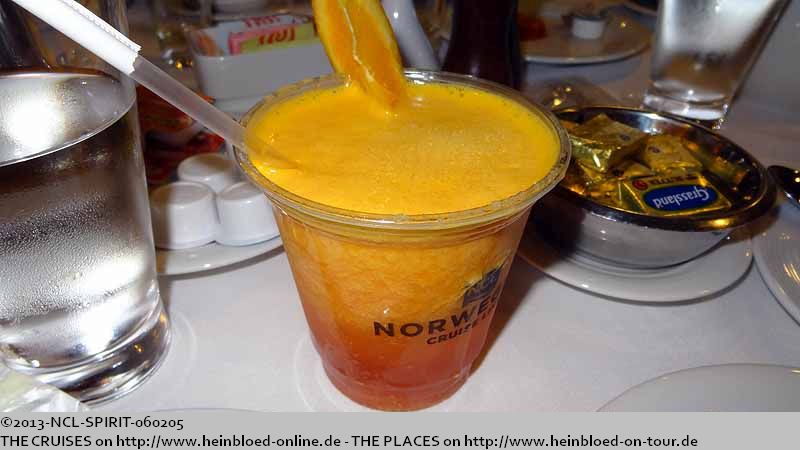 Für 3,50 USD plus 15% Service-Charge bekommen wir einen Riesenbecher frisch-gepressten Orangensaft.
Später erfahre ich, dass sie ihn extra von Deck 12 holen müssen.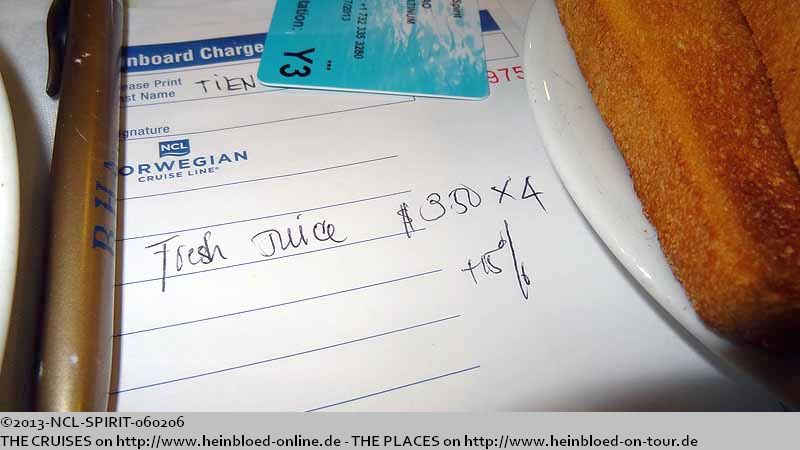 Later I learned that they had to get them from Deck 12.

My English sausages, black pudding etc. which we could could get at Windows.

Meine englischen Würstchen, Blutwurst usw., was es leider unten im Windows alles nicht gibt.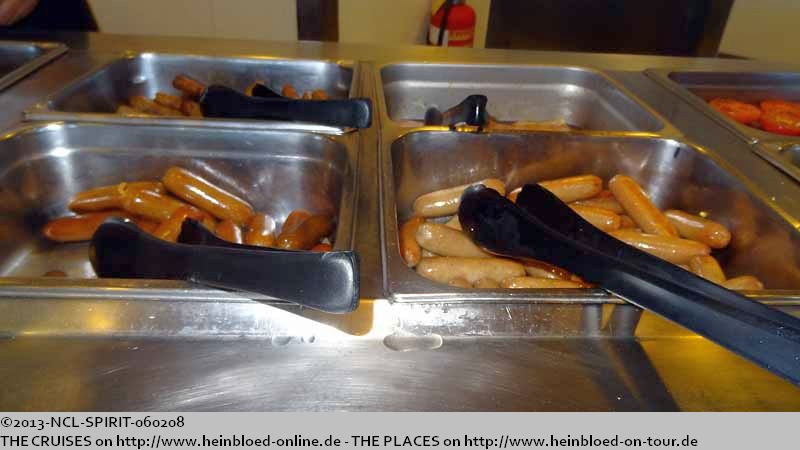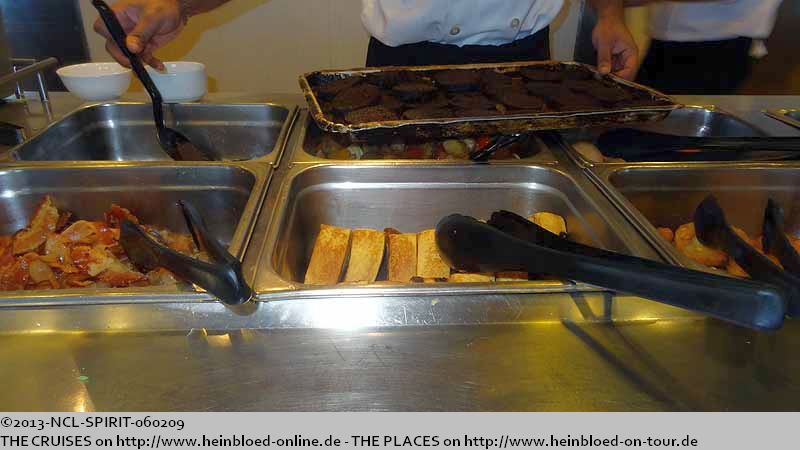 Irgendwann kommt das geänderte Tagesprogramm. Dass wir Arrecife nicht anlaufen bringt die Gastkünstler zur Verzweiflung. Sie hätten in Arrecife von Bord gehen sollen und neue hätten an Bord kommen sollen. Fragt sich bloß, ob die neuen Künstler die Verpflichtungen der alten Künstler an Land wahrnehmen können. Denn die alten Künstler an Bord übernehmen die Verpflichtungen der neuen Künstler und geben ein Zusatzkonzert. Wir bekommen zumindest die Hafensteuern auf das Bordkonto erstattet.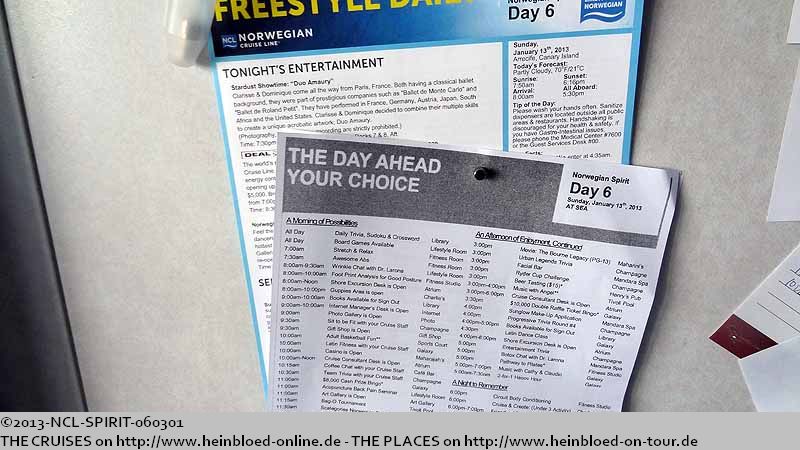 Later we got the altered daily programme. As we did not call Arrecife some of the guest entertainters were getting mad. They should leave in Arrecife the ship and new should join us on board. Just wondering if the new guests entertainers could take over the obligations of the previous guest entertainers. The previous guest entertainers took over the obligations of the new entertainers and so they had an additional show. We got a refund of the port taxes.

Mail again...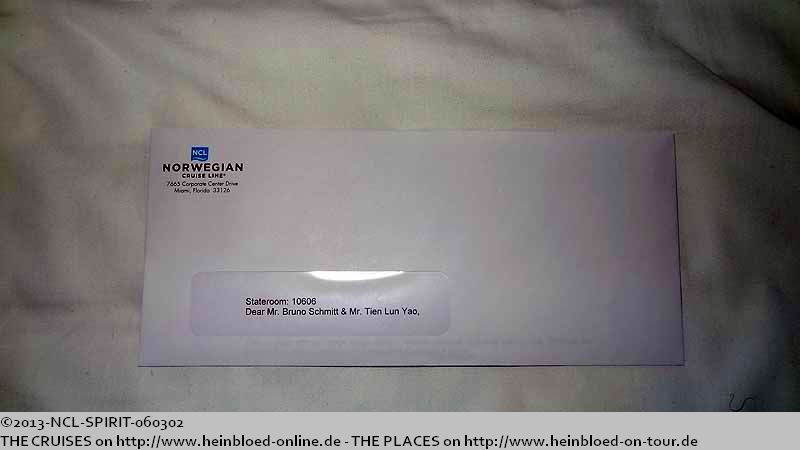 Schon wieder Post...
Und wie üblich gehen wir Kaffeetrinken, wie an allen Seetagen.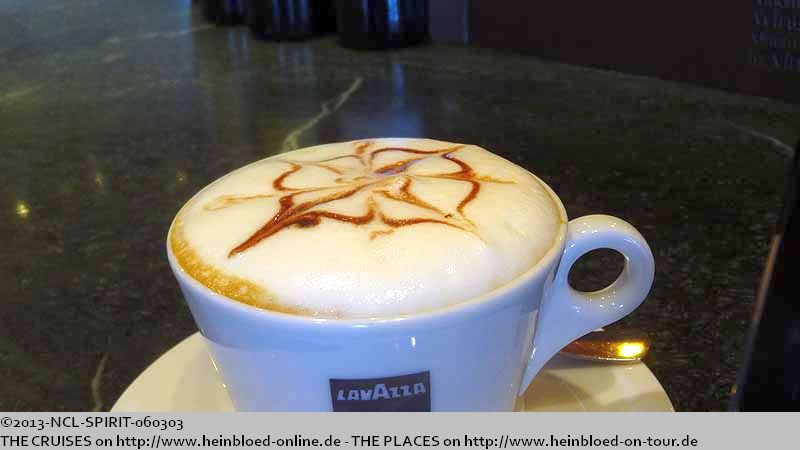 As usual we went to have some coffee like on all days at sea.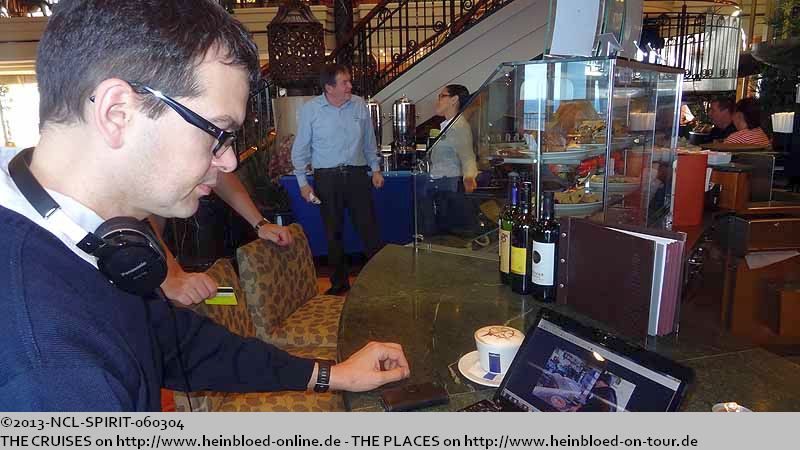 Karl-Heinz und Käthe bieten uns deren Mineralwasser an, weil sie irrtümlich stilles bekommen haben. Aber wir halten kurz Rücksprache mit Bar Manager Geanina, die kurzerhand jemand in die Kabine von denen schickt und die Flaschen gegen San Pellegrino austauschen lässt. Das ist das schöne bei NCL: ich bislang selten erlebt, dass nicht meine Anfragen positiv entgegnet wurde. Und ich hätte Geanina auch THEORETISCH über die verstopfte Toilette in der Kabine oder verlorenes Gepäck erzählen können. Was mich begeistert bei NCL: Jeder in einer höheren Position hat einen Block dabei und notiert sich sofort Kabinennummer und dein Anliegen. Nur einmal wurde ich während der Fahrt von Pontius zu Pilatus geschickt... 20 m von der Rezeption zum Cruise Consultant, aber auch bloß weil er offen hatte, niemand in der Schlange stand und sie meinten, dass das der schnellste Weg wäre, um zum Ziel zu kommen. Sonst hätten sie sich auch darum gekümmert.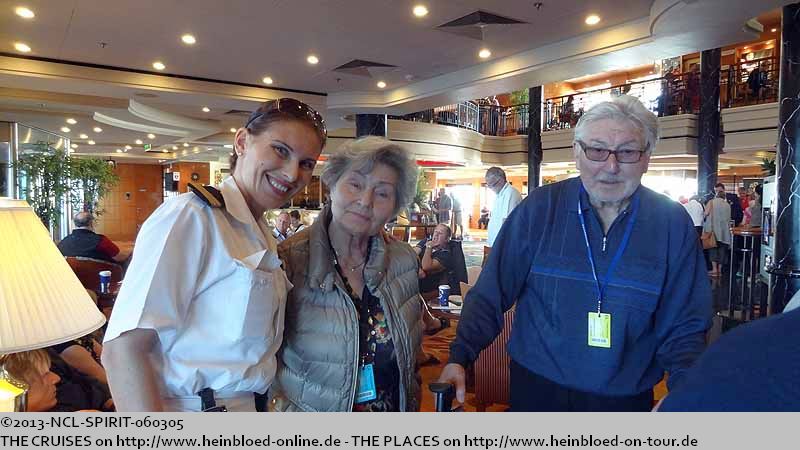 Charlie and Katie offered us their mineral water because they got by mistake some still. But we had few words with Bar Manager Geanina who sent someone to the cabin and let the still water replaced by San Pellegrino. That is the nice with NCL: I never experienced so far that any of my request was not responded positively. And I could tell Geanina also IN THEORY about our congested toilet or lost baggage. What makes me very happy: Each of the superior crew-members has a notepad and noted the cabin number and the request. Only one time I was sent from pillar to post... 50 feet from the front desk to the cruise consultant - but only his office was open, nobody was queuing up and they found that would be the fastest way to reach my target. Otherwise they would take care of it.

White Hot Party... we had luck that not all of the crew must weart the t-shirts anymore.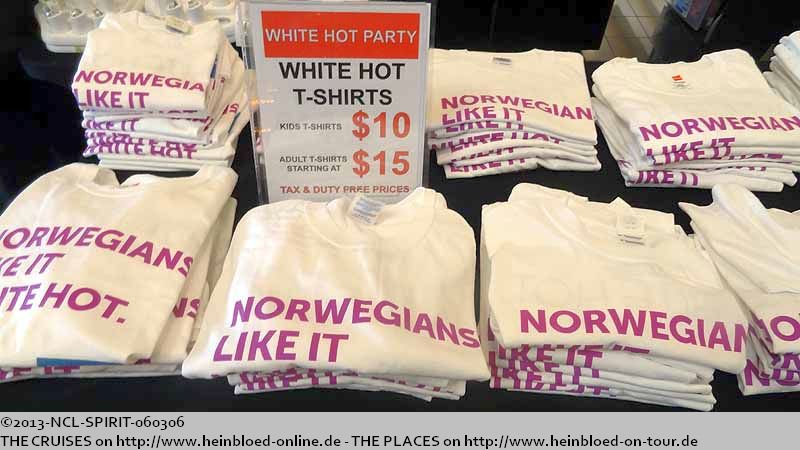 White Hot Party... zum Glück muss nicht mehr die gesamte Crew in den T-Shirts rumlaufen.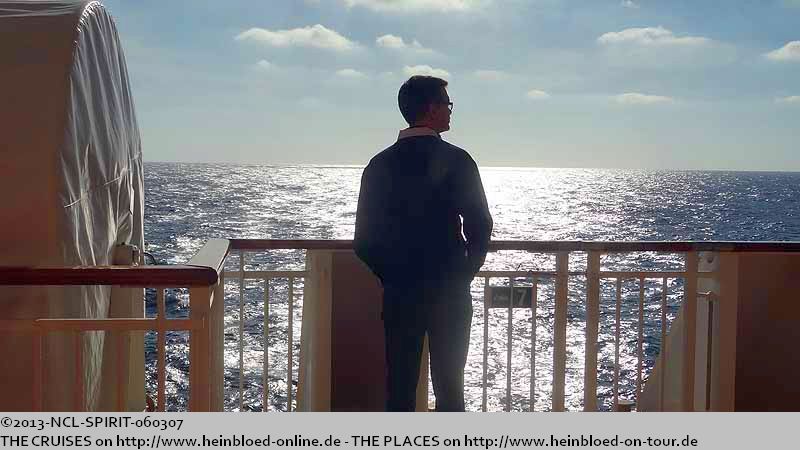 How sad: such a nice promenade but not too many sunbeds...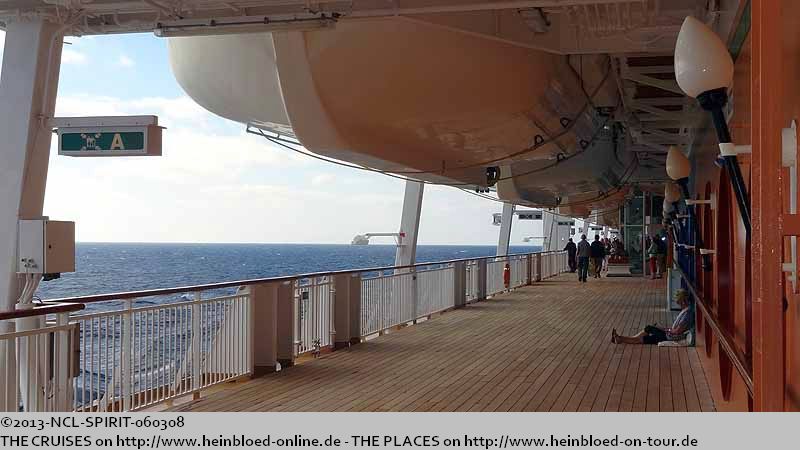 Was schade ist: so eine schöne Promenade und so wenig Sonnenliegen...
Hier ist die Concierge Lounge. Normalerweise kennen wir von den anderen Schiffen es so, dass wir ihn (hier sie) während der Frühstückszeiten persönlich erreichen. Aber es war kein Problem sie telefonisch zu erreichen.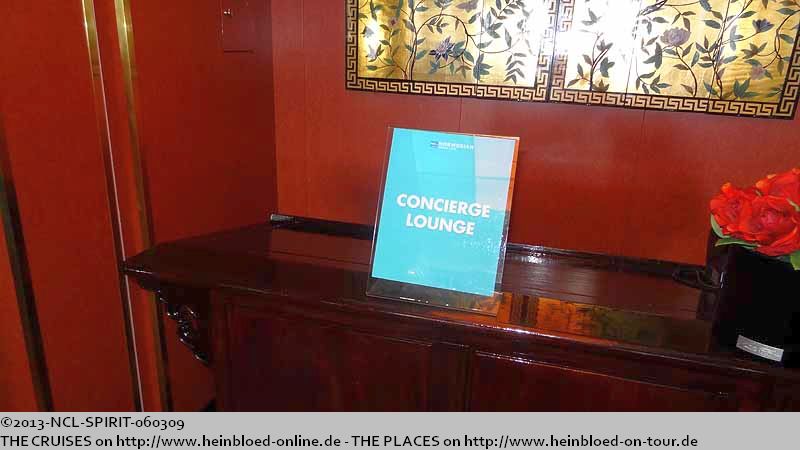 This is the Concierge Lounge. Normally we knew from other ships that you can reach him (or here her) during the breakfast hours personally. But it was never a problem to get her by phone.

My beloved Cagney's... Then my very first time on NORWEGIAN SPIRIT in 2007... Luiza Andrej as Assistent Maître D' who promised to prepare herself for me a Cesar's Salad and who always disappear every time she saw me when I remembered her to this event... Always a reason to book NCL... Now she is Restaurant Manager on NORWEGIAN EPIC. We hope to see her again on NORWEGIAN BREAKAWAY in April and even she might become fleetwide Hotel Director... I WILL ALWAYS REMEMBER HER TO MY CESAR'S SALAD... I will have the patience... few more years... as long as she had not packed the salad in tupperware in 2007 and will serve then...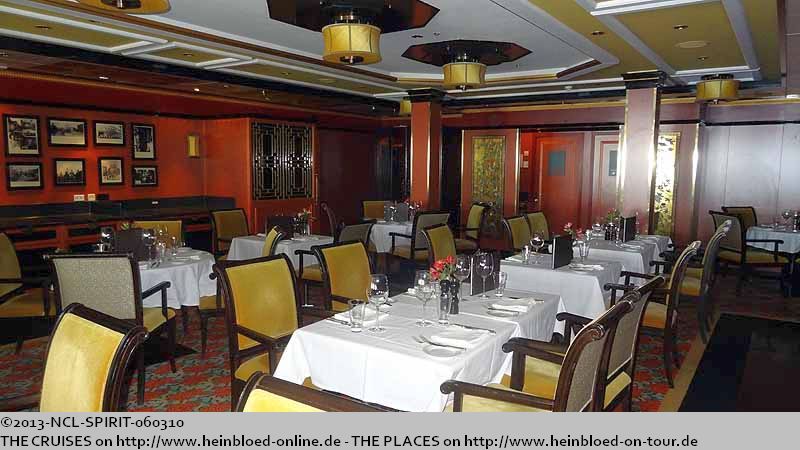 Mein geliebtes Cagney's... Damals noch bei meinem ersten Mal auf der NORWEGIAN SPIRIT im Jahre 2007... Luiza Andrej als Assistent Maître D', die mir einen Cesar's Salad versprochen hat, den sie selbst für mich zubereitet und seitdem immer regelmäßig aus meinem Blickfeld verschwindet, wenn ich sie daran erinnere... Grund immer wieder NCL zu buchen... Nun ist sie Restaurant Manager auf der NORWEGIAN EPIC. Wir sehen sie hoffentlich auf der NORWEGIAN BREAKAWAY im April wieder und selbst wenn sie eines Tages Fleetwide Hotel Director wird... ICH WERDE SIE REGELMÄSSIG AN MEINEN CESAR'S SALAD ERINNERN... Ich warte geduldig... auch noch ein paar Jahre... solange sie nicht den Salat bereits 2007 noch zubereitet hat und seitdem in einer Tupperdose mitführt und mir dann serviert...
Für mich sind die Bilder aus dem alten Schanghai immer ein Stück meiner eigenen Geschichte (so alt bin ich auch wieder nicht, aber ich musste mir viele Geschichten von meinem Vater anhören).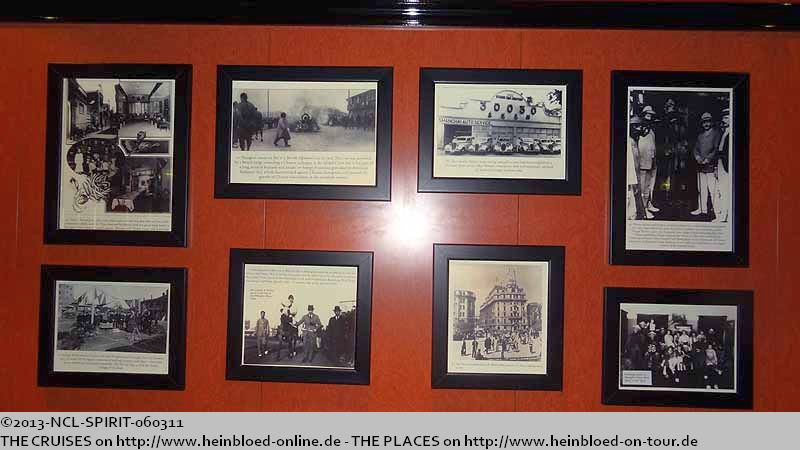 For me thoses pictures from the ancient Shanghai are part of my own history (I am not so old but I need to listen so many stories from my father).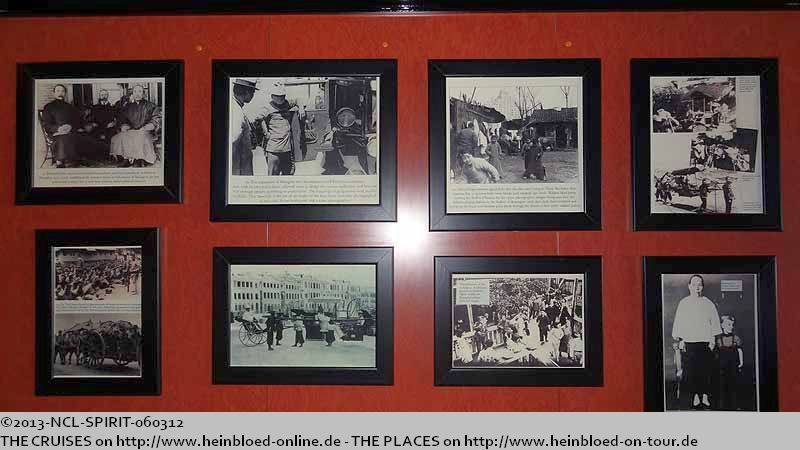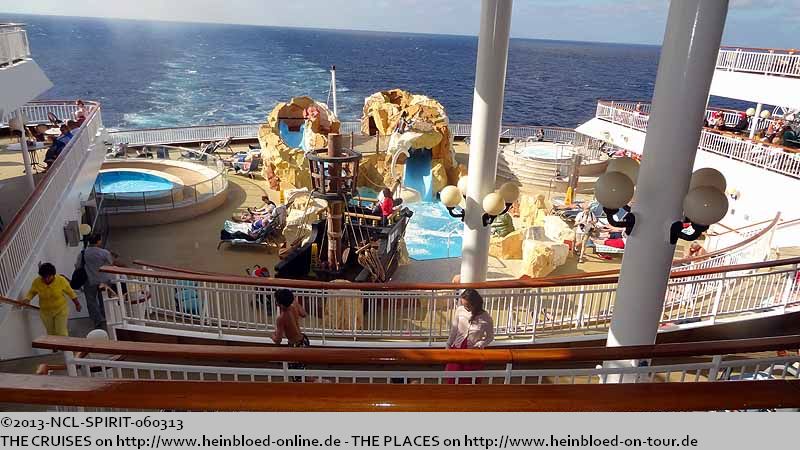 The bucket...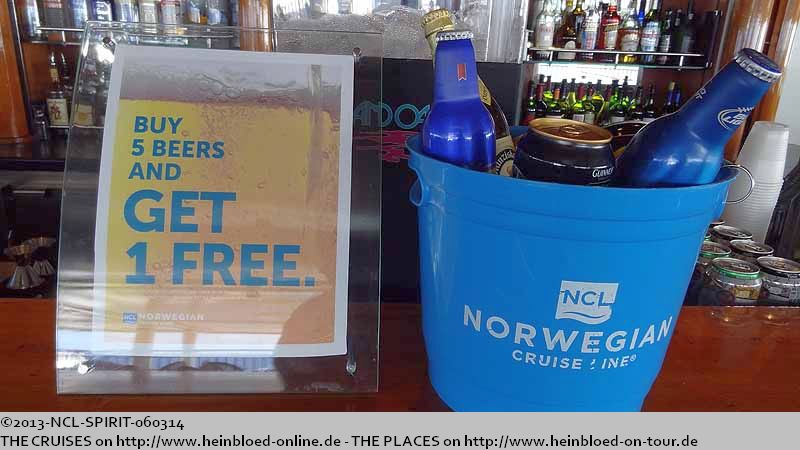 Der Eimer...
Shridhar und sein Kollege aus La Trotteria Ravikumar Rajoo, die wir hoffentlich auf vielen zukünftigen Fahrten auch wiedertreffen.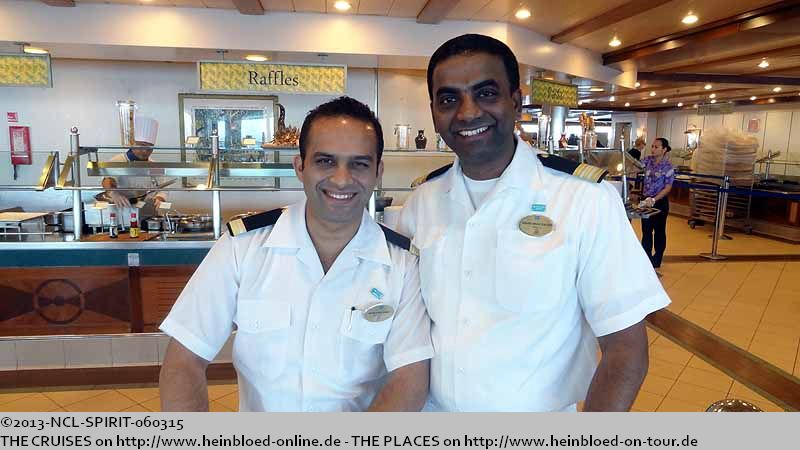 Shridhar and his collegue from La Trotteria Ravikumar Rajoo whom we hope to meet them many many times again on future voyages.