Scroll down for English explanations - alternates with German explanations.

Da wir mit der Metro 4 am Passeig de Gracia ankommen, sind wir sehr froh, dass wir sehr frühzeitig da waren...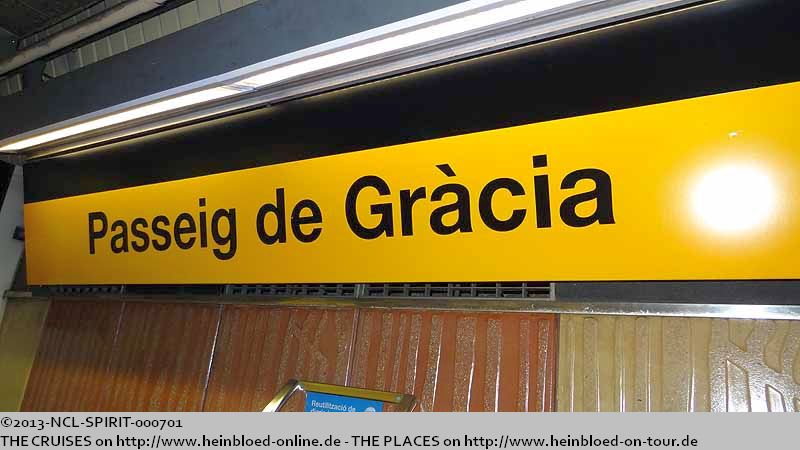 As we arrived by Metro 4 at Passeig de Gracia we were quite happy that we arrived earlier...

We were on the way to the airport.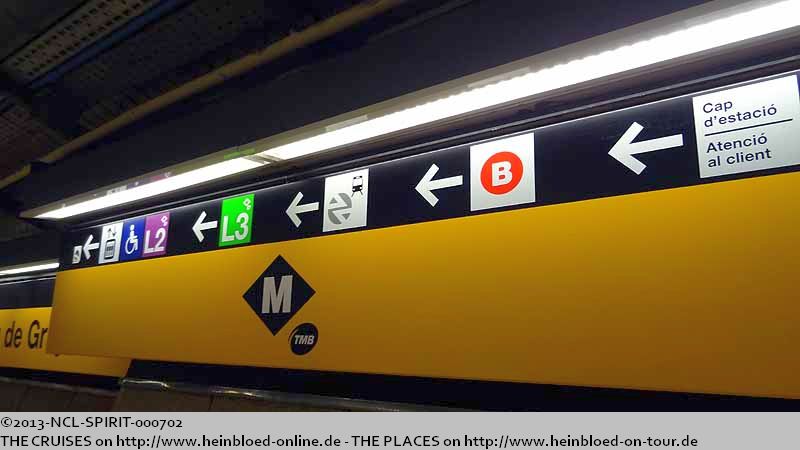 Wir müssen zum Flughafen.
Deswegen folgen wir den Schildern zu den RENFE-Zügen.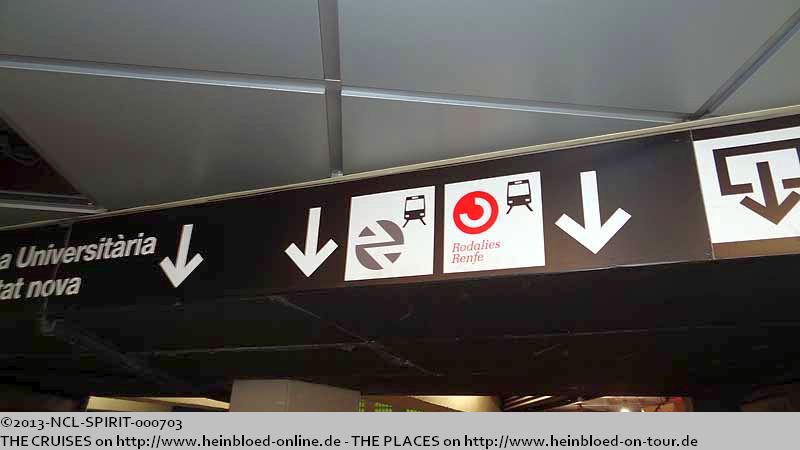 So we need to follow the signs to the RENFE-trains.

Endless...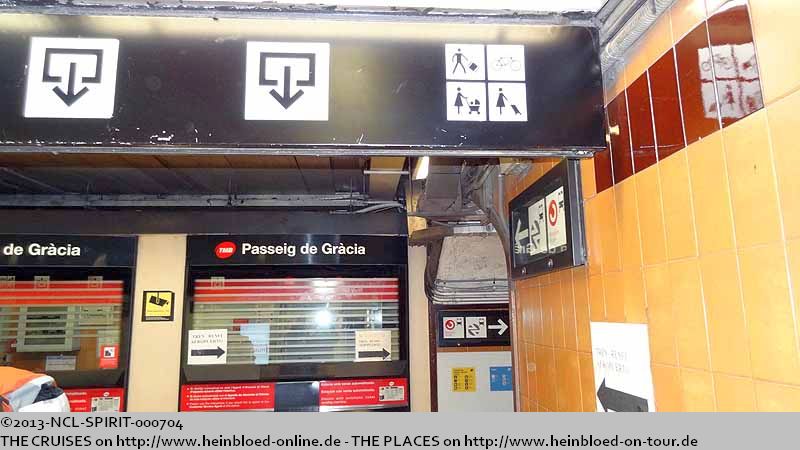 Endlos...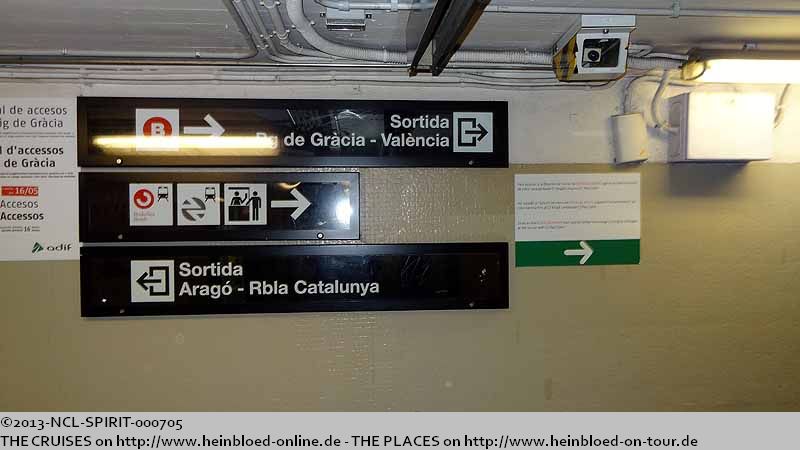 Down and up...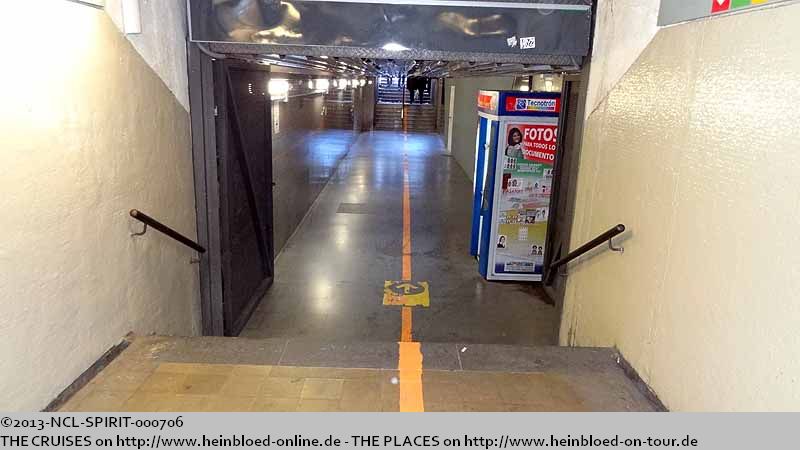 Runter und rauf...
und raus... auf die Passeig de Gracia.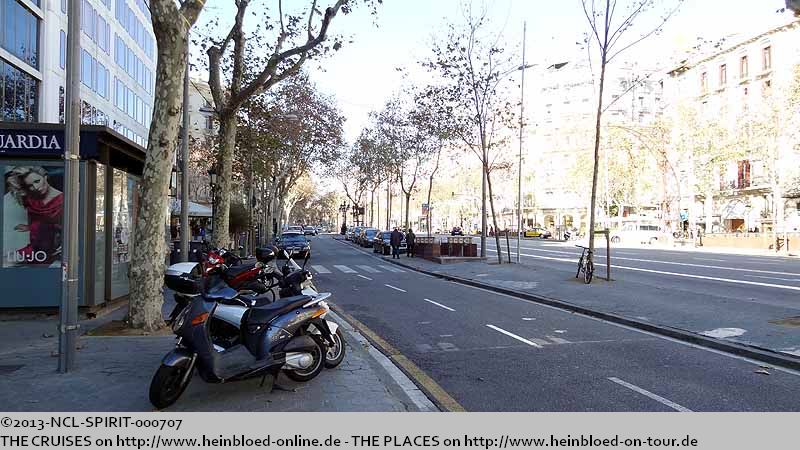 and out... on Passeig de Gracia.

Currently you need to cross the street if you need to change as currently there is a construction site at the train station.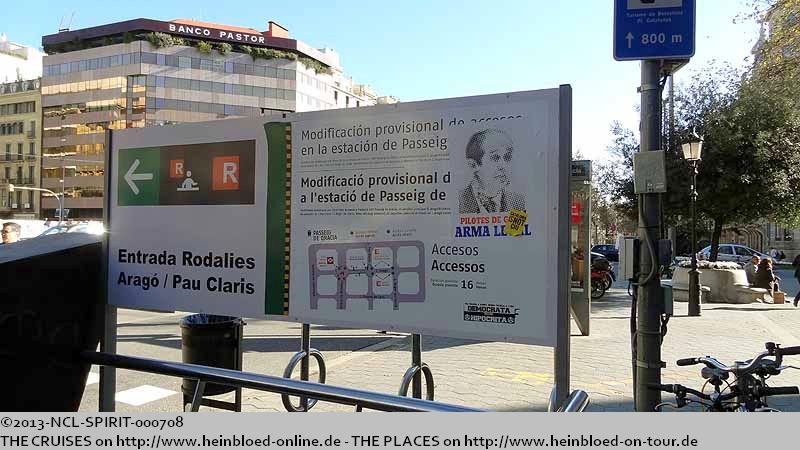 Denn im Moment muss man nämlich über die Straße, wenn man umsteigt, weil im Moment der Bahnhof umgebaut wird.
Die unglücklichste Konstellation ist dabei der Umstieg von der Metro 4.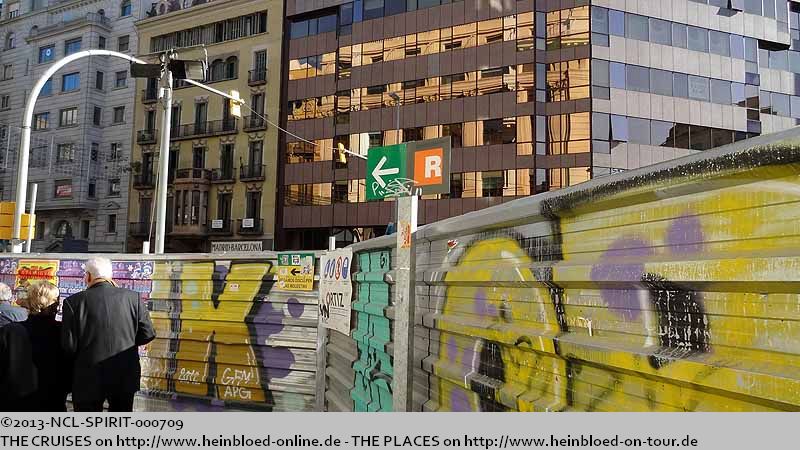 The most unconvenient constellation therefore is the transfer from Metro 4.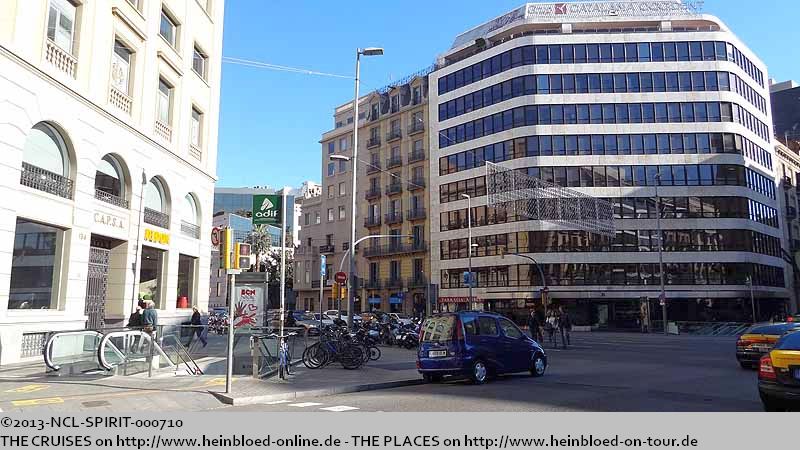 Hier sind wir richtig: die S-Bahn-Züge der RENFE heißen
Cercanias
. ADIF ist die spanische Eisenbahninfrastrukturgesellschaft zu denen auch die Bahnhöfe gehören. Daher nicht wundern. Hier ist man richtig, wenn man zum Flughafen will.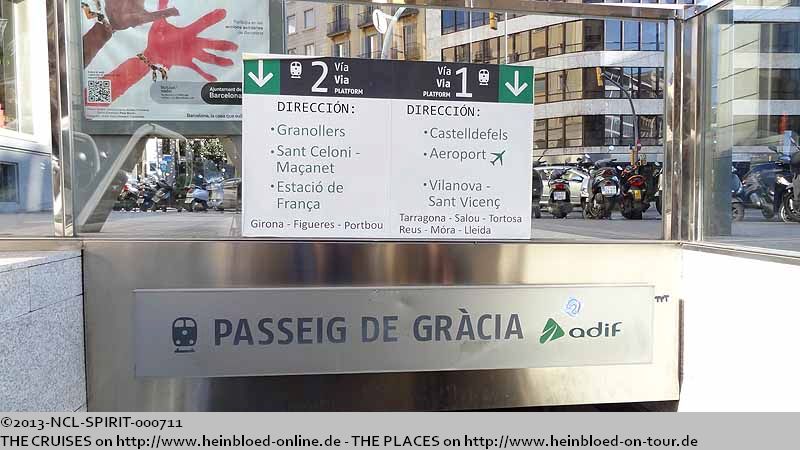 Here we were right: the commuter trains of RENFE call Cercanias. AIDF is the Spanish rail infrastructure company who also run the train stations. So do not wonder. Here you are right when you need to get to the airport.

We were in the right train. No displays in English or Spanish. It's part of the integrated tariff.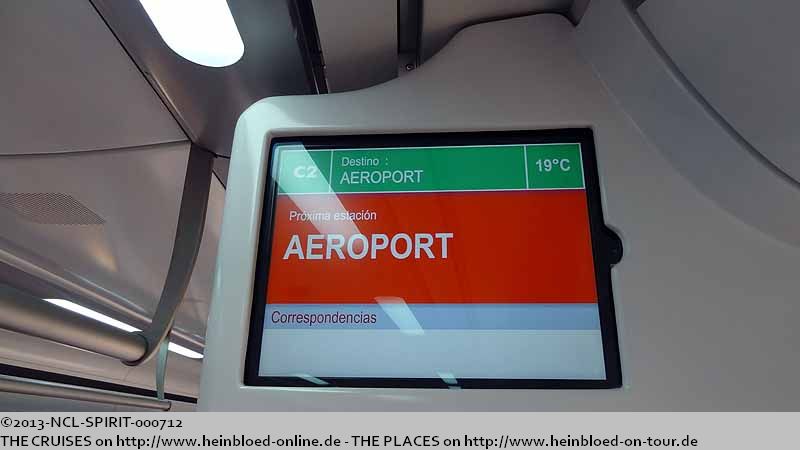 Wir sitzen im richtigen Zug. Keine Hinweise in Englisch oder Spanisch. Hier gilt der Verbundtarif.
Am Flughafen sieht man, wie voll der Zug war und wie beschwerlich es ist, zum Flughafen oder zum Zug zu kommen. Der Bahnsteig ist nämlich zu eng, um gleichzeitig die ankommenden als auch die abreisenden Gäste aufzunehmen.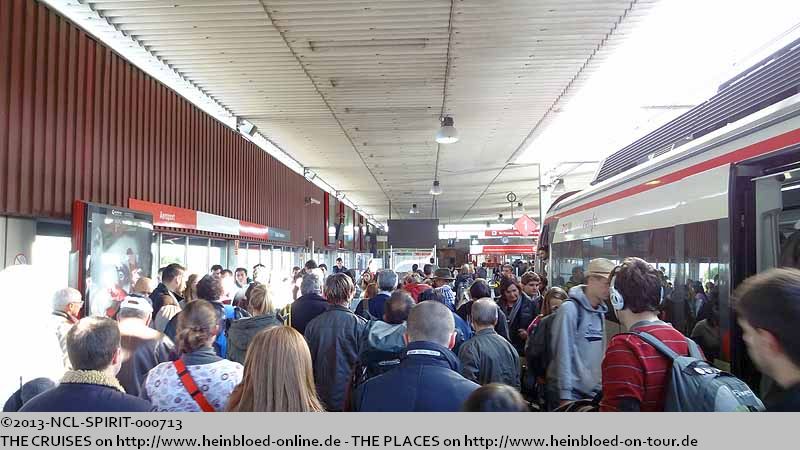 You could feel how full the train was once you arrived at the airport and how difficult it be to get to the airport or to the train. The platform is much too narrow to accomodate the arriving and departing passenger at the same time.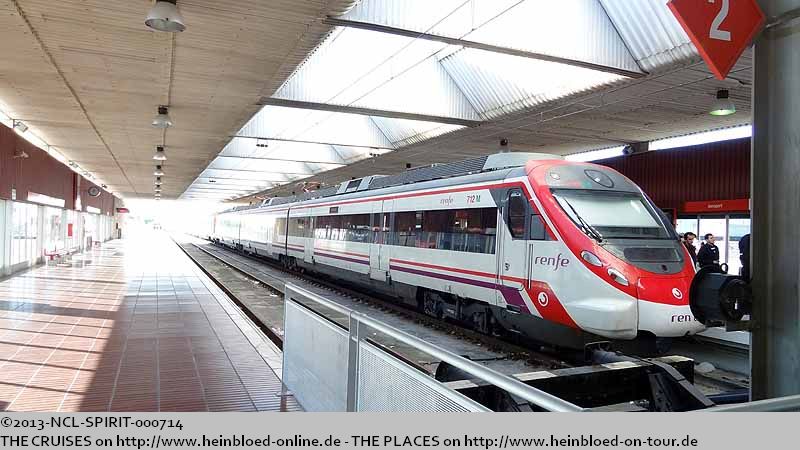 Über eine enge Treppe geht es auf die Brücke.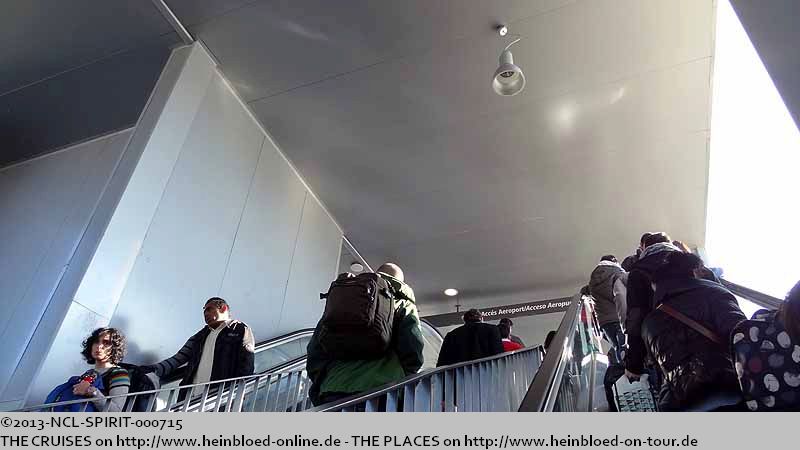 You had to get on a narrow stairway on the bridge.

The moving walkways were taken out of service and removed.

Die Laufbänder sind stillgelegt und abgebaut.
Weiter geht es ins Terminal 2.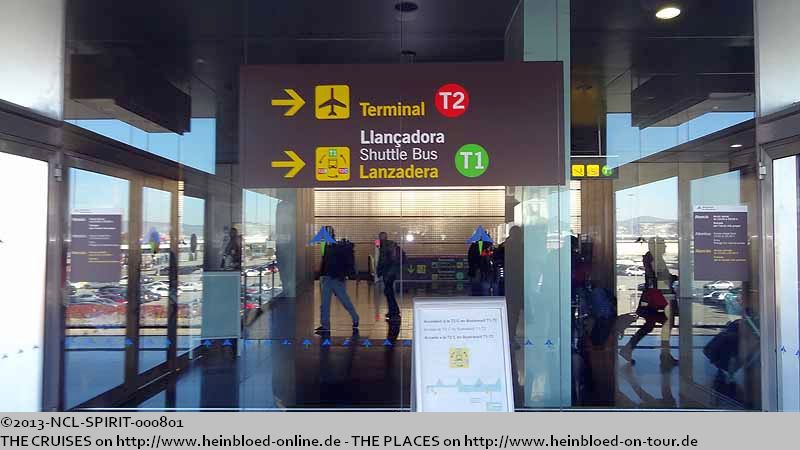 Here we headed to Terminal 2.

From here you can get shuttle buses to Terminal 2C or 1.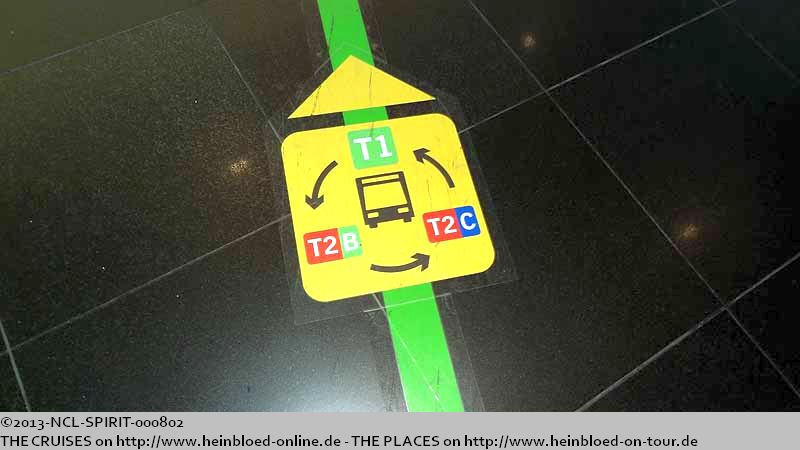 Von hier aus führen die Shuttle-Busse zum Terminal 2C bzw. 1.
Der grüne fährt zu den anderen Terminals. Der blaue ist der Aerobus in die Stadt.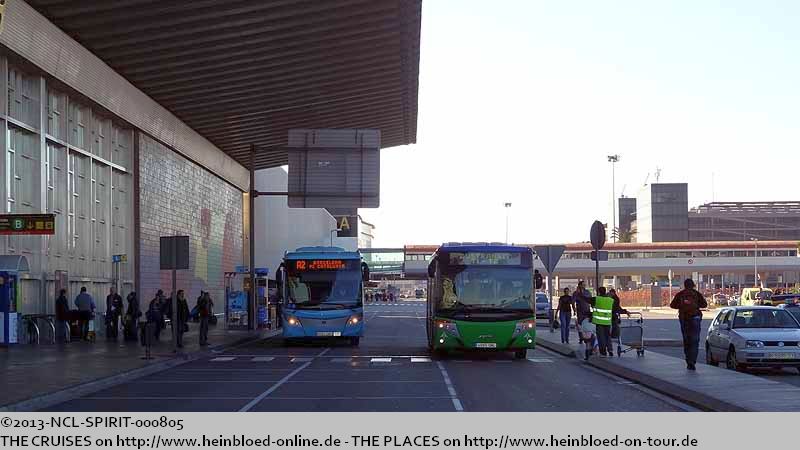 The green one takes you to the other terminals. The blue one is the Aerobus towards the city.

Just for the return flight we need to remember counter 72/73.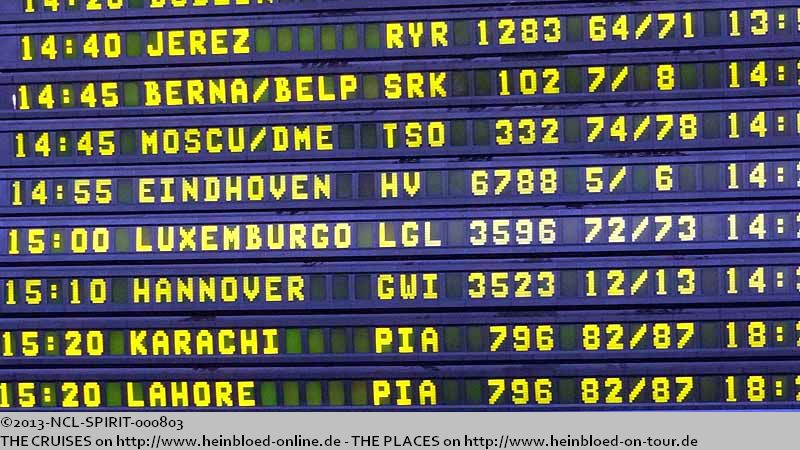 Für den Rückflug merken wir uns schon mal Schalter 72/73.
Und dann stellen wir in der Ankunftshalle fest: wir keine Minute zu früh gekommen... denn die Maschine mit Brunos Eltern ist 22 Minuten früher gelandet.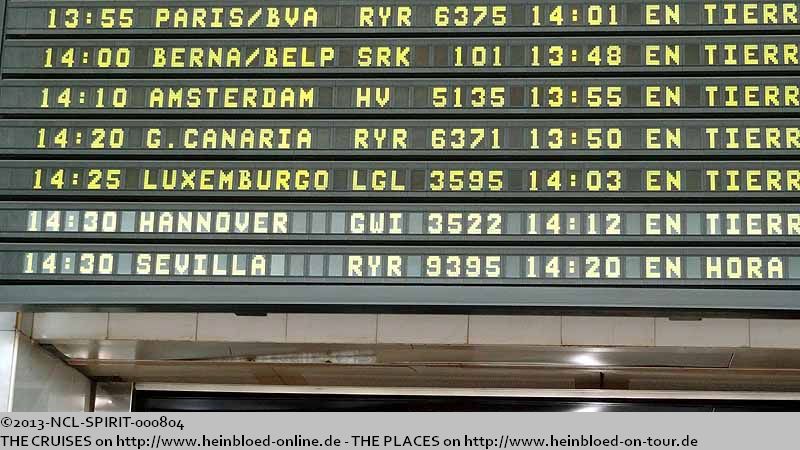 When we arrived at the arrival hall we just noticed that we did not arrive one minute too early... because Bruno's parents' flight arrived 22 minutes earlier.

As we had no chance to show Bruno's parents around in Barcelona we asked for a delivery at the stop in the center of the aerial tram (ropecar) to the fortress: Mirador.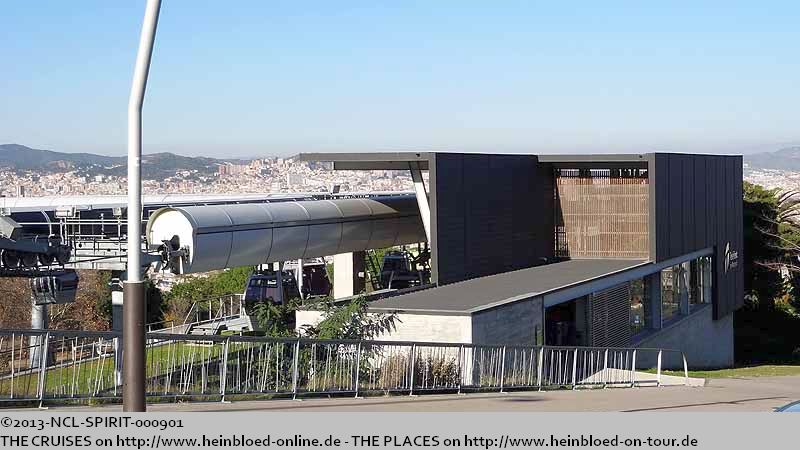 Da wir beim letzten Mal keine Gelegenheit hatten, Brunos Eltern Barcelona zu zeigen, lassen wir uns zunächst an der Mittelstation der
Seilbahn
zum Kastell absetzen: Mirador.
In diesem Teil des Montjuics waren wir noch nie. So sehen wir uns zunächst noch ein wenig um, bevor es auf die Seilbahn geht. Es ist wunderschön.

We have never been before in this part of Montjuic. So we took the time to browse around before we used the ropecar. It was most beautiful.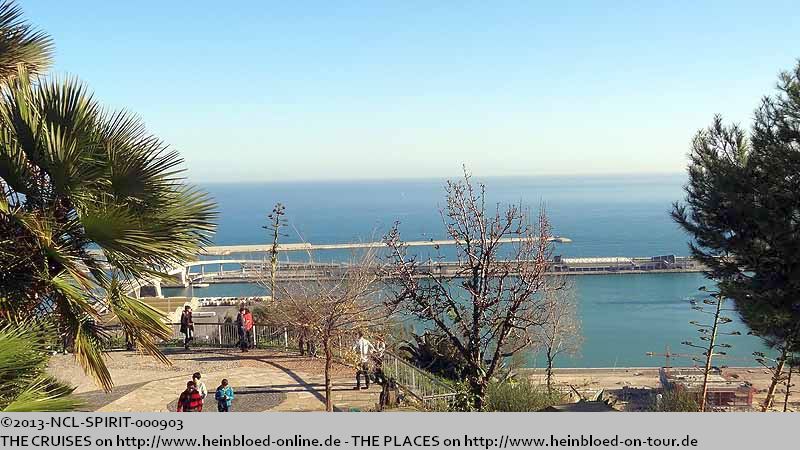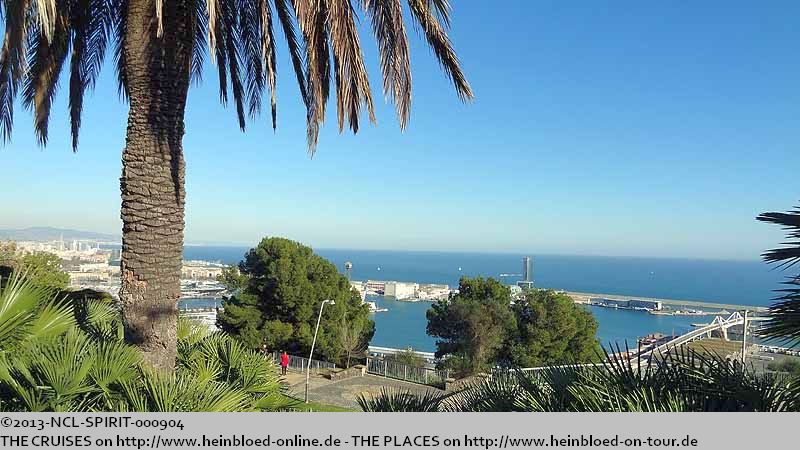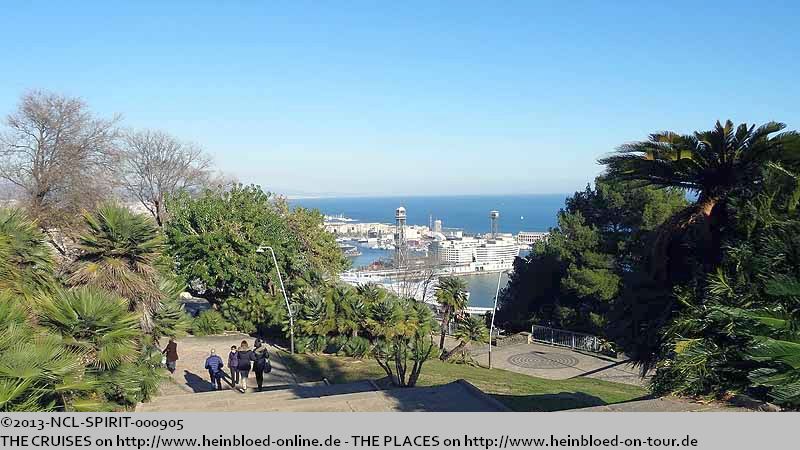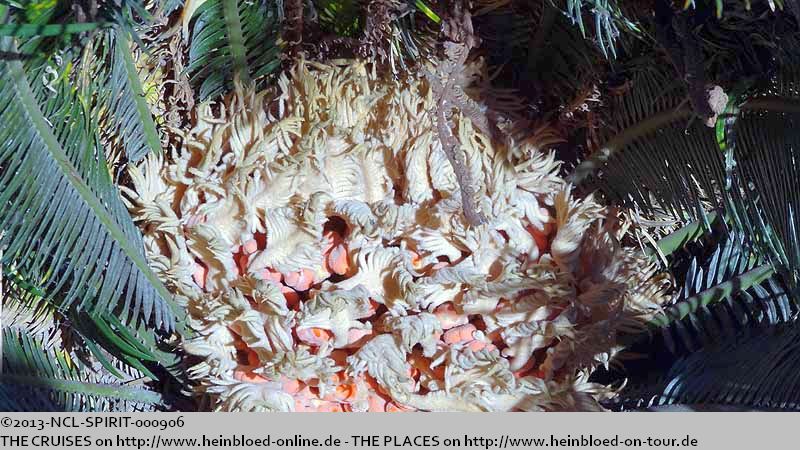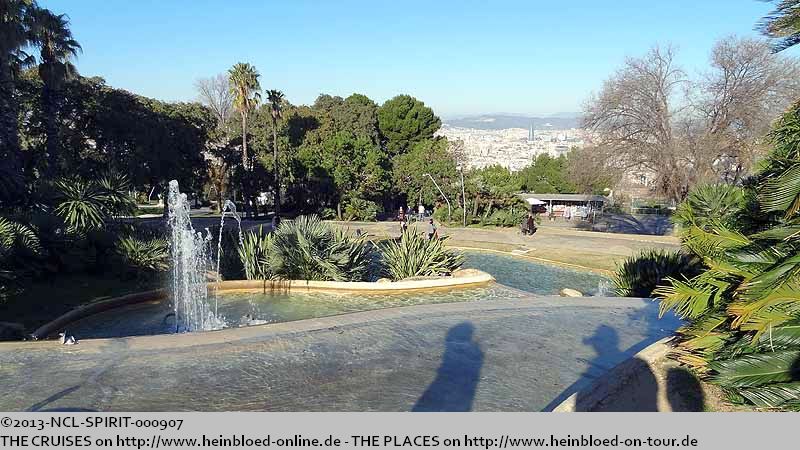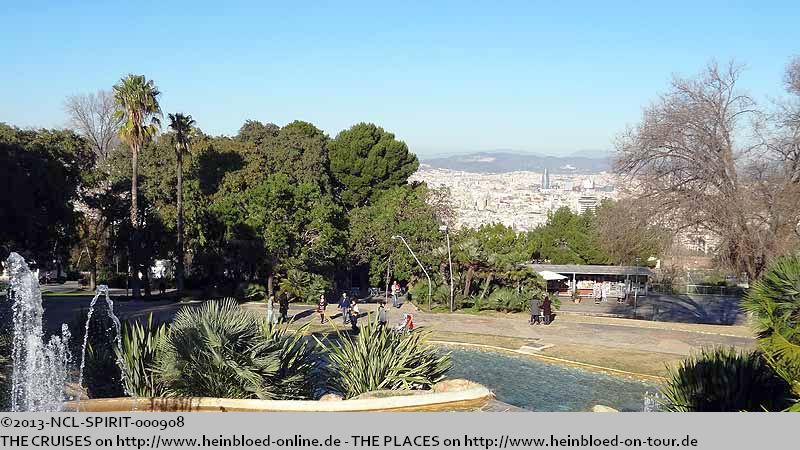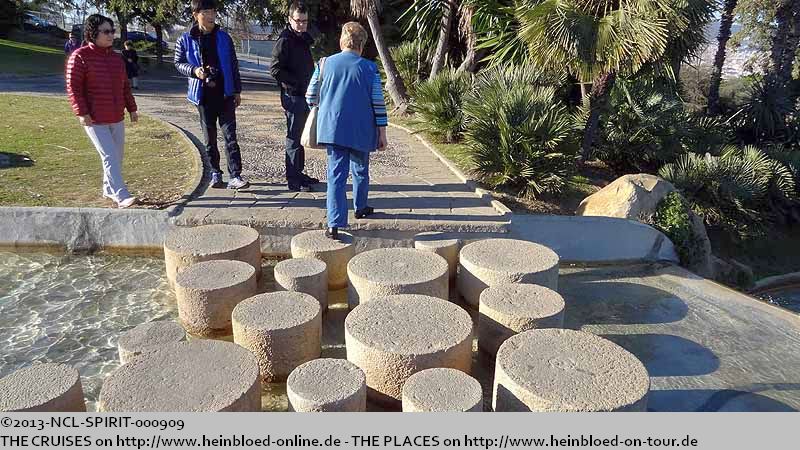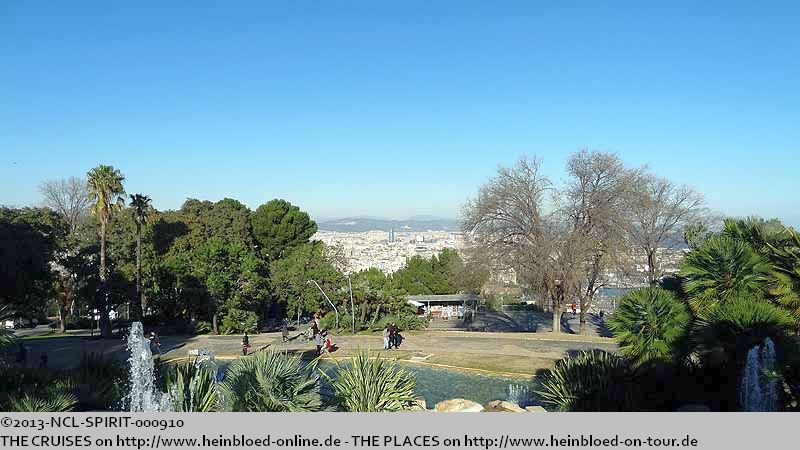 As you cannot get up first and then dwon you need get down and then up and again down as we were expected at the bottom stop.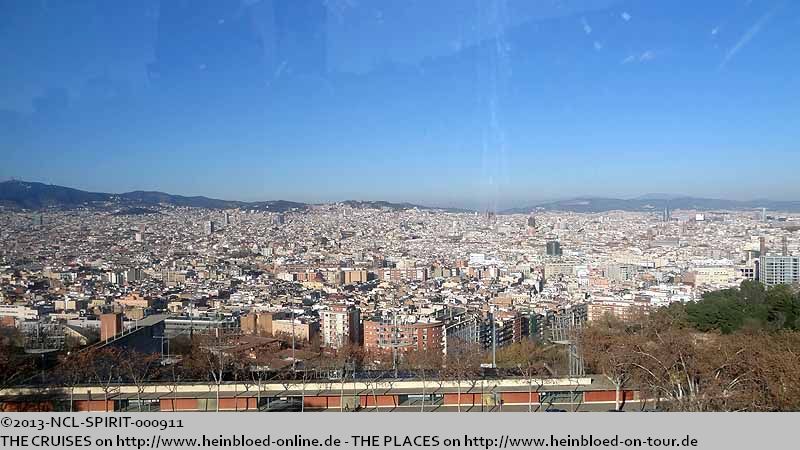 Da man nicht erst rauf fahren kann und dann runter, müssen wir leider erst runter und dann komplett rauf und dann wieder komplett runter, weil wir an der Talstation erwartet werden.
Mittlerweile kostet eine Rundfahrt 10,30 EUR (2013)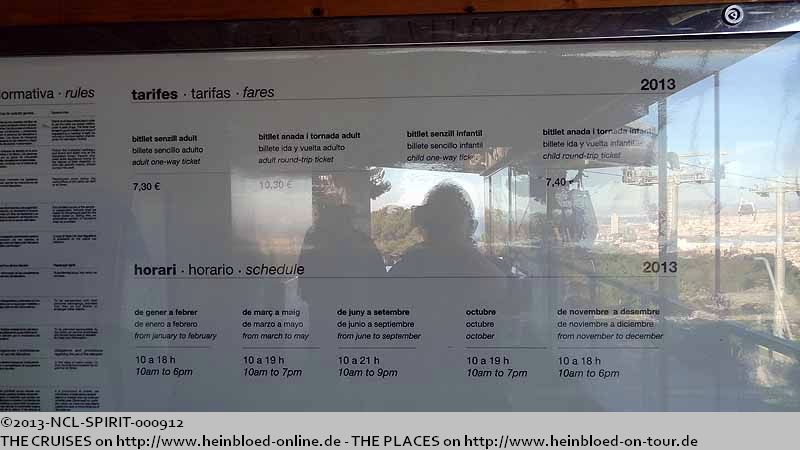 Meanwhile it's 10.30 hrs for a round-trip (2013)

Here we were expected.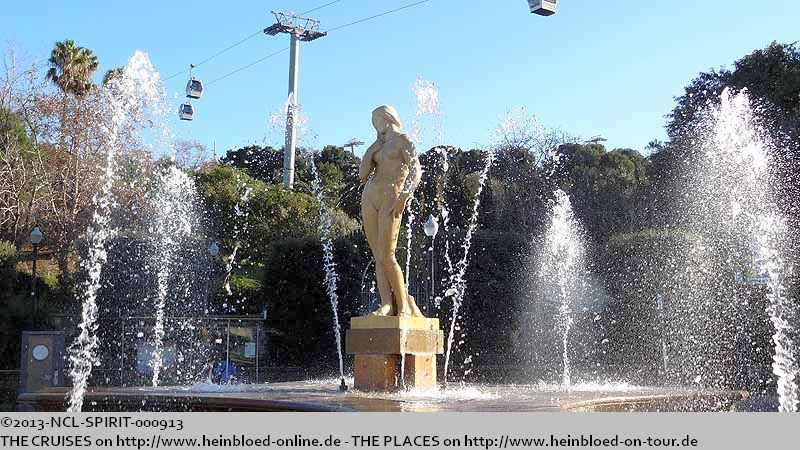 Hier werden wir erwartet.
Wir wollen schnell etwas trinken, aber leider hat alles am World Trade Center geschlossen. Nur das
Eurostars Grand Marina Hotel
hat geöffnet. Ich würde ja gerne mal dort übernachten, wenn mein Schiff vom World Trade Center Terminal aus fahren würde und es nicht so teuer wäre.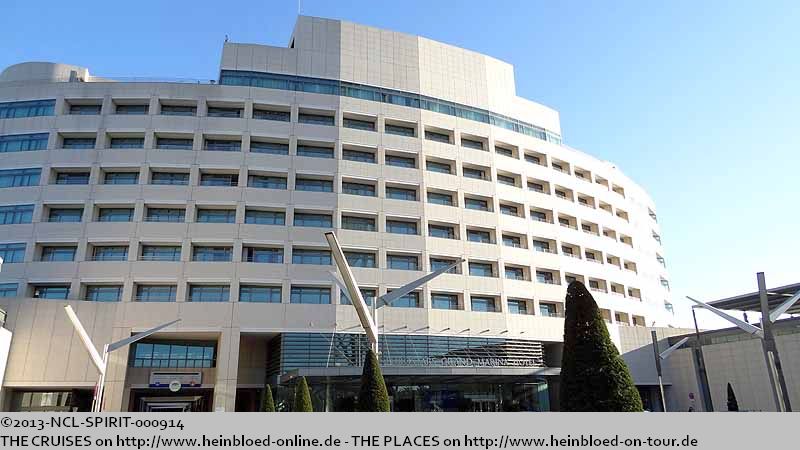 We went quickly to the World Trade Center to get something to drink but every venue was closed there. Only Eurostars Grand Marina Hotel was open. I would love to stay there subject my cruise ship will berth at the World Trade Center Terminal and it would not be so expensive...

Hot... 75 F... (too young!!!)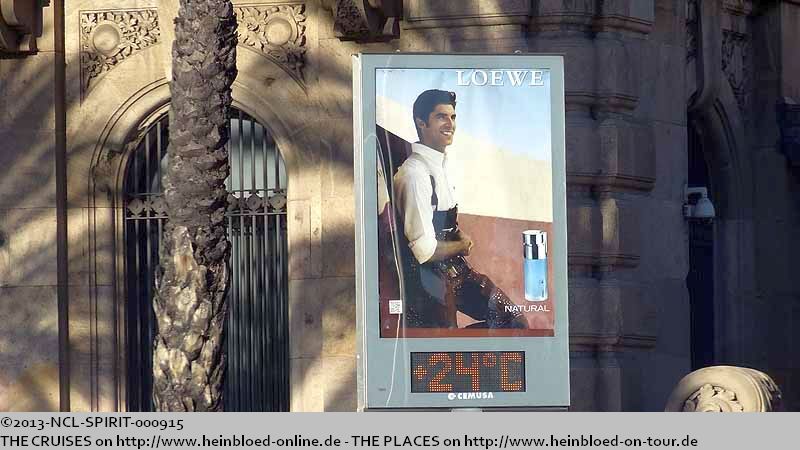 Heiß... 24°C... (viel zu jung!!!)
Wir wollten schnell im
MareMagnum
zur Toilette. Es kostet Geld. Es gibt aber einen Coupon, mit dem man Getränke kaufen kann... ausgerechtet hier an einer öffentlichen Toilette gibt es mein geliebtes Glaceau Vitaminwater. Aber hier hatten alle Geschäfte auf zu unserem Erstaunen.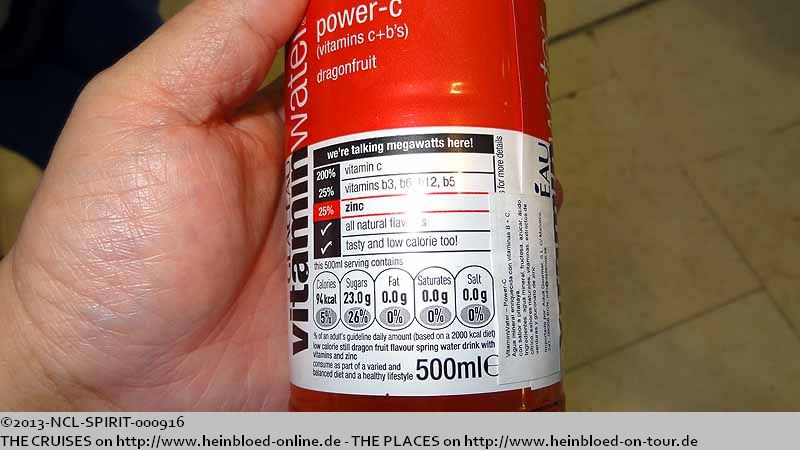 We went quickly to MareMagnum to see the toilets. But it was only against fee. You get a coupon which you can use to buy beverages... Just here at a public toilet you can buy my beloved Glaceau Vitaminwater. But to our surprise all stores were open.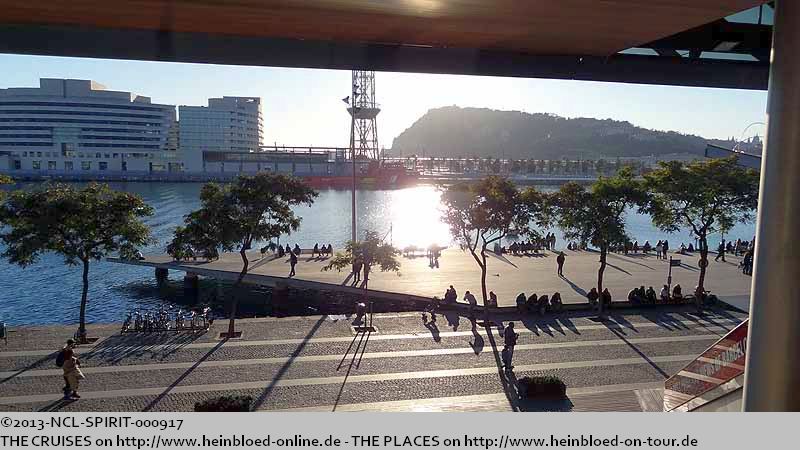 Weiter geht unsere Tour am Olympiahafen vorbei.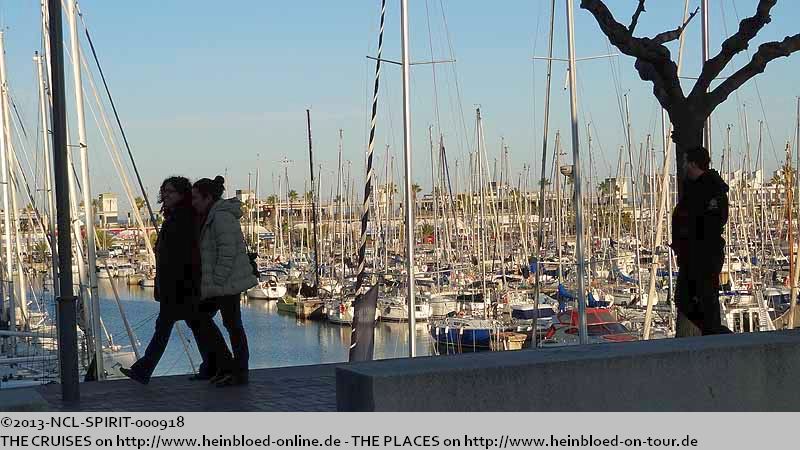 We headed to the Olympic Port.

Just a quick view to the Catherale uncovered finally. Then we returned to the hotel.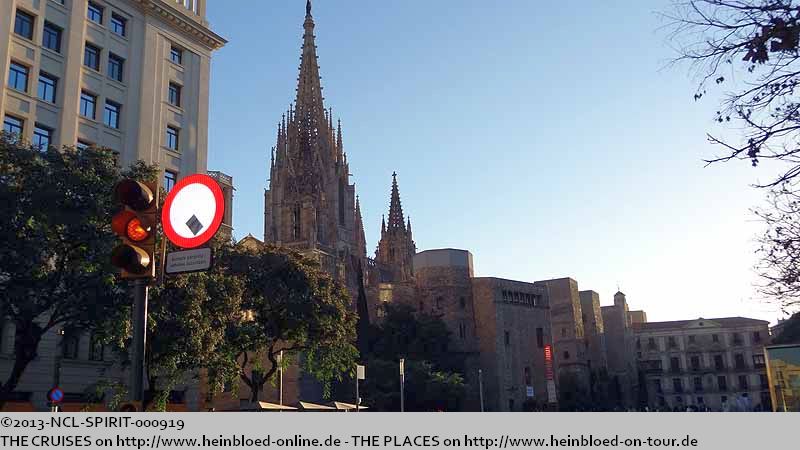 Nochmals kurz an der Kathedrale und endlich mal unverhüllt. Danach geht es zurück zum Hotel.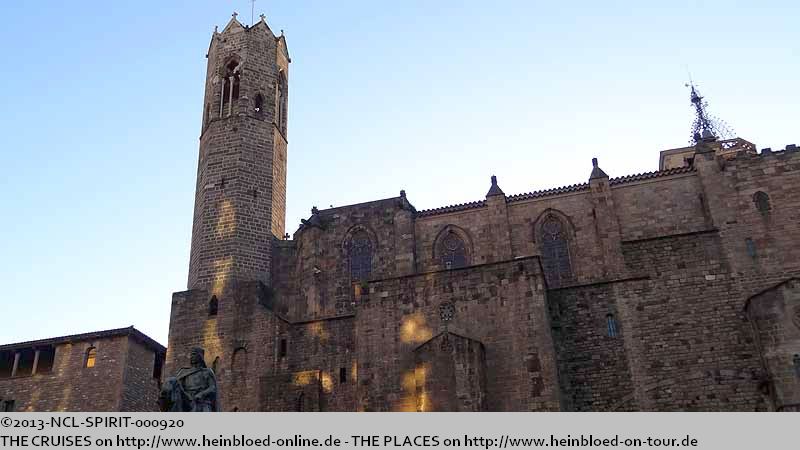 By the way: that was Sara who replaced Eva that day because Eva was not allowed to work that day but arranged everything for us. Due to all the restrictions Sara was not allowed to take us to the port two days later. But on Jan 17, 2013 she could take us from the ship.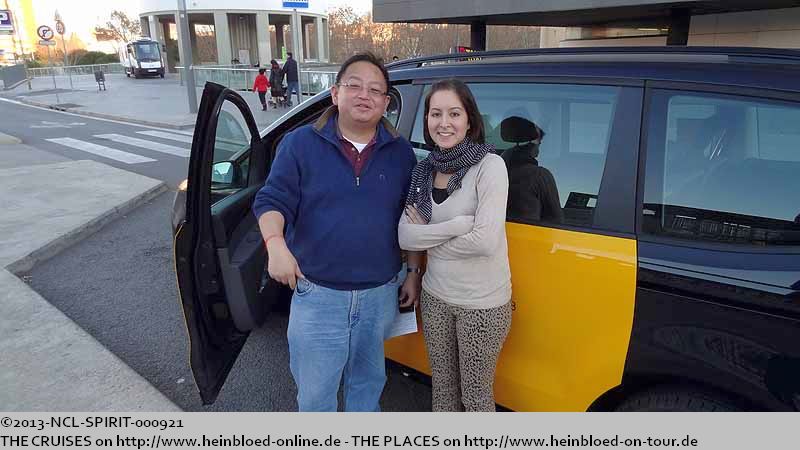 Bei der Gelegenheit: das ist übrigens Sara, die heute für
Eva
eingesprungen ist, weil Eva heute nicht fahren durfte, die aber trotzdem für uns alles arrangiert hat. Wegen der ganzen Restriktionen darf übermorgen dafür Sara nicht uns zum Hafen fahren. Aber sie soll uns am 17.01.2013 wieder im Hafen abholen.