Scroll down for English explanations - alternates with German explanations.

Wir müssen zum Abendessen. In der Kabine gibt es wieder Tien-Canapés.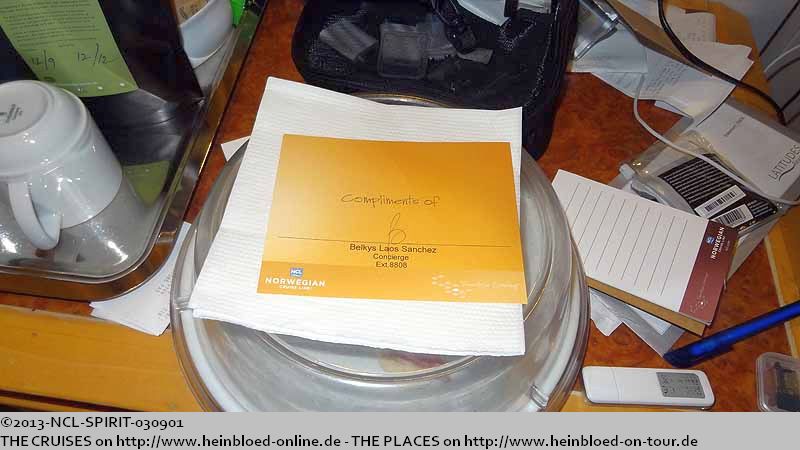 We need to prepare for dinner. In the cabin we had Tien-Canapés again.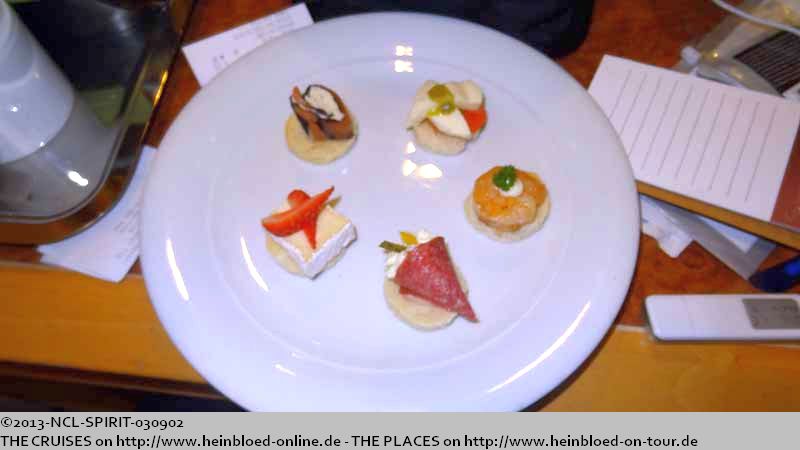 Ein Techniker war bei uns und hat das Waschbecken ausgebessert... wir hatten gar nichts bemerkt... oder als "normal" bei einem Schiff dieses Alters wahrgenommen...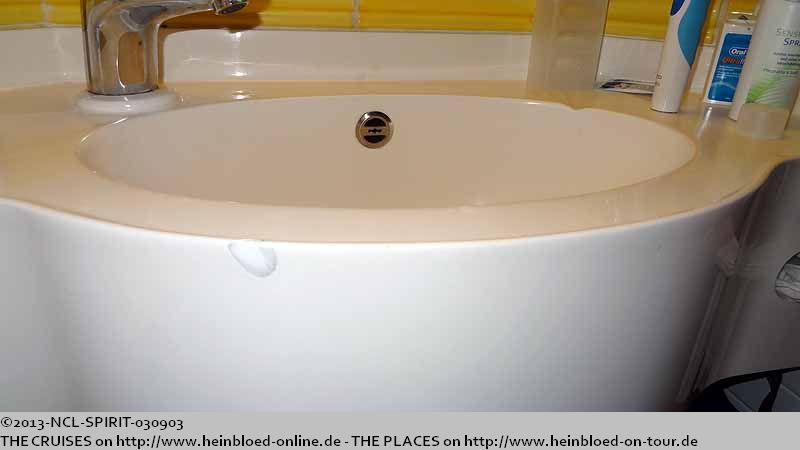 A technician was with us and fixed something with the sink... we did not notice anything... or it was "standard" to us for ship of this age...

Mail...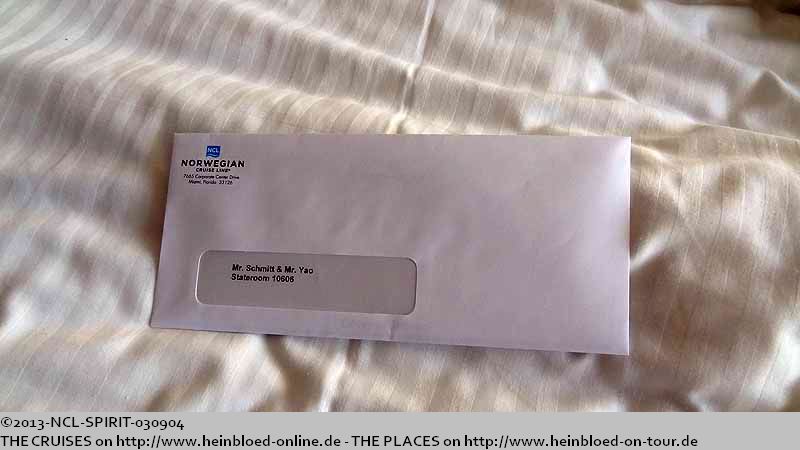 Post...
Oh... wir sind wieder mal zum Hosted Dinner auserwählt worden. Und dieses Mal wieder mit dem Hotel Director...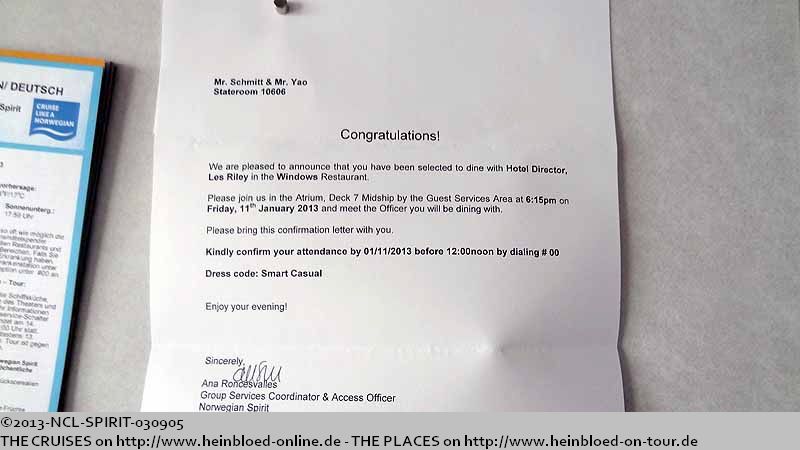 Oh... we were selected again for Hotest Dinner. And this time again with the Hotel Director...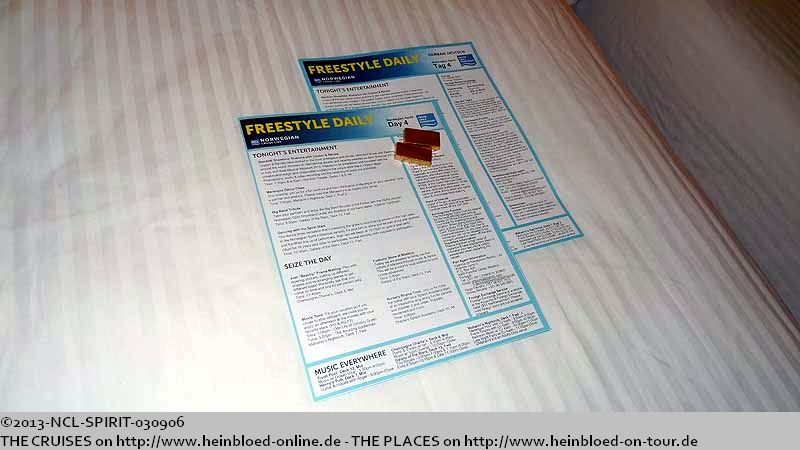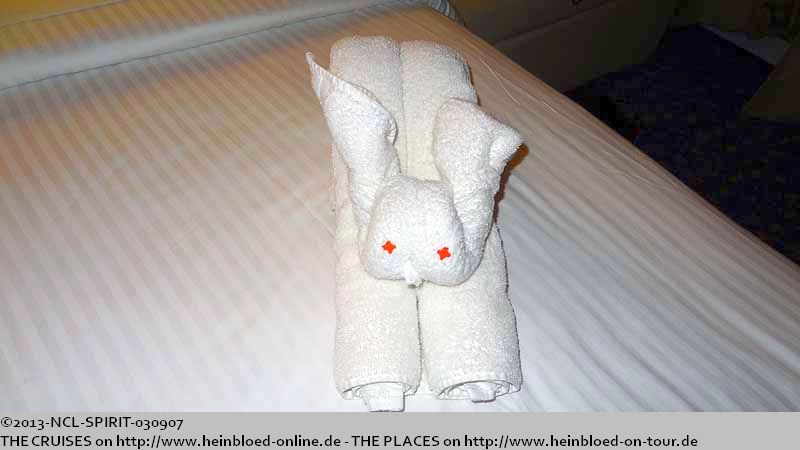 Our laundry was back. But not anymore in baskets.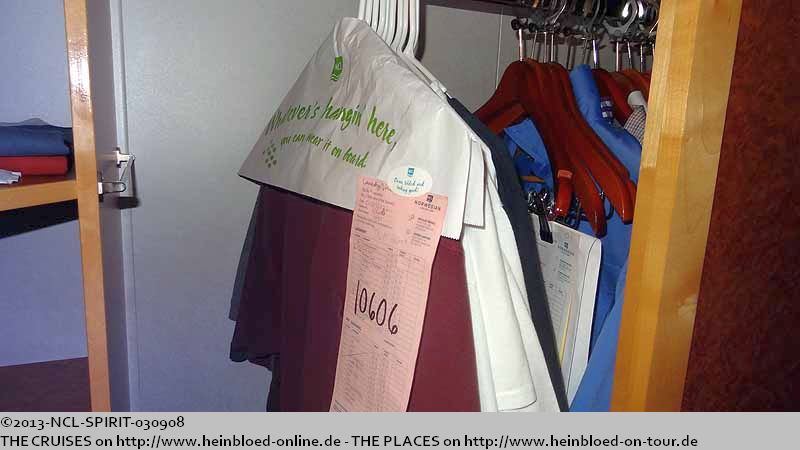 Unsere Wäsche ist auch zurück. Nur kommt es nicht mehr in Körben zurück.
Es geht zum Shogun auf Deck 8.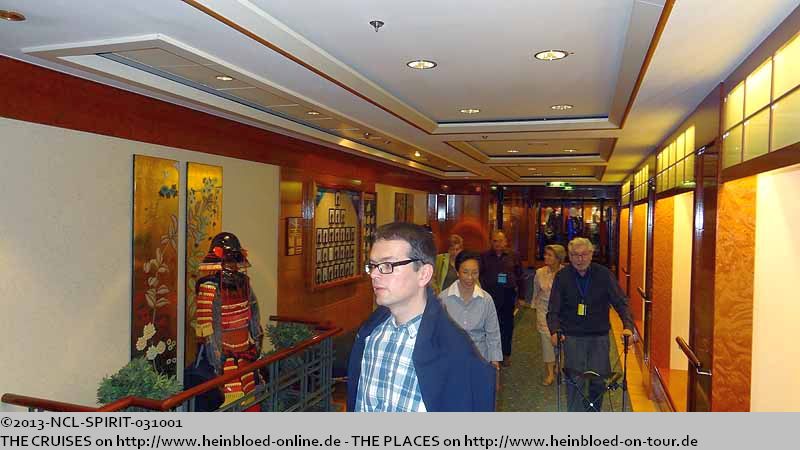 We headed to Shogun on Deck 8.

The menu card looked very nice.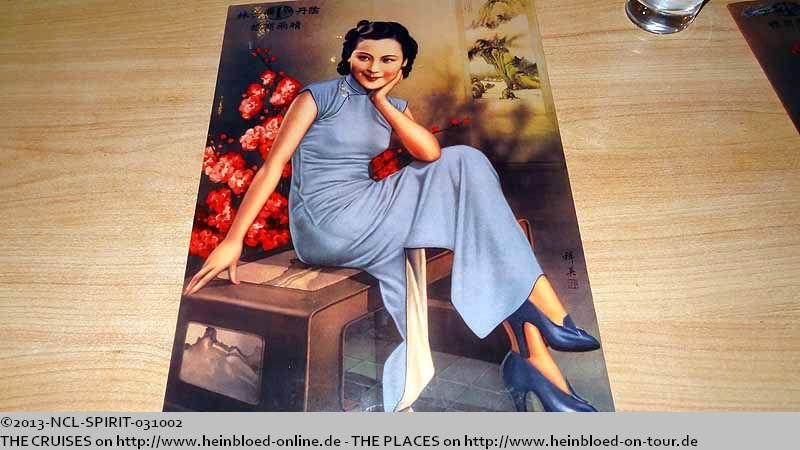 Die Speisekarte sieht schon gut aus.
Schwarze Servietten zur dunklen Hose.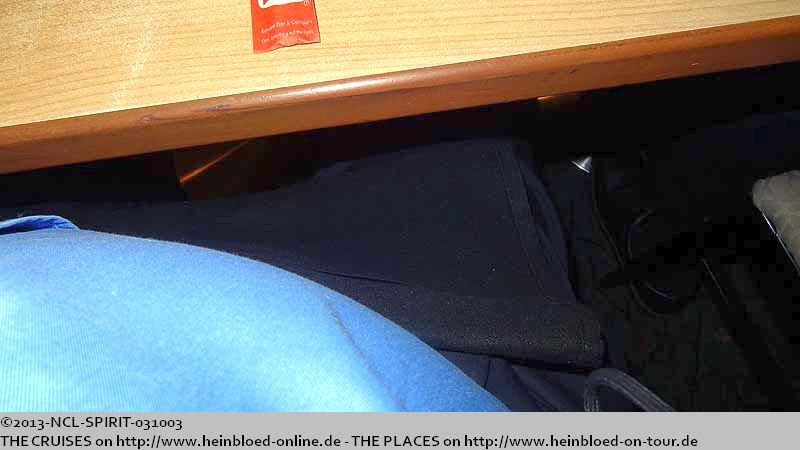 Black napkin for dark pants.

We got a very nice table...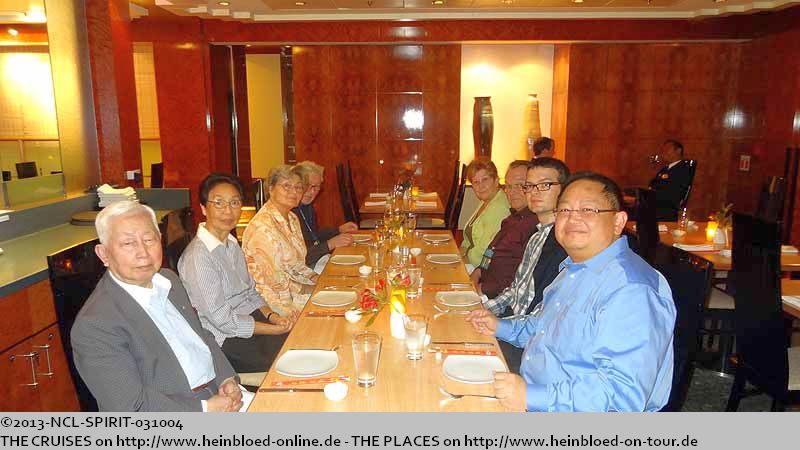 Wir bekamen einen schönen Tisch...
und ein Riesen-"Problem": der Service war wirklich so gut, dass wir wirklich Schwierigkeiten hatten, als wir später woanders essen gegangen sind. Wir denken dabei an viele unserer Freunde, WIE Monica Harrison, Andrew Hebbert, Valentina Nistor oder auch Ernesto, von dem ich leider den Nachnamen nicht habe - wir kennen noch mehr, aber sie stehen nur stellvertretend für diejenigen, die uns immer so bedient haben, dass wir gerne zu NCL wiederkommen und unseren Freunden empfehlen.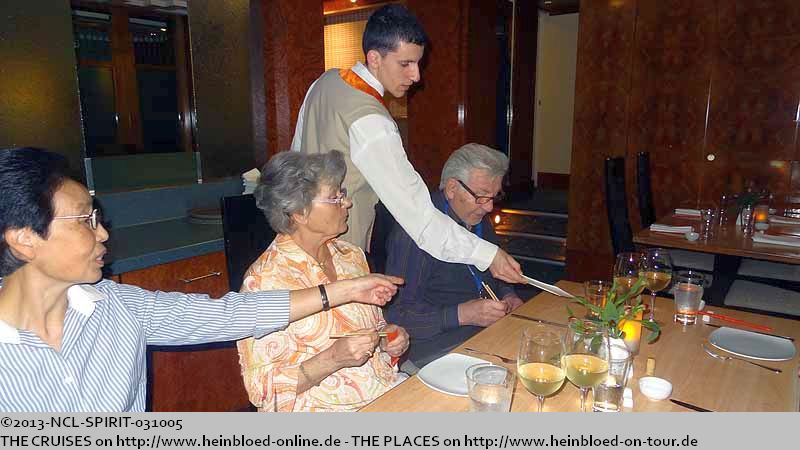 and a giant "problem": the service had been really so good that we had later problems when we ate later at other venues. We thought on many of our good friends LIKE Monica Harrison, Andrew Hebbert, Valentina Nistor or Ernesto, unfortunately I do not have his last name - We know many more but they are only representing those, who always served us in a way that we love to return or to recommend NCL to our friends.

Here the service was just perfect: attention, friendliness etc.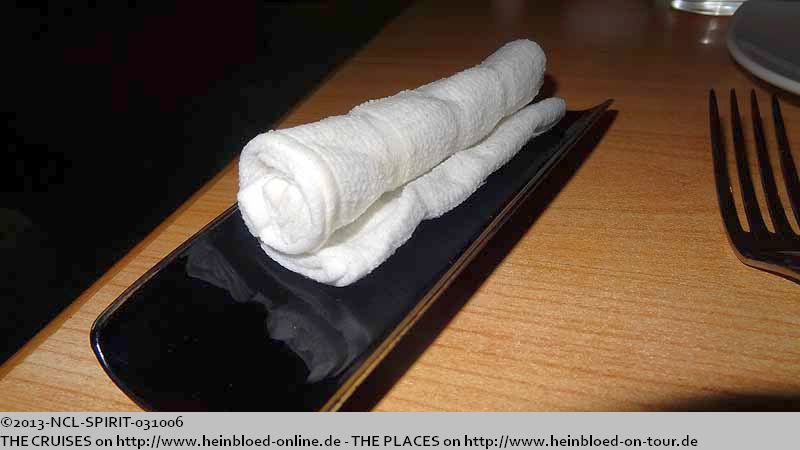 Hier stimmte vom Service her einfach alles: Aufmerksamkeit, Freundlichkeit usw.
Nur das Essen ist normalerweise "Fusion", d. h. West-Ost-Mix. Ich hatte jedoch darum gebeten, weitestgehend auf den westlichen Einfluss des Essens zu verzichten. Die Mais-Hühnersuppe war aber schon mal gut.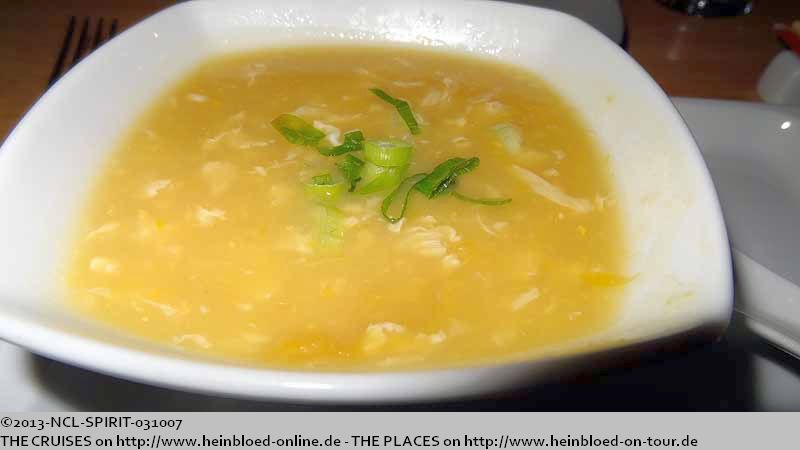 Only the food was normally "Fusion", i. e. a mix of East and West. But I asked for more Oriental flavours but Western flavours. The chicken-corn soup was quite good.

The rips were extremely good.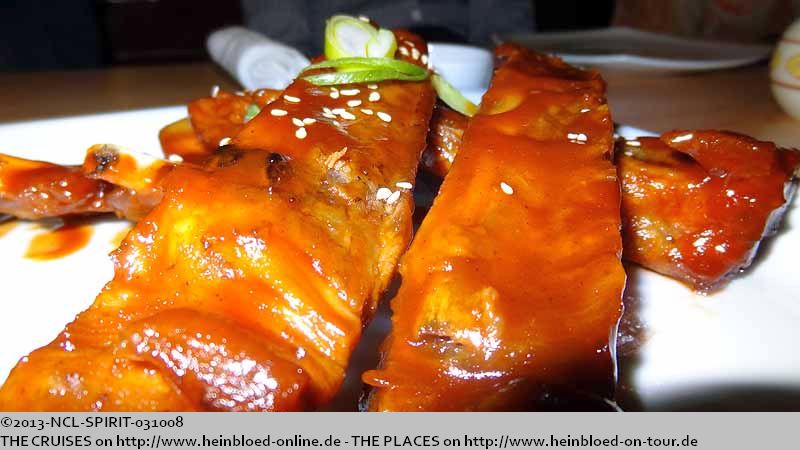 Die Rippchen waren sehr gut.
Die Teigtaschen für meinen asiatischen Geschmack einen Tick zu westlich. Für mich war aber wichtiger, dass wir alles teilen konnten. Ich hatte gar nichts selbst ausgewählt, sondern darum gebeten, dass sie es so machen, dass wir alles nur testen und teilen. Das war wirklich schön.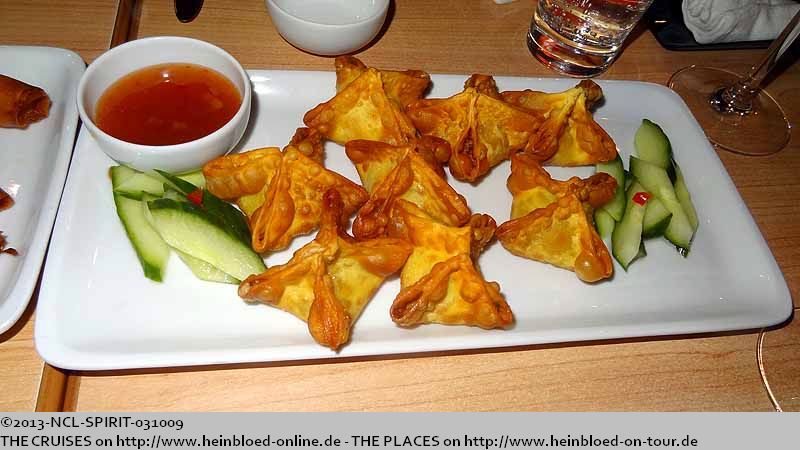 For my Asian taste the dumplings were too Western. But it was more important that we could share everything. I did not choose myself and asked for the possibility to try and share. It was really nice.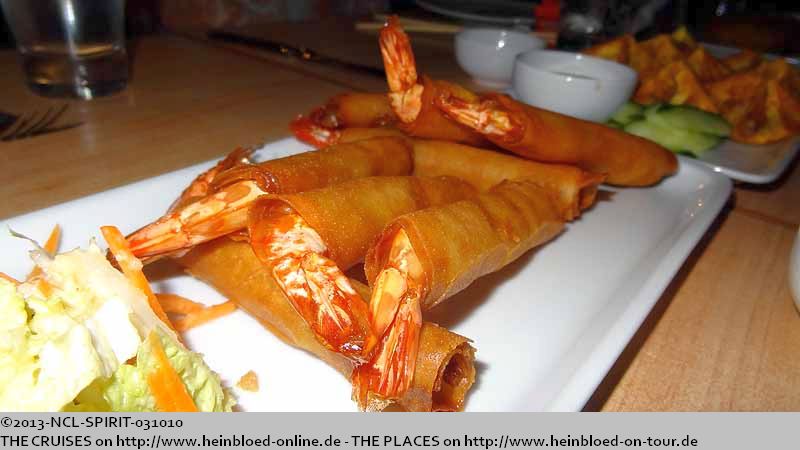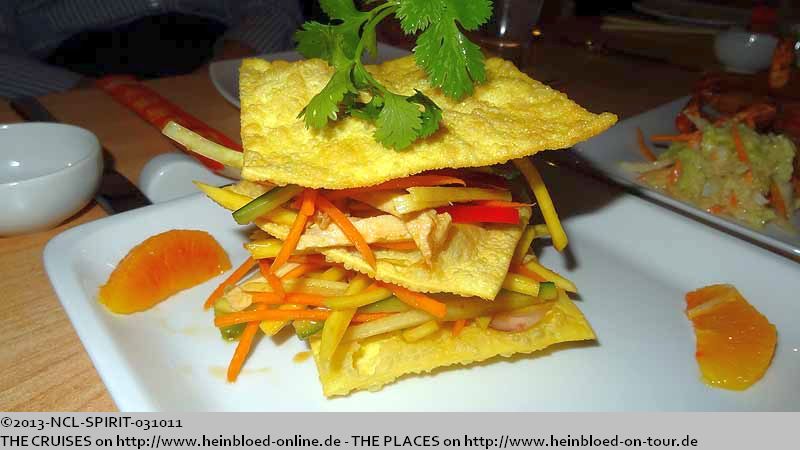 All of us had a lot of fun.

Wir hatten auf jeden Fall alle viel Spaß.
Das war FAST GENAUSO LECKER wie bei meiner Mutter... Natürlich schmeckt es bei meiner Mutter am Besten und insbesondere dann, wenn sie mit am Tisch sitzt... Soll ich sie in die Galley schicken?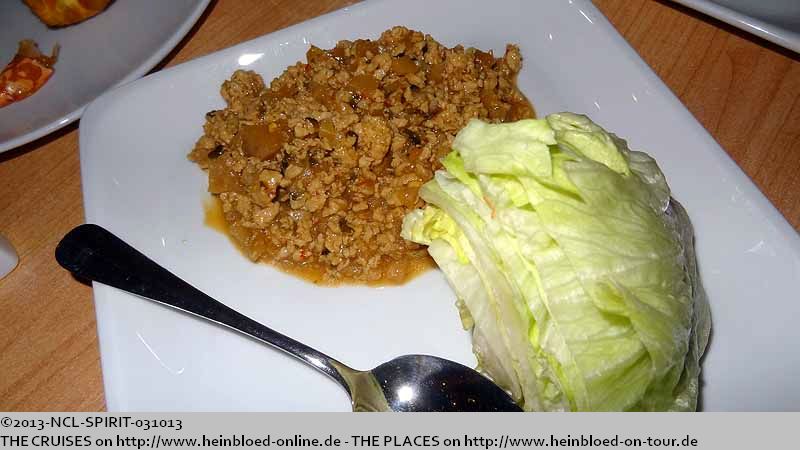 This was NEARLY AS GOOD as with my mother... Of course it is always the best with your mother especially if she was with you at the same table... Maybe I should sent her into the galley?

You wrap the meat filling into the lettuce.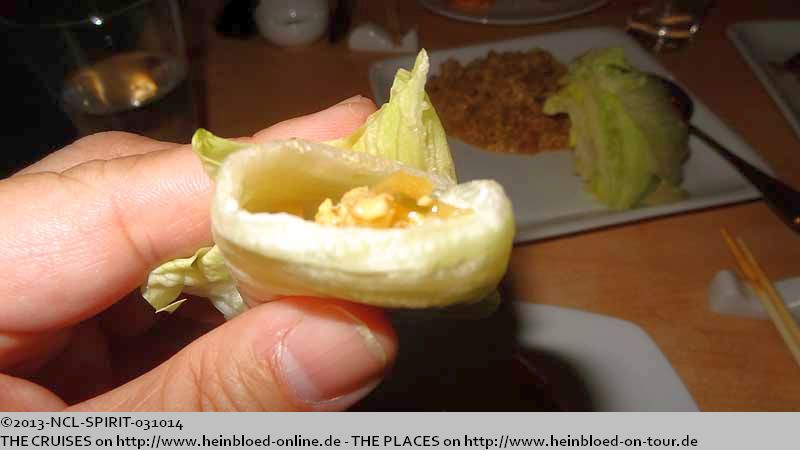 Man rollt das Fleischfüllung in das Salatblatt.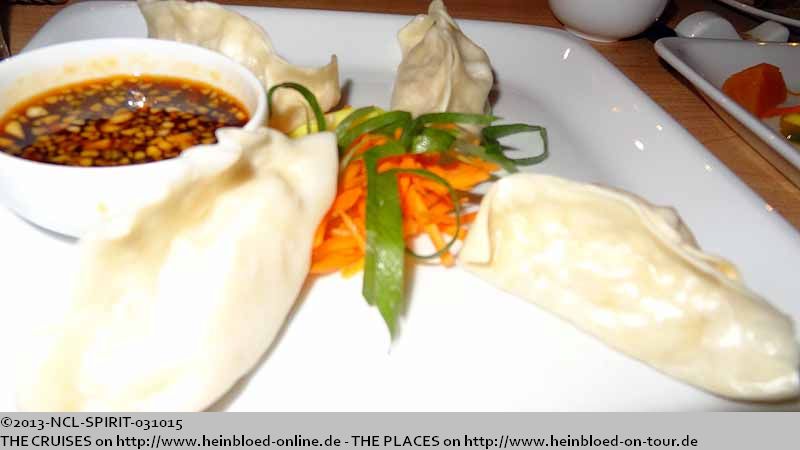 The scallops were delicious.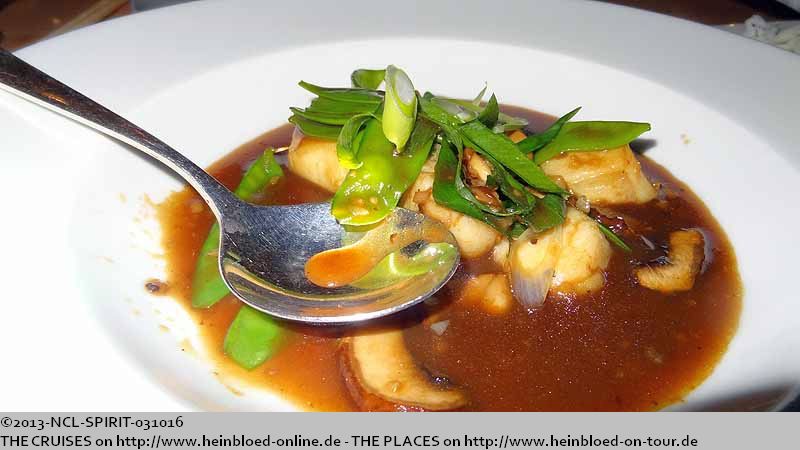 Die Jacobsmuscheln waren gut.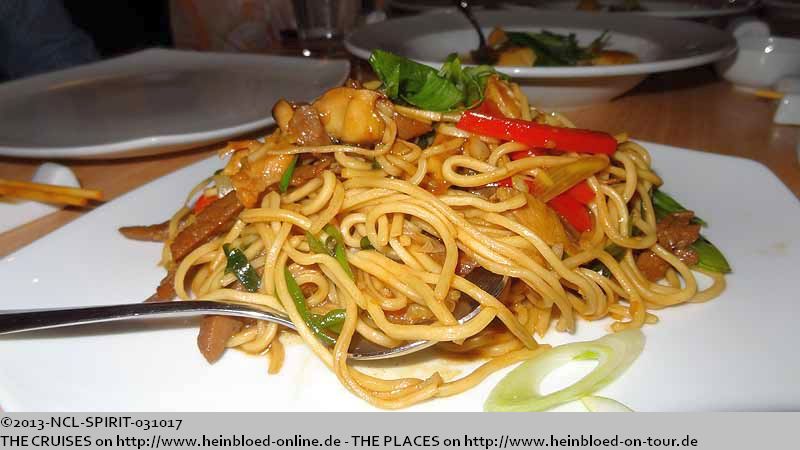 For my parents and me white rice.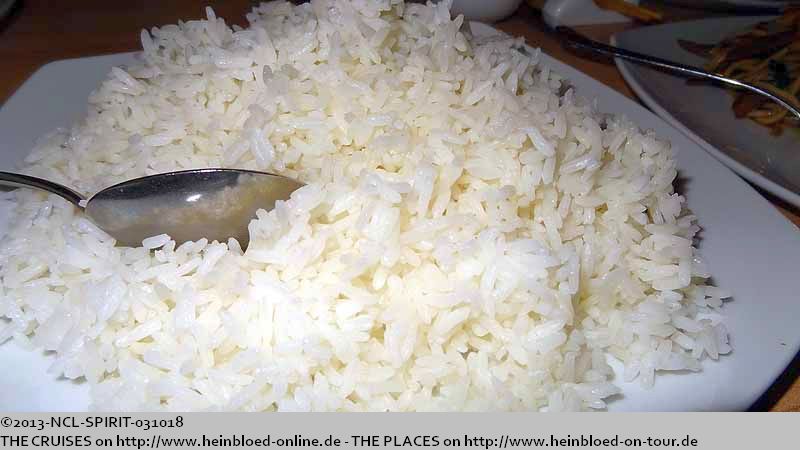 Für meine Eltern und mich weißen Reis.
Für die anderen gebratenen Reis.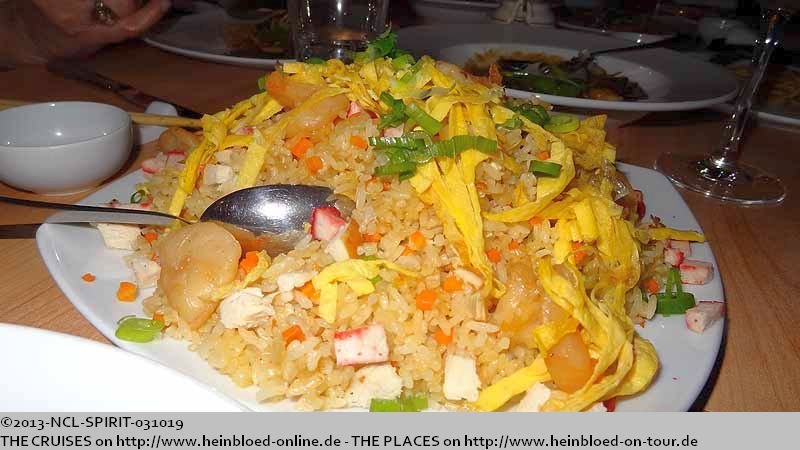 For all the others fried rice.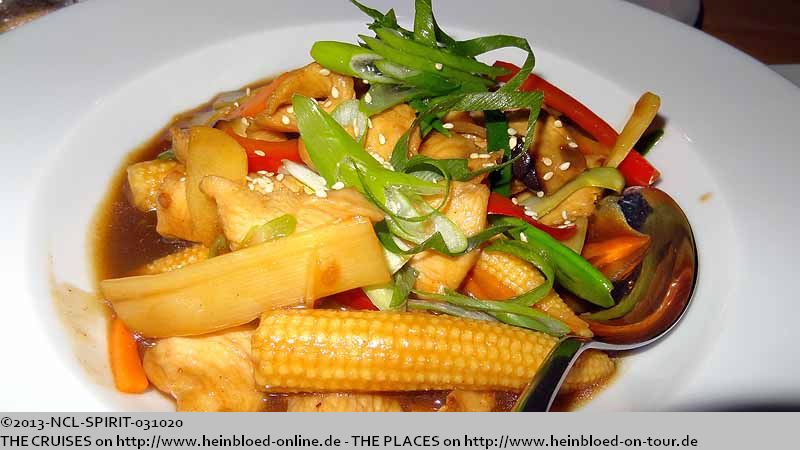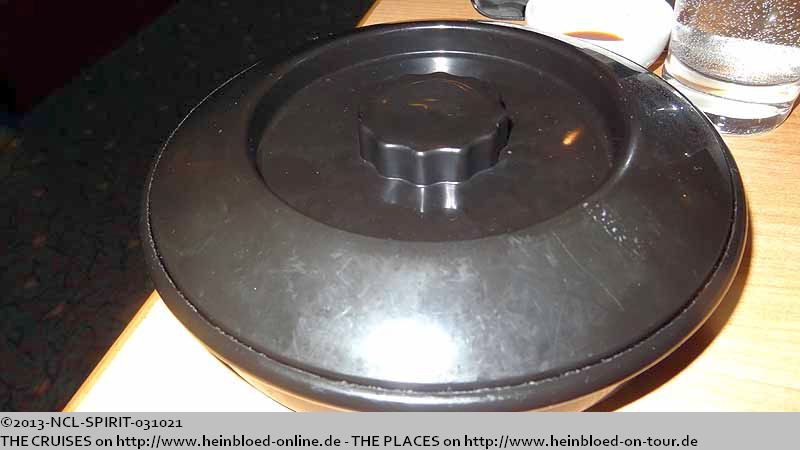 Only the Mexican tortillas did not fit very well... because Chinese pancakes are much softer and warmer... BUT they could serve water and dry bread like in a jail: I would pay 15.00 USD cover charge just enjoy their service. With a great crew you compensate easily weak items.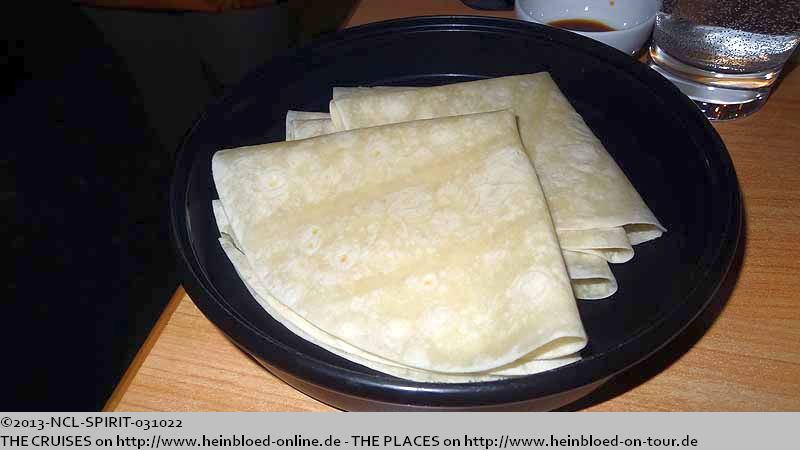 Nur die mexikanischen Tortillas passten nicht so ganz... weil die chinesischen Pfannkuchen weicher und wärmer sind... ABER die hätten Wasser und trockenes Brot wie im Gefängnis servieren können: Ich hätte die 15,00 USD Zuzahlung gezahlt, bloß um deren Service zu genießen. Deswegen mit tollem Personal kann man sehr vieles Wett machen, was sonst nicht in Ordnung ist.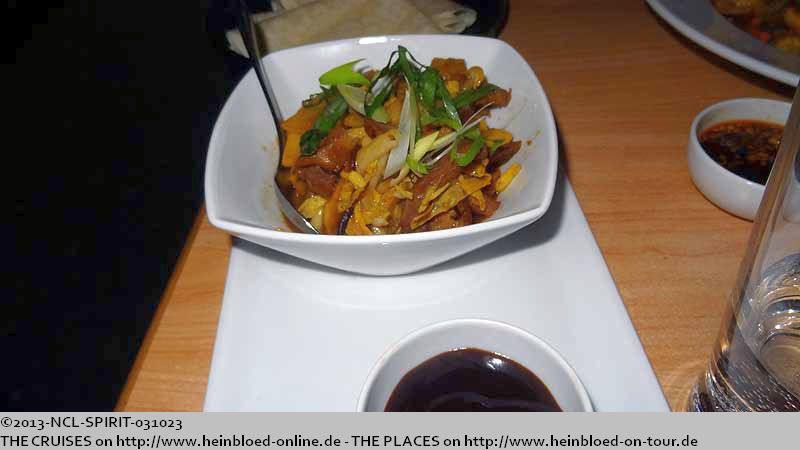 Again a wrap.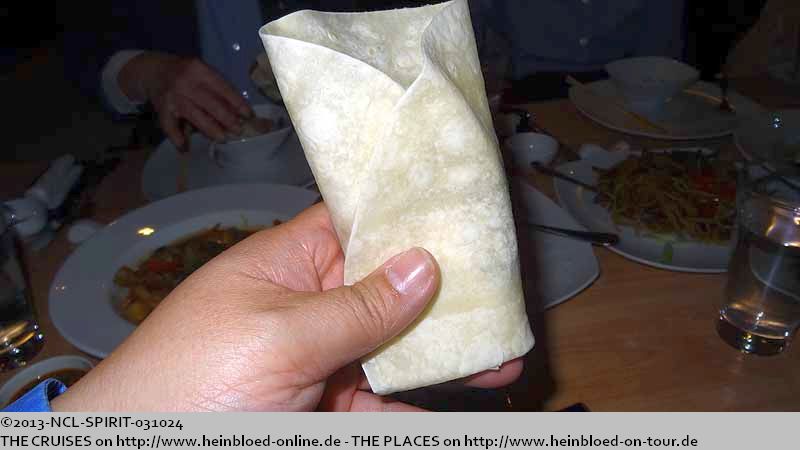 Wieder ein wrap.
Als Nachtisch bat ich um ein Frucht-Sashimi von der Sushi-Bar bzw. vom Teppanyaki, den ich selbstverständlich bekam.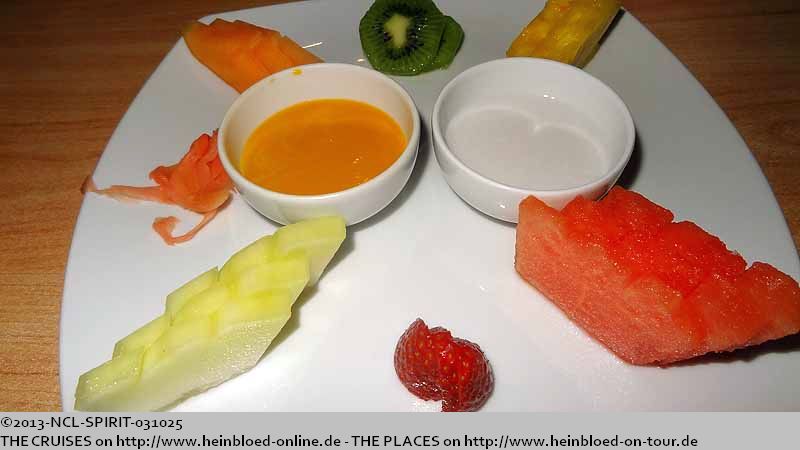 As dessert I asked for a fruit-sashimi from the Sushi-bar or Teppanyaki which I got certainly.

And it was their "fault" that I went on this voyage four times to Shogun to eat: Assistant Maître D' Domenic Fernandes, Judith Tresham and Vasko Dimeski. Pure joy!!!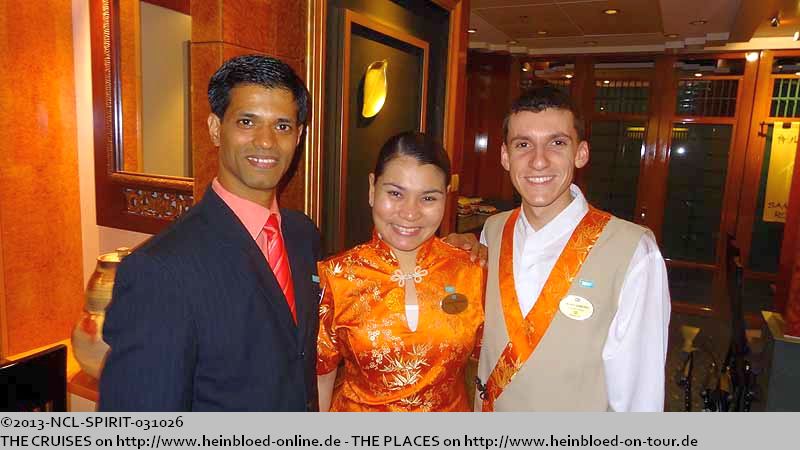 Und die sind es "Schuld", dass ich insgesamt viermal dann im Shogun während dieser Reise essen war: Assistant Maître D' Domenic Fernandes, Judith Tresham und Vasko Dimeski. Freude pur!!!