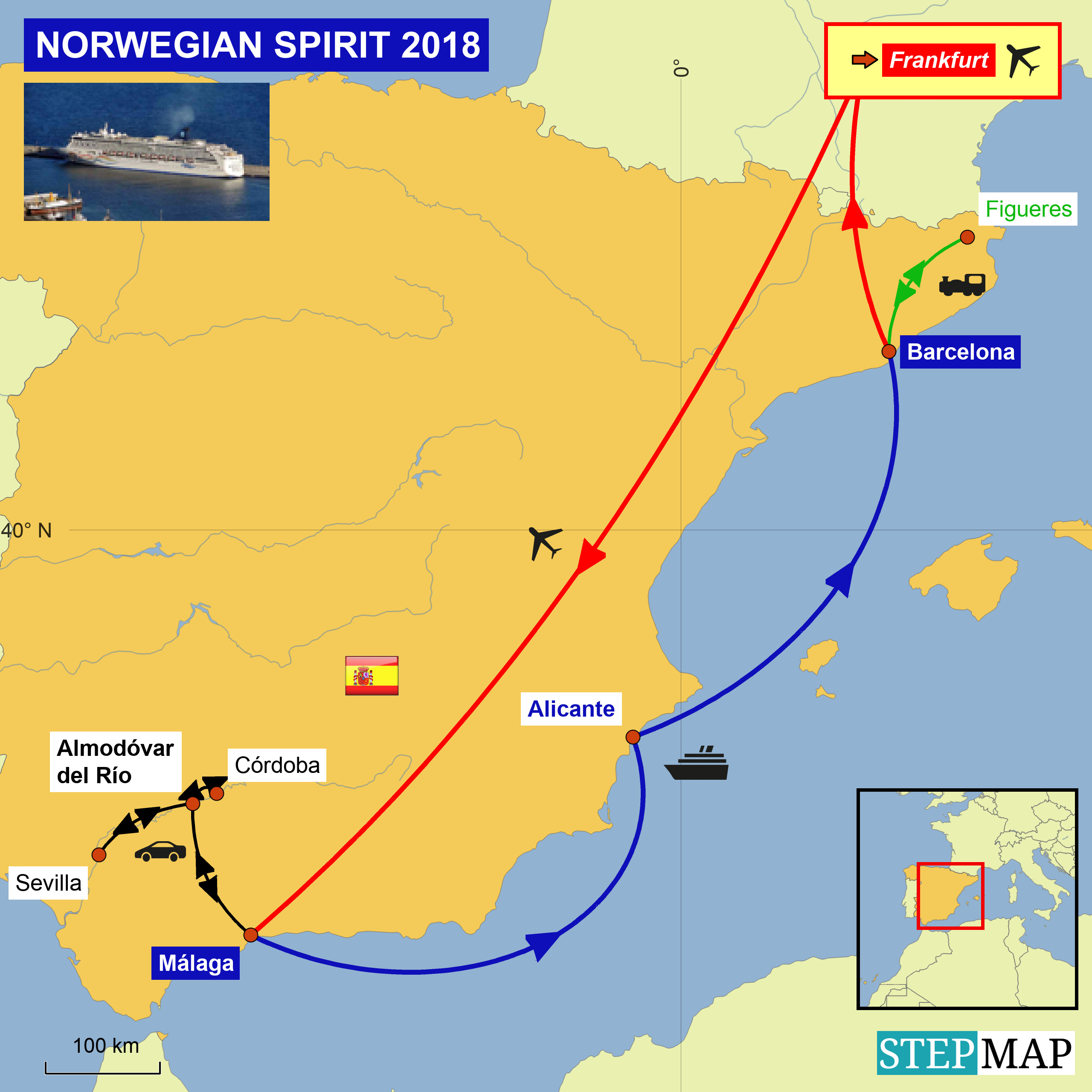 Heute morgen müssen wir etwas früher los: Unsere Reise auf der
KONINGSDAM 2016
führte uns von Huelva aus nach Sevilla. Auch dort gibt es einen 2. Teil, den wir uns unbedingt ansehen wollen: Die Kathedrale von innen und die Burganlage Alcázar. Deswegen haben wir angefragt, ob wir vielleicht bereits um 07:30 Uhr Frühstück bekommen können. Es ist nicht möglich. Die Gründe habe ich mit meinem wenigen Spanisch-Brocken nicht verstanden. Wir hätten auf jeden Fall nur Orangensaft, Obst und Joghurt haben können. So ziehe ich los, um etwas zu finden, das geöffnet hat und wieder hat alles am Montag Morgen geschlossen, mit einer Ausnahme: die Bar, in der wir gestern Abend bereits waren. Hier gibt es aber auch nur Brot und die Tomatenpaste und Olivenöl und man erklärt uns allerdings, wie wir es nutzen müssen. Mir ist die katalanische Version lieber. Auf eine zweite Tasse Kaffee verzichten selbst die Kaffeeliebhaber: deren Mägen sind nach der ersten Tasse Kaffee weg gebrannt...

That day we need to leave a little earlier. Our voyage on KONINGSDAM 2016 took us from Huelva, Spain to Seville, Spain. Here we had also a 2nd part we still need to see: the interior of the Cathedrale and the fortress Alcázar. So we asked if it might be possible to have already breakfast at 07:30 hrs. It was not possible. With my few Spanish skills I did not understand the reasons. Anyhow, we could only get some orange juice, fruits, and yogurts. So I walked out to find a place with was open and again most closed on Monday morning but one: the bar we went to last night already in. Here we only could get some bread and some of the mashed tomatoes and olive oil, but that time they explained how to use it. I like more the Catalan way. Even our coffee lovers did not want a second cup of coffee: their stomachs were burnt away after their first cup of coffee.

The day before I discovered the Churros store. So I had to go that day one more time to try. It smelled so good.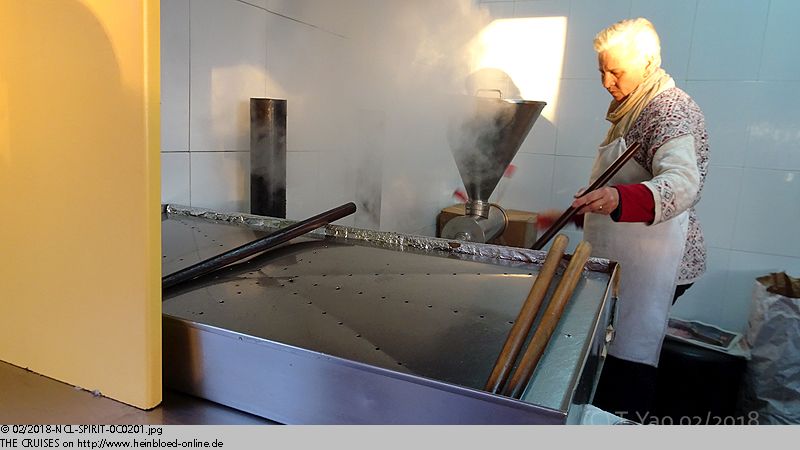 Gestern hatte ich ja den Churros Laden entdeckt. Heute morgen muss ich nochmals hin. Es duftet einfach zu gut.
Sie werden erst frisch zubereitet, wenn man da ist. Direkt aus dem Teigtrichter ins heiße Fett. Und dann mit Riesen-Stäbchen, auf die ich als Chinese richtig neidisch bin, aber sie werden gar nicht, wie chinesische Essstäbchen geführt, sondern eher wie Stricknadeln.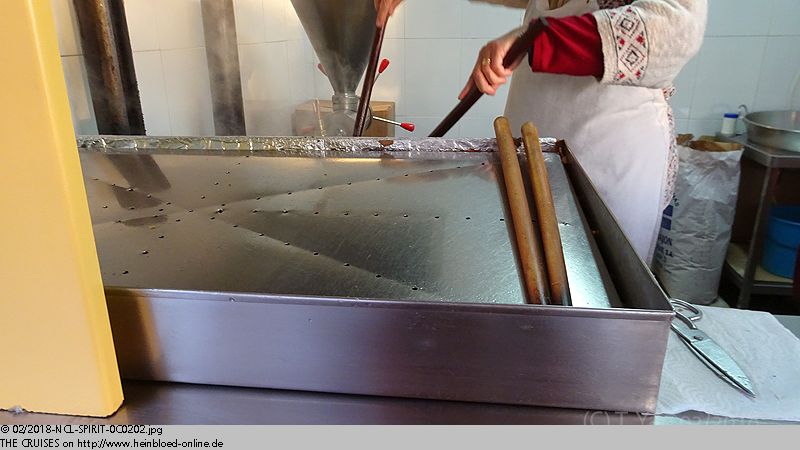 They were freshly prepared once you arrived. Released from the cone container with the liquid dough into the hot oil. And then with the giant chopsticks, I even get envy since I am Chinese and she did not use them as we would use chopsticks - more like knitting needles.

Actually, it was a pyramid but the others who were waiting ahead of me bought anything else. So only that was left for me.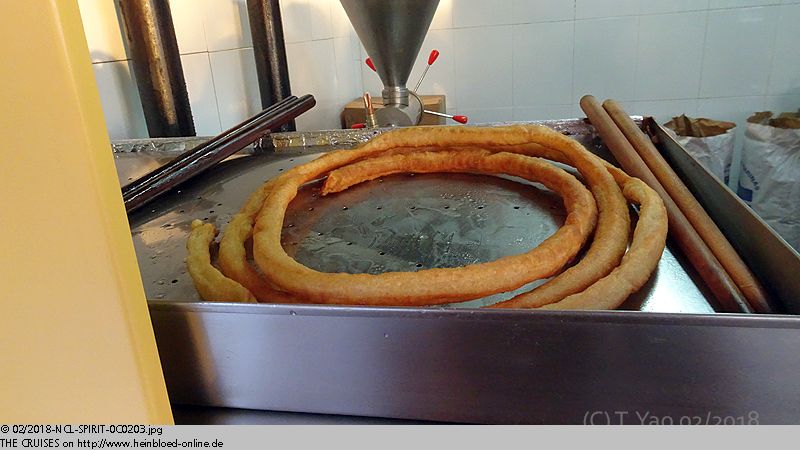 Eigentlich war es wieder eine Pyramide, aber die anderen haben, die vor mir anstanden, haben schon alles weggekauft. So bleibt mir nur das.
Das alles nur für 2 EUR (2017). Richtig lecker.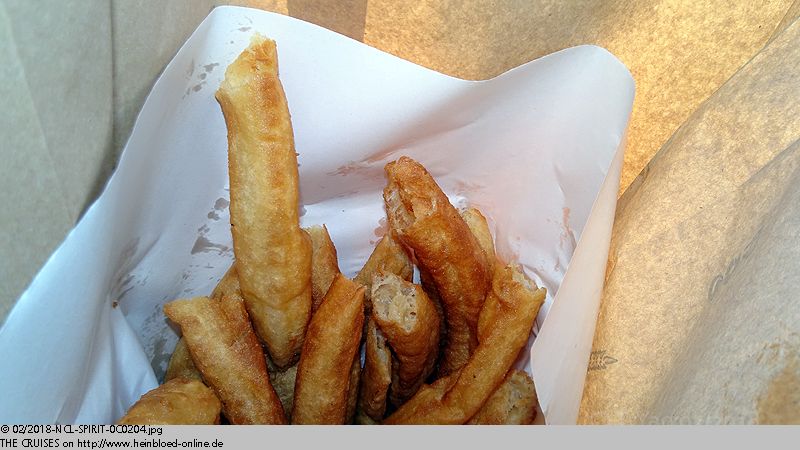 All of that for 2 EUR (2017) only. Really yummy.

Heading to Seville, Spain.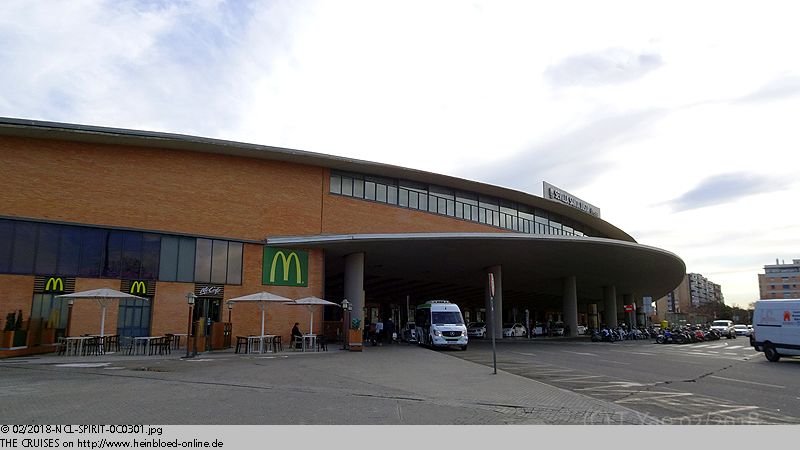 Auf nach Sevilla.
Unseren Wagen parken wir am
Bahnhof Sevilla Santa Justa
.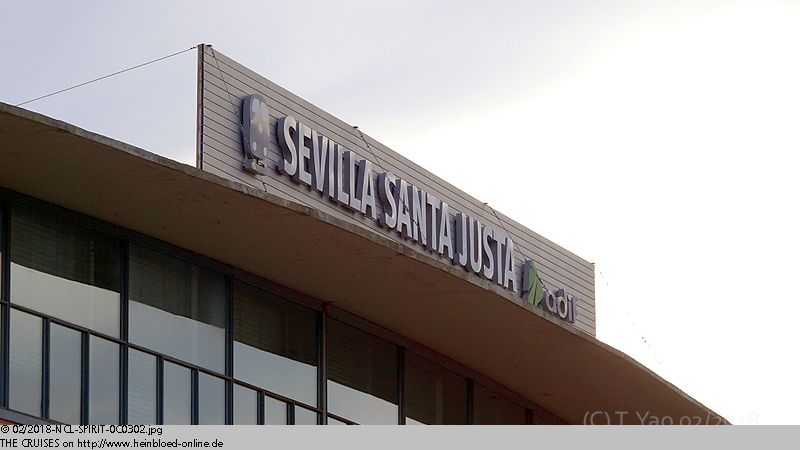 We parked our car at Sevilla Santa Justa train station.

Here we parked very well on Parking 1 P1 as it would be hard to get a parking in the city center.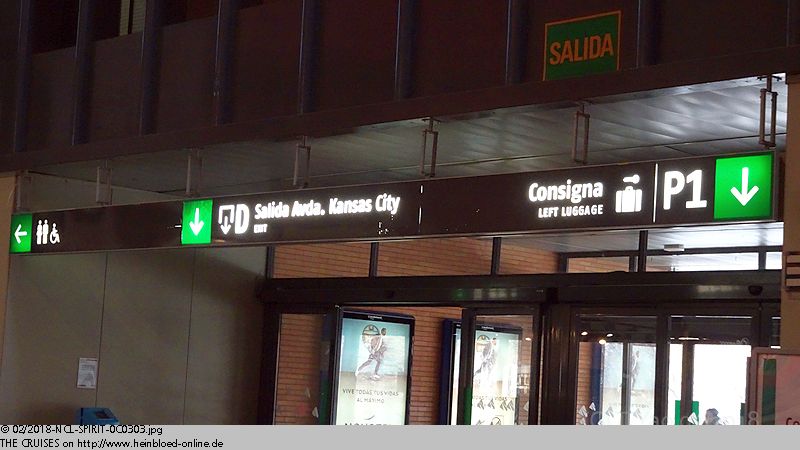 Hier auf dem P1 stehen wir bestens, da wir kaum Chance hätten in der Innenstadt einen Platz zu bekommen.
Für 7:38 Stunden zahlen wir hier 15,40 EUR (2017): Dafür hätte ich Basel gerade mal drei Stunden parken können, wenn ich Glück gehabt hätte...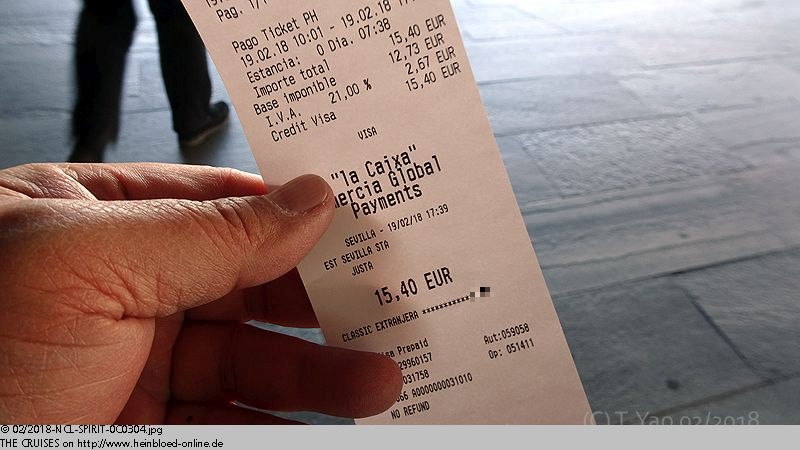 For 7:38 hrs I only paid 15.40 EUR (2017): For that amount I could only park with a lot of luck just for three hours in Basle, Switzerland.

Google Maps showed us: 20 minutes to the Cathedrale by walking. With public transport for about 25 minutes. So we walked.

Google Maps zeigt uns an: zu Fuß bis zur Kathedrale 20 Minuten. Mit den öffentlichen Verkehrsmitteln 25 Minuten. Also laufen wir zu Fuß.
Aber Google Maps lebt nicht von einer Redaktion, die sich die Mühe macht, alles zu verifizieren, sondern lässt jeden Schrotteintrag zu. "Kathedrale von Sevilla" führt uns zu einem falschen Ort.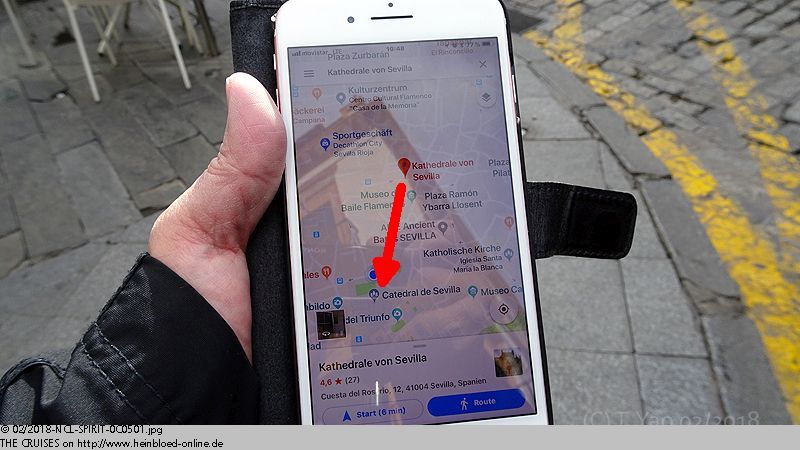 But Google Maps did not have some editors who spent the effort to verify everything but to allow every trash entry. "Catherale of Seville" (in German) took us to a wrong place.

Happily, it was only a few hundred yards away and not in a slum district.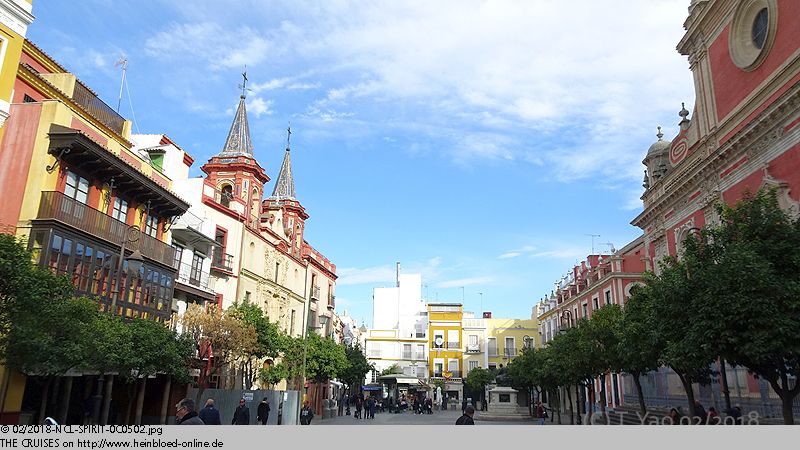 Zum Glück nur einige hundert Meter und nicht in ein Slumviertel.
Ärgerlich ist es trotzdem, da wir an der falschen Kirche sind.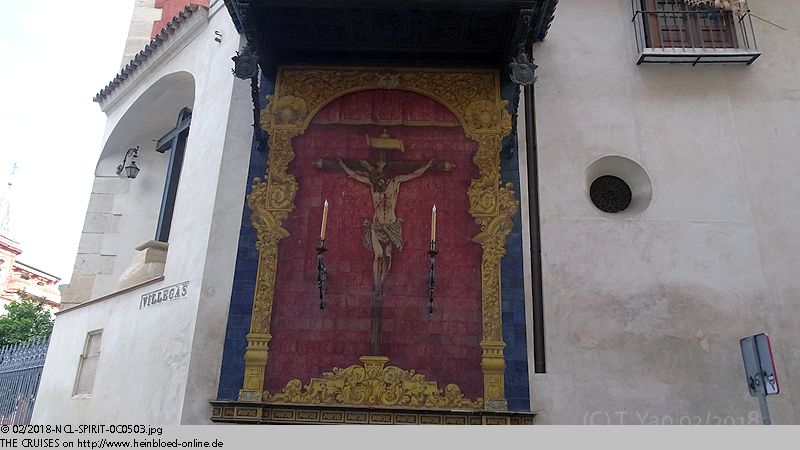 Somehow it was angry since we went to the wrong church.

Now we were standing in front of Inglesia el Salvator. It was a branch of the Cathedrale. But to name the entry as Cathedrale was very irritating.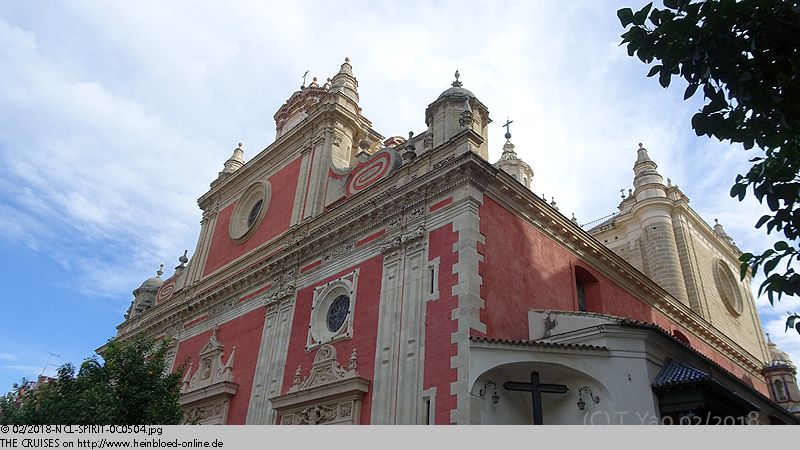 Nun wir stehen vor der Inglesia el Salvador. Es ist eine Außenstelle der Kathedrale. Aber den Eintrag als Kathedrale zu führen, ist etwas irreführend.
Ich habe den Fehler gemeldet. Mal gucken, ob sie sich die Mühe machen, das zu korrigieren. Es sind eben alternative Fakten. Zum Zeitpunkt der Erstellung des Blogs ist alles unverändert auf Google Maps. (Zwischenzeitlich ist es korrigiert.)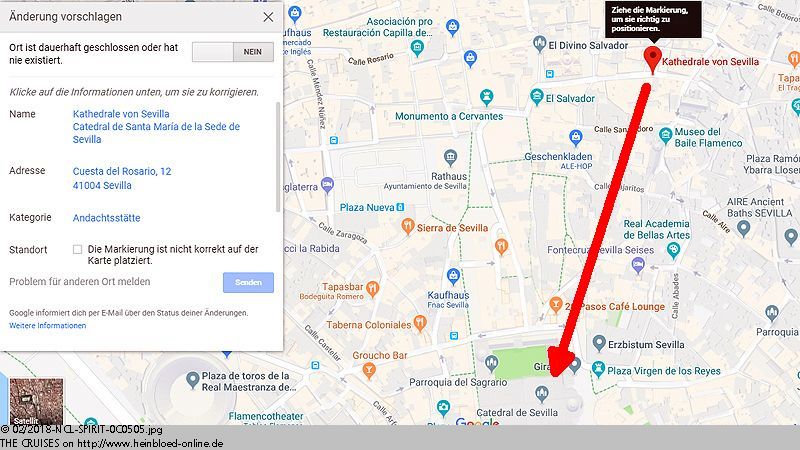 I reported the error. Let us see if they seriously take the effort to correct it. (Meanwhile, it is corrected.)

Originally I booked online tickets. Which we need to collect and pay with the cashier. Few days ahead I got a new mail, and they informed that they were now offering a real online-ticket-system. And so we were in few minutes in the Cathedrale since I paid also online.

Eigentlich hatte ich online Tickets gebucht. Die hätten wir dann an der Kasse abholen und bezahlen sollen. Wenige Tage vorher bekomme ich jedoch eine Mail, dass jetzt ein echtes Online-Ticket-System zur Verfügung steht. Und so sind wir in wenigen Minuten bereits in der
Kathedrale
, da ich auch online bezahlen konnte.
Innen erwartet uns eine Schönheit! Man sollte viel Zeit mitbringen. Und Christoph Columbus, der hier begraben liegt.

Inside a beauty was waiting for us! You should take some time. And Christoph Columbus who was buried here.

We went up to the tower. No elevator but somehow like the Round Tower in Copenhagen which we saw when we were there by NORWEGIAN GETAWAY 2017: an endless ramp with few stairs at the end. The view from the side of gangway was more spectacular than the view from the top. It was quite narrow there. Here we met some participants of the Taiwanese travel group we met before in Córdoba the day before.

Es geht hoch auf den Turm. Kein Fahrstuhl, sondern so ähnlich wie im Runden Turm in Kopenhagen, den wir zuletzt während der Reise mit der
NORWEGIAN GETAWAY 2017
besucht haben: eine endlose Rampe und dann noch ein paar letzte Stufen. Die Aussicht seitlich während des Aufstieges raus, ist eigentlich noch spektakulärer als der Blick von ganz oben. Dort ist es ziemlich eng. Hier treffen wir auch wieder auf die Teilnehmer der taiwanesischen Reisegruppe von gestern in Córdoba.
Noch einmal durch den Innenhof der Kathedrale mit den Orangenbäumen und dann raus.

One more time through the interior court of the Cathedrale with all the orange trees and then we had to exit.

First, we need a cup of coffee. Here with La Canasta we liked it very much. You need to pull outside a number to get a piece of cake from the buffet. They they served it at the table. I took Black Forrest Cherry Cake without cherries. Somehow I liked to have some.

Zunächst brauchen wir eine Tasse Kaffee. Hier bei
La Canasta
gefällt es uns. Man muss aber außen eine Nummer ziehen, um ein Stück Kuchen am Büffet zubekommen. Anschließend wird alles am Tisch serviert. Ich nehme Schwarzwälder Kirschtorte ohne Kirschen. Irgendwie ist mir danach!
Weiter geht es durch die Stadt, die durch schöne Innenhöfe lockt, wie z. B. Plaza del Cabildo. Am portugiesischen Konsulat scheinen sie ein großes Fest gefeiert zu haben. Die Flaschen sin zum Trocknen rausgestellt - oder ist das moderne Kunst.

We continued to walk through the city which attracted our attention with a nice patio like Plaza del Cabildo.

In front of the tobacco manufactury where Carmen (of the same-named opera of George Bizet) was rolling cigars on her leg, we went already before with Pilar of SEVILLA4REAL when we came by KONINGSDAM 2017 but it was Sunday, and we had no access to the inside.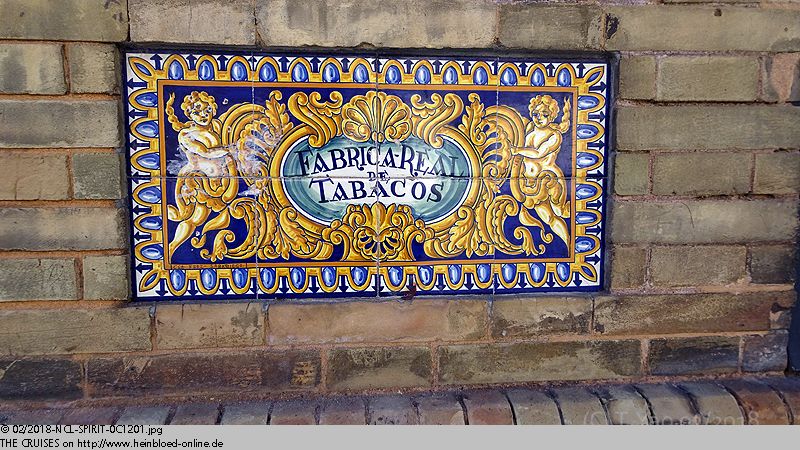 Vor der Tabakfabrik, in der Carmen (aus der gleichnamigen Oper von George Bizet) Zigarren auf ihren Schenkeln gerollt haben soll, waren wir schon mal, als wir mit Pilar von
SEVILLA4REAL
auf unserer
KONINGSDAM 2017
-Reise unterwegs waren. Es war allerdings Sonntag und innen nichts zugänglich.
Die Universität ist hier untergebracht und so können wir heute mal kurz in den Campus rein.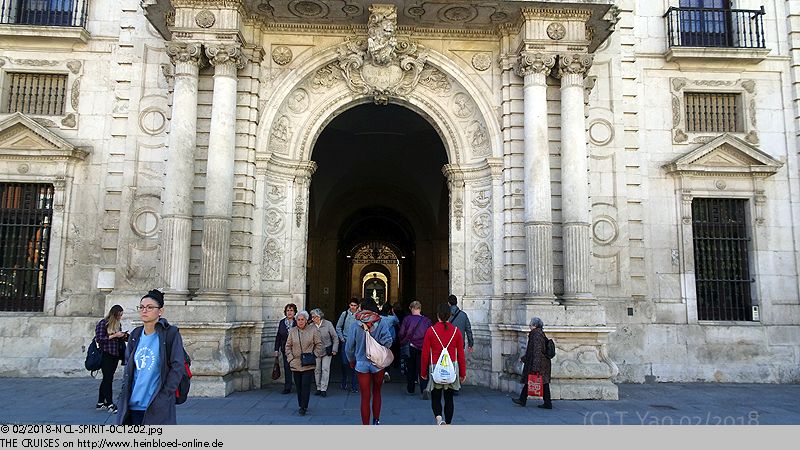 The University was accommodated here, and that day we could walk in to see the campus.

You could also pass in transit to the on the backside of the river Guadalquivir.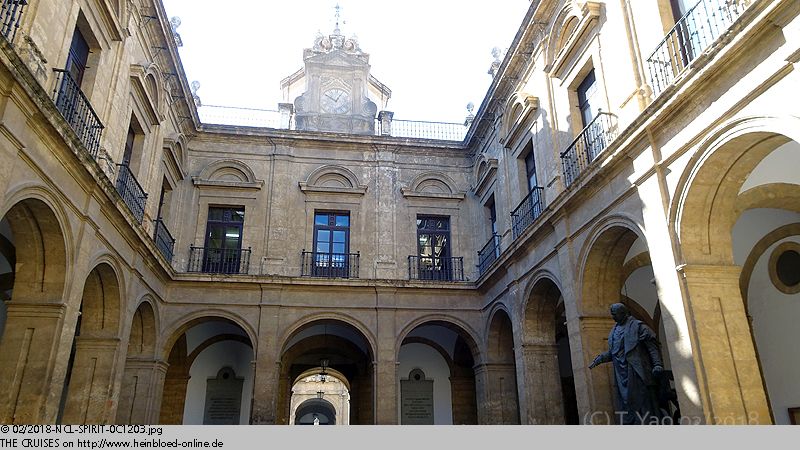 Man kann hier auch im Transit durch, um hinten wieder am Fluss Guadalquivir wieder rauszukommen.
So ein blau!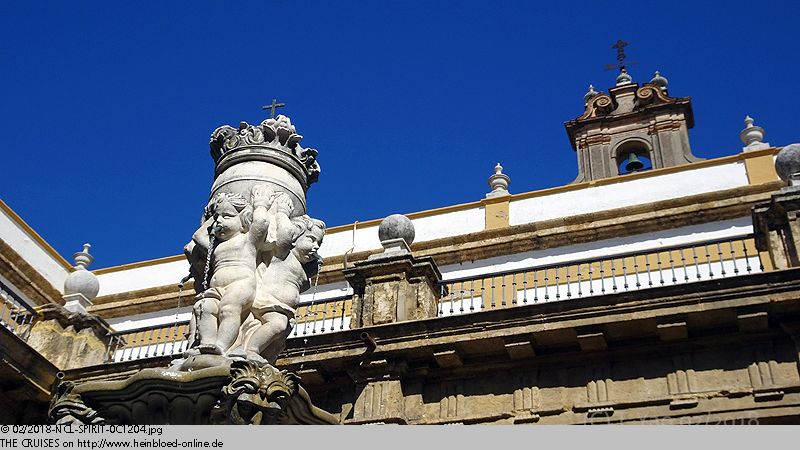 Such a blue!

1929 they had the Ibero-American Exhibition in Seville. For that event, they constructed the Plaza de España. A charming place.

1929 fand in Sevilla die iberoamerikanische Ausstellung statt. Zu diesem Anlass wurde der Plaza de España errichtet. Ein schöner Platz.
Es geht zum Coliseo zum Mittagessen. Ein paar Kleinigkeiten.

We went for Coliseo for lunch. Few small bites.

Around the corner was Torch Coffee Roaster. Here we had our next coffee break. The others were happy. I was heartbroken: no whipped cream - so I could not have my "Vienna Einspänner".

Um die Ecke ist
Torch Coffee Roaster
. Hier folgt direkt die nächste Kaffeepause. Die anderen sind glücklich. Ich bin unglücklich: es gibt keinen Einspänner, weil es keine Schlagsahne gibt.
Weiter geht es in die
königliche Festung Alcázar
. Da haben wir Glück: wir haben Tickets für 16:00 Uhr. Kostenlos. Nur 1,00 EUR (2018) Buchungsgebühren müssen wir zahlen. Es gibt montags eine "Happy Hour" mit kostenlosem Zugang. Als wir um 15:15 Uhr ankommen, werden wir an die Seite geschoben, weil hierfür eine gesonderte Schlange gebildet wird. Die reguläre Schlange für den Ticketverkauf wird kurzerhand gegen 15:45 Uhr gekappt, weil der letzte Einlass um 16:00 Uhr ist. Viele in der Schlange sind verärgert, weil sie nicht die Hausaufgaben gemacht haben und daher weder kostenpflichtige noch kostenfreie Tickets haben und jetzt weggeschickt werden. Viele enttäuschte Gesichter. Und auch einer, der sich das nicht bieten lassen will, und jeden der Mitarbeiter verklagen will und die Polizei rufen will.

We headed to the Royal Fortress Alcázar. And we had luck: we got tickets for 16:00 hrs. Free of charge. Only 1.00 EUR (2018) booking fee we need to pay. They had on Mondays a "Happy Hour" with complimentary admission. When we arrived at 15:15 hrs we have pushed aside because they need to set up a special queue. They just cut-off the regular queue at 15:45 hrs as the last admission would be 16:00 hrs. Many in the queue were very upset because they did not do their homework and had now neither payable tickets nor complimentary tickets and were sent off away. Many of disappointed faces. And also one who did not accept it and wanted to sue every staff member and to call the police.

Quickly we got into the first interior court.

Schnell sind wir im ersten Innenhof.
Schnell sind wir in der Halle, in der wohl noch Empfänge stattfinden. Und ob hier König Felipe auch schon saß, wo ich jetzt sitze?

Quickly we got into the hall they still had receptions there. I was wondering if King Felipe sat here where I was sitting now.

It became more and more beautiful.

Es wird immer schöner.
Und als wir draußen die Wasseranlagen erreichen, erreichen wir schon fast den Höhepunkt. Der kommt mit dem Besuch der Galerie, um die Gärten zu übersehen.

And when we reached the water areas we reached about the highlight. That came when we entered the gallery to see over the gardens.

Before we came to the exit, we need certainly to buy a magnet for our fridge.

Bevor es zum Ausgang geht, muss ich natürlich einen Magnet für unseren Kühlschrank kaufen.
Als wir draußen sind, zeigt ein Thermometer 33°C an.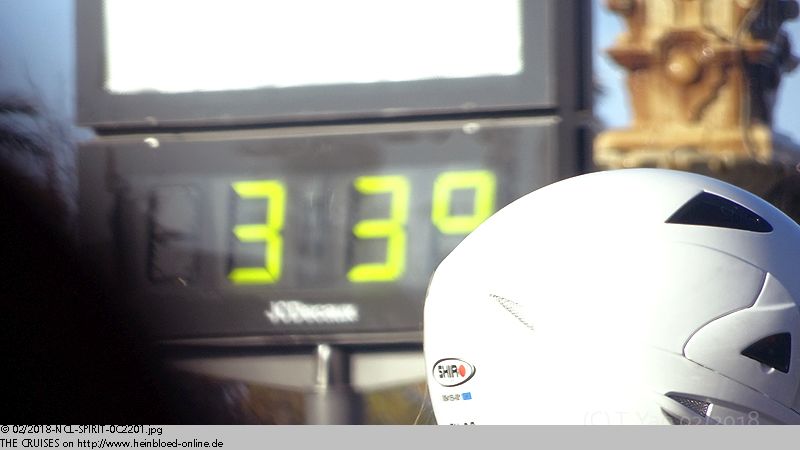 When we came to the outdoor the thermometer showed 91 F.

A reason for Magdalena to treat herself with some ice cream.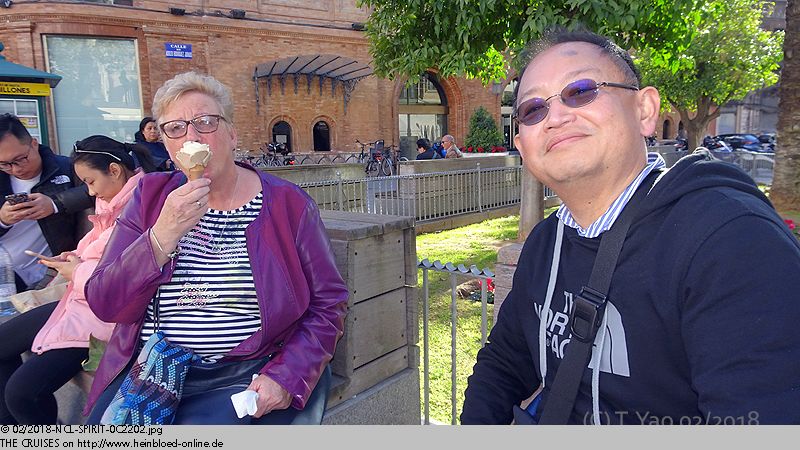 Anlass für Magdalena sich ein Eis zu gönnen.
So bleiben wir einen Moment sitzen.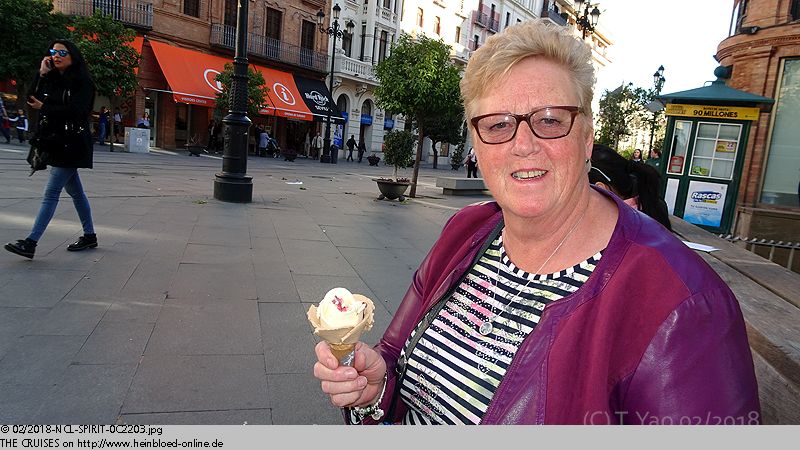 So we stayed sitting for a moment.

And let her enjoying her ice-cream flower.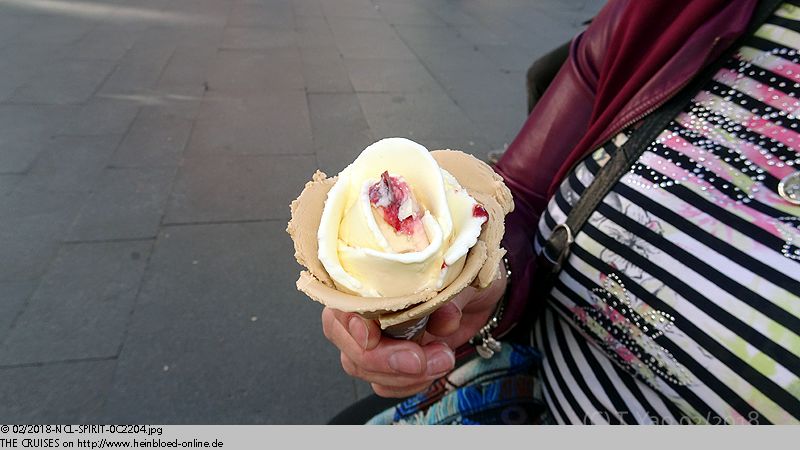 Und lassen sie in Ruhe ihre Eisblume genießen.
Magdalena setzen wir zu Hause ab und nehmen das Auto um in der Nähe unserer Unterkunft zu parken. Morgen ist Abreise, und da haben wir ja Koffer zu schleppen. In der Taberna Ateneo bekommen wir auch an einem Montag Abend zu essen. Die Hühnersuppe wärmt uns von innen, auch wenn eindeutig zuviel Gemüse steckt - meiner Meinung nach. Ich nehme ein iberisches Schweinesteak: da hätte es auch die Hälfte getan. Etwas ungewohnt, aber lecker. Zum Glück ist der Weg zum Bett nicht mehr weit: einmal über den Platz.

We dropped Magdalena at her home and took the car to find a parking close to our accommodation. The next we should check-out, and so we need to carry our bags. In the Taberna Ateneo, we could get something to eat even on a Monday night. The chicken soup warmed us from inside thus there was too much vegetable inside - from my point of view. I took an Iberian Pork Steak: half quantity would be just fine. Somehow unusual but quite yummy. We had the luck that our way to the bed was not far away: just crossing the square.
Die anderen Reisen in diesem Blog/
The other voyages in this blog: