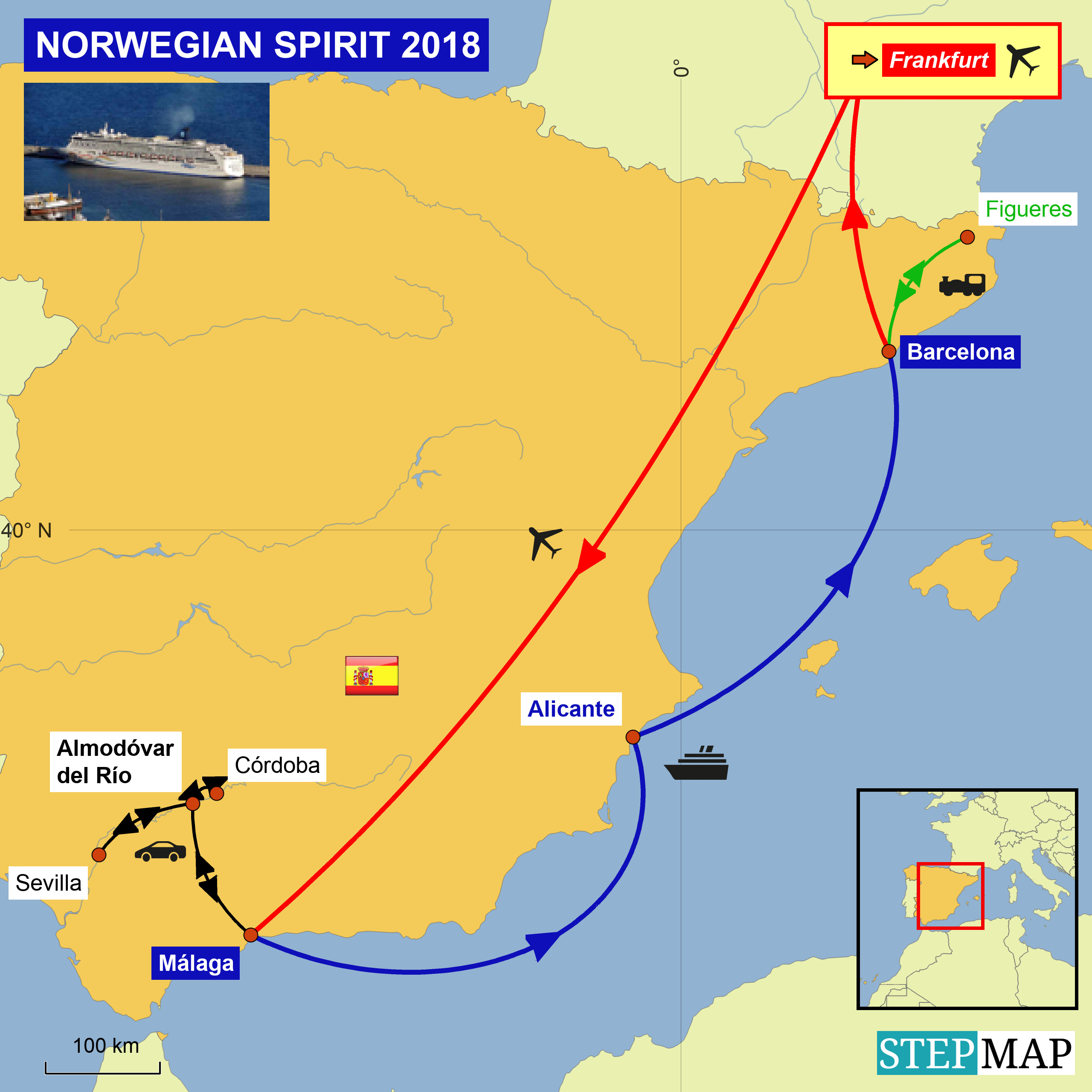 Heute Morgen liegt die Burg in einem strahlendem Blau.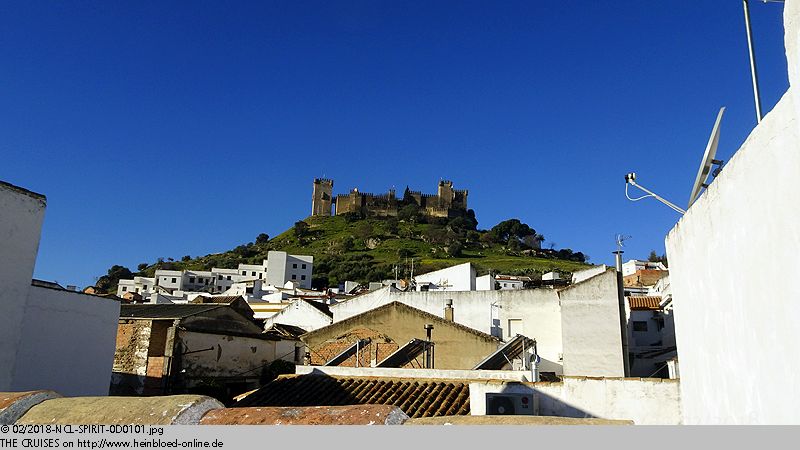 A bright blue sky behind the castle on that morning.

It was looking just great.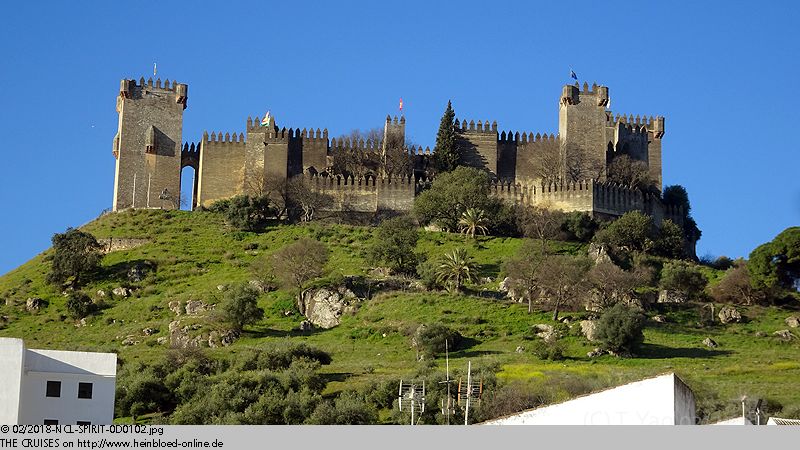 Sieht ja richtig klasse aus.
Noch ein letztes Abschiedsfoto von der Dachterrasse.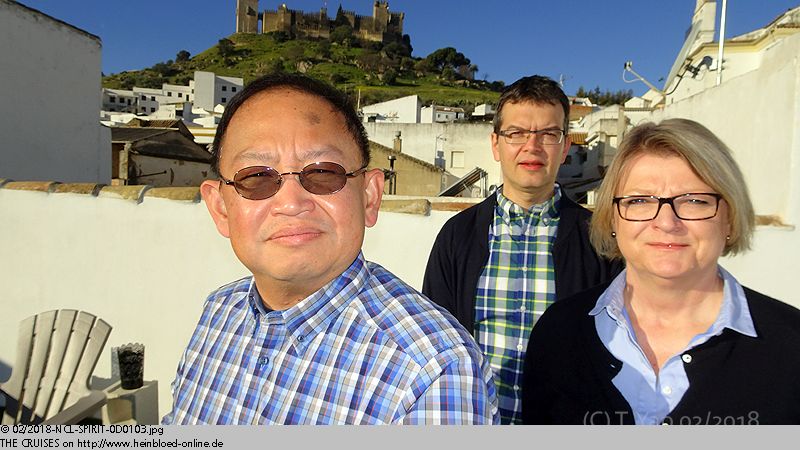 Our last farewell picture from the roof terrace.

That morning we also got our (cold) hard-boiled eggs.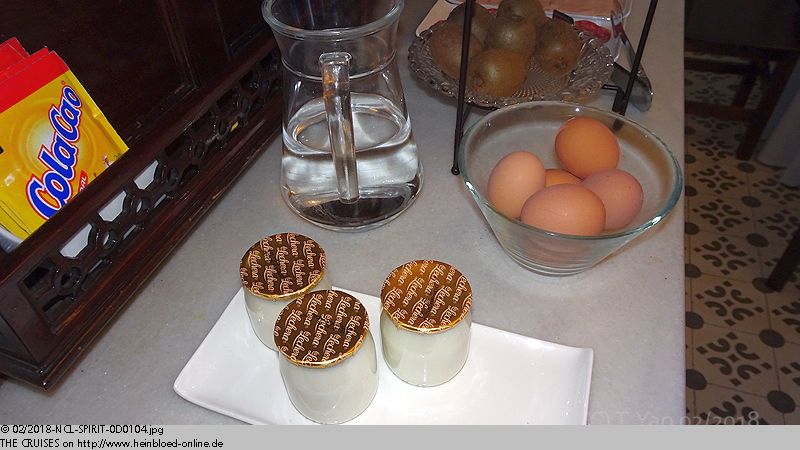 Heute morgen bekommen wir auch (kalte) hartgekochte Eier.
Und jetzt sieht der Platz wieder anders aus.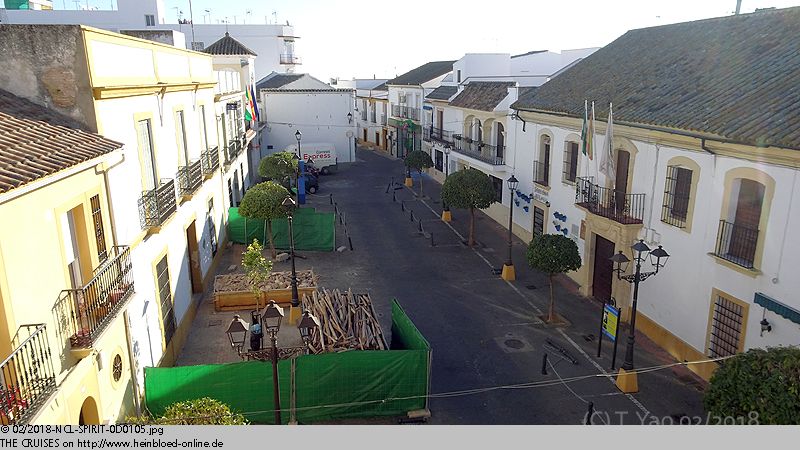 And now the place looked again different.

We went again with Magdalena and Pepe to bid farewell.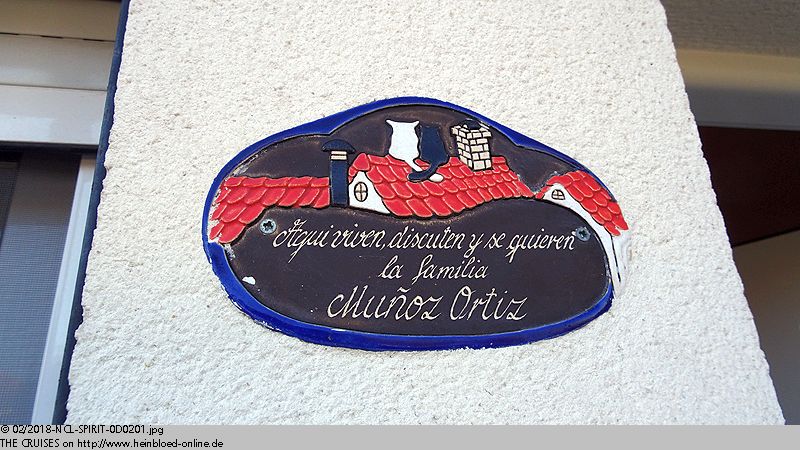 Wir fahren nochmals bei Magdalena und Pepe vorbei, um uns zu verabschieden.
Mit dem Vorwerk in der anderen Hand empfängt sie uns.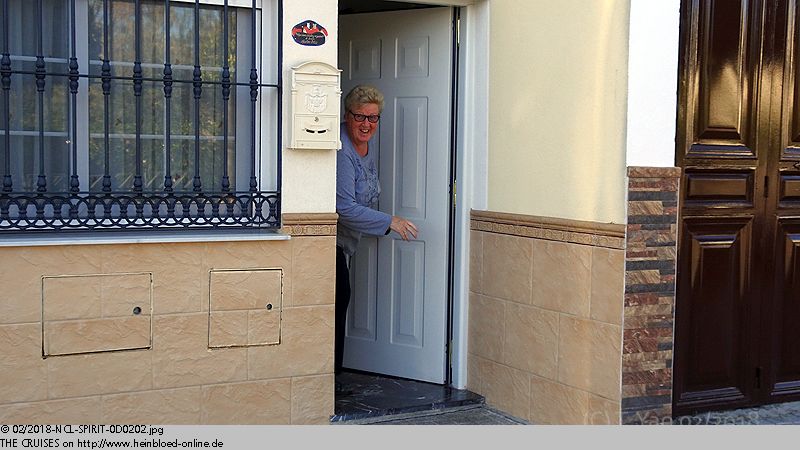 With the vacuum cleaner in the other hand she was welcoming us.

Until the next time Magdalena and Pepe. Maybe in Germany in Hamburg or Heidelberg to have a chance to repay.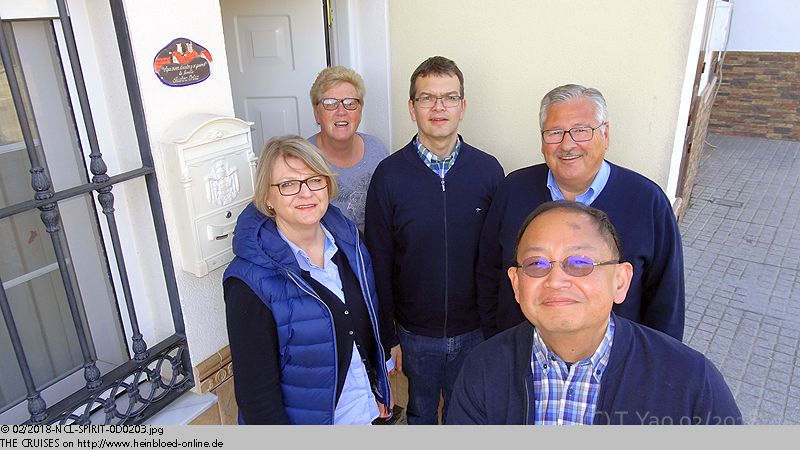 Bis zum nächsten Mal dann Magdalena und Pepe. Vielleicht auch mal in Deutschland in Hamburg oder Heidelberg, damit wir uns revanchieren können.
NORWEGIAN SPIRIT 2013
: Hier war der Treffpunkt für unsere Tour mit Lieve und Mark von
VIP Malaga Tours
zur Alhambra nach Granada. Daher kennen wir zumindest die Toiletten schon. Dieses Mal wohnen wir auch hier
Hotel AC Malaga Palacio
. Hier gibt einen Valet-Service für das Auto (23,00 EUR / 2018). Endlich mal eine Fahrstuhl-Steuerung für Saublöde! Man muss sein Ziel eingeben und dann wird die Kabine genannt, die einen dorthin bringt. Keine Möglichkeit für Saublöde gleichzeitig den Knopf für rauf und runter zu drücken. Eigentlich hatte ich bereits online Check-In gemacht. Da wir aber etwas früher angekommen sind als voravisiert, sind die Zimmer noch nicht fertig. Als sie dann bezugsfertig sind, bekomme ich eine SMS und den passenden Schlüssel aus Gebäck.

NORWEGIAN SPIRIT 2013: Here was our meeting for our tour to Granada, Spain for Alhambra with Lieve and Mark with VIP Malaga Tours. So we knew already the restrooms. This time we stayed also here Hotel AC Malaga Palacio. Here they had valet service for the car (23.00 EUR / 2018). Finally an elevator control unit for stupid people! You need to enter your destination, and it told you which cabin you had to use to get there. No options for stupid people who were always pushing up and down at the same time. Actually, I did already online check-in. As we arrived a little earlier than pre-advised our rooms were not ready yet. When they were available, I got a text message and the key of cookie.

They suggested to go to the roof terrace and wait here while having lunch. The view from here was spectacular. To swim in the pool was definitely too cold.

Uns wird vorgeschlagen, dass wir auf der Dachterrasse warten und hier zu Mittagessen. Der Ausblick von hier ist ein Traum. Um im Pool zu schwimmen ist es mir jedoch zu kalt.
Endlich Salat. Endlich nichts aus der Friteuse. Wir genießen unser Mittagessen. Es ist allerdings nicht so ganz billig, aber schön.

Finally salad. Finally nothing from the fryer. We enjoyed our lunch. It was not really cheap, but it was nice.

We had room 1114. Very nice: as previously discussed they set up everything with two single blankets. The balcony was almost perfect. Only one single inch was missing on the pictures later. A concrete site was in the center of the picture.

Wir haben Zimmer 1114. Sehr nett: sie haben uns bereits wie vorab besprochen, alles mit zwei Einzeldecken hergerichtet. Der Balkon ist fast perfekt. Es fehlen ca. 2 cm auf den Bildern später. Ein Betonwerk steht leider im Bild.
Es geht in die
Kathedrale von Málaga
, die direkt hinter unserem Hotel ist. Auf dem Weg zum Eingang der Kathedrale genieße ich den Gesang der Sopranistin, die als Straßenmusikerin hier sich präsentiert. Es fällt schon am (fehlenden) Besucherstrom auf: die Kathedrale hat nicht die gleiche Bedeutung, wie die Kathedralen in Sevilla und Córdoba. Ich kann mich erinnern, dass ich hier im Hinterhof der Kathedrale schon mal war, als wir mit der
MSC FANTASIA 2009
hier waren. Aber damals war die Kathedrale wegen eines Gottesdienstes nicht zugänglich.

We went to Málaga Cathedral just behind of our hotel. On the way to the entrance of the cathedral, I enjoyed the songs of a soprano which was performing as a street musician. It was showy that the (missing) flow of visitors: the cathedral was not the importance like the cathedral in Sevilla and Córdoba. I remembered that I went here before into the interior court of the cathedral when we came here on MSC FANTASIA 2009. Then we could go inside since they had a public service.

We walked a little through the streets of Málaga passing the Picasso Museum and with the Picasso Foundation. A common picture with Pablo Picasso (as a bronze statue) was a must. So we walked by at Casa Lola which was invited for dinner the night. Even we arrived very early later the day: long queues were in front of the restaurant. So we had one more reason to come back another time.

Wir laufen ein wenig durch die Straßen Málagas vorbei am
Picasso Museum
und bei der
Picasso Stiftung
. Ein gemeinsames Bild mit Pablo Picasso (als Bronzestatue) muss sein. Dabei laufen wir am
Casa Lola
vorbei, das wirklich zum Besuch für das Abendessen einlädt. Trotz sehr früher Ankunft später: es sind schon lange Schlangen vor dem Restaurant. So haben wir wieder einen Grund mehr hierher wiederzukommen.
Wir gehen kurz zu
Granier
, um hier einen Kaffee zu uns zu nehmen. Die anderen entdecken die
Pastéis de Belém
/Nata, die wir von unserer
KONINGSDAM 2016
-Reise aus Lissabon kennen. Ich bekomme sie dauernd bei
Sprüngli
in Basel als
Nideltörtli
. Deswegen folge ich dem Schild mit dem Angebot und probiere ein Torrijas. Das schmeckt aber wie über ein überzuckerter kalter Armer Ritter.

We went quickly to Granier to have a cup of coffee. The others discovered Pastéis de Belém/Nata, which we knew from Lisbon, Portugal when we sailed on KONINGSDAM 2016. I could get them all the time with Sprüngli in Basle, Switzerland as Nideltörtli. So I followed the advertising for the Torrijas and tried some. But it tasted like a over-sweeted cold French Toast.

That was why we need to go straight to Lepanto: I need something hearty and a fresh-squeezed orange juice to get out the sweet flavor. Bruno was happy to get a beetroot and mixed vegetable juice.

Deswegen geht es direkt danach wieder zu
Lepanto
: ich brauche etwas herzhaftes und einen frischgepressten Orangensaft, um den süßen Geschmack herauszubekommen. Bruno freut sich über einen Saft aus Rote-Beete und anderen Obst- und Gemüsesorten.
Mit einsetzender Dunkelheit gehe ich nochmals auf die Dachterrasse. Wieder ein Traum.

With the beginning of the darkness I went again to the roof terrace. It was like a dream again.

As we had unluck with the Casa Lola, we skipped every restaurant which tried to pull us in, and we followed the recommendation in TripAdvisor and dined in Las Merchanas. There was a lot to see. And charming waiters who warned us to order too much. Unfortunately, the picture did not come through with our friendly waitress: very sad. You need to have an extremely clean conscious to feel comfortable there. Many statues of St. Mary and pictures of Jesus. Finally, I wanted to have a mini-glass of Sherry. They were so cute not to charge for the trial sip.

Nach dem wir ja Pech mit Casa Lola haben und wir konsequent jedes Lokal meiden, das versucht uns reinzuziehen, folgen wir dem Tipp im
TripAdvisor
und essen in Las Merchanas. Dort gibt es sehr viel zu gucken. Und wirklich super nettes Personal, das uns davor warnt viel zu viel zu bestellen. Leider ist das Bild nichts geworden mit unserer netten Bedienung: sehr schade. Man muss ein extrem reines Gewissen haben, um sich hier wohl zu fühlen. Sehr viele Marienstatuen und Jesus-Bilder. Am Schluss möchte ich einen Mini-Sherry. Sie sind so nett, mir den Probierschluck nicht zu berechnen.
Einen letzten Cortado nehmen wir im
Café Central Málaga
. Danach werden wir einfach müde.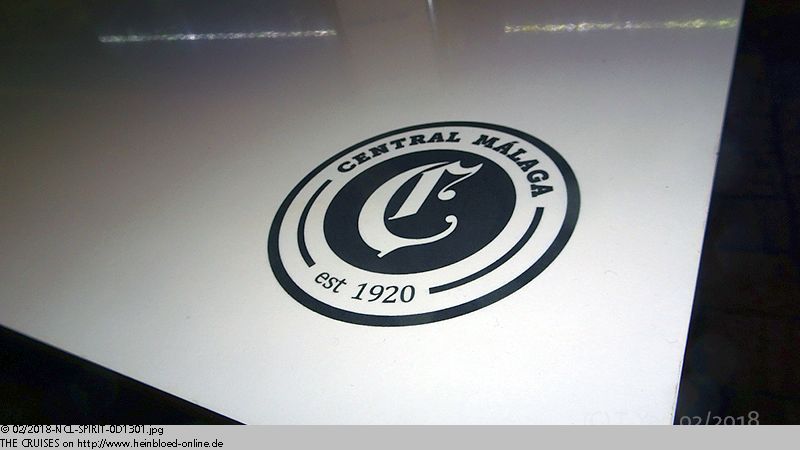 A very last cortado we took in Café Central Málaga. After that we just were tired.

No prices like I had in Basle, Switzerland, but also not the price level like in Almodóvar del Río. Now we were heading to our bed since the alarm would ring at 04:30 hrs.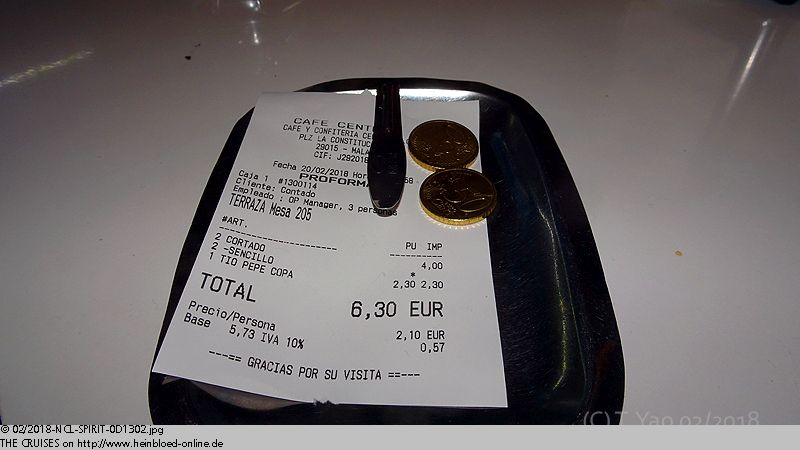 Noch keine Preise, wie in Basel, aber eben auch nicht wie in Almodóvar del Río. Jetzt geht es ins Bett, denn um 04:30 Uhr wird bereits der Wecker klingeln.
Die anderen Reisen in diesem Blog/
The other voyages in this blog: