Es geht zum 7. Mal auf die NORWEGIAN JADE. Da wir eh mit einem Mietwagen zurückkommen und es Pfingsten ist, parken wir dieses Mal direkt auf Brunos Dienstparkplatz. Ich versuche mich an einer TaxiApp, die mich fast richtig findet. Sie lotst leider das Taxi auf die gegenüberliegende Straßenseite. Der direkte Weg zum Flughafen ist komplett dicht. Wir müssen einen Umweg fahren. Unser Glücksbringer Ioana vom
Lufthansa
Check-In ist leider selbst im Urlaub. Seit unserem Flug zur
DIAMOND PRINCESS 2016
und zuletzt auf dem Weg zur
QUEEN MARY 2 2017
hat sie uns eigentlich immer in den Urlaub geschickt. Dieses Mal bekam ich kurz nach der Buchung ein interessantes Upgrade-Angebot von Lufthansa und da nun Brunos Geburtstag bevorstand, habe ich sofort das Angebot angenommen. So geht es zunächst in die Lufthansa Business Lounge zu den Jet Friends... Ich weiß noch, wie ich als 10-Jähriger Mitglied beim Lufthansa Junior Club wurde... Das nennt man eben Kundenbindung.

We were on the way to our 7th sailing on NORWEGIAN JADE. As we would anyway return by car rental and it was Pentecost we parked immediately in Bruno's office parking. I tried to use the TaxiApp which was locating me almost properly. It guided the car to the opposite side of the street. The direct way to the airport was totally congested. So we had to go a detour. Our lucky charm Iona of Lufthansa Check-In was unfortunately herself on vacation. Since our flight to DIAMOND PRINCESS 2016 and recently on our way to QUEEN MARY 2 2017 it was always her who was sending us off for our vacation. That time I got quickly after our booking an interesting upgrade offer from Lufthansa and as Bruno's birthday was approaching soon I accepted the offer. So we went first to the Lufthansa Business Lounge to Jet Friends... I remember well how I became member of Lufthansa Junior Club as a 10-years old boy... They way to set up loyalty.

Heading to London-Heathrow. We learned: they had Business Class rows with tables on the vacant middle seat and such one without. Interesting to see that I had no access to book seats in the first three rows. Bruno got from me a Collar-Buff as he felt it was sometimes quite breezy in the plane. A flight with detours: we had to cross the highland of Hunsrück and Luxembourg. A nice diverting flight.
And with coffee to go...

Auf nach London-Heathrow. Wir lernen: es gibt Business Class Reihen mit Tisch auf dem freien Mittelsitz und solche ohne. Interessanterweise konnte ich keine Plätze in den ersten drei Reihen mit Tisch reservieren. Bruno bekommt von mir ein
Collar-Buff
, weil es ihm manchmal im Flugzeug zu sehr zieht. Ein Flug mit Umwegen: wir mussten über den Hunsrück und Luxemburg fliegen. Ein schöner kurzweiliger Flug. Und mit Coffee to go...
Wir erreichen die englische Küste.

We reached the English coast.

Thanks to the automated lanes and the priority baggage: ahead of the official arrival time we had already our baggage.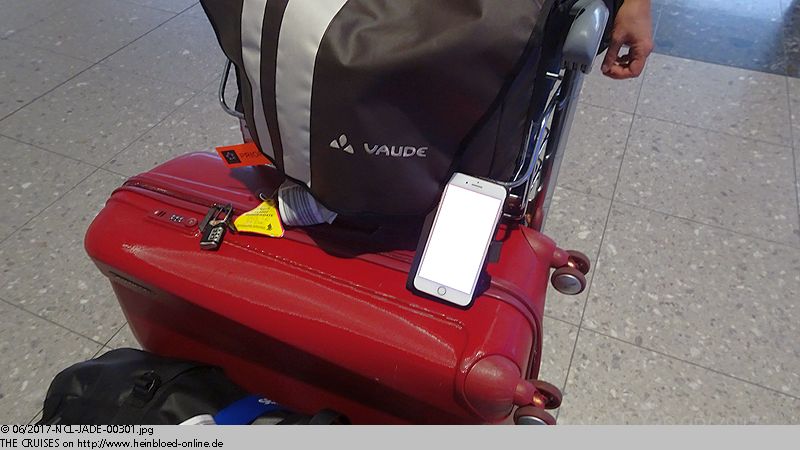 Dank der automatischen Spuren und Priority-Gepäck: vor der offiziellen Ankunftszeit haben wir bereits unser Gepäck.
Schnell auf die Toiletten: warum gibt es in Frankfurt eigentlich so etwas nicht auf den öffentlichen Toiletten?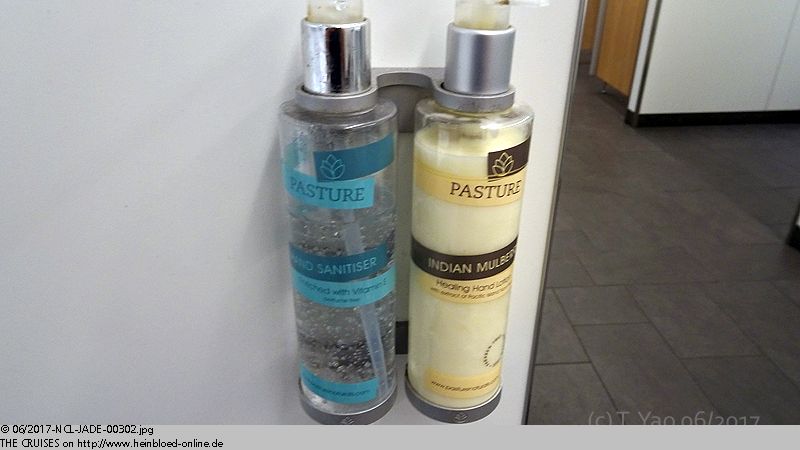 Quickly seeing the restrooms: why could not have something like that also in the public restrooms in Frankfurt, Germany.

As we had not met our lucky charm Ioana we could immediately noticed in London-Heathrow: we caught an elevator which was not working and did not want to move to the basement and all the time were moved up and down without reaching the basemnt to reach the buses.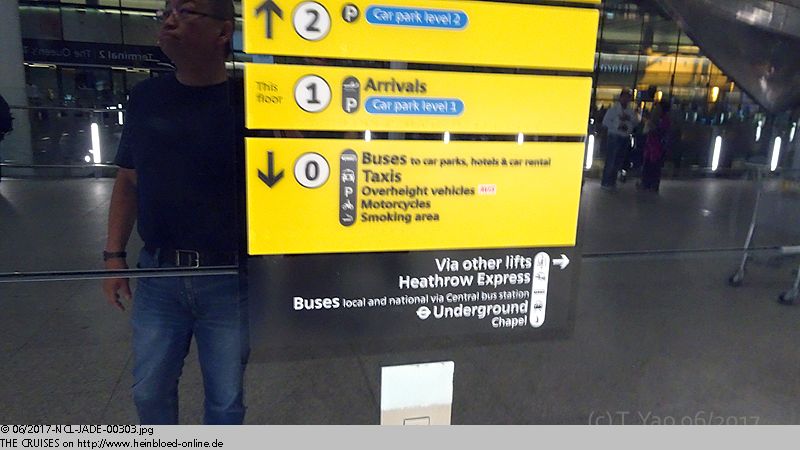 Dass wir unseren Glücksbringer Ioana nicht getroffen haben, macht sich sofort in London-Heathrow bemerkbar: wir erwischen einen Fahrstuhl, der defekt ist, und nicht in den Keller fahren will und fahren die ganze Zeit hoch und runter, ohne dass wir in den Keller zu den Bussen kommen.
Irgendwann haben wir es doch geschafft zur Haltestelle zu kommen, nach dem wir den Fahrstuhl gewechselt haben.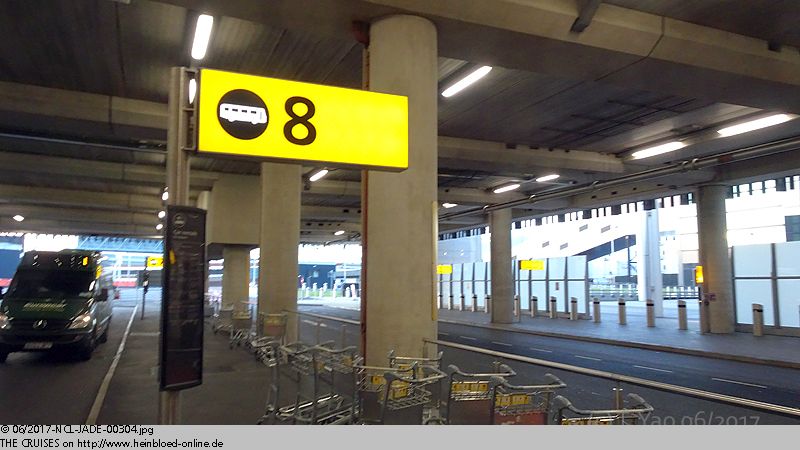 After a short time we made it to the bus stops after we changed the elevator.

with the shuttle we reached after few minutes the office of Hertz. We booked the car through the German automobilists club (ADAC). New was luckily that you must not queue up anymore but taking a number. Meanwhile Sigi arrived. We went with her multiple times on cruises like NORWEGIAN JADE 2014 (1) and recently QUEEN MARY 2 2017. She had luck as the weekend before British Airways" had a total breakdown due to an IT-error. We got a very nice upgrade. To avoid that I would sleep in I had a Irn Bru from Scotland.

Mit dem Shuttle geht es in wenigen Minuten zum Büro von
Hertz
. Den Wagen haben wir über
ADAC Mietwagen
gebucht. Neu ist zum Glück, dass man nicht mehr anstehen muss, sondern Nummern zieht. Zwischenzeitlich ist auch Sigi eingetroffen. Mit ihr waren wir schon mehrfach auf Kreuzfahrten wie
NORWEGIAN JADE 2014 (1)
und zuletzt
QUEEN MARY 2 2017
. Sie hatte Glück, weil das Wochenende davor, alles mit
British Airways
wegen eines IT-Fehlers zusammengebrochen ist. Wir bekommen ein schönes Upgrade. Damit ich nicht unterwegs einschlafe gibt es für mich ein
Irn Bru
aus Schottland.
Es geht wieder nach Hythe. Da sechs Schiffe morgens einlaufen und auch Schiffe am Queen Elizabeth 2-Terminal anlegen und NORWEGIAN JADE am Ocean Terminal anlegt, ist Hythe die beste Auswahl, weil ich von hier gut fotografieren kann. Es geht wieder in
The Maples Hotel
, mit dem wir viele schöne Erinnerungen mit Shirley und Godfrey verbinden. Zum ersten Mal waren wir damals anlässlich unserer Reise auf der
QUEEN ELIZABETH 2 2007
hier. Aber wir haben Shirley und Godfrey dann in Schottland während unserer Reise auf der
OCEAN PRINCESS 2015
wieder getroffen. Neu ist die Schlüsselbox, die wir erst mal als solche identifizieren müssen. Wir haben zu dritt draußen nach einem größeren Kasten gesucht. Drinnen hat sich einiges verändert.

We went again to Hythe. As the next day there should be call of six ships and including call at Queen Elizabeth 2-Terminal and NORWEGIAN JADE should dock at Ocean Terminal, Hythe should be the best choice because you can have the best pictures from here. We went again to The Maples Hotel where we made many great memories with Shriley and Godfrey. The very first time we came on our voyage on QUEEN ELIZABETH 2 2007. But we met recent Shirley and Godfrey again in Scotland during our voyage on OCEAN PRINCESS 2015. New was the key box which we first need to identify as such. With a group of three we were looking outside for a larger box. Inside they had few changes.

Also in the rooms they had few change. Many regional products. Many lovely small items. A refurbished bathroom. And binoculars to be peeping Tom??? You cannot see directly from your bed the arriving ships. The small plants behind the house were still there.

Auch in den Zimmern hat sich einiges verändert. Viele regionale Produkte. Viele liebevolle Kleinigkeiten. Ein umgebautes Bad. Und ein Fernglas zum Spannen??? Man kann leider nicht vom Bett aus direkt auf die einlaufenden Schiffe gucken. Die kleinen Produktionshallen hinter dem Haus stehen immer noch da.