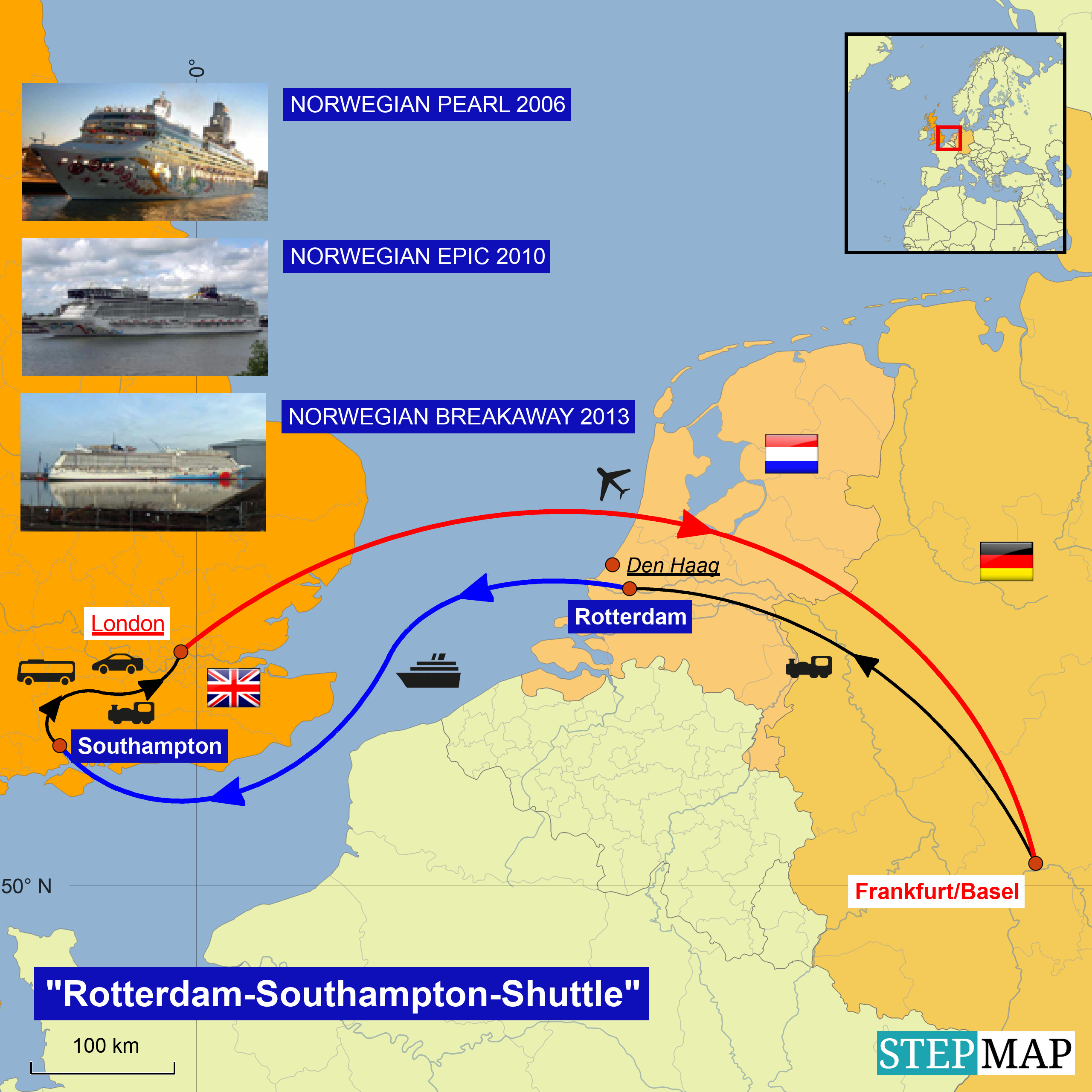 Spielen wir an der Uhr: 2009 in Barcelona... Courtyard Guests werden in einer Lounge vom Concierge empfangen...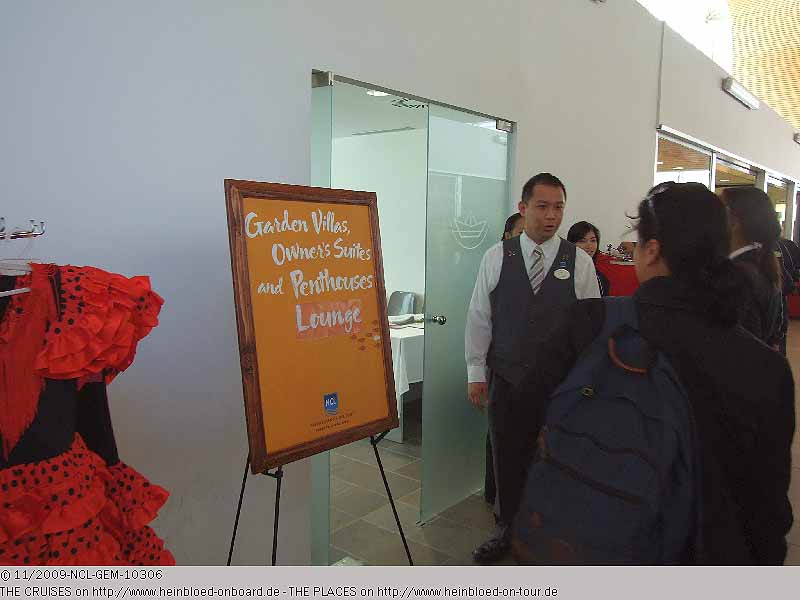 Let's play with the clock and move it to 2009 in Barcelona... Courtyard Guests were expected in a lounge by the Concierge.

And Ryan was a real nice Concierge like Monica and David.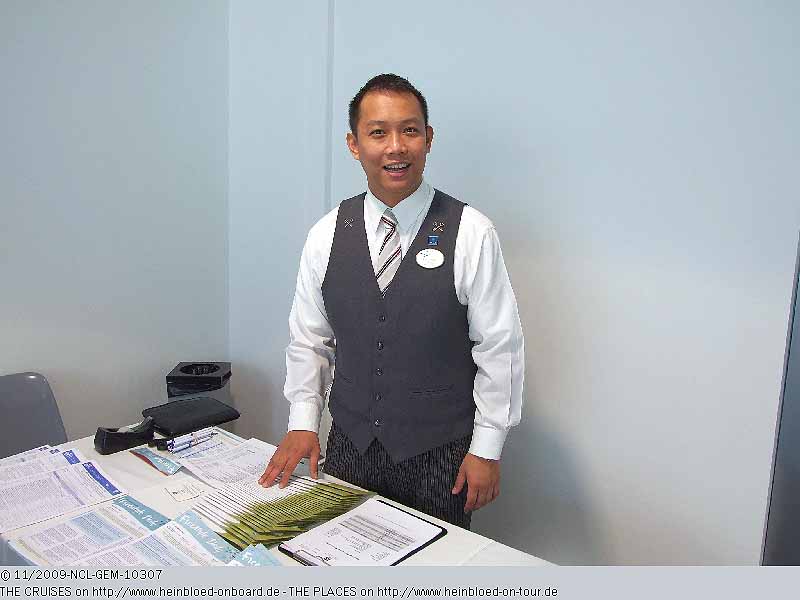 Und Ryan war ein echt netter Concierge, so wie Monica und David.
Es gab etwas zu trinken und zu essen.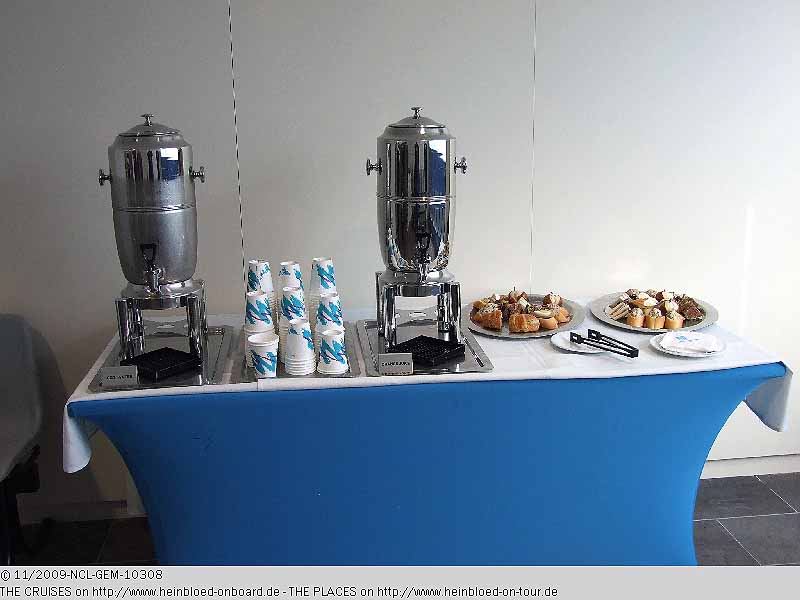 You had something to drink and to eat.

Everything was well prepared.

Alles war vorbereitet.
Und es gab die Karten sofort.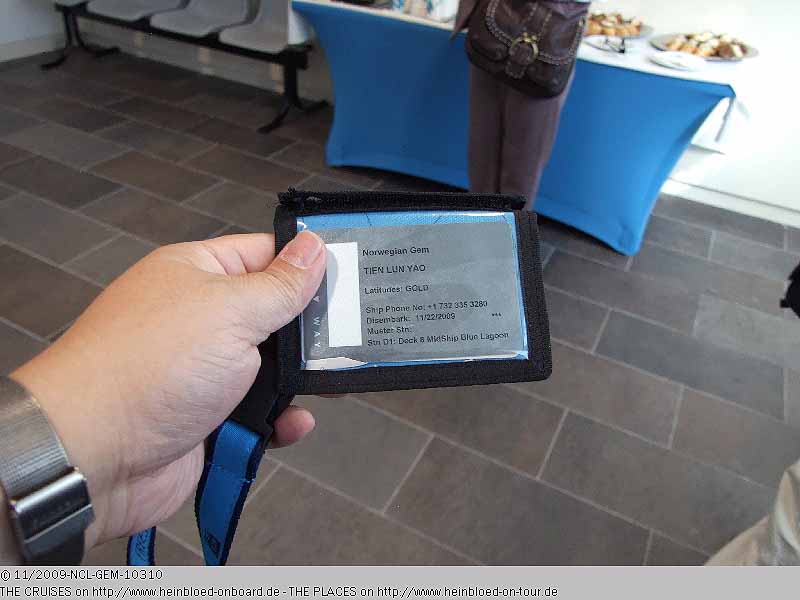 And you got immediately your cards.

Our butler came to help us with the bags.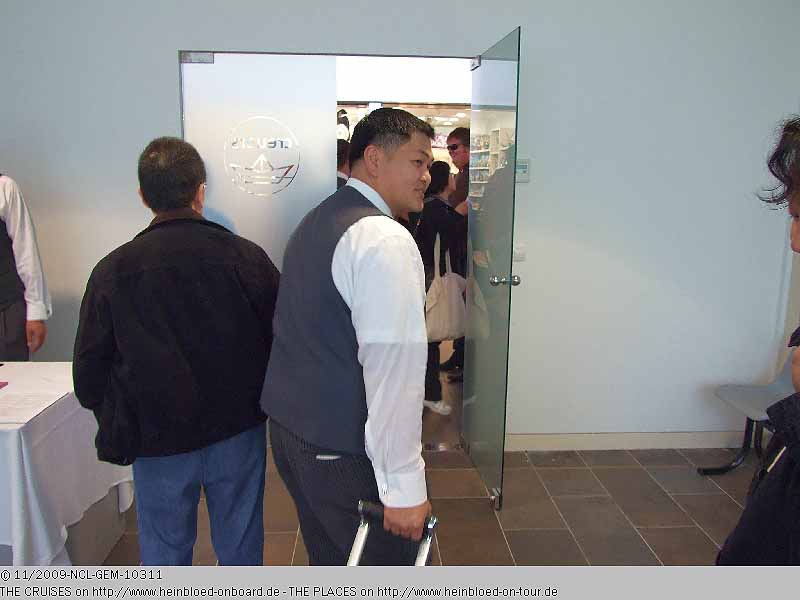 Unser Butler kam, um uns mit dem Gepäck zu helfen.
Und uns zur Kabine zu führen.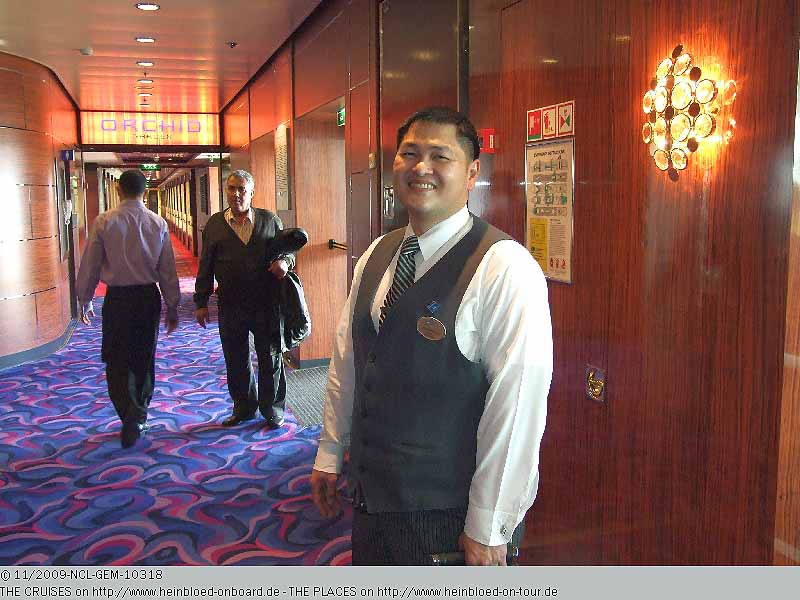 To escort us to our cabin.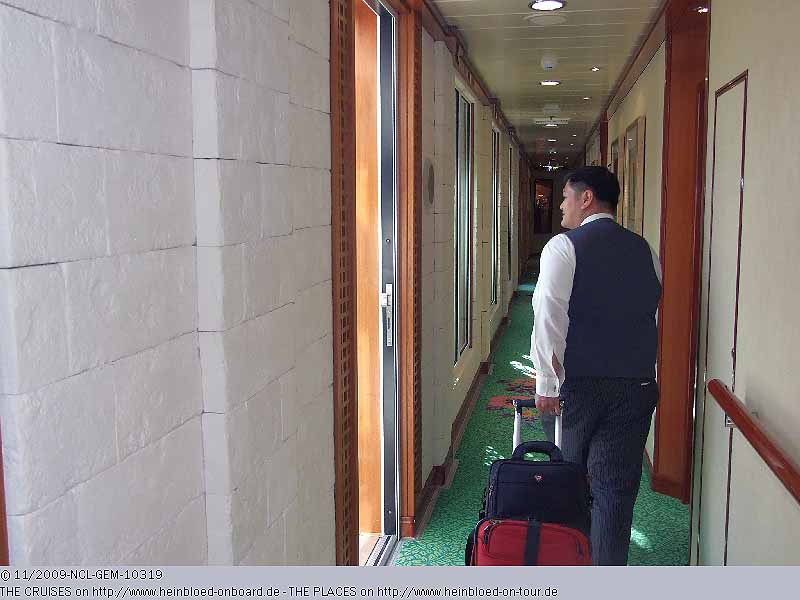 2009 in Rotterdam: Hier gab es eine spezielle Ecke wieder mit Getränken für Suiten-Gäste.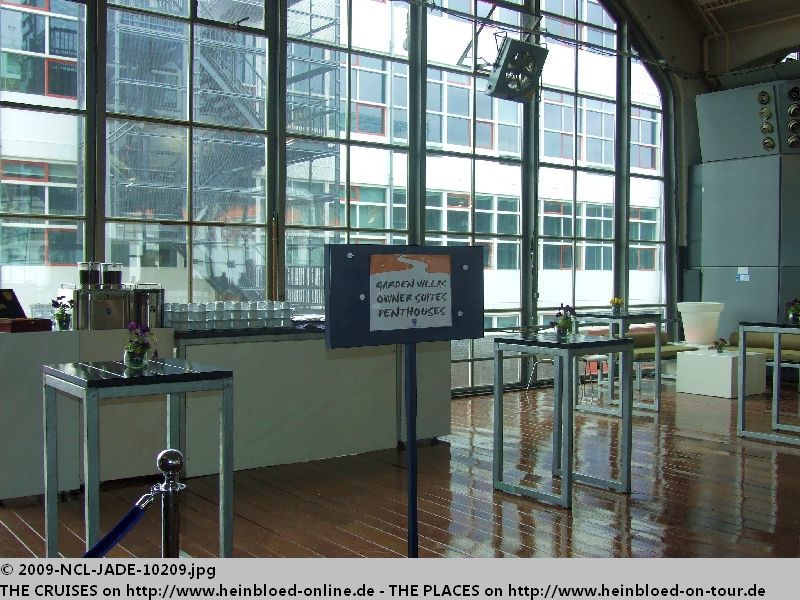 2009 in Rotterdam you had a dedicated corner with beverages for Suite-Guests.

2013 in Rotterdam: as usual one long queue... No seperate admission for Suite-Guests.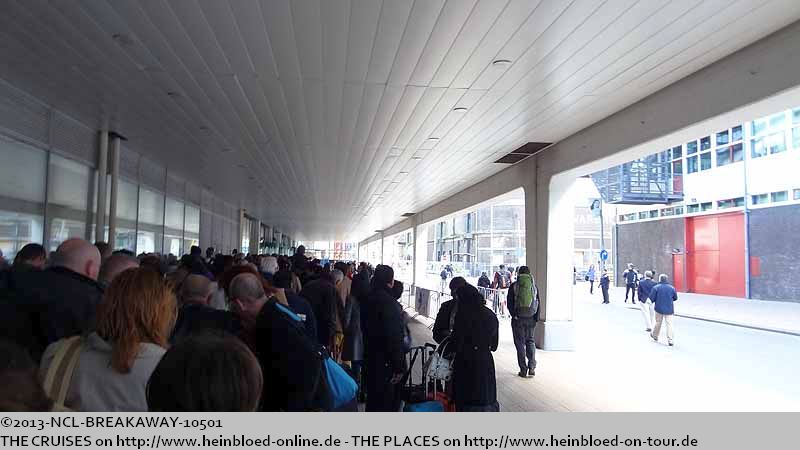 2013 in Rotterdam: wie üblich eine Schlange. Kein separater Zugang für Suiten-Gäste.
Als wir am Außenschalter unsere Tickets und Ausweise vorzeigen, bekommen wir eine "normale" Einschiffungsnummer. Wir erklären ihr, dass wir Suiten-Gäste sind: sie weiß nicht, was The Haven ist und muss erstmal jemanden suchen, die sich auskennt und uns eigentlich ins Terminal begleiten will, aber weil anscheinend sie die einzige ist, die sich genauso auskennt, wie einige Gäste, bekommen wir diese Einschiffungskarte und sollen alleine reinfinden.

When we reached the outdoor-counter we presented our tickets and passports and we got "regular" embarkation numbers. We explained that we were Suite-Guests, but she did not know anything about The Haven and need to find someone who had the appropriate knowledge and wanted to escort us into the terminal. Because she was the only person, who had the same knowledge as some guests, we got this embarkation card and should find our ways ourselves.

In the terminal, there was none who had some knowledge either. A separate area for Suite-Guests like in 2009 was not existing. But there was one unique line where nobody was available, and you need to wait. At the Check-In it worked as usual: but our names on their list were deleted, and we got the message that we cannot have our room we booked and should move to 15102. As I had no clue which category was the new cabin and there were not so many better categories but S4 we became quite nervous. No key cards were ready for us. We need to wait a long time until they released new key cards. Meanwhile, I got the information that we cannot move into our original cabin due to maintenance. No further information. I insisted on getting an appropriate answer, and we were only told that it was no downgrade. I booked before 16122. The perfect location like Times Square in New York City and now I got a cabin at a dead end street in The Bronx. At this moment I was only upset. But there was nobody around who could give me answers.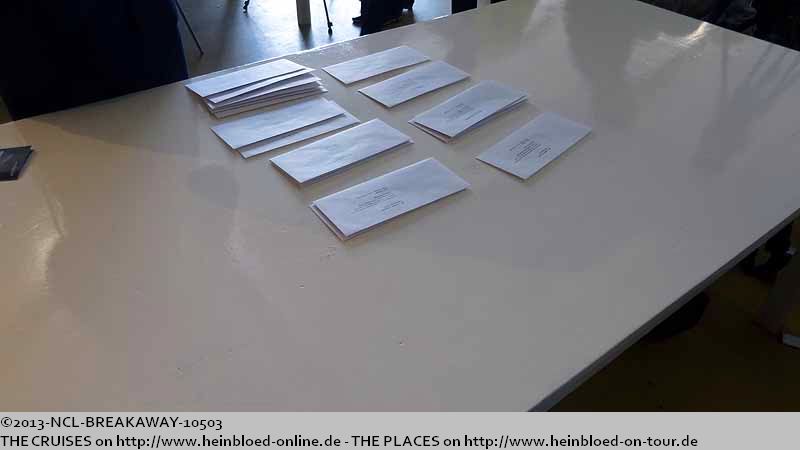 Im Terminal weiss auch niemand Bescheid. Einen separaten Bereich für Suiten-Gäste wie 2009 gibt es nicht mehr. Stattdessen eine eigene Schlange, bei der nur niemand steht und man erstmal warten muss. Am Check-In geht es normal zu: nur dort sind unsere Namen auf der Liste durchgestrichen und wir bekommen die Mitteilung, dass wir nicht in unserer Kabine bleiben können und dass wir jetzt 15102 haben. Da ich keinen Plan habe, was für eine Kategorie das ist und über S4 nur noch sehr wenig Kategorien kommen, werde ich nervös. Schlüsselkarten liegen für uns nicht bereit. Wir müssen wieder warten, bis dass die Karten erstellt werden. Zwischenzeitlich bekomme ich die Antwort, dass noch Wartungsarbeiten bei uns in der Kabine stattfinden. Man kann mir aber nichts näheres sagen. Ich bestehe darauf, dass ich eine vernünftige Antwort kriege und ich bekomme nur die Antwort, dass es kein Downgrade ist. Ich hatte zuvor 16122 gebucht. Eine perfekte Lage, so wie an der Gedächtniskirche in Berlin und nun bekomme ich eine Kabine quasi damals an der Sonnenallee - am Ende einer langen Sackgasse (aus Sicht eines alten West-Berliners). Darüber habe ich mich aufgeregt in diesem Moment - nur war einfach niemand da, der mir Rede und Antwort stehen konnte.
Endlich gab es die Karten. Einer vom Check-In führt uns bis zum Schiff.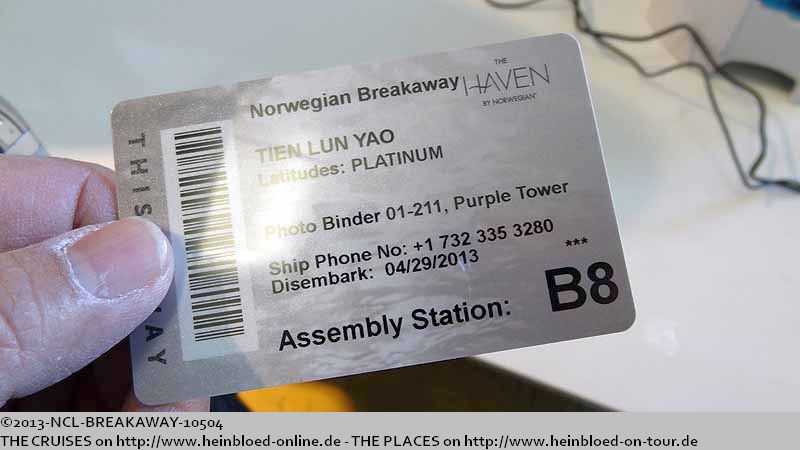 Finally we got our cards. One from the Check-In escorted us to the ship.

I missed the cordiality and happiness we experienced on NORWEGIAN SPIRIT while we embarked in January 2013. There were three Senior Officers but we were pushed so quickly into the ship that they barely had the chance to say "Welcome on Board".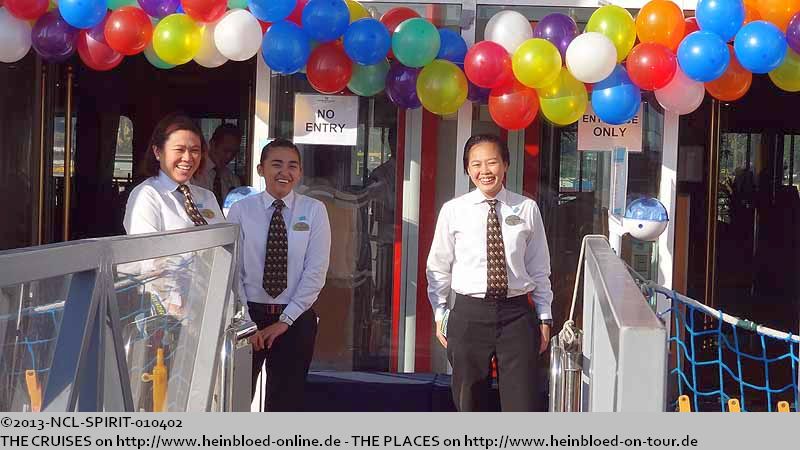 Die Herzlichkeit und Fröhlichkeit bei der Ankunft am Schiff habe ich schmerzlich vermisst. Das war im Januar 2013 auf der NORWEGIAN SPIRIT. Zwar standen hier drei Senior-Offiziere bereit, aber wir wurden so schnell durchgeschoben, dass die kaum Gelegenheit hatten auch mal "Willkommen an Bord" zu sagen.
Hier gab es dann die Butler, die dann aber eher als Liftboys eingeteilt waren und uns zum Deck 16 gebracht haben. Nur 2 von 8 Liften dieses Treppenhauses führen zu Deck 16.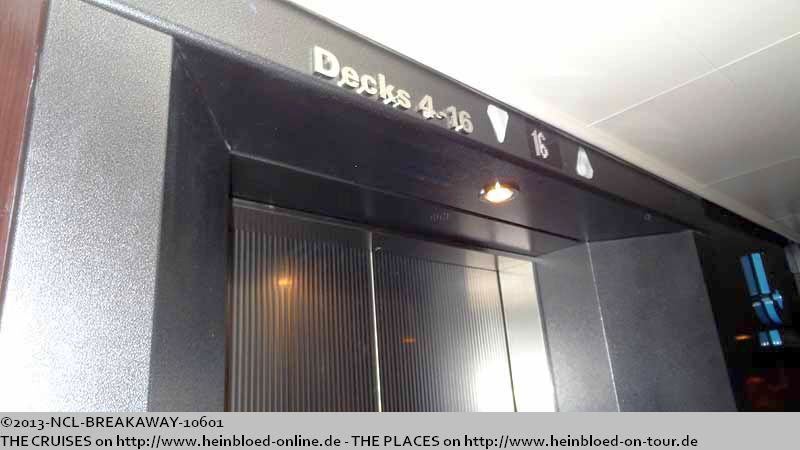 Here you had a butler who worked more as lift boys and took you to Deck 16. Only 2 of 8 lifts go to Deck 16.

Now we realized finally that we embarked on Deck 5. Above we got a mass-reception by the concierge. Nothing personally: everything you need to do and not to do. Reservations for tables and shows should be accepted after 14.00 hrs because they had so much to do... and who booked tickets for "Rock of Age" had unluck: "Managementdecision" that it was cancelled and our tickets will be good for "Burn the Floor".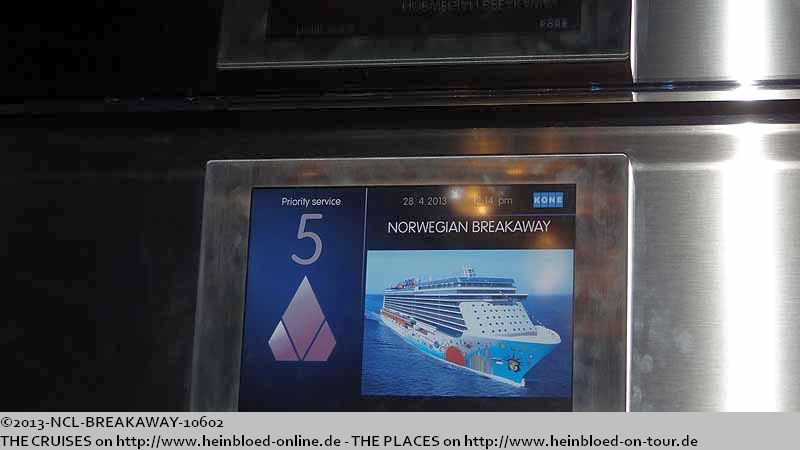 Nun bekomme ich auch endlich mit, dass die Einschiffung über Deck 5 erfolgte. Oben gab es dann eine Massen-Begrüßung durch den Concierge. Nichts persönliches: alles, was man zu tun und zu lassen hat. Tisch- und Theaterreservierungen werden erst nach 14.00 Uhr akzeptiert, weil man ja so viel zu tun hat... Und wer Theatertickets für "Rock of Age" hat, hat Pech: "Managemententscheidung", dass das ausfällt, aber unsere Karten würden automatisch auch for "Burn the Floor" gelten.
Wir werden dann in unsere Kabinen geschickt. Niemand, der uns führt oder beim Gepäck hilft. Ich hatte immerhin Rucksack, PC-Tasche und Trolley und hier ist die Treppe zu meiner Kabine in der "Sonnenallee".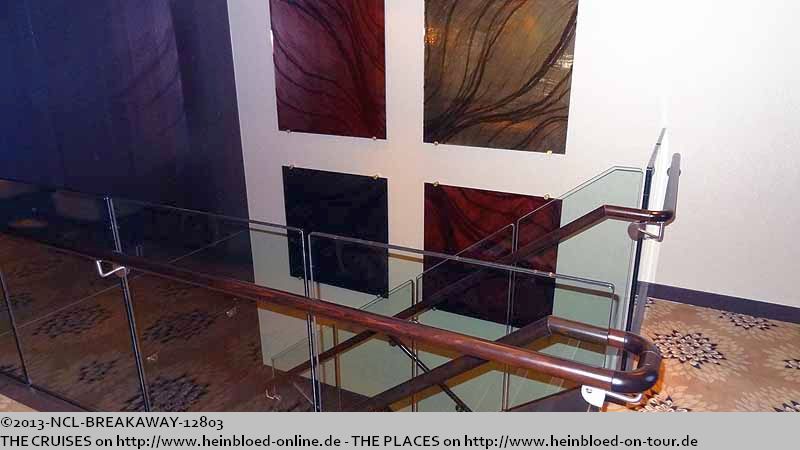 We were sent into our cabins. None who escorted us or helped with my bags. I had backpack, PC-bag and trolley and had to use the stairs to our cabin to the dead end street in the Bronx.

And the location of my originally booked cabin: here just in front... and I met some workers from the German shipyard who did not know anything on maintanence in this cabin but they were loyal enough not to exclude it.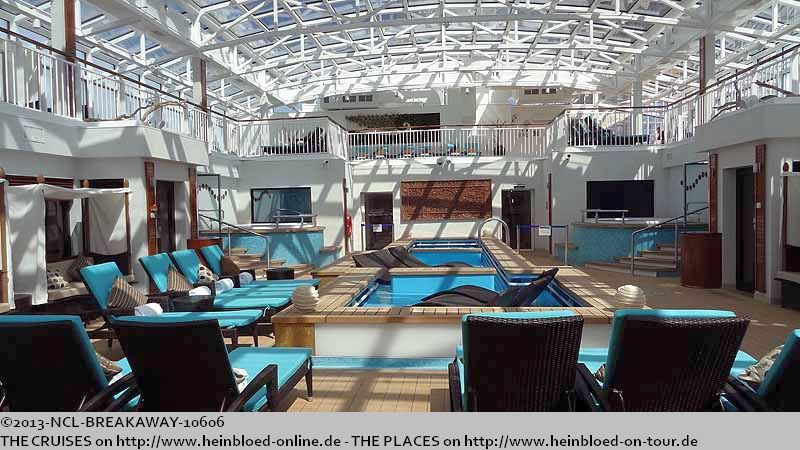 Und hier läge meine ursprüngliche gebuchte Kabine: direkt davor... und nachts hatte ich ein paar von der Meyer-Werft getroffen, die nichts von Wartungsarbeiten in der Kabine wussten, aber loyal genug waren, es auch nicht auszuschließen.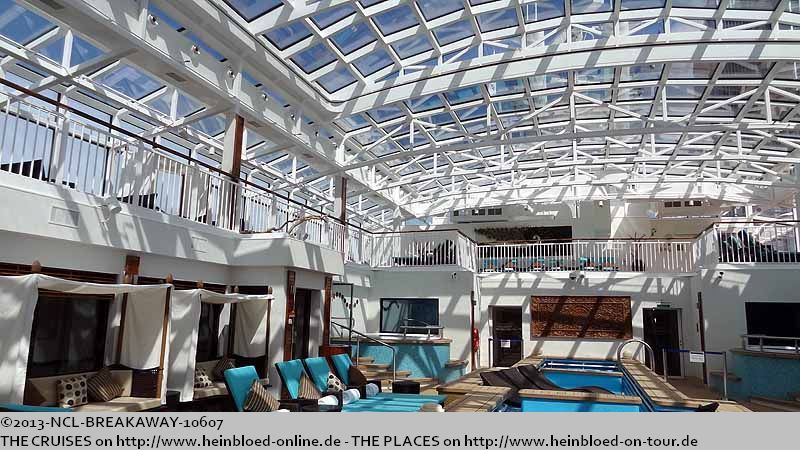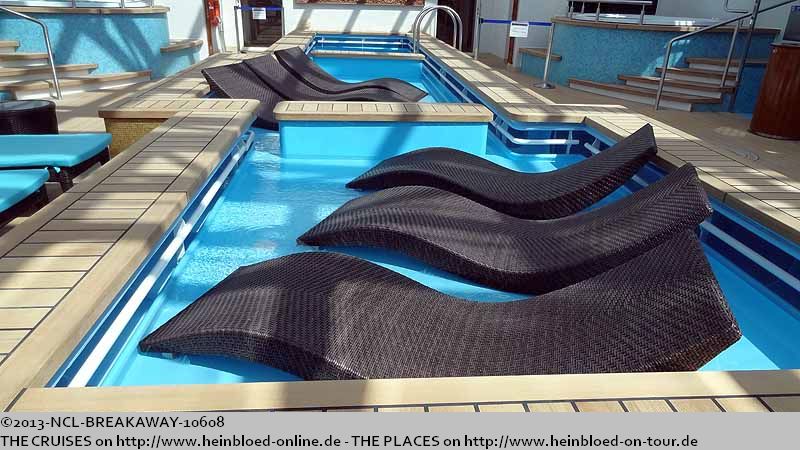 Natürlich hat NCL das Recht uns dahin zu platzieren, wohin sie wollen. Trotzdem darf ich ja wohl an dieser Stelle enttäuscht sein.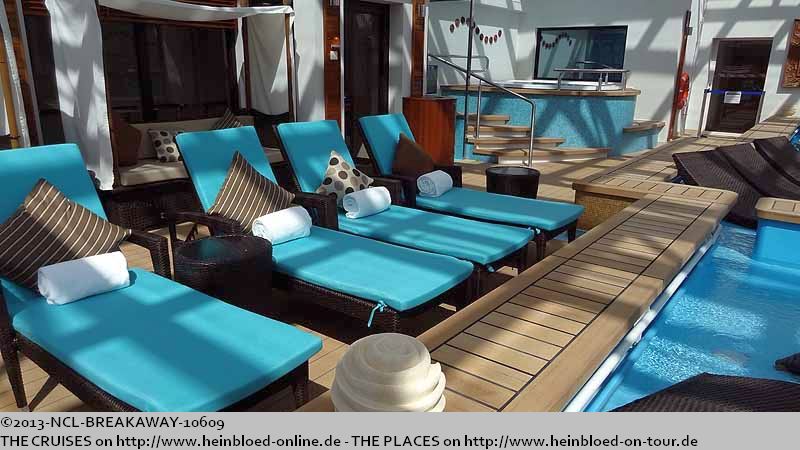 Of course NCL has the right to allocate us where they want. But even then I could be disappointed on their decision.
Die anderen Reisen in diesem Blog/
The other voyages in this blog: