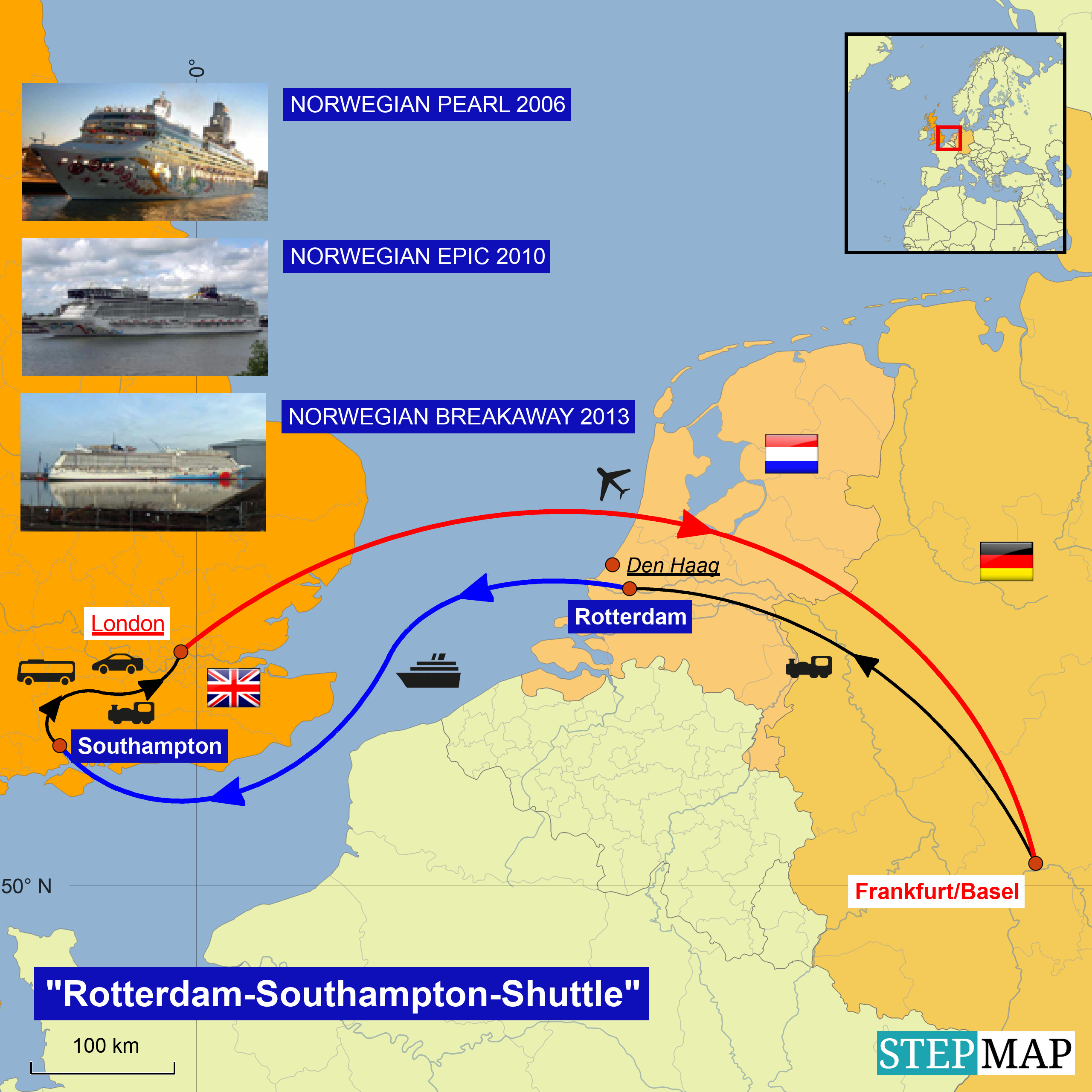 Nun - bald sind wir da: aber eigentlich weiss ich bislang noch nicht, ob wir um 09:00 Uhr anlegen oder um 10:00 Uhr (lt. Cruise Southampton).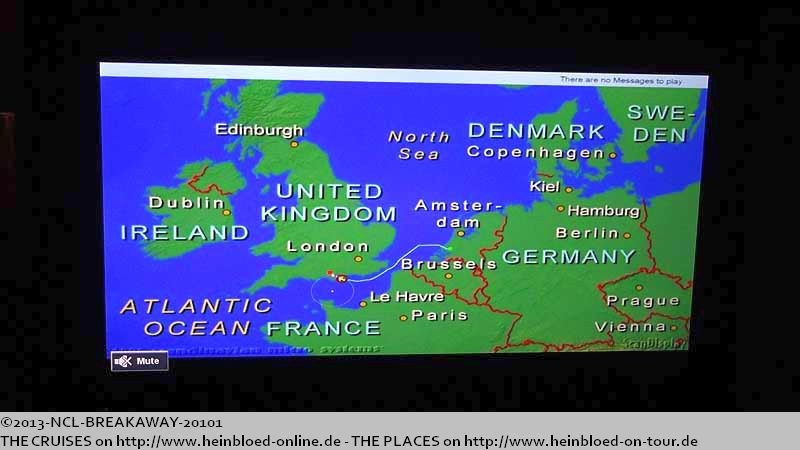 Now we should be there soon: but formerly I did not know that we arrive at 09:00 hrs or at 10:00 hrs (according to Cruise Southampton).

Now I tried to use iConcierge... It worked.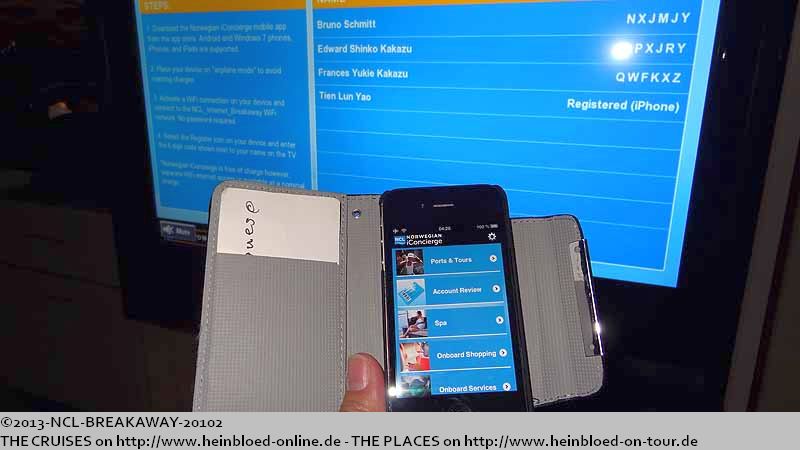 Nun probiere ich den iConcierge aus... Funktioniert.
Die Rechnung ist da. Sch... die Service-Charge wird nicht gegen die 150,00 USD gebucht, sondern separat von meiner Kreditkarte. Schade, sonst hätten wir die Trinkgelder noch großzügiger ausfallen lassen.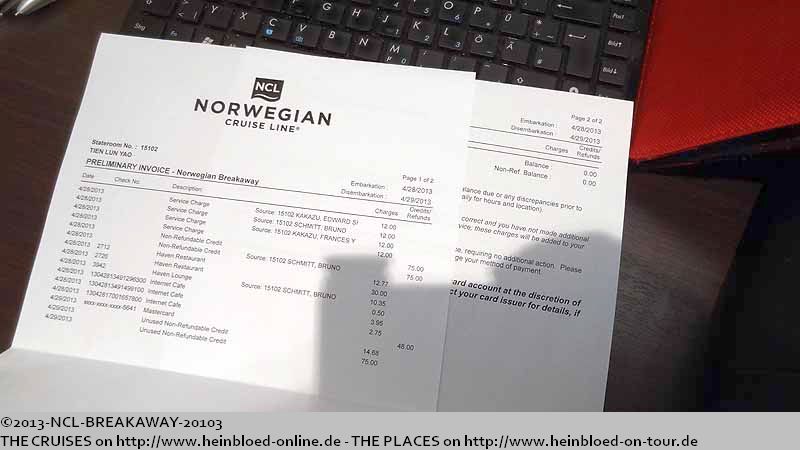 The bill arrived. Sh... They did not book the service charge against the 150.00 USD but separately from my credit card. That was sad: otherwise, we would tip more.

So far we did not find our life vests for the master bedroom, but we did not find any information either.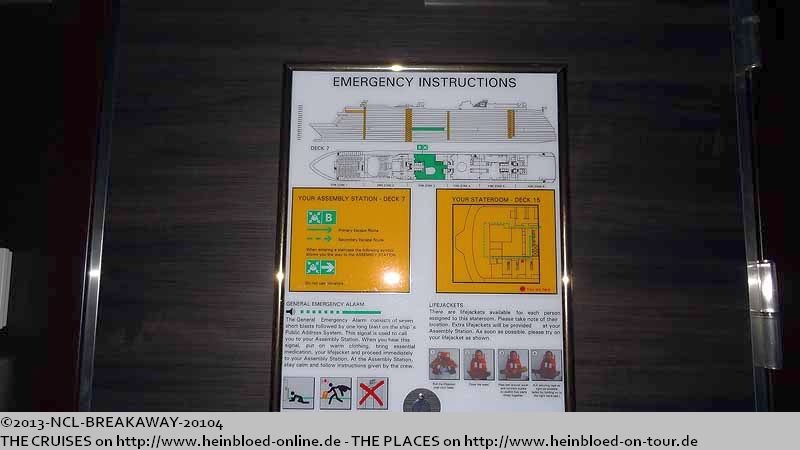 Bislang haben wir für den Master Bedroom immer noch nicht die Rettungswesten gefunden, aber wir finden hier auch keinen Hinweis.
Gut in unserer Dusche: Die Sütze, um sich besser die Füße zu reinigen.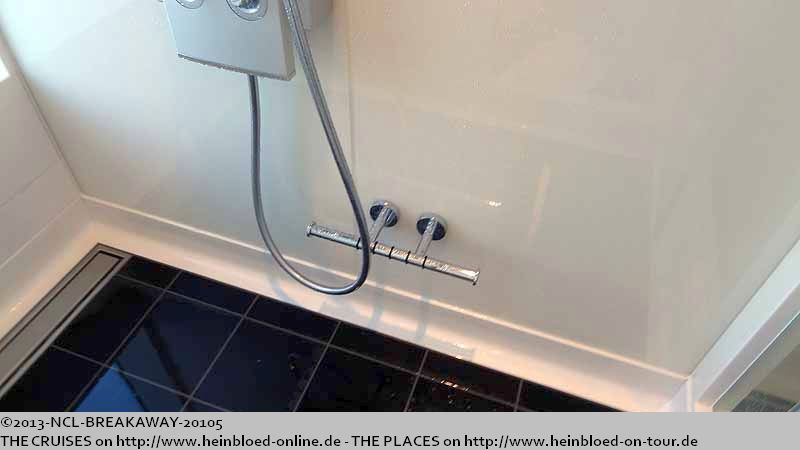 Good under the shower: the rack to make it easier to clean your feet.

Bad the temperature of the water was fluctuating extremely. Taking a shower was no fun.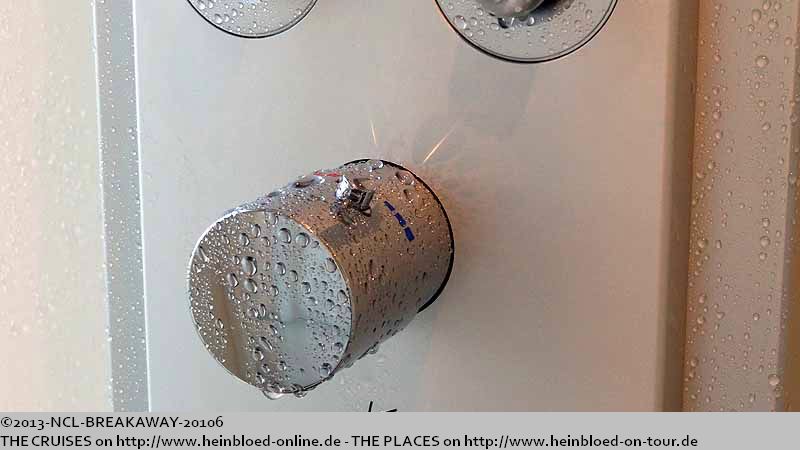 Schlecht: die extrem schwankende Temperaturen. Duschen macht so keinen Spaß.
Aufgrund von Hinweisen von Frances gucken wir uns später im "Nanny"-Zimmer um: 3 Rettungswesten für eine Kabine, die für 6 ausgerichtet ist... und wir waren aktuell 4.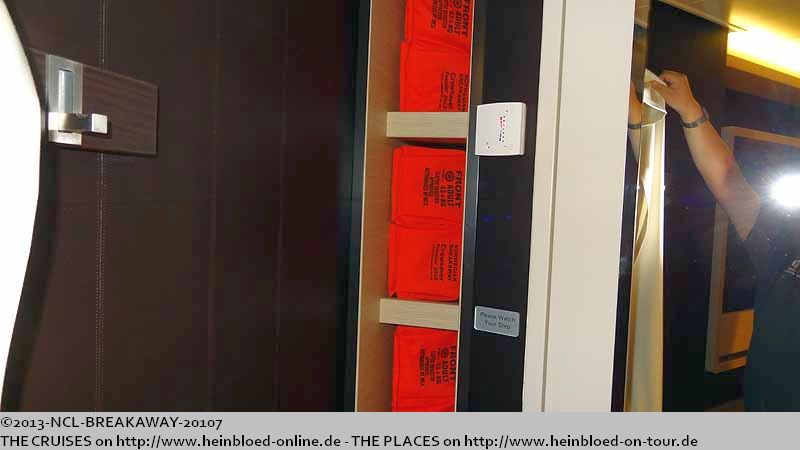 Due to information we got from Frances we looked around in the "Nanny"-room: 3 life vests for a cabin which should accommodate 6 guests... And we were actually 4.

It was not easy to identify the little switch with the lamp at the bed.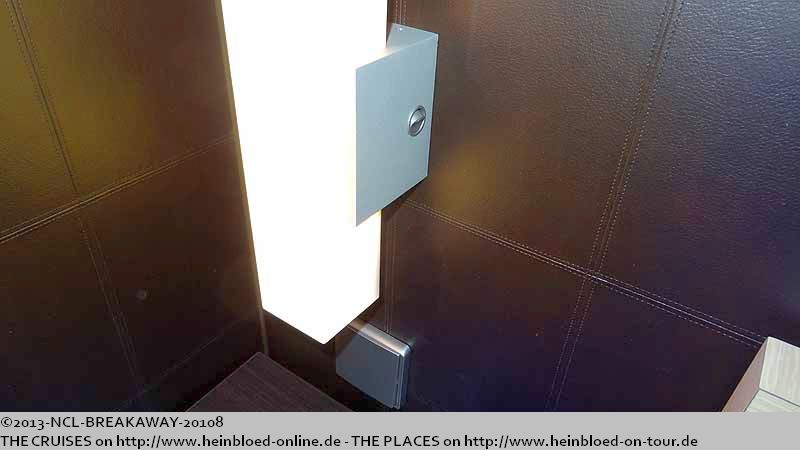 Den kleinen Lichtschalter am Bett kann man leicht übersehen.
Wie bei HAL: auch die Sitze kann man als Stauflächen nutzen.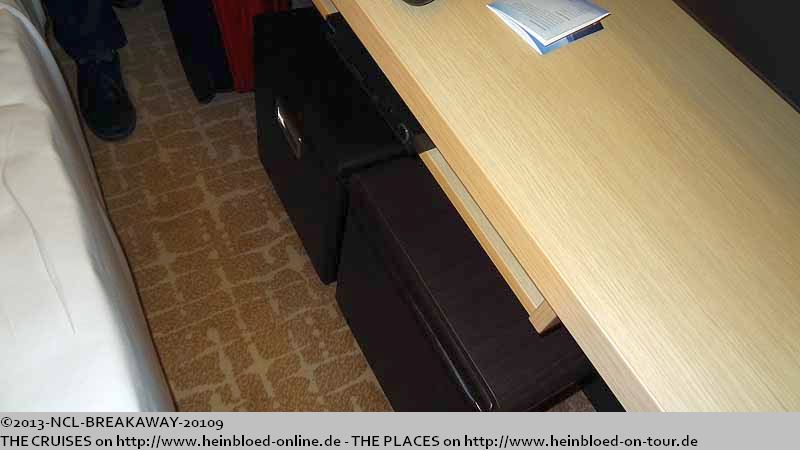 Like with HAL: you can use the seats as stowage room.

Unfortunately like a real inside cabin and not like in the suite: the detergents.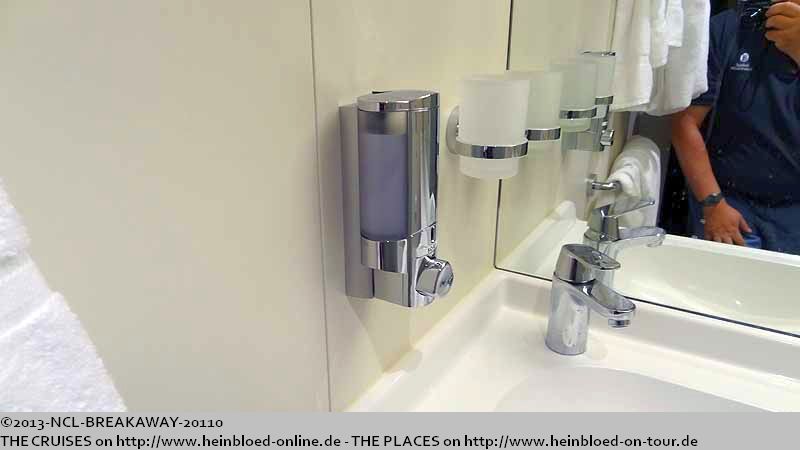 Leider wie eine echte Innenkabine und nicht wie in einer Suite: die Pflegeprodukte.
Das ist eigentlich nicht in Ordnung, weil man für eine Suite bezahlt und das ja auch sehr viel mehr kostet, als eine normale Innenkabine.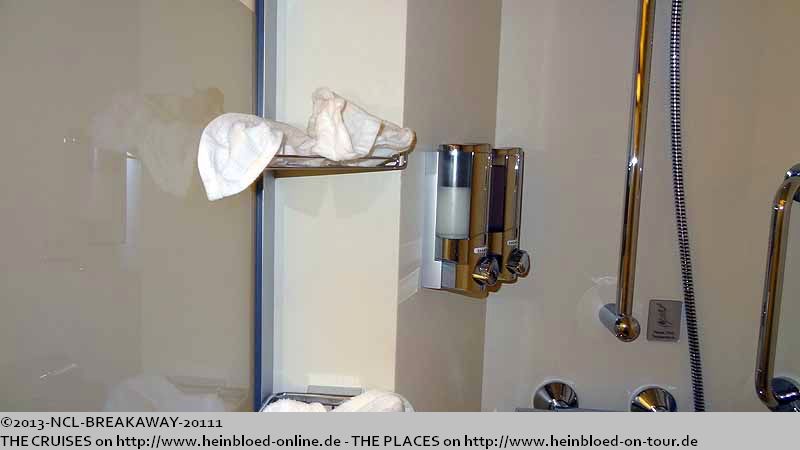 That was not o.k. that you paid for a suite which costs much more than a regular inside-cabin.

We approached and welcomed Hythe. Later we get here to get Frances and Eddie there.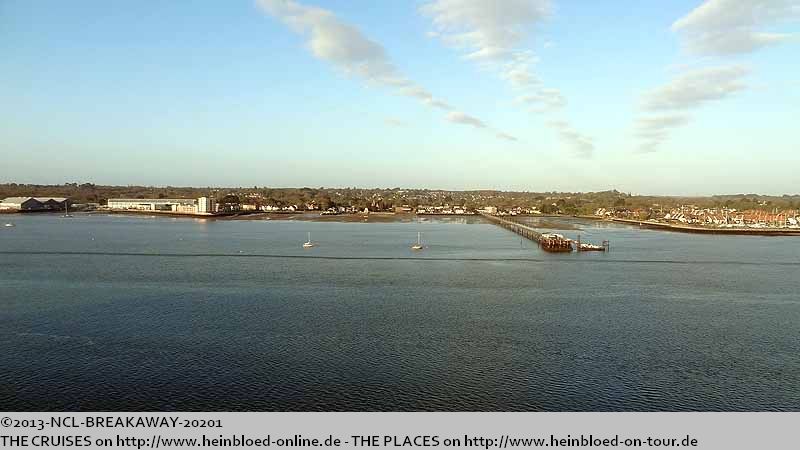 Wir fahren ein und begrüßen Hythe. Später fahren wir hierher, um Frances und Eddie abzusetzen.

We went for the last breakfast into The Haven Restaurant.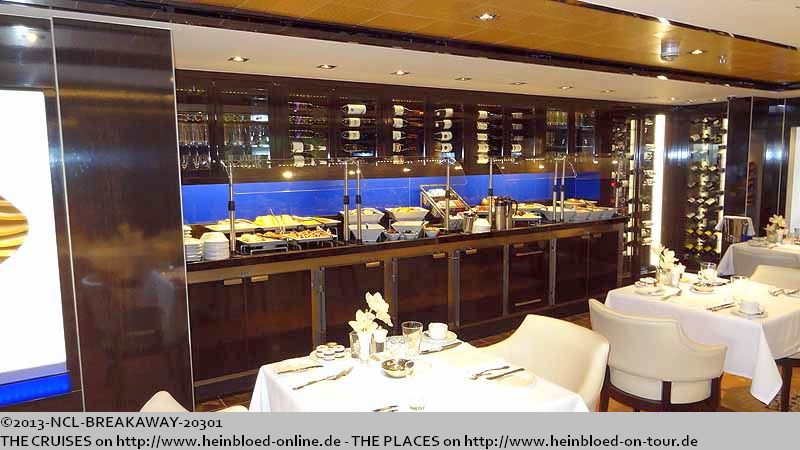 Wir gehen zum letzten Frühstück in das The Haven Restaurant.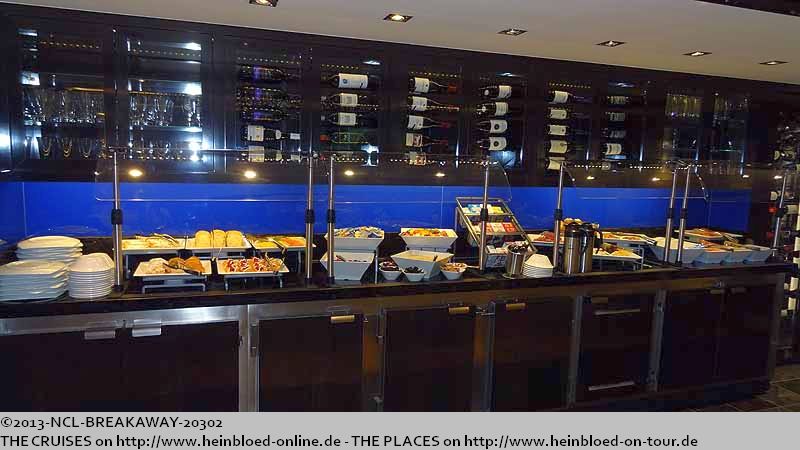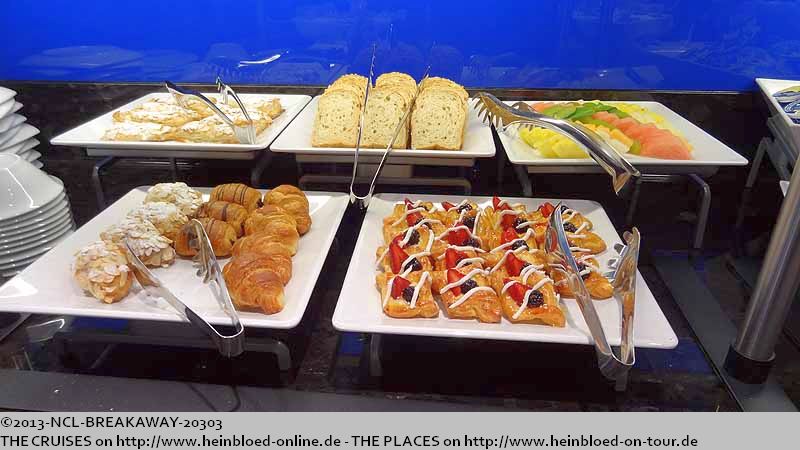 Über die frischen Beeren freuen sich Eddie und Bruno.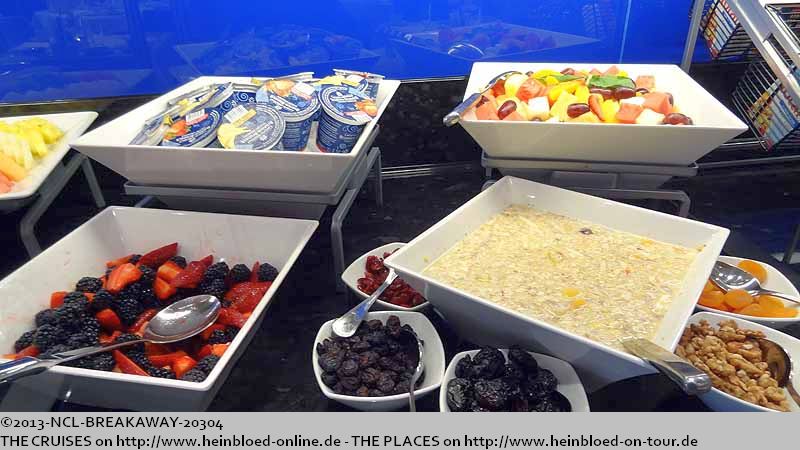 Bruno and Eddie were happy when they discovered the fresh berries.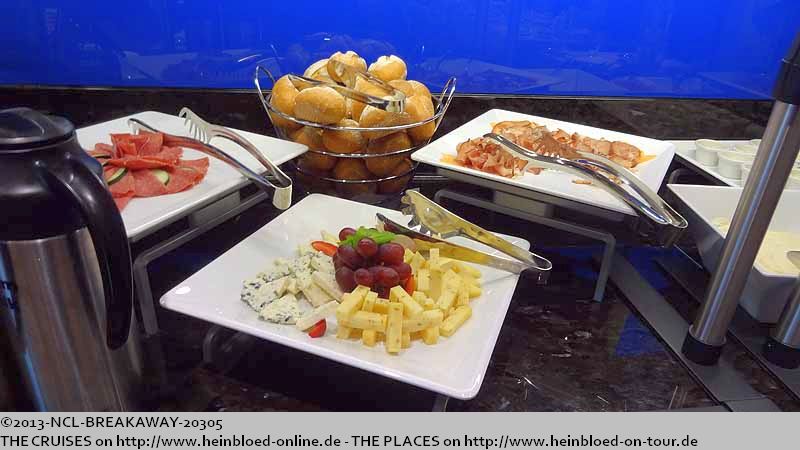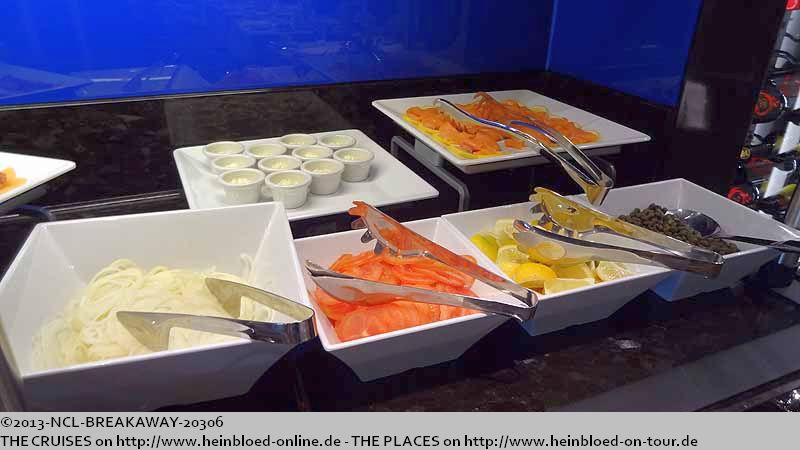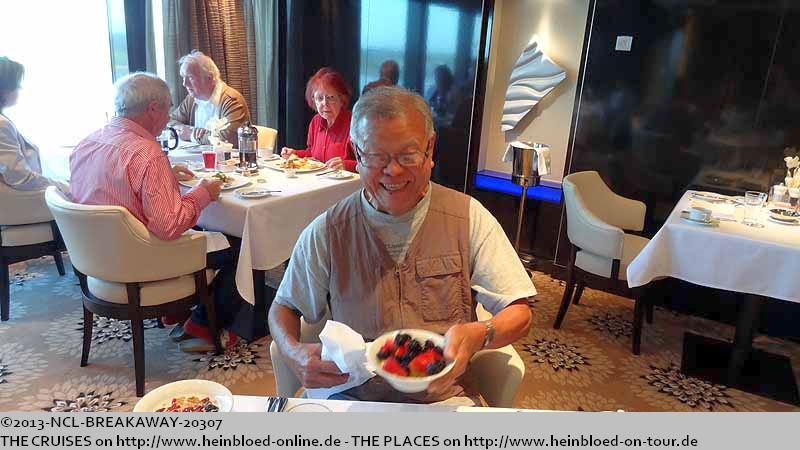 Und ich freue mich über mein 3. Steak... mittags, abends und morgens... eigentlich mein Paradies... So wenig Kohlenhydrate... (Die Kartoffeln habe ich natürlich nicht gegessen!!!).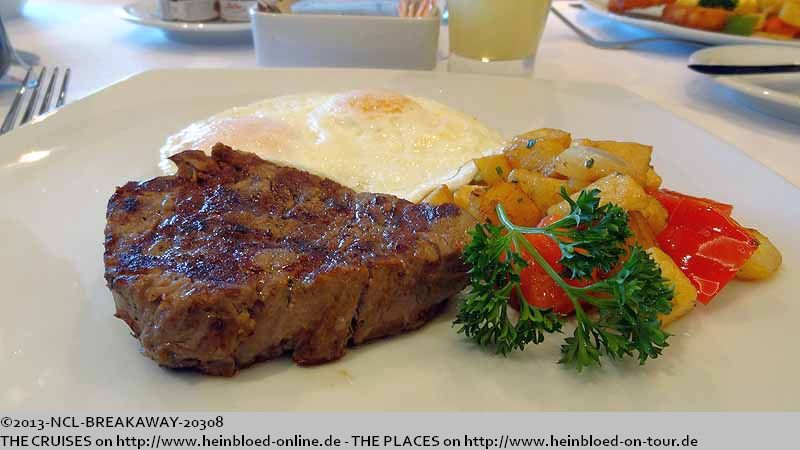 And I was happy of my 3rd steak which I got... lunch, dinner, breakfast... should be my paradise... so low carb... (Of course I did not eat the potatoes!!!).

I need to thank the great team. They were "mean" to me... All for one, one for all... So Valentina came not so frequently with us because other took the empty glass or other used stuff when they saw them on our table: Maître D' Raluca Udrea, Ricardo Dagalea, Jan Serrano, Valentina Nistor, Martin Hristovski, Michelle Wenceslao, Donie Zapanta, Restaurant Hostess Sandra Rey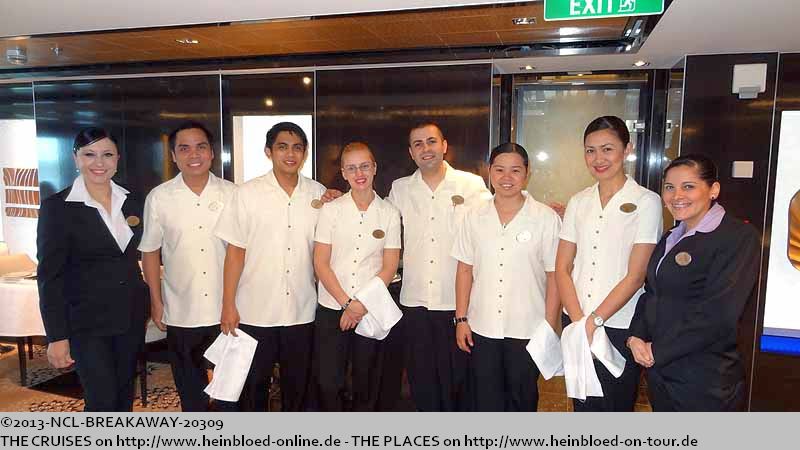 Ich muss mich von dem tollen Team bedanken. Die waren auch "gemein" zu mir... Einer für alle, alle für einen... So kam seltener Valentina bei uns vorbei, weil wenn mal ein leeres Glas herumstand und jemand anders sah das, dann wurde es schon mitgenommen: Maître D' Raluca Udrea, Ricardo Dagalea, Jan Serrano, Valentina Nistor, Martin Hristovski, Michelle Wenceslao, Donie Zapanta, Restaurant Hostess Sandra Rey
Die Herzlichkeit, mit der wir verabschiedet werden, tat uns schon richtig weh. Warum fährt NCL nicht mal etwas anderes, als bloß ihre Runden? Aber mit Valentina bleiben wir über Facebook in Kontakt. Und sie ist eine tolle Botschafterin für NCL und fragt immer nach, wie es uns geht und wann wir wieder kommen.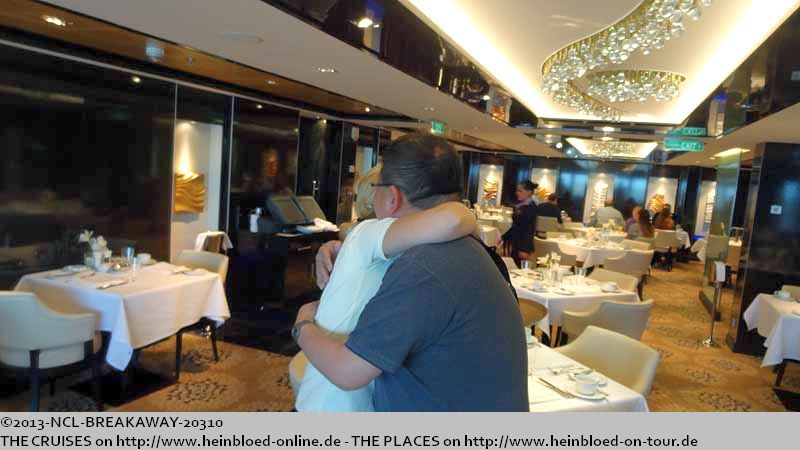 The cordiality hurt us when we said good-bye. Why is NCL not offering else but their stupid rounds? But we will stay in touch with Valentina on Facebook. And she is a great ambassador for NCL and always ask from time to time how we are and when we are returning to NCL.

No matter, how new, how old a ship is, how large, how small or in which condition or what someone did to us: Due to crew-members like Valentina we always love to return to NCL because we know that we have friends on every NCL ship who treat us like Valentina does. And we are still in touch with those who were not anymore with NCL because they have their families as a new challenge or have new jobs on other ships. So we missed Aimee and Elena who should work initially on NORWEGIAN BREAKAWAY too.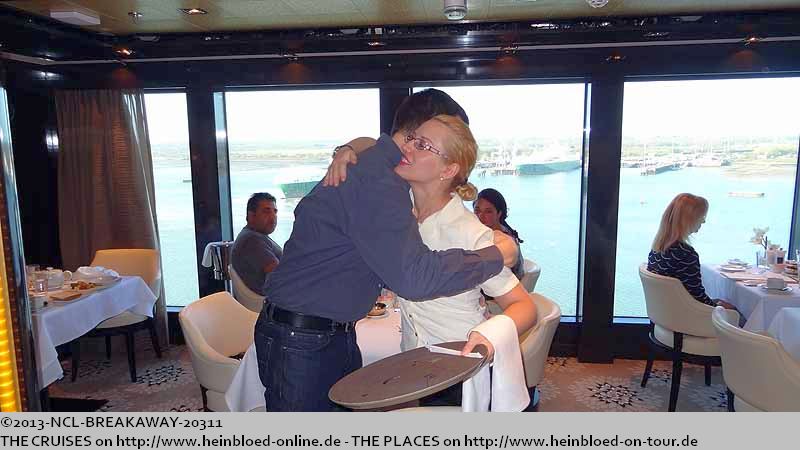 Egal, wie neu oder wie neu ein Schiff ist, wie groß, wie klein, oder in welchem Zustand, was uns jemand anders angetan hat: Durch Crew-Mitglieder wie Valentina kommen trotzdem gerne immer wieder zu NCL, weil wir wissen, dass wir bei NCL mittlerweile auf jedem Schiff Freunde haben, die uns so behandeln wie Valentina. Und wir stehen noch in Kontakt mit solchen, die mittlerweile nicht mehr bei NCL sind, weil sie nun sich der Familie oder neuen Herausforderungen stellen. So haben wir Aimee und Elena vermisst, die ja ursprünglich auch auf die NORWEGIAN BREAKAWAY sollten.
Die anderen Reisen in diesem Blog/
The other voyages in this blog: