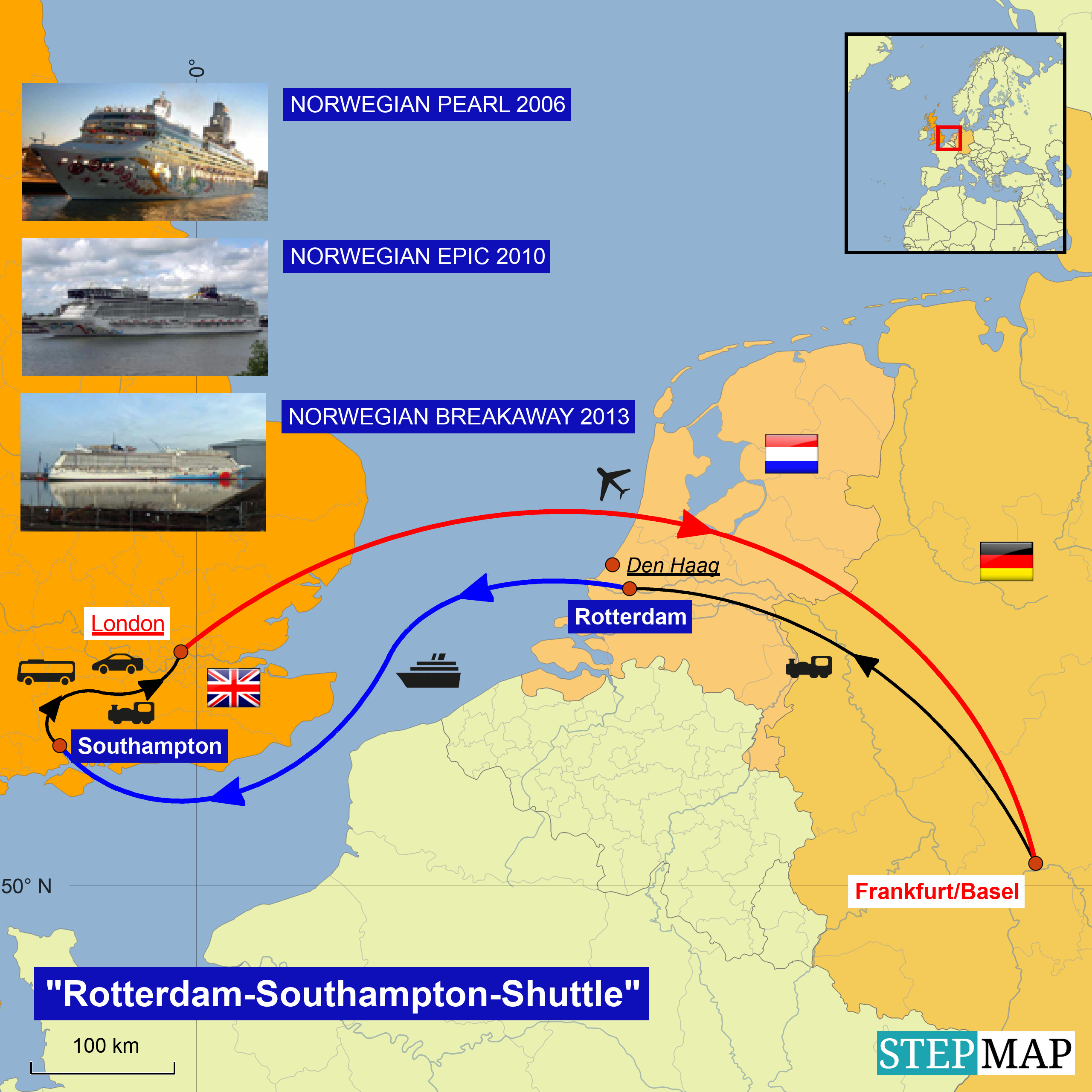 Bruno interessiert sich natürlich für das Angebot im Spa insbesondere im Fitness-Studio.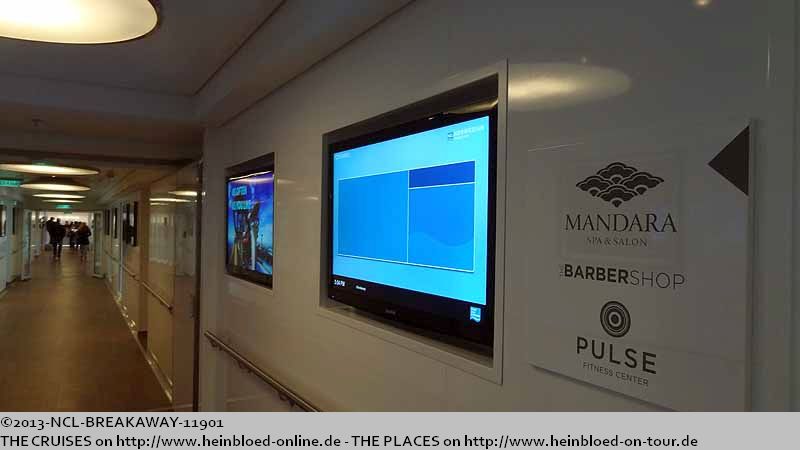 Bruno was interested to see the offer in the Spa especially in the gym.

For it looked smaller and apparently did not offer the same options like on NORWEGIAN EPIC.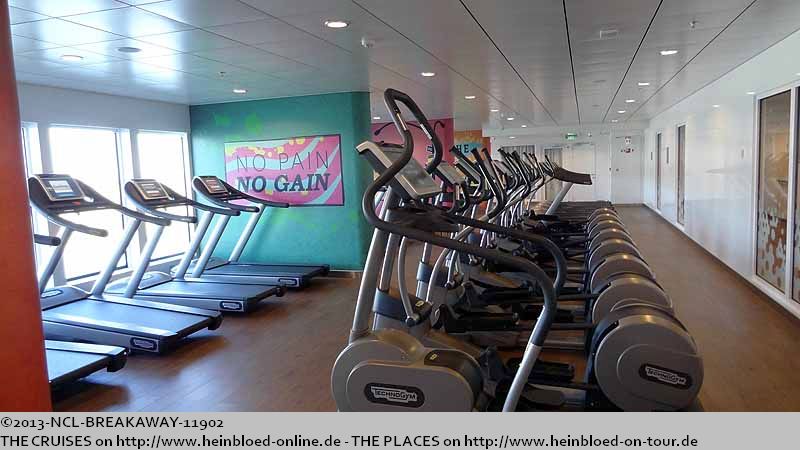 Das wirkte in seinen Augen dann wiederum kleiner und nicht so umfangreich, wie auf der NORWEGIAN EPIC.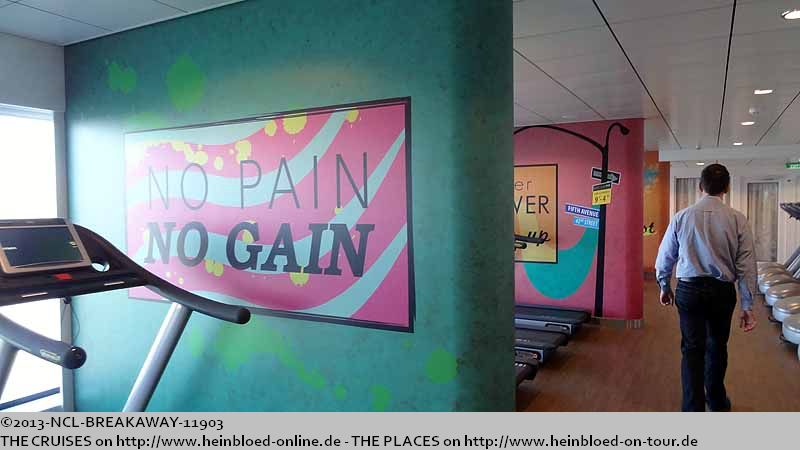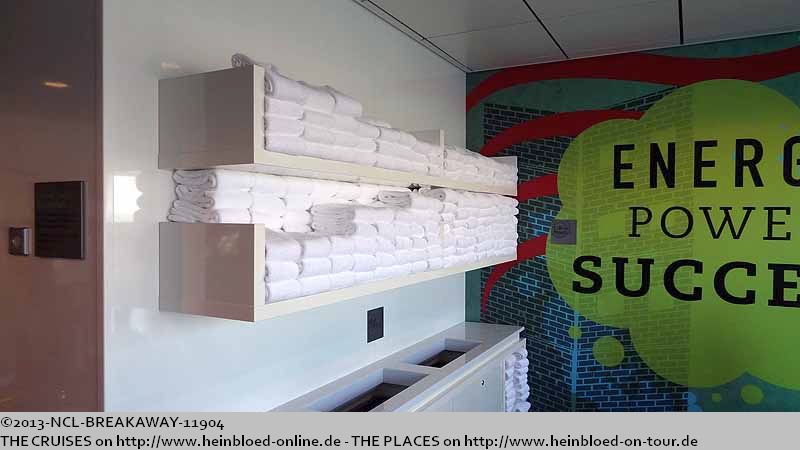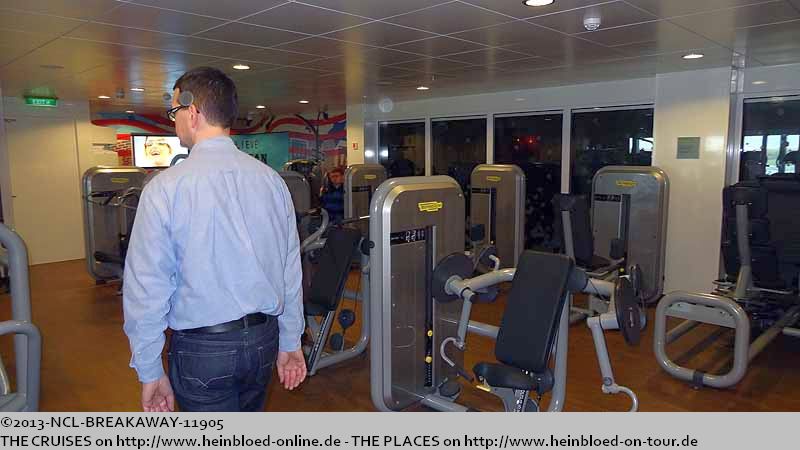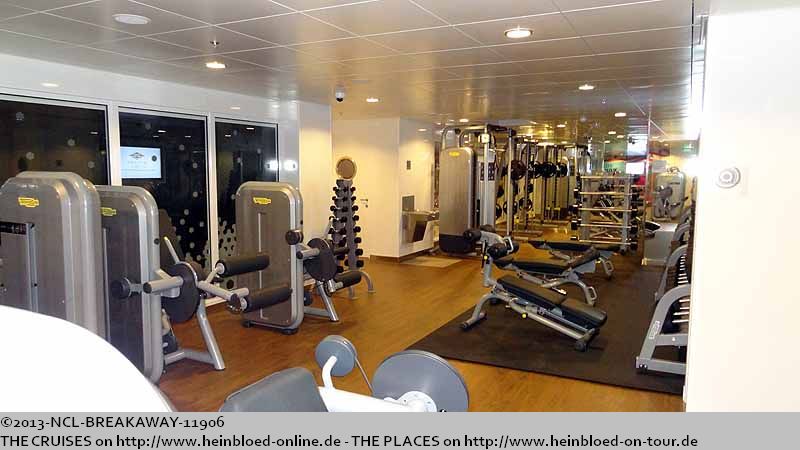 Wir lassen uns kurz die Thermal Suite zeigen. Es werden nur eine begrenzte Anzahl von Karten für die gesamte Cruise verkauft (lag für eine Woche bei etwas weniger als 150,00 USD). Gäste, die eine Behandlung gebucht haben, haben den Zugang nicht mehr frei, sondern zahlen 20,00 USD extra. Sollten Pässe übrig sein, werden auch Tagespässe angeboten (weniger als 40,00 USD). Allerdings wenn alle Wochenpässe verkauft sind, dann nur für die Hafentage, da man davon ausgeht, dass viele dann an Land sind. Übrigens hier hat mir die Mitarbeiterin vom Spa die Kamera weggehaun, weil sie sicherstellen wollte, dass ich keinen Gast auf dem Bild habe...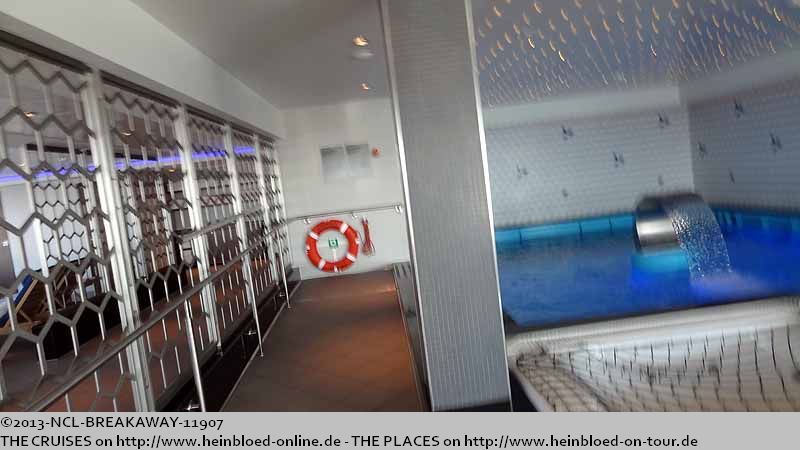 We asked to show us the Thermal Suite. They had only a limited number of tickets for the complete cruise (was about 150.00 USD for one week). Guests who booked a treatment have no more free admission but need to pay 20.00 USD extra. Subject to, not all pass was sold you can buy day passes (about 40.00 USD). But if all week-long passes were sold, you can only get the day passes during the days in port. By the way, this was one of the crew members who pushed my camera away to make sure that I will not have a guest on my picture.

But when she saw that I made sure that no guest is in my pic of the pool, she let me take another picture.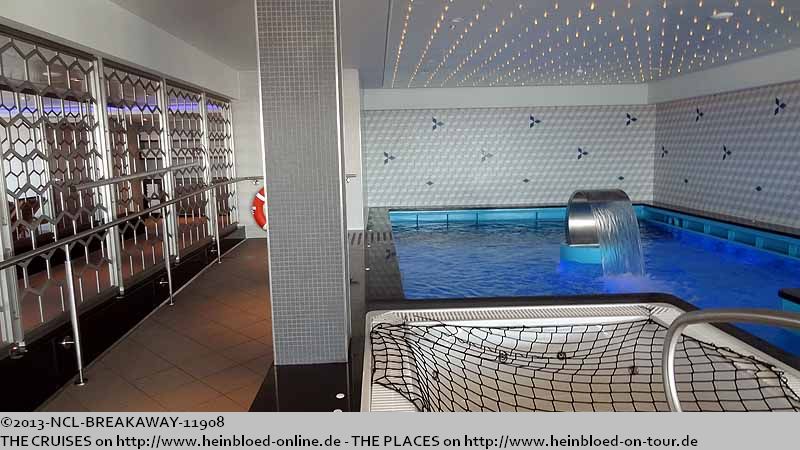 Als sie sieht, dass ich selbst darauf achte, dass kein Gast im Pool auf dem Bild ist, lässt sie mich in Ruhe nochmals fotografieren.
Neu sind die Salzräume. Gibt es auch bei uns im Harz... sehr gut für die Atemwege...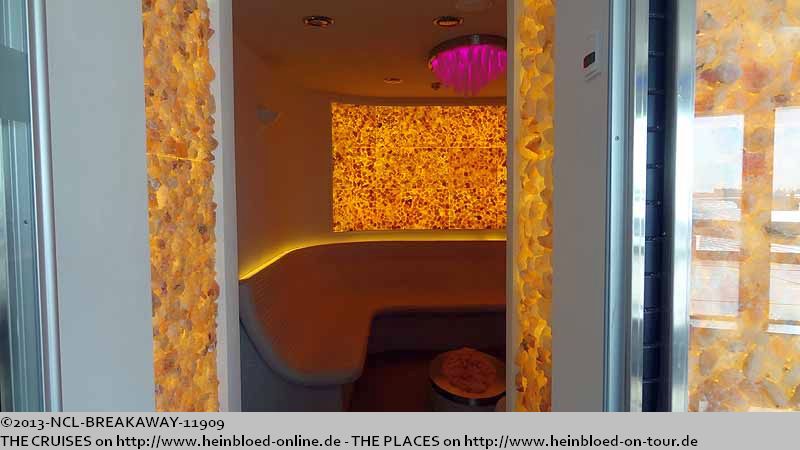 New are the salt rooms. We had them here too... very good for breathing...

During the 20 hours on board, I had no chance to see everything. But the Waterfront was something I was interested to see.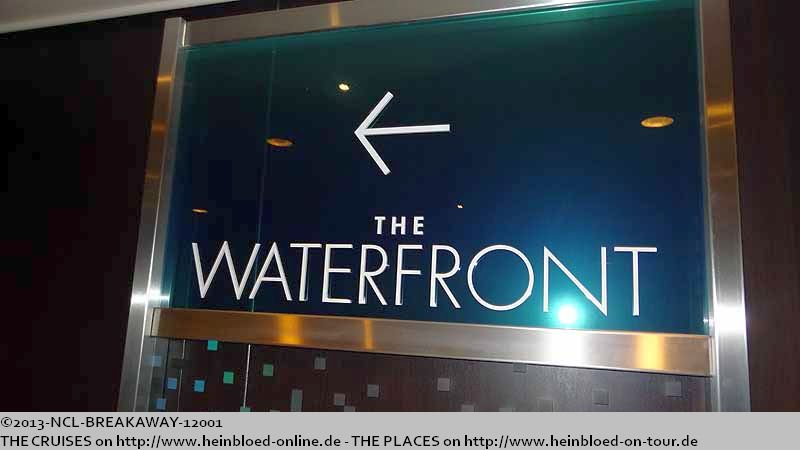 In den 20 Stunden an Bord habe ich nicht alles gesehen. Aber The Waterfront interessierte mich doch.
Nach dem man ja auf der NORWEGIAN EPIC nur die Rettungsboote auf der Promenade sieht, ist es hier anders.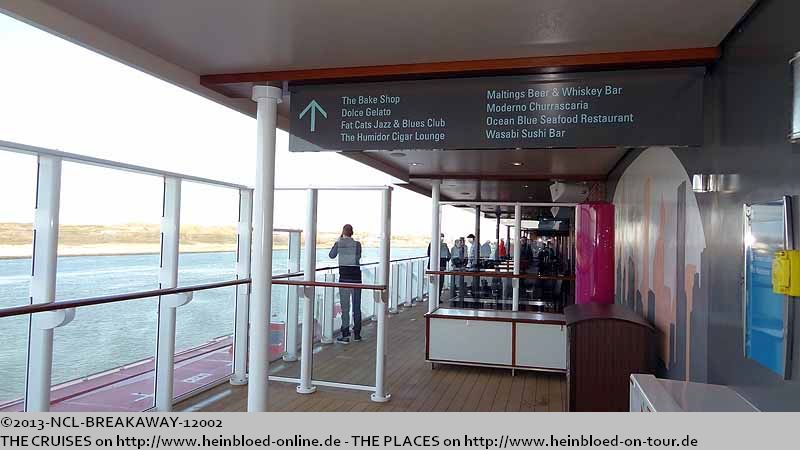 After you could see on NORWEGIAN EPIC only the lifeboats while you walk on the promenade it looked here entirely different.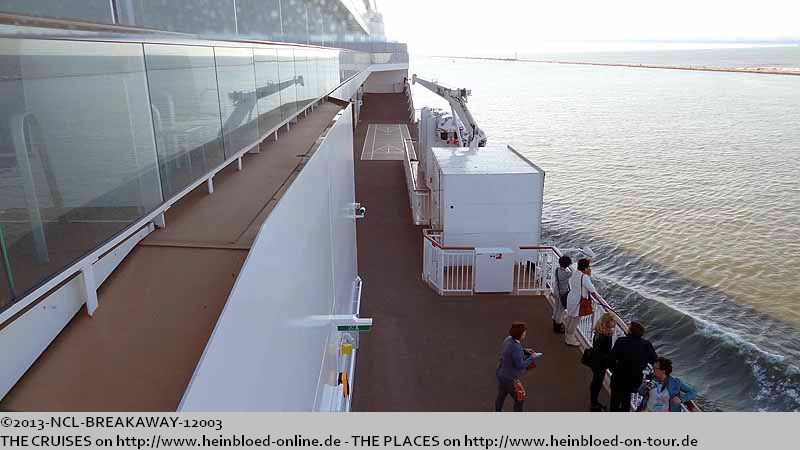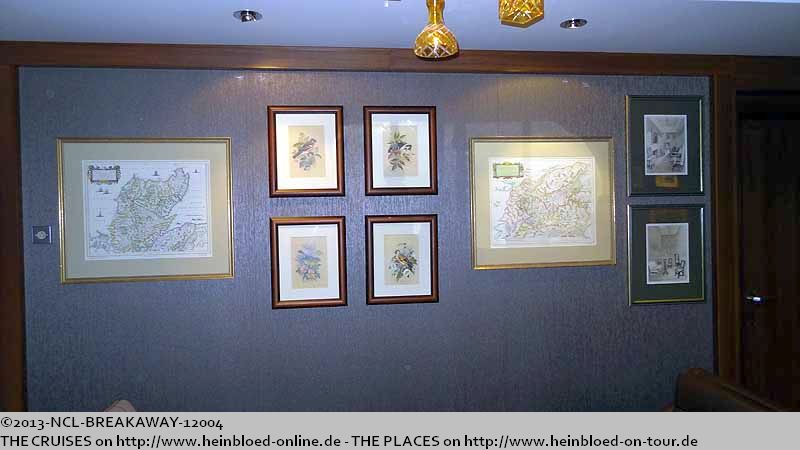 Again a real beautiful atrium.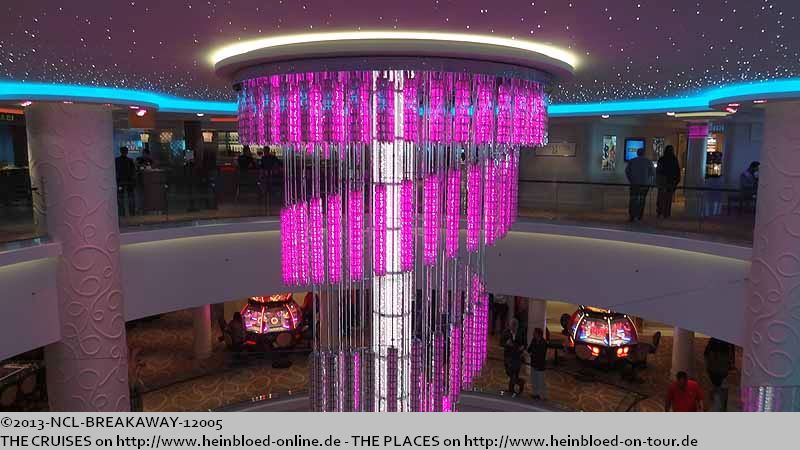 Endlich mal wieder ein schönes Atrium.
Ärgerlich: schon wieder mit Anschluss am Spielcasino, so dass man doch den Rauch der Zigaretten roch. Zum Glück zieht sich aber diese offene Decke über der Casino nicht schon wieder über das halbe Schiff wie bei der NORWEGIAN EPIC.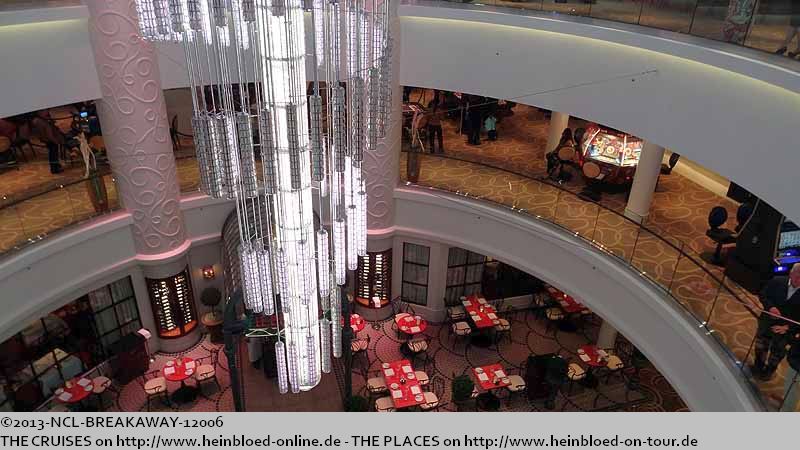 Angry again: connection with the Casino so you could smell the smoke of the cigarettes when you were upstairs. But better than on NORWEGIAN EPIC the ceiling of the casino was not open on half of the ship.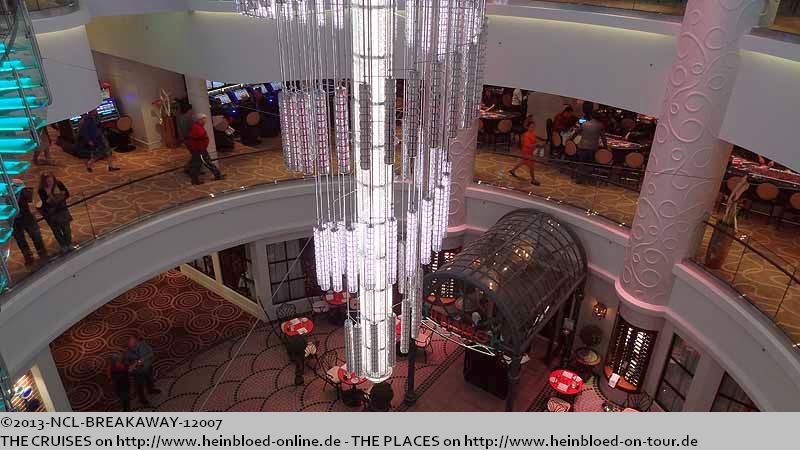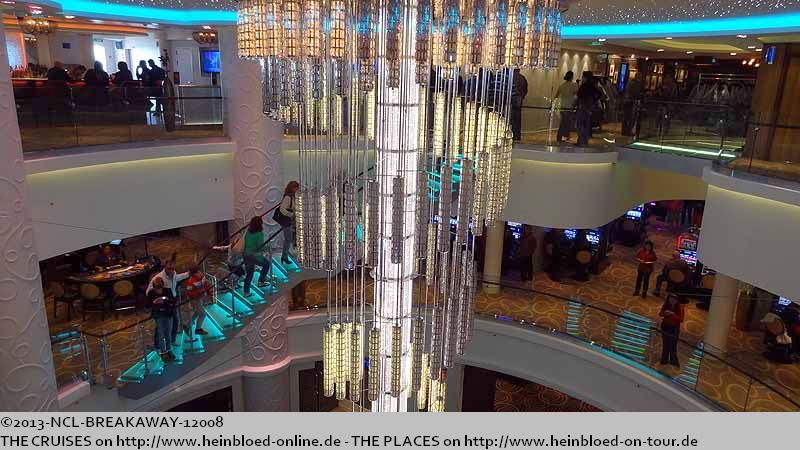 They learned from the errors on NORWEGIAN EPIC. They had again only two stairways. Again long ways. But this time the elevators went from the top to the bottom and did not terminate somewhere else so you need to bridge one floor by using the escalator. For a wheelchair user, this was a serious problem.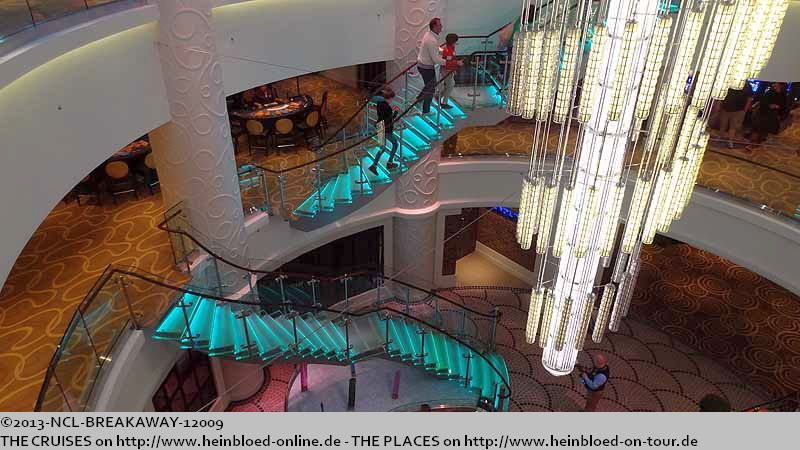 Zum Glück haben sie aus den Fehlern bei der NORWEGIAN EPIC gelernt. Es gibt wieder nur zwei Treppenhäuser. Wieder die langen Wege. Aber dieses Mal fahren die Fahrstühle wieder von oben bis ganz unten durch und enden nicht mittendrin, so dass man eine Etage über die Rolltreppe fahren muss. Das war für Rollstuhlfahrer ein Problem.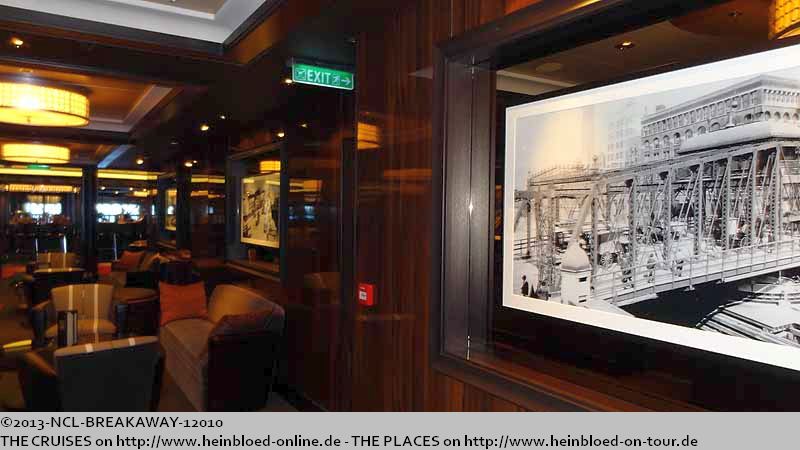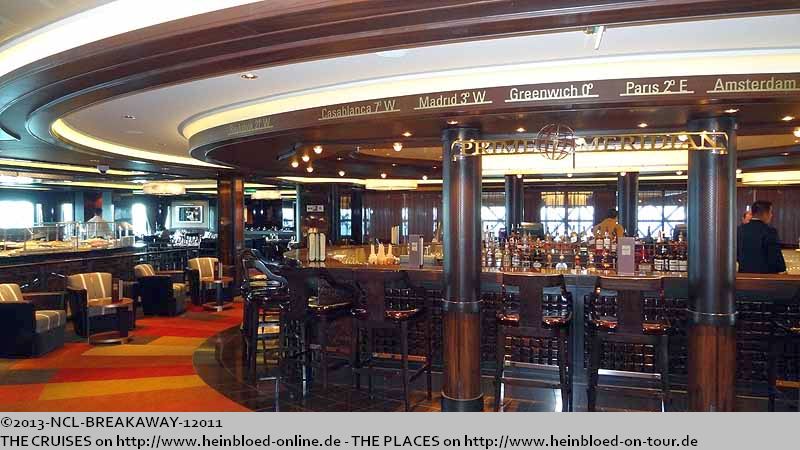 Wenn das Wetter schöner gewesen wäre, hätte man daher auch draußen essen können.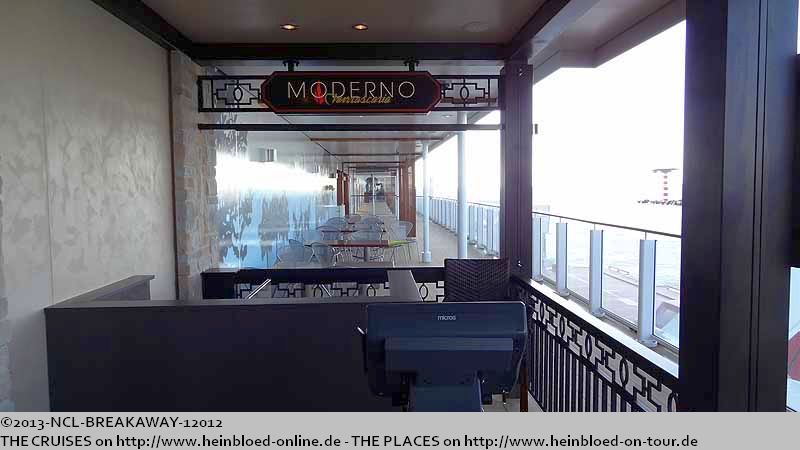 If the weather would have been nicer we could dine outside.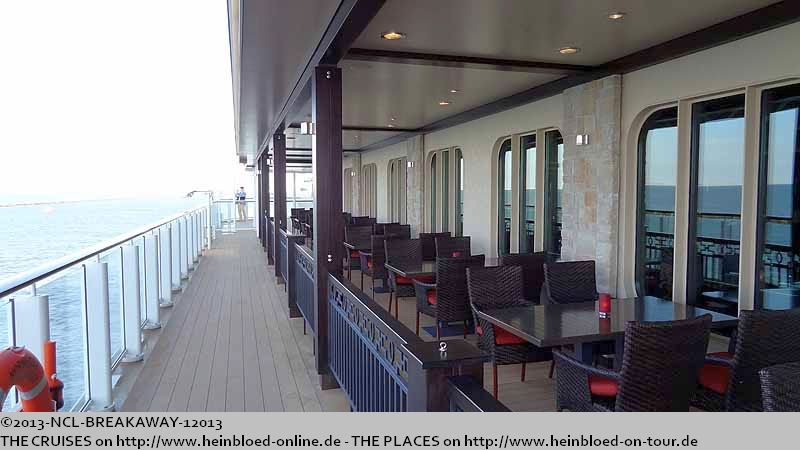 Und man kann auch wieder außen herum am Heck herumlaufen. Es gibt daher das Gefühl, wieder auf dem Meer zu sein.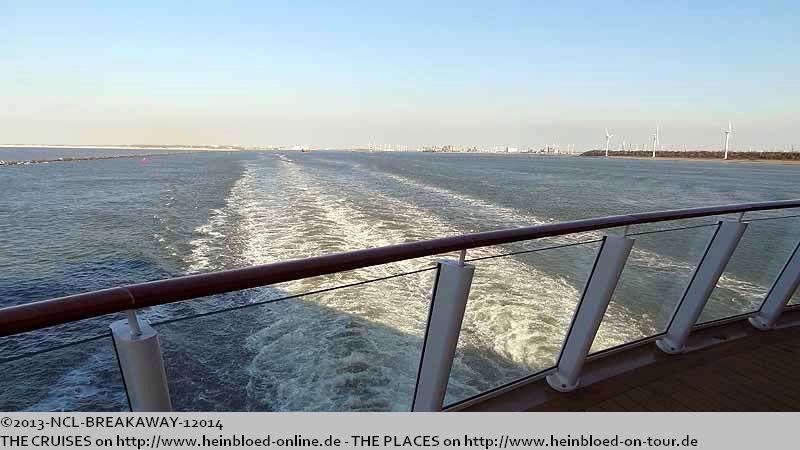 And you can walk outside around the stern. You had back the feeling that you are on the water.

The most excellent part of our voyage were the meetings with our many crew-friends: Hristina Dobreva - last time met on NORWEGIAN SUN... Immediately she said to book us a table at Le Bistro where she worked... we had to say no: we cannot eat so much as we have friends on board. This time we did not have enough chocolate with us that we could give all friends.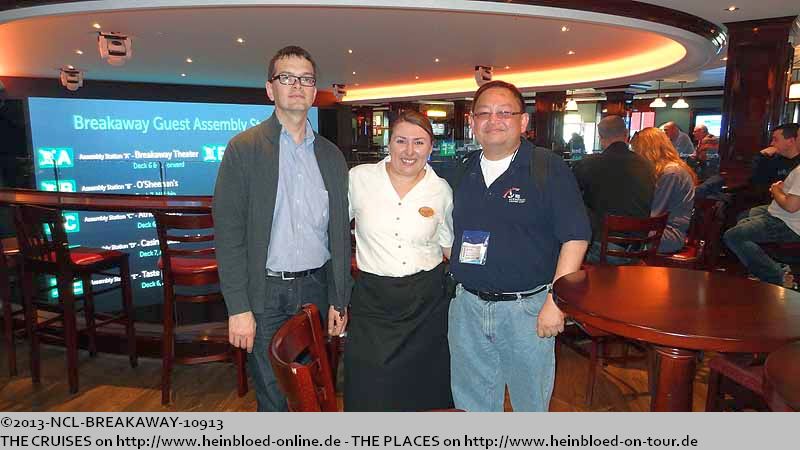 Das schönste an der Reise waren die vielen Begegnungen mit unseren Crew-Freunden: Hristina Dobrevea - zuletzt auf der NORWEGIAN SUN... Sofort hat sie uns gesagt, dass sie uns einen Tisch im Le Bistro bestellt, wo sie arbeitet... wir mussten sie leider vertrösten: wir können gar nicht so viel essen, wie wir mittlerweile Freunde an Bord haben. Wir hatten dieses Mal leider zu wenig Schokolade für alle Freunde an Bord.
Luiza Andrei... mein persönliches Loyalty-Programm. Gehört schon zum Inventar von NCL... NORWEGIAN SPIRIT, NORWEGIAN GEM, NORWEGIAN JADE, NORWEGIAN EPIC... Ich freue mich jedes Mal, wenn ich sie sehe, weil ich dann weiß, dass ich mich in den Restaurants rundum wohlfühlen kann.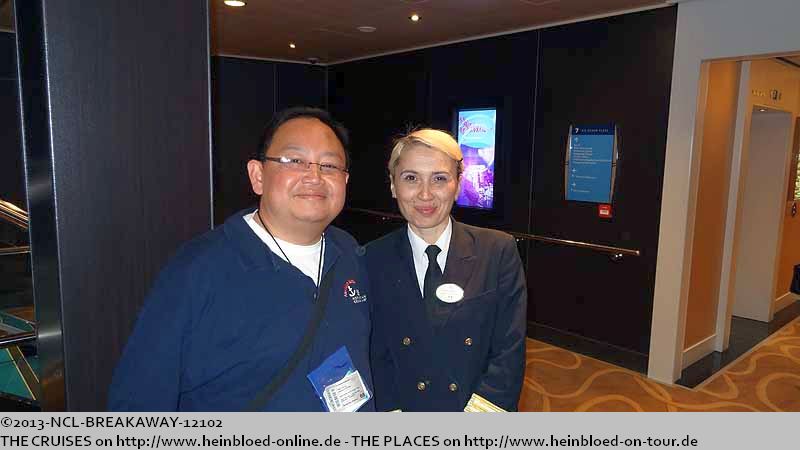 Luiza Andrei... my personal Loyalty-Program. Part of NCL's inventory... NORWEGIAN SPIRIT, NORWEGIAN GEM, NORWEGIAN JADE, NORWEGIAN EPIC... Every time I see her I am happy because I know that I will feel great in the restaurants because everyone will pamper me.

Mary Ann Babatla: met by coincidence on a gangway! Barbara gave me instructions to find her favorite cabin steward Fery. So the first information we got was that he should be on Deck 11 forward on starboard. There we met Mary Ann who made us a few phone calls to find out where he was working. As she was already finished, we did not want to bother her anymore. She knew Fery so knew whom we were talking about and she promised to say hello to Fery from Barbara. That is how we love NCL!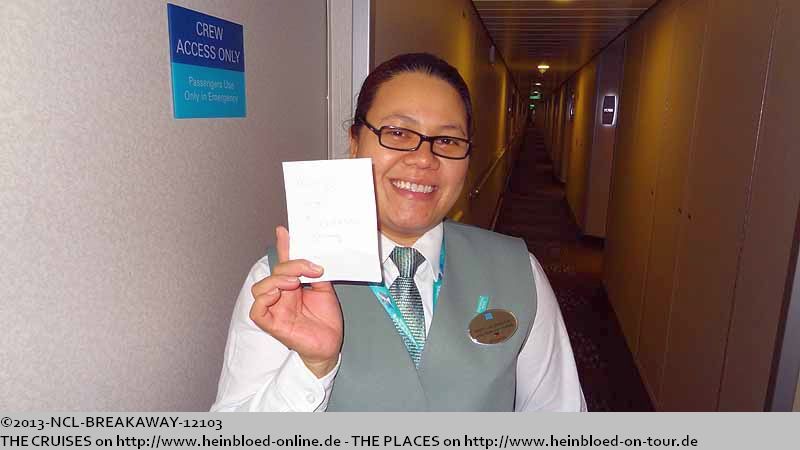 Mary Ann Babatla: zufällig auf dem Flur getroffen! Barbara gab mir den Auftrag ihrem Lieblingssteward Fery zu suchen. Als ersten Hinweis bekamen wir Deck 11 vorne Steuerbord. Dort trafen wir Mary Ann, die dann wie wild herumtelefonierte, um herauszubekommen, wo Fery arbeitet. Da sie schon Feierabend hatte, wollten wir sie nicht länger aufhalten. Sie kannte Fery und wusste, von wem wir redeten und versprach uns ihm den Gruß von Barbaran abzugeben. NCL - so wie wir es lieben!
Mein persönlicher St. Martin, der mit mir sogar sein T-Shirt teilt: Andrew. Der war schon schwieriger zu erreichen, aber das geht nicht, dass wir von Bord gehen, ohne ihn zumindest mal guten Tag gesagt zu haben. Das sind einfach Geschichten, die ich bei NCL erlebe.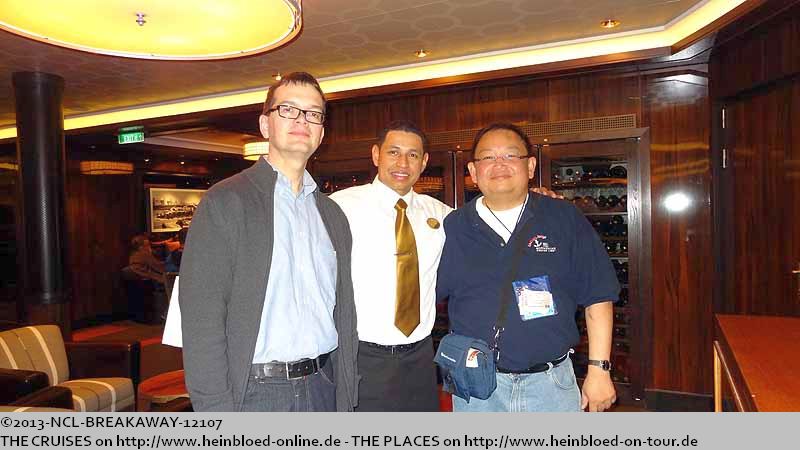 My personal St. Martin (who shared his clothes with poor men) who gave me his personal t-shirt: Andrew. It was quite difficult to find him, but we cannot go from the ship without saying hello to him. Such stories you can only experience when you are going on NCL.

A pleasant surprise: Deepa Jaiswal, whom we knew from NORWEGIAN JADE: "Nice to see you here Mr. Yao". It was such a long time ago, and she remembered my name: have I been a good guest or a bad one...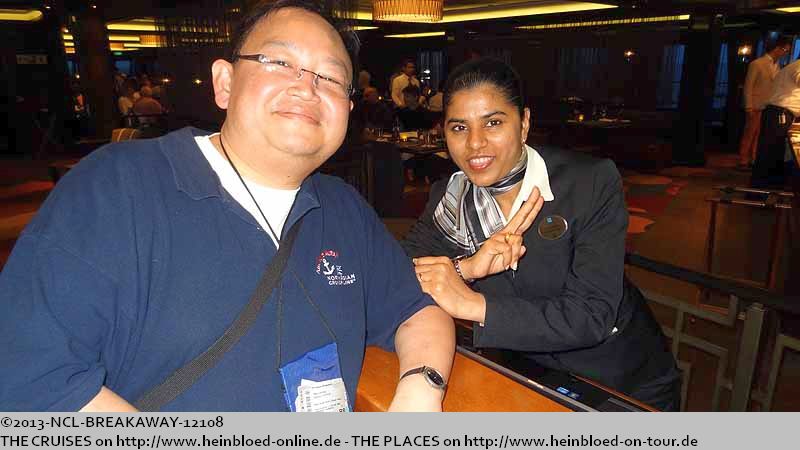 Ganz große Überraschung: Deepa Jaiswal, die wir von der NORWEGIAN JADE kennen: "Nice to see you here Mr. Yao". Das ist solange her und sie erinnert sich an meinen Namen: war ich nun so ein guter Gast oder so ein schlechter...
Und dann kommt zufällig Klaus Lugmaier vorbei. Nach dem ich ja immer noch mit dem Trauma anderer Gesellschaften lebe, bei dem mir Hotel Manager sagen, dass sie sich nicht um die Gäste kümmern, weil sie schon mit ihren 900 Besatzungsmitgliedern zu tun haben oder auch nicht zurück grüßen, freue ich mich über ein paar persönliche Worte. Und das geht sogar noch weiter: er stellt uns kurzerhand den Senior Vice President Hotel Operations von NCL Michael Flesch vor, der sich dann auch danach erkundigt, wie es mir gefällt. Ihm erzähle ich, dass ich an NCL besonders die Crew liebe und ich darf ein Erinnerungsfoto machen... Hotel Director Denis Prguda besteht darauf, dass Deepa mit auf das Bild soll. Sicherlich einer der Höhepunkte aller Fahrten mit NCL.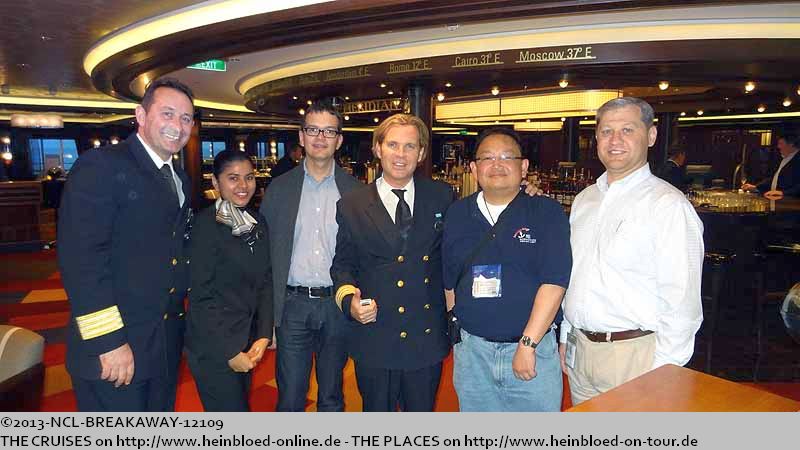 And then Klaus Lugmaier came by. As I experienced nightmares with other lines when a Hotel Manager told me that they are not dealing with guests because they are busy to work with their 900 crew-members or do not greet you I was glad to have few nice personal words. And it went on and on: He introduced us to the Senior Vice President Hotel Operations Michael Flesch who asked me immediately how do I liked it. I told him that I love most their crew with NCL and I was allowed to have this souvenir picture... Hotel Director Denis Prguda insisted that Deepa must be part of our picture. It was one of the top highlights on any NCL cruises.

Another order: Malanie asked me to find her favorite waiter. After we found out that he should work in Taste, we let him "waltz in". He took this word for word. He did not know us and was surprised the first moment that we liked to talk to him. Then we showed him this picture on the iPhone which Melanie sent to us, and he started to dance full of joy which took about 2-3 minutes. A restaurant hostess and I need to calm him down that he present the iPhone that I could make a picture for Melanie. You could feel that it meant a lot to him that a guest had great memories and asked another guest to be the courier for greetings. I never had the problem to forward the regards. My most challenging case was the camel doctor on NORWEGIAN SPIRIT 2013.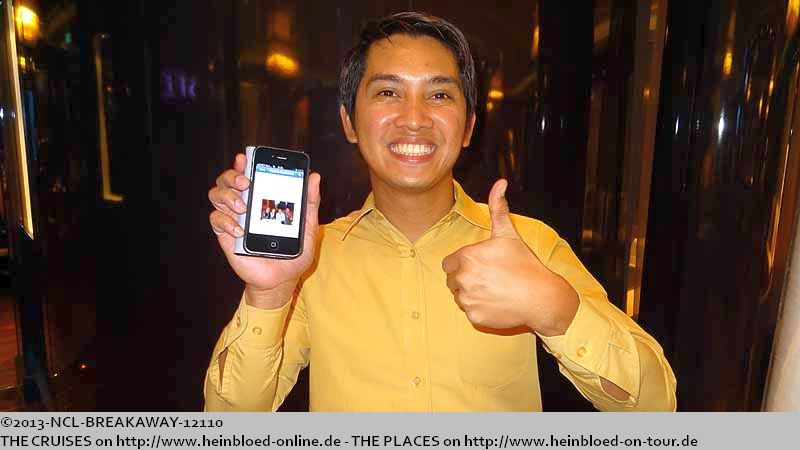 Ein weiterer Auftrag: Melanie bittet mich darum ihren Lieblingskellner zu finden. Nachdem wir herausgefunden haben, dass er im Taste arbeitet, lassen wir ihn "antanzen". Das hat er sehr wörtlich genommen. Er kannte uns ja nicht und war sicherlich im ersten Moment verwundert, dass wir ihn sprechen wollten. Dann zeigen wir ihm auf dem iPhone das Bild, das Melanie uns geschickt hat und führt auf der Stelle einen Freudentanz auf, der so 2-3 Minuten dauerte. Eine Restaurant Hostess und ich mussten ihn dann wieder beruhigen, damit er das iPhone so hinhält, dass ich das Bild für Melanie machen kann. Man hat gemerkt, dass es ihm sehr viel bedeutet hat, dass eben ein Gast ihn in guter Erinnerung hat und einen anderen Gast bittet ihn zu grüßen. Ich habe damit kein Problem, diese Grüße auszurichten. Mein schwierigster Fall war ja bislang der Kameldoktor auf der NORWEGIAN SPIRIT 2013.
Durch den Tanz, den Ronnie aufgeführt, wurde der Zugang vom Taste etwas blockiert. Und darauf kamen zwei weitere Crewmitglieder raus, um nach dem Rechten zu sehen: Rosalia Dizon und Joyce Yutadco und sie erkannten uns auch sofort und begrüßten uns mit "Welcome Back Mr. Bruno and Mr. Tien". Wir fühlen uns einfach als Teil der NCL-Familie, wenn wir so wahrgenommen werden.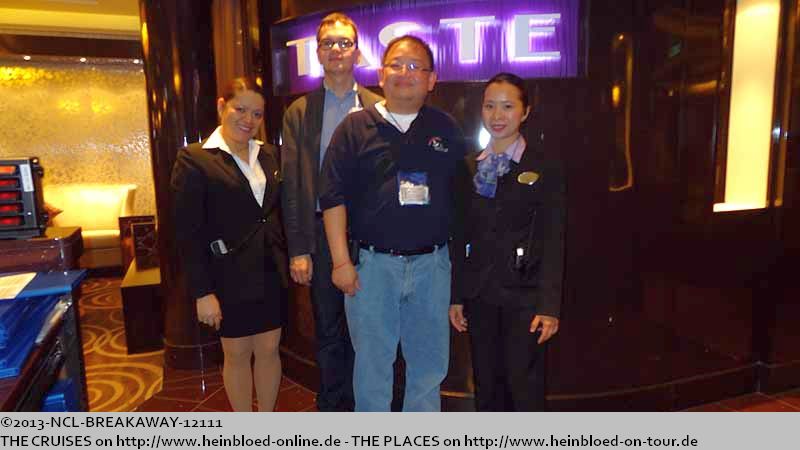 Due to the dance Ronnie did the exit was blocked for a little moment. So two other crew members came out to check what was wrong: Rosalia Dizon and Joyce Yutadco and they remembered us immediately and welcomed us "WelcomeBack Mr. Bruno and Mr. Tien". We always feel like part of the NCL-family if they get notice of us in such a way.

At 02b:00 hrs there was another one: Jovito Hufancia who served us our noodle soups on NORWEGIAN SPIRIT. He also got his personal pictures by my personal photo-courier Dennis on NORWEGIAN SPIRIT, and he was glad that he had to thank for them personally.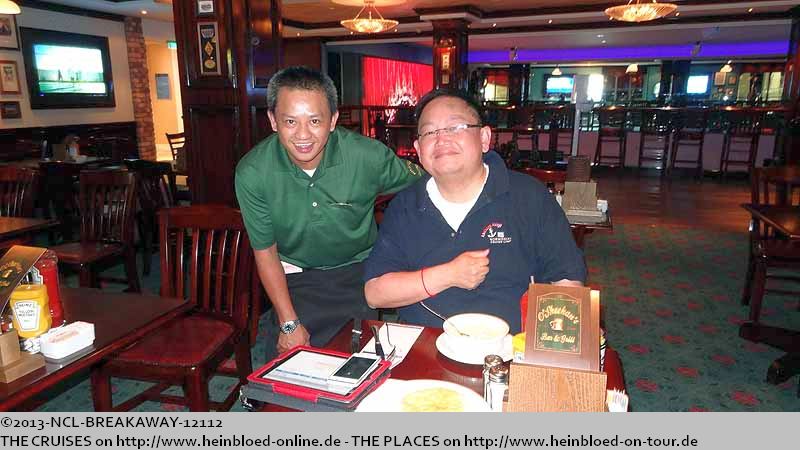 Gegen 02b:00 Uhr dann noch jemand: Jovito Hufancia, der uns noch auf der NORWEGIAN SPIRIT die Nudelsuppen servierte. Auch er hatte über meinen persönlichen Foto-Postboten Dennis noch seine Bilder von der NORWEGIAN SPIRIT bekommen und freut sich auf diesem Wege, dass er sich persönlich bedanken konnte.
Beim vorletzten Fall sollten wir nur eine Kabinentür fotografieren...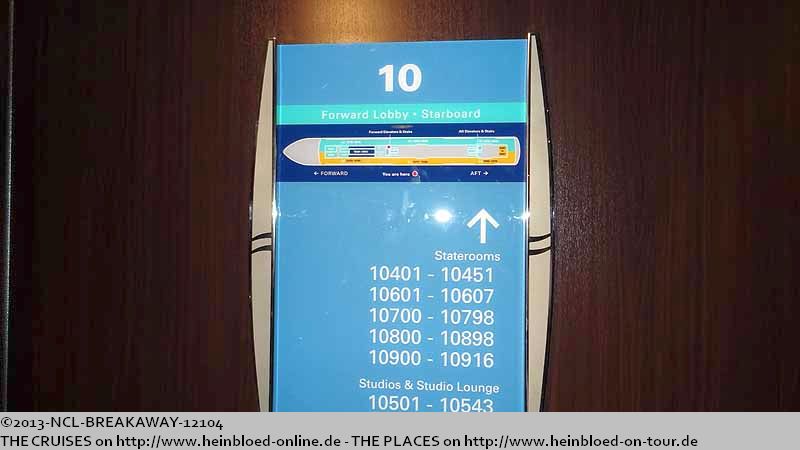 The next case was just a cabin door we need to take pictures...

We need to find the door. Meanwhile: one case is unsolved, unfortunately: The crewmember could not remember the guest and did not allow a picture greeting. So sorry - but you had those persons too. I felt sorry for the US-friend who had obviously better memories that the crew member. It would not hurt just to say that you remember and allow a picture greeting and next time you will have some extra tip... With a function, the crew-member had I would have expected more professionalism.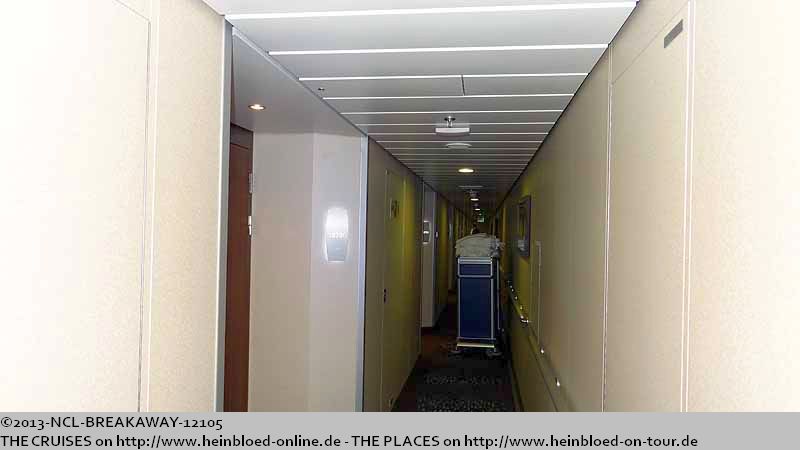 Die müssen wir erst erst mal finden. Zwischenzeitlich: der letzte Mal bleibt leider ungelöst. Das Crewmitglied konnte sich an den Gast nicht erinnern und wollte auch keinen Bildergruß erlauben. Na ja - gibt es halt auch. Tut mir leid für eine US-Freundin, die das Crew-Mitglied offensichtlich in besserer Erinnerung behalten hat, als umgekehrt. Hätte auch nicht geschadet, einfach zu sagen, dass man sich erinnert, den Fotogruß zuzulassen und sich bei der nächsten Begegnung über ein paar Extra-Dollar Trinkgeld zu freuen... In der Position hätte ich schon mehr Professionalität erwartet.
Nun haben wir die Kabine gefunden: Unser persönlicher Postbote Dennis und seine Frau Verena werden hier im Winter zusteigen. Auf der NORWEGIAN SPIRIT haben wir 2,5 kg an Fotos mitgegeben, die sie dann an Bord verteilt haben. Da wir aber nicht damit rechnen, dass noch viele unserer Crew-Freunde an Bord sind, wird es dieses Mal nicht viel.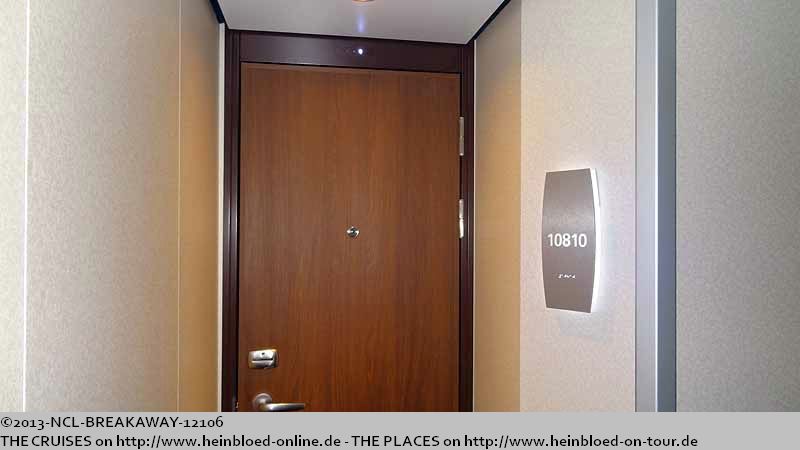 Now we found the cabin. Our personal postman Dennis and his Verena will be here next winter. On NORWEGIAN SPIRIT they had 5 lbs. of pictures with them they should deliver to all our crew friends. But as we do not expect that many of our crew-friends will be still onboard, I do not expect any large quantity.
Die anderen Reisen in diesem Blog/
The other voyages in this blog: