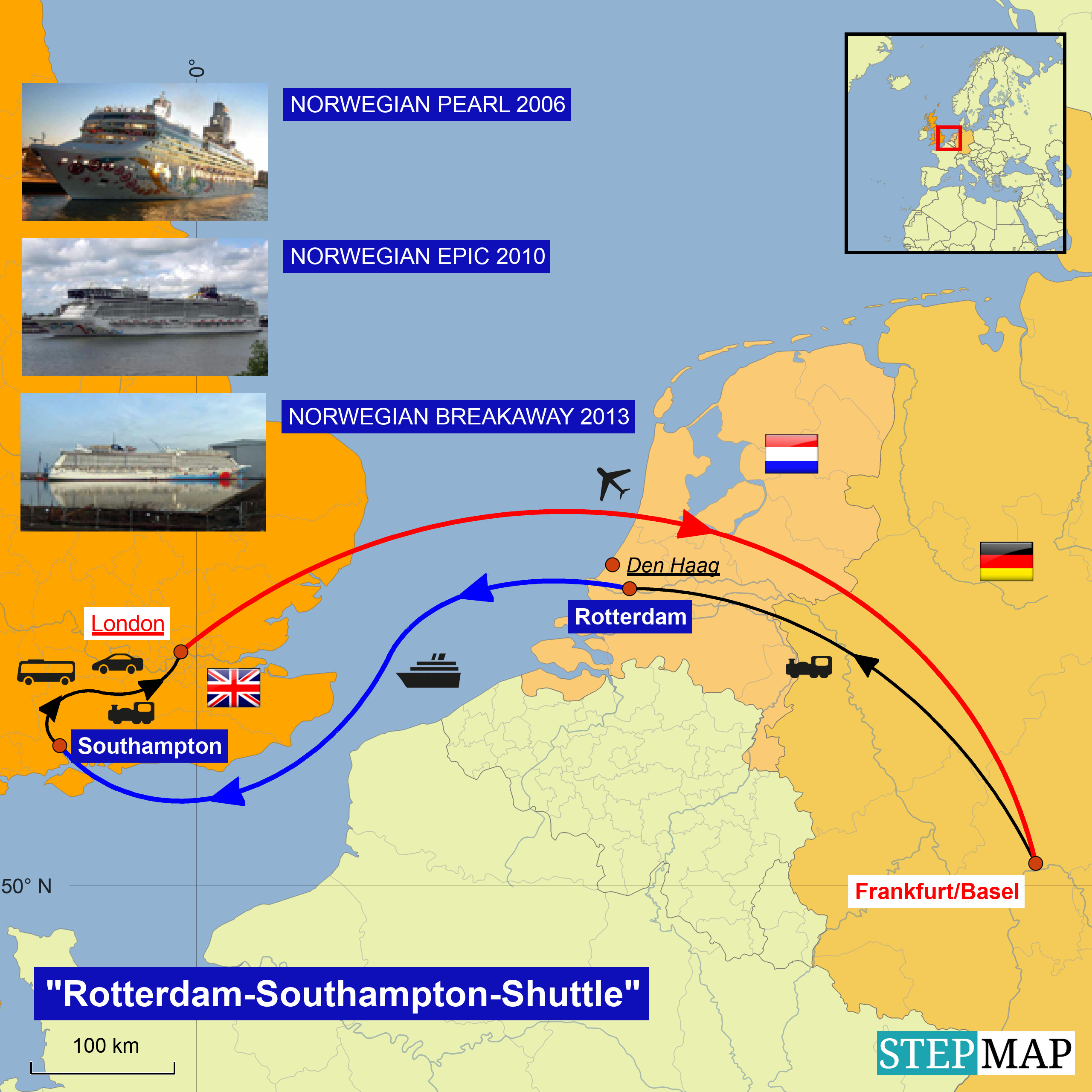 Am Hotel verabschieden wir uns von Frances, Eddie, Catherine und Michael, die auf die Transatlantik mit der NORWEGIAN BREAKAWAY gehen. Da wir sehr früh das Hotel verlassen, und sie sonst sehr lange am Cruise Terminal warten müssten, macht es keinen Sinn, dass wir sie mitnehmen. Wir bringen den Wagen bei Europcar zurück und jemand fährt uns eben schnell zum Busbahnhof. Eigentlich ist es ganz nah... Luftlinie... direkt gegenüber von IKEA...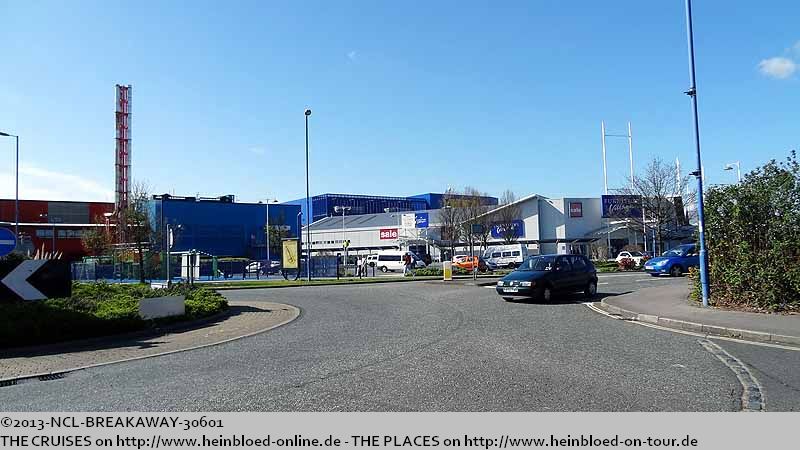 At the hotel we said goodbye to Frances, Eddie, Catherine and Michael who would go on the Transatlantic on NORWEGIAN BREAKAWAY. As we left the hotel quite early, we did not take them with us as they need to wait quite long at the cruise terminal. We returned the car with Europcar, and someone took us to the coach station. It was quite close... air-line distance... just opposite of IKEA...

Welcome to National Express... my personal Waterloo...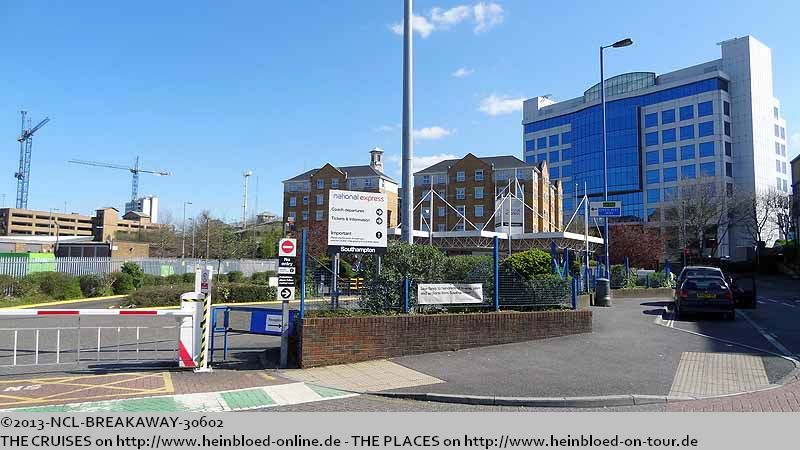 Willkommen bei National Express... mein persönliches Waterloo...
Wir hatten eTickets bestellt... für 6,00 GBP von Southampton nach London Victoria... nur die Tickets wurden nur auf Papier anerkannt. Andere Carrier arbeiten am papierlosen Dokument und hier bestehen sie auf einen Ausdruck, obwohl ich den QR-Code vorweisen kann. Ich werde ins Gebäude geschickt. Für einen 1,00 GBP bekäme ich einen Ausdruck. Es ist ja noch 15 Minuten Zeit. Am Schalter ist man nicht bereit zu helfen. Wir sind in England. Einer nach dem anderen. Auch wenn die anderen erst in 2-3 Stunden fahren. Man wird ständig angebrüllt, dass man ja selbst den Fehler gemacht hat, so dass es auch jeder mitbekommt. Eine schwarze ältere Frau ist an der Reihe und bettelt darum, dass sie am Schalter bedient wird. Die Mitarbeiterin von National Express besteht jedoch darauf, dass sie die Tickets am Automaten zieht. Sie bittet nochmals um Hilfe. Die Mitarbeiterin kommt raus und erklärt so laut Schritt für Schritt, was am Automaten zu tun ist, das eigentlich schnell klar war, dass sie Analphabetin ist und wird hier vorgeführt, wie ein Stück Vieh auf einer Auktion. Da es in England keine Verfassung gibt, gibt es auch nicht §1 unseres Grundgesetzes auf das ich sehr stolz bin: Die Würde des Menschen ist unantastbar. Aber das war würdelos. Als nächster kommt ein weißer älterer Herr an. Dem bietet sie direkt an, dass er gerne ein Ticket direkt am Schalter kaufen kann, damit er sich nicht extra nochmals anstehen muss. Das nenne ich einfach Diskriminierung. Eine weitere Mitarbeiterin kommt von der Abfertigung meines Busses zurück und nimmt mir 1,00 GBP ab. Als ich sie bitte, den Fahrer Bescheid zu geben, kommt wieder nur der Schrei, dass ich es selbst Schuld bin und wenn der Fahrer mich reingeschickt hat, wird er schon warten. Bruno kam dann rein und sagte, dass der Fahrer nicht wartet. Und in diesem Augenblick bekam ich auch den Ausdruck. Wir sind rausgerannt. Die Schranke war noch zu, aber der Fahrer öffnet die Türen nicht mehr. Jemand von National Express kommt heraus und erklärt mit, dass ich selbst schuld sei und dass ich mich jetzt nochmals anstellen, müsste um meine Tickets umzuschreiben.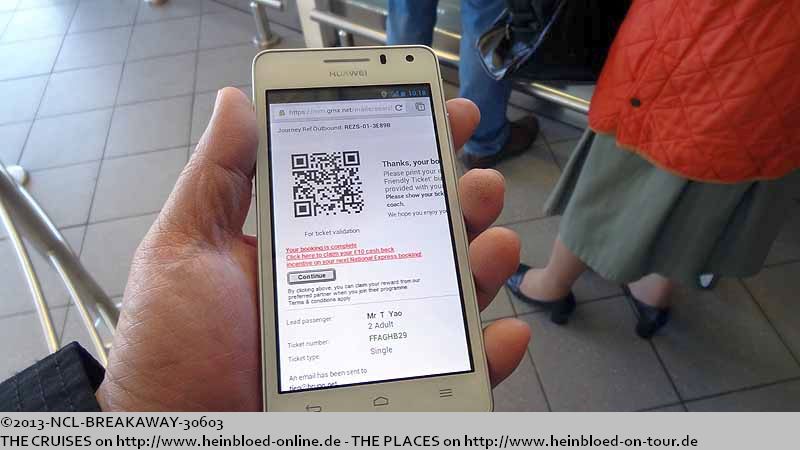 We booked eTickets... for 6.00 GBP from Southampton to London Victoria... but they only accepted tickets on paper. Other carriers work on paperless documents, and here they insisted on having a print-out although I could show them a QR-Code. I was sent into the building. They were not willing to assist at the counter. We were in England, i. e. one after the other. Even if other would travel in 2 or 3 hours. All they could do was shouting out loud that you made a mistake that everyone in the waiting lounge should know it. An older black lady was now at the counter and begged for being served at the counter. The agent from National Express insisted her to use the ticket machine. So she asked again for assistance. The agent came out from her booth and explained step by step how to use the machine. She did it so loud that it was clear that she wanted everyone in the waiting lounge to know that the lady was an alphabet and that should be presented to everyone like cattle with an auction. As England has no constitution, I am glad that Germany has one and §1 reads: The dignity of man is inviolable. It was indeed undignified. Next in line was a white older gentleman whom she offered to sell the tickets at the counter that he must not queue again for the ticket machine. I call it discrimination. Another agent came back from the handling of my bus and took 1.00 GBP from me. When I asked her to ask the driver to wait she shouted out loud again that It was my fault again and if the driver sent me in he would wait. Bruno came in and told that the driver refused to wait. And then she handed me out the ticket print-out. We ran out. The bars were still closed, but the driver refused to let us in. Somebody from National Express came out to shout out loud again, that it was my fault and I had to queue up again to rebook my tickets.

I was not interested anymore in using National Express and went with Bruno around the corner to the train station at Southampton Central. National Express will not get any penny from me anymore, and I am lucky that I booked flexible and refundable tickets for June 16, 2013. And they want to enter the German market? I will send my story to all German newspapers...

Ich habe gar kein Interesse mehr an National Express und gehe um die Ecke mit Bruno zum Bahnhof Southampton Central. National Express bekommt von mir keinen Cent mehr und zum Glück sind meine Tickets für den 16.06.2013 flexible Tickets, die ich auch zurückgeben kann. Und die wollen mit city2city im deutschen Fernreisebusverkehr Fuß fassen? Ich glaube, die Geschichte werde ich mal der Bild-Zeitung stecken...
Im Bahnhof... die Schalter sind zu. Also niemand, der uns ärgern kann. Ich gucke mir am Automaten die Zugpreise an und beschließe den Pro-Deutsche-Bahn-Fanclub aufzumachen. Das Ticket nach London kostet das 6-fache wie der Bus: 35,50 GBP. Dafür ist man eine Stunde schneller in London! Mir fällt ein, dass ja Enterprise direkt am kostenlosen Shuttle zum Town Quay quasi sitzt. Aber sie haben kein Auto. Erst am Nachmittag, wenn die ganzen Autos mit den Kreuzfahrern, die zur Einschiffung kommen da sind. Das Telefon klingelt: Shirley lässt uns mitteilen, dass sie meinen Autoschlüssel gefunden hat. Auch Frances und Eddie, die Shirley zum Hafen bringt, rufen an.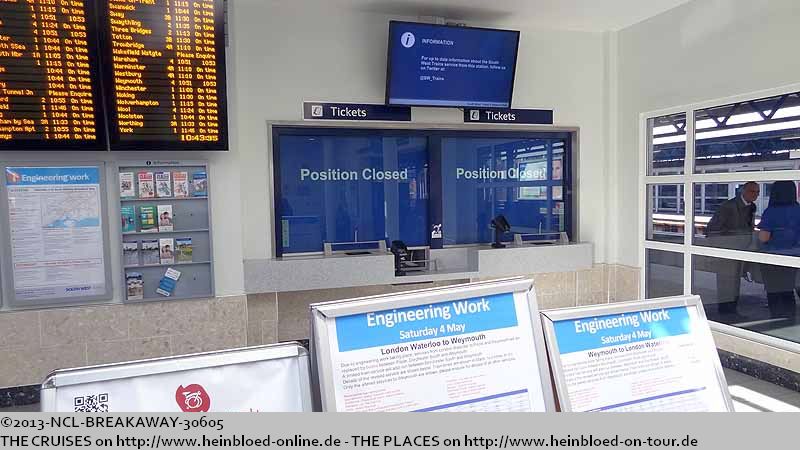 Inside the train station... the counters were closed. So nobody who could treat us bad. I checked the ticket machines and decided to open a Pro-German-Railways-Fanclub. The train tickets to London were 6 times more expensive but the coach tickets: 35.50 GBP. But you are one hour earlier in London! I remembered that Enterprise was next to the free shuttle bus to Town Quay. But they had no cars available. Maybe in the afternoon when the first embarking guests would return their cars. The telephone rang: Shirley let us know that she found my car keys. Frances and Eddie tried to call us too when Shirley took them to the port.

I was a picture of misery. Although I should write a letter of thanks to the board of National Express that they treated me so bad. Otherwise, I would be on the bus to London without car-keys.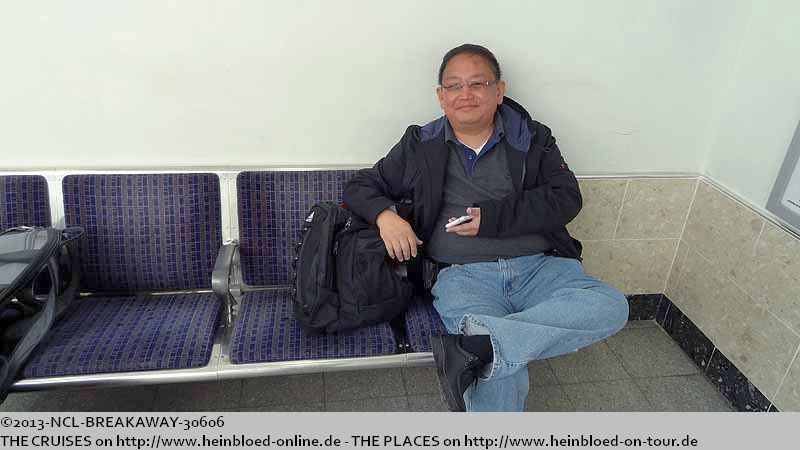 Ich fühle mich wie ein Häufchen Elend. Obwohl eigentlich müsste ich ja der Geschäftsführung von National Express ein Dankschreiben schicken, dass sie mich so behandelt haben. Sonst säße ich ja im Bus nach London ohne Autoschlüssel.
Die Zeit nutze ich, um mich schlau zu machen und stelle fest, dass wir drei Londoner Bahnhöfe ansteuern können: Victoria: nein - müsste ich ja mit National Express weiter nach Heathrow und ich habe ja keine ausgedruckten Tickets... außerdem fährt der Zug eine Stunde länger über Gatwick und kostet dafür nur die Hälfte... Waterloo: naheliegend... aber man kommt von da so blöd weiter... früher konnte man hier mit dem Eurostar weiter... Blieb also nur die 3. Alternative, die gut klingt und die wir nutzen. Bruno kommt mit meinen Schlüsseln wieder. Hier gab es übrigens gar nichts, keinen Essensverkauf oder Gepäckaufwahrung. Gar nichts. Essen kann man kaufen wenn man Tickets hat: nach der Fahrkartenkontrolle in der Bahnhofshalle.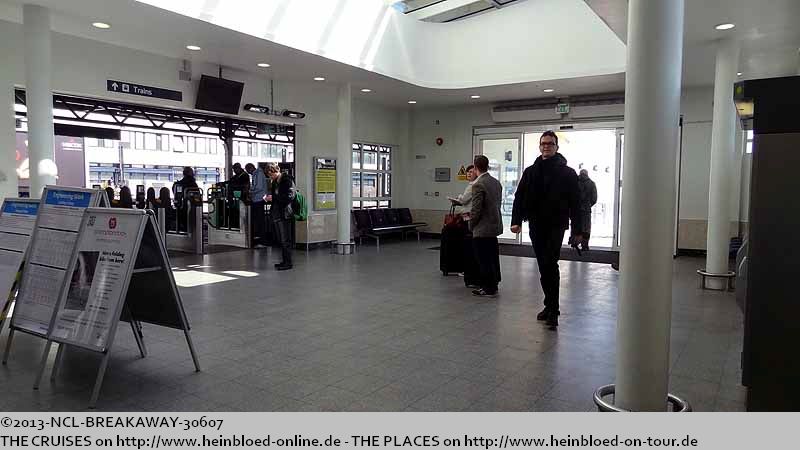 I used the time to check our options and found out that we could get to three different London terminals: Victoria: no - we need to go by National Express to Heathrow and I did not have any print-outs of our tickets... another option: you could get to Waterloo (again...) via Gatwick and cost only half of the price... but it would not be so easy to continue our trip... before it was possible to use Eurostar to return to Continental Europe... So we had only the 3rd option which sound significant to us and which we used finally. Bruno returned with my keys. Here was, by the way, nothing: no food outlet or baggage storage. Just nothing. The food you can get with your tickets inside the station hall after passing the ticket-check.

Meanwhile, a friendly guardian angel came to the ticket counter. The machine wanted to sell us the tickets for 61.00 GBP per person. She calculated one more time and found out it might be cheaper for us if you buy separate tickets to Heathrow. So it was only 55.50 GBP (2013).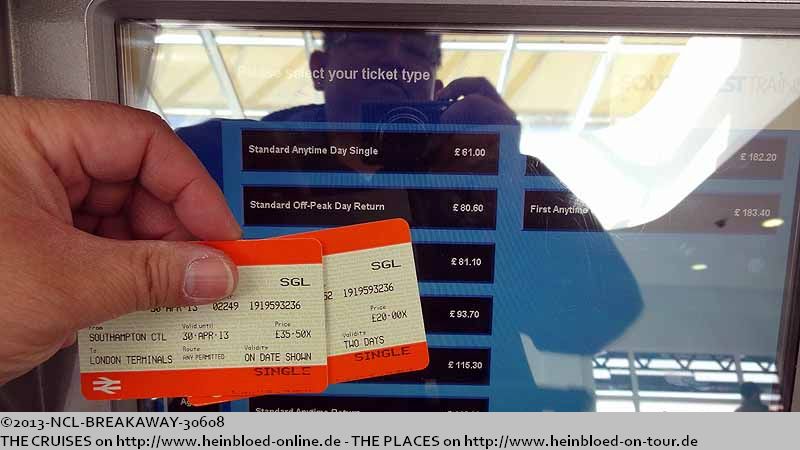 Zwischenzeitlich kommt ein freundlicher Schutzengel an den Fahrkartenschalter. Am Automaten ermitteln wir einen Preis von 61,00 GBP pro Person. Sie rechnet nach und stellt fest, dass wir billiger dran sind, wenn wir getrennte Tickets nach Heathrow kaufen. So sind es nur 55,50 GBP (2013).
Wir fahren zunächst einmal Richtung Newcastle bis Reading.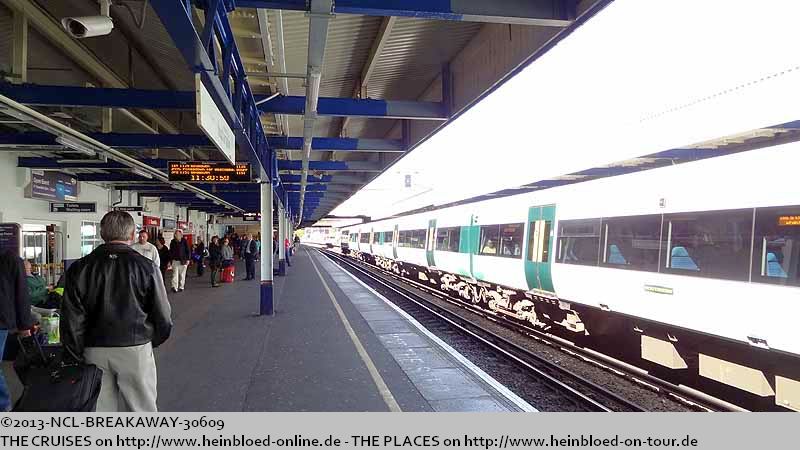 We took the Newcastle-bound train to Reading.

You need to remember this for the future: From track 4 you find the exit to the bus to Town Quay. Here it was not so far away to Gate 8 City Center Terminal or the ferry to Hythe.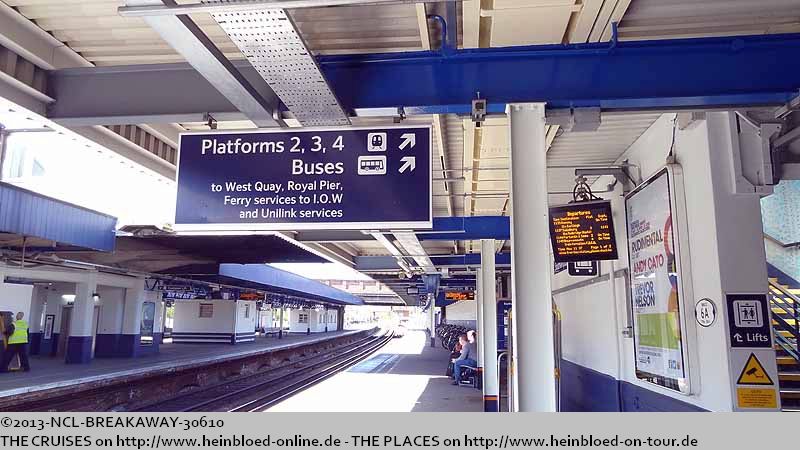 Muss man sich mal wieder für die Zukunft merken: Am Gleis 4 ist der Ausgang zum Bus zum Town Quay. Von hier aus ist es nicht mehr so weit bis zum Gate 8 City Center Terminal bzw. zur Fähre nach Hythe.
Bruno bekommt erst mal seinen Kaffee.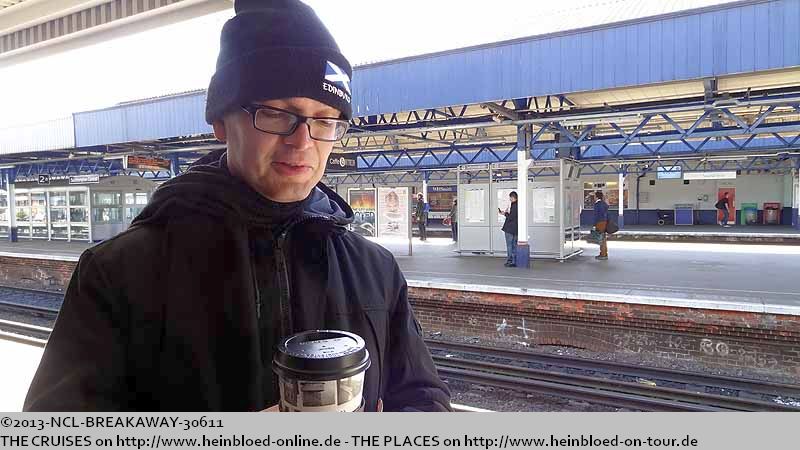 Bruno got his coffee.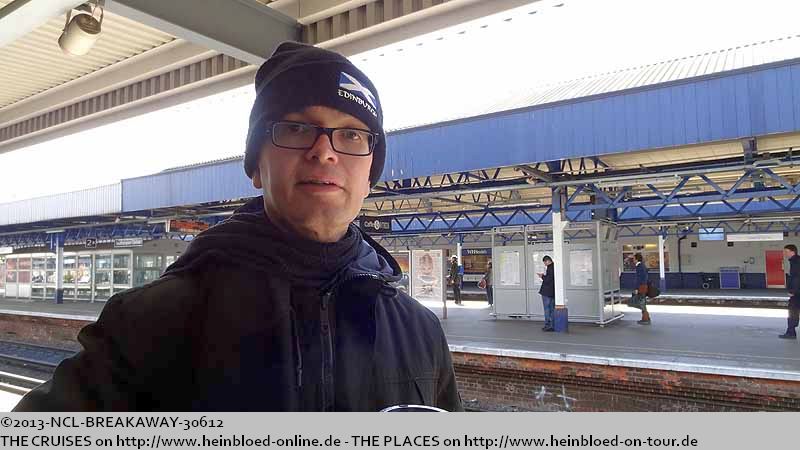 Im Zug von
Cross Country
gibt es WLAN: 2,00 GBP (2013) für eine Stunde und eine sehr gute Verbindung. Ich sollte der Deutschen Bahn vorschlagen, dass sie den Betrieb des WLAN-Netzes in den ICEs übernimmt.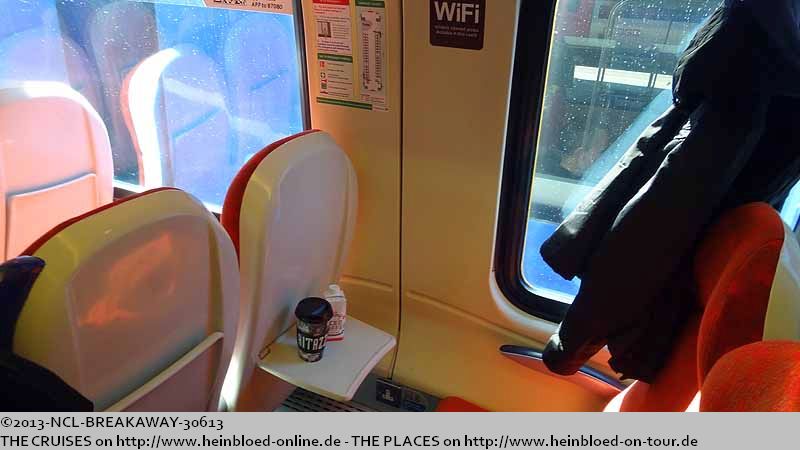 In the trains of Cross Country you had WiFi: 2.00 GBP (2.70 USD / 2013) for one hour and a great connection. I should tell German Railways to use the same provider of the WiFi-network for their high-speed-train network.

Power outlets...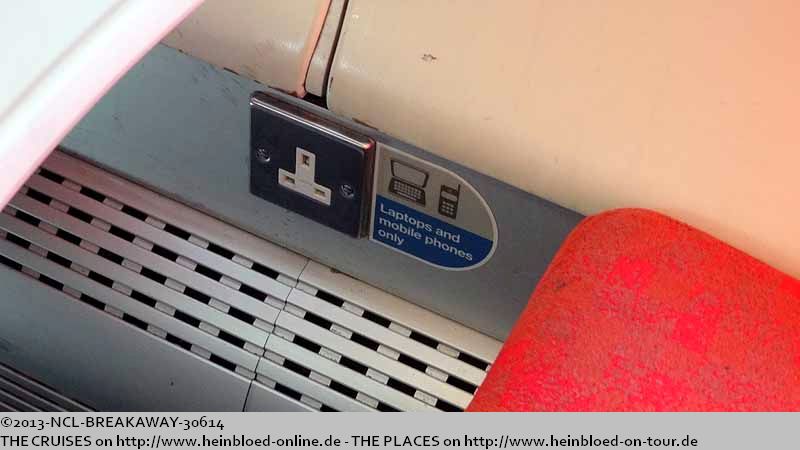 Steckdosen...
Gepäckständer... Ein bisschen eng, aber wahrscheinlich habe ich mich zu sehr an meine 1. Klasse bei der DB gewöhnt... Aber hier war sie unbezahlbar. Im Zug sitzen ein paar Studenten, deren Gruppenticket bei Cross Country nicht gilt. Ich warte schon auf den Schrei, dass sie es selbst Schuld sind, aber nein: "Ihre Tickets gelten bei unserer Gesellschaft nicht, nur bei South West Trains. Das beste wäre, wenn Sie am nächsten Bahnhof aussteigen und in einen Zug von denen einsteigen und weiterfahren. Dann besteht keine Notwendigkeit, dass ich Ihnen etwas nachberechne." Es geht also auch anders.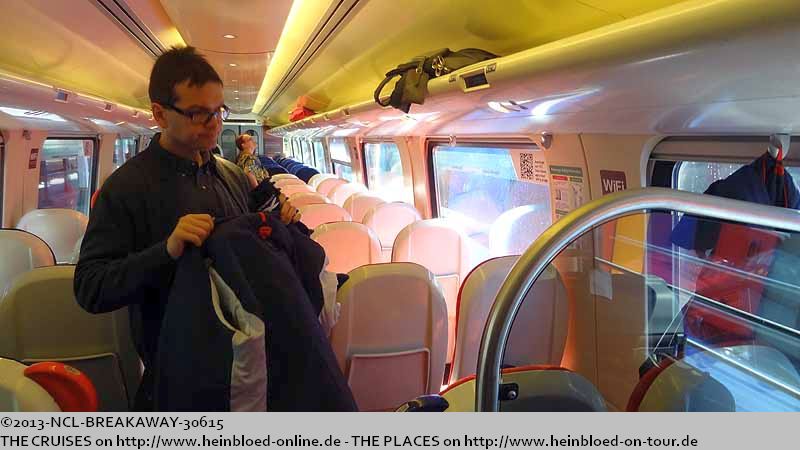 Baggage racks... A little narrow but I was used to having my 1st class with the German trains... but here it was unaffordable. In the train, few students were sitting and used a group ticket which was not valid with Cross Country. I was waiting that the conductor would should out now that it was their fault, but no: "Your tickets are not valid with our company - only with South West Trains. The best would be if you leave our train at the next stop and continue your journey with one of their trains. Then there would be no need for me to charge you additionally for your journey." So there was a different way to treat one.

In Reading we could go directly by bus to Heathrow... it goes every 15 minutes, and the service is provided by National Express... I will consider it for June... but no... I forgot that we are flying out of London City... and there is no service by National Express...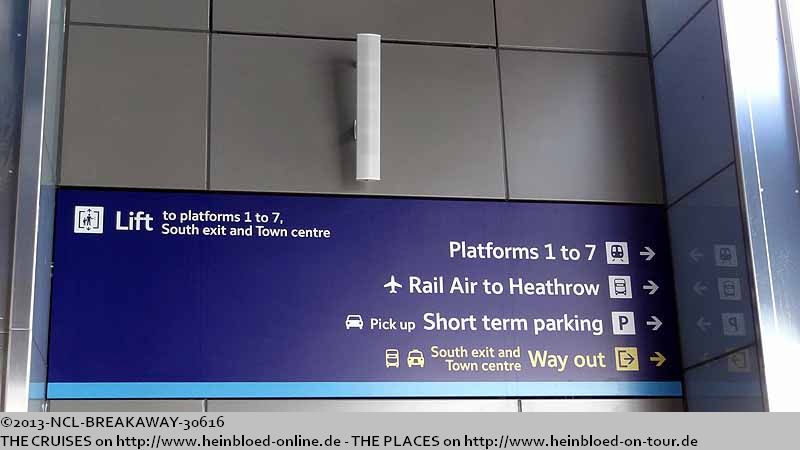 In Reading könnten wir direkt mit dem Bus weiter nach Heathrow... er fährt alle 15 Minuten und ist von National Express... Ich überlege es mir noch für Juni... ach nein... da fliegen wir ja ab London City... und da fährt ja nichts von National Express...
Mit dem Gepäck hätte man wenig Schwierigkeiten, weil alles mit Rolltreppen ausgestattet ist.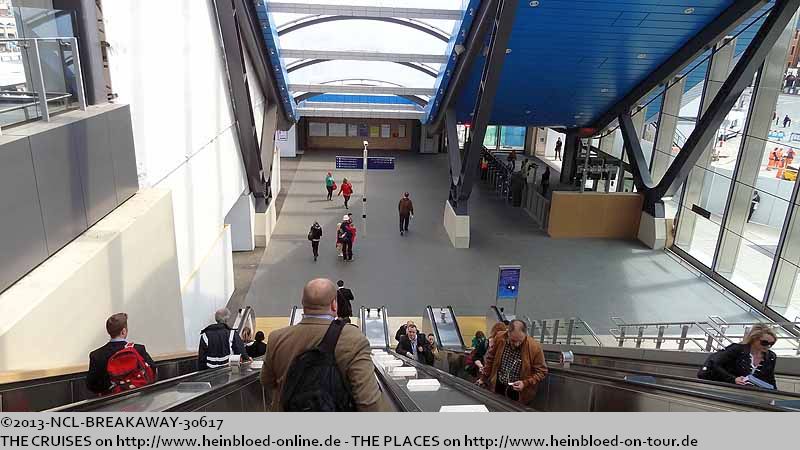 With all your bags you would have too much trouble as the station was well equipped with escalators.

All trains toward London Paddington had delays. Last minute they changed the platform to track 10. But when we should miss it... the trains ran every few minutes to Paddington, and each of them was late...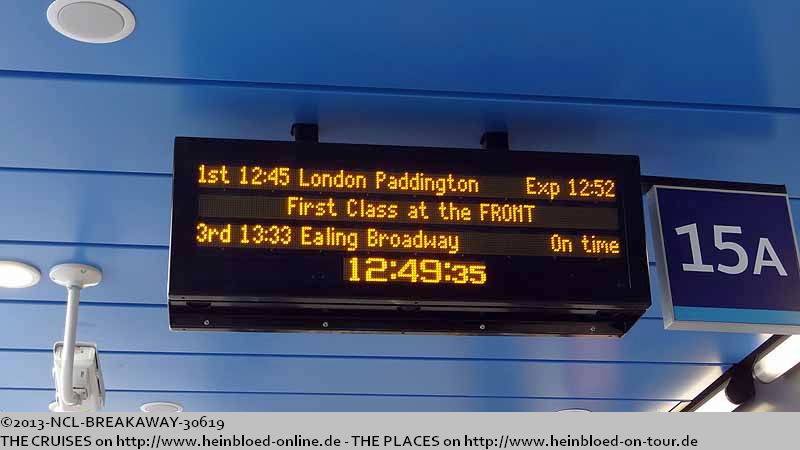 Alle Züge nach London Paddington haben Verspätung. Im letzten Moment wird die Abfahrt auf Gleis 10 verlegt. Aber wenn wir den verpassen... es kommt alle paar Minuten einer nach Paddington und alle sind verspätet...
Im Zug gibt es Anzeigen für Sitzplatzreservierungen, aber hier kommt keiner. Außerdem ist es eh der letzte Abschnitt der Fahrt.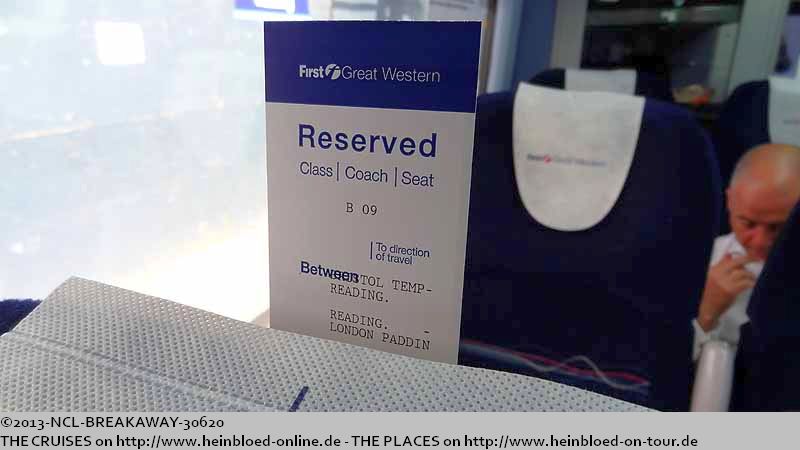 In the train you find the displays for seat reservations but nobody showed up. It was any way the last leg of the train journey.

You were asked to read the safety information carefully which you could find at every seat.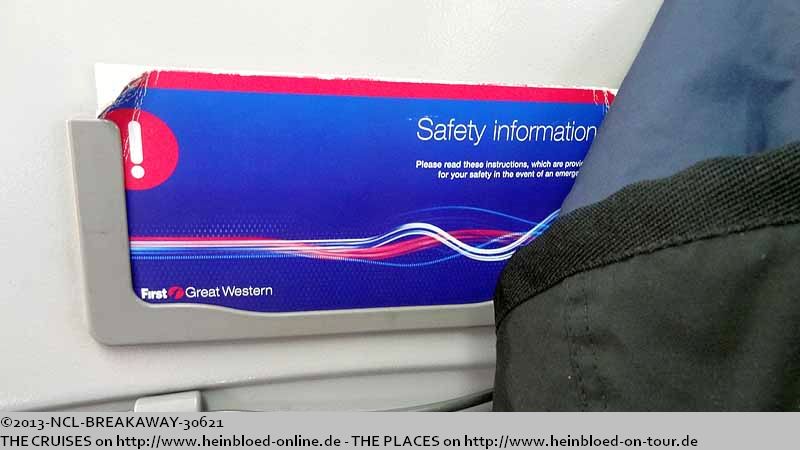 Man wird aufgefordert sich die Sicherheitsinformationen durchzulesen, die an jedem Platz ausliegen.
Nur die Türöffnung erinnert mich an die alten Miss Marple Filme... Fenster auf, und von außen die Tür öffnen...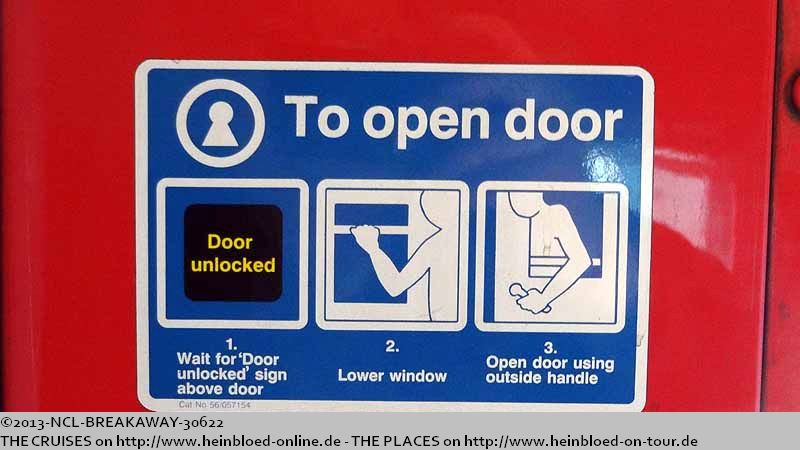 Only the door opening reminded me to the old Miss Marple movies...

London Paddington... five reason why it was the best station for us...
1st: Agatha Christies' Miss Marple's "Murder she said" (in German 16.50 hrs from Paddington) - I love this move
2nd: they had a baggage storage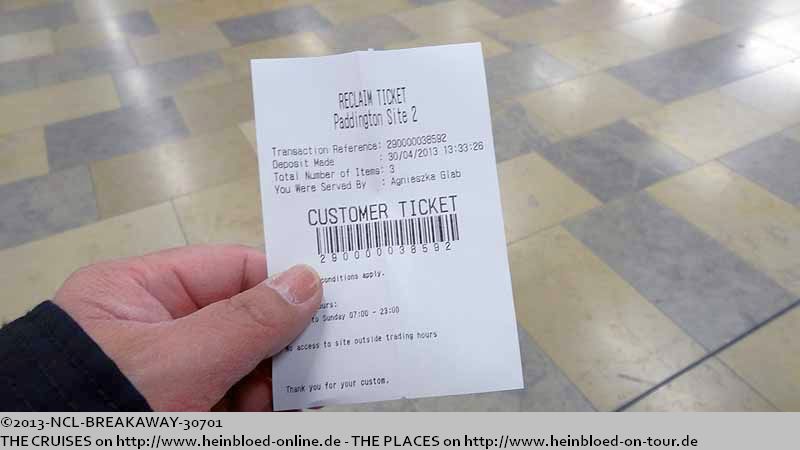 London Paddington... aus fünf Gründen der beste Bahnhof...
1. 16.50 Uhr ab Paddington (Miss Marple...) - Ich liebe den Film...
2. es gibt eine
Gepäckaufwahrung
3. Es gibt einen
Paddington Bär Shop
...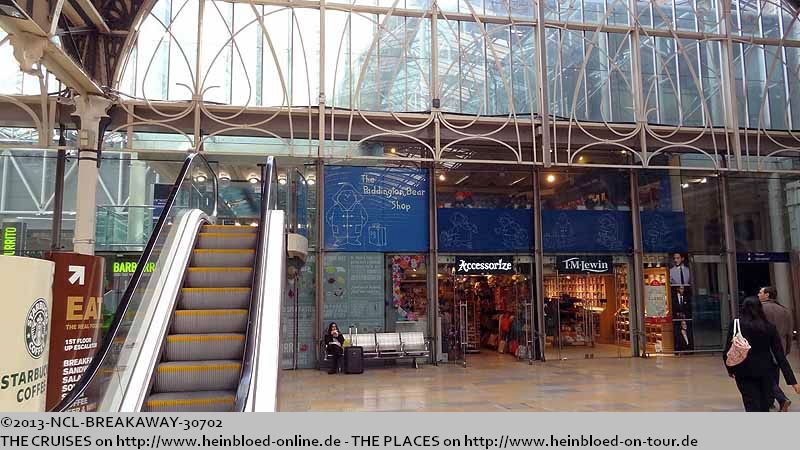 3rd: They had a Paddington Bear Shop...

I must see it.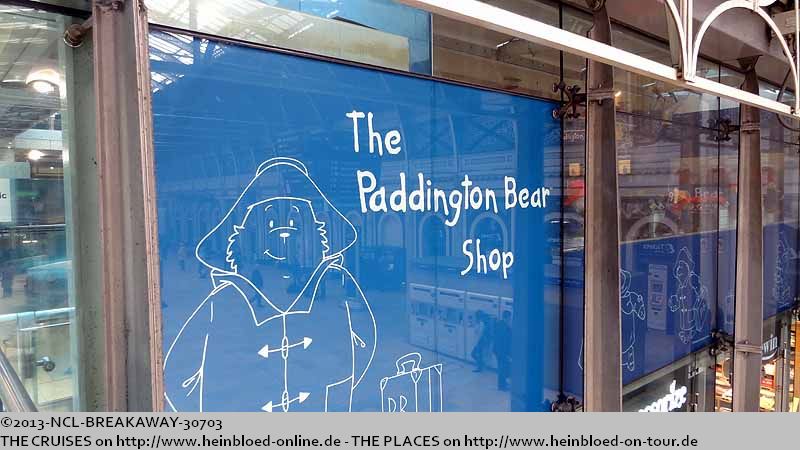 Hier muss ich rein.

And I must have a picture with him. Because he inspired me to discover the world.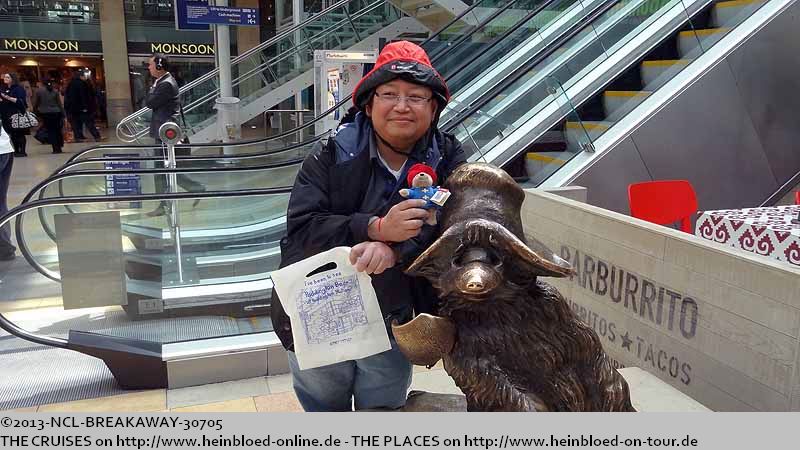 Und muss mich natürlich mit ihm fotografieren lassen. Schließlich hat er mich dazu inspiriert die Welt zu entdecken.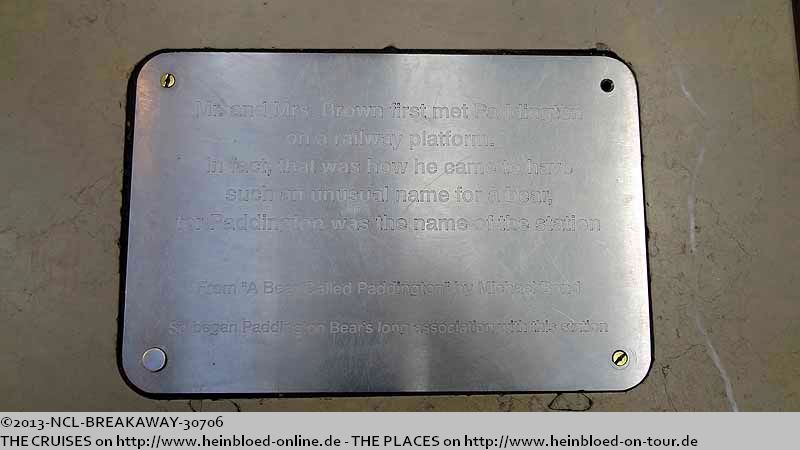 First we need to buy an Oyster-Card: 5.00 GBP deposit and 10.00 GBP credit for rides. It is the cheapest way to travel around by public transport.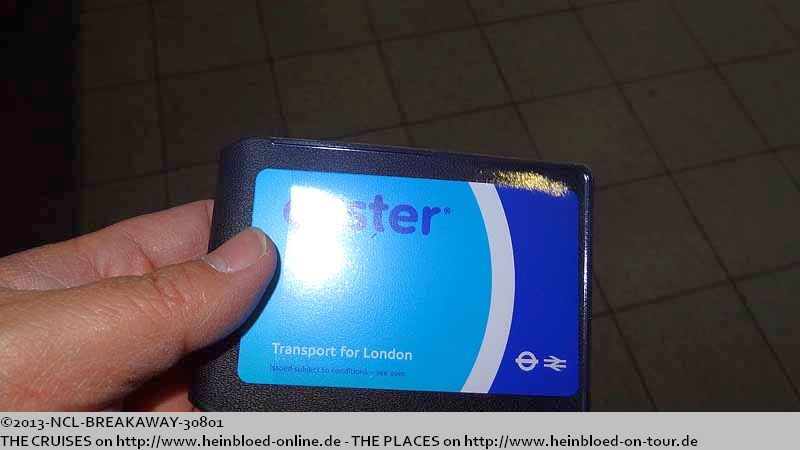 Zunächst besorgen wir uns eine
Oyster-Card
: 5,00 GBP Pfand und 10,00 GBP Guthaben. Das ist die günstigste Möglichkeit die öffentliche Verkehrsmittel zu nutzen.
Die langen Rolltreppen aus Holz, die ich aus meiner Kindheit kannte, gibt es nicht mehr... Schade...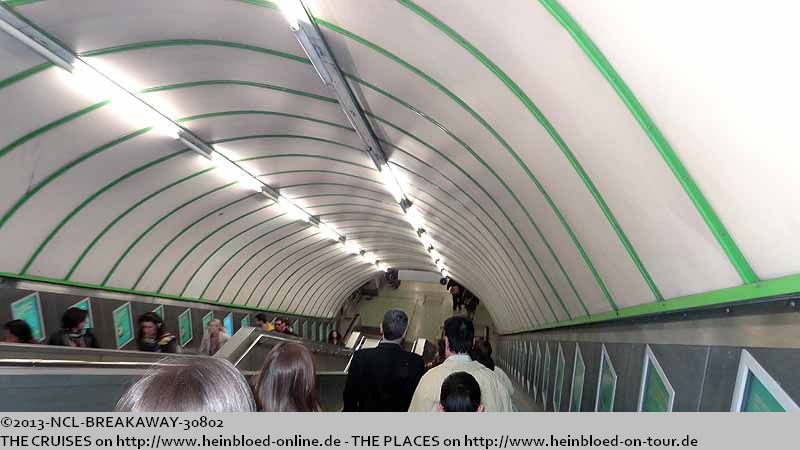 The long wooden escelators which I knew from my childhood were not existing anymore... How sad...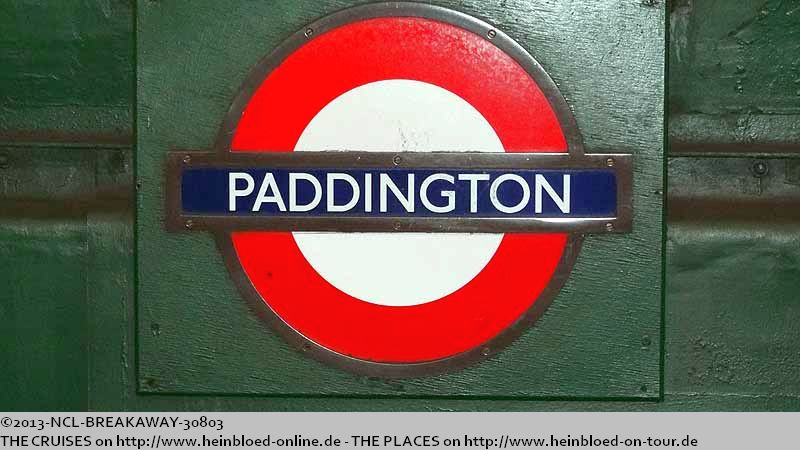 Grund Nr. 4: Die Bakerloo Line verbindet die interessanten Punkte in London.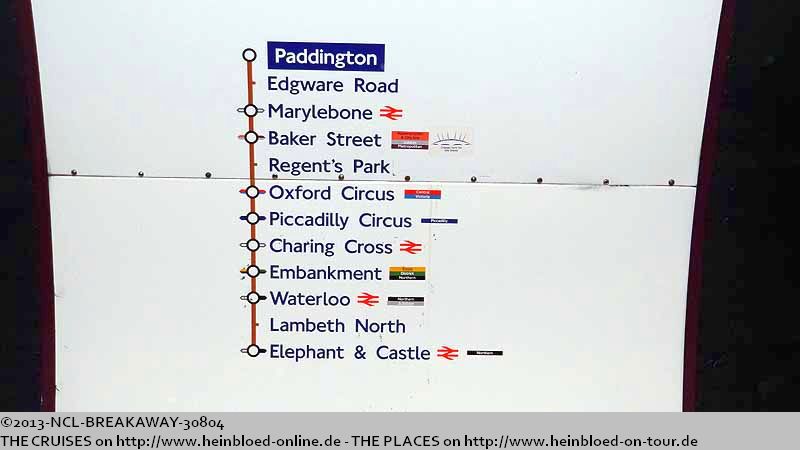 Reason No. 4: The Bakerloo Line connects you with all points of major interests.
Die anderen Reisen in diesem Blog/
The other voyages in this blog: