Scroll down for English explanations - alternates with German explanations.

Wer hatte bloß diese Idee??? Wie bekommt man eigentlich Schimmel, Kalk und Seifenreste raus, ohne dass man einfach die Dusche andreht, weil alles Wasser dann in die Kabine abfliest... Die Kabinenstewards und -stewardessen werden noch ihre Freunde haben...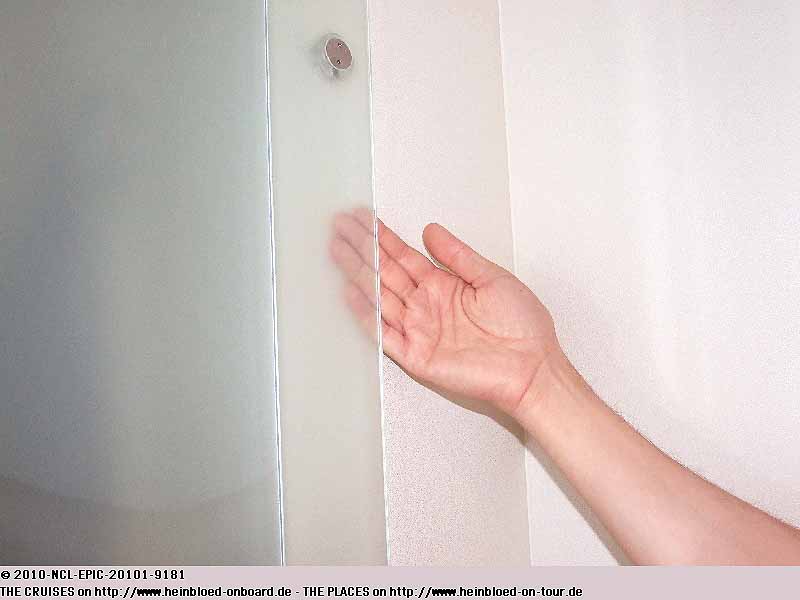 Who had this idea??? How do you get here mod, chalk and soap out without just turning on the shower because all the water will go into the cabin... The cabin stewards will have a lot a fun...

If you had here you pants on the hook and you turn on the shower and hold it to the gap everything will become wet....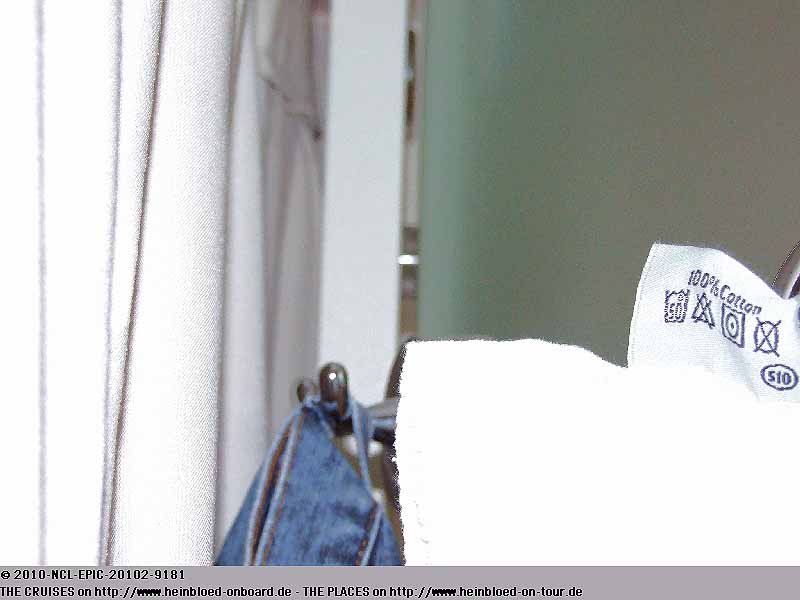 Wenn man also seine Hose wie hier an den Haken aufhängt und man die Brause auf die Ritzen hält, wird alles hier nass...
Ein wenig erkennt man, dass jemand unter der Dusche steht und die Begeisterung war besonders groß, als jetzt gerade einer von uns beiden von draußen reinmarschiert ist und voll auf die saubere Badvorlage für die Füße getrampelt ist, die derandere sich zum Duschen hingelegt hat.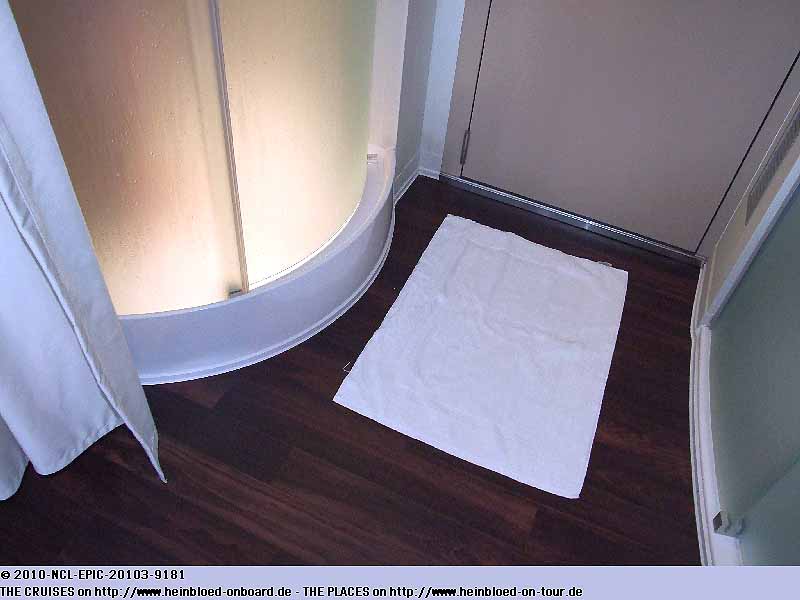 You can see a little that someone is under the shower and this person was very excited when the other person just walked from outside with dirty shoes and walked over the clean bathroom mat which was placed by the other for taking a shower.

There was no information folder so we had no idea which number to dial as the phone was not configured yet. So we saw a phone book function which works like sending a text message.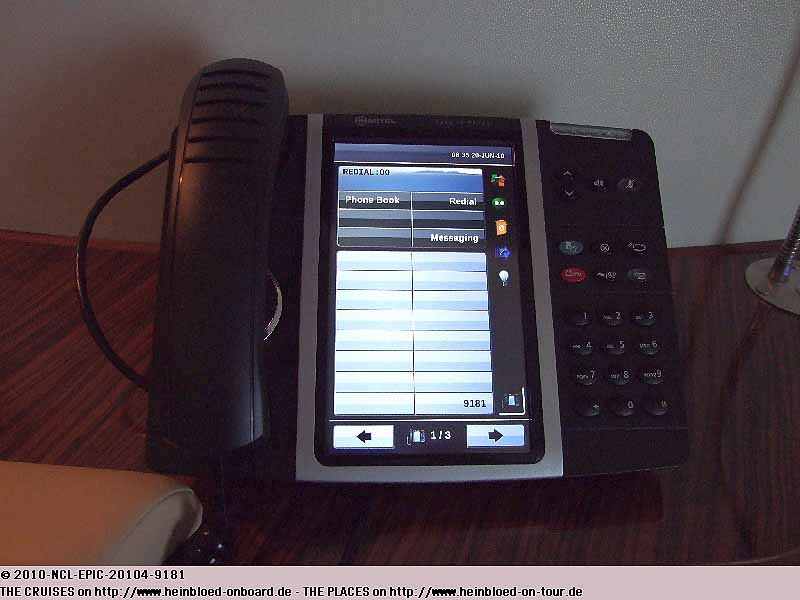 Es gab ja keinen Informationsmappe, so dass auch die Nummern nicht klar waren, speziell, als das Telefon noch nicht konfiguriert war. So sahen wir ein Telefonbuch, dass man so bedienen muss, als ob man eine SMS schreibt.
Da wir Peter aus dem
ncl-fans.de-Forum
eh anrufen wollten, passte er gut als Versuchskaninchen... "13061 J. Diehm"... Datenschutz wie er funktionieren sollte... In keinem Hotel der Welt bekommt man so die Zimmernummer heraus. Normalerweise läuft es über die Vermittlung und der Hotelgast entscheidet selbst, ob er seine Zimmernummer rausrückt oder nicht. In seinem Fall ist er "Out of Order" (außer Betrieb). Die Vermittlung konnte uns nicht sagen, ob er an Bord ist oder nicht, oder ob sein Telefon gestört ist, oder ob er überhaupt ein Telefon hat. Aber wieso "J. Diehm"??? Er hatte doch behauptet alleine zu verreisen und hat jetzt wohl jemand anders als seine Reisebegleitung ausgegeben... Und schon setzten die wildesten Gerüchte ein... nur weil eine Telefonanlage falsch programmiert ist. Wieviele haben uns vielleicht nicht erreicht, weil ja Diana Gonzalez bei uns wohnt... Ich würde auch sofort auflegen, wenn auf dem Display "9181 D. Gonzalez" erscheint...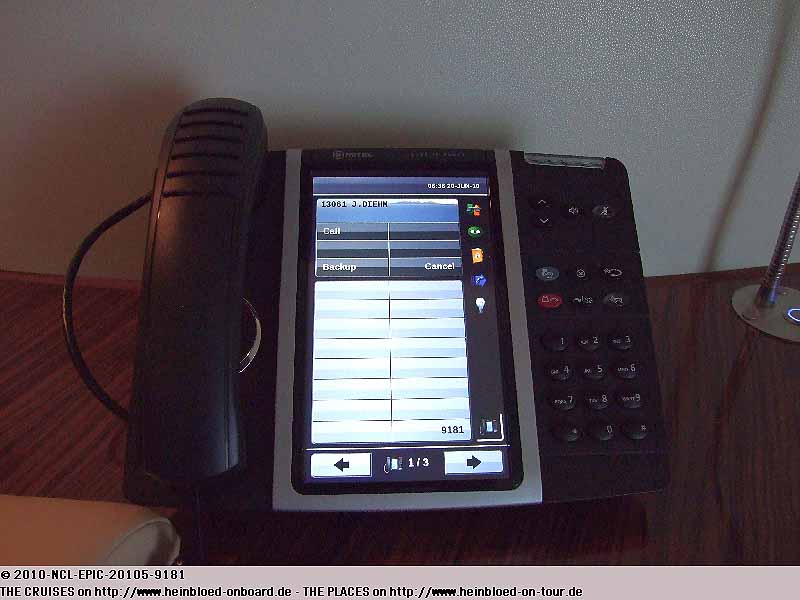 As we wanted to call anyway Peter from the German ncl-fans.de-Forum he was the right person to try it.... "13061 J. Diehm"... Data protection like it should work... No hotel of the world would give you the room number. Normally the operator will transfer you and the hotel guest will decide himself if he wants to tell his room number or not. Here he was "Out of Order". The operator could not tell us if the was onboard, just a problem with a phone or even if there was a phone in his cabin. But why "J. Diehm"??? He said that he was travelling alone and now someone else as company... And now the wildest rumours will start to circle around... just because the phone system was not configured properly. How many have not reached us maybe because Diana Gonzalez lived with us... I would hang up the receiver if I would read on the display "9181 D. Gonzalez".

On a service-cart we saw the new breakfast menus which we did not find so far in our cabin and we did not know in this shape so far.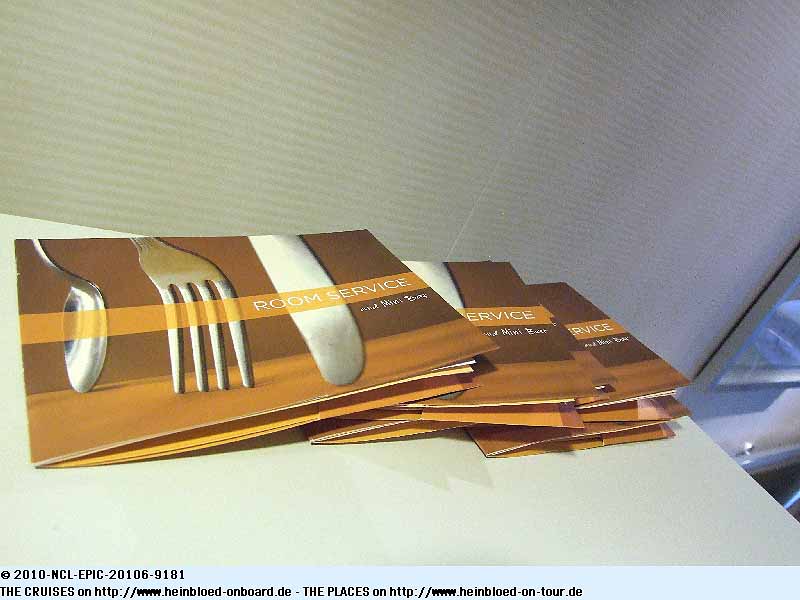 Auf einem Servicewagen sehen wir die neuen Frühstückskarten, die wir in unserer Kabine bislang noch nicht gefunden haben und bislang in der Form nicht kannten.
Leider schließt unsere Tür gar nicht richtig, was von unserem Steward auch nicht bemerkt wurde. So kommen treffen wir manchmal auf eine unverschlossene Tür, wenn wir in unsere Kabine wollen.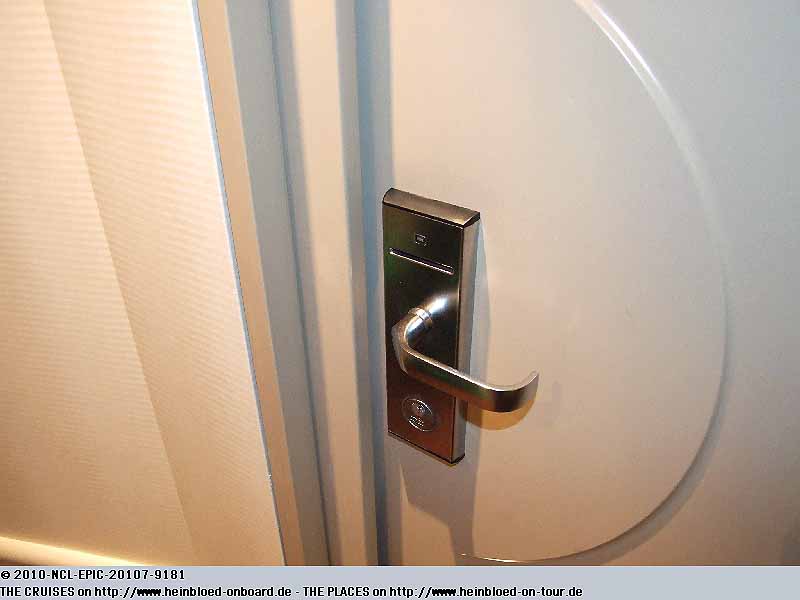 Unfortunately our door did not close properly which was not remarked by our steward. Sometimes we returned to our cabin and found an unlocked door.

When we asked for a hammer to beat the sheet more into the frame our steward offered us to call a technician who should take care of our door. He did not like too much that we took self-initiative... but we just wanted to be helpful.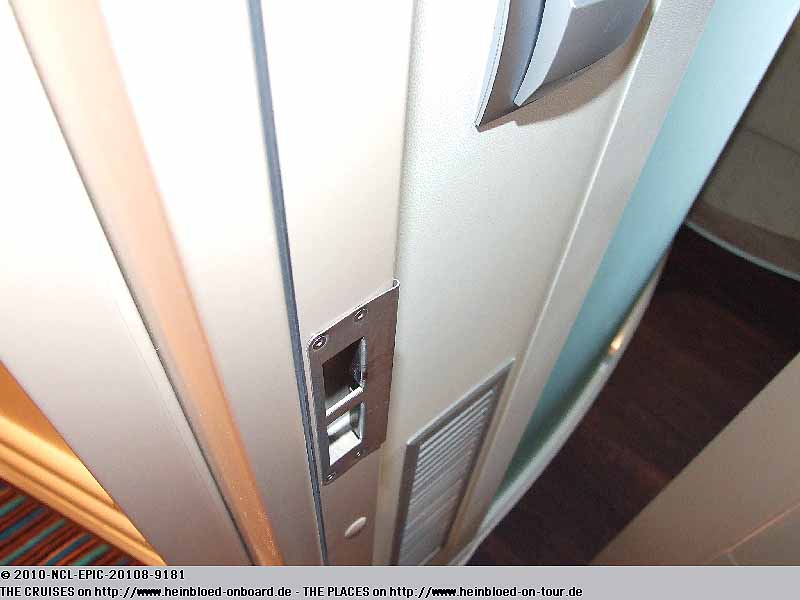 Als wir nach einem Hammer fragen, um das Blech ein wenig tiefer einzuschlagen, bietet uns unser Kabinensteward an, doch einen Haustechniker zu rufen, der sich um die Tür kümmert. Unsere Eigeninitiative mochte er wohl nicht... dabei wollten wir nur behilflich sein.
Unsere Bademäntel sind dann auch gekommen, nach denen wir gefragt haben. Wir nehmen es eigentlich recht locker und alles was nicht passt, wird durch entsprechende Nachfrage passend gemacht.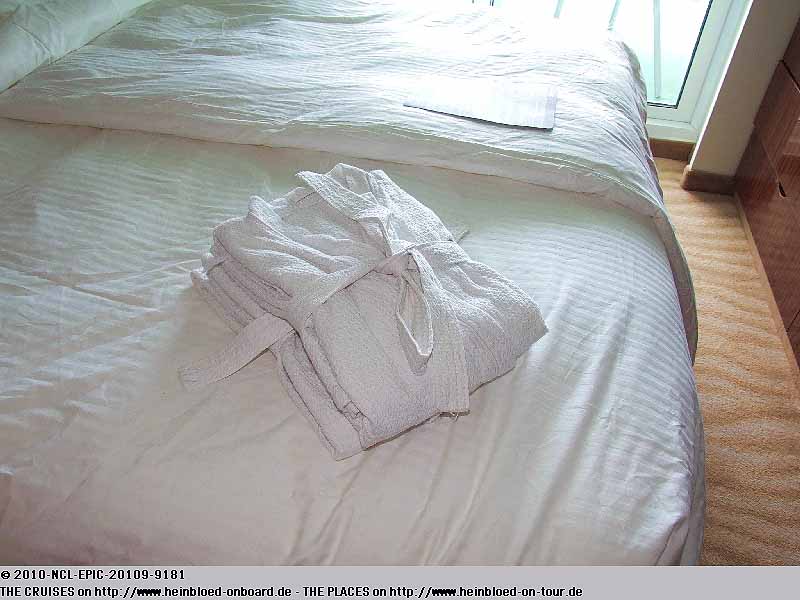 Our bathrope came when we asked for. We did not take it too seriously and what we did not fit was made fit by request.

We went again to The Manhattan Room for breakfast.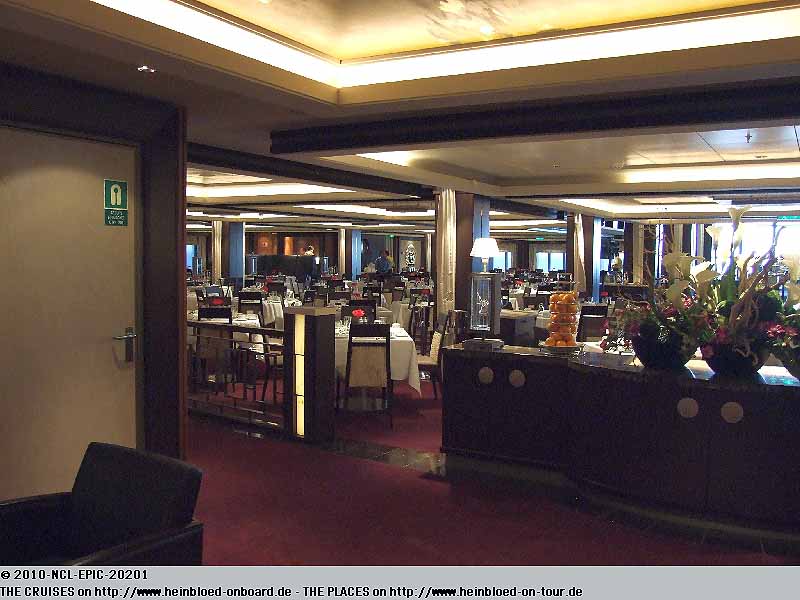 Zum Frühstück gehen wir wieder in The Manhattan Room.
Zufällig bekommen wir wieder denselben Heck-Eck-Tisch wie am Abend zuvor, als wir die Stars in Concert geguckt haben.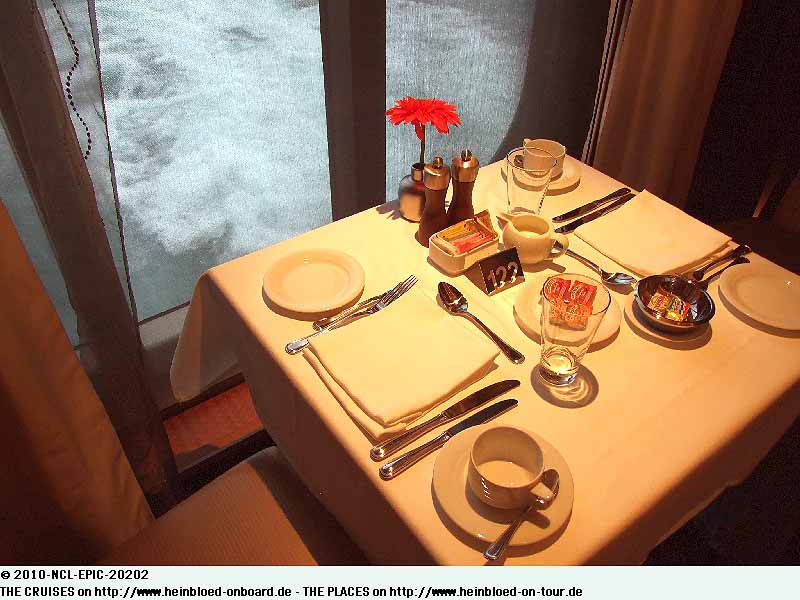 By coincident we got the same table at the corner in the aft which we got the night before when we watched Stars in Concert.

Somehow the table was too short for the menu card or the menu card too long for the table.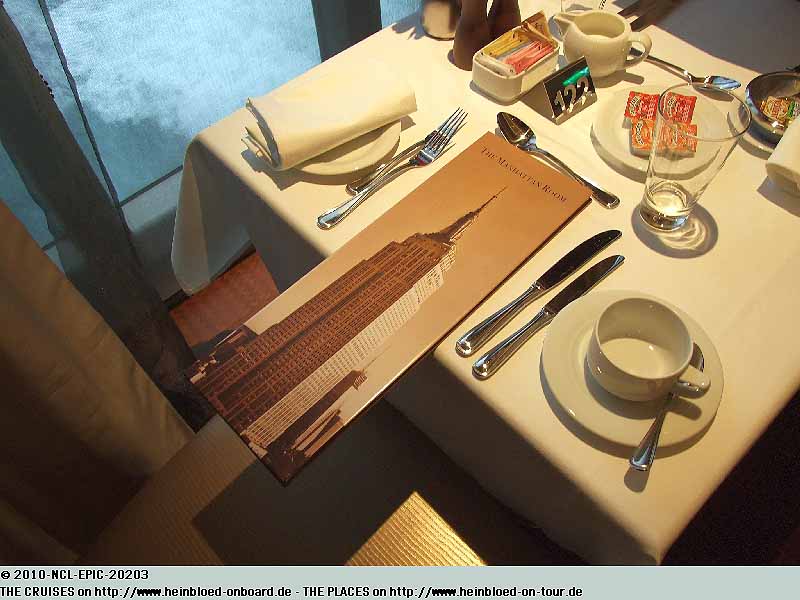 Irgendwie ist der Tisch zu kurz für die Speisekarten oder die Speisekarte zu lang für den Tisch.
Nicht jede dumme Angewohnheit muss man sich von anderen abgucken. Wir haben uns bislang für NCL entschieden, weil ich einen vollen Service am Frühstückstisch haben wollte, ohne herumlaufen zu müssen. Dafür gibt es doch das Garden Café. Dann kann ich ja gleich Costa oder Royal Caribbean fahren, wenn ich keinen vollen Frühstücksservice mehr bekomme.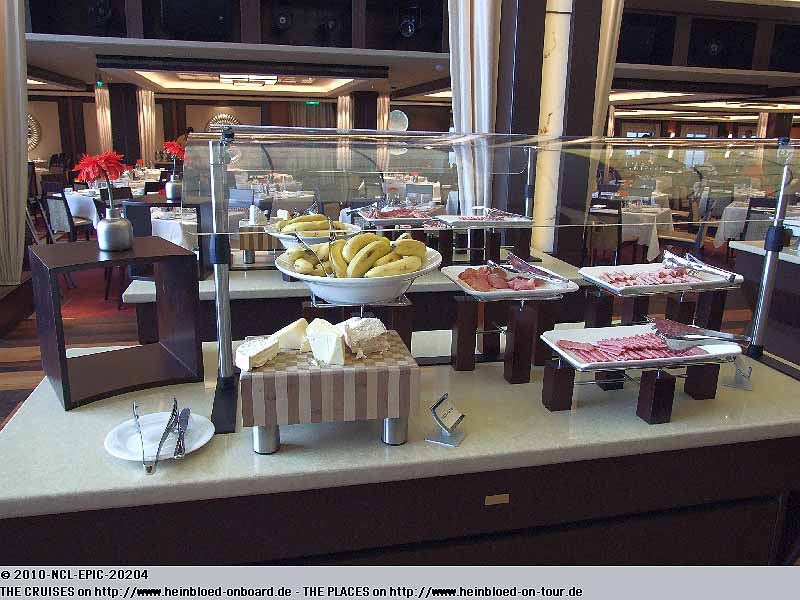 You must not copy every vice from others. We choosed so far NCL because I could get a full service at the breakfast table without walking around. Therefore you have the Garden Café. Then I can book Costa or Royal Caribbean if I am not getting any full breakfast service anymore.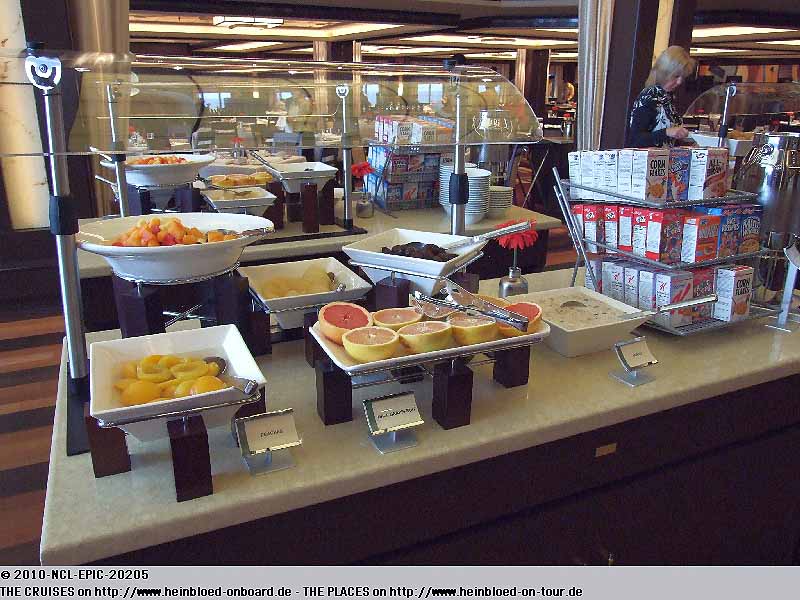 Now you have to get everything cold yourself.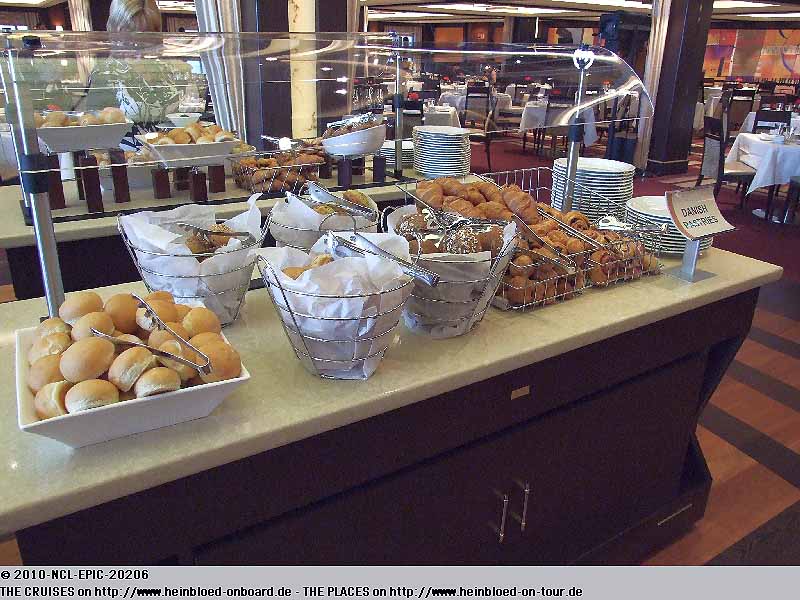 Nun muss man sich fast alles holen, was kalt ist.
Zuvor gab es zumindest eine Auswahl an Frühstücksgebäck in einem Korb auf dem Tisch.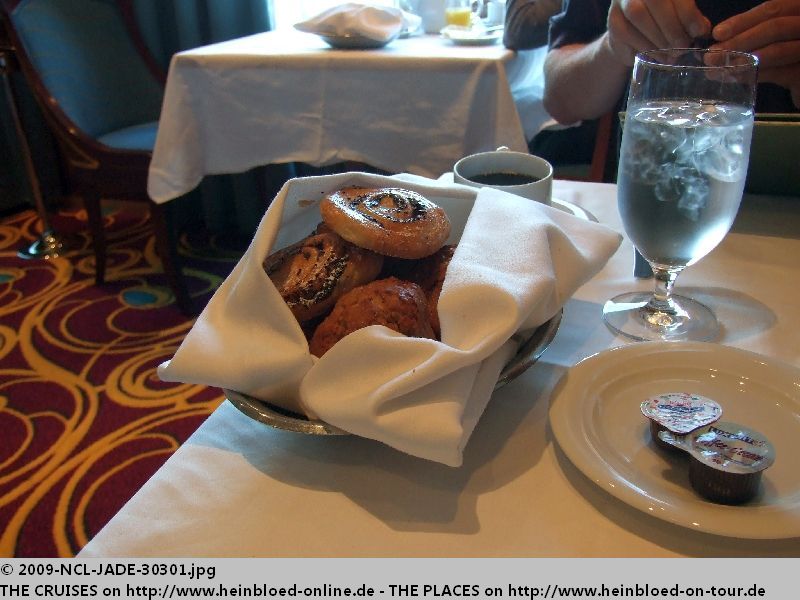 Before you had a selection of Danish in a small basket on your table.

And before that you had my beloved tray-service with the Danish.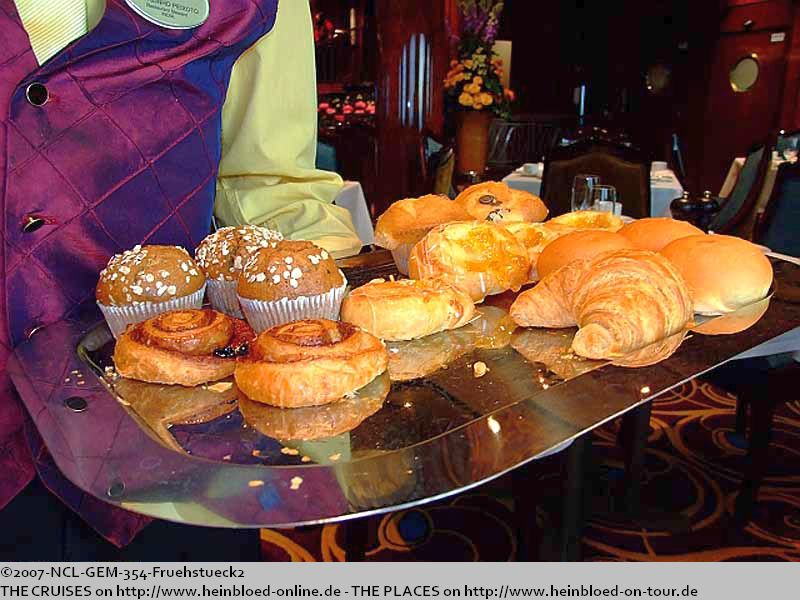 Und davor gab es meinen geliebten Tablett-Service mit dem Frühstücksgebäck.
Unser Kellner meint, dass man nur Sachen serviert bekommt, die auf der Karte rechts stehen.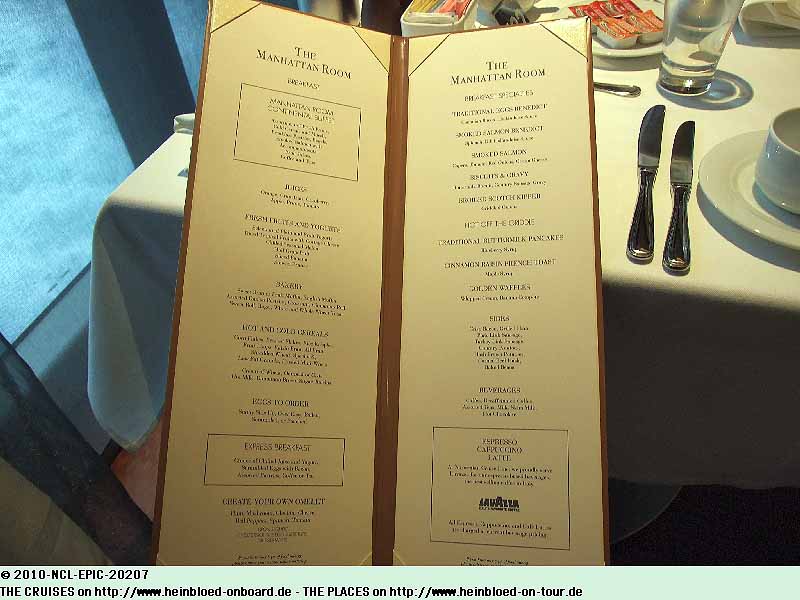 Our waiter told us that you can get served dishes from the right side of the menu.

So we went ourselves to the buffet... as said before: new concepts are good if you get new customers without loosing existing customers... or if you get more new customers than loose existing customers. Maybe that was the reason why we are looking for our cruise on HAL: Cruising for adults.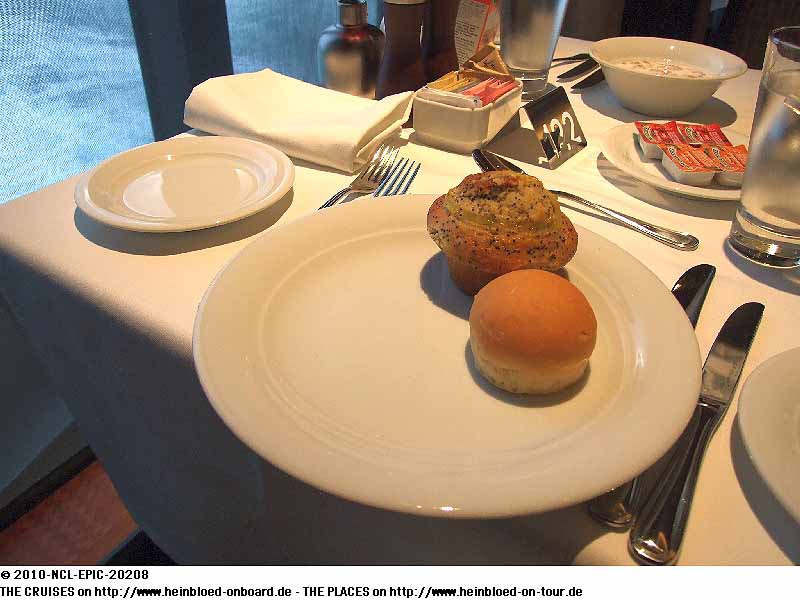 Na gut - gehen wir selbst zum Büffet... wie gesagt: neue Konzepte bringen was, wenn man neue Kundenkreise erschleißt ohne dass die bestehenden Kunden vergrault werden... oder man bekommt mehr neue Kunden als dass man welche verliert... Vielleicht ist das ja der Grund, warum wir uns schon sehr auf HAL freuen. Kreuzfahren für Erwachsene.
Wenigstens haben sie mir meinen Cranberry Saft und meinen grünen Tee gelassen, den ich ja zuletzt auf einem US-Schiff nicht bekommen habe.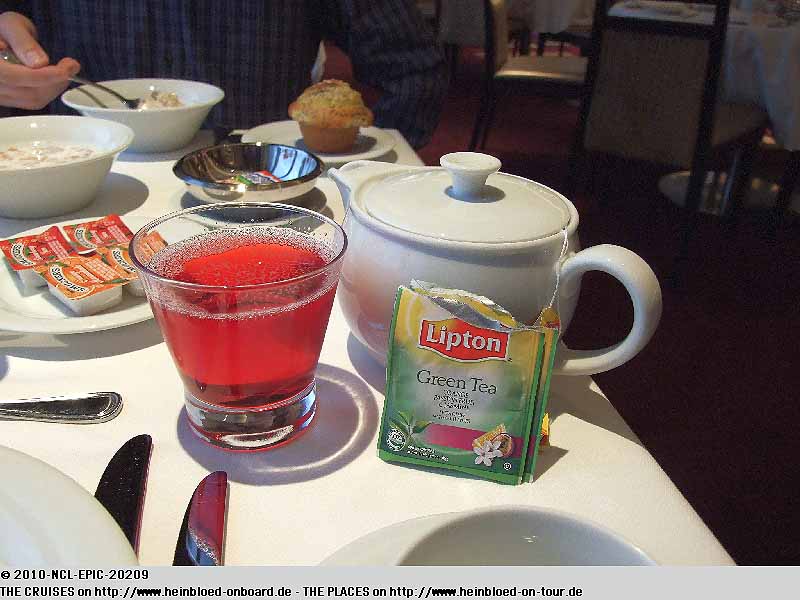 I am just happy that they had not cancelled my cranberry juice and green tea which I did not get on another US-ship.

The waiter remarked very well that we were unhappy with this situation and offered us to get us our beloved Diced Tropical Fruites with Cottage Cheese although it was listed on the left side and only available on request. We were very happy when we saw it.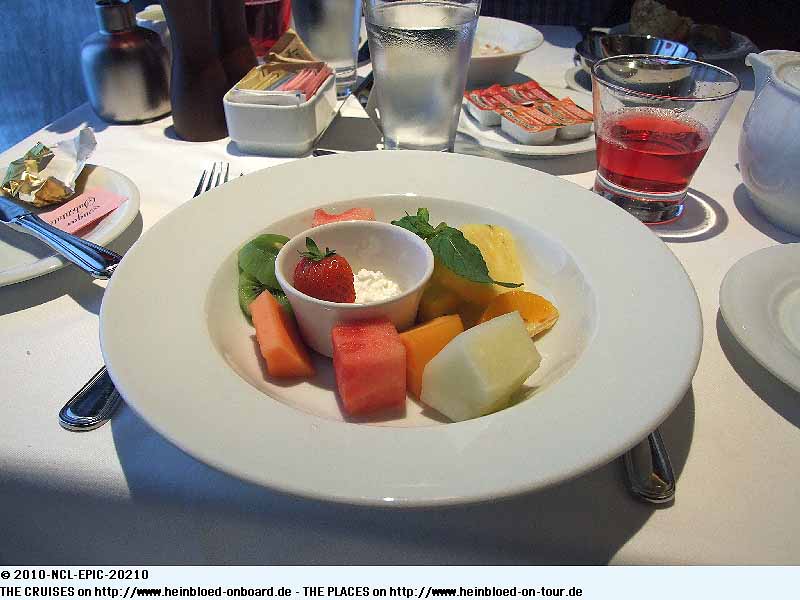 Der Kellner merkt wohl, dass wir etwas unglücklich mit der Situation sind und bietet uns an, unseren geliebten Früchteteller mit Hüttenkäse zu holen, der links steht, aber nur auf Bestellung verfügbar sind. Bei dem Anblick freuen wir uns.
Zuletzt sah er nämlich im November 2009 so auf der NORWEGIAN GEM aus und Anlass NCL Miami ein paar passende Worte zu diesem Thema zu schreiben, samt Fotodokumentation. Ich bin erstaunt, dass man wohl die Sache ernstgenommen hat und die Situation sich für uns verbessert hat.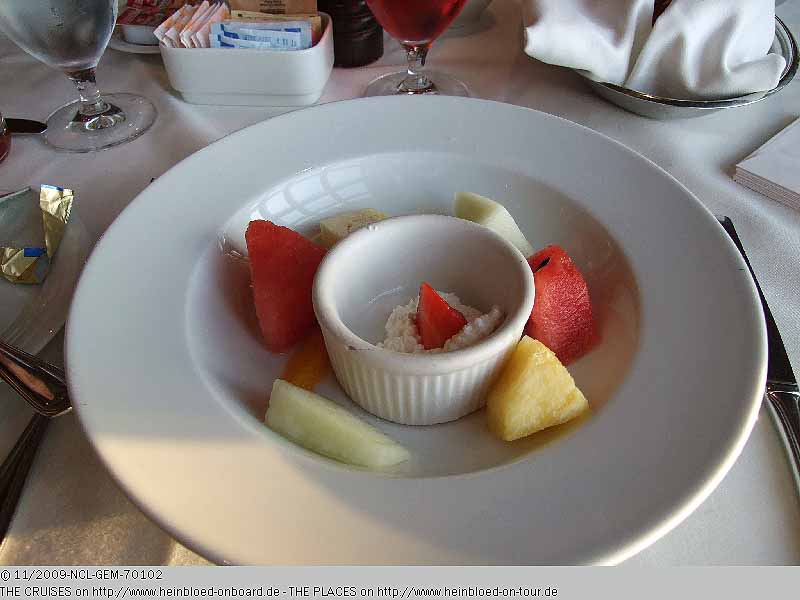 November 2009 on NORWEGIAN GEM it looked this way and it was reason to write NCL Miami some appropiate words to this subject incl. photo documentation. I am nicely surprised that they took this issue so seriously and the situation for us was well improved.

But of course I cannot start any NCL cruise without my beloved Eggs Benedict on Salmon... But some how I was asking myself what happened with my corned hash in the old form (more like mashed potatoes with corned beef - North German Style = Labskaus)...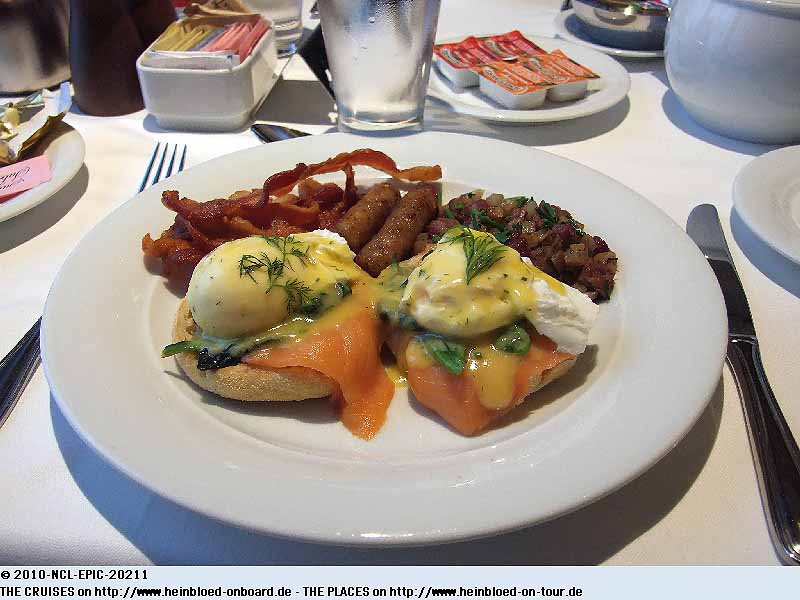 Natürlich kann ich keine NCL-Kreuzfahrt beginnen ohne mein geliebtes Egg Benedict auf Lachs... Fragt sich bloß, wer den "Labskaus" (Corned Hash) in der Form abgeschafft hat...
Wir hätten als Zocker auch im Casino frühstücken können...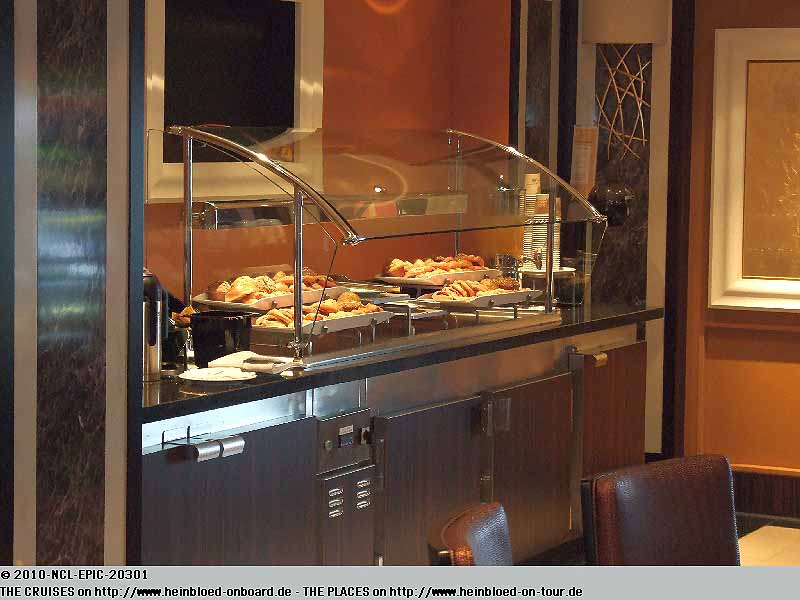 As gambler we had a chance to have our breakfast in the casino...

As the coffee was not so good Bruno applied already for higher budget for the next NCL-cruise to buy the Lavazza-coffee in the Atrium Café and not having again coffee in the restaurant.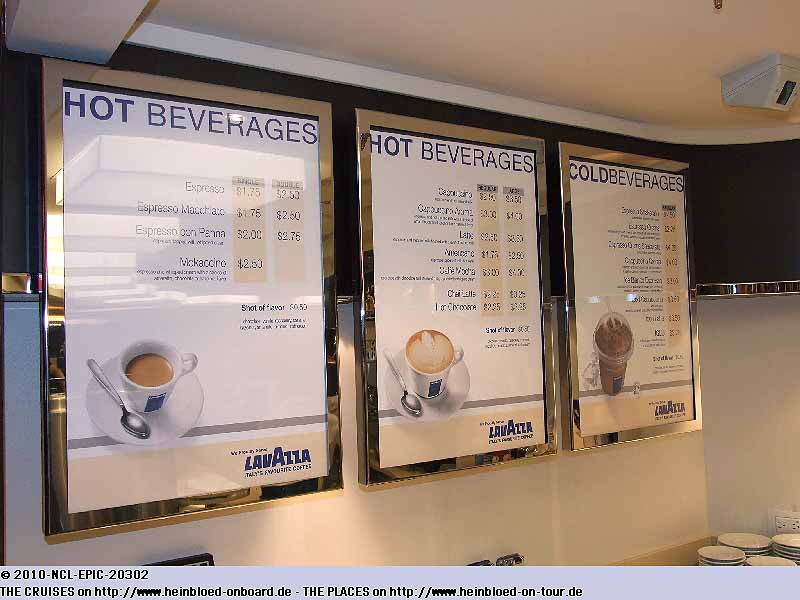 Da der Kaffee nicht besonders schmeckte, hat Bruno bereits eine Budgeterhöhung für die nächste NCL-Kreuzfahrt beantragt, damit er den Lavazza-Kaffe im Atrium Café bekommt und nicht wieder den Kaffee im Restaurant trinken muss.
Das Internet-Café ist irgendwie an das Fotostudio gekoppelt, wobei man zunächst irritiert ist, weil so viele Bildschirme hier aufgestellt sind, die jedoch nicht die Internetterminals darstellen, die hinten in der Ecke stehen.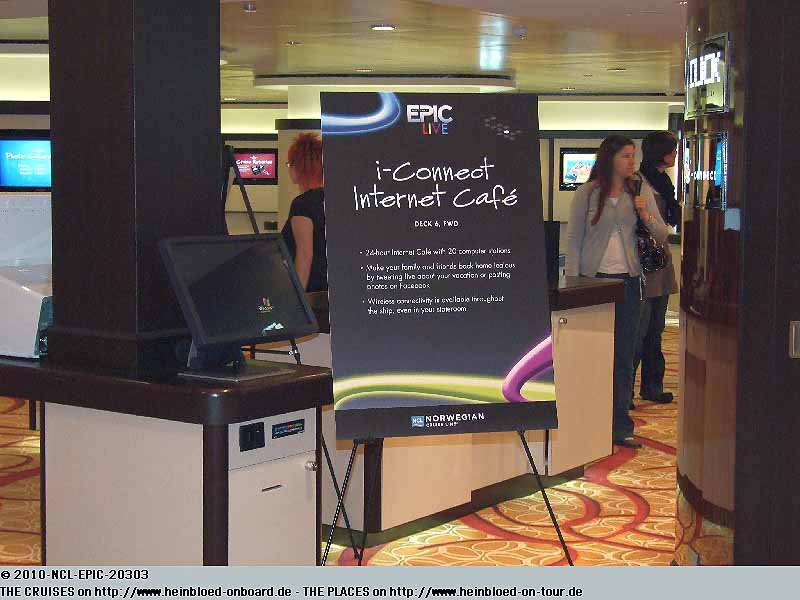 The Internet-Café was somehow connected to the photo studio although I was irritated because of the many screens which were not made for internet. All of them there in the rear in the corner.

For 20 USD we bought our embarkation photo as it was very nice...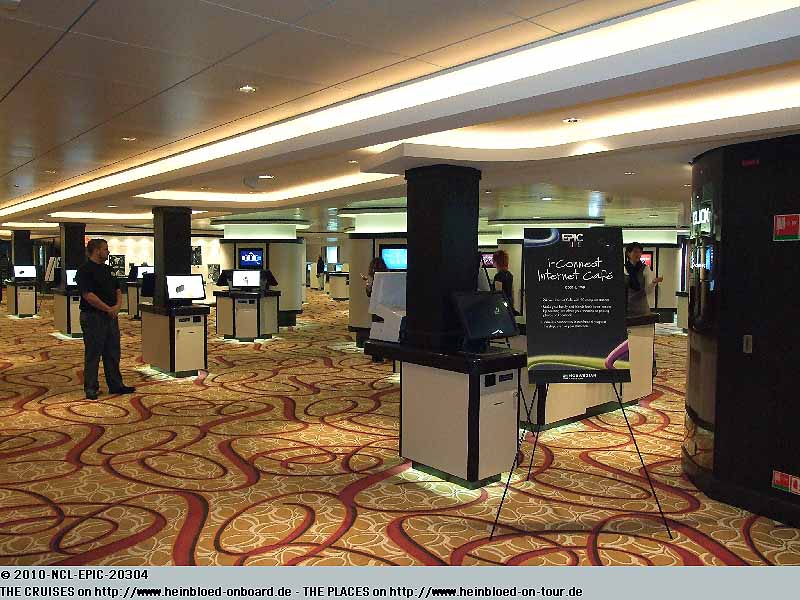 Für 20 USD kaufen wir uns allerdings mal wieder ein Einschiffungsfoto, weil es sogar richtig nett...
Da wir auch für den Cirque Dream and Dinner reserviert haben, müssen wir mal zur Box-Office und unsere Reservierung für heute Abend überprüfen lassen. Sicher ist sicher, da ja gestern Abend unsere Reservierung für "The Second City" nicht erschienen ist.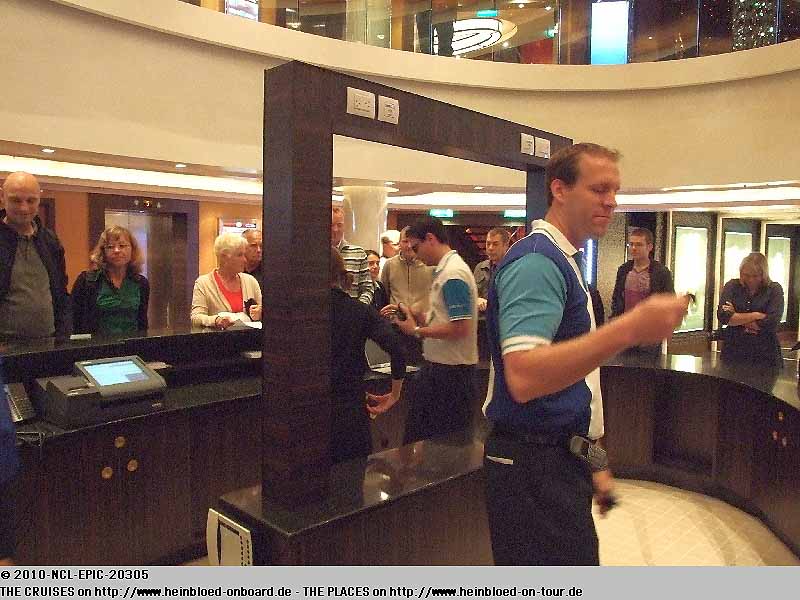 As we had bookings for Cirque Dream and Dinner we need to check with the Box-Office and double check our bookings for tonight. Better safe than sorry as last night our bookings for "The Second City" did not appear in the system.

As there was no queue there was always chaos and crowded. Luckily our booking was in the system for this night.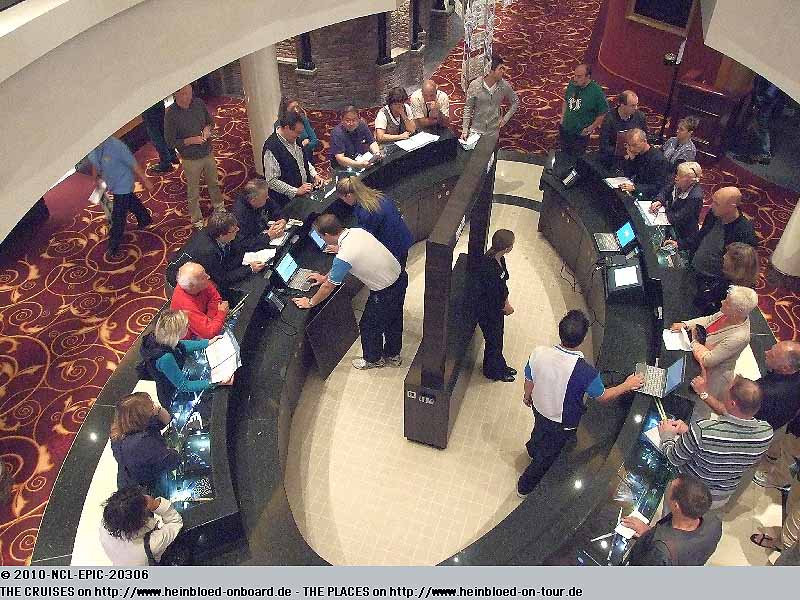 Da es keine Reihe gibt, herrscht hier immer Chaos und Gedränge. Zum Glück ist die Reservierung für heute Abend im System.
Als wir wieder versuchen auf Deck 16/17 zu gelangen, werden wir wieder des Weges verwiesen. Keine Chance. Der freundlichste und charmanteste Wegweiser auf dem ganzen Schiff.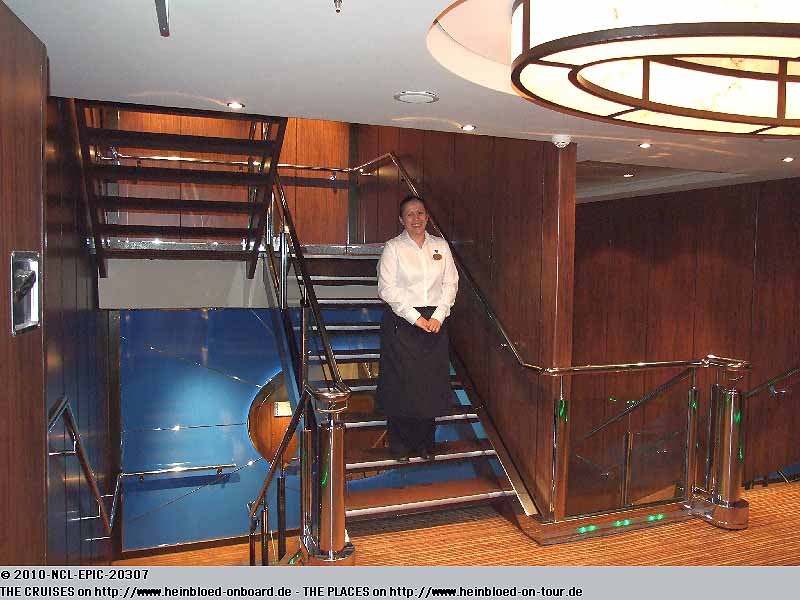 As we tried again to get on Deck 16/17 they denied again the access. No chance. The most charming and most friendly signpost on the whole ship.

On our way we met Chris who remembered us. He was butler for thorsten13 (Thorsten and Bodo) from the German ncl-fans.de-Forum. We helped them to get the Courtyard-Villa on their parents-cruise for very less money. He told us that there was no chance to see today something in the courtyard but they had instructions to prepare some cabins as show-cabins. But when it would be possible he did not know at this time. But anyhow he was happy that we remembered him and that thorsten13 was on the way to Rotterdam and should embark the next day.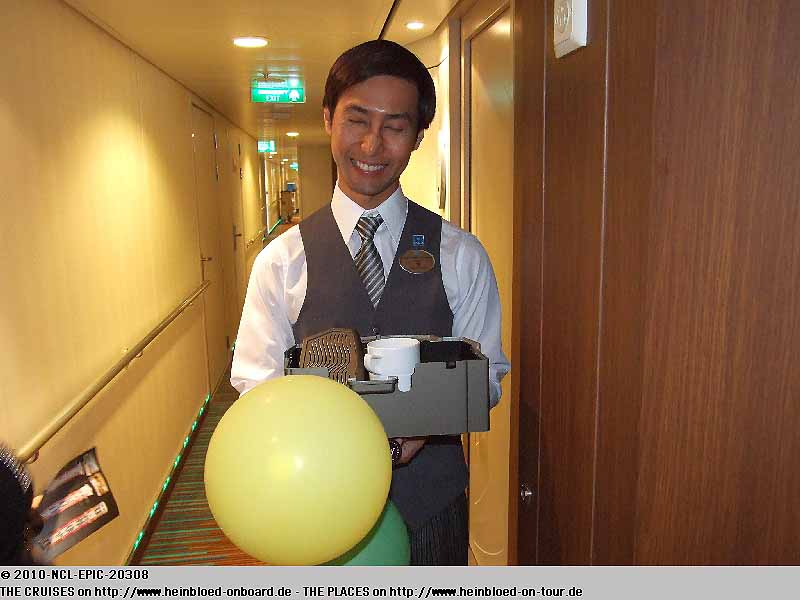 Unterwegs treffen wir auf Chris, der sich sofort an uns erinnert. Er war der Butler von thorsten13 (Thorsten und Bodo) aus dem ncl-fans.de-Forum. WIr hatten ihnen für ihre Eltern-Kreuzfahrt sehr günstig die Courtyard-Villa vermitteln können. Er hatte uns gesagt, dass heute keine Chance besteht im Courtyard etwas zu sehen, allerdings soll versucht werden die Show-Kabinen herzurichten. Nur wann es klappt, konnte er noch nicht sagen. Auf jeden freut er sich, dass wir uns an ihn erinnern und dass thorsten13 auf dem Weg nach Rotterdam ist und morgen zusteigen wird.
Irgendwie kommt mir die Situation von der MSC FANTASIA bekannt vor. So am Heck kommt man wohl direkt zum Außentreppenhaus.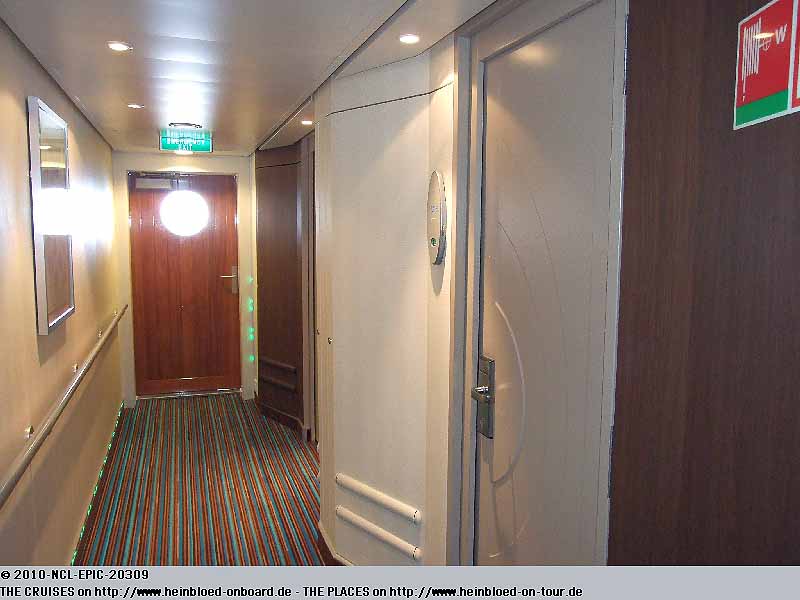 Somehow we knew the situation from MSC FANTASIA. From the aft directly to an exterior stairway.