Scroll down for English explanations - alternates with German explanations.

Nach dem Abendessen erreichen wir Hoek van Holland und damit die offene See. Viele Blitze am Ufer zeigen an, dass viele unterwegs sind, um die NORWEGIAN EPIC zu sehen.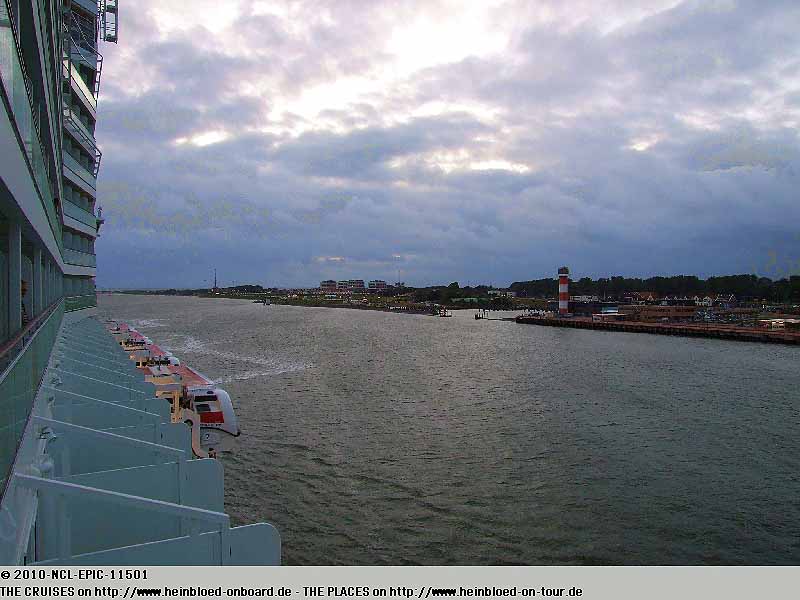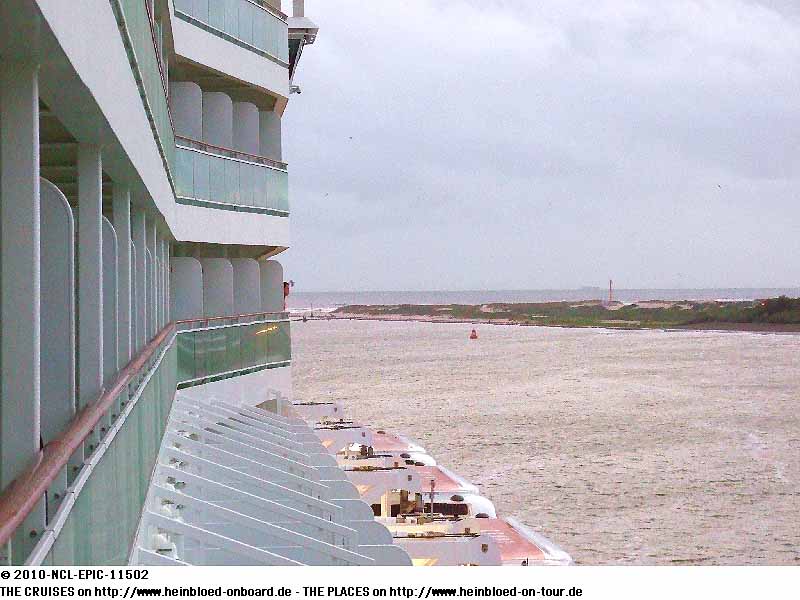 After dinner we reached Hook of Holland and so the open sea. Many flashes hit us from the river bank which showed that many were there to see NORWEGIAN EPIC.

I hope that it will not become too calm... A little sea disturbance is a must....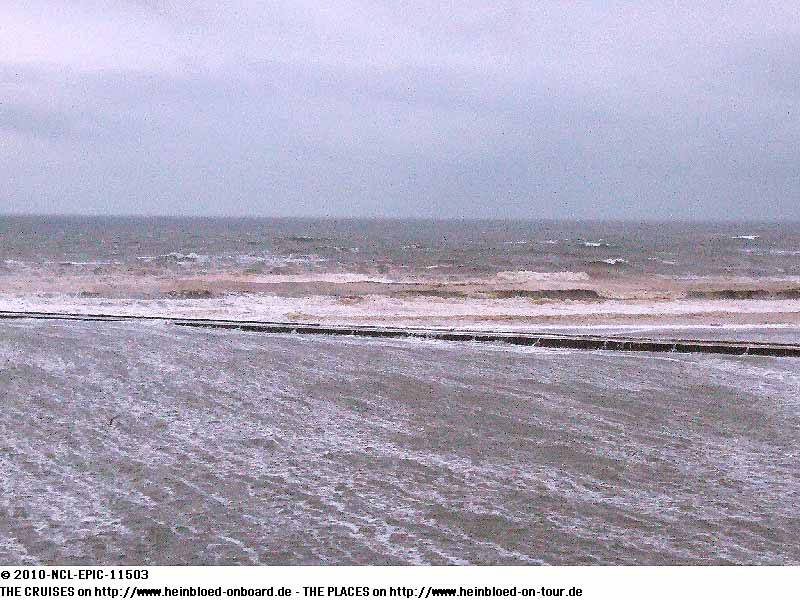 Hoffentlich wird es nicht so ruhig... etwas Seegang muss sein.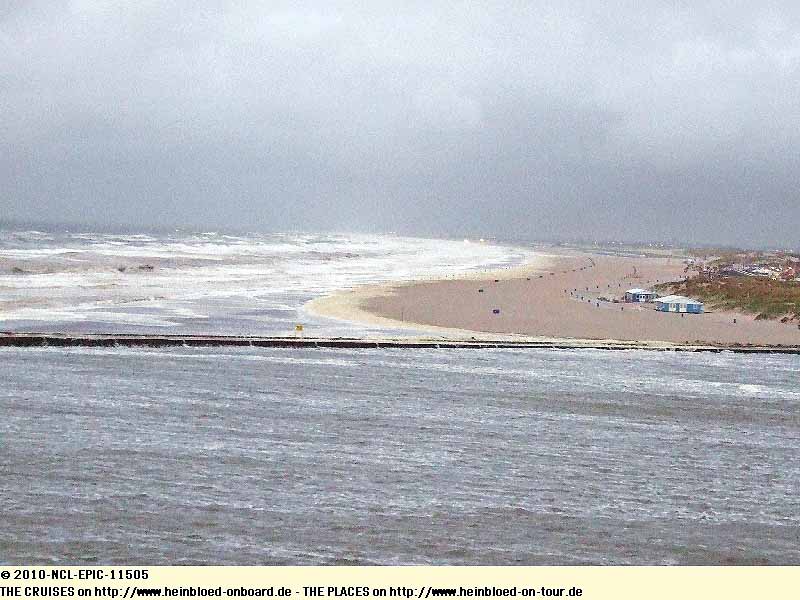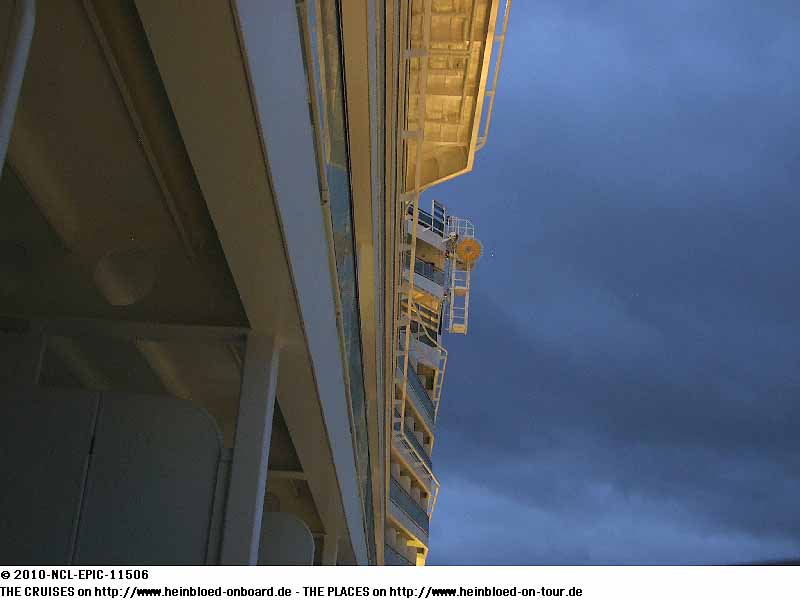 Wir lieben den Ausblick aus unserem Balkon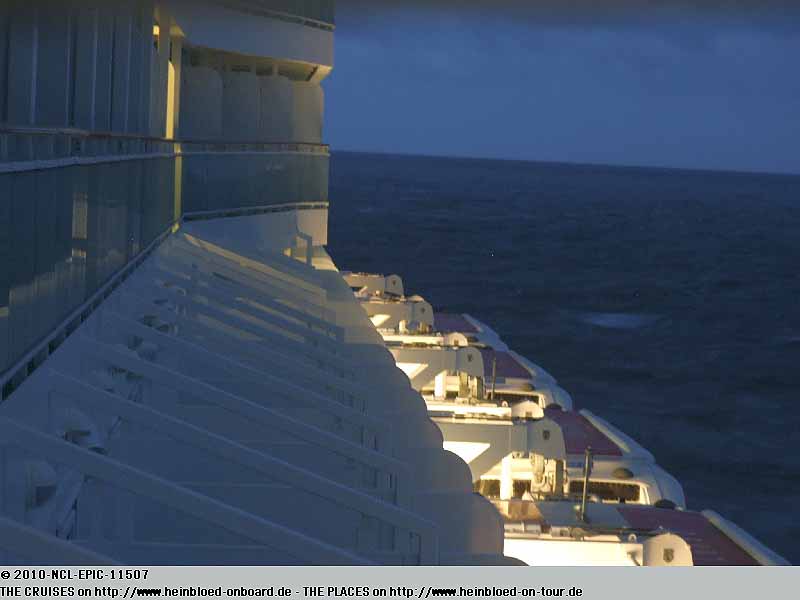 We loved the view from our balcony.

These pictures (marked with CB) were taken during our sailing out of Rotterdam and were by courtesey of Christian Balluneit, Germany.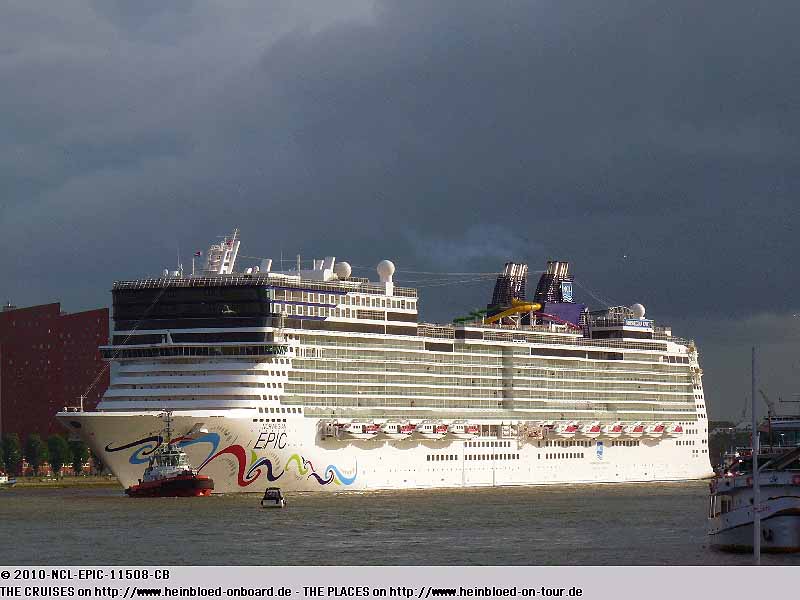 Diese Bilder (mit CB markiert) entstanden übrigens während der Ausfahrt in Rotterdam und wurden freundlicherweise von Christian Balluneit zur Verfügung gestellt.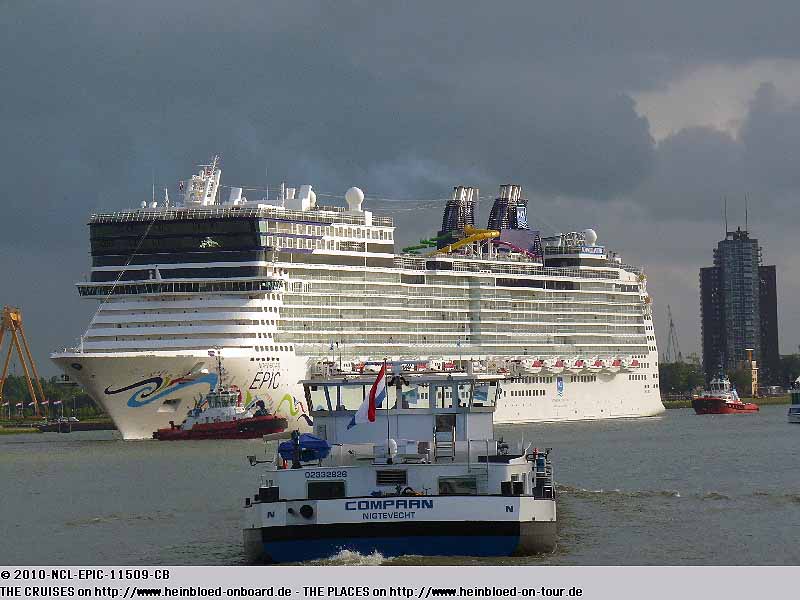 Either you are on board and not ashore to take such great pictures or you are ashore and not on board to experience the board life... Why cannot a ship like a tram just stop to take pictures and then you board again to continue the voyage.???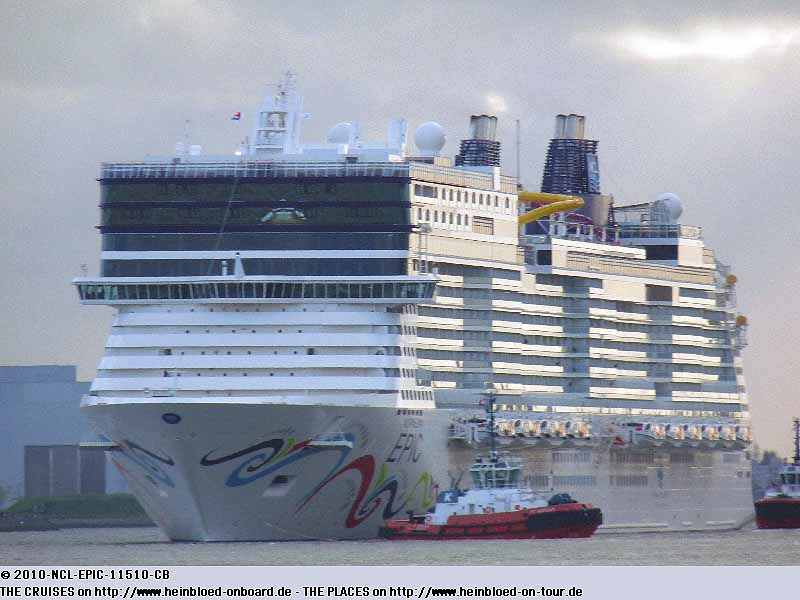 Entweder man ist an Bord und nicht an Land, um so schöne Bilder zu machen oder man ist an Land und eben nicht an Bord und kann das Bordleben nicht erleben... Warum kann ein Schiff nicht wie eine Straßenbahn schnell mal anhalten, so dass man Bilder von außen machen kann und dann wieder einsteigen???
Bruno ist zu müde, so ziehe ich alleine noch ein wenig los, weil ich meinen toten Punkt schon wieder mal überwunden habe. Ich gehe in die Studio Lounge.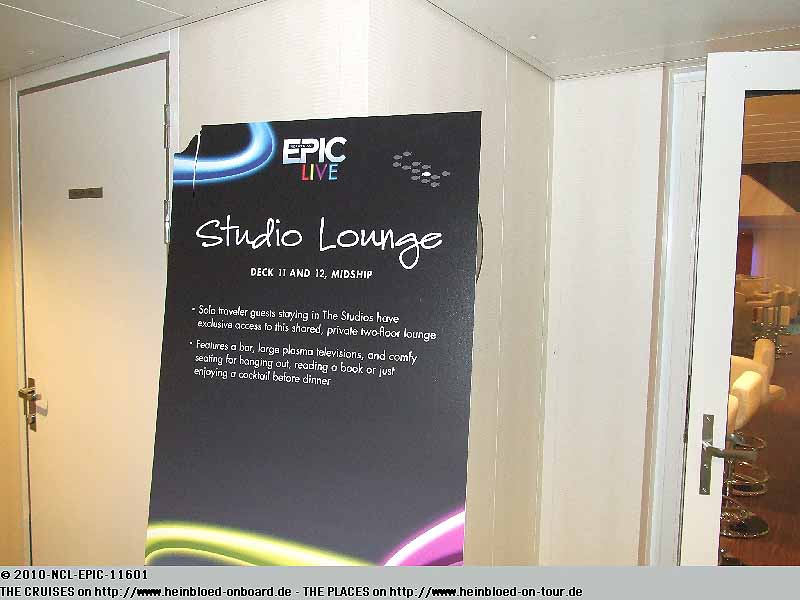 Bruno was too tired so I went alone as my dead point was already passed. So I went to the Studio Lounge.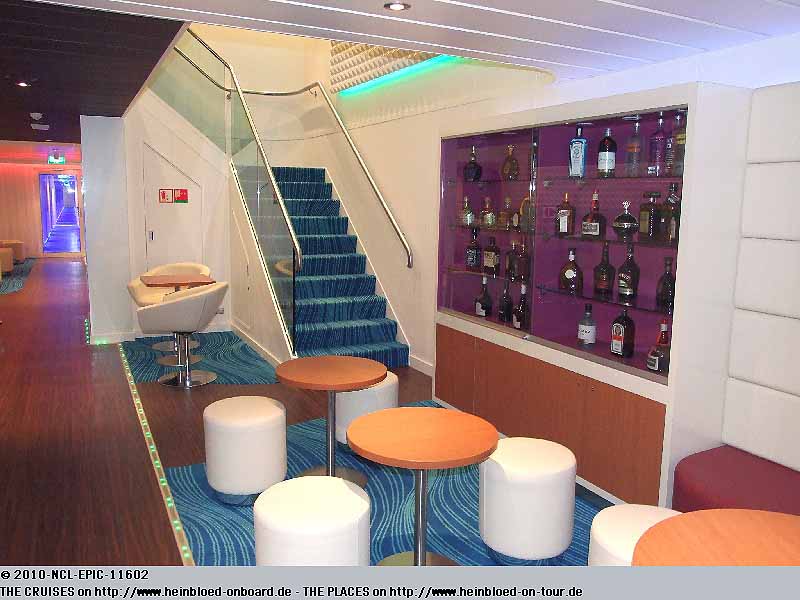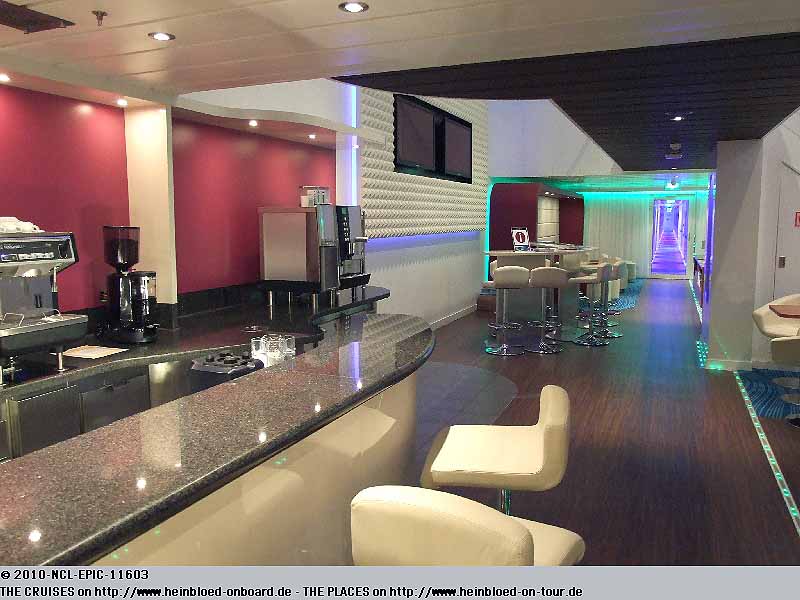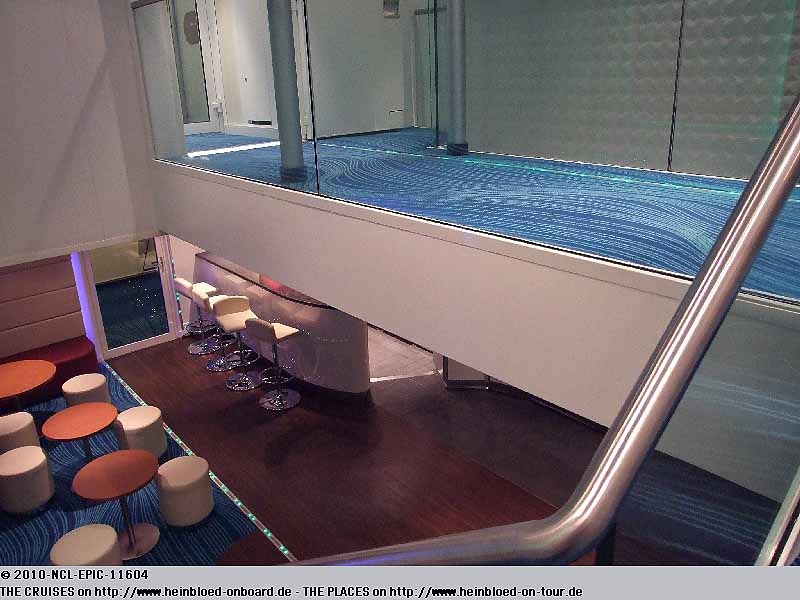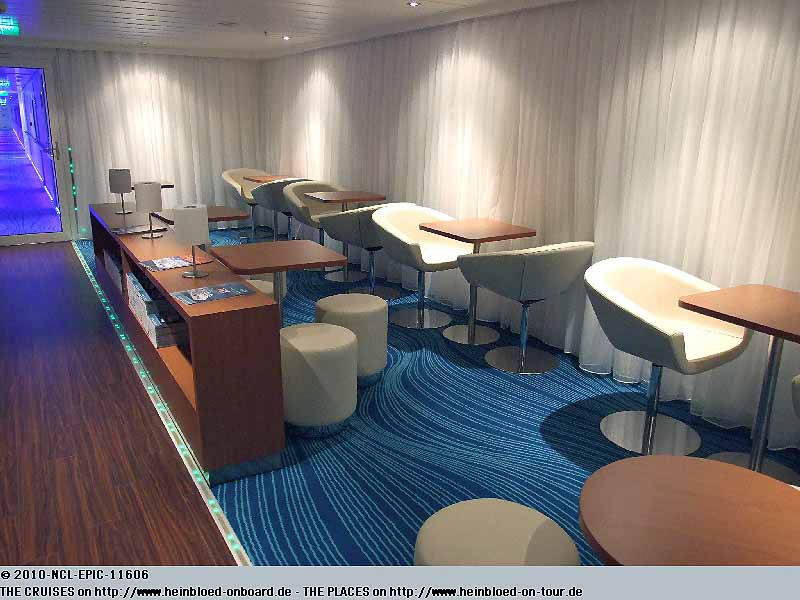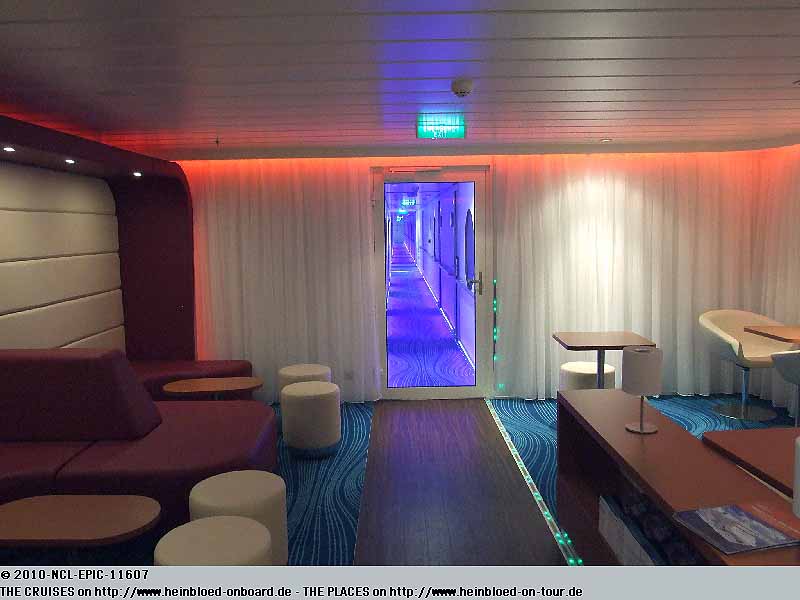 I was looking for the studio which was prepared as show-room. On the way you need to circumnavigate obstacles like rocks, cliffs, sandbanks and icebergs...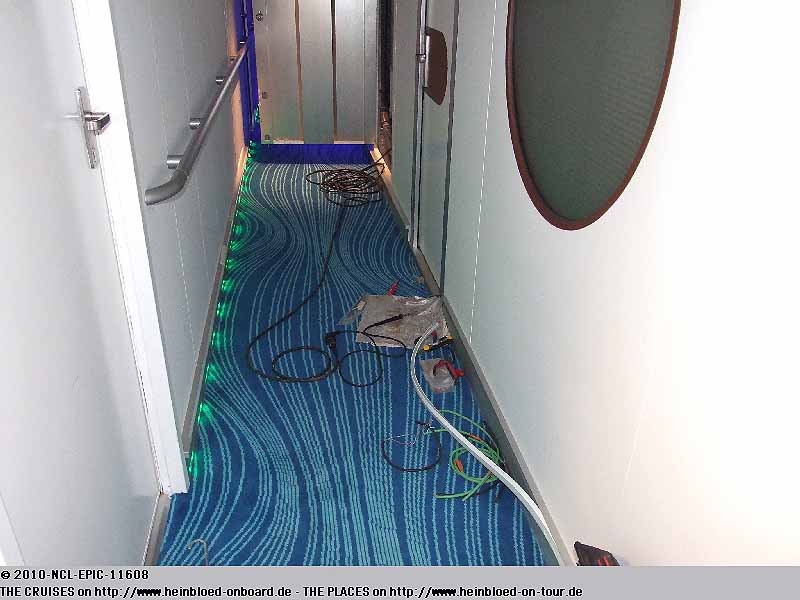 Ich mache mich auf die Suche nach dem Studio, das als Show-Room hergerichtet ist. Unterwegs muss ich Hindernisse, wie Felsen, Klippen, Sandbänke und Eisberge umlaufen...
Nur der Show-Room ist als solcher noch nicht gekennzeichnet. Kein Luftballon und nichts geöffnet... Schade...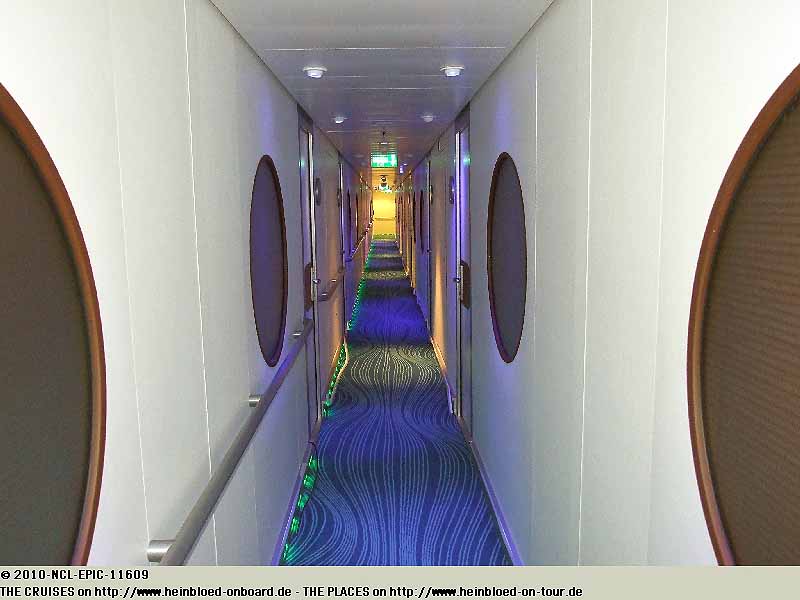 But the show-room was not indicated as such. No balloons und nothing was open... What a pity...

"Vending Area"??? Maybe the Future Cruise Consultant???

"Vending Area" (= Verkausbereich)??? Vielleicht der Verkäufer für zukünftige Fahrten???
Automaten??? Ist es das Ende des Serviceangebots and eine Anpassung an das Publikum??? Wollen die Gäste im Studio-Bereich keinen Kabinenservice oder sollen die keinen bekommen??? Erinnert mich an günstigere Hotelketten in den USA - nur eine Eiswürfelmaschine fehlt.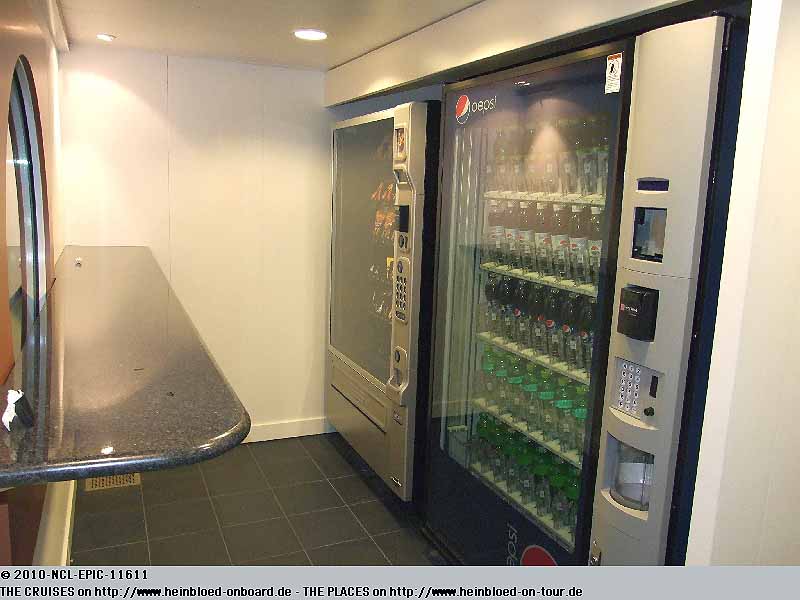 Machines??? Is that the end of the service offer and adaptation to the guests??? Do not guests in the studios want cabin service or should not they get any one??? Reminded me very much to cheaper hotel chains in the US - only the ice cube machine was missing.

For "The Second City" I had tickets for 23.45 hrs. I went alone as I was curious.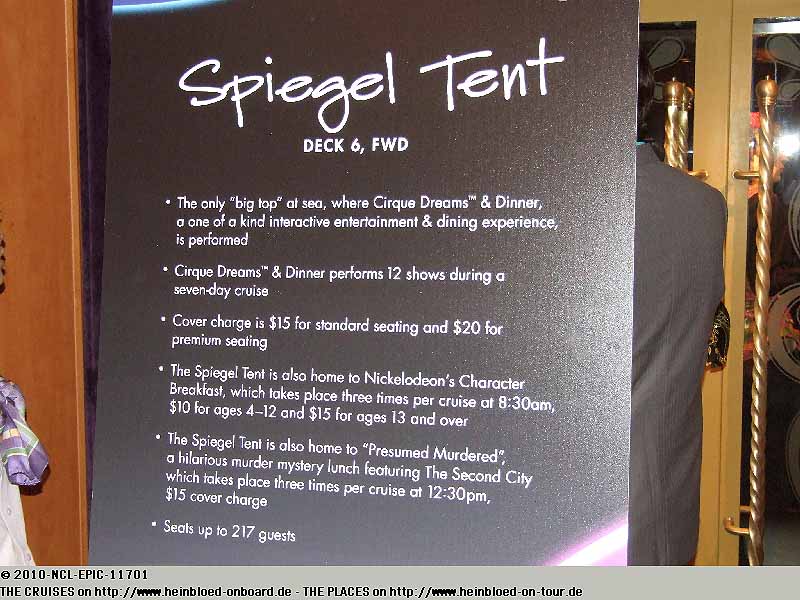 Für
"The Second City"
habe ich Karten für 23.45 Uhr bekommen. Ich gehe alleine hin, weil ich neugierig bin.
Obwohl wir eine schriftliche Bestätigung haben: unsere Namen sind nicht gelistet, als ich beim Einlass kontrolliert werden. Diana Gonzalez auch nicht. Ich werde einfach handschriftlich nachgetragen. Allerdings ist der Spiegel Tent hinterher zu etwa 20% nur besetzt...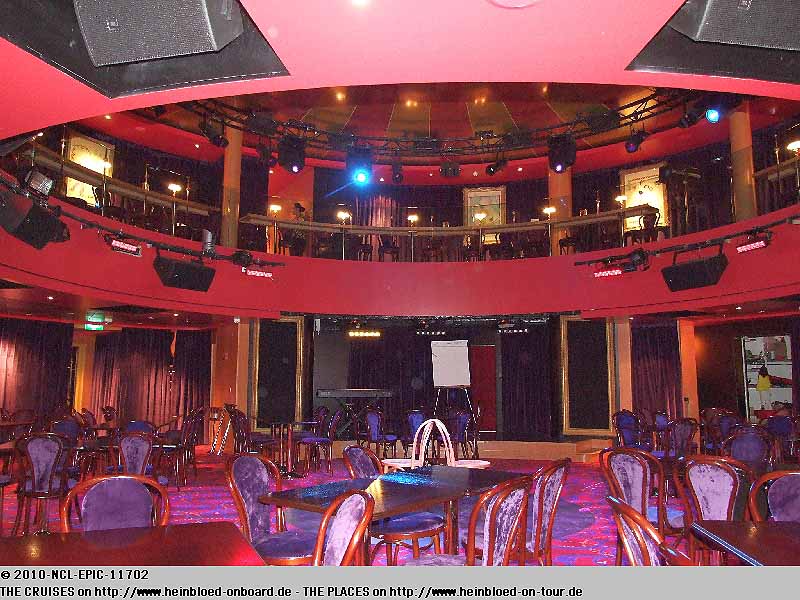 Although I had a written confirmation: our names were not listed once they checked the admission. Diana Gonzalez either. They just add me manually. But the Spiegel Tent was just occupied for about 20%.

On the stage they collected from the audiance words which they will create spontaneously a playing scene.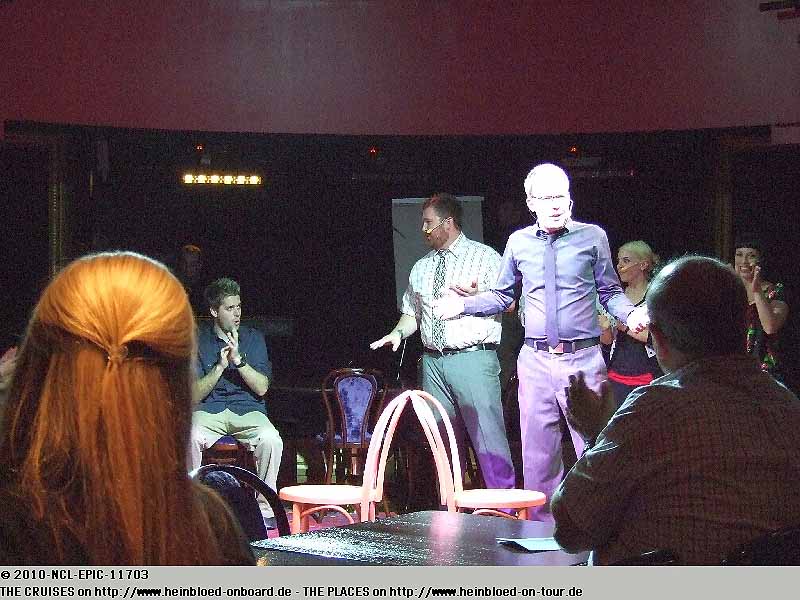 Auf der Bühne werden zunächst vom Publikum Begriffe gesammelt, aus denen Spielszenen spontan zusammengestellt werden. Läuft so ungefährt wie die "Schillerstraße" auf SAT.1.
Um aber die Spielszenen zu verstehen, sollte man "The Second City" nur dann buchen, wenn man perfekt Englisch kann und wenn man sehr viel Hintergrundwissen von US-Gesellschaftsthemen hat.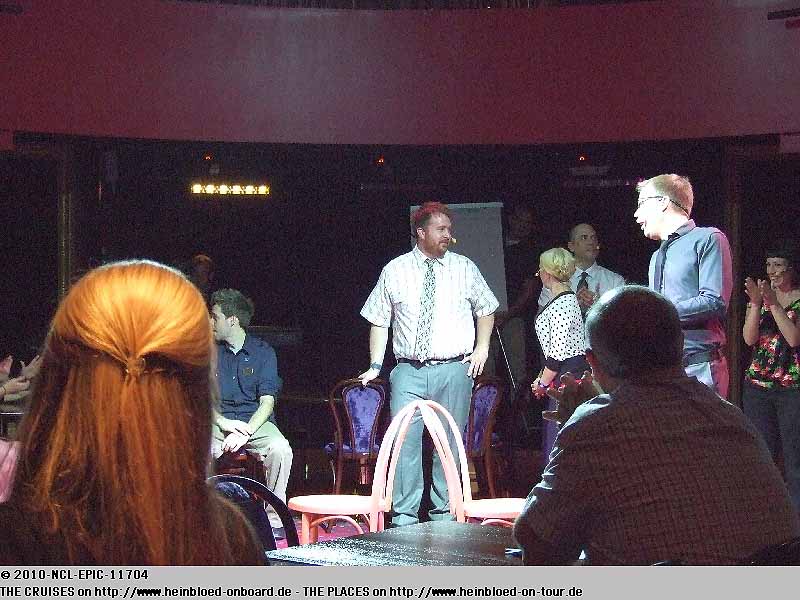 To under the playing scene you should book "The Second City" if you are a native English speaker and you have good knowledge about the current US society.

You better should watch one week CNN to get an update. It would ease to understand the jokes.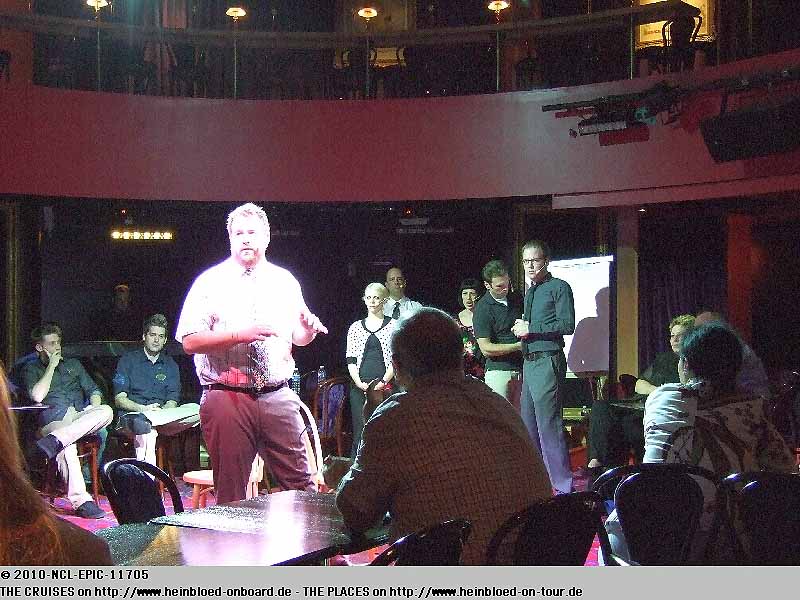 Zur Vorbereitung sollte man sich doch eine Woche CNN gucken. Es würde es erleichtern, die Witze zu verstehen.
Ich gebe irgendwann doch meiner Müdigkeit nach und folge mehr oder minder unauffällig vielen anderen, die kapituliert haben und gegangen sind.

I gave up and followed my tiredness and left with more or less attention like others who had capitulated as well.

The show as good - I am sure. But I was the wrong guest at the wrong place at the wrong time... My personal absorption of my brain in English decreased rapidely at this time of the day...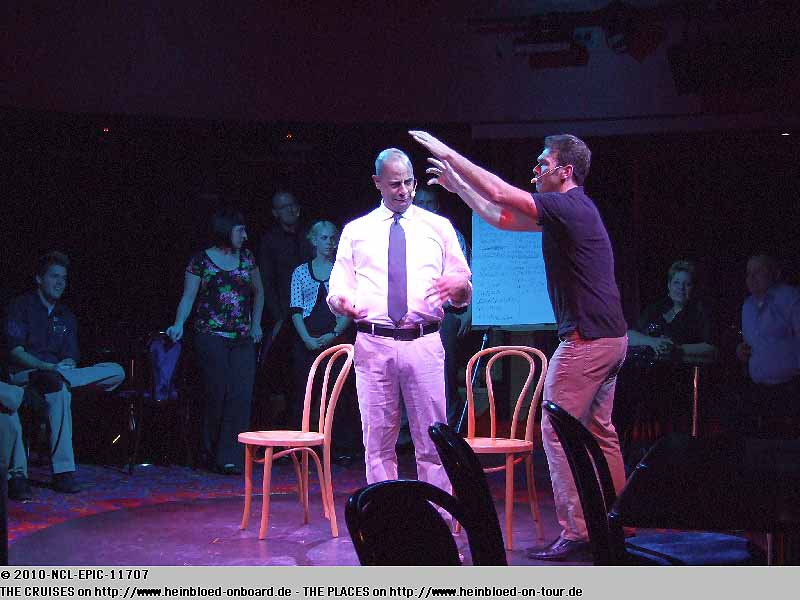 Die Show war bestimmt gut, nur ich war der falsche Gast am falschen Ort vor allem zum falschen Zeitpunkt... Meine Aufnahmefähigkeit in Englisch sinkt um diesen Zeitpunkt raripe...
Vielleicht hätte auch ein Kaffee geholfen, aber irgendwie lief die Show als Trockenübung ab...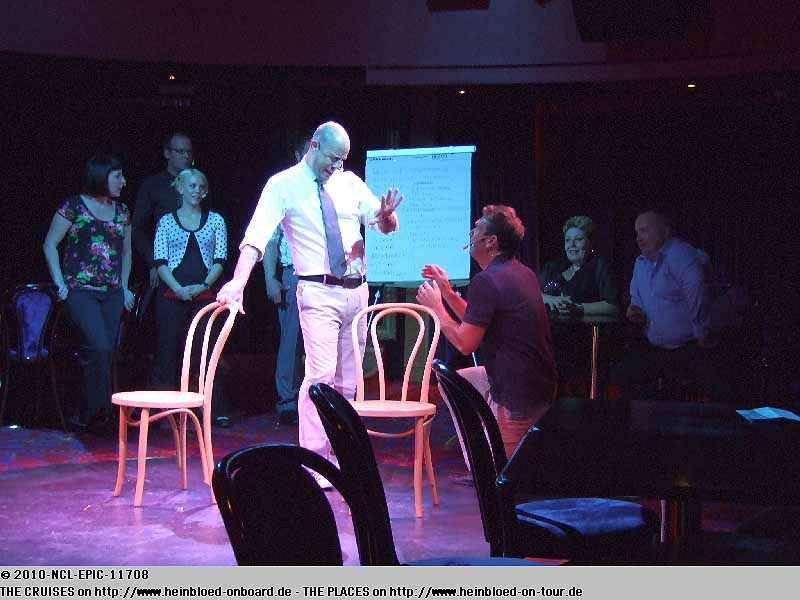 May be a cup of coffee would helped but somehow the show was kept very dry...

Back to the cabin I would like to sum up what we learned more from our cabin during the afternoon and night. Is this an uptake for the bathroom area???

Zurück auf die Kabine fasse ich mal noch alles zusammen, was uns noch im Laufe des Nachmittags und des Abends in der Kabine auffiel: Ist das ein Entlüftungsschacht für die Feuchtigkeit in dem Badbereich???
War das der Steward mit einem falschen Tagesprogramm vom Tag 1 oder Bruno??? Auf jeden Fall: auch gut kopiert: die 2. Seite ist jetzt perforiert und kann gut als Übersicht abgetrennt werden.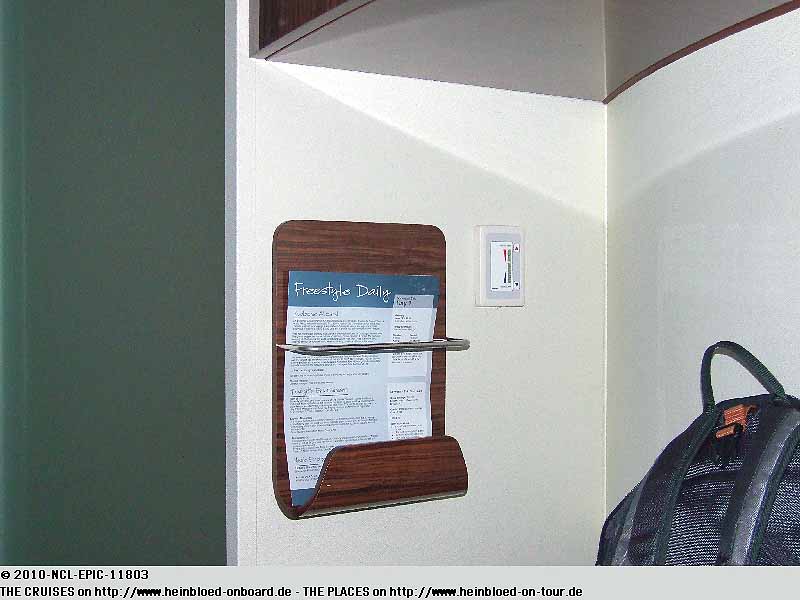 Was this the steward with a wrong daily programme of day 1 or Bruno??? Nevertheless: well copied: 2nd page had now a perforation for an easy seperation of the overview of the daily activities.

We had to call our steward to had to explain us what we need to do to make the water flown off: just press the drain...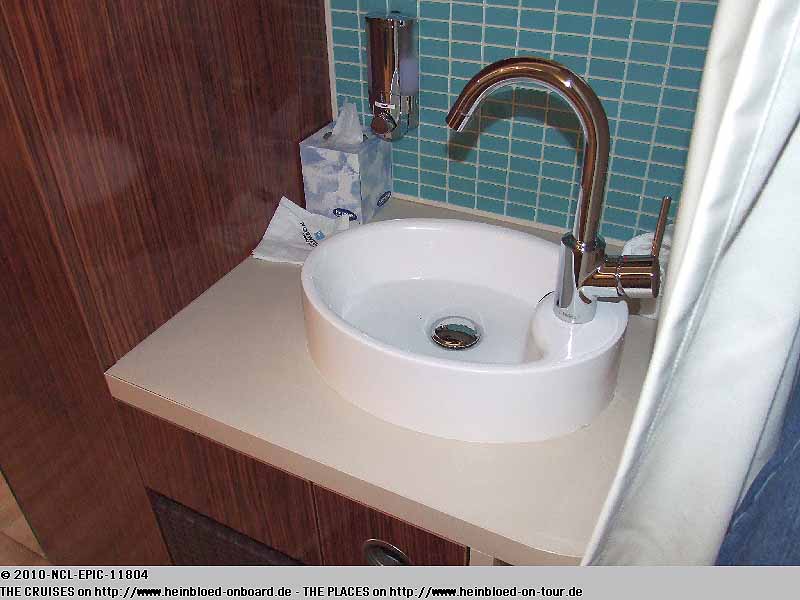 Beim Waschbecken mussten wir unseren Steward rufen, der uns erklärte, wie das Wasser abfliest. Auf den Abfluss drücken...
Wir hatten darum gebeten, zwei Bettdecken zu bekommen, aber auch noch gesagt, dass eine Trennung nicht erforderlich sei (wie auch???). Unsere zwei Einzeldecken wurden dann kurzerhand in ein gemeinsames Laken eingeschlagen...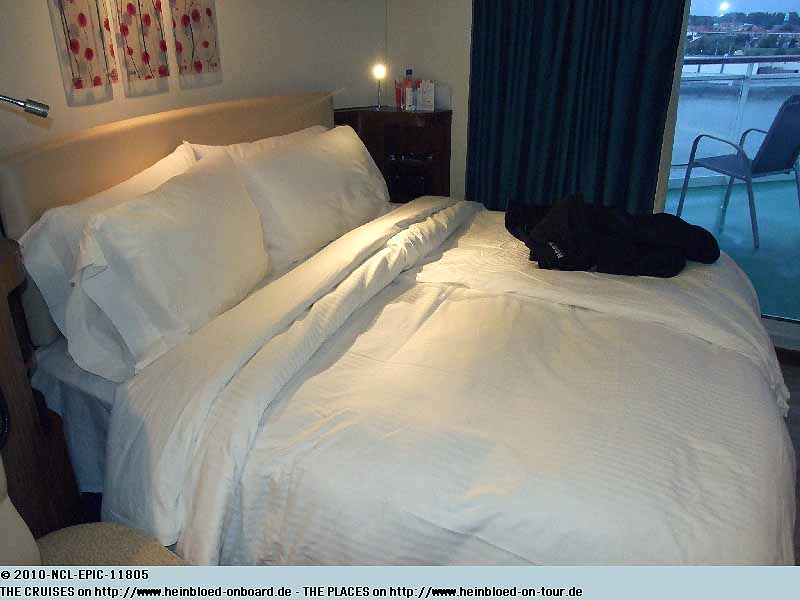 We asked to have two blankets but said that we do not need the beds seperated (how to arrange???). Our two single blankets were put in one common sheet...

Where was the daily programme, towel animal and good-night-chocolate - like before??? Chocolate was withdrawn and the other staff we got the next day...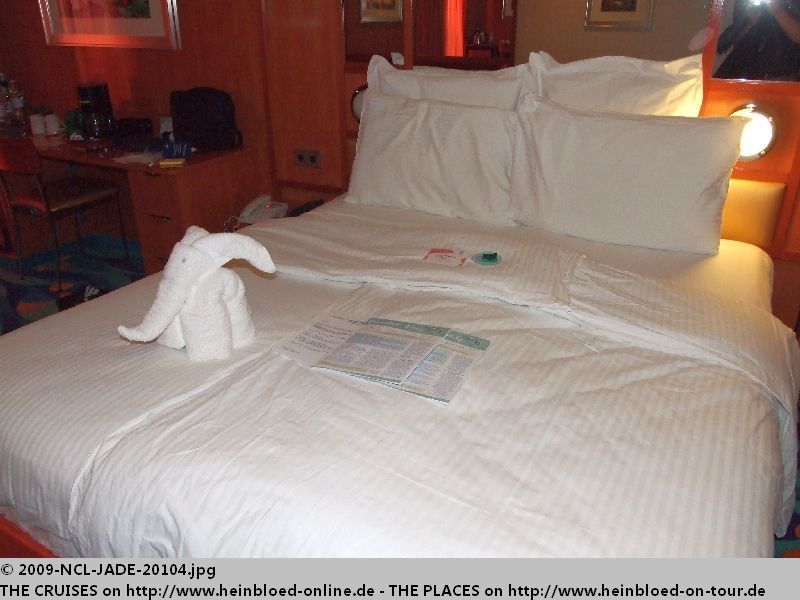 Wo ist eigentlich das Tagesprogramm, mein Handtuchtier und die Gute-Nacht-Schokolade - so wie früher??? Schoki ist abgeschafft und den Rest gibt es erst am nächsten Tag...
Wer wollte, konnte sich noch (z. Z. kostenlos) einen Film ansehen.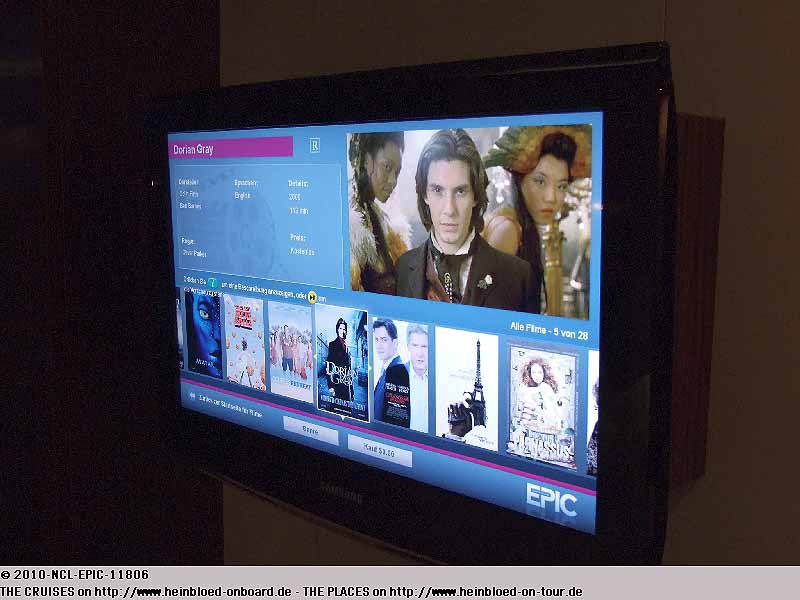 Who wanted to see a movie (currently free of charge) may do.

When would Diana Gonzalez finally appear???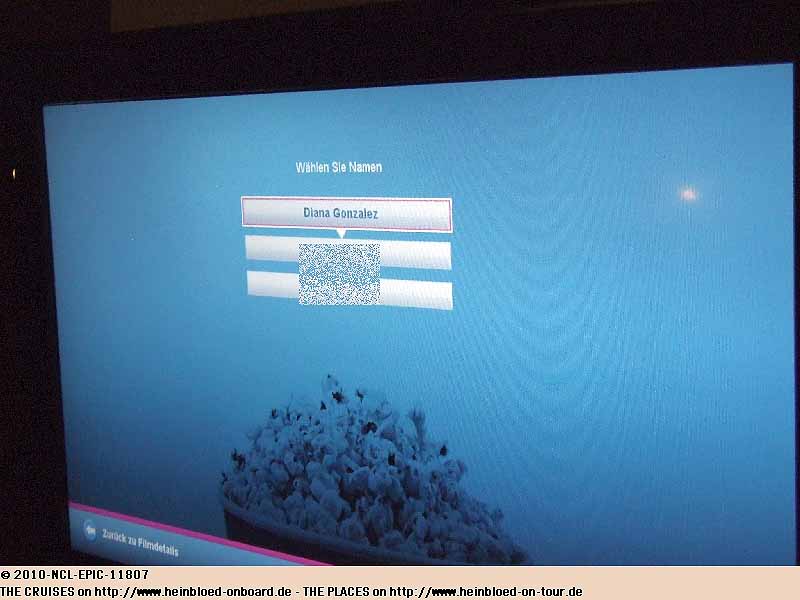 Wann kommt Diana Gonzalez nun endlich???
Die kann dann unter der Dusche hinter dem Vorhang schlafen...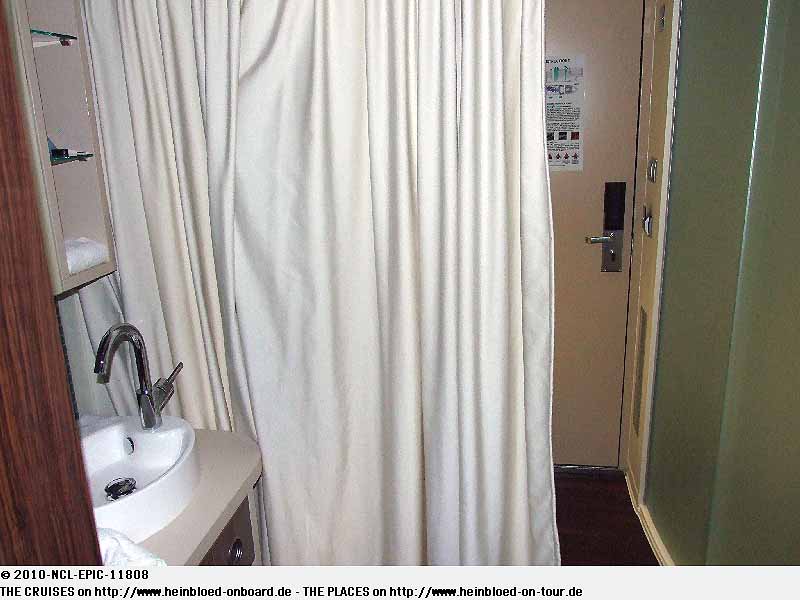 Then she can sleep behind the curtain under the shower...


or in one of the baskets which we discovered in the closet... good for socks, underwear, laundry and unexpected virtual cabin-mates and visitors...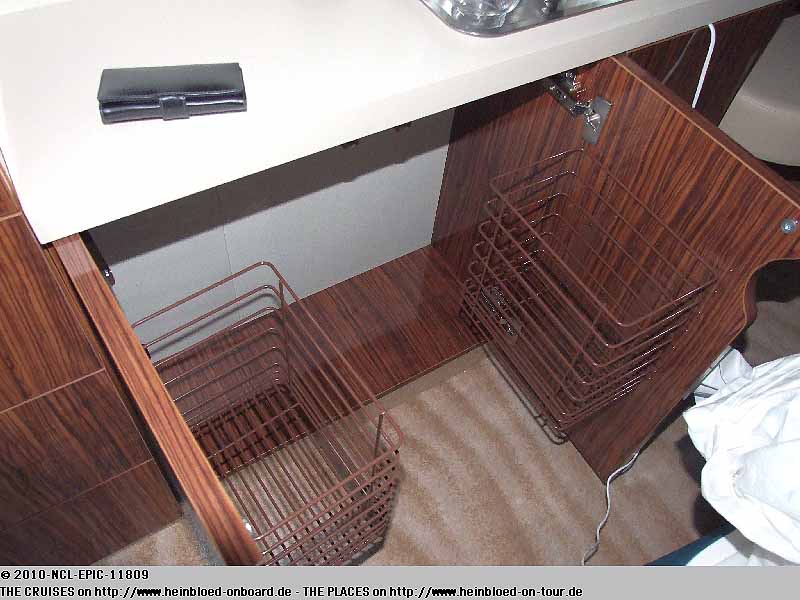 Oder in einem der Körbchen, die wir noch im Schrank entdecken... Praktisch für Socken, Unterwäsche, Dreckwäsche und für unerwartete virtuelle Mitbewohner und Besucher...