Scroll down for English explanations - alternates with German explanations.

Gegen 04.00 Uhr morgens fahre ich zur Marina. Für echte Nachtaufnahmen ist es leider schon fast zu hell.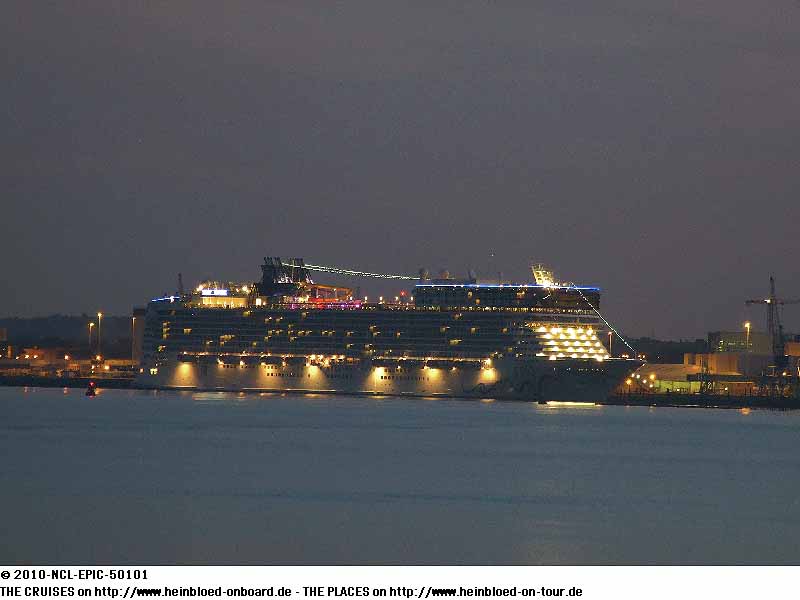 Around 04.00 hrs I went to the Marina. For true night pictures it somehow too bright.

For day pictures it was somehow too dark. I should had waken up an hour earlier.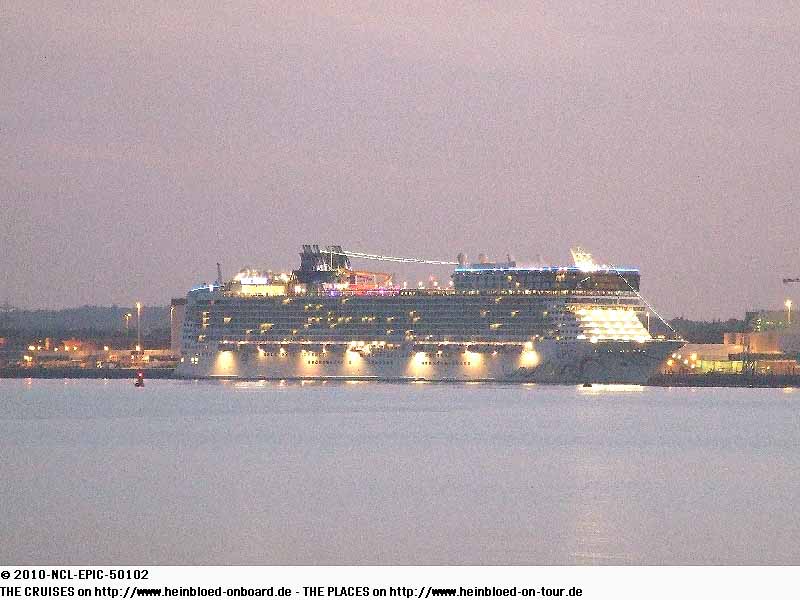 Für Tagaufnahmen war es aber noch zu dunkel. Da hätte ich wohl nochmals eine Stunde früher aufstehen müssen.
Aber die Lichtverhältnisse ändern sich von Sekunde zu Sekunde.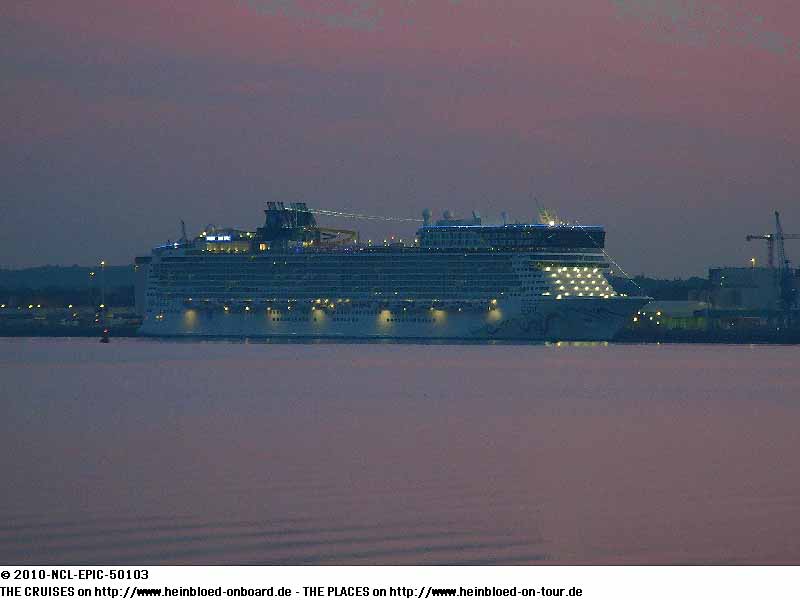 But the condition of light changed from second to second.

But guess I would gone earlier I would missed the arrival of CROWN PRINCESS.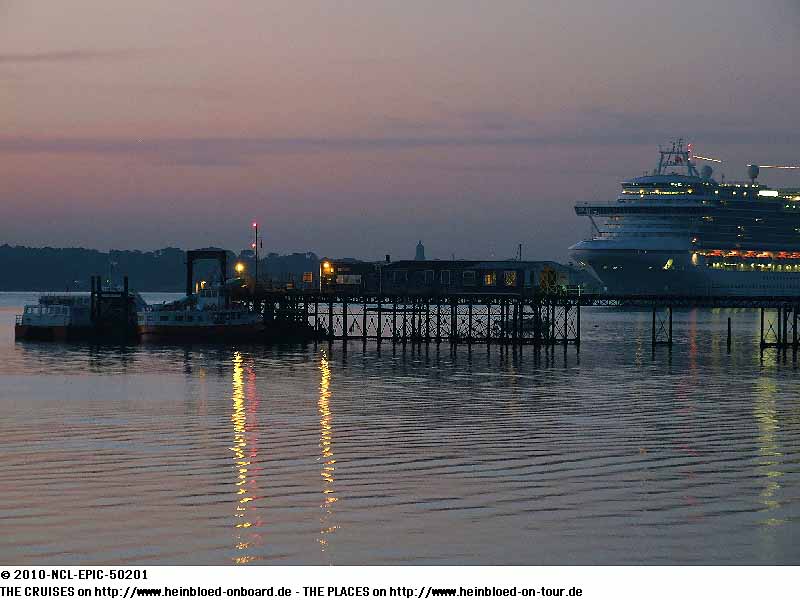 Wäre ich allerdings tatsächlich früher gekommen, hätte ich die Einfahrt der CROWN PRINCESS nicht gesehen.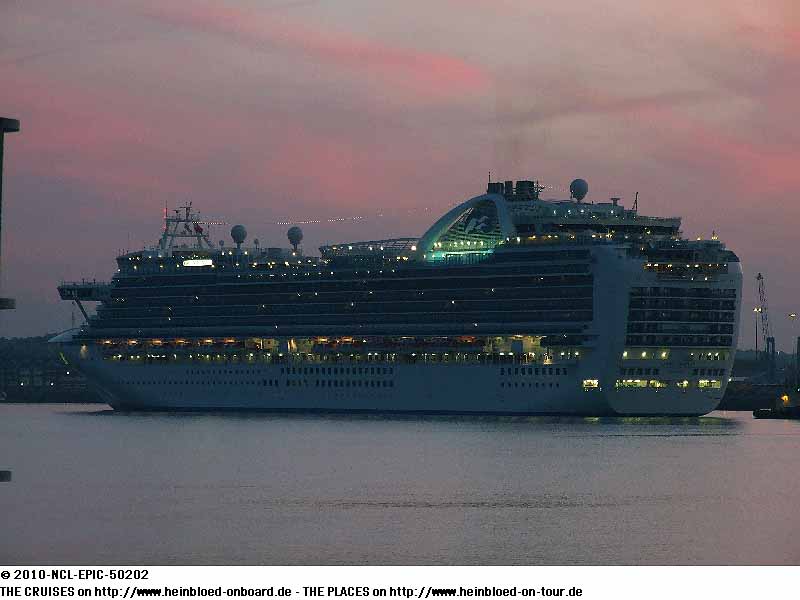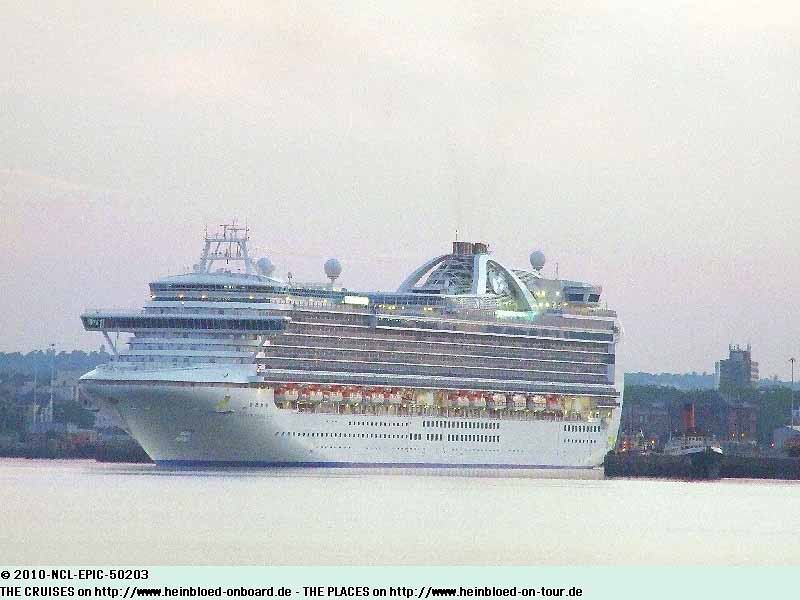 Unfortunately CROWN PRINCESS did not sail to the end of the port to return.

Leider fährt die CROWN PRINCESS nicht durch, um am Ende des Hafens zu wenden.
Sie setzt rückwärts in das Hafenbecken am Ocean Terminal zurück.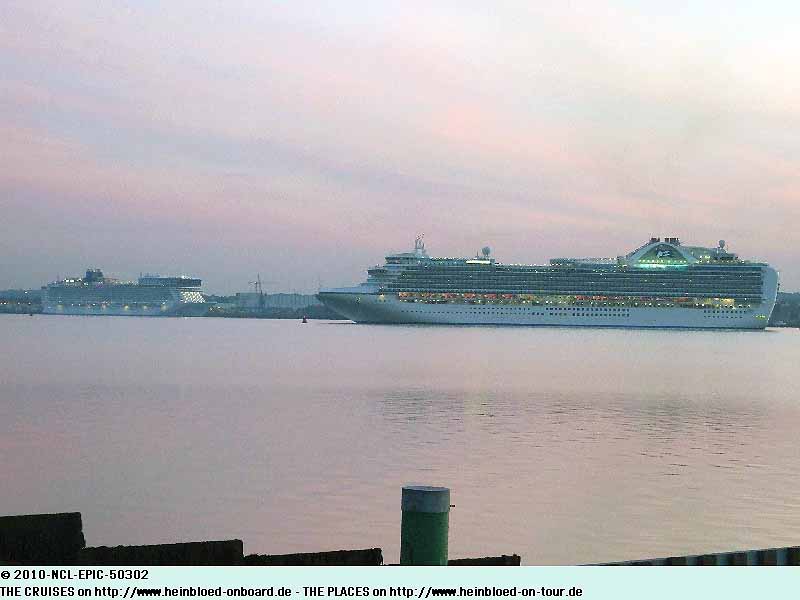 She made a backwards turn into the bay at Ocean Terminal.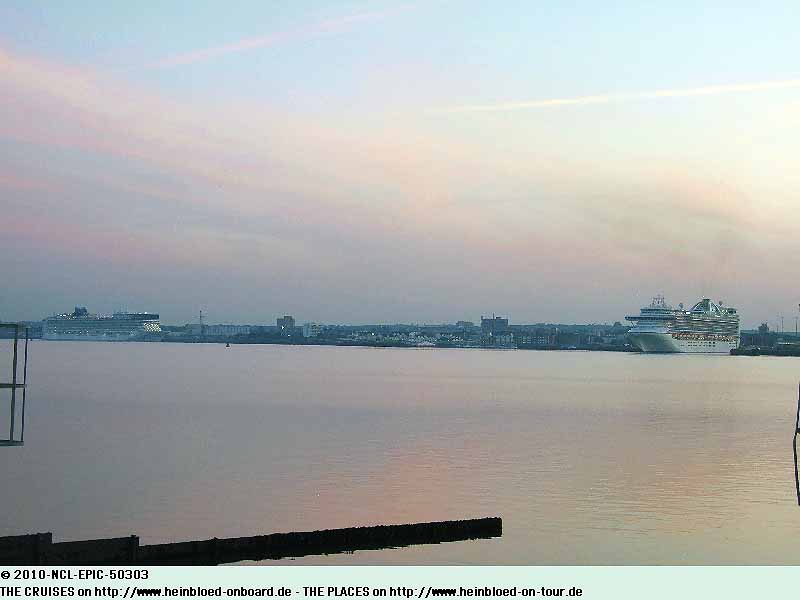 The view out of our room.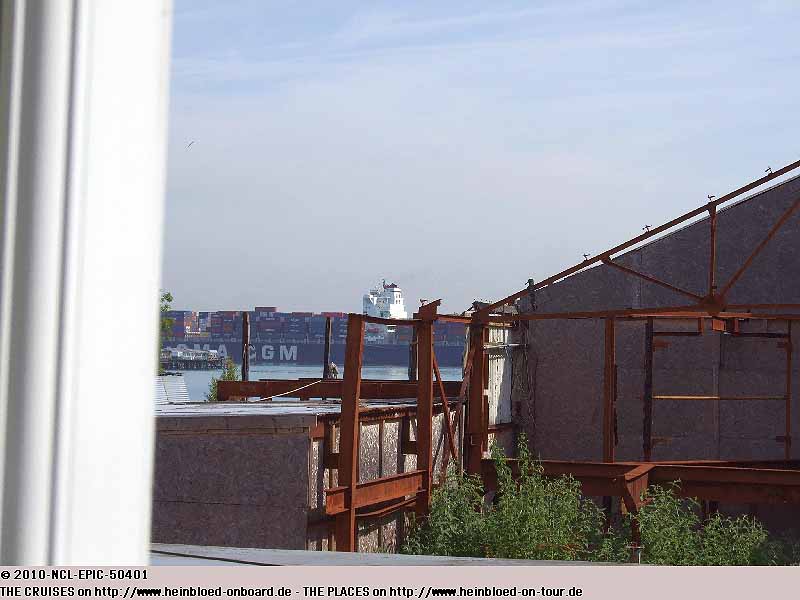 Der Blick aus unserem Zimmer.
Der Blick an der Wand.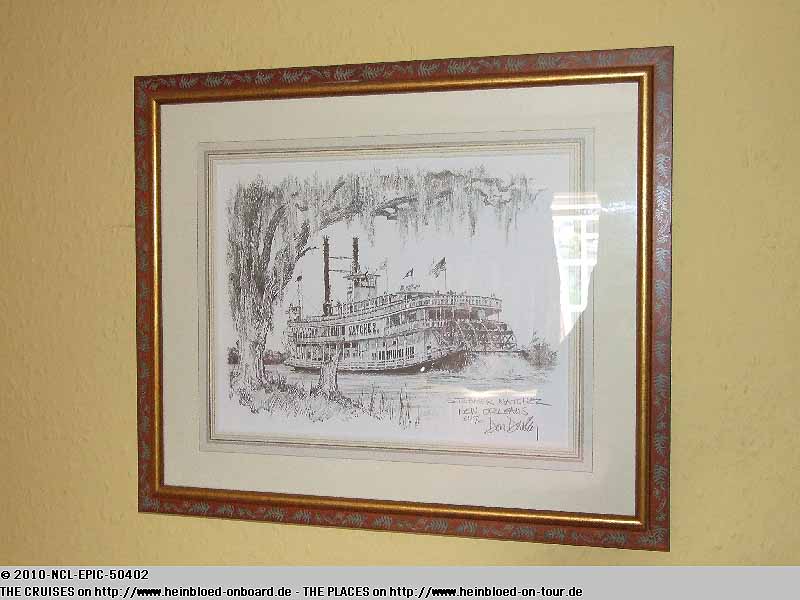 The view to the wall.

Godfrey showed me his "treasures".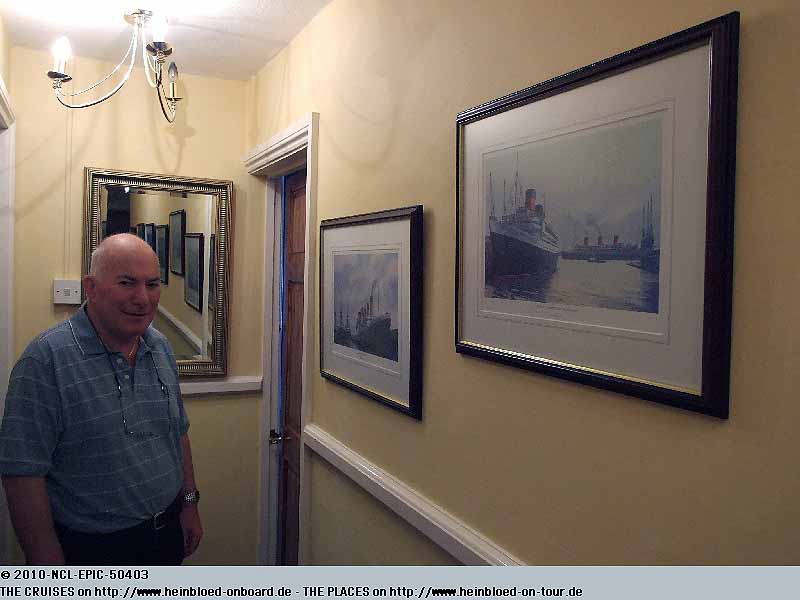 Godfrey zeigt mir seine "Schätze".
Da dürfte das Herz jeden Schiffsliebhaber höher schlagen.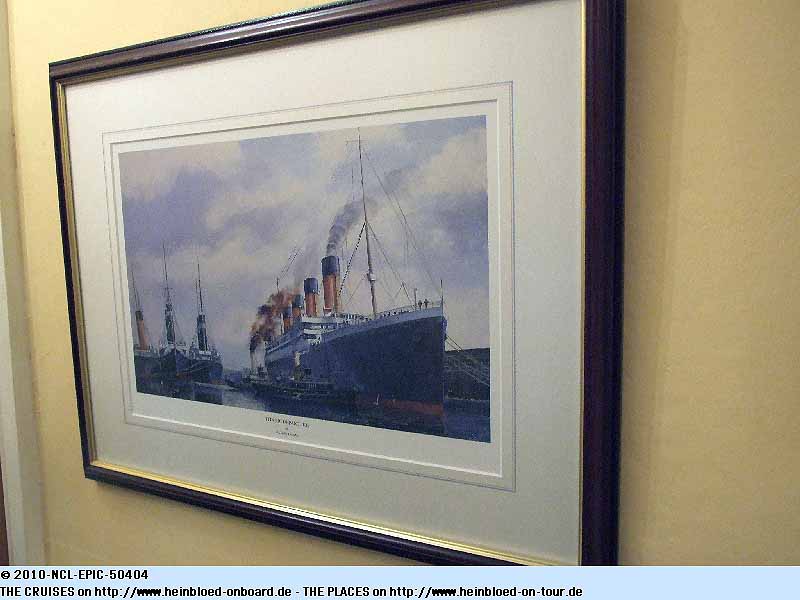 The heart of every shiplover would beat now faster.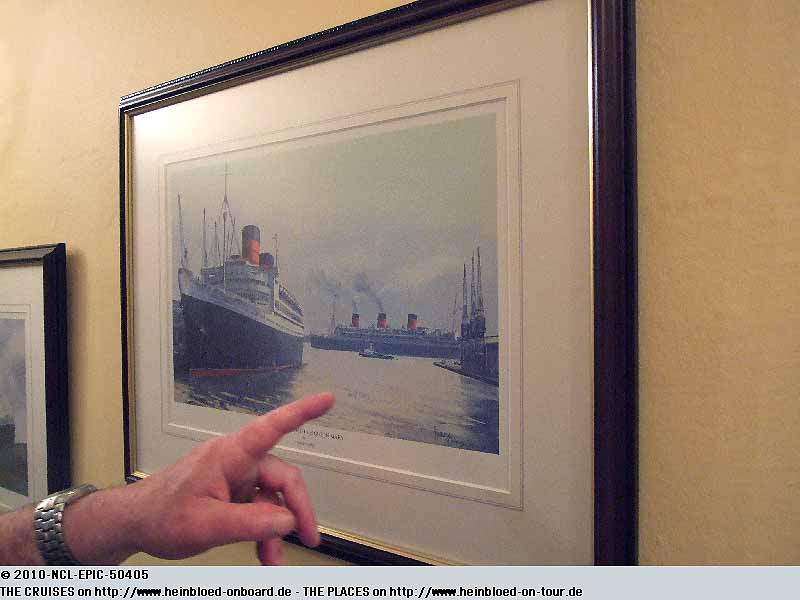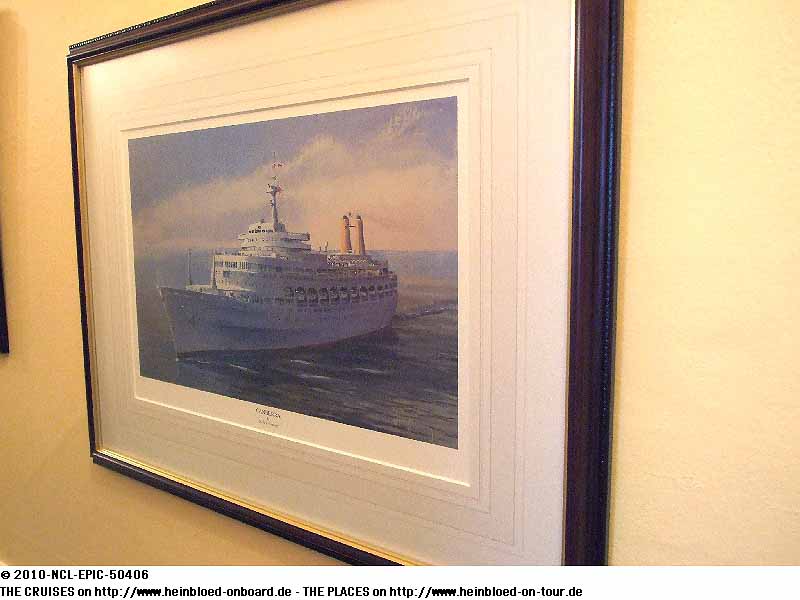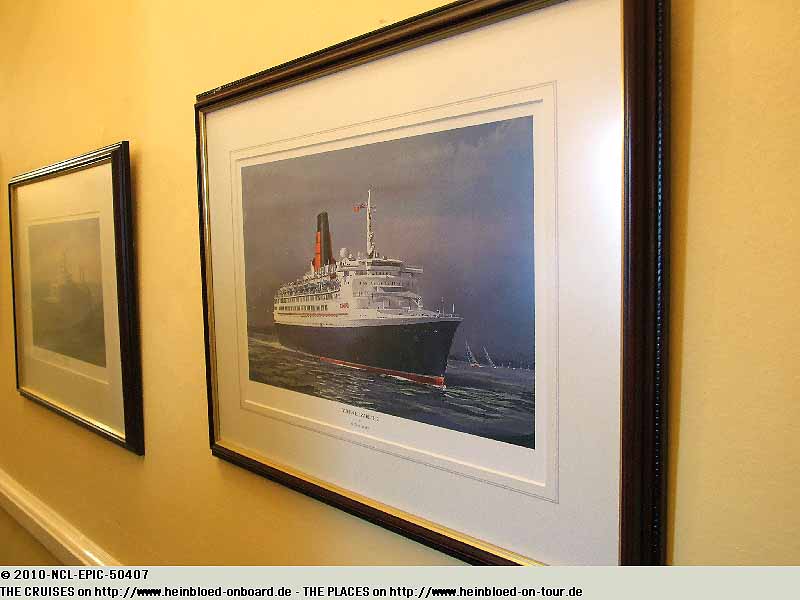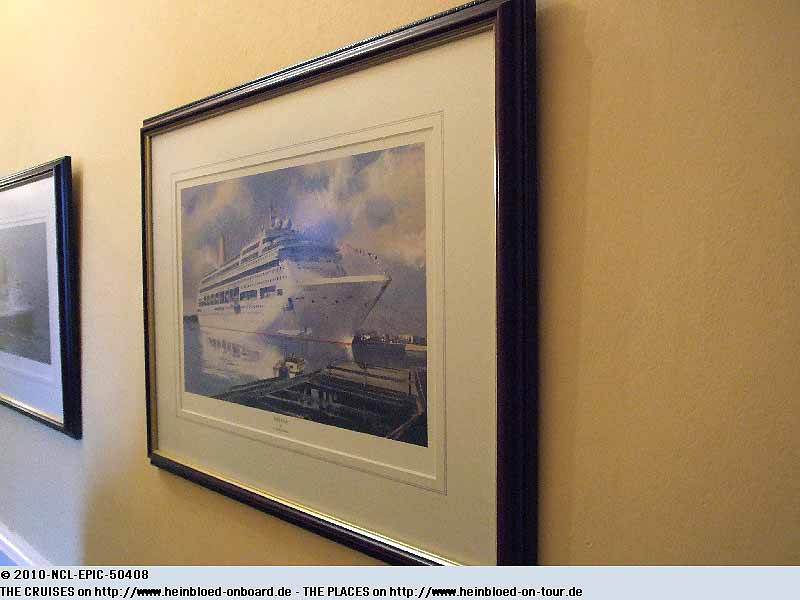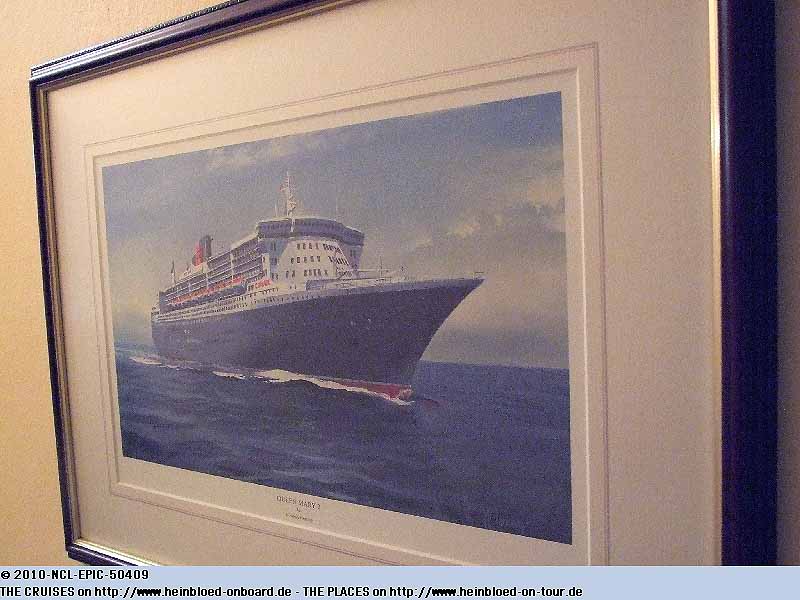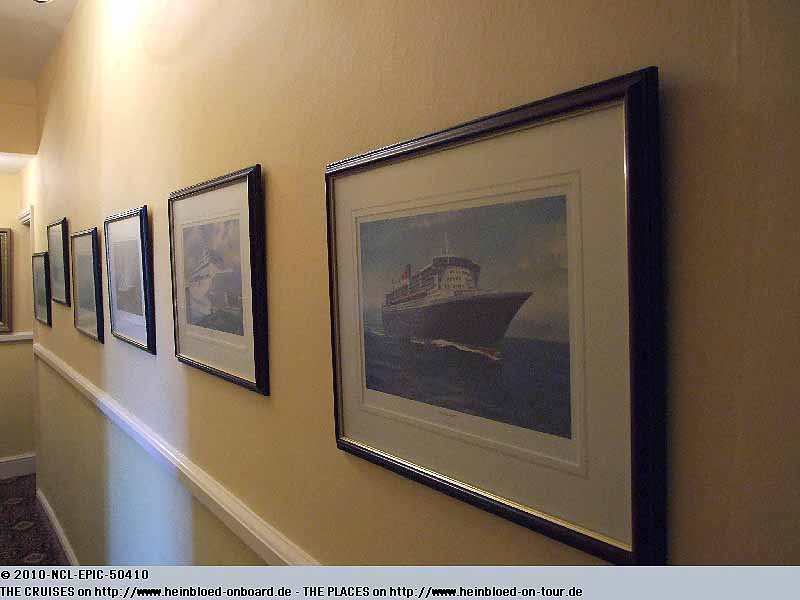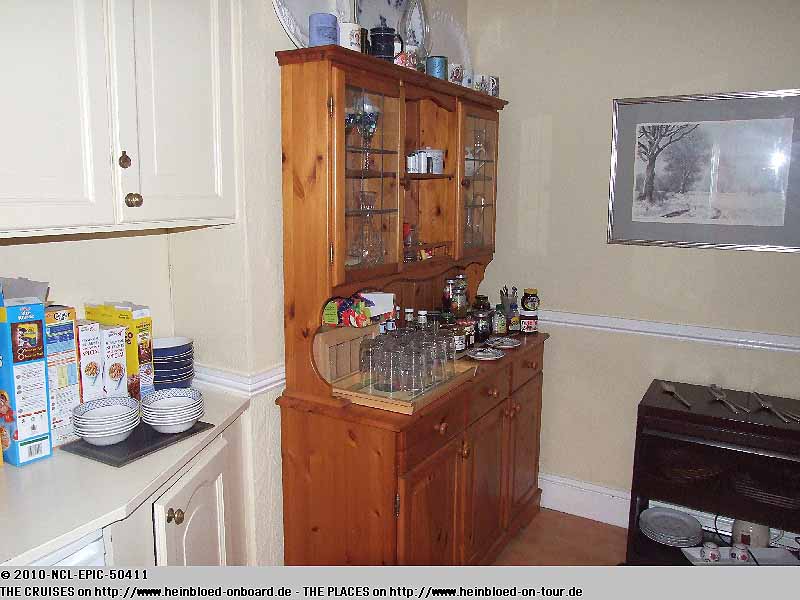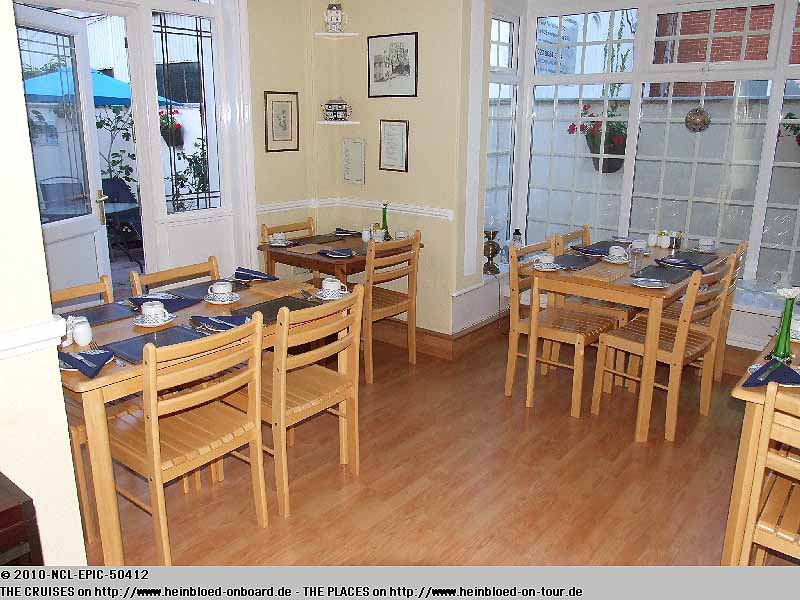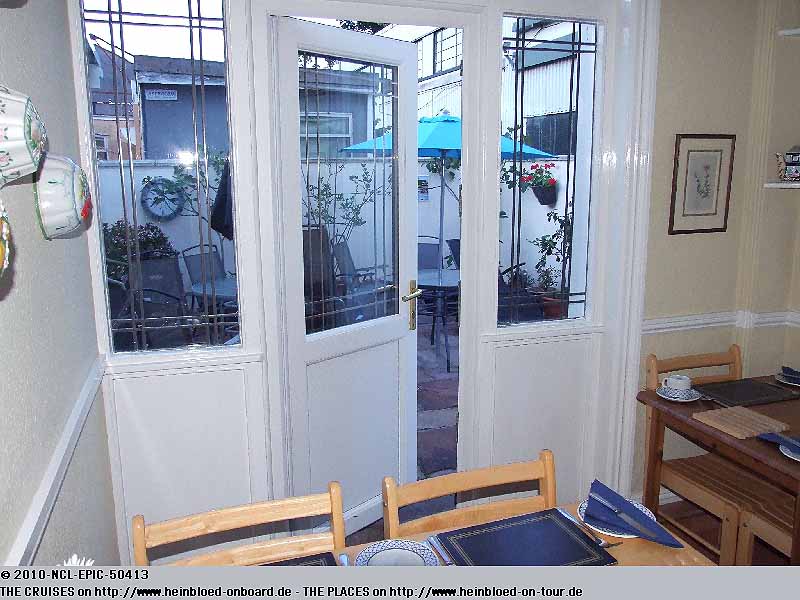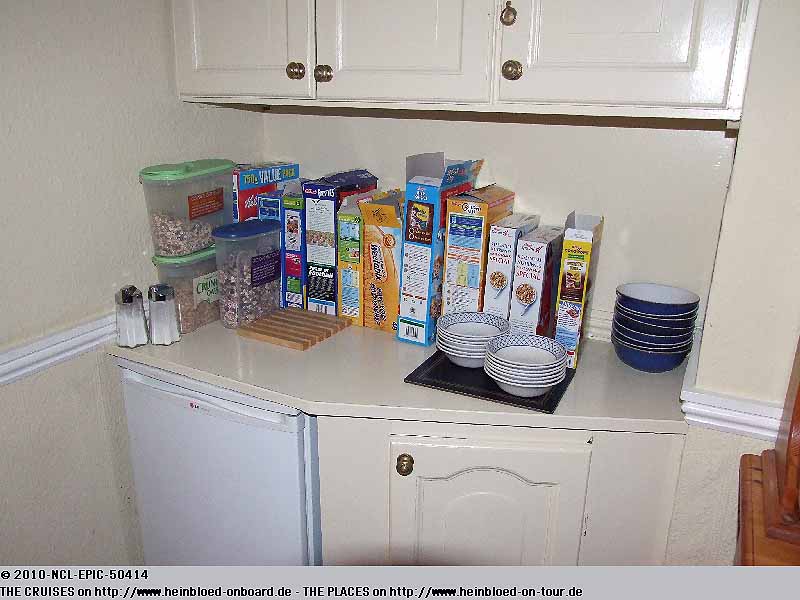 Something for friends of marmelade and jam.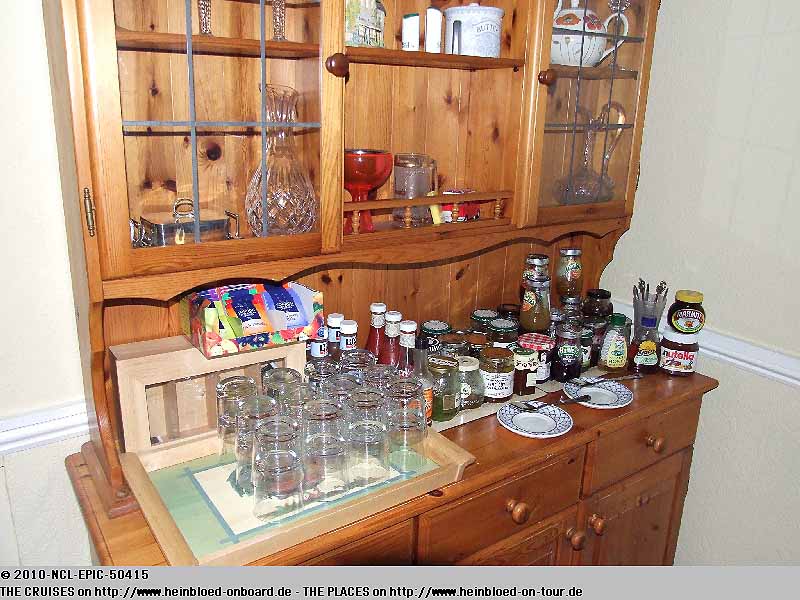 Etwas für Marmeladen-Freunde.
Frisches Obst ist immer im Angebot.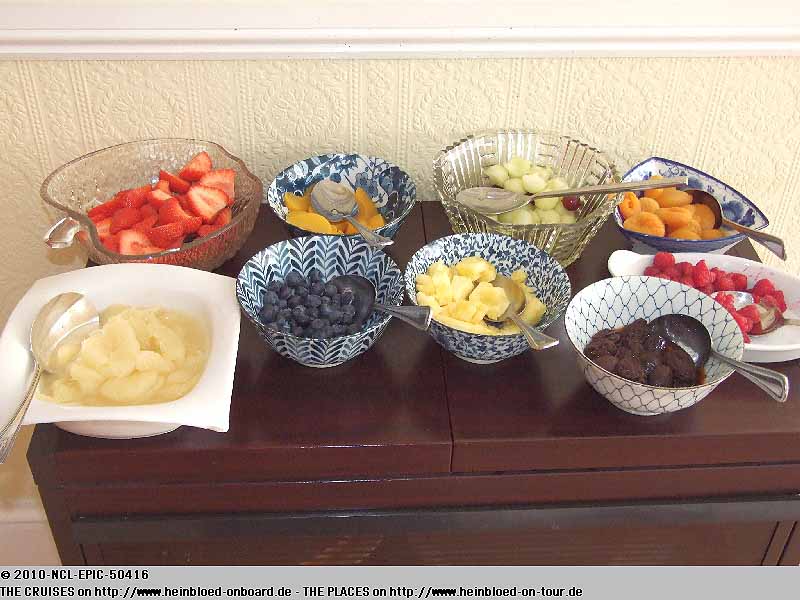 Fresh fruits are always available.

I could get green tea as well but we are in England.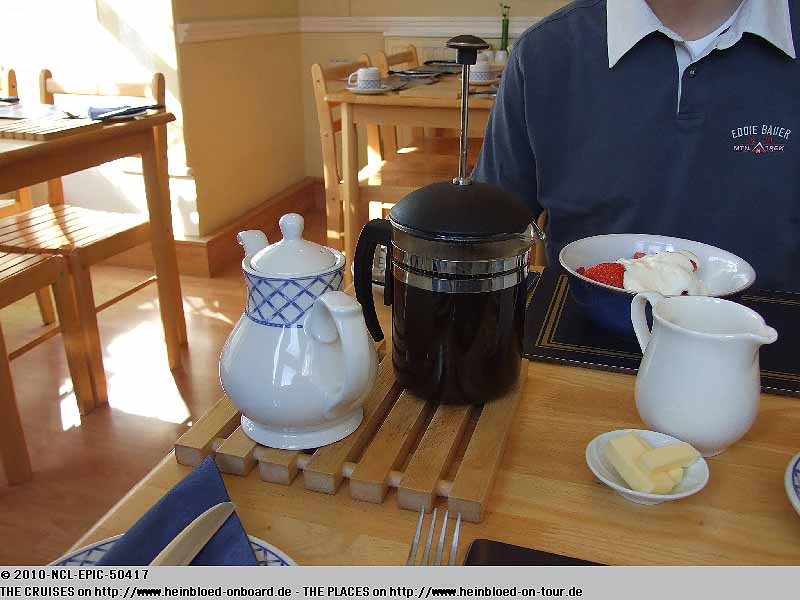 Ich hätte auch einen grünen Tee haben können, aber wir sind in England.
Wo ist jeweils die 1/2 Scheibe Toast hin???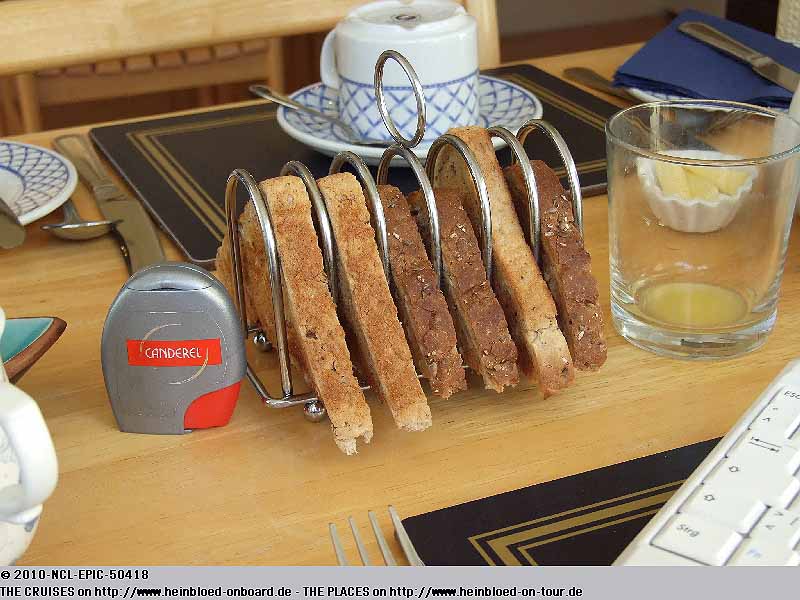 What are they doing with the other 1/2 slice of toast???

Pure English breakfast!!!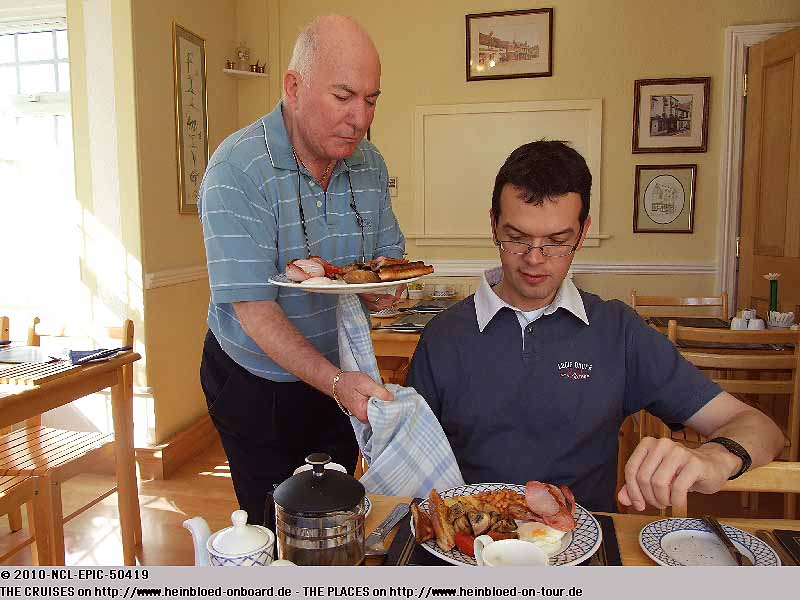 Englisches Frühstück pur!!!
Ich habe auf die Bohnen in Tomatensauce verzichtet.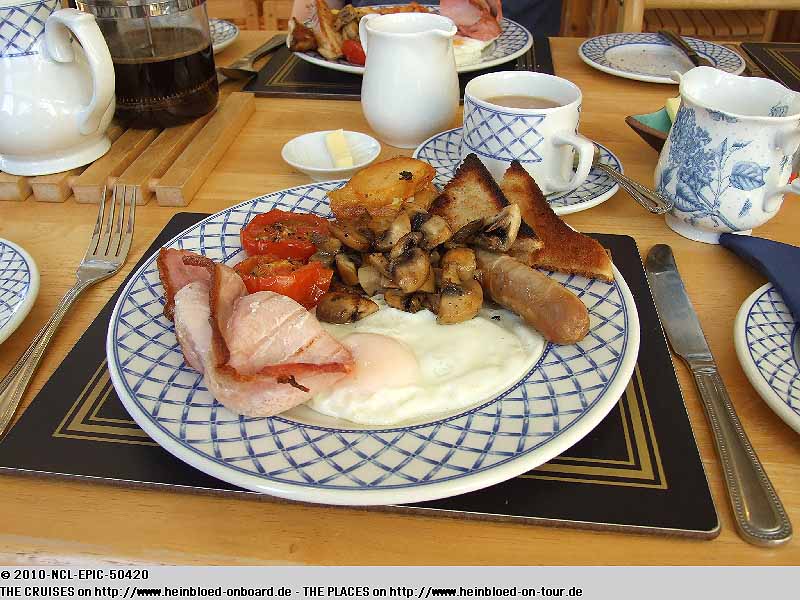 I did not want any beans in tomato sauce.

We love to be guests with Shirley and Godfrey. For 2011 we have so far no plannings for cruises out of Southampton. We hope that they will not forget us until then. As currently their website is not working: who like to contact them: I will let you have their e-mail-address on request.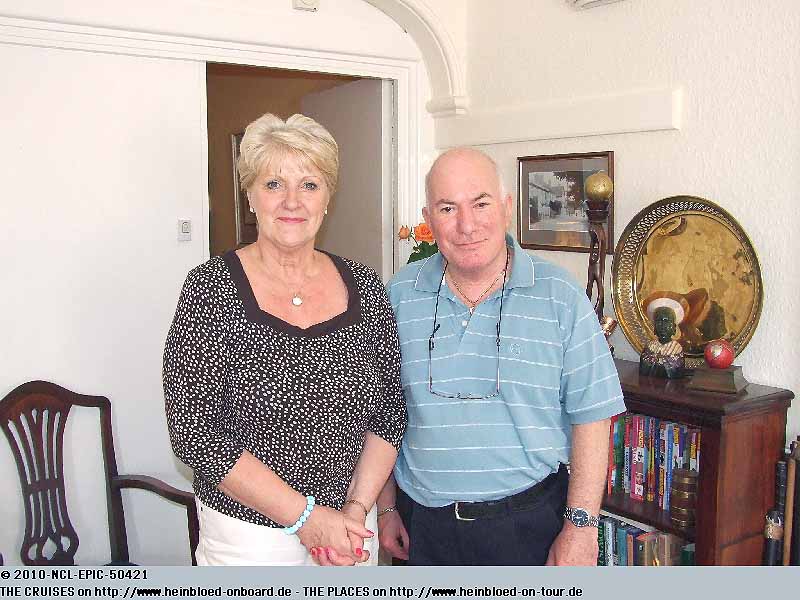 Wir sind immer gerne Gäste bei Shirley und Godfrey. Für 2011 haben wir leider keine Kreuzfahrt ab Southampton in der Planung. Hoffentlich vergessen sie uns bis dahin nicht. Da im Moment die Homepage nicht funktioniert: wer Kontakt aufnehmen möchte: die E-Mail-Anschrift gebe ich gerne auf Anfrage weiter.