Scroll down for English explanations - alternates with German explanations.

Wir wollen rüber nach Southampton. NORWEGIAN EPIC liegt ja noch im Hafen und wir wollen lecker indisch essen. Hythe bietet sich als Ort für Shipspotter an. So wissen alle Bescheid, welche Schiffe im Hafen sind.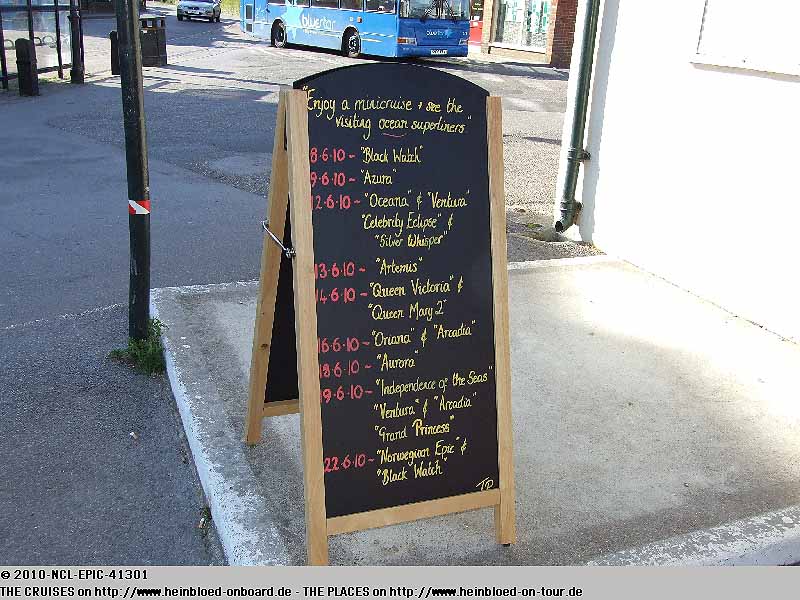 We wanted to get over to Southampton. NORWEGIAN EPIC was still in port and we wanted to have good Indian dinner. Hythe is a great location for shipspotters. Everybody knows which ships are in town.

We used Hythe-Ferry
. You walk about 6-8 minutes from the hotel. You should make sure that you have sufficient change with you because otherwise you cannot buy any tickets. The machine does not change! Overpaid amounts are for the maintenance of the pier.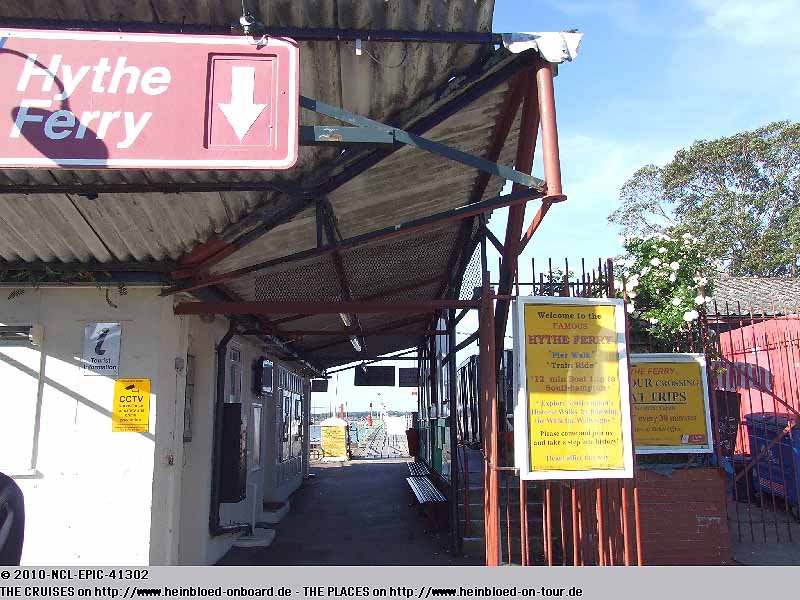 Wir nutzen die
Hythe-Fähre
. Vom Hotel läuft man 6-8 Minuten bis hierher. Man sollte jedoch ausreichend für Münzgeld vorgesorgt haben, weil man sonst keine Tickets kaufen kann. Es wird nicht gewechselt! Der Rest ist für den Unterhalt des Piers.
Mit der alten Bahn wird man zum Anleger gebracht.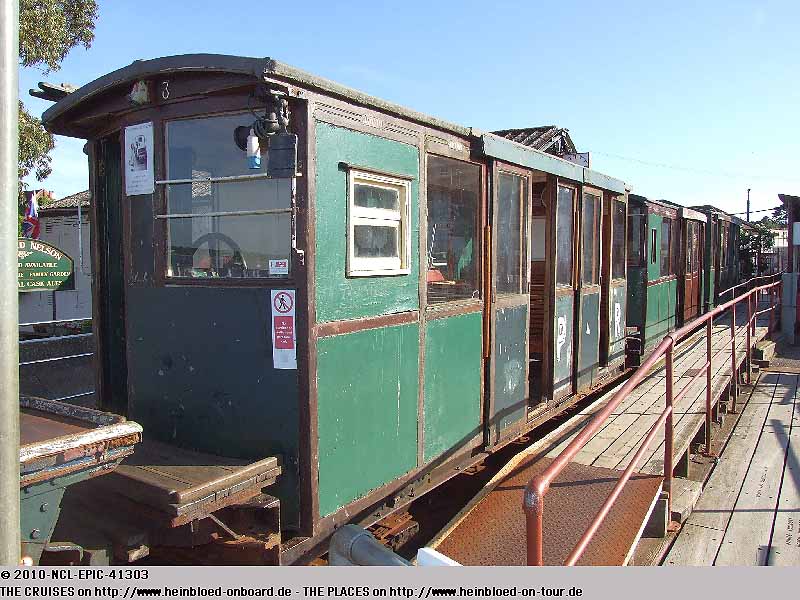 The old train took you to the berth.

Or you walk about 12-15 minutes to the berth like Bruno did and expect the train as she only runs when a ferry departs or arrives.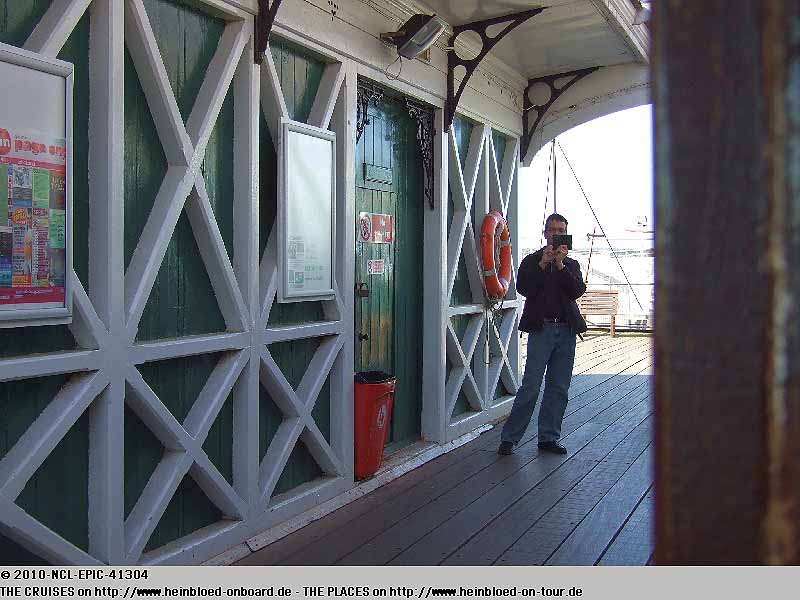 Oder man läuft wie Bruno die 12-15 Minuten bis zum Anleger und wird dort erwartet, weil die Bahn zur zu den Abfahrten und Ankünften fährt.
Vom Town Quay bringt uns der kostenlose Bus
City Link
in die Stadt.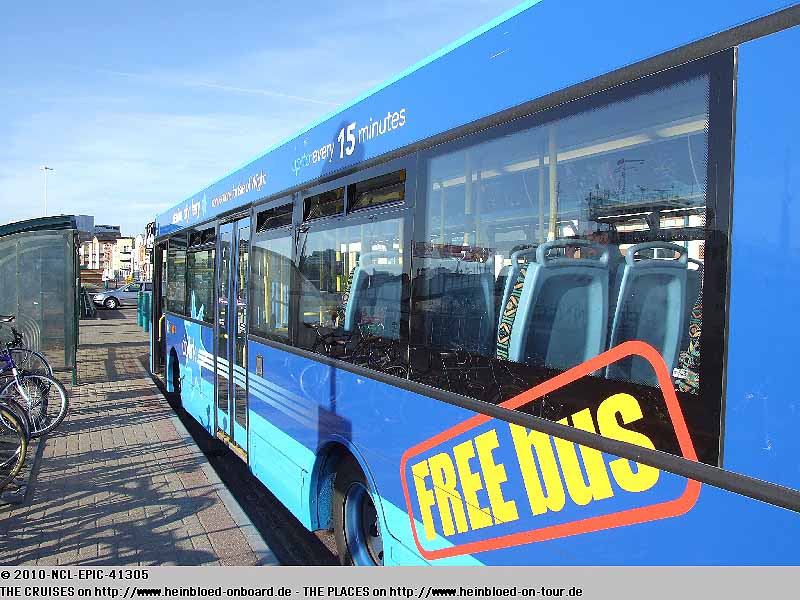 From Town Quay there is a free bus City Link which takes you to the city center.

As many stores were closed around 19.30 hrs we used the time to have a look around the old city wall. From here you can see that NORWEGIAN EPIC was still at City Cruise Terminal.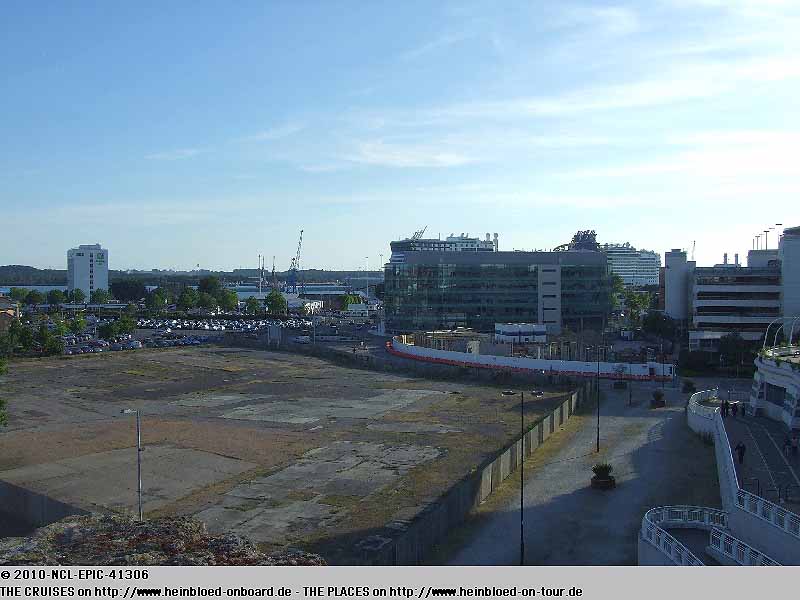 Da aber gegen 19.30 Uhr schon viele Geschäfte schon geschlossen haben, nutzen wir die Zeit uns auf der Stadtmauer umzusehen. Von hier aus sehen wir noch die NORWEGIAN EPIC am City Center Terminal liegen.
So kann man sich selbst eine Tour entlang der alten Stadtmauer machen, da alles sehr gut ausgeschildert und erklärt ist.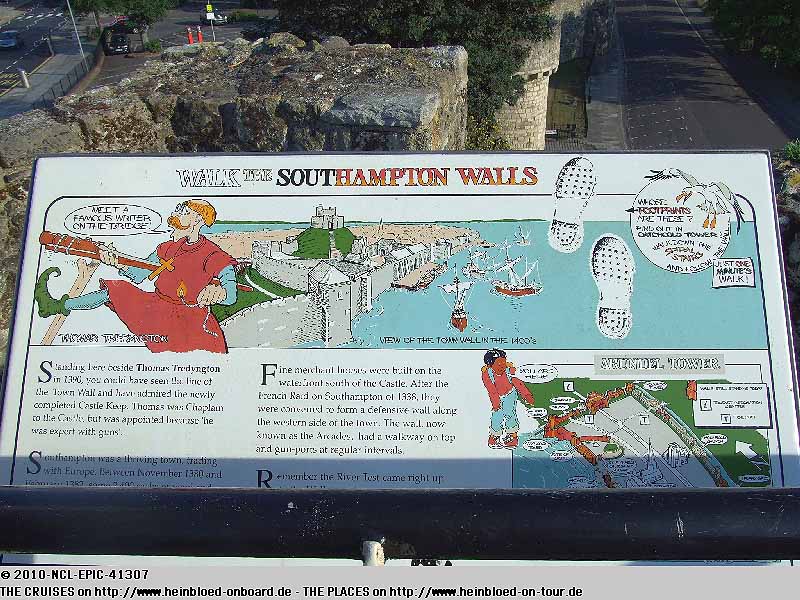 So you can do a tour yourself along the old city wall as everything is well signposted and explained.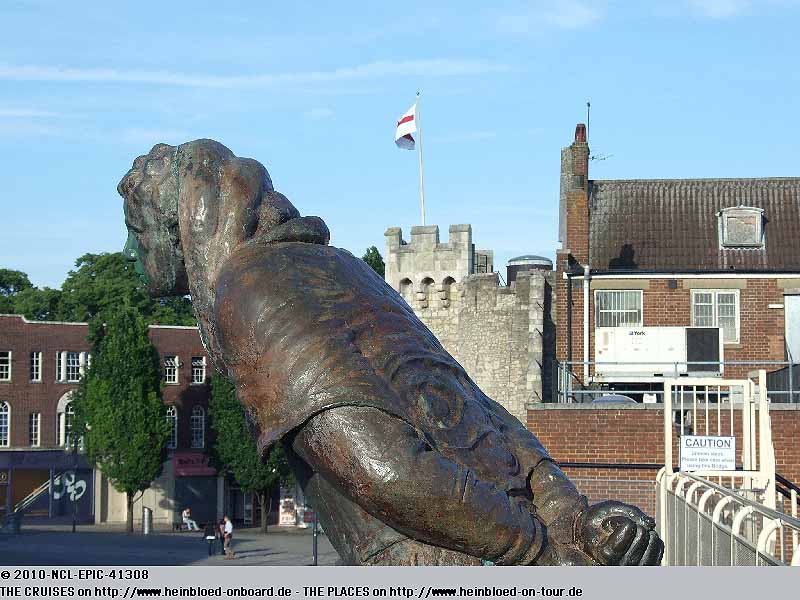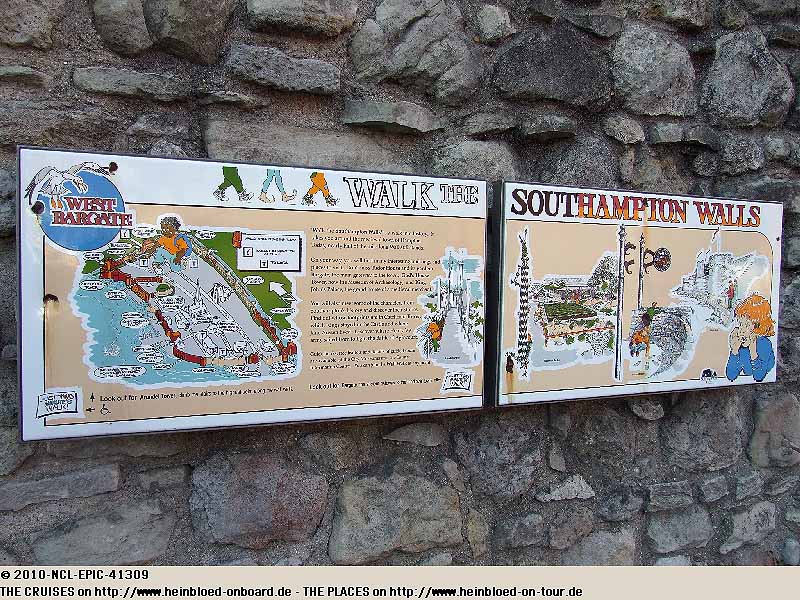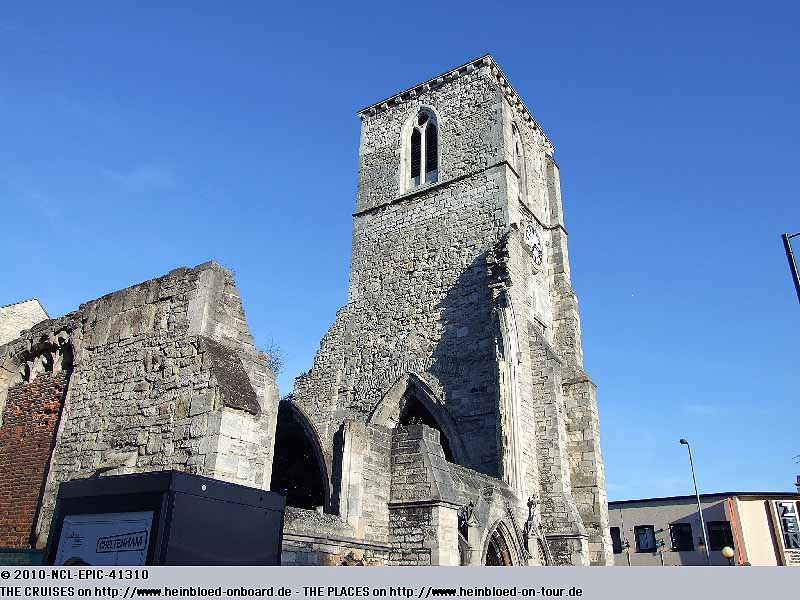 This place was located next to a road construction site but appeared very symphatically to us. If you have a stay in Southampton: go to this place. It was cheap, good and very nice. And if there are no pictures of the food then it was because I enjoyed each moment of our stay in this restaurant: Food and especially the attentive service. This restaurant should be part of the alternative dinining venues on NORWEGIAN EPIC. Finally they were disappointed that we did not want to have little degustif but we need to catch the last ferry at 21.00 hrs back to Hythe. I need to secure the rights for this restaurant and get it as Franchise on all cruise ships. A true bonanza. So next time in Southampton go and see the Coriander Lounge.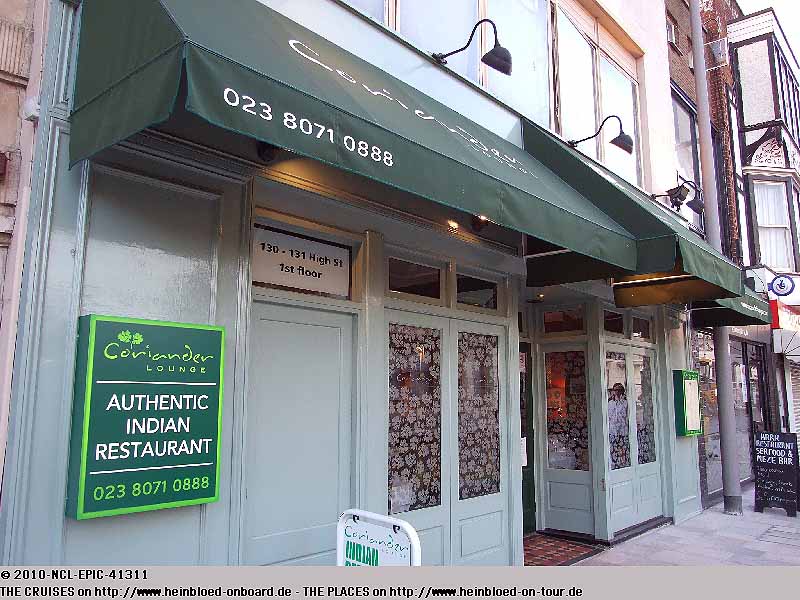 Dieser Laden lag zwar in einem Baustellenbereich, aber er wirkte auf uns sehr sympatisch. Wenn ihr mal einen Aufenthalt in Southampton habt: geht hier rein. Es ist günstig, gut und sehr nett. Und wenn es keine Bilder vom Essen gibt, dann liegt es daran, dass ich jeden Moment im Lokal genossen habe: Essen und vor allem der aufmerksame Service. Der Laden gehört noch als indisches Zuzahlrestaurant auf die NORWEGIAN EPIC. Am Schluss waren sie enttäuscht, dass wir keinen Absacker mehr wollten, aber wir mussten die letzte Fähre um 21.00 Uhr nach Hythe bekommen. Ich muss mir die Rechte an diesem Restaurant sichern und es als Franchise-Konzept auf die Kreuzfahrtschiffe bekommen. Das wir eine Goldgrube. Also beim nächsten Besuch in Southampton unbedingt in die
Coriander Lounge
.
Von hier aus laufen wir schnell zurück zum Town Quay. In der Straße nach links auf der rechten Seite findet man übrigens die Haltestelle von
Greyhound UK
. Das liegt sehr günstig zum Ocean Terminal und Queen Elizabeth II-Terminal. Man soll ja schon für 1 GBP nach London fahren können. Nach Heathrow oder Gatwick fahren sie leider nicht.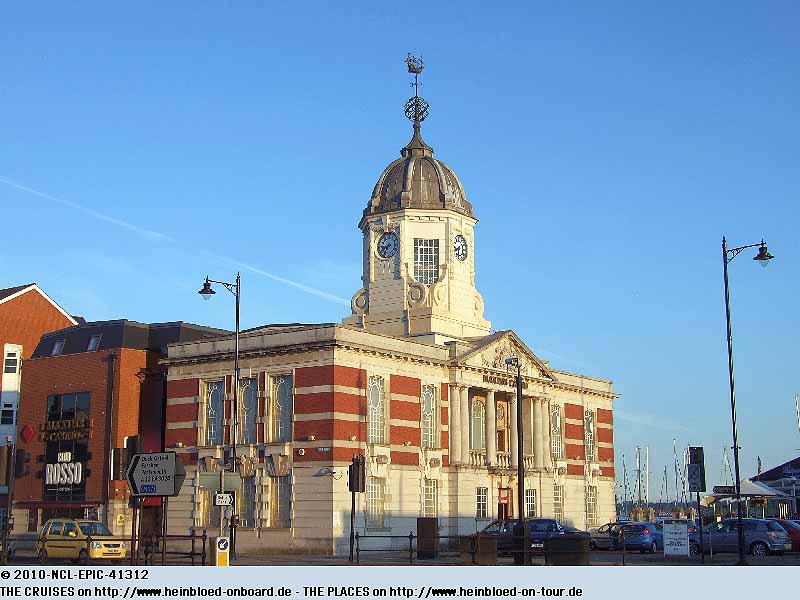 From here we walked back to Town Quay. In the street to the left on the right side you find the stop of Greyhound UK. Conveniently located to the Ocean Terminal and Queen Elizabeth II-Terminal. You should get tickets for London for 1 GBP. Unfortunately they do not serve Heathrow or Gatwick.

We asked the Captain of our ferry to ask the pilots when NORWEGIAN EPIC supposed to leave: 13.00 hrs the next day.

Den Kapitän der Fähre bitte ich bei den Lotsen mal anzufragen, wann die NORWEGIAN EPIC auslaufen soll: 13.00 Uhr am nächsten Tag.
So entstehen noch diese Aufnahmen der NORWEGIAN EPIC auf dem Weg zurück nach Hythe.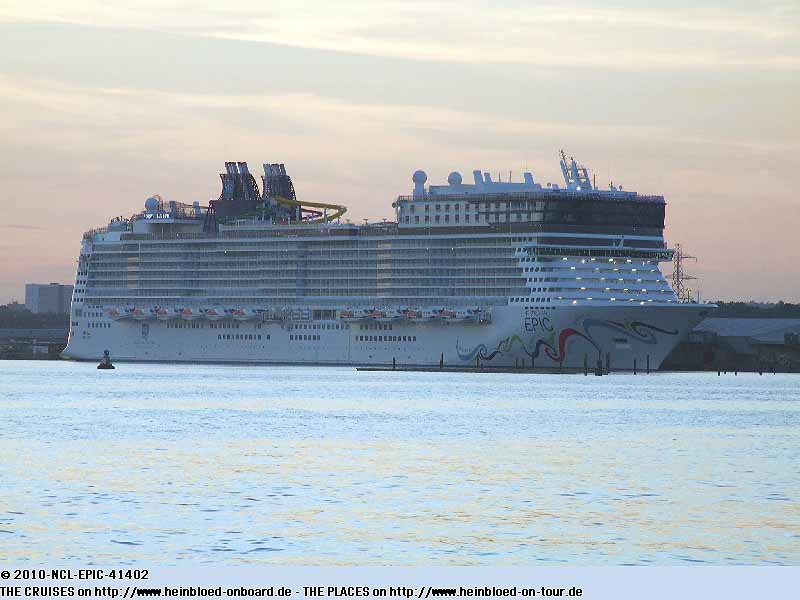 So we took the last pictures of NORWEGIAN EPIC on the way back to Hythe.

As we had summer solstice and there was no ferry later than 21.00 hrs at that day: Impossible to take any night pictures at this time. As I was still full from our dinner I decided not to take the train. The train operator was quite happy as he could support his collegues to secure the ferry boat for the night.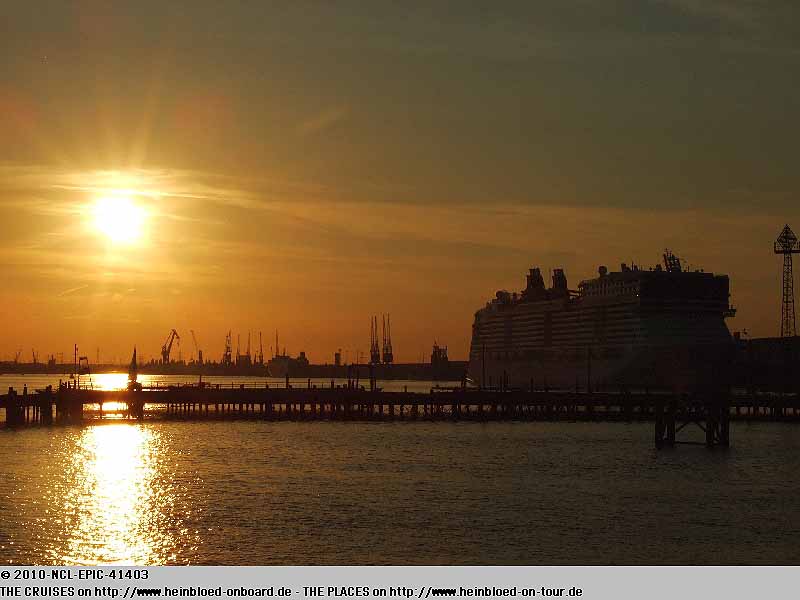 Da wir ja Sommernachtswende haben und keine Fähre mehr an diesem Tag nach 21.00 Uhr fährt: Nachtaufnahmen sind um diese Zeit noch nicht möglich. Da ich aber noch so voll vom Essen bin, beschließe ich auf die Nutzung der Bahn zu verzichten. Darüber freut sich der Lokführer, der die anderen Kollegen dann unterstützen kann, die Fähre für die Nacht zu sichern.