Scroll down for English explanations - alternates with German explanations.

Im Cruise Terminal warten böse Überraschungen auf uns: Die Halle ist schon ziemlich voll und wir nicht wieder an Bord gelassen. Obwohl wir uns als Back-to-Back-Gäste ausweisen, wird uns der Zutritt an Bord verwehrt. Nur "Gucker" dürfen an Bord. Die Security-Dame will uns nicht durchlassen und verweigert uns auch die Kontaktaufnahme mit dem Schiff, um die Situation zu klären. Die Grenzbeamte, die Zeugen der Unterhaltung werden, erklären der Sicherheitsdame, dass es allerdings normal sei, dass Back-to-Back-Gäste rein und raus dürfen. Die Dame lässt sich nicht beirren. Wir sollen 2 1/2 Stunden warten und uns beim Check-In anstellen. Erst als in diesem Fall Bruno hysterisch reagiert meinte sie bloß: Gehen Sie!!! Dann an der Passagierbrücke, der nächste, der einen anderen Gast nicht an Bord lassen will. Als er erklärt, dass es kalt ist, er seine Jacke holen will und NCL verklagen wird, wenn er nicht an Bord gelassen wird. Da ich zum Glück auch keine Jacke an habe, lässt er uns auch durch.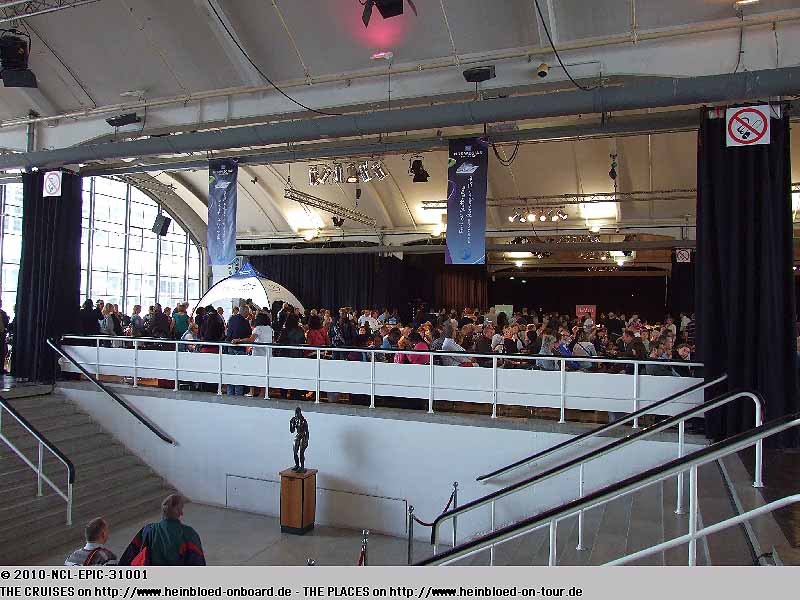 There was a bad surprise waiting for us in the cruise terminal: The hall was very full and they did not let us return on board. Although we identified ourselves as back-to-back-guests they denied us our return on board. Only "visitors" were allowed to go on board. The lady from the security was not willing to let us go and denied as well to contact the ship to check the situation. Immigration officers were witness of our discussion and explained the lady from the security that it should be normal that back-to-back-guests walk in and out. The lady was not very much intersted. We should wait 2 1/2 hours and queue up with the check-in. But when Bruno began to react hysterically she just said: Go - just go!!! Then at the passenger bridge another one who did not want to let another guest returning onboard. He explained that it was cold, he wanted to get his jacked and would suit NCL if he would not let him going onboard. As I had no jacket with me either he let us going onboard.

On board the first person we met is Julia whom we know from the final sailing of NORWEGIAN DREAM.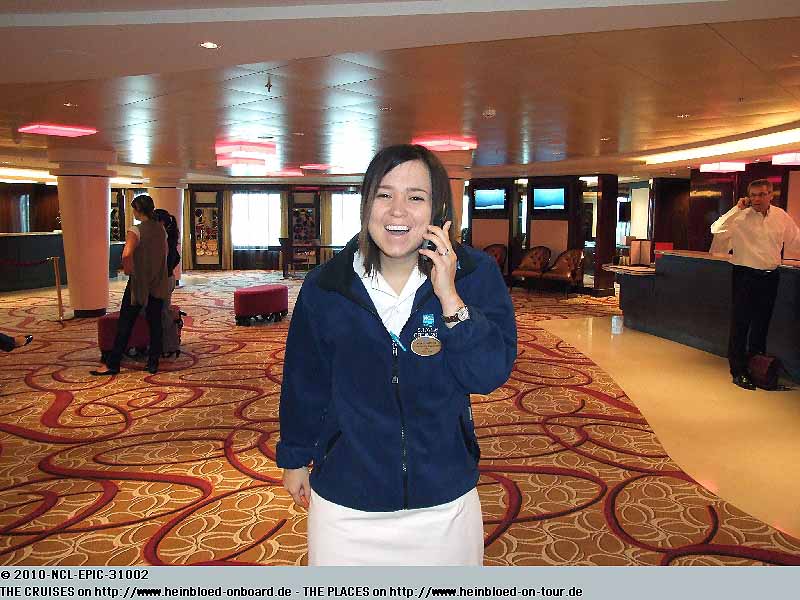 An Bord laufen wir als erstes Julia in die Arme, die wir von der letzten Fahrt auf der NORWEGIAN DREAM her kennen.
Bislang kennen wir die Hoteldirektoren Klaus Lugmaier und Sean (lt. Pressemitteilung oder Sven???) Wurmhöringer nur vom Sehen. Wir werden beim Vorbeilaufen gegrüßt, wie jeder andere Gast aus. Nun schnappen wir uns doch Klaus Lugmaier und berichten ihm, dass die Back-to-Back-Gäste nicht an Bord gelassen werden. Er will sich darum kümmern. Wir wollen uns einen Kaffee holen, aber uns wird mitgeteilt, dass das Atrium Café geschlossen sei. S. Wurmhöringer wird Zeuge dieser Szene. Wir sind schon auf dem Weg zu unserer Kabine, um die Kaffeemaschine in Betrieb zu nehmen, als uns S. Wurmhöringer stoppt und meint zwei Cappucino müssen immer gehen und so bekommen wir unsere letzten zwei Cappucinos, da die kostenlose Zeit für uns an Bord vorbei ist.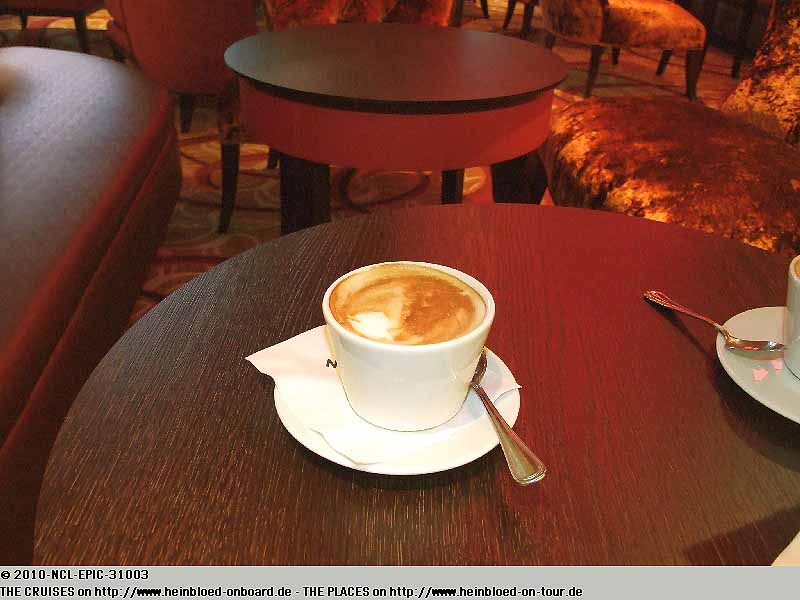 So far we knew the Hotel Directors Klaus Lugmaier and Sean (according to press release or Sven???) Wurmhöringer only from watching. They greeted us when we walked along like they greeted every other guest. Now we grapped Klaus Lugmaier and reported him that they did not let back-to-back-guests going back onboard. He would take care of it. We would like to grab a coffee but we were told that the Atrium Café was closed. S. Wurmhöringer became witness of this event. We were on the way back to our cabin to make the coffeemachine in our cabin running when S. Wurmhöringer stopped us and said that two cappucino should be always avaialbe and so we got our very last cappucion on account of NCL: our free stay on board was over.

When Eric Cousins crossed my ways I stopped him to have few words with him. It was great to talk with him because he was none who just repeat the text modules without contents but knew very well what the guest was talking about. Therefore: whenever he will cross your ways and you are not satisfied and think about switching from NCL: TALK WITH HIM: HE WILL LISTEN. And we learned onboard: many things we criticized before were well improved. Not everything but many things. The way they treated their customers we missed with other cruise lines. We like to stay with NCL as loyal customers.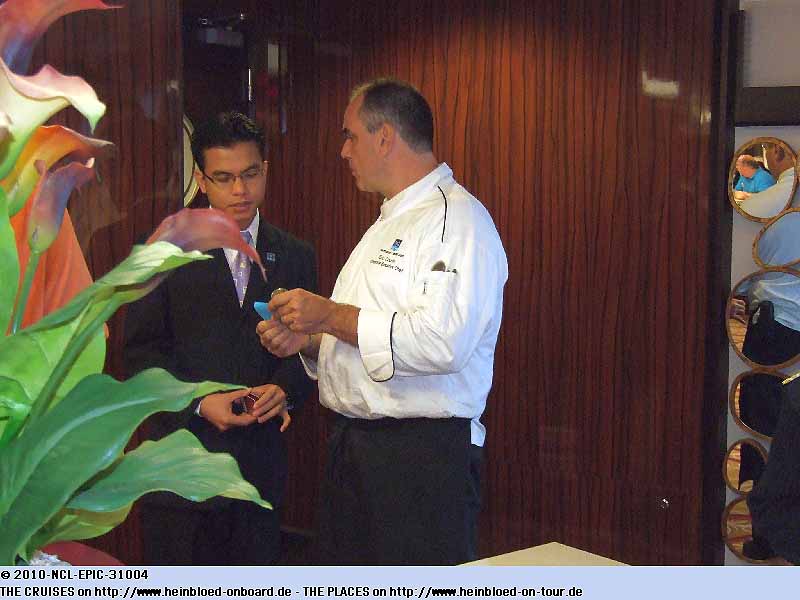 Als Eric Cousins mir über den Weg läuft, halte ich ihn doch mal an, um mit ihm ein paar Worte zu sprechen. Es macht ausgesprochen Spaß, weil er keiner ist, der nur inhaltslose Textbausteine nachspricht, sondern sehr genau weiss, was man als Gast meint. Deswegen: wenn er euch über den Weg läuft und ihr seid nicht zufrieden und erwägt, von NCL abzuspringen: SPRECHT MIT IHM: ER HÖRT EUCH ZU. Und wir haben an Bord festgestellt, dass sich vieles verbessert hat, was wir kritisiert haben. Nicht alles, aber vieles. Mit der Art, wie sie mit uns als Kunden umgehen, und die wir bei anderen Gesellschaften vermissen, bleiben wir gerne loyale NCL-Kunden.
Den Balkon können wir mal wieder nicht genießen, weil die Baustelle lärmt und weil draußen einzeln die Luftballons aufgeblasen werden, um die Riesenbälle zu füllen.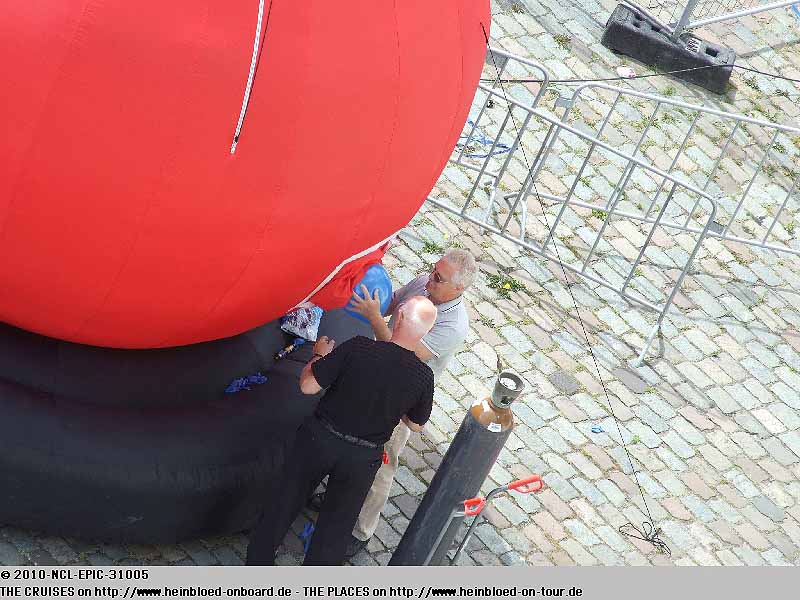 We could not enjoy the balcony because the construction site was very lound and outside they filled the balloons to fill up the giant balls.

The service at the Front Desk was great. I gave them two days ago my Douglas Ward. Whey I walked by by coincidence I was stopped as they would like hand over my signed book. I was very happy to read WELCOME BACK with the signature of the Captain.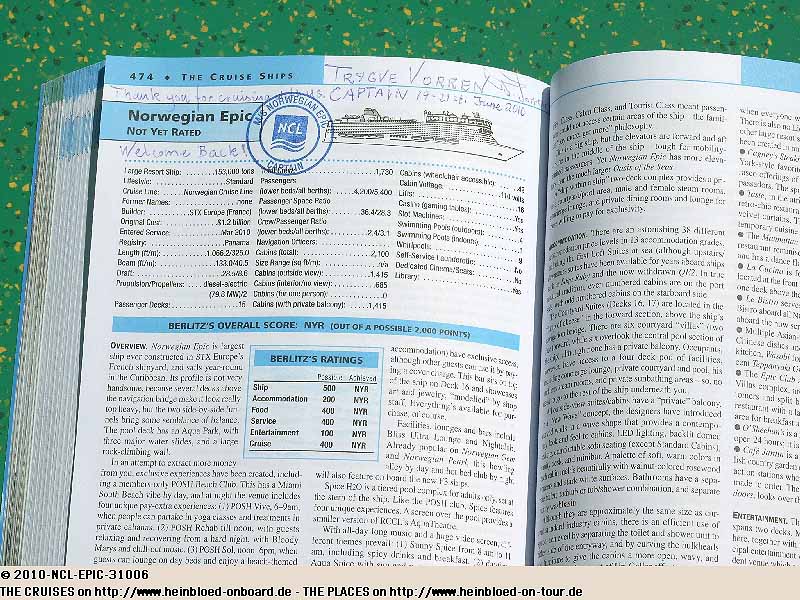 Auch der Service an der Rezeption ist wieder sehr gut. Ich hatte meinen Douglas Ward vor zwei Tagen abgeben. Als ich zufällig vorbei komme, werde ich angehalten und mir wird mein Buch unterschrieben wieder übergeben. Besonders freue ich mich über das WELCOME BACK neben der Unterschrift des Kapitäns.
Hier könnten wir stundenlang sitzen, wenn es im Moment nicht so kruschelig wäre. Irgendwas liegt in der Luft.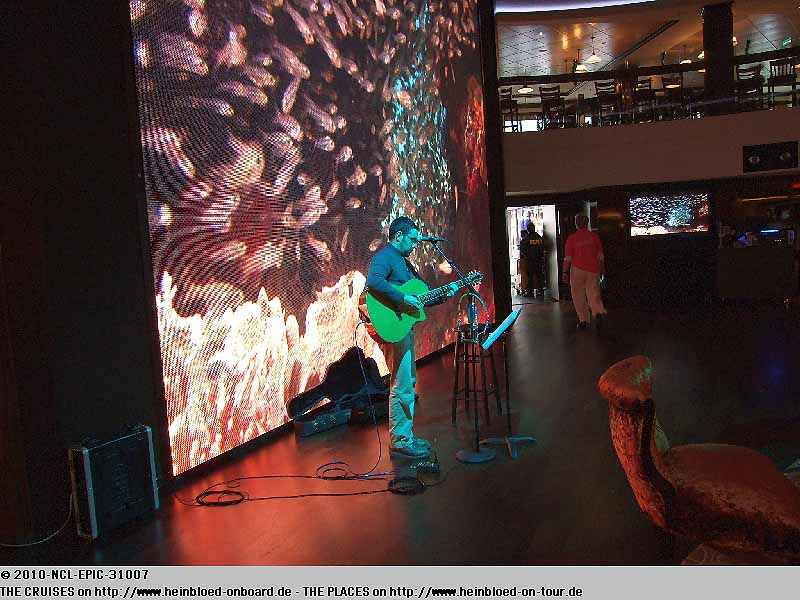 Here we could sit for hours but for this time it was very crowded. Something was in the air.

On cruisecritic.com-Forum we got the request regarding the situation for a cabin with four beds.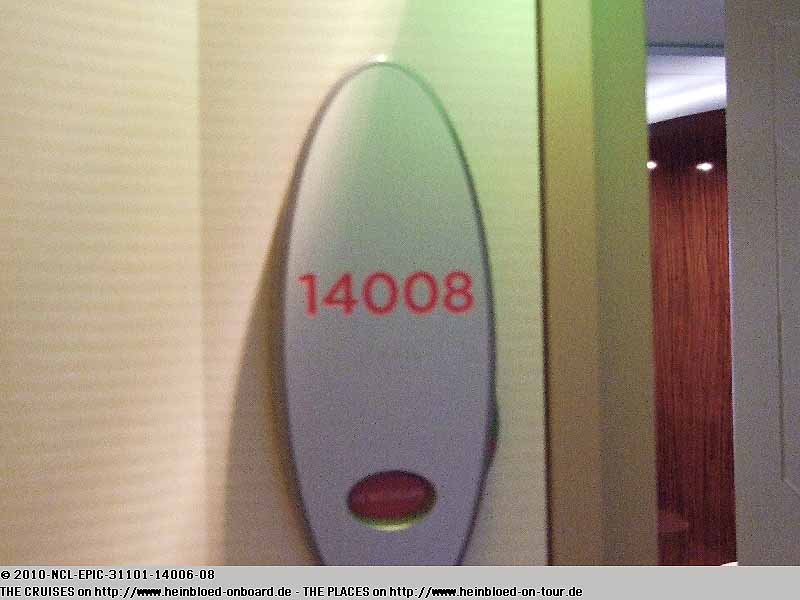 Über das
cruisecritic.com
-Forum erreicht mich die Anfrage, wie die Raumsituation in einer 4-er-Kabine ist.
Wir hatten uns gestern gespart, uns eine weitere Kabine anzusehen. So gehen wir zu 14006 und 14008, um uns nochmals die Situation in einer 4-er-Kabine bzw. mit Verbindungstür anzusehen.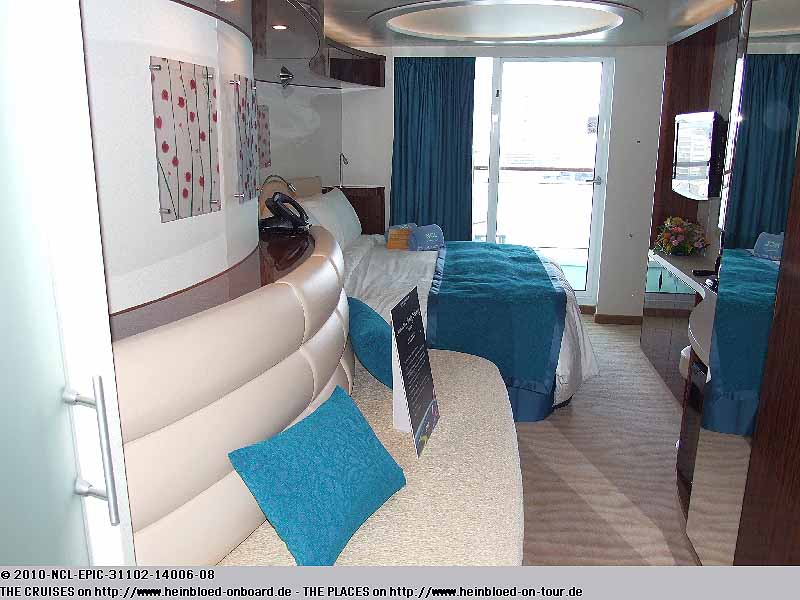 We saved the time to see another cabin. So we went to 14006 and 14008 to check the situation for a 4-berth-cabin and connecting door.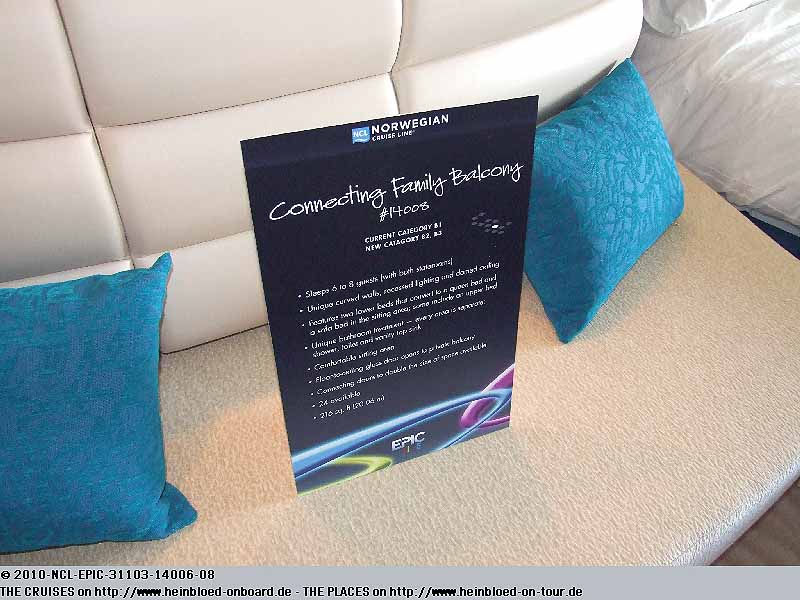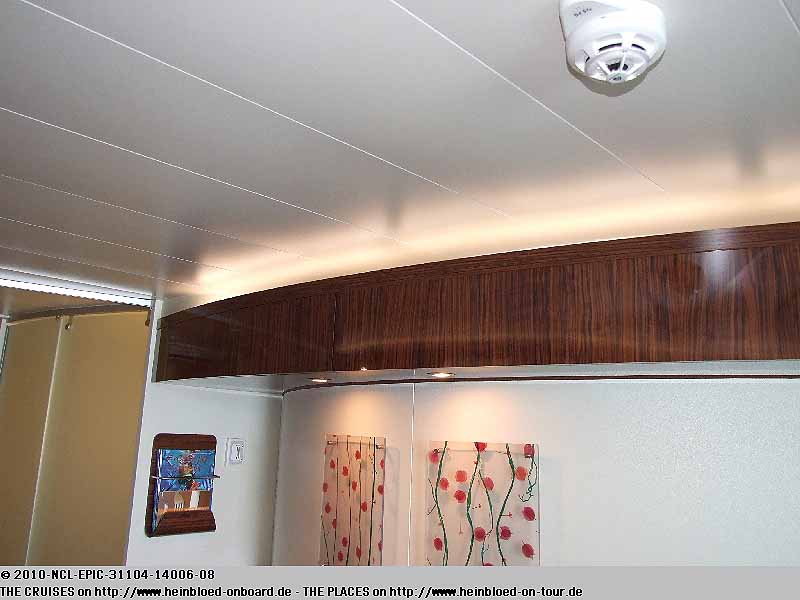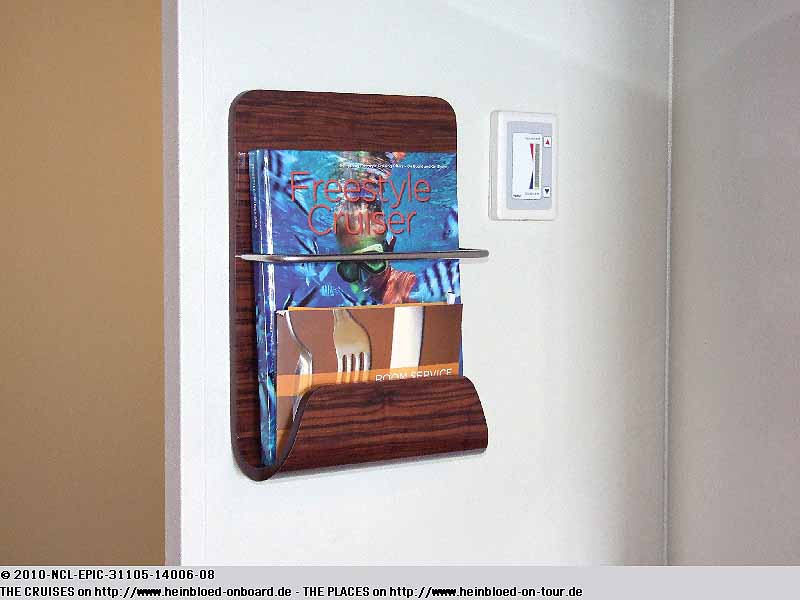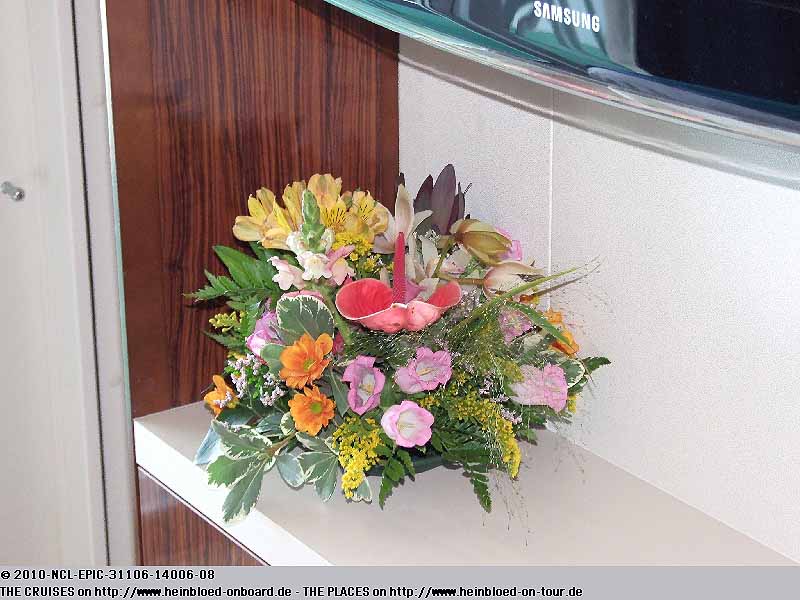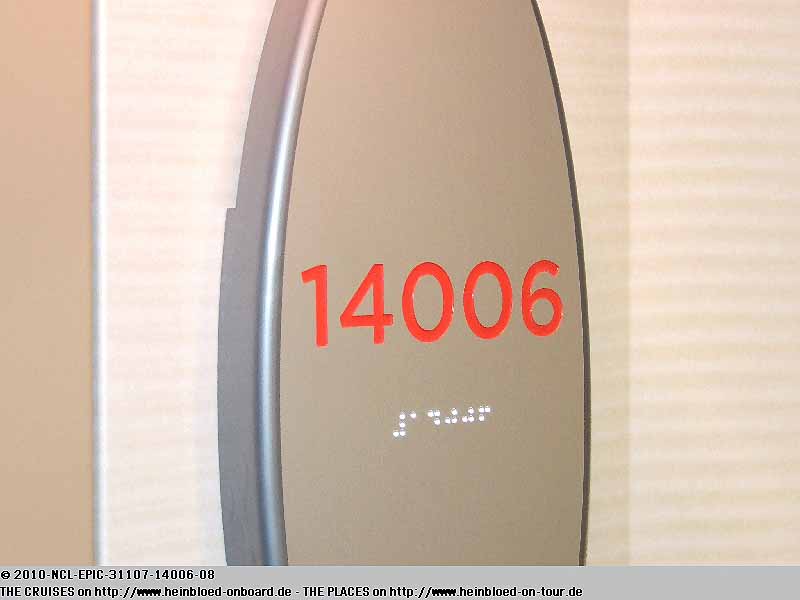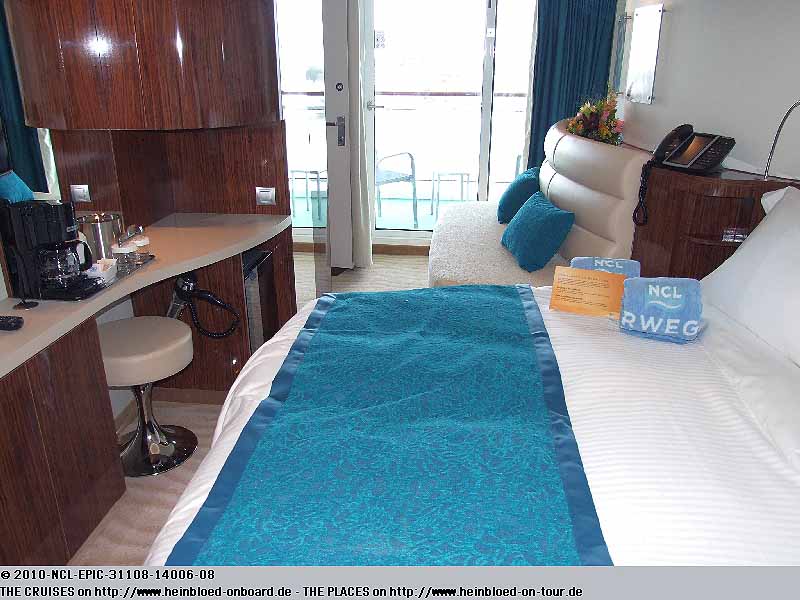 Here you have the connecting door which means you have less stowage area.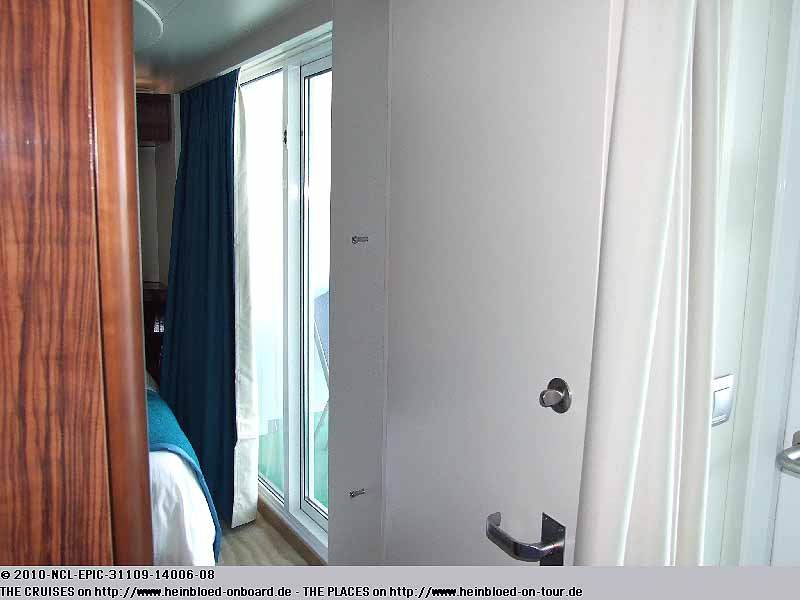 Hier ist die Verbindungstür, die bedeutet, dass man weniger Stauraum hat.
Und hier ist das 4. Bett. Also anscheinend nur Kabinen, bei denen das Sofa zum Balkon steht, gibt es Betten in der Decke.

And here the 4th bed. Looked like only those cabins where the sofa was placed towards the balcony there were the bed in the ceiling.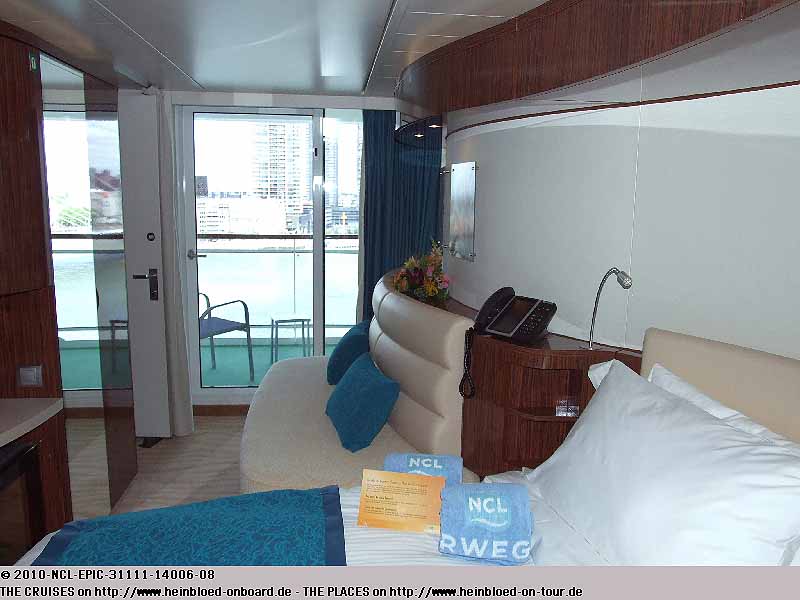 We went to Taste for lunch.

Wir gehen mittags ins Taste zum Mittagessen.
Es soll angeblich ein gesünderes Essen geben, als im The Manhattan Room, aber wir können keinen großen Unterschied feststellen.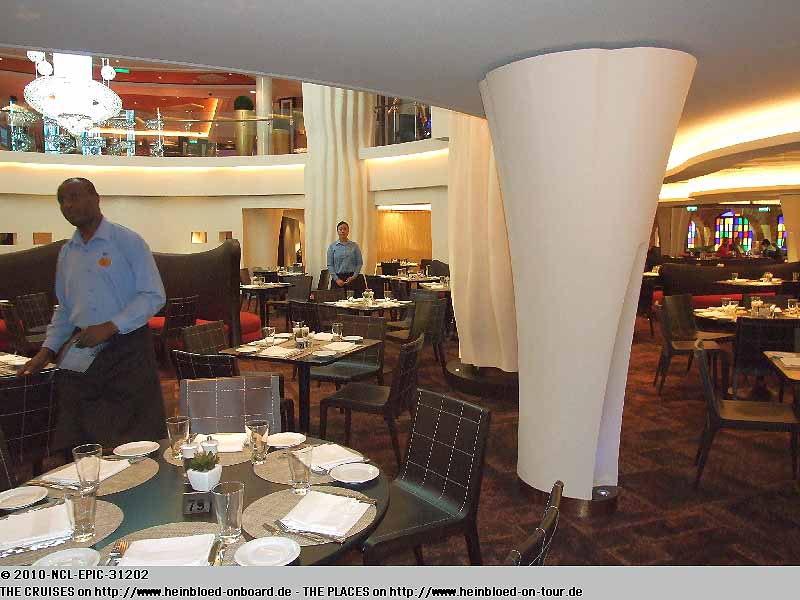 There should be healthier food than in The Manhattan Room but we could not see any major differences.

As usual the friendly welcome if you are coming early and when not all tables are already taken.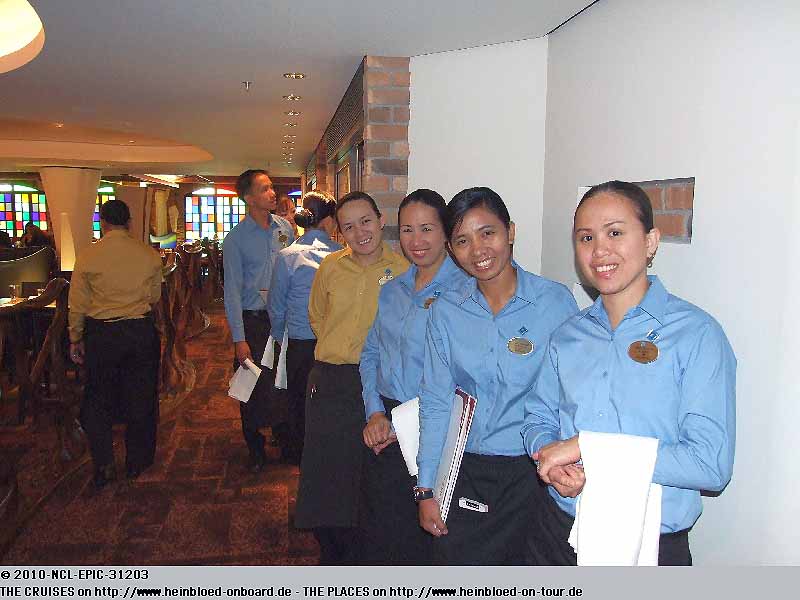 Wie üblich der freundliche Empfang, wenn man früh kommt und noch nicht alle Tische belegt sind.
Es gibt allerdings keinen Ausblick nach draußen.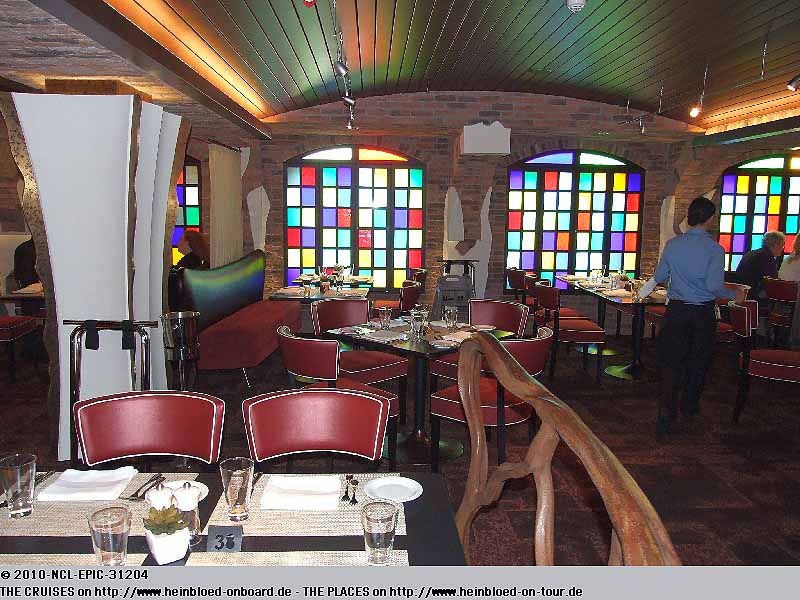 But there was no view outside.

Again it was Ma Magdalena from the breakfast who took us to our table.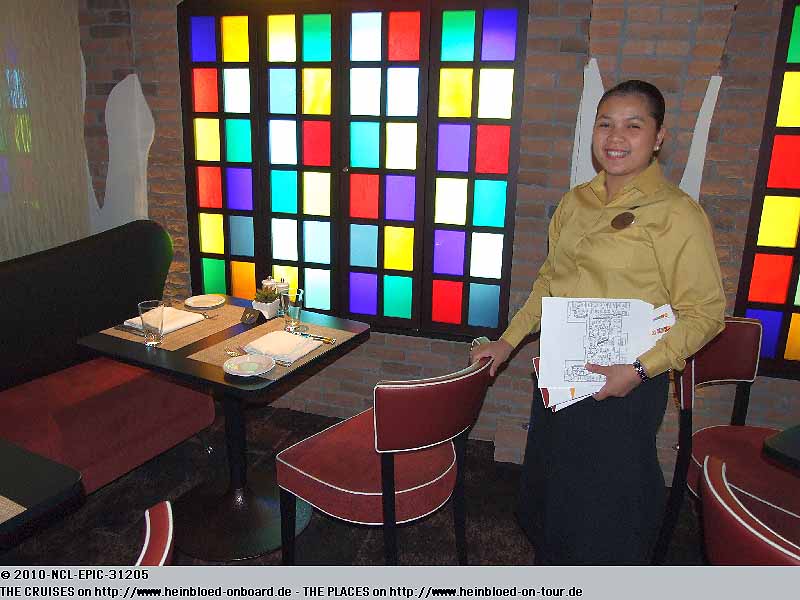 Wieder ist es Ma Magdalena vom Frühstück, die uns zum Tisch führt.
Ich halte es für das normale Mittagsangebot von NCL.

It looked for me for the standard lunch offer of NCL.

Very colorful.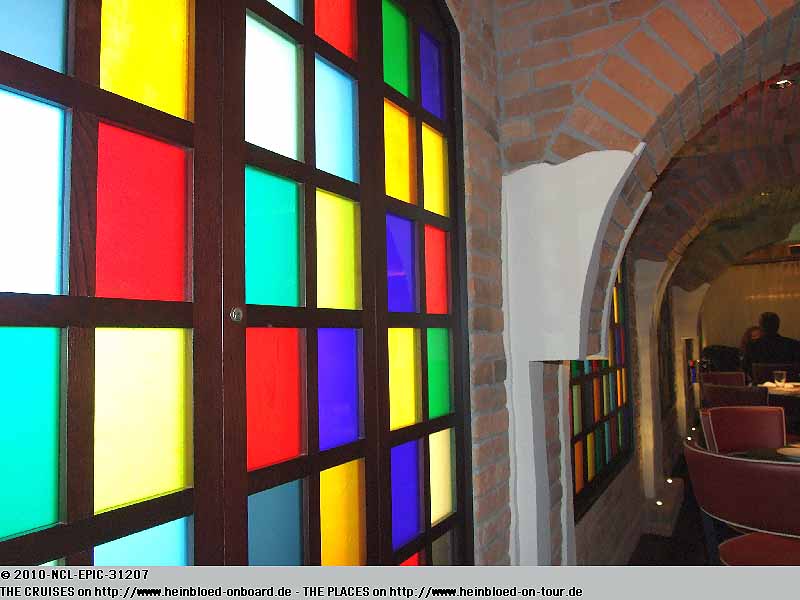 Schön bunt.
Von der Einrichtung finde ich es netter als im The Manhattan Room. Hier könnten wir uns wohlfühlen, wenn wir eine längere Kreuzfahrt auf der NORWEGIAN EPIC machen würden.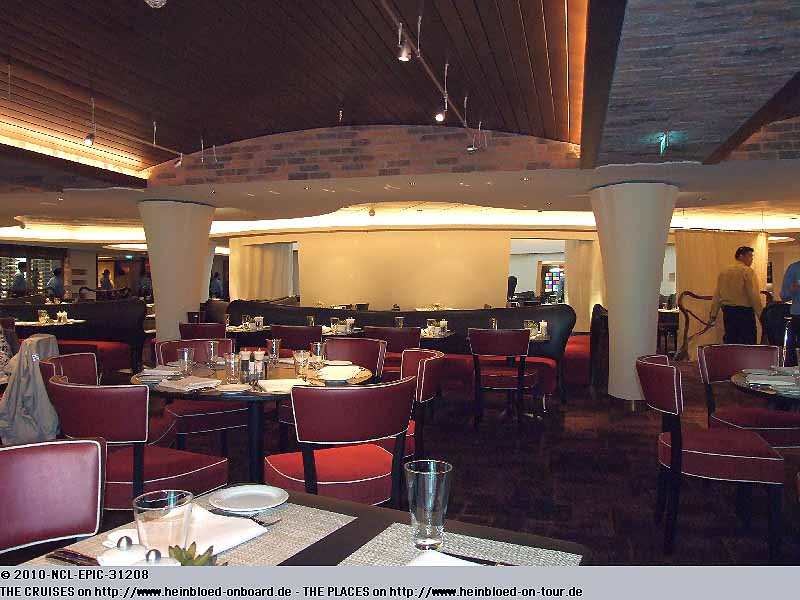 I like the interior more than with The Manhattan Room. Here we would feel very comfortable if we would do a longer cruise on NORWEGIAN EPIC.

Bread basket and butter (have a look to the brands).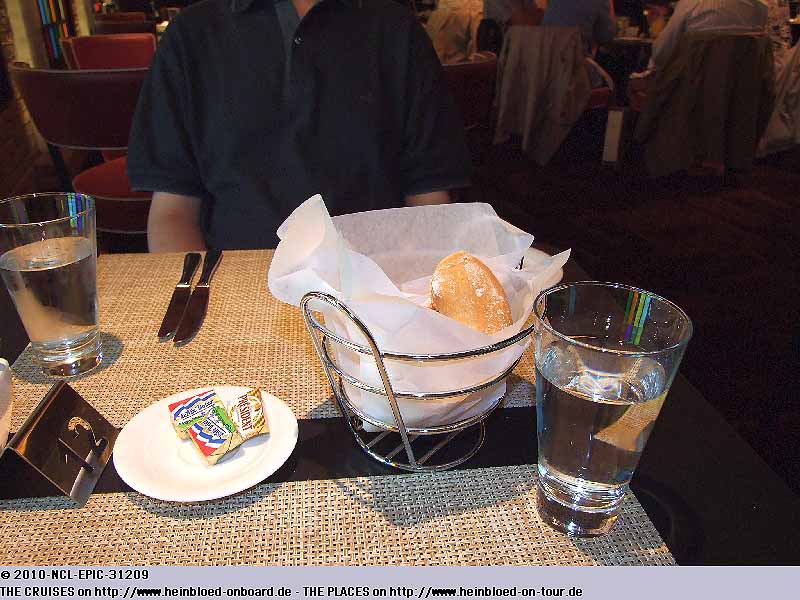 Brotkorb und Butter (man achte auf die Marken).
Die Suppe ist mal wieder sehr gut.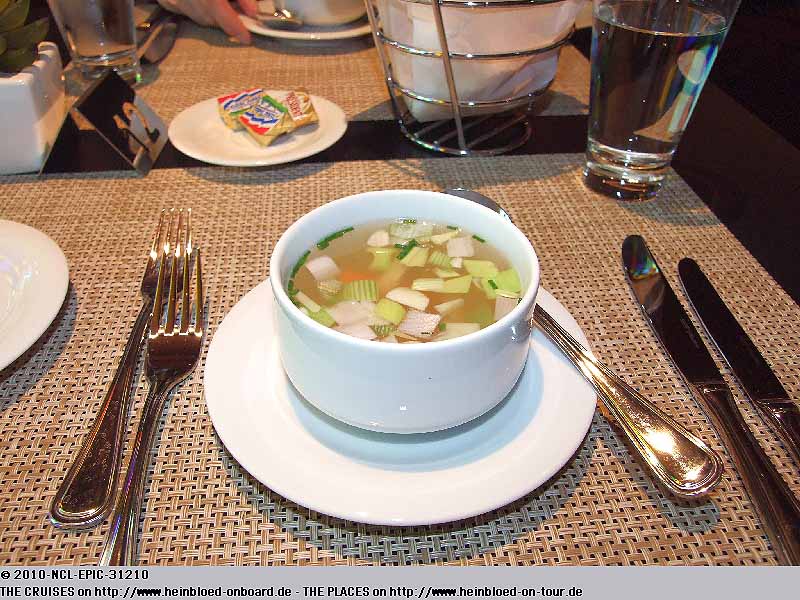 The soup was very good as well.

My Philiy Cheese Steak was not as good as in Philadelphia itself.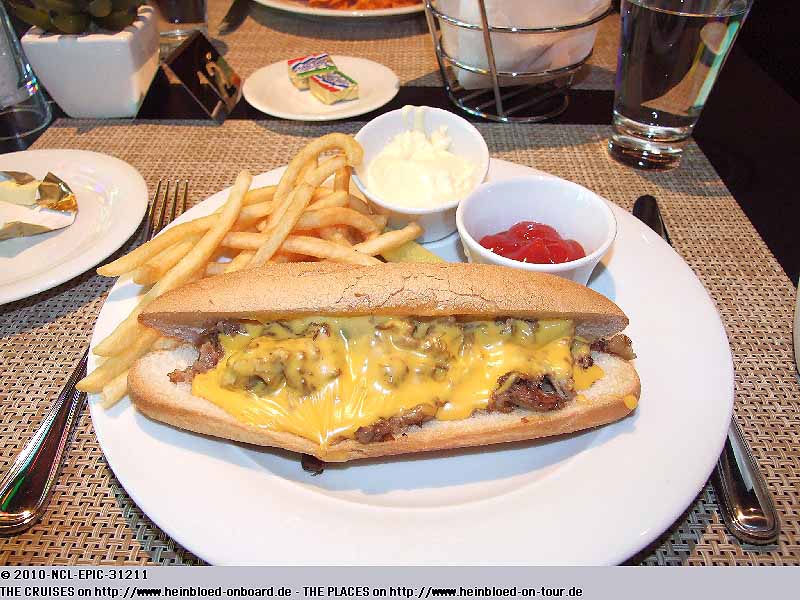 Mein Philly Cheese Steak war nicht ganz so gut, wie in Philadelphia selbst.
Bruno hatte ein Hühnchen-Sandwich.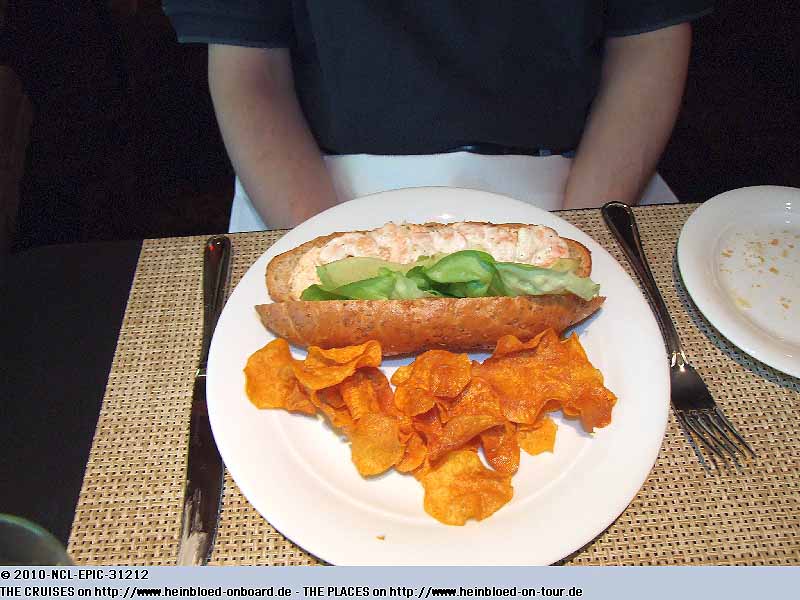 Bruno hat a chicken-sandwich.

Our dessert was low calories... An annoucement came that we should arrive 17.30 hrs instead of 10.00 hrs in Southampton. We informed quickly those whom we know to embark. They already knew. Many of them did not embark. This time we had no problems as we wanted to stay in England until Friday. All we need to do is to rebook our car and book a taxi to our hotel as the car rental location will close before we have a chance to leave the ship. NCL will cover 100 EUR per person for the changes. We should notify the reception desk if we decide to stay or to leave. When we informed the frost desk we got this letter. Furthermore I feel sorry to cancel our 3-river-cruise with Blue Funnel: They offered the tour to get close to NORWEGIAN EPIC and now we did not show up.

Unser Nachtisch war dann kalorienarm... Es kam die Ansage, dass wir erst um 17.30 Uhr statt 10.00 Uhr in Southampton ankommen werden. Wir informieren schnell diejenigen, die wir kennen und noch an Bord erwartet werden. Sie wissen allerdings schon Bescheid. Viele kommen gar nicht an Bord. Uns macht es ausnahmsweise nicht so viel aus, weil wir eh bis Freitag in England bleiben wollten. Wir müssen daher unseren Mietwagen umbuchen, ein Taxi zum Hotel buchen, da die Mietwagestation zum Zeitpunkt der Ankunft nicht mehr während der Öffnungszeiten erreichbar ist. Für diese Kosten kommt NCL bis zu 100 EUR/Person auf. Wir sollen der Rezeption Bescheid geben, ob wir bleiben und als wir das machen, bekommen wir den Zettel. Mir tat es leid, dass wir bei Blue Funnel unsere 3-Flüsse-Fahrt stornieren mussten. Sie haben es extra angeboten, damit man der NORWEGIAN EPIC nahe kommt und nun tauchen wir nicht auf.