Scroll down for English explanations - alternates with German explanations.

Gegen 06.00 Uhr fahre ich doch mal zum Cruise Terminal, obwohl es ganz schön neblig ist. Aber ich finde es schön, dass die OCEAN PRINCESS extra auf mich gewartet hat, bevor sie vor meinen Augen einfährt. Vielen Dank lieber Kapitän. Ein künftiger Gast!!!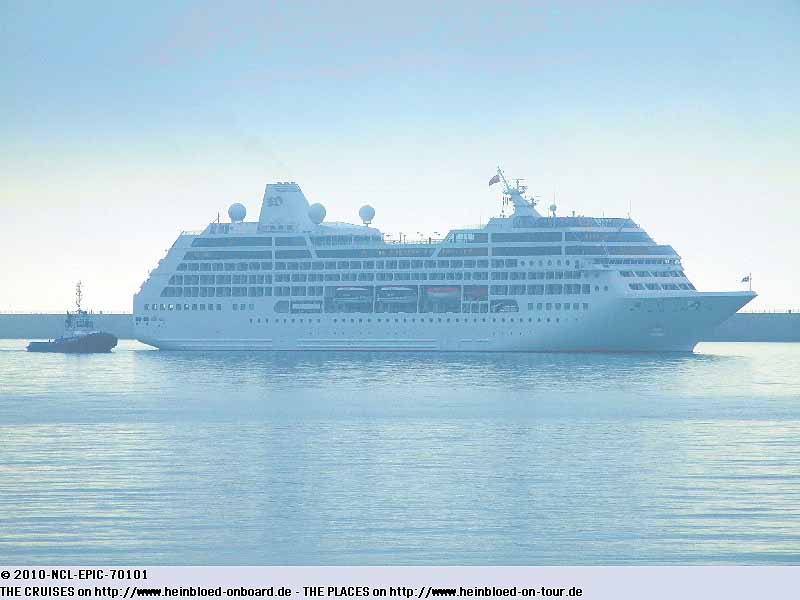 Around 06.00 hrs I went to the cruise terminal although it was quite foggy. But I liked the idea that OCEAN PRINCESS waited for me before she entered the port just the moment I became witness. Thank you very much, dear Captain. A future guest!!!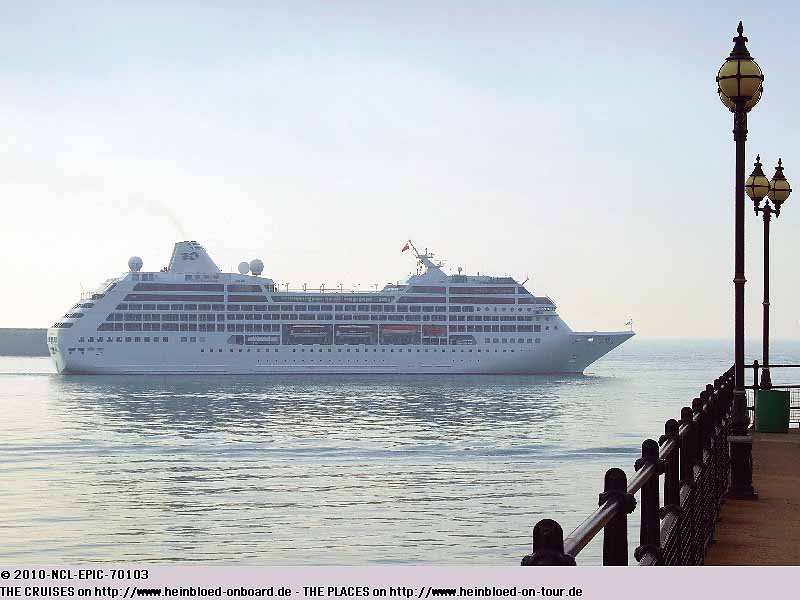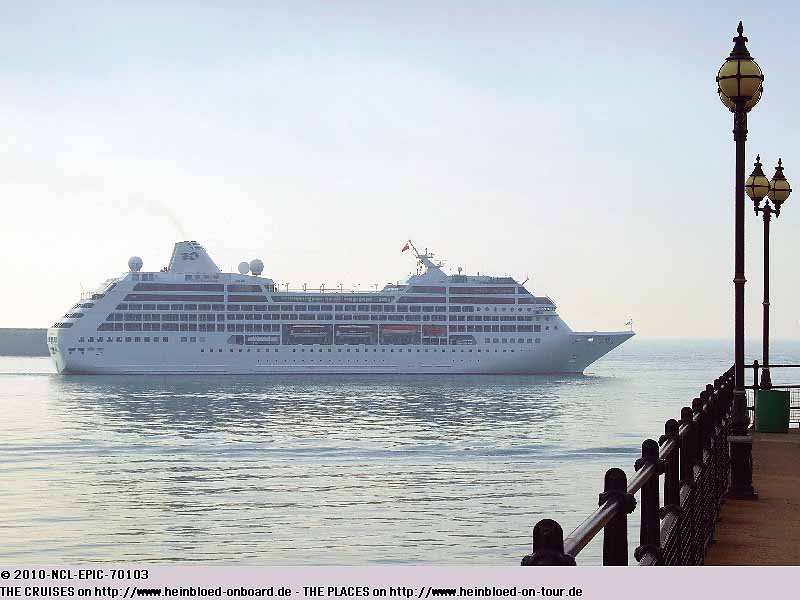 For very few money we get a Cat. F-cabin in October 2010. Let's see how it will be more or less under the waterline... But it was essentatially for us to make acquaintance of a former R-Ship. We cannot afford to go on Azamara and Oceania.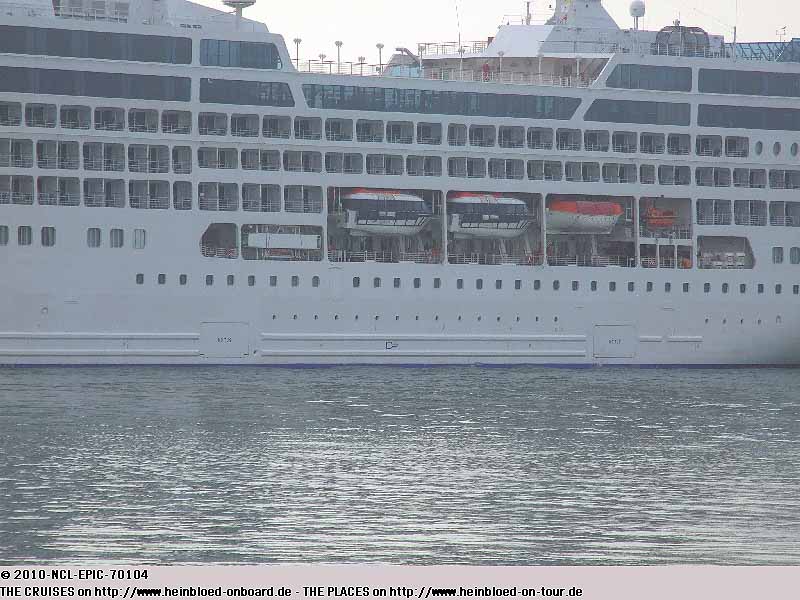 Für extrem wenig Geld bekommen wir eine Kat.-F-Kabine im Oktober 2010. Mal gucken, wie unsere Erfahrung fast unter der Wasserlinie wird... Hauptsache mal ein R-Schiff kennengelernt. Azamara und Oceania können wir uns leider nicht leisten.
Anscheinend kann man aber hier an der Railing stehen und am Heck gucken... schön...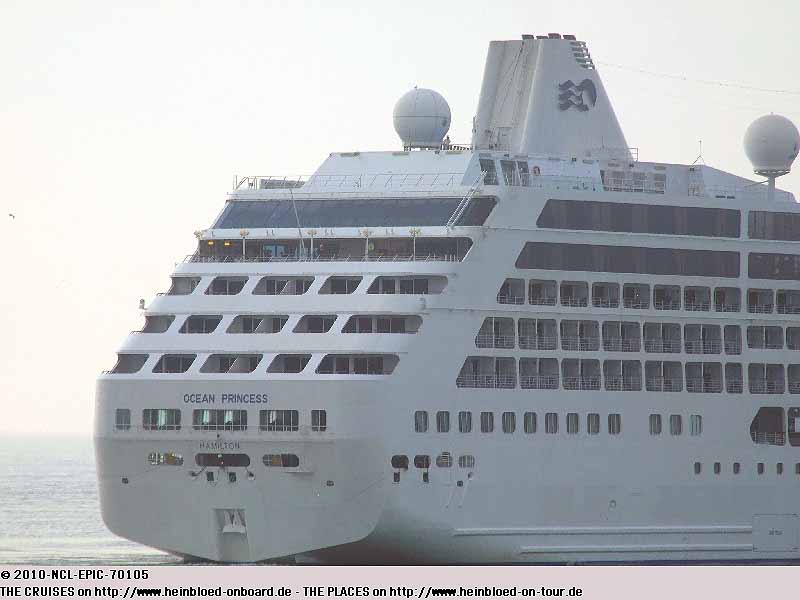 Obviously you can stand here at the railing and look at the aft... nice...

By confincidence kajomare from the German kreuzfahrten-treff.de-Forum just returned recently from OCEAN PRINCESS (Cape Town - Dover).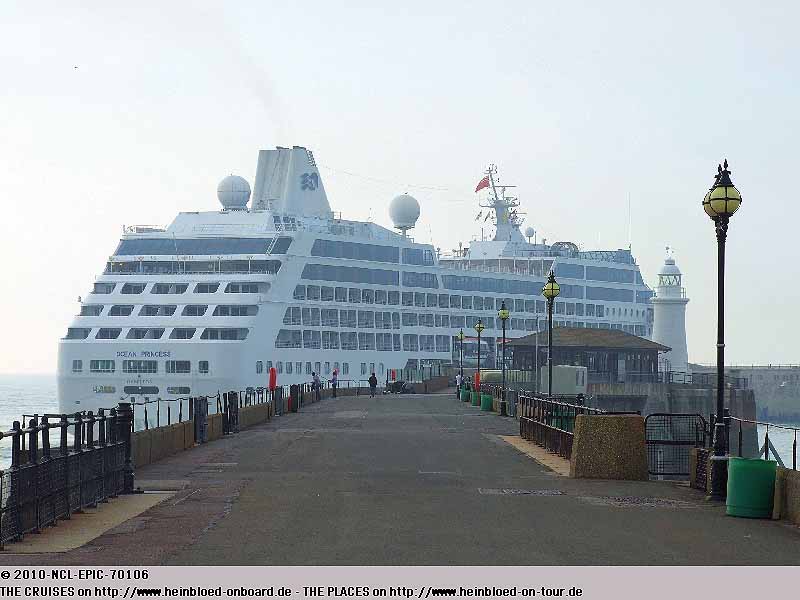 Zufällig ist kajomare vom
kreuzfahrten-treff.de
vor kurzem von der OCEAN PRINCESS (Kapstadt - Dover) wiedergekommen.
Auf seiner
Webseite
können wir uns schon auf unsere Kreuzfahrt im Herbst einstimmen und uns schon mal mit dem Schiff vertraut machen.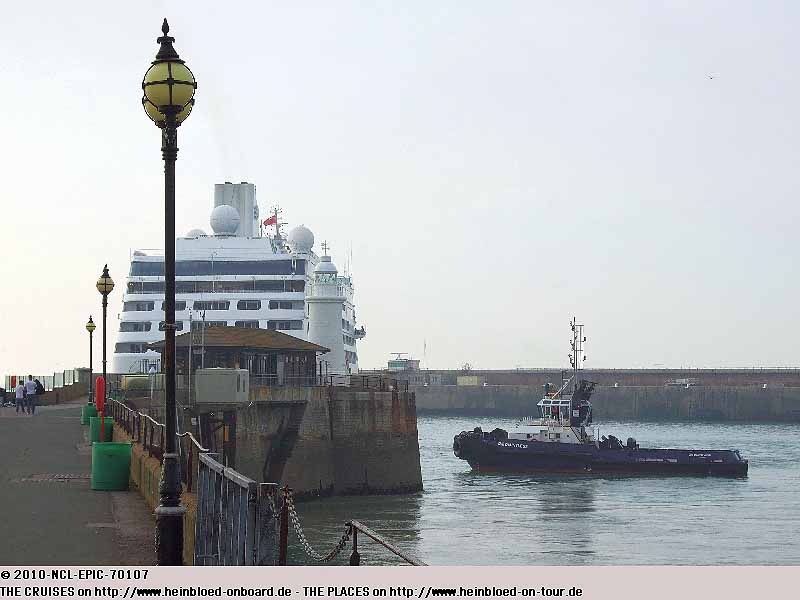 Subject you understand German or you use translation tools like on Google Translate you can find his Webseite to make familiar with the atmosphere of the ship and make acquaintance with her fascilities.

Would you like to help a postcard collector to expand his collection??? One shipspotter H.A. from Kent, England would like to have postcards from all cruise ships of the world. Contact me to get his address.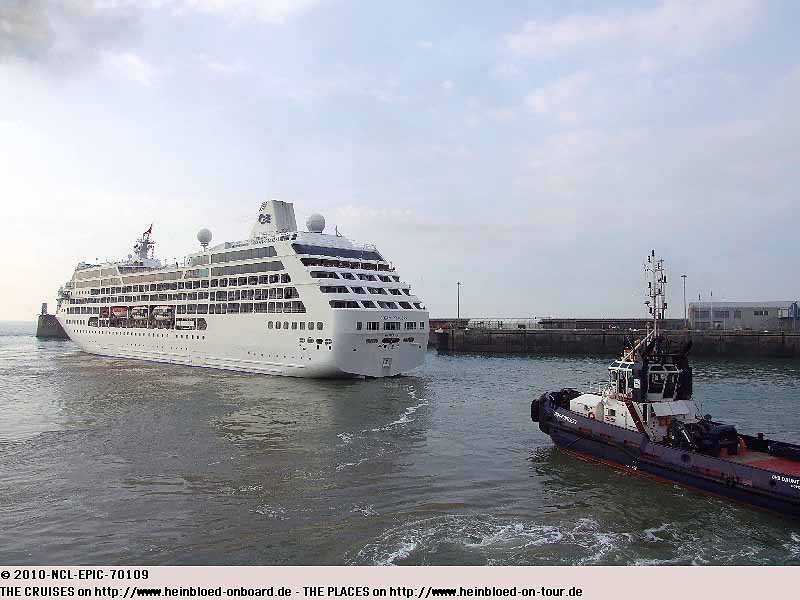 Wollt ihr vielleicht jemandem helfen seine Postkarten Sammlung zu erweitern??? Ein Shipspotter H.A. aus Kent, England hätte gerne Postkarten von allen Kreuzfahrtschiffen der Welt. Seine Adresse bekommt ihr von mir auf Anfrage.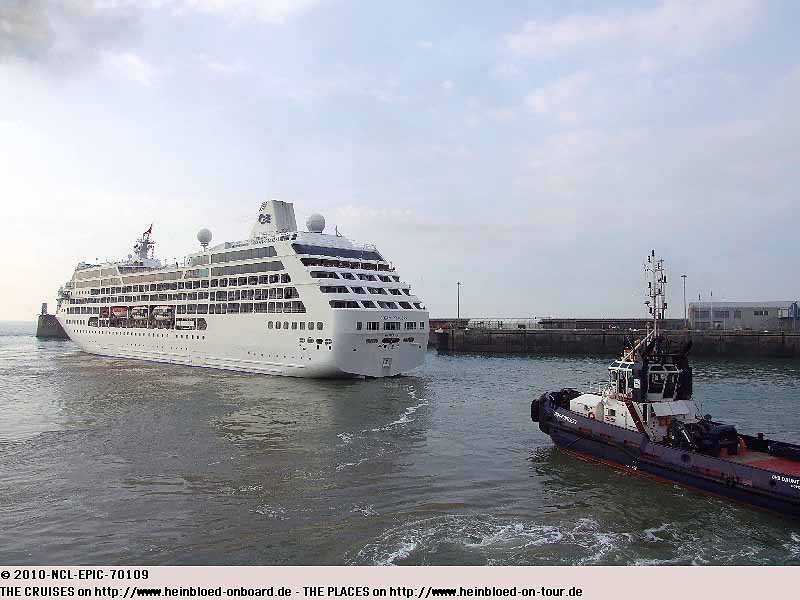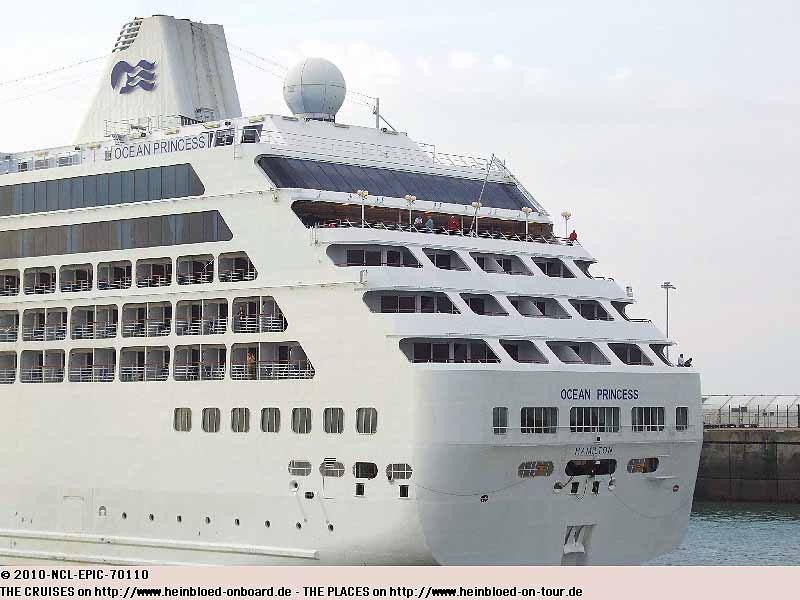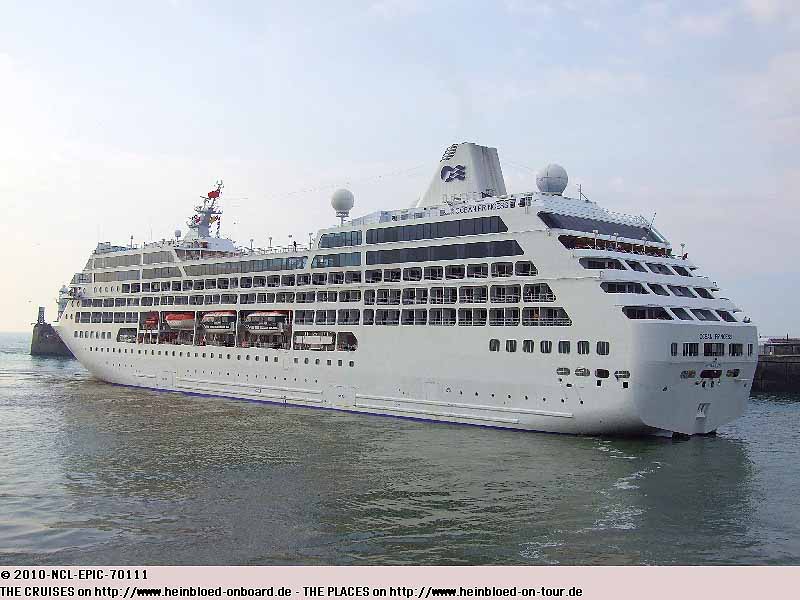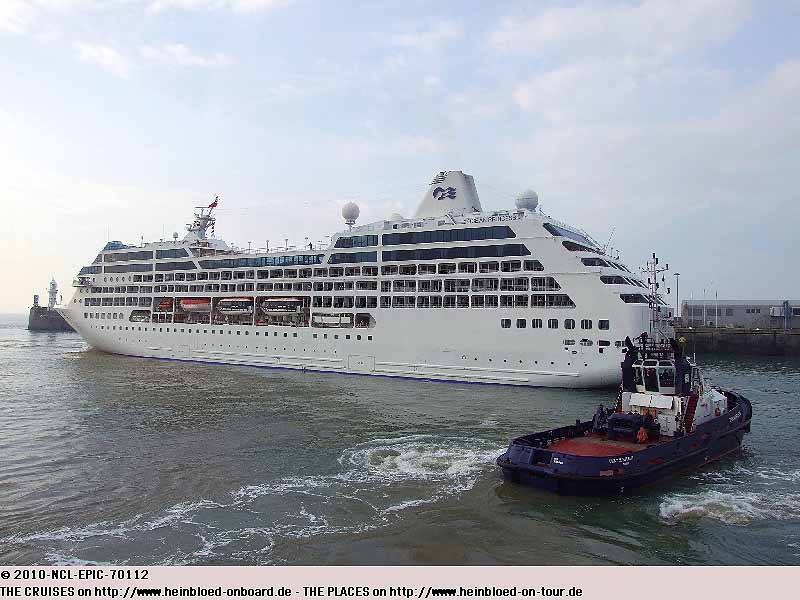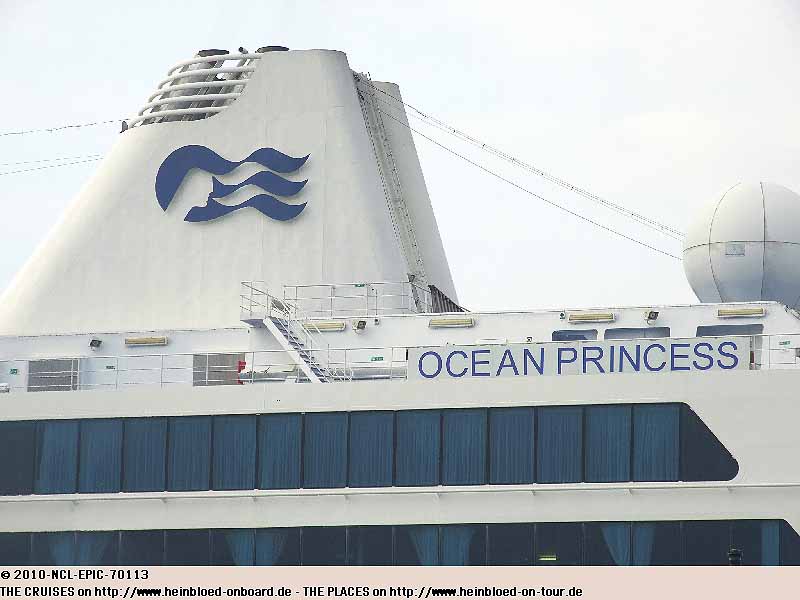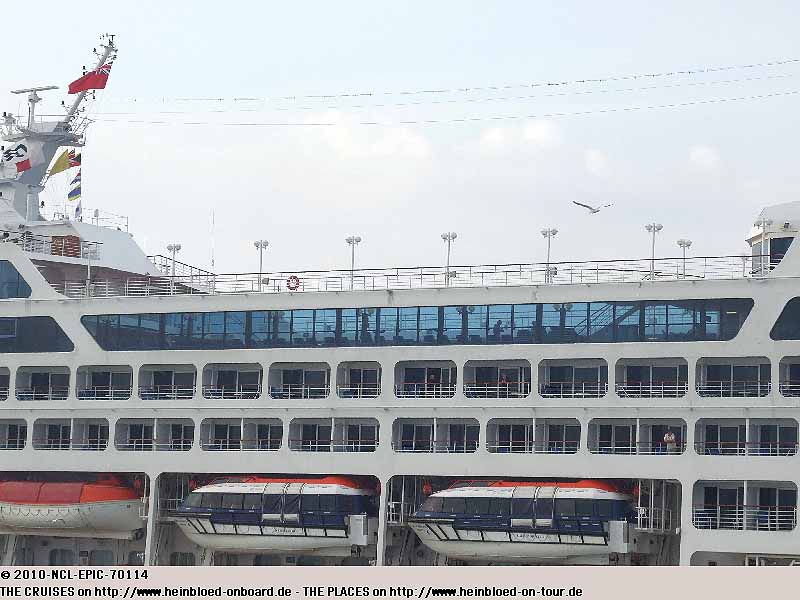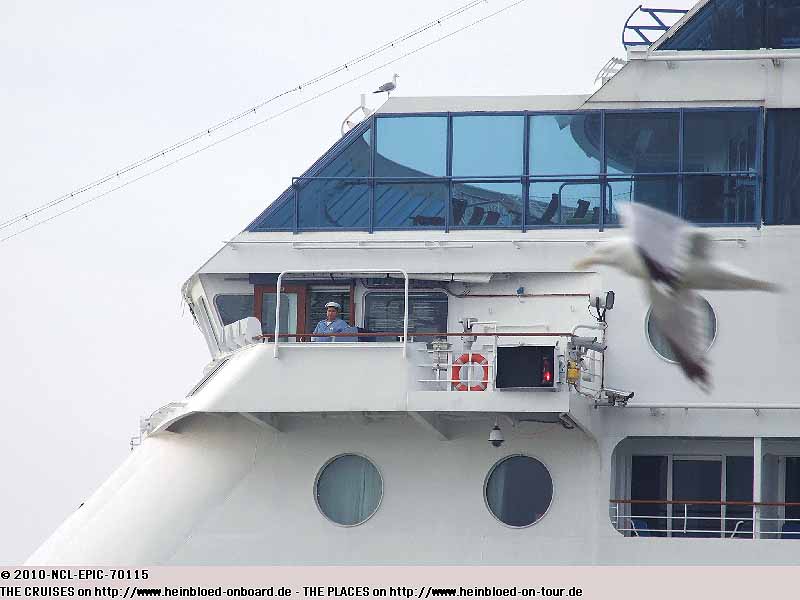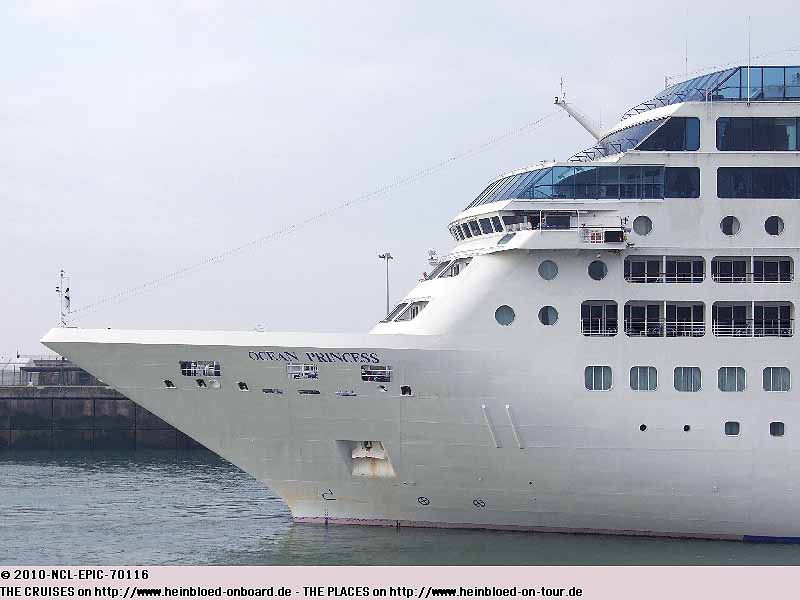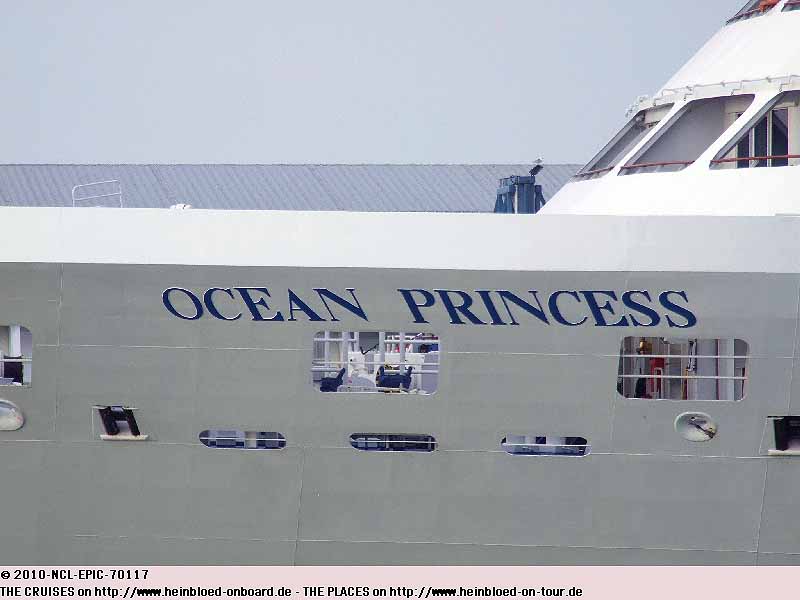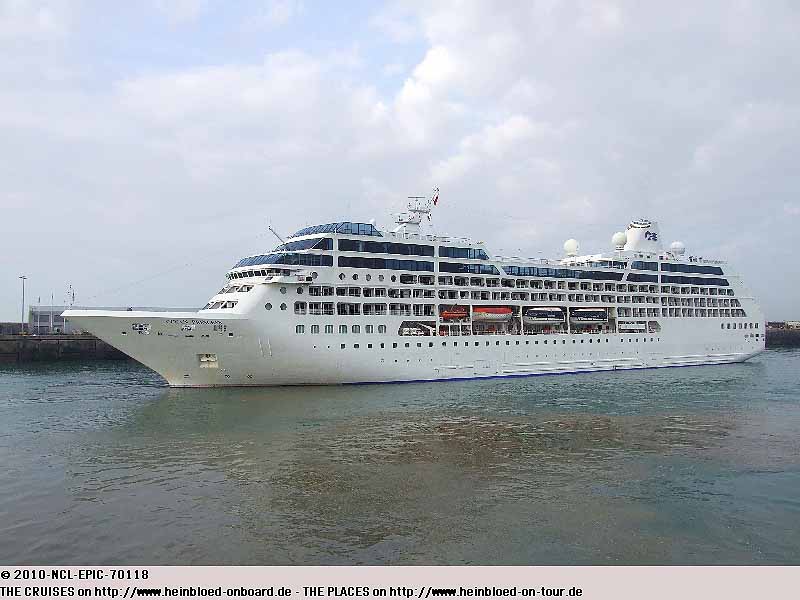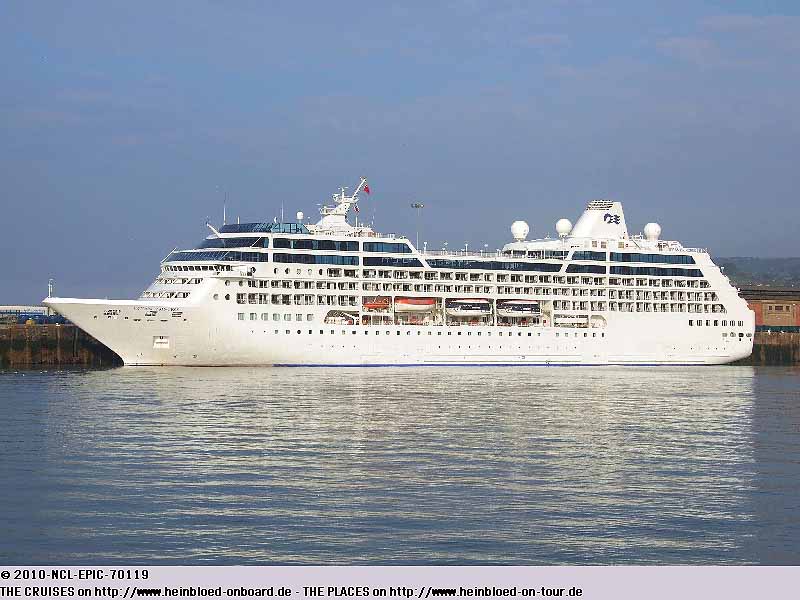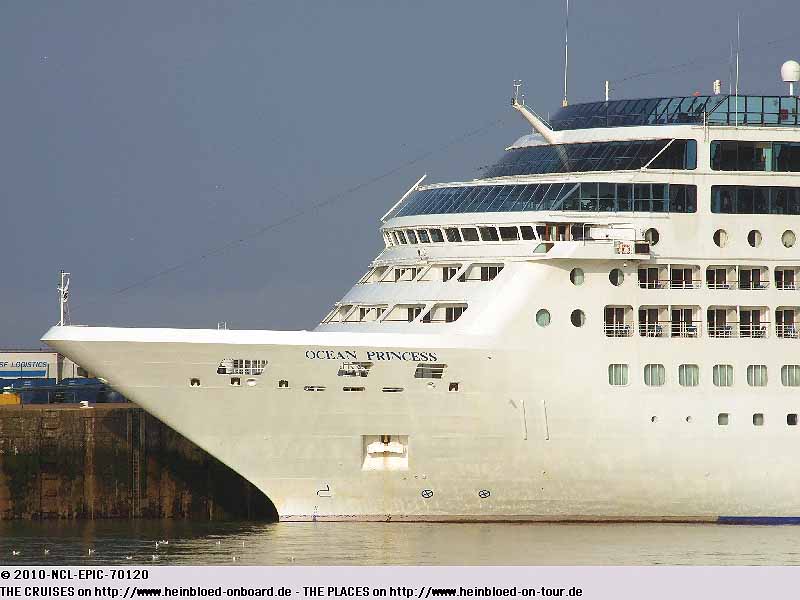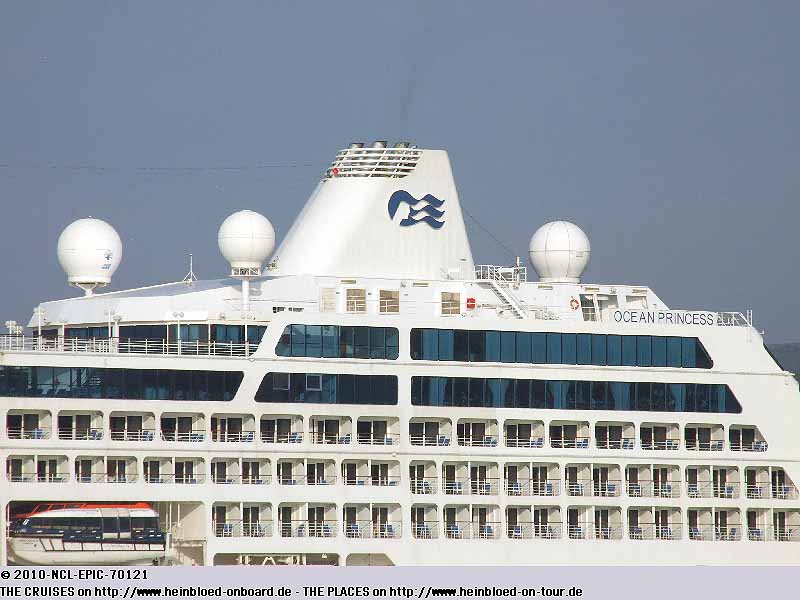 Good Bye OCEAN PRINCESS. We see us again on October 6, 2010 in Civitaveccia.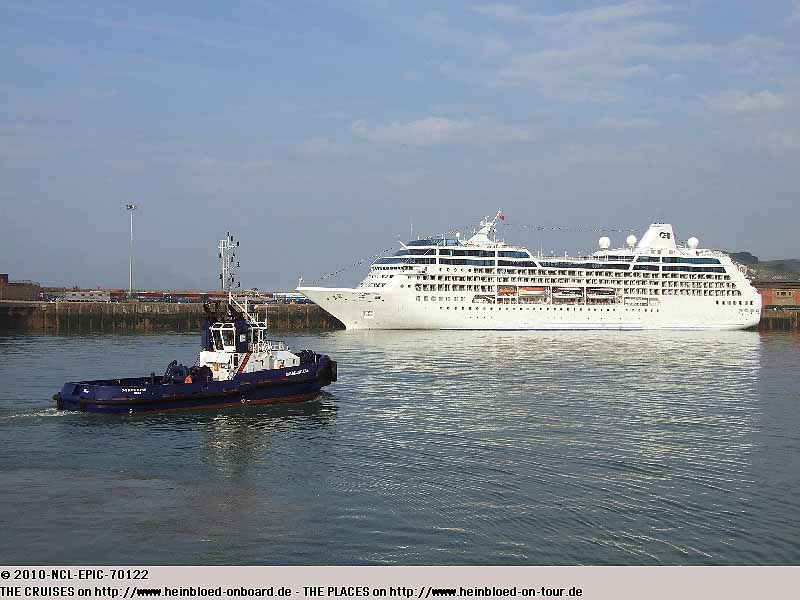 Auf Wiedersehen OCEAN PRINCESS. Wir sehen uns am 06.10.2010 in Civitavecchia wieder.
Eigentlich will ich nicht auf die MSC OPERA warten, da wir sie vor kurzem ja erst in Kopenhagen gesehen haben. Aber die anderen Shipspotter hören von dem Schlepper-Kapitän, dass sie schon "um die Ecke ist" und es sich lohnt zu warten, weil sie zum vorläufig letzten Mal nach Dover kommt. Die anderen sind begeistert, weil normalerweise die Kreuzfahrtschiffe auf die Fährschiffe warten müssen. Aber heute muss LD Lines über die Ausfahrt der Kreuzfahrtschiffe raus, weil die MSC OPERA sich bereits vor der Einfahrt befindet.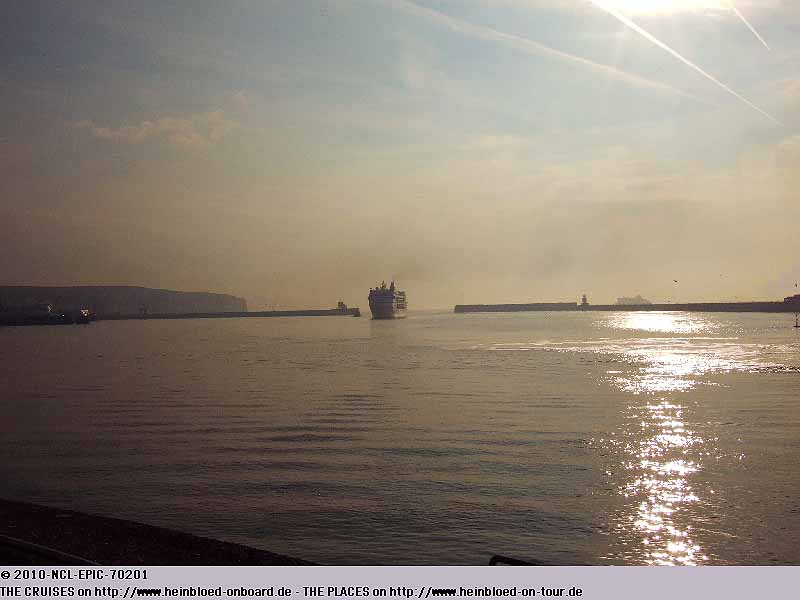 Originally I did not want to wait for MSC OPERA as we saw her recently in Copenhagen. But the other shipspotter lerned from the captain of the TUG that she was already "around the corner" and it would be worth to wait as she will be so far the last time in Dover. The other were excited because normally the cruise ships need to wait for the ferry ships. But that day LD Lines need to exit the port through the exit fo the cruise ships because MSC OPERA was already approching the entrance to the port.

MSC will start their sailings out of Southampton in the next season.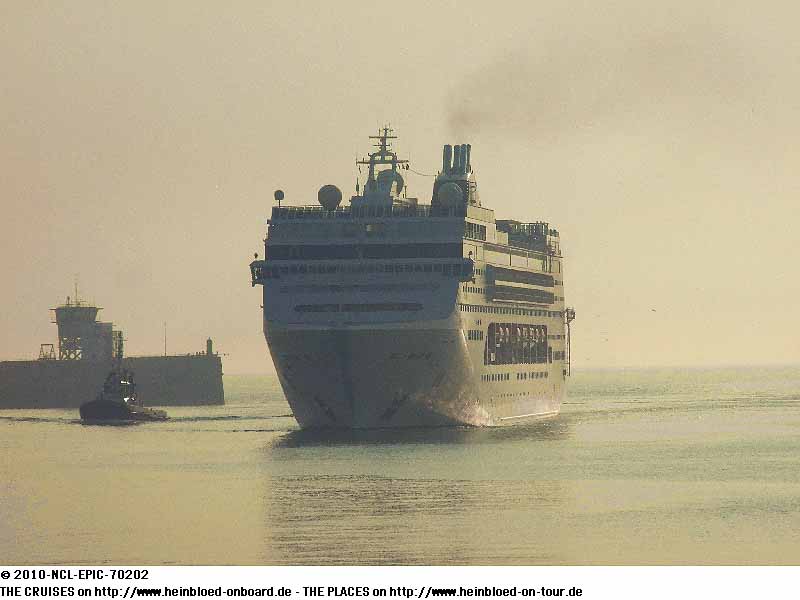 MSC wird in der kommenden Saison ihre Kreuzfahrten ab Southampton starten.
Da auch NCL sich von Dover zurückzieht und die Ostseefahrten künftig ab Kopenhagen starten, verliert Dover damit zwei regelmäßige Kunden.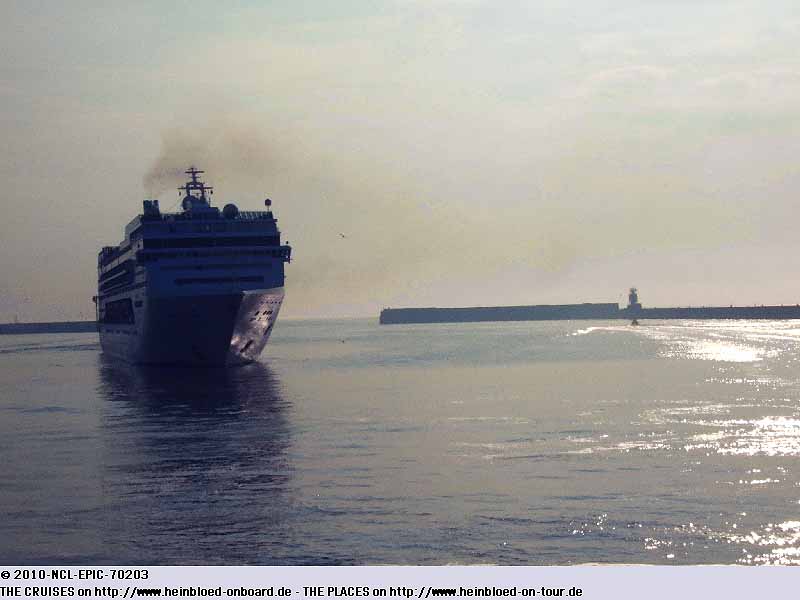 As NCL will also withdraw the scheduled operation out of Dover and will start their Baltic Sea cruise from Copenhagen, Dover will loose two scheduled customers.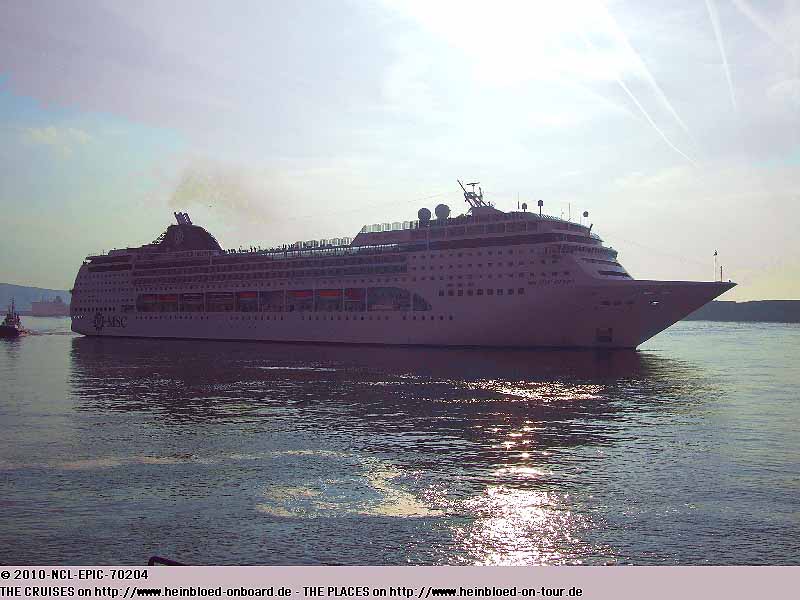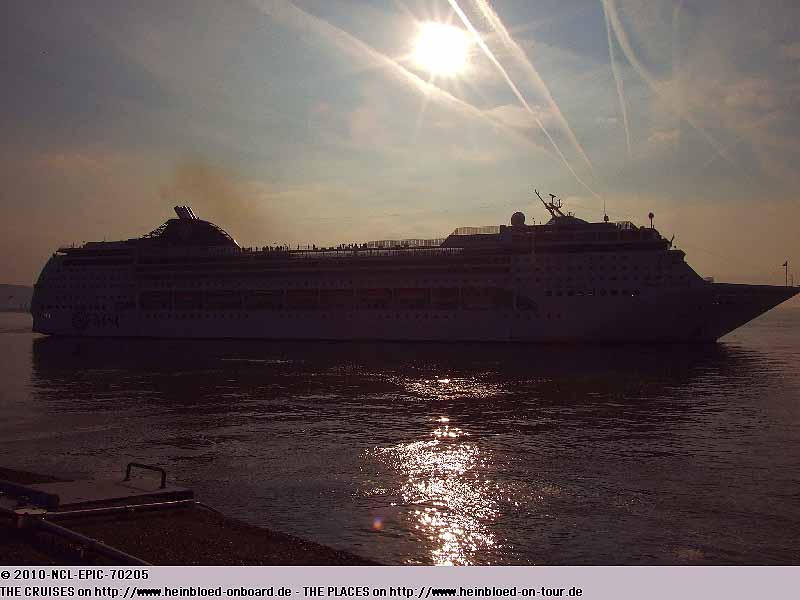 The aft looked somehow interesting.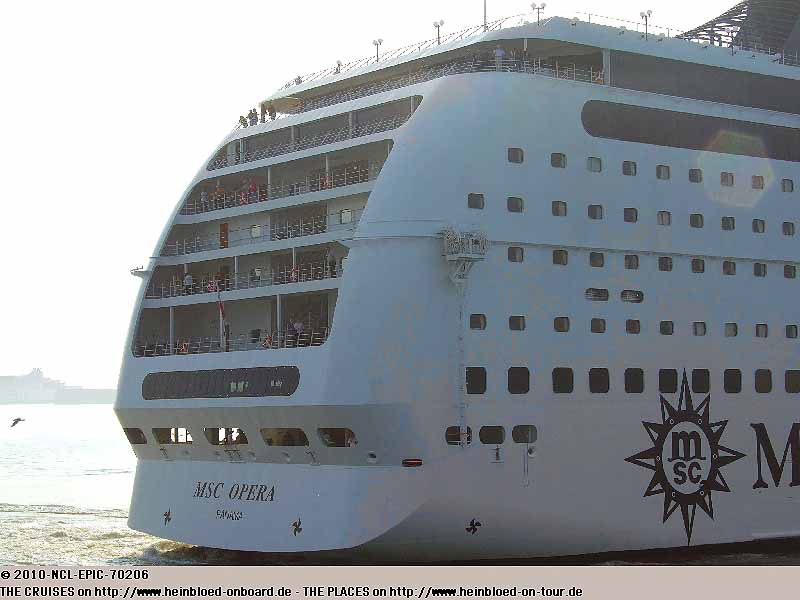 Das Heck finde ich gar nicht mal so uninteressant.
Aber Bruno hatte ja entschieden, dass selbst ein 699,00 EUR-Angebot für elf Nächte auf einer Balkonkabine auf der neuen MSC MAGNIFICA ab Venedig nach Israel nur mit neuen Häfen nicht in Frage kommt. Nur guter Kaffee reicht nicht, um Bruno als Stammkunden zu binden. So fahren wir im Januar 2011 wieder NCL obwohl wir mehr bezahlen und nur ein neuer Hafen dabei ist, in dem wir noch nicht waren.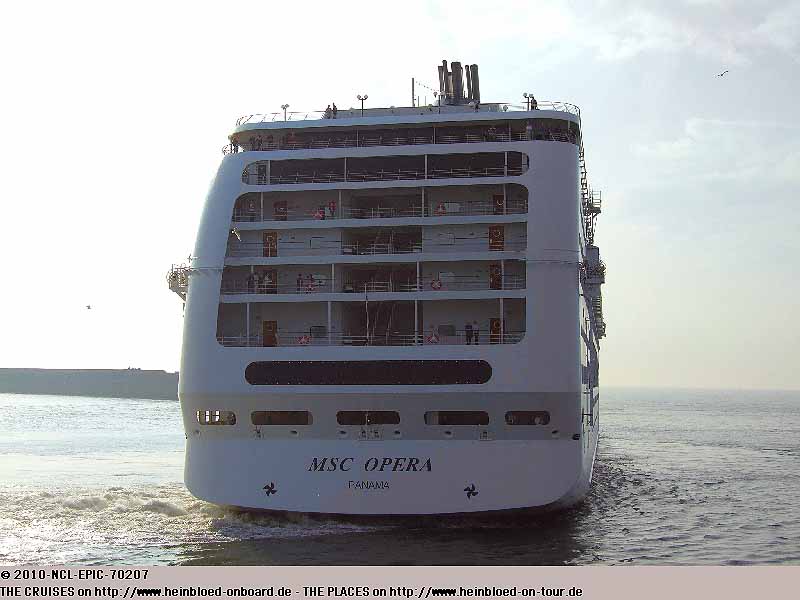 But Bruno decided already that even a 699.00 EUR-offer for 11 nights in a balcony cabin on the new MSC MAGNIFICA from Venedig to Israel with calls of all new ports we have never been was not negotiable. Just good coffee is not enough for him to make Bruno a loyal customer. So we go in January 2011 again NCL although we are paying much more and there is only one new port we have never been.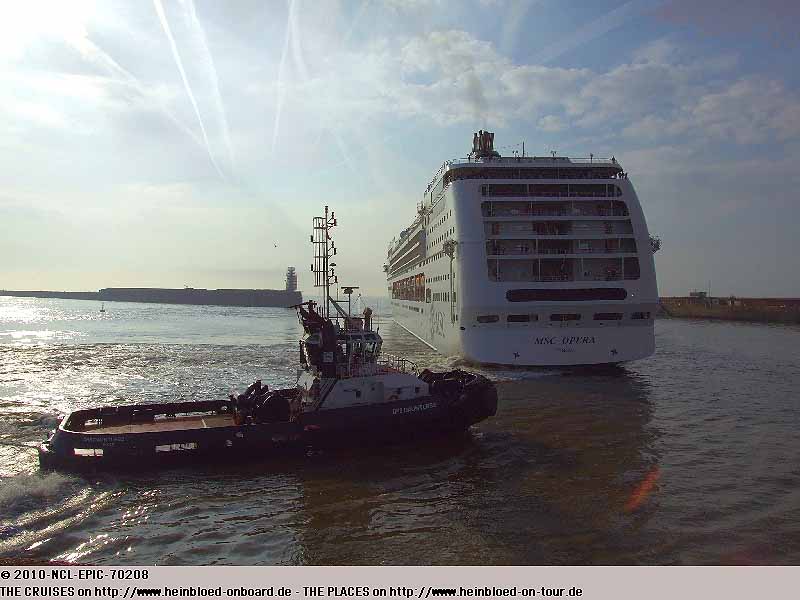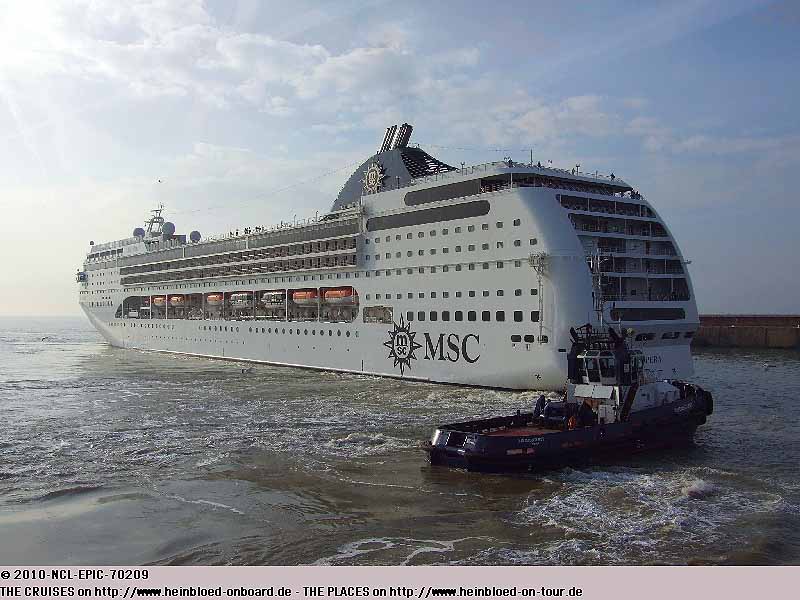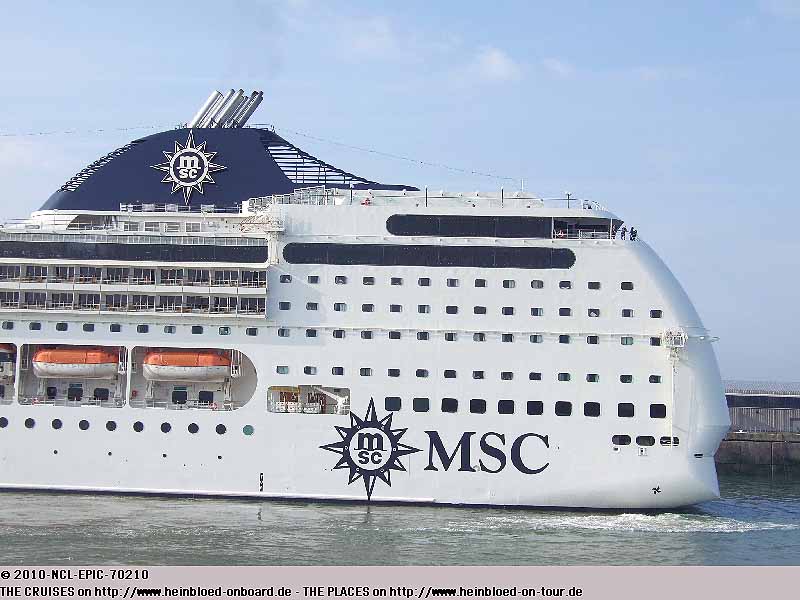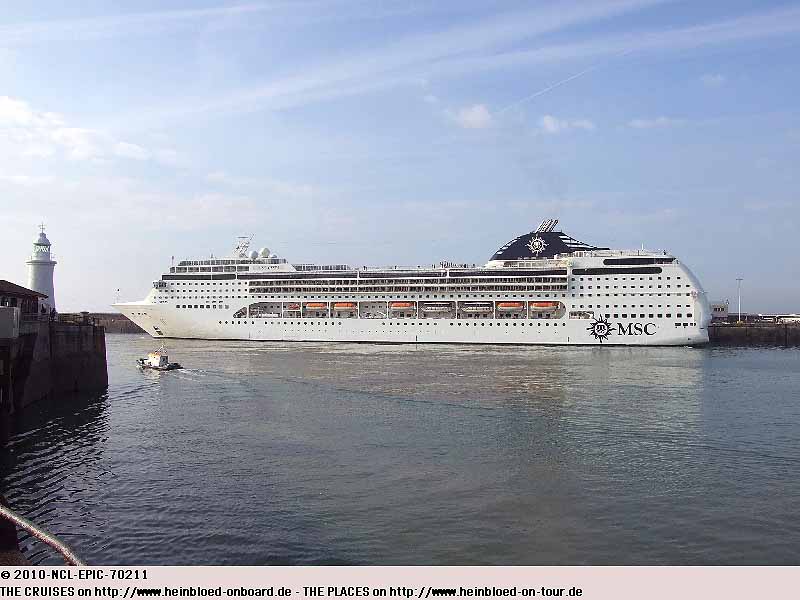 Weitere Schiffsbilder folgen nicht mehr. Daher Auf Wiedersehen an diejenigen, die sich nur für Schiffsbilder interessieren.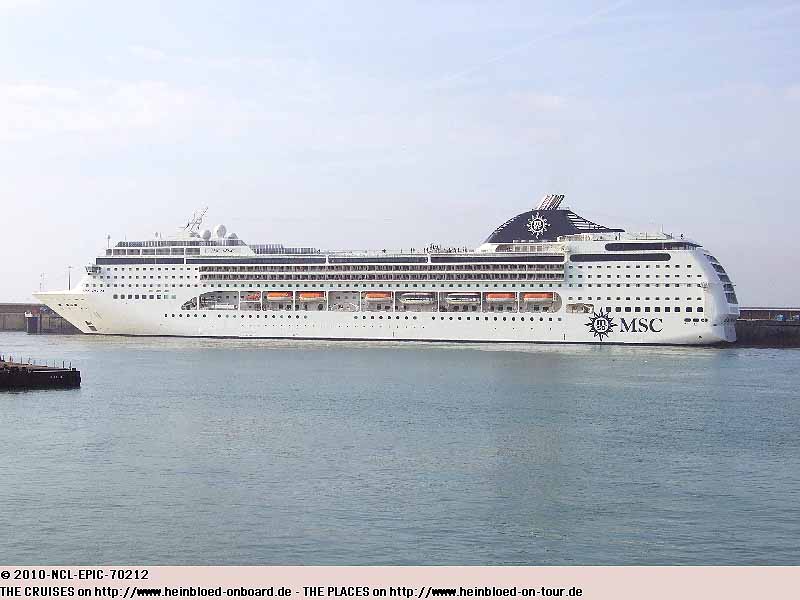 Further ship pictures will not follow. So bye-bye to whose of you who were only interested to see the ship pictures.