Scroll down for English explanations - alternates with German explanations.

Ein HeinBloed-Blog stellt keine objektive Schiffsbewertung dar, sondern gibt die individuelle Wahrnehmung einer Reise wieder. Daher erfolgt die Reihenfolge normalerweise auch chronologisch in der Reihenfolge, wie wir den Tag erlebt haben. Nur jetzt waren alle neugierig auf die Bilder, so dass zunächst nur die Bilder eingestellt waren. Daher gab es natürlich auch Ereignisse bevor das Schiff um die Ecke des Hotels guckte. Wer sich nur für die Bilder interessiert und nicht für meine Gedanken, kann sich hier einfach die Bilder angucken:
https://public.fotki.com/HeinBloed/norwegian-epic/
. Alle anderen, die jetzt weiterlesen, müssen gedanklich auf heute Morgen zurückspringen und geograhisch in unser Hotel... An der Ecke ist das
Tulip Inn
, das wir zunächst gebucht hatten. Das Hotel wird besser bewertet und kostet mehr und das Frühstück war nicht inbegriffen. Da wir aufgrund der Extra-Kosten, die wir durch die Vulkanasche hatten, nun einen Gang zurückschalten wollten, haben wir eben neben an das
Maritime Hotel
gebucht. Wenn wir die letzte Straßenbahn gestern Abend bekommen hätten, wären es diese wenige Schritte bis zum Hotel gewesen.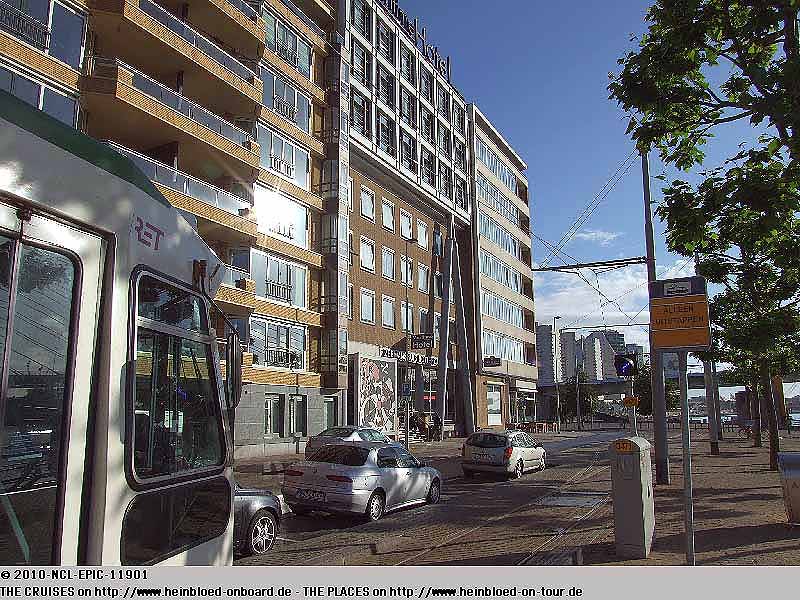 A HeinBloed-Blog is never an objective ship's review but reflects the invidual impressions of a voyage. Therefore the order of postings reflects the chronoligical order how we experienced the day. But now there were so many of you curious for the pictures that only the pictures were posted ahead. There were events before the ship arrived round the corner of the hotel. Who is interested only in the pictures but not the stories behind may visit the pictures here: https://public.fotki.com/HeinBloed/norwegian-epic/. All others who continue now need to jump back to this morning in their mind and back to our hotel... At the corner there is the Tulip Inn which we booked originally. The ratings are much better but also the rates which do not include breakfast. Due to the extra costs we had during the vulcano ash we decided to went a step back. That's why booked the Maritime Hotel. If we were able to catch the last tram last night these would be last few steps to our hotel.

You need to check with your reservation that you get a room with a river view for which you have to pay extra. We had room 501. During the night it was quite loud as it was in the transit area to the cheaper rooms.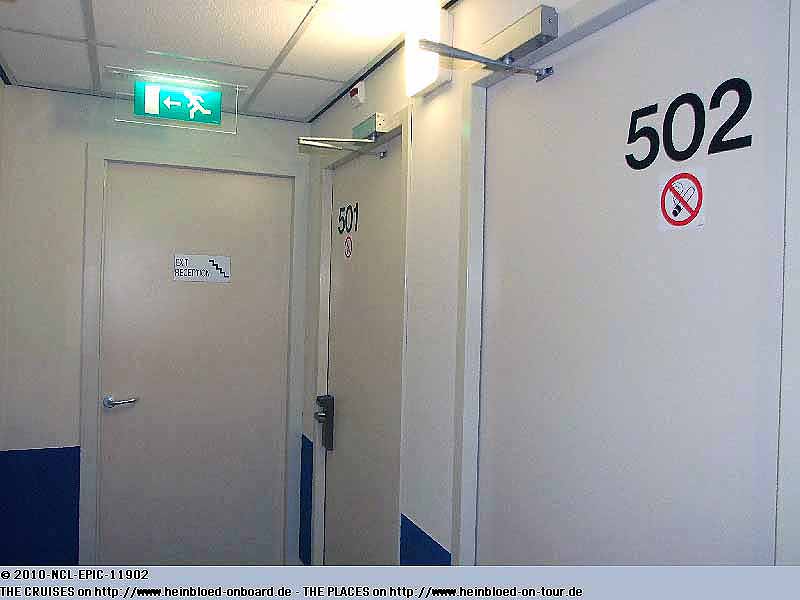 Man muss bei der Reservierung schon sehr darauf achten, dass man ein Zimmer mit Flussblick bekommt, was auch extra bezahlt werden muss. Wir hatten Zimmer 501. Im Laufe der Nacht ging es ziemlich laut zu, da es im Transitbereich der billigeren Zimmer liegt.
Nun gut: wir kennen bessere Frühstücksbüffets.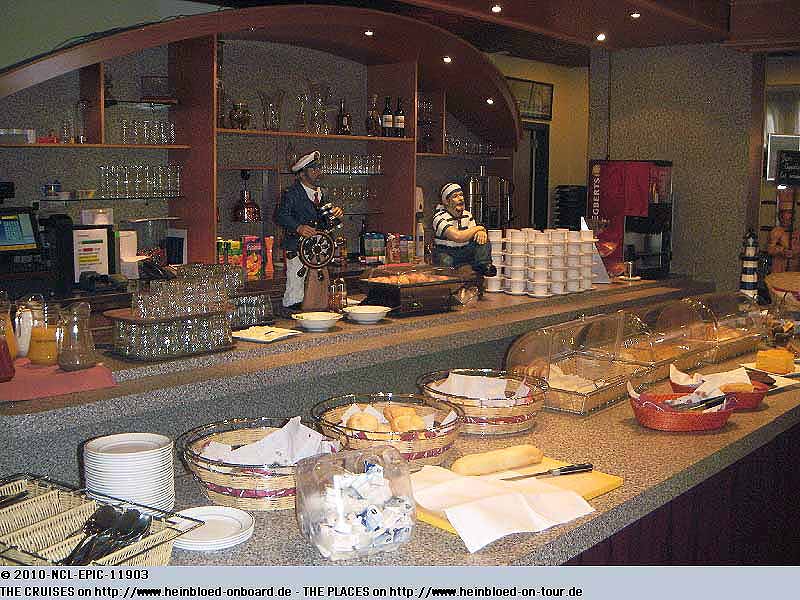 Somehow we know better breakfast buffets.

But as we get good and sufficient food on the ship we can live with this fact. You need to become a friend with the idea that this is a former or an active seemen-home. So you should expect such an appropiate charme of the staff members...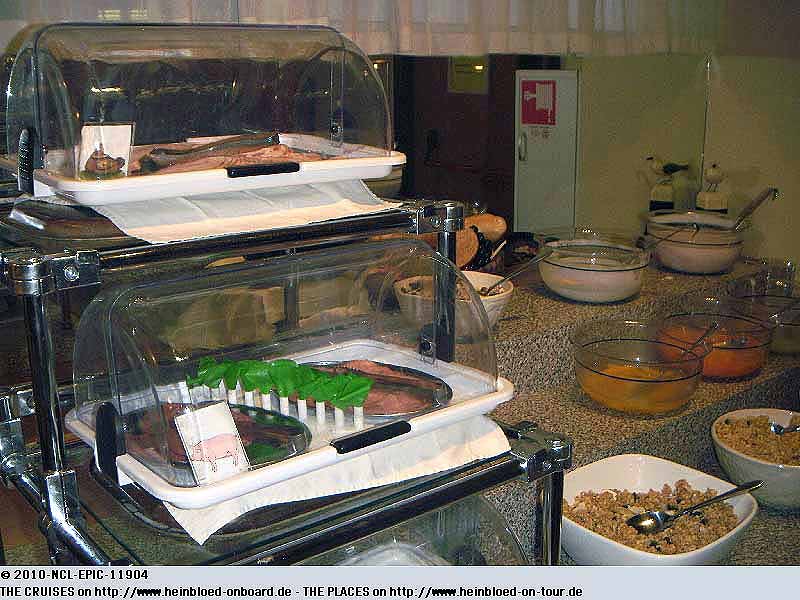 Unter dem Aspekt, dass wir auf dem Schiff nun mehr als gut und genug essen, können wir damit leben. Man sollte sich allerdings damit anfreunden, dass es sich um ein ehemaliges oder immer noch aktives Seemannsheim handelt, dementsprechend ist auch der Charme der Mitarbeiter...
Eine andere Alternative bietet gegenüber das
Hotel New York
in der ehemaligen Hauptverwaltung von Holland America. Die Preise fand ich dort jedoch unverschämt hoch, wenn man ein Zimmer mit Blick auf den Fluss wollte.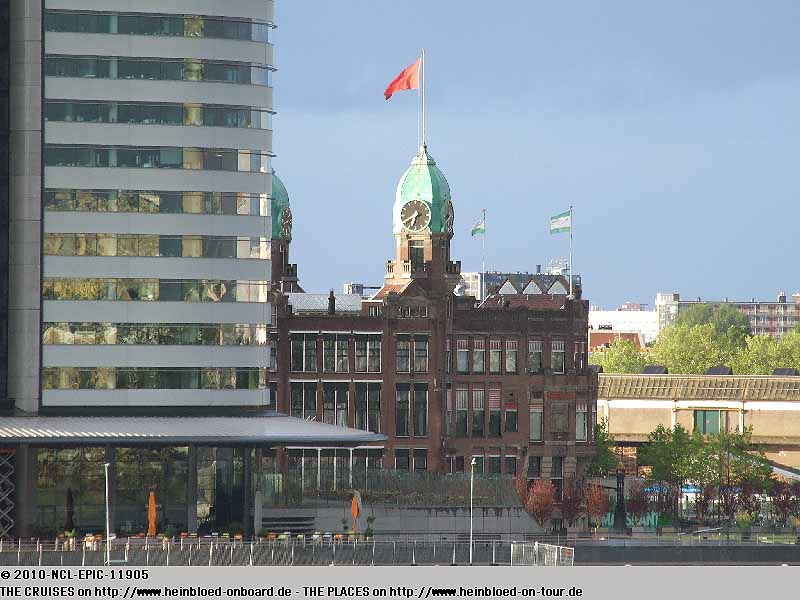 Another option would opposite Hotel New York which is in the former head quarter of Holland America. I thought that the prices for rooms with a river view were extortionate high.

Another alternative is somehow disadvantaged from the transport side but for shipspotter and shiplovers just great: ROTTERDAM (of 1959). I was thinking about but after my stay on QUEEN MARY in Long Beach, CA I did not want for now. Maybe later.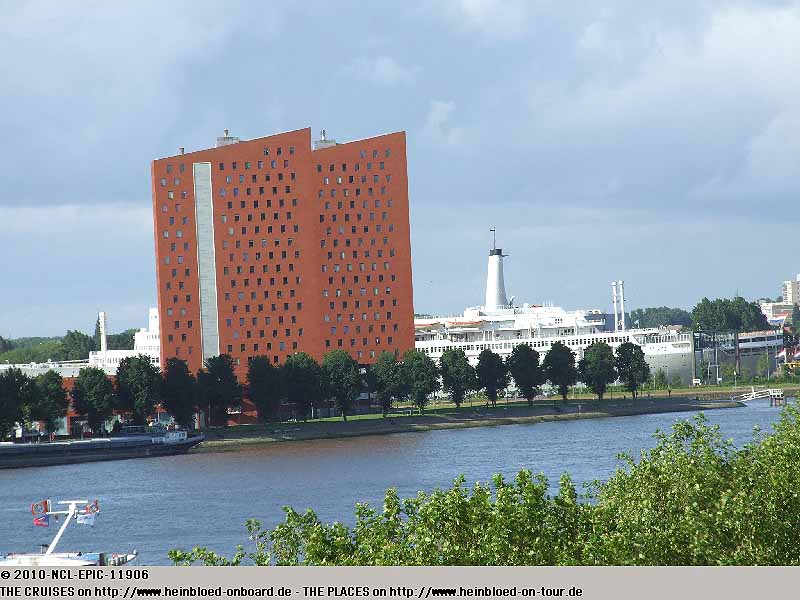 Eine weitere Alternative liegt vom Transport her, etwas ungünstig, aber für Shipspotter und Schiffsliebhaber immer gut:
ROTTERDAM (von 1959)
. Ich selbst hatte mir das überlegt, aber nach dem Aufenthalt auf der QUEEN MARY in Long Beach, war mir im Moment nicht danach. Vielleicht mal später.
Den Nachteil mit dem längeren Transportweg wird durch diese Fotomöglichkeiten ausgeglichen. Hier die Bilder von Christian Balluneit (alle mit CB gekennzeichnet), die er mir freundlicherweise zur Verfügung gestellt hat. Solche Bilder konnte ich natürlich von meiner Hotelseite aus nicht schießen.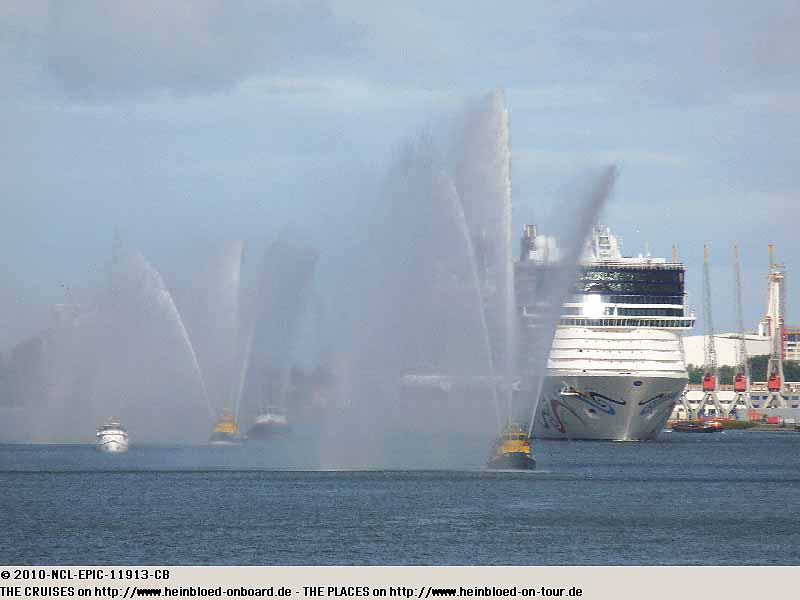 The disanvantage of the longer transport ways is compensated by this photo opportunities. Here are the pictures by courtesey of Christian Balluneit, Germany (all marked with CB). Such pictures I was unable to take from my side of my hotel.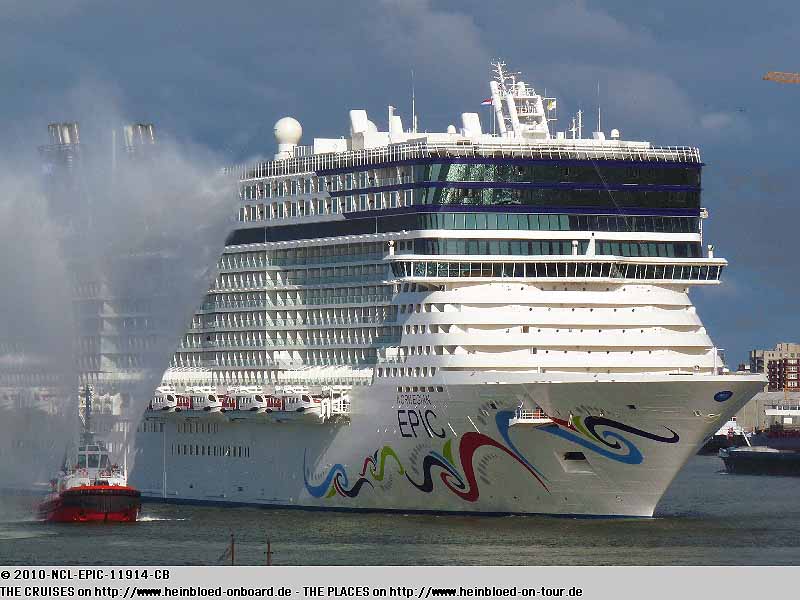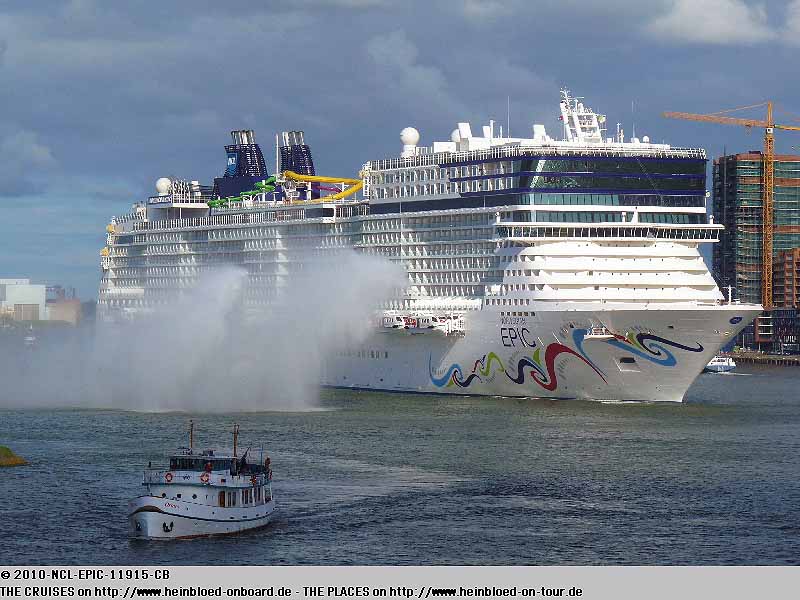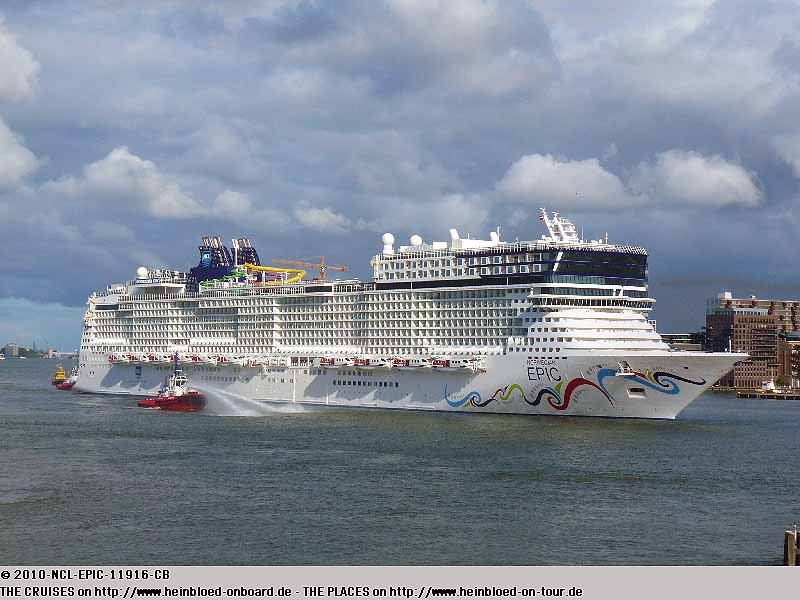 Zurück zum Maritime Hotel: fantastisch ist der Zugang zu den
Spido
-Schiffen, um eine Hafenrundfahrt morgens zu machen und mittags dann auf das Schiff zu gehen.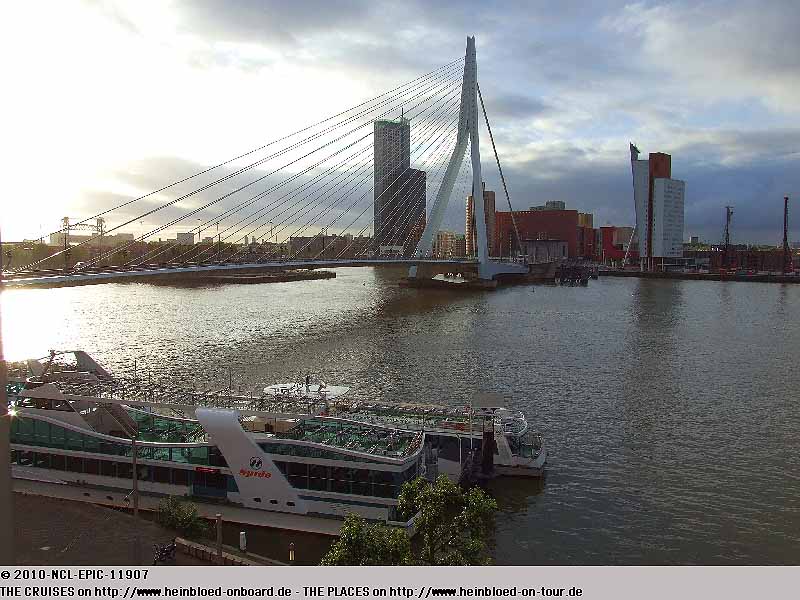 Back to the Maritime Hotel: phantastic is the access to the Spido-boats to do a port cruise in the morning before you embark in the noon.

Also I like it to walk over the bridge if I do not have too much luggage for embarkation and to take pictures. At the other end of the bridge is the tram and subway stop Wilhelmina plein. The footwalk would be from the end of the bridge to the Cruise Terminal at the right.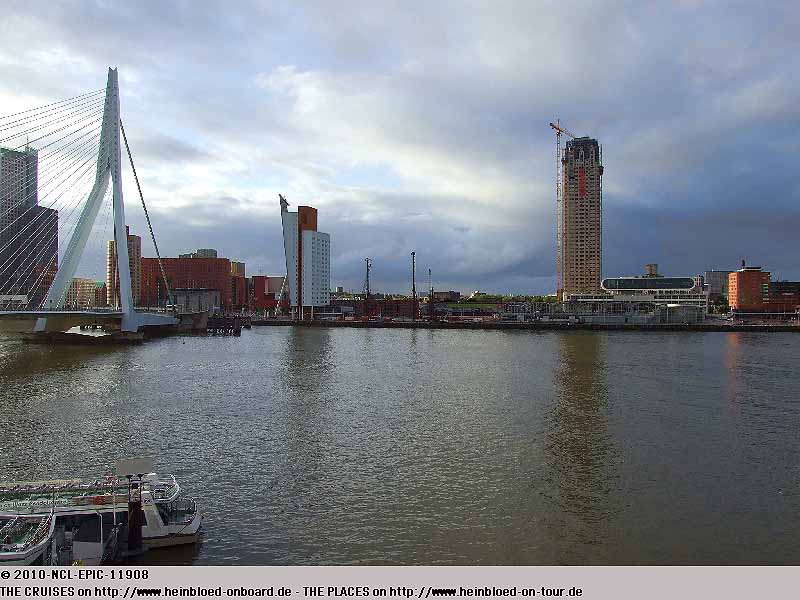 Auch mag ich es morgens ggfls. mit wenig Gepäck über die Brücke zum Einchecken zu gehen und zu fotografieren. Am anderen Ende der Brücke ist die Straßenbahnhaltestelle und der U-Bahnhof Wilhelminaplein. Der Fußweg ist also vom Brückenende bis rechts zum Cruise Terminal.
Schade, dass ich keine Kontakte mehr zum Port of Rotterdam mehr habe, sonst hätte ich gerne mal von dort oben fotografiert, wenn das Schiff im Hafen ist.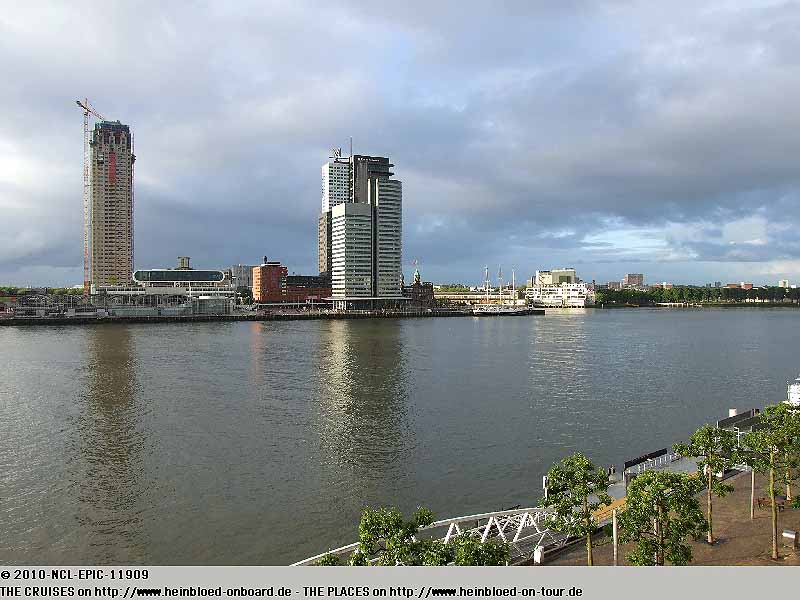 I am sorry that I do not have any contacts anymore to the Port of Rotterdam otherwise I would like to take some pictures from there when the ship is in port.

Only the construction site killed my nerves even we were opposite river bank.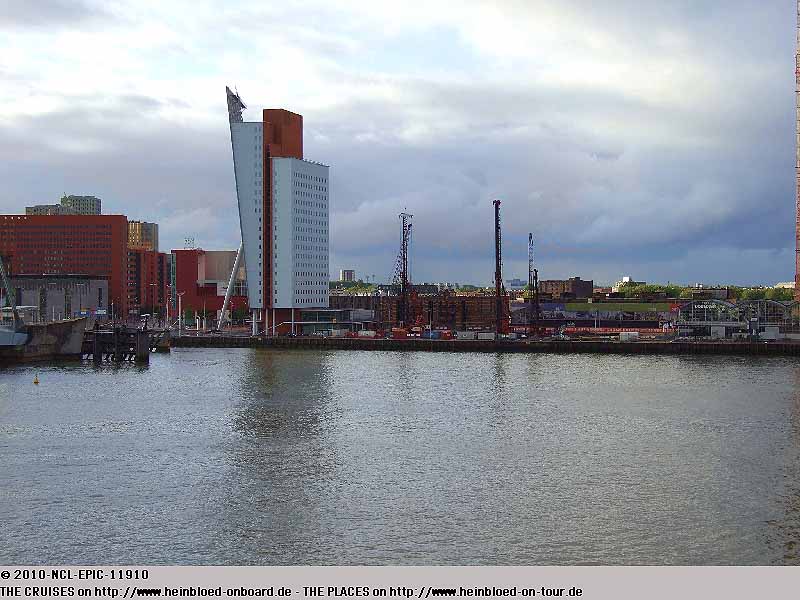 Einzig nervig war die Baustelle neben dem Cruise Terminal, die uns auch auf unserer Flussseite den letzten Nerv raubt.
Rechts vor dem Luxor-Theater (im Bild neben der schrägen Säule vom KPN-Haus) ist übrigens der Eingang zur U-Bahn.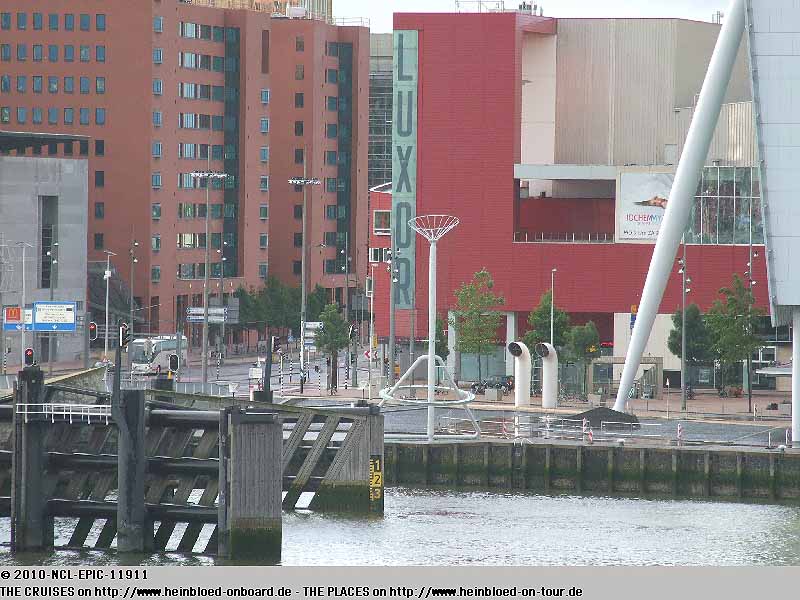 Right of the Luxor Theater (next to the inclined column of the KPN-Building on this picture) is the entrance to the subway.

What does the rainbow mean??? Will we get more sun or more rain???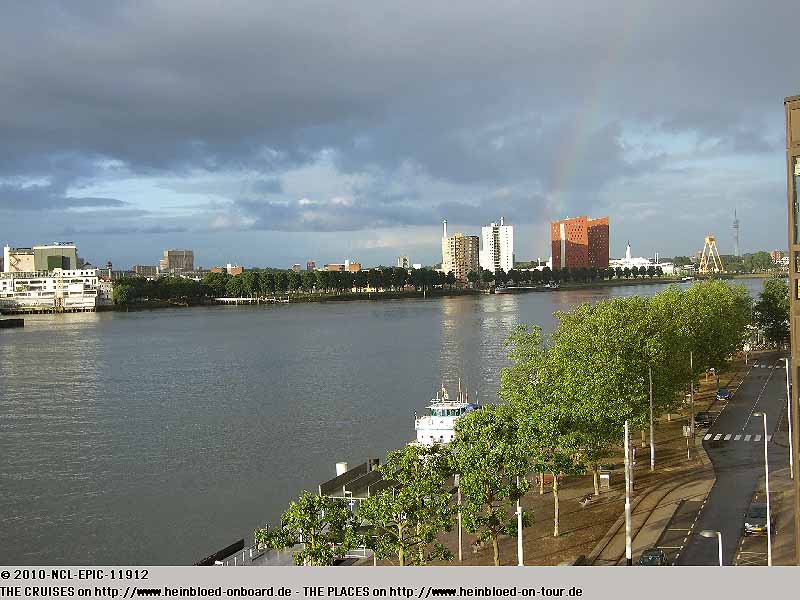 Was hatte bloß der Regenbogen zu bedeuten??? Wird es noch sonniger oder regnerischer???