Scroll down for English explanations - alternates with German explanations.

marcookie und sein Bruder sind wenige aus Deutschland, die wir kennen, die an Bord gekommen sind. Viele andere befinden sich um diese Zeit bereits wieder im ICE Richtung Frankfurt. Da wir wirklich schöne Logenplätze für die Ausfahrt haben und unser Balkon sehr viel größer ist, erleben sie mit uns gemeinsam die Ausfahrt in Rotterdam.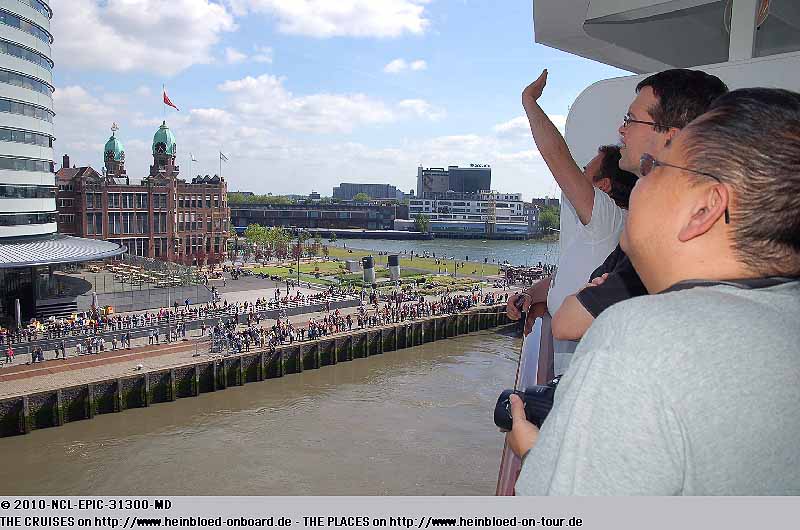 marcookie and his brother were few from Germany, whom we knew, who made it on the ship. Many of our friends were already in the ICE-InterCityExpress High-Speed-Train towards Frankfurt. As we had really a privileged place to see the sail away and our balcony was much larger, they stayed with us to see the sail away out of Rotterdam.

They got in the catering station for the guests in the cruise terminal. A sign that we should sail soon.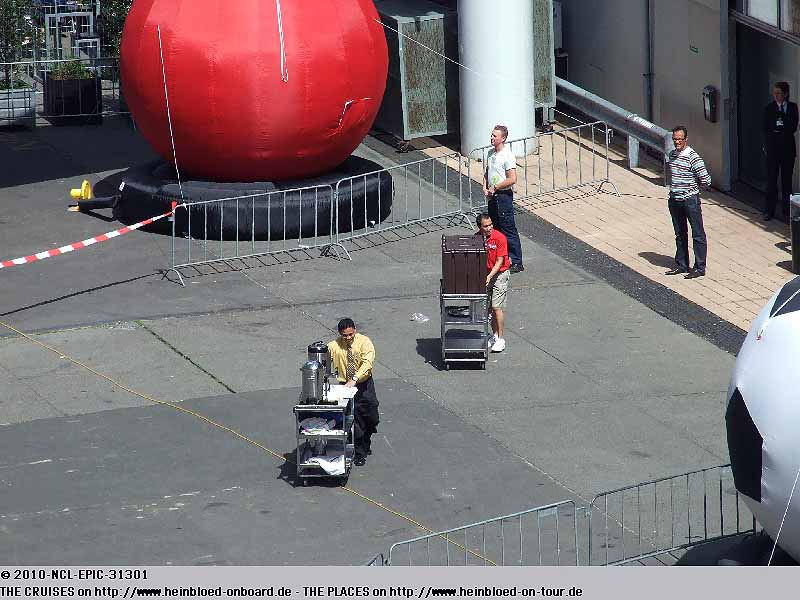 Die Versorgungsstation für die Gäste im Kreuzfahrtterminal wird reingeholt. Ein Zeichen, dass es wohl bald losgeht.
Zum zweiten Mal innerhalb von drei Tagen, hören wir diese Kapelle, die uns verabschiedet.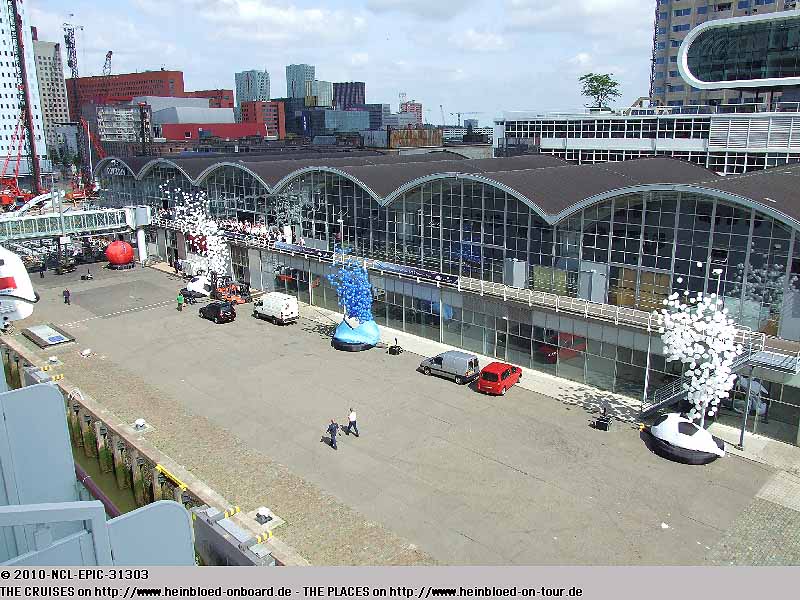 The second time in three days we listen to the orchestra which bid farewell to us.

This time we experienced with blue nice weather the sail away.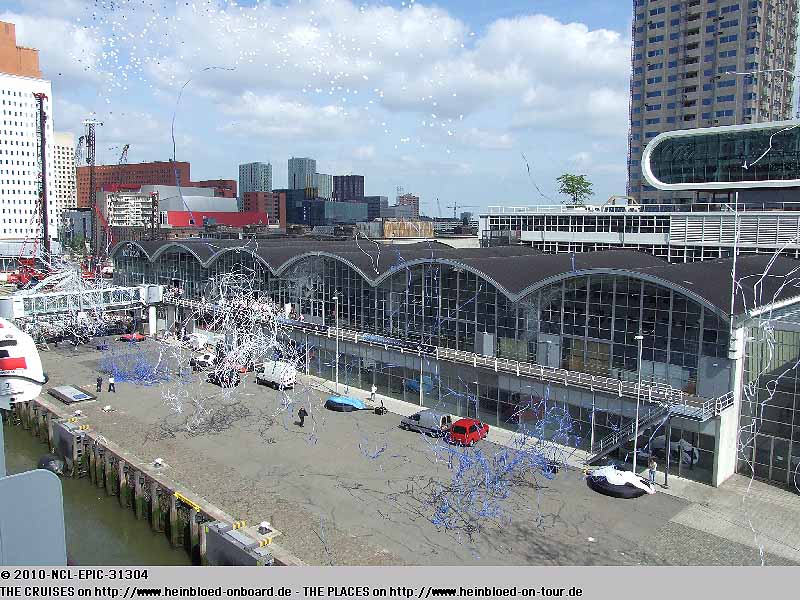 Dieses Mal erleben wir bei strahlend blauem Wetter die Ausfahrt.
So sehen die vielen Luftballons schon viel netter aus.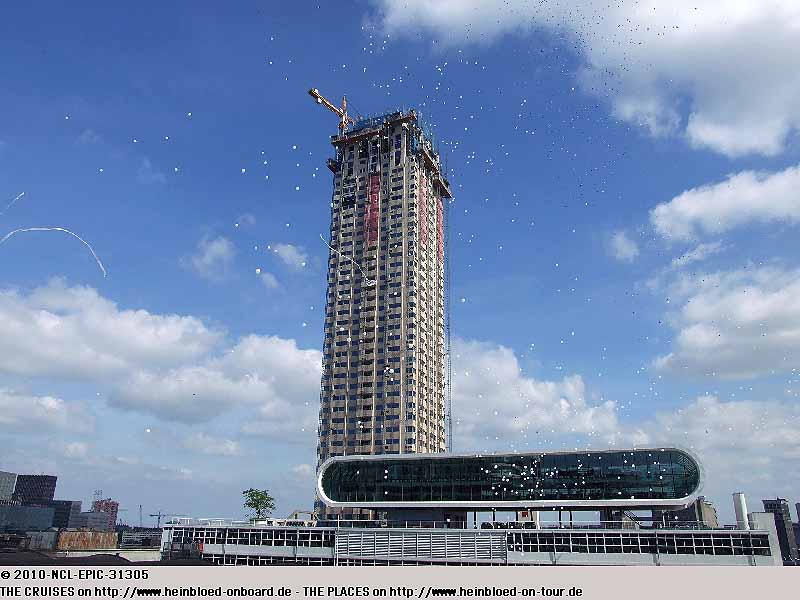 Now the balloons looked much nicer.

As this day was a working day many were watching us from their offices when we sailed away.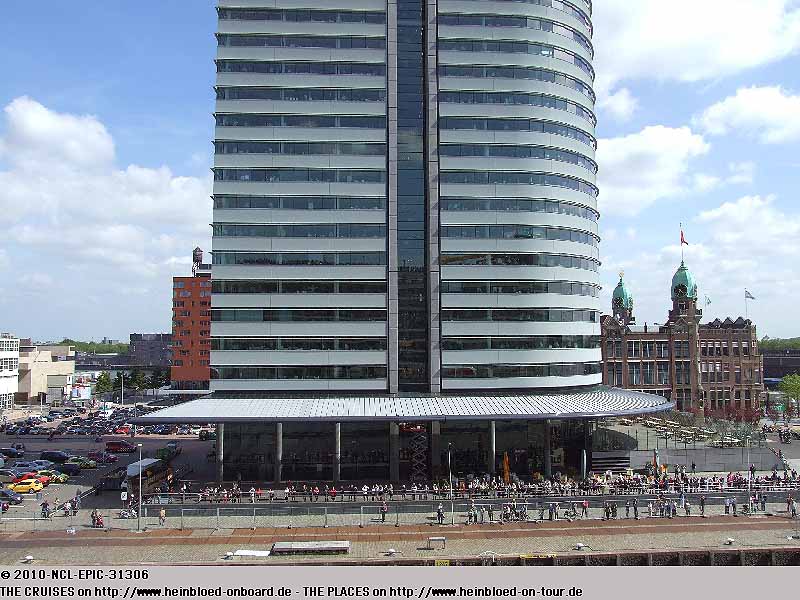 Da heute Werktag ist, gucken sehr viele aus ihren Büros heraus, uns beim Ausfahren, zu.
Ein Hochzeitspaar vor dem Hotel New York nutzt die Chance uns im Hintergrund ihrer Hochzeitsbilder zu erwischen.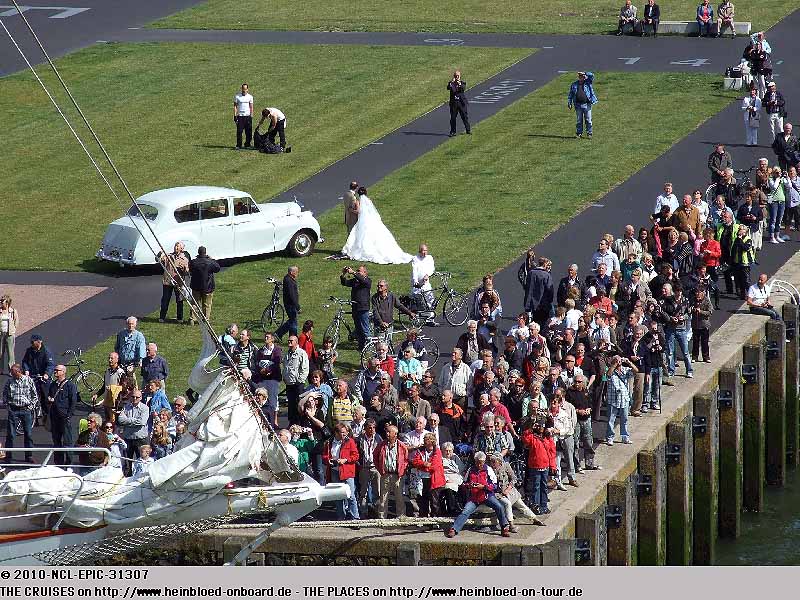 A wedding couple in front of the Hotel New York took the chance to have us in the background of their wedding photos.

The Spido-port cruise stopped to let us pass them.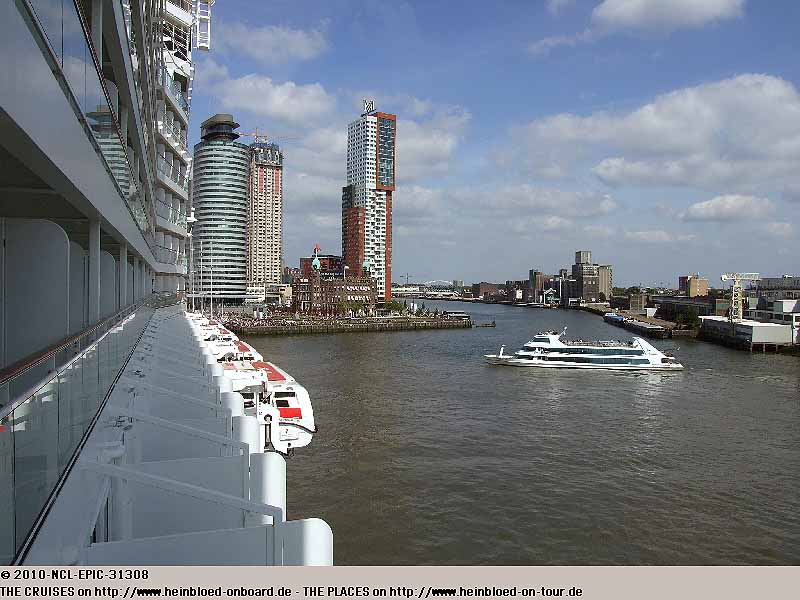 Die Spido-Hafenrundfahrten halten an, damit wir vorbeikommen.
Und nun ist das ganze Heck auf der ROTTERDAM (1959) voll, um uns bei der Ausfahrt zuzugucken.

And now the whole stern on ROTTERDAM (1959) was full to see our sail away.

Now we said again bye-bye to ROTTERDAM (1959) until 26.07.2010 when we will see her again from the deck on WESTERDAM.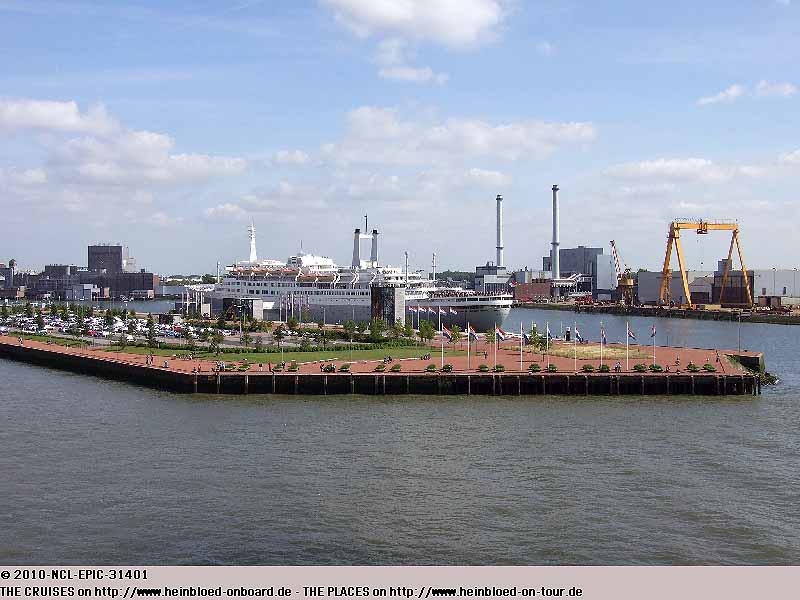 Nun verabschieden wir uns wieder von der ROTTERDAM (1959) bis zum 26.07.2010, wenn wir sie dann von der WESTERDAM aus wieder sehen.
Kommt oder geht der Lotse???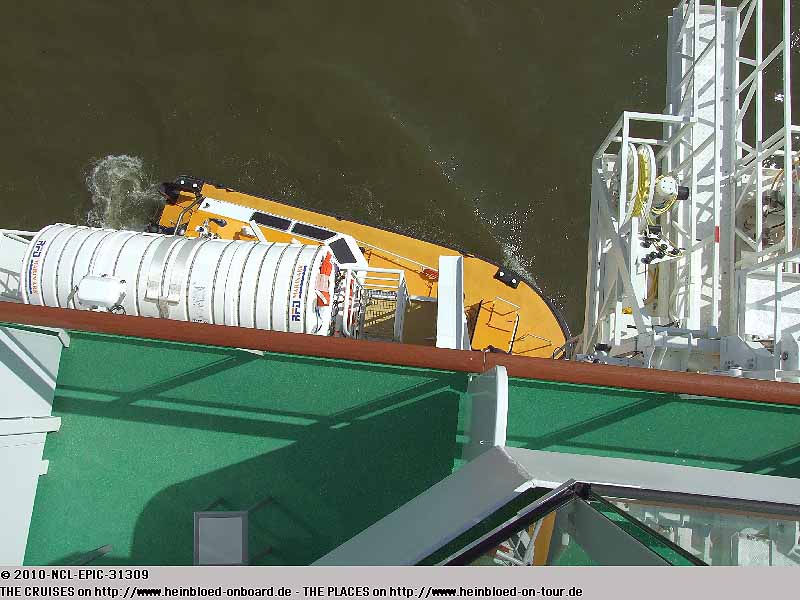 Was the pilot coming or leaving???

Bruno said that the boat was a kind of courier. Something was handed over.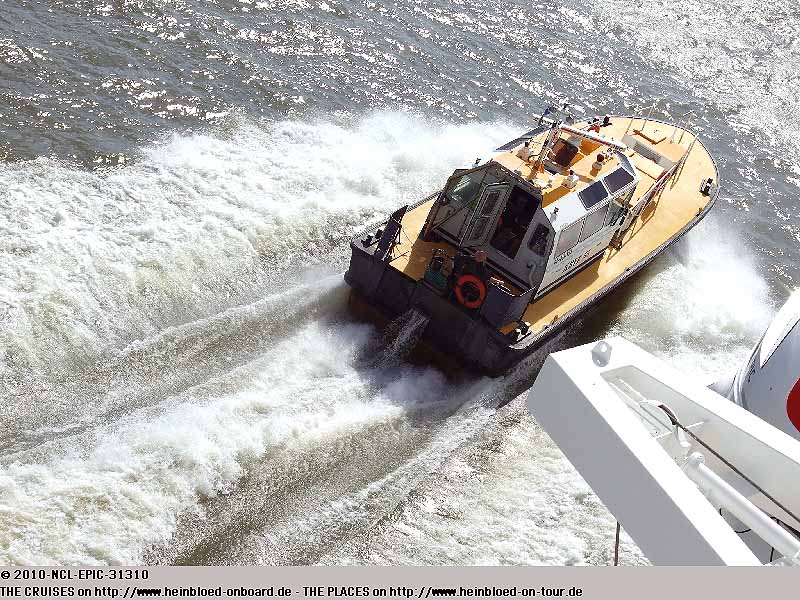 Bruno meint, dass das Boot als Kurier fungiert hat. Irgendwas wurde übergeben.
In einem Hafenbecken drehen wir.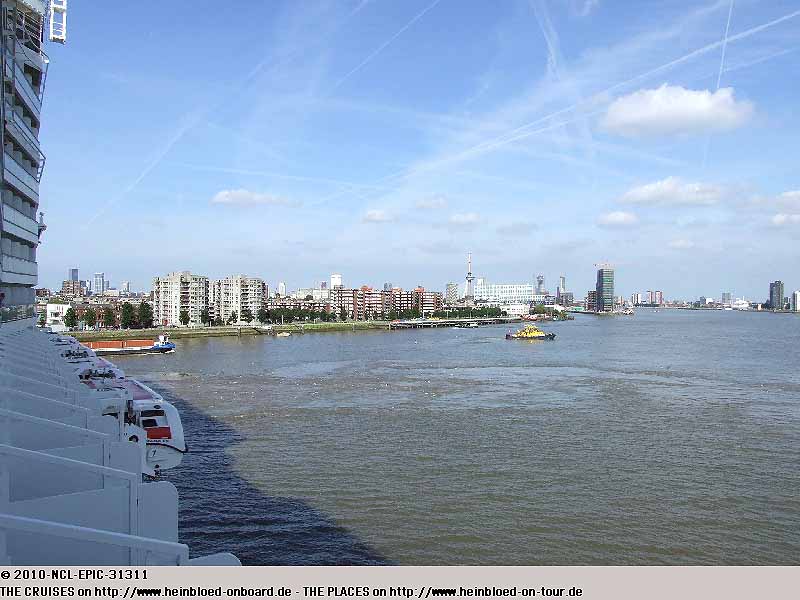 In one of the port bay we turned around.

So we went to the open deck to enjoy the sun as we were now on the wrong side.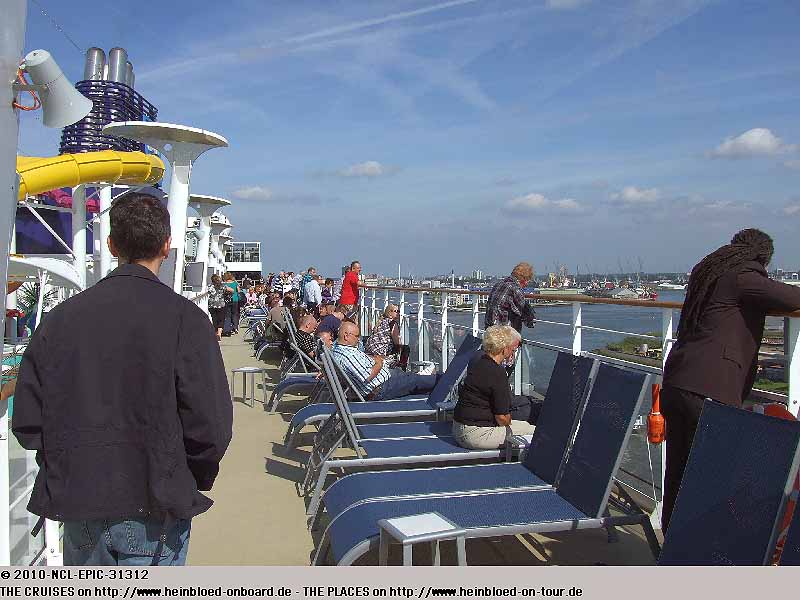 So gehen wir auf das offene Deck, weil wir etwas Sonne genießen wollen, da wir jetzt auf der falschen Seite sind.
Unsere Eskorte: die KNRM = Koninklijke Nederlandse Redding Maatschappij = Königlich Niederländische Rettungsgesellschaft... Ist etwa schon wieder etwas passiert???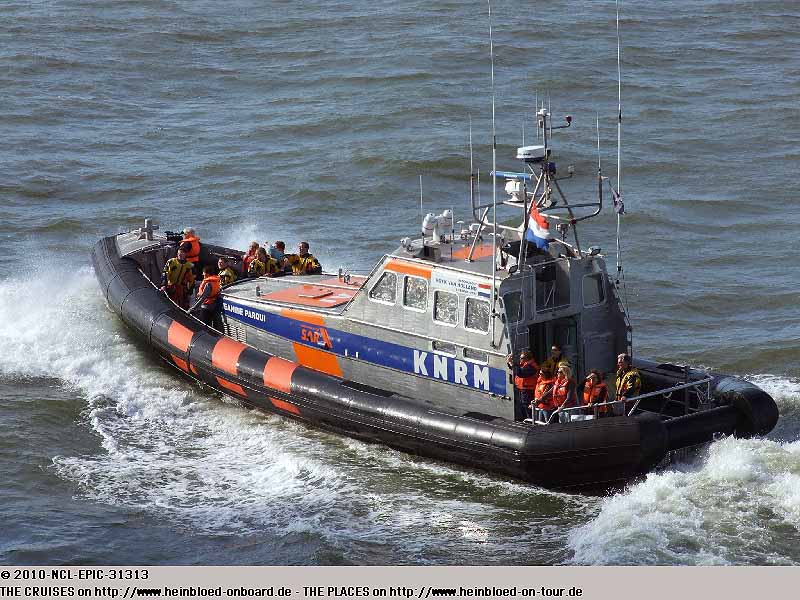 Our escort: KNRM = Koninklijke Nederlandse Redding Maatschappij = Royal Dutch Rescue Society... Something happened again???

As we did not finished our lunch because we had to re-organize our schedule we were a little hungry. So we went to the Garden Café to have a small snack. You must not look far away for silverware: it was on the table.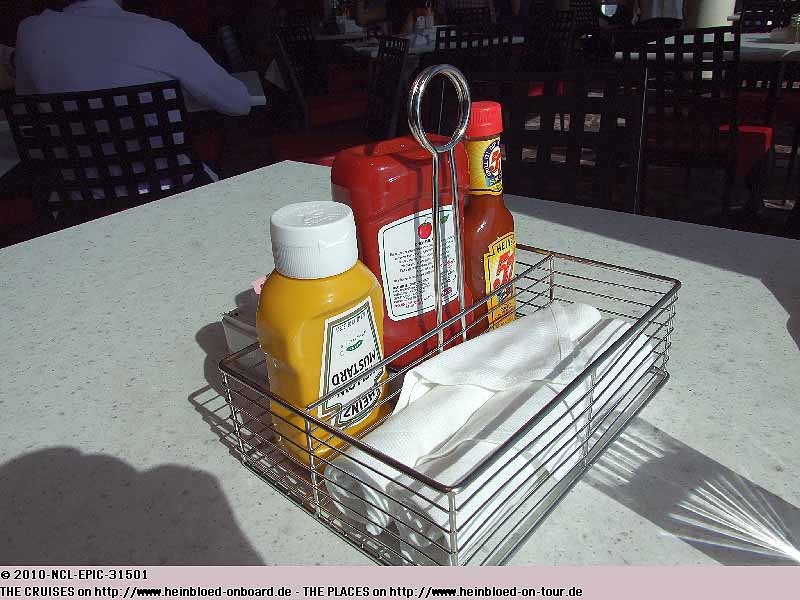 Da wir mittags nicht zu Ende gegessen hatten, weil wir alles umorganisieren mussten, hatten wir etwas Hunger. So gehen wir doch mal hoch in das Garden Café, um eine Kleinigkeit zu essen. Das Besteck muss man nicht lange suchen: es liegt am Tisch bereit.
Das indische Nan-Brot ist richtig lecker.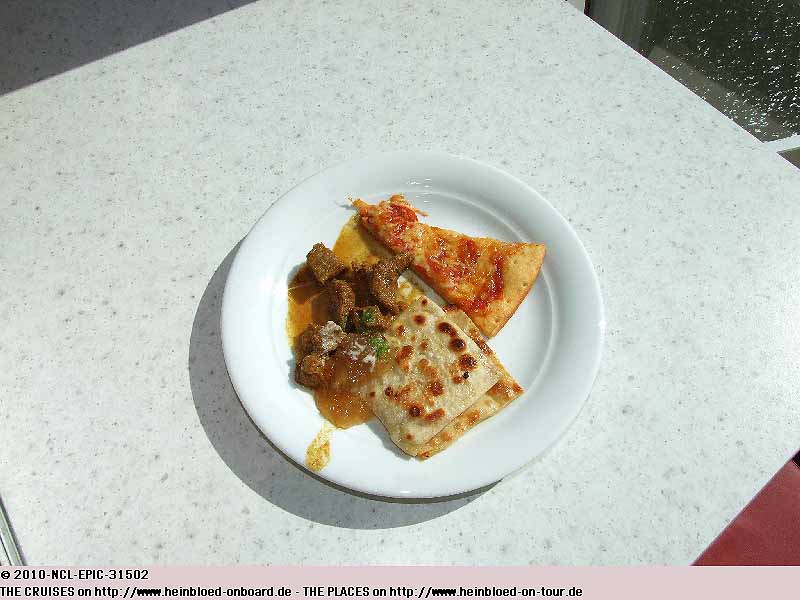 The Indian Nan flat bread was very yummy.

Bruno took some fruits. But the selection reminded us very much to the offer you have always with MSC... Melons...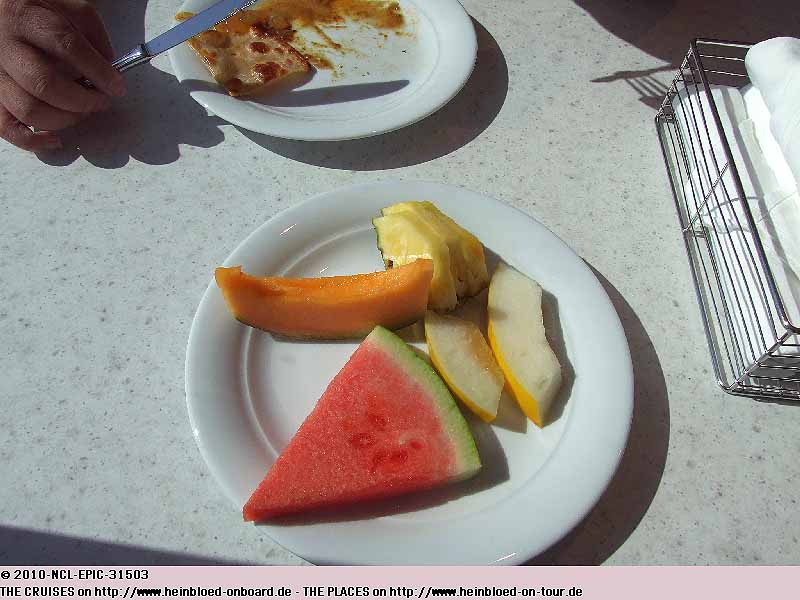 Bruno nimmt sich etwas Obst. Aber die Auswahl erinnert doch sehr an das dauerhafte Angebot bei MSC... Melonen...
Leider einer der wenig begehrten Plätze direkt mit Blick zum Bug. Es wird "gegeiert". Sobald sich einer bewegt sind ein paar schon auf dem Sprung, um die Plätze zu übernehmen.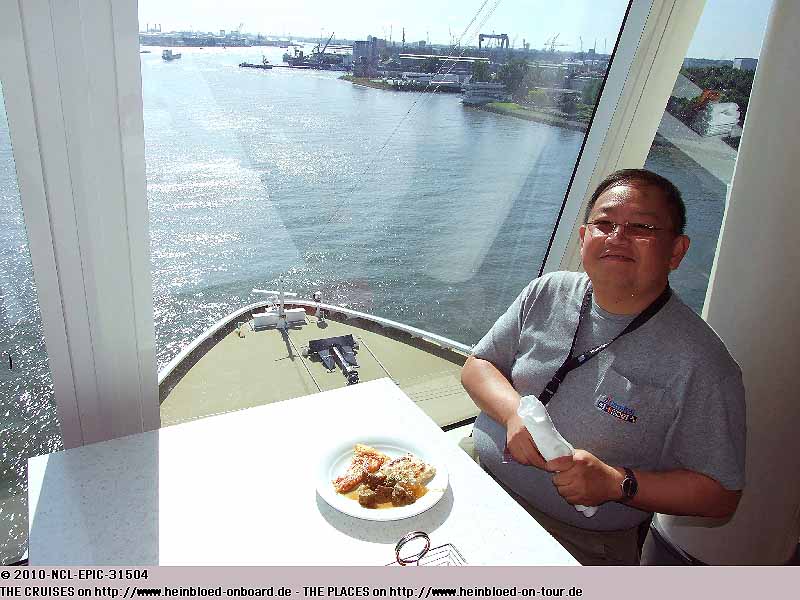 Unfortunately one of few demanded seats with a view to the bow. Other behaved like vultures. As soon as one moved few were on the jump to secure the seats.