Scroll down for English explanations - alternates with German explanations.

Wir haben das Moderno Churrasceria zum Abendessen gebucht. Die Zuzahlung beträgt 18,00 USD.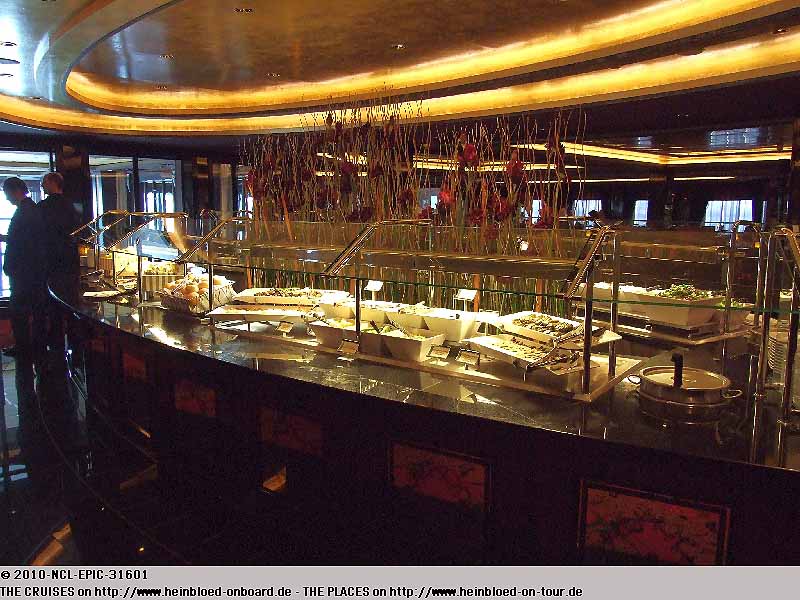 We booked the Moderno Churrasceria for dinner. The cover charge was 18.00 USD.

We were allocated to a nice table where we could see what happened in The Manhattan Room.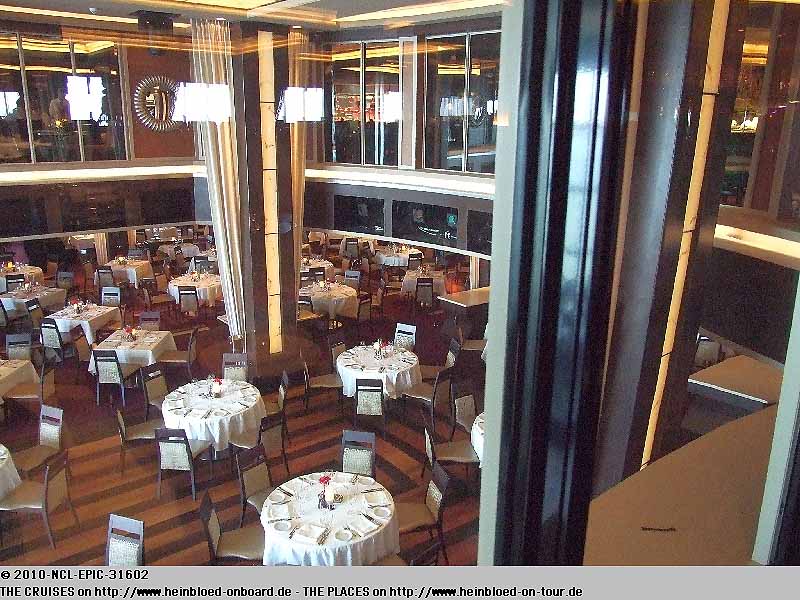 Wir bekommen schöne Plätze, so dass wir gucken können, was im The Manhattan Room los ist.
Die Regeln sind einfach: der Hauptgang ist einheitlich für alle Gäste: Nichts für Vegetarier!!! Solange die kleine Karte auf rot steht, kommt niemand mit dem Hauptgang vorbei. Erst, wenn es auf grün umgedreht wird, geht es los. Bis dass es wieder auf rot gedreht wird.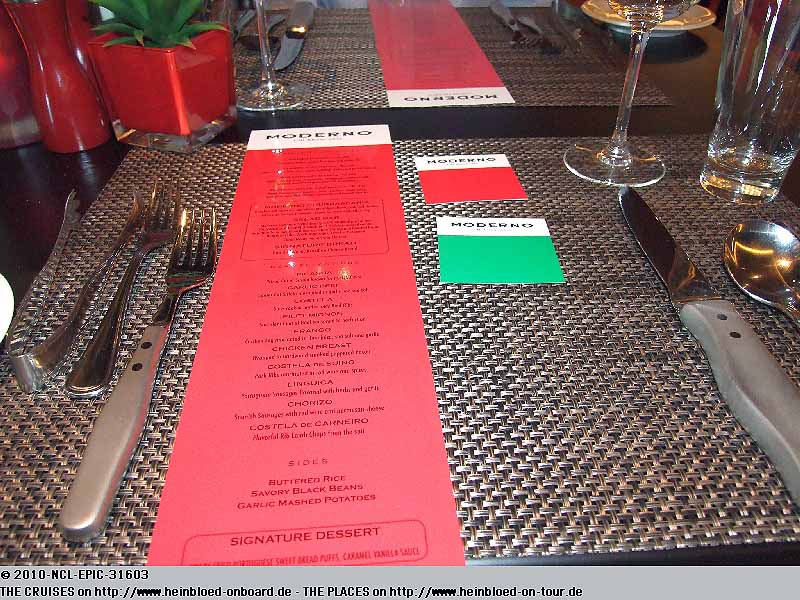 The rules are very simple. There is an unique main-course for all guests: nothing for vegetarians!!! As long as the small card is on red none will come to serve the main course. But when you turn around on green they start. Until you are turning around to red.

There were again Profiteroles... I thought, but just a dough like that but baked with cheese... very tasty.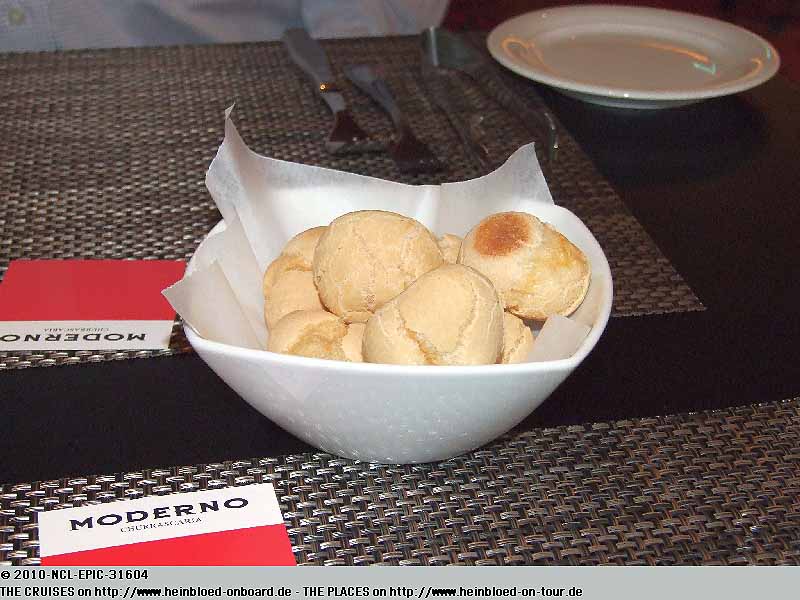 Es gibt wieder Profiteroles... dachte ich zunächst, aber es ein ähnlicher Teig und lecker mit Käse gebacken.
Aber auch hier kommen Vegetarier voll auf Ihre Kosten, selbst wenn sie auf den Fleisch-Hauptgang verzichtet: das mediterrane Vorspeisenbüffet.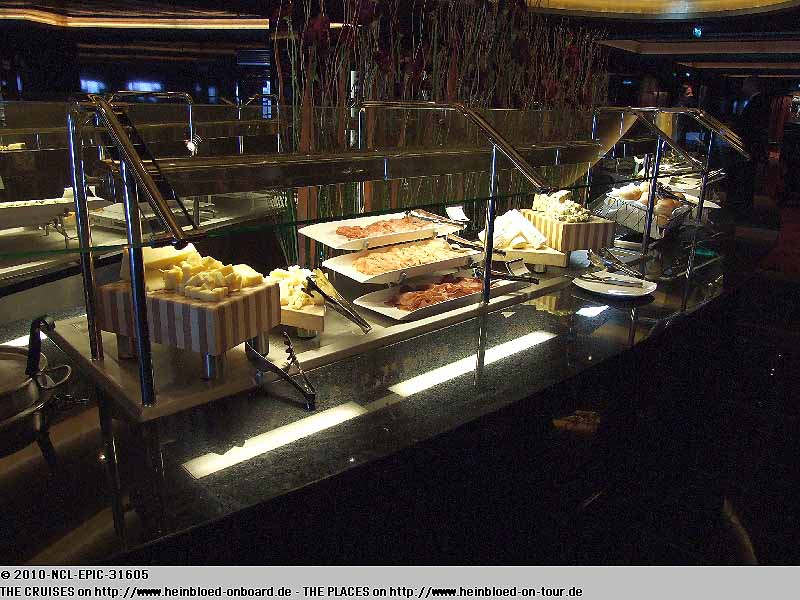 Here vegetarian will become also very happy even they would not have the meat-main-course: the Mediterranean starter buffet.

Honestly: for me it is the best restaurant innovation on sea for all cover-charge restaurants I know.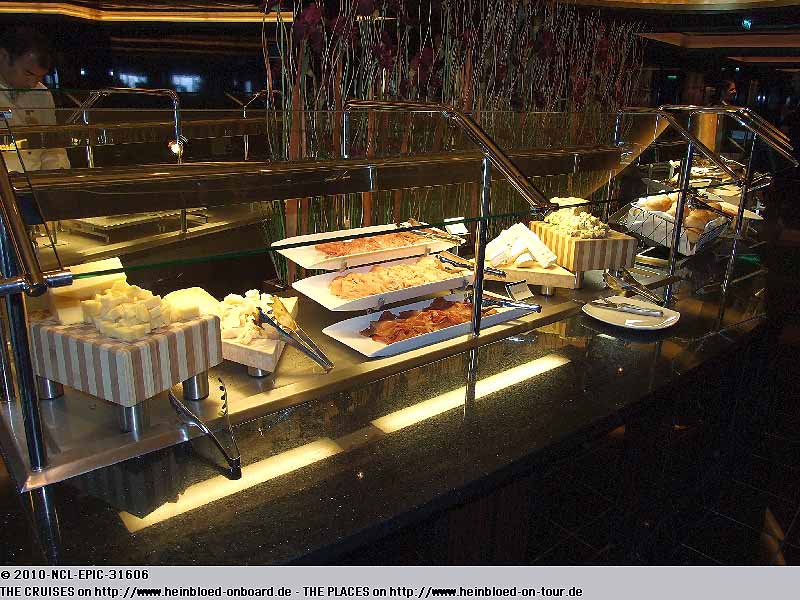 Ganz ehrlich: für mich ist das die beste Restaurant-Innovation auf See, was Zuzahlrestaurants betrifft.
Ich fand das Vorspeisenbüffet so gut, dass ich die 18,00 USD auch nur für das Büffet ausgeben hätte, und bequem auf den Hauptteil des Abendessen hätte verzichten können. Ich war richtig glücklich. Ich liebe Tapas, Antipasti, griechische Vorspeisen. Für mich noch wichtiger als die Hauptspeisen.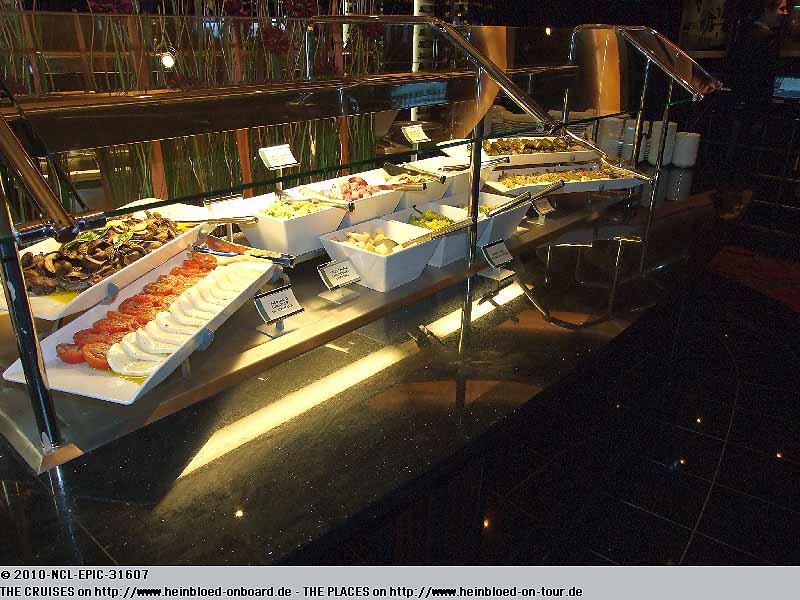 I liked the starter buffet so much that would also spend 18.00 USD just for this buffet and could have nothing of the main-course for dinner. I was really happy. I love Tapas, Antipasti and Greek starters. For me much more important than the main courses.

The offer here was like Midnight-Buffet character.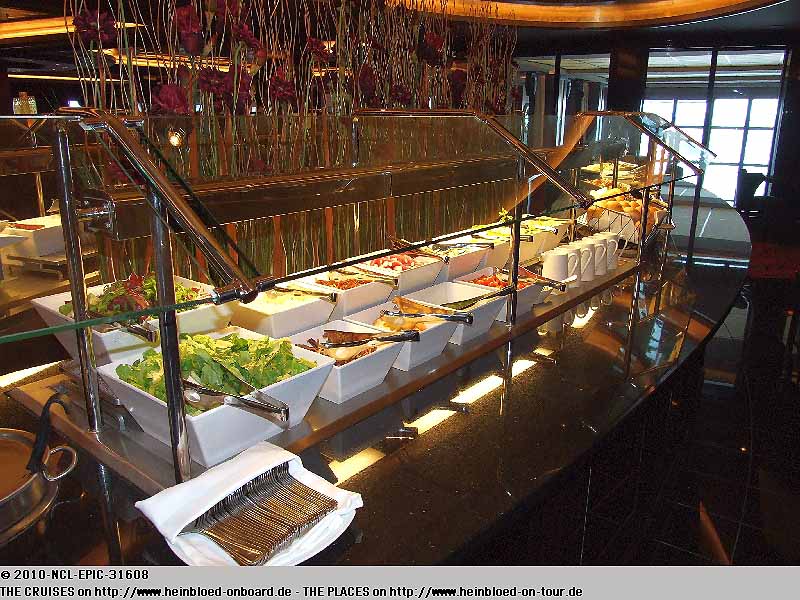 Das Angebot hier hatte ja schon fast Mitternachtsbüffet-Charakter.
Griechenland, Spanien und Italien - alles was dort lecker und kalt war, war auf dem Büffet... Nur der schwedische Maître d'Hotel passte irgendwie nicht... (Er war trotzdem sehr nett und aufmerksam). Da fehlten die ganzen Heringssorten, die es auf den skandinavischen Smörgasbaard gibt...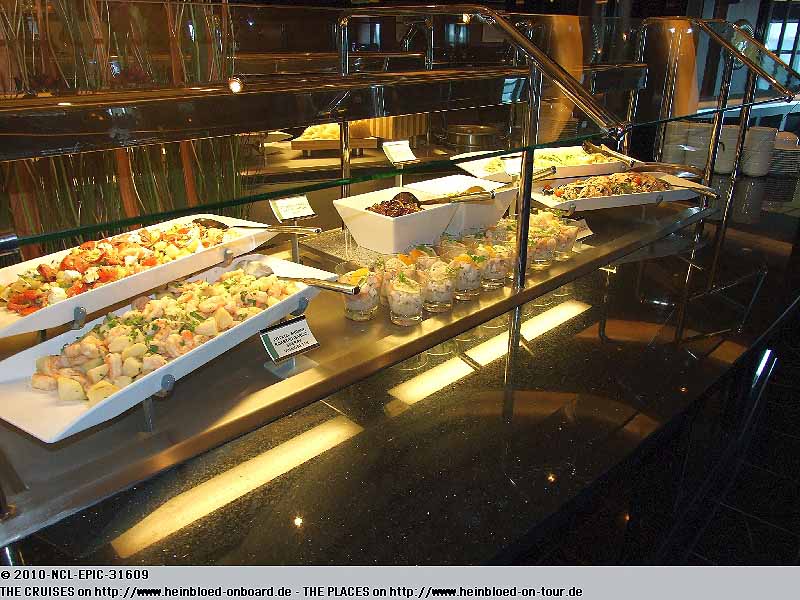 Greece, Spain and Italy - everything tasty and cold was on this buffet... Somehow only the Swedish Maître d'Hotel did not fit... (But he was nice and attentive). So all the assortment of harings were missing which you normally find on all Scandinavian Smoergasbaard...

The soup was very tasty.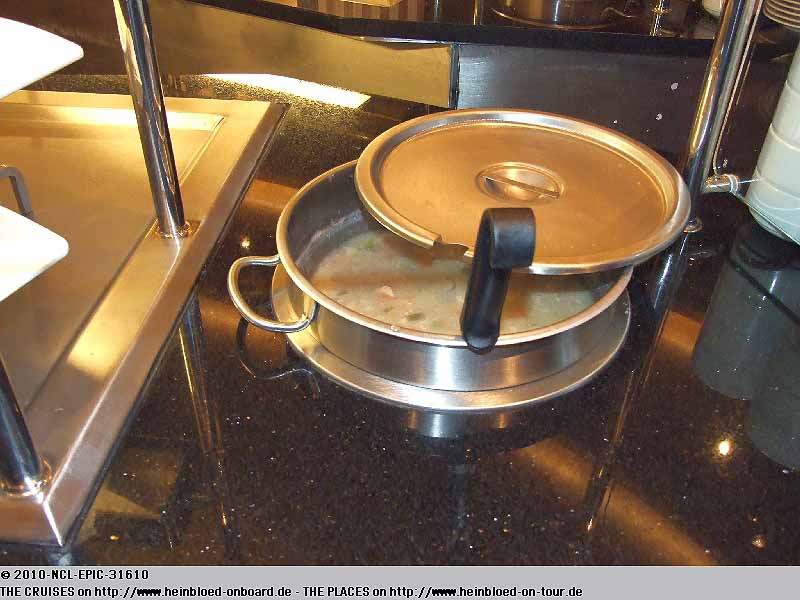 Die Suppe war sehr lecker.
Nur habe ich es nicht geschafft, beide zu probieren.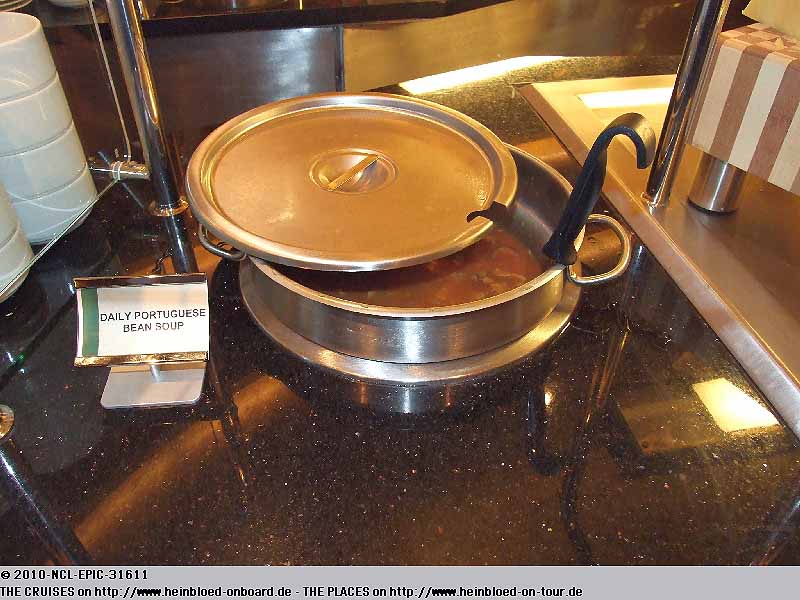 But I was unable to try both of them.

We enjoyed the food and especially the wonderful service.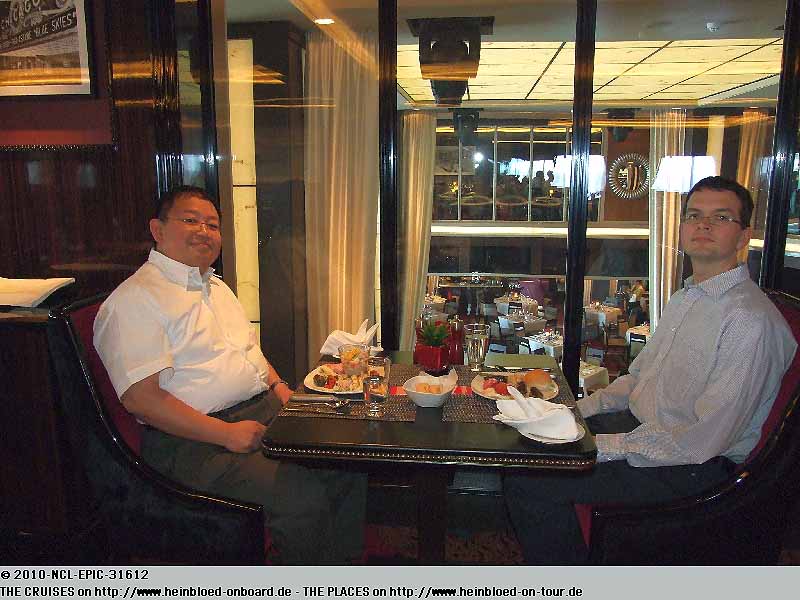 Wir haben unser Essen und vor allem den tollen Service sehr genossen.
Unbedingt dieses Glas mit dem Meeresfrüchte-Salat probieren... Einfach nur hmmm....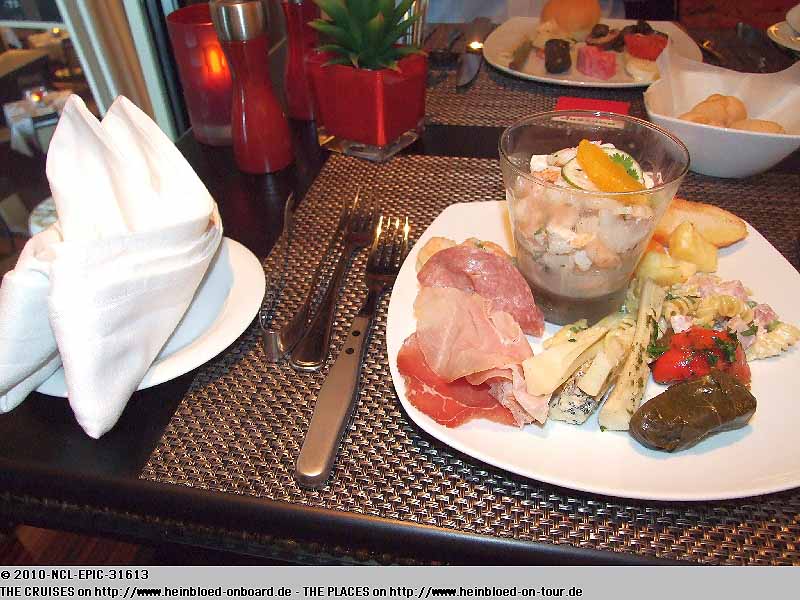 You must try the glas with the seafood-salad... Just hmmm...

The side orders...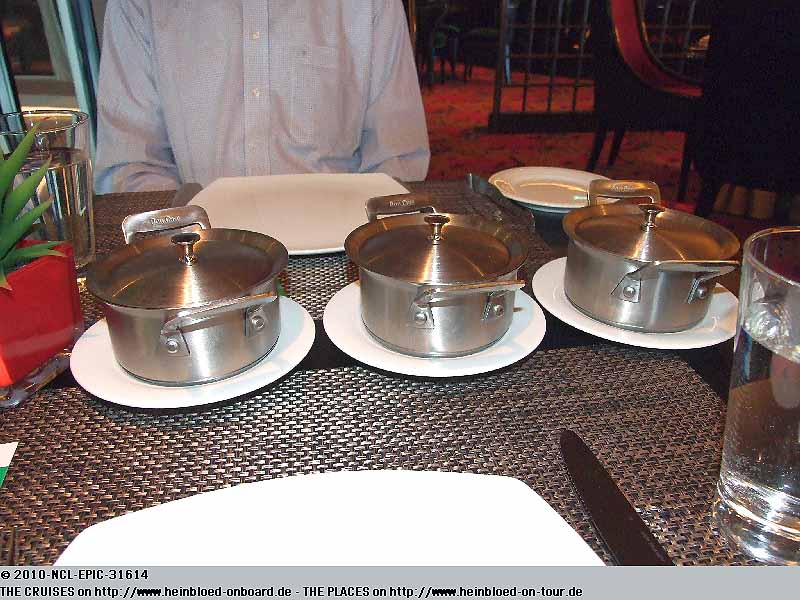 Die Beilagen...
Pürree, Reis, schwarze Bohnen...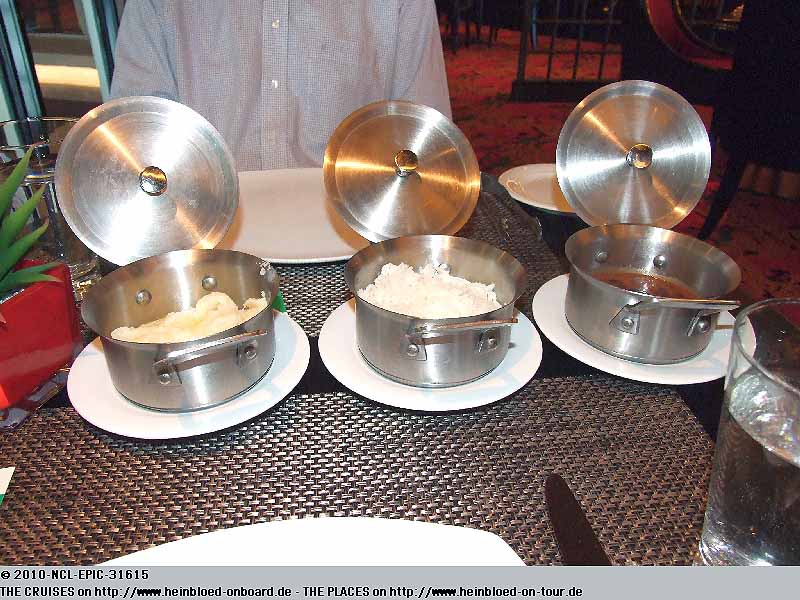 Mashed potatoes, rice and black beans...

When the word "Chimmichuri" was said I did not want to know what was in the other bowl...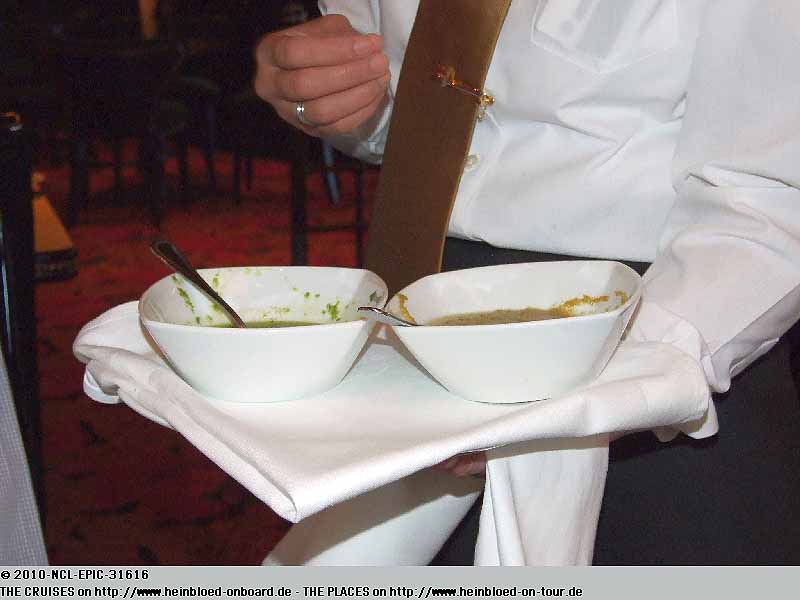 Als das Wort "Chimmichuri" fiel, wollte ich schon gar nicht mehr wissen, was in der anderen Schale ist...
Ich muss neue Batterien holen. Bruno bekommt schon die erste Runde. Ich steige bei der nächsten Runde ein. D. h. am Spieß wird am Tisch das Fleisch serviert. Und man sagt einfach den Gauchos, wieviel man hiervon möchte.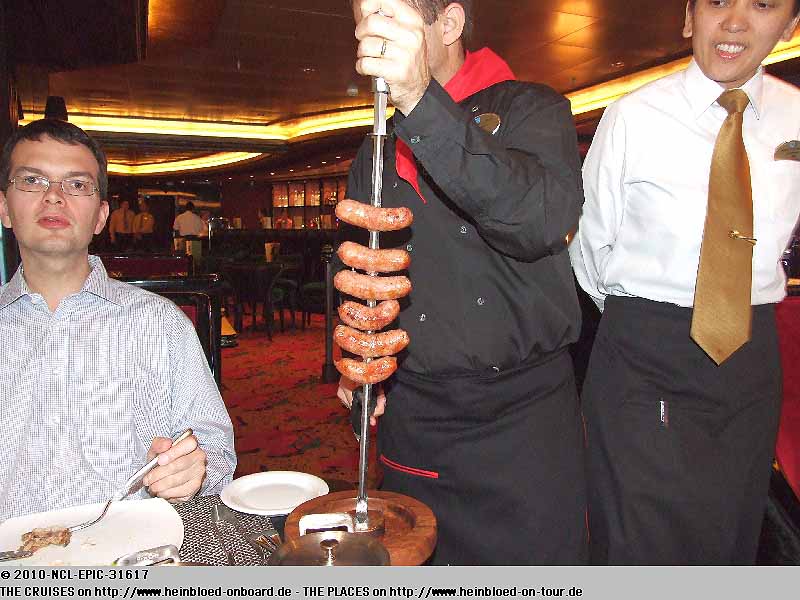 I need to get new batteries. Bruno got his first round. I entered with the next round. I. e. they served the meat on a giant skewer at the table. You tell the gauchos how much you want.

I liked it that you control the quantity yourself.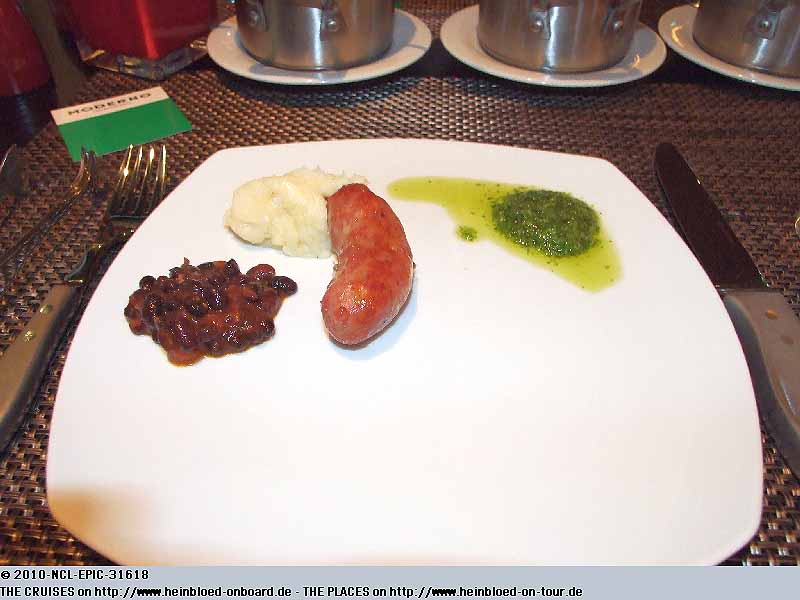 Ich mochte es, dass man eigentlich man sehr gut die Menge selbst bestimmen konnte.
Weil ich die erste Runde verpasst hatte, kam sofort ein Gaucho vorbei, um mir das Hühnchen von der ersten Runde nachzureichen.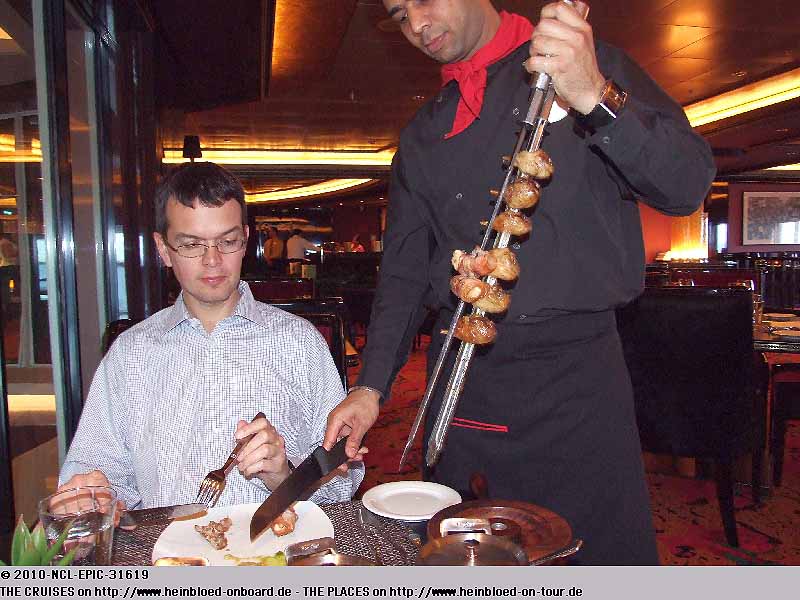 Because I missed the first round one gaucho came around to get me the chicken which was served the first round.

The chicken wings were great... better than KFC... better than McDonald's...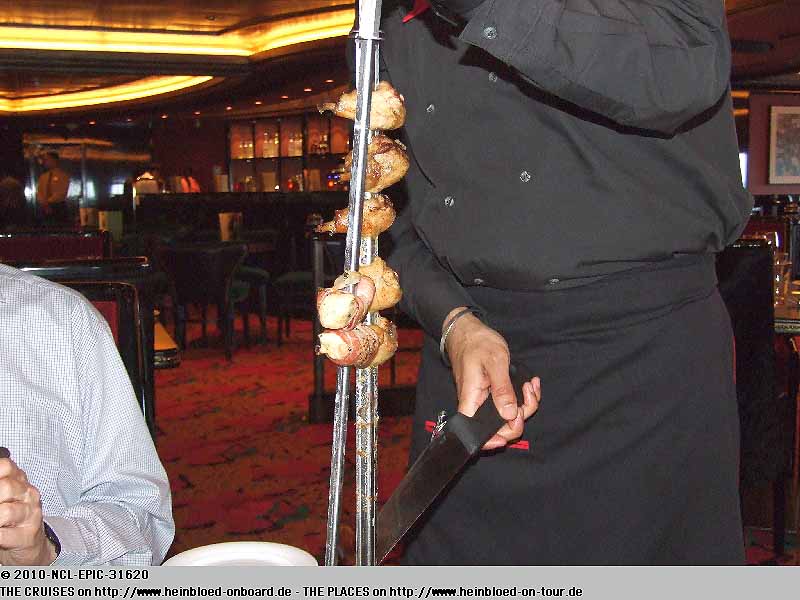 Die Hühnerflügel waren richtig lecker... besser als KFC... besser als McDonald's...
So im 5-10 Minuten-Takt geht es weiter. Die Gauchos gehen so von Tisch zu Tisch und kommen erst mit einem neuen Spieß wieder.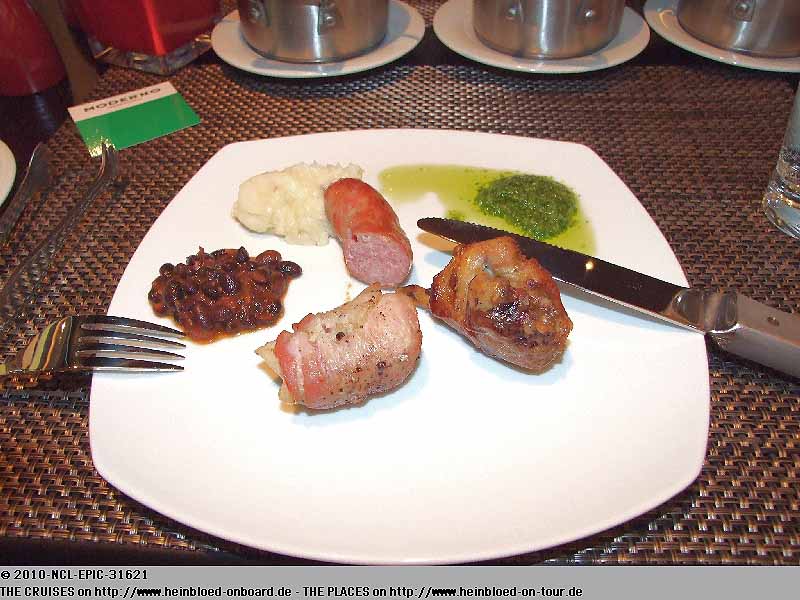 Every 5-10 minutes someone came around. The gauchos went from table to table and return with a new skewer again.

Pork ribs...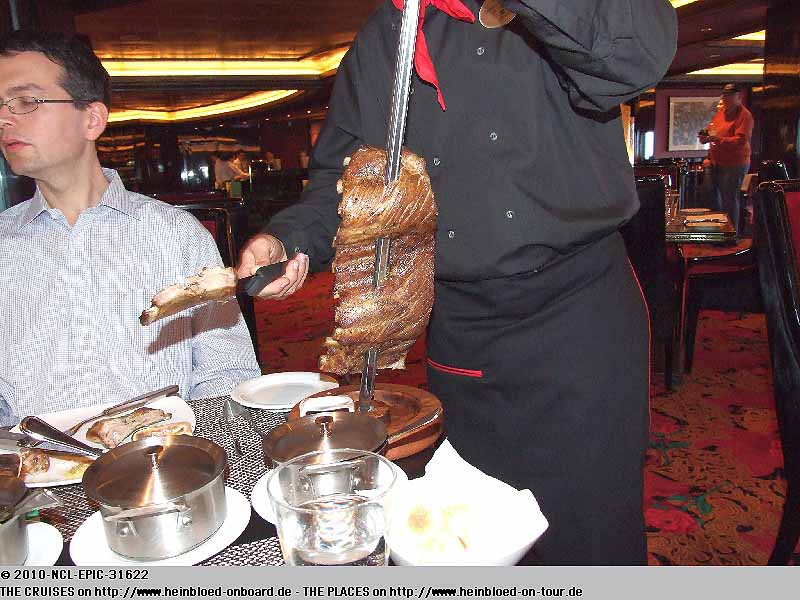 Schweinerippchen...
Filet Mignon... (eignet sich für etwas aber nicht so... - das lieber wieder im Cagney's...)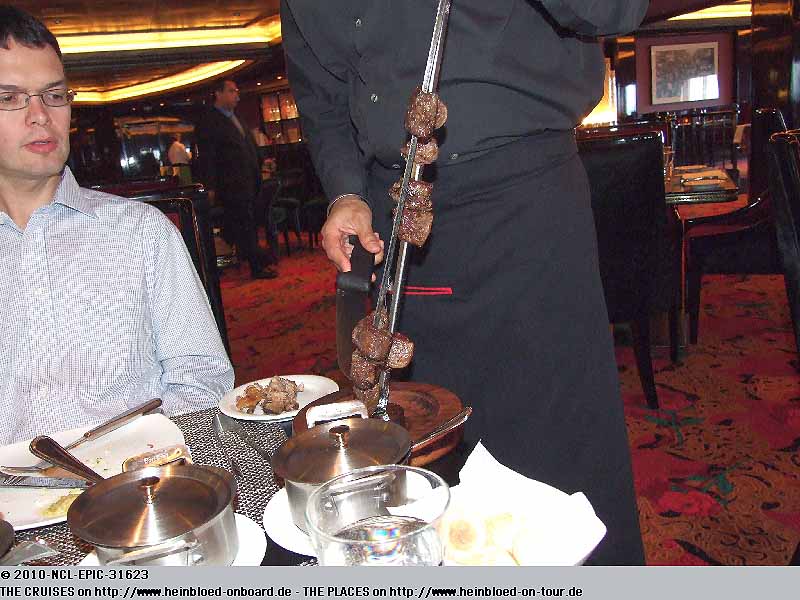 Filet Mignon... (I think that was nothing for this kind of serving... that was better in Cagney's...)

I tried everything... beef ribs...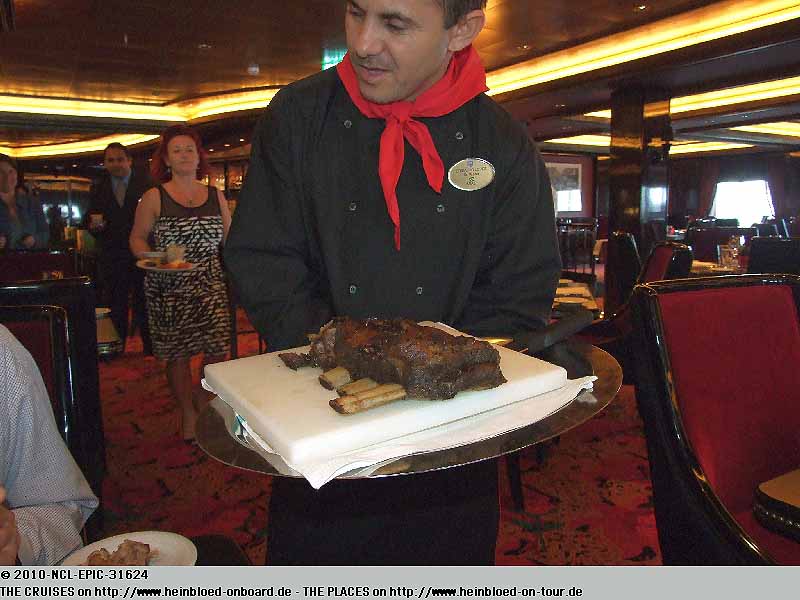 Alles habe ich probiert... Rinderrippchen...
Bis das beste am Schluss kommt: so eine Art Hüftsteak am Stück... aber nur ein winziges Stückchen. Mehr ging nicht mehr.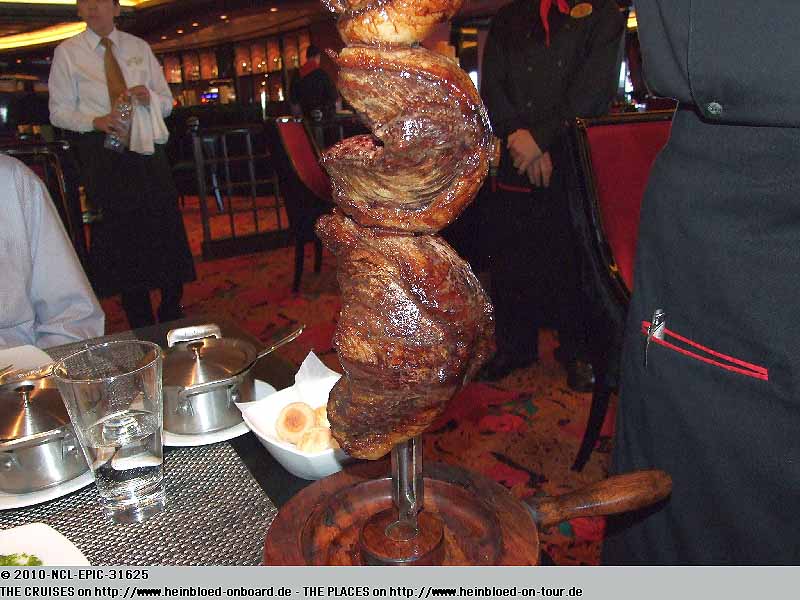 Save the best for last: a sirloin in one piece... just a little bite... More was impossible...

I wanted to have a cup of coffee... it was more or less transparent with the breakfast... but this time they overstressed... Bruno of course ordered his Lavazza-coffee speciality...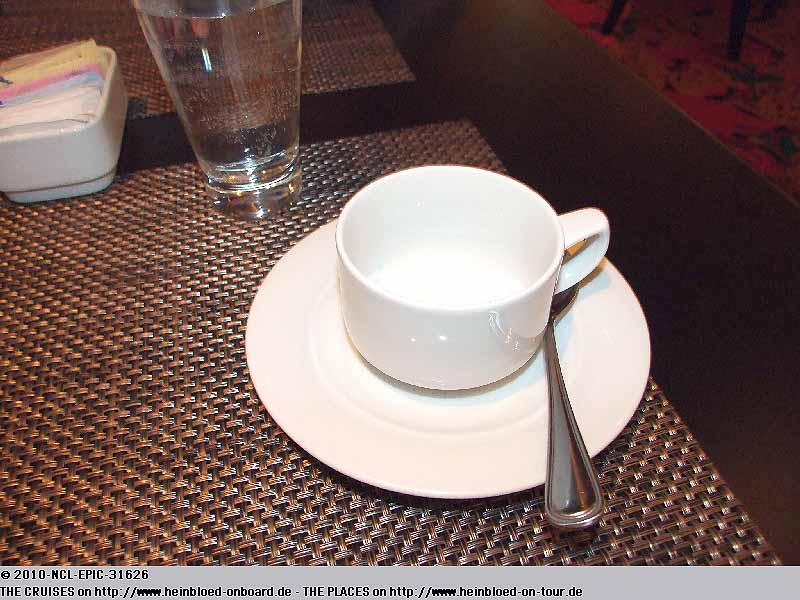 Ich wollte eine Tasse Kaffee... es war ja zum Frühstück schon fast durchsichtig... aber dieses Mal haben sie übertrieben... Bruno hat sich natürlich sein Lavazza-Produkt bestellt...
Ausnahmsweise nehmen wir beide einen Sambucca, um unseren Magen ein wenig aufzuräumen.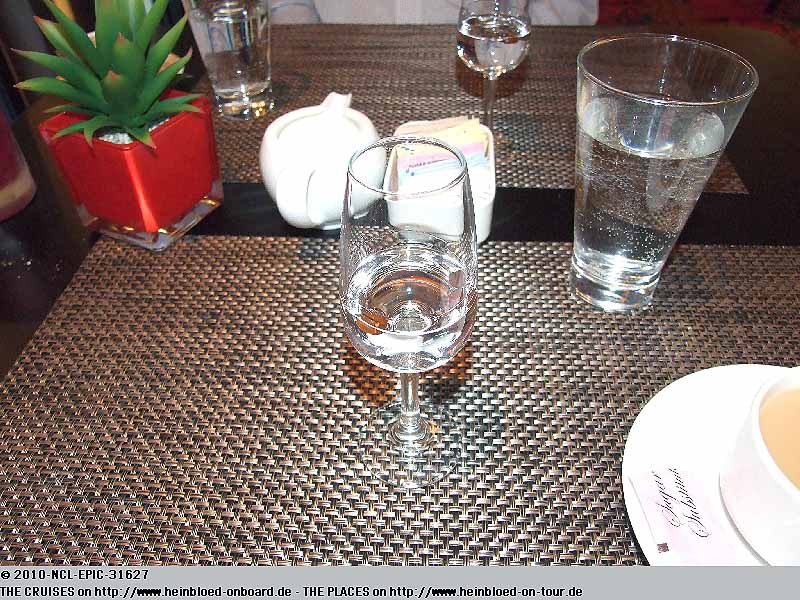 Just one exception we both took a Sambucca to clear a little bit our stomach.

Our dessert. More was impossible. They did not gave me a wheelchair when I asked for one. But beside this it was a most perfect service. We met Eric Cousins at the exit who wanted to have his dinner as well in Moderno. He was happy to hear that we liked it.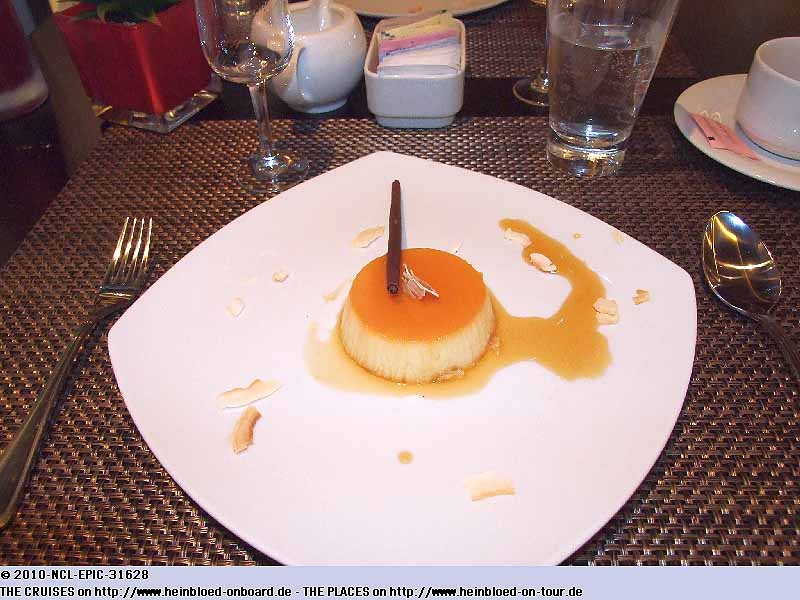 Unser Dessert. Mehr ging nicht mehr. Meinem Wunsch nach einem Rollstuhl wird nicht entsprochen. Ansonsten war es ein perfekter Service. Am Ausgang treffen wir Eric Cousins, der heute Abend auch im Moderno essen will. Er freut sich über unser Lob.
Da klaut einer den Bildschirm...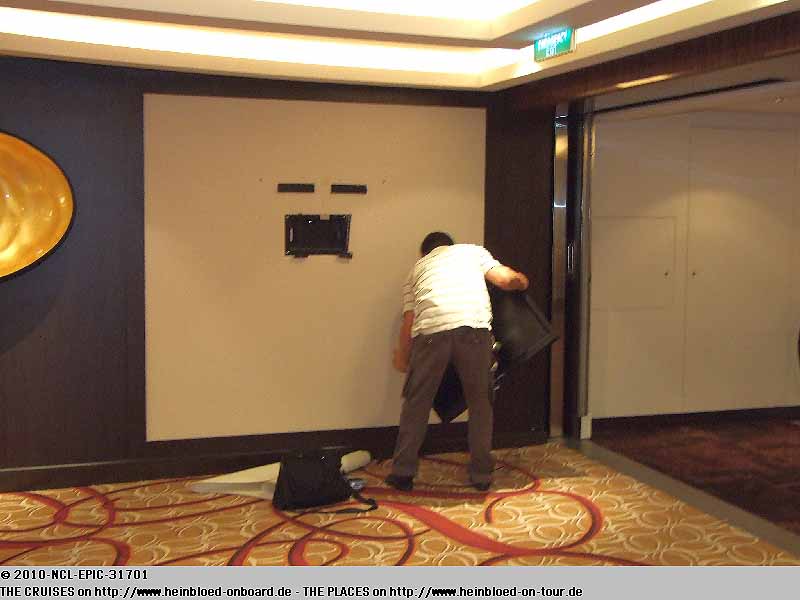 Someone was stealing the screen...

We walked by with Bernie Martini who just sang a song from Elton John...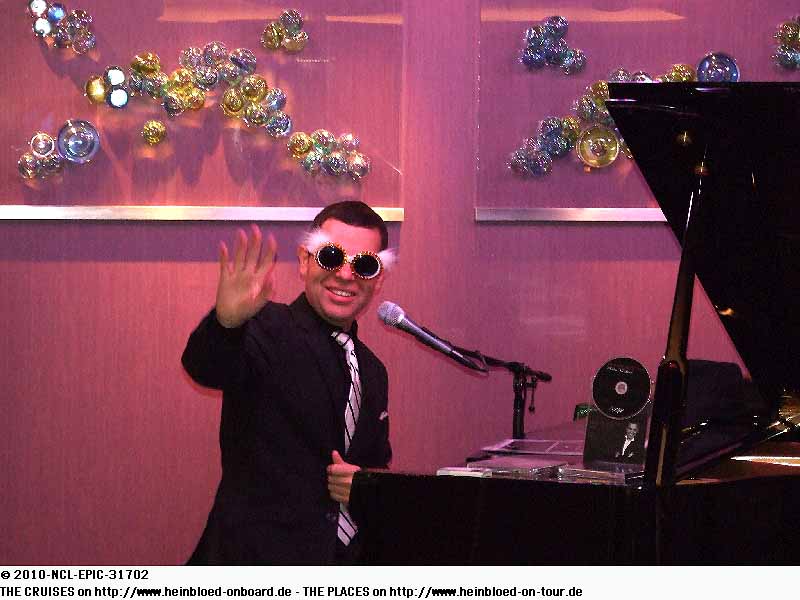 Wir kommen wieder bei Bernie Martini vorbei, der gerade einen Song von Elton John singt...
Man nutzt haushaltsübliche Geräte. Deswegen das Samsung-Logo, das verkehrt herum liegt. Alle Schalter sind offen zugänglich.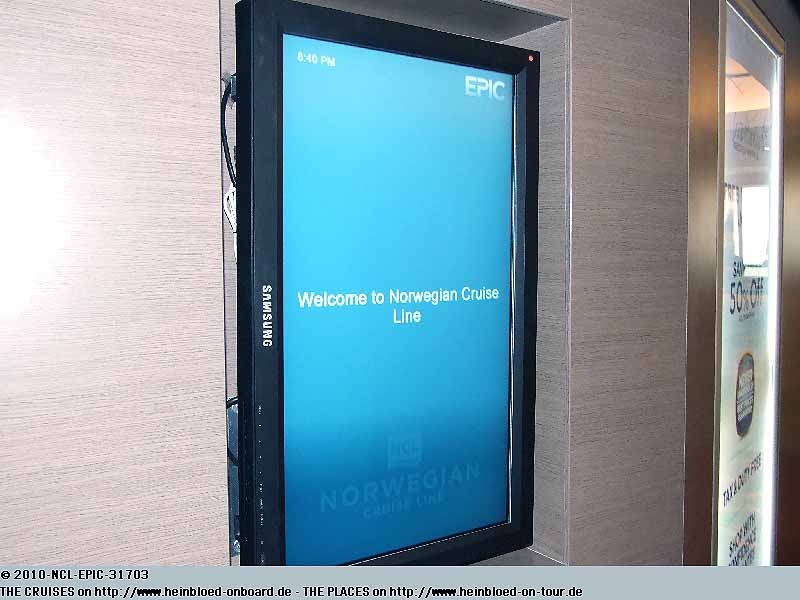 They were using retailer screens. That was why the Samsung-Logo was on the side. All switches were fully accessible.

We tried to queue up for the Blue Man Group. Because the Box-Office was somehow just in the center of queue the queue seperated to the left and right. Thereafter something strange followed: On the right side there a direct way. On the left side there was zick-zack-way set up. As many guests did not come there was no admission control.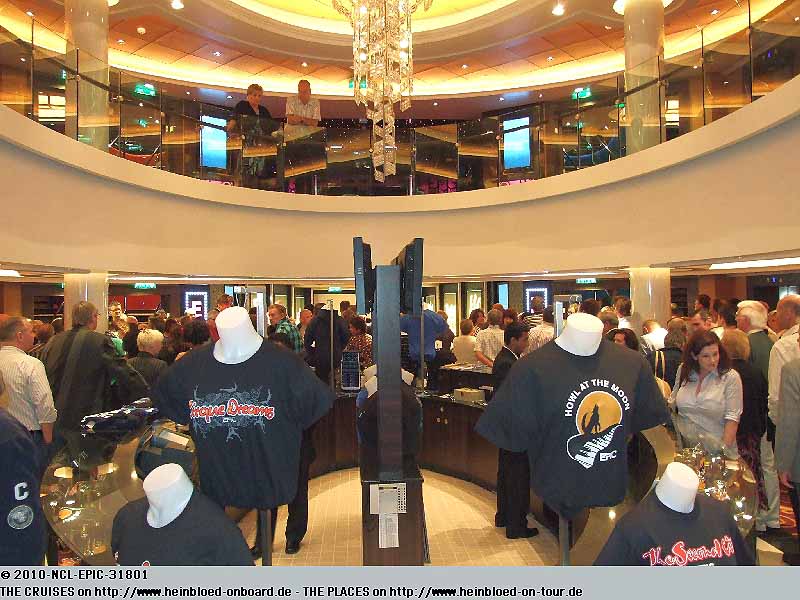 Wir versuchen uns für die Blue Man Group anzustellen. Weil die Box-Office im Wege ist, teilt sich die Schlange links und rechts. Danach kommt etwas merkwürdiges: rechts gibt es einen direkten Weg und links wird ein Zick-Zack-Weg aufgebaut. Da viele Gäste nicht an Bord gekommen sind, hat man auf die Zugangskontrolle verzichtet.
In den ersten Reihen werden die Gäste entsprechend eingekleidet.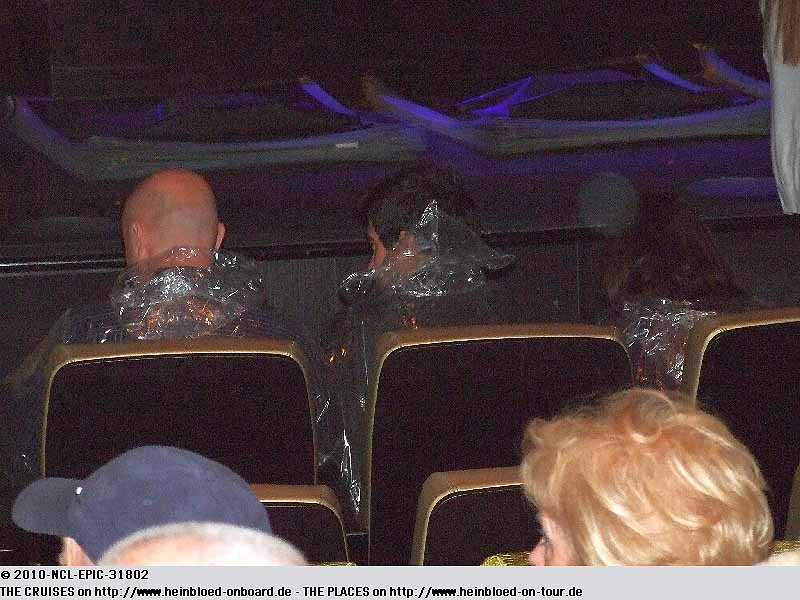 In the first rows the guests were dressed up appropiately.

There will be no more picture but this because the show is free. Therefore there is nothing you can make wrong if you get tickets for the show. The show is a great experience and you should see it. But to be safe you should some ear plugs with you. You can decide there if you need them. Few single aspects of the show I did not like so much personally (Use of food as part of the show...) but in general again: a really great experience. I should ask myself if there would be anymore classical production shows with melodies from musicals will be available with the regular cruise itineraries. As the theater is relatively small you cannot accomodate all guests of the whole ship in two shows. Now you have space to place your beverages I would like it if you would have the leather cover to forward and sign the bills to the guests who were sitting and had to sign in the dark. Like Cirque Dream and Dinner: if you do not speak any English you will enjoy the show for 90%. If you speak a little English maybe 95%.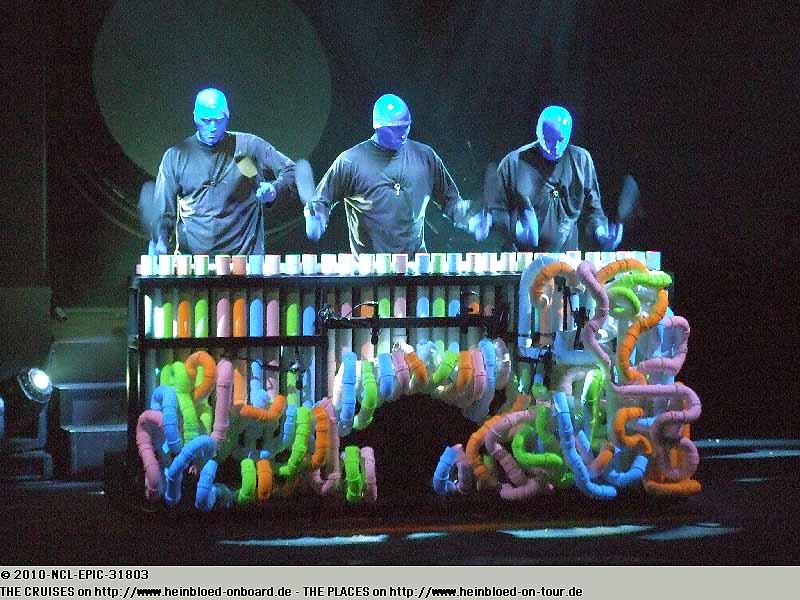 Mehr als das Bild gibt es von mir nicht, weil die Show kostenlos ist, und daher kann man nichts verkehrs machen, wenn man Karten für die Show bekommt. Die Show ist ein Erlebnis und man sollte sie sehen. Sicherheitshalber sollte man aber Ohropax mitnehmen. Man kann immer noch vor Ort entscheiden, ob man sie nutzt. Es gibt so einzelne Aspekte bei der Show, die ich persönlich nicht so mag (Einsatz von Lebensmitteln als Showelement...), aber insgesamt war es wirklich ein tolles Erlebnis. Ich frage mich allerdings, ob es dann eigentlich noch klassische Production-Shows mit Musical-Melodien usw. im normalen Kreuzfahrtzyklus angeboten werden. Da das Theater recht klein ist, kann man ja nicht in zwei Shows das ganze Schiff bedienen. Nun wo Platz geschaffen wurde, um die Getränke abzustellen, fände ich es gut, wenn man wieder die Ledermappen wieder bereitstellt, um die Rechnungen im Dunkeln besser durchreichen und unterschreiben lassen zu können. Wenn man keine Englisch-Kenntnisse hat, kann man etwa 90% der Show folgen. Mit geringen Englisch-Kenntnisse zu etwa 95%.
Wir sind müde und fassen mal unsere Entdeckungen in unserer Kabine vom Tag zusammen: So sieht also das Telefonmenü aus, wenn das Reset erfolgreich war.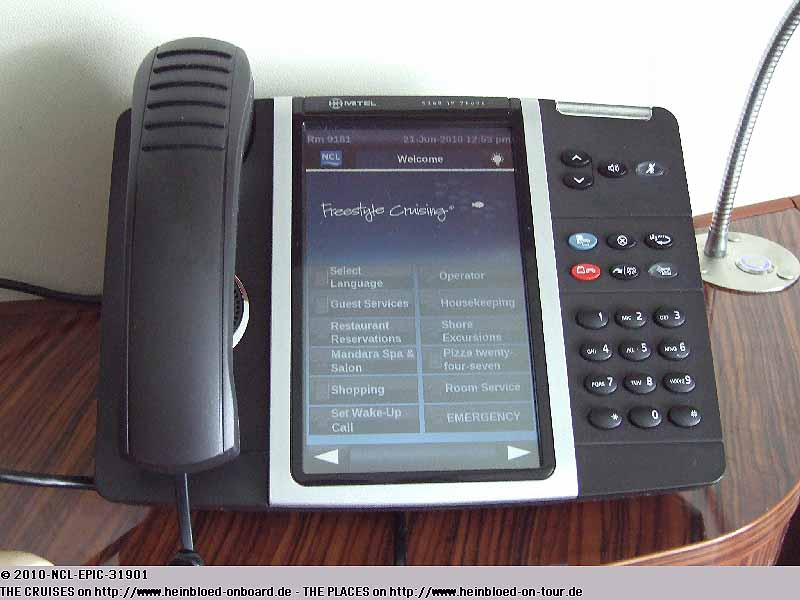 We were tired and sum up the discoveries in our cabin from the day. So the telephone menu should look like if the reset was successful.

And now the phone set was able to offer a German service...

Und schon kann das Telefon schon Deutsch...
Bruno versucht herauszubekommen, wie man die Kleenex-Tücher in den Spender bekommt.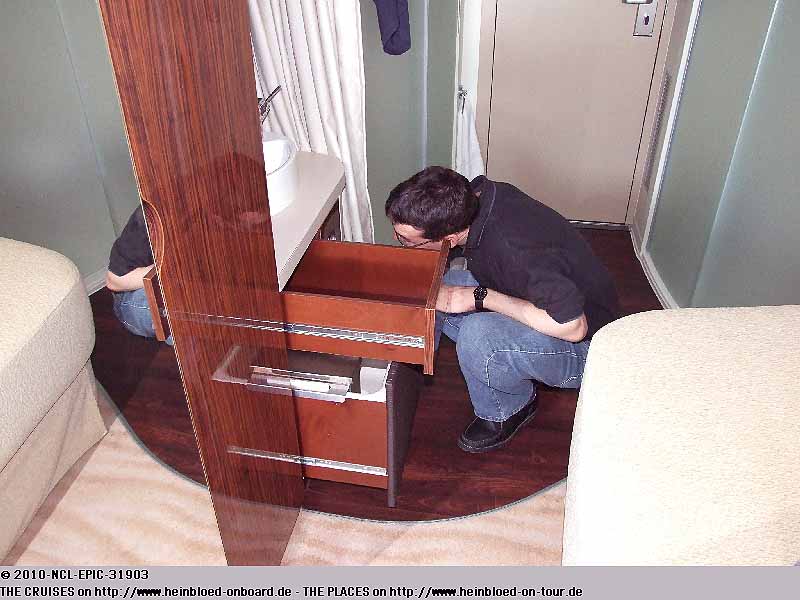 Bruno tried to find out why the Kleenex were not placed in the dispenser.

Obviously our steward grabbed a wrong package. This did not fit into the dispenser.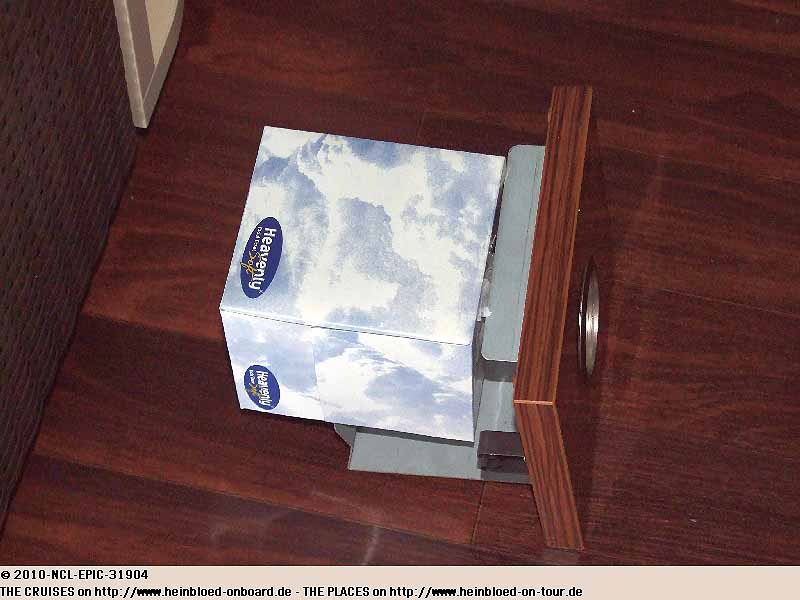 Da hat wohl unser Steward eine falsche Packung erwischt. Diese lässt sich nicht einsetzen.
Den Schalter für das Licht über dem Waschbecken haben wir nun auch gefunden. Unter dem Spiegelschrank.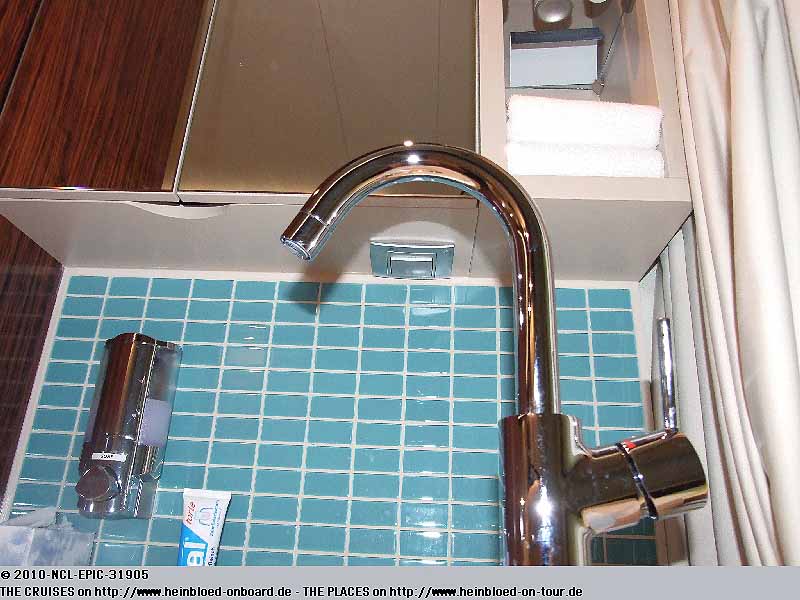 We found the switch for the light above the sink finally. Under the mirror closet.

Now it worked.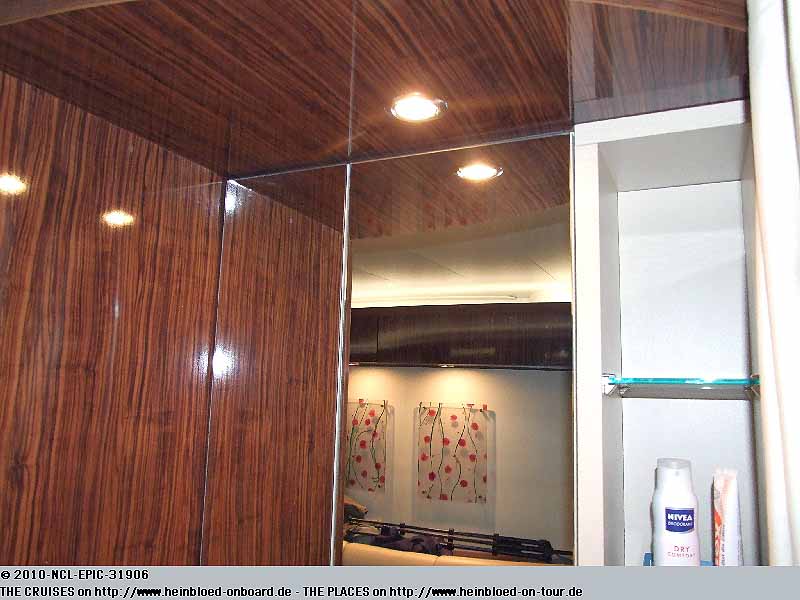 Nun geht es auch.
Von den 400 USD, die wir von Lufthansa für das verlorene Gepäck bekommen haben, als wir mit der CELEBRITY EQUINOX unterwegs waren, 100 USD Bordguthaben aus Wiesbaden und 100 USD Bordguthaben aus Miami kaufen wir drei Cruise Rewards. Damit steht ja schon mal fest, dass wir NCL unabhängig von unserem Urteil über die NORWEGIAN EPIC die Treue halten. Es war nur schwierig die Cruise Rewards an Bord zu kaufen, weil eine niederländische Gruppe und und zeitweise die britischen Einreisebehörden das Büro des Future Cruise Consultants besetzt hatten. Ich werde auf die Möglichkeit verwiesen die Cruise Rewards auf dem Bildschirm in der Kabine zu funktionieren. Nur diese werden nicht aufgebucht. Daher ruft man für mich die Future Cruise Consultant, die meine Bestellung manuell nochmals aufnimmt und mir erklärt, dass im Moment das System am Bildschirm noch nicht funktioniert.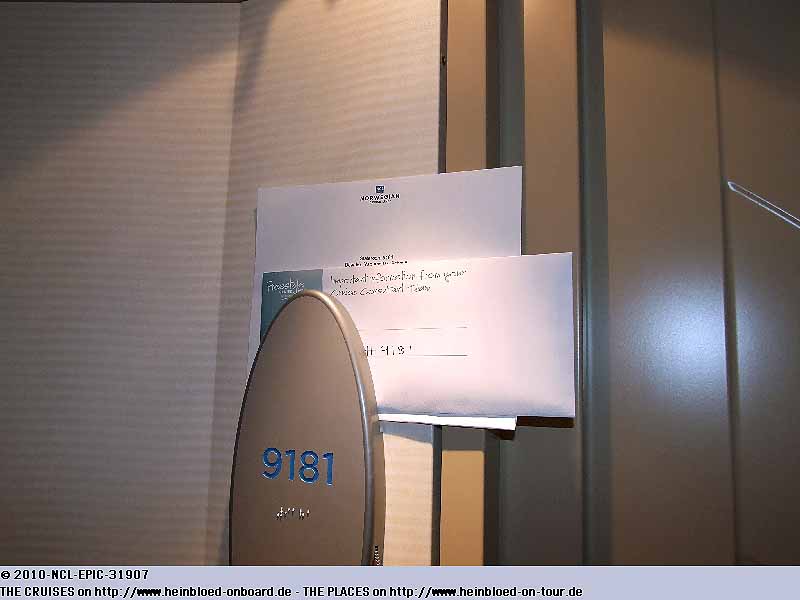 We used the 400 USD from Lufthansa which we got for our lost baggage when we were on CELEBRITY EQUINOX, 100 USD OBC from Wiesbaden and 100 USD OBC from Miami to buy three Cruise Rewards. So you know that independently from our rating of NORWEGIAN EPIC our loyalty belongs to NCL. Somehow it was difficult to buy the Cruise Rewards while we were on board because a Dutch travel group and temporary the British immigration occupied the office of the Future Cruise Consultant. I was attracted to use the option to buy the Cruise Rewards on our TV screen in our cabin. But they did not show up on our bill. So they called the Future Cruise Consultant for me who took my order manually again and explained that the TV orders did not work at this time.

We were nicely surprised to be invited to have our breakfast and lunch in Cagney's. We did not asked anyone for these privileges so our exitement were doubled.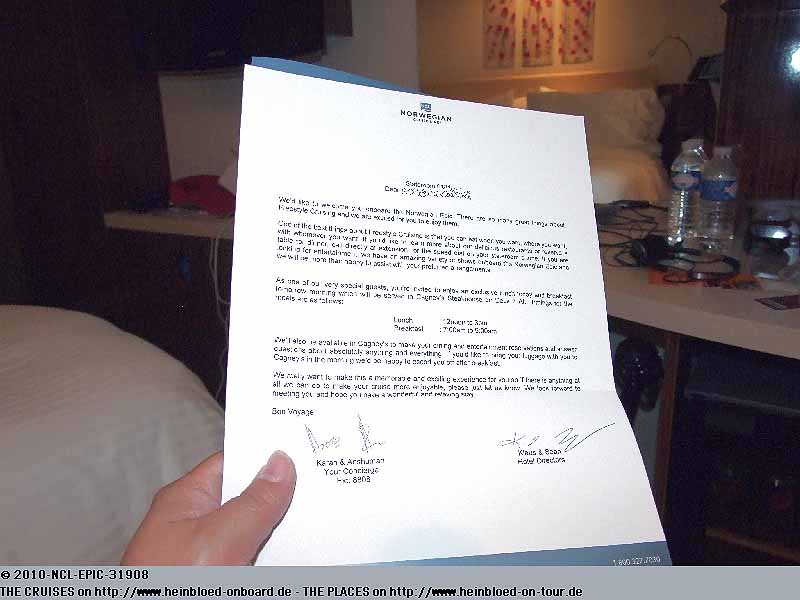 Über diese Einladung im Cagney's zu frühstücken und zu Mittag essen freuen wir uns sehr. Wir haben niemanden nach diesen Privilegien gefragt, deswegen waren wir doppelt erfreut.
Es gibt ein Programm für den 2. Tag (für uns 4. Tag) an Bord, der immer noch von einer Ankunftszeit um 17.30 Uhr ausgeht.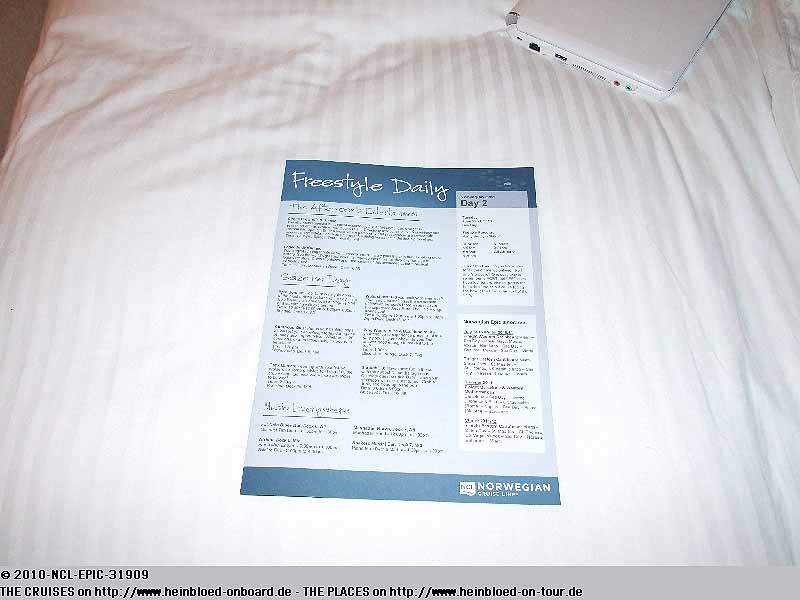 There was a programme for the 2nd day (for us 4th day) on board with an estimated time of arrivat at 17.30 hrs.

They reminded us to adjust the time.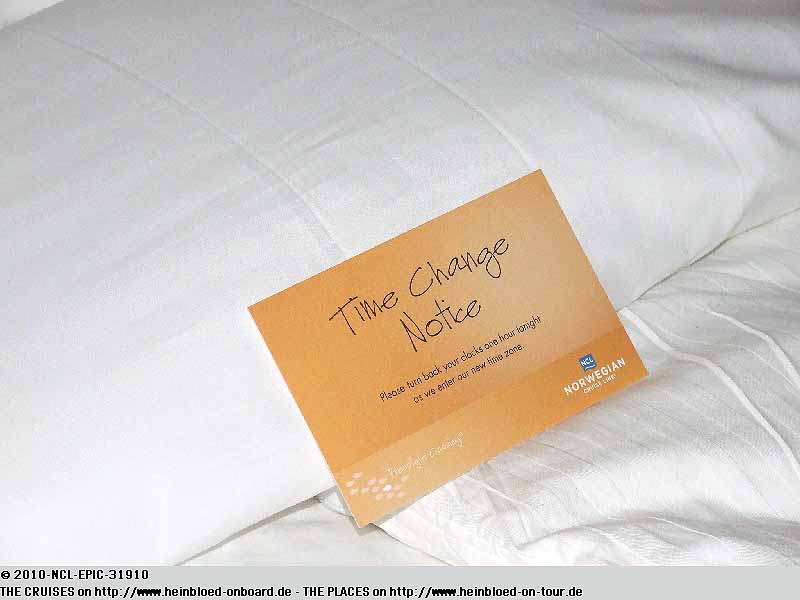 Wir werden daran erinnert die Zeit umzustellen.
Es war ja Sommersonnenwende und somit ziemlich hell draußen.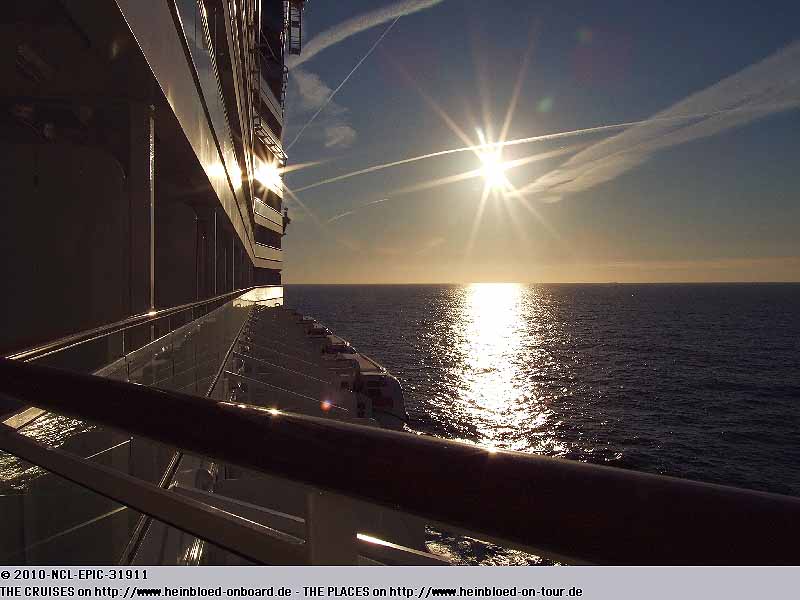 It was summer solstice (NOT THE CELEBRITY-SHIP...) the day so it was very light outside.

By the way: that was a picture without flash when the light was turned on under the shower and in the toilet. Maybe too bright for someone who wanted to sleep.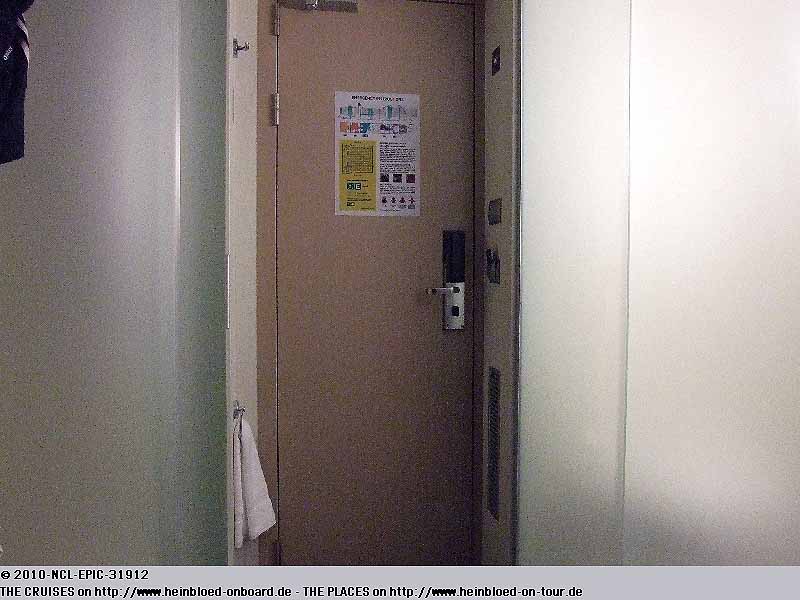 Das ist übrigens eine Aufnahme ohne Blitz, wenn man nachts das Licht unter der Dusche und im WC an ist. Möglicherweise zu hell für jemand, der schlafen will.