Scroll down for English explanations - alternates with German explanations.

Nachdem ein Kabel unseres Wäschetrockners am Vorabend anscheinend schmorte, stellte sich für das Problem, wie ich die Sachen noch trocken bekomme, die ich für die Kreuzfahrt brauche. Obwohl ich erst um 02.30 Uhr ins Bett kam, begann der Tag doch sehr entspannt, da wir noch alles erledigen konnten, bevor wir gegen 13.30 Uhr Richtung Frankfurt gestartet sind.
Unseren Wagen haben wir wieder beim
Platzhirsch
abgestellt. Da wir noch etwas Zeit hatten, gingen wir in die Lounge, um noch eine Kleinigkeit zu essen, da wir ja erst für 21.00 Uhr wieder zum essen verabredet sind.

After the cable of our dryer seems to malfunctioned the night before I had the problem to solve how to get stuff dry which I need for the cruise. Although I went to bed at 2.30 am the next day started very relaxed as we a lot of things could be done before we left home for the Frankfurt airport around 1.30 pm.

We parked our park again with Platzhirsch. As we still had some time we went to the lounge to have a little food as dinner was planned for 9 pm.

Our flight was finally announced for boarding.

Dann wurde unser Flug auch aufgerufen.
Aber es war leider eine Vorfeld-Position, die wir nur mit dem Bus erreichen. Im Bus kommt die Ansage, dass wir uns auf beide Zugänge verteilen sollten.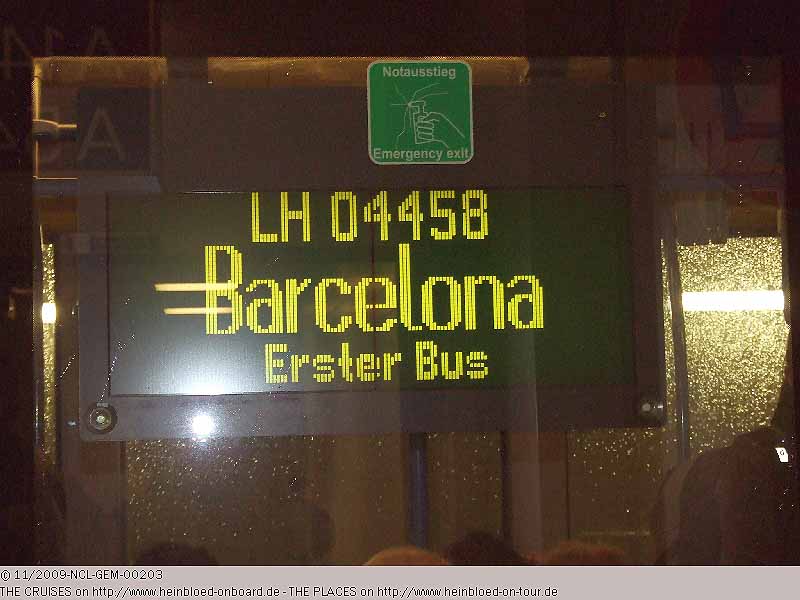 But unfortunately a airfield position which you need to take the bus. In the bus there was an announcement that you should allocate to both entries for smooth boarding.

It was raining "cats and dogs" and only one covered stairways. So you exit the bus only by the front door. In each Third World country you have more covered stairways than in Frankfurt.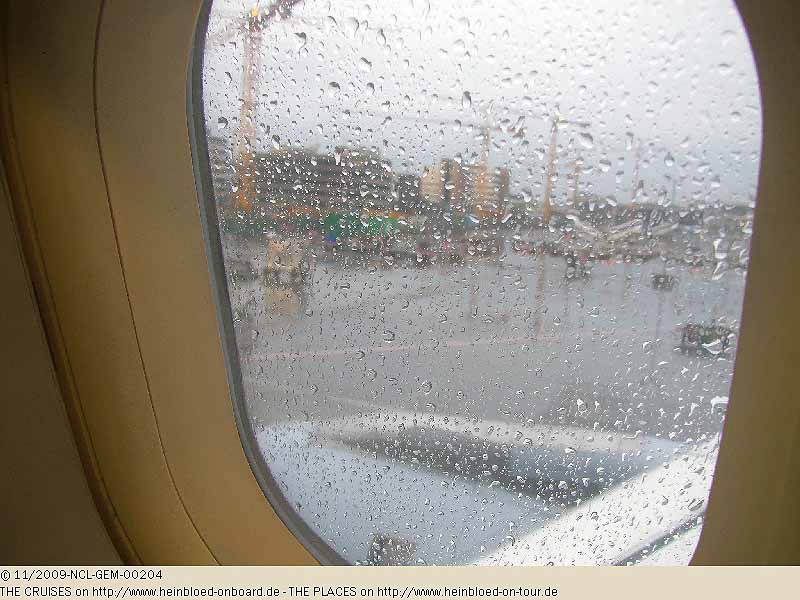 Aber in Frankfurt regnet es in Strömen und nur eine überdachte Treppe. So läuft der Ausstieg nur durch die Vordertür im Bus. In jedem Entwicklungsland gibt es mehr überdachte Treppen als in Frankfurt.
Brunos Brötchen hätte bei jedem Ehepaar für Streit gesorgt, das sich die oberen und unteren Hälften teil. Das Verhältnis war 4/5 oben und 1/5 unten... Mein Brot dagegen gehörte zu den Typen, die im Mund immer weiter aufquellen und man dann irgendwann nicht mehr herunterschlucken kann.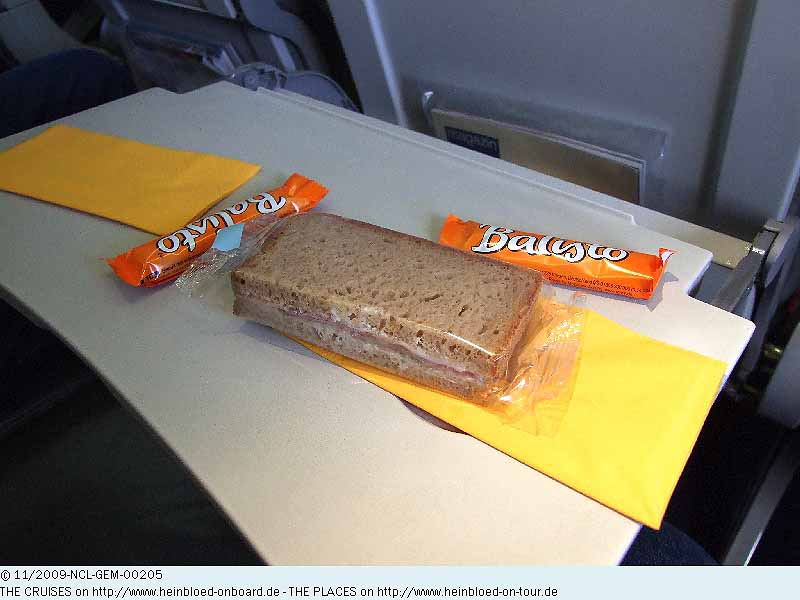 Bruno's Roll would be a reason for divorce for each couple who shares upper and lower half of a roll: 4/5 to 1/5... My bread was a type: the more you chew the more problems you have problems to get it into your stomach because it grows and grows in your mouth.

But we were flying towards the sun.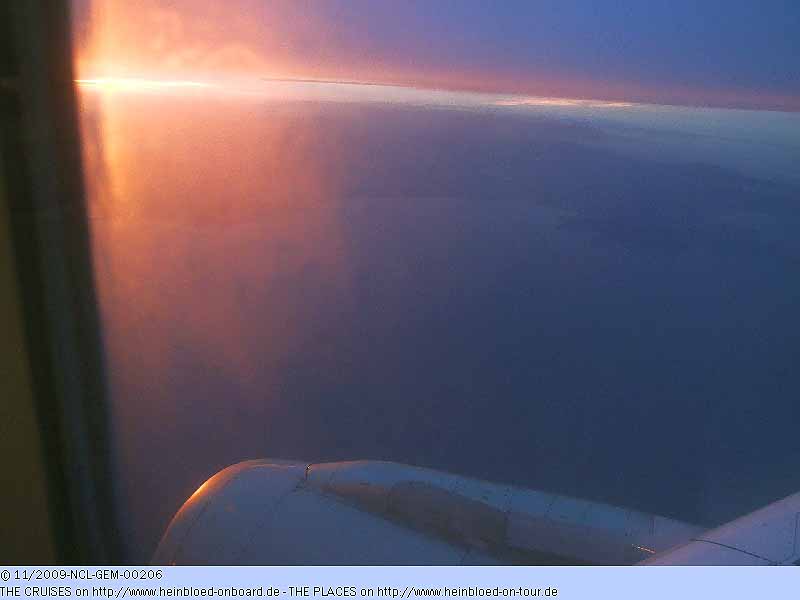 Aber dafür flogen wir ja der Sonne entgegen.
In Barcelona kommen am neuen Terminal 1 an. Super ausgeschildert.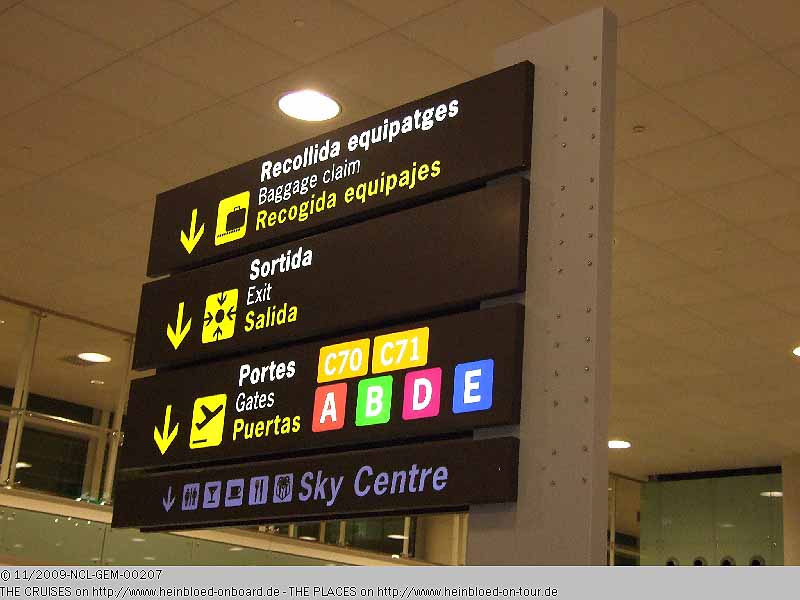 In Barcelona we arrived at the brandnew Terminal 1. Excellent signposts.

Very spacios compared to the old Terminal 2.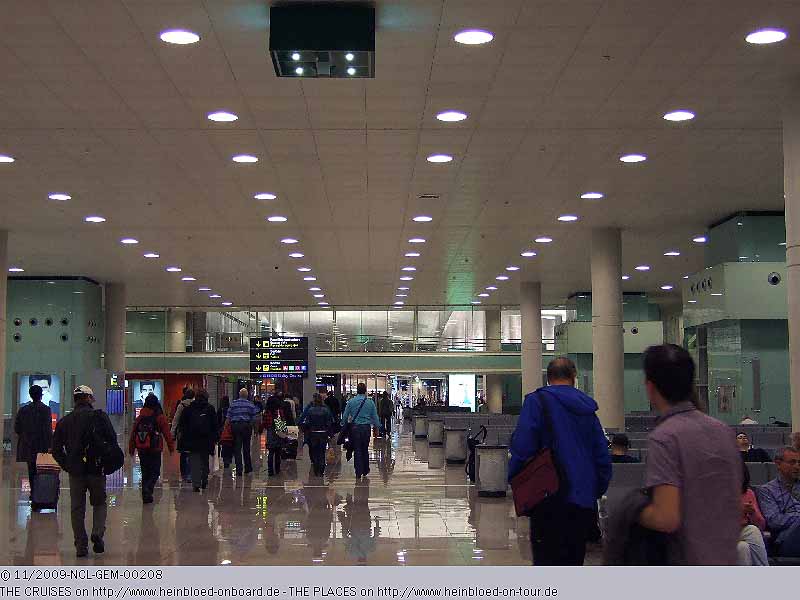 Schön weitläufig und großzügig im Gegensatz zu Terminal 2.
Und kostenlose Gepäckwagen.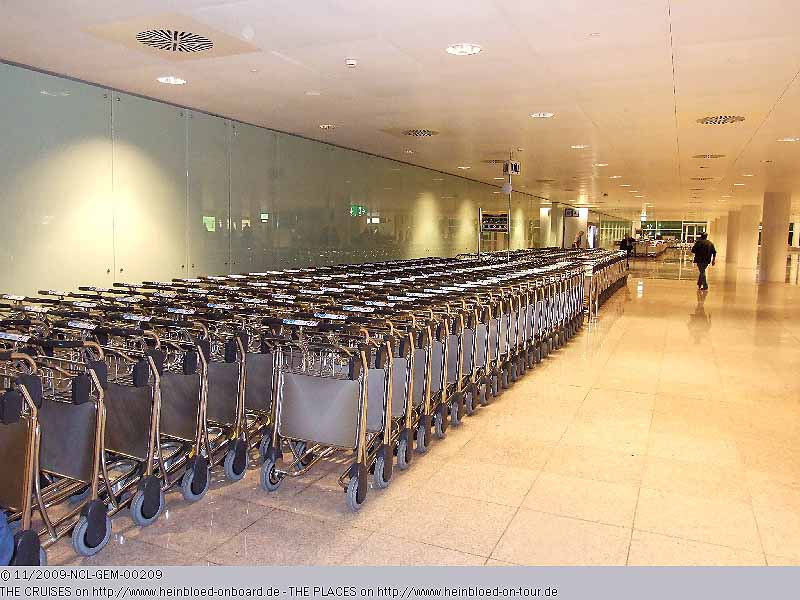 And free of charge baggage carts.

You do not need to check anymore in which part of the airport you need to collect your bags.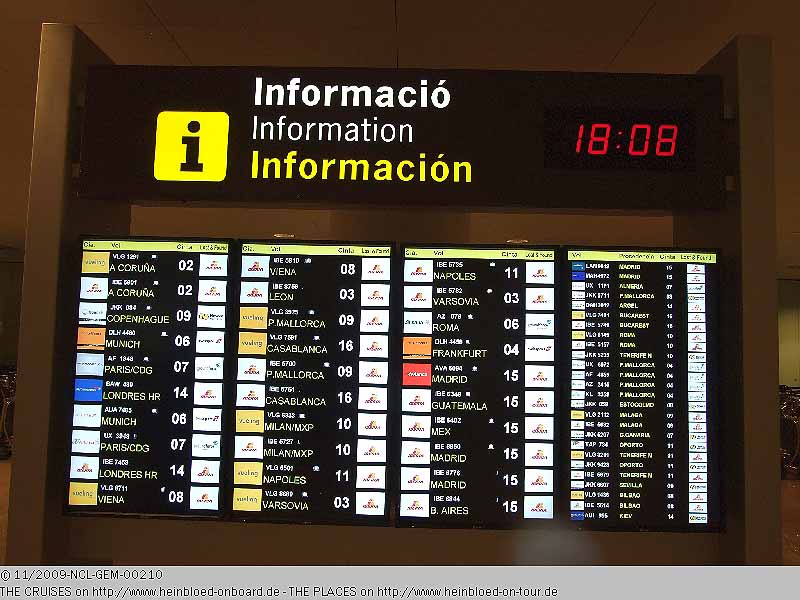 Man muss sich nicht mehr vor der Gepäckausgabe erkundigen, wo das Gepäck ankommt.
Und mehr Informationen als zuvor.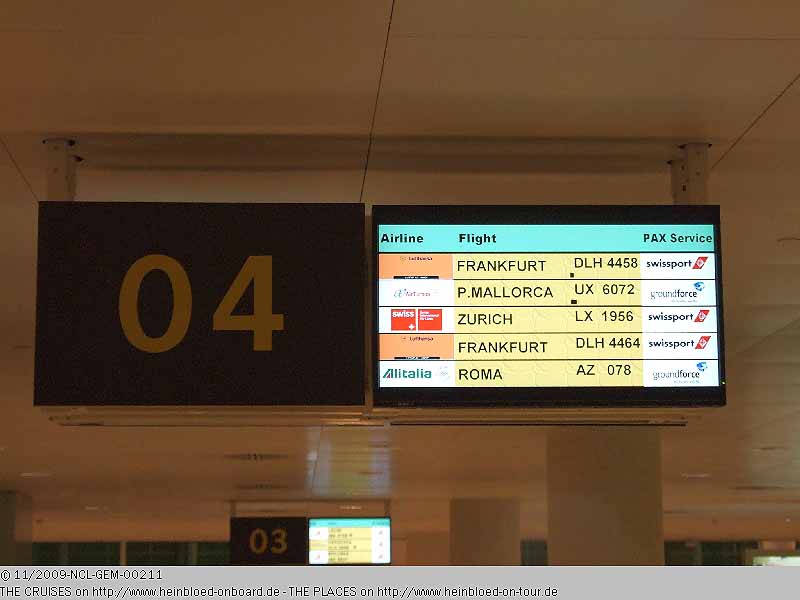 And more information then before.

To avoid that a burglar can steal your bags from the cart you can fix them with the rubber tape with the cart itself.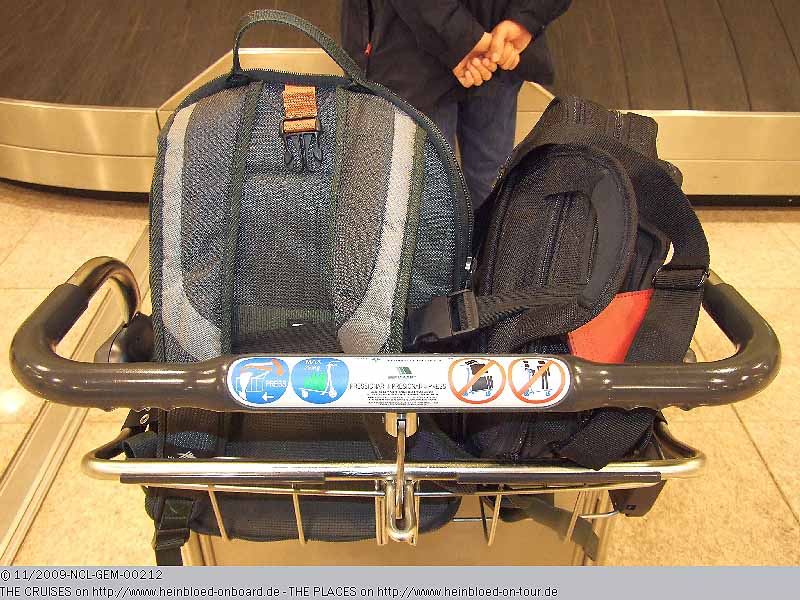 Damit kein Dieb die Sachen vom Wagen klauen kann, können die kleinen Sachen mit einem Gummiband am Wagen befestigt werden.
Haben andere für die sieben Nächte plus Vorübernachtung eigentlich auch immer so viel bei???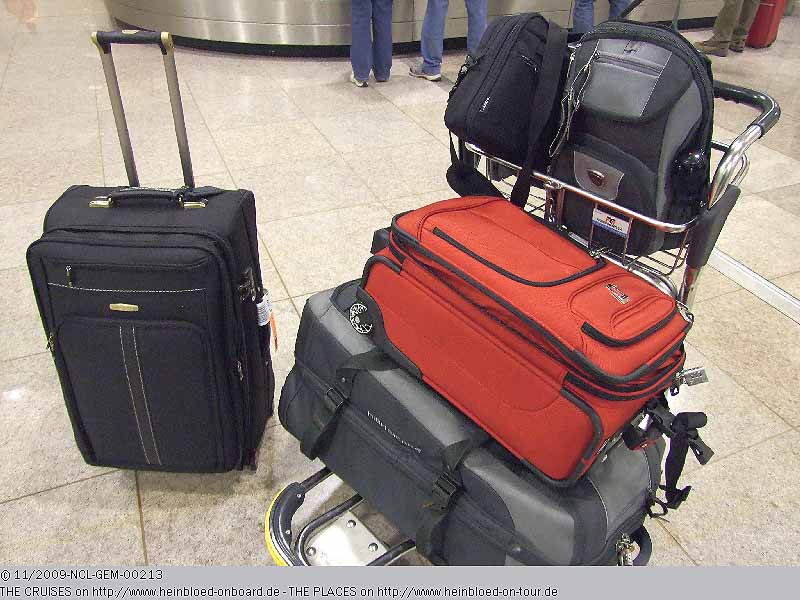 Do other cruisers also have so much with them for seven nights plus one night pre-cruise???

New at Terminal 1 are the different levels for the different means of transport.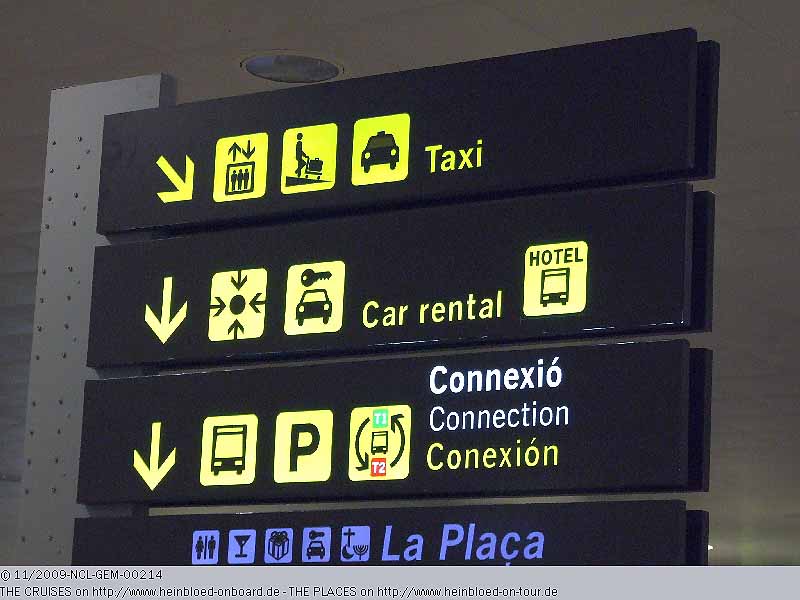 Neu ist am Terminal 1, dass es unterschiedliche Ebenen für die unterschiedlichen Verkehrsmittel gibt.
Da wir mit dem Taxi fahren wollen, müssen wir also runter.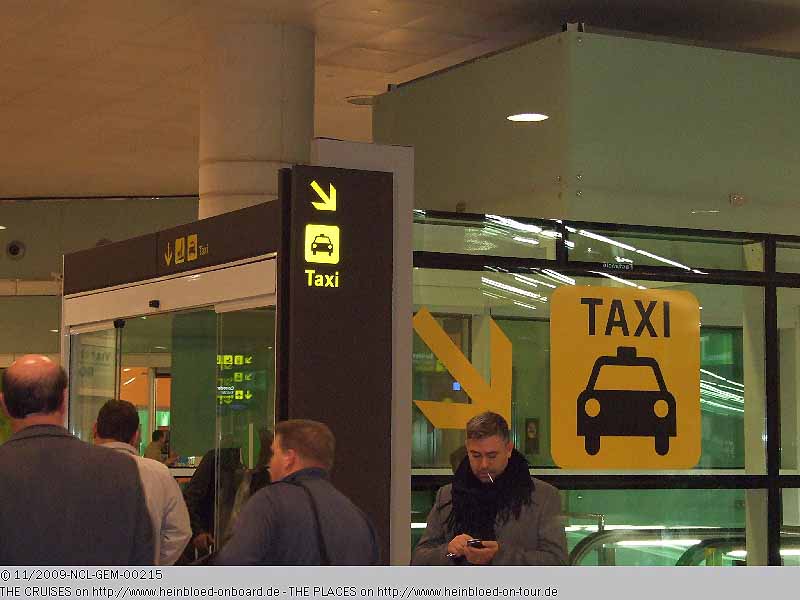 To get a taxi we need to get down.

Very well loacated you can use the ATMs before you reach the taxis.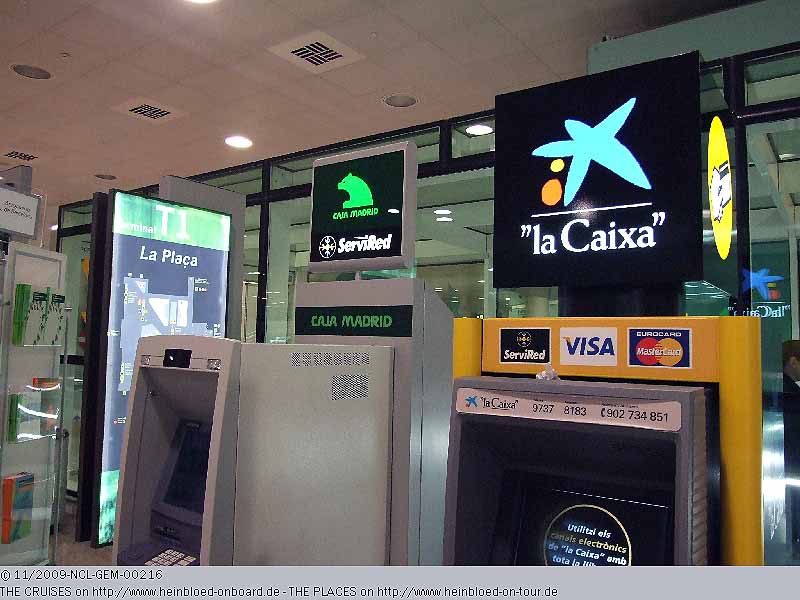 Praktischerweise sind die Geldautomaten direkt am Taxi-Zugang platziert.
Und noch praktischer: man kann mit den Gepäckwagen runterfahren.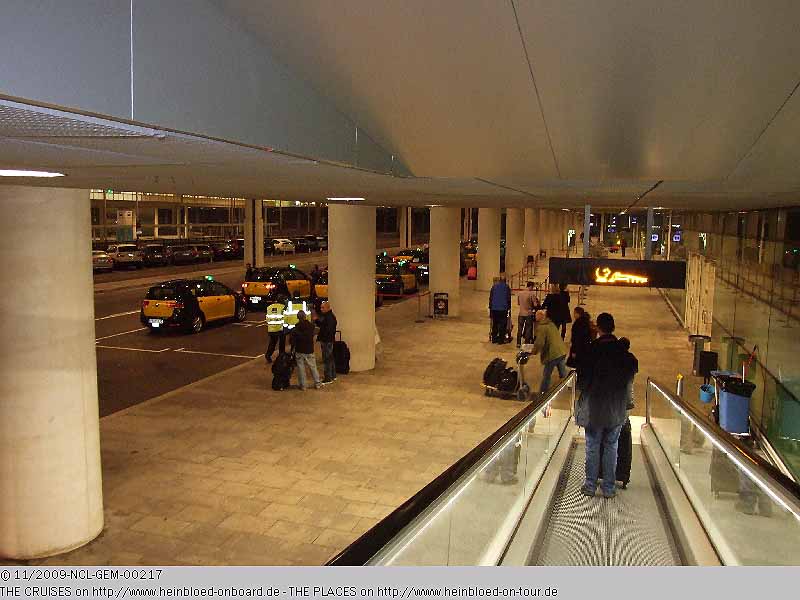 You can have all your bags on the cart with you to the taxi level.

For those who still need orientation you find additional signs to find the right level.

Zum Glück gibt es auch nochmals Schilder für diejenigen, die sich verlaufen haben.
Aber das Geld abheben hätte ich mir sparen können: Es werden auch Kreditkarten angenommen.
Nach wenigen Minuten merke ich, dass wir ein Gepäckstück auf dem Wagen vergessen haben. Unser Fahrer José war großartig und fährt mich sofort zurück. Er kann kein Englisch und arrangiert trotzdem alles für mich. Nach wenigen Minuten ist meine Tasche gefunden und ich honoriere das mit einer Vorabbuchung für unsere Abholung, wenn wir in Barcelona wieder ankommen.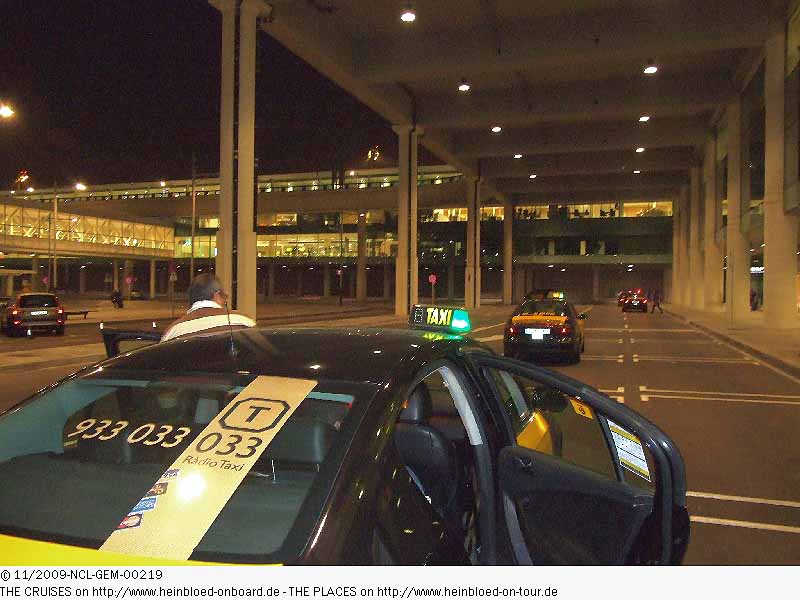 But withdrawing money was not necessary as credit cards were also accepted.

After few minutes we remarked that one bag was left on th baggage cart. Our driver José was great and drove us back asap. He does not speak any English but arranged everything for me. After few minutes I had my bag back and I honour his assistance with a pre-booking for our debarkation in Barcelona the next weekend.

Due the delay at the airport we missed the NORWEGIAN JADE just for minutes.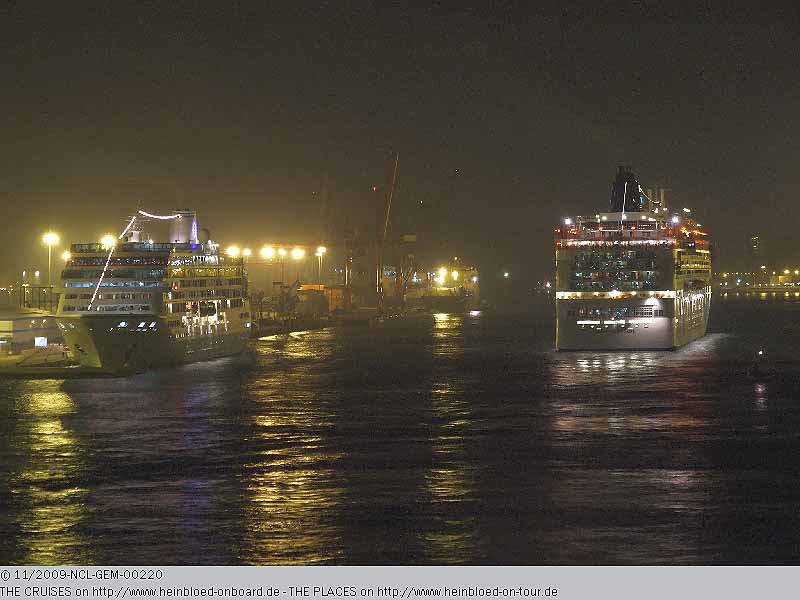 Durch die Verzögerung am Flughafen, verpassen wir die NORWEGIAN JADE bei der Ausfahrt nur um wenige Minuten.
Schade.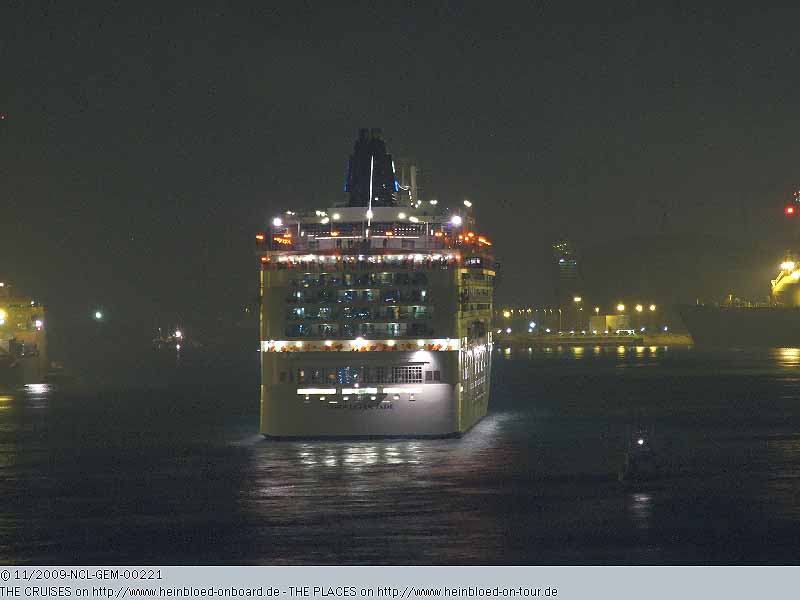 What a pity.

But we got REGATTA as a good replacement. The sister of OCEAN PRINCESS which we booked for next year.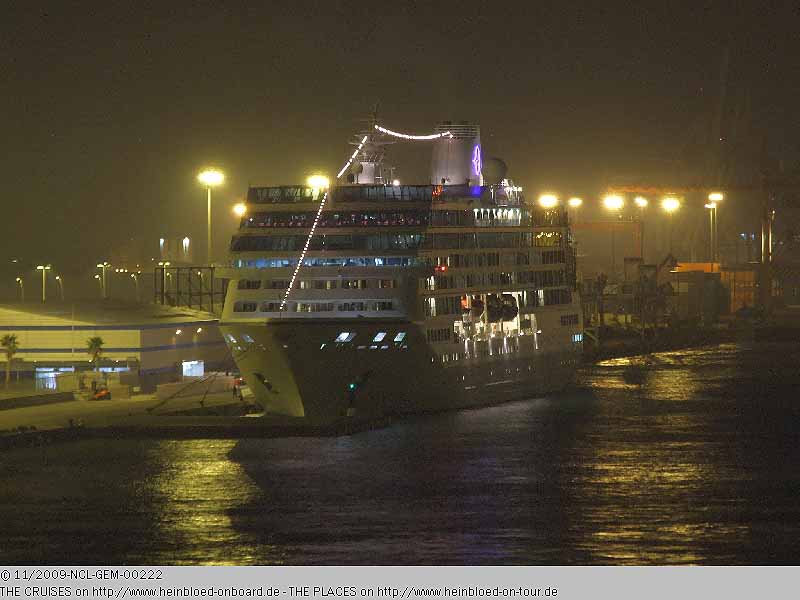 Die REGATTA tröstet mich darüber hinweg. Noch eine Schwester also der OCEAN PRINCESS, die wir dann nächsten Jahr kennenlernen.
Und in der Werft drüben liegt die DISCOVERY.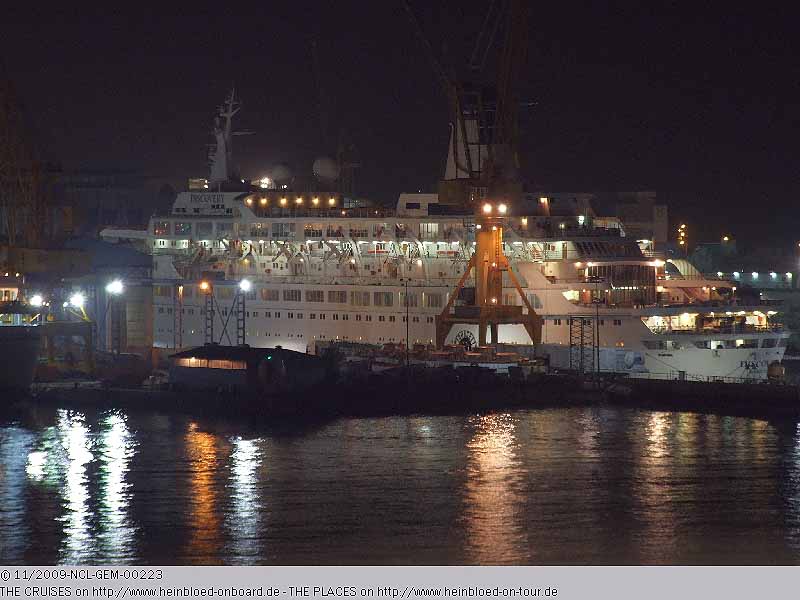 And in the shipyard there is DISCOVERY.

We booked on Hotwire the Hesperia del Port Hotel. It was funny: the first time we sailed NORWEGIAN GEM our taxi driver took us by mistake to this place. It's not a real bargain like we had in London and Madrid.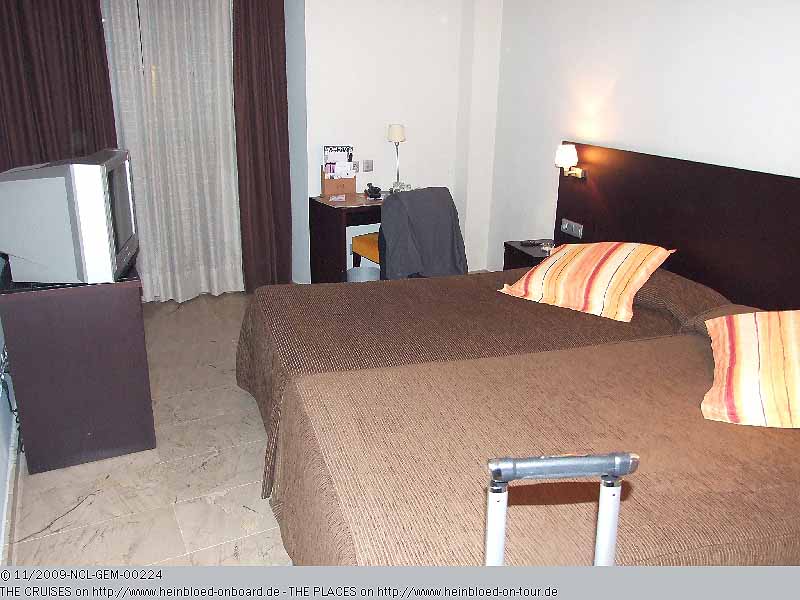 Über
Hotwire
habe ich das
Hesperia del Port
gebucht. Witzigerweise hatte bei der 1. NORWEGIAN GEM-Reise unser damaliger Fahrer uns beinahe hier abgesetzt. Es war kein echtes Schnäppchen, wie zuletzt in Madrid und London.
Die Zimmer sind funktional. Zentrale Lage. Nahe am Hafen. Gut mit der Metro erschlossen. Auch verkehrstechnisch "anderer Art" ist das Hotel vor der Tür gut erschlossen. Nettes, freundliches, hilfsbereites Personal, aber kein Ort, den ich meinem "fiktiven" Kind erklären möchte, wo es denn gezeugt worden wäre. Im Bad fehlt bautechnisch der deutsche Perfektionismus.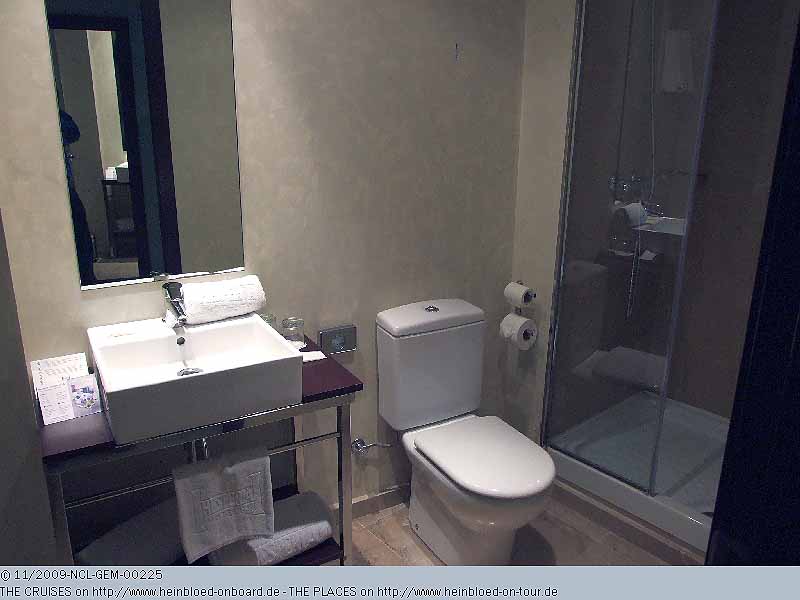 The room is very functional. Centrally located. Close to the port. Very good connected by metro and by other "traffic" (We call in German the S ... X-word incl. the part traffic). Nice, friendly and helpul staff but no hotel I would like to explain my "fictive" child that it was "produced" there... In the bathroom your are missing a certain kind of German perfectionism.

But we are lucky with our room in the 7th floor: you see the castel and you have free massage in your bed any time a subway is passing under the street.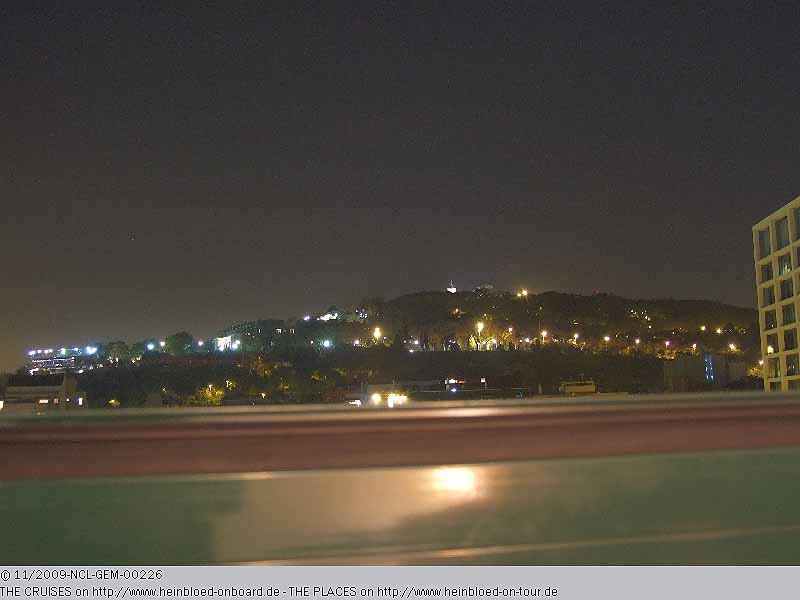 Dafür haben wir im 7. Stock Glück: wir gucken auf das Castell und wir haben freie Massage jedes Mal, wenn die U-Bahn unter der Straße langfährt.
Gegen 20.00 Uhr laufen wir über La Rambla... aber eigentlich noch ruhig...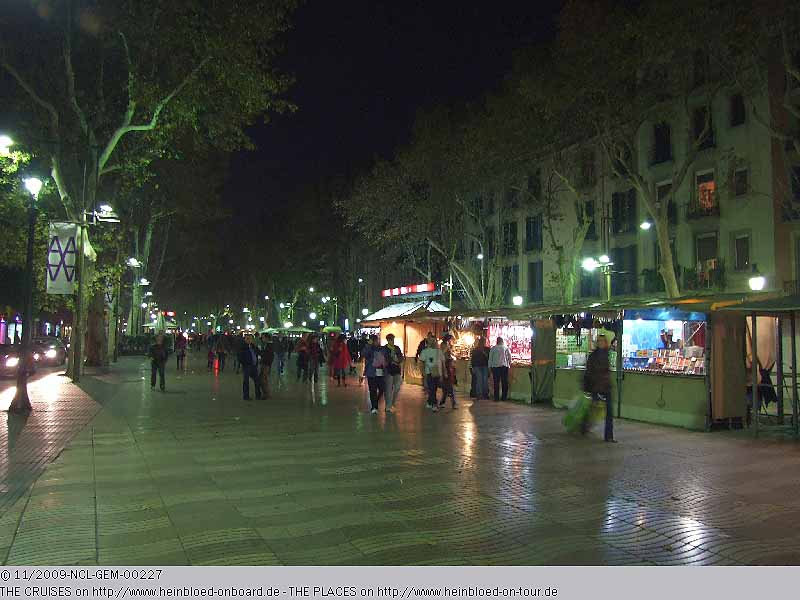 Around 8 pm we walked over La Rambla... but it's still quite.

Really quite...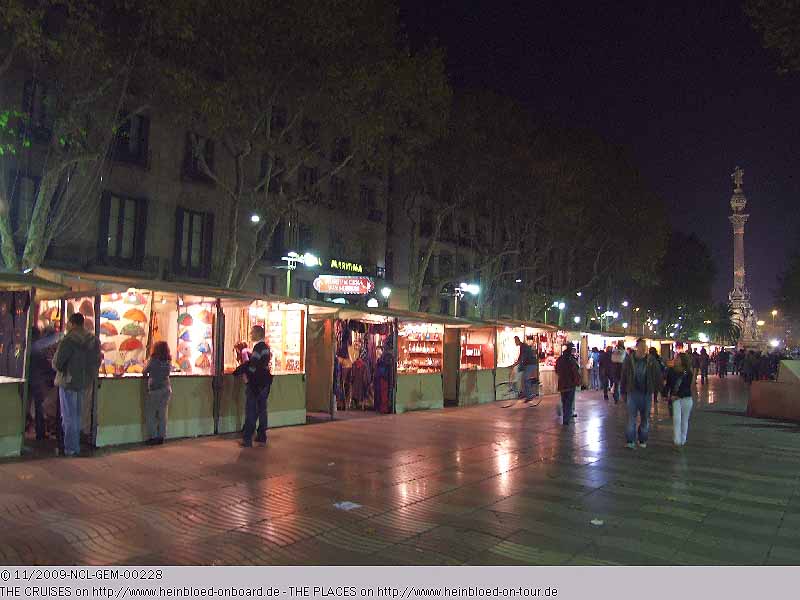 Noch nichts los...
Meine vorbestellten Karten bei
Telentrada
für das Casa Batllo kann ich an den Geldautomaten der Caixa Catalunya abholen.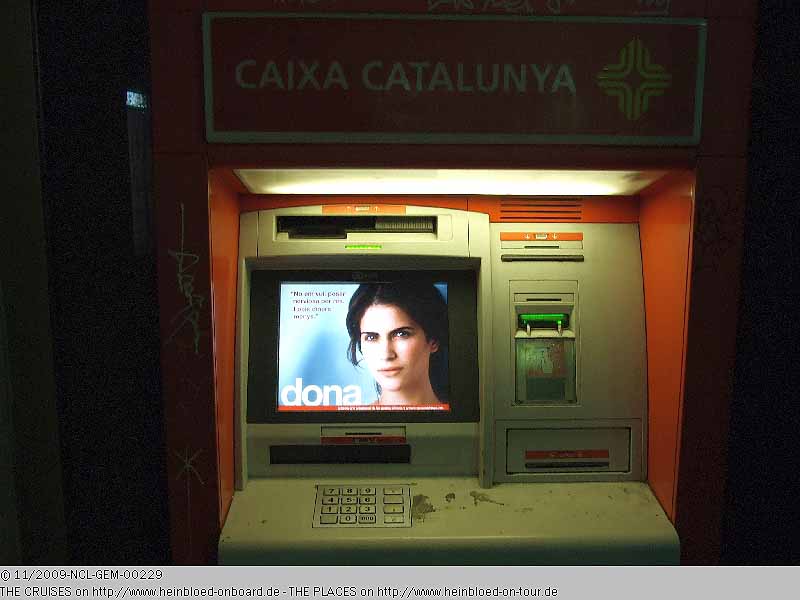 My prebooked-tickets on Telentrada for Casa Batllo I can get on every ATM of Caixa Catalunya.

Very smart.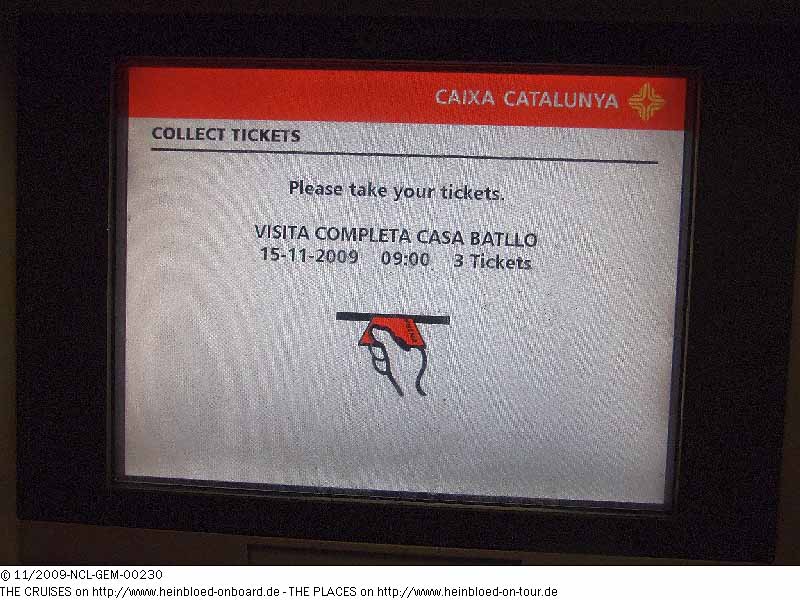 Sehr praktisch.
So kann man sich morgen das Anstellen ersparen, wenn man die Original-Tickets in der Hand hält.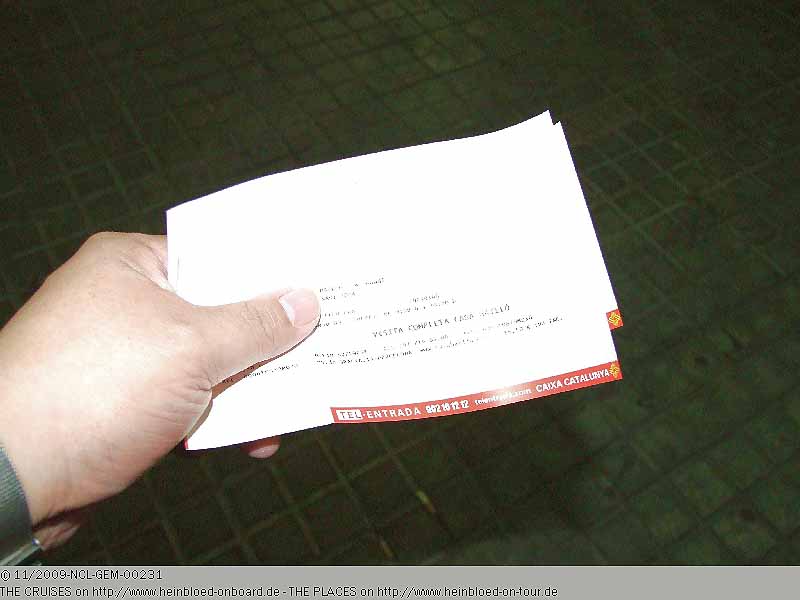 So I can avoid the queue the next morning as I have an original ticket in my hand.

Also in the streets of the Gothic Quarter there was not very busy.

Auch in den Seitenstraßen zum Gotischen Viertel ist noch nicht viel los.
Nur bei La Boqueria ist noch viel Leben, weil sie in Kürze schließt.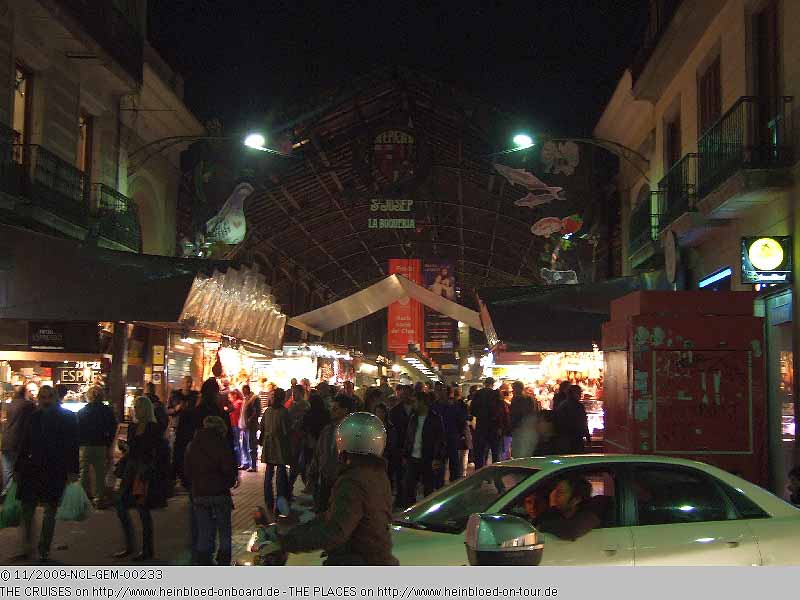 On La Boqueria was very busy as it supposed to close very soon.

One section of La Rambla is dedicated to the flower dealers and another to animal dealers.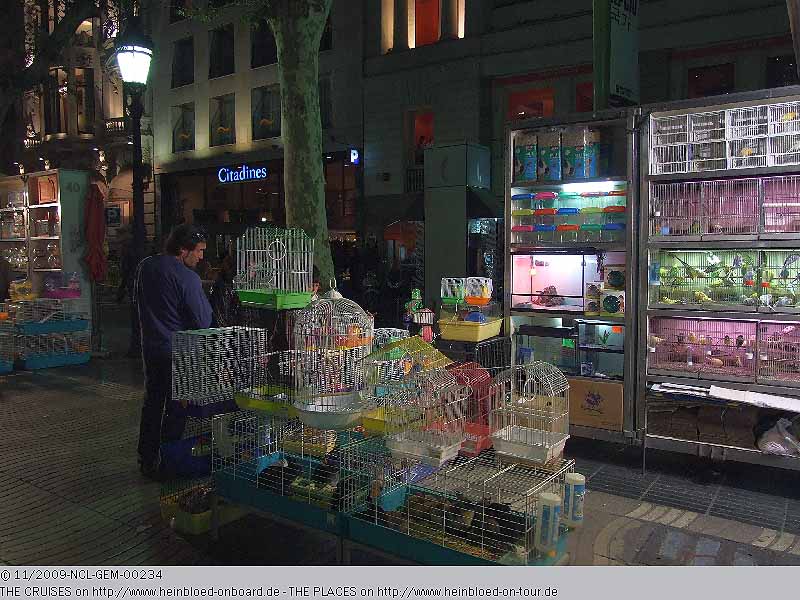 Ein Abschnitt von La Rambla gehört den Blumenhändlern und ein weiterer Abschnitt den Tierhändlern.
Die schönen Häuser sind auch schön beleuchtet.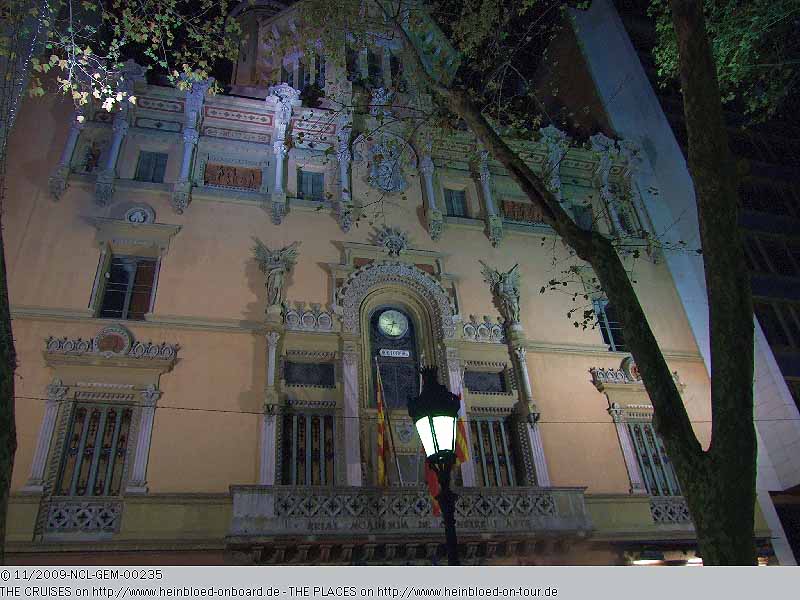 It's easy to identify the beauties as they are well illuminated.

On Placa Catalunya business as usual.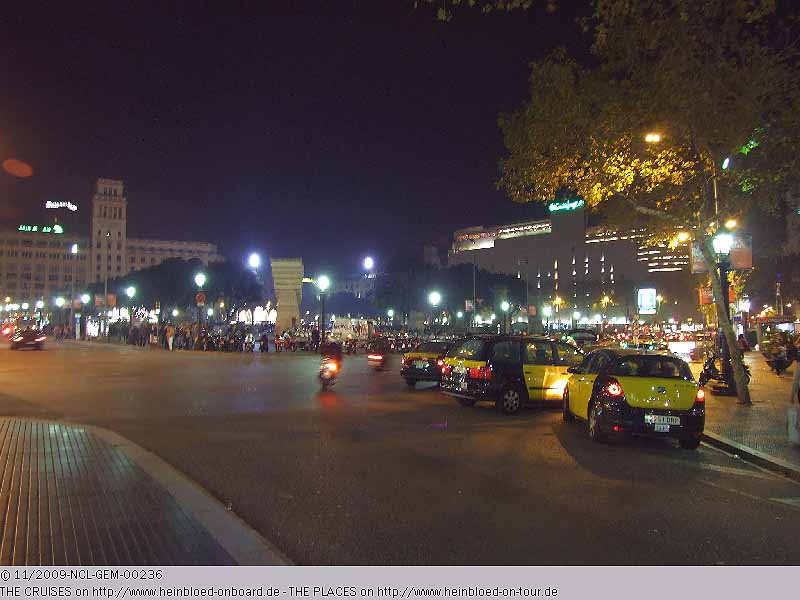 Am Placa Catalunya Verkehr wie immer.
Abends ist es immer sehr schön.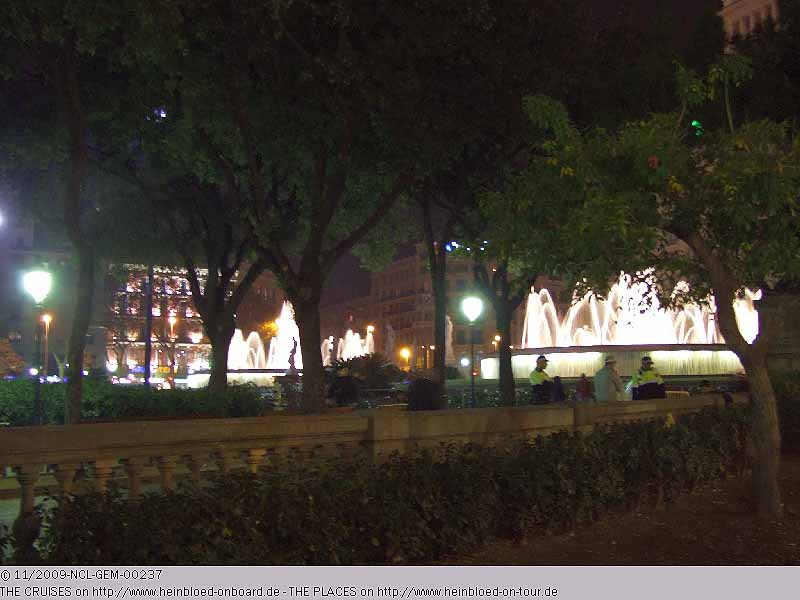 It's always very nice there in the evening.

With the airport bus you need to pay attention to get right one as the two terminals are served by two different lines. Bus A1 for Terminal 1 is now 5.00 EUR a little more expensive.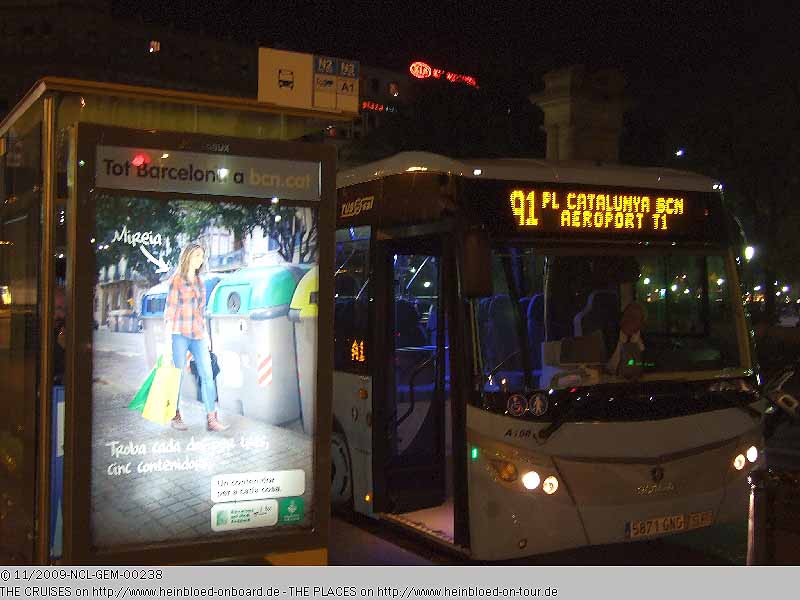 Und beim Flughafenbus muss man jetzt aufpassen, dass man den richtigen erwischt, da die Terminals von unterschiedlichen Linien bedient werden. Der Bus A1 zum Terminal 1 kostet auch mit 5,00 EUR eine Kleinigkeit mehr.
Wir sind um 21.00 Uhr mit sieben weiteren Mitgliedern aus cruisecritic.com im
Casa Alfonso
verabredet.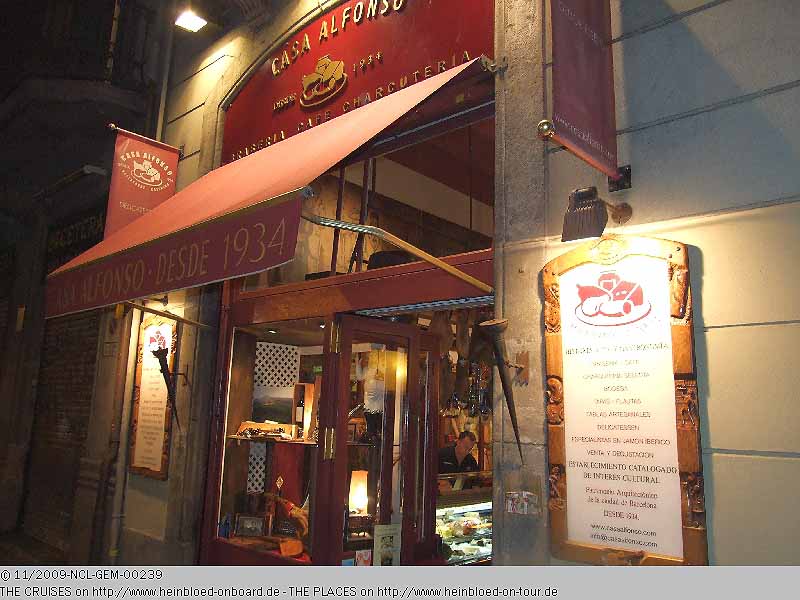 We had our appointment with other cruisecritic.com-members at 9 pm at Casa Alfonso.

Here you know immediately that you are at the right place.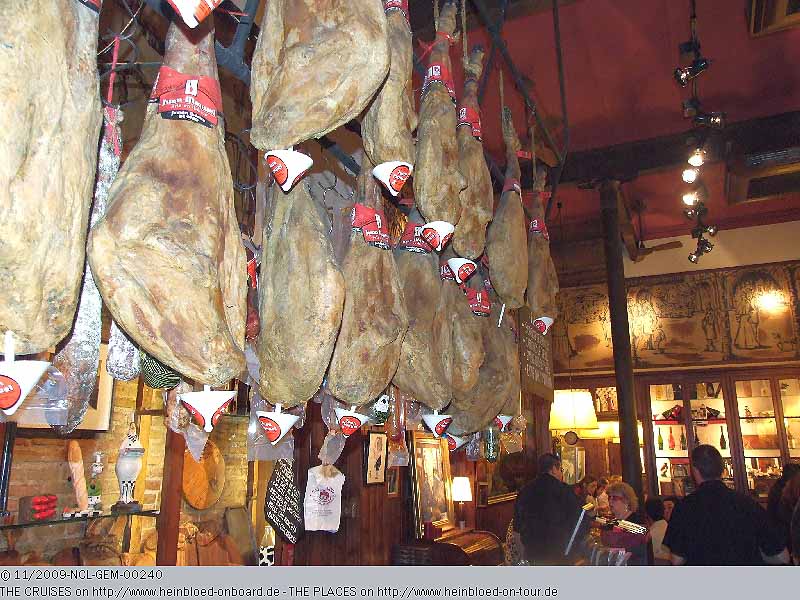 Hier weiss ich: hier bin ich richtig.
Für uns haben sie einen Nebenraum eingedeckt.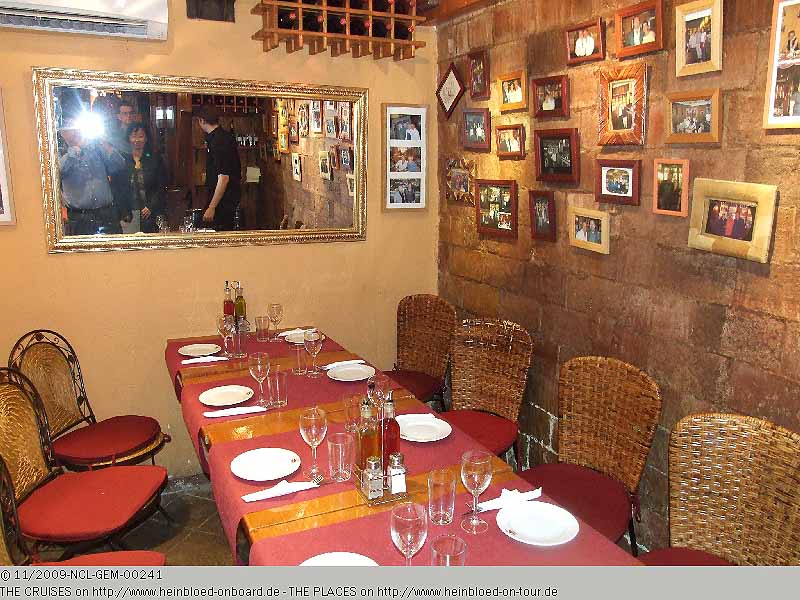 We got a private room for us.

Very authentically furbished.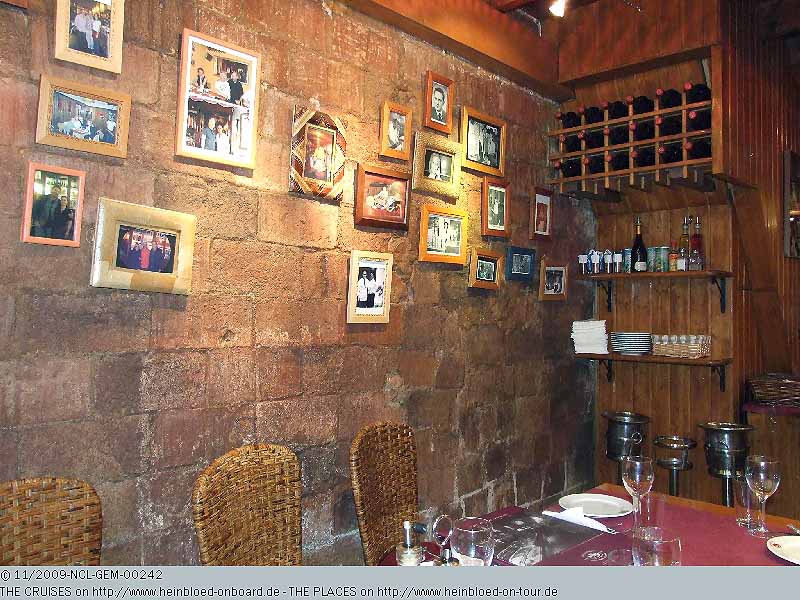 Aber auch dort alles urig eingerichtet.
Wir bestellen für uns Tapas. Die sind dort einfach lecker, gut UND bezahlbar. Nur wenn man getrennt bezahlen will, sollte man bei der Bestellung schon mal mitschreiben, was man eigentlich hatte, sonst wird es hinterher ziemlich schwierig, wenn man eine lange Liste und einen Taschenrechner bekommt, und selbst rechnen soll.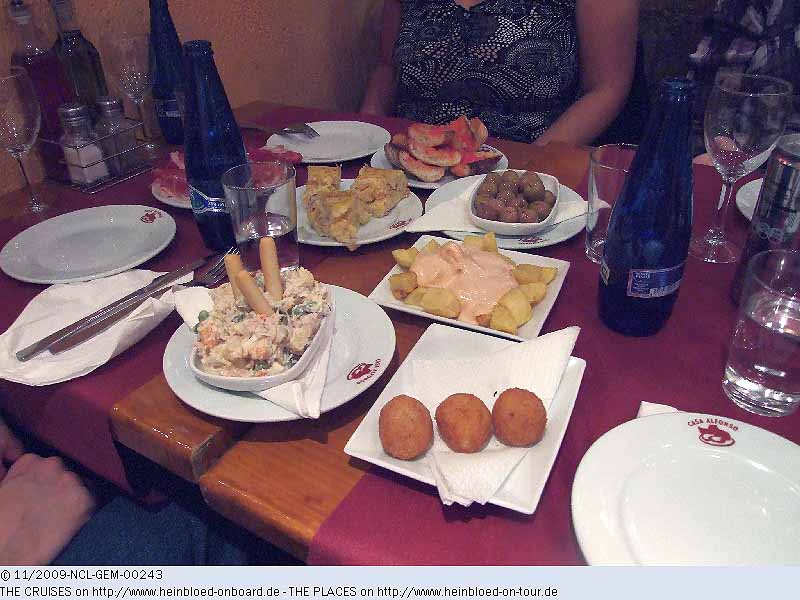 We ordered Tapas. They are yummy, good AND affordable. Only if you need seperate checks you better should write down your orders because it would ease your life when you get the calculator and the total check to allocate all foods.

One of the cruisemates must test the pig's ear. I tried one - but it's not mine.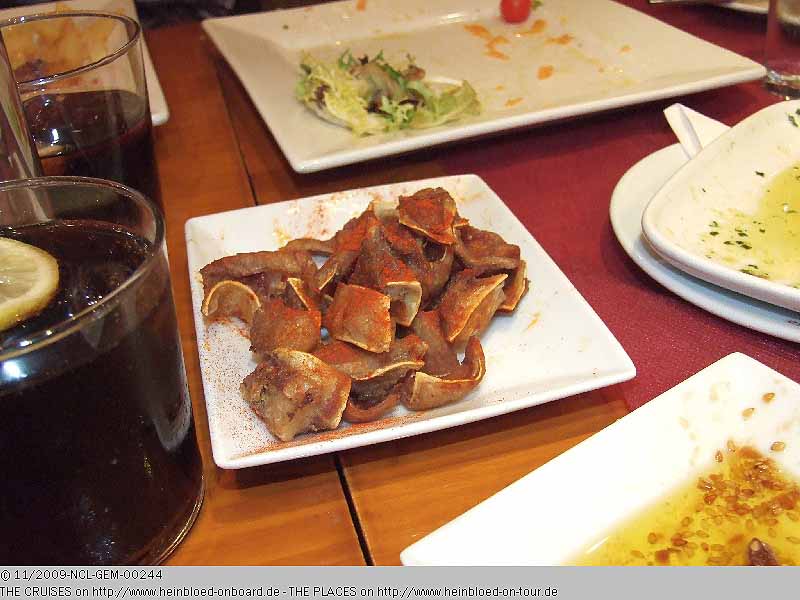 Einer will unbedingt die Schweineohren probieren. Ich probiere auch eines: aber nicht meins.
Unsere nette internationale Runde aus den USA, Kanada und Deutschland endet so spät, dass wir erst nach Mitternacht im Hotel zurück sind. Nur den Kaffee hätte ich nicht trinken sollen. Als wir im Hotel zurück sind, bin ich noch stundenlang hellwach.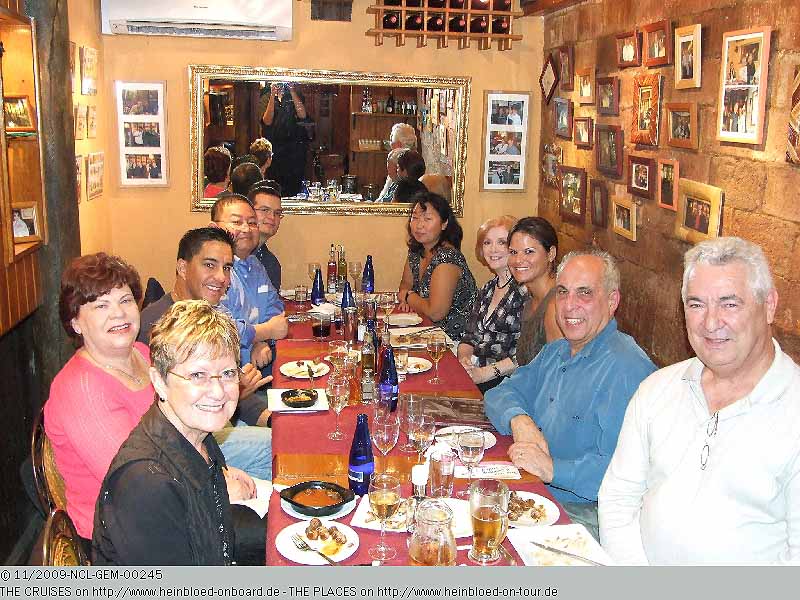 We had a very nice international round from Utah (distrat = Diane), California (20th = Vicki and David), Hawaii (islandfever 15 = Kani'o and Kevin), Quebec (robcruz = Robert und Judy) and Germany (HeinBloed = Tien, Bruno and Tenny). It was so nice that we got back to our hotel after midnight. I should have the coffee as I was unable to sleep the entire night.