Scroll down for English explanations - alternates with German explanations.

Irgendwie nehme ich nur am Rande im Halbschlaf war, dass wir gerade an einem Kreuzfahrtschiff vorbeifahren oder ein anderes Kreuzfahrtschiff an uns. Es ist mir zu früh, um darüber nachzudenken, was los ist.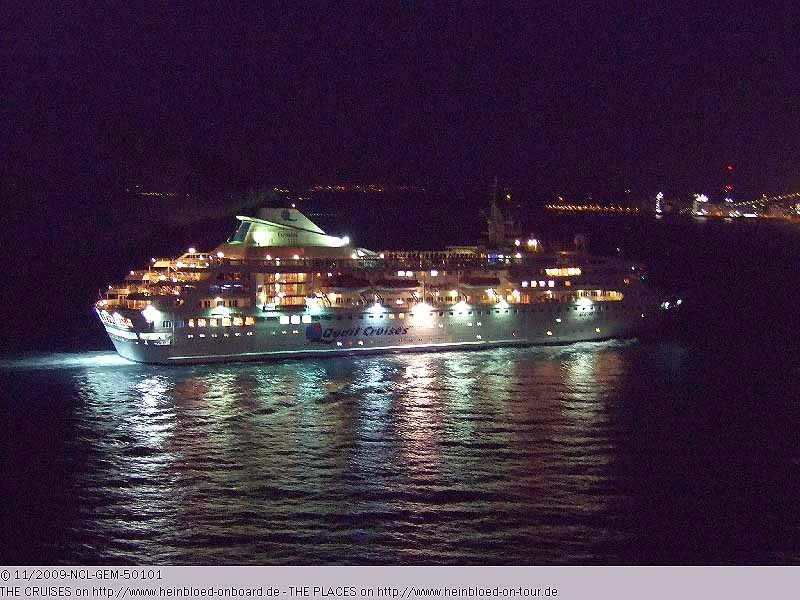 Somehow I saw semi-somnolent a cruise ship. It's to early to have clear thoughts what happened in this moment.

Later it's light enough to have a look around what is going on and I found out that I cannot look down. I did not remember to read something on view obstruction.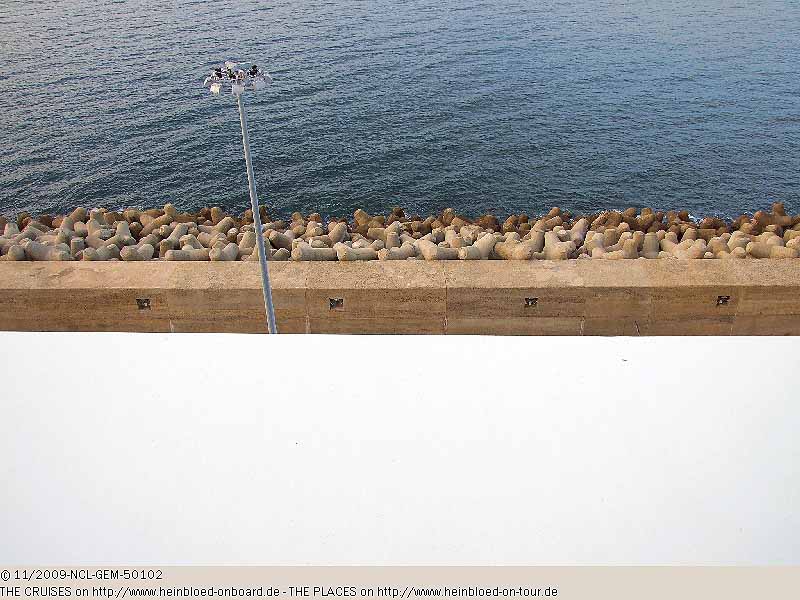 Irgendwann ist es hell genug und ich auch wach genug, um mal zu gucken, was ist los. Dabei stelle ich fest, dass ich gar nicht runter gucken kann. Stand im Katalog etwas von Sichteinschränkung???
In der Tat: offensichtlich haben alle A3-Suiten eine Sichteinschränkung nach unten. Nur die A4-Suite kann direkt mitverfolgen, was am Pier läuft.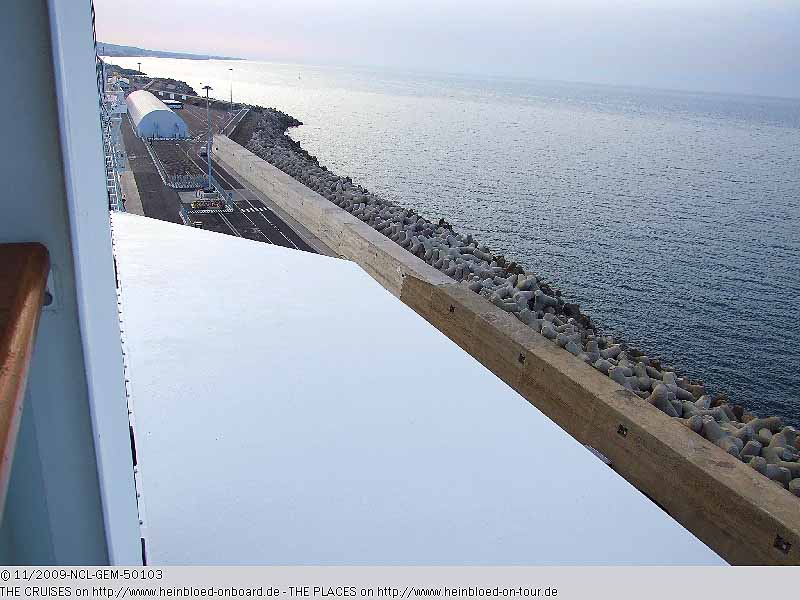 Indeed: All A3-suites do have an obstructed view to the bottom. Only the A4-suites can follow the incidents at the pier...

Nowadays you do not need to take pictures by using the view-finder... So we can find out what was going on the pier...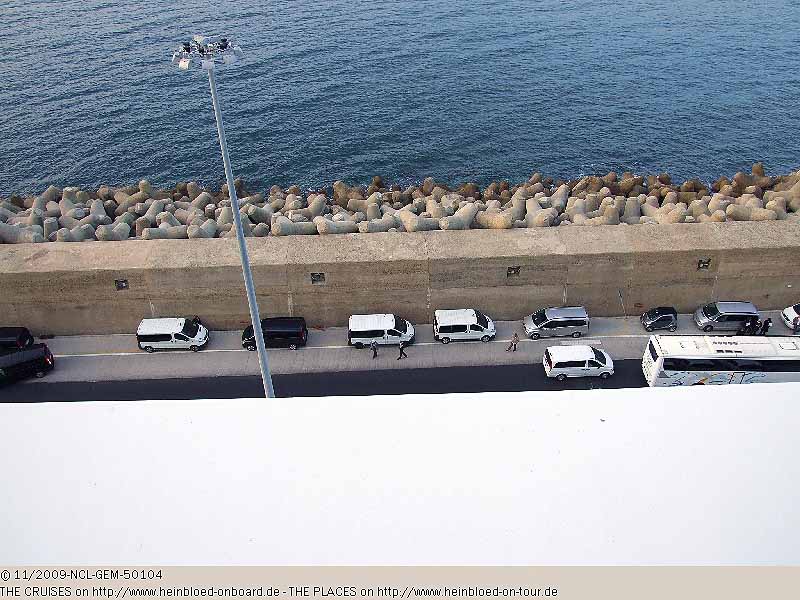 Zum Glück muss man ja nicht mehr den Sucher nutzen... So können wir doch mal versuchen zu gucken, was unten eigentlich abgeht.
Von der "Behind-the-scenes"-Tour wissen wir, dass es bereits einen Wäschesacktag für 24,95 USD gab. Der nächste soll am Freitag sein. Bis Freitag Mittag müssen wir den Sack abgeben. So müssen wir heute alles mal vorbereiten... Unsere HAL-Tasche hat leider etwas Tomatensauce abbekommen. Der soll mit in die Wäsche. Ich bin mal gespannt, ob wir stattdessen eine NCL-Tasche wiederbekommen.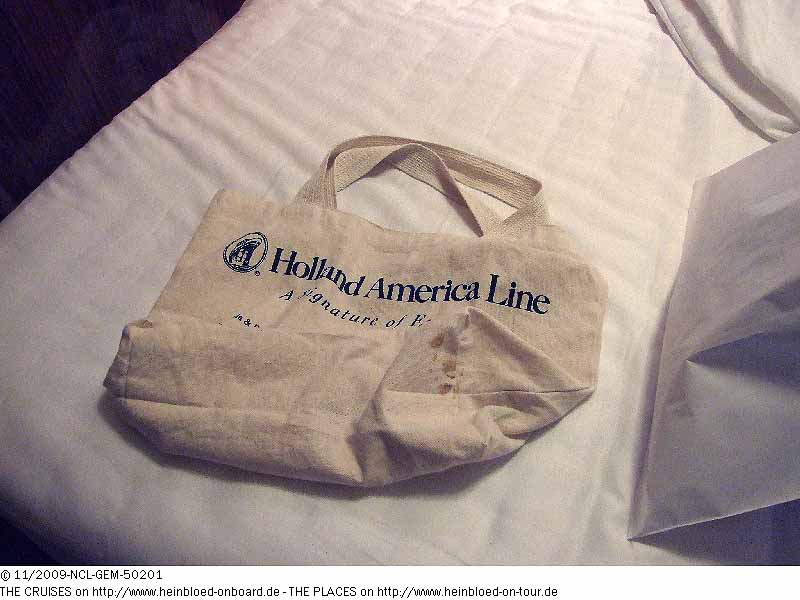 From the "Behind-the-scenes"-Tour we knew that we missed one one-bag-day for 24.95 USD... The next should be on Friday... Until Friday noon we need hand over the bag to our steward. So we need to prepare everything... Our HAL-bag got some tomato sauce. So we put it as well into our bag. I was very curious if I get back an NCL-bag instead...

I will take our "No advertising please"-sign from our home mailbox or is there any blacklist for cruise passenger guests. I do not want to buy any pictures so far.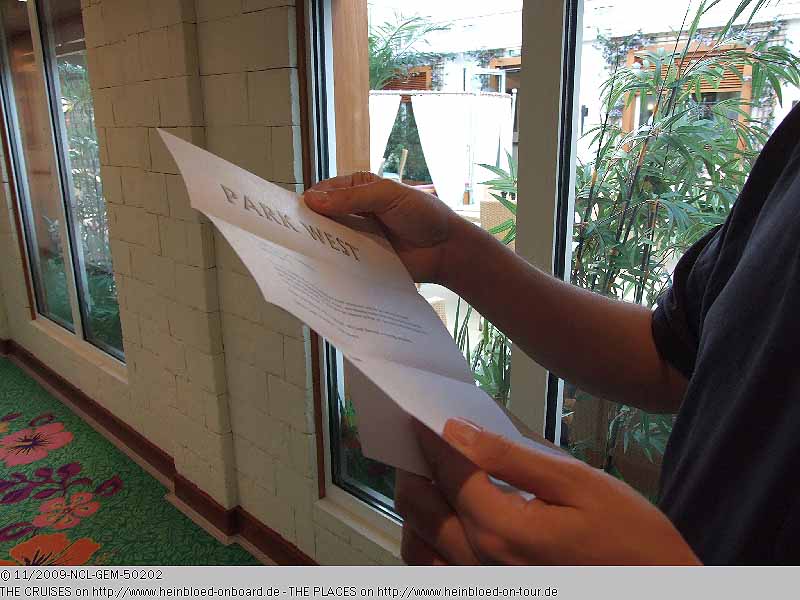 Ich werde demnächst so einen Aufkleber "Bitte keine Werbung" mitnehmen oder gibt es auch eine Robinson-Liste für Kreuzfahrtschiffe. Ich will nach wie vor kein Bild kaufen...
... und auch keine Juwelen. Das ist meine Schwester und nicht meine Frau!!! Im Übrigen hatte unsere Bettenbelegung zu Irritationen geführt.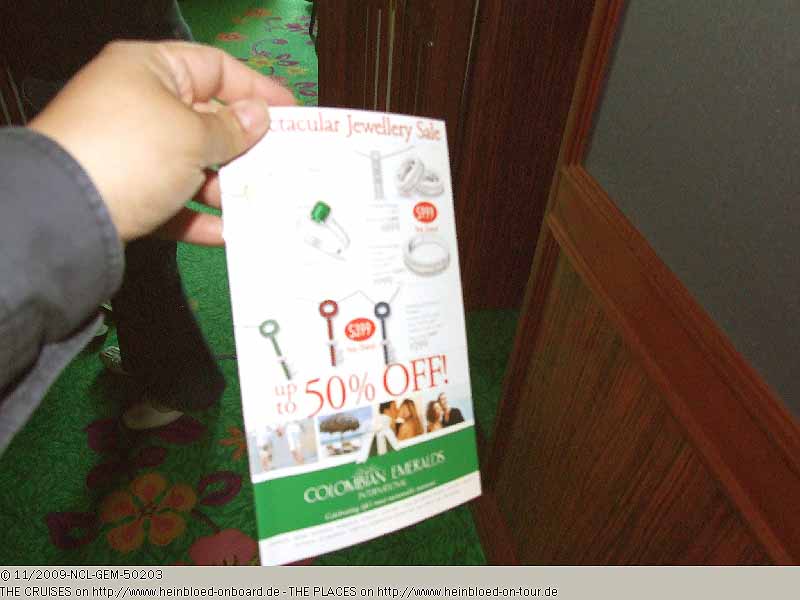 ... and no jeweleries as well. That's my sister - not my wife!!! This was very irritating how we allocated the beds in our suite.

A tour to Rome is impossible for the crew. Every Thursday there is a special life drill for the crew to train the evacuation. That's why not enough time is left to see Rome.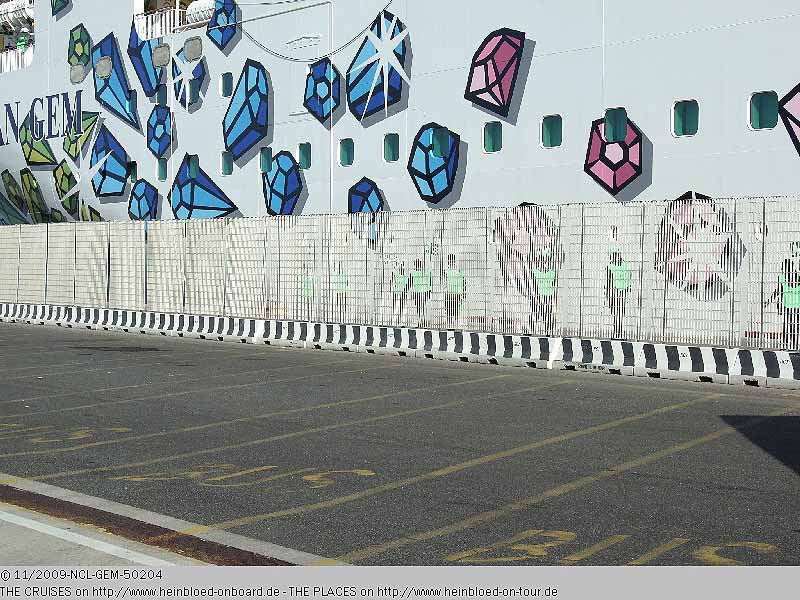 Ein Ausflug nach Rom ist für die Crew nicht drin. Jeden Donnerstag muss vormittags eine Seenotrettungsübung für die Evakuierung absolviert werden. Daher reicht die Zeit nicht, um mal nach Rom reinzufahren.
Das sind übrigens Maureen und Cheryl. Maureen war unsere allererste Kellnerin dieser Reise. Cheryl arbeitet normalerweise auch im Cagney's und musste mal im Grand Pacific aushelfen. Als sie mich dort erkannte, wollte sie wissen, wo wir sitzen, falls wir etwas brauchen. So ein Lächeln am frühen Morgen (o. k. kurz vor 09.00 Uhr...) und alles wird gut!!!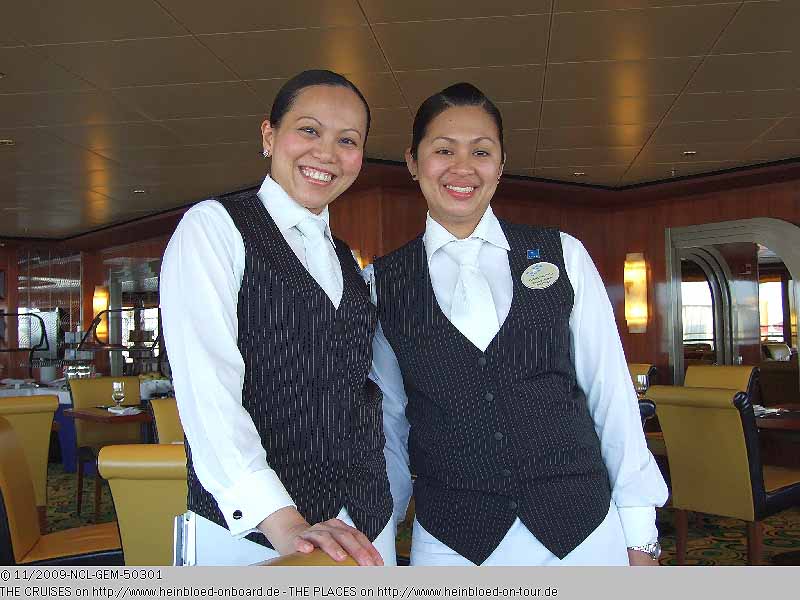 By the way these are Maureen and Cheryl. Maureen was our very first waitress on our voyage. Cheryl normally works at Cagney's but need to support in Grand Pacific. When she saw me there she asked immediately where we were seated and if there was anything we need. But such a smile at the morning (o. k. it was close to 9 am...) and everything will turn to the best...

My sister tried Frittata. But that's definately the compentence of the Italians.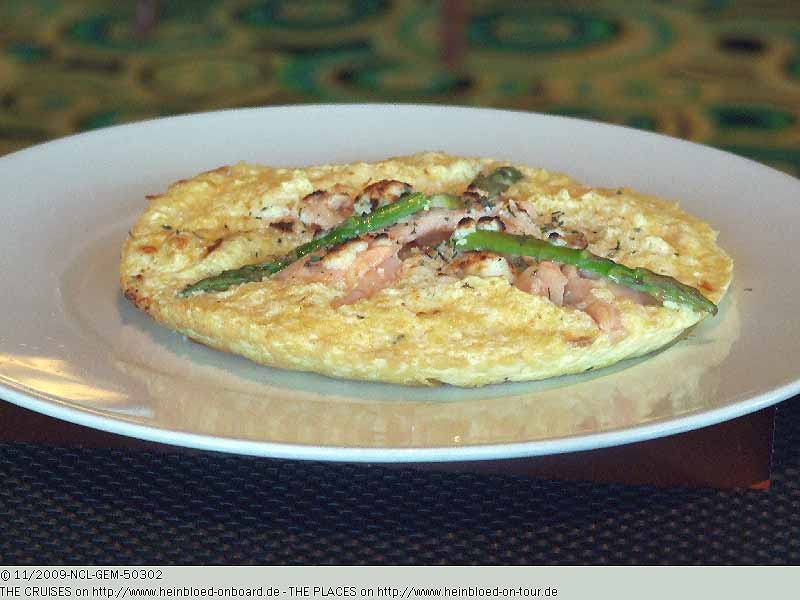 Meine Schwester probiert das Frittata. Aber das ist eindeutig die Domäne der Italiener.
mate aus dem
ncl-fans.de-Forum
war vor uns auf der Fahrt. Sie hat mir den Tipp mit dem Steak & Egg gegeben.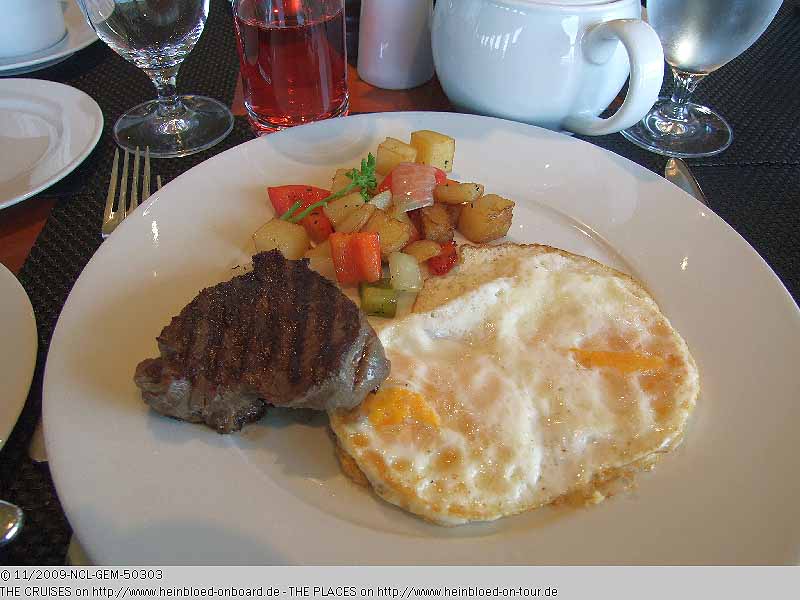 mate from the German ncl-fans.de-Forum just returned from the same tour. She recommended to try Steak & Eggs.

Due to the life drill the elevators were not available for about 20 minutes so we get off from the ship around 10 am as we disliked to walk down ten decks. In front of the ship there were taxis and buses waiting. Surprising for NCL they only used the newest buses and if we were on MSC we only got the oldest. The taxis were not interested to give us a ride to the car rental station. They were only interested to sell their Rome tours.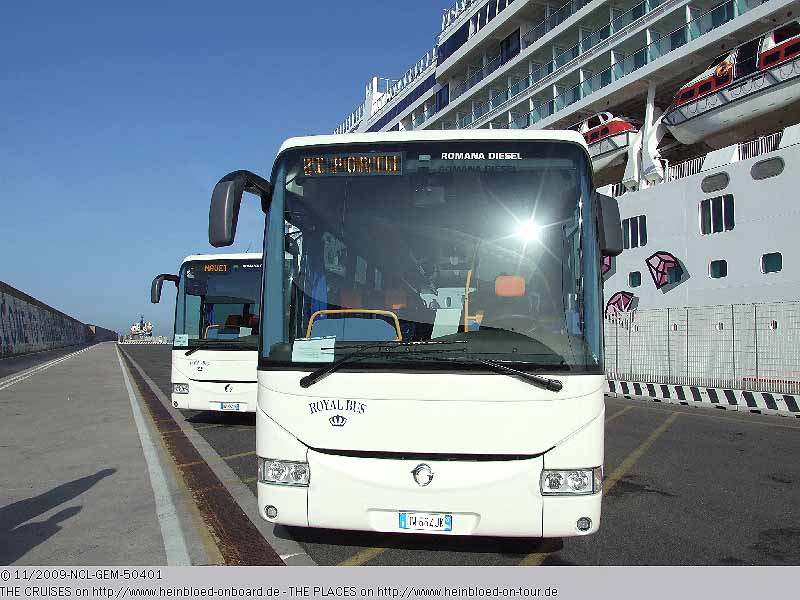 Da die Fahrstühle während dieser Seenotrettungsübung für etwa 20 Minuten aus dem Betrieb sind und wir keine Lust hatten zehn Decks runterzulaufen, kommen wir erst gegen 10.00 Uhr von Bord. Vor dem Schiff warten Busse und Taxen. Erstaunlich, dass für NCL nur ganz neue Busse eingesetzt werden und für MSC immer die alten Gurken. Die Taxen haben kein Interesse uns zur Autovermietung zu fahren. Nur an Touren nach Rom sind sie interessiert.
"Danke" ist den Busfahrern in allen gängigen Kreuzfahrersprachen bekannt, um diskret auf Trinkgelder aufmerksam zu machen.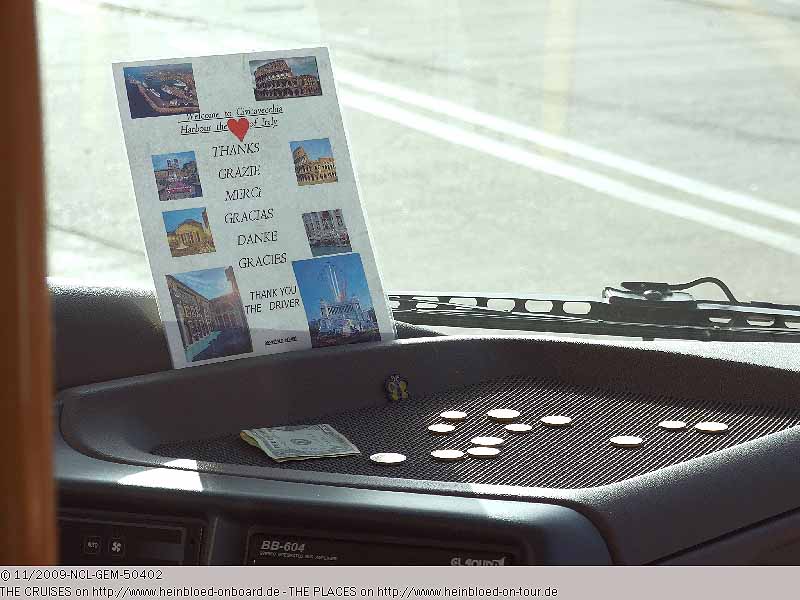 "Thank you" is well known by the bus drivers in all cruiser's languages to attract your attention to the tips...

Totally awake now I saw what I missed earlier the morning: GEMINI of the Spanish Quail Cruises. It's the original CROWN JEWEL which was operated as SUPERSTAR GEMINI before.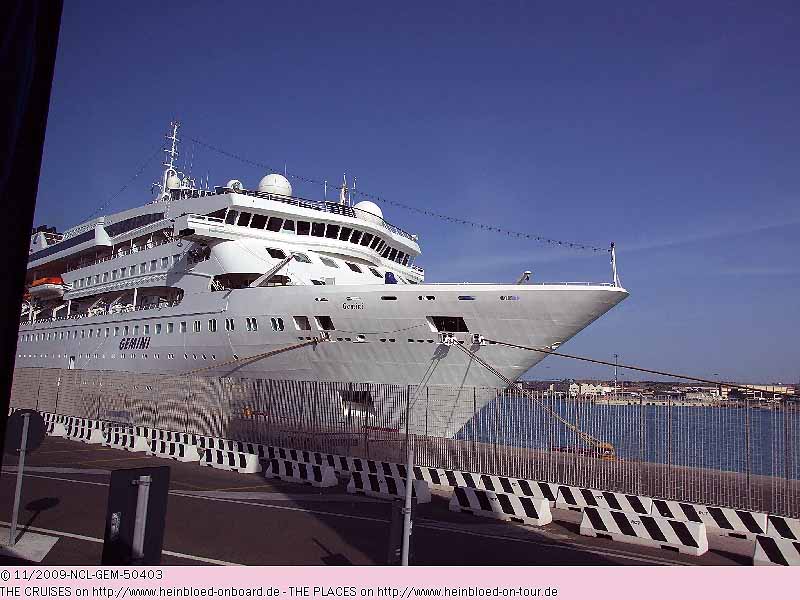 Wach genug erkenne ich, was ich heute Morgen verpasst habe: die GEMINI von Quail Cruises. Es handelt sich hier bei um die CROWN JEWEL, die zuletzt als SUPERSTAR GEMINI eingesetzt war.
Offiziell ist es verboten zum Hafenausgang zu laufen. Nur von der Stelle, an der wir lagen, war es gar nicht so weit, bis zum Hafentor. Dort gibt es zu meinem Erstaunen einen Pavillion vom örtlichen Fremdenverkehrsamt.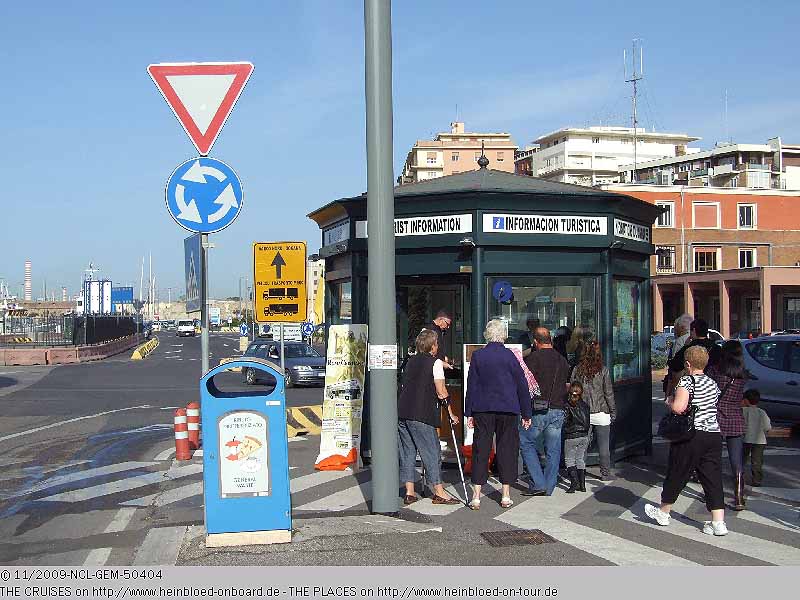 Officially it's forbidden to walk to the port exit. But from the place we berthed it was not so far to the port exit. There was a new kiosk from the local tourist information.

You can get also here the BIRG-Tickets (day passes for Rome incl. public transport within Rome) and tickets for Ho-Ho-Buses in Rome. Some cruisers bought the Ho-Ho-Bus-tickets and were surprised to learn that we are about 40 miles away from Rome and that the Ho-Ho-Buses do not stop in Civitavecchia...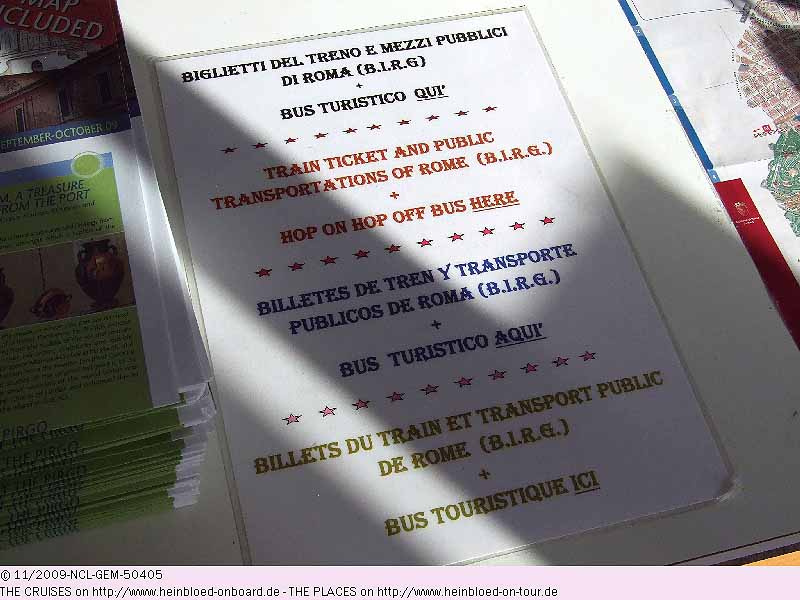 Hier erhält man also auch die BIRG-Tickets (Tageskarten für Rom und zurück inkl. öffentliche Verkehrsmittel in Rom) und Tickets für die Ho-Ho-Busse in Rom. Einige Mitreisende kaufen die Ho-Ho-Tickets und haben gar nicht mitbekommen, dass wir 70 km von Rom entfernt sind und in Civitavecchia der Ho-Ho-Bus nicht hält.
Wir wollen bei Europcar einen Wagen holen und man nennt uns als schnellsten Weg einen Weg durch den Hafen. Europcar sagte uns zwar, dass wir nicht am Hafentor aussteigen sollten. Da wir aber nicht dort anlegen, wo MSC anlegt, kommen wir daher dort nicht vorbei. So laufen wir bis zum Empfangsgebäude für alle Fährlinien.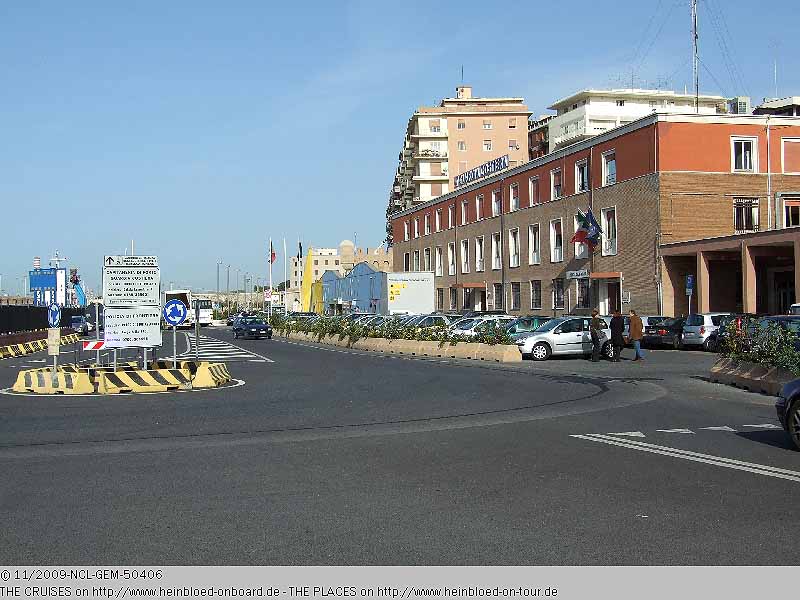 We wanted to get a car from Europcar and they told us the fastest way to their rental location and it goes through the port... Europcar told us not to exit at the port gate but as we did not berth where normally MSC berths our shuttle bus did not call the nearest port gate to their office. So we walked all the way to the Reception Building for all Ferry Passengers.

... here we need to make a U-turn... it's to far where we need to go...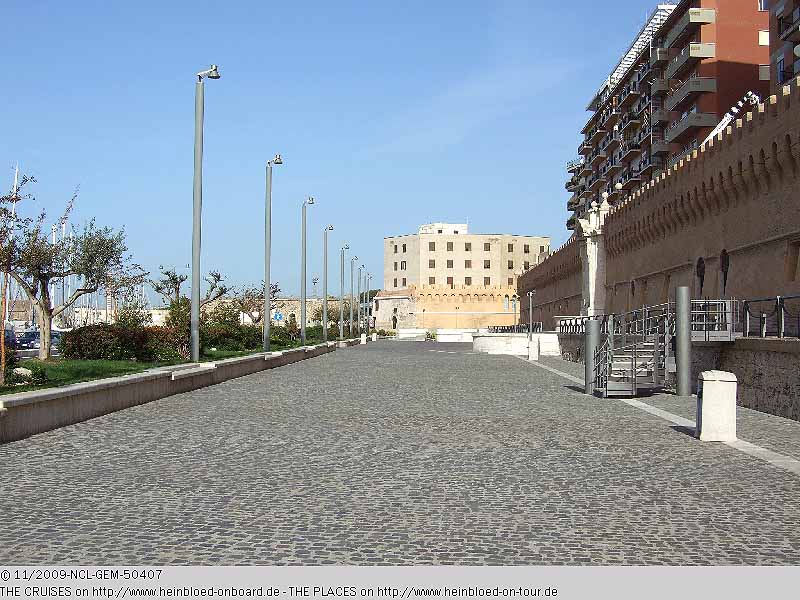 ... und an dieser Stelle sind wir schon zu weit gelaufen.
Denn kurz zuvor gibt es eine Treppe rechts hoch zur Stadt.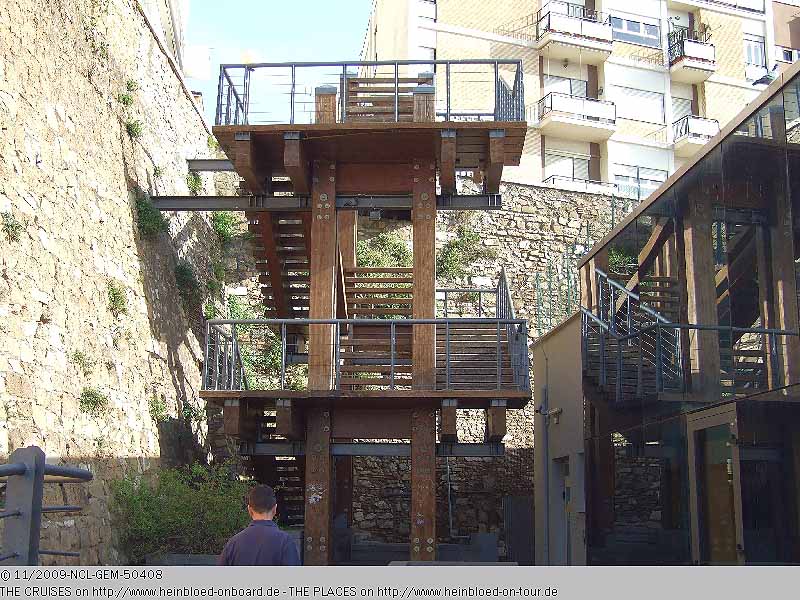 Just in front of this section there is on the right side a stairway to the town center.

So if we should have used the bus to this stop to get to the stairway...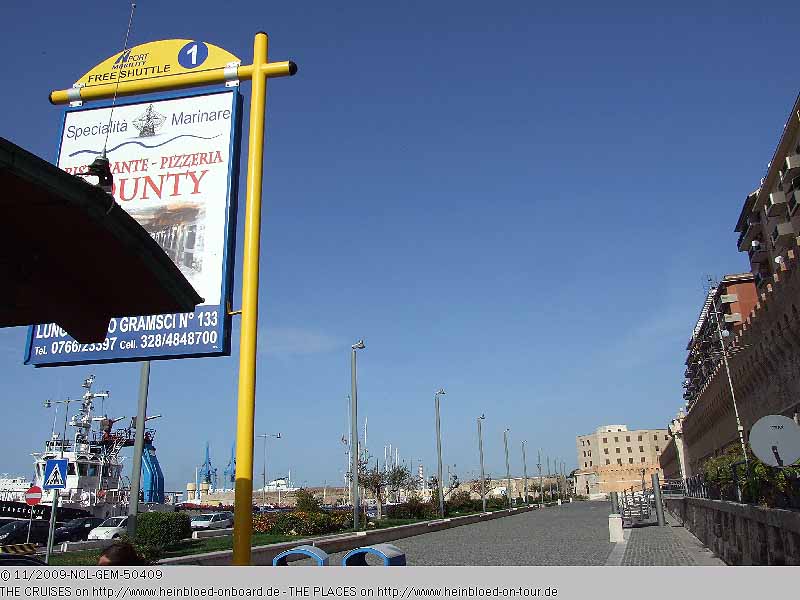 Wir hätten also mit dem Bus bis hier fahren sollen, um die Treppe zu erreichen.
Man kann schön in den Hafen fotografieren. Nur ein Kreuzfahrtschiff sieht man von hieraus nicht.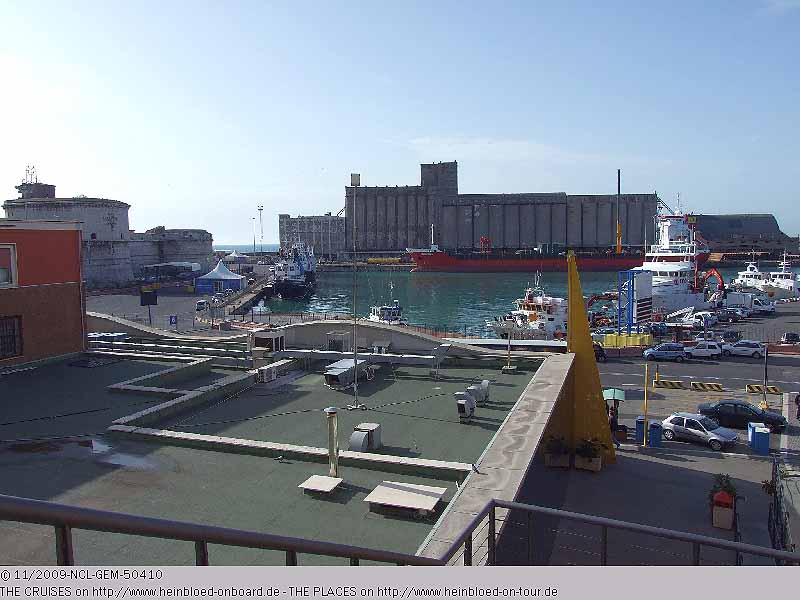 So many nice places to take pictures of the port... but none where you see the cruise ships...

More steps than you might think when you see the stairway.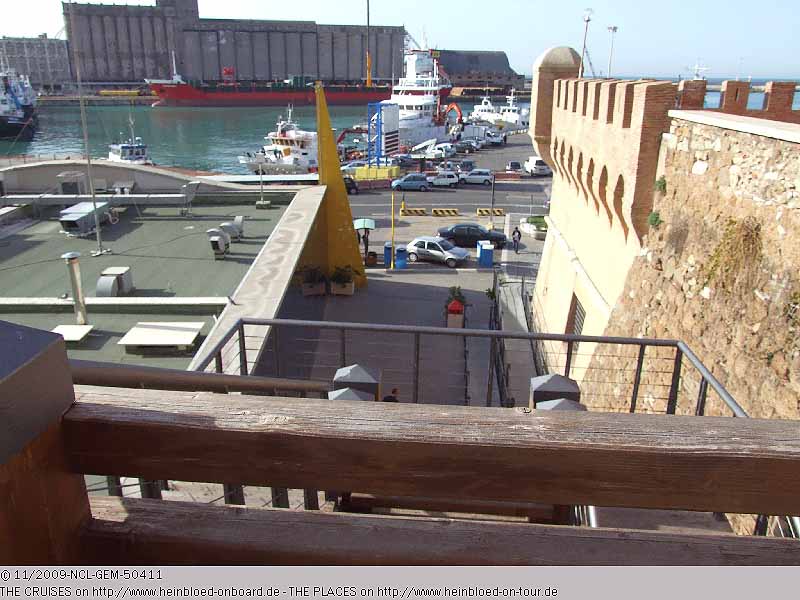 Sehr viel mehr Stufen, als es aussieht.
Bis zur Straße und dann nach links.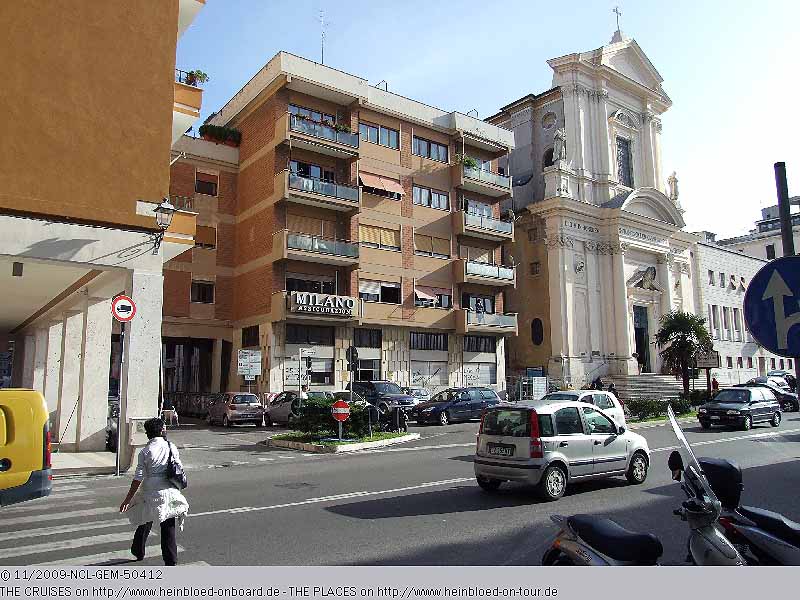 To the street and turn left.

There are more places to watch the port activities but none place to watch the cruise ship activities as well.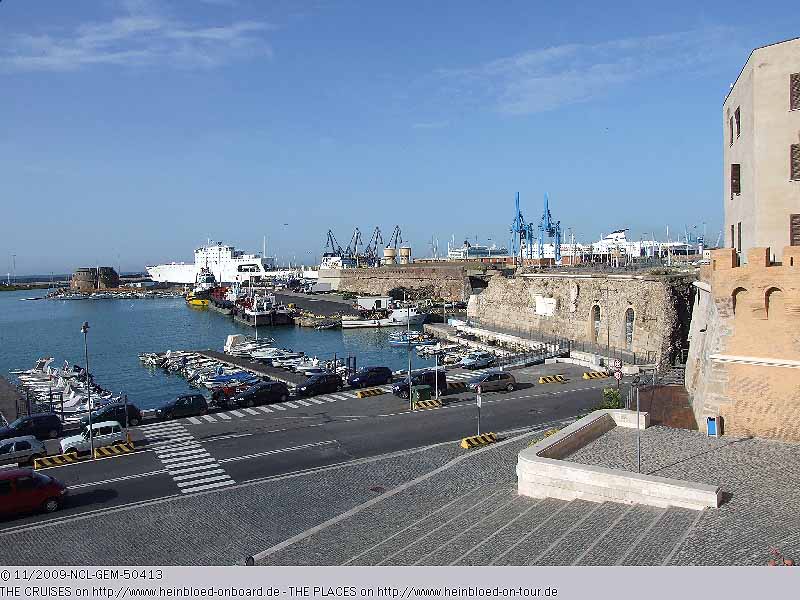 Es gibt mehrere Möglichkeiten in den Hafen zu gucken, aber nirgendst ein Stelle, von der man gut die Kreuzfahrtschiffe im Hafen fotografieren kann.
Bald finden wir AVIS... nur von Europcar immer noch nichts zu sehen... und wir sind bestimmt schon zehn Minuten gelaufen... (lt. Europcar soll es nur fünf "italienische" Minuten von der Treppe entfernt sein...).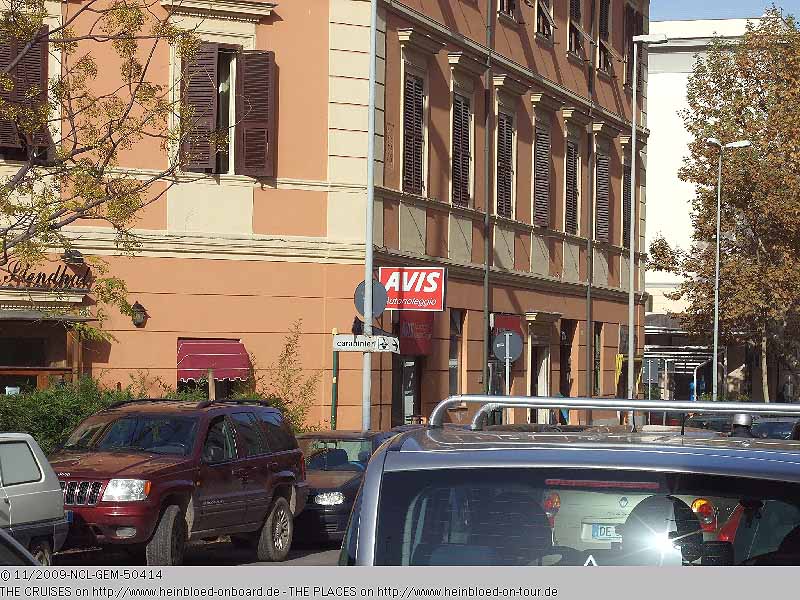 Soon we find AVIS... but no trace from Europcar... and we walked about ten minutes already... (according to Europcar it's only five "Italian" minutes from the stairways...)

On the left there is sign for Europcar...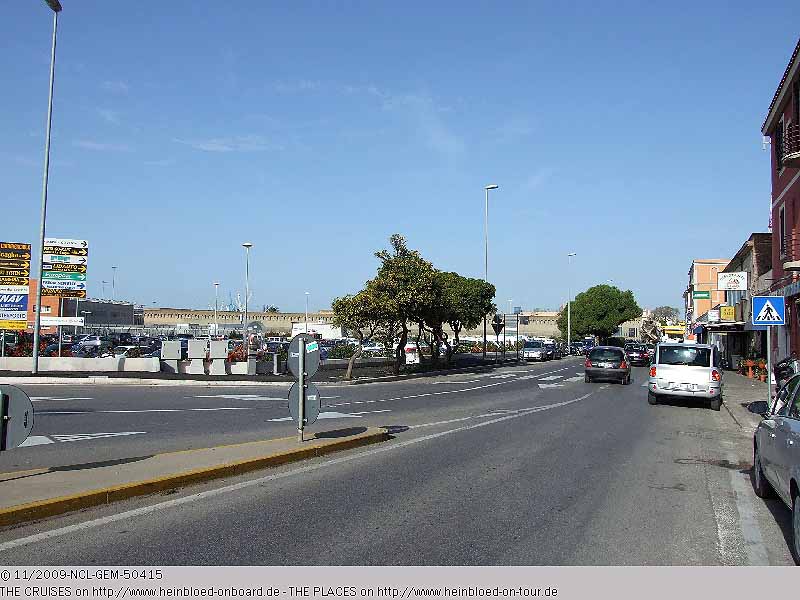 Links gibt es Schild zu Europcar...
und rechts ist auch die Station zu sehen.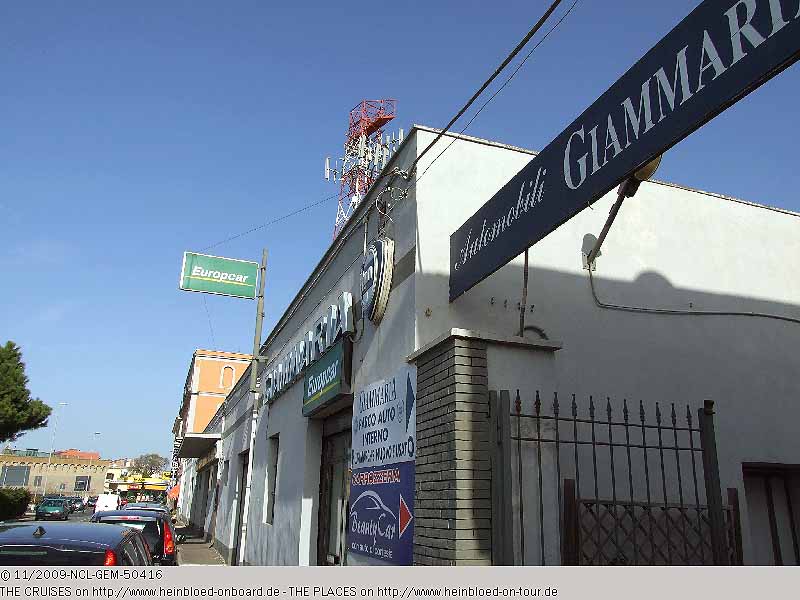 and on the right side there is the rental location.

Our first car had a flat-tire.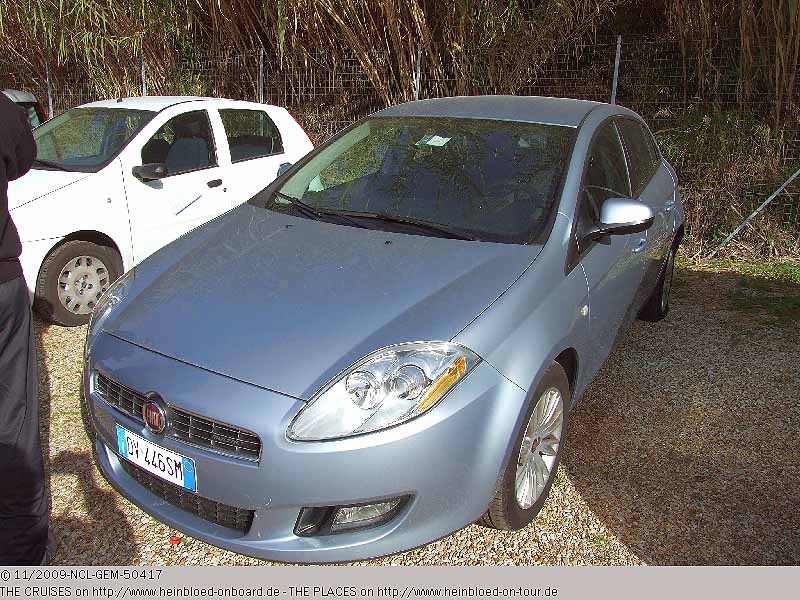 Unser 1. Auto hat zunächst mal einen Platten.
Beim 2. Auto lohnt sich der Abschluss der Vollkaskoversicherung kaum noch, weil dort soviele Lackschäden schon vorhanden sind...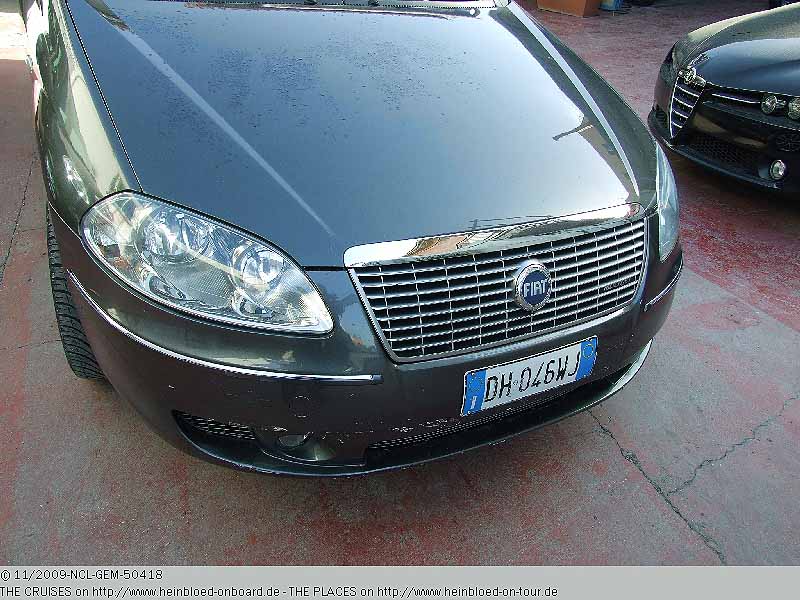 For the 2nd car it does not make sense to buy an additional coverage because there were so many damages on the lacquer...

Who cares??? It's no beauty-contest for the car we need to win - we just want to make a trip to the nature. I guess none will steal the car that we might cancel the theft protection insurance...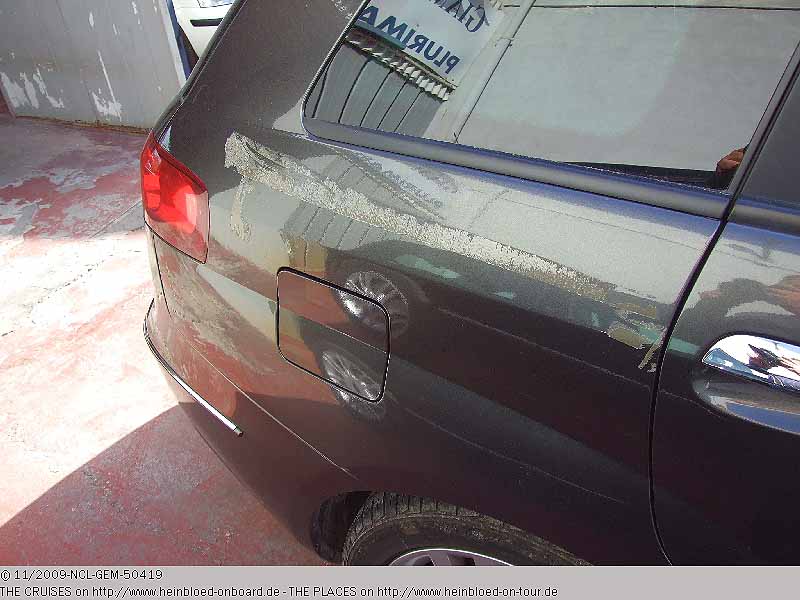 Was soll es? Wir wollen ja keinen Schönheitswettbewerb mit dem Auto gewinnen, sondern nur eine Fahrt ins Grüne machen. Wahrscheinlich wird man uns den Wagen schon nicht klauen, so dass wir vielleicht auch die Diebstahlversicherung stornieren können...