Scroll down for English explanations - alternates with German explanations.

Auch mittags wird im Courtyard ein leichtes Mittagsangebot unterbreitet. Weil ich aber erst nach 14.00 Uhr komme, kann ich es nicht mehr nutzen.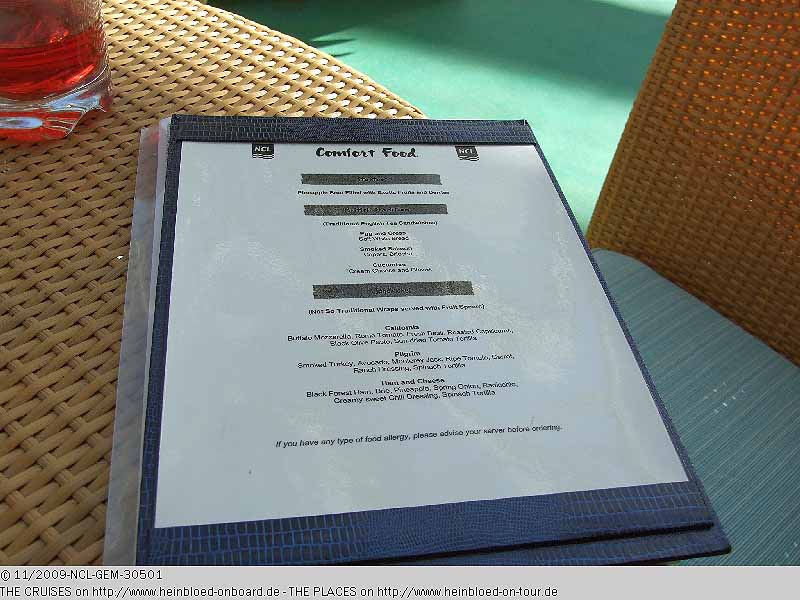 Some light lunch options are available in the Courtyard. But was there after 2 pm so I could not try it.

Aries got me a Panini with Ham and Mozzarella which was very nice.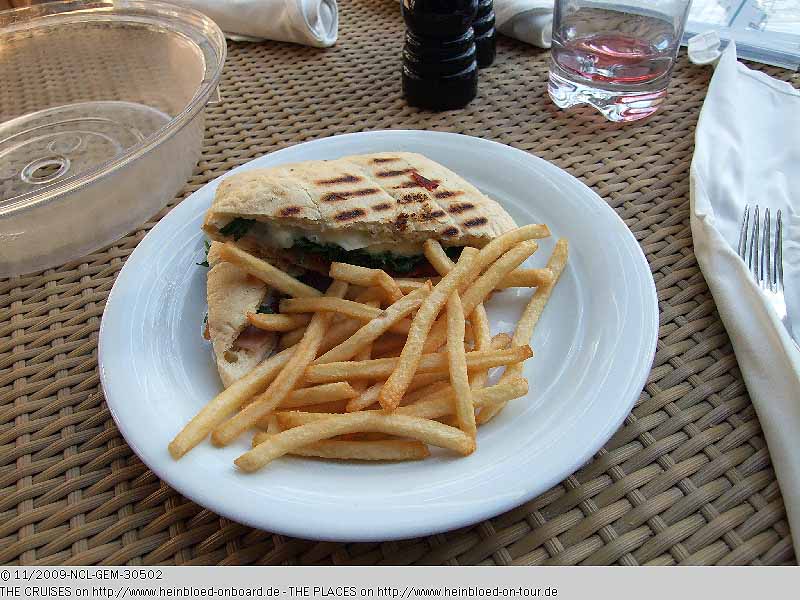 Aries bringt mir ein Panini mit Schinken und Mozzarella, das richtig lecker ist.
Ich nehme es mit auf unser Sonnendeck, um die Ausfahrt zu geniessen (Ich nutze gerade in SWISS-Lounge in Genf einen PC von hier und keine Ahnung, wo das SZ ist...). Nochmals ein Blick auf die MSC ORCHESTRA.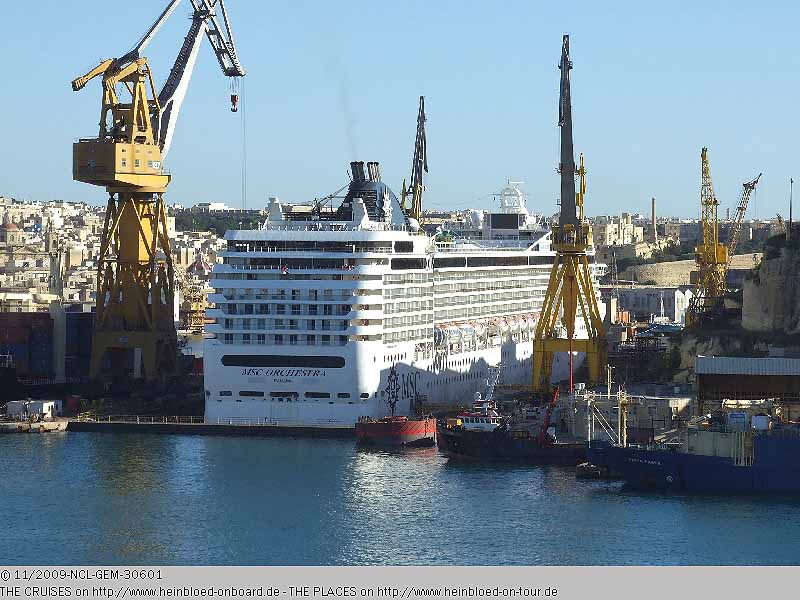 I took it to our sundeck to enjoy the set-sail. One more time a view to MSC ORCHESTRA.

And in the port there was another surprise: THOMSON SPIRIT which arrived around noon.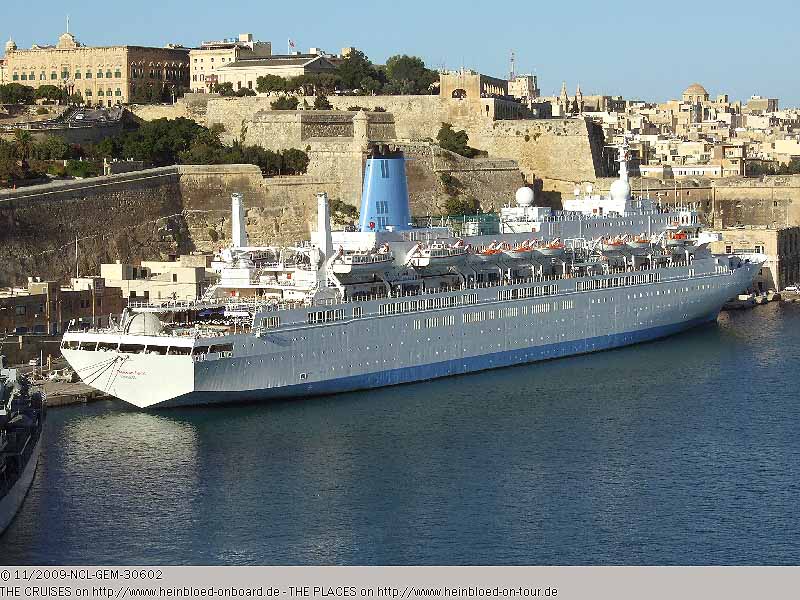 Und im Hafen liegt überrachend für mich noch die THOMSON SPIRIT, die allerdings erst heute Mittag reingekommen ist.
Irgendwie wirkt sie "nackt".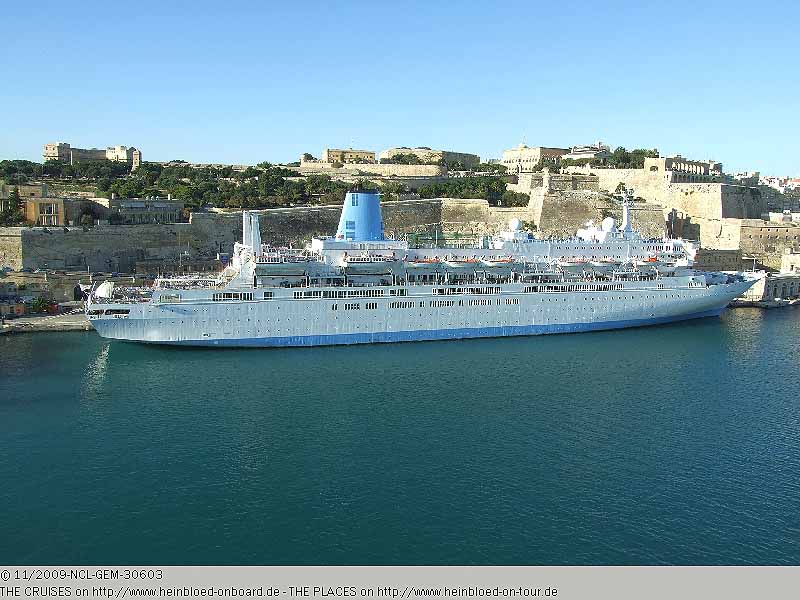 Somehow she appeared "nude" to me.

When we saw her in Flam this summer there was the logo of the German-British tour operator TUI or in UK better known as Thomson on the funnel and with the ship name.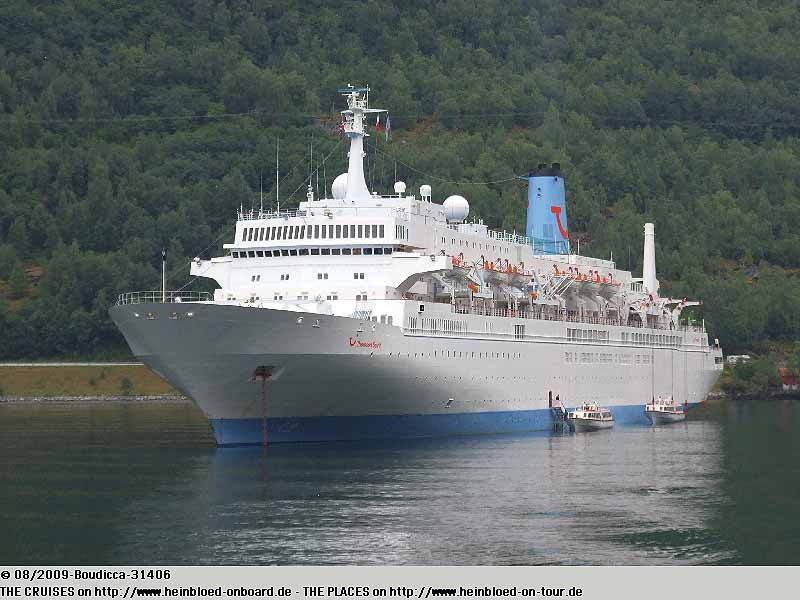 Als wir sie im Sommer in Flam gesehen haben, war das TUI Logo noch auf dem Schornstein und im Namenszug eingearbeitet.
Offensichtlich ist das so eine Louis-Reise, die nicht unter der Flagge von TUI läuft bis dass die Saison mit TUI im Roten Meer wieder anfängt.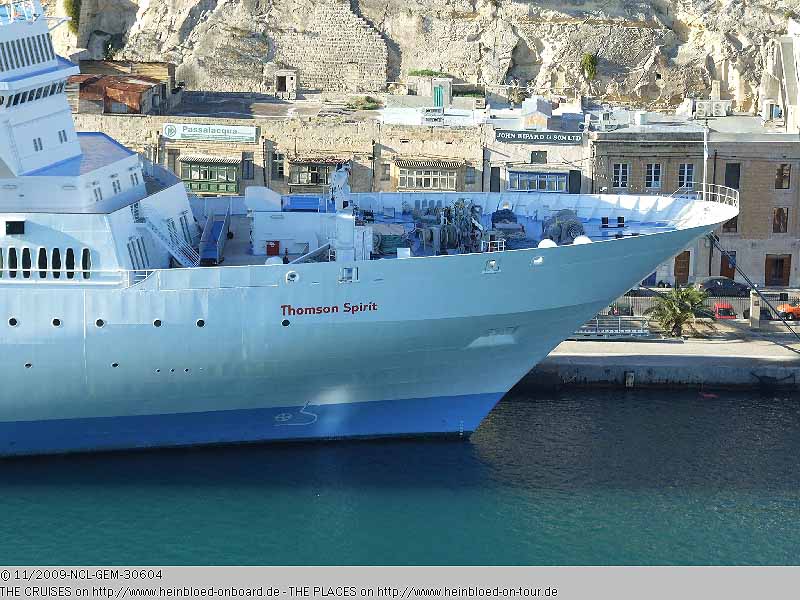 Obviously it was one of the voyages of Louis which was sold under the flag of Thomson until the Thomson's winter season in the Red Sea begins.

For 55 USD per person we booked a "Behind the Scenes"-Tour. As she appeared later as "Reception" in our bill I thought that I was charged for the Meet & Greet-reception the day before.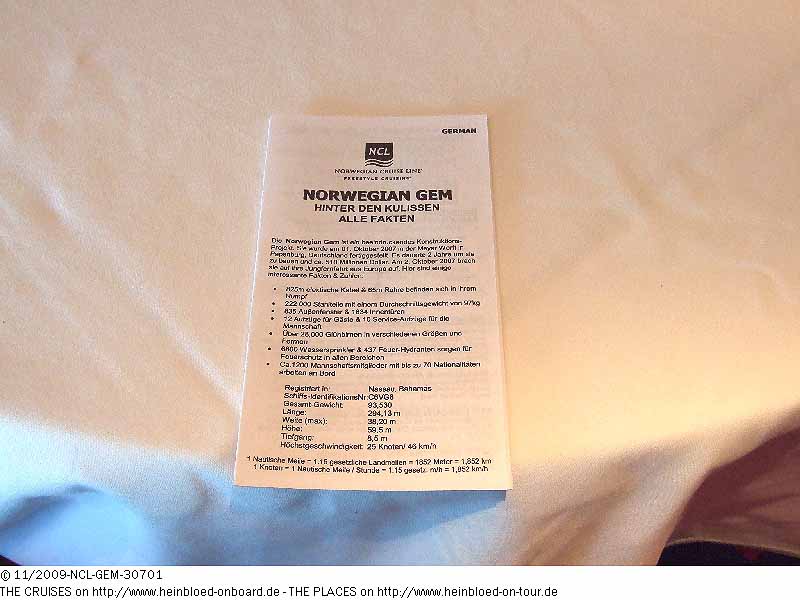 Für 55 USD pro Person haben wir eine "Behind the Scenes"-Tour gebucht. Da sie später als "Reception" in der Rechnung auftaucht, habe ich zunächst angenommen, dass ich den gestrigen Meet & Greet-Empfang zahlen sollte.
Hier nochmals meine Perle Ana von gestern.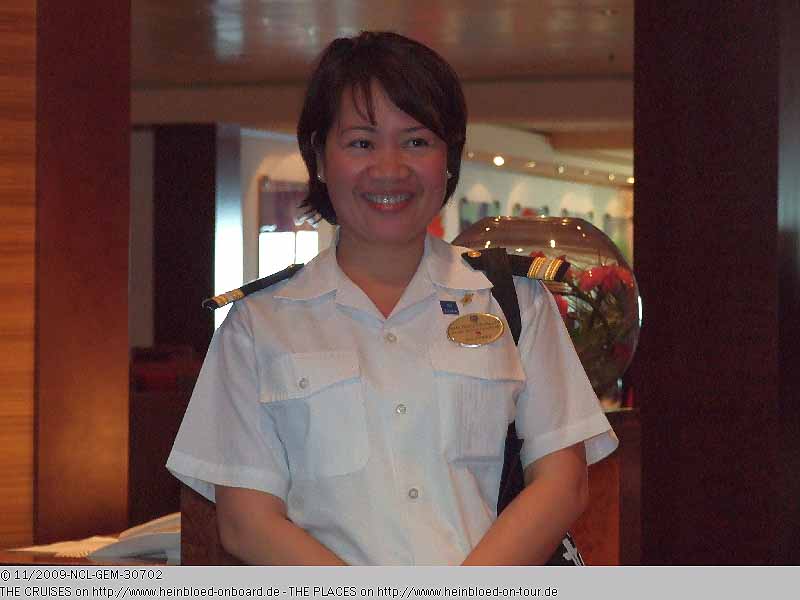 Here again my pearl Ana who helped me a lot yesterday.

Our group was guided by Leonardo who normally works at the front desk. Hotel Director Richard welcomed us and gave us some introduction to the tour. He should better say: you can ask but should better excluded me. I came with questions like how many points NORWEGIAN GEM got for its hygiene standard from the US-Authorities. But he was able to tell us that she got 100 points.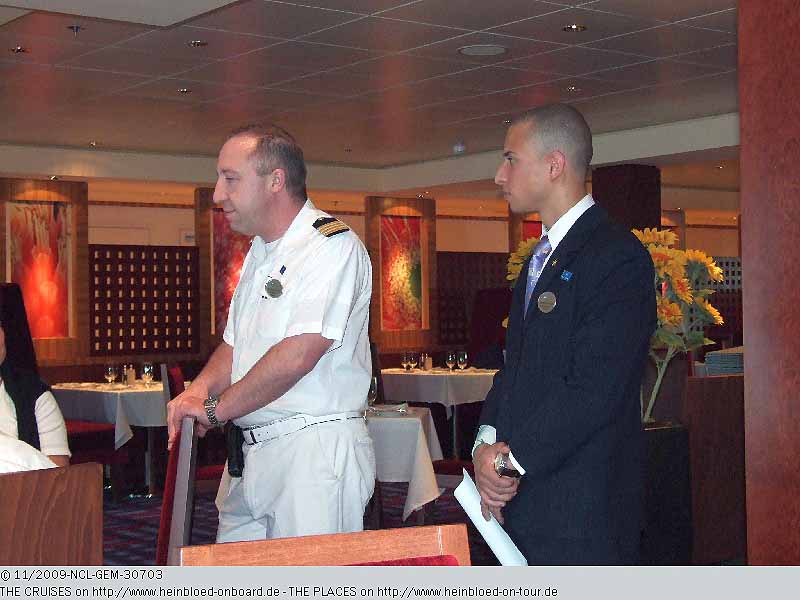 Unsere Gruppe begleitet Leonardo, der sonst an der Rezeption arbeitet. Hoteldirektor Richard begrüsst uns und gibt uns ein paar einleitende Worte. Er hätte auch noch besser gesagt: Fragen Sie ruhig und hätte mich bei der Aufforderung ausschliessen sollen. Denn ich komme mit Fragen, wieviele Punkte die NORWEGIAN GEM von den US-Behörden für die Hygiene bekommen hat. Er antwortet darauf mit 100 Punkten.
Da es bei MSC ja immer noch die Galley-Büffets gibt, war der 1. Teil in der Küche nicht ganz so aufregend.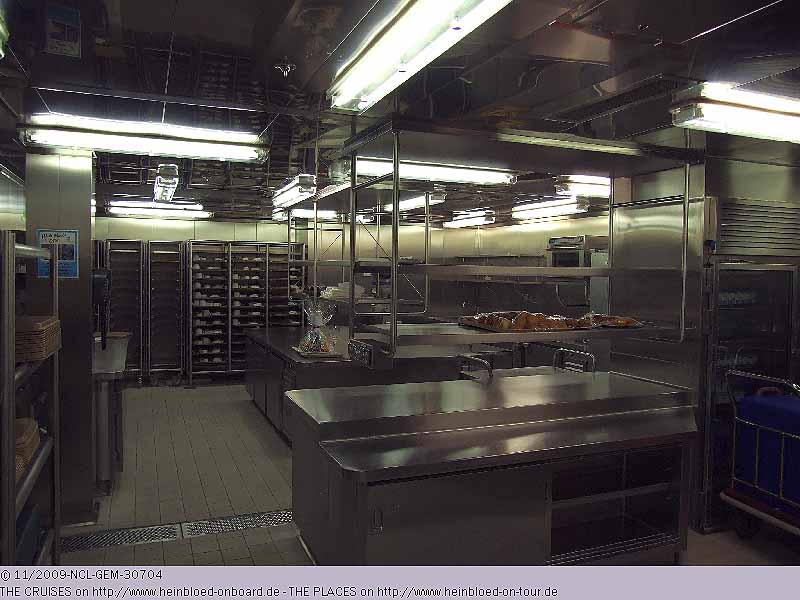 We had the Galley-Buffets with MSC so the first part in the kitchen was not so surprising.

But so you see the crew working and not just other guests eating... and some background information on satization.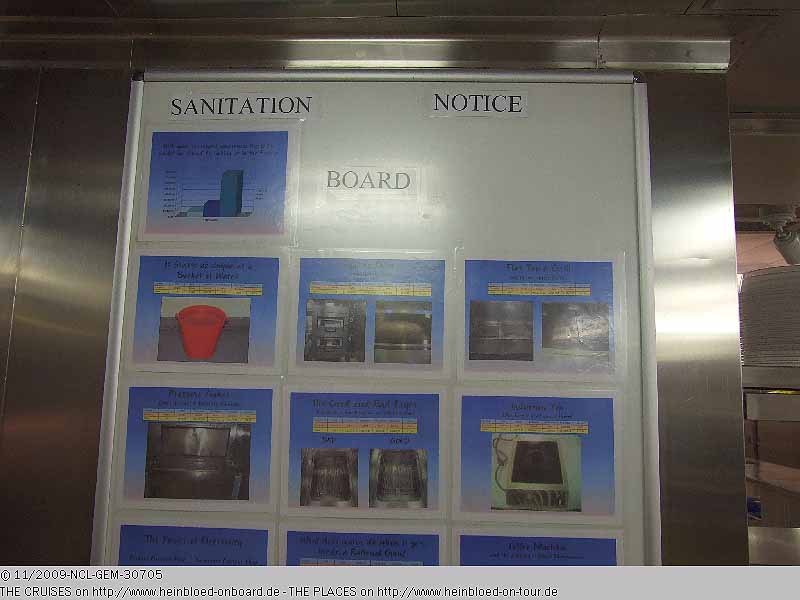 Andererseits sieht man ja die Crew arbeiten und nicht nur anderen Gäste essen... Und ein paar Hintergründe zur Desinfektion.
Hier hätte ich stundenlang stehen können. Dann ich gezielter die Abende in den Zuzahlrestaurants buchen können.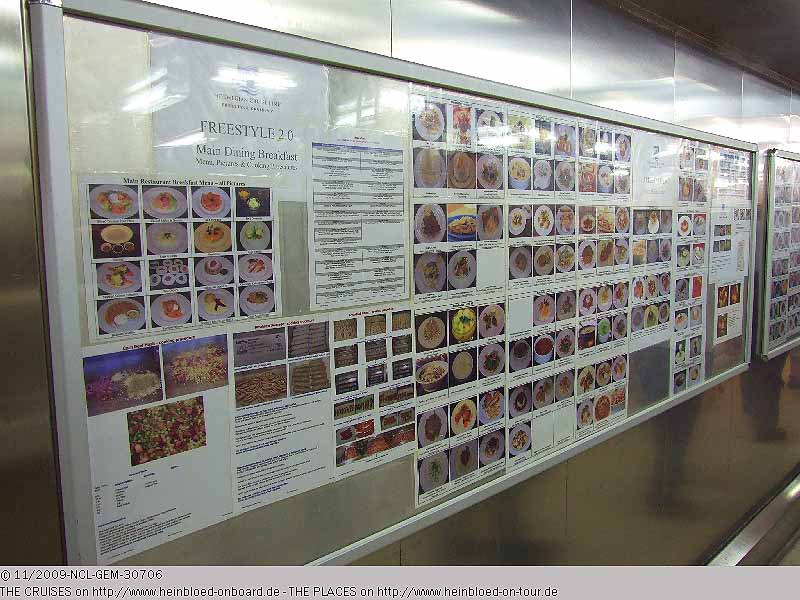 I could stand here for hours. Then you can better book the dinners at alternative restaurants.

Although 14 menu-combinations are available. You get only a circle of 7 for this voyage all the season.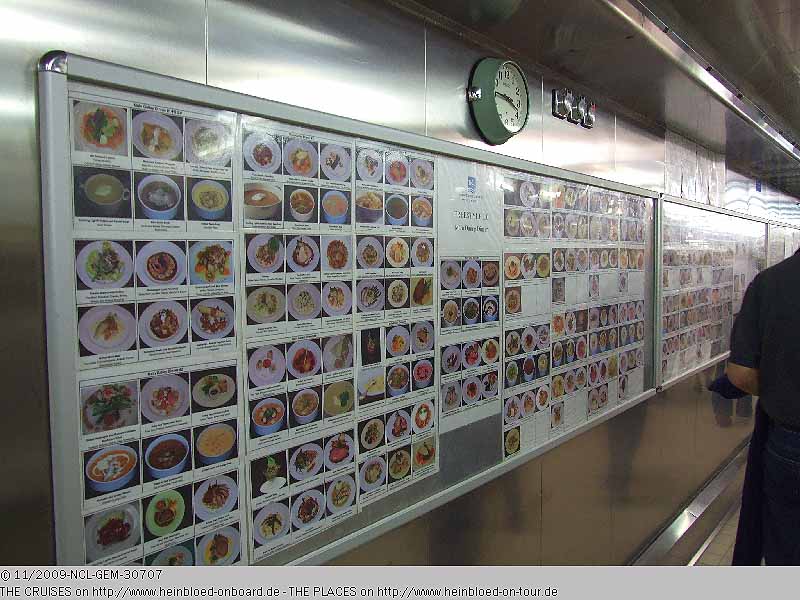 Obwohl 14 Menü-Kombinationen zur Verfügung stehen: es werden nur 7 auf dieser Reise genutzt über die ganze Saison.
Das sollte man auch mal draussen aufhängen, damit die anderen Gäste auch wissen, was auf sie zukommt.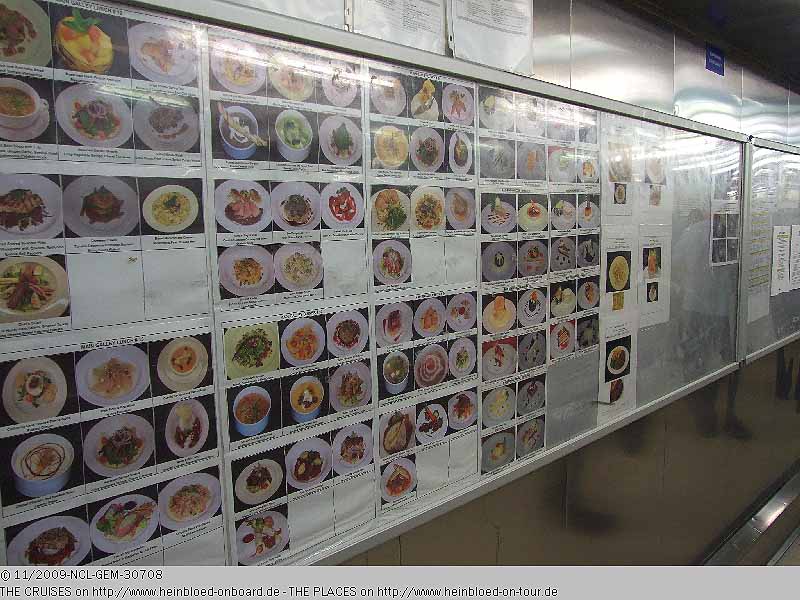 They should display it in the public areas. So all guests know what they should expect.

Interesting: Sales controlling.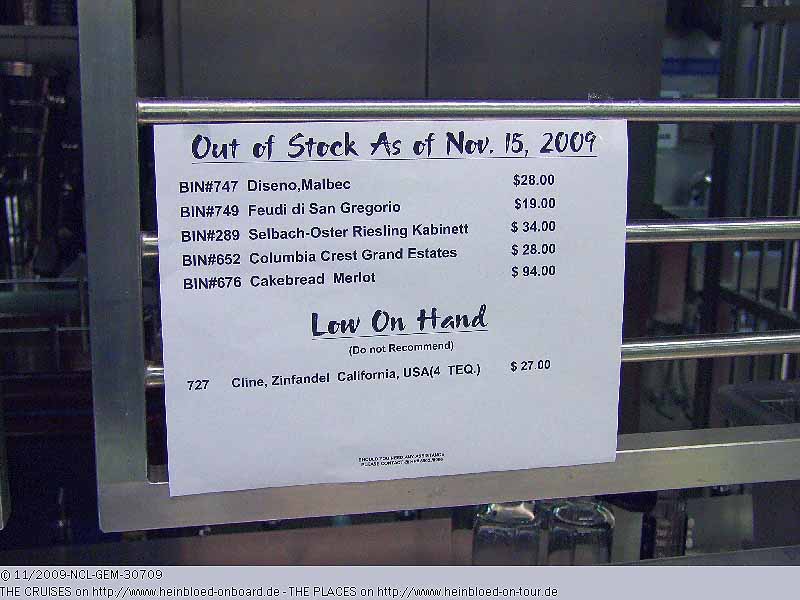 Interessant: Verkaufssteuerung.
Bernhard der niederländische Executive Chef erläutert uns alles persönlich.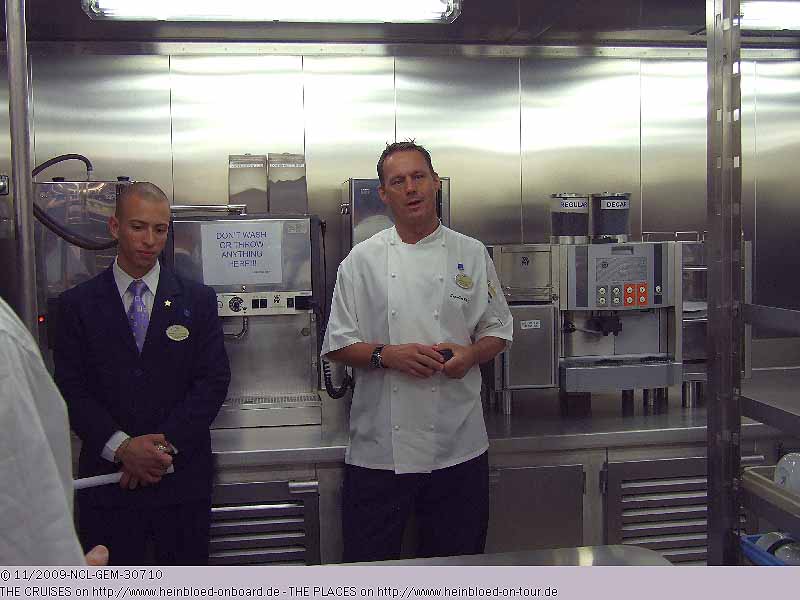 Our Dutch Executive Chef Bernhard explained everything personally.

Very interesting: the dishwasher section. To avoid contamination only three workers are allowed to be there and to do what they are allocated to do: dirty dish handling, clean dish handling, dry dish handling back to the users.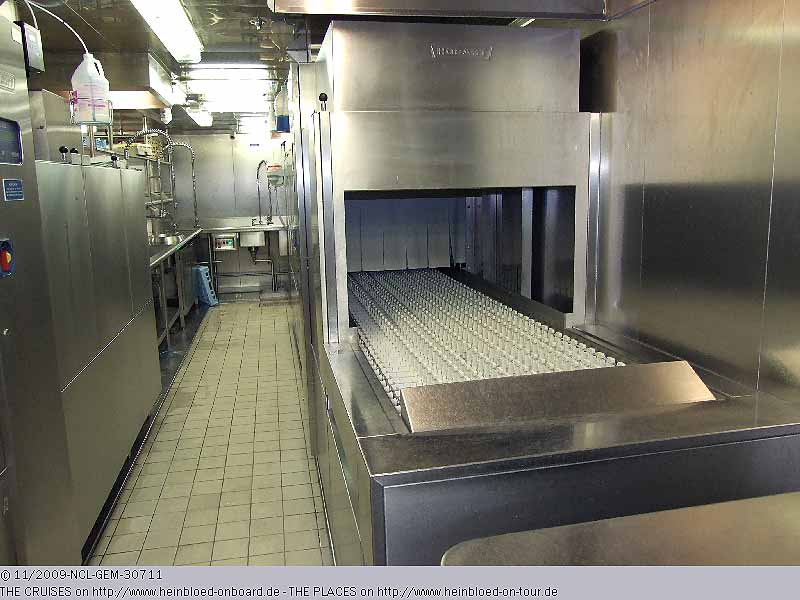 Interessant fand ich die Spülstation. Um Kontaminationen zu vermeiden, dürfen die drei Arbeiter nur die Tätigkeiten ausführen, mit der sie gerade beschäftigt sind: Dreckiges Geschirr vorwaschen, sauberes Geschiff zum Trocknen rausholen und sauberes Geschirr aus der Station rausbringen.
Die Abfallentsorgung war nun nicht so interessant. Allerdings in diesem Zusammenhang: alles wird entsorgt. Nichts wird zu "Salaten" oder "Ragouts" weiterverarbeitet. Auch abgepackte Waren, wie Butter und Marmeladen, die bereits auf dem Tisch waren, werden entsorgt. Was zu Fischfutter verarbeitet werden kann, wird entsprechend verarbeitet und verfüttert. Z. B. Melonenschalen lassen sich so auf diesem Weg nicht entsorgen. Und bei einer Einreise in die USA nach einer Transatlantik: Es darf alles aufgebraucht werden, aber es darf nichts frisches an Land, ohne dass es der Vernichtung zugeführt wird.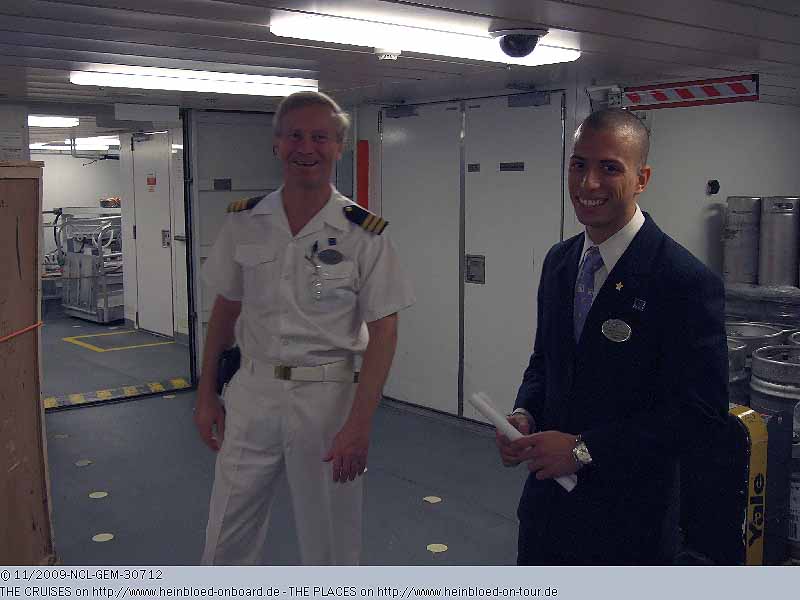 The treatment of garbage was not interested to us. By the way: everything will be disposed. Nothing will be processed to "Salads" or "Ragouts". Packed containers with butter and jams which were already on tables are disposed as well. What can be processed to fish feed will be processed and fed. Things like Melon Skins cannot be processed and need to be disposed. And when the ship enters the USA after a Transatlantik: You can use everything as long as it stays on board but you cannot take any fresh food ashore but for disposal.

Here it looks like our recycling court in our plant. As many machines are not accessible for us they attracted our attention to the video which is shown in our staterooms... (For this phrase you paid 55 USD...)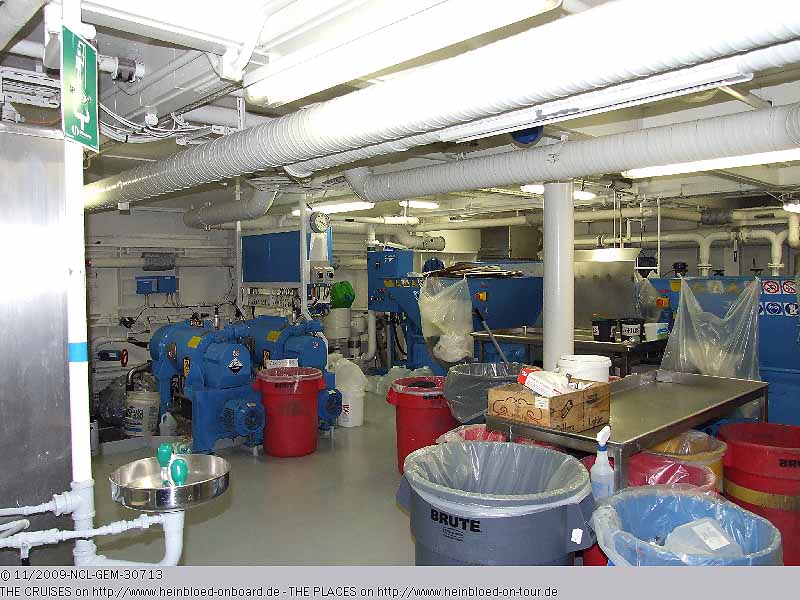 Hier sieht es eigentlich genauso aus, wie bei uns im Recycling Hof. Da viele Anlagen nicht für uns zugänglich ist, werden wir auf das Video verwiesen, das wir uns selbst in der Kabine ansehen sollen... (Für den Spruch haben wir 55 USD bezahlt...)
Der F&B-Manager Anthony war genau das Gegenteil.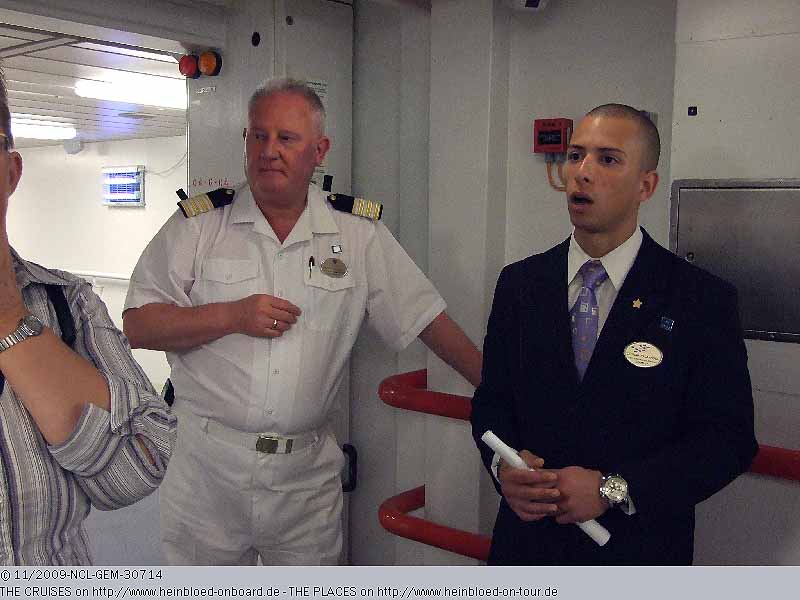 F&B Manager Anthony was the total opposite.

Beside he is unique he knew how to relax a serious presentation.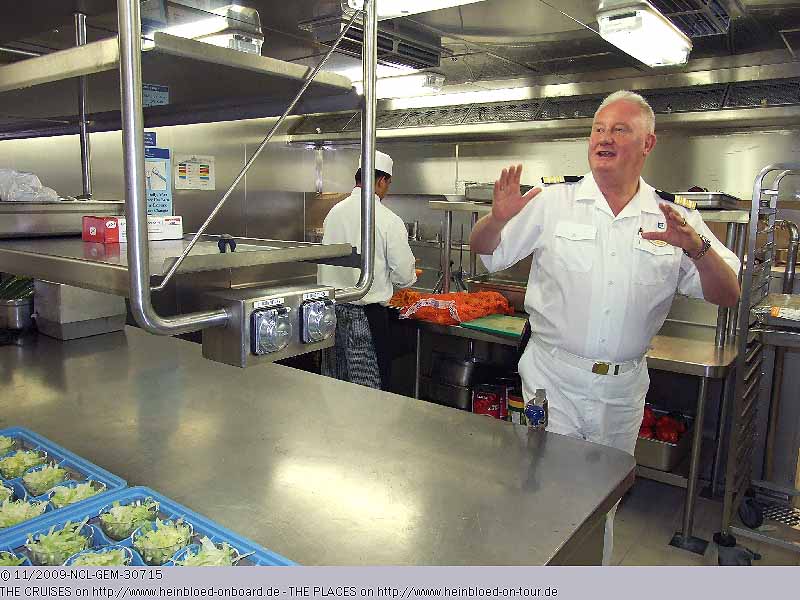 Abgesehen davon, dass er ein Original ist, der es versteht, so einen Vortrag aufzulockern,
und merkt man bei ihm, dass er ein klasse Chef ist: er stellt die Leistungen seiner Mitarbeiter in den Vordergrund und bringt sie auch mehrfach in unser Bewusstsein.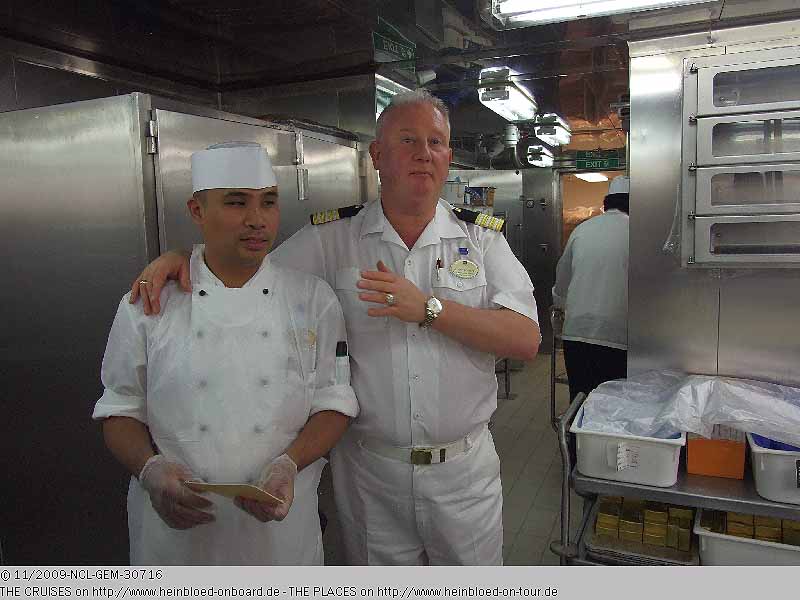 Furthermore you see that he is a great boss because he always presented his workers into the focus of our minds.

Especially he did not forget the ways we had to run and that we missed the afternoon-tea and cake buffets. So some snacks were prepared for us.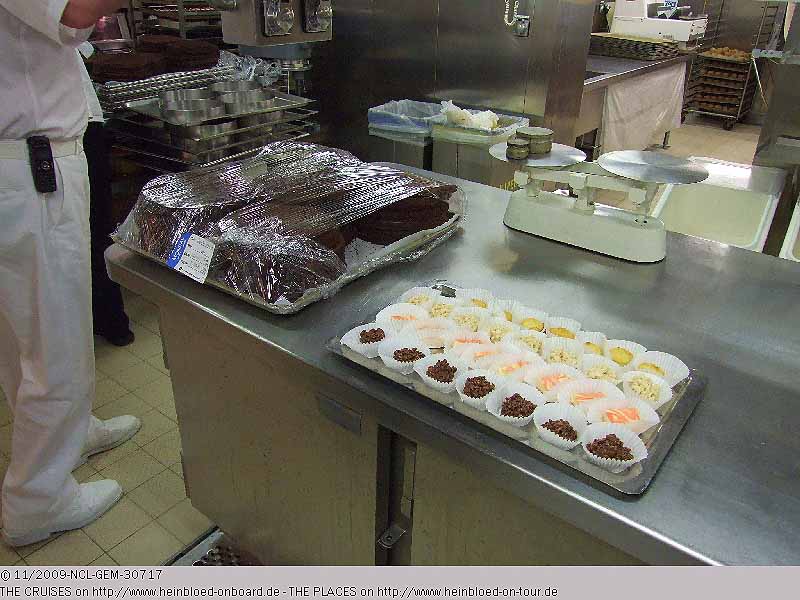 Vor allem denkt er daran, dass wir ja nun lange Wege laufen müssen und auch das nachmittägliche Kaffee- und Kuchenbüffet verpassen. Also hat er für uns einen Snack vorbereitet.
Auch hier wieder, wird die Leistung seines Mitarbeiters hervorgehoben.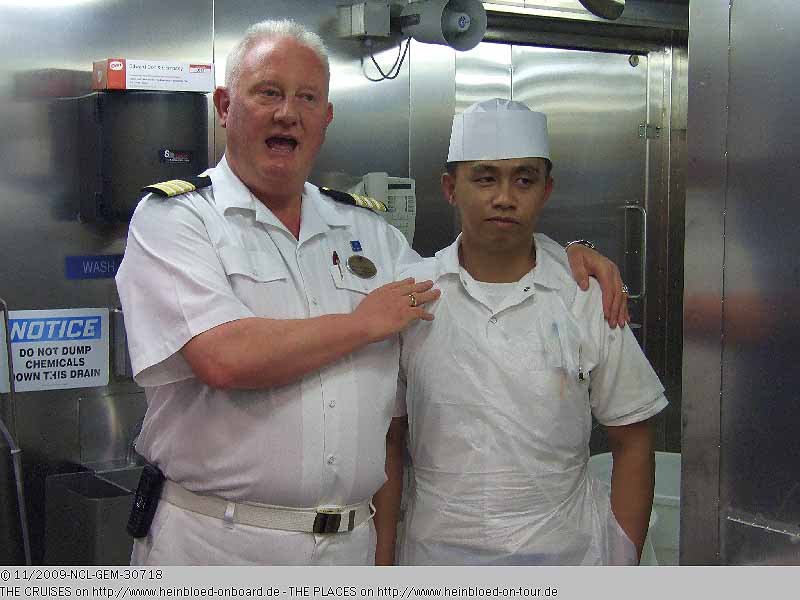 Again he was bringing the performance of his workers to our attention.

Here in the refrigerator area we learned that only fresh products with a very limited expiration are purchased in Europe.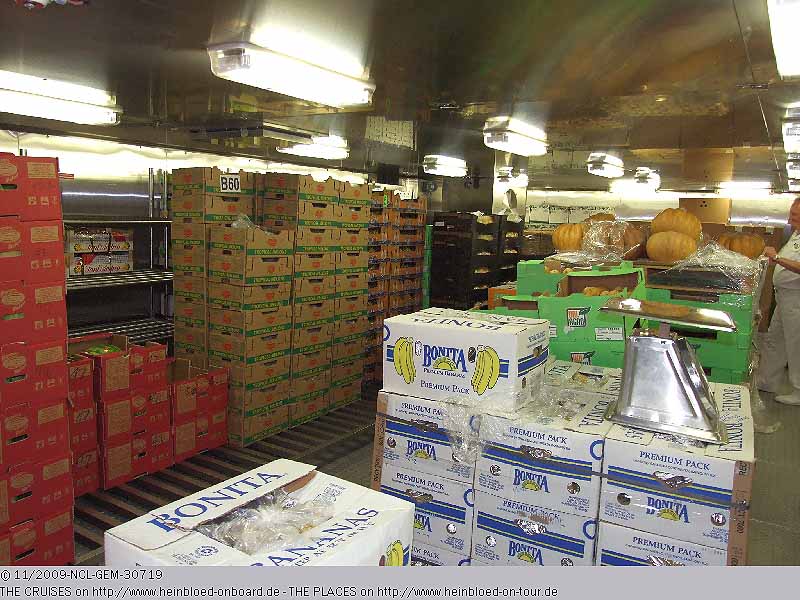 In den Kühlräumen erfahren wir, dass nur ein Teil der Frischeprodukte in Europa gekauft wird, vornehmlich solche mit kurzen Haltbarbeitsdauern.
Vieles kommt alle 14 Tage per Reefer-Container aus den USA.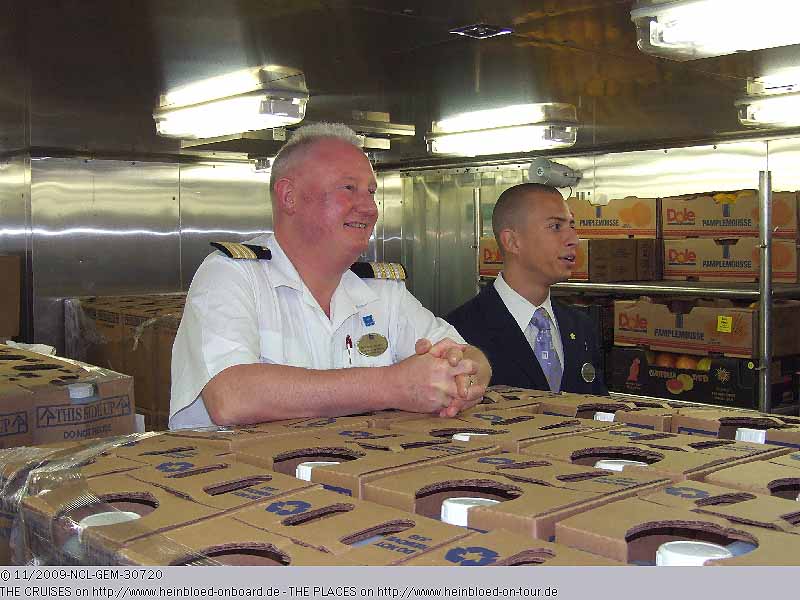 Every two weeks he gets a reefer-container from the USA.

With the vegatables there was something very interesting: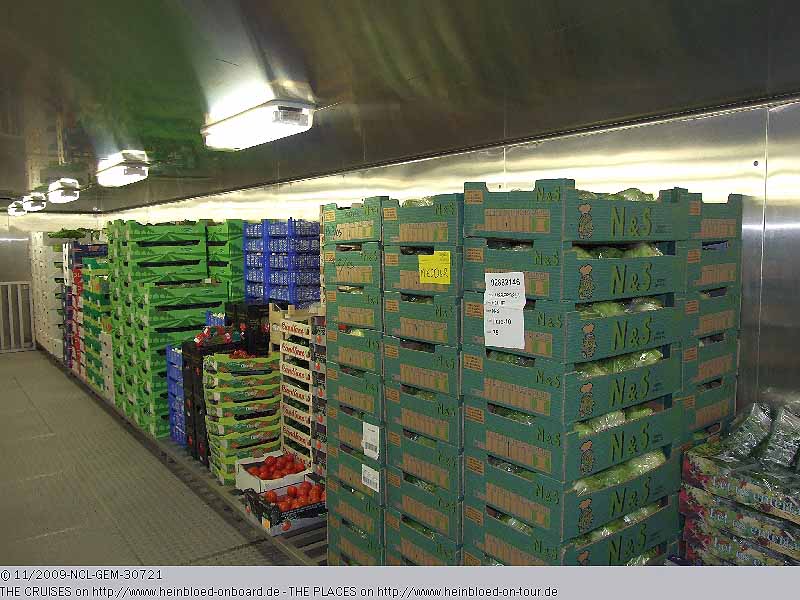 Bei dem Gemüse fand ich einen Aspekt sehr interessant:
Wurzelgemüse wird tatsächlich desinfiziert, bevor es verarbeitet wird.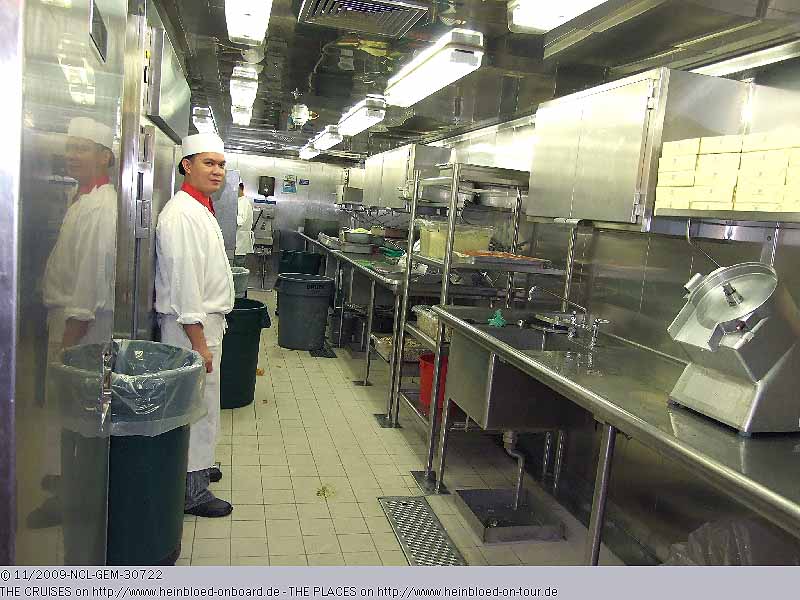 Root vegetables will be sanitized before they can be processed in the galley.

Meat, Poultry and Fish/Seafood need to be handled in different preperation rooms. Even the cutting boards are allocated to the different type of meats by colors.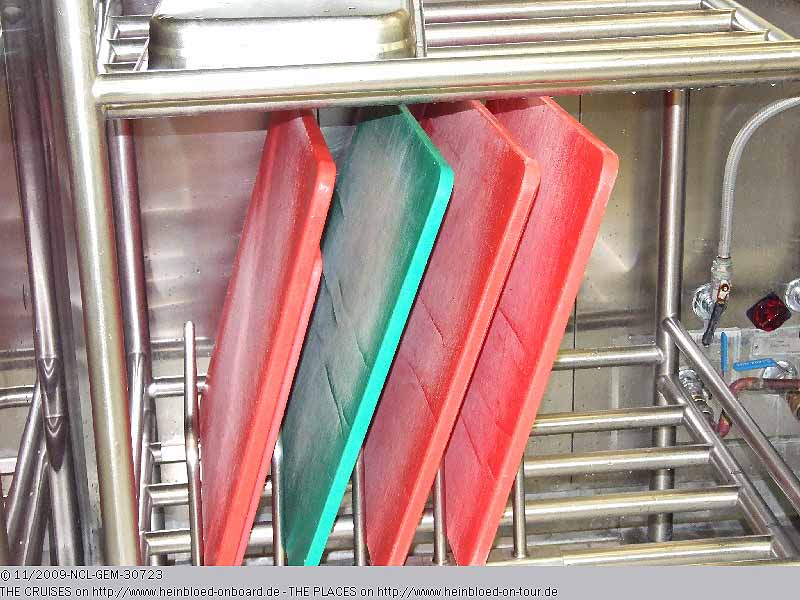 Fleisch, Geflügel und Fisch/Meeresfrüchte müssen in getrennten Räumen vorverarbeitet und vorbereitet werden. Auch die Bretter sind entsprechend farblich zugeordnet.
"Tina Turner" kümmert sich darum, dass das Fleish kontrolliert auftaut und seine Qualität nicht verliert.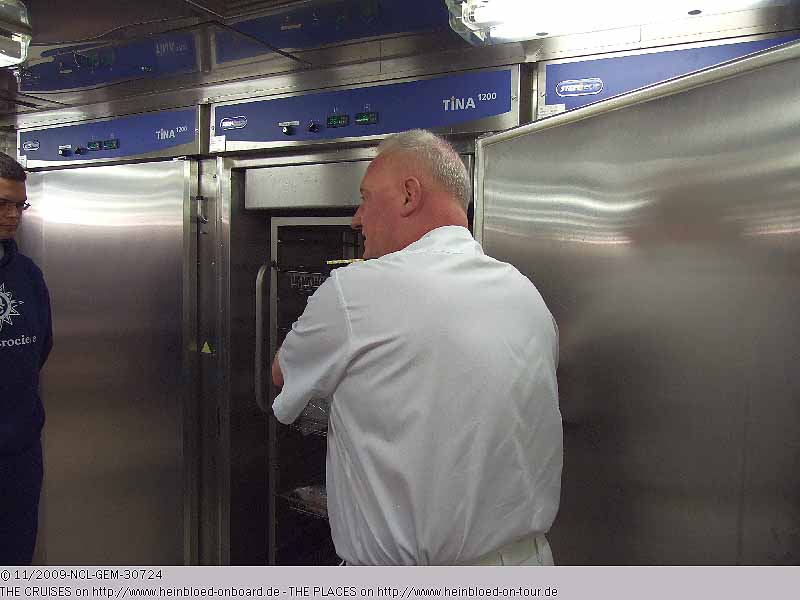 "Tina Turner" takes care of the controlled defreezing of the meat and will not loose the quality.

It's definately too cold to stay there any longer to find all treasures they have here inside.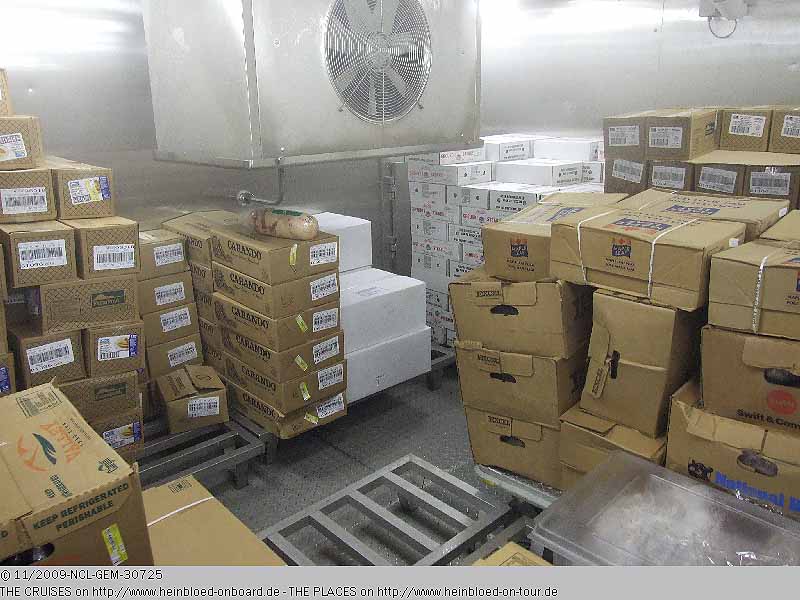 Es war aber leider zu kalt, um lange darin zu verweilen, um zu gucken, welche Schätze dort lagern.
Interessant war auch der einzige durchgehende Gang vom Heck zum Bug des Schiffes. Hier könnte ich Stunden verbringen, um mal alle Interna zu lesen.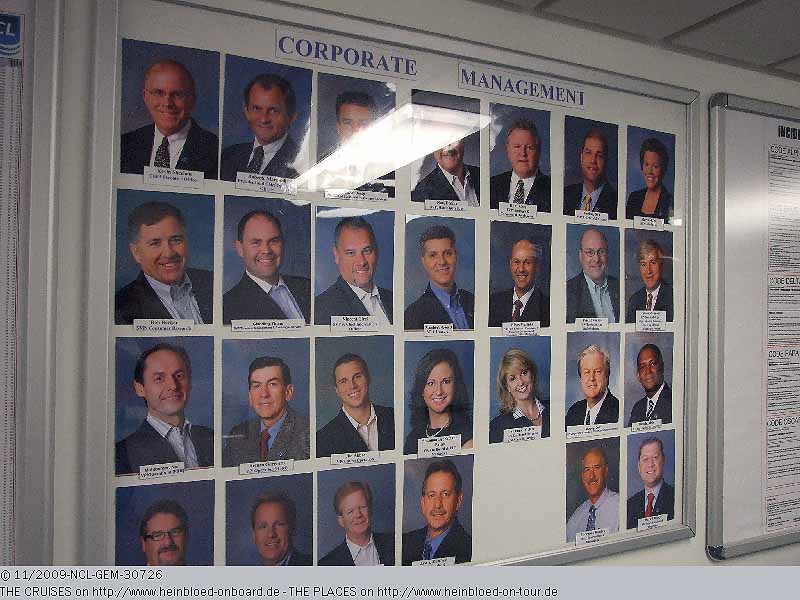 Interesting was also the only straight way from the bow to the aft on the ship. I could have stayed here for hours to read the internal announcements.

You are not allowed to visit the bridge itself. We were welcomed by the Staff Captain, whom we know from NORWEGIAN DREAM. As we were already invited to see a bridge of nearly similiar ship size it was o.k. for us.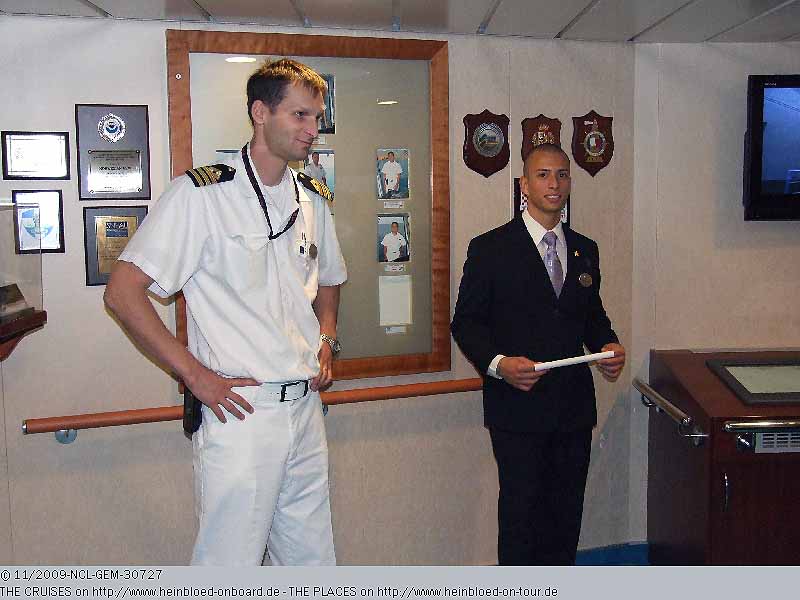 Die Brücke selbst kann man nicht besichtigen. Wir wurden daher vom Staff Captain empfangen, den wir übrigens von der
NORWEGIAN DREAM
ebenfalls kennen (Mathias K. hat sicherlich einen Namen für mich parat. Er ist aus Kroatien). Da wir jedoch schon mal auf der Brücke eines vergleichbaren Schiffes waren, war es für uns nicht so schlimm.
Hier hängt auch die Tafel mit den nautischen Offizieren an Bord, angeführt von Kapitän Mikael Hilden aus Finnland.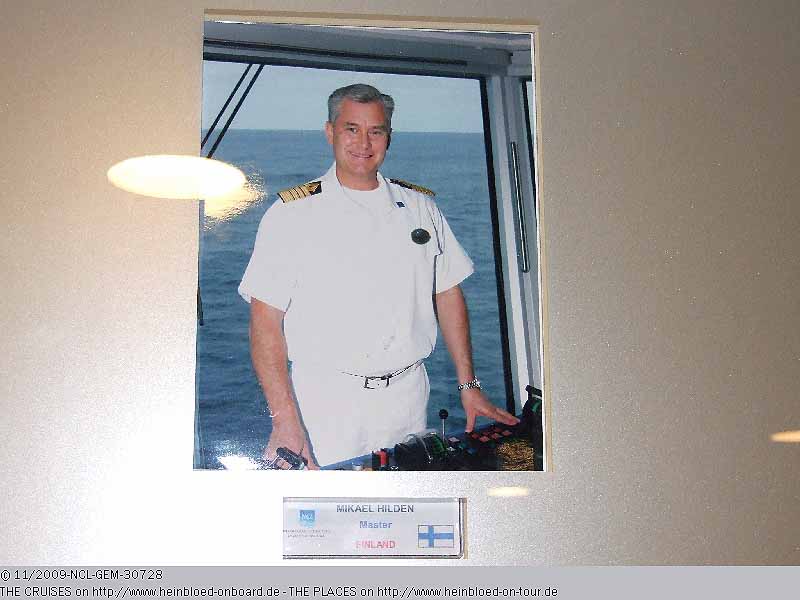 Here you find also the board with the actual technical and nautical officers leaded by Captain Mikael Hilden from Finland.

The explainations were still very interesting as we had then a French-English-Italian guide.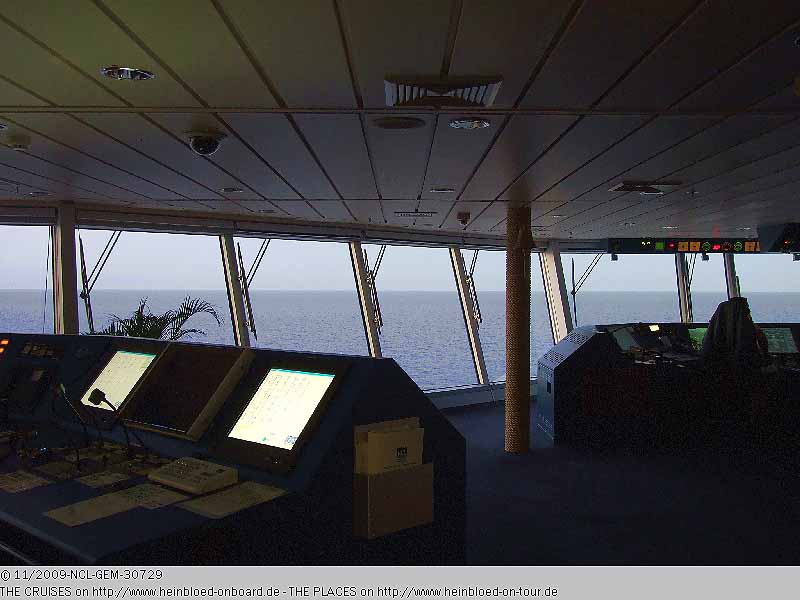 Trotzdem waren die Erläuterungen sehr interessant. Damals hatten wir eine französisch-englisch-italienische Führung.
Weiter geht es ins Theater, wo uns einer der Tanztrainer begrüßt. Von ihm erfahre ich, dass eine Show wie World Beat fünf Jahre läuft aufgrund der hohen Produktionskosten. Ich habe ihm jedoch erzählt, dass es wohl ein paar Modifikationen gibt. Er bestätigt, dass aus Kostengründen zwischenzeitlich zwei Tänzerinnen und ein Sänger eingespart wurden. Neu fiel mir aber der Seilkünstler auf, den ich sonst nur von MSC kenne. Es war dann doch peinlich, dass er dann meinte, dass er es gewesen sei...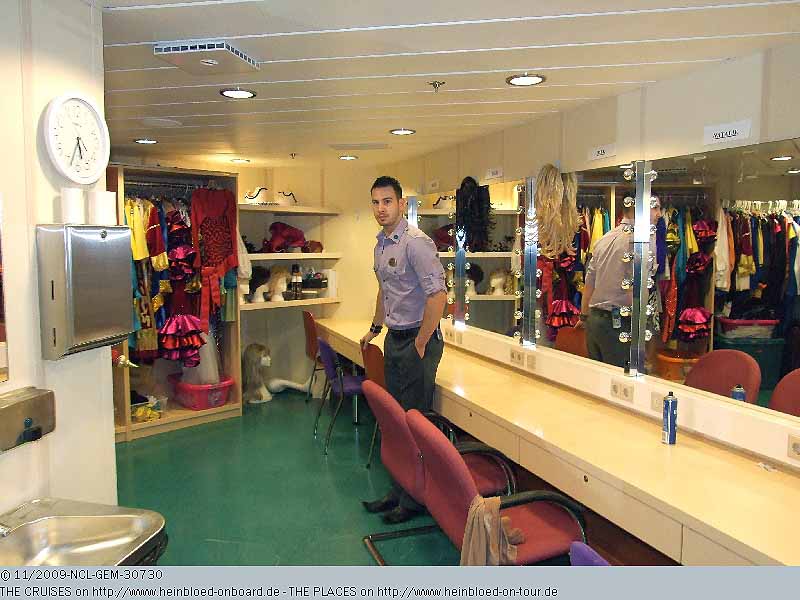 We continued to the theater where a dance trainer waited for us. He told us that a show like World Beat will be on stage for five years due to high production costs. I told him that I saw the show two years ago and there seems to be some modification. He confirmed that due to cost cutting one singer and two female dancers are less on stage. I have not seen the rope artist before just on MSC. I was very ashame when he told that he was the rope artist.

There is much to see in the backstage of the forward. But you need all for three production shows which are shown on seven nights or also on a longer transatlantic.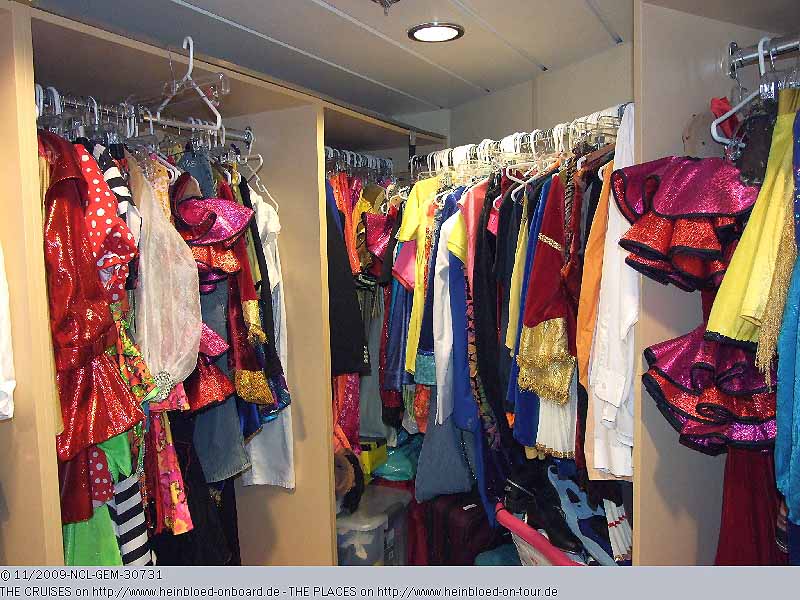 Ganz schön viel, was alles vorne noch hinter den Kulissen ist. Alles wird für drei Production Shows gebraucht, egal ob für sieben Nächte oder für eine längere Transatlantik.
Es geht dann in die Wäscherei. Richard meinte, dass es wohl mehr die Frauen interessiert... Dabei mache ich zu Hause die Wäsche.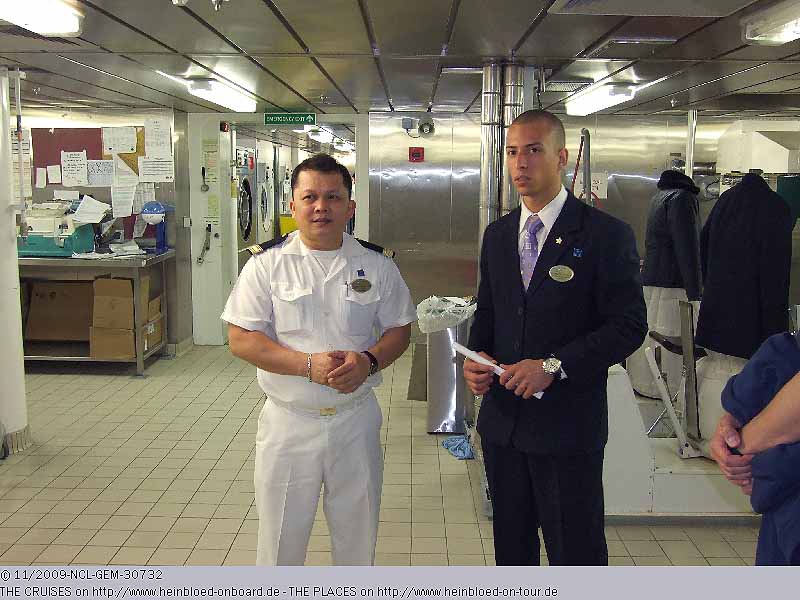 We continued to the laundry department. Richard said that this might be interesting for the ladies... But at home I am in charge for laundry.

Would this uniform jacket fit??? Somebody must read my minds. When I decided to have a nice souvenir it was taken away...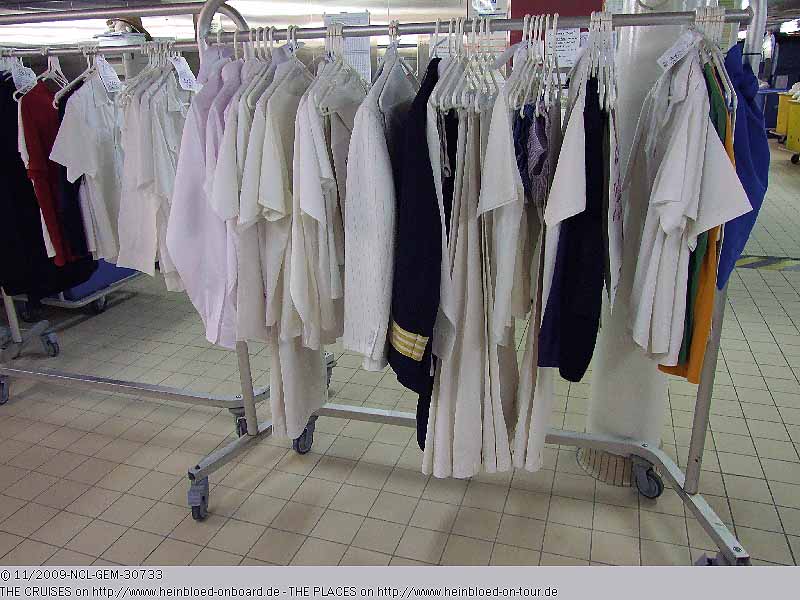 Könnte mir diese Uniform-Jacke passen??? Jemand muss meine Gedanken gelesen haben. Als ich dann endlich mir ein Herz gefasst habe, um sie an mich zu nehmen, war jemand anders schneller...
Eigentlich finde ich es schon praktisch, wenn wir alles nur in zwei Waschgängen (buntes und weißes) durchkriegen...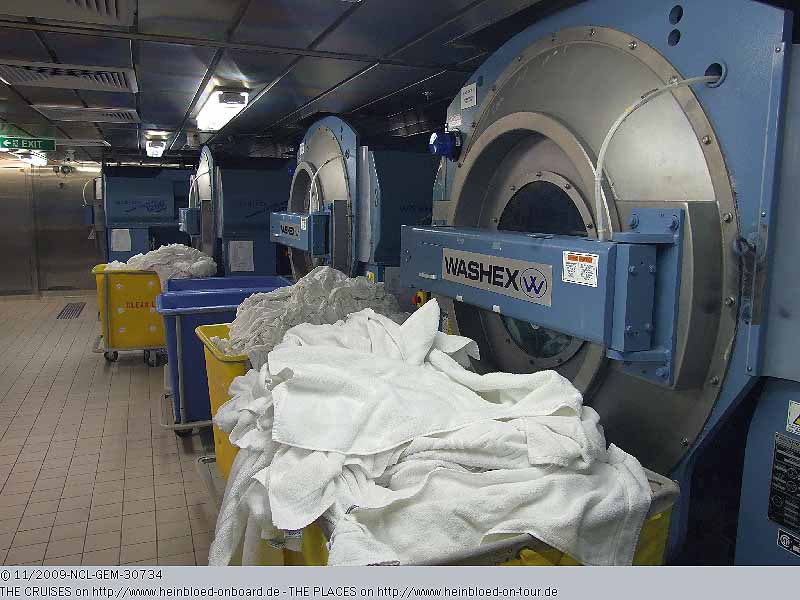 It's very practical with this size of laundry machine: only once for white and once for colored...

Especially as our dryer gave up to work at home... Would this dryer fit into our luggage???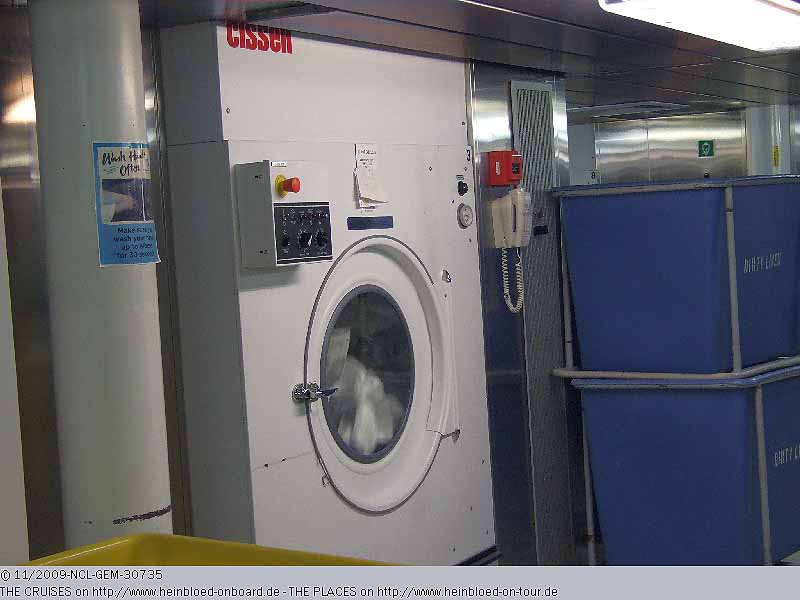 Vor allem hat ja unser Trockner seinen Geist aufgegeben... Passt der in unser Gepäck???
Das hatte ich auch mal während meiner Studentenzeit im Krankenhaus gemacht...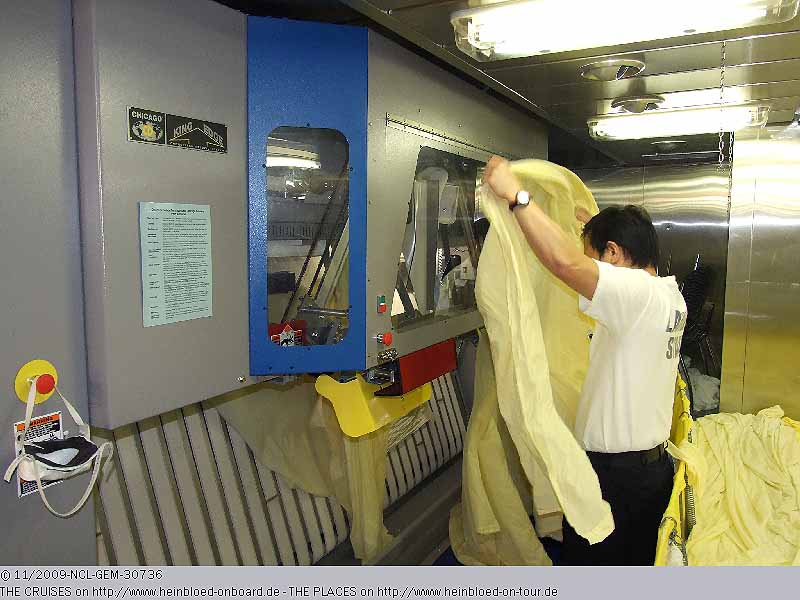 I did the same at a hospital to re-finance my business school...

Finally in my "home": the laundry department... To avoid that they will keep me there to work I weared for safety reason my HAL-Polo-Shirt.


Just a personal remark for whose who thinks about to cancel the service charge and to honour your waiter and stateroom stewards personally: Your waiter could not serve you any meal and your stateroom steward will not supply any fresh lines and towels without the invisible crew on the lower decks. All of them work for us, even you might be not in direct touch with them. With Freestyle cruising you do not have the same table and the same waiters. If you do not want to carry all the day your wallet with you to tip each waiter individually you better do not cancel the service charge. But we can discuss why NCL need 12 USD and even a CUNARD has 11 USD... and why children are handled like adults... not a very friendly family policy...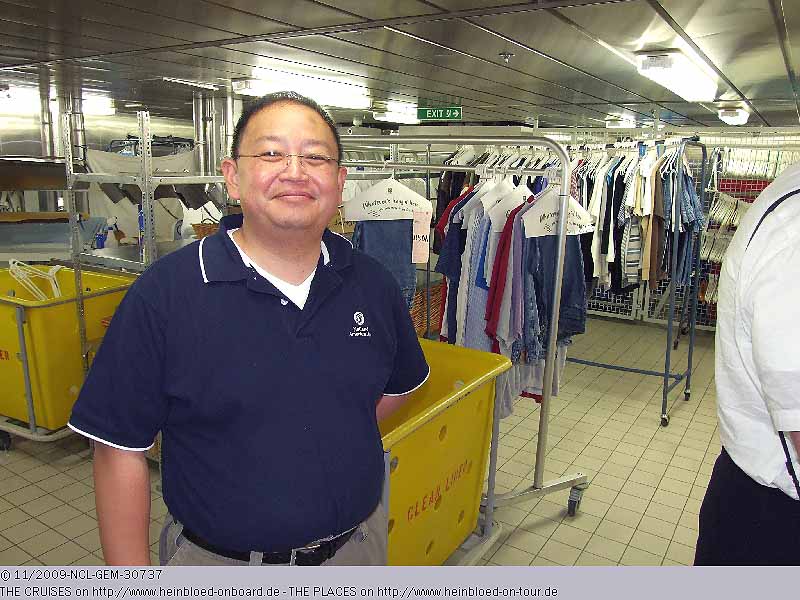 Endlich mal in meiner Domäne: die Wäscherei... Damit ich nicht zur Mitarbeit verdonnert werde, trage ich sicherheitshalber ein HAL-Polo-Shirt.



Noch eine persönliche Anmerkung an diejenigen, die so gerne die Servicegebühren streichen, um persönlich sich bei ihren Kellnern und Kabinenstewards zu bedanken: Die Kellner hätten nichts, was serviert und die Kabinenstewards keine frische Wäsche, die ausgetauscht werden könnte. Die arbeiten auch für uns alle, auch wenn sie nicht sichtbar sind. Vor allem beim Freestyle hat man ja immer einen anderen Tisch und Kellner, so dass man ja immer mit seiner Geldbörse herumlaufen müsste, um diese einzeln zu belohnen. Daher macht die Streichung keinen großen Sinn. Aber man sollte mal näher erläutern, warum NCL 12 USD braucht und Cunard nur 11 USD. Und warum man Kinder wie Erwachsene berechnet. Das ist nicht besonders familienfreundlich.


Die Canapés sind wieder da...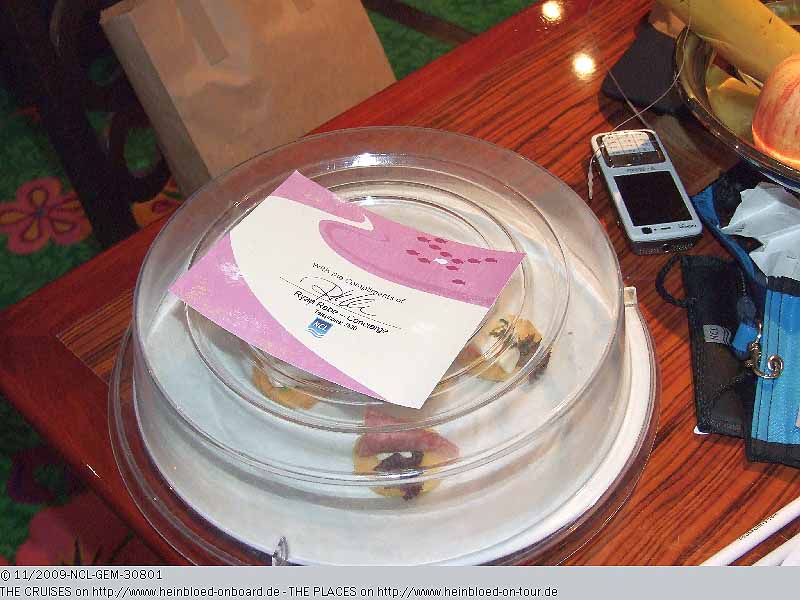 Our canapés were waiting...

I am lucky as they are salty again but how to share 5 for 3??? Each 2 for the 1st and 2nd occupation and for the 3rd occupation one as she pays less than the others???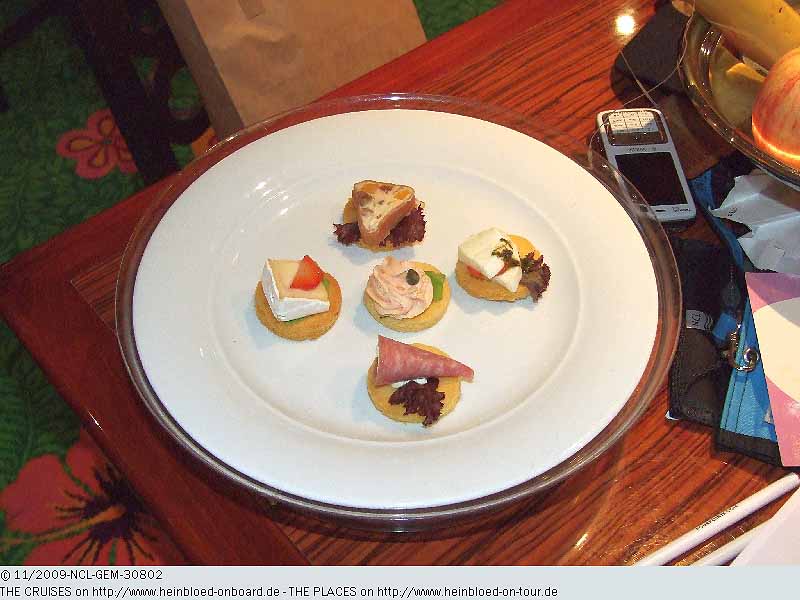 Zum Glück wieder herzhaft: Wie teilt man 5 durch 3??? Je 2 für die 1. und 2. Person und nur eine für die 3. Person, die weniger in der Suite zahlt???

Aber es ist nicht so schlimm: der VIP-Empfang des Kapitäns findet statt, so bekommen wir noch mehr Canapés...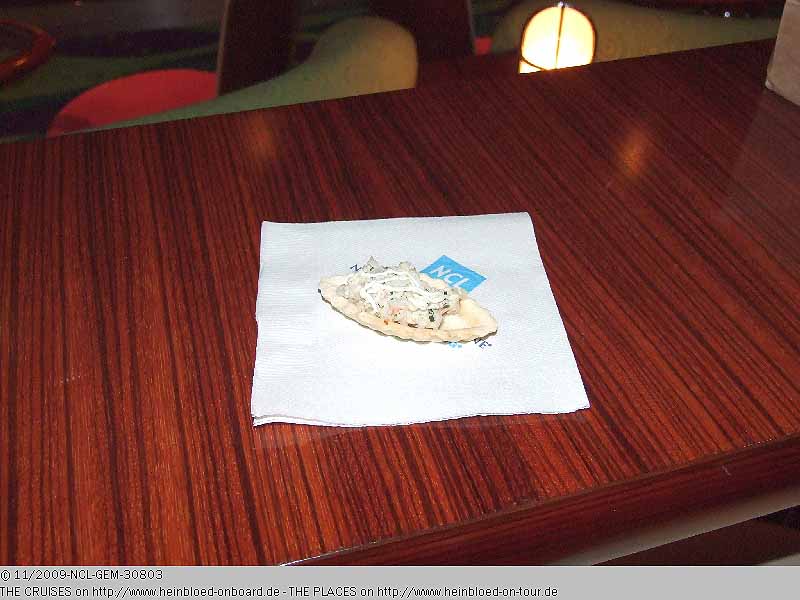 But we did not mind as we get more canapés during the Captain's VIP-reception.

Just cute.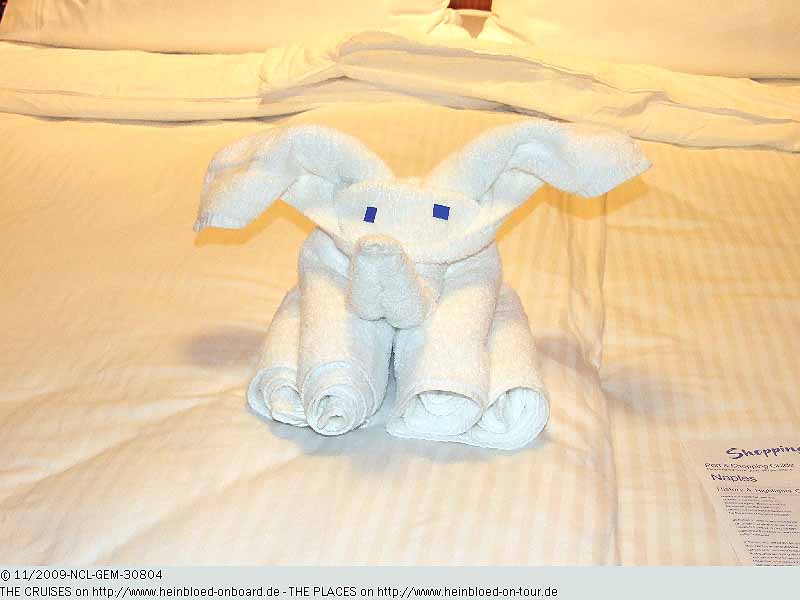 Den fand ich niedlich.

Wir gehen ins Le Bistro, weil wir ja so einen Coupon haben. Diane (distrat aus cruisecritic.com) haben wir angeboten, mitzukommen. Sie reist alleine. So können auch wir den Coupon am optimalsten ausnutzen. Ich liebe diese Schnecken. Schade, dass es keine Toastbrotstreifen dazu gab, um die Kräuter-Knoblauchbutter aufzusagen.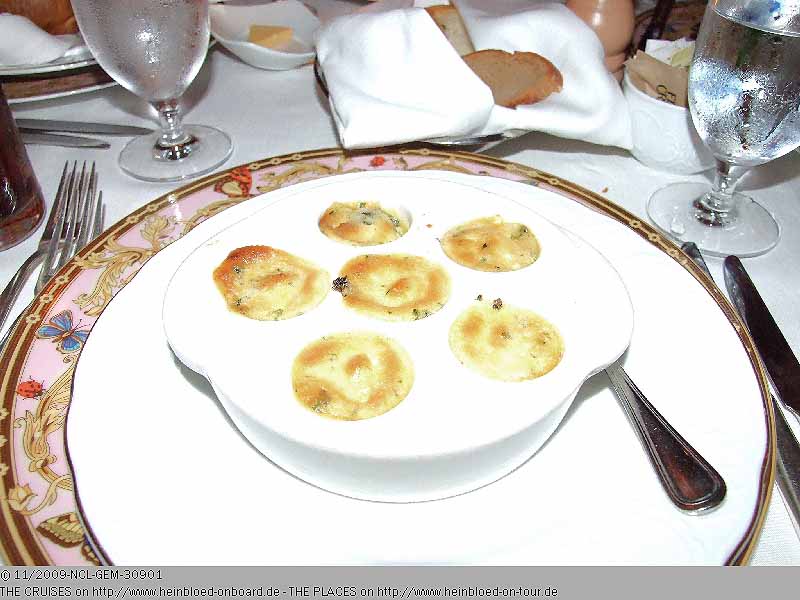 We went to Le Bistro for dinner because we had our coupons. As Diane (distrat from cruiscritic.com) was travelling alone we offered her join us and to share the coupon with us. I love escargots but there was no toast bread strips to soak the garlic herbal butter.

The salad was so extremely sour that 2/3 of the plates went back.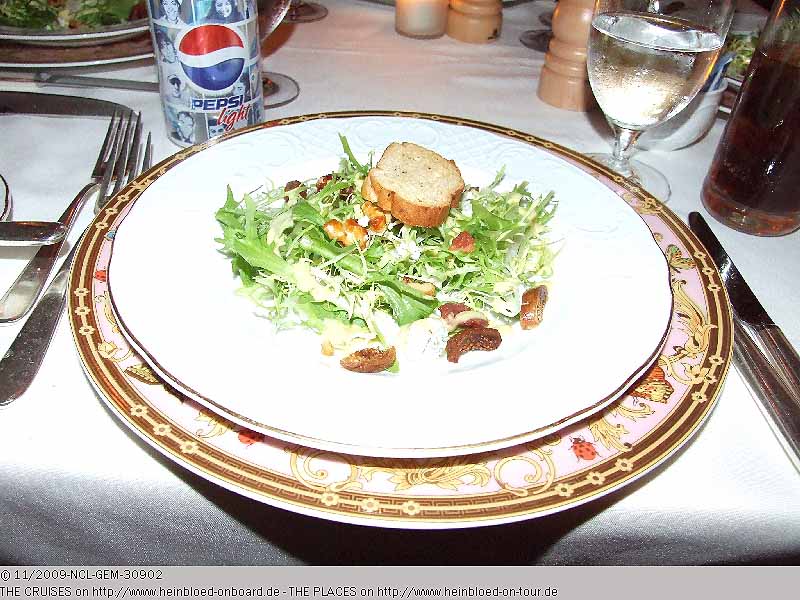 Leider war der Salat so sauer, dass etwa 2/3 des Tellers zurückgingen.

Meine Schwester hatte die Boullabaise, die ihr allerdings auch nicht zusagte.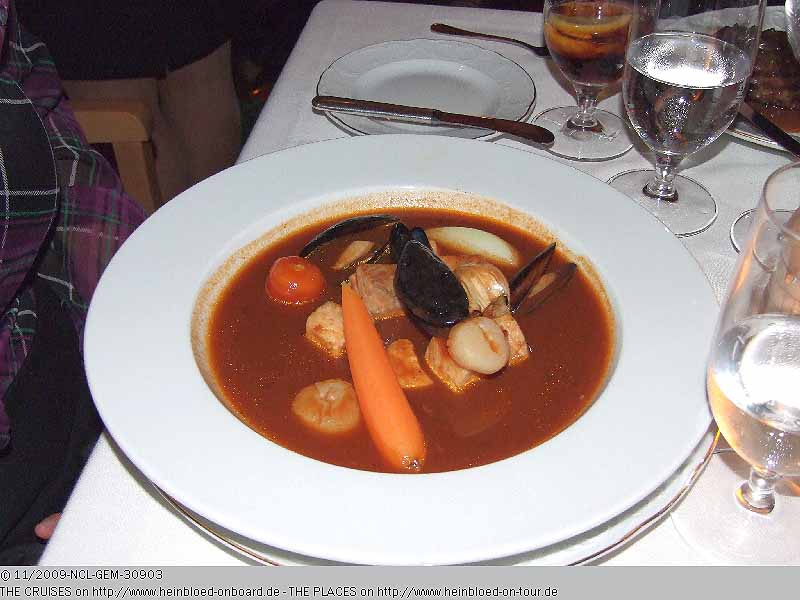 My sister hat the Boullabaise which she did not like too much.

We had the steak and it was very good. Somehow I have expected a change of the menu since our last visit on NORWEGIAN DREAM in October 2008.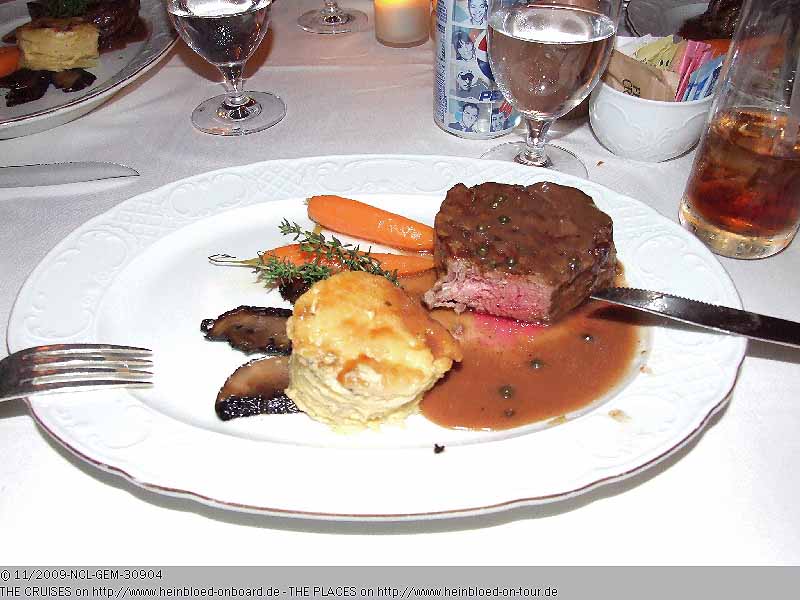 Mit unserem Steak waren wir allerdings gut bedient. Ich finde es irgendwie schade: das Menü hat sich seit unserer NORWEGIAN DREAM-Fahrt im Oktober 2008 nicht geändert...

Das war das Dessert meiner Schwester...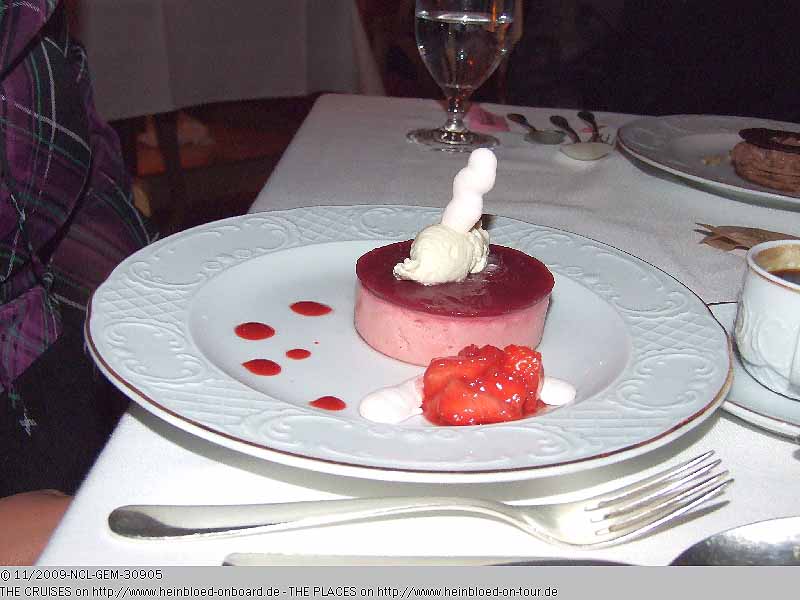 My sister's dessert...

We had Crepe Suzette. They flamed it somewhere in the background. I think it's part of the presentation. But here 2/3 went back as well: The pancakes were not as thin as it supposed to be and it was extremely sweet that I could not get my mouth open anymore.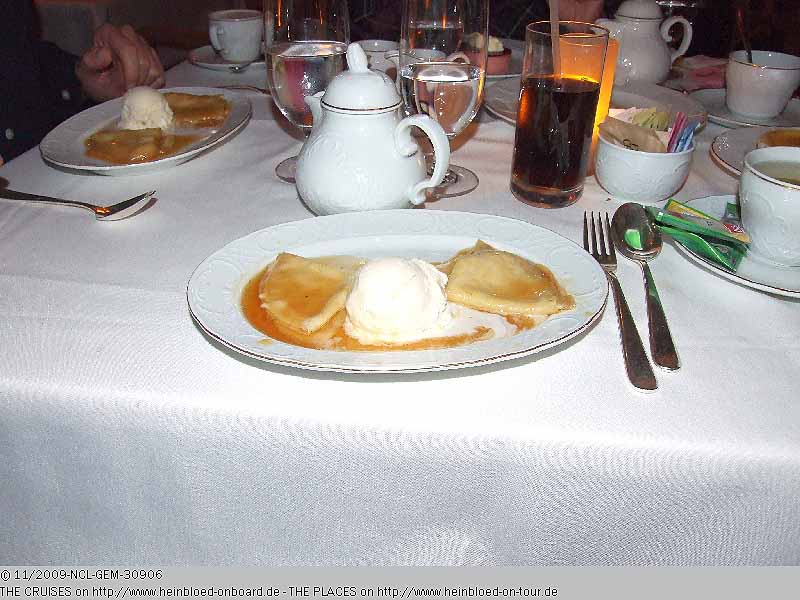 Wir hatten Crepe Suzette. Leider wird diese irgendwo im Hintergrund flambiert. Für mich gehört es mit dazu. Auch hier gingen leider 2/3 des Tellers zurück: Die Crepes waren wirklich nicht hauchdünn und es war so schrecklich süß, dass ich kaum noch die Zähne auseinander bekommen habe.

Unsere Kellnerin Mary konnte nur mit ihrer freundlichen und sympatischen Art Schadensbegrenzung machen, in dem sie mir anbot etwas anderes zu bringen. Beim Nachtisch, habe ich dann sogar einen echten Stinkerkäse genommen, nur um die extreme Süße aus dem Mund zu bekommen. Sie hat jedoch immer unsere Wahrnehmungen bestätigt, weil wohl auch andere Gäste es genauso wahrgenommen haben. Leider ist Luiza nicht da. Denn in der Situation war sie ja damals auf der NORWEGIAN SPIRIT diejenige mit dem entsprechenden Instinkt gewesen, die wusste, dass es bestimmt nicht der mangelnde Hunger ist, wenn 2/3 bei zwei Gängen zurückgehen... Ganz ehrlich liebe Produktmanager von NCL Miami... ich hätte kein Problem damit, auch 20 oder 25 USD zu zahlen, wenn ihr das Niveau mal anheben würdet: Ich vermisse schon den Pfefferservice und das Flambieren am Tisch und die bessere Auswahl: Ente à l'Orange ist ja wohl höherwertig als diese Entenkeule nach Bauernart... Es gab wieder die Zuzahlung zur Zuzahlung, d. h. noch etwas besseres für 10 USD mehr... aber da sagte mir einfach das nicht zu. Was spricht eigentlich gegen das Niveau, das wir ursprünglich auf der NORWEGIAN DREAM 2007 kennengelernt haben???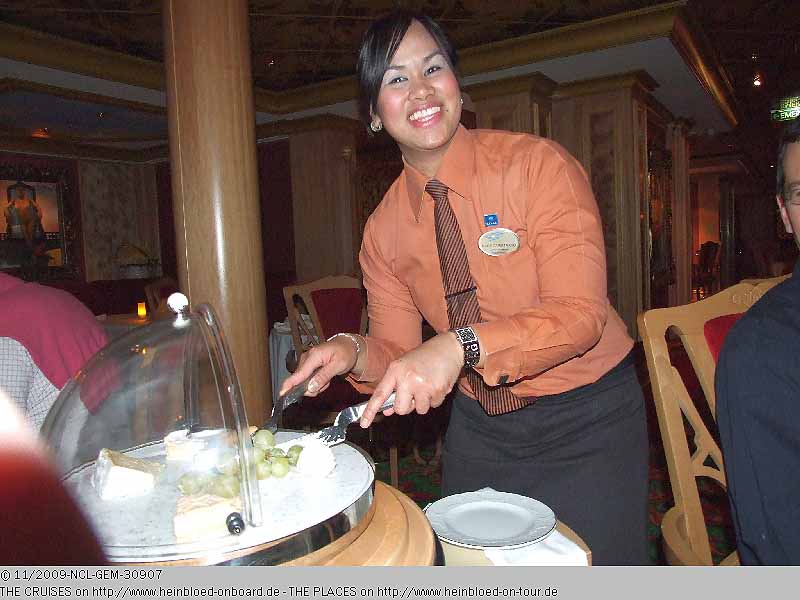 Our waitress Mary could only limit our disappointment with her friendly and sympathic appearance and to offer alternatives. With the dessert I accepted to have some cheese. I even took the strongest tasting cheese just to get out the sweetness in my mouth. She confirmed our impressions as other guests had the same sweet and sour impressions. Unfortunately there was no Luiza there. In such a situation she was the one who had the right instict on NORWEGIAN SPIRIT (Sorry, only in German) and knew that it was not the lack of hunger when 2/3 of the plate went back on two different courses... Frankly spoken, dear NCL Product Manager in Miami... I will not have any problems to pay 20 or 25 USD coverage just for an improvement of the food level: I am missing the pepper service and the flaming at the table and the better food options: Canard à l'Orange is a higher standard of food than a Duck Coffin Farmer Style... There was also the covercharge as add on to the covercharge available: for 10 USD more you get more but there was nothing I was really interested in. What's against the level you had originally on NORWEGIAN DREAM in October 2007 (Sorry, only in German)???