Scroll down for English explanations - alternates with German explanations.

Zurück an Bord fange schon mal an Unterlagen zu sortieren, aufzuräumen und wegzuräumen. Wir müssen ja am Abend noch alles packen. Im Grand Pacific sind Luiza und Adina nicht zu sehen. Nur Edgar. Aber die Schlange ist länger, so dass ich dann doch lieber ins Cagney's gehe. Hier gibt es die Wasserkresse-Suppe, die ich schon kenne.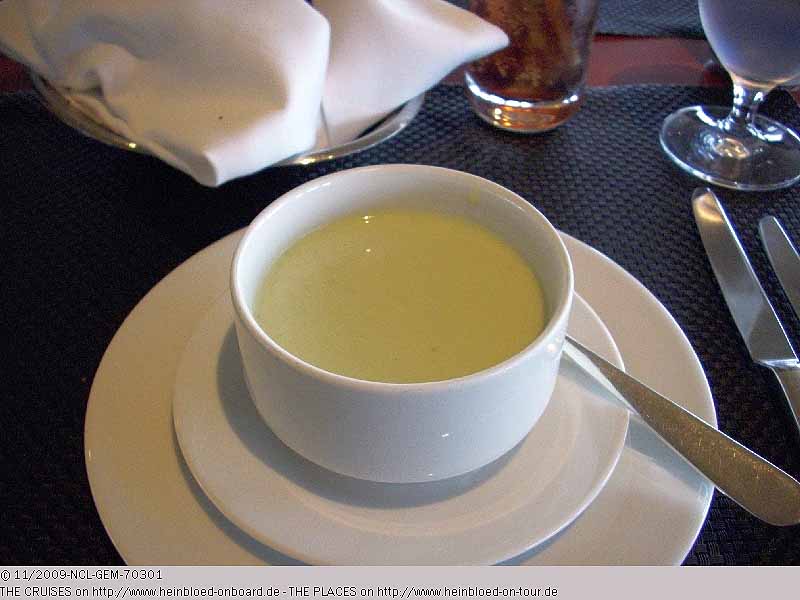 Back on the ship I started to sort our records and other paperworks. We need to pack anyway tonight. Im Grand Pacific no Luiza and Adina - only Edgar. As the queue was longer than expected I decided to see Cagney's. Here I got my Watercress-Soup which I knew from previous cruises.

This time I took the chicken for the Pita-Salad. Never got any tastier grilled chicken before.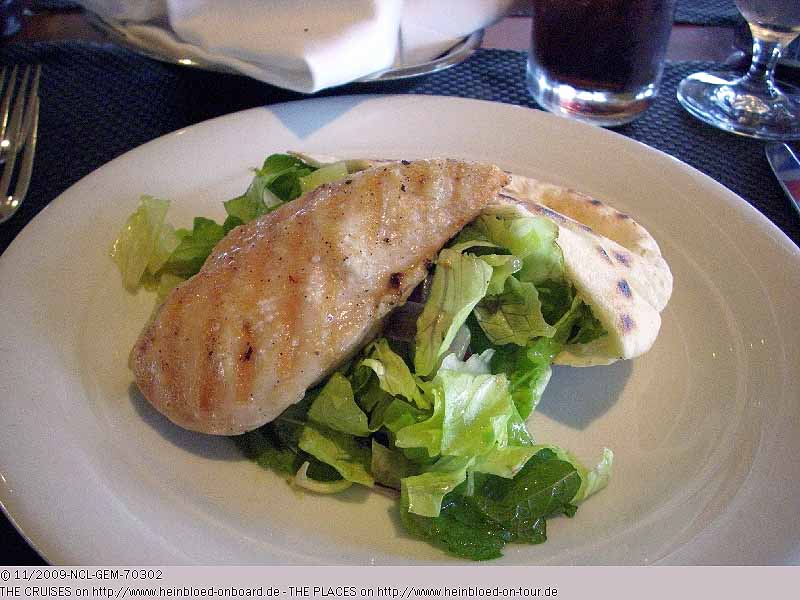 Dieses Mal nehme ich diesen Pita-Salat mit Hühnchen. So ein lecker gegrilltes Hühnchen habe ich schon lange nicht mehr gehabt.
Das war ein Irgendwas in Dip... konnte ich mir nicht merken. Auf jeden Fall, war es mein Prime-Rib... Lecker...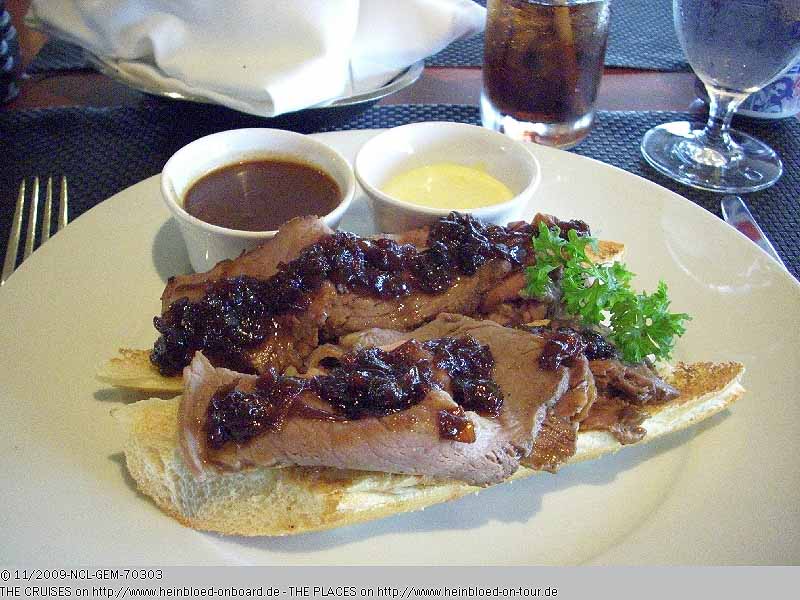 This was somthing in Dip... but cannot remember the name on the menu. Anyway it was Prime-Rib... Yummy...

Terista was attracting my attention. She never addressed me "Sir" but my name. As I have not seen her before I was wondering that she knew my name and I asked her how it came that she knew my name. She said that she asked the restaurant receptionist for the names of her guests to make it more personal.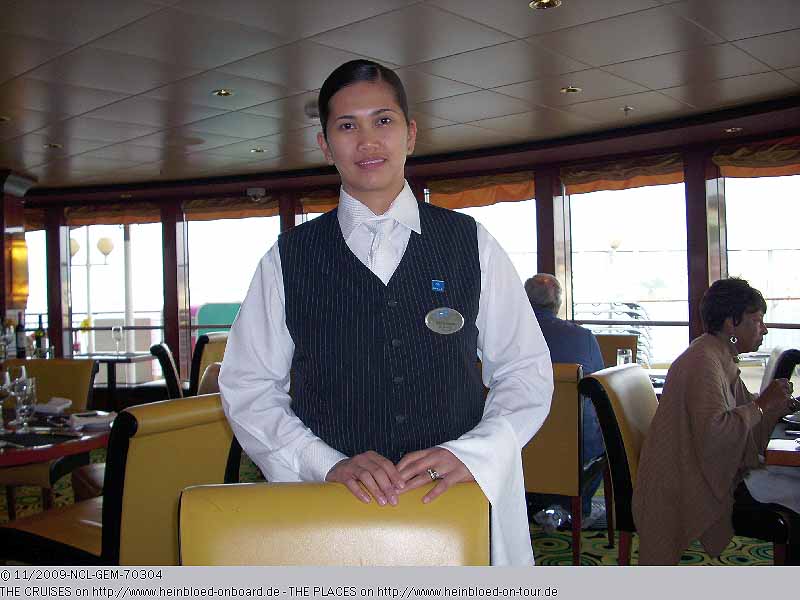 Besonders ist mir Terista aufgefallen. Sie sprach mich nicht nur mit "Sir" an, sondern richtig mit meinem Namen. Da ich sie vorher hier noch nicht gesehen hatte, wunderte ich mich etwas und sprach sie darauf an. Sie meint, dass sie sich für jeden Gast bei dem Platzeinweiserinnen erkundigt, um ihre Gäste namentlich anzusprechen.
Bruno und meine Schwester kamen zu spät. Um 14.00 Uhr war das Restaurant geschlossen. Aber ihnen wurde angeboten, dass sie sich etwas bestellen sollen und man würde es ihnen zum Courtyard hochbringen. So erreichten die Pommes Frites den Weg in den Courtyard.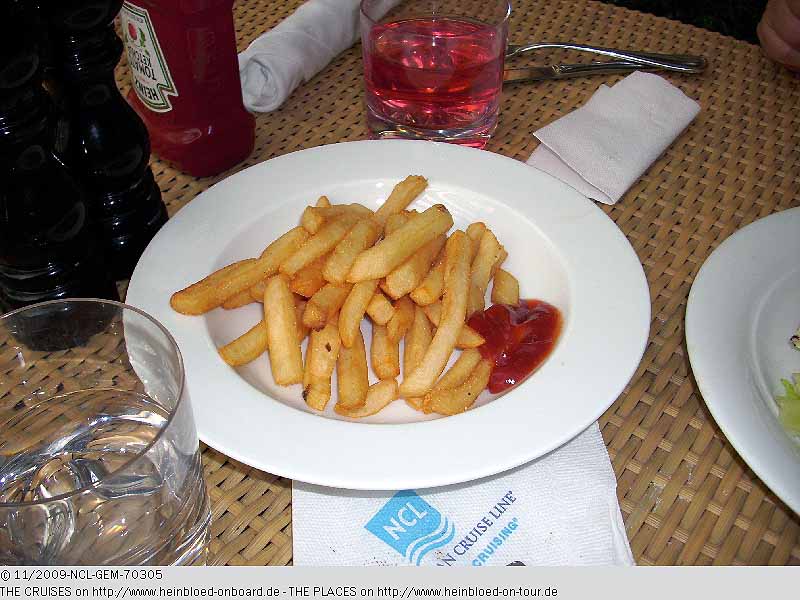 Bruno and my sister came too late. At 2 pm was closed. But they offered them to order some food and to serve it in the Courtyard. That's why the French Fries made their way to the Courtyard.

In the afternoon we met other cruisecritic.com-Members to make a cabin run. For us only the Owner Suite was very interesting....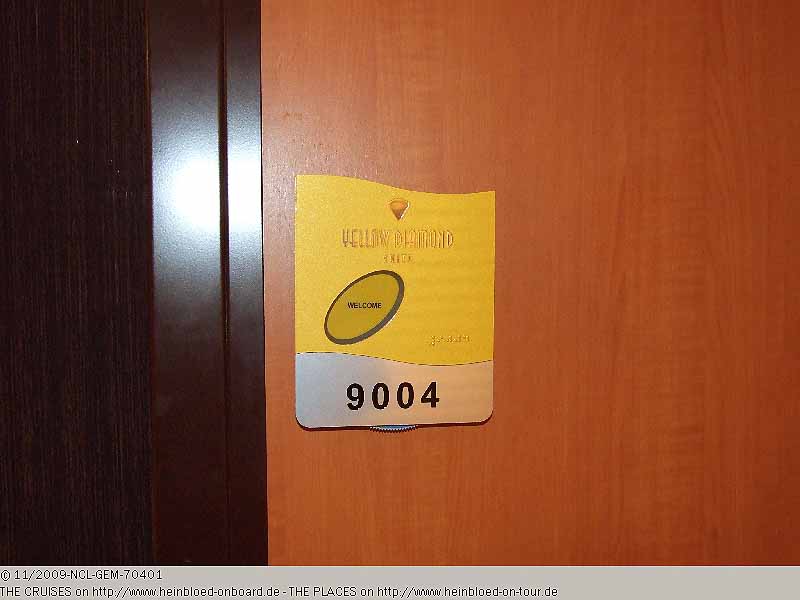 Nachmittags treffen wir uns mit anderen cruisecritic.com-Mitglieder zum Kabinenrundlauf. Für uns ist nur die Owner Suite von Interesse...
Wir hatten uns auch mit dem Gedanken gespielt, sie zu buchen. Es wäre wirklich nur nochmals einen kleinen Tick mehr gewesen...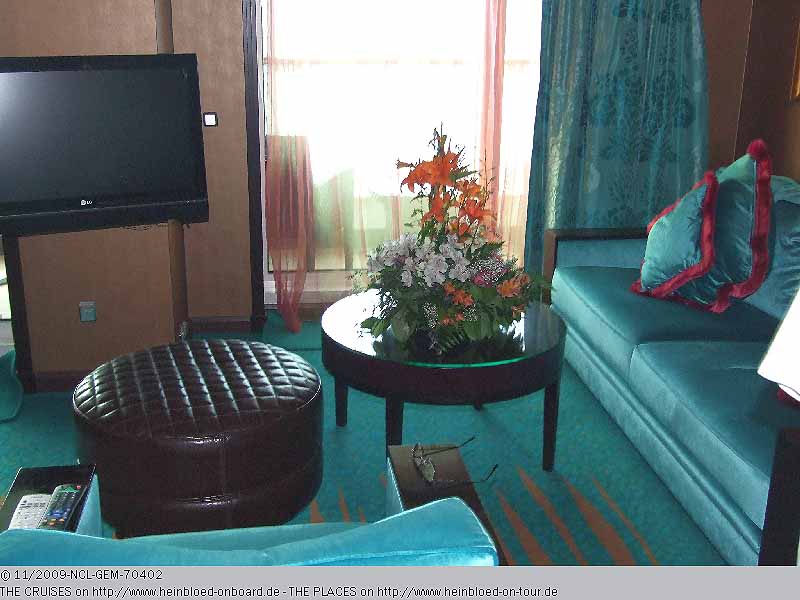 We thought to book them as it was just a little more than we booked now.

It's fantastic and much more better than our stateroom.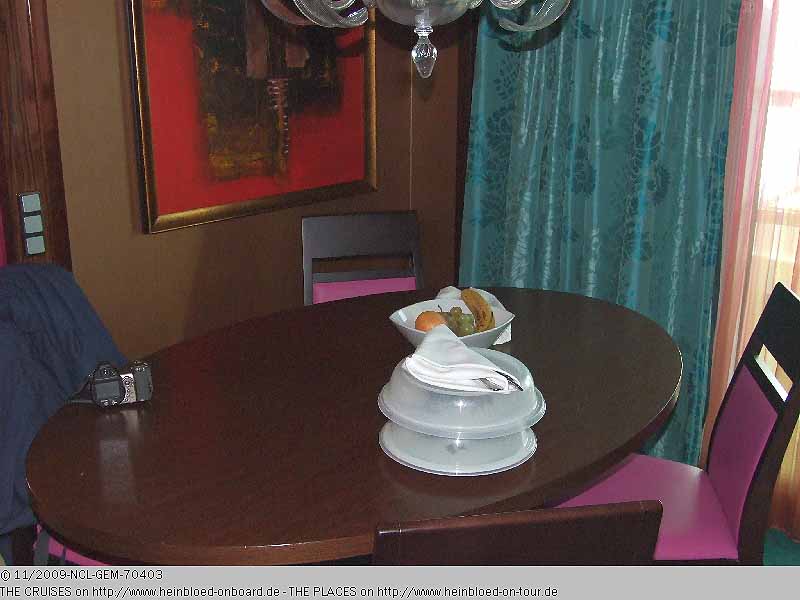 Sie ist schon fantastisch und weitaus besser als unsere Kabine.
Dagegen sprach lediglich, dass wir gerne einen direkten Zugang zum Courtyard wollten, um auch nur im Bademantel mal zum Pool zu laufen.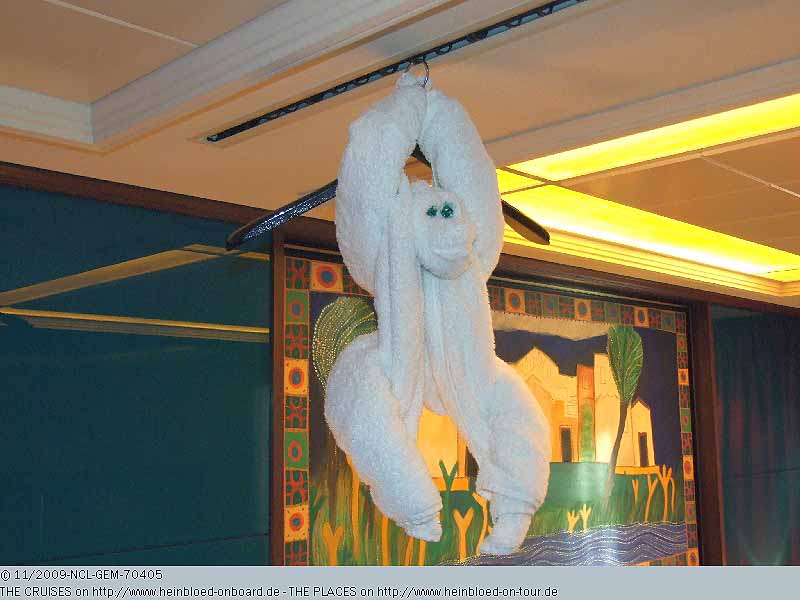 But against this idea was the missing direct access to the Courtyard. Just with the comfort of using a bath rope to get to the pool.

Why did we get only the easy animals...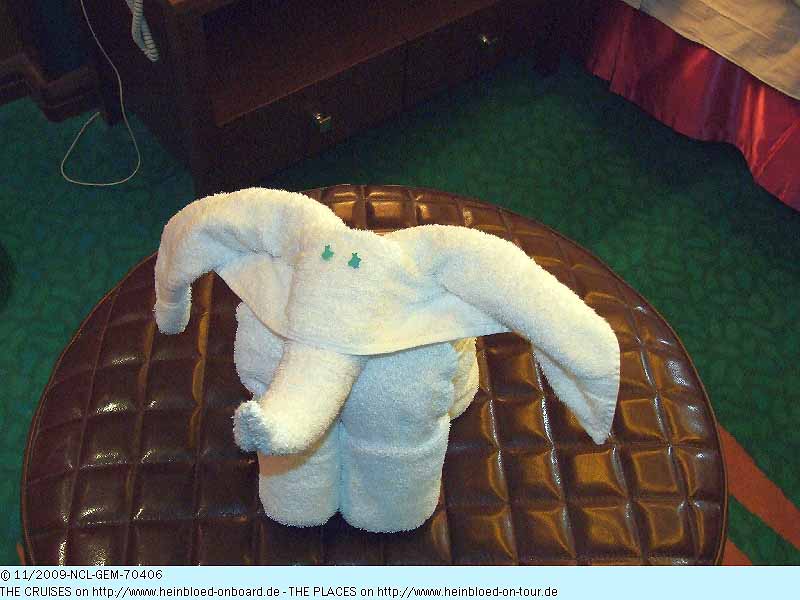 Wieso haben wir eigentlich bloß immer die einfachen Tiere bekommen...
Und die haben sogar zwei Tiere...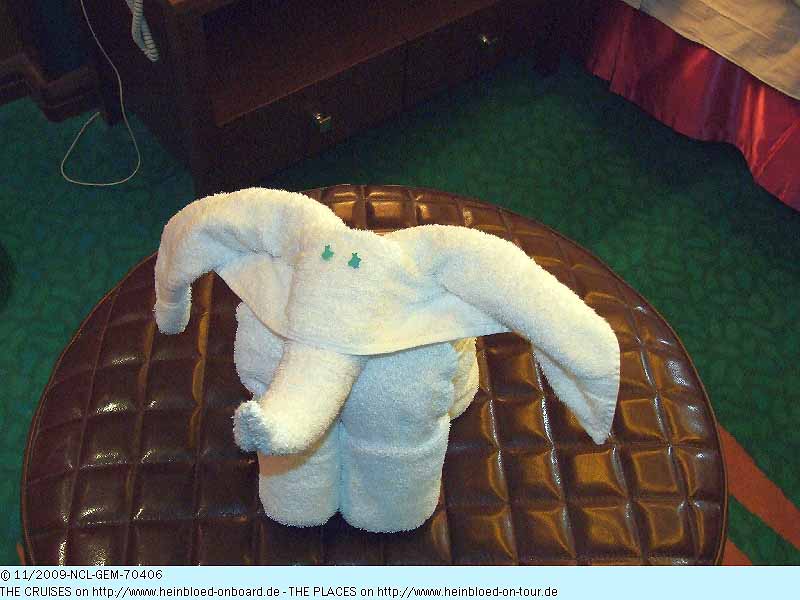 They had two animals...

and two balconies...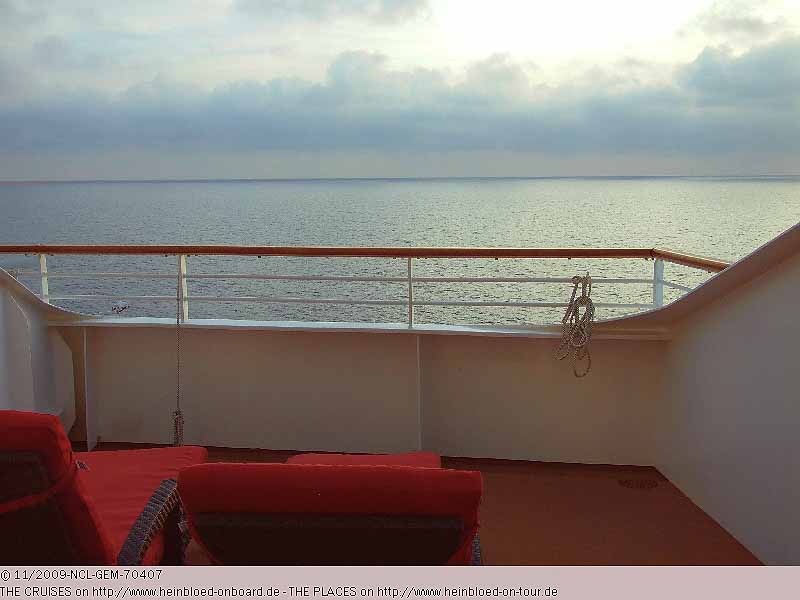 Und zwei Balkone...
Sowie ein separates Bad und nicht ein Schlafbad, wie bei uns...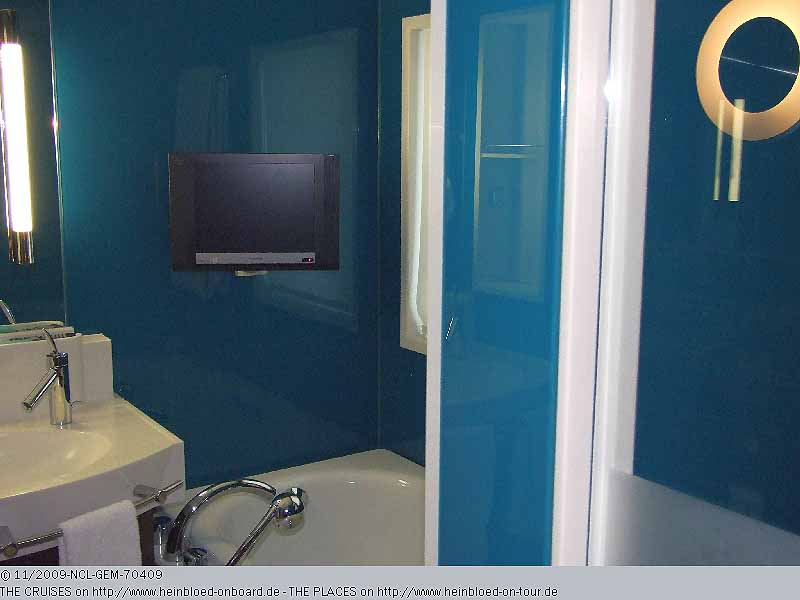 and a true separate bathroom - not a bathroom with bed like with us...

In case we would have taken this stateroom: my sister need to sleep on the carpet...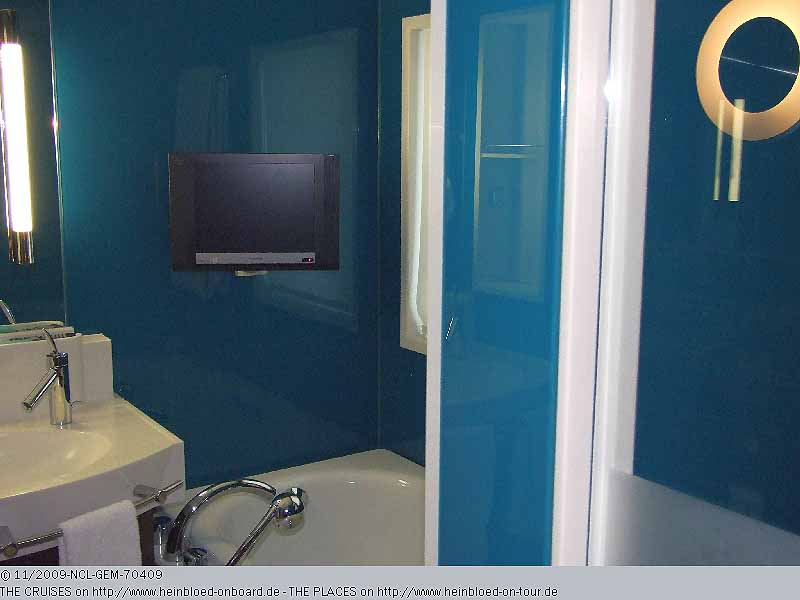 Hätten wir die Kabine genommen, hätte meine kleine Schwester auf dem Teppichboden schlafen müssen...
Oder sie hätte ja einen eigenen Balkon gehabt zum Übernachten...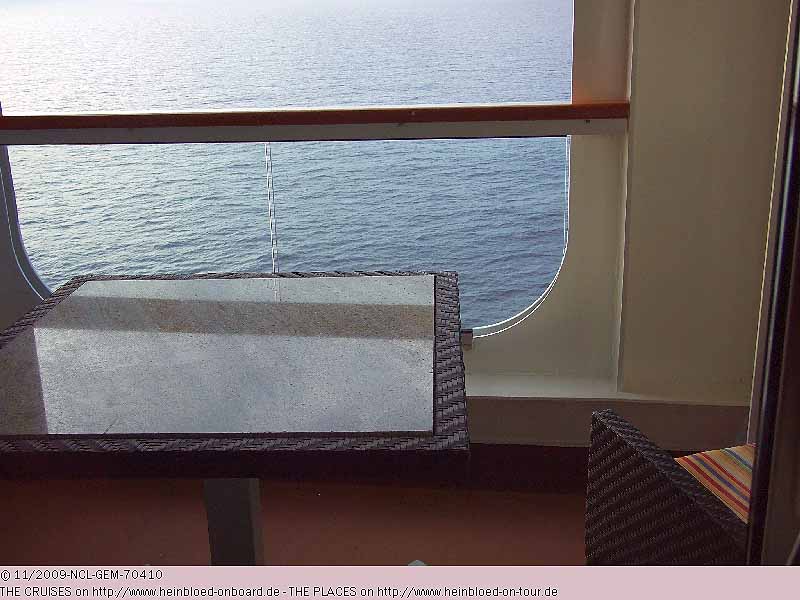 Or she could stay on her own balcony...

As I see the same toilet paper holder... It was funny: when the role ran out (from about 1/3 left) the role jumped out of the holder...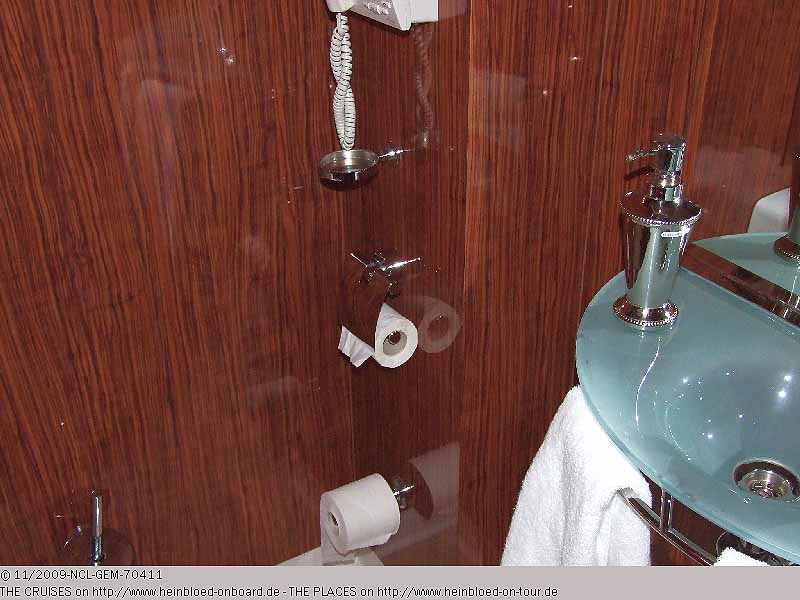 Was mich beruhigt: Sie haben den gleichen Toilettenpapierhalter... Wenn sich die Rolle nämlich dem Ende neigt (so ab 1/3 Rest...), dann springt die Rolle immer aus der Halterung...
Ist nun Bug besser oder Heck???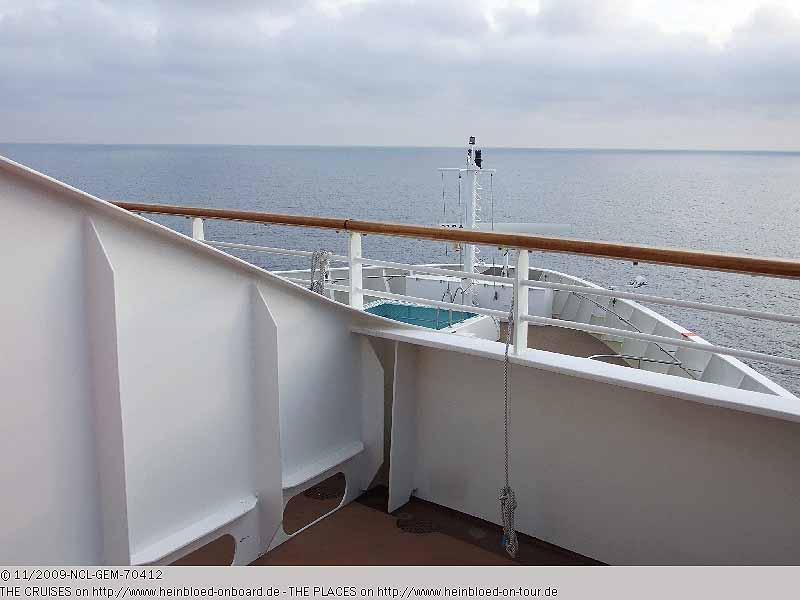 Is bow better than aft???

It appeared very communicative if you can share your thoughts with your neighbours.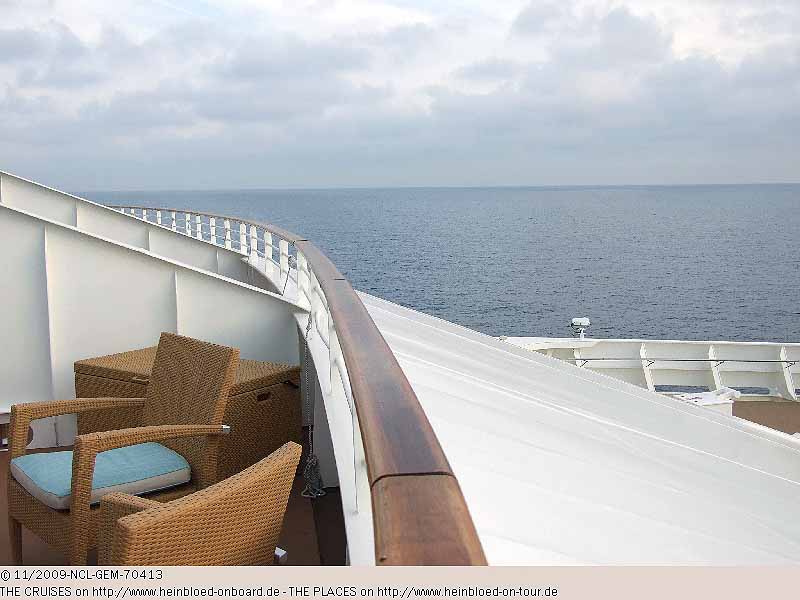 Dafür ist es kommunikativ, weil man sich mit den Nachbarn austauschen kann...
... und man hat auch noch eine Stahltür, bei starkem Seegang, damit alles dicht ist...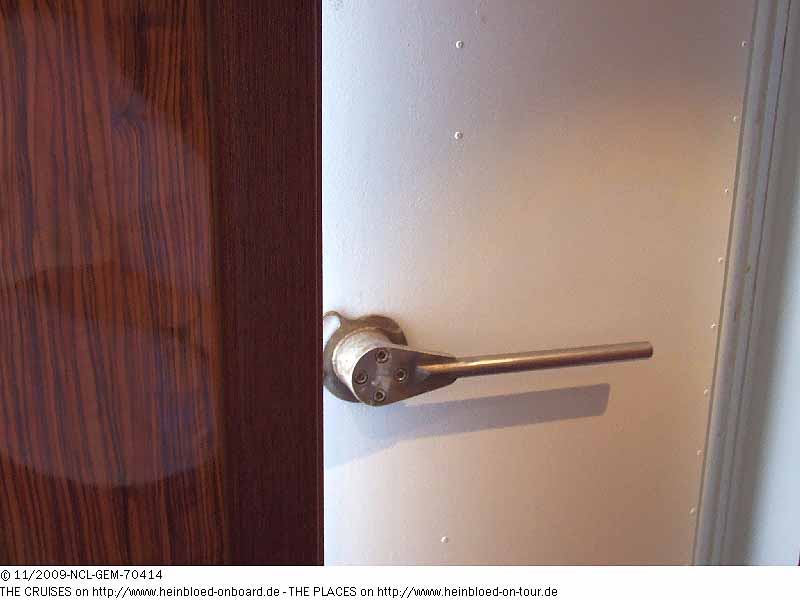 A true steal door for heavy weathers...

Bruno was not allowed to join the tour. He was sent to the Bingo event for the worst case that we might won a 7-night-Caribbean-cruise... When he returned it was time for canapés... When we set up the cabin run I had no daily programme to know which other events were offered. So some of the group got lost as they need to follow their commitments.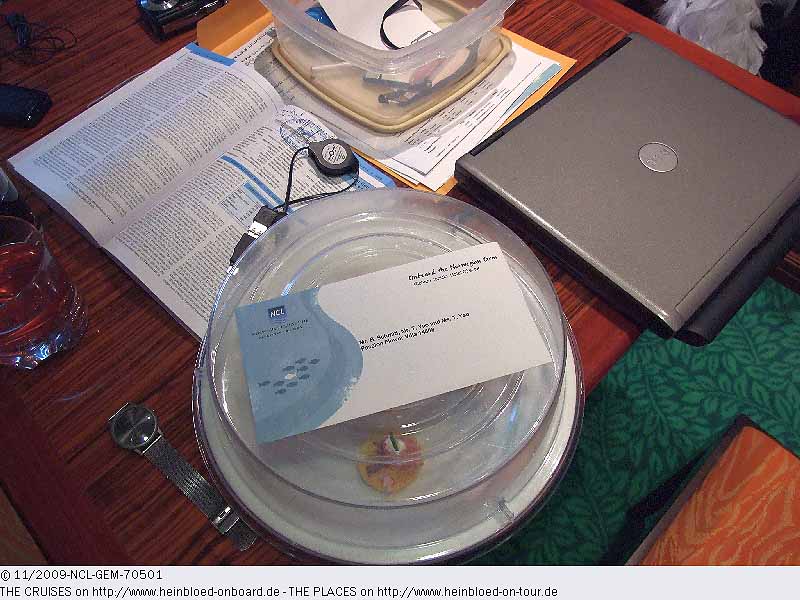 Bruno durfte nicht an der Tour teilnehmen. Er musste für mich zum Bingo gehen, für den Fall, dass wir die 7-tägige Karibik-Kreuzfahrt gewonnen haben. Als er wiederkommt, ist es schon wieder bald Zeit für Häppchen... Da wir zum Zeitpunkt der Planung der Kabinentour das Tagesprogramm nicht kannten, hatten wir z. T. die Gruppe verloren, weil sie zu ihren Verpflichtungen mussten.
Wieder fünf für drei... aber auch heute Abend ist ja Cocktail-Abend... Verhungern werden wir nicht...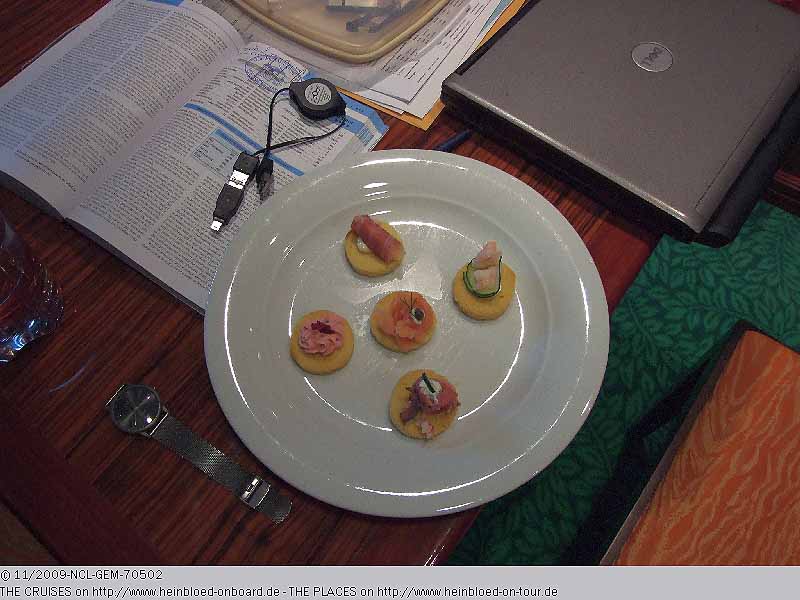 Again five for three... but tonight is Cocktail-Night again... So we will not die on hunger...

What I liked to test: the bath tub which was so short that you can do Yoga while you take a bath. With a drink and the remote control for the TV and the view to the open sea it was just a nice experience.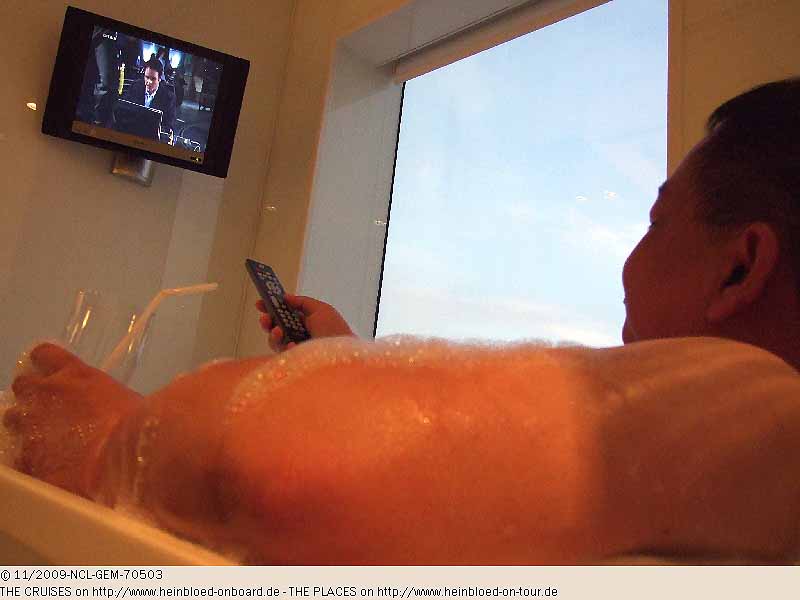 Was ich unbedingt testen will: Die Badewanne, die so kurz geraten ist, damit man Yoga gleichzeitig machen kann. Mit einem Drink und der Fernbedienung für den Fernseher und dem Blick auf das Meer lässt es sich schon aushalten.
Wir gehen in die Bliss Ultra Lounge zum Empfang für die höherstufigen Latitudes Mitglieder. Es gibt Wein und Käse... Ein Teller für alle... wobei es ein Riesenteller ist... Nervig war, dass eigentlich rund herum weitergekegelt werden durfte.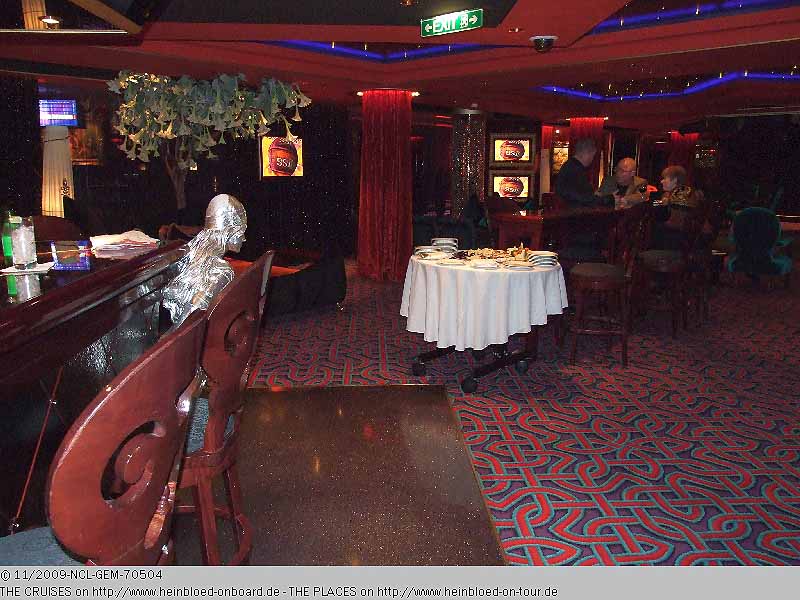 We went to the Bliss Ultra Lounge for the reception for the high-tier Latitudes-Members. There was wine and cheese... One plate for all... but it was a giant plate... It was disturbing that they continue the bowling activities around...

Down in the atrium you can grab already the baggage tags. What I like (subject that you do not have VIP-debarkation like us): you choose when you want to leave the ship and help yourself with the baggage tags you need. Early collection secured the preferred time you want to leave the ship.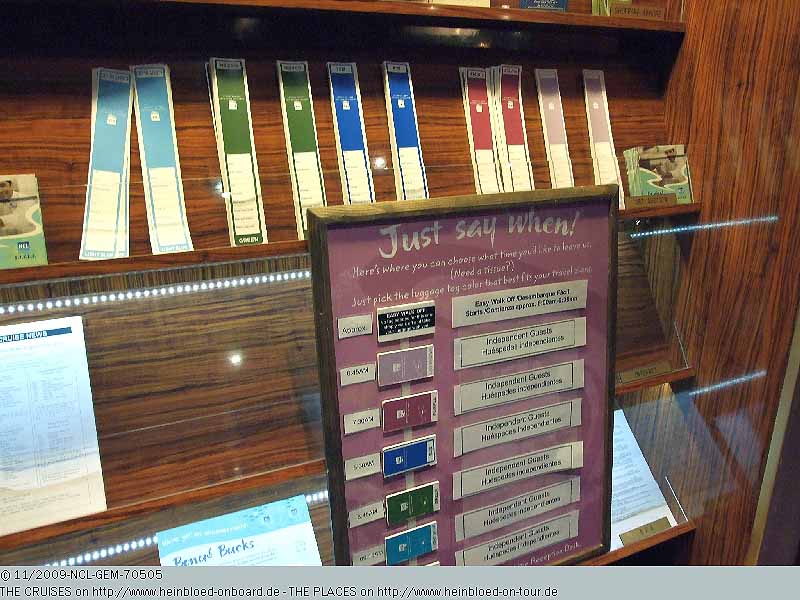 Unten im Atrium sind schon die Gepäckanhänger. Was ich gut finde, wenn man nicht wie wir, in den Genuss der VIP-Ausschiffung kommen: man sucht sich selbst aus, wann man von Bord will und stattet sich selbst mit den notwendigen Gepäckanhängern aus. Nur frühzeitiges Erscheinen sichert die Wunschzeit...
Unsere Wäsche ist zurück... Aber doch etwas enttäuschend. Wenn ich beim Laundromat in Dedham meine Wäsche abgebe, wird aber alles gefaltet zurückgegeben. Wir müssen selbst die Socken zueinander ordnen...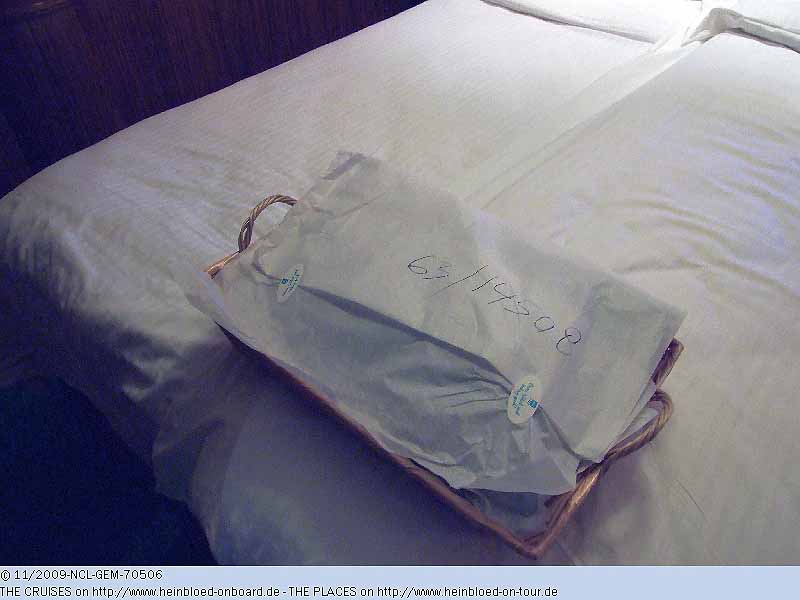 Our laundry was back... But it was disappointing. When I drop off my laundry with the laudromat in Dedham I got every thing folded back. I need to find out the correct pairs of socks myself...

And we need to fold all t-shirts by myself... (and without my beloved folding board which I left home...)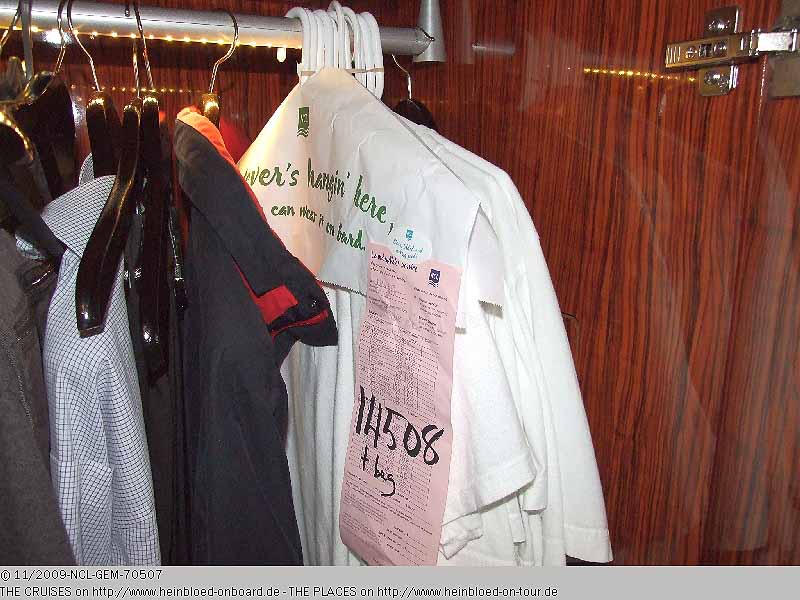 Und die T-Shirts müssen wir selbst falten... (und das ohne mein geliebtes Faltbrett, das ich zu Hause habe...)...
Ich hätte fest mit einer NCL-Tasche gerechnet, die zurückkommt...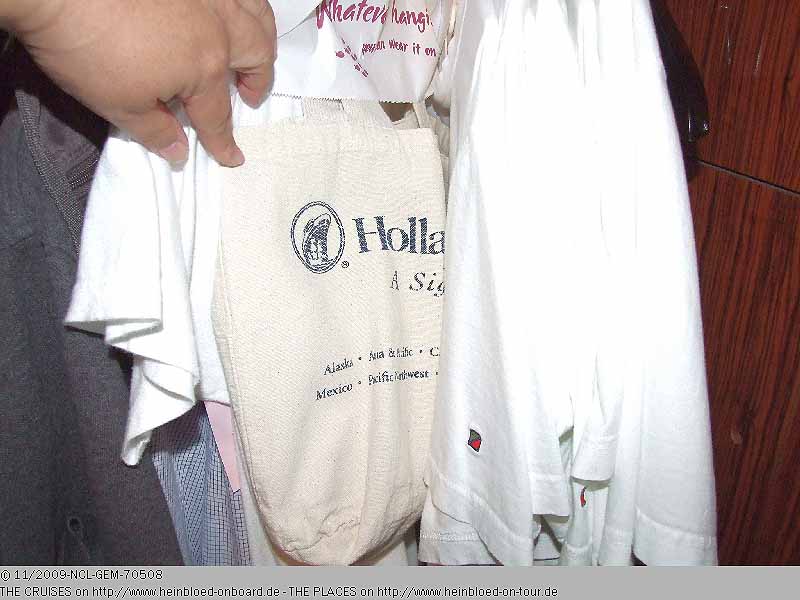 I was expecting to get back an NCL-bag...

The last dinner we wanted to have in the Teppanyaki. The beans were part of the entertainment at the beginning of the dinner...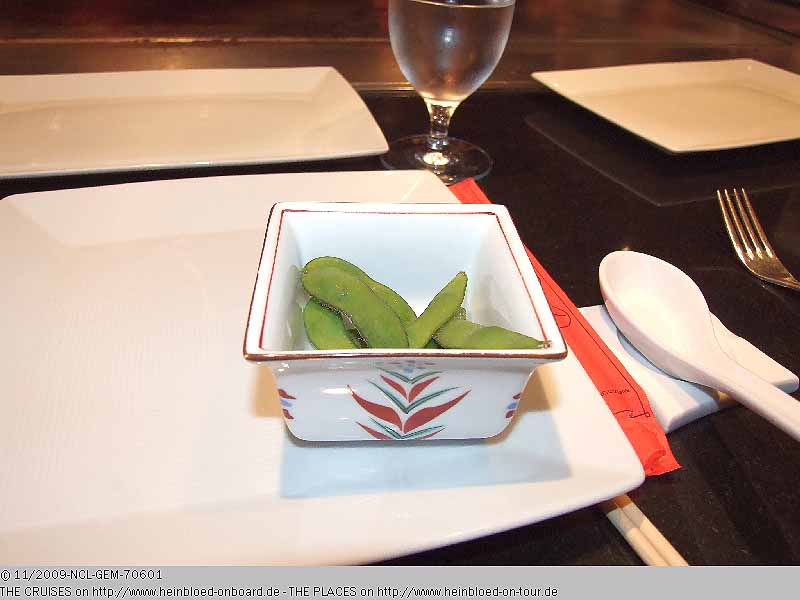 Das letzte Abendessen wollen wir im Teppanyaki-Grill einnehmen. Böhnchen gibt es immer noch als Beschäftigungstherapie am Anfang.
Thunfisch in Flocken in heißem Wasser aufgelöst oder besser als Miso-Suppe bekannt.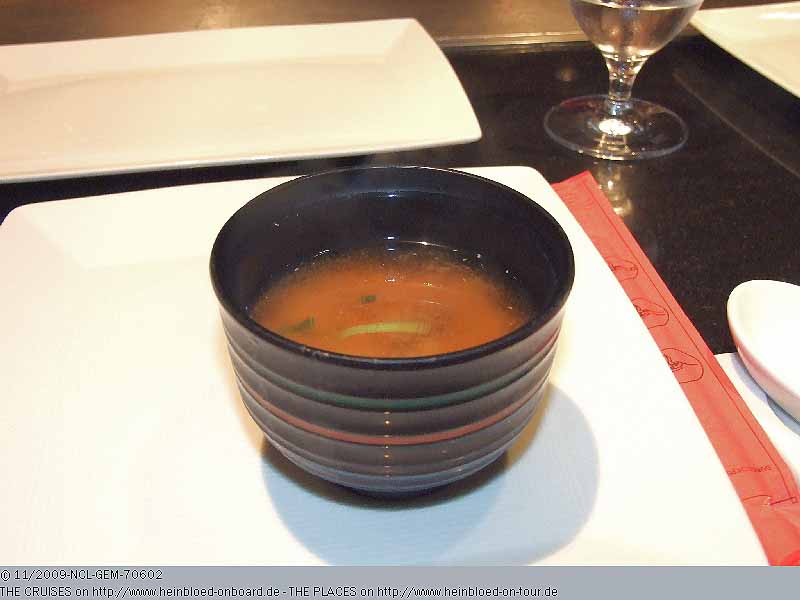 Tuna flakes in water or better known as Miso-Soup...

I love this seaweed-salad... It was a pity you did not get more.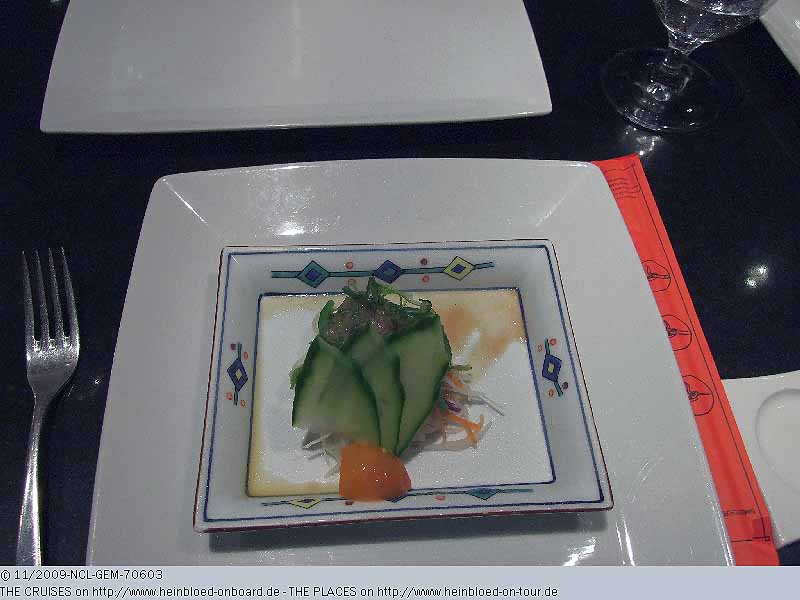 Ich liebe den Seetang-Salat... Schade, dass es nur so wenig davon gab...
Obwohl ich keine Bilder mehr machen wollte, weil ich schon so viele vom Teppanyaki habe, jeder Koch macht es doch ein wenig anders...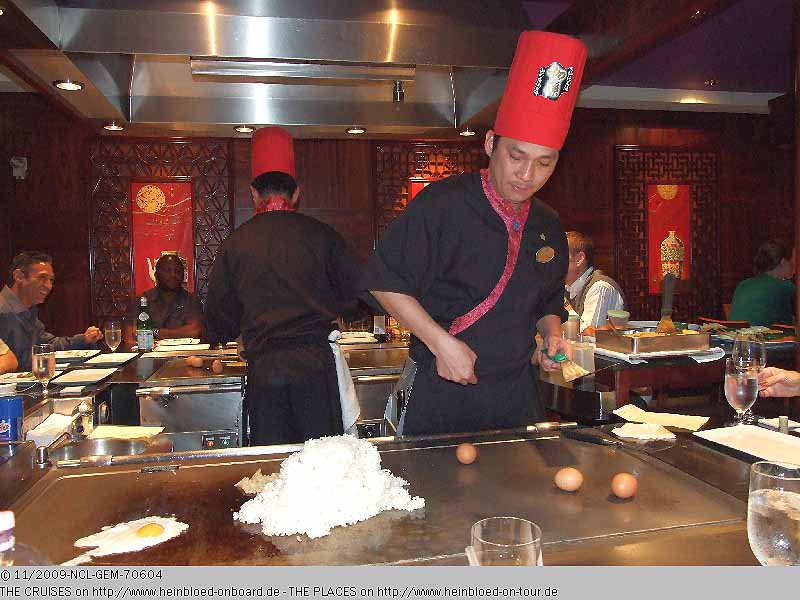 Although I did not want to take any pictures because I have already so many pictures from Teppanyaki: each cook does it very individually.

But we could not hear the word "Japanese" anymore... Japanese Rice, Japanese Eggs, Japanese ...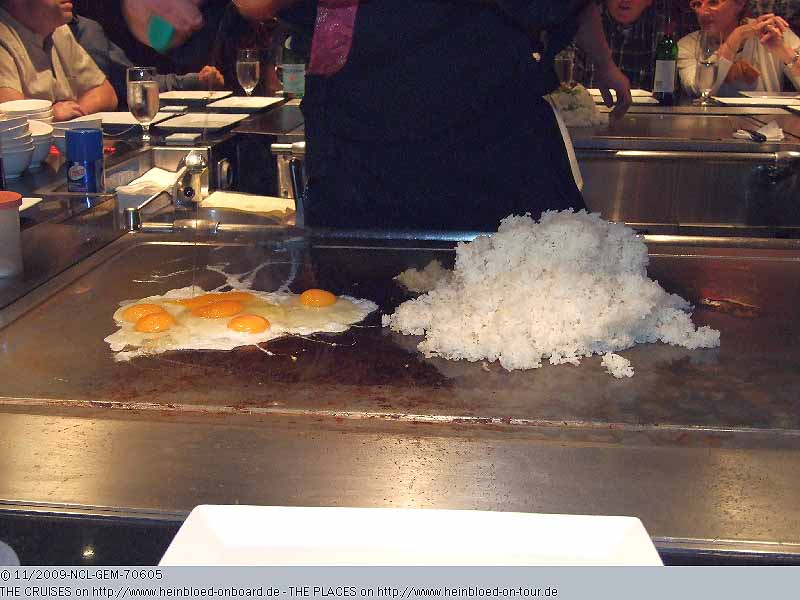 Nur das Wort "Japanese" konnten wir nicht mehr hören... Japanese Rice, Japanese Eggs, Japanese...
Die Gemüsetürmchen gibt es immer noch...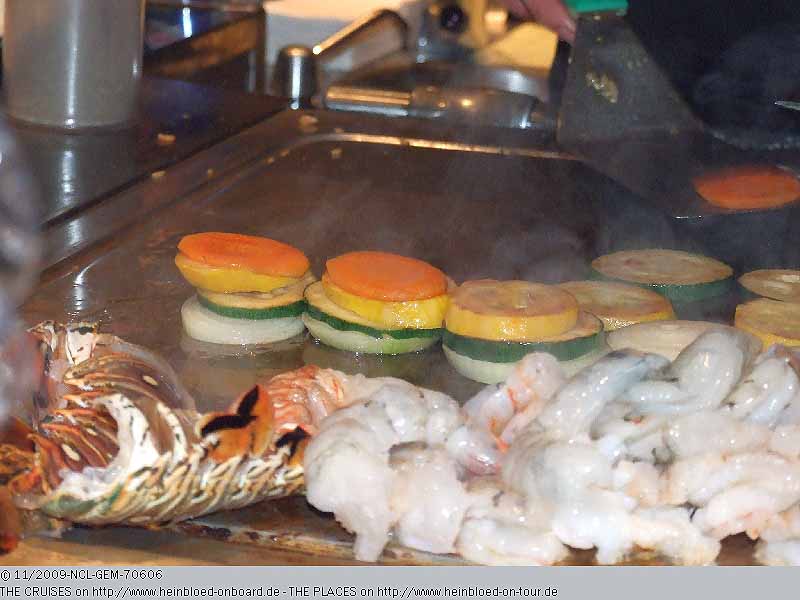 The little towers of vegetables were still available.

The lobster was mine... my only lobster on the entire cruise.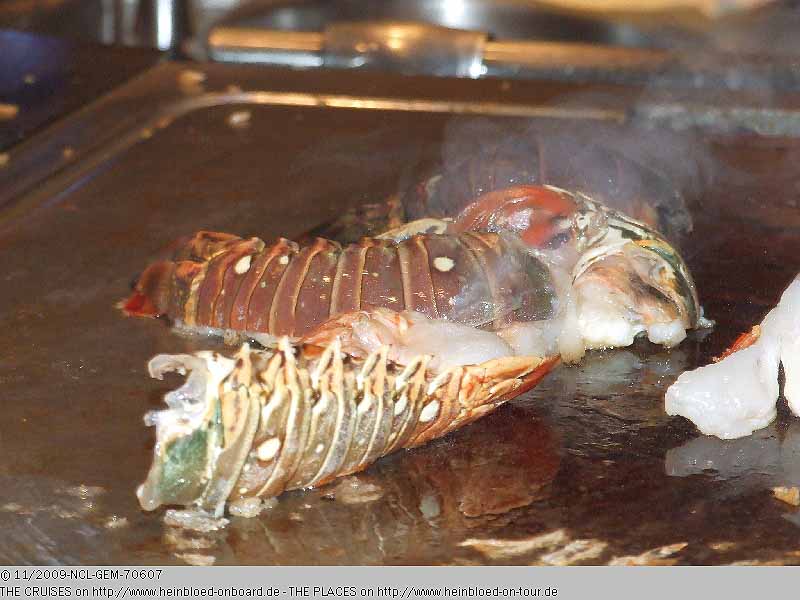 Der Hummer gehört mir... mein einziger Hummer auf der Reise...
Jakobsmuscheln und Tintenfisch... mein Seafon-Diabolo...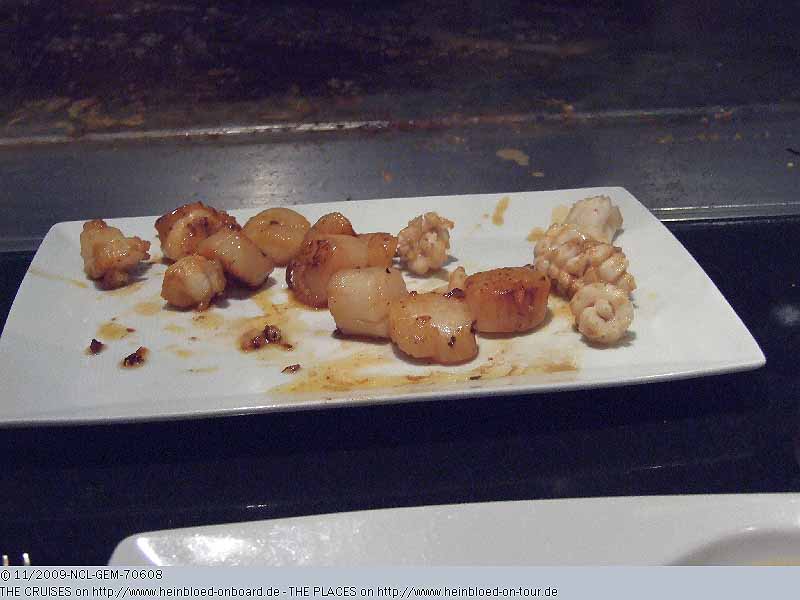 Scallops and Calamari... my Seafood-Diabolo...

All other had Filet Mignon... According to the demand: the thin for well-done and the thick for medium...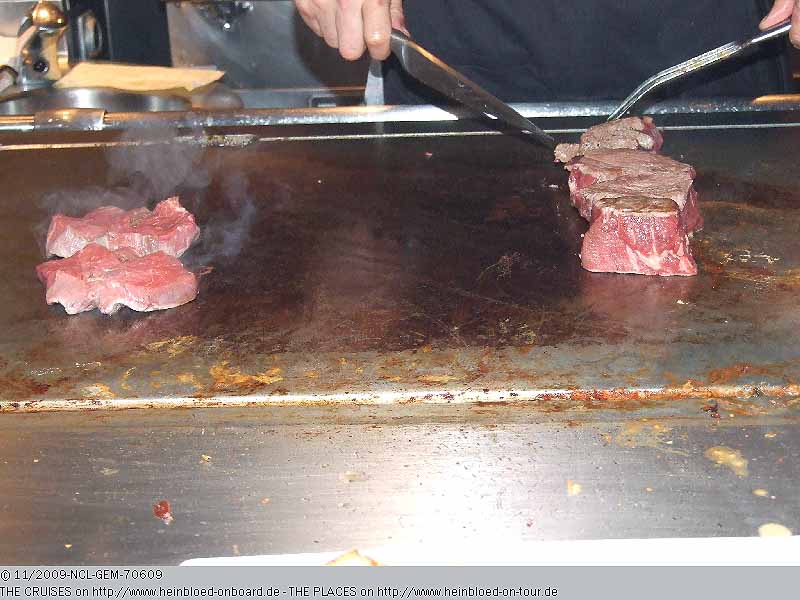 Andere hatten das Filet Mignon... Je nach Wunsch: die dünnen für Well-Done und die dicken für Medium...
Immer ist man noch Zeuge der Reinigungsprozesse...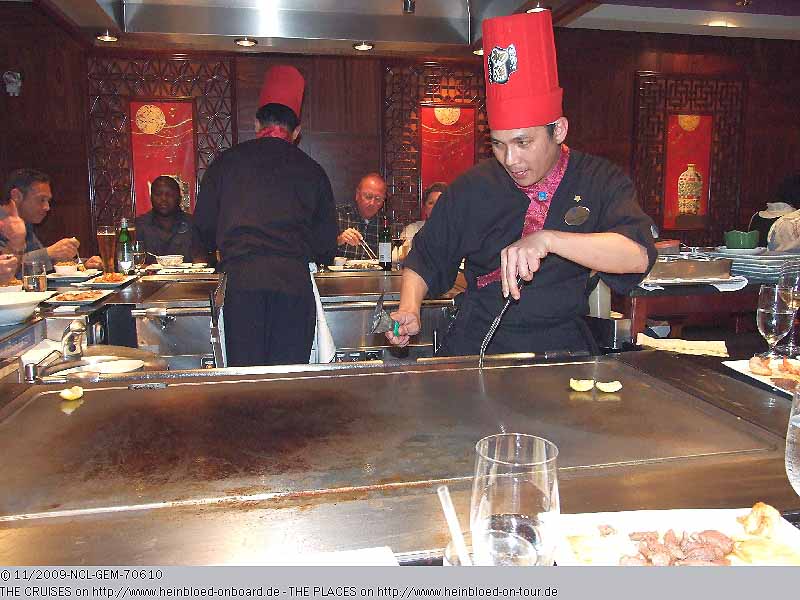 You became still witness of the cleaning...

I decided for the fruit plate.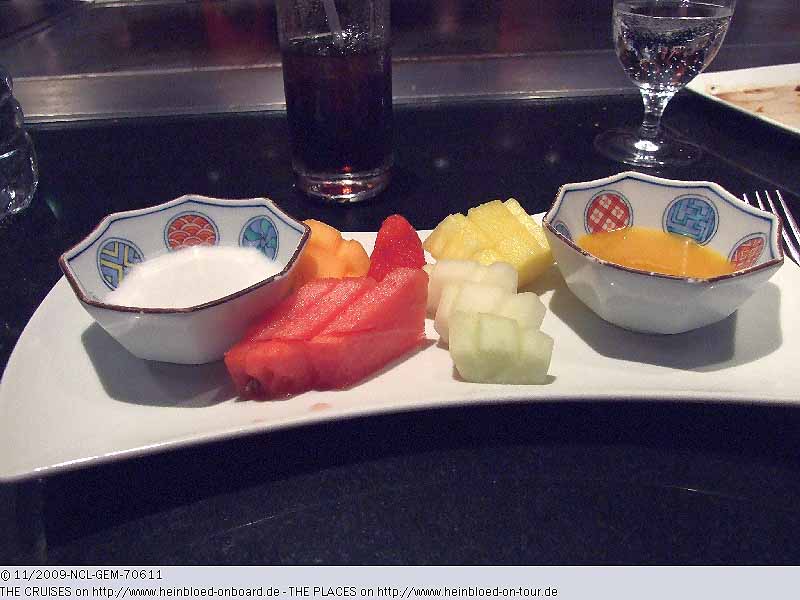 Ich habe mich für den Früchteteller entschieden...
Dazu gab es noch Eis aus grünem Tee... Mit uns waren noch Vicky und David (20th aus cruisecritic.com) und noch die zwei Mitreisende, die Bruno auf dem schiefen Turm von Pisa getroffen hat.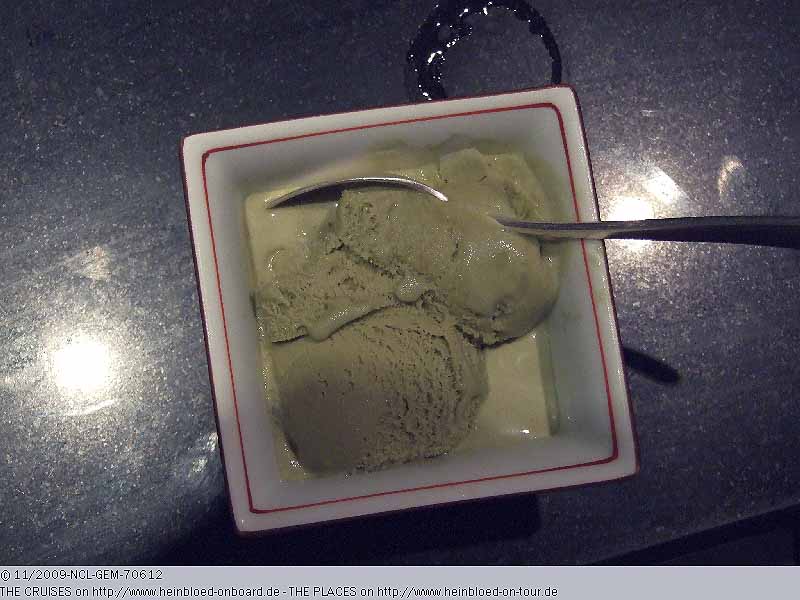 There was also green tea ice cream... Vicky and David (20th from cruisecritic.com) and the two German fellow-cruisers from the Leaning Tower from Pisa joined us for the dinner.

The last show was Colorz... I made a mistike with the 2nd show... That was Get down tonight. Taking pictures was prohibited but I did it again:



Dear Cruise Director Andrew!

Usually we like to take pictures to share our nice moments on board with our friends and to tell everybody how great it was and to recommend to go on NCL...

Maybe I am the big exception:

I have some friends more due to the blog whom I like them to go on NCL.

AND I am waiting for the Lottery-Jackpot to buy my own cruiseship to unify there all the best ideas of the different lines on one ship.

"World Beat" will be a part I would put as programme on MY ship.

When I am finished and I am ready to participate dancing the Greek and Irish part AND if I can perform the robe number then I will invite you and the dance trainer to the first sailing...

Until then please let us cruiser the pleasure to schare our beautiful moments you gave us with our friends.

Thank you!!!


Fits to the colour yellow: Good Bye Yellow Brick Road from Elton John.

Die letzte Show war Colorz... ich hatte mich bei der 2. Show vertan... Die hieß Get down tonight. Fotografieren war dieses Mal verboten und ich tue es trotzdem:
Lieber Cruise Director Andrew!

In der Regel wollen wir Bilder machen, um unsere schönen Momente auf dem Schiff mit unseren Freunden zu teilen und zu erzählen, wie toll es alles war und denen eine Reise mit NCL nahe zu legen...

Nur ich bin die große Ausnahme:

Ich habe ein paar Freunde mehr, als andere durch den Blog, die ich für NCL begeistern will.

UND ich warte auf den Lotto-Jackpot, um mir mein eigenes Kreuzfahrtschiff zu kaufen, um dort alle besten Ideen, die die verschiedenen Gesellschaft haben, auf einem Schiff zu vereinen.

Dazu gehört sicherlich "World Beat", die ich programmmäßig auf MEINEM Schiff mit einbauen würde.

Wenn ich dann soweit bin, dass ich persönlich an der Show mitwirke, und den griechischen und irischen Teil tanze UND wenn ich die Seilnummer beherrsche, dann werde ich Sie und den Tanztrainer persönlich zur Premiere einladen...

Bis dahin, lassen Sie uns Kreuzfahrern die Freude, unsere schöne Momente, die Sie uns vermittelt haben, mit unseren Freunden zu teilen.

Vielen Dank!!!
Passend zur Farbe Gelb: Good Bye Yellow Brick Road von Elton John...
Und natürlich Yellow Submarine von den Beatles...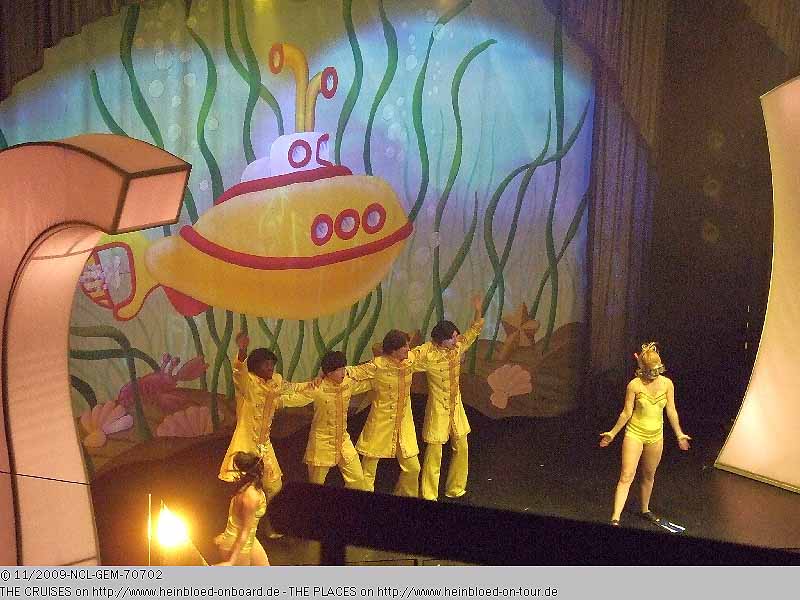 And of course Yellow Submarine from The Beatles...

But my personal highlight is the farewell-presentation of the crew...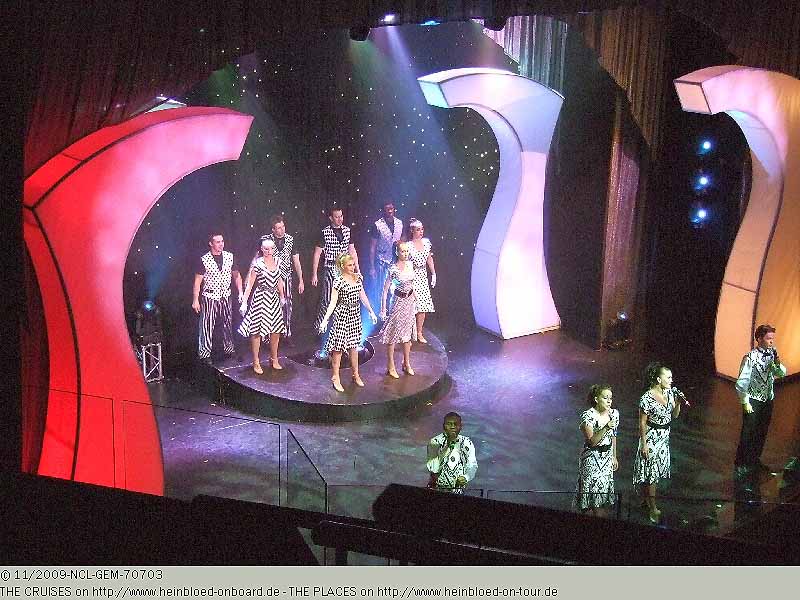 Für mich ist aber immer der Höhepunkt, wenn die Abschiedsnummer von der Crew kommt...
Dann könnte ich heulen...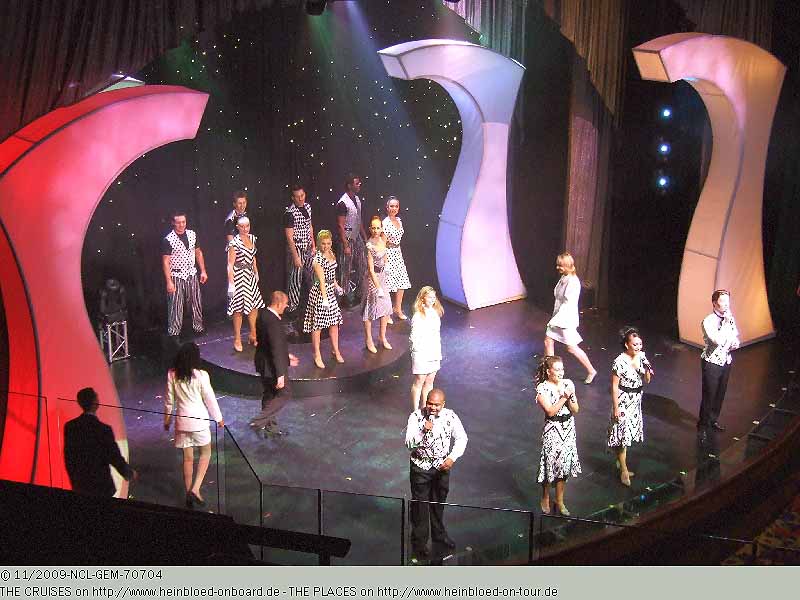 I could cry...

... and normally here I decided to return to this ship.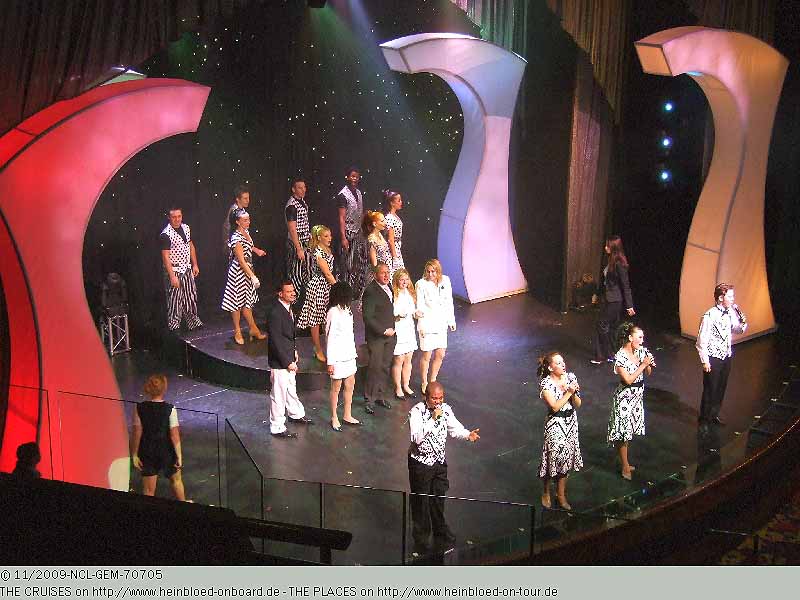 ... und in der Regel fasse ich den Entschluss, dass ich hierher wieder zurück will.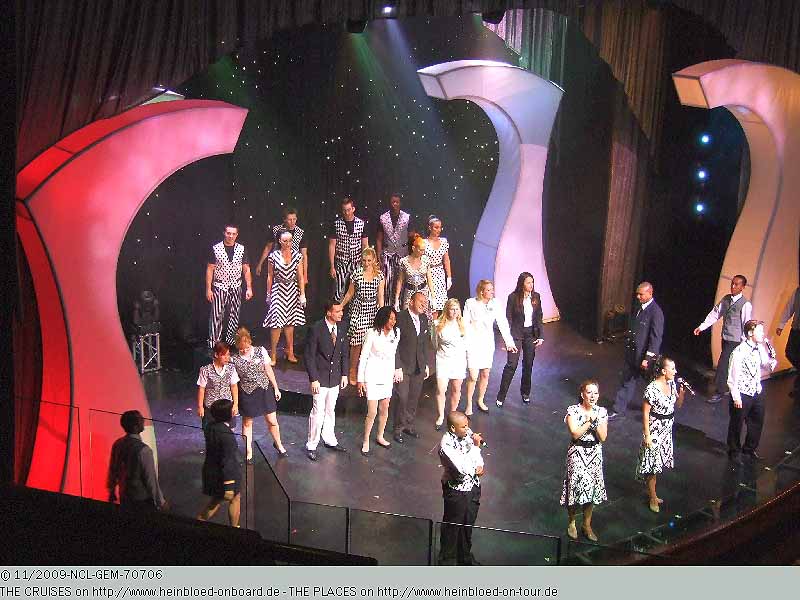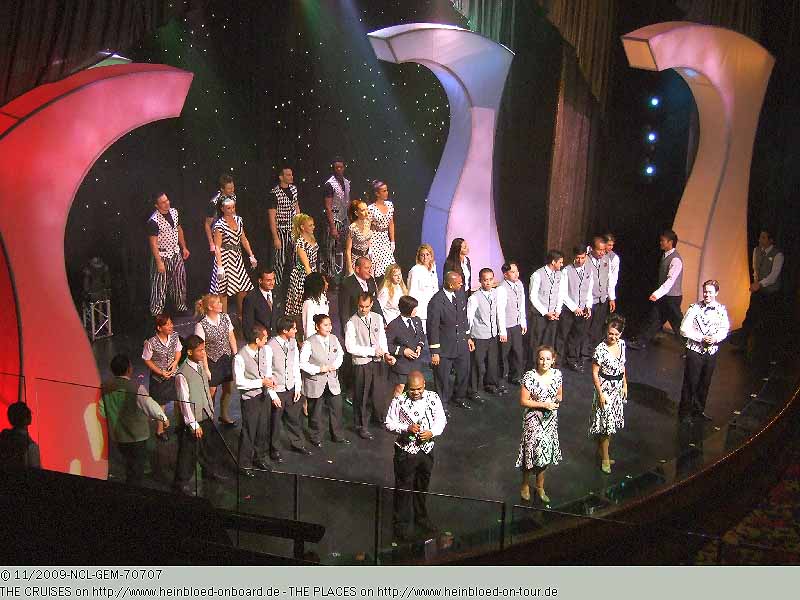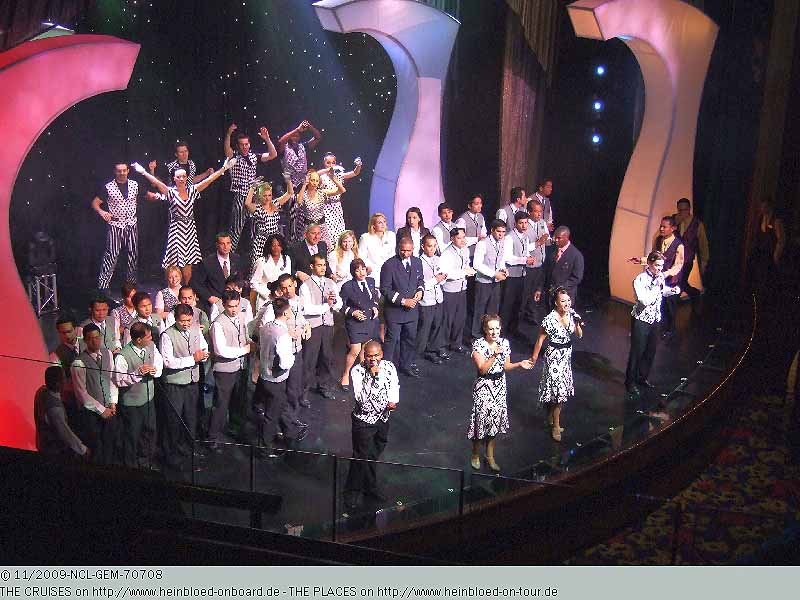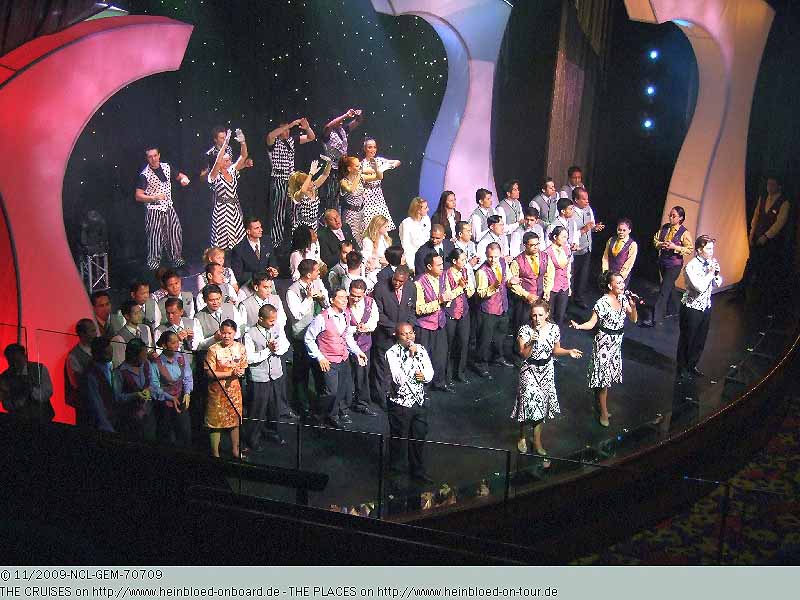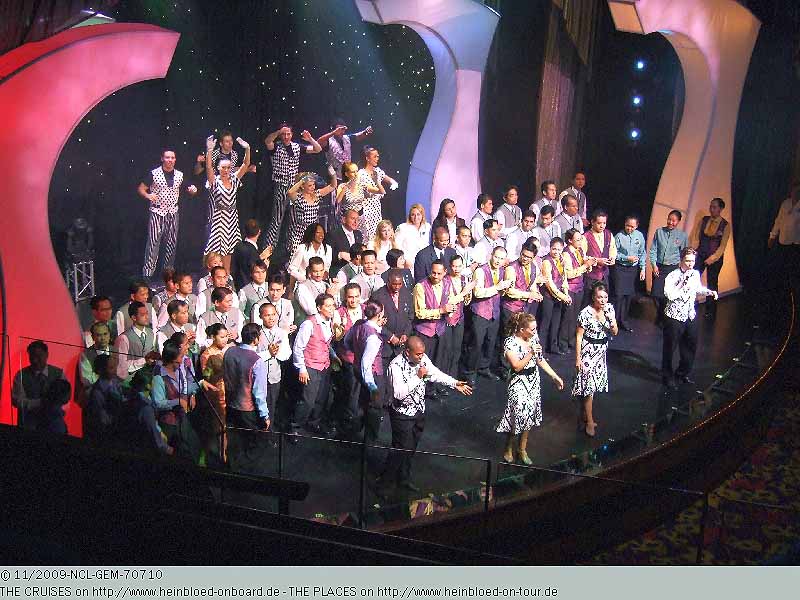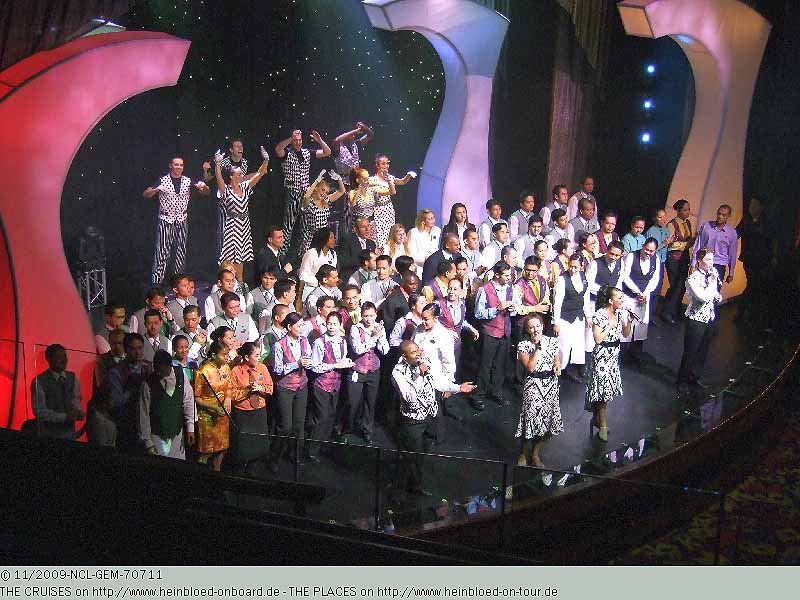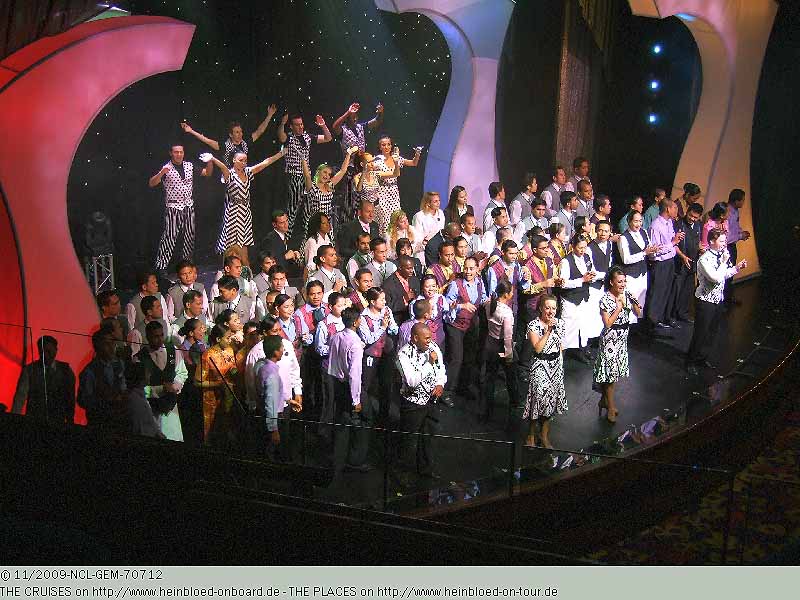 I saw some of our waiters from Cagney's. Bruno and my sister also discovered Ryan and Aries on the stage but I did not find them.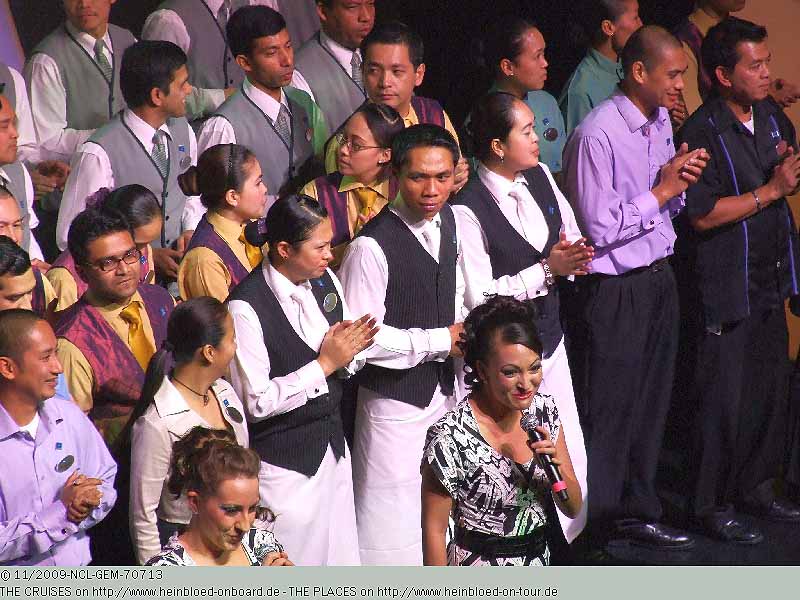 Ich sehe ein paar unserer Kellner aus dem Cagney's. Bruno und meine Schwester entdecken Ryan und Aries ebenfalls auf der Bühne, aber ich finde sie nicht.
Die Crew war überall so nett: wenn es danach gegangen wäre, hätte ich jeden Tag zehnmal essen gehen müssen, um mich von allen Crewmitgliedern verwöhnen zu lassen...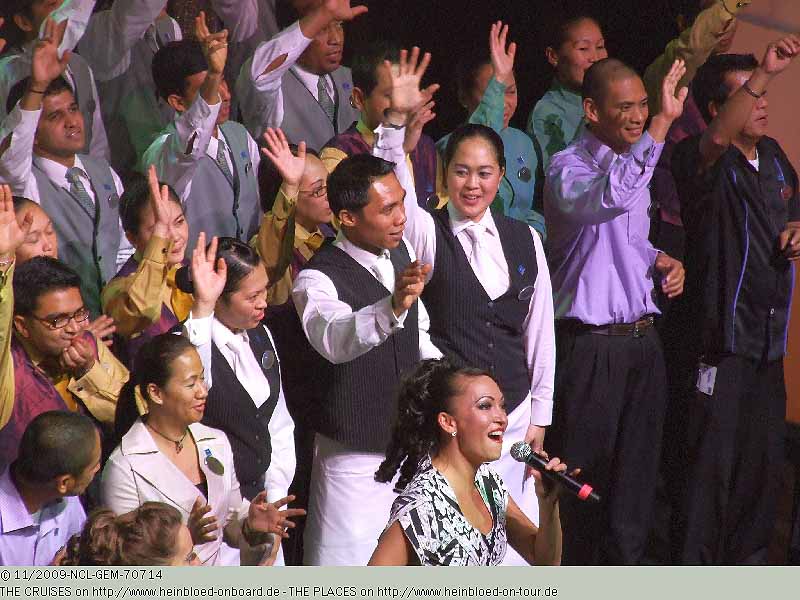 The crew was everywhere so nice: I need to go ten times a day for food to get pampered by each of them once per cruise.

At the end two crew members were attracted in our attention who said "Washi, Washi" at the end. They got a lot of applaude. I learned the next day the meaning of the scene. I felt really sorry to leave. It was a great crew whom I really liked very much. I went down again to Grand Pacific to say good-bye to Luiza and Adina. As we were planning to leave the ship very early we did not want to have breakfast at Grand Pacific. Luiza was in a meeting. So I said bye-bye to Adina. Both are until March on board. For me they are good reasons to go NCL again... Luiza still owes me a Cesar's Salad.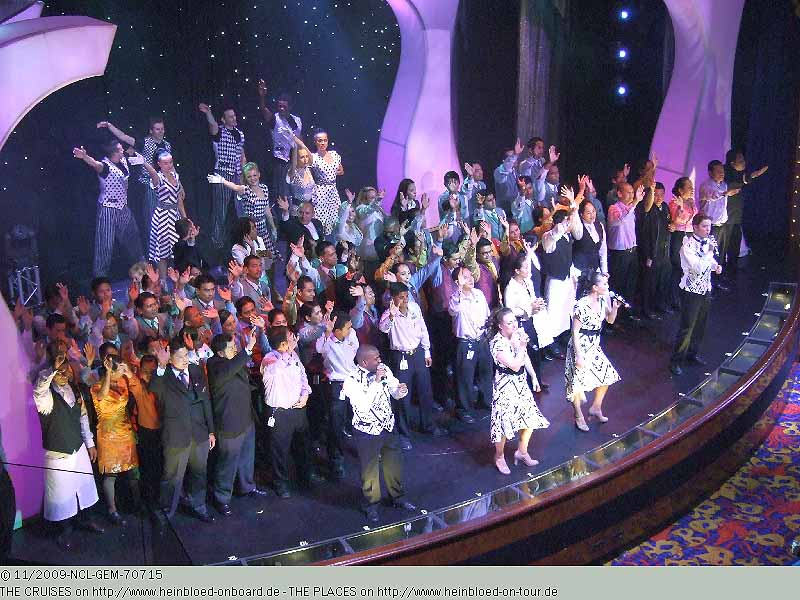 Am Schluss werden zwei Mitarbeiter besonders hervorgehoben, die sich mit "Waschi, Waschi" verabschieden. Sie ernsten sehr viel Beifall. Die Bedeutung wird mir erst am nächsten Morgen klar. Uns fällt der Abschied schon sehr schwer. Denn es war eine tolle Crew, die wir in unser Herz geschlossen haben. Ich gehe nochmals ins Grand Pacific, um mich auch von Luiza und Adina zu verabschieden. Da wir morgen früh sehr früh von Bord wollen, möchten wir nicht im Grand Pacific frühstücken. Luiza ist bei einem Meeting. So verabschiede ich mich bei Adina. Sie sind beide noch bis März an Bord. Für mich heißt es nur, dass ich auch weiterhin mit NCL fahre und ich einen guten Grund dafür habe... Schließlich schuldet mir Luiza ja immer noch einen Cesar's Salad...