Scroll down for English explanations - alternates with German explanations.

Über Nacht ist es dann ziemlich kalt geworden. Der Wagen ist voll mit Kondenswasser.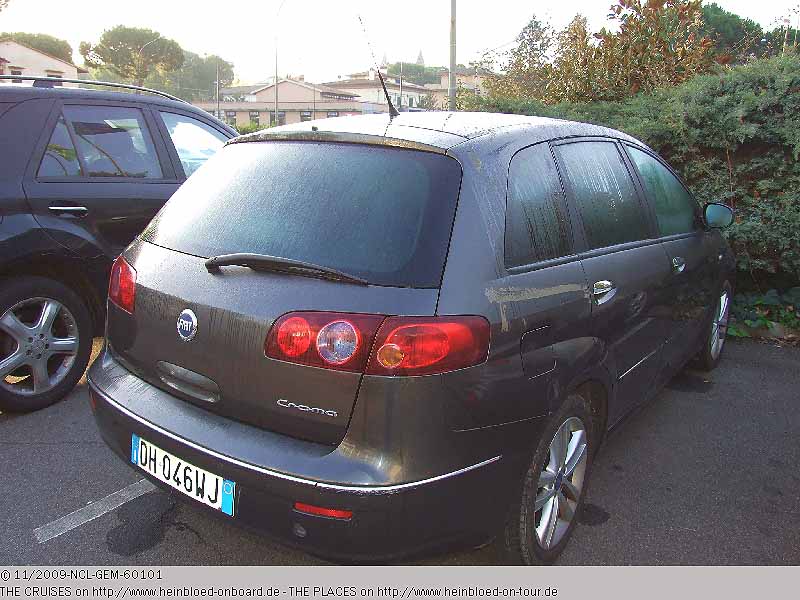 Over the night it became cold. The car was full of condensation.

Our hotel was somehow unlucky. Normally I have breakfast in the hotel when I redeem points so they have some revenue. But unfortunate the best coffee house in Florence is just opposite of the hotel: Café Piansa. They should have the very best Cappucino in the town. Bruno as coffee fan insisted to see this place and have breakfast there after reading the review in the Smart Travelling guide. In Germany it's popular as it is co-published by a German newspaper as popular like New York Times or Washington Post as "A perfect weekend in...". So we found Casa Alfonso in Barcelona.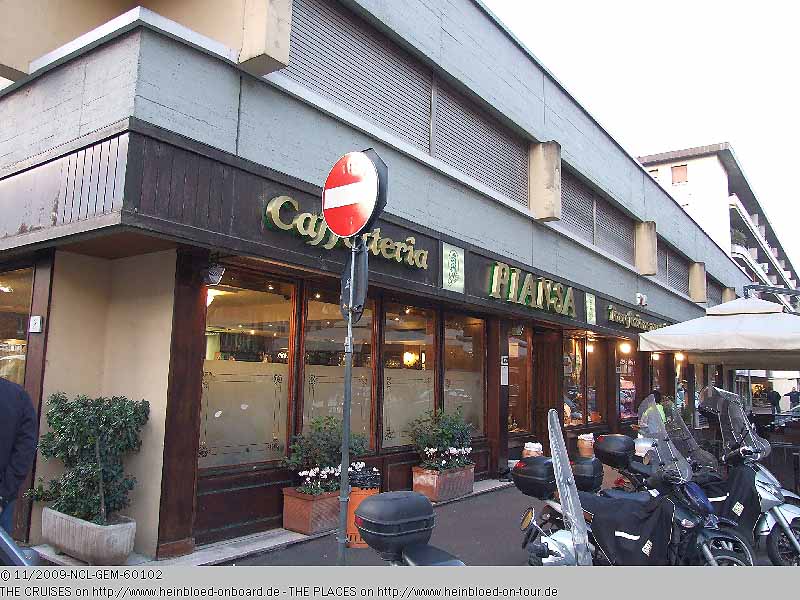 Unser Hotel hatte ausgesprochen Pech. Wenn ich schon Punkte einlöse, dann nehme ich dort zumindest mein Frühstück ein, damit sie nicht so ganz verloren dastehen. Nur ist schräg gegenüber vom Hotel ausgerechnet das
Café Piansa
, das als bestes Kaffeehaus mit dem besten Cappucino in Florenz gilt. Und Bruno als Kaffeefan bestand natürlich darauf, dass wir dort frühstücken, nach dem er es in unserem Reiseführer aus der
Smart Travelling-Serie
gelesen hatte. Vielleicht noch besser bekannt als Serie "Ein perfektes Wochenende in..." unter der Fahne der Süddeutschen Zeitung. Daher hatten wir auch den Tipp mit Casa Alfonso in Barcelona.
Drinnen alles so, wie man sich es in einem italienischen Kaffeehaus vorstellt.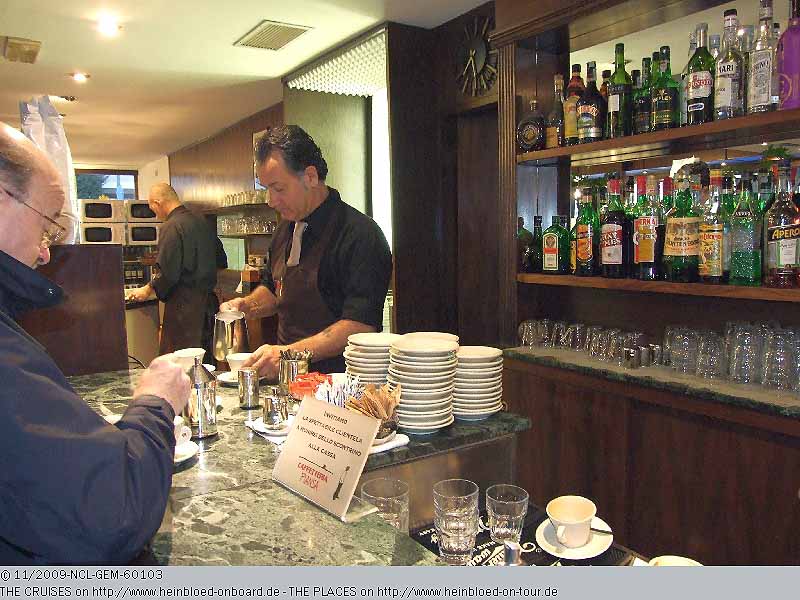 Inside it looked like a Italian coffee house.

We had the impression that half of the city was meeting there.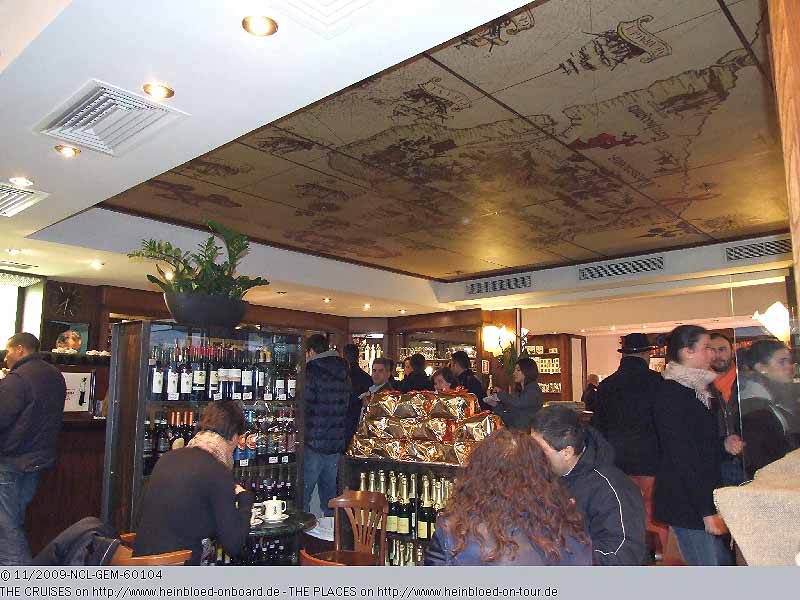 Wir haben den Eindruck, dass Halb Florenz sich hier morgens trifft.
Lt. Reiseführer sollen Cornetto integralo probieren. Wir nehmen aber auch etwas herzhaftes.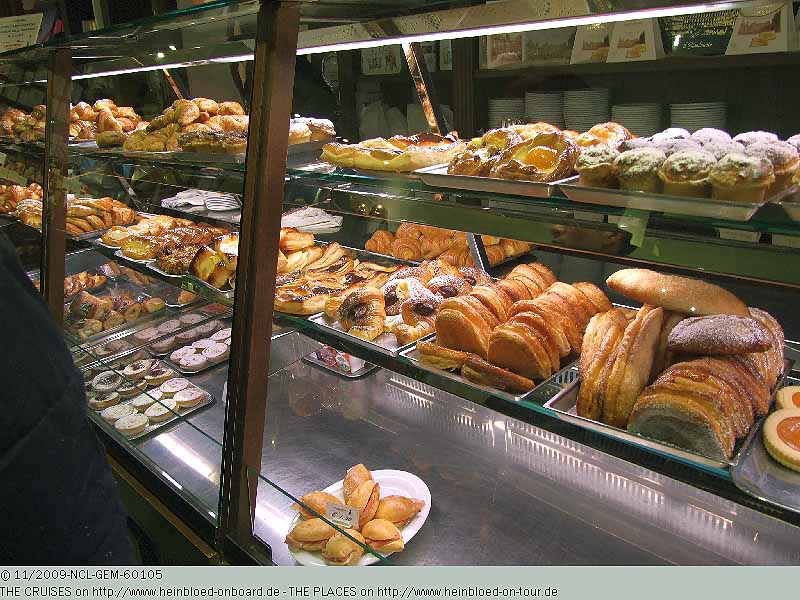 According to the guide book we should try Cornetto integralo. But we took also something salty.

Cornetto is a popular ice-cream in Europe which does not look like this Cornetto integralo.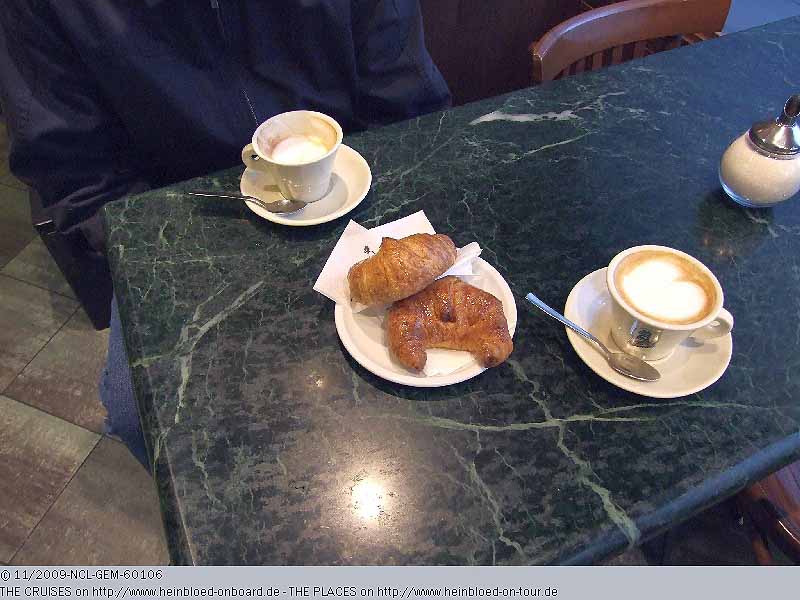 Ich dachte, es käme ein Eishörnchen raus.
Bruno nimmt noch einen zweiten Cappucino, nach dem 1,20 EUR pro Cappucino unser Budget auch nicht übersteigt. Für 10,20 EUR haben wir toll gefrühstückt.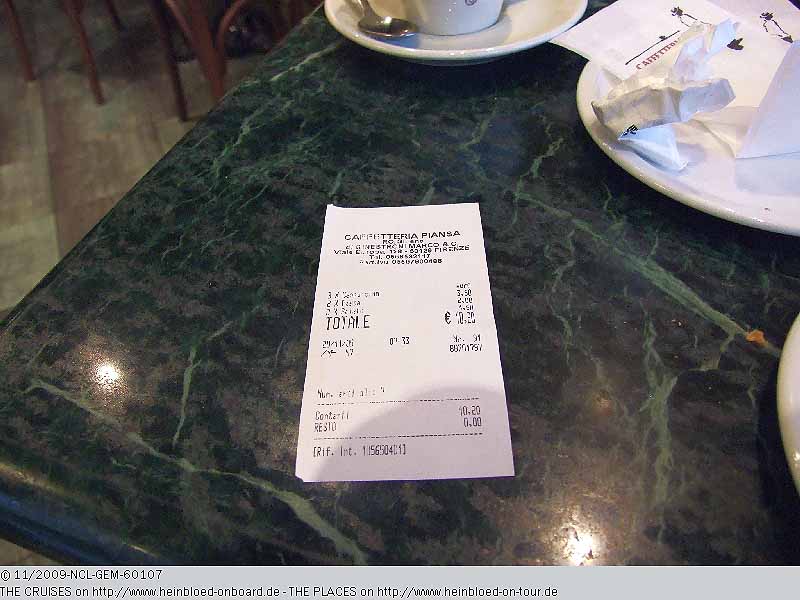 Bruno had a second cappucino after 1.20 EUR per cappucino fits in our budget. For 10.20 EUR we had a great breakfast.

Later we also bought a 10+1-coffeebean mixture so Bruno can celebrate his cappucino at home forthcoming weekend.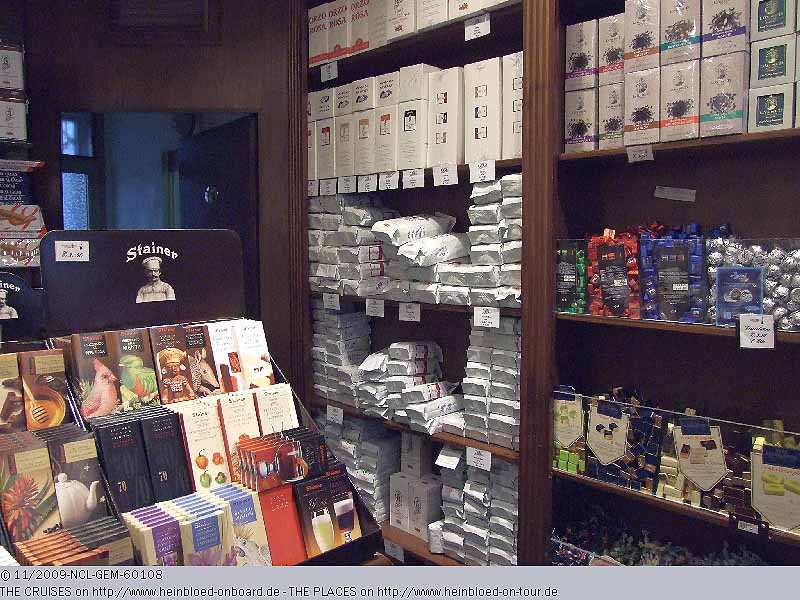 Später kaufen wir noch ein Päckchen von der 10+1-Bohnenmischung, damit Bruno sich selbst am Wochenende seinen Cappucino zu Hause zelebrieren kann.
Im Hotel wollten wir eigentlich die Einladungen zum Kabinenrundlauf ausdrucken. Nur leider funktioniert der Drucker des Business-Centers nicht. Sie lassen uns später kostenlos in deren Büro das alles ausdrucken. Neben dem Umsatz für die Internetnutzung, können wir nur ein paar Fahrkarten bei denen kaufen.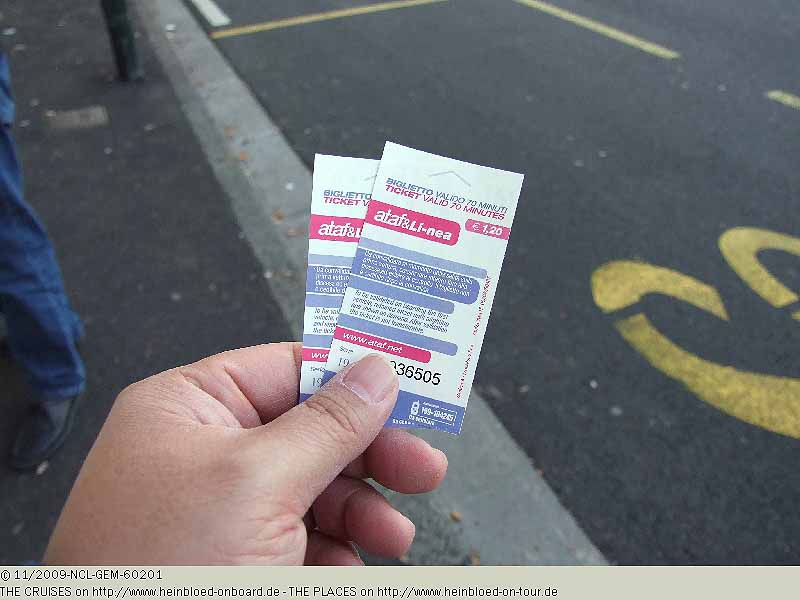 In the hotel we wanted to use the Business Center to print out the invitations for the Cabin Tour. Unfortunately the printer did not work. So they let us print without charge. So we regretted that we only had the use of internet and some bus tickets.

Bus 23 took us directly from the hotel to the Ufficy Galleries.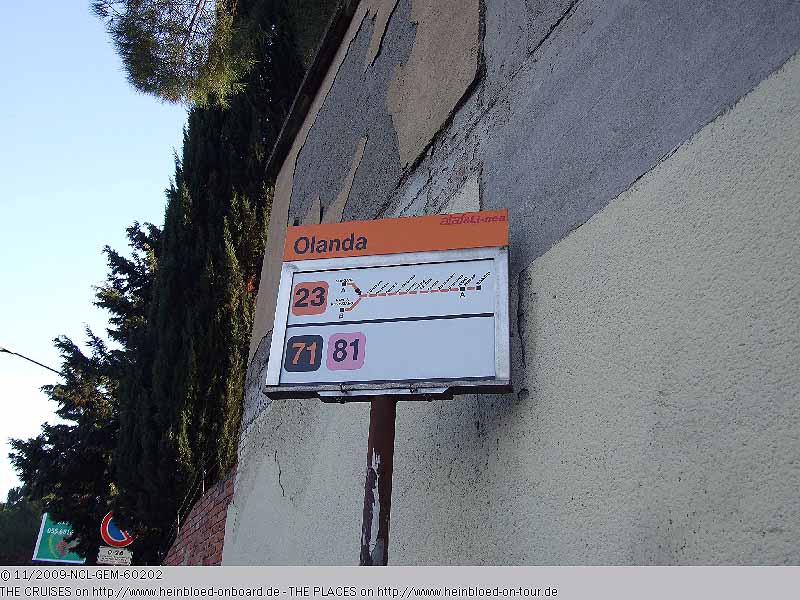 Mit dem Bus 23 kommen wir direkt vom Hotel zu den Uffizien Gallerien.
Die Fahrt ist etwas abenteuerlich während der Rush-Hour.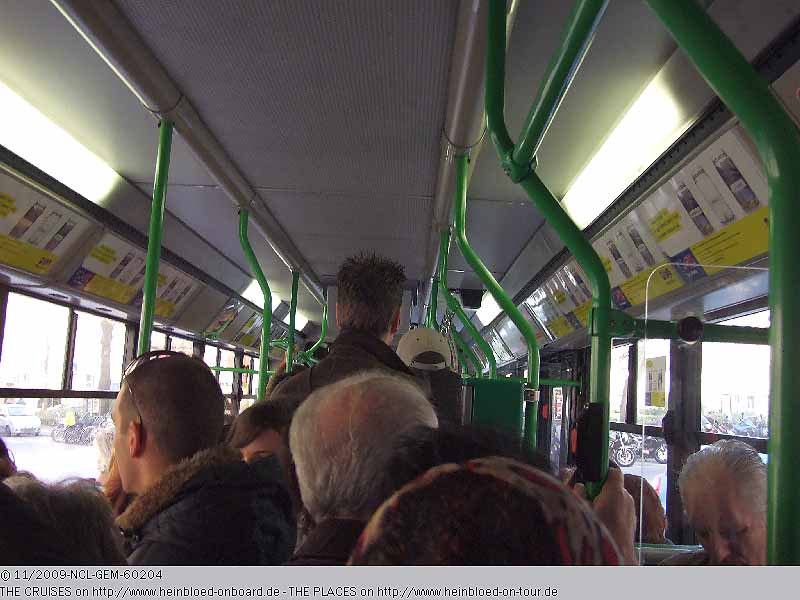 During the rush-hour it was somehow adventurous.

As the Ufficy Galleries open at 9 am we get off a little earlier to have a walk around the river Arno.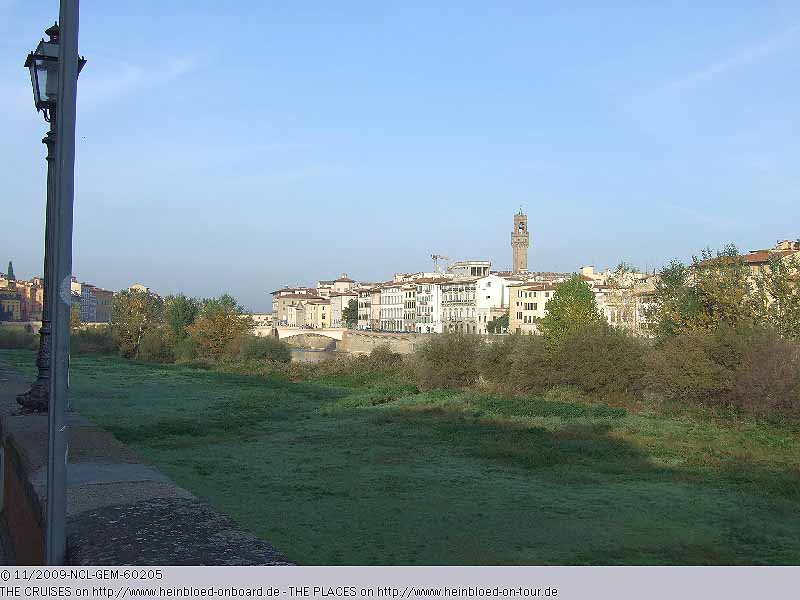 Da die Uffizien erst um 09.00 Uhr öffnen steigen wir ein bisschen früher aus, um am Fluss Arno spazieren zu gehen.
So können wir uns im Hellen mal alles angucken, was wir gestern nur im Dunkeln betrachten konnten.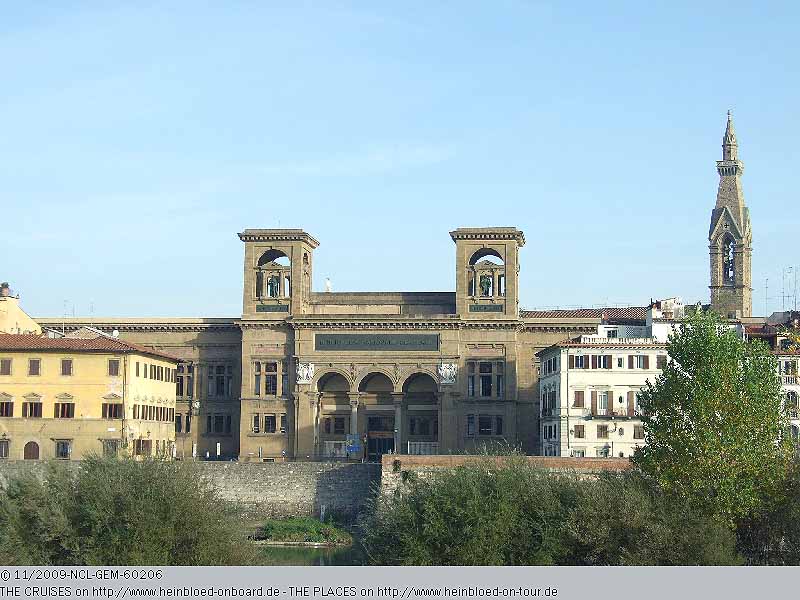 It was a good occassion to see everything now during the daylight.

In the darkness the city is more brilliant.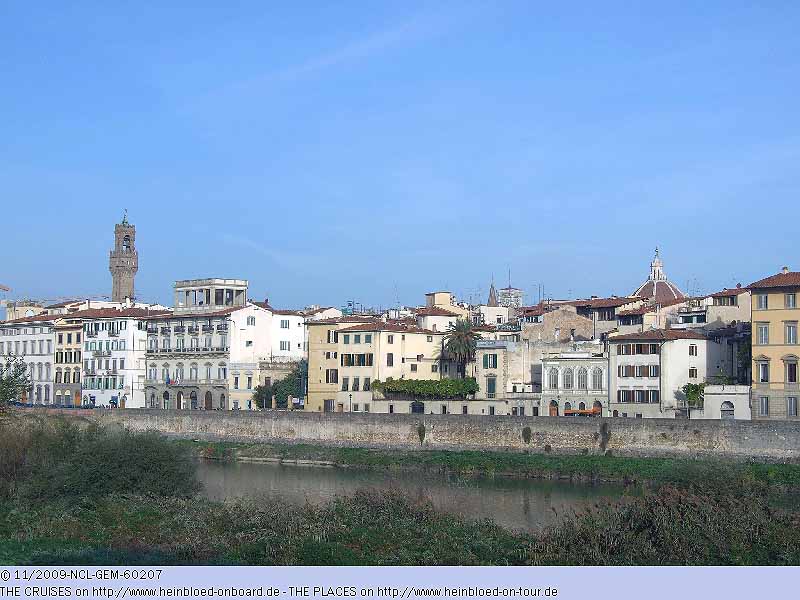 Im Dunkeln ist die Stadt doch schöner...
Gestern Abend war ja auch eine schöne Stimmung.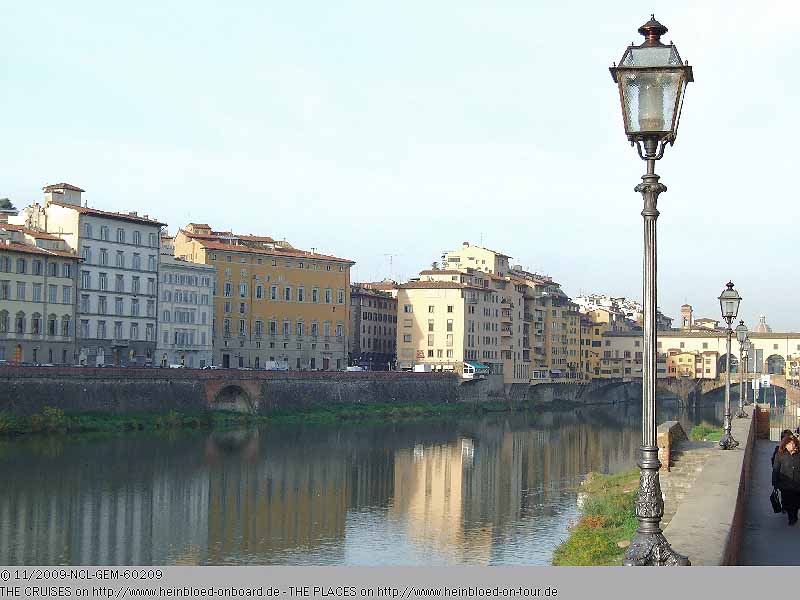 Last night it was just magic.

Our destination: the Ufficy Galleries.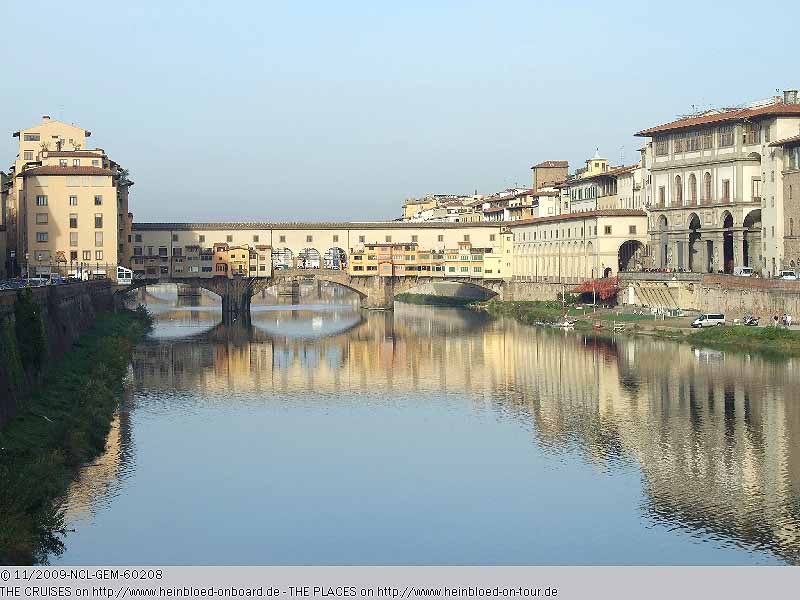 Da müssen wir also hin: die Uffizien.
Die Füße der Laternen an der Uferpromenade sind sehr lustig.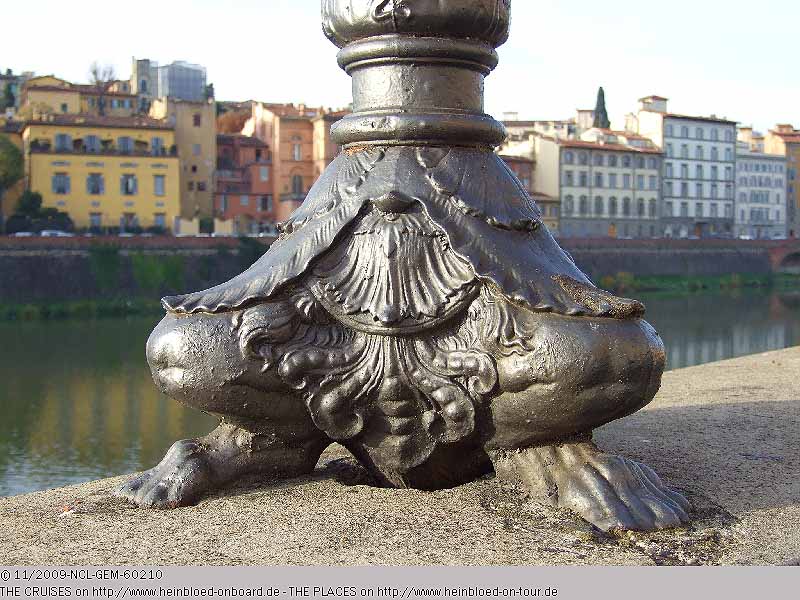 The feet of the street light of the promenade look somehow funny.

Some construction works...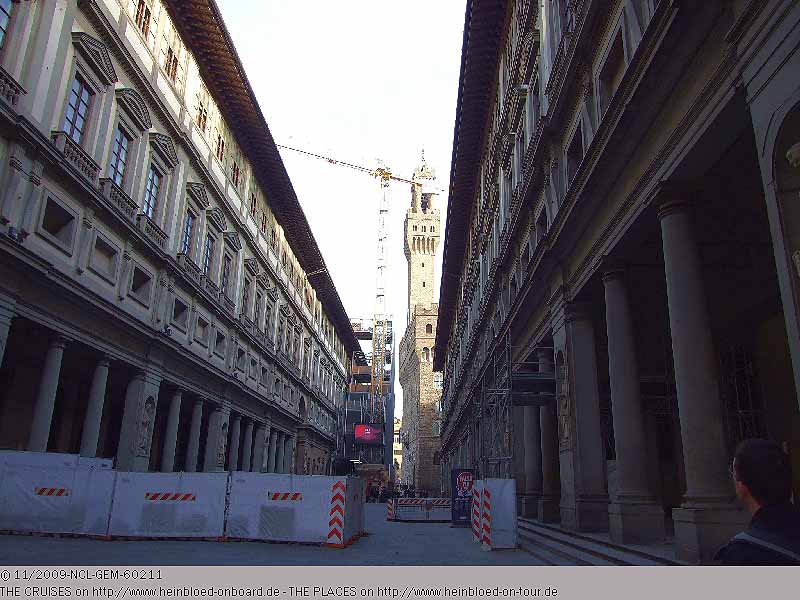 Dort wird also gebaut.
Telefonisch haben wir unsere Tickets vorbestellt. Hier gibt es mehr Informationen:
https://www.firenzemusei.it/00_english/servizi/index.html
.Wir haben angerufen und eine Referenznummer erhalten. Für die Abholung haben wir 15 Minuten Zeit. Am Eingang 3 müssen wir die Tickets abholen.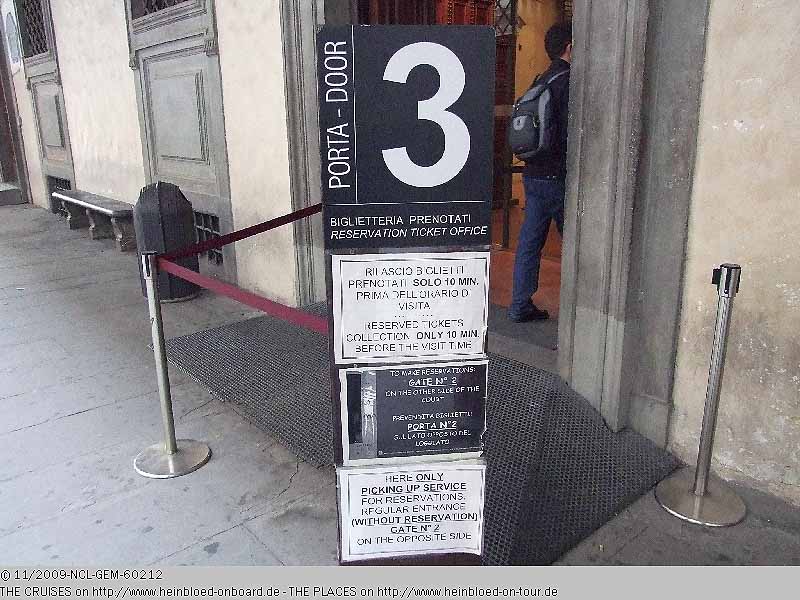 We ordered our tickets by phone on https://www.firenzemusei.it/00_english/servizi/index.html. Just a call and you get a reference number. For collection of tickets we got a time frame of 15 minutes. We need to collect the tickets at entrance number 3.

Nobody there.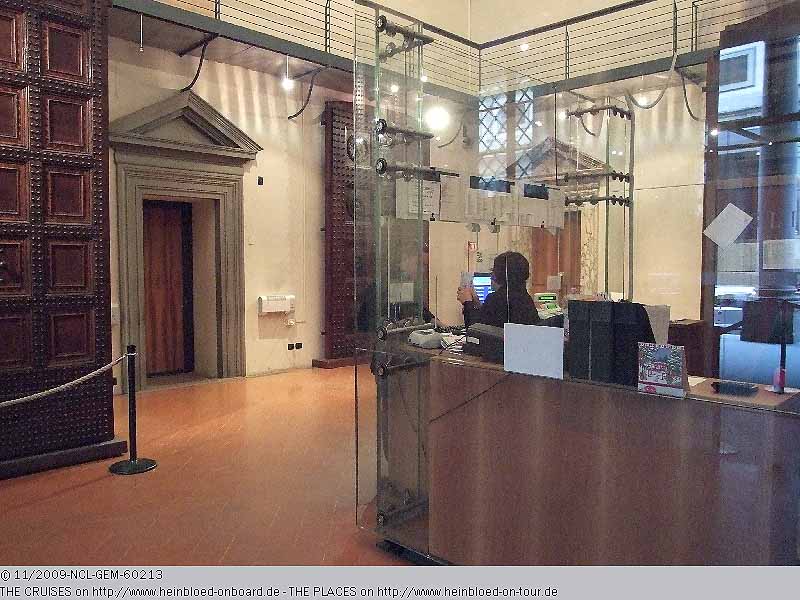 Dort ist es so schön leer.
Es gibt allerdings einen kleinen Buchungsaufschlag von 4,00 EUR.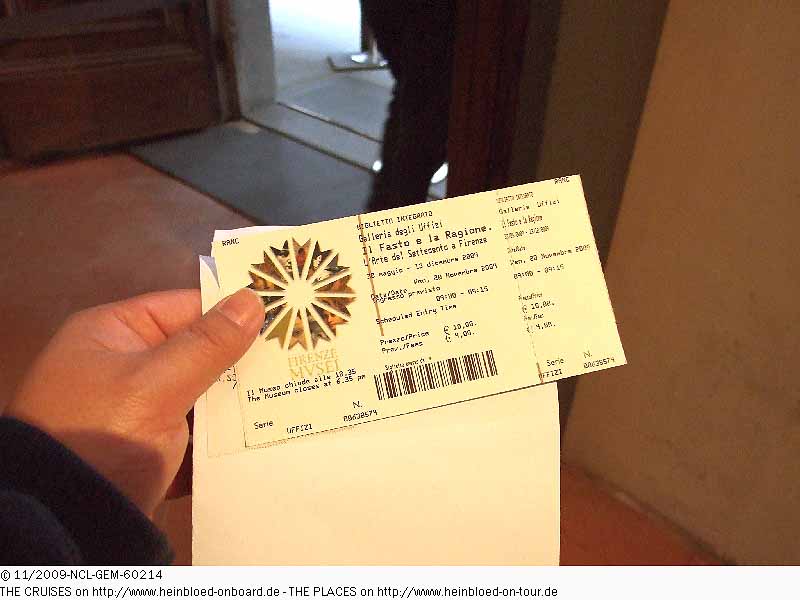 But there was a surcharge for this service of 4.00 EUR.

Then we can enter through entrance number 1.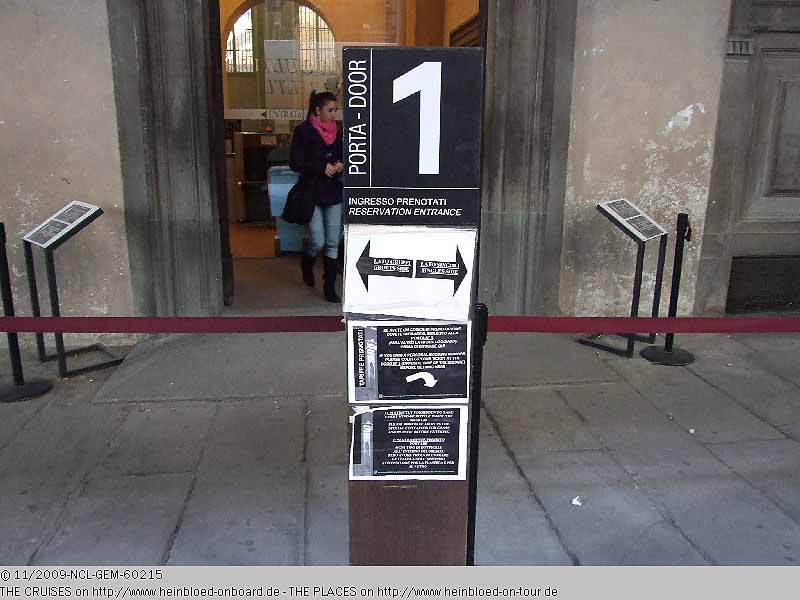 Dann dürfen wir über Eingang 1 eintreten.
Fahrstühle stehen nur Rollstuhlfahrern und Gebrechlichen zur Verfügung. Wir müssen die endlos langen Treppen hoch.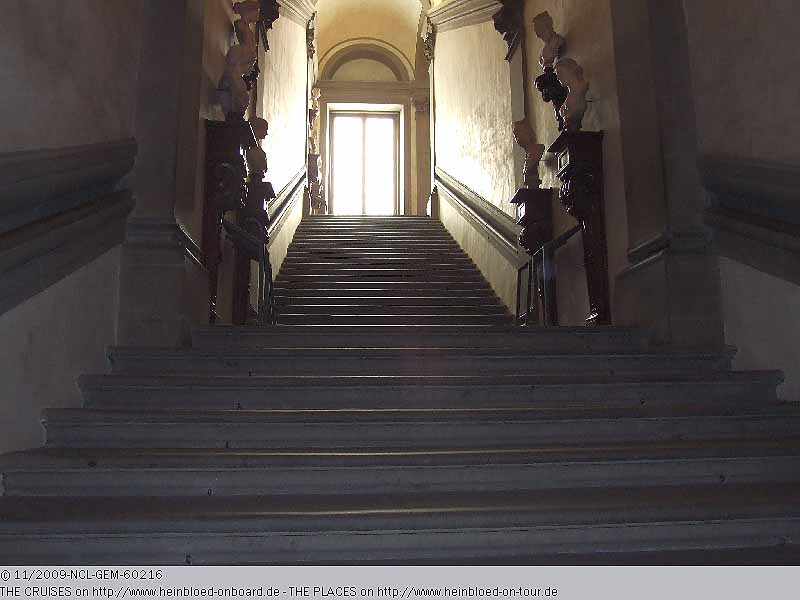 Elevators are available for wheelchairs and other mobility reduced. We need to walk the endless long stairways upwards.

A neverending stairway.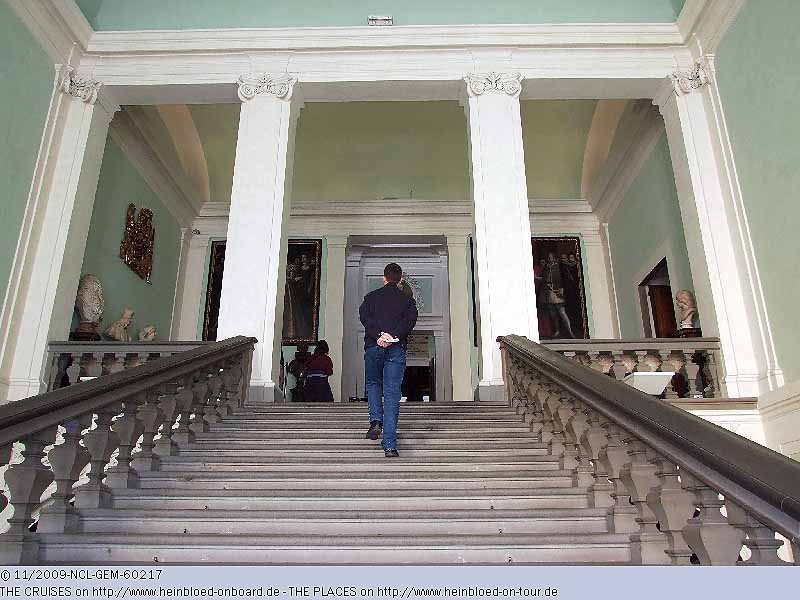 Und die nimmt kein Ende.
In der Galerie erfahren wir, dass Fotografieren in den Räumen verboten ist. Nur nach außen darf man an den Fenstern fotografieren.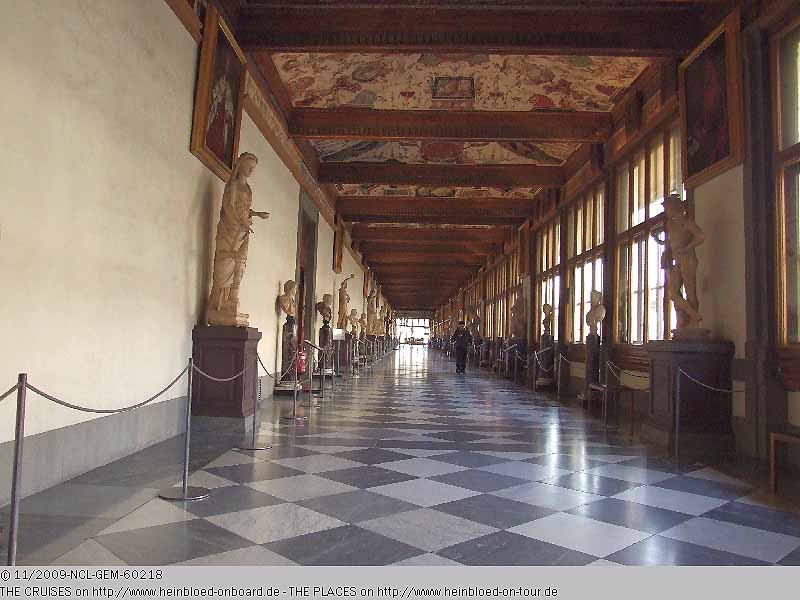 When we arrived in the Galleries we learned that taking pictures is forbidden. You can only take pictures from the windows to outside.

But we were anyway so much impressed that we had no time to take pictures.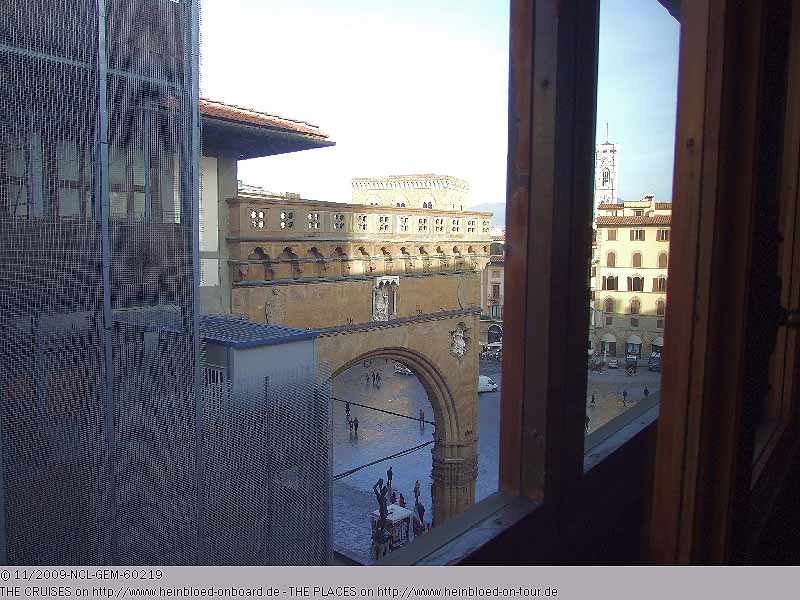 Wir sind so beeindruckt, dass wir eh keine Zeit zum Fotografieren haben.
Hier nach einer Hälfte wird es uns aber ein wenig zuviel. Man wird regelrecht erschlagen. So schön, wie die Kunst ist. Zum Glück ist Boticellis Bild "Die Geburt der Venus" bereits im ersten Teil.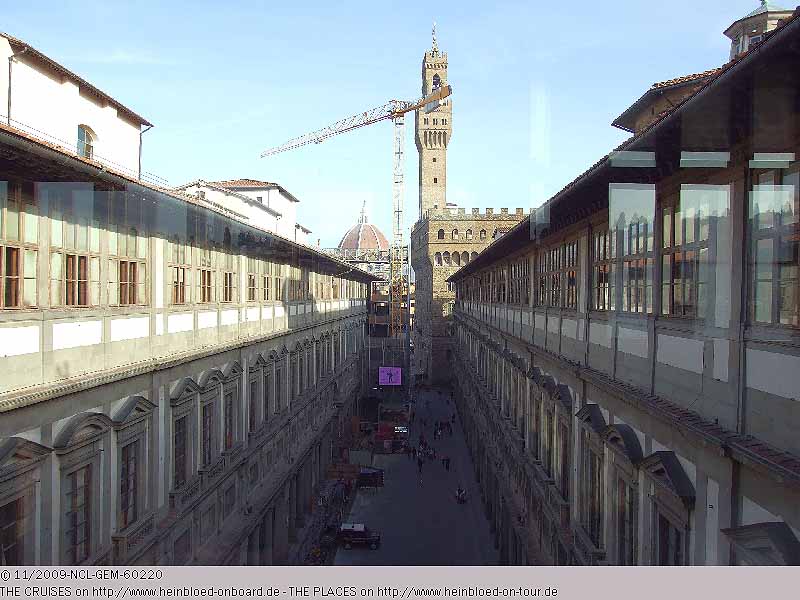 But after one half it was somehow too much. It was just killing. As beautiful as art can be. Boticelli's painting "The Birth of Venus" was luckily in the first part of the exhibition.

We enjoyed the view to outside from here.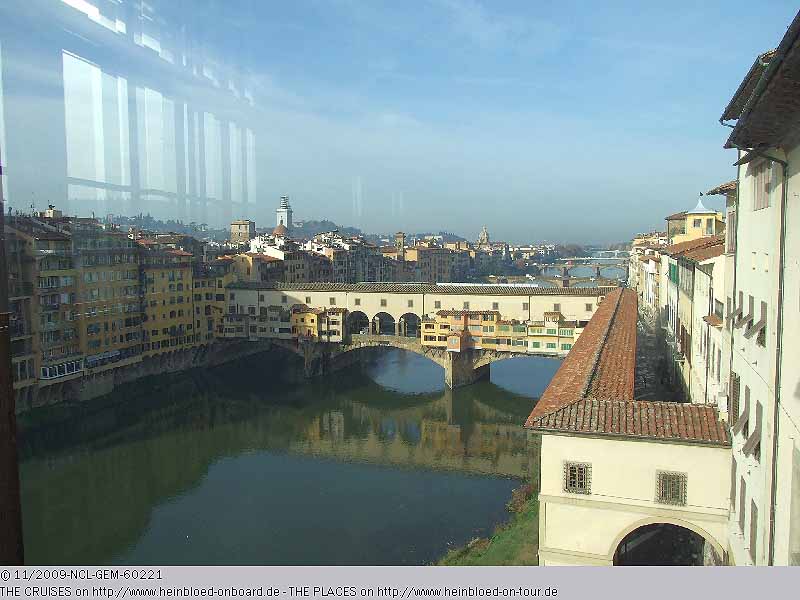 Den Blick nach außen genießen wir von hier oben.
Bis zur Terrasse laufen wir trotzdem, weil wir dann hier diesen Ausblick genießen können.

We walked to the terrace to enjoy this spectacular view.

A wonderful place to have a cup of cappucino.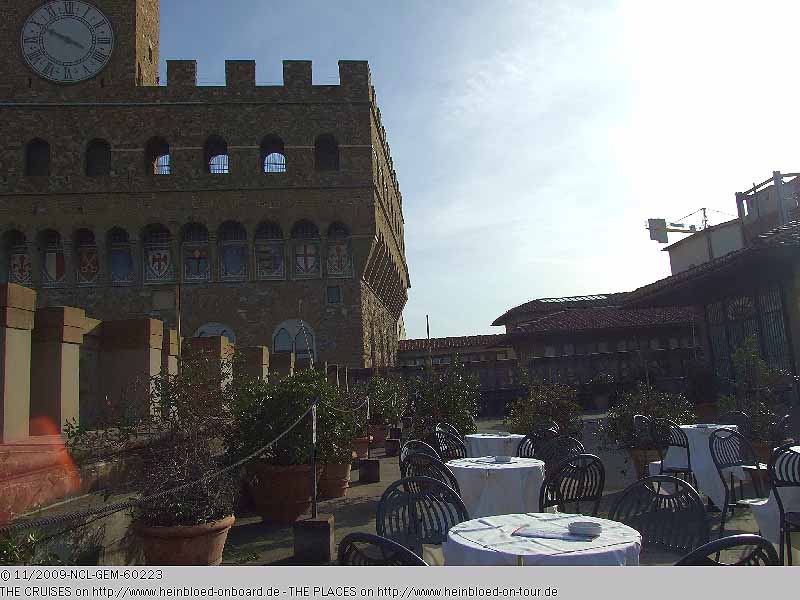 Ein wunderschöner Ort, um eine Tasse Cappucino zu schlürfen.
Auch wenn es draußen kalt wäre, oder regnen sollte, kann man schön im Café alles genießen.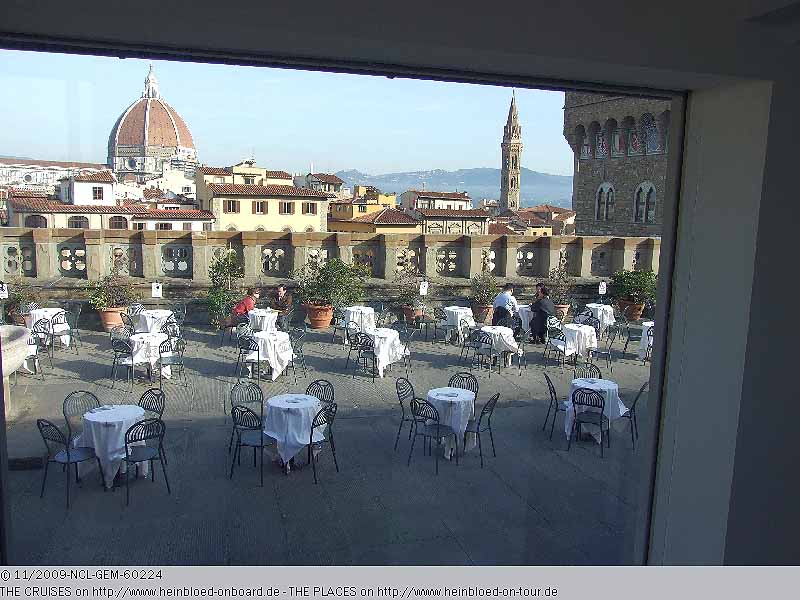 Even it would be cold outside or raining you can enjoy the view if you sit indoor.

I was shocked to pay 4.50 EUR for a pot of tea. But Bruno's Cappucino was also 4.50 EUR and only half as good as at Café Piansa.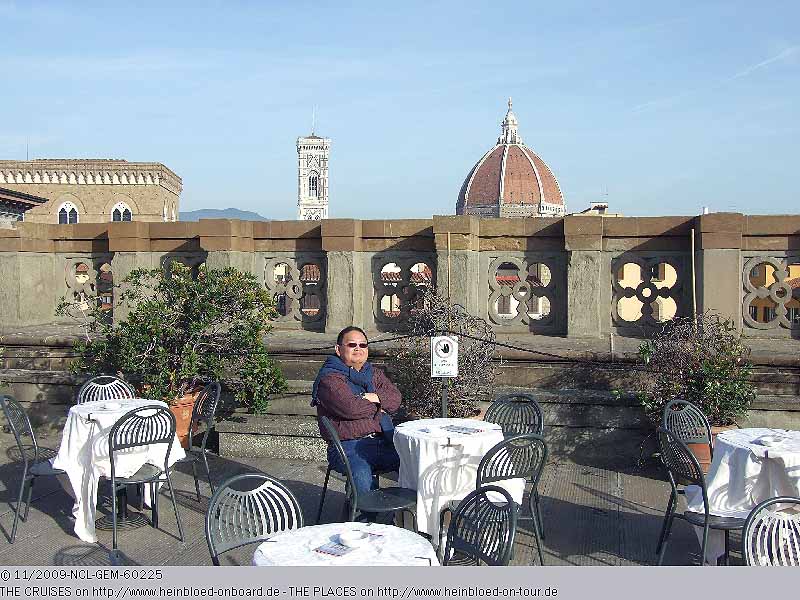 Mit 4,50 EUR für das Kännchen Tee musste ich schlucken. Nur Brunos Cappucino kostete auch 4,50 EUR und war nur halb so gut wie im Café Piansa.
Im Ausgangsbereich dürfen wir nach der Auslasskontrolle wieder fotografieren.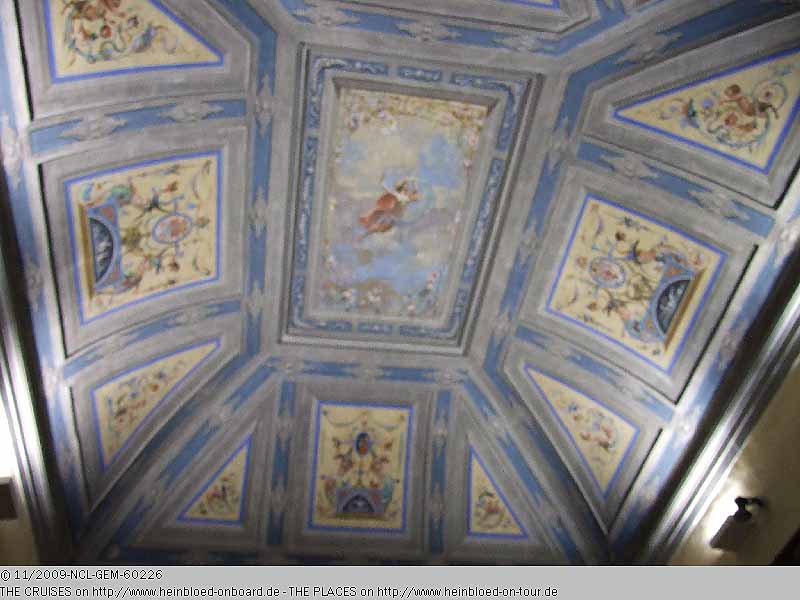 In the exit area after the exit check we could take pictures again.

There was so much to see in Florence.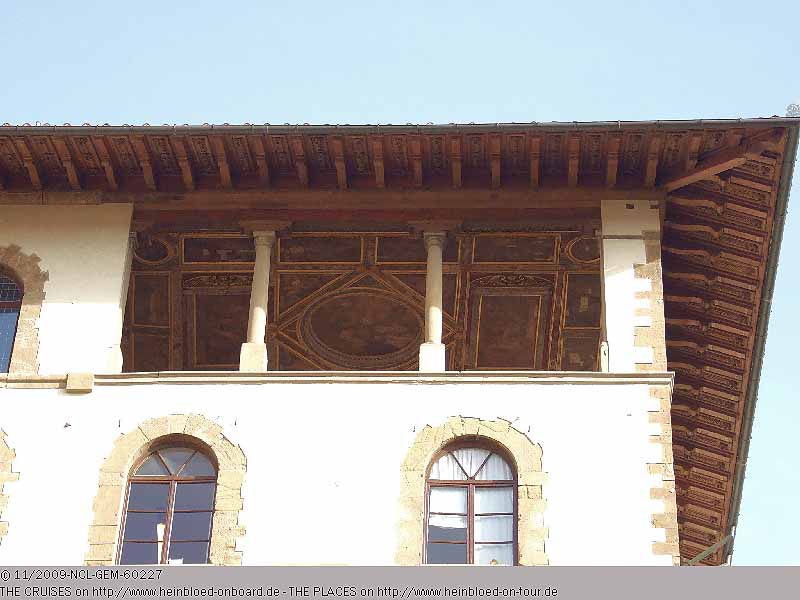 Es gibt einfach viel zu gucken in Florenz.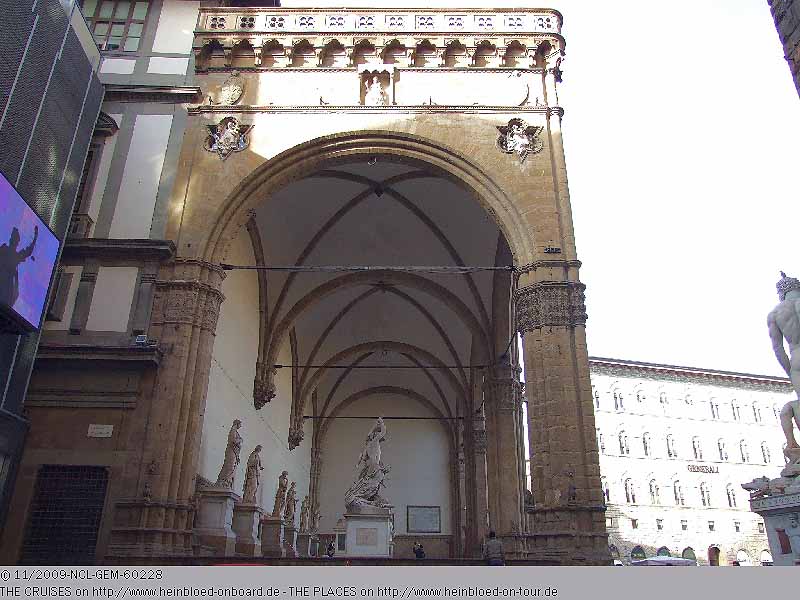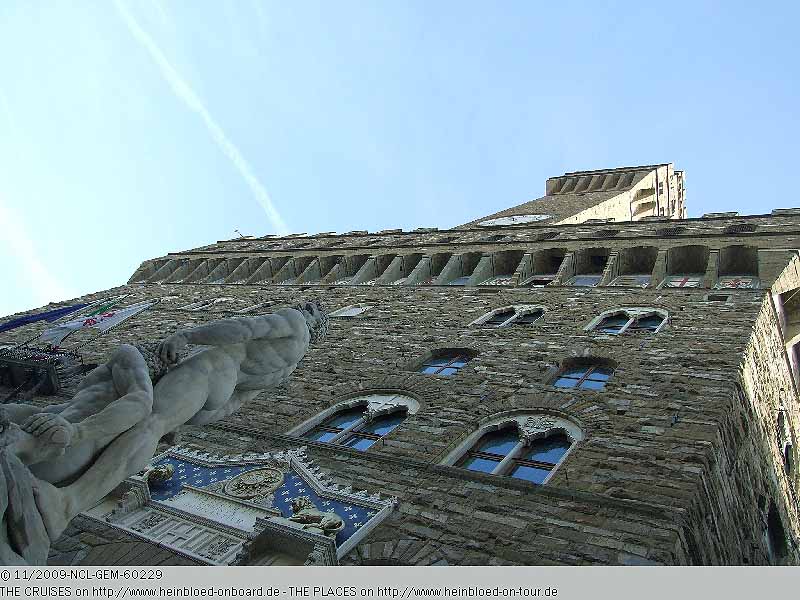 Da es zwar sonnig aber etwas kühl morgens noch ist, wollen wir direkt vor den Uffizien eine Tasse Cappucino trinken.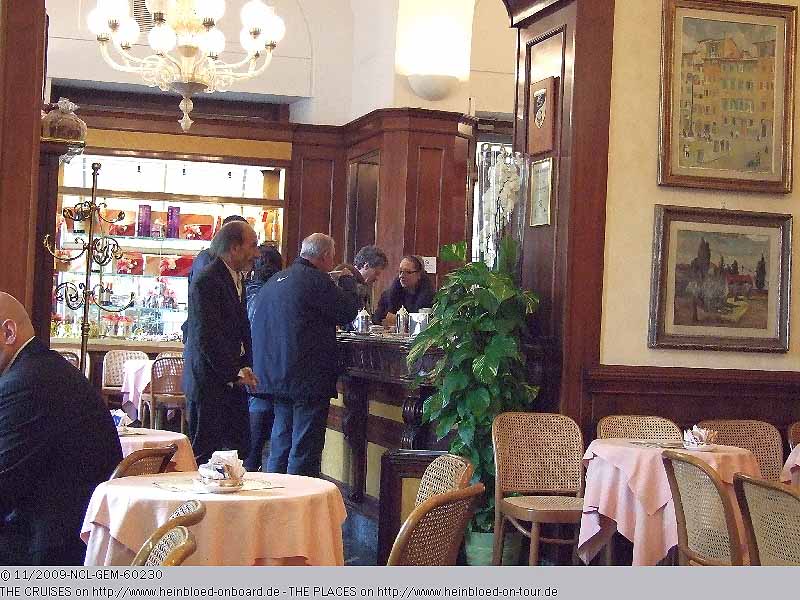 It was sunny but cold so we wanted to have another cup of Cappucino somewhere around.

On Pizzal della Signora only Café Rivoire seems to be not a tourist trap as many Italians were standing at the bar to have a cup of coffee.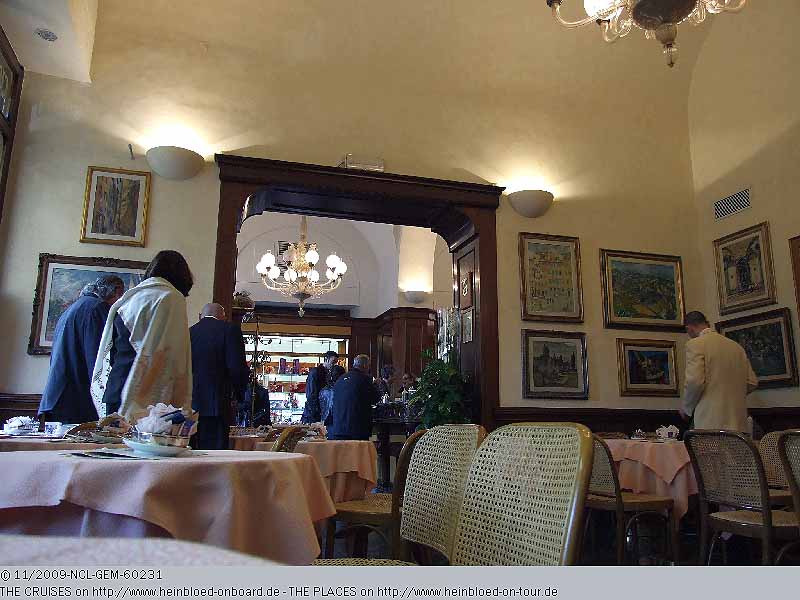 An der Piazza della Signora wirkt nur das
Café Rivoire
auf uns nicht so den Eindruck eines Touristennepps, weil dort relativ viele Italiener stehen und ihren Kaffee an der Bar trinken.
Auf der Speisekarte erfahren wir, dass es sich um eine Schokoladenfabrik handelt.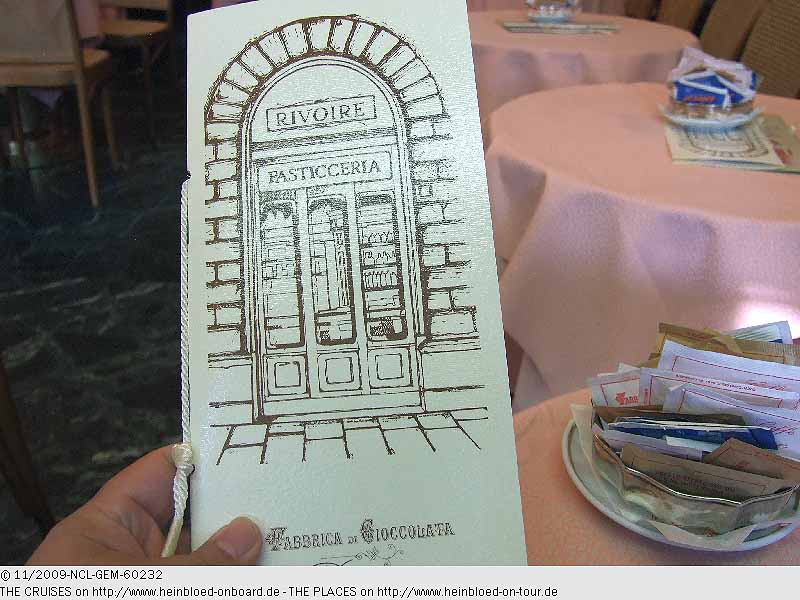 From the menu we learned that they are manufacturer of chocolate.

But we learned as well that a cappucino is 5.50 EUR. I told few days later a friend who works temporary as pianist in Frankfurt's Steigenberger Hotel Frankfurter Hof that I need to pay 5.50 EUR for a cappucino. When I got later the bill it was 5.50 EUR as well. But we learned that the service charge is already included.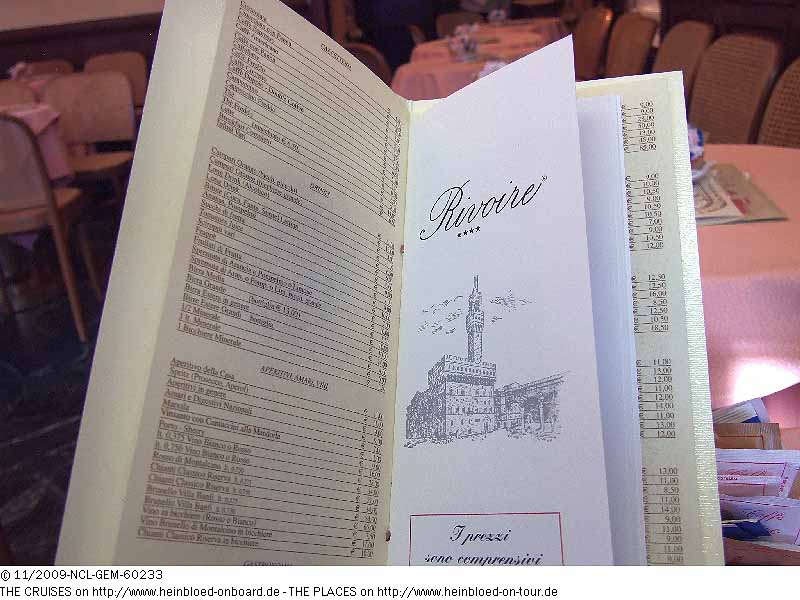 ... und dass der Cappucino hier 5,50 EUR kostet. Ich hatte es übrigens später in Frankfurt einer Freundin, die z. Z. als Pianistin im Steigenberger Hotel Frankfurter Hof erzählt und den Kopf geschüttelt. Als ich die Rechnung für den Cappucino bekam: 5,50 EUR. Dafür erfahren wir aber auch, dass das Bedienungsgeld inkludiert ist.
Wenigstens bekomme ich für 6,50 EUR ein Kännchen und somit zwei Tassen und eine etwas bessere Teemarke.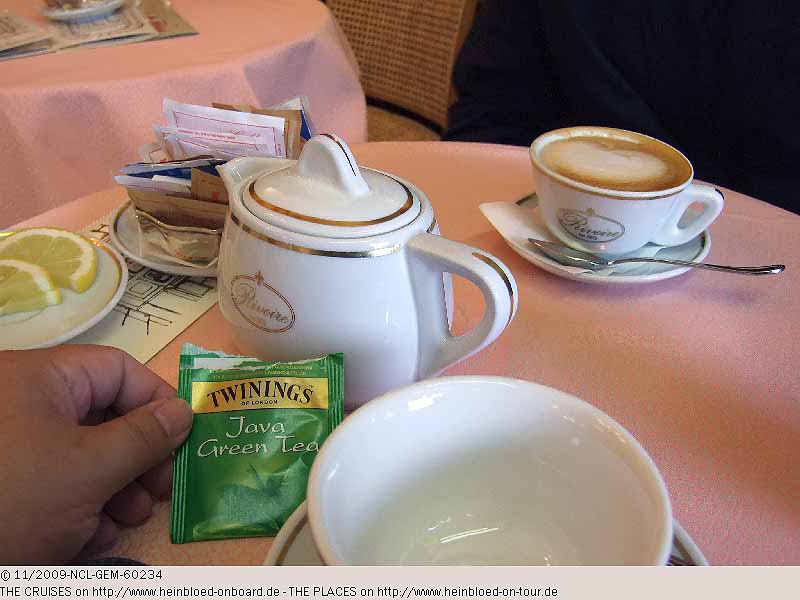 But for 6.50 EUR you get a can of tea and a better brand.

As we were in Florence and we visited such a store we need to try original Florentines. Do not look like in Germany and were available with light and dark chocolate. Both were good.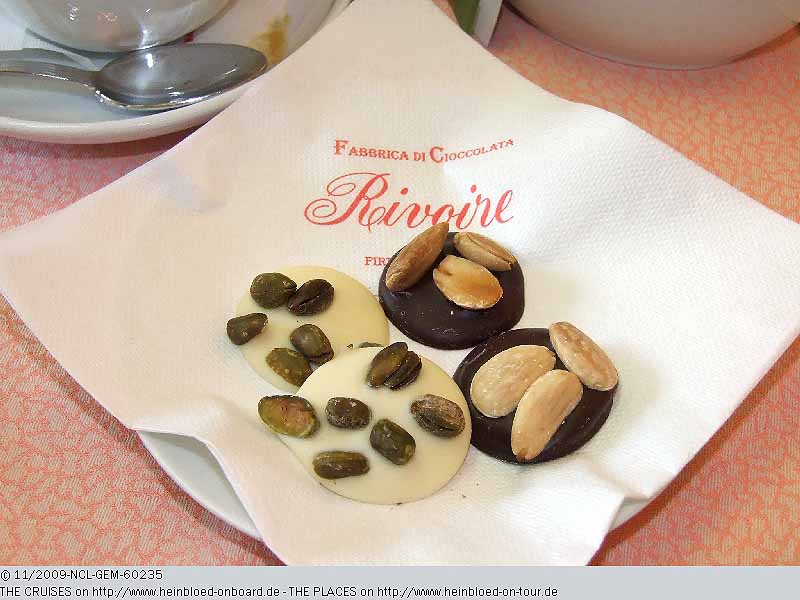 Wenn wir in Florenz sind, müssen wir in so einem Laden auch echte Florentiner probieren. Sehen gar nicht so aus wie in Deutschland und es gibt sie in hell und dunkel. Beide sind gleich gut.
Wir laufen weiter um eigentlich unseren Bus 23 zu finden, der in der Nähe Piazza del Duomo halten soll. Aber leider haben die Verkehrsbetriebe ausgerechnet vor ca. drei Wochen alle Routen geändert aber noch keine neuen Linienpläne auf die Homepage gestellt. So irren wir ein wenig umher.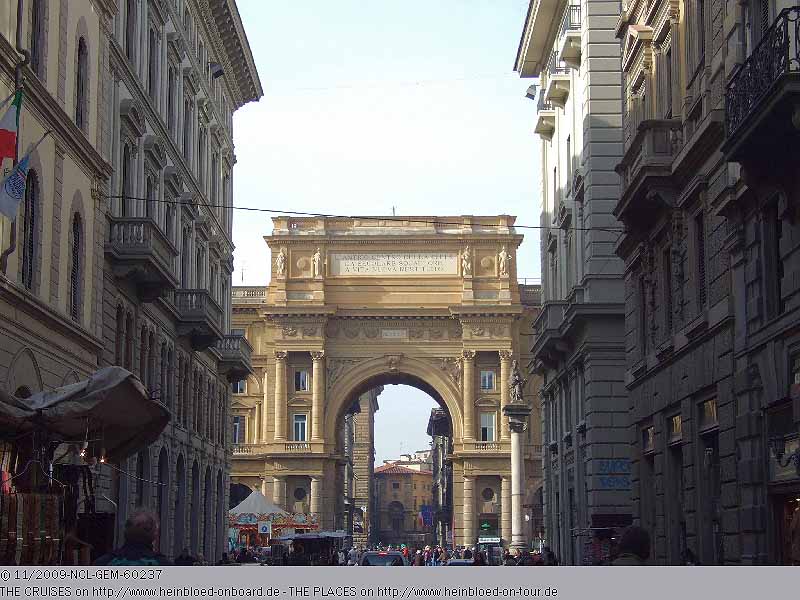 We continued to walk to find our Bus 23 around Piazza del Duomo. But the transport company just changed recently the routes and new maps were not published on their website so far. So we walked around to find anything.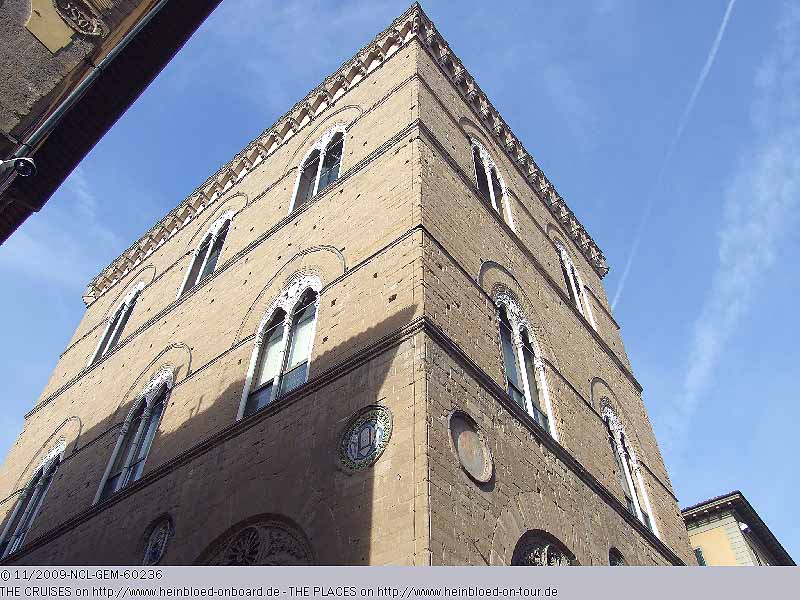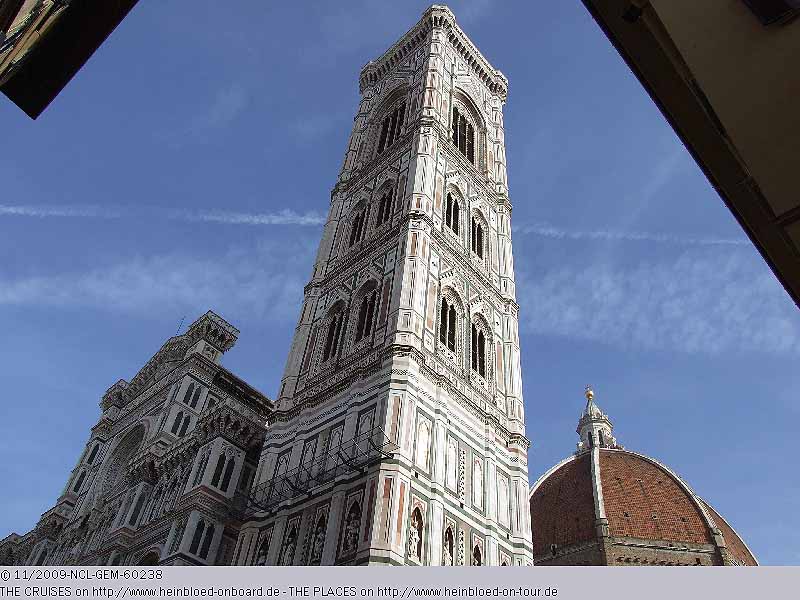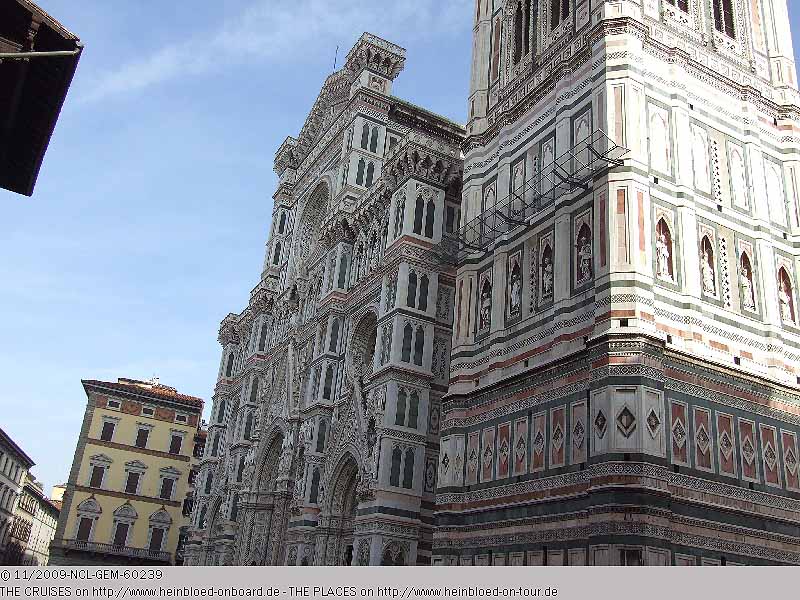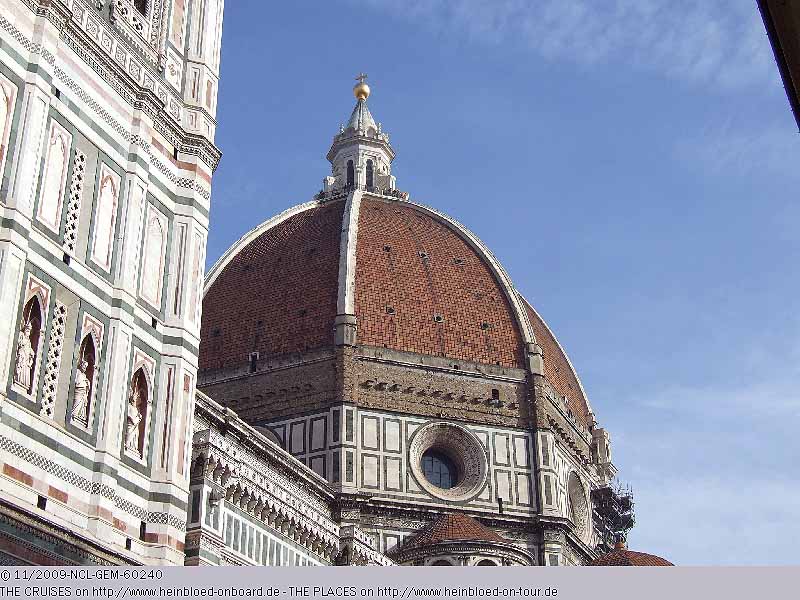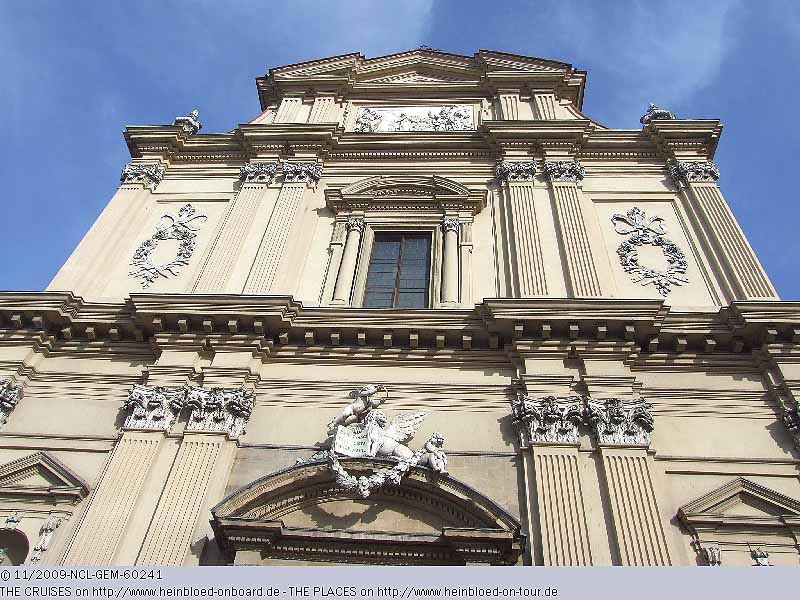 An der Piazza de San Marco gelingt es uns endlich, eine Spur aufzunehmen. Sehr praktisch: die Mini-Busse, die die kleinen Gässchen in der Innenstadt erschließen.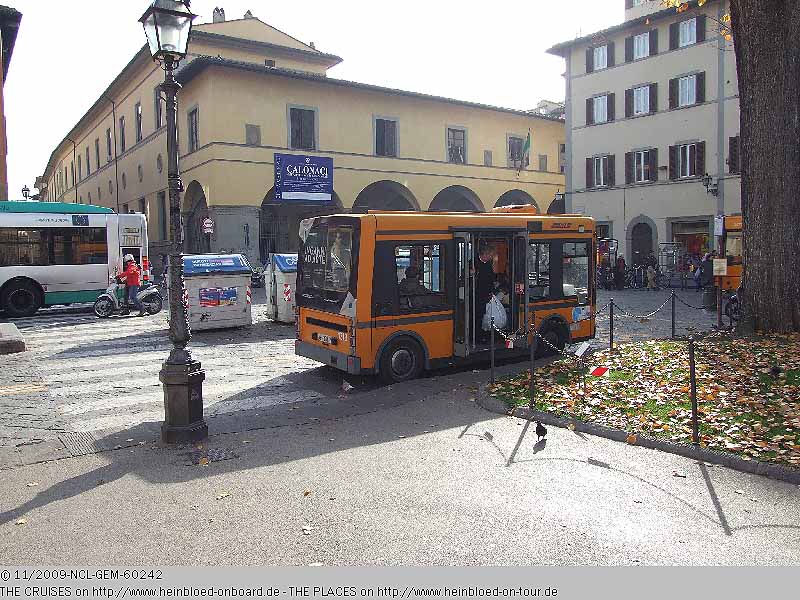 At Piazza de San Marco we found finally our bus stop. There are also mini-buses available which can go through the little lanes in the city.

Now we know how to find the ticket sales outlets. Sorry that we had not find anything like this last night at Piazzale Michelangelo.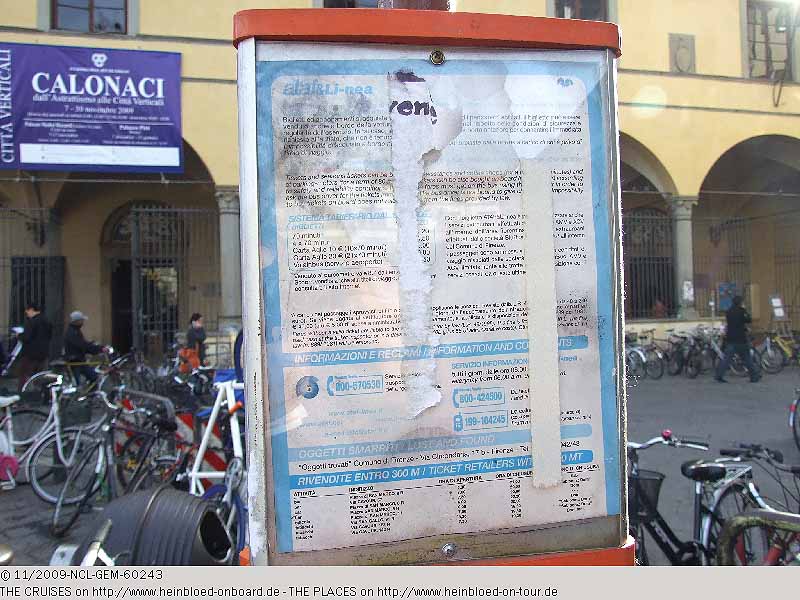 Und so sehen die Hinweise auf die nächste Verkaufsstelle aus. Schade, dass gestern Abend davon nichts auf der Piazzale de Michelangelo zu finden war.
Hier sind wir richtig. Mit Bus 23A geht es zurück zum Hotel.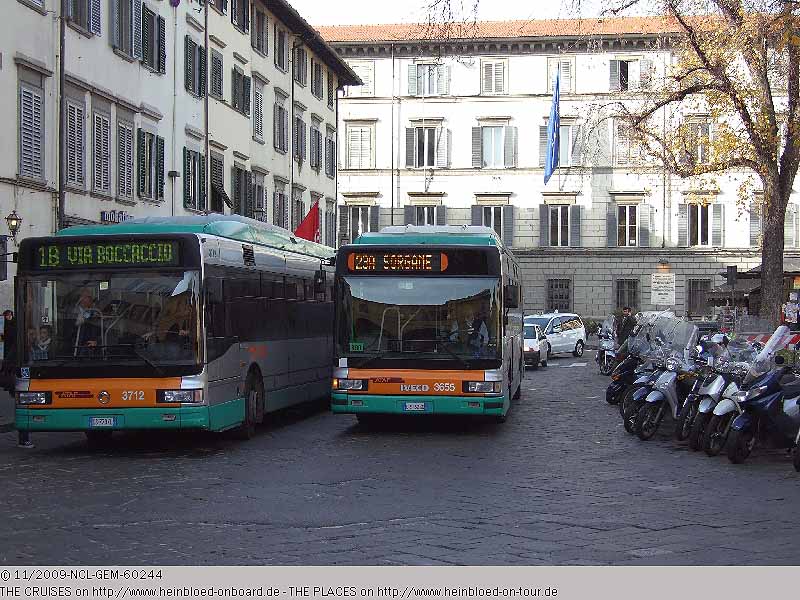 Here we were right. Bus 23A got us back to our hotel.