Scroll down for English explanations - alternates with German explanations.

Eine NCL-Kreuzfahrt ohne meine Egg Benedict auf Lachs und Spinat wäre keine echte NCL-Reise. Da es sie im Cagney's nicht gab, haben wir im Grand Pacific gefrühstückt. Auch in der Hoffnung, dass Luiza und Adina da sind, um uns schon mal zu verabschieden. Aber beide sind nicht da. So frühstücken wir wie ganz "normale"...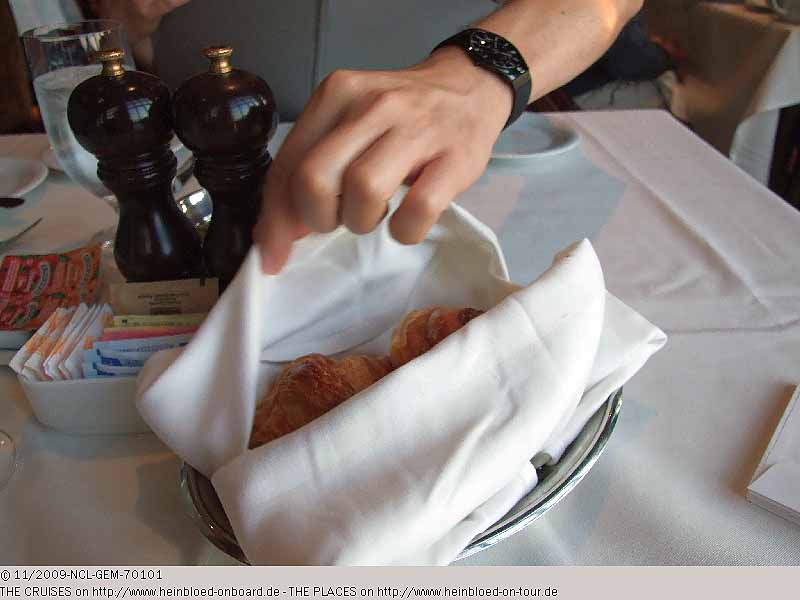 A NCL-cruise is no NCL-cruise without my Egg Benedicts on Salmon and Spinach. As they are not available at Cagney's either we had breakfast at Grand Pacific Main Restaurant. But I was hoping to see Luiza and Adina to say bye-bye. But both were not there. So we have breakfast just as "normal" passengers.

Once upon a time when they had the tray service with Danish and juices... when they had other Muffins but the Vanilla and my soft rolls...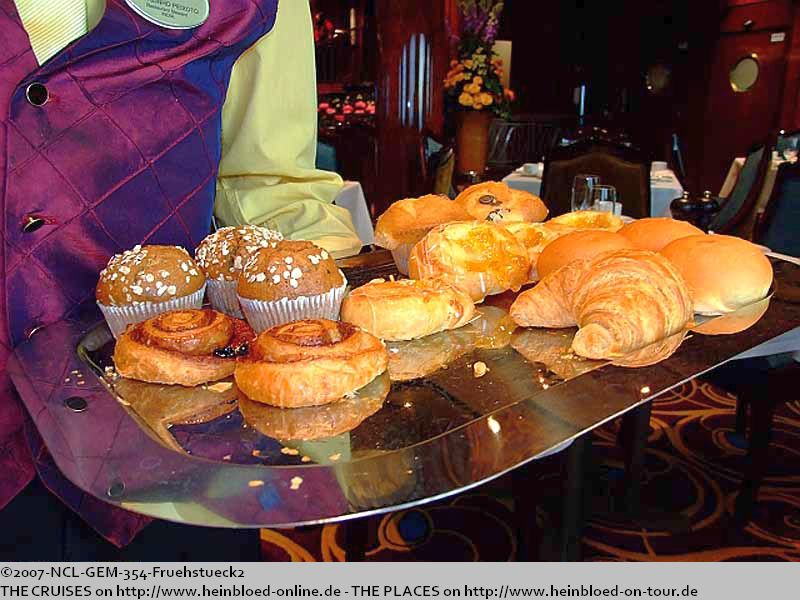 Das waren noch Zeiten, als es die Tabletts mit dem Frühstücksgebäck und den Säften gab... Und wie man sieht: auch mit Körner-Muffins und meinen Softbrötchen, die ich gerne als Alternative zu Brioche nehme.
Damals gab es auch noch andere Früchte auf den Obsttellern, wie Kiwis und Mangos...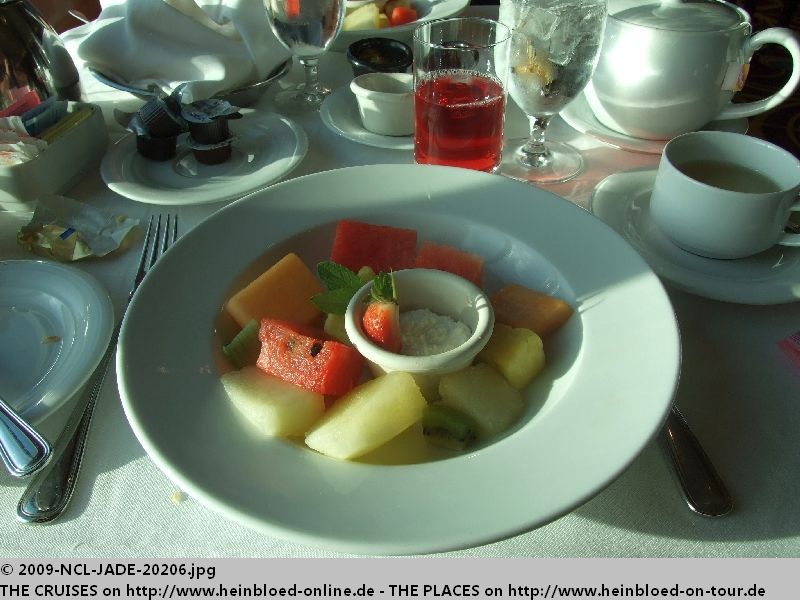 Then you had more fruits like Kiwi and Mango on the fruit plates.

And today??? If they would have served the diced fruits on the little plates for roll and bread it might would not appear so empty on the plate...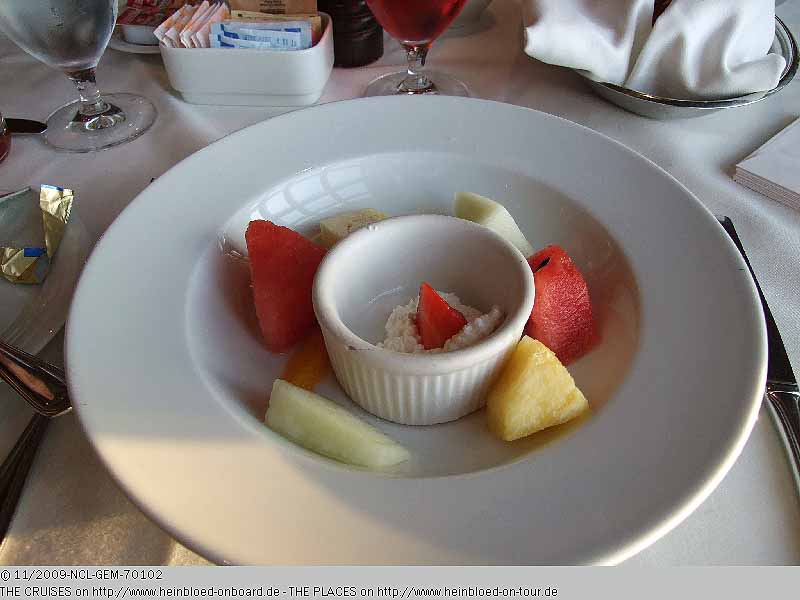 ... und heute: Auf einem Brötchenteller wäre vielleicht die Leere nicht so aufgefallen...
Irrtümlich wurde bei der Bestellung Lachs mit Bagel aufgenommen statt meinem Egg Benedict. Meine Schwester nahm einfach den Lachs.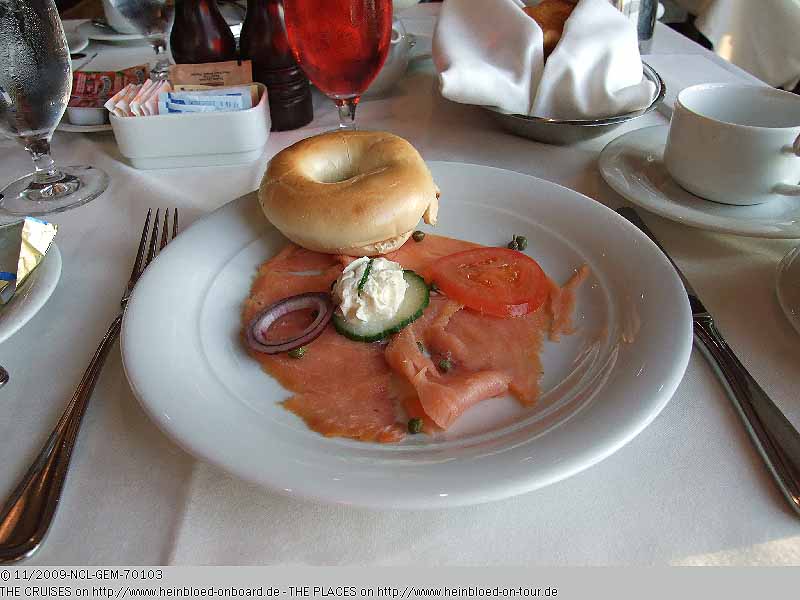 By mistake they got me salmon with bagle instead of Egg Benedict. But my sister took it.

As Luiza and Adina were not there it was sad for me but had no influence to the service. Edgar was on duty: He was the maître for Blue Lagoon and Tequila last night who took care of our problems we had. Originally they offered only soft rolls but no brioche but it was Edgar himself who walked the extra mile to get my Brioche and for Bruno an alternative to the Vanilla-Muffin he did not like too much. I do not think that it has something to do with my status as suite-guest or last night's incident. Even I booked an inside-stateroom it was never a discussion on NCL that they ran extra-miles for you. That's why should always ask if something is not satisfying you. They try to do their very best to make it perfect. That's why I appreciate so much NCL.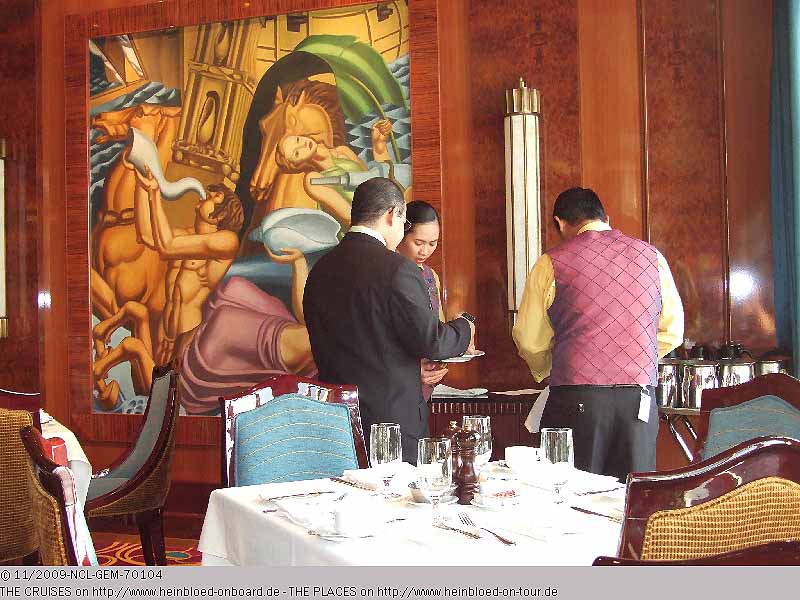 Dass Luiza und Adina nicht da waren, war zwar traurig für mich persönlich, aber nicht negativ für den Service. Denn Edgar hatte Dienst: Der Maître für Blue Lagoon Café und Tequila, der gestern Abend sich unserer Probleme annahm. Zunächst hieß es, dass nur Softbrötchen verfügbar wären und dann ist Edgar aber persönlich gelaufen, um mir meine Brioches und Bruno Alternativen zu dem Vanille-Muffin zu besorgen. Das hatte noch nicht einmal etwas mit meinem Status als Suiten-Kunde oder mit gestern Abend zu tun. Dass bei NCL Extra-Meilen gelaufen werden, haben wir auch auf Fahrten erlebt, selbst wenn ich Innenkabine gefahren bin. Deswegen sollte man immer mal fragen, wenn noch etwas nicht stimmt: Wenn bislang noch nicht alles perfekt ist: die tun wirklich alles, damit es perfekt wird. Deswegen schätze ich NCL.
So gab es für Bruno zwar kein Blueberry-Muffin aber immerhin einen Vogelfutter-Muffin...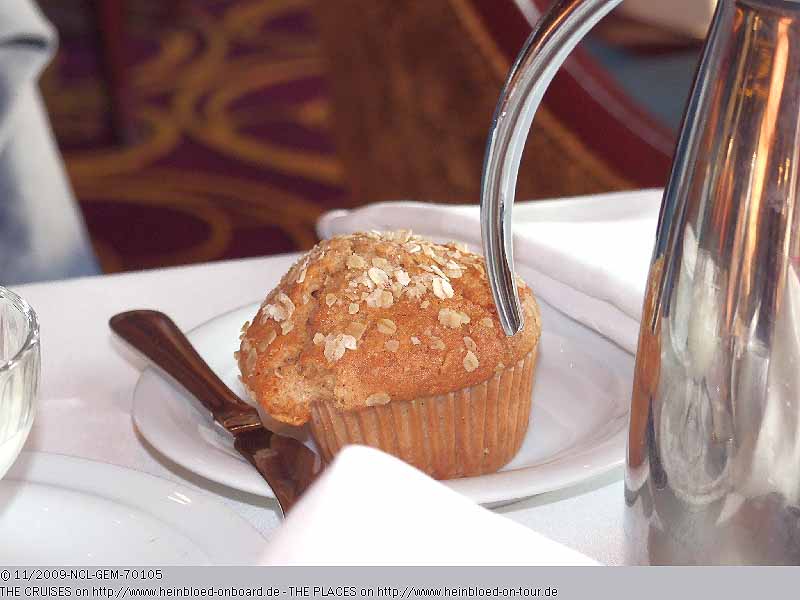 So Bruno did not get his Blueberry-Muffin but his Bird-Feed-Muffin.

And I got my beloved Brioches. What a wonderful service!!!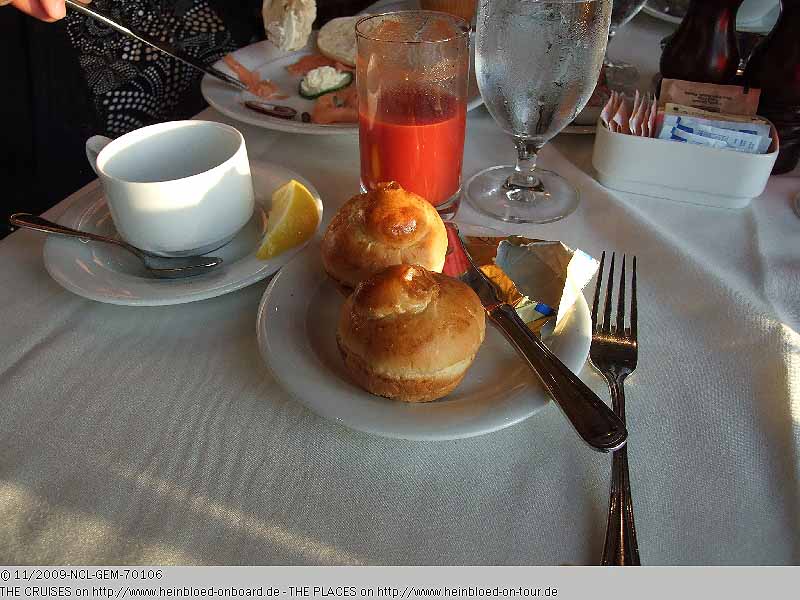 Und ich bekam meine geliebten Brioches. Klasse Service!!!
MEINE Egg Benedict auf Lachs und Spinat... Liebe auf den ersten Blick... damals auf der
NORWEGIAN PEARL im Winter 2006
.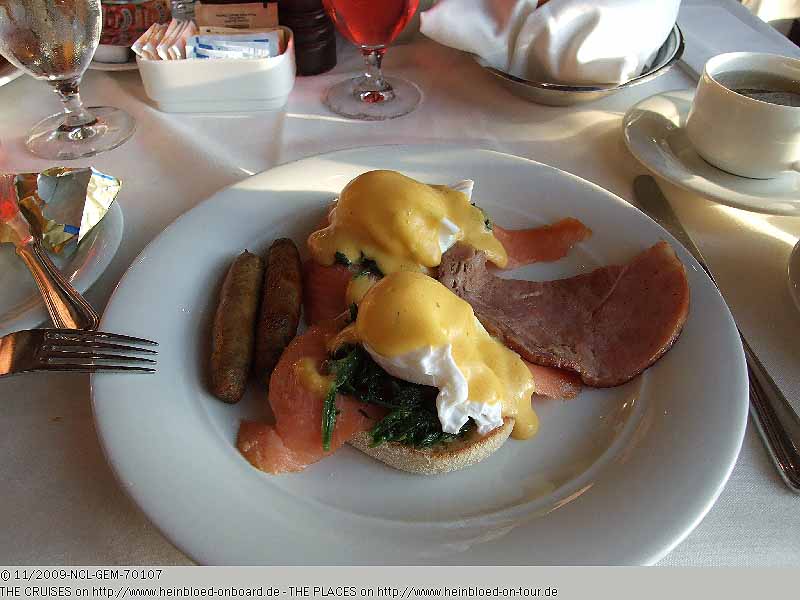 MY Egg Benedicts on salmon and spinach... Love on the first sight... then on NORWEGIAN PEARL in Winter 2006 (Sorry - only in German).

In the display of the coffee bar we see that Brioche and alternative Muffins are available for ALL guests and no special privilege limited to VIPs in Cagney's. Only Blueberry-Muffin were not available either. So NCL Miami: I am a convinced NCL-cruiser so Muffins are no k.o.-criteria... But Cunard promised to send someone over to HAL to try their muffins and to copy them just for Bruno... when are you doing this???? For Bruno there are only two k.o.-criterias for the selection of a cruise line: Coffee and Muffins.... I am the MOST easiest customer you can have...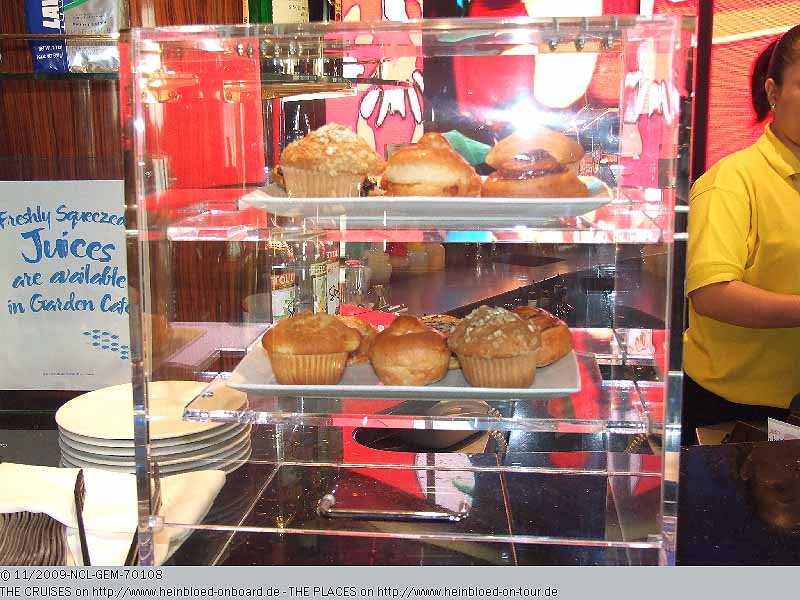 In der Auslage an der Kaffeebar sehen wir, dass es Brioche und Alternativ-Muffins auch hier für ALLE gegeben hätte und dass es kein Privileg ist, dass Cagney's Nutzern vorbehalten ist. Nur Blueberry-Muffins gibt es auch hier nicht. Also NCL Miami: ich bin ja überzeugter NCL-Fahrer, weil Muffins für mich k.o-Kritierium sind... Cunard hat versprochen jemanden bei HAL vorbeizuschicken, um dort die Muffins zu probieren und nachzubacken, um auch Bruno glücklich zu machen... Wann macht ihr das denn??? Für Bruno gibt es eigentlich nur zwei echte k.o.-Kriterien für die Auswahl einer Kreuzfahrt: Kaffee und Muffins... Ich bin da viel pflegeleichter...