Scroll down for English explanations - alternates with German explanations.

Nur ein Capri-Fischer bei der Arbeit.

Only one fisherman on Capri on work (There is a famous German song on the fischermen of Capri from the 50s...)

Somewhere there around must be Sorrento but we will call it next year by OCEAN PRINCESS. So we did want to do a tour to Positano and Amalfi-Coast. By this way it's interesting to see the transition of TAHITIAN PRINCESS to OCEAN PRINCESS in the drydock.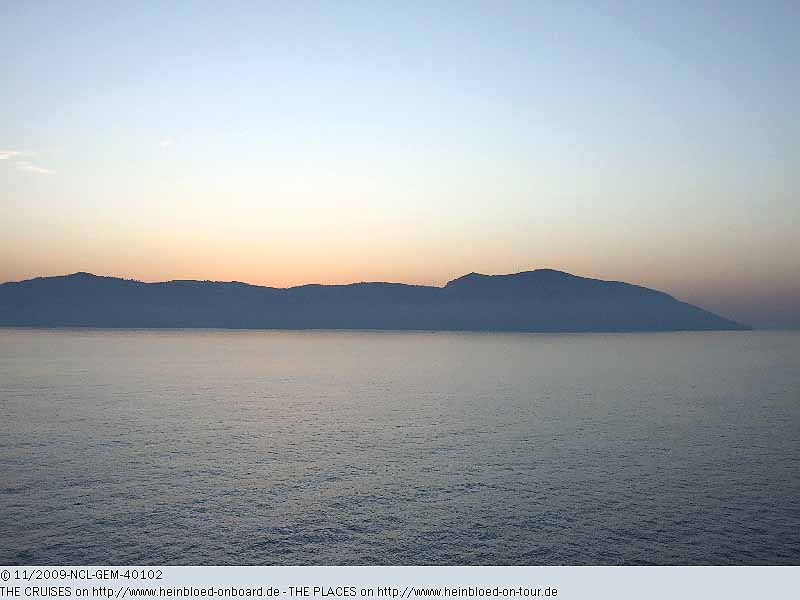 Da muss irgendwo Sorrento sein, aber das laufen wir nächstes Jahr mit der OCEAN PRINCESS an. Deswegen haben wir auf einen Ausflug Richtung Positano und Amalfi-Küste verzichtet. Übrigens ist es schon spannend zu sehen, wie die
TAHITIAN PRINCESS im Trockendock zur OCEAN PRINCESS
umgebaut wird.
Nach den Regenschauern damals auf der MSC MUSICA vor zwei Jahren, freuen wir uns über den Sonnenschein über Neapel.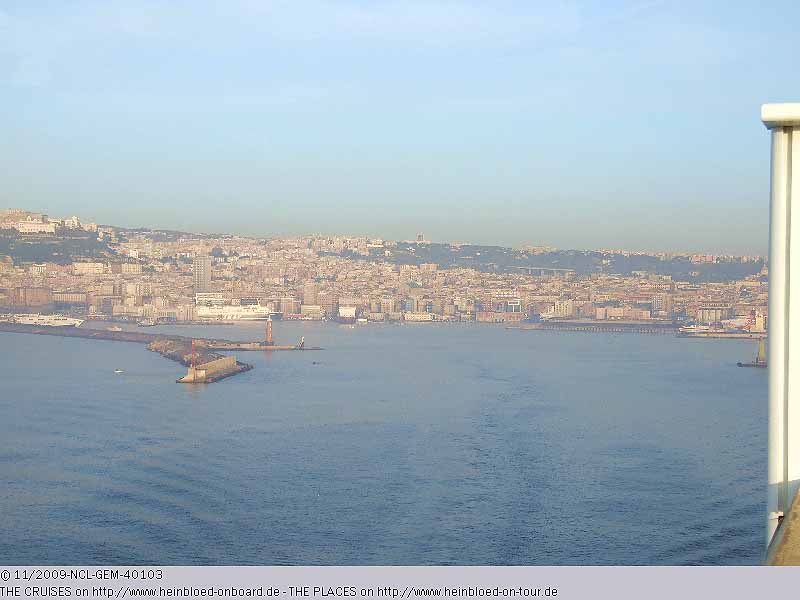 After the rainshowers two years ago on MSC MUSICA when we called Naples we are very happy with sunshine.

No other ship like MSC RHAPSODY was waiting for us like then.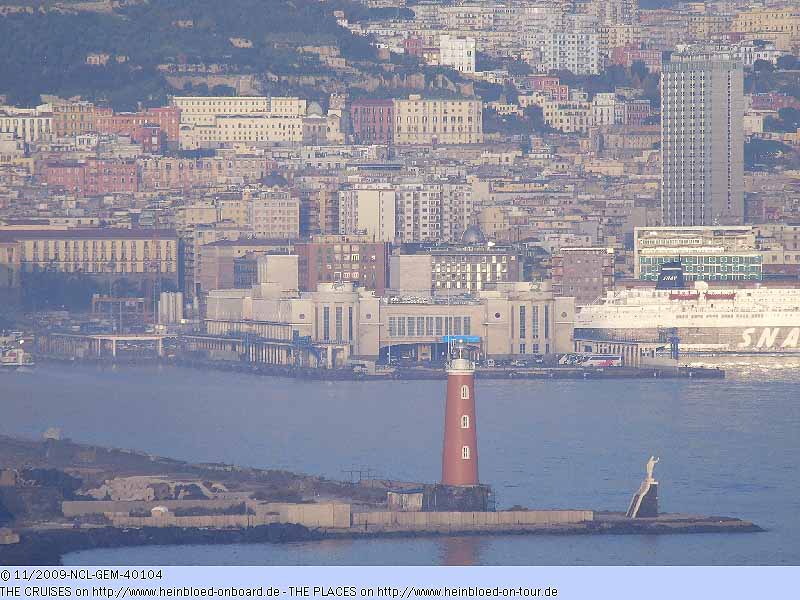 Schade, dieses Mal liegt kein anderes Schiff da, wie damals die MSC RHAPSODY.
Es war bestimmt über 20°C... Johmar (unser Courtyard-Butler, der für alle Gäste im gemeinsamen Courtyard-Bereich zuständig ist) und Rashid (der immer alles in Ordnung gehalten hat auf dem Deck) - angezogen wie Sommer und Winter...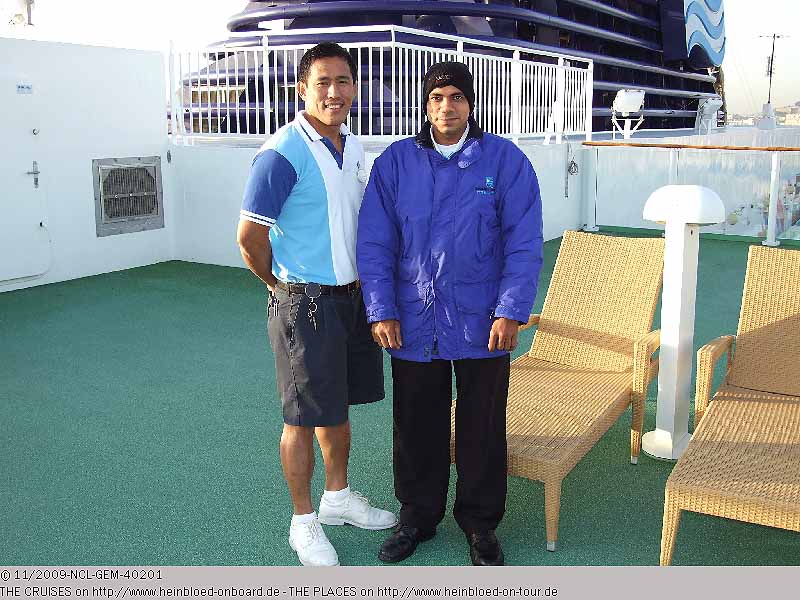 It was definately around 70F... Johmar (our Courtyard-Butler who was in charge for the common Courtyard-area to all guests) and Rashid (who takes care that everything was in good condition on the sundeck) - dressed up like Summer and Winter...

The charme of Styria: Astrid. She had a phone call with her Mum and told her about my wish to have a world famous Austrian White Cheese Pie (Topfenstrudel). Her Mum (cook!!!) said that she should made one for me. From the Executive Chef Bernhard we knew that the access to the bakery is strictly limited to authorized persons. I. e. we should buy an oven in Naples and to get it into Astrid's stateroom... If I would not have Bruno already... Astrid will be a good party with such a mother-in-law who like me to have the best... (That's a order for Bruno to make a Austrian White Cheese Pie...)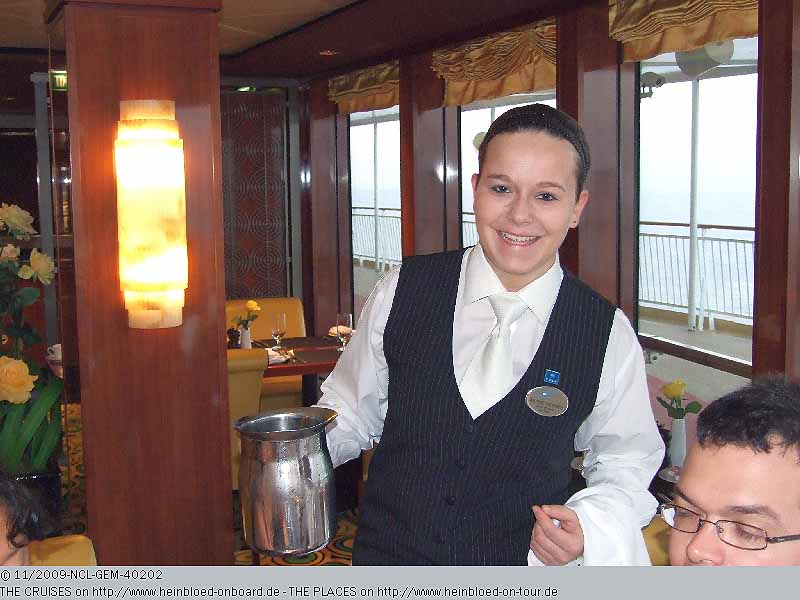 Der Charme Steiermarks: Astrid. Sie hat mit ihrer Mama telefoniert und von meinem Wunsch erzählt, dass ich gerne einen österreichischen Topfenstrudel hätte. Ihre Mama (Köchin!!!) hat gesagt, dass sie mir einen backen soll. Von Küchenchef Bernhard wissen wir ja, dass der Zutritt für sie zu diesem Backbereich verboten ist. Dann müssen wir wohl jetzt einen Backofen in Neapel besorgen und ihr in ihrer Kabine aufstellen... Wenn ich nicht schon Bruno hätte, wäre Astrid bestimmt eine gute Partie, mit der Schwiegermama, die das Beste will (Das war eine Aufforderung an Bruno einen Topfenstrudel zu backen...).
Meine Schwester wollte die Pancakes...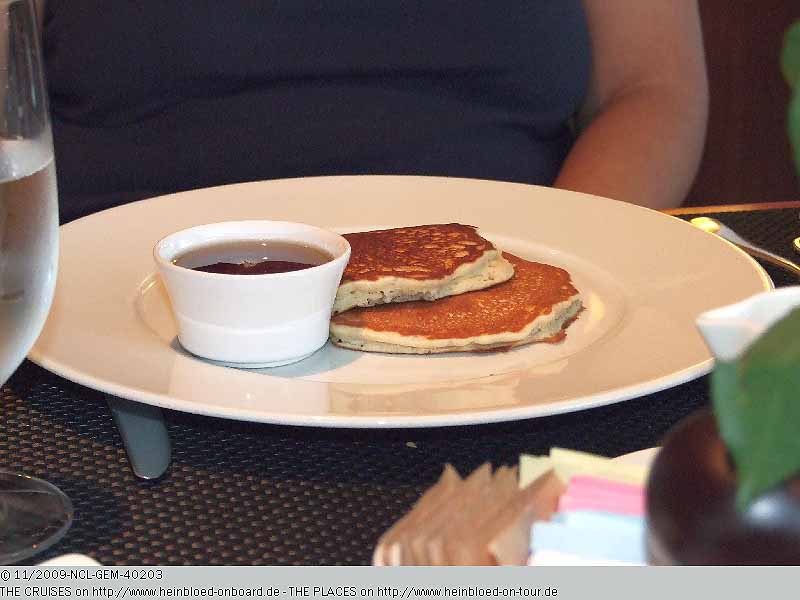 My Sister wanted to try the pancakes...

Because he wanted to climb on Mt. Vesuvio Bruno took an omelette.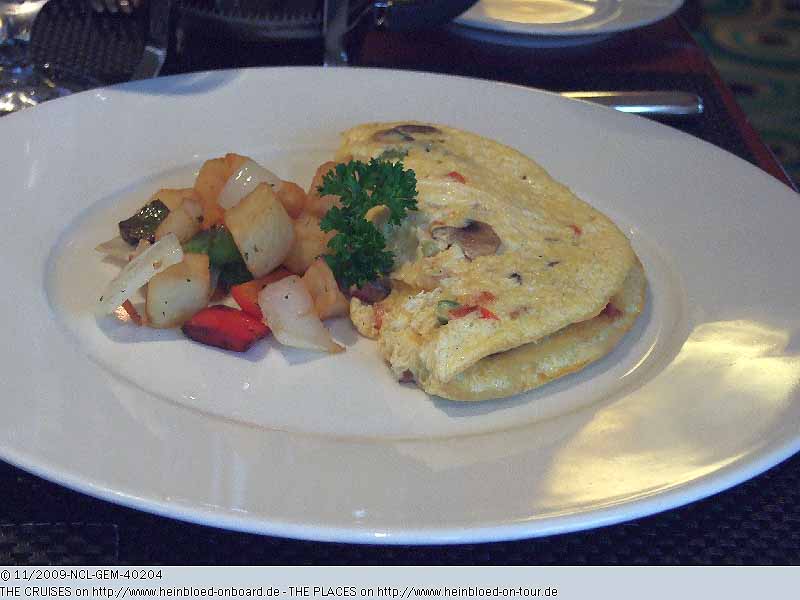 Aufgrund des bevorstehenden Aufstieges auf den Vesuv nimmt Bruno ein Omelette.
Und ich frage ein Egg Benedict auf Lachs an, so wie es ihn auch im Grand Pacific Hauptrestaurant gibt, aber hier oben gibt es wohl keinen Spinat.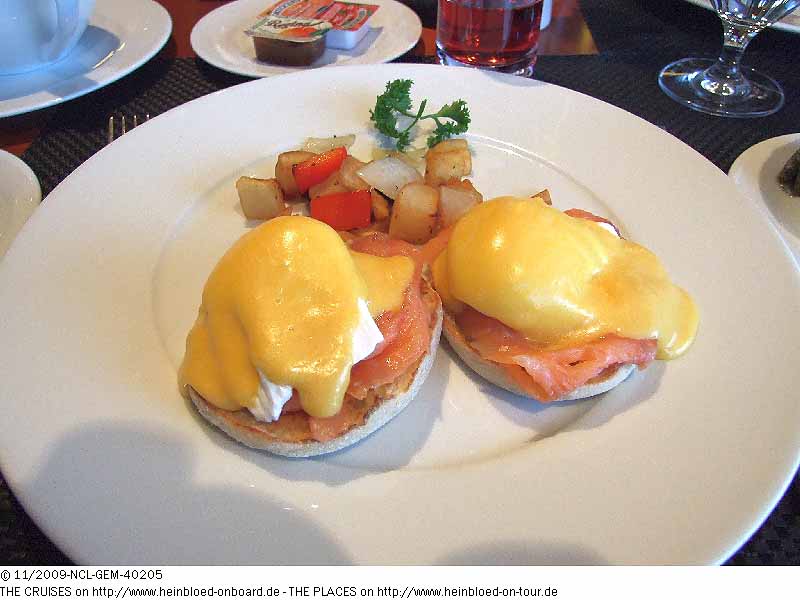 I asked for my Egg Benedict on Salmon like I can get in the Grand Pacific Main-Restaurant but I guess there is no spinach available in this galley.

It's better to wait until they completed the subway constructions before I visit Naples.

Ich warte mal, bis dass endlich die U-Bahn fertig gebaut ist, bevor ich Neapel besichtige.
Wir drehen, bevor wir anlegen. Schade, dass der Kapitän es nicht bei der Ausfahrt macht. Ich wäre lieber früher von Bord gegangen.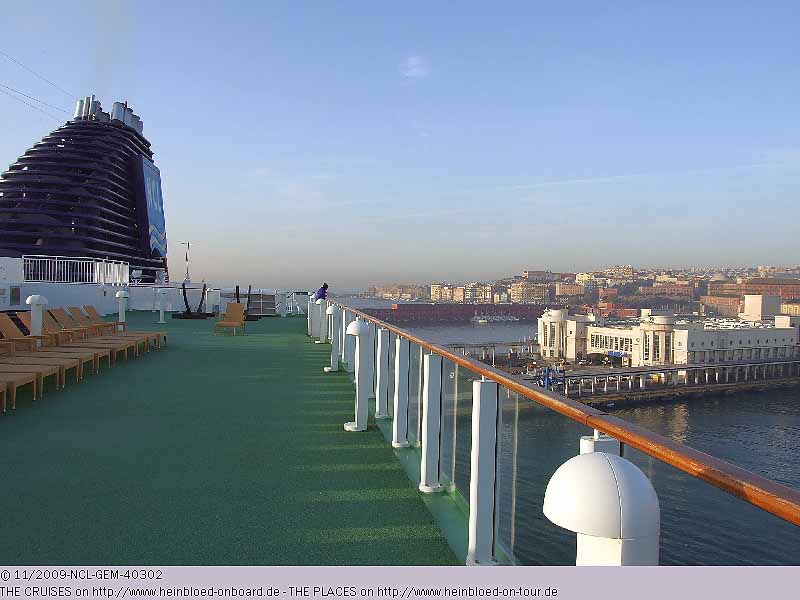 We turned around before we berthed. It's a pity that we did not do it when we are leaving as I would have preferred to leave earlier the ship.

HERTZ seems to be in walking distance. We booked originally with EUROPCAR but cancelled as we found a direct bus to Mt. Vesuvio.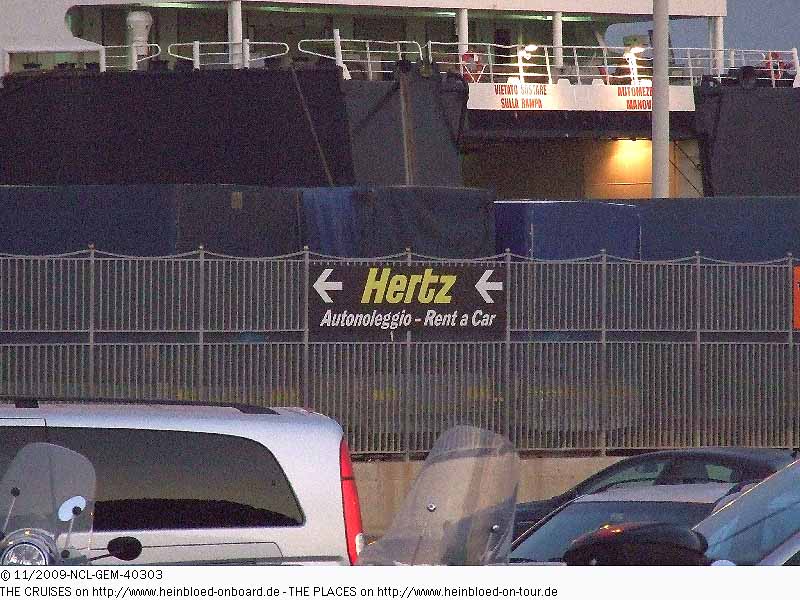 HERTZ scheint in Laufnähe zu sein. Wir hatten bei EUROPCAR zunächst gebucht. Aber dann wieder abgesagt, als ich den direkten Bus zum Vesuv entdeckt hatte.
Die direkte Anlegestelle zur Stadt ist äußerst praktisch.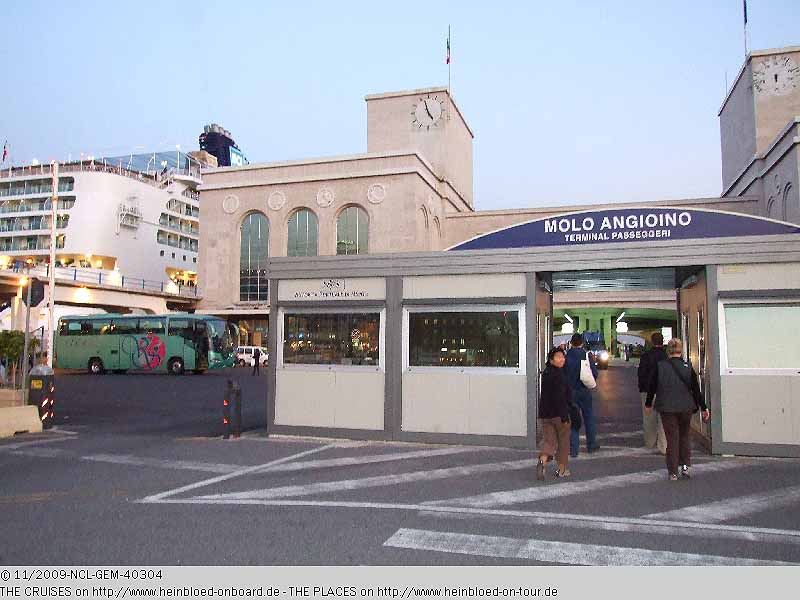 The location directly to the city center is very convenient.

Be prepared to use these stairways. The elevator was out of order. As well as the information booth which was unattendent.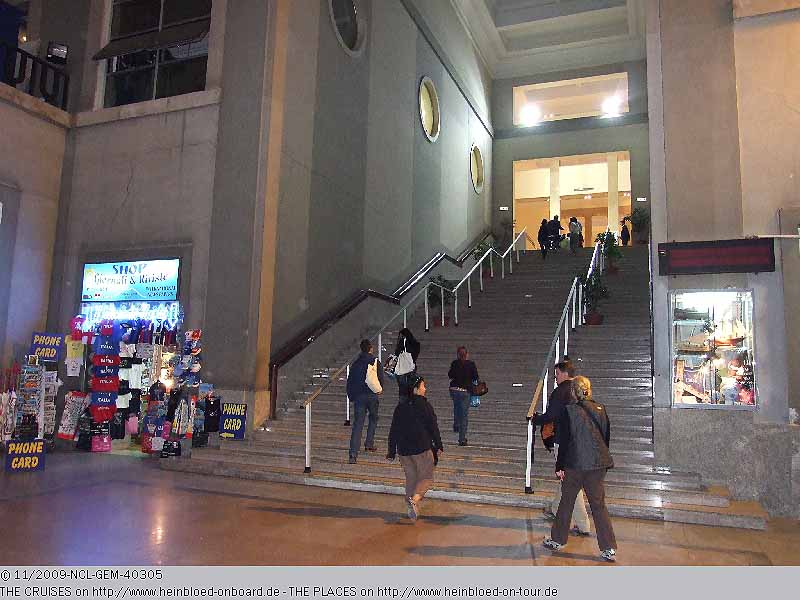 Man sollte sich auf die Treppe vorbereiten. Der Fahrstuhl war nämlich außer Betrieb. Genauso wie der Informationsschalter, der unbesetzt blieb.
Nebenbei wird das Cruise Terminal als Ausstellungs- und Veranstaltungsort genutzt.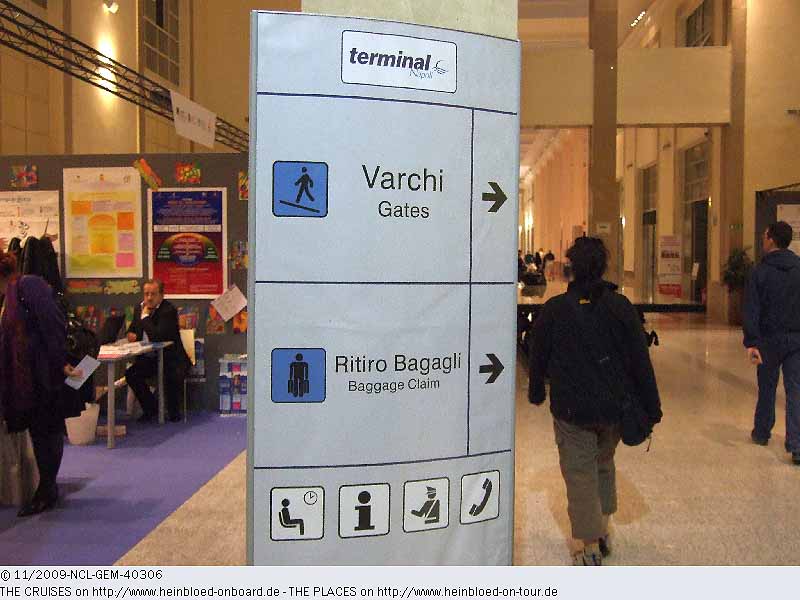 They used also the Cruise Terminal as exhibition and event hall.

It's good to find signposts for Mole Beverello. We wanted to use the direct bus to Mt. Vesuvio. I checked in the internet that Vesuviana Mobilita offers such a service at 09.15 hrs from Via Marina at Mole Beverello. According to their website there is no point of sales around the cruise terminal. An Italian co-worker called for me: no problem: you get tickets at every tobacco store. Bus stop easy to find: just in front of ferry terminal and bus runs according to published one on their website.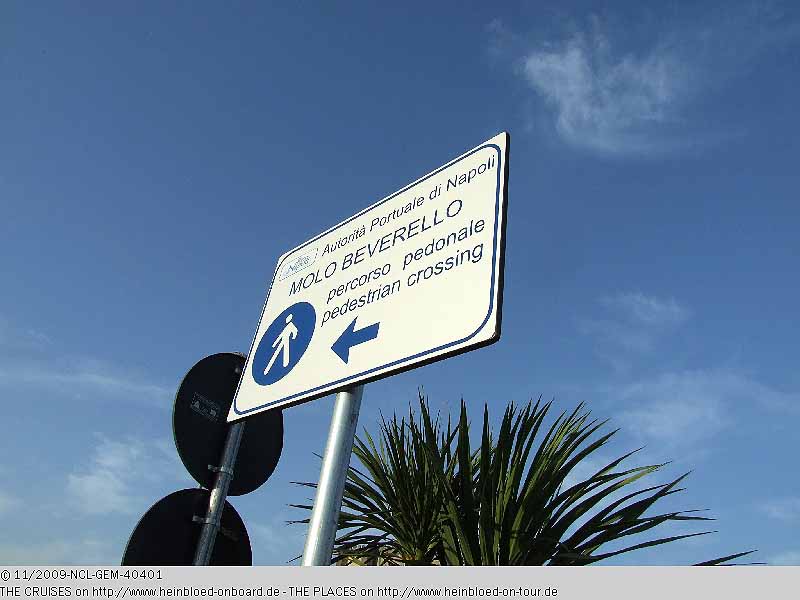 Das ist gut, dass hier sich Hinweise zur Mole Beverello finden. Wir wollen mit dem Bus direkt zum Vesuv rauffahren. Vorher habe ich mich im Internet bei
Vesuviana Mobilita
informiert. Um 09.15 Uhr soll der Bus ab Via Marina Höhe Mole Beverello abfahren. Leider findet sich lt. Internet keine Verkaufsstelle in der Nähe. Eine italienische Mitarbeiterin hatte für mich auch noch extra angerufen: kein Problem: Tickets bekommt man in jedem Tabakladen, Haltestelle ist direkt vor dem Fährterminal und der Fahrplan im Internet stimmt auch.
Falls einer mal eine Gepäckaufbewahrung für Neapel braucht: direkt vor dem Cruise Terminal. Sehr praktisch.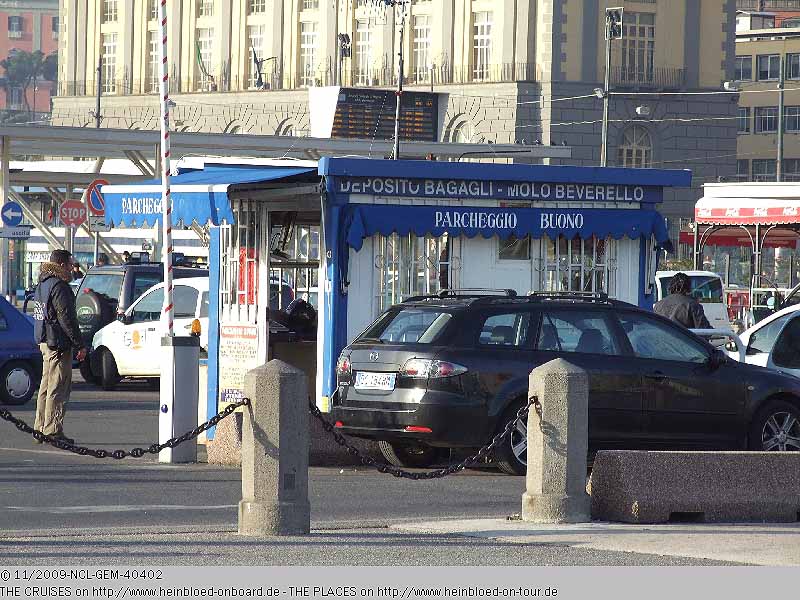 If someone need luggage storage for Naples: just in front of the Cruise Terminal. Very practical.

Here at this coffee store you have complimentary WiFi. They also sells bus tickets. Only the tickets we used to have they do not provide. He said that these ticket type is only available at the train stations.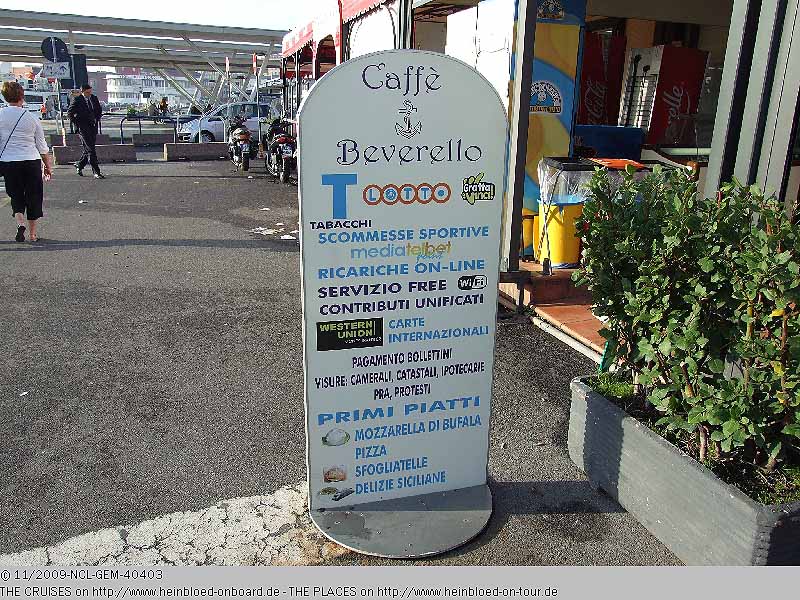 Und in diesem Café gibt es kostenlos WLAN und auch Bus-Tickets. Nur die Tickets, die wir brauchen führt er nicht. Er meint, dass es sie nur an den Bahnhöfen gibt.
Da sich weit und breit keine Haltestelle für den Vesuviana Mobilita Bus auszumachen ist, versuchen wir lieber bis zum Bahnhof Centrale an der Piazza Garibaldi zu kommen und dort zu fahren.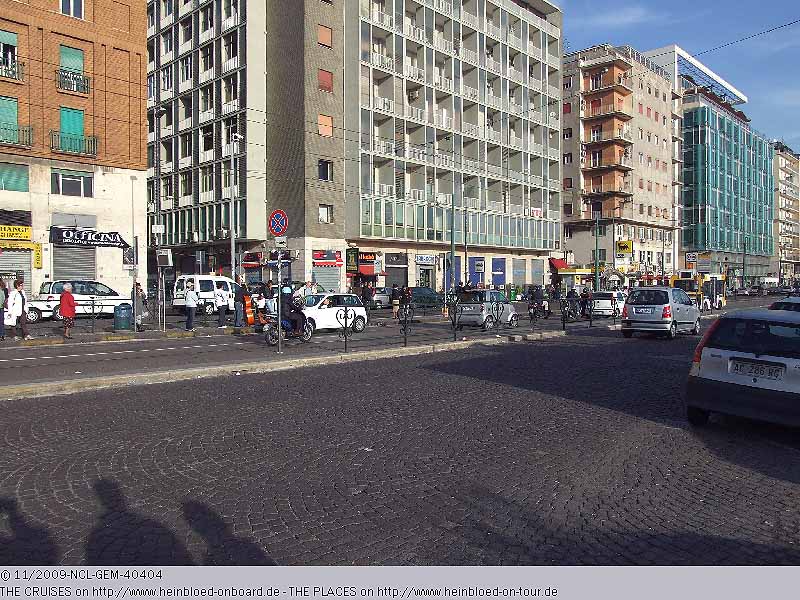 There is no bus stop sign for the Vesuviana Mobilita Bus around the ferry terminal. So we preferred to try it at the Central Station at Piazza Garibaldi and to start from there.

So we went back to the coffee store and bought some single tickets for 1,10 EUR (2009) per ride. We took Tram Route 1 (Schedule as per November 2009) which took us toward Piazza Garibaldi. The cab drivers still offered in fron of the Cruise Terminal to get us for 100 EUR to Pompei. When we show them our tickets it was clear that they had no chance to do business with us.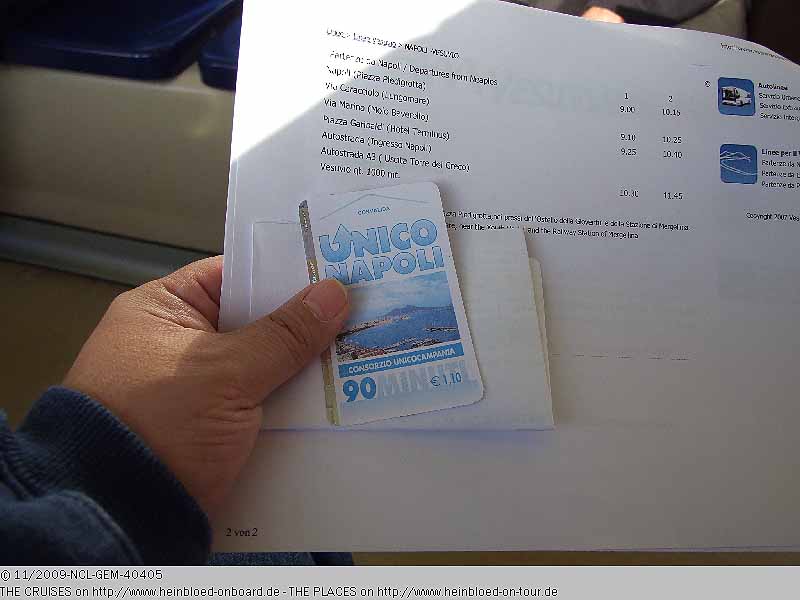 Daher kaufen wir nochmals für 1,10 EUR (2009) pro Fahrt in dem Café Einzelkarten. Wir nehmen die
Straßenbahn Linie 1
(Fahrplanstand November 2009), der uns Richtung Piazza Garibaldi bringt. Die Taxifahrer vor dem Cruise Terminal bieten uns immer noch ihre Fahrten für 100 EUR nach Pompei an. Als wir mit den Fahrkarten winken, merken sie erst, dass man mit uns kein Geschäft machen kann.
In der Straßenbahn muss man Tickets entwerten.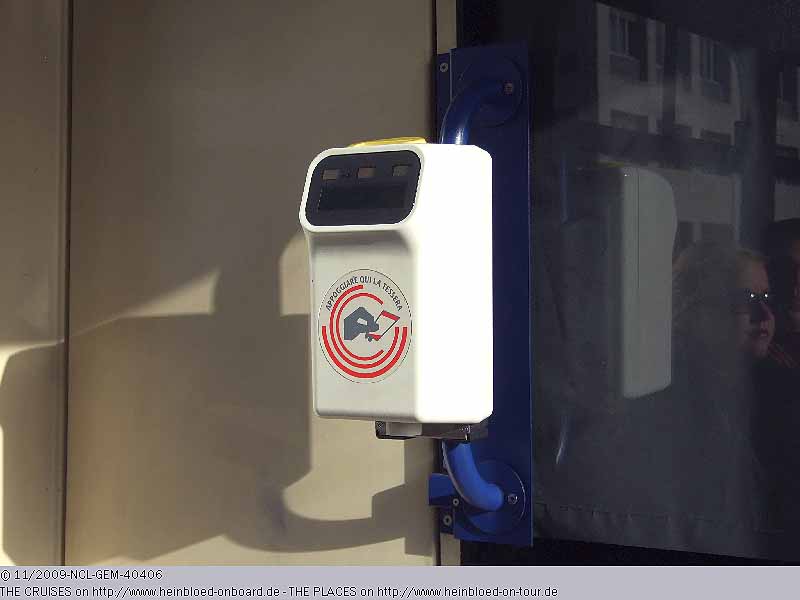 You need to cancel/validate/punch the tickets in the white box.

We were surprised that the tram also stopped in front of the Circumvesuviana-Train-Station at Porta Nolana on CORSO Garibaldi. They refused to sell us the tickets for the bus and tried to sell us tickets for the trains. The "regular" day tickets are valid after 10 am but Vesuviana Mobilita accepts them before 10 am. That's why they dislike to sell us the tickets. It's not correct what one was posting in cruisecritic. The stations Porta Nolana and Garibaldi (= Napoli Centrale) are different station and are not connected to each other.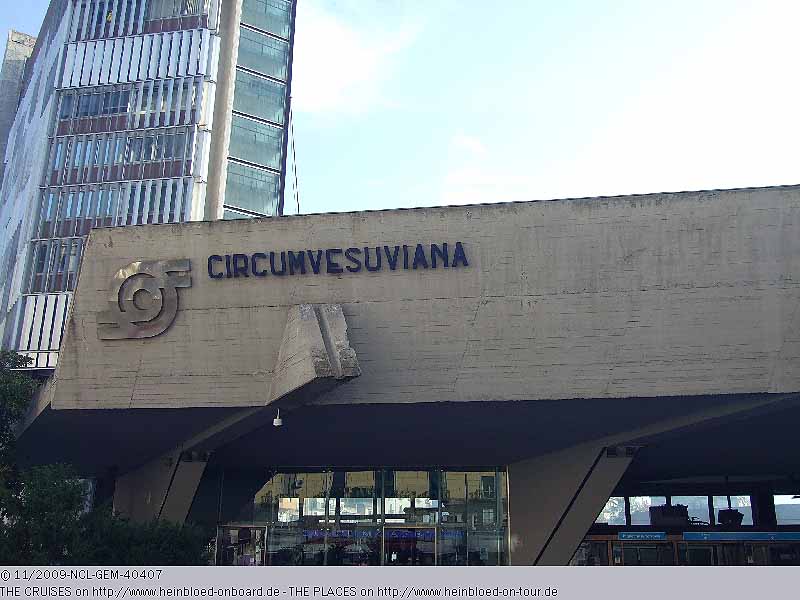 Überraschender Weise hält die Bahn auch vor dem Bahnhof der
Circumvesuviana
am Porta Nolana an der CORSO Garibaldi. Man weigert sich uns die Tickets zu verkaufen und versucht uns die Fahrt mit der Bahn schmackhaft zu machen. Die "normalen" Tageskarten gelten erst ab 10.00 Uhr und nur auf dem Vesuviana Mobilita Bus auch schon vor 10.00 Uhr. Daher will man sie uns hier nicht verkaufen. Entgegen einer Aussage im cruisecritic hängen die Bahnhöfe Porta Nolana und Garibaldi (= Napoli Centrale) nicht zusammen, sondern sind zwei unterschiedliche Bahnhöfe.
Da wir den Plan mit dem Bus direkt auf den Berg zu fahren noch nicht aufgegeben haben, laufen wir durch die Straße zur PIAZZA Garibaldi.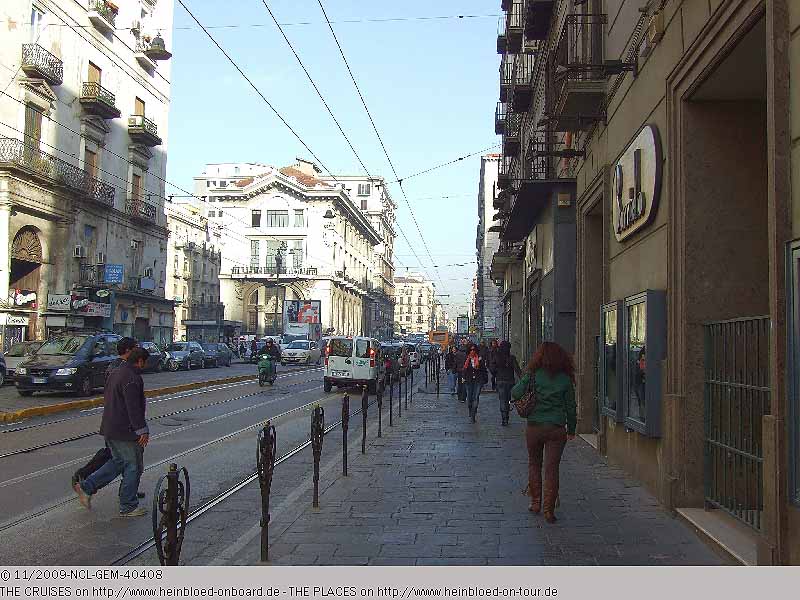 We have not give up to use the direct bus to the top of Mt. Vesuvio. So we walked all the street down to PIAZZA Garibaldi.

Here we need to make a right turn...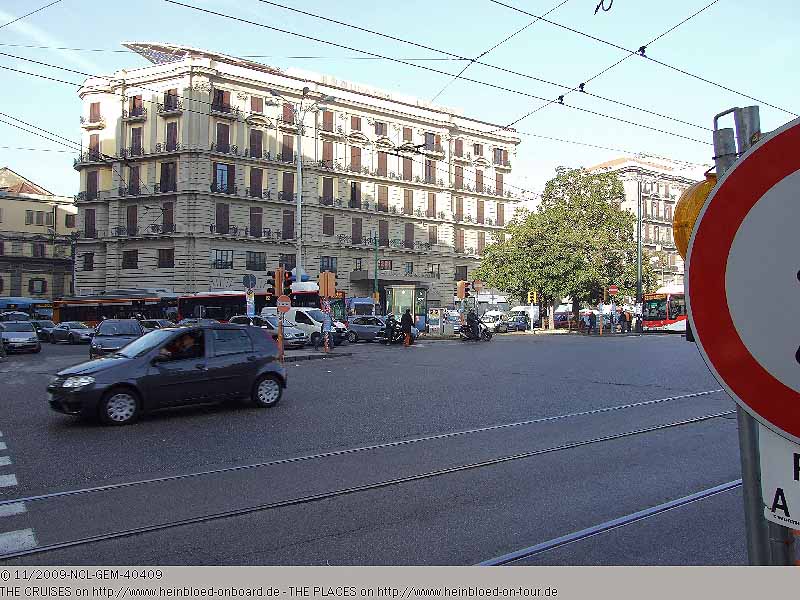 An der Piazza Garibaldi dann rechts abbiegen...
und am Ende des Platzes befindet sich das Hotel Terminus, so wie auf der Homepage beschrieben. Nur dort weiss man nur, dass der Bus dort hält (auch wenn keine Haltestelle ausgeschildert ist), aber wo man Karten kaufen kann, wusste man auch nicht. Auch nicht die zwei weiteren Tabakgeschäfte, die an denen wir unterwegs vorbeigelaufen sind.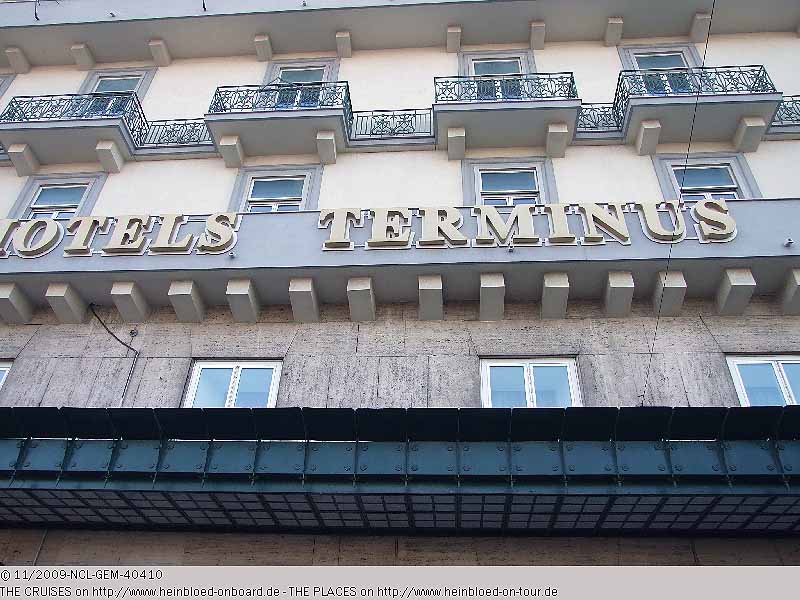 At the end of the square there is Hotel Terminus on the right side which was mentioned as bus stop on their website. There we asked the receptionist who confirmed that the bus stops there (even there is no bus stop again) but cannot tell us where to buy the tickets. Two tobacco stores which we asked before have not the tickets either.

So I walked over to the train station and tried to buy the tickets while the other should stop the bus by lying down the street. The counters from Trenitalia just moved and there was no machine around.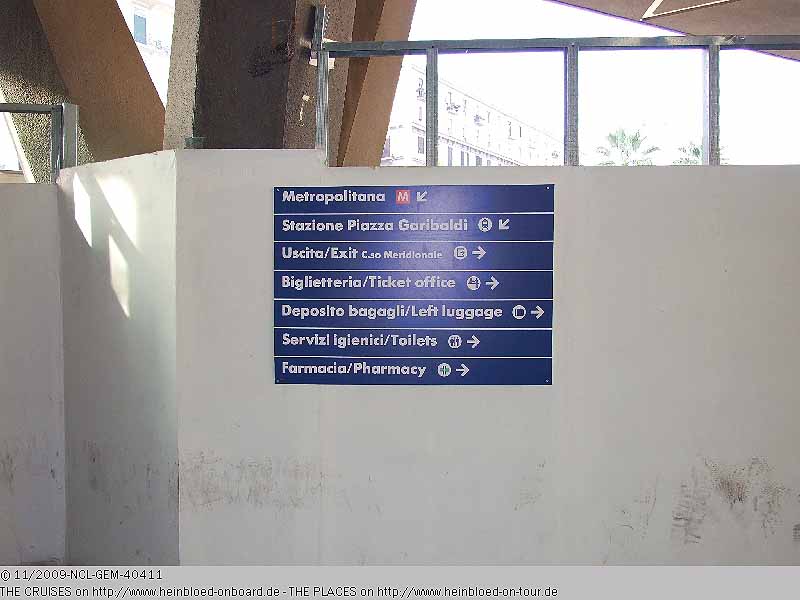 So laufe ich mal kurz in den Bahnhof und versuche Karten zu kaufen, während die anderen sich vor den Bus werfen sollten, falls er kommt. Die Schalter von Trenitalia sind umgezogen und einen Automaten finde ich auch nicht.
Um den Bus nicht zu versäumen, laufe ich wieder zwischen den Autos zurück (einfach laufen - sie halten schon... irgendwie...) und beobachte von der fiktiven Haltestelle, ob nicht gegenüber der Bus abfahren könnte.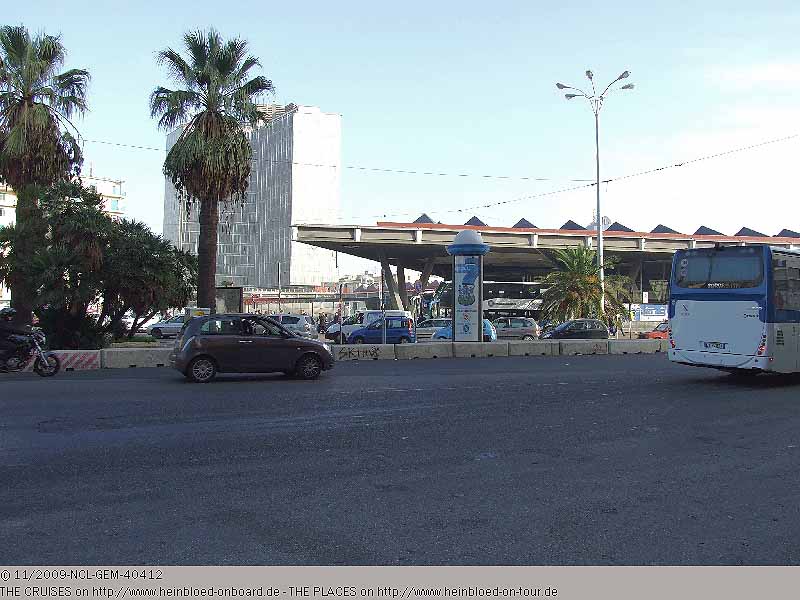 So I walked back and crossed the street (just walk - they stop... somehow...) not to miss the bus and observed from the fictive bus stop if the bus might not stop at the opposite side.

At the announced time there was a bus approching but showed bus depot as final destination. I stopped him and saw the Vesuviano Mobilita sign at the door. But I can also read in Italian and English: no boarding without tickets. But the bus driver tried to explain that the bus will not run and there is one in 75 minutes. I felt like Clark Gable in the Sophia Loren-movie "It started in Naples" when he tried to get on the ferry which never departed as stated on the schedule.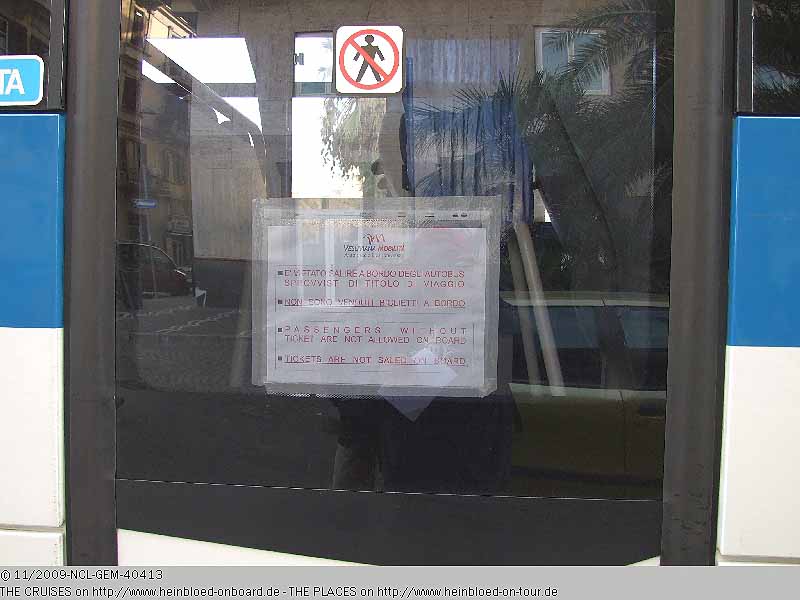 Auf einmal kommt tatsächlich zur angekündigten Abfahrtszeit ein Bus, der allerdings als Ziel wohl Betriebshof ausgeschildert hat. Ich winke ihn ran und sehe das Vesuviana Mobilita Schild in der Tür. Allerdings sehe ich auch in Italienisch und Englisch, dass der Bus keine Fahrgäste ohne Fahrkarten mitnimmt. Der Fahrer erklärt uns jedoch, dass unser Bus nicht fährt und einer erst in 75 Minuten kommen soll. Ich komme mir mitlerweile vor wie Clark Gable in dem Sophia Loren-Fim "Es begann in Neapel" vor. Da fuhr die Fähre nach Capri ja auch nie zu den Zeiten, wie auf dem Fahrplan.
Es geht daher doch noch runter in den Bahnhof Garibaldi zur Circumvesuviana-Bahn. Sicherheitshalber lösen wir ein durchgehendes Ticket bis zum Gipfel hoch. Für das nächste Mal sind wir schlauer: dann kaufen wir im Café neben dem Cruise Terminal direkte Tickets nach Ercolano für 1,80 EUR (2009).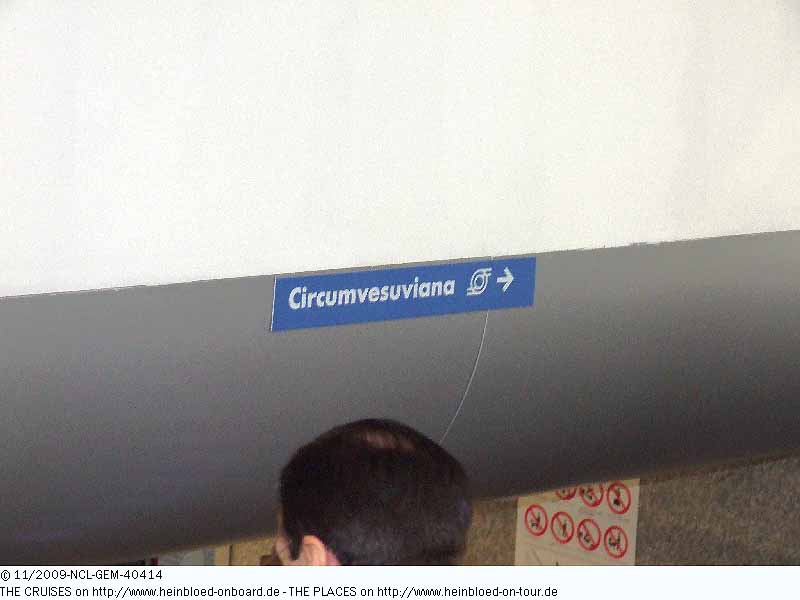 So we used the Cicrumvesuviana-Train from the opposite Garibaldi Station. For the worst case we buy a through ticket to Mt. Vesuvio. But for the next time we are cleverer: we would buy direct tickets to Ercolano for 1.80 EUR (2009) in the coffee store at the Cruise Terminal.

Two lines are going to Ercolano and Pompei. So we need to doublecheck. Sarno is a destination of one of the potential lines but this one does not go via Ercolano and Pompei but Ottaviano. So be careful to make sure that you get on the right Sarno-bound train.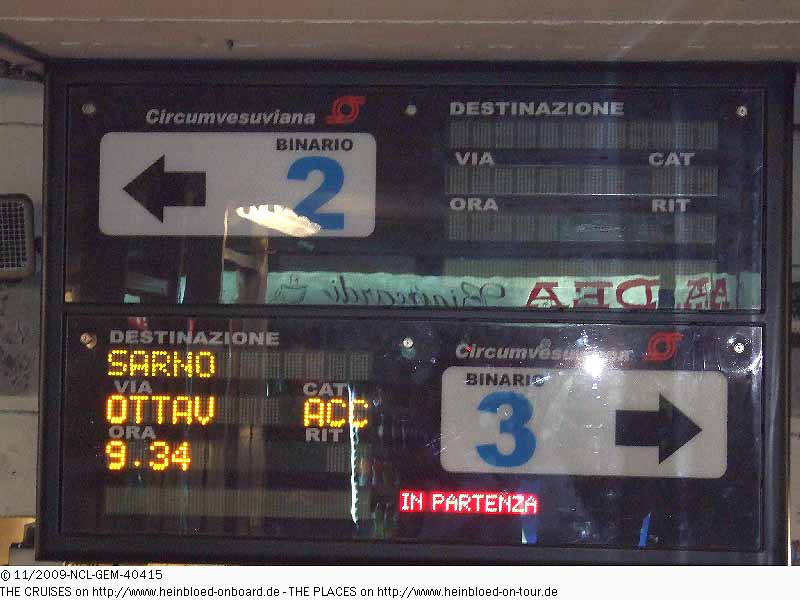 Da zwei Linien Richtung Ercolano und Pompei führen, müssen wir uns schlau machen. Sarno ist schon einer potentielle Zielbahnhöfe, nur dieser fährt nicht über Ercolano und Pompei, sondern über Ottaviano. Also muss man aufpassen, bevor man einen Zug Richtung Sarno besteigt.
Der Bahnsteig ist ziemlich voll, so dass ich mich ärgere, dass wir nicht vorhin von Porta Nolana doch einfach mit der Bahn nach Ercolano gefahren sind, wo der Mini-Bus abfahren soll. Dann hätten wir mit Sicherheit gute Chance auf Sitzplätze.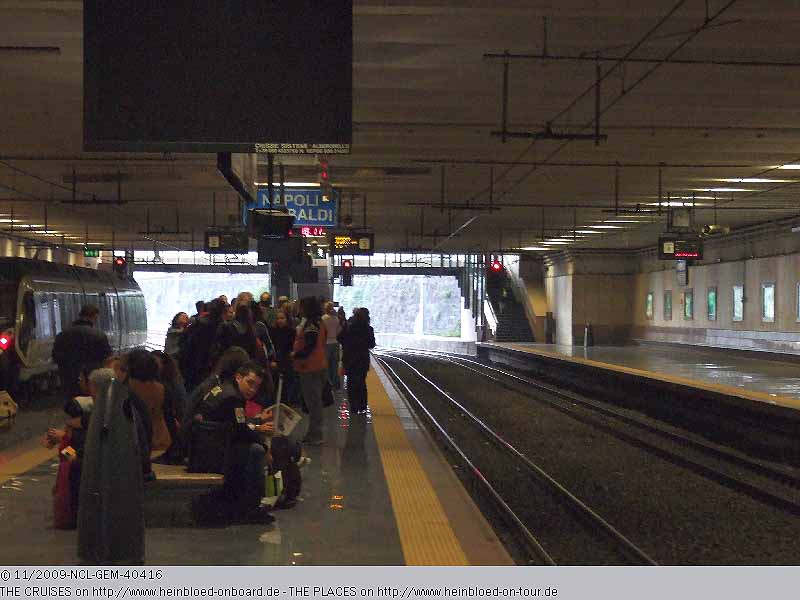 The platform looked very full so I was angry why we have not just used the train from Porta NOlana to Ercolano. There should be Mini-Buses available. Then we would have more chances to get some seats.

You are safe if you are taking Sorrento-bound trains. They stop in Ercolano and Pompei.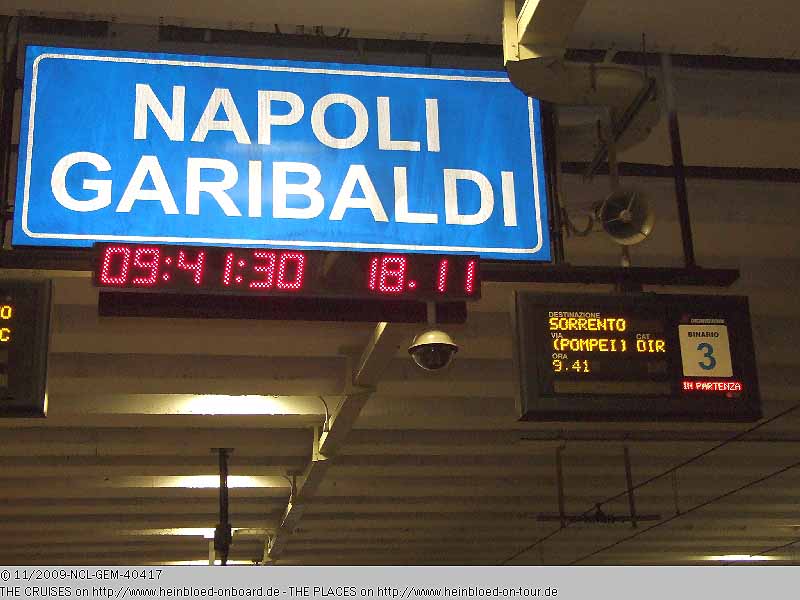 Auf der sicheren Bank ist man in den Zügen nach Sorrento. Die halten auf jeden Fall in Ercolano und in Pompei.
Im Zug ging es dann eigentlich. Etwas ältere Waggons. Ich hatte dann herausgefunden, dass der Bus von Pompei zum Vesuv auf 1.000 m Höhe etwa 1 1/2 Stunden braucht und der Bus von Ercolano nur zwei Mal am Tag geht.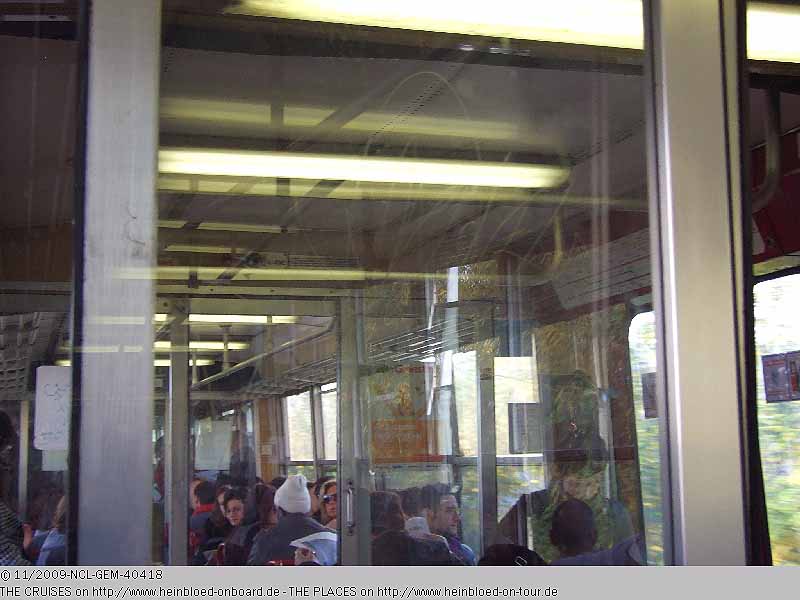 It was not so bad in the train. Some older cars. I found out that the bus from Pompei to Mt. Vesuvio (3,000 ft altitude) need about 1 1/2 hours and the bus from Ercolano only goes twice a day.

From the first ticket discussion we know for sure that there are mini-buses available from Ercoloa. So we risked to leave the train there.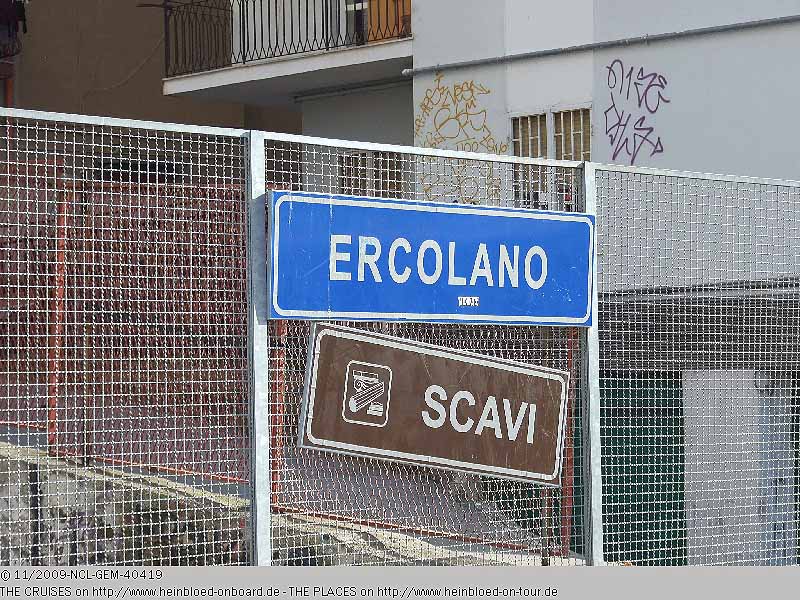 Vom ersten Verkaufsgespräch wussten wir zum Glück, dass die Mini-Busse ab Ercolana fahren und so riskieren wir es dort auszusteigen.
Der Bus kostet 16,50 EUR inkl. Eintritt für den Berg. In 15 "italienischen" Minuten sollte er fahren.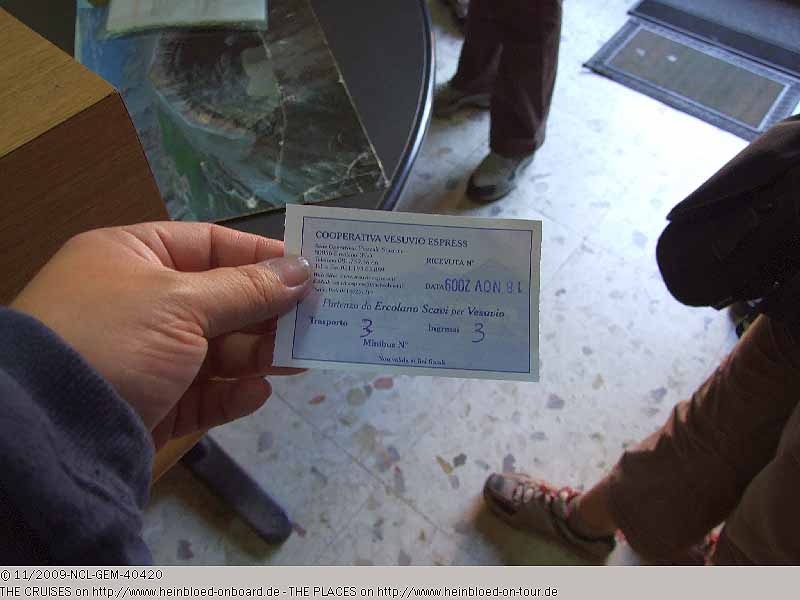 Tickets are 16.50 EUR incl. admission for the top of the vulcano. The bus should leave in 15 "Italian" minutes.

You can get the tickets once you leave the station building and face to the left at Vesuvio Express. Good luck to double check their website. The webdesigner had a lot of programming errors. By the way: it's not the official tourist office.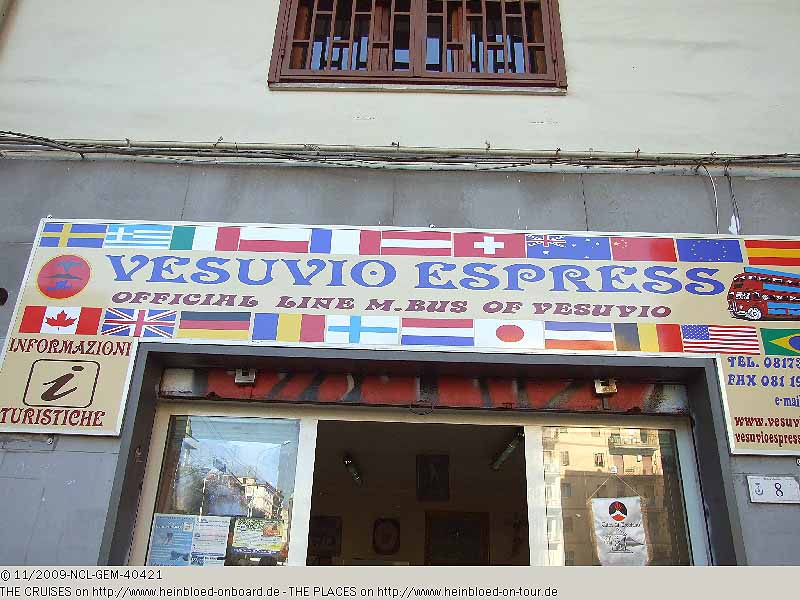 Das ganze kann man links vom Bahnhof im Büro von
Vesuvio Express
buchen. Der Besuch der Homepage bringt allerdings nicht allzu viel, weil dem Designer wohl ein paar Fehler bei der Programmierung unterlaufen sind. Übrigens ist das nicht die offizielle Touristeninformation.
Während wir auf den Minibus warten, betrachten wir mit Interesse die Architektur des Bahnhofes.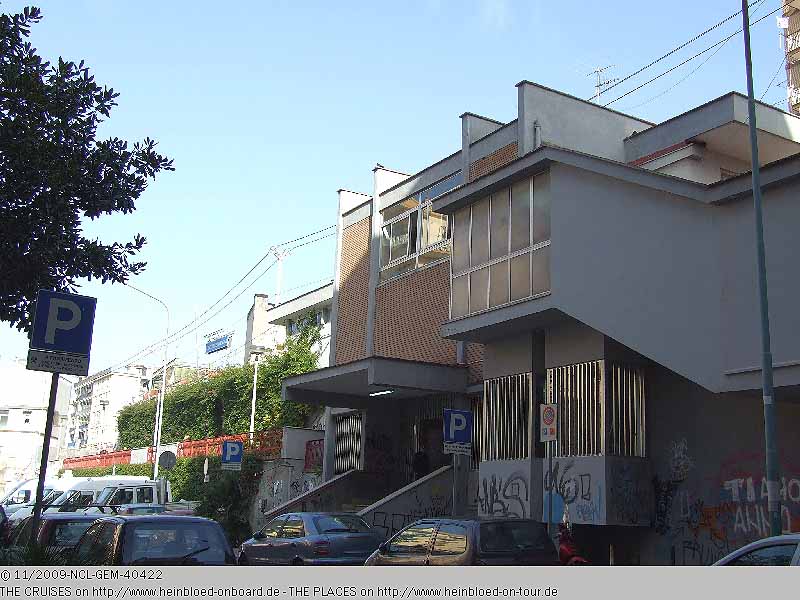 While we were waiting we looked over the architecture of the train station.

I cannot believe that this place has something to do with Herculaneum. Nothing reminds me to the ancient Romans.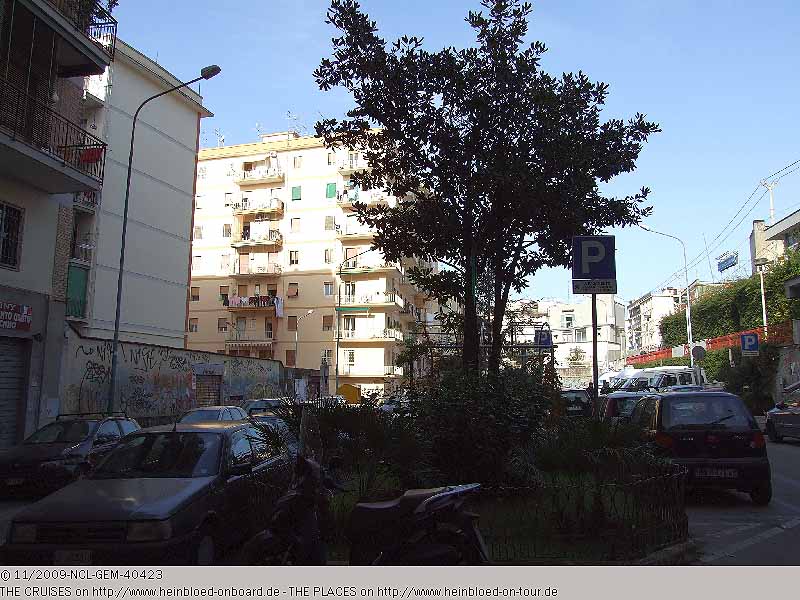 Kaum zu glauben, dass dieser Ort etwas Herculaneum zu tun hat. Nichts, was an die Römer erinnert.
Unser Bus kommt erst, als alle Plätze verkauft wurden. Deswegen 15 "italienische" Minuten, die dann schon mal sich hinziehen können. In der hintersten Reihe fehlen auch vernüftige Anschnallmöglichkeiten, was die Fahrt besonders lustig macht, weil eine Sitzreihe vor uns fehlt, an der man sich festhalten könnte.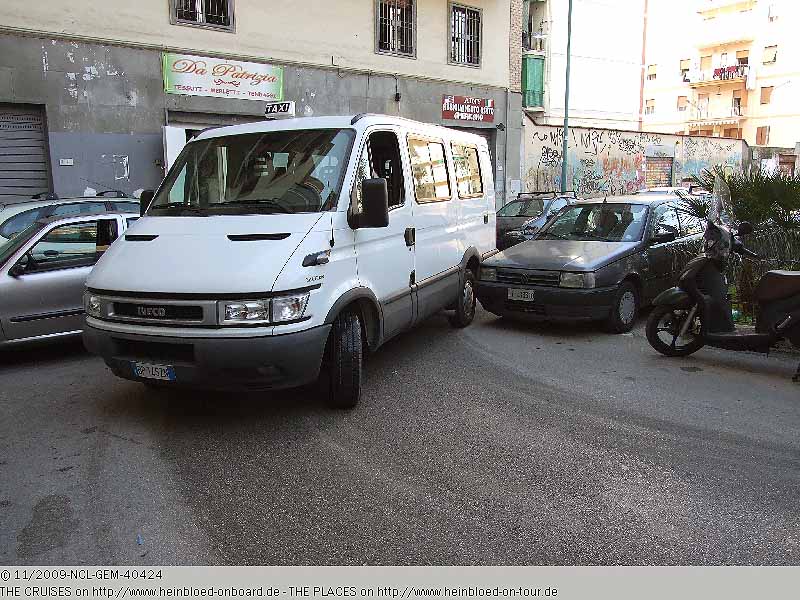 Our bus came when all seats were sold. That's why we had 15 "Italian" minutes to wait where the minutes can be extended. On the rear there was no proper working seat belts available which made the ride very funny: One row of seats were missing so nothing to hold.

On the way the driver horned twice before he reached a curve and just continued without stopping. Close the eyes and go. The beautiful view over the Gulf of Naples. The route was steep, narrow and winding. You can safe the money for going on a roller-coaster.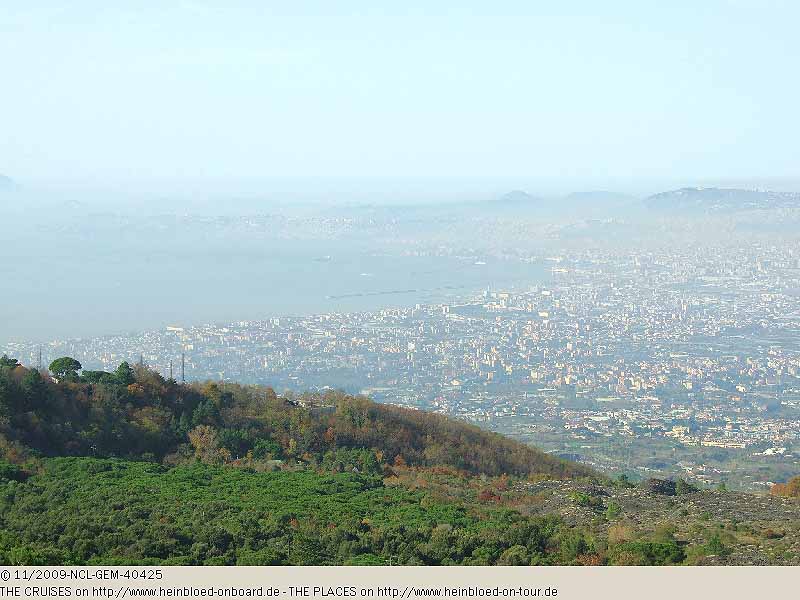 Unterwegs wird nur vor jeder Kurve zwei Mal gehupt und weitergefahren. Augen zu und durch. Der Blick auf den Golf von Neapel ist jedoch einmalig schön. Ansonsten ist die Strecke steil, kurvig und eng. Eigentlich können wir uns eine Achterbahnfahrt ersparen.
Und Kreuzfahrtexperten werden trotzdem die NORWEGIAN GEM im Foto herausfinden können.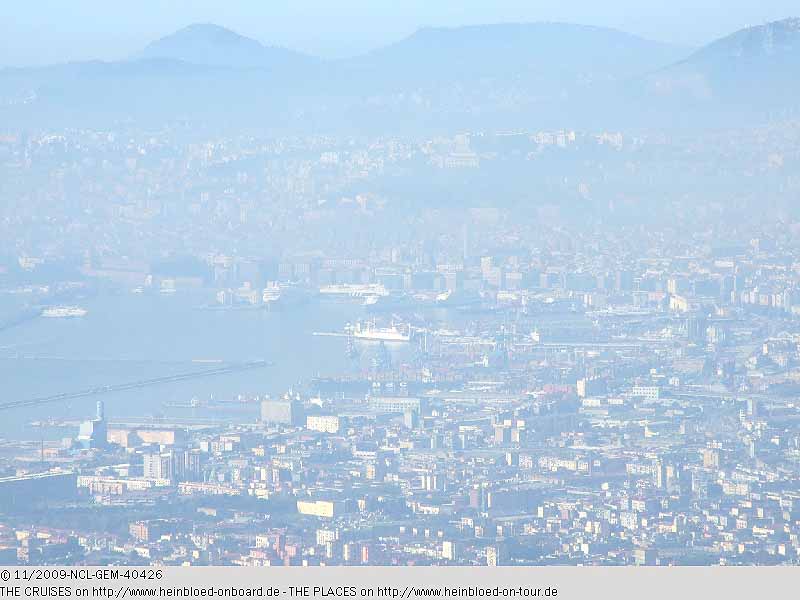 Cruise ship expert will identify our NORWEGIAN GEM on this picture.

Arrived at the top you can see some boards.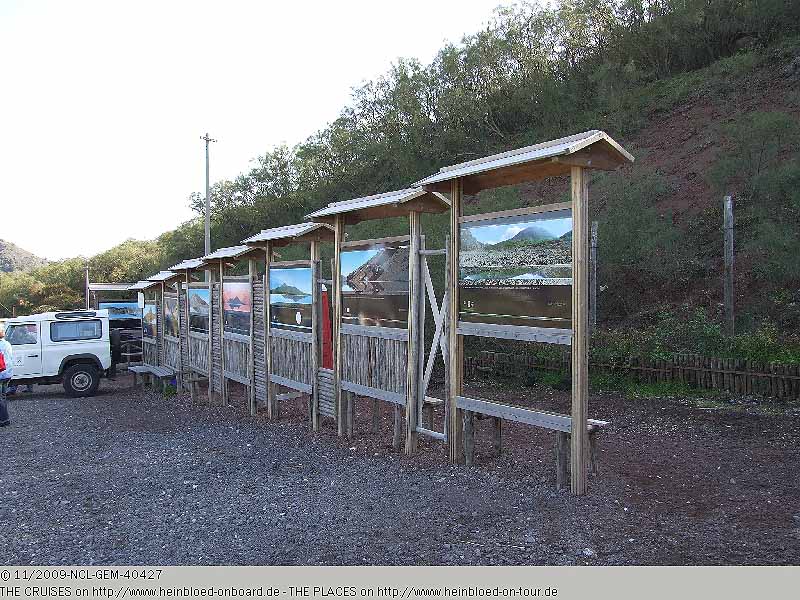 Oben angekommen, kann man ein paar Schautafeln gucken...
und ein paar Dixi-Klos gegen Entgelt aufsuchen, die dahinter versteckt sind.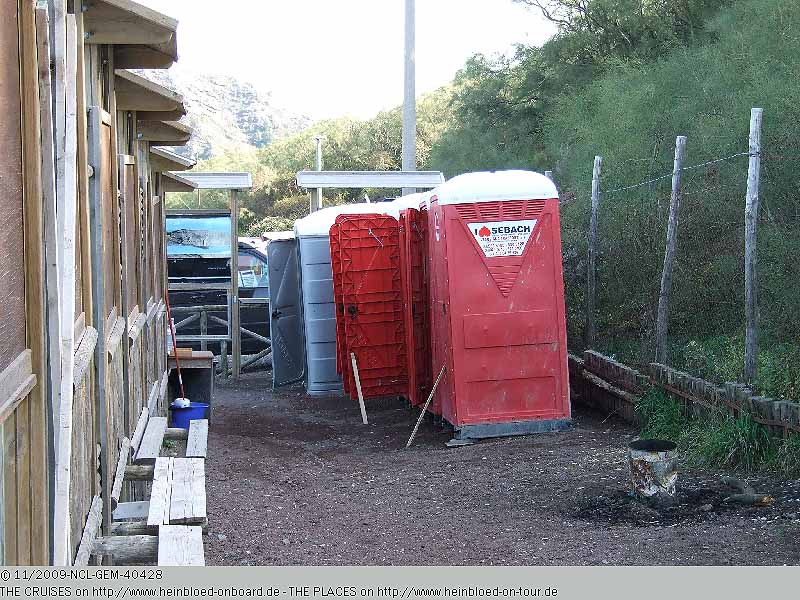 Behind the boards you can see the Dixi-toilets which you can use against fee.

16.50 EUR minus 6.50 EUR admission fee: that was o.k. This money is for the budget of the National Park-Management.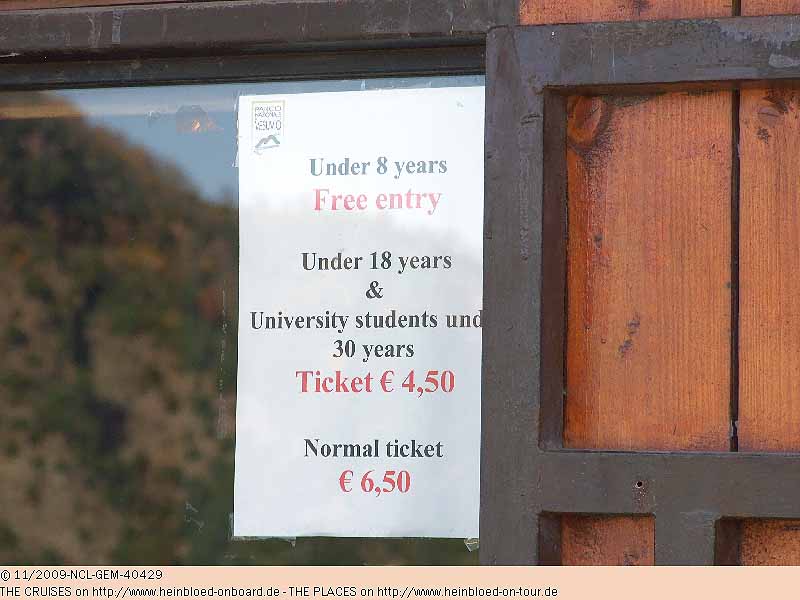 16,50 EUR minus 6,50 EUR Eintritt: geht doch eigentlich. Das Geld geht an die
Nationalpark-Verwaltung
.
In einer Stunde werden wir wieder abgeholt. Da ich die Begeisterung für Vulkane nicht teile, lasse ich die anderen ziehen und genieße den Anblick über den Golf von Neapel. Zu den nachfolgenden Bildern kann ich daher auch nichts sagen.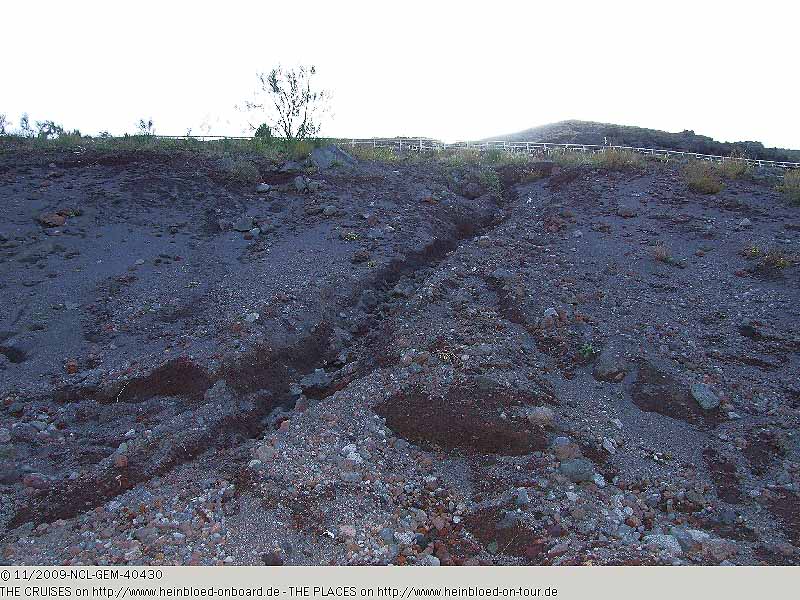 We have one hour time before the mini-bus comes back to collect us. As I do not share the fascination for vulcanos I let the others go and just enjoy the view of the Gulf of Naples. Therefore there is nothing I can tell about the next pictures.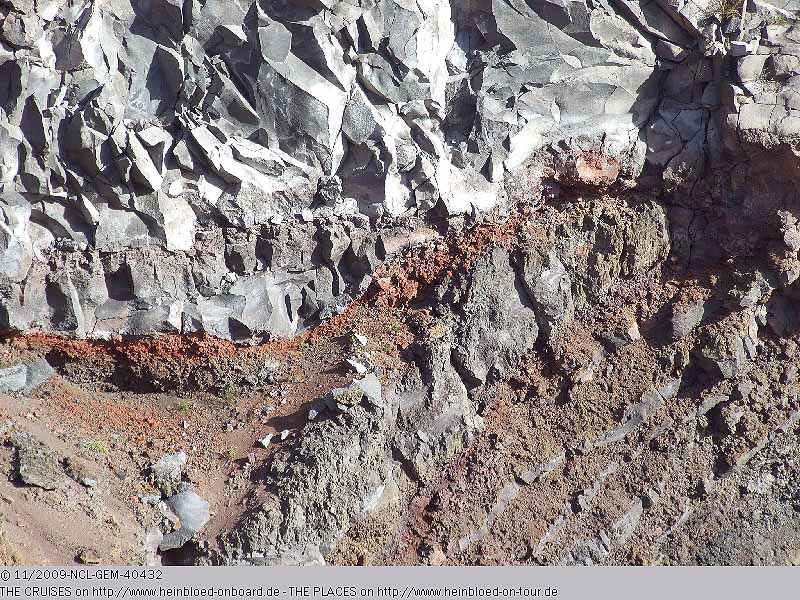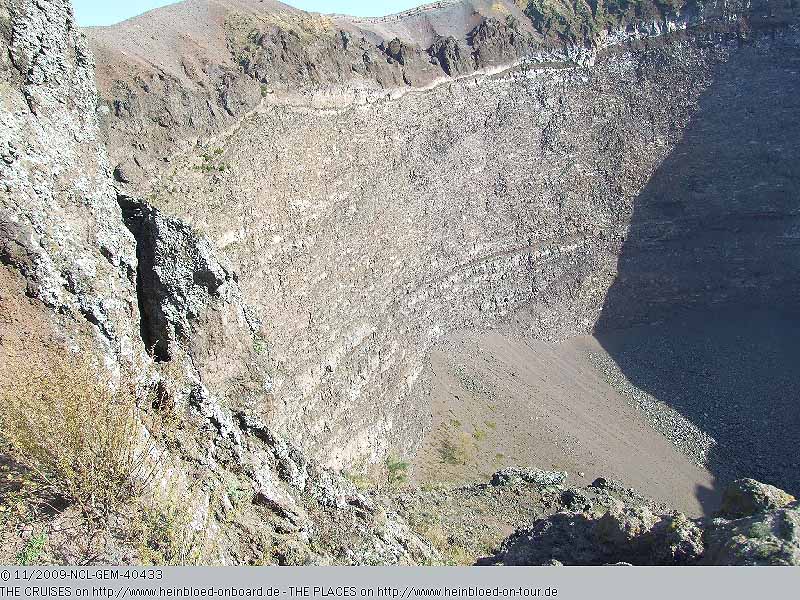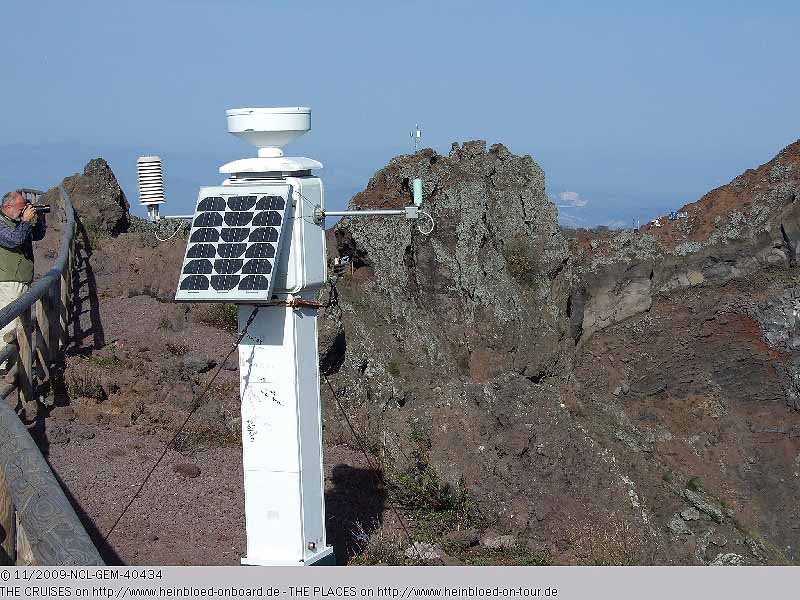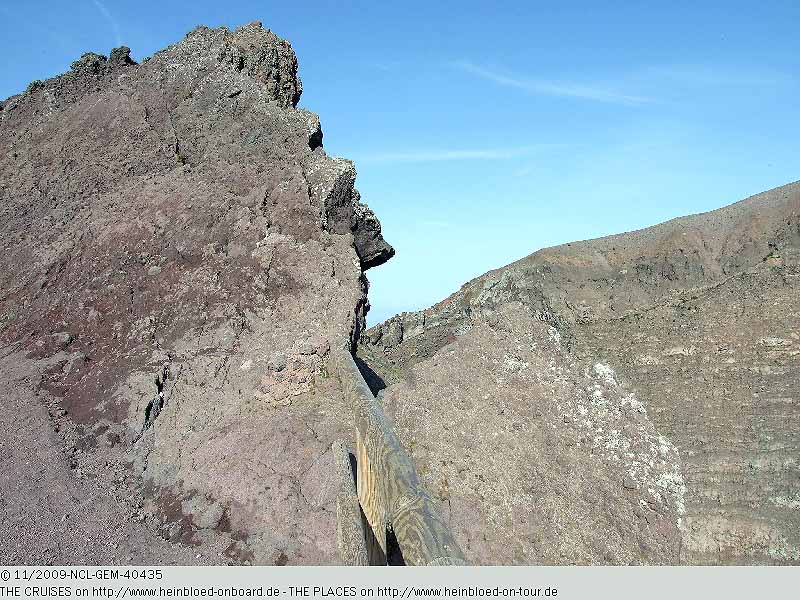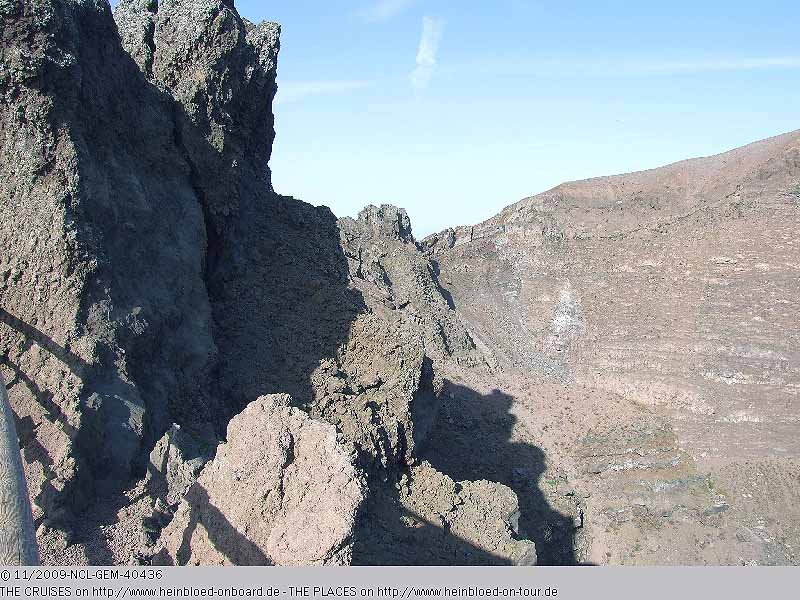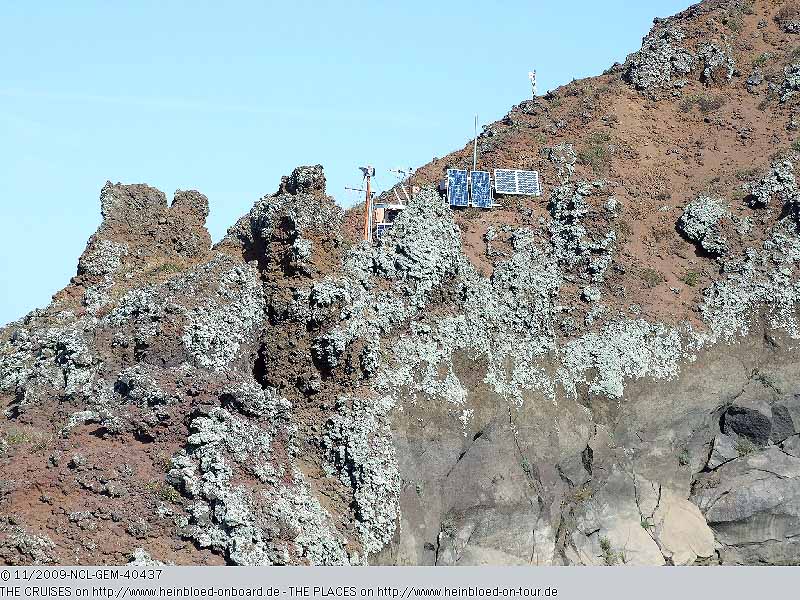 Furniculi, furnicula... Gab es nicht mal eine Standseilbahn auf den Vesuv??? Schließlich wurde ja anlässlich der Eröffnung dieser Bahn das Lied komponiert. Bruno nimmt sich einen kleinen Stein zur Erinnerung mit und verkündet mir für den (und jeden weiteren Vulkanbesuch) eine Vitrine bauen zu lassen. Ich drohe mit Scheidung! Er sollte ihn gut kennzeichnen und in Kunstharz eingießen: Nicht dass ich ihn irrtümlich wegwerfe.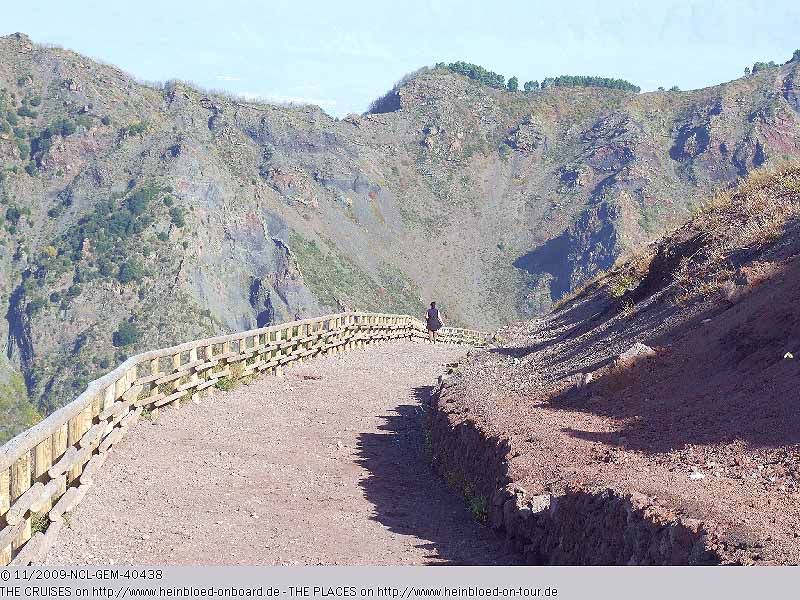 Furniculi, furnicula... Was not there a ropecar leaving for the Mt. Vesuvio??? This song was composed due to the inauguration of this trainline. Bruno took a little stone as souvenir and told me to set up a show case for this little stone (and each other stone for all following visits of vulcano). I lurked with divorce! He should keep it well and marked and casts it in resin: not that I dispose it by mistake.

The driver got us more or less ont time. We requested if he can give us a lift to the sites. But was not interested to do so. I should be only five (Italian) minutes. When we arrived it was already ten (Italian) minutes. For this engagement he got in his open hand just an under-averaged but suitable tip. May be it was good to take the mini-bus. The large bus need to rank several times back and force before he could passed this place.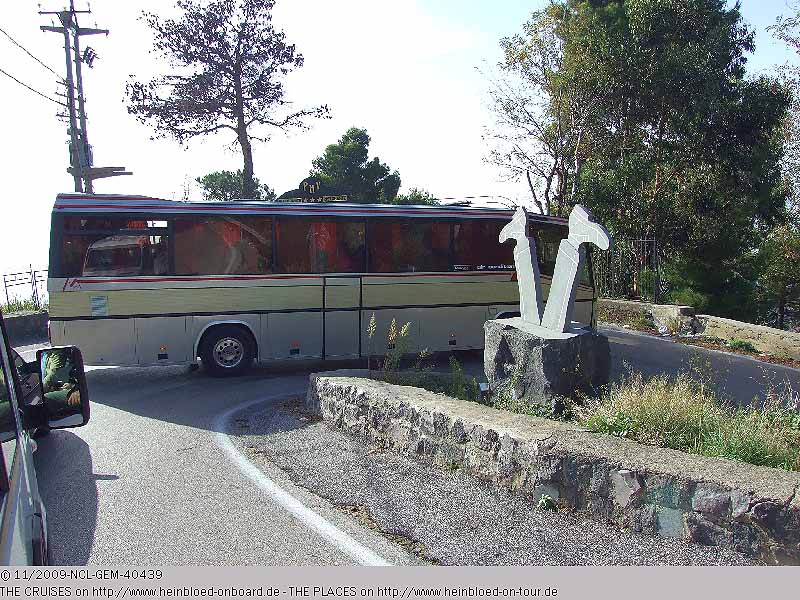 Der Fahrer holt uns einigermaßen pünktlich ab. Unserer Bitte, uns an den Ausgrabungsstätten abzusetzen, möchte er nicht folgen. Es wären nur fünf (italienische) Minuten. Am Bahnhof erklärt er uns, dass es schon zehn (italienische) Minuten sind. Dafür bekommt er trotz aufgehaltener Hand nur ein unterdurchschnittliches aber angemessenes Trinkgeld. Vielleicht war es gut, dass wir den Mini-Bus genommen hatten. Der große Bus musste an dieser Stelle mehrfach vor- und zurücksetzen, bevor er die Kurve hinter sich hatte.