Scroll down for English explanations - alternates with German explanations.

Als ich morgens aufwache, sind wir bereits in Barcelona angekommen. Auch die VOYAGER OF THE SEAS hat direkt eingeparkt und es liegen zwei Schiffe im Trockendockbereich, die ich im Dunkeln aber nicht identifizieren kann.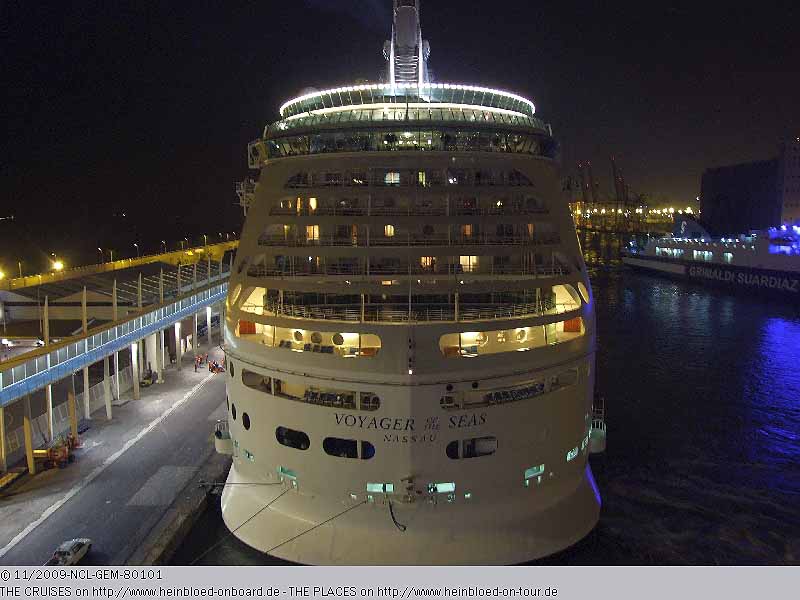 When I waked up in the morning we arrived already in Barcelona. VOYAGER OF THE SEAS already berthed as well and two ships were in the dry dock area but I was not able to identify them.

So I got back on Deck 12 and Garden Café when I finished my picutres of VOYAGER OF THE SEAS.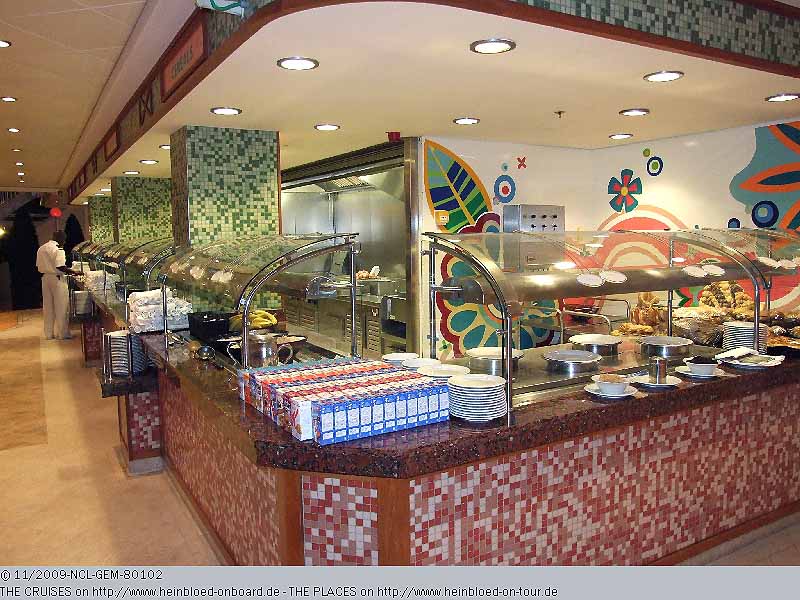 So komme ich über Deck 12 und dem Garden Café zurück, als ich meine Aufnahmen von der VOYAGER OF THE SEAS beendet habe.
Obwohl noch dunkel und ein bisschen windig: einige nehmen draußen auf dem offenen Deck Abschied von MEINER NORWEGIAN GEM und genießen hier ihre Henkersmahlzeit.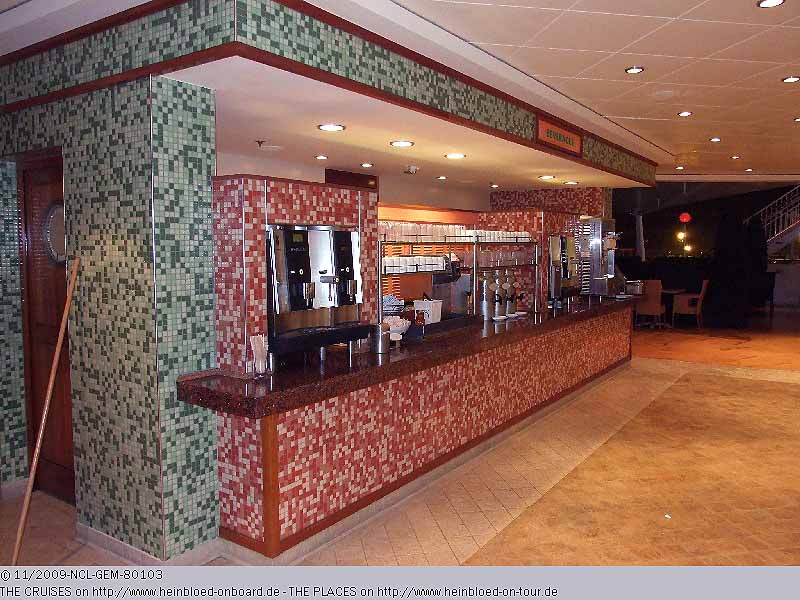 Although it was still dark and a little windy: some had their last meal on the open deck to say good-bye to MY NORWEGIAN GEM.

I passed the kid's buffet...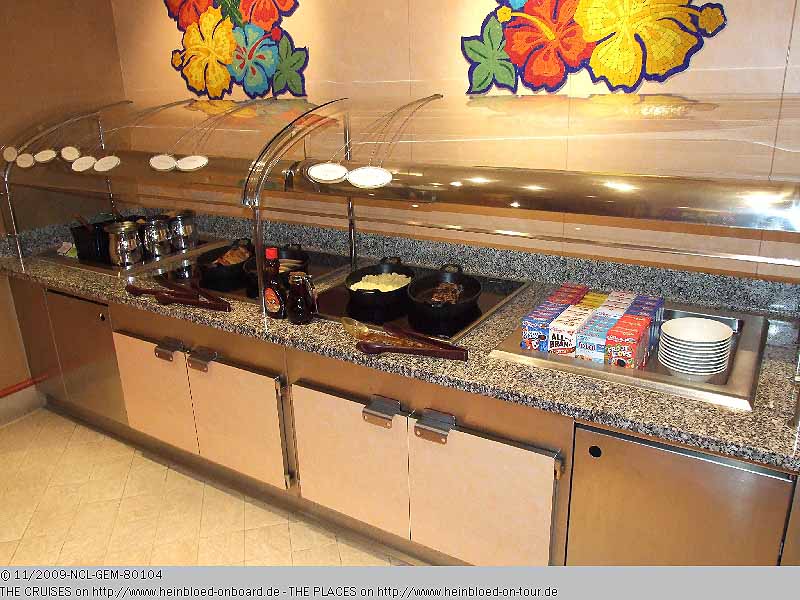 Ich komme mal kurz am Kinderbüffet vorbei...
Bekommen die etwa Cevapcicis, die ich nicht mal im Cagney's bekomme???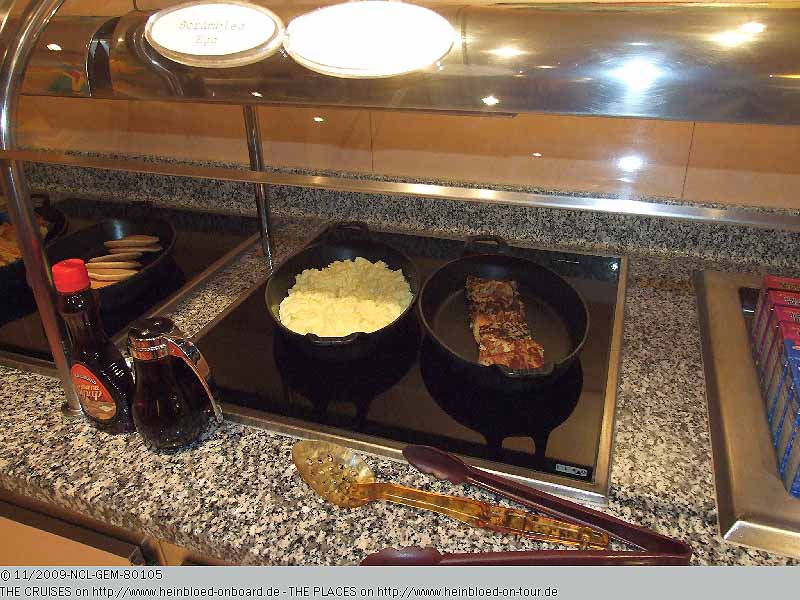 Do they get Cevapcicis (Croatian meat rolls) which are unavailable with Cagney's???

I was nice surprised...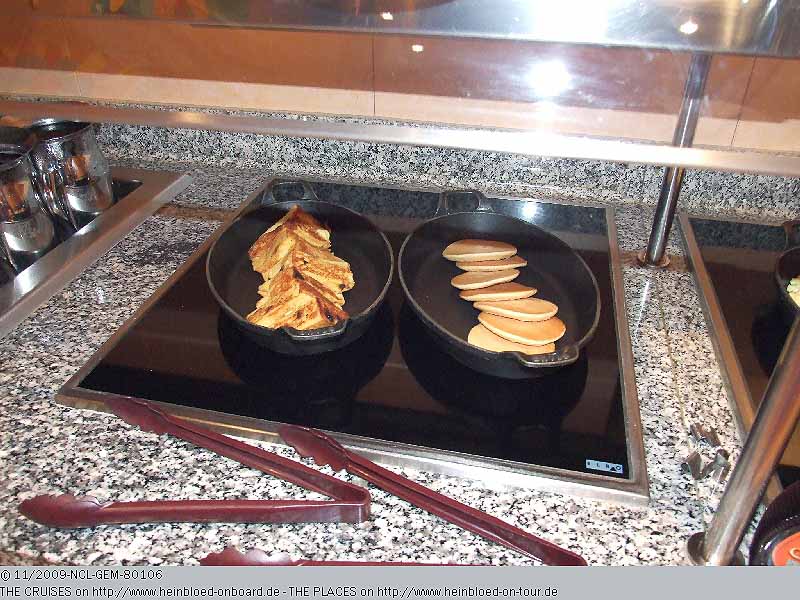 Auf jeden Fall war ich positiv überrascht...
Ich bin das Kind meiner Eltern, dann müsste ich auch hier frühstücken dürfen - oder???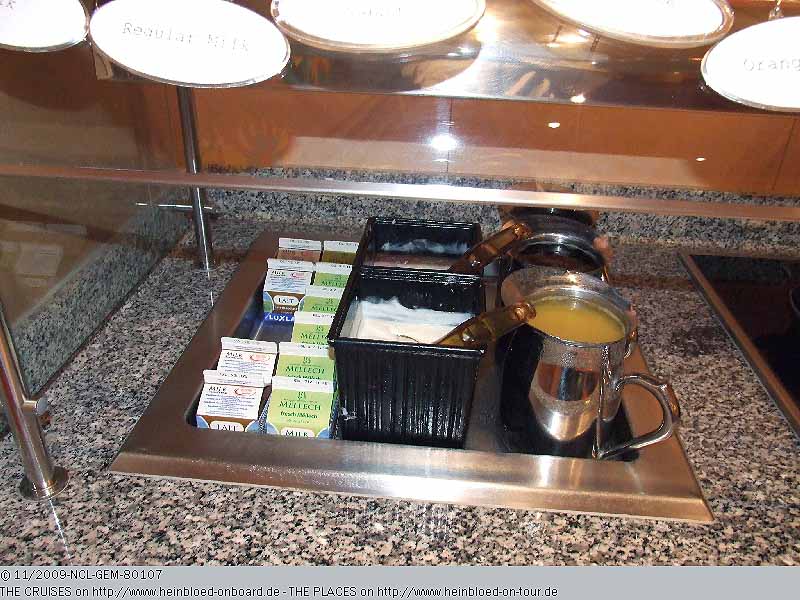 I am the kid of my parents - am I entitled to have here breakfast as well???

I did not saw so fast the extra seats for wheelchairs. So we can go again with my elementary school teacher NCL again - no stress to find a vacant table with the walking frame. I have no idea how to solve the problem on WESTERDAM on day of embarkation. No main restaurant was open for lunch. That's why I love NCL: I can have stressfree a first lunch after embarkation: One main restaurant is open on day of embarkation as well and Blue Lagoon Café is available 24/7.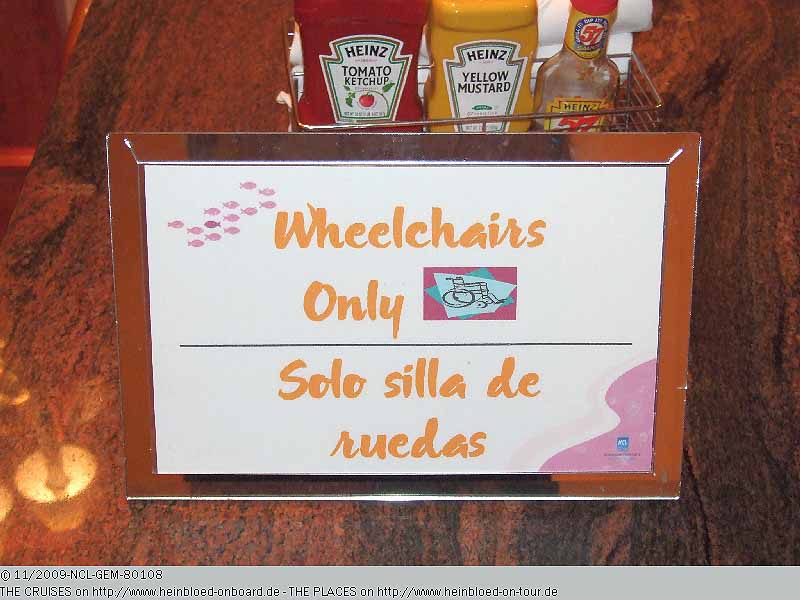 Dass es extra Plätze für Rollstühle gab, war mir gar nicht bislang aufgefallen. Also können wir doch mal wieder mit meiner Grundschullehrerin ggfls. NCL fahren, ohne Stress, uns einen freien Platz mit Rollator suchen zu müssen. Wie ich dieses Problem am Tag der Einschiffung auf der WESTERDAM löse, weiss ich noch nicht, da bislang nie ein Hauptrestaurant offen war. Da schätze ich sehr an NCL: Ich kann stressfrei mein erstes Mittagessen zu mir nehmen, wenn ich Bord komme: Ein Hauptrestaurant hat auch am Tag der Einschiffung auf und das Blue Lagoon Café steht ja rund um die Uhr zur Verfügung.
Ich kann mich noch an Bord der NAVIGATOR OF THE SEAS erinnern, dass meinem Vater am Tag der Ausschiffung keine Eierspeisen mehr individuell zubereitet wurden.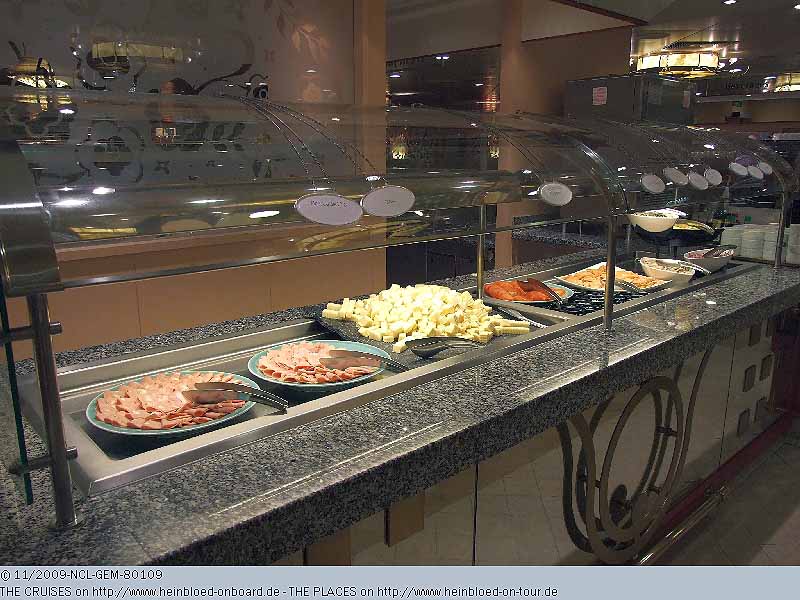 I remember my father could not get any individually prepared egg dishes on day of debarkation on board of NAVIGATOR OF THE SEAS.

I was nicely surprised again: the cold offer is not worse than in Cagney's for VIPs. You got everything what you get there as well.

Hier war ich auch wieder positiv überrascht: was das kalte Angebot anbetrifft: das ist keinesfalls schlechter als im Cagney's für die VIPs. Auch hier gab es alles, was es dort am kalten Büffet gab.
Im Grand Pacific gibt es ja am Tag der Ausschiffung ein reduziertes Angebot.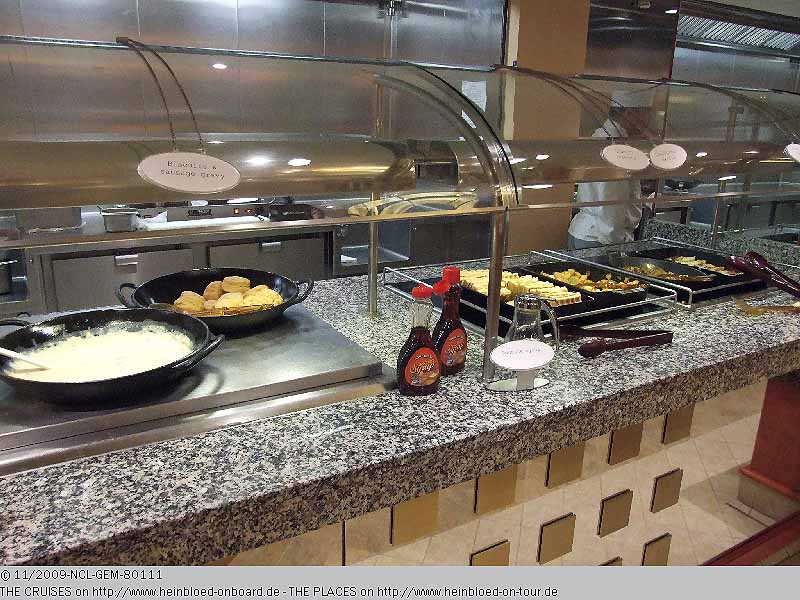 In Grand Pacific Main Restaurant you get a reduced offer on day of debarkation.

I do not exclude that I might have my last breakfast on day of debarkation here in Garden Café as they offer the complete range of food and it's calm at 6.00 am.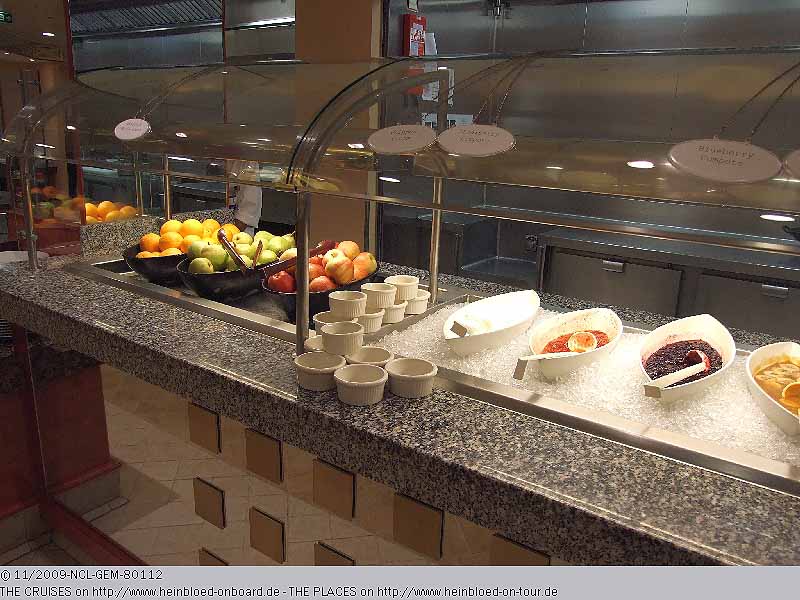 Hier möchte ich nicht ausschließen, dass ich künftig hier am Tag der Ausschiffung frühstücken werde, da es erstens ein vollständiges Angebot gibt und zweitens es morgens um 06.00 Uhr noch ziemlich leer ist.
Das nächste Mal sind wir ja zwölf Nächte an Bord der NORWEGIAN JADE. Dann kann man sich das sicherlich näher ansehen.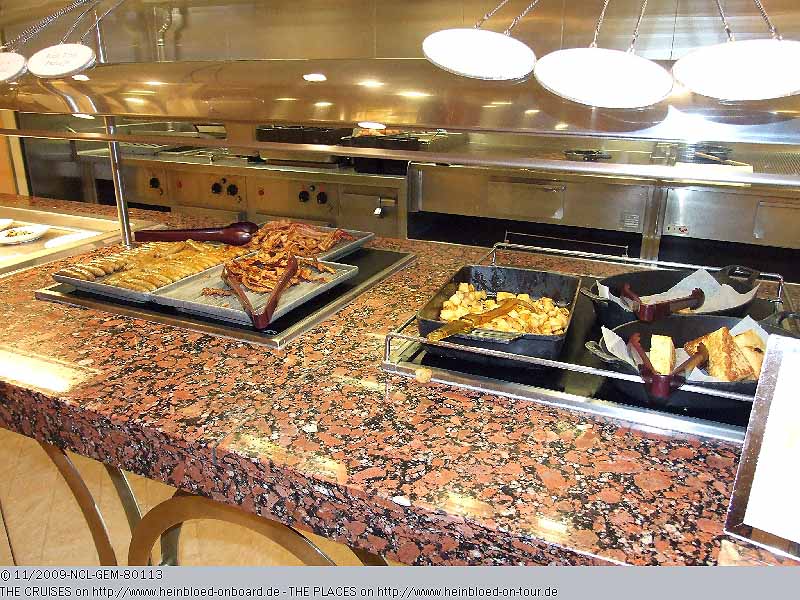 Next time we are tweleve nights on board of NORWEGIAN JADE. Then we will have a chance to have a closer look.

You still can have individually prepared Omelettes.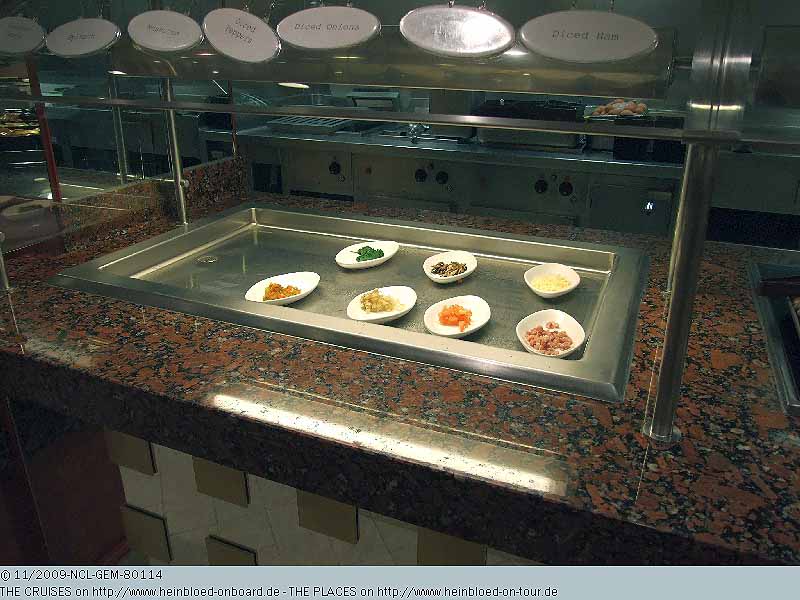 Man kann sich sogar noch individuell seine Omelettes machen lassen.
Auch soll es hier am Tag der Ausschiffung noch Egg Benedicts geben.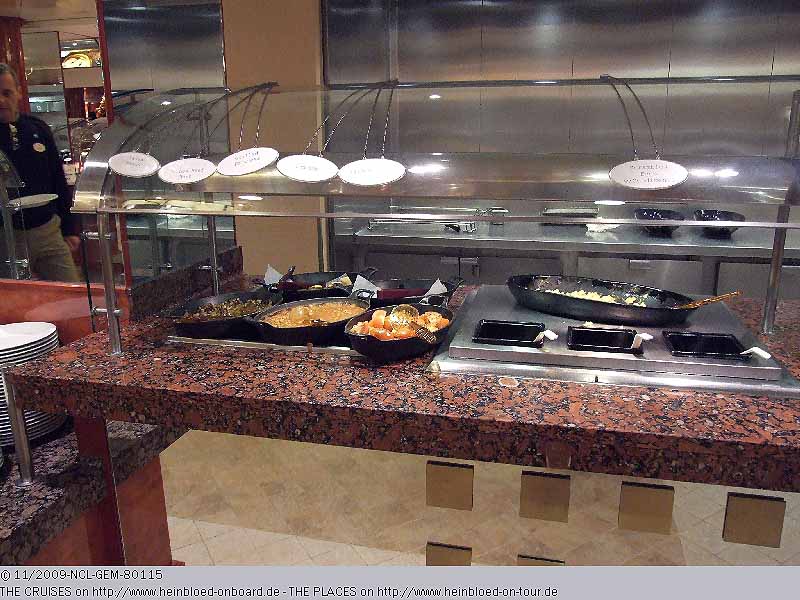 Egg Benedicts should be still available on day of debarkation.

You get also cinnemon roll etc. which I have not seen so far in any other restaurant for breakfast.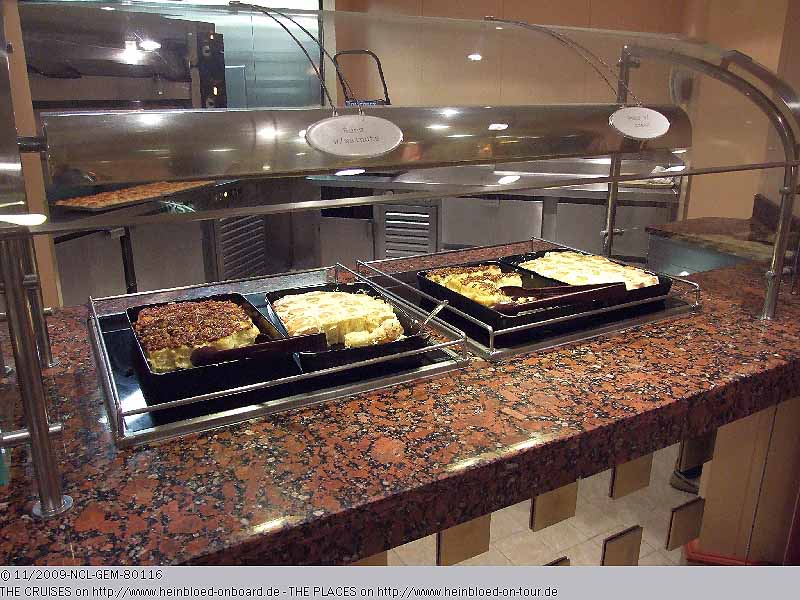 Es gibt sogar Zimtschnecken u. ä., die es in keinem anderen Restaurant bislang zum Frühstück gab.
Und warme Cerealien. Am Ausgang werde ich zum Thema "Waschi, Waschi" aufgeklärt. Bei den zwei Stars auf der Bühne am Vorabend handelt es sich um die beiden Crewmitglieder, die am Eingang des Garden Cafés streng darauf achten, dass alle sich die Hände desinfizieren. Dabei sagen Sie auf eine liebevolle Art "Waschi, waschi", was von jedem Gast, egal mit welchem sprachlichen Hintergrund, verstanden wird. Deswegen gab es für sie die großen Lacher auf der Bühne. Das war viel besser als "The fountain".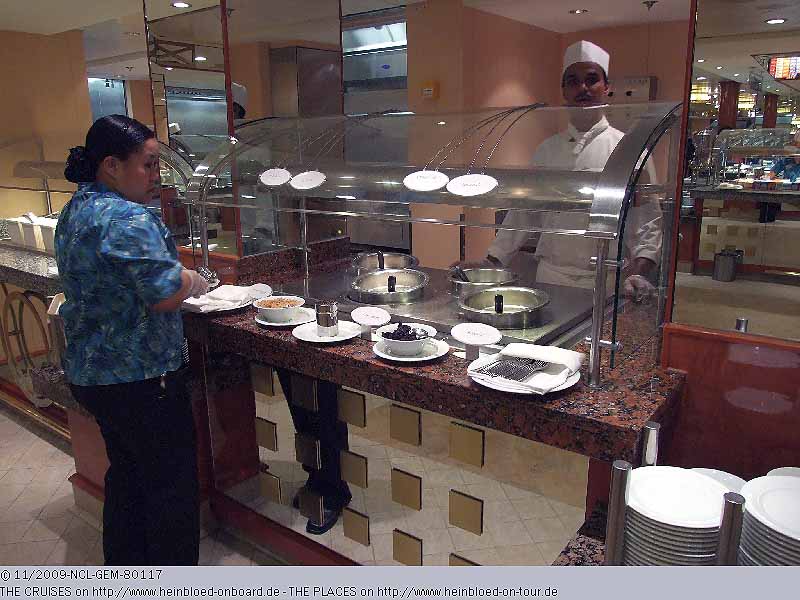 And warm cereals. At the exit I got know knowledge of the meaning of "Washi, Washi". The two stars on stage of the last nights are the two crew membes at the entrance of the Garden Café who take care that all guests will sanitize their hands. On a very lovely way they said "Washi, Washi" which is understood by all guests independent from their origins and language skills. That was the reason why they had all the laughter last night. This was nicer than "The fountain".

As Cagney's opened at 6.30 am but Johmar already prepared the buffet in the Courtyard we took there a juice. One blueberry-muffin was discoverd and secured by Bruno and my sister.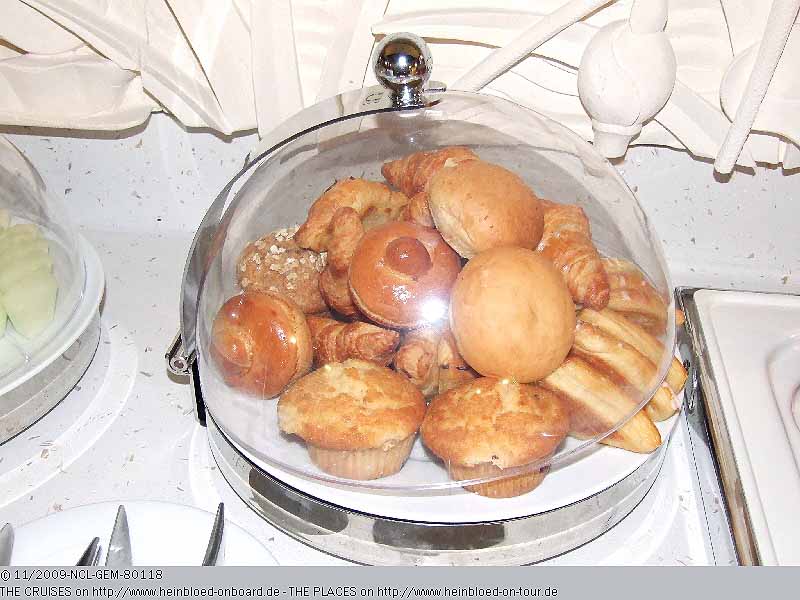 Da Cagney's erst um 06.30 Uhr öffnet, aber Johmar schon das Büffet im Courtyard aufgebaut hat, nehmen wir uns dort zumindest schon mal einen Saft. Ein Blueberry-Muffin wird dort gesichtet und entsprechend wird er auch schon von Bruno und meiner Schwester gesichert.
Im Cagney's ist dann die Überraschung groß: auch hier gibt es am Tag der Ausschiffung ein reduziertes Angebot.

Big surprise in Cagney's: limited menu on day of debarkation.

There were no Blueberry-Muffin at the buffet so Astrid ran the extra mile to get Bruno some of his Blueberry-Muffin. But again: send your baker to HAL... Much more better...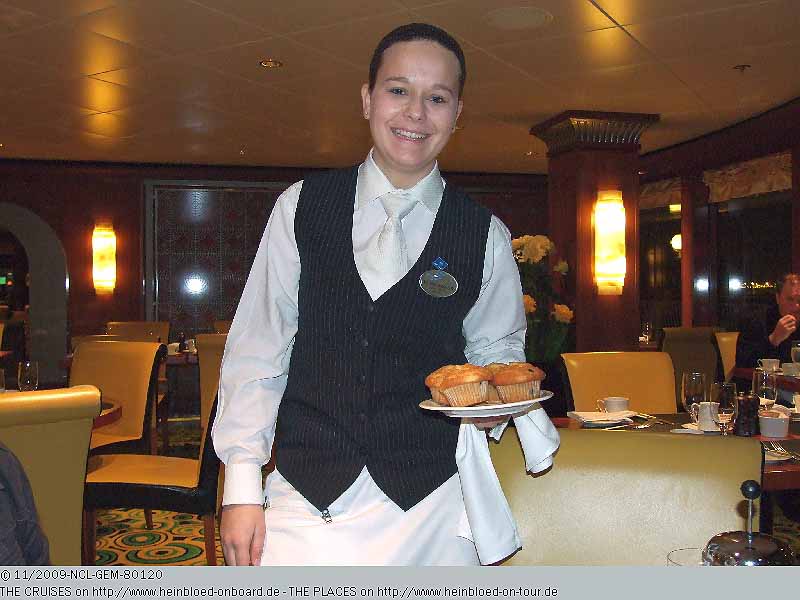 Da es keine Blueberry-Muffins am kalten Büffet gibt, läuft Astrid für uns die Extrameile und besorgt für Bruno nochmals Blueberry-Muffins. Aber auch hier: schickt mal euren Bäcker zu HAL... Die sind dort wirklich noch besser...
Ich gönne mir nochmals ein Steak & Eggs. Ein Angebot, das wir außerhalb des Cagney's nicht bekommen.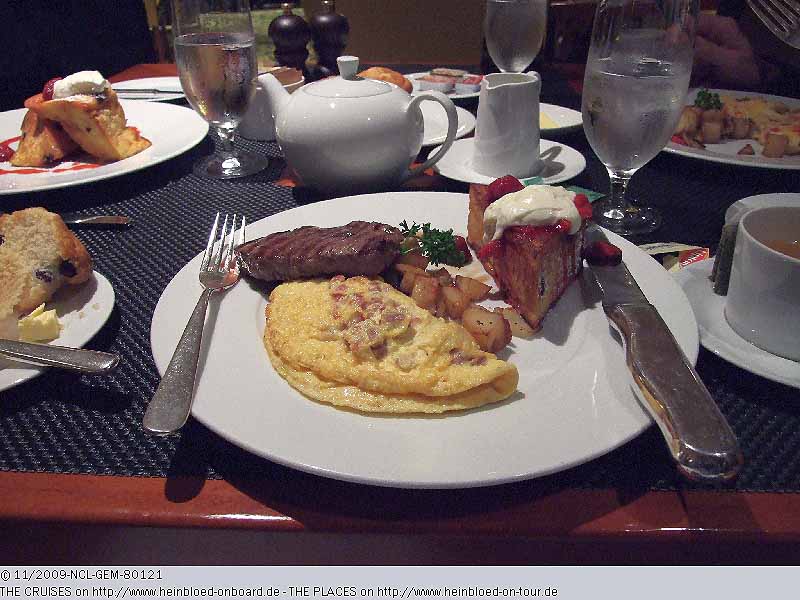 One more time a Steak & Egg. Just available at Cagney's.

As Bruno and me need to leave at 7.15 am we cannot say good-bye to Ryan, Aries and Victor. We were afraid to meet this situation so we handed over the envelopes with the gratuities the night before. Victor participates to the servicecharge. So he get an add-on because he did everything we asked for immediately and he was always nice and friendly. With Ryan and Aries we had the problem because they do not partcitipate to the service charge and we never stayed in such a categorie before. So we took some orientation with other companies:

Butler:

Cunard:
Britannia-Guesets without Butler 11 USD
Princess-Grill- and Queens-Grill-Gäste with Butler 13 USD

Celebrity:
3,50 USD

Concierge:

Celebrity:
For guests of the Concierge-Class the service charge is 0.50 USD higher.

We contacted thorsten13 from the German ncl-fans-forum and got some advise to find the right amounts.

As we had only one day on sea and spend very limited time on board due to long stay in the ports and our two-day stay in Tuscany we have not used our Butler Aries as we could use but let Concierge Ryan do more for us.

By the way: because the number of the nice, friendly and willing to run extra miles was higher than normal we had to get more cash for extra tipping on board. You can get 2.000 USD at the casino for gambling without fees. The money is charged to your board account.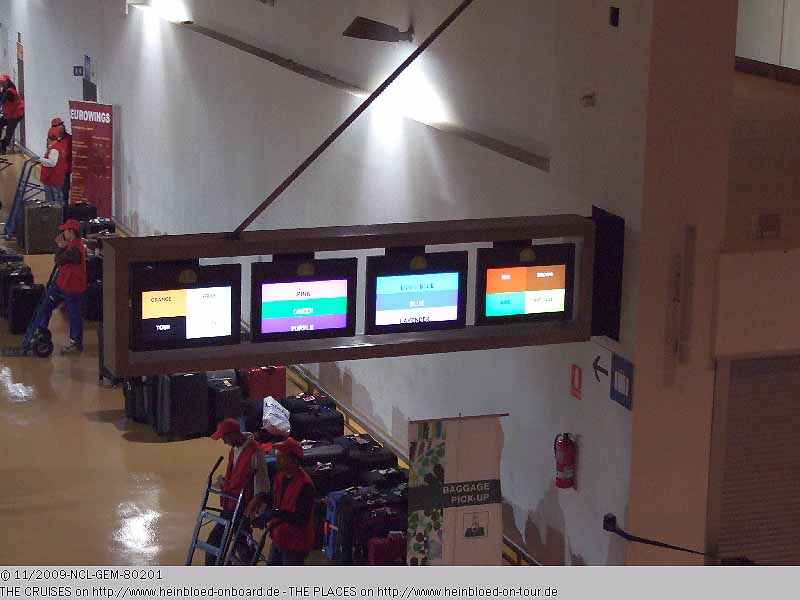 Da Bruno und ich bereits um 07.15 Uhr von Bord müssen, können wir uns weder von Ryan, Aries und Victor verabschieden. Da wir so etwas schon befürchtet haben, haben wir die Umschläge mit den Trinkgeldern bereits am Vorabend übergeben. Victor ist an der Servicecharge beteiligt. Er bekommt etwas zusätzlich, weil er jeden Wunsch, den wir hatten, immer sofort erfüllt hat und immer nett und freundlich war. Bei Ryan und Aries hatten wir schon Probleme, weil sie an der Servicecharge nicht teilnehmen und wir bislang noch nie in so einer Kategorie gewohnt haben. Wir haben uns daher an den anderen Gesellschaften orientiert:
Butler:
Cunard:
Britannia-Gäste ohne Butler 11 USD
Princess-Grill- und Queens-Grill-Gäste mit Butler 13 USD
Celebrity:
3,50 USD
Concierge:
Celebrity:
Für Gäste der Concierge-Class ist die Servicegebühr um 0,50 USD erhöht.
Wir haben dann thorsten13 aus dem ncl-fans-Forum kurz angeschrieben und uns ausgetauscht und denken, dass wir angemesse Beträge festgelegt haben.
Aufgrund des Charakters der Reise, d. h. nur ein Seetag, wenig Zeit an Bord wegen langer Hafenaufenthalte und unserer zweitätigen Aufenthalt, hatten wir eben unseren Butler Aries weniger genutzt, dafür aber Concierge Ryan, der sich eben um alles gekümmert hat.
Übrigens: weil eben so viele nett, freundlich und bereit waren Extrameilen zu laufen, mussten wir für die Zusatztrinkgelder in bar noch USD an Bord beschaffen. 2,000 USD kann man im Casino zum Spielen beschaffen, ohne dass man Gebühren zahlen muss. Das Geld wird dem Bordkonto belastet.
Da wir VIP-Ausschiffung hatten, stand unser Gepäck bereits um 06.30 Uhr im Cruise Terminal zur Verfügung ohne dass wir selbst das Gepäck von Bord schleppen mussten. Aufgrund meiner Latitudes-Gold-Mitgliedschaft, hätte ich das auch in Anspruch nehmen können, auch wenn ich nicht in einer Suite wohne. 06.45 Uhr wäre der erste Zeitpunkt gewesen von Bord zu kommen, ohne sein Gepäck selbst zu schleppen. Und 09.30 Uhr der letzte.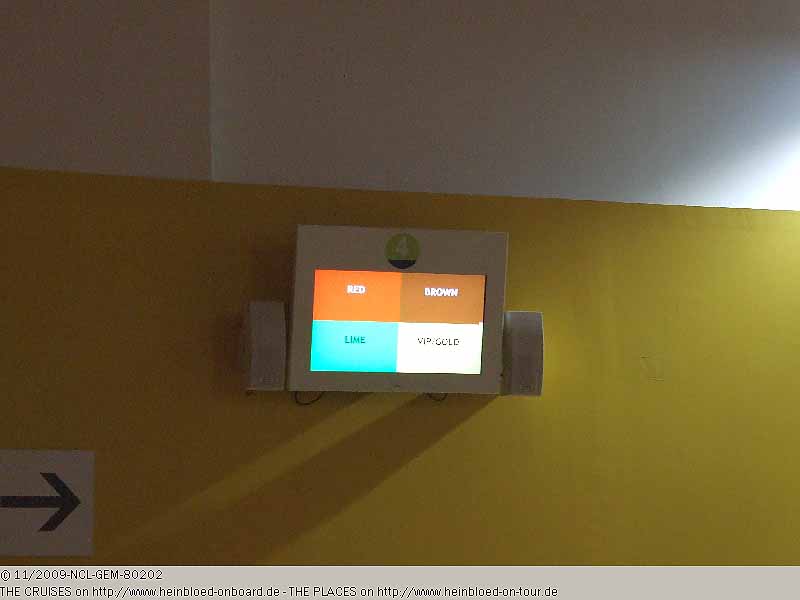 As we had VIP-debarkation our baggage was waiting for us since 6.30 am in the Cruise Terminal without carrying ourselves our bags. Due to my Latitudes-Gold-Membership there was no need to stay in a suite to get this privilege. 6.45 am would be the earliest time to get from the ship without carrying the bags and 9.30 am the last one.

That's new, practical and expensive... the baggage service home by NCL and UPS by Delivery Warehouse. But depending to the excess baggage fee of the various airlines it could be an interesting alternative. As long as I am tier-member of Lufthansa Miles & More, it's no option for me, as I have about 75 lbs. extra...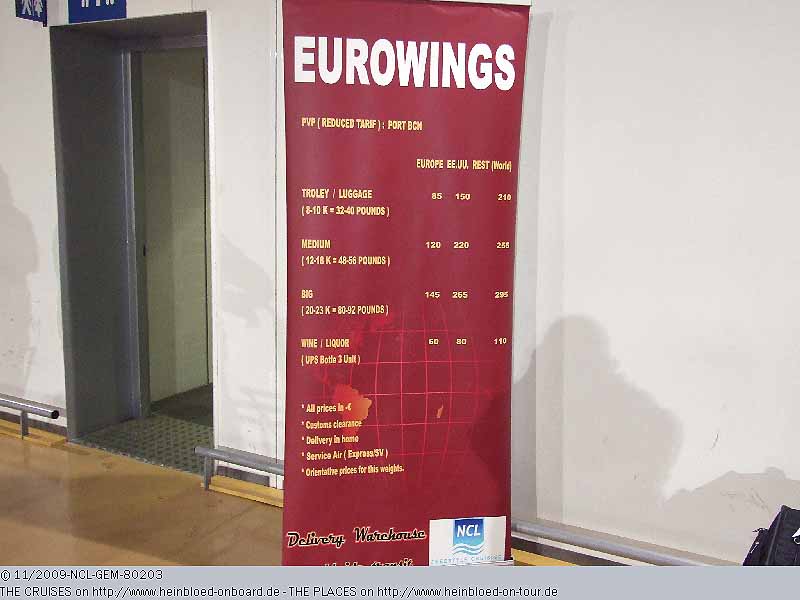 Das ist neu und praktisch und teuer... Der Gepäckservice nach Hause von NCL und UPS durch
Delivery Warehouse
. Könnte je nach Airline günstiger sein, als das Übergepäck zu zahlen. Solange ich jedoch noch Statuskunde bei Lufthansa bin, macht es für mich noch keinen Sinn, weil ich 40 kg extra habe...
José wartet wie versprochen um 07.30 Uhr auf uns. Es ist der hilfsbereite Taxifahrer, der uns Samstag vor acht Tagen bereits vom Flughafen gefahren hat und uns bei der Nachforschung meines vergessenen Gepäckstücks unterstützt hat. Leider spricht er nur Spanisch. Trotzdem: wer einen netten und zuverlässigen Taxifahrer braucht, kann mich gerne anschreiben, um die Telefonnummer zu erfragen.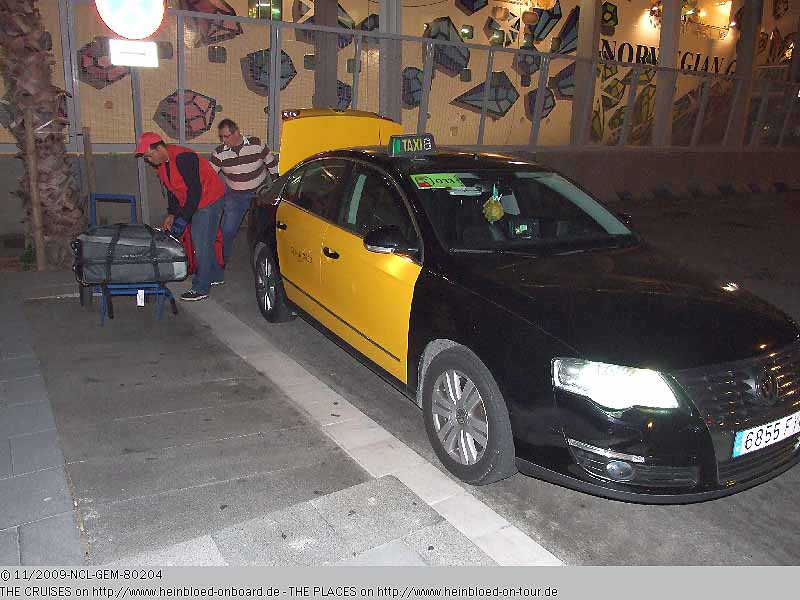 José waited for us as promised at 7.30 am. He is a very helpful taxi driver who get us eight days ahead from the airport and helped us to get bag our bag which we left on a cart. Unfortunately he only speaks Spanish. Anyhow: who need a nice and liable taxidriver may ask for his number by mail.

At 7.50 am we were already at the check-in. The ride was 40 EUR incl. three bags in trunk, supplement for port and Sunday morning and tips.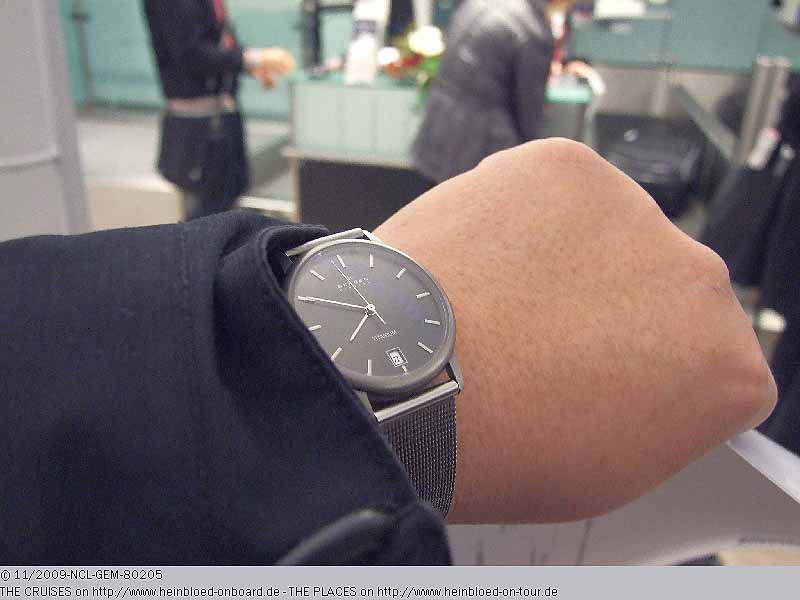 Um 07.50 Uhr stehen wir bereits am Check-In. Die Fahrt hat uns mit drei Gepäckstücken im Kofferraum, Zuschlägen für Hafen und Sonntag sowie Trinkgeld insgesamt 40 EUR gekostet.
Er setzt uns direkt am Eingangsbereich von Lufthansa und Swiss ab.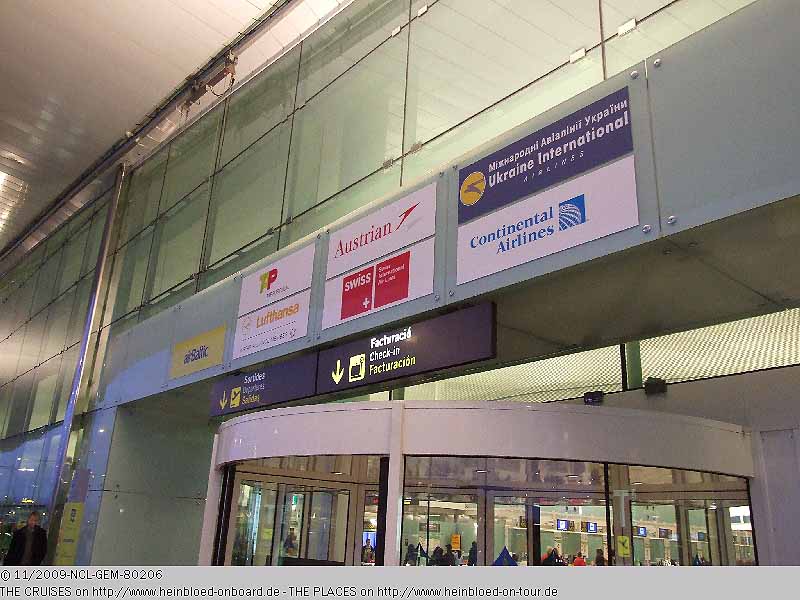 He dropped us off at the entrance to Lufthansa and Swiss.

Surprising: Swiss has their own counters.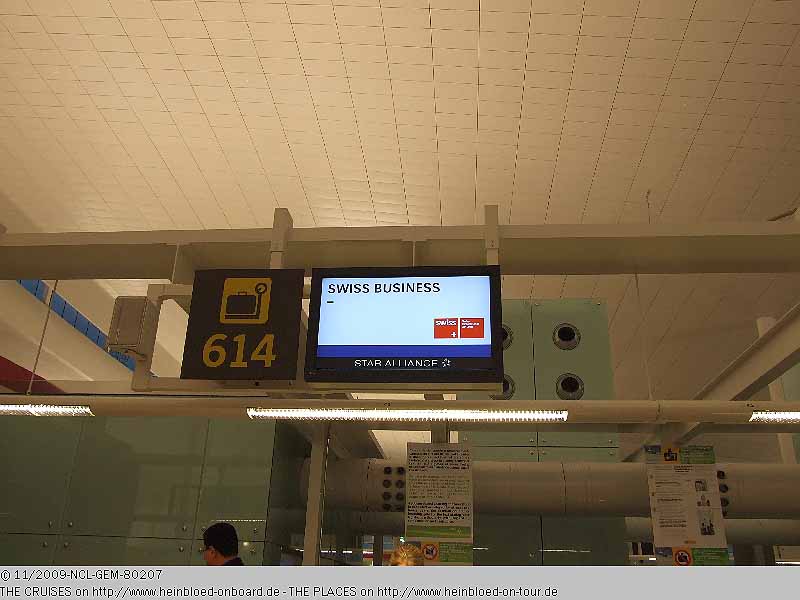 Etwas verwundert: Swiss hat eigene Abfertigungsschalter.
Der Check-in geht sehr schnell und es geht weiter zu den Ausgängen. Um 09.05 Uhr soll Abflug sein.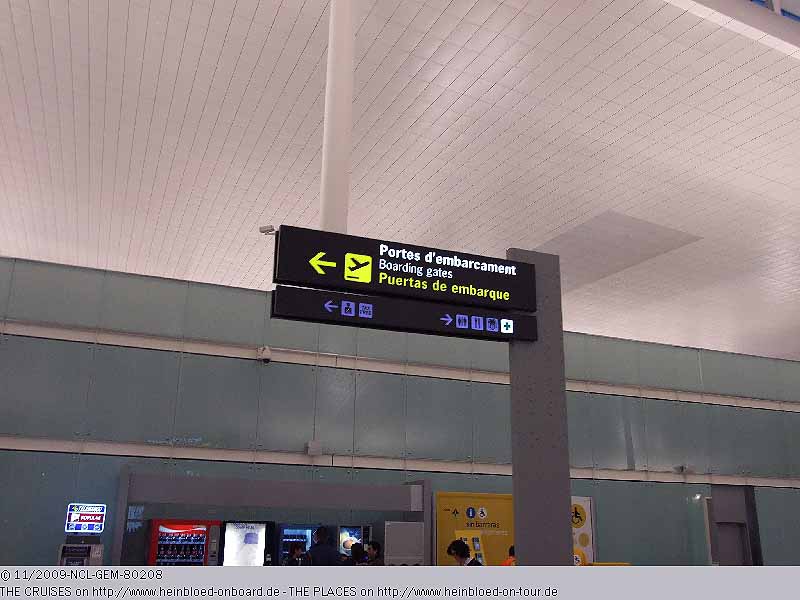 Check-in was fast and we continued to the gates. 9.05 am should be the departure.

Security screening was well organised and went through in few minutes.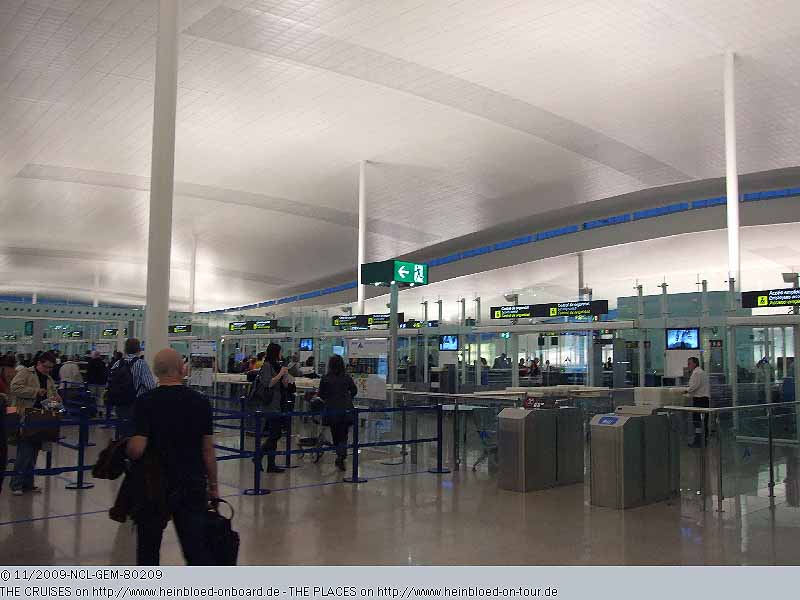 Die Sicherheitskontrollen sind sehr gut organisiert. In wenigen Minuten sind wir durch.
Die untere Ebene ABC ist für Schengen-Flüge und die obere Ebene DE für Nicht-Schengen-Flüge.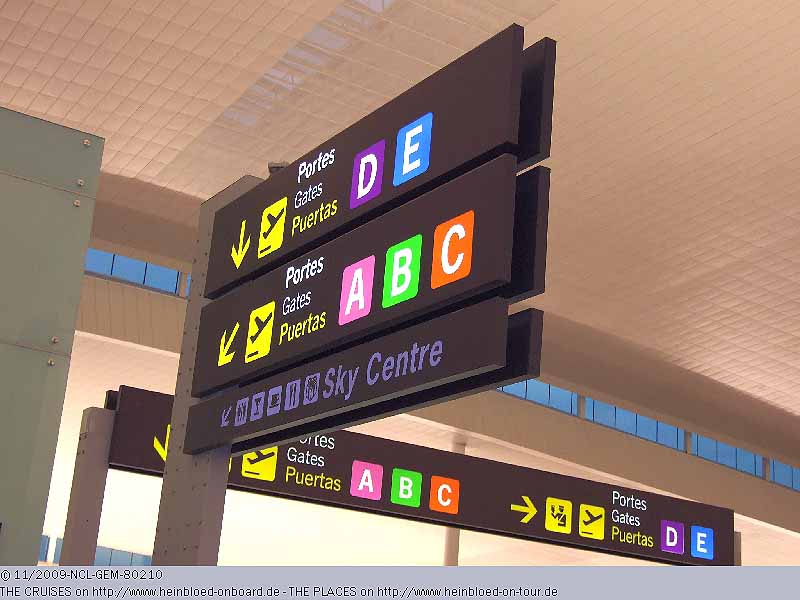 The lower level ABC are for Intra-Schengen-Flights (like Germany, France, Netherlands, Switzerland, Spain, etc.) while the upper gates DE are for Extra-Schengen-flights (like Canada, USA, UK...).

As the immigration check comes very soon I would go first downstairs for shopping at ABC.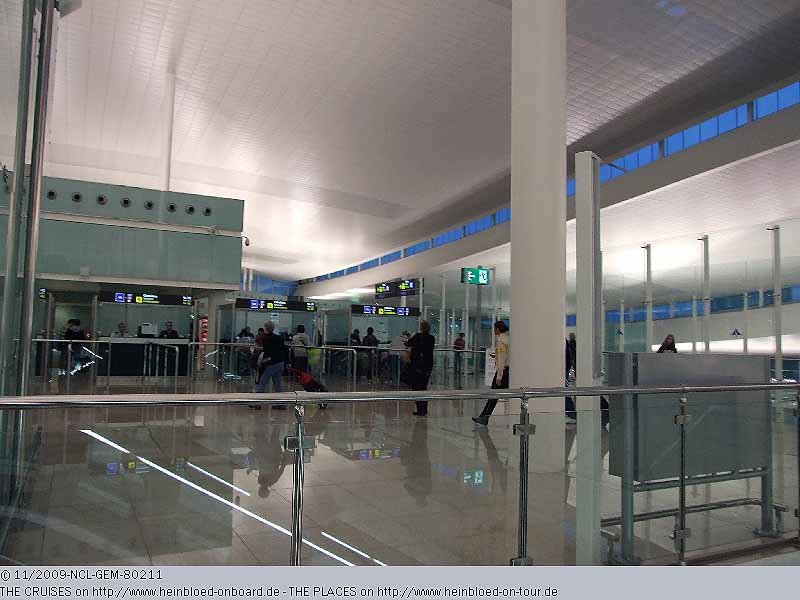 Da aber bereits sofort die Passkontrolle kommt, würde ich zum Shoppen zunächst einmal mich runter zu ABC begeben.
Denn dort gibt es ein tolles Angebot.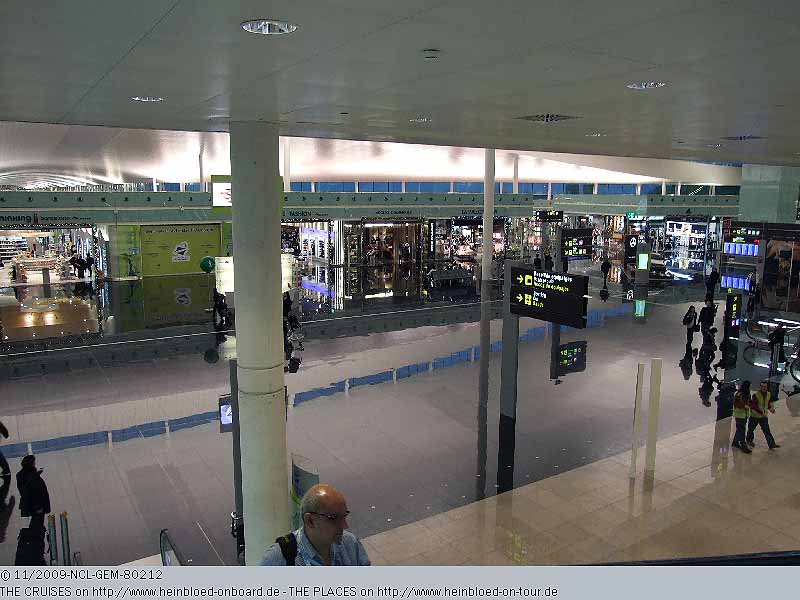 As here is a great offer available.

We still had some time for the lounge.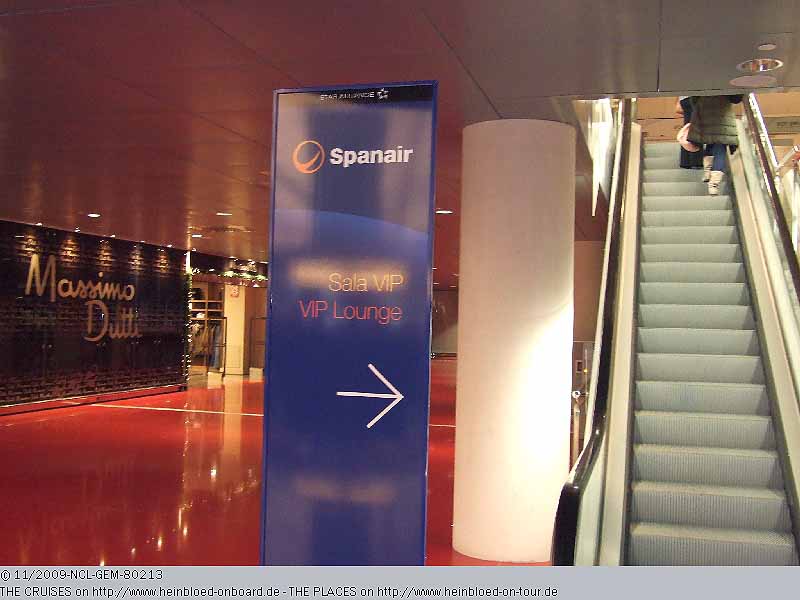 Wir haben jedoch noch etwas Zeit für die Lounge.
Sehr nett.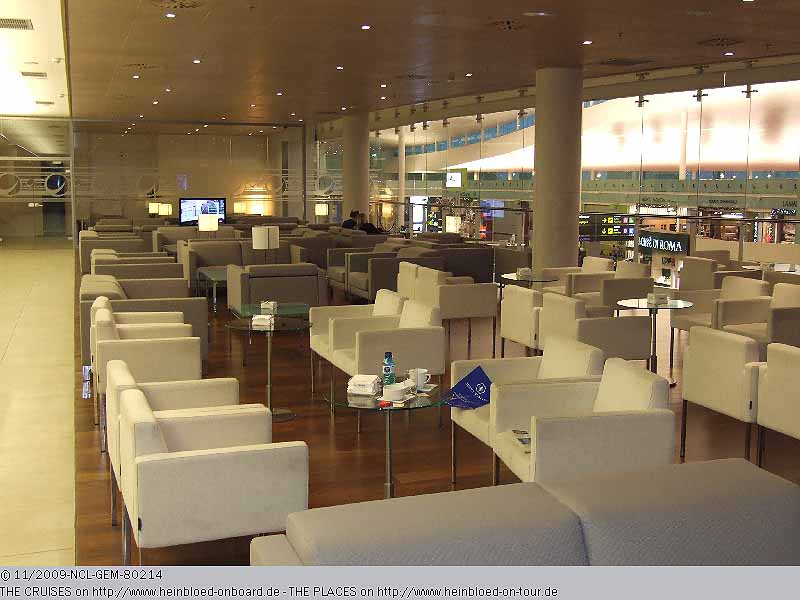 Very nice

and nice offers.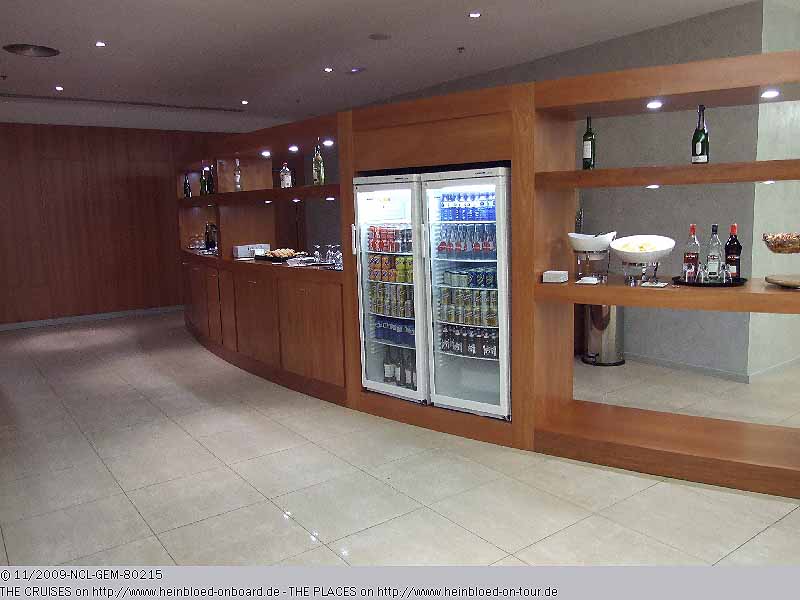 Nettes Angebot.
Aber wir sind in der Realität zurück: leider nicht mehr auf dem Schiff.

But we were back in reality - not anymore on the ship.

Just before take-off: raindrops in Barcelona.

Kurz bevor wir starten: Regentropfen in Barcelona.
Und kein Egg Benedict mehr...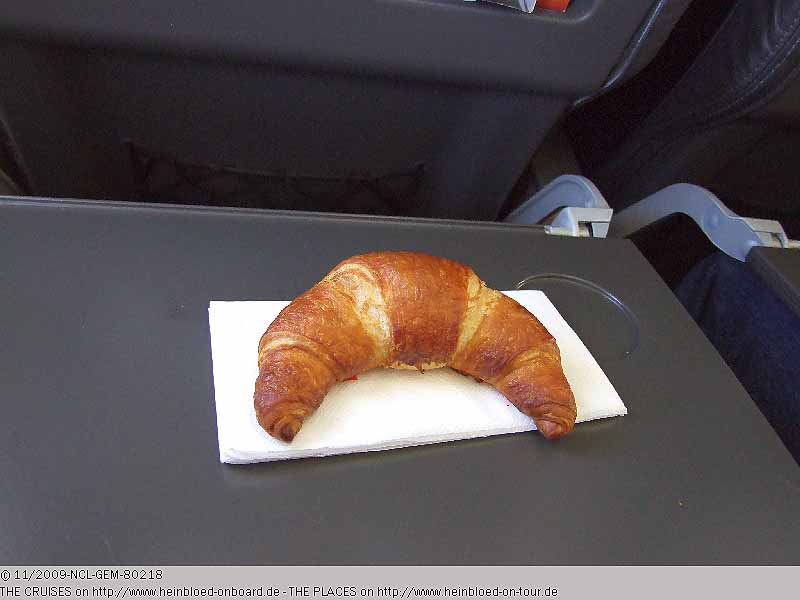 and no more Egg Benedicts...

A nice view over the Alps.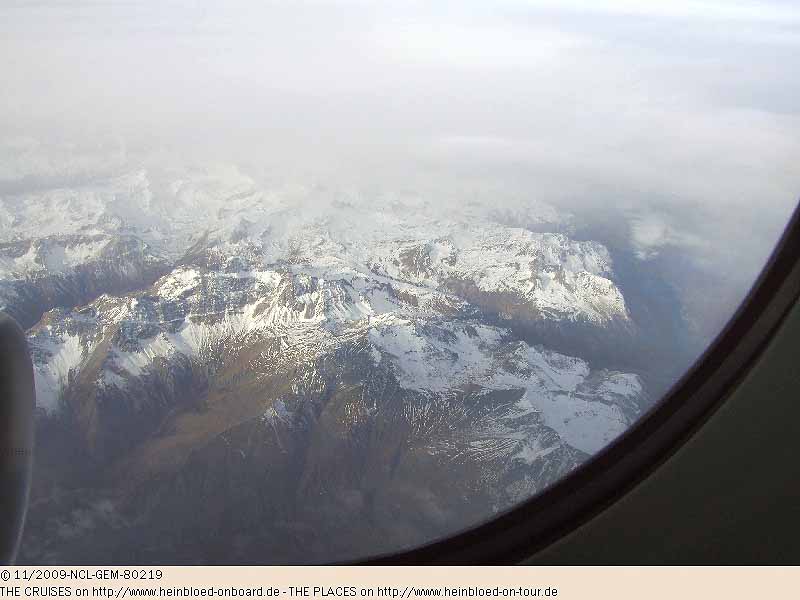 Ein schöner Anblick über die Alpen.
In Genf erwartet uns strömender Regen. Überrascht war ich über das Swissair-Center. Da ich die alte Swissair geliebt habe, freue ich mich ein Überbleibsel von ihr zusehen. Was mich jedoch am meisten geärgert hatte: Ich hatte nur den Firmenrechner mit, weil ich die SSL-Zugangsmöglichkeiten von Bord bzw. aus dem Ausland testen wollte. Auf meinem Privatrechner hatte ich die Mails von ansetgerd, mit dem wir locker in Genf eigentlich verabredet waren. Dafür bitte ich um Entschuldigung, dass wir uns nicht melden konnten. Unser einziger Trost: es hatte in Genf in Strömen geregnet.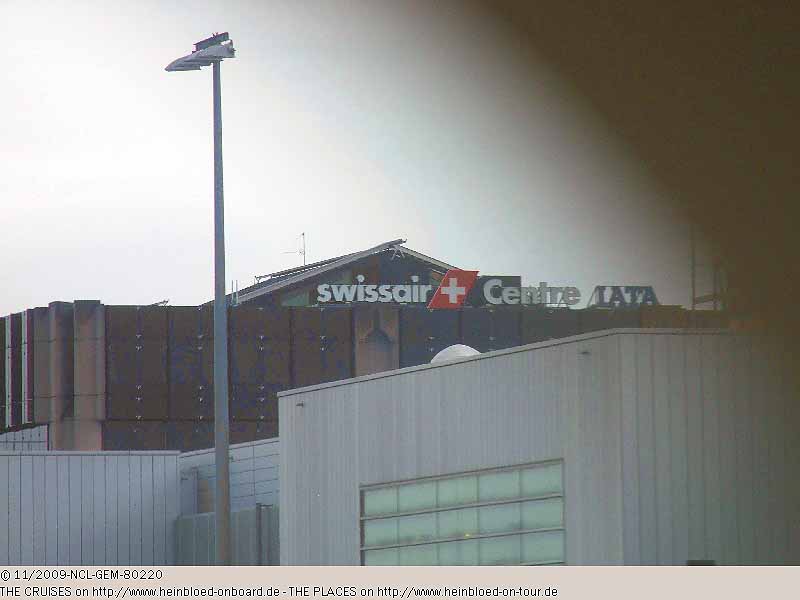 In Geneva heavy rain was waiting for us. I was surprised to see the Swissair-Center. I loved the old Swissair so I was happy to see that something from her era survived. I was very upset with me: As I had only the companies notebook to test our new SSL-access from the ship or from abroad. On my personal notebook there was the mails from ansetgerd whom we wanted to date in Geneva. Therefore I need to aplogy that we could not meet you. Our own good excuse: It was raining dogs and cats anyway in Geneva.

The buffet in the Swiss Lounge cannot compensate our NORWEGIAN GEM...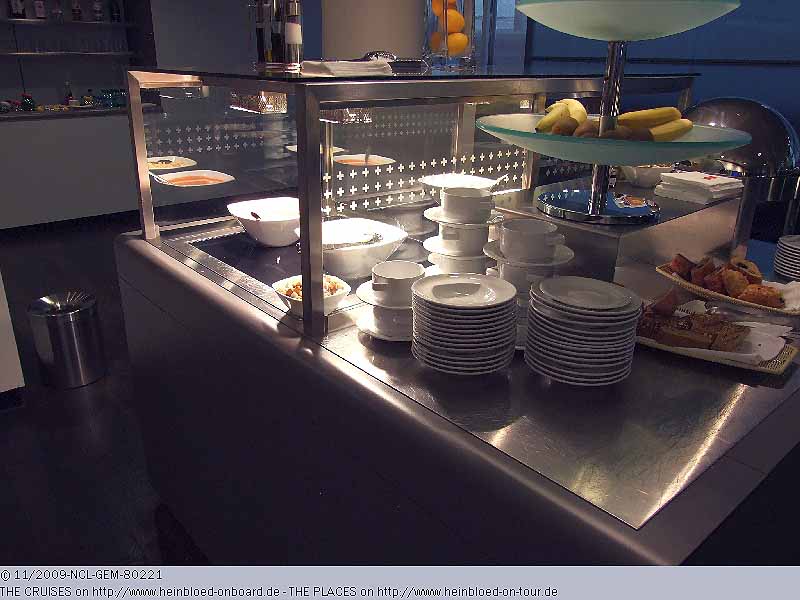 Auch das Büffet in der Swiss Lounge konnte uns nicht über den Verlust auf der NORWEGIAN GEM hinwegtrösten...
Da unser Kühlschrank leer ist, esse ich hier doch noch etwas...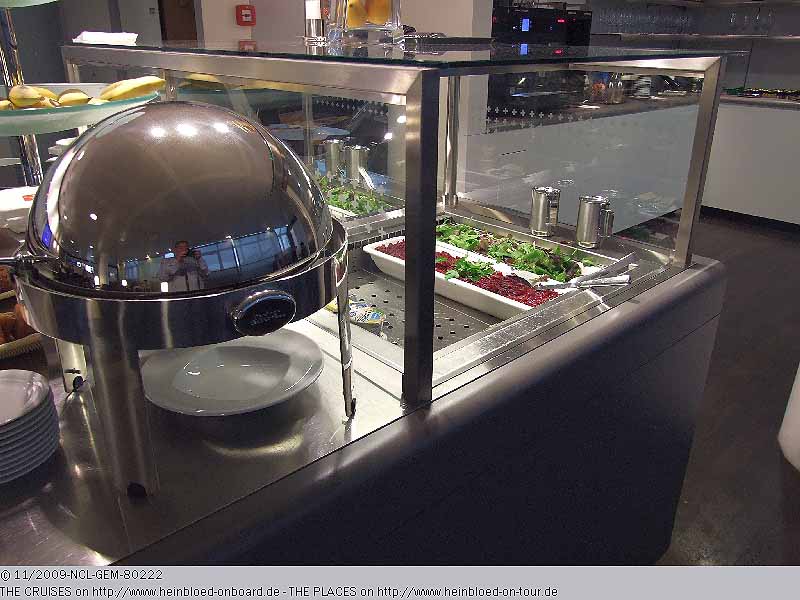 As our fridge at home was empty anyway I had some food here.

The Lufthansa-flight was very nice. The purser was slighty more personal. The difference was small but very fine. He had such a great crew that they used the fact that we were very few guests to pamper us. Now we arrived in Frankfurt Gate A 38. The second farest gate you can get.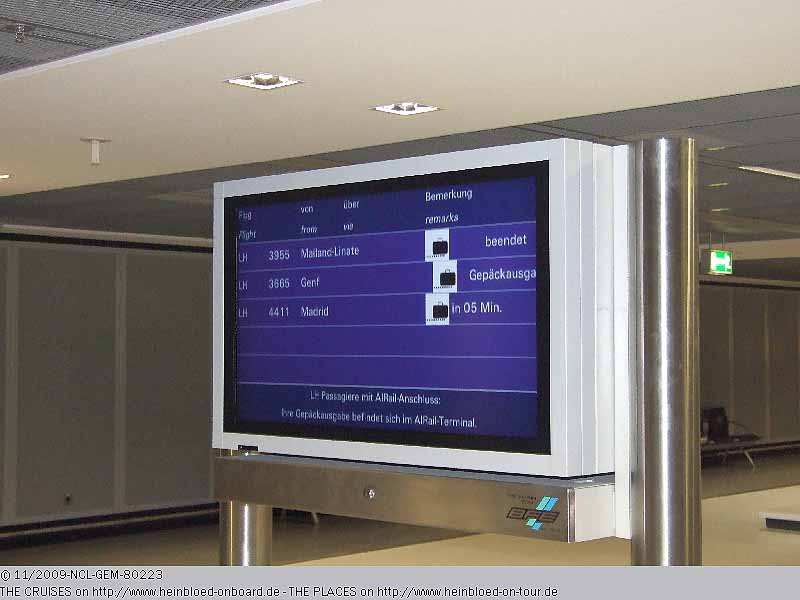 Der Lufthansa-Flug war äußerst charmant. Das lag am Purser, der ein Tick persönlicher war. Der Unterschied war zwar klein aber fein. Er hatte so seine Crew im Griff: die haben uns richtig verwöhnt, weil wir sehr wenige Gäste waren. Nur sind wir am Gate A 38 angekommen. Der zweitweiteste Gate am Flughafen Frankfurt.
Es hatte den Vorteil: es war so weit weg: als wir am Gepäckband ankamen, war unser Gepäck schon da. 57 kg... Wie machen das bloß andere... Nach dem wir beim Platzhirsch unser Auto geholt haben, sind wir noch zu einer Freundin nach Frankfurt gefahren, die Geburtstag hat. Dort haben wir das Geschenk übergeben und eine Tasse Cappucino für 5,50 EUR geschlürft... Zu Hause hatten wir keine Lust auf das Abendessen: Bruno und ich konnten uns nicht einigen, wer nun Passagier und wer nun Steward ist... wir hatten eh keinen Hunger... und schon gar nicht auf die abgepackten Sachen, die wir sicherheitshalber besorgt haben. Denn der abgepackte Jamon war natürlich lange nicht so gut, wie der aus dem Casa Alfonso in Barcelona...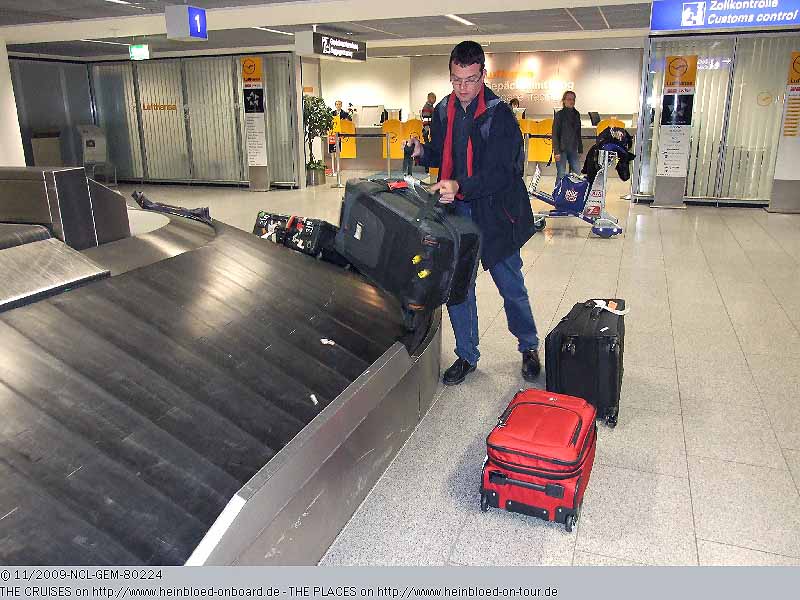 But even this is an advantage: until you walked all the way to the baggage claim your baggage has already arrived. around 110 lbs... How do other cruisers manage it... After we collect our car with the garage we went to see a friend in Frankfurt who had birthday. There we handed over the gift and had a cappucino for 5.50 EUR... At home we did not like any dinner: Bruno and I were unable to decide who of us would be the passenger and the stward... we were not hungry anyhow... and not for the containerized food which we bought for the worst case. The packed Jamon was of course not as good as the one at Casa Alfonso in Barcelona.

My sister's flight was 12.30 pm. That's why she stayed until 9.30 am on board. She told us that our Courtyard-Butler Johmar said good-bye in a very hearty and personal way. Aries gave her both hands and Ryan was desperately looking for her with her suitcase which was the only one left in the VIP-baggage area. She did not book the NCL-transfer for 40 USD and because nobody from the Shore Excursion Desk could tell her the time the airport shuttles will depart. So they told her to leave at 7.30 am. When we got the debarkation information we saw that there was a 9.30 am-transfer avaialble as well. This would have been perfect but too late to book. She wanted to take a taxi to Sants station and take the train to the airport. But there was queue of estimated one hour waiting time for a taxi. In front of the terminal she met Jess and Nat (jessicatro from cruisecritic.com) who were with us on Mt. Vesuvio. They should stay at Hotel Renaissance at the airport which we know from a previous cruise as we stayed there before. Jess and Nat explained the driver that my sister was part of their group. So she need to pay 10 EUR for the transfer. There is also Sixt car rental located. From here you have a free shuttle within minutes to the airport. Is there a cheaper way to get to the airport??? We saw the van already in May when debarked from NAVIGATOR OF THE SEAS. I took out the picture to enlarge and identify the company's name - the bus was not from the hotel it self but from following transfer company: Transfers Rima-Bus S.L.. We need such a service in May. Next time we know.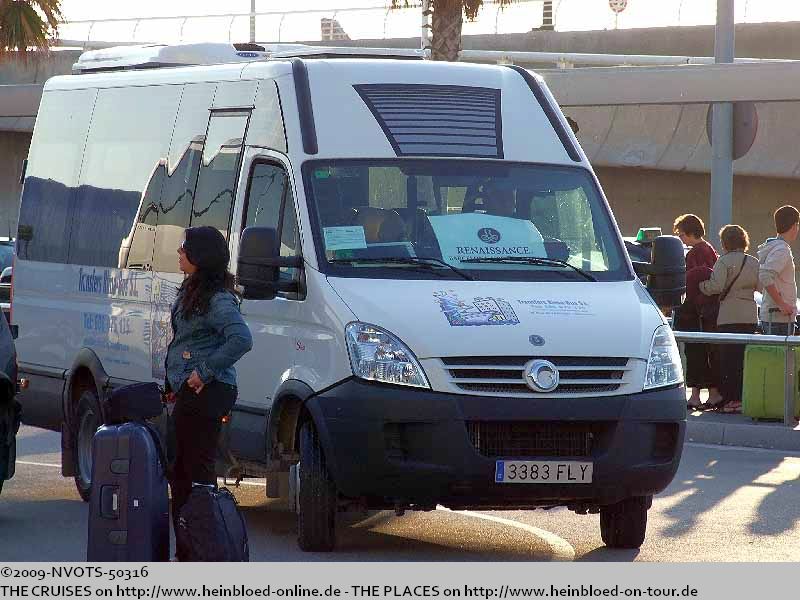 Meine Schwester flog ja erst um 12.30 Uhr ab. Deswegen ist sie bis 09.30 Uhr an Bord geblieben. Uns hat sie dann erzählt, dass unser Courtyard-Butler Johmar sich sehr herzlich von ihr verabschiedet hat, Aries sie mit beiden Händen verabschiedet hat und Ryan schon verzweifelt und sie suchte, weil ihr Koffer noch als einziger wohl im VIP-Bereich stand. Den NCL-Transfer für 40 USD hat sie nicht gebucht, zumal ihr am Shore Excursion Desk ihr keiner sagen konnte, wann die Transfers gingen und man ihr nur 07.30 Uhr vorgeschlagen hat. Als dann die Ausschiffungsinformationen haben wir gelesen, dass es um 09.30 Uhr auch noch einen gab. Der wäre für sie perfekt gewesen, aber zu spät zum Buchen. Sie wollte dann wieder mit einem Taxi zum Bahnhof Sants und dann mit dem Zug fahren. Aber vor dem Taxistand war eine Schlange mit einer geschätzten Wartezeit von einer Stunde. Vor dem Terminal traf sie dann Jess und Nat (jessicatro von cruisecritic.com), die mit uns ja auf dem Vesuv waren. Sie sind im Hotel Renaissance am Flughafen untergebracht. Dort haben wir auch schon mal übernachtet und kannten daher das Hotel. Jess und Nat erklären dem Fahrer, der sie abholt, dass sie auch zur Gruppe gehört. So kommt sie für 10 EUR zum Hotel. Dort ist auch Sixt untergebracht. Von hier gibt es daher einen kostenlosen Shuttle im Minutentakt zum Flughafen. Kann man noch billiger zum Flughafen kommen? Uns ist der Service ja schon im Mai aufgefallen, als wir die NAVIGATOR OF THE SEAS verlassen haben. Nun habe ich mir das Bild hervorgekramt und nun festgestellt, dass der Bus gar nicht direkt vom Hotel ist, sondern von einem Transferservice. Was haben wir damals nach einem Transferservice für sechs Personen gesucht. Nun habe ich mir mal die Aufschrift auf dem Bus vergrößert:
Transfers Rima-Bus S.L.
- Den hätten wir im Mai so gut brauchen können. Aber das nächste Mal.
Kommen wir nun zum Fazit der Reise:
Von Richard habe ich eine E-Mail erhalten und ich möchte mein Fazit in meine Antwort einarbeiten:
Monsieur le Directeur d'Hôtel!

Vielen Dank für Ihre freundliche Zeilen und dass sie schon mal in meinen Blog geguckt haben. Aber ich war noch gar nicht fertig.

Sie haben beim Meet & Greet geäußert, dass wir Sie über unsere Kritikpunkte informieren sollen und nicht frustriert nach Hause fahren sollen, damit Sie hinterher im Internet nachlesen, wie schlecht es hier war.

Der Teil "critic" in cruisecritic, bedeutet in meinen Augen aber nicht nur negative Kritik, sondern auch positive Kritik. Und wenn es negative Kritik gibt, dann sollte man nicht pauschal etwas kritisieren, wenn man nicht konkretisieren kann, was einem nicht gefallen hat. Sicherlich sind Ihre Befürchtungen berechtigt, dass man eher Negatives liest und dazu neigt, sich über etwas zu ärgern und dieses öffentlich zu kommunizieren und Positives als selbstverständlich nimmt und nichts dazu schreibt. Ich verstehe: Sie können Ihr bestes geben, aber am Schluss bleiben doch nur die negativen Eindrücke - und das ist schade.

Ich hoffe, dass Sie mit der Form, wie ich die Fahrt wahrgenommen habe und im Internet darstelle, einverstanden sind. Sie sehen hoffentlich, dass ich unterscheide, ob Sie mir unter Umständen etwas vorenthalten, was in Ihrer Macht steht oder ob es generelle Änderungen sind, auf die Sie als Hoteldirektor keinen Einfluss haben - z. B. die Streichung der Schokolade und Body Lotion.

Trotzdem möchte ich zwei Kritikpunkte vortragen, die ich nicht an Bord mit Ihnen kommuniziert habe.

Ich habe an Bord die Star-Nominierungs-Karten vermisst. Ich hätte allerdings 1.200 Stück gebraucht. Sie haben eine tolle Crew und ich hätte jeden Ihrer Crew-Mitglieder vom einfachen Matrosen bis zum Kapitän nominiert. Sicherlich haben diejenigen, die einen direkten Kontakt mit uns hatten, einen anderen Beitrag geleistet. Sie waren alle wunderbar. Ich wette mit Ihnen: hätte ich Ryan, Aries und Victor erzählt, dass ich Body Lotion bräuchte: sie wären sofort in ihre Crew-Kabinen gelaufen und hätten uns in einem Zahnputzbecher oder sonst etwas von ihrer persönlichen Body Lotion abgegeben. Da bin ich mir 100% sicher. Ryan, Aries, Victor, Johmar, Mary, Astrid, Maureen und Cheryl stehen für die vielen neuen Crewmitglieder, die wir an Bord kennen und schätzen gelernt haben. Luiza, Adina, Savio, Irina und Yohannes stehen stellvertretend für die vielen Crewmitglieder, die uns von früheren Fahrten her kennen und uns nicht wie Gäste, sondern wie Freunde und Familie behandelt haben, warum wir sehr gerne wiederkommen und uns an Bord von NCL besonders heimisch fühlen. Selbst wenn wir durch die Kabinengänge gelaufen sind und Crew-Mitgliedern begegnet sind, mit denen wir nichts zu tun hatten: Immer ein "Good Morning, Sir", "How are you doing, Madame", "Have a nice day": Niemals ein Blick: müsst ihr uns jetzt bei der Arbeit stören und ausgerechnet hier durchlaufen??? Bisher hatte ich immer die These vertreteten: 99% sind nett und 1% Idioten (Gibt es überall!!!). Sie haben mir aber bewiesen, dass ich diese These revidieren muss, wenn Sie Hoteldirektor sind: 99,9% nett und 0,1% Idioten, wobei dieses Mal der Negativpreis von der Rezeption, mit der gelegentlich meine Probleme hatte, an das Casino gewandert ist, die mir nur immer für max. 5 USD einzelne Dollarnoten wechseln wollten. Da ich keine Lust hatte, mehrmals anzustehen, habe ich auch kaum an den Slotmaschinen gespielt und Ihre Rezeption hat mich mit genügend Dollarnoten versorgt. Übrigens würde ich sogar Innenkabine fahren, um Ihre Crew wieder erleben zu dürfen. Nun ärgert es mich sehr, dass wir nicht zwei Tage vorher ab Deutschland fliegen, und die Mini-Cruise am 02.01.2010 ab New York noch mitmachen...

Der zweite Negativpunkt: Sie bzw. Ihre Wäscherei haben meine HAL-Tasche ruiniert!!! Sie ist eingelaufen. Nun schulden Sie mir eine NCL-Tasche, die ich mit Stolz dann bei anderen tragen könnte. Da Sie und Luiza nun Schulden bei mir haben, habe ich gute Gründe wieder mit NCL zu fahren: um meine Schulden einzutreiben. Luiza hat es sehr geschickt gemacht: sie ist einfach von der Bildfläche verschwunden als sie mich an Bord entdeckt hat und hat mir so einen Grund gegeben, dass ich wieder zu NCL komme.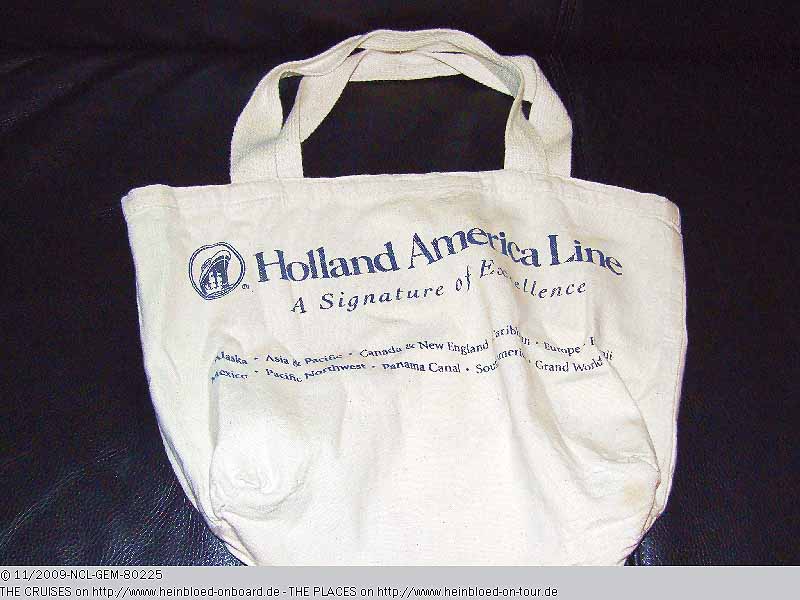 Die Tomatensauce ist allerdings raus...

Wir haben uns auf dem Rückflug von Barcelona nach Frankfurt entschlossen, dass wir NCL im Januar 2011 auf der NORWEGIAN JADE wieder erleben möchten: Zwölf Nächte sind ausreichend, um alles an Bord in Anspruch und genießen zu können: Ihre Crew, Ihre Restaurants und Ihre Einrichtungen. Zum Glück haben wir nur einen neuen Hafen: Izmir. So können wir mindestens elf Tage alles entspannt genießen, was sich hier auf der Runde als Stress entwickelt hat. Sie haben mir geschrieben, dass Sie für den Wechsel von der PRIDE OF HAWAII zur NORWEGIAN JADE verantwortlich waren. Als wir im Oktober vergangenen Jahres die NORWEGIAN JADE erlebt haben, waren noch Spuren der PRIDE OF HAWAII zu bemerken. Insbesondere Teile der Crew, die nicht das gleiche Bewusstsein für den Gast hatten, wie es bei NCL Bahamas üblich war. Als wir jetzt im Mai die NORWEGIAN JADE erlebt haben, konnten wir sie voll genießen. Sicherlich ist das auch die Handschrift von Ihnen und Luiza und den anderen. Eine Sache haben Sie jedoch vergessen: Launderettes für Ihre Gäste einbauen zu lassen. Für lange Kreuzfahrten und im Zeitalter, wenn immer mehr Fluggesellschaften auf Gepäckgebühren bestehen, halte ich das für eine wichtige Einrichtung. Bislang haben wir ja eine Heckbalkokabine und brauchen unsere Wäsche ja nur an den Fahnenmast zu hängen und im Meer hinterher zuziehen. Aber das können ja nicht alle Passagiere nutzen... COSTA und die Emirate, die mal in der Grobplanung für Januar 2011 waren, müssen wieder warten. Wären die damals an Bord und hinterher im After-Sales so nett wie NCL gewesen...

Lassen Sie mich bitte Ihnen auch erklären, warum wir 2010 nicht mit NCL fahren - dann verstehen Sie auch, dass vieles einfach an der NCL-Policy liegt:

1. Nach dem wir ja nun doch feststellen, dass auf einem hohen Niveau sich die Kosteneinparungen bemerkbar machen, wollten wir Alternativen zu Freestyle-Cruising finden, daher der Wunsch die CELEBRITY EQUINOX kennenzulernen, die ja zumindest über vier Alternativrestaurants verfügt. Daher irgendwann muss jede Kosteneinparungsmaßnahme mal ein Ende finden, wenn man sich die Stammkunden nicht vergraulen will.

2. Kreuzfahren für Erwachsene - Zwischendurch muss ich einfach mal Kreuzfahren für Erwachsene erleben. Mit zunehmenden Alter kann ich mit den Kindereien an Bord nichts mehr anfangen. Daher auch der Wunsch WESTERDAM. Zumal sie ja leider nicht mehr mit der NORWEGIAN JADE die Norwegen-Kreuzfahrten anbieten. Schade.

3. Ein kleineres Schiff testen, das bezahlbar ist. Seitdem die NORWEGIAN DREAM und NORWEGIAN MAJESTY die Flotte verlassen haben, gibt es ja nur noch die großen Einheiten. Daher die OCEAN PRINCESS. Schade, dass NCL sich doch komplett auf den Massenmarkt konzentriert.

Platz für NCL wäre bestimmt, auch wenn wir etwas anderes stornieren müssten. Nur haben wir bislang noch keine Antwort aus Miami, wer eine bestimmte Fahrt, die ich im Auge habe, um meine Mitarbeiter an NCL heranzuführen, buchen kann.

Eine letzte Bitte hätte ich doch noch am Schluss: Sie haben sich so schön durch meine Poloshirts von HAL, RCI, Cunard "provozieren" lassen. Ich würde mir sehr gerne Poloshirts von NCL kaufen, aber es gibt keine für Passagiere: nur "Freestyle Cruising" oder mit dem Schiffsnamen. Schiffsnamen-Shirts sind bei mir nur für Schiffe vorbehalten, die die Flotte verlassen, wie z. B. NORWEGIAN DREAM oder BLACK PRINCE. Ich würde mich riesig freuen, wenn ich von Ihnen ein Polo-Shirt mit einem NCL-Logo bekommen könnte: Größe XL - 100% Baumwolle - freundliche Farbe. Am 03.01.2010 übernachte ich im Doubletree am Biscayne Bay in Miami, um morgens die Einfahrt der NORWEGIAN SKY im Hafen zu fotografieren. Wenn das klappt, würde ich mich riesig freuen. Übrigens sprechen mich andere Gäste auf die Poloshirts an: und ich würde gerne mit Stolz dann eben einen Anlass bieten, zu erzählen, wie toll es mit NCL ist.

Die Freude mitzufahren war auf meiner Seite. Bitte grüßen Sie Ihre gesamte Crew von mir.

Herzliche Grüße aus Deutschland.
Noch in eigener Sache:

Eigentlich hatte für Brunos Geburtstag drei Nächte auf der INDEPENDENCE OF THE SEAS gebucht. (02.-05.06.2010 Southampton - Le Havre (Übernacht) - Southampton - vielleicht nicht uninteressant, weil Fronleichnam am 03.06. wäre...).

265 GBP für die günstigste Innenkabine.

Die Buchung erfolgte vor der Reise mit der NAVIGATOR OF THE SEAS.

Ich glaube, dass ich weder Bruno und mir einen großen Gefallen tue, wenn wir diese Reise antreten.

Daher, wer sie von uns übernehmen mag: wir würden die Kosten für die Namensumschreibung übernehmen (sofern es niedriger als die Stornokosten in Großbritannien ist).

Leider kann RCI mein Wunsch nicht nachvollziehen, dass es mir bei denen nicht gefallen hat und sind daher nicht bereit, auf die Stornokosten zu verzichten oder sonst irgendwie entgegen zu kommen. Sicherlich hätten wir es auch nochmals mit Ihnen versucht, nur nicht so gerne so schnell hintereinander...

Bei der Gelegenheit habe ich aber zumindest den Höhepunkt ihrer Sparmaßnahmen erlebt: Nach einem längeren Telefon im September gab es doch einen persönlichen Brief (nach den vielen Textbausteinen, die ich zuvor bekommen habe), der eigentlich nur nochmals bestätigte, dass man nichts für mich tun könne und wolle: Ein Brief von den USA per Luftpost nach Deutschland kostet 0,98 USD (= ca. 0,66 EUR). Der Brief ist jetzt angekommen und in Frankfurt neu frankiert worden, um 0,11 EUR zu sparen... Zwei Monate Laufzeit...

Also wer Interesse an dieser Reise hat, kann sich melden.

Was meinte eine gute Freundin aus der Kreuzfahrtindustrie:

Wenn das Schiff dein Ziel ist, und du große, innovative usw. Schiffe magst, dann bist du bei RCI richtig. Alles, was darüber hinausgeht, da sind sie komplett überfordert. Den Service, den du erwartest, bekommst du bei RCI nicht.

Dann eben nicht... Crew und Service sind mir wichtiger als Schiff... was nicht bedeutet, dass RCI ein schlechtes Produkt und das richtige für andere ist. Ich brauche aber eben keine Eisshow oder Johnny Rockets für mein Glück...

Let's come to the final conclusion.

I got from Richard an E-Mail and I would like to add my conclusion into an answer:



Monsieur le Directeur d'Hôtel!

Thank you very much for your nice words and that you have visited blog. But I was not finished yet.

You said at the Meet & Greet that we should tell you about our critics and should not return with frustration to let your read after the cruise how bad it was.

The part "critic" in cruisecritic does not mean for me just to tell the negative critics but also the positive critics. And if there is something negative you should specify and not generalize what was bad. You might be afraid and you are right: mostly it's easier to report of negative experiences and accept positive experiences as normal standard with no need to tell about in the public. So you can do your very best but only read about the negative impressions what is very sorry.

I hope that you agree to my form of presentation in the internet how I experienced the cruise. You see that I differ between what you can do for me and what you cannot do because it's general policy with no influence by a Hotel Director like the cancellation of the chocolate or body lotion.

But there are two negative complaints I would like to present after I am from the ship:

I missed the star nomination cards. But I should have 1,200 of them. You have such a great crew that I need to nominate all of them from a sailor to our Captain. Of course those who had a close contact with us did something different for us. Everybody was wonderful. I bet with you: should I told Ryan, Aries and Victor that I was missing body lotion - I am for sure: they would have run to their crew cabin and get me from their personal stock some in a bathroom glass or other container. Ryan, Aries, Victor, Johmar, Mary, Astrid, Maureen and Cheryl represent the many new crew members we knew now on board and appreciated their treatment very much. Luiza, Adina, Savio, Irina and Yohannes represent for the many crew members whom we know from previous cruises and did not treated us just as guests but as friends and family. That is why we feel very home when we are on board on an NCL-ship. Even we walked through the hallway and met crew-members who were not in service for us: Always a "Good Morning, Sir", "How are you doing, Madame", "Have a nice day": never a view: why do you need to walk here around and bother my work??? So far I found 99% nice and 1% idiots (there are everywhere!!!). But with you as Hotel Director I have to learn 99,9% nice and 0,1% idiots. In the past most problems I had at the front desk but now it was the casino where they did not want to change 1-USD-bills for more than 5 USD. So I did not gamble at the slot machine very much and your reception desk was so helpful to supply me with 1-USD-bills. I would go inside stateroom just to experience this wonderful crew. Now I am somehow very upset with me that we do not fly two days earlier from Germany and stay with you on the mini-cruise on January 2, 2010.

The second complaint: You or better your laundry department ruined my HAL-bag!!! Shrinked!!! Now you owe me an NCL-Bag which I can carry with proud with the other lines. As you and Luiza have debts with me, I do have a good reason to go NCL again: to collect the debts. If you do it as smart as Luiza: just disappear after you see me on board there are many good reason to go NCL again.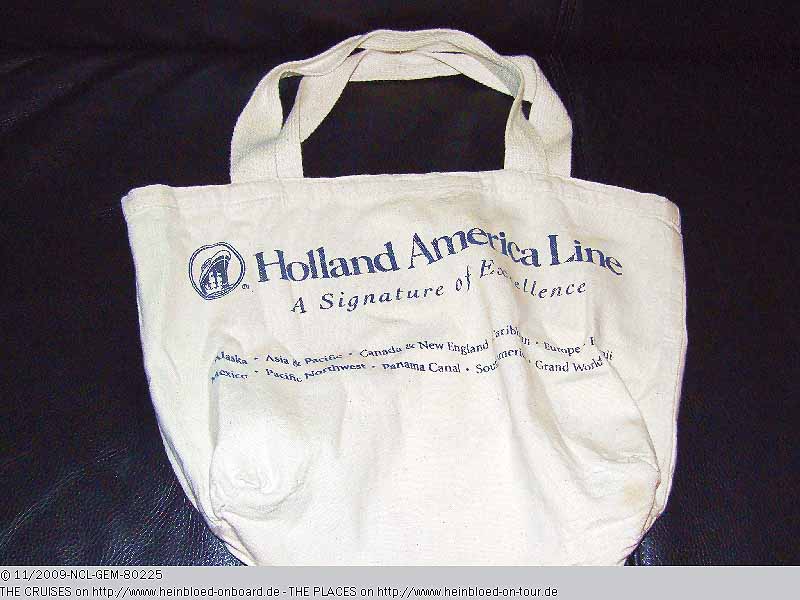 But the tomato sauce is away.

We decided on our flight back from Barcelona to Frankfurt that we want to experience NCL again in January 2011 on NORWEGIAN JADE: Twelve nights are sufficient to experience all the ship and enjoy: Your crew, your restaurants and your facilities. We have only one new port: Izmir. So we can enjoy at least eleven days very relaxed on board because the round in the West Med Sea was very stressful. You wrote that you were in charge for the transition from PRIDE OF HAWAII to NORWEGIAN JADE. When we were on NORWEGIAN JADE you can feel some left over spirit of the PRIDE OF HAWAII. Especially part of the crew did not have the same awareness for guests of NCL Bahamas. When we were on NORWEGIAN JADE in May we were able to enjoy the entire ship. It's maybe your heritage and from Luiza and others. But you forgot one thing: Launderettes for your guests. For longer cruises and since the airlines charge for baggage I think it's an important facility. So far we have a balcony stateroom at the aft. We just need to hang our laundry on the flag pole and let it pulled in the sea. But not all passengers can use this advantage... COSTA and the Emirates need to wait again. They and their customer service should be as nice as yours with NCL...

Please give me the opportunity to explain why we will not go NCL in 2010 - then you will understand that some changes in the NCL-policy is for us not acceptable:

1. We see the cost cuts - on a high level - but we can see. That's why are looking for alternative Freestyle-Cruising options and our wish to make acquaintance of CELEBRITY EQUINOX with four alternative dining venues. Somehow cost cuttings must end if you want to keep your loyal repeating customers.

2. Cruising for adults - from time to time I need to do cruising for adults. The older I am I cannot deal anymore with the childish entertainment. That's why we are going on WESTERDAM. And we cannot go anymore with NORWEGIAN JADE to Norway. It's a shame.

3. Testing a smaller affordable ship. Since NORWEGIAN DREAM, NORWEGIAN CROWN and NORWEGIAN MAJESTY left the fleet there are only larger units left. That's why OCEAN PRINCESS. It's a pity that NCL concentrates to the mass market.

There will be always space for NCL - even we need to cancel something else. But we have not got a response from Miami for a specific voyage which I need to introduce Freestyle Cruising to my co-workers.

I do have a last request at the end: I "provoked" you by wearing my polo-shirts from HAL, RCI, Cunard. I would like to buy polo-shirts from NCL. But there are only "Freestyle Cruising" or the ship's name for passengers. Ship's name I do have only for ships leaving the fleet like NORWEGIAN DREAM or BLACK PRINCE. I would appriciate to get a NCL-Logo shirt: size XL - 100% cotton - friendly colur. I will stay overnight on January 3, 2010 at Doubletree at Biscayne Bay in Miami to take pictures of the NORWEGIAN SKY when she enters the port. If you it can be managed I will be very glad to wear your poloshirt with proud and give other passengers a reason to ask how NCL is.

The pleasure was mine. Please let the crew have my greetings.

Regards from Germany.
Something in an own affair:

Originally I booked for Bruno's birthday a 3-nighter on INDEPENDENCE OF THE SEAS. (June 2-5, 2010, Southampton - Le Havre (Übernacht) - Southampton).

265 GBP for the cheapest inside stateroom.

I booked before we went on NAVIGATOR OF THE SEAS.

I doubt that I neither do Bruno nor me a big favour by going on this cruise.

So if someone is interested to take it over: we would pay the name change (subject it's lower than paying the cancellation fee in UK.)

RCI Miami cannot understand that I did not like it and therefore they are not willing to waive the cancellation fee or to find anoghter solution. We would try them again but not so soon after eachother.

Now I learned the summit of their saving poliy: After a longer phone call in September I got finally a personal letter (after the many text modules which I got before) which confirmed that they do not want to or can do anything for me: A first class letter from the USA to Germany is 0.98 USD. The letter arrived now after re-stamped in Frankfurt to save about 0.16 USD... (How much was the mailing from to Germany and the re-stamping itself???)... Two month transit time...

Who likes to go on this voyage may contact me.

A good friend from the cruise industry told me:

If the ship is your destination and you like big, innovative etc. ships then you are right with RCI. If you want more you will overstrain them. Expecting the service you want you are wrong with RCI.

O.K. I am wrong with them... Crew and service are more important to me than ship... what does not mean that RCI is a bad product and might the right one for others. But I do not need an ice-show or Johnny Rockets to be happy...