Scroll down for English explanations - alternates with German explanations.

Und dann kam Valletta. Damals noch, als wir noch keine Kreuzfahrten gemacht hatten. Nicht gerade in guter Erinnerung. Jeder verdient eine 2. Chance. Auch Malta.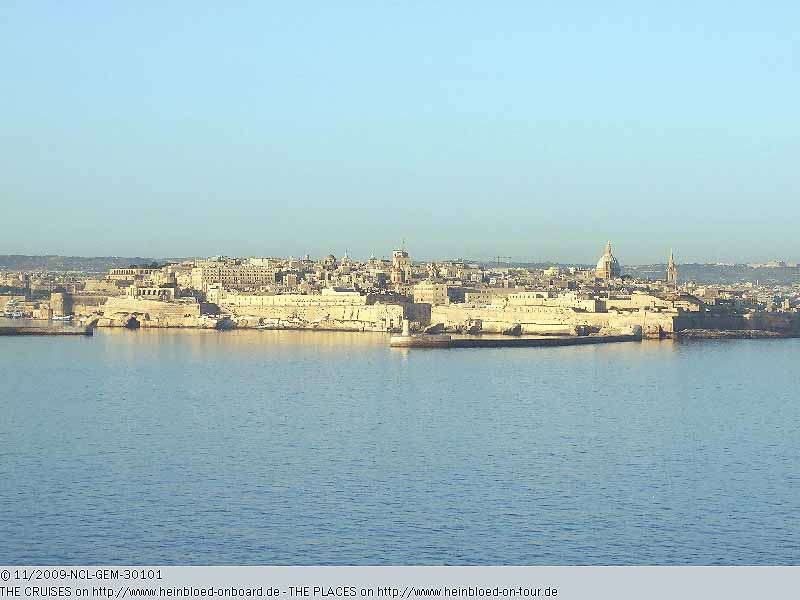 And there was Valletta. Once we did not cruise. Not our best memories. But everybody gets a 2nd chance. Malta too.

The first views in sunshine were very impressive.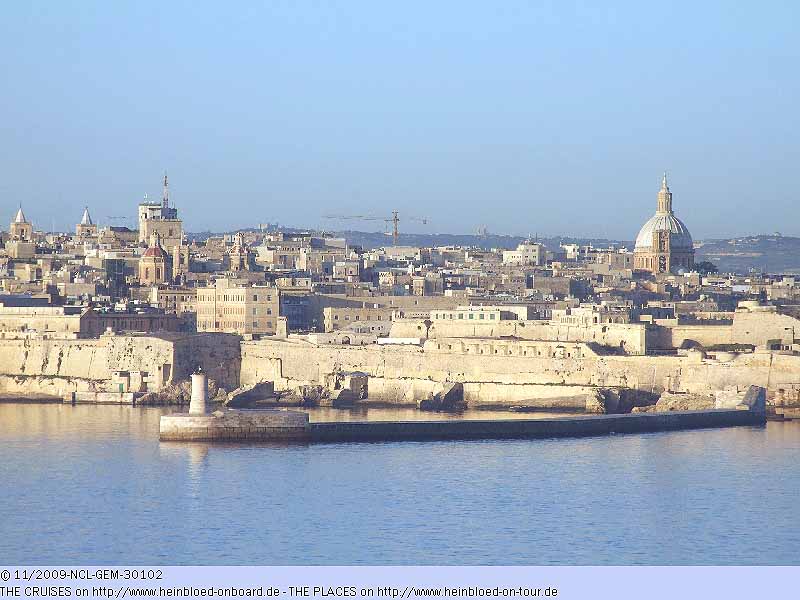 Die ersten Blicke im Sonnenschein sind schon sehr beeindruckend.
Vieles sieht einfach schöner aus, als damals im Dezember vor einer Ewigkeit.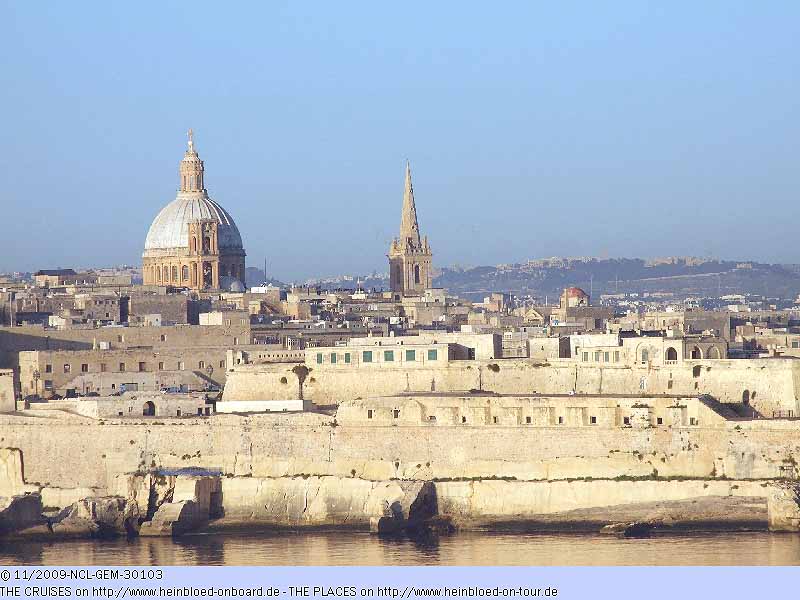 A lot of things look much more nicer than in a December before an eternity.

HSBC welcomed us.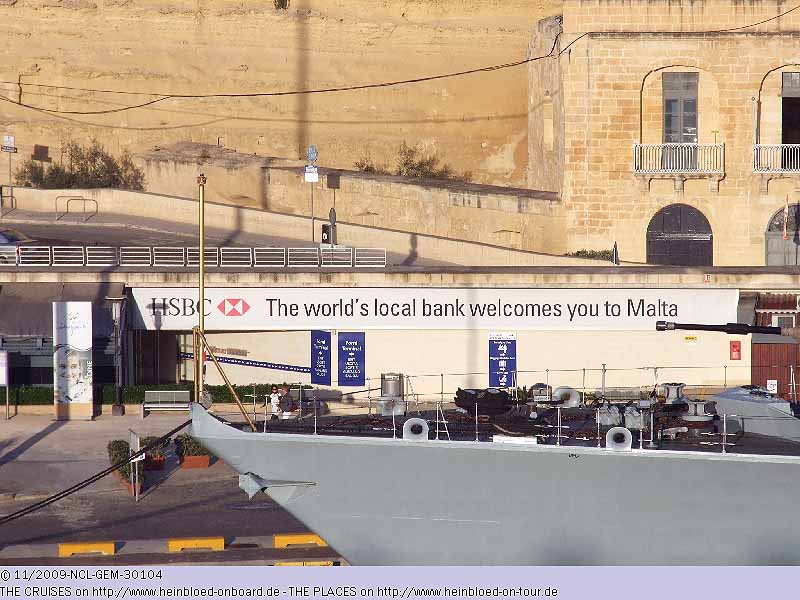 Die HSBC heißt uns willkommen.
Und dort ist also schon das Cruise Terminal an der sog. Waterfront.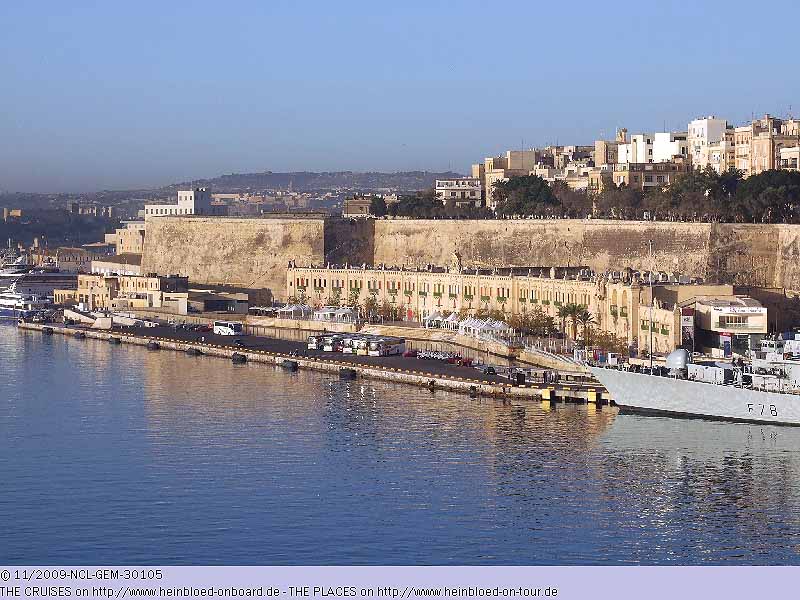 And there is the cruise terminal at the so-called Waterfront.

When we turned around my attention was attracted by MSC ORCHESTRA which was in the drydock.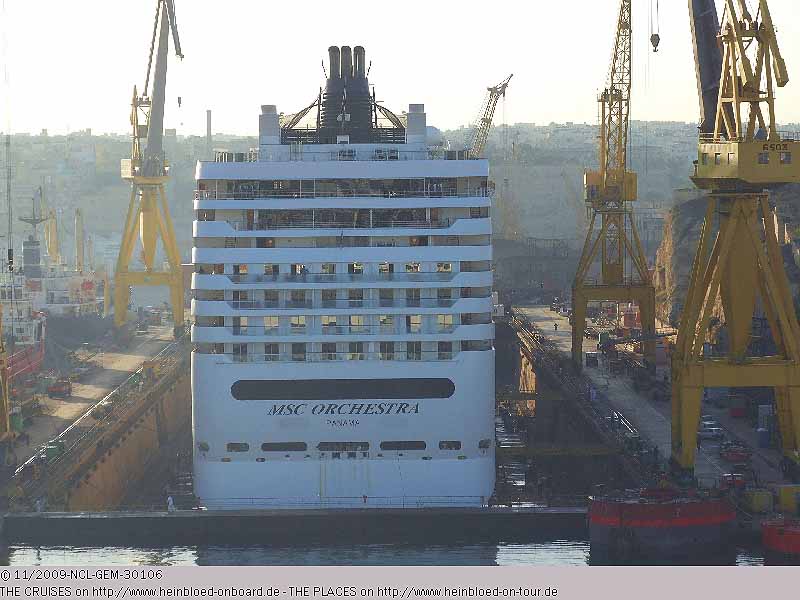 Als wir drehen, werde ich auf die MSC ORCHESTRA aufmerksam gemacht, die im Trockendock ist.
Zur kommenden Saison wird wohl auch Malta Ausgangspunkt von MSC-Kreuzfahrten, wie man uns später erzählt.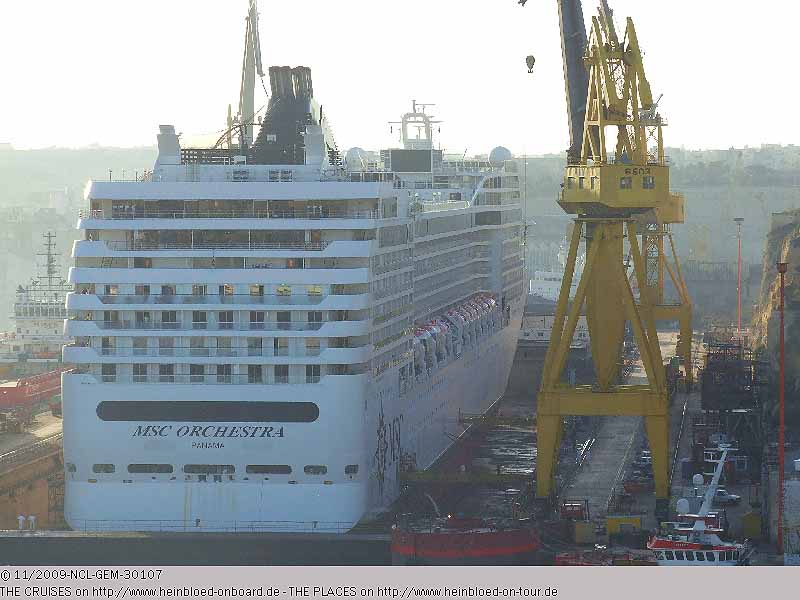 Next season Malta becomes embarkation port as we were told later the day.

But now have breakfast first: French Toast

Zunächst einmal geht es jedoch zum Frühstück: French Toast
Der nächste Versuch: Egg Benedict auf Crab Cake... Sorry: wieder nicht meines.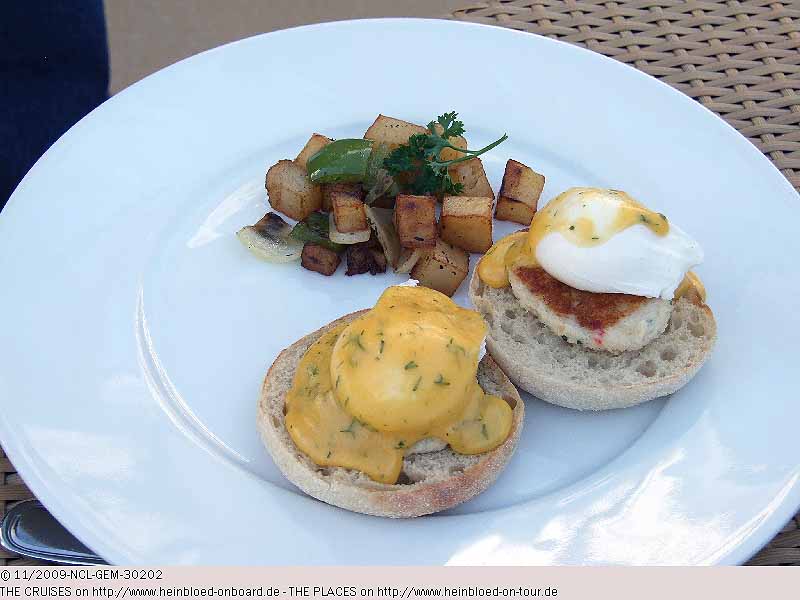 Next try: Egg Benedict on crab cakes... Sorry: but again not mine...

Our Cruise Reward confirmation arrived.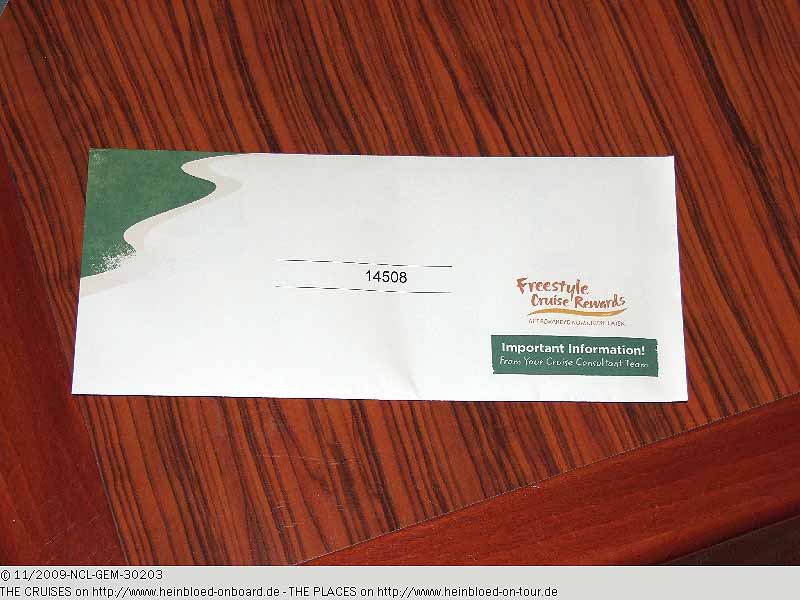 Unsere Cruise Reward-Bestätigung ist gekommen.
Wir fahren nur EU-Häfen an. Darf überhaupt Tax-Free-Shopping sein. Um diese Zeit hat der Laden zu. Deswegen erfahre ich es nicht. Übrigens: Es wird keine Mehrwertsteuer auf die Umsätze an Bord erhoben, wie bei RCI.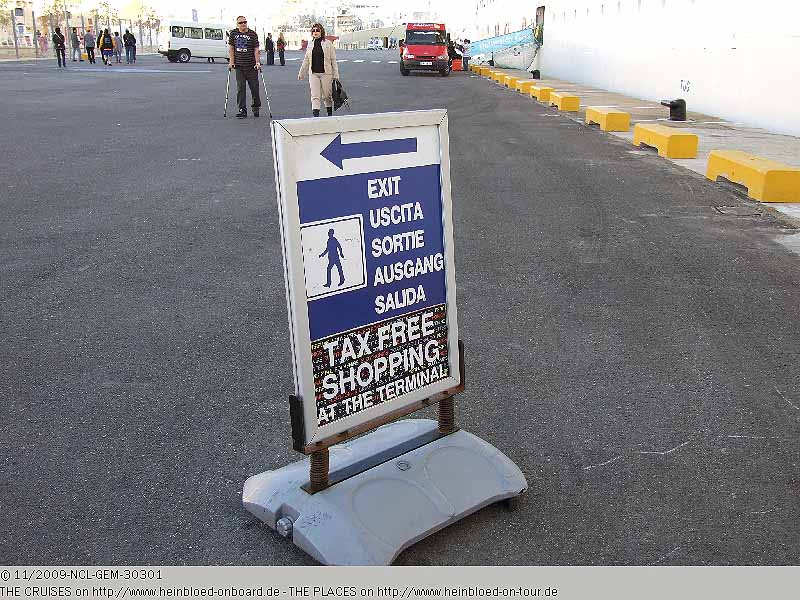 We only call ports in the European Union. Is there any Tax-Free-Shopping anymore??? At this time the shop is still closed so I had no idea if this is true. By this way there is no EU-tax added on consumption and purchases on board like with RCI.

For the local cruise markets on Malta and Cyprus Valletta is embarkation port. They walk over to the left to pass the customs and open-air-baggage-claim while we were walking out to the right.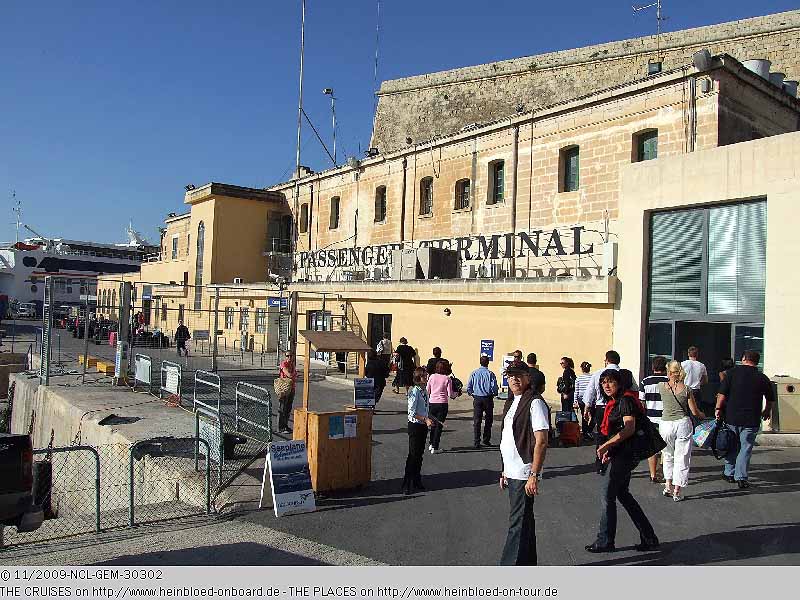 Für den maltesischen und zypriotischen Markt ist Malta Zustiegshafen. Diese laufen nach links zur Gepäckausgabe im Freien und Zoll, während wir nach rechts laufen.
So kommt man weiter.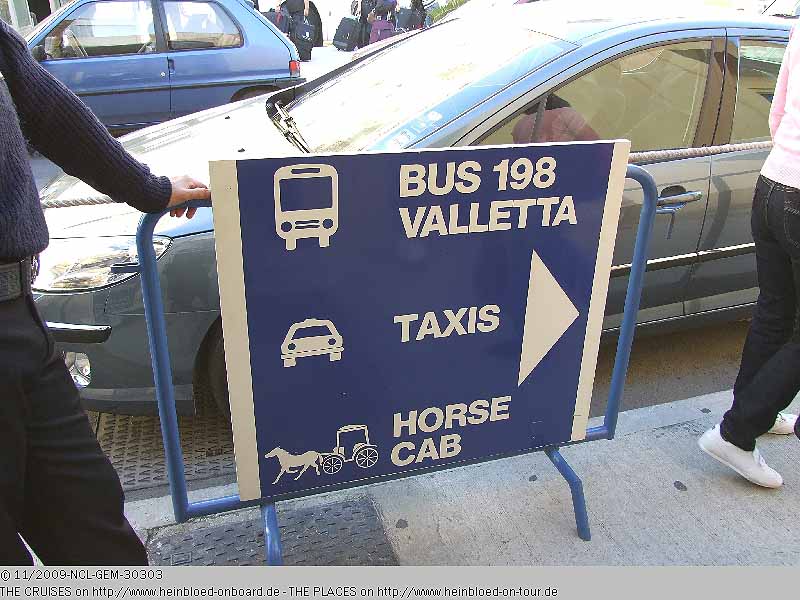 How you get further.

Just walk alongside the waterfront.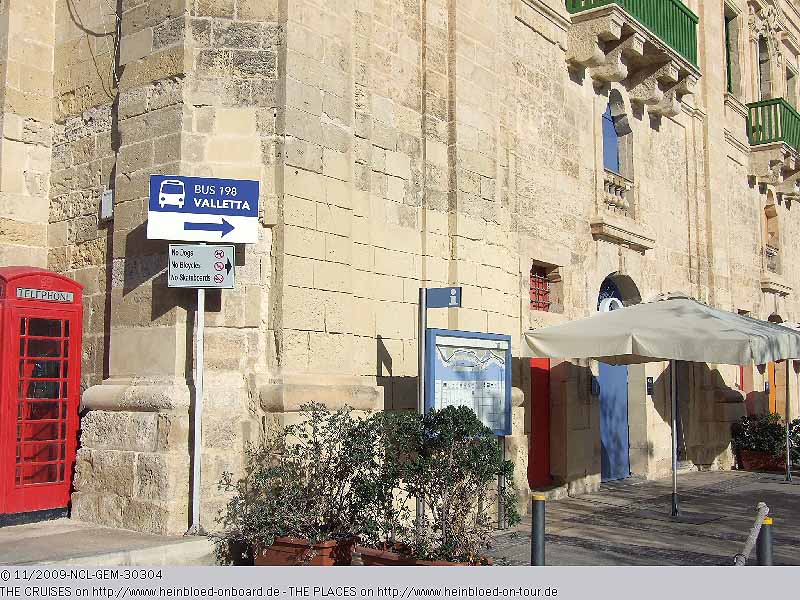 Man läuft an der Waterfront entlang.
Hier findet sich vieles, was der gemeine Kreuzfahrer so braucht: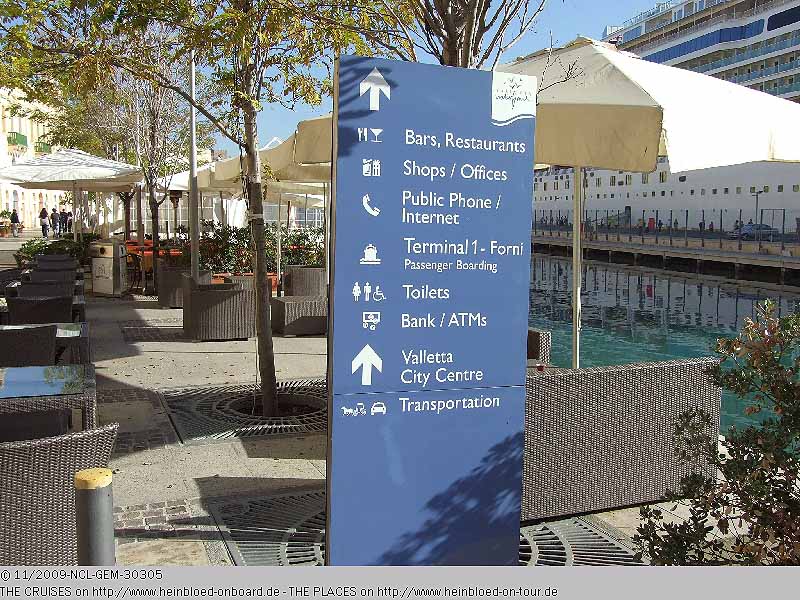 Here you find everything a ordinary cruiser needs.

Many restaurants and services.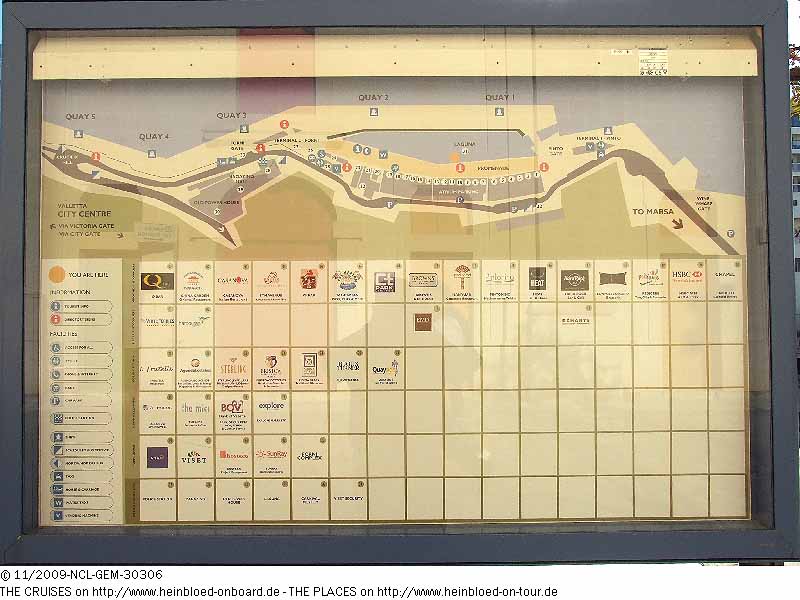 Zahlreiche Restaurants und Serviceeinrichtungen.
Im Browns kann man drinnen kostenlos ohne weitere Log-In-Daten WLAN nutzen. Später trinke ich dort etwas, um ein paar Bilder hochzuladen.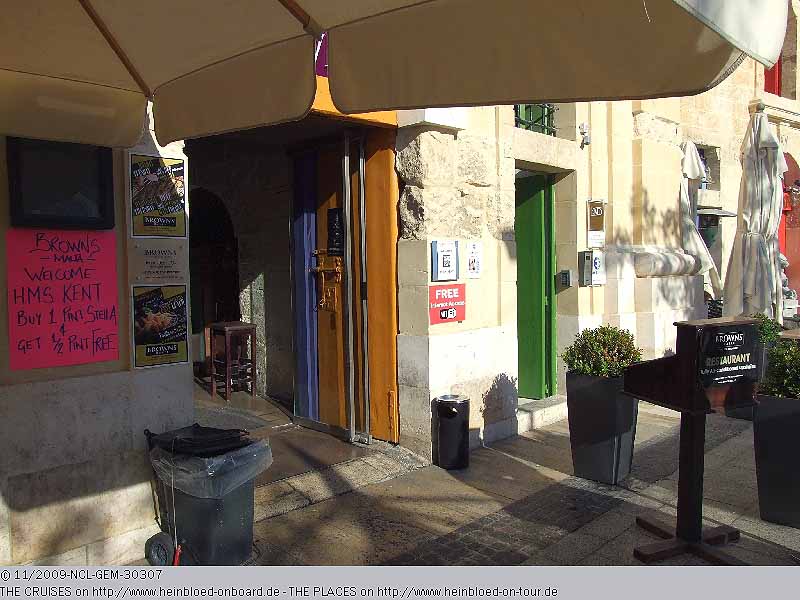 At Browns you can use free of charge your notebook and you do need to ask for log-in-details to get connected by WiFi. Later the day I had a drink while I uploaded some pictures for you.

Here is also an internet-cafe but without accessibilty for a notebook of your own.

Hier gibt es aber auch ein Internet-Café, allerdings ohne Anschlussmöglichkeiten für den eigenen Laptop.
Und der Geldautomat der HSBC.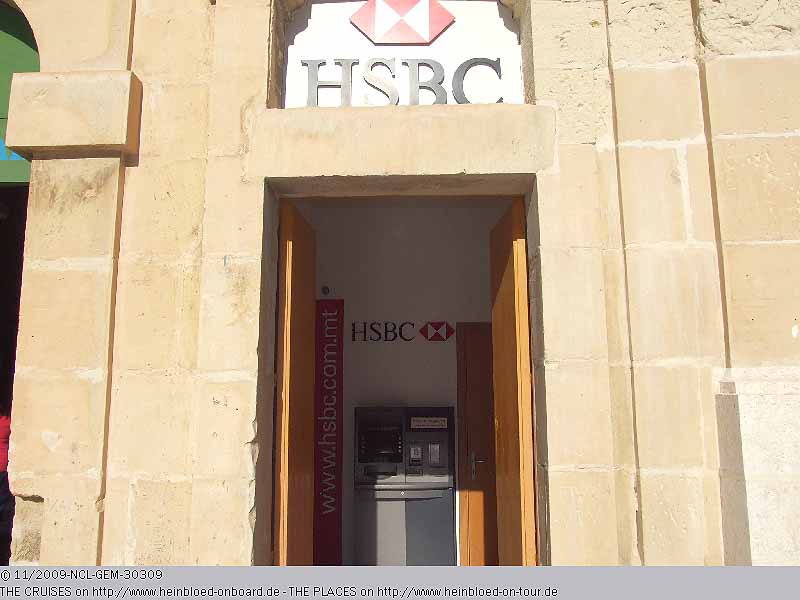 And an ATM from HSBC.

You find here taxi companies...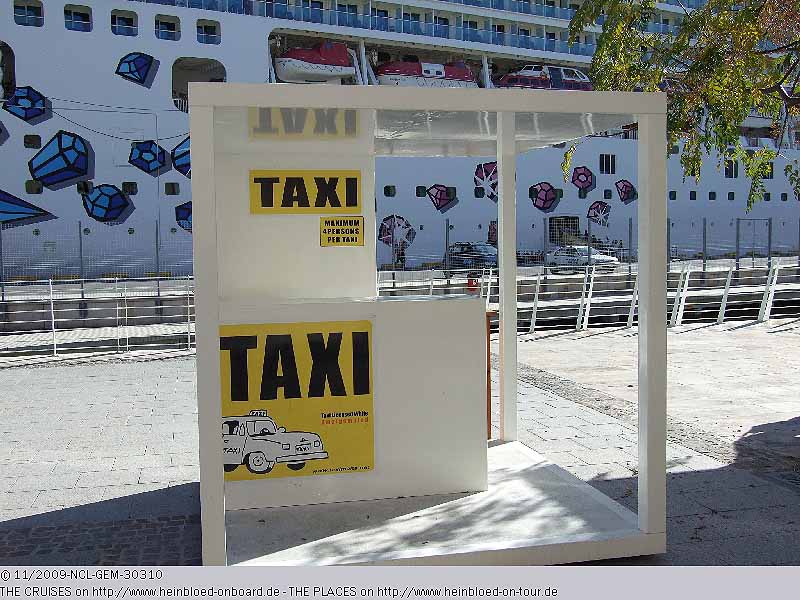 Hier finden sich auch die Taxi-Firmen.
Und Ho-Ho-Touranbieter und AVIS.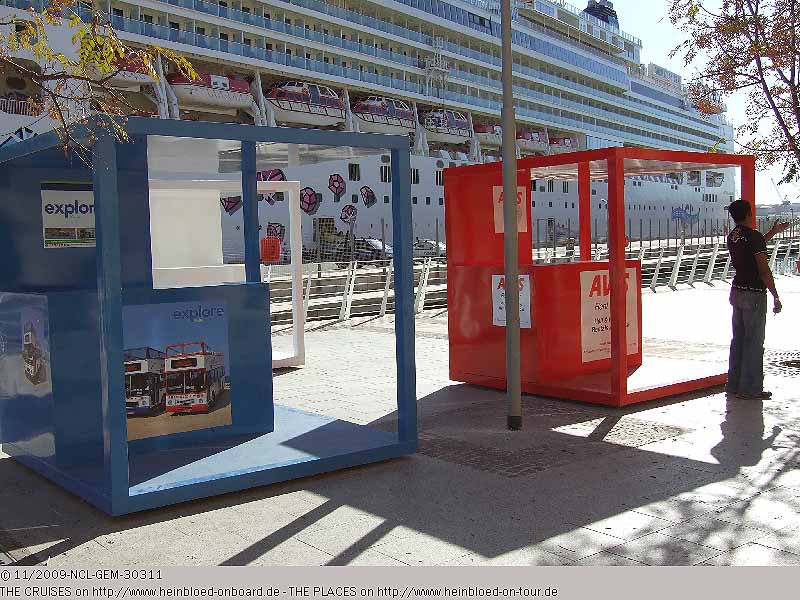 Ho-Ho-Bus-operators and AVIS.

The yellow buses on Malta have not changed. Route 198 will get you to Valletta central bus terminal at the city wall.

Die gelben Busse auf Malta haben sich nicht verändert. Linie 198 bringt einen bis zur Stadtmauer.
Hier warten die angekommenen Gäste auf die Abholer.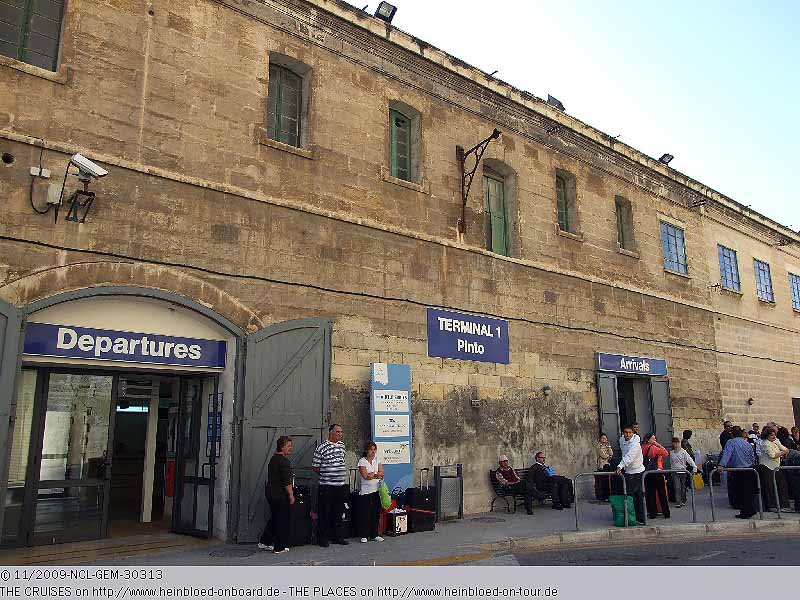 Debarking guests were waiting for their pick-ups.

Sea Passenger Terminal... Sounds very giant for such an old warehouse.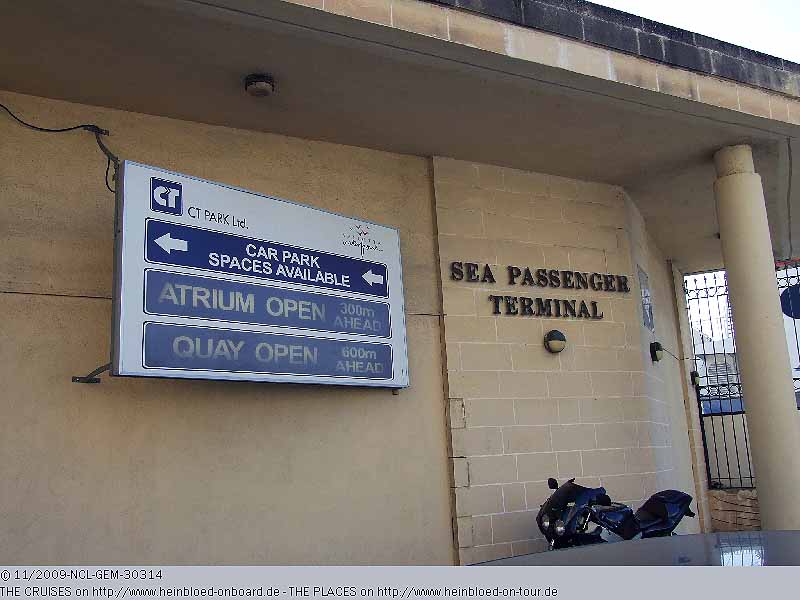 Sea Passenger Terminal... klingt irgendwie schon bombastisch für die alte Lagerhalle.
Später wird man von der anderen Seite der Waterfront nur eingelassen.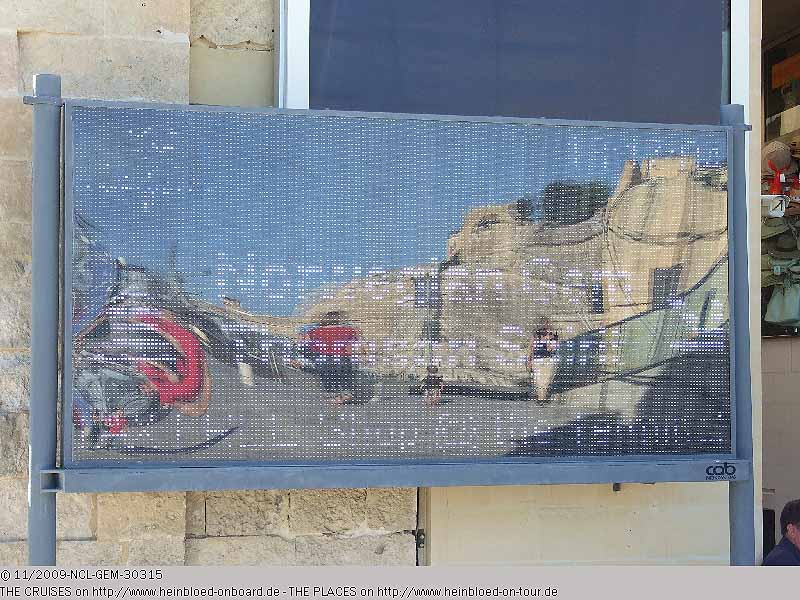 Later you need to access the cruise terminal from the other side of the Waterfront.

You need to go away from the ship before you get to the ship...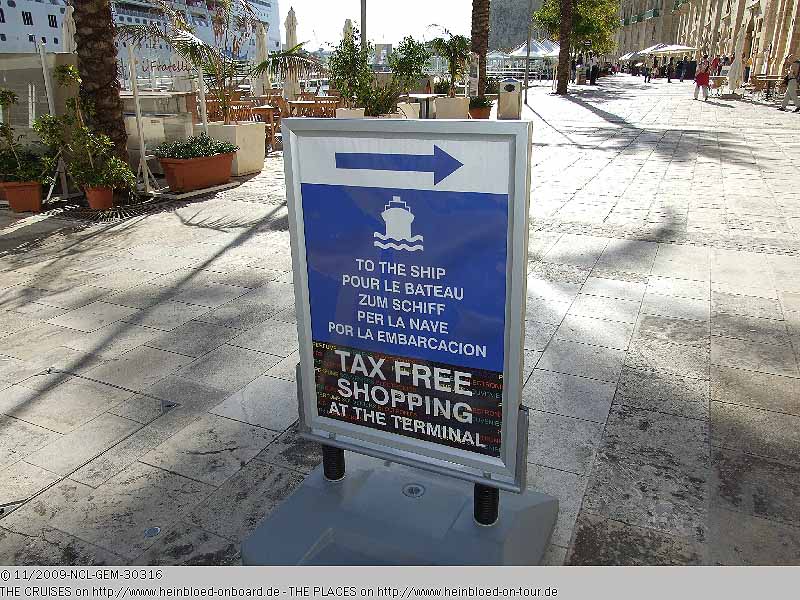 Man muss erst mal vom Schiff sich abwenden, um zum Schiff zu kommen.
Und durchläuft erst mal einen Parcours durch die Duty Free Shops: 16 EUR für eine Stange Zigaretten.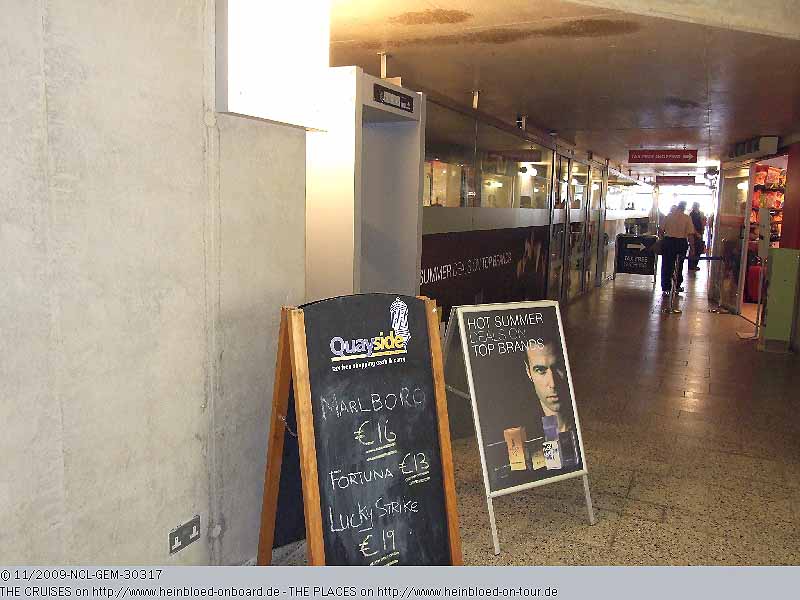 And you run a concourse through the Duty Free Shops: 16 EUR for a box of cigarettes.

On the website of the Maltese Tourist Board we found a list of the official tour guides. Many requests came back because it was not updated. Our tour guide came with her car to collect us.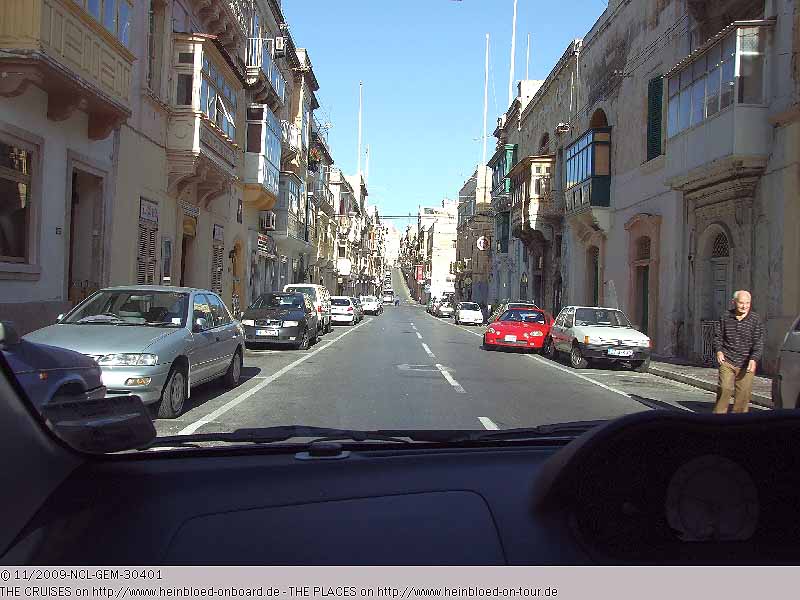 Auf der Homepage des Maltesischen Fremdenverkehrsamt haben wir eine Liste aller Fremdenführer gefunden. Viele Anfragen kommen zurück, weil sie wohl nicht aktualisiert wird. Unsere Fremdenführerin holt uns mit ihrem Auto ab.
Sie soll uns Malta so schmackhaft machen, dass wir wiederkommen und uns die versteckten schönen Seiten der Insel zeigen.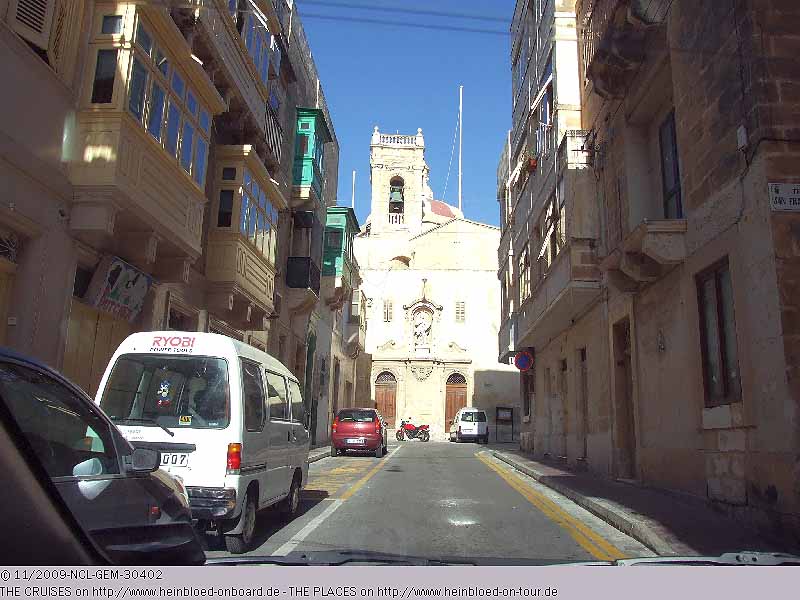 Her job was to make us hungry on Malta that we will return one day and she should show us the hidden beauties of the island.

Our first way was to the so-called The Three Cities.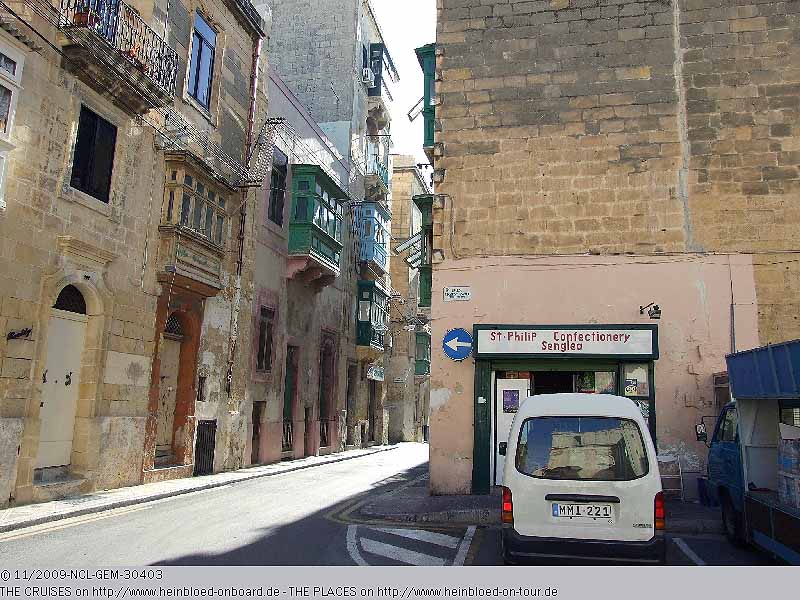 Der erste Weg für uns in die sog. The Three Cities.
Einfach schnuckelig.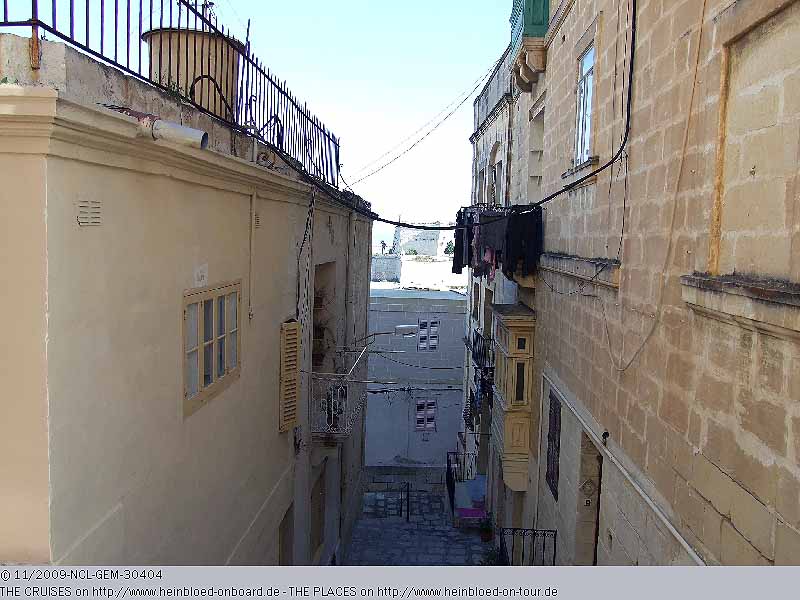 Just cute.

She took us to the most important place of our today's route.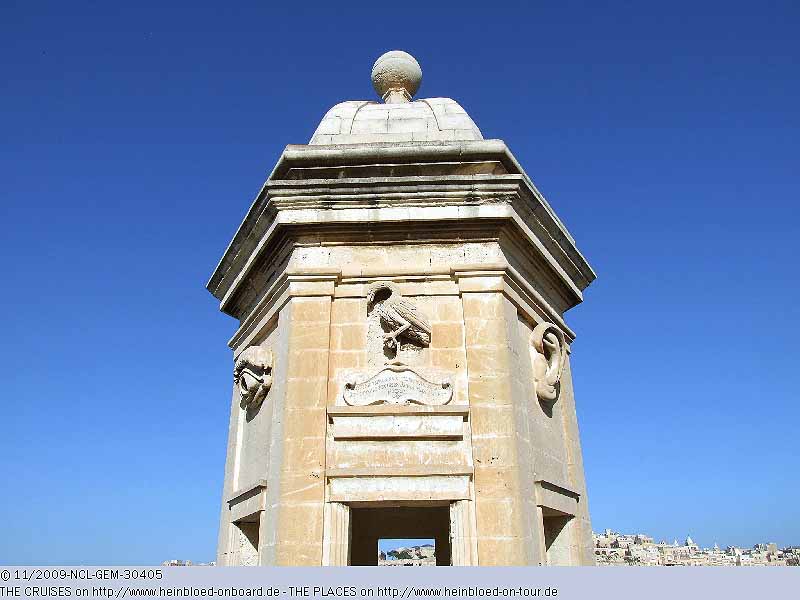 Sie führt uns zum wichtigsten Punkt auf der ganzen Route.
Hier kann man schön auf Valletta rübergucken.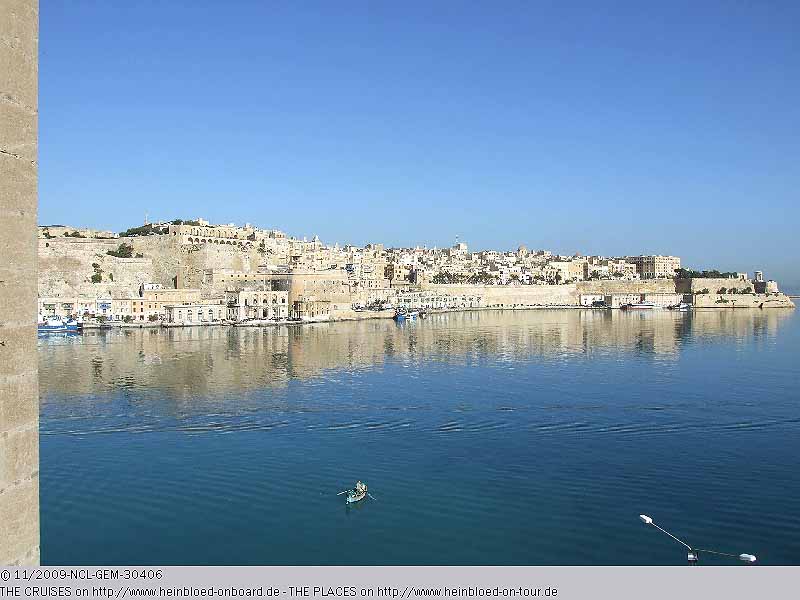 You can watch over Valletta

and Vittoriosa...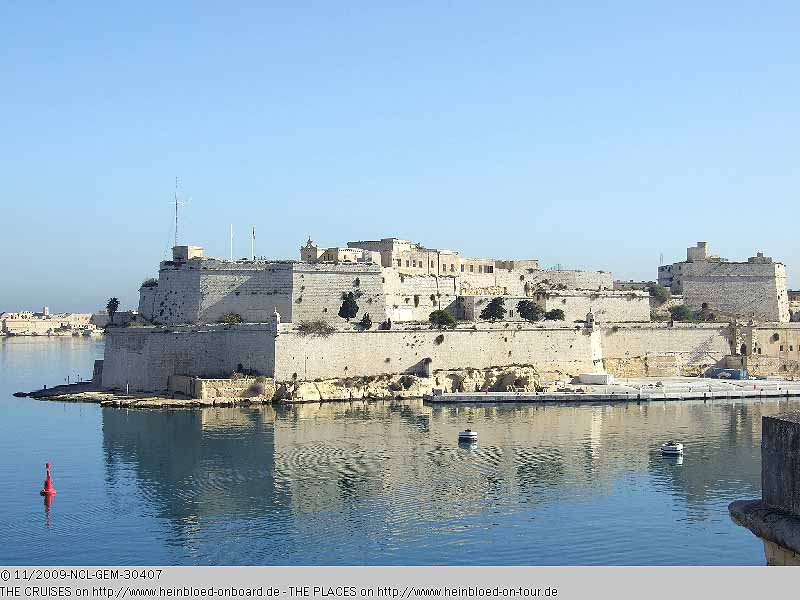 ... und Vittoriosa...
Das ist übrigens unsere Führerin: Sabine Attard. Eine Deutsche, die schon lange auf Malta lebt. Da diese Liste vom Fremdenverkehrsamt etwas schwierig zu finden ist: am Besten auf der Homepage ihres
Restaurants ta'Cassia Salina
besuchen und hierüber kontaktieren. Da unsere Zeit leider beschränkt war, konnten wir dort selbst nicht essen. Um es vorweg zu nehmen: wenn das Essen nur halb so gut ist, wie ihre Erläuterungen während der Tour, dann dürfte die Freunde am Besuch des Restaurants doppelt so groß sein. Und Ihre Erläuterungen waren erstklassig.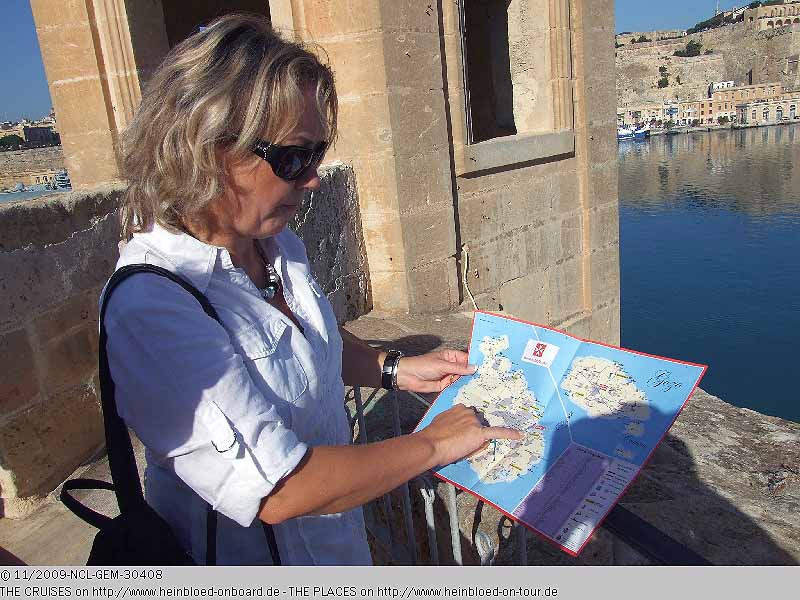 By this way: that's our tour guide: Sabine Attard. A German who lives for many years on Malta. Unfortunately she offers only tours in German. But if you like to have Maltese food you should visit her restaurant: Restaurants ta'Cassia Salina If her food is half as good as her explanations a visit of her restaurant must be double as great. And her explanations were just brilliant.

She explained also the Maltese language. English is no more official language.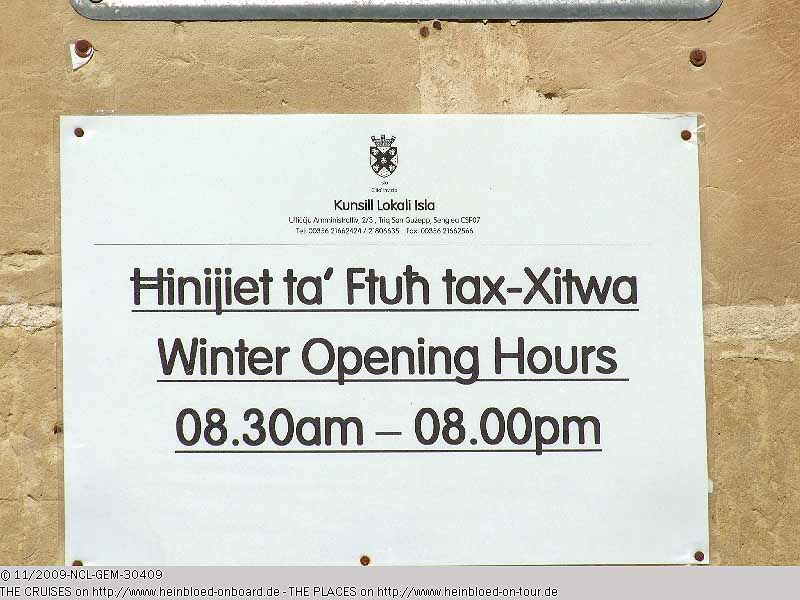 Es gibt auch gute Erläuterungen zu der maltesischen Sprache. Englisch ist nicht mehr Amtssprache.
Der Grund, warum der Punkt der beste Platz war: man kann hier vorne auch die zusätzlichen Anlegestellen für Kreuzfahrtschiffe finden, wenn die Waterfront vollständig belegt ist.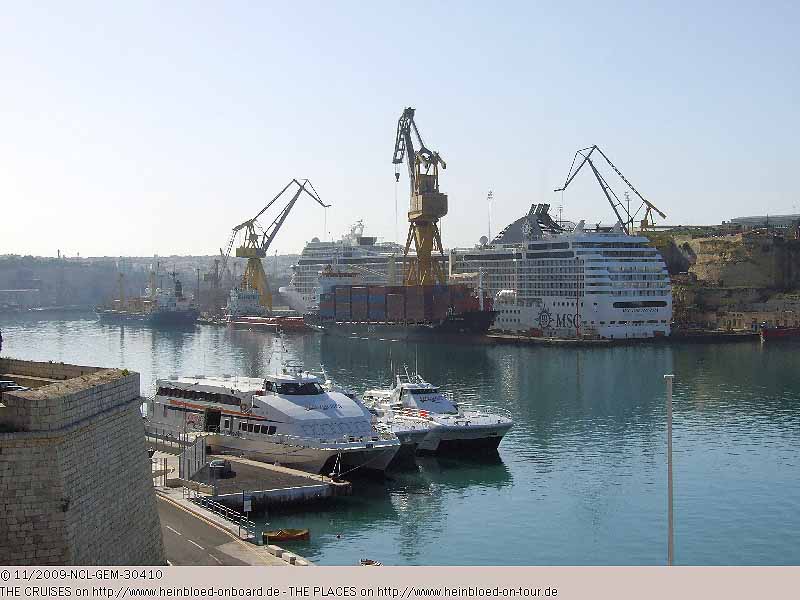 The reason why it's the best place of the tour: you can watch the additional berthes for cruise ships if the waterfront is fully occupied.

You can also see the dry dock. Sabine could also tell me the acceptable sizes of ship. But I cannot remember such facts.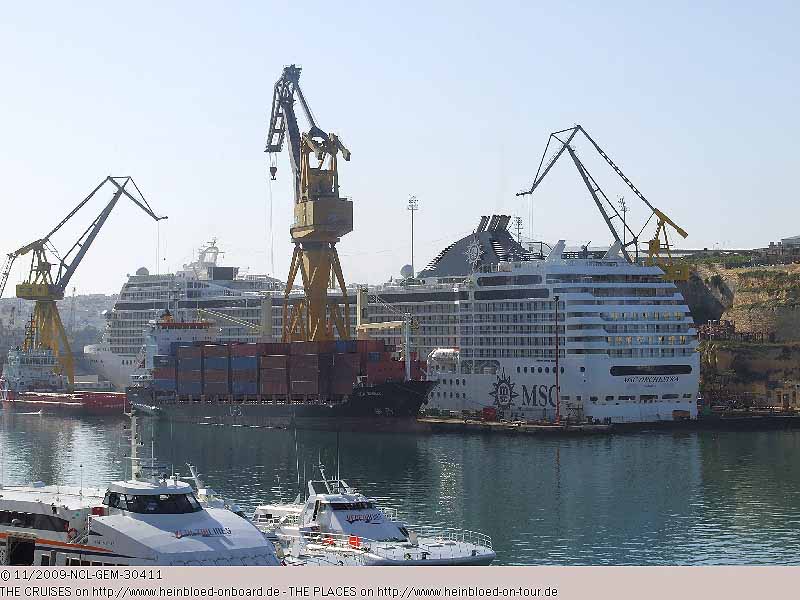 Man kann so schön zum Trockendock rübergucken. Sabine konnte mir sogar die Schiffsgröße sagen, die dort aufgenommen werden. Aber so etwas kann ich mir nicht merken.
Vor allem: hier war der allerschönste Platz, um MEINE NORWEGIAN GEM zu fotografieren.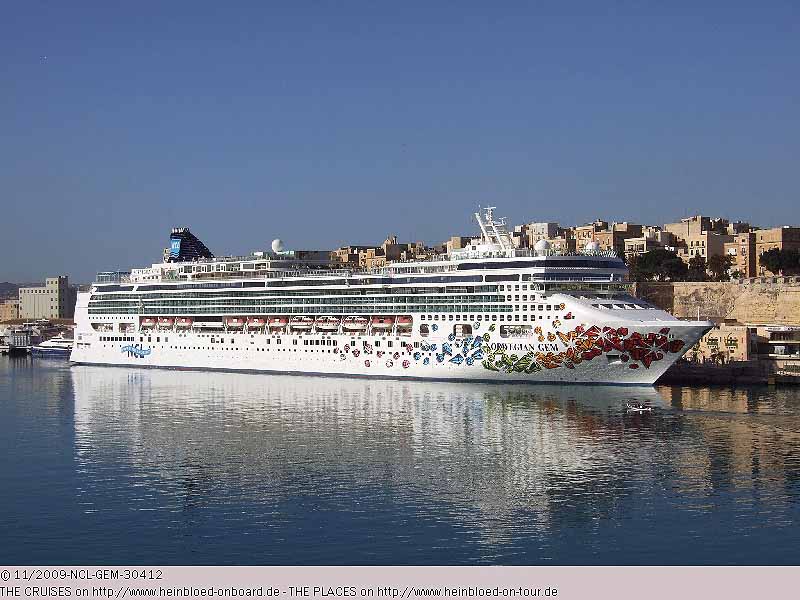 But especially: here we had the very best place to take pictures of MY NORWEGIAN GEM.

I cannot remember all names. So just enjoy the pictures.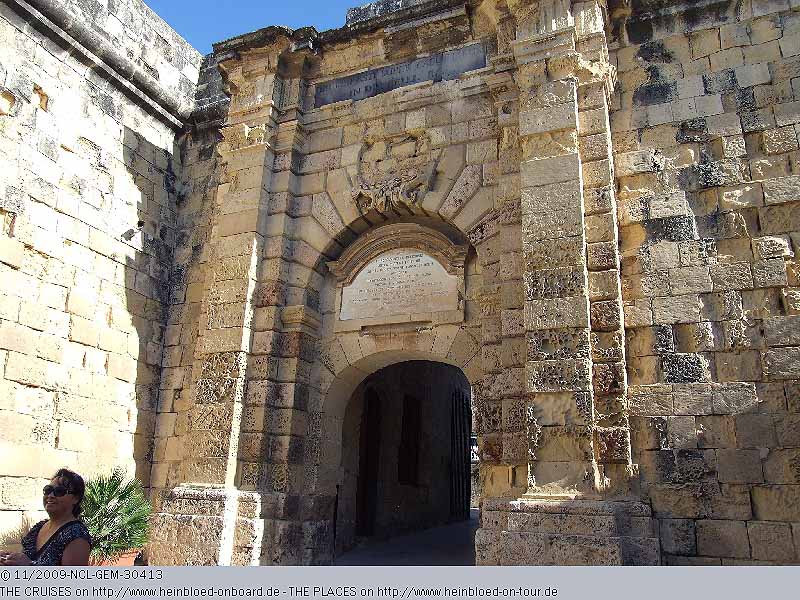 Ich konnte mir nicht alles merken. So lasst einfach die Bilder auf euch wirken.

The overhanging balconies were dedicated for ladies that none can watch them from the ground.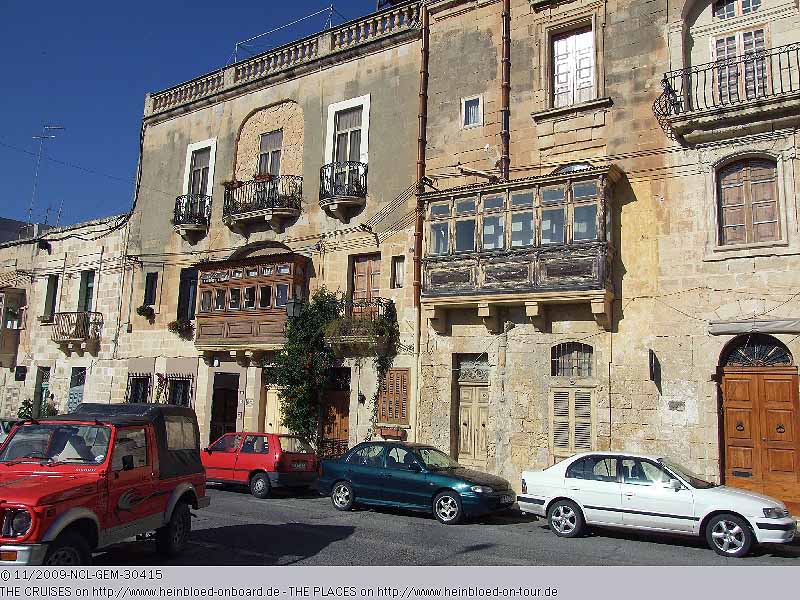 Die hervorhängenden Balkone waren für Damen gedacht, damit denen nicht von unten reingucken konnte...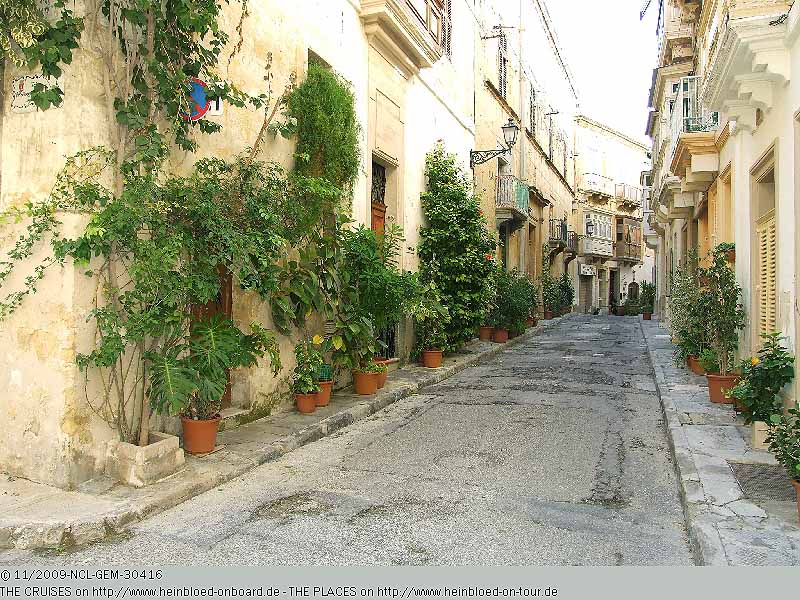 Das Fischerdörfchen Marsaxlokk war so ziemlich das schönste, was wir gezeigt bekommen haben.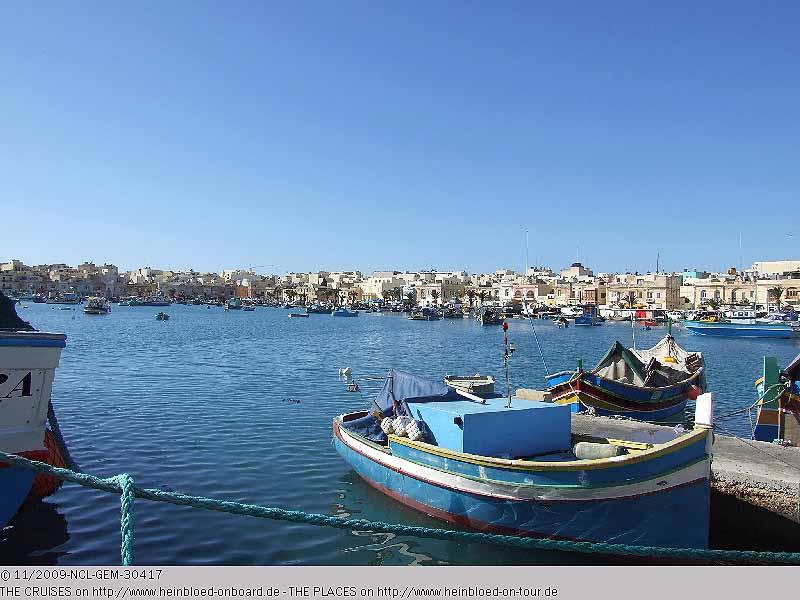 The fisherman's village Marsaxlokk was the most beautiful we saw this day.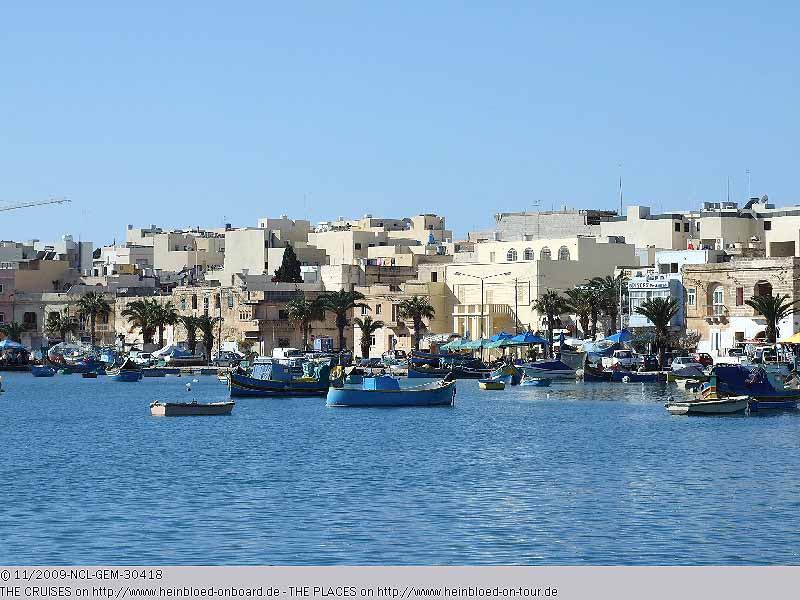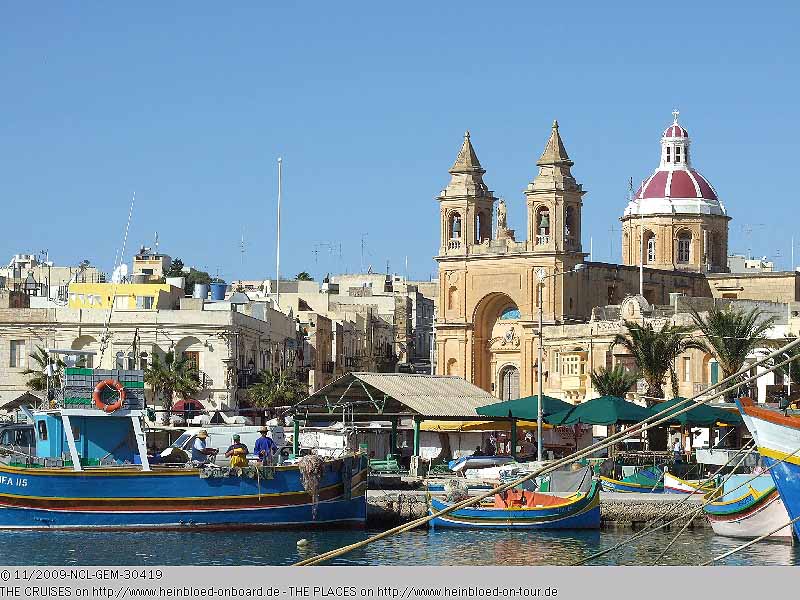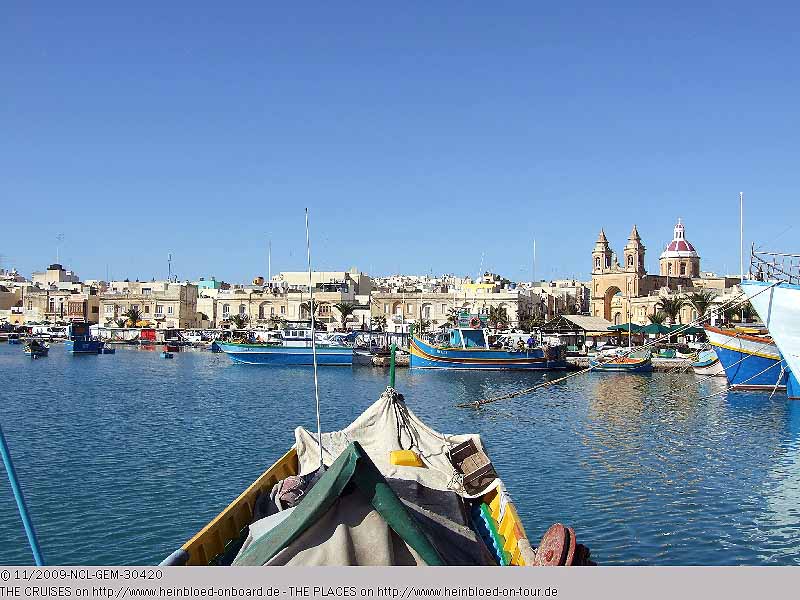 Even the NCL-buses found there way to this place.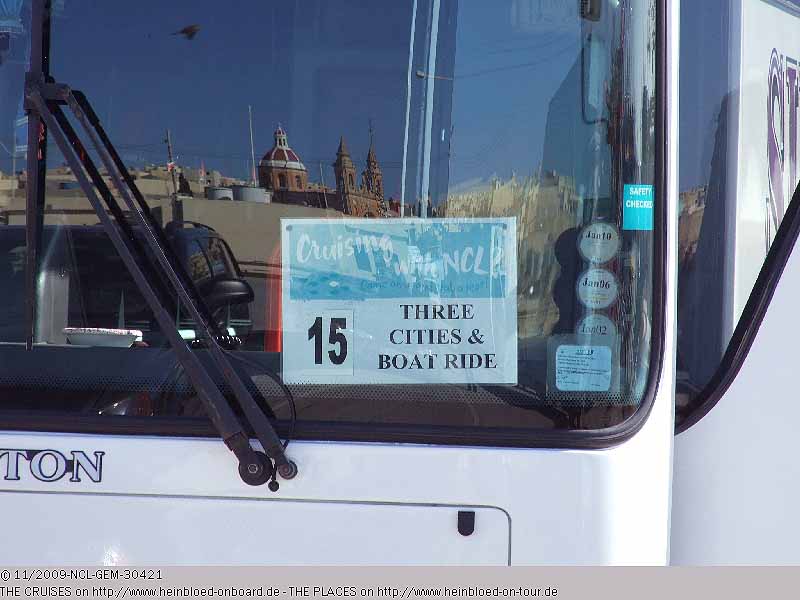 Sogar die NCL-Busse haben den Weg hierher gefunden.
Wir haben viel über Architektur erfahren. Dazu gehörte auch, dass Sabine uns gezeigt hat, wie und wo die Steine für die typischen maltesischen Gebäude herkommen.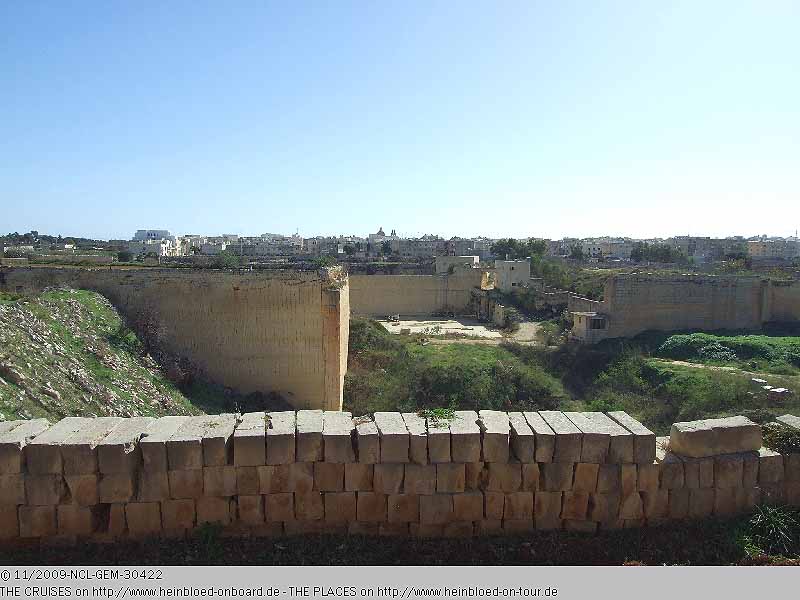 We learned a lot of architecture. For Sabine it's also part of her tour to see the origin of the bricks for the typical Maltese buildings.

Next stop is the Blue Grotto.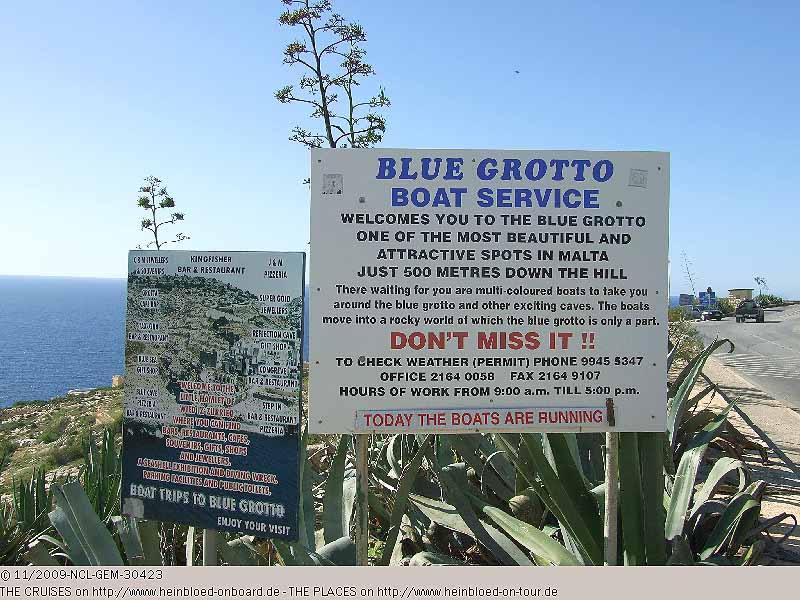 Der nächste Weg führte uns zur Blauen Grotte.
Daran können wir uns noch erinnern. Auf eine Bootsfahrt haben wir keine Lust und vor allem wir haben keine Zeit.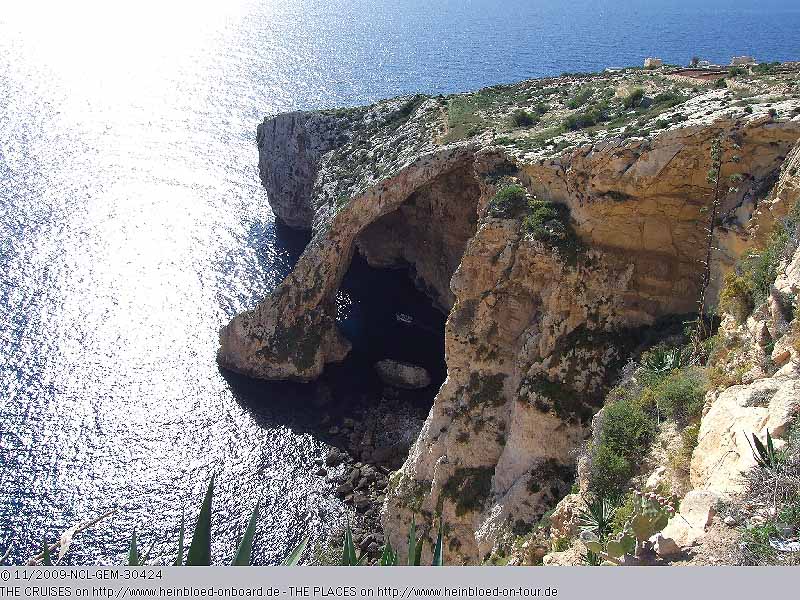 We remembered this place. But we did not want to do a boat tour as we had no time either.

So far Malta was a k.o.-criteria. But with Sabine's help we liked it very much.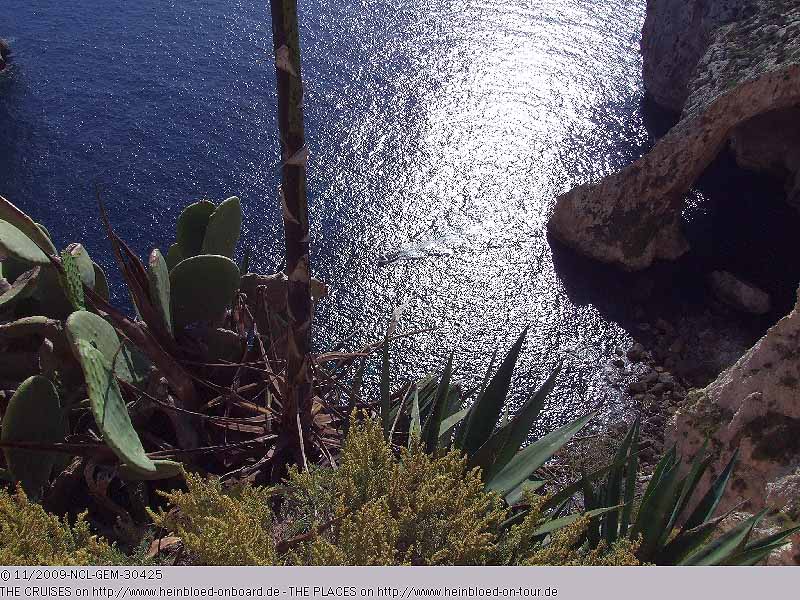 Bis jetzt war Malta ggfls. ein K.O.-Kriterium. Aber mit Sabines Unterstützung, kann es einem wirklich dort gut gefallen.
Sogar der maltesische Falken war für uns bestellt worden.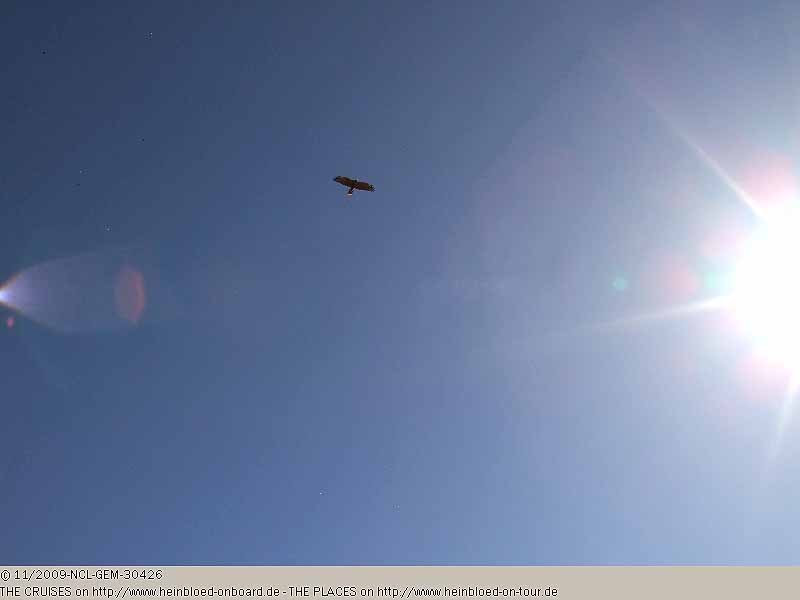 Even a Maltese falcon was ordered for us.

By coincidence there was a falconer and animal movie maker.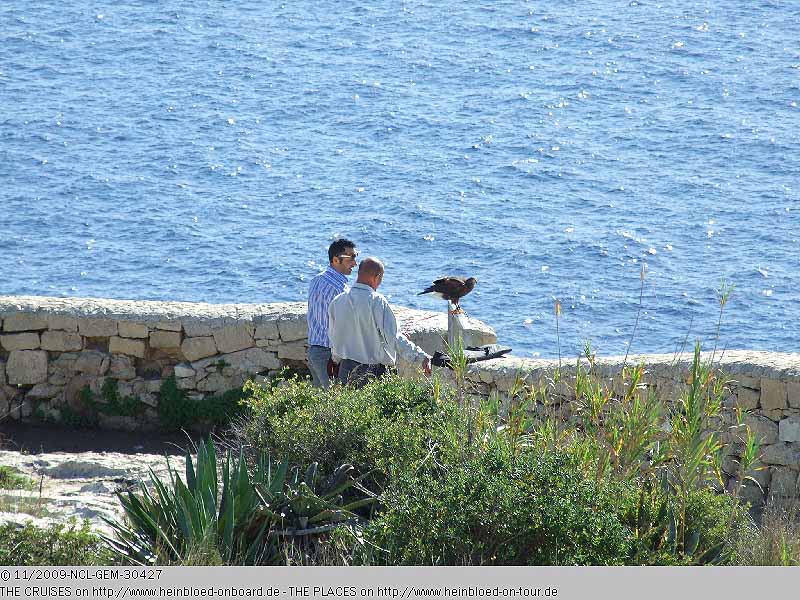 Zufällig waren ein Falkner und ein Tierfilmer da.
Wir bekommen auch etwas über Flora und Fauna mit. Aber das konnte ich mir nicht alles merken. Ich werde langsam alt.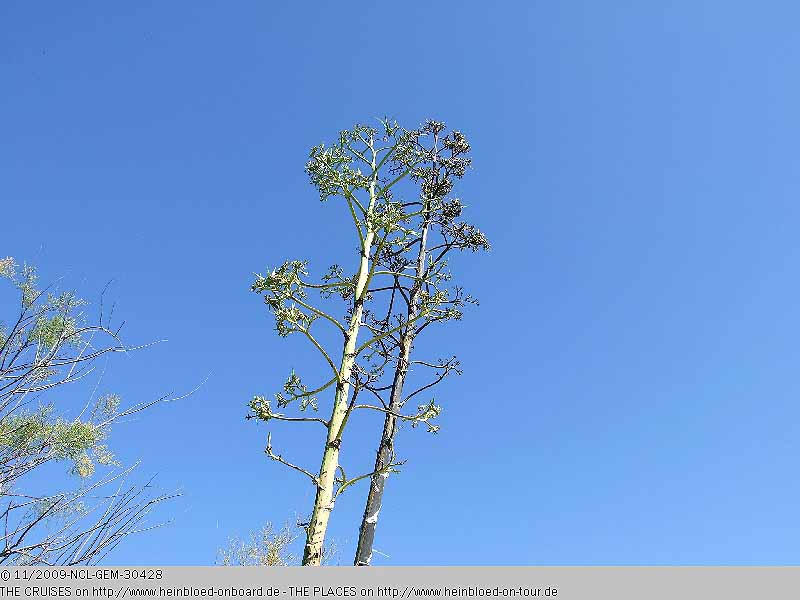 She told us also about flowers and plants. But as I am getting older and older I cannot remember all details.

Like I remember from the last time on Malta: no signpost. Left side the highway and right side a country road. Road holes like an old mogul piste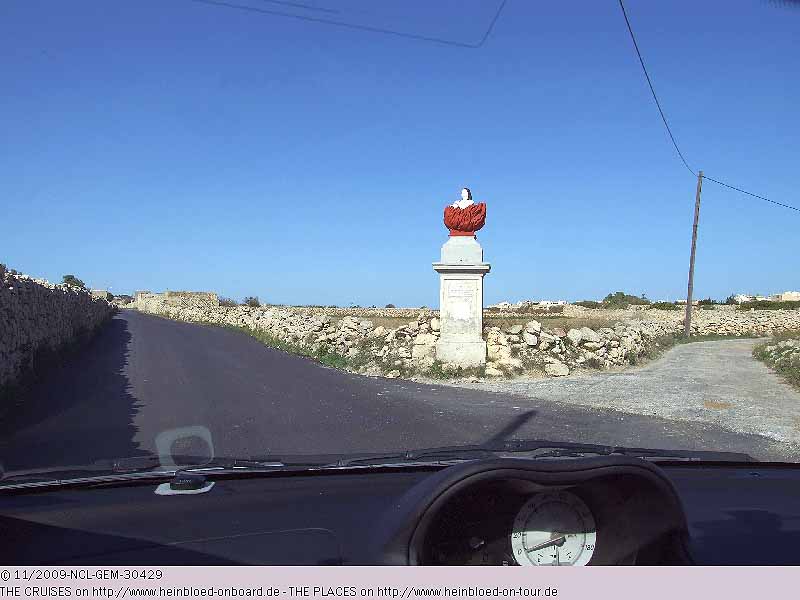 So habe ich Malta in Erinnerung: kein Schild, wo es lang geht. Links die Autobahn und rechts die Bundesstraße und Schlaglöcher, wie auf einer alten Buckelpiste.
Es geht nach Mdina.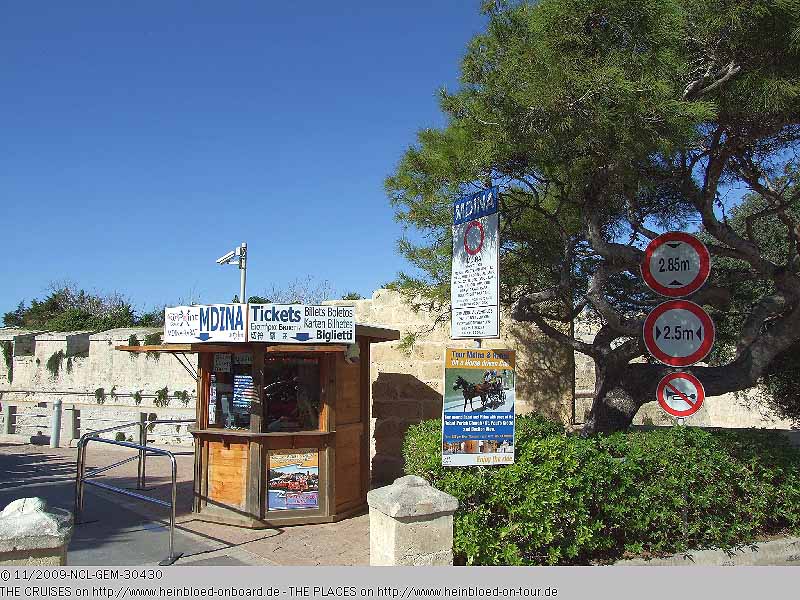 Next stop Mdina.

Also a place we remembered very well.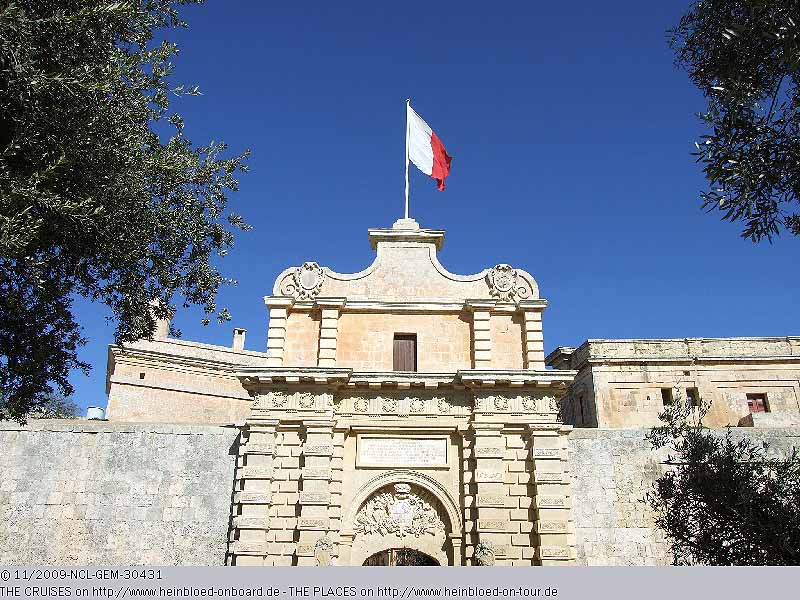 Hieran können wir uns noch sehr gut erinnern.
Sieht noch alles unverändert auch.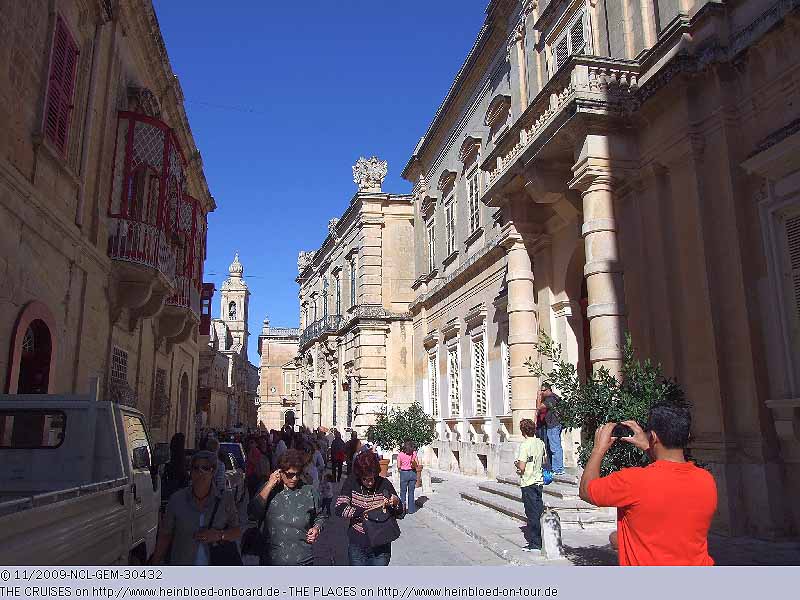 Nothing has changed so far.

But with a weather like this you can just enjoy the view.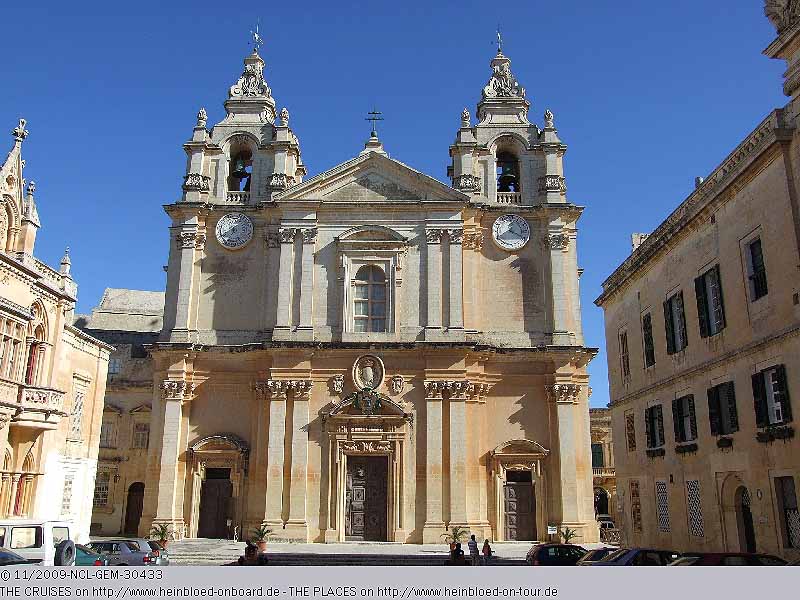 Bei dem Wetter konnten wir jedoch den Anblick einfach genießen.
Einfach klasse.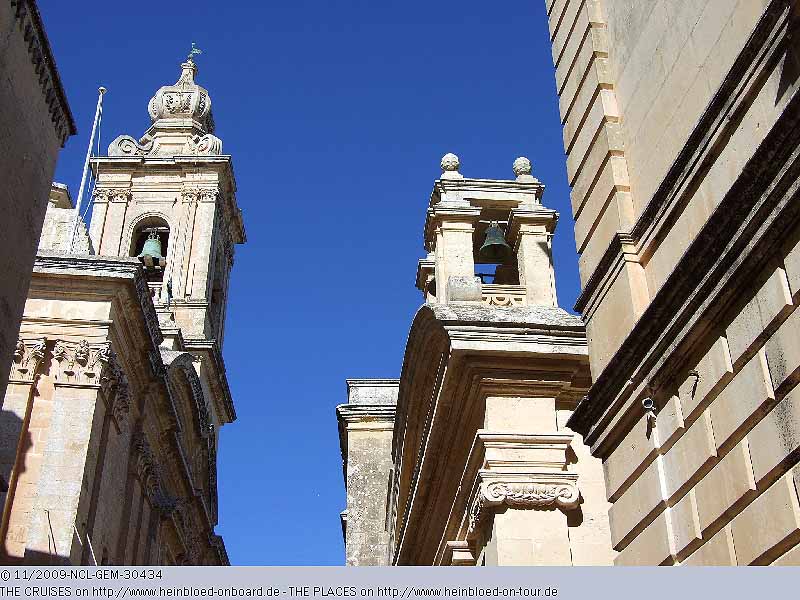 Just brilliant.

Sabine suggested to have a cup of coffee at Café Fontanella because there should be the best Cappucino on Malta available.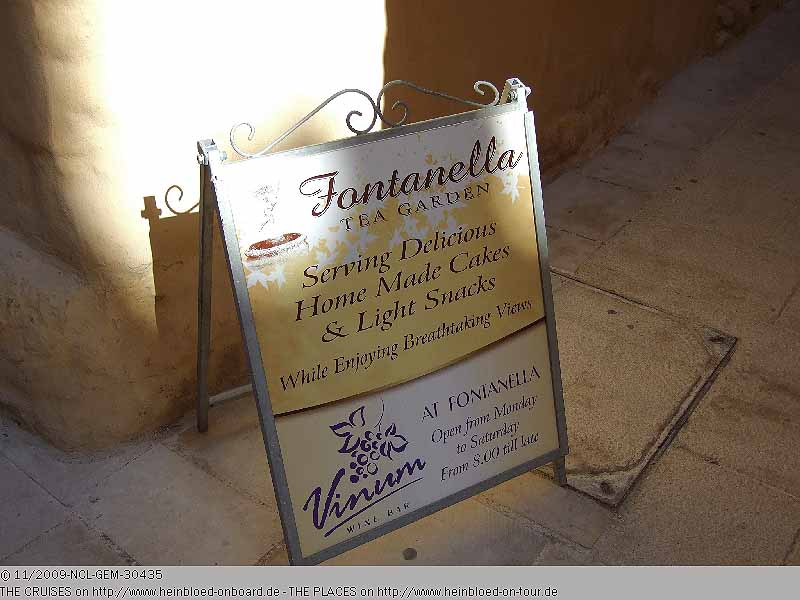 Sabine schlägt vor, dass wir eine Tasse Kaffee im Café Fontanella zu uns nehmen sollten, weil es hier einer der besten Cappucinos auf Malta gibt.
Als wir die Gasse sehen, meinen Bruno und ich, dass wir hier schon mal waren.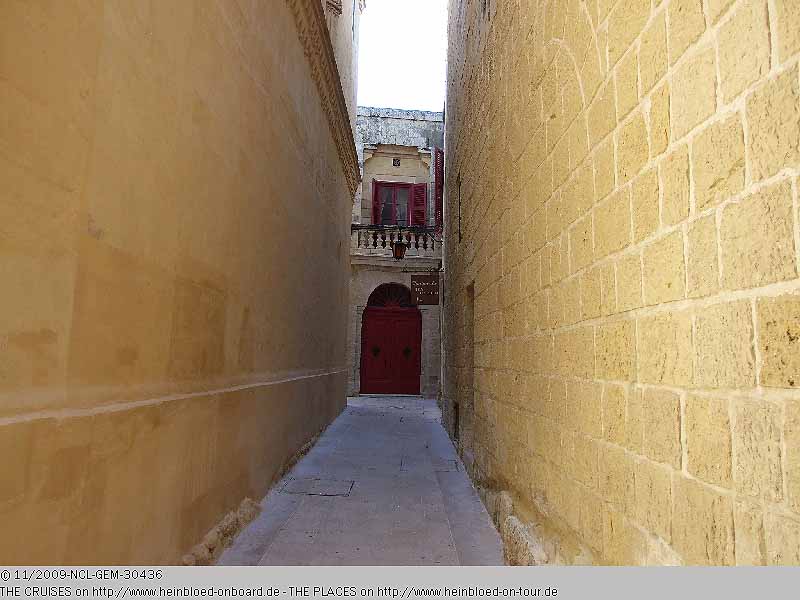 We we walked along this lane Bruno and me knew that we have been here before.

Indeed we knew this place.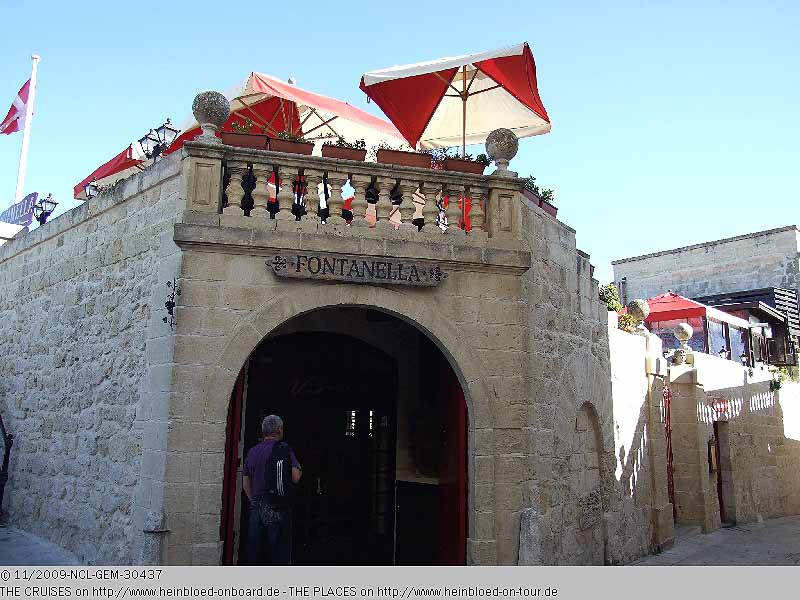 In der Tat: hier waren wir schon mal.
Denn der Blick von hier oben ist unvergesslich.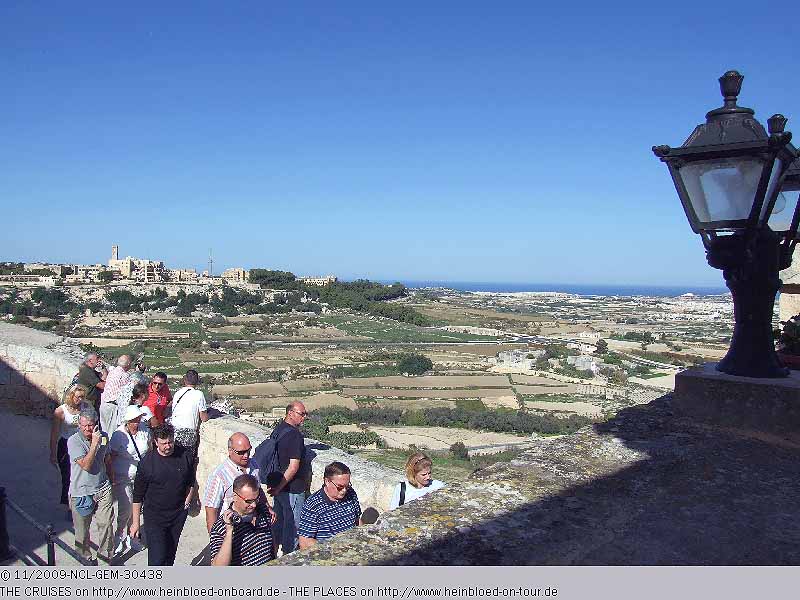 The view from here is just gorgeous.

A spectucar view all over the island.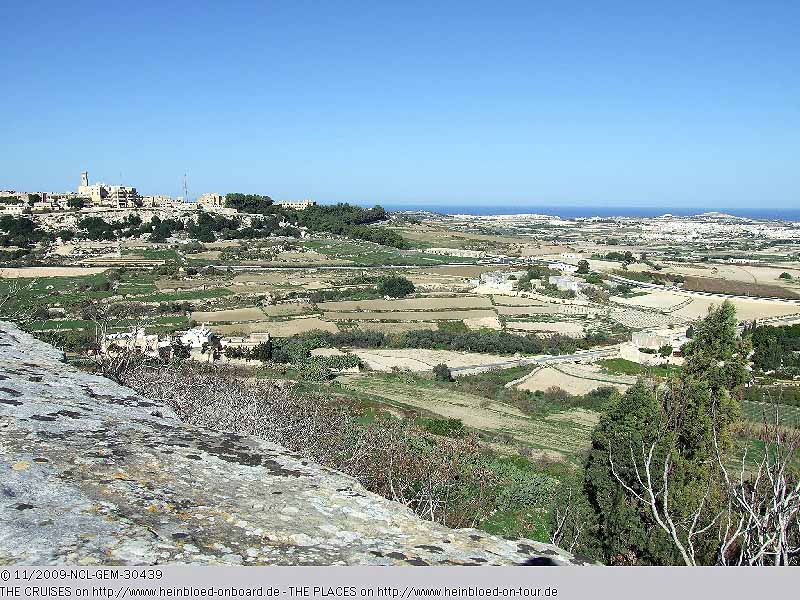 Von hier oben kann man fast die gesamte Insel überschauen.
Wir laufen zurück zum Auto. In Mdina selbst dürfen nur Anwohner reinfahren.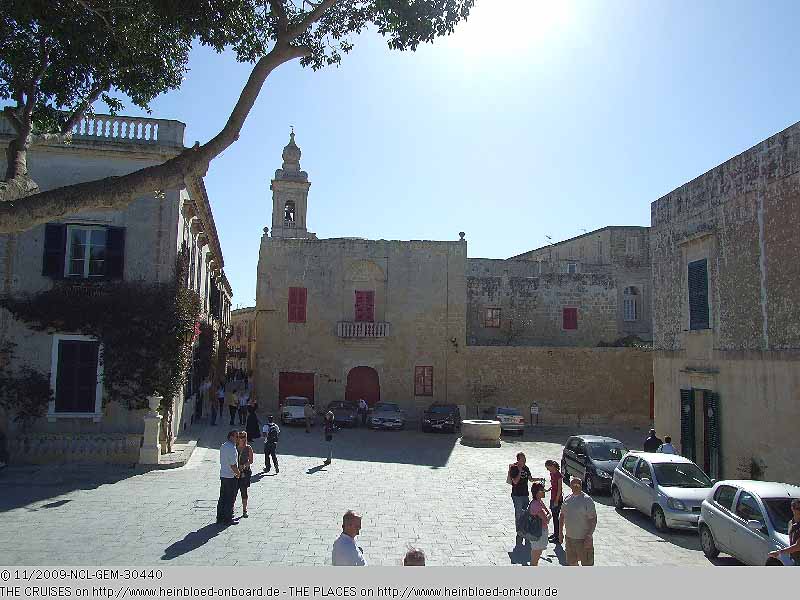 We walked back to her car. In Mdina only residents can drive within the city.

Due to the silent holidays in November and Malta is strictly Catholic we get also such insights.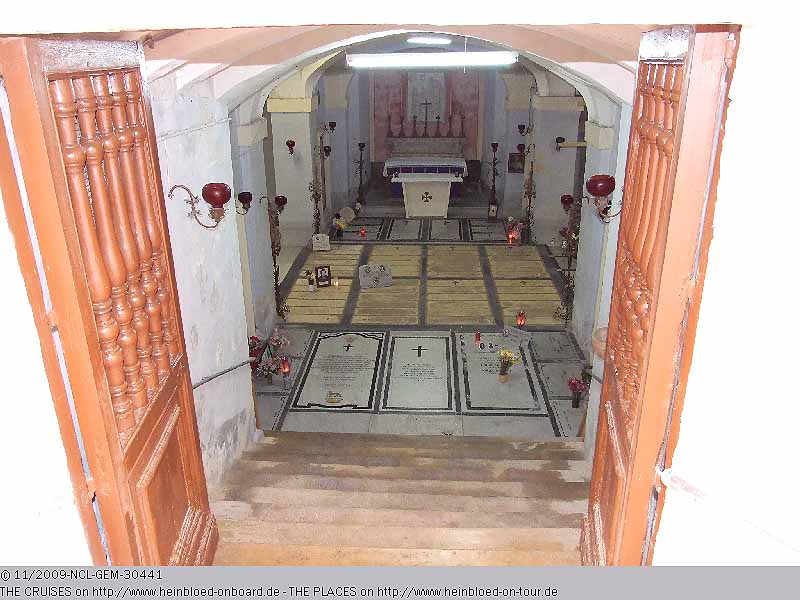 Da die ganzen stillen Feiertage im November sind and Malta erz-katholisch ist, bekommen wir auch solche Einblicke.
Die alten Schilder aus der englischen Verwaltung werden durch zweisprachige Schilder ersetzt.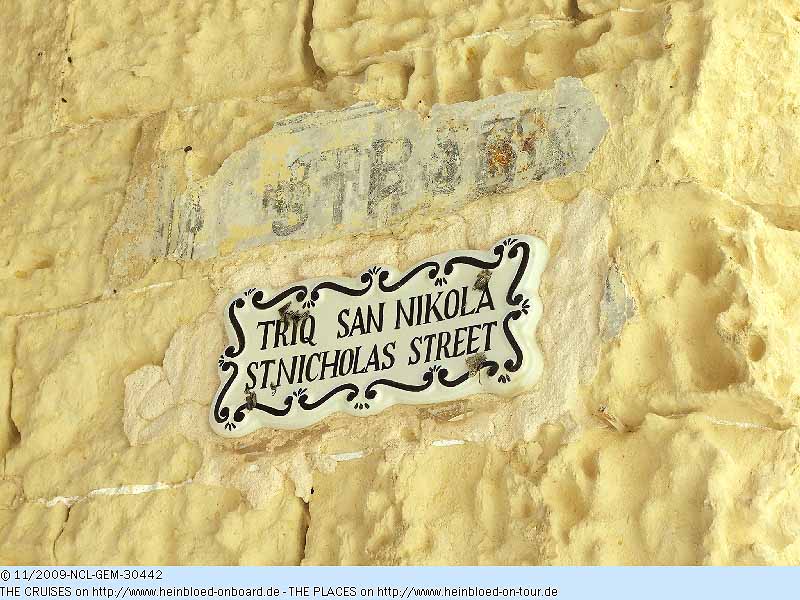 The old English style street signs were replaced by bilingual once.

You can get here by Ho-Ho-Bus.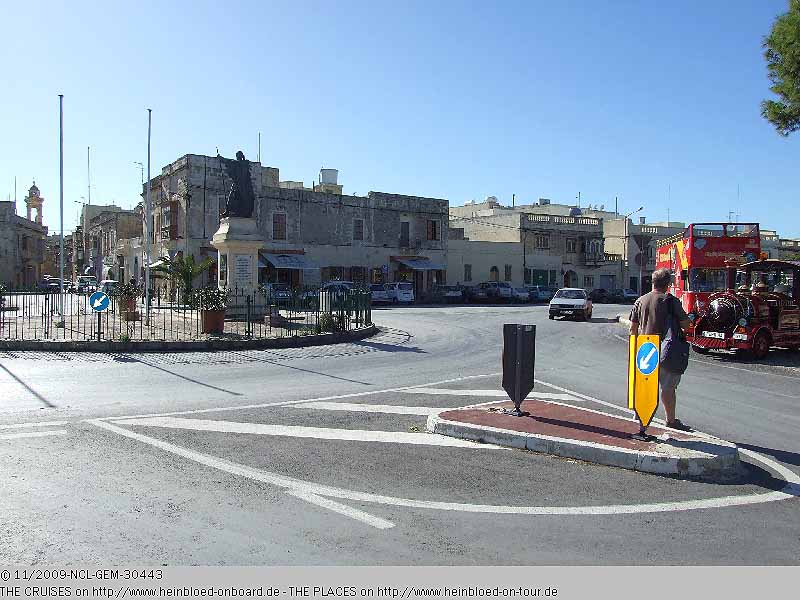 Ho-Ho-Busse fahren hier also auch hierher.
Falls wir das nächste Mal mehr sind, und nicht mehr alle in Sabines Auto reinpassen: sicherheitshalber mal die Anschriften von Busunternehmen.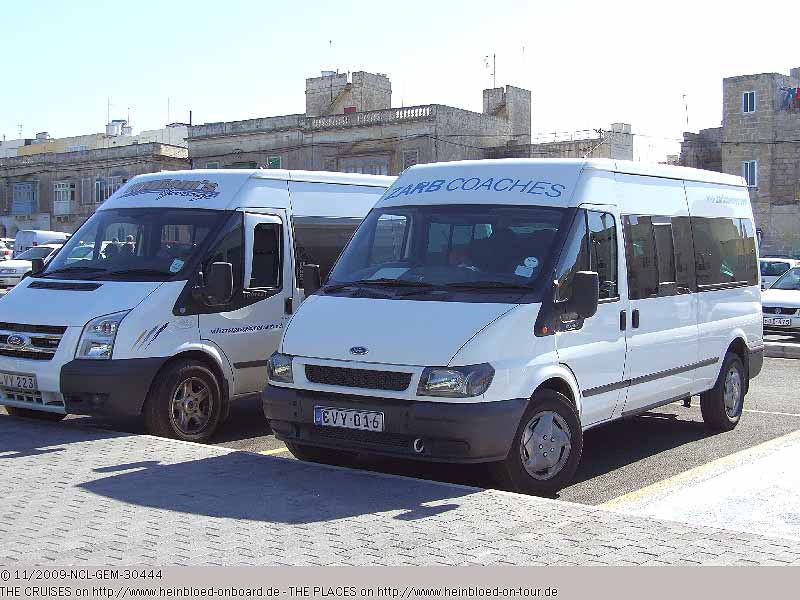 Subject we are coming back and may not fit into Sabine's car we might need a van-company... You never know.

Time to get back to Valletta.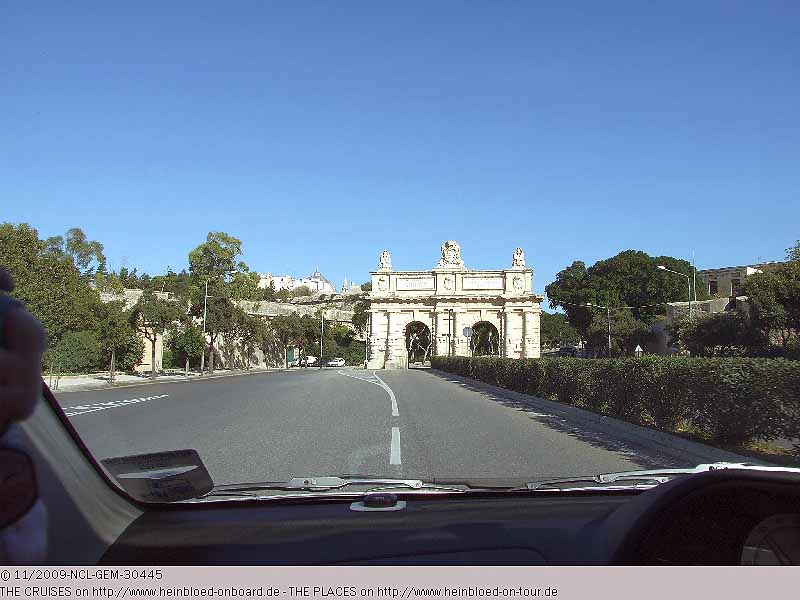 Es geht zurück nach Valletta.
Hier ist also der Platz vor der Stadtmauer, an dem alle Busse halten. Zum Glück mussten wir nicht nutzen, weil Sabine uns herumgefahren hat. Ein wunderschöner Ausflug geht zu Ende. Bei einem längeren Aufenthalt würden wir auf jeden Fall ein Besuch in Sabines Restaurant mit einplanen. Denn das liegt wohl im Norden und den Teil haben wir nicht besucht. Also perfekt für uns.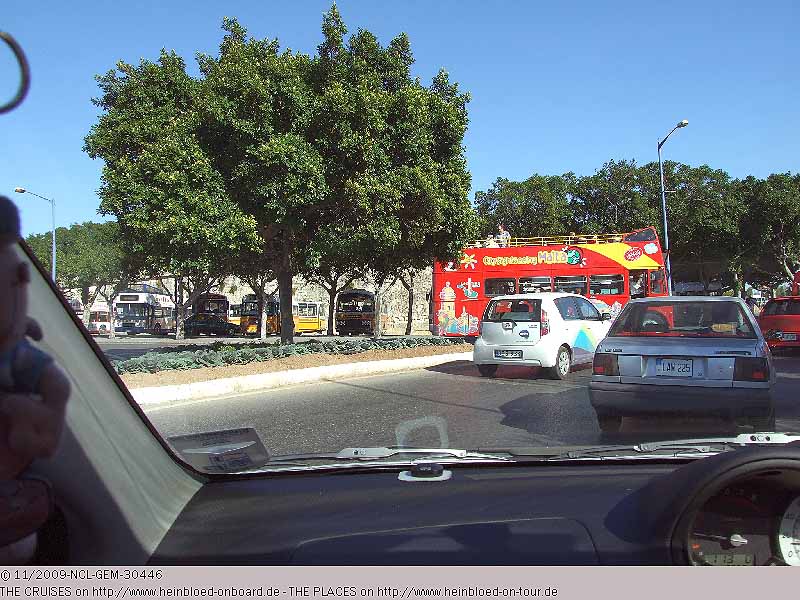 That's the place in front of the city wall where all buses start. We did not use it as Sabine took us around. A wonderful excursion was terminating. If we will stay longer on Malta we would include a visit of Sabine's restaurant. And that's in the Northern Part which we have not visited so far. So perfect for us.