Scroll down for English explanations - alternates with German explanations.

Der Fragebogen, und unsere Buchungsbestätigung für die NORWEGIAN JADE kamen eigentlich ziemlich zeitgleich. Die Abwicklung läuft wie üblich über
Dorothy
. Sie hat uns zu einem kleinen OBC verholfen.
Bruno hat seinen eigenen Fragebogen bekommen. Für die Beantwortung brauchte ich fast 30 Minuten. Ich finde die Form besser, als die alte auf dem Schiff. Sie ist ausführlicher und differenzierter. So konnte ich auf meinen Blog verweisen, um alles, was man nicht in ein Bewertungsschema reinpressen kann, reinzupressen.
Uns hat die Reise sehr gut gefallen. Meine Schwester hat bereits Veto eingelegt, falls wir die OwnerSuite für zwei Personen buchen und sie auf dem Teppichboden übernachten müsste... Die sieben Tage sind wie im Flug vergangen. Schade.
Es war schön, dass Ihr wieder mit gereist seid. Hoffentlich hat es euch genauso gut gefallen. Nächstes Jahr bietet die NORWEGIAN JADE diese Runde an. Alternativ über REWE auch ab Palma de Mallorca bis Palma de Mallorca. Und der Seetag ist am vorletzten Tag, was etwas stressfreier ist.
@Sabine Attard (Malta): Nehmen Sie schon Reservierungen für den 12.01.2011 entgegen??? Wir sind von 11.00 Uhr bis 18.00 Uhr in Valletta. Das müsste doch perfekt für ein Mittagessen bei Ihnen sein und anschließend für den Nordteil der Insel, den wir bisher noch nicht kennen...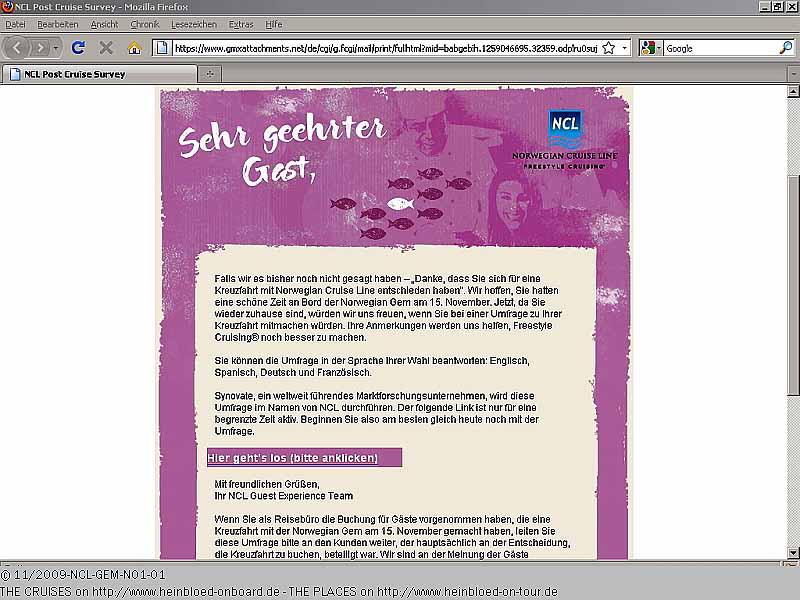 The questionaire and our booking confirmation for NORWEGIAN JADE came around the same time. Our booking is handled by Dorothy. She helped to get a small OBC.

Bruno got a questionaire of his own. You need about 30 minutes to fill out. I like this form more than the old one which you got on the ship. It is more detailed. So I could refer to my blog for all details which you cannot just sum up in a cross.

We loved this cruise very much. My sister already denied that we book an OwnerSuite as this just accomodate two persons and she need to sleep on the carpet... The week went so fast like a flight. Very pity.

It was nice that you joined us on this cruise. I hope you liked it as much as we did. Next year NORWEGIAN JADE is doing this cruise. Some UK and German tour operators also offer this cruise starting and ending in Palma de Mallorca. And the day on sea is shifted to the second last day so it's less stressy.


@Sabine Attard (Malta): Do you accept reservations for January 12, 2011??? We are from 11 am to 6 pm in Valletta. Should be perfect for a lunch with you and to see the Northern part of the island which we do not know so far...